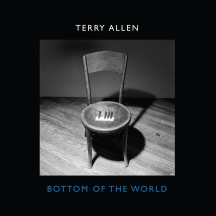 It's been 14 years since the Texas singer-songwriter last released a new studio album, during which time he's been busily involved with his painting, sculpturing and theatrical work. However, listening to that dusty Guy Clark-like drawl and hearing his often enigmatic lyrics, it's like he's never been away. Indeed, the album opens with a firm reminder of his past, once again (as he has done for all his albums) reworking a track off his 1975 debut, Juarez, here a more reflective version of emotional field trip Four Corners with Lloyd Maines providing the weeping pedal steel.
It's not the only revisited number, the second track, Queenie's Song, a Clark co-write about burying his pet dog after it was shot by some 's.o.b.' who 'must have got a gun for Christmas' originally appeared on Clark's 2002 album, The Dark. Likewise. with son Bukka on yearning accordion, the lovely Angels In The Wind is a honky tonk waltzer (with an oblique Ernest Tubb reference) that dates back to 1994 as part of Allen's theatrical production Chippy: Diary Of A West Texas Hooker and appeared on the 'soundtrack' album the following year.
All previously unreleased, the other songs (some new, some from other plays) offer a varied selection of themes and stories. Hold On To The House was the subtitle of his 2004 audio-visual work Dugout II, part of a love story set in 1950s America that he calls an "investigation into the end of the world, how memory blows up and changes everything", which makes a lot more sense when you hear him singing lyrics about making a stand in various rooms.
Introed by pedal steel, Do They Dream Of Hell In Heaven (from 2006's Antonin Artaud-themed Ghost Ship Rodez) is a wry reflection on rewards and regrets that's worthy (and reminiscent) of John Prine, the part-spoken Emergency Human Blood Courier with its repeated keyboard pulse unfolds a noirish tale on the Mexican border inspired by ten years of murders in Ciudad Juárez while, another moodily sparse spoken track drawing on real events, The Gift harrowingly addresses the tragic suicide of Mark Madoff, son of the Ponzi fraudster.
Elsewhere, the title track's a playful list of places he may visit (but never does) that manages to slip in an Ava Gardner name check and, a meditation on cinema as escapism, Wake Of The Red Witch, which also mentions The Robe, The Searchers and The Sands of Iwo Jima, recalls his childhood big screen hero, adding extra poignancy to the refrain 'John Wayne's dead.
The album closes with Sidekick Anthem and Covenant, two simple, sweet and tender melody-sharing love songs for his wife and collaborator of 52 years, actress, poet, playwright Jo Harvey Allen that leave you with a warm, fuzzy glow. 38 years on from that first album, while he may have been born in Kansas, this serves a timely reminder that Allen remains arguably the finest Texas troubadour of outlaw country.
Mike Davies April 2013
~~~~~~~~~~~~~~~~~~~~~~~~~~~~~~~~~~~~~~~~~~~~~~