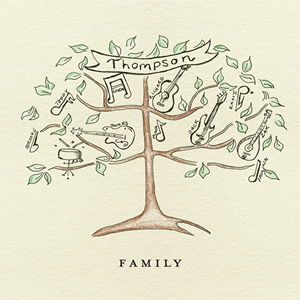 Teddy Thompson, together with parents Richard and Linda, brother Jack, younger sister Kami, her husband James Walbourne, and nephew Zak, have released a collaborative album of all new original songs entitled Family, via Fantasy Records/Concord Music Group.
The 2-Disc (1CD-DVD) Deluxe Edition features the beautifully rendered 15-minute film Thompson: The Making of Family. Utilizing interviews and vintage family photos, the film offers a glimpse into the recording process and the warmth, talent and humor of this supreme talented family.
The album features a wide musical range from Kami's more poppy contributions like her bright melodic rocker, Careful, to the familiar folky elegance of Richard's, That's Enough, and from Linda's heartfelt ballad, Bonny Boys, to Teddy's classic country rocker, Right. The songs do share an aesthetic and emotional texture instantly familiar as having sprung from this particular family source. And the family members would agree.
"I suppose there's kind of a folk-rock sensibility to what the Thompsons do, generally speaking", says Richard. "I think everyone's a bit in in the singer- songwriter style." Teddy knew the songs would be good "this is the Thompson family, after all" and yet, he says he was surprised by just how good all of the songs were. Well, maybe he wasn't that surprised.
~~~~~~~~~~~~~~~~~~~~~~~~~~~~~~~~~~~~~~~~~~~~~~