If you can't find what you are looking for here - or you want to view past reviews
select the first letter of the band name or the surname of the artist from the alphabetical section below.
NB we apologise that we are no longer able to archive every review.

The Latest Album, DVD & Book Reviews - MAY 2013


Eleanor McEvoy - If You Leave... (MoscoDisc)
April Verch - Bright Like Gold (Slab Town)
The Hems - The Early Years (Own Label)
Paper Aeroplanes - Little Letters (Navigator)
Valerie June - Pushin' Against A Stone (Sunday Best)
Sam Sallon - One For The Road (Indigo-Octagon)
Christopher Paul Stelling - False Cities (Mecca Lecca/Dollartone)
Woody Pines - Rabbits Motel (Woody Pines)
Barney Bentall - Flesh & Bone (True North
Tom Houston - Open The Skylights (16sillyducks)
Tír Na NÓg - Tir Na Nog/ATear And A Smile/Strong In The Sun (Esoteric)
Craig John Davidson - The Last Laugh (Fat Hippy)
Treetop Flyers - The Mountain Moves (Loose)
Amy Duncan - Cycles Of Life (Linn Records)
Níamh Ní Charra - "Cuz": A Tribute To Terry 'Cuz' Teahan (Imeartas)
Jed Grimes - Heart and Hand (Folksound)
Bella Hardy - Battleplan (Noe Records)
Lumière - My Dearest Dear (IRL)
The Keelers - Tyne and Tide (Keel Music
Dubl Handi - Up Like The Clouds (Own Label)
Thea Gilmore - Regardless (Fullfill)
Deadstring Brothers - Cannery Row (Bloodshot)
Beau - Twelve Strings To The Beau (Sound of Salvation)
Red Moon Joe - Midnight Trains (DBS)
The Good Intentions - Travelling Companion (Drumfire
Christa Couture - The Living Record (One Foot Tapping)
Julie Doiron - So Many Days (Aporia)
Mark Wynn - Eggs, Kes and that Bike I Never Bought You Even Though That I Would Like To (Little Num Num)
Annie Keating - For Keeps (Own Label)
Luke Winslow-King - The Coming Tide (Bloodshot)
Blackbeard's Tea Party - Whip Jamboree (Own Label)
The Stray Birds - The Stray Birds (Own Label)
David Philips - December Wine (Black & Tan)
Susan James - Driving Toward The Sun (Susan James Music)
Terry Allen - Bottom Of The World (Own Label)
Gary Hall - Winning Ways On Losing Streaks (Northern Sun)
Markus Rill & The Troublemakers - My Rocket Ship (Blue Rose)
Various - The Music Is You: A Tribute To John Denver (Ato)
Pharis and Jason Romero - Long Gone Out West Blues (Lula)
Bart Budwig - Whisky Girl (Woolly
Trwbador - Trwbador (Owlet
Brass Monkey - The Best Of Live: 30th Anniversary Celebration (CD & DVD) (Park Records)
Nataly Dawn - How I Knew Her (Nonesuch)
The John Langan Band - Bones of Contention (Own Label)
Katie Rose - Empty Cup (The Rose Window)
Cathryn Craig & Brian Willoughby - Real World (Cabritunes Records)
Roddy Woomble - Listen To Keep (Reveal)
Stone Blind Valentine - Burn Like A Field (Own Label)
Hanz Araki & Kathryn Claire - As I Roved Out: Songs Of Spring (Celtic Conspiracy)
Ray Cashman - Rough And Tumble South (D Bomb Records)
The Steeldrivers - Hammer Down (Rounder)
The Bean Pickers' Union - Better The Devil (Inseam Records)
The Moors - The Moors (Reality Street)
Camille & Stuie - Big Days And Little Years (Reckless Records)
Jackie Oates - Lullabies (ECC Records)
Rose's Pawn Shop - Dancing On The Gallows (Own Label)
All Things Considered - Dance Through The Storm (Own Label)
Adam Piggott & Jayne Freeman - The Firefly and the Half Diamond (Big Village)
Iain MacDonald - Colour of Dreams (Tin Tambourine Music
Josh Ritter - The Beast In Its Tracks (Yep Roc)
Son Volt - Honky Tonk (Rounder)
Various - Way To Blue: The Songs Of Nick Drake (Navigator Records)
Rebecca Pronsky - Only Daughter (Nine Mile Records)
Mara Levine - Jewels and Harmony (Own Label)
Judy Dyble - Talking With Strangers (HST)
Molly Drake - Molly Drake (Bryter Music)
Erin McKeown - Mainfestra (TVP)
Night Beds - Country Sleep (Dead Oceans)
The Self Help Group - Not Waving, But Drowning (Union Music)
The Rockingbirds - The Return of the Rockingbirds (Loose)
Larkin Poe & Thom Hell - The Sound of the Ocean Sound (Edvins)
Annabelle Chvostek - Rise (Borealis)
Lindi Ortega - Cigarettes & Truckstops (Last Gang)
Laurence Made Me Cry - The Diary of Me (Own Label)
Jess Morgan - Aye Me (Own Label)
Simone Dinnerstein & Tift Merritt - Night (Sony Classical)
Caitlin Rose - The Stand-In (Names)
Jimmy Brewer - As Time Stands Still (Own Label)
Bridie Jackson and the Arbour - Bitter Lullabies (Debt)
Faustus - Broken Down Gentlemen (Navigator)
Billy Bragg - Tooth And Nail (Cooking Vinyl)
Spriguns - Revel Weird and Wild/Time Will Pass (Esoteric)
Carrie Rodriguez - Give Me All You Got (Ninth Street Opus)
Erica Buettner - True Love and Water (Peppermoon Music)
Jennifer Hardy - Blackened Eyes (Slow Train Records)
Blue Rose Code - North Ten (Reveal Records)
Kris Drever & Éamonn Coyne - Storymap (Reveal)
Aly Bain et al. - Aly Meets The Cajuns (DVD+CD) (Whirlie Records)
The Owl Service - Garland Sessions (Stone Tape Recordings)
Various Artists - Celebrating Subversions: The Anti-Capitalist Roadshow (Fuse Records)
Emmylou Harris & Rodney Crowell - Old Yellow Moon (Nonesuch)
The Malingerers - The Lonely Years (Fat & Bulbous)
Mary Dillon - North (Back Lane Records)
Chris While and Julie Matthews - Infinite Sky (Fat Cat)
Ron Sexsmith - Forever Endeavour (Cooking Vinyl)
Love and Theft - Love and Theft (RCA Nashville)
Troubadour Kings - Heartache Town (Ride)
Devon Allman - Turquoise (Ruf)
James Summerfield - Two Brothers Leave Home (Commercially Inviable)
Salif Keita - Talé (Universal/Proper)
Jack Day - The First Ten (Bucketfull of Brains)
Quiet Loner - Greedy Magicians (Little Red Rabbit)
Trevor Moss & Hannah-Lou - La Ferme De Fontenaille (Anglophone)
Emily Hurd - Any Given Day (Own Label)
Angie Palmer - Old Sticks To Scare A Bird (Akrasia)
Ryan Bingham - Tomorrowland (Axster Bingham)
Martyn Joseph - Songs For The Coming Home (Pipe) RECORD OF THE MONTH

---
Eleanor McEvoy - If You Leave... (MoscoDisc)
The Dublin-born singer has come a long way since she first performed her song Only A Woman's Heart back in July 1992. It's a journey that has increasingly seen her move further from the folk sound that first characterised her, taking in rock, drum loops, jazz, gospel and the influences of 50s and 60s pop along the way. This, her 11th album, was apparently inspired by the 60s blues rock explosion (or 'neo-retro blues' as the press blurb has it), with particular reference to Brian Jones. Indeed, while sounding more late night soulful torch folk, Heaven Help Us is actually about the late Stones guitarist.
However, while it does include a live version of genre staple Dust My Broom, there's warm blues guitar and organ work to Don't Blame The Tune and you could imagine Joe Cocker wrapping himself around the piano-backed ballad I Wish You The Best, in no way is this a blues album as you might define the term, even if the emotional mood it conjures is more evident.
Stylistically eclectic, the breathily sung Ache In My Heart has a jazzy shuffle to it and Listen To Me adopts a country soul groove while The Secret Of Living is pure call and response zyedeco stomp with Sharon Shannon on accordion, McEvoy on uke and Mary Coughlan among the backing vocalists, and, with its ringing guitars and punchy drumming, Land In The Water is definitely rock with definite hints of Fleetwood Mac, but of the Rumours version not the Peter Green one.
Both may be familiar numbers, the former was the single released to mark the 20th anniversary of Only A Woman's Heart while the latter's revisited from Dave Rotheray's Life Of Birds album. They're not the only ones. As well as the Elmore James track, the album also features a simple piano and vocal cover of Lift The Wings from Riverdance, a jazzy interpretation of God Only Knows with Brian Connor on piano and a terrific, understated reading of Cyndi Lauper's True Colors, long a staple of her live set, accompanied by David Agnew on oboe.
Sung, as ever, in her distinctive Wexford accent, it's another persuasive example of why she's regarded as one of the finest contemporary singers Ireland's produced and another baffling puzzle as to why she's never had even a modest a hit album in the UK.
Mike Davies May 2013
---
April Verch - Bright Like Gold (Slab Town)
Though credited solo to the Canadian fiddler, step-dancer and singer-songwriter, this is really a band album with guitarist Hayes Griffin and Cody Walters on clawhammer banjo and bass as integral to the sound as she is.
A vibrant 20 strong collection of covers, traditional and self-penned material, the trio embrace both Canadian and American folk traditions with both instrumental and vocal numbers, Sandy River Belle even showcasing her award-winning step-dancing. Big Eared Mule and Canadian medley Dusty Miller, Fiddle Fingers and Grizzy Bear are testament to her fiddle skills (she holds several championship titles) and defy to your keep your toes and fingers from tapping. And if those and Jeff Storgeon are traditional, the closing Morris & Boris shows she can write a tune as likely to endure as they.
Griffin takes his turn at the microphone to sing his own Western swing number Foolish Heart while Walters steps up to duet on the bluegrass swayer Before I Met You. They're fine, but listening to Verch on country heartbreaker Sorry, her take on Loretta Lynn's Don't Come Home A Drinkin' and, accompanying herself on fiddle, Ola Belle Read's bluegrass gospel Six Feet Of Earth Makes Us All Of One Size it's clear why she leads the band.
There's another voice here too, Bluegrass Hall of Fame veteran Mac Wiseman duets on Verch's jaunty country tune The Only One and sings lead on My Home In The Sky while, adding tyo the celebrity list, old-time fiddler Bruce Molsky who lends his bow to the instrumental Evening Star Waltz and both accompanies and harmonises with Walters on the fiery trad fiddle tune Big Eyed Rabbit and banjo icon Sammy Shelor picks his stuff on several numbers.
An album that more than lives up to its title, this is an absolute must for devotees of the genre and the fact that April also included the waltzing No Other Would Do, the only son her dad ever wrote (to court her mother) makes it an endearing one too.
Mike Davies May 2013
---
The Hems - The Early Years (Own Label)
Not to be confused with Brooklyn Americana outfit Hem, this is Austin-based Americana duo Jamie Zanelotti and Dusty McClellan, she from Maryland and he Houston, who, having met when they were both members of a roots rock band, discovered they shared a love for classic acoustic country music.
Gigging around Texas for the past couple of years, this is their debut album, both a solid introduction to their music and a worthy tribute to the musical roots on which it draws, the fingerpicking Dogwood Tree in particular a fine homage to the family bible mountain gospel sounds of the Carter Family and Stanley Brothers while Acres Of My Own with its skeletal banjo and Zanelotti's weary folk blues drawled drone conjures more contemporary thoughts of Gillian Welch.
With McClellan providing the bolstering harmonies as well as nimble guitar, Jamie takes lead on all the numbers, her voice a dry, grainy twang that sounds seasoned well beyond her years on slower, bluesier material like the title track, which suggests The Band may also be among their influences. However, on uptempo numbers such as harmonica rocking country stomp Got It Bad and the playful Honey Twist or the more old school country sounds of the lazy waltzing Dreams Will Do and a keeningly sad Keep Your Wedding Gown (which reminds me of Marty Robbins' cowboy ballads) she seems to be channelling her inner Loretta Lynn. Having said that, she sounds like the middle-ground between Cline and Parton on the urgent Novaleen, though that may be just because the track (and the title) reminds me a little of Jolene!
But, however favourable, they don't need comparisons to warrant attention, their music speaks for itself; and it does so with an engaging and individual voice. If these are the early years, I can't wait to hear what the future brings.
www. www.reverbnation.com/thehems
Mike Davies May 2013
---
Paper Aeroplanes - Little Letters (Navigator)
Hailing respectively from Cerdigion and Pembrokeshire, the past two albums by Welsh duo Richard Llewellyn and Sarah Howells have seen them likened to The Sundays, Cranberries, Amy Macdonald, The Corrs, Fleetwood Mac and Lone Justice. And things aren't about to change with their third, But, hey, if it ain't broke.
It is, perhaps, less rocky than usual, the dark-tinted opening track When The Windows Shook (inspired by an oil refinery explosion in her hometown), a scurrying Palm Of Your Hand and the gathering storm of the title track the only really uptempo numbers.
Like Red Rover, a folk-seamed track that evokes Tusk-era Mac, the others trade more on brooding and reflective atmospherics, Howells floating voice digging deep into the emotional wounds on piano ballad Multiple Love and the crumbling relationships of the Cranberries-like At The Altar, a theme that also underpins the beautiful sad slow waltz Silence Of The Bells, a song of almost Dennyesque proportions, where "the electric shocks you gave to me all mellowed after time."
It's not all so crushed underfoot, reminiscent of Eddi Reader, the star-twinkling Singing To Elvis is giddily euphoric, a song to which dancing fountains should be orchestrated, while the dreamy acoustic weariness of Sleeper Train, a song based on a flirtation by text she had while travelling across China, finds her 'ready for love' and, even among the dark and doubt, there's still flashes of belief and hope. And even despair comes cloaked in gorgeous melodies and Llewellyn's superb guitar work.
The album closes with Circus, a terrific, slow-building emotionally exposed confessional about the hurt and hard knocks of trying to make it in the music business. "Nothing I do has a purpose", she sings. Everything about this album gives the lie to that.
Mike Davies May 2013
---
Valerie June - Pushin' Against A Stone (Sunday Best)
Born in Tennessee, the eldest of five children, learnong to sing in church she was reared on a diet of delta blues, folk, gospel and old school country and such artists as Leadbelly, Dolly Parton, Memphis Minnie and the Carter Family; the influences all feed into her own music. Her acoustic guitar work and nasal Tennesseean tones (sounding old and childlike at the same time) can be heard to beguiling effect on her three past self-released lo-fi recordings that feature numbers such as the folk blues Shackle Bound, a Guthrie-esque Dust Of The Dirty Rambler and the Appalachian tones of The Dust of Time and The Story Of Peggy Lee, while the school yard blues stomp Lay Low even finds her exercising her yodel. Her third album, Valerie June And The Tennessee Express, was actually a collaboration with The Old Crow Medicine Show, which gives you an idea of the sort of status she'd accrued.
Now based in Memphis, this, her fourth album, marks the first time she's worked with a producer, jumping in the deep end with Dan Auerbach of The Black Keys (in whose studio it was recorded) and Kevin Augunas from Edward Sharpe & The Magnetic Zeros, both of whom she collaborated with on some of the songwriting.
She's used the opportunity to introduce fuller instrumentation here and there, so that, for instance, Workin' Woman Blues opens with bluesy acoustic guitar, but then introduces some wailing brass into its urgent rhythm while work-song styled gospel blues You Can't Be Told features electric guitar licks, handclaps, throbbing bass and steady drums, Somebody To Love sways on the back of Booker T Jones' soulful organ. <.p>
However, the fuller sound never overwhelms her voice, somewhere between Dolly Parton and Nina Simone (indeed, you can almost hear the influence of I Put A Spell On You on the swampy title track), and there's plenty of occasions where the arrangements are reined back: Twined & Twisted features just double-tracked vocals and acoustic guitar, Tennessee Time's a woozy front porch sway. Elsewhere, Trials, Troubles,Tribulations, a song by the late country gospel veteran Estil C Ball, offers a simple Carter Family styled spiritual backed by strummed dobro while a hidden rework of Somebody To Love is just her and her banjo.
While there's a lot more old school blues and soul to her, she'll certainly find favour with audiences who've picked up on the Carolina Chocolate Drops or Hooray For The Riff Raff . I'm on my way she sings, on the closing track. She most certainly is.
Mike Davies May 2013
---
Sam Sallon - One For The Road (Indigo-Octagon)
Kilburn-based Sallon's an emerging name on the contemporary folk scene who made his recording debut with a rather good cover of Paul Simon's Kathy Song. It would be tempting, then, to try and spot Simon influences on his debut album, but while there may be some similar guitar stylings (though Bert Jansch is far more the touchstone), Sallon's roots are firmly planted in home soil, occasionally prompting the obligatory reference to Nick Drake, but (while he's probably never heard him) his blues-tinted folk and sometimes tremulous wood-grained delivery more brings to mind that of Noel Harrison (he of Windmills Of Your Mind fame), the early recordings of Al Stewart or even, at times, Cat Stevens.
Harking to the sound of the late 60s folk scene, Just The Same sees him alone with just his intricate arpeggio guitar playing, but otherwise the album embraces much fuller arrangements and orchestrations with some effective use of strings, Sallon joined by an impressive bunch of friends that include veteran drummer Evan Jenkins, pianist Neil Cowley and, duetting on the melodically melancholic It's Not Hard To Lose Your Way, Kami Thompson, daughter of Richard.
While working with the folk-blues framework, the album mixes it up effectively so that My Radio has a jazzy rhythm and more of a rocking mood, No No No ( Know What You're Thinking) rides a choppy syncopation with an almost reggae bedrock, I'm Free is stripped back acoustic blues, Give's enfolded in strings, the brooding War has a certain Eastern European air and Too Young To Know builds to a dramatic, drone underpinned finale. He's trying to break into what is becoming an increasingly competitive market. but there's more than enough evidence her to suggest there'll be a lot more than one for his particular road.
Mike Davies May 2013
---
Christopher Paul Stelling - False Cities (Mecca Lecca/Dollartone)
There's an effervescent, rodeo bull-at-the-gate impassioned energy in Stelling's follow-up album to last year's debut release Songs Of Praise And Scorn. Brooklyn, NY-based Stelling has variously been described as 'high-energy Americana...with gothic-folk stylings'. Which is a good a start as any. Poignant, small-town romances and lost chances on the vulnerable You Can Make It contrast vividly with the big-bang opener Brick x Brick. Stelling's vocals have a world-wary rasping resonance as though he's chewed more than a pickled maggot or two after a Kamikaze Tequila midnight showdown. It's as though we're invited to walk the ghostly streets of Laredo littered with the remnants of a busted flush, broken hearts and El Dorado dreams trodden into fool's-gold dust. But, Gene Autry and Roy Roger's blazing ass-saddles it surely ain't.
The candour of songs such as The Naked Swamp and Free To Go have a visceral, almost Gospel confessional element - maybe the man about to hang making peace with his Lord (or Demons). These are song to be savoured in your wind-blown log-cabin/cast-iron stove high plains drifting imaginings.
Ballad, Homesick Tributaries, has the heart-string tugging elegiac simplicity once so vividly captured on the early albums by the soul-mugged, anonymous motel-bound Loudon Wainwright. Take a road-trip in to the heartland of the soul with this sometimes trouble troubadour, but ever optimistic, minstrel curator of the unattainable, alternative American Dream-scapes.
www.christopherpaulstelling.wordpress.com
John Kennedy May 2013
---
Woody Pines - Rabbits Motel (Woody Pines)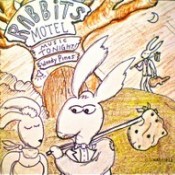 Whilst the recent explosion of 'old timey' outfits has thrown up a few gems, it's hard to avoid the strong suspicion that for many of them there's been a striving for authenticity that has become little more than a constricting orthodoxy. Rather than the music being a jumping off point, it's become the destination.
None of that applies to this album. Whilst Pines might have honed his craft toting a resonator guitar across Louisiana and more recently recruiting conspirators from genre giants Old Crow Medicine Show and Squirrel Nut Zippers, the music he makes simply puts handfuls of country blues, rural jazz, stringband and jugband stylings into the blender to produce an intoxicating concoction that doffs its cap to the roots before choosing a new, if traditionally signposted path.
Hence there is a delightful electric guitar solo on Heartbreaker, a country bounce on Train That Carried My Gal From Town whilst the addition of organ and Lanois on moonshine percussion of I Love The Way My Baby clearly demonstrates Pines' independent navigation. And at a smidgeon under half an hour, it's an album that'll never outstay its considerable welcome.
Steve Morris May 2013
---
Barney Bentall - Flesh & Bone (True North)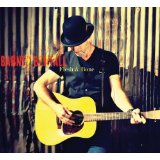 Bentall has been music making and story telling since 1978. He has released some ten albums and fronted The Legendary Hearts, a double platinum, hit single, Juno winning Canadian success story. A story I'd never heard. This is my first encounter with the man.
As with many artists who gain that level of success, Bentnall has had his time out, holed up in British Columbia running a cattle ranch. An experience credited with a clarified artistic vision. In truth Flesh & Bone travels a familiar musical path that can be lazily tagged Americana – or whatever the Canadian equivalent might be. However his delivery is warm and engaging and more importantly his songs both melodically and lyrically are substantial.
If you need a key to the album listen to The Ballad Of Johnny Hooke, a beautifully realised story ballad with hints of Gordon Lightfoot that perfectly encapsulates the albums core theme of life's cyclical nature and the renewal inherent in that. A fine record.
Steve Morris May 2013
---
Tom Houston - Open The Skylights (16sillyducks)
Houston got his first guitar at the age of eight and like many abandoned it on the occasion of the first broken string. Fired by music he was hearing, he renewed his acquaintance with the instrument at age fifteen. Adding a tape recorder to his armoury, the singer songwriter was born. A clutch of tentative bands and a career in Scotland's theatre and media worlds leads to his present Edinburgh based outfit davesnewbike. From this platform he's encouraged to write new songs and, in 2009, attend Chris Difford's songwriting retreat.
Here he meets guitar player of some repute, Neill MacColl and multi instrumentalist of note Kate St John. The final push comes from Boo Hewerdine, a writer of both repute and success, who suggests a solo project; this album in fact. Songs written, MacColl produces and plays aided by St John's instrumental prowess. <.p>
It is however, to these ears, a curious result. Houston is a rather good lyricist capable of conjuring images and moods with apparent ease and a writer's eye for evocative detail. What he is not is a strong melodist which leaves the majority of these songs as little more than lyrical meditations. That said there is still a curious pull in those words, so repeat listening might release more music as the stories continue to unfold.
www.www.facebook.com/pages/Tom-Houston-Music
Steve Morris May 2013
---
Tír Na NÓg - Tir Na Nog/ATear And A Smile/Strong In The Sun (Esoteric)
Strange as it may seem, not quite everyone actually got round to discovering the enchanting music of Tír Na Nóg back in the '70s. For some of us, they constituted something of a forgotten and neglected chapter in what might now be termed psych-folk. And yet, from the moment when Dublin folk-club habitués Leo O'Kelly and Sonny Condell formed the duo (early 1970), their music gradually caused a sensation on both the folk and rock scenes of the time, even before signing to Chrysalis and being championed by John Peel. In spite of their healthy reputation as must-see support act for many of the major bands of the time, they did however seem to fall between two stools, regarded as too folky and outré for the rockers and "ISB-lite" by the more adventurous of listeners; nevertheless, their music exhibited simple charms that transcended suspicions of naïvety and misplaced allegations of lack of substance.
The eponymous debut album, which surfaced in 1971, was a thing of beauty: limpid, pastoral and often quite fragile beauty, and was characterised by a certain elusiveness, allied to a delicately wilful eclecticism that balanced its sense of musical understatement. Rather typical of the time too was the mix of music that LP contained, from the sensitively-scored longing of Boat Song and Piccadilly to the evocative, legend-rich title track, the lively eastern-inflected love song Looking Up to the cautious weirdness of Mariner Blues, all contrasting with the deliberately quirky porkiness of Aberdeen Angus (cousin to Big Ted?!).
The duo's thoughtful approach to creative instrumentation is apparent throughout, with the result that a myriad of influences are delightfully underplayed, as on gorgeous standout track Dante and the modal optimism of Our Love Will Not Decay. The splendid Esoteric remastered reissue of this timeless album is rendered even more attractive by the appending of bonus material in the shape of both sides of the rare pre-album single that Leo and Sonny recorded with producer Mike Batt.
Followup A Tear And A Smile (1972), for all that it partially replaced its predecessor's rural charm with a slightly harder-edged and savvy vibe, proved no letdown; it boosted the duo's clear-sighted sound with some subtle and sympathetic rhythm section work from Larry Steele and Barry De Souza (then working in the same studios with Cat Stevens), and its menu comprised a bunch of songs which, while archetypally offbeat in character and phrasing, shortchanged neither on memorability nor what might best be termed the duo's trademark mystical energy.
Highlights included the ethereal Down Day, the rippling When I Came Down and the lilting, swaying Hemisphere, the minstrel-like pleading of Goodbye My Love and the near-painful yearning of So Freely. This latest Esoteric reissue once again scores over the earlier BGO CD counterpart in that it comes complete with both sides of the pre-album single The Lady I Love/Heidi (but -pace completists! - not also the re-recorded version of Looking Up that was included on the original US release of the LP).
Moving on a year to 1973, we encounter Strong In The Sun, the third and final album (a fourth was planned but never got made). This marked the transition to a slightly rockier sound, with more conscious production and fuller use of a rhythm section, and although it contained some glorious songs within, it was inevitably to prove a more uneven set, and for me its finest moments came on the gentler acoustic tracks like Teesside, The Wind Was High and the magical In The Morning (an old song of Sonny's revisited, and worth the price of admission on its own).
The exotic Love Lost was another treasure, while Whitestone Bridge and Most Magical gave hints of the potential crossover value of the duo's more consciously upholstered sound, whereas the experimental sampling-collage of Cinema feels intrusive, the cover of Nick Drake's Free Ride is a disappointment (especially in its pole position of lead track) and the album's title number still feels like a lost opportunity for creating that elusive hit single, its would-be-anthemic mood somehow needing more push and drive to succeed (a case of almost there but not quite!). The useful bonus track on this latest reissue is the six-minute B-side of the Strong In The Sun single, here released for the first time on CD.
After Strong In The Sun, Leo and Sonny left Chrysalis and returned to Ireland, going their separate ways pursuing solo careers and working in bands (Garvan and Scullion respectively) but still coming together sporadically to "re-form" Tír Na Nóg for the occasional gig, releasing two live albums a decade apart. Since 2010 and amidst increasing enthusiasm from their fanbase, their gig schedule has enjoyed a resurgence; so it would be nice to feel that this timely and well-packaged new reissue of the trilogy might prompt an exhumation from Leo's attic of the original tapes from the first Strong In The Sun sessions, or the discovery of some post-'74 recordings, or even tempt the guys into a studio again (I've heard a rumour!)…
David Kidman May 2013
---
Craig John Davidson - The Last Laugh (Fat Hippy)
If you're drawn towards the hard-nose to the highway grindstone troubadour ethic of Elliot Smith - then the husky, overlay vocals and ludicrously, talented guitar dexterity in one so young as this cheeky upstart will certainly catch your discerning ear.
One caveat being that opening track Half Alive may not elicit many laughs at all with its visceral heart-on-butcher's slab existential rage. It's the prerogative of the young - and this album's well worth the sometimes painful, but more often, wry observational wit, with fingers firmly on the chords of self-ironic deprecation. Second track Gonna Get You has an insistent and insinuatingly catchy arpeggio melodic riff recalling Moody Blues and Mason William's Classical Gas with nuances of sombre shades of Donovan.The eponymous title track broods in an austere minor key, but allows itself moments of cautious optimism amongst the introspective extended lyrical metaphors.
The Folk There After displays just how deliciously melodic Davidsons' very English, contemporary Folk guitar styles hang loose but marshaled with terrier-snapping precision. The philosophically rhetorical Price To Pay may well be the definitive clincher for many who decide to dip in to this album through selective downloads before jumping brave and naked in to this precociously persuasive young artist's mystical pool of cryptic delights. Most recommended.
www.reverbnation.com/craigjohndavidson
John Kennedy May 2013
---
Treetop Flyers - The Mountain Moves (Loose)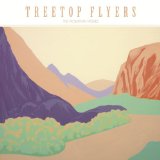 Formed in 2009, it comes as something of a surprise to discover that this is actually the London-based five-piece's debut album, following just two previous singles, To Bury the Past and It's About Time.
To their credit, neither appear on the album which offers 11 new numbers, all of which underline the band's allegiance to the vintage 60s West Coast sound and classic country soul with references that range from CS&N and Neil Young to The Band and Fleetwood Mac, but also taking in influences from more contemporary practitioners such as My Morning Jacket and The Coral as well as a few other unlikely sources.
The mood's set with opening number, Things Will Change, a mid-tempo roller reminiscent of America and CS&N (though there's a definite Northern Soul break mid-way), moving on to the Youngian rock of Houses Are Burning, Waiting On You's soulful groove and funky chops, the Stax inspired sounds of the doo wop shuffle Postcards and the more slow burn r&b Rose Is In The Yard which also encompasses twangy guitar and 70s Britfolk while Picture Show surely owes a small debt to Blue Oyster Cult.
They stretch out on two numbers, taking the mark past six minutes for the Band-like moody and atmospheric Storm Will Pass and the pace-shifting desert nights feel of Haunted House with its gathering spooked guitars, pedal steel and echoey vocals, but mostly the numbers are tight and economical, delivering the goods in an unfussy but richly textured style. Reid Morrison's falsetto can be a bit of an acquired taste, but to answer the question posed by the acoustic rippling closer Is It All Worth It, the answer's a resounding yes.
Mike Davies May 2013
---
Amy Duncan - Cycles Of Life (Linn Records)
On one of those rare, heart-lifting moments of serendipity, when the stars of good fortune are in alignment and the cosmic wheels of fate purr with chrism-oiled perfection, along comes an album that wafts away all the worries and woes of Life with fragrant, Zephyred breezes of delight. Such a moment is this album that includes amongst the sleeve notes the recommendation that it is best listened to through a Linn hi-fi system.
Hardly surprising being that they oversaw the recording process in conjunction with producer, Calum Malcom, he of The Blue Nile, a band renowned for profligate album releases every ten years or so. Having been listening to this album on near rotation both in the car, and slumming it on a recently restored vintage Quad system, and even - heaven forbid, on the iShuffle on the train along the North Wales coast - one shouldn't feel too put upon to immediately invest in wallet-shriveling new kit. But, mind, the production is second to none and it needs air to let it breath, so shun head-phones at all costs.
The reflective, eponymous title track sets the tone for this ensemble of heart and psyche-on-sleeve sad and celebratory vignettes. Scottish-born and a classically trained double bassist (and doesn't it just show) Duncan really is flexing her craft on this fourth album - the previous being self-releases. Second track, Song To Myself, brushes damnably close to Nancy Griffiths' rhinestone lullaby ballad sentimentality, but such is its sincerity and life-affirming harmonic cadences you'd need a Cabinet Minister's heart-void not to be beguiled.
As for the voice you might ponder the poignant-breathed vulnerability of both Joanne Newsom and Regina Spektor (that babbling-brook Celtic tickling harp on Crack In The World) and the subtle, wry nuances of Suzanne Vega - check-out the darker, twelve-string haunting Ivory Tower. You can imagine the lyrical content on that one. Wowing live audiences across the UK in recent months this album nails her singer-songwriter credentials firmly to the mast. At a tad under forty minutes, its comparative brevity enhances the experiences. If you have to jump in randomly, err towards Wild Animals and its entrancing harmonies and cello counterpoint. Very recommended listening. No mp3s please - Calum Malcolm will find you out!
John Kennedy May 2013
---
Níamh Ní Charra - "Cuz": A Tribute To Terry 'Cuz' Teahan (Imeartas)
This latest album from the Killarney fiddle and concertina player and singer celebrates the rich musical heritage of the Sliabh Luachra region, in particular the compositions and repertoire of Co.Kerry-born Teahan, who carried the torch for that region's music for close on 60 years after emigrating to Chicago in 1928.
As both performer and teacher, Teahan inspired and influenced generations of American Irish musicians, and made a tape of rare tunes and his own compositions especially for the young Niamh, in recognition of her even-then-obvious talent - a debt which she herself now repays with interest on her new album. She's surrounded herself with a host of top-class Irish musicians, all of whom had a connection of some kind to Teahan; these include Liz Carroll, Mick Moloney, Séamus Bagley, Jimmy Keane, Donogh Hennessy, and Dónal Murphy and Tommy O' Sullivan from the band Sliabh Notes who have often featured Teahan's tunes in their sets. The disc is introduced by a brief snatch of Terry's singing, then launches into the first of its parade of a dozen spiritful tune-sets.
It's hard to pick out any favourites amongst such constantly vibrant and sparkling playing, but I especially enjoyed the opening slides, the barn dance/slip jig selection (track 6) and The Peeler And The Goat set - two more items where Terry's able to sneak his voice in! - and the Man From Glountane hornpipes set. I was however mildly disappointed with the one vocal selection, Is Ar Éirinn Ní Neosfainn Cé hí, which Teahan had remembered from the singing of his mother Julia; here Níamh's singing appears unusually under-characterised in comparison with her brief concertina interlude which is both moving and engaging. In fact, her nimble yet powerful concertina work proves a high point on each of the four tracks where it appears, fine though her fiddle playing is.
The disc's lavish packaging spares us no detail of the musicians involved track-by-track, and comes with a beautifully produced and fulsomely annotated booklet. For this too, full marks to Níamh and her team.
David Kidman May 2013
---
Jed Grimes - Heart and Hand (Folksound)
You can't keep a good man down, and you can't keep a good man away from the music scene! Leaving aside his undisputed status as master of all guitars and several other stringed instruments, and excellent singer, Jed's track record as prime mover, producer and arranger is as impressive as it is exhaustive. He's a veteran of pioneering folk-fusion outfits of course, from Hedgehog Pie in the 70s and the Doonan Family Band and Dust On The Needle in the 80s, through to his teaming with champion fiddler Stewart Hardy in the 90s and culminating with The Hush in the following decade, which then saw Jed at long last proudly releasing his own debut solo album, the mighty Head On, wherein he took a clutch of traditional songs and gave them the canny heave-ho into a brave new world of innovation and syncopation.
That album's eventual followup, which marks Jed's re-emergence after a lengthy family-focused sabbatical, is its natural successor, for, if not exactly carrying on where he left off, it presents similarly inspired reworkings of (mostly) traditional songs, confidently reinterpreted with his own inimitable trademark musicianship and easygoing brand of rugged passion. Jed's aided in his endeavours by Hush colleagues Paul Smith and Neil Harland, with Liam Fender on organ and piano and on a few tracks also the four-piece Hushtones vocal ensemble, which includes the magical larynx of Rosie Doonan. Add to all that some guest contributions from Mick Doonan (whose magnificent soaring uilleann pipes grace Byker Hill), Stewart Hardy and Bob Thomas, and you end up with a classy and thoughtfully accomplished sound, with a well-focused production to match.
In a majority of cases, the traditional lyrics are given brand new tunes by Jed himself, from an unexpectedly nostalgic-sounding slant on Byker Hill to an edgy, louche-lounge account of the night-visiting song I'm A Rover, a merrily animated shuffle beat to shake up Tom Payne's Bones to a haunting, evocatively longing Farewell To Bon County. The latter sports what is arguably Jed's finest singing on the album, demonstrating great vocal sensitivity and providing a good contrast with the altogether grittier rawness of the border ballad Hughie The Graeme. Dark Eyed Sailor also comes off well with a delicacy of scoring underpinning a considered vocal delivery.
However, it could be argued that the cautiously American Gothic rock treatment Jed provides for Rain And Snow doesn't howl quite loudly enough, and Danville Girl almost feels too expansive for its own good. And if I be totally honest, I didn't find all of Jed's musical settings equally convincing -notwithstanding any purely musical satisfaction they may incidentally provide; and the more purist of listeners will probably agree on some of my reservations. Byker Hill might be judged a touch too wistfully laid-back, while the enigmatic Bold Fisherman is perhaps sold short by its overly playful, skittish and rather carefree doo-wop-style treatment, and the often startling imagery of John Hiatt's You Must Go is undersold with its relatively bland rock-style arrangement (and decidedly over-insistent drumming).
But in the final analysis the sense of keen contemporary sophistication Jed brings to the tradition never feels misplaced, and it's great to have him back and on such fine form.
David Kidman May 2013
---
Bella Hardy - Battleplan (Noe Records)
After (jointly) winning the BBC Radio 2 Folk Award for Best Original Song last year, Hardy now continues her brave exploration of the world of song with her fourth album proper (that's not counting her recent side-projects The Dark Peak And The White, the seasonal album Bright Morning Star and the collaboration Laylam with Eliza Carthy et al.).
This new collection intersperses telling and ingenious treatments of traditional material (more Songs Lost And Stolen, you might say) with some stylistically-diverse songs of her own composition. These all take their cue in some measure from the concept of Battleplan, an ideal state of affairs which is almost never achieved. Bella's interpretive creativity achieves a new level with the challenge this presents; she not only plausibly re-imagines traditional ballads from a female perspective, but also brings her own personal experiences into the mix; notwithstanding the fact that some of the traditional songs have already been subjected to countless reinterpretations down the ages.
Bella's latest reworking of Yellow Handkerchief/Flash Company brings a newly rueful expressivity (much aided by Angus Lyon's piano accompaniment), while the eerie tattoo of Good Man's Wife (which rather intriguingly is seen to stem from The Raggle Taggle Gypsies) benefits from a sparse pizzicato fiddle and a desperate vocal backing chant that reflects the female protagonist's recognition that war never goes to plan. The devilish momentum of Whisky You're The Devil forces piano and drums together in almost unholy counterpoint to Bella's rewritten tune, and a pounding drone-heavy beat permeates the fiddle-sing of Through Lonesome Woods. The Seventh Girl is a feisty, skipping retelling of the Outlandish Knight ballad that reflects the status of its heroine, and a charming, rustic-piano-backed version of the shanty One More Day provides a pleasing and apt disc finale -although the distinctly late-night-lounge feel of Bella's own "coffee shop crooning song" Maybe You Might could equally well have fitted that particular bill.
Bella's renowned compelling and well-controlled vocal delivery is reliably supported by her current touring band The Midnight Watch (Anna Massie, Angus Lyon, James Lindsay and Mattie Foulds), who provide a sensitive (indeed, sometimes chillingly dramatic) backdrop that also displays a keen contemporary edge. Perhaps one or two of the new songs have the conscious air of therapy (Three Pieces Of My Heart), but for the most part they convince; for instance, Sleeping Beauty seems to tread the right side of the line in its depiction of the unrealistic expectations of relationships, while Drifting Away is a beautifully conceived snapshot of a touring artist's perception of our world. Even so, for all the persuasiveness of the storytelling, the thematic unity of the material and the imagination of the arrangements, I'm left with a mild feeling of the album not quite hanging together, which may in part be attributed to its brevity.
David Kidman May 2013
---
Lumière - My Dearest Dear (IRL)
Lumière is a well-named female duo, Éilis Kennedy and Pauline Scanlon, two singers hailing from the Co. Kerry town of Dingle, who in their own right have previously released solo records of quiet character, and their second joint release could well be said to continue that strategy.
It's a collection of free-spirited yet sensitive, limpid and gently breathing, gently harmonised takes on songs which clearly resonate with the ladies, whether traditional or contemporary in origin. All but three are pretty widely-travelled, which isn't necessarily a drawback, although I think it was a mistake to yield the lead vocal duties for their version of Sandy Denny's Who Knows Where The Time Goes? over to special guest Sinéad O'Connor; not that she does a bad job, but the treatment as a whole is a touch sugary, especially at first, and seems at odds with, or even detracts from, the intimate, more distinctively Lumière character of the rest of the disc.
Indeed, initially the listener might be lulled into a false sense of security due to the lilting, drifting string-soaked backdrop, the title track coming across almost too soft-focus and even slightly poppy, but the girls' assured reimaginations of The Wind That Shakes The Barley and The Streets Of Derry are rather more plausible and their characterful take on Suzanne Vega's The Queen And The Soldier is in the end probably less understated than a cursory listen would suggest. Interestingly, the three least-familiar songs, all (coincidentally) sung in the singers' native tongue, seem to come off particularly well too, although it would have been nice to have the texts to hand.
The light, airy "produced" textures brought to the ladies' singing by producer John Reynolds generally suit their approach, although Ye Jacobites could have done with more bite and there's quite often a feeling that the drama is subsumed by the settings. Some listeners will doubtless find the Lumière sound a touch too cosy for some of the material, a charge with which I have some sympathy on occasion, but there can be no denying the ready accessibility of this disc.
David Kidman May 2013
---
The Keelers - Tyne and Tide (Keel Music)
In an age when increasingly many premier artistes are (rather curiously!) expressing the wish that their latest releases not be reviewed, it's a welcome change to be positively invited to review a brand new CD from a group that's unquestionably in the top league and yet remains somehow underappreciated (perhaps even taken for granted), even in its own neck of the woods (the north-east).
The long-established Keelers lineup (George Unthank, Jim Mageean, Alan Fitzsimmons and Peter Wood) remains intact and as firm and strong as ever, exhibiting that characteristic blend of well-contrasted and superbly coordinated voices on Tyne And Tide, which is their fifth album release. With forthright, solid singing from all concerned, and displaying that keen sense of drive, determination and total commitment to their material that ensures full equal commitment and attention from their audience, the Keelers are simply among the very finest exponents of harmony and shanty singing in the whole country.
Tyne And Tide not only audibly celebrates the lads' tremendous proven vocal qualities but also boasts exemplary presentation and an exceptional recording (made in the fantastic setting of St. Andrew's Church, Bywell, Northumberland and empathically produced by Adrian McNally).
And of course, the choice of material is superb; around two-thirds of the items are ones the group has been singing for some time, but never previously recorded, whereas the rest are more recent acquisitions and/or less sung-in (not that you'd be able to tell!). They run the gamut from songs of deep tradition and customs (including George's beautiful New Year song Tar Barrel In Dale and Ned Corvan's Sword Dancers' Lament) to songs from local industry (Ed Pickford's iconic Ah Cud Hew), fun gems from Geordie lore (Joe Wilson's fancy tale of The Landlord's Daughter and Alexander Barrass' priceless homily Yor Torn It'll Surely Come) and Ewan Carruthers' poignant football-themed song Black And White (what a wonderful rendition!) through to maritime fare (the storming boat-launching shanty from the Bahamas, Long Summer's Day, the hearty pirate song Fifteen Men, and Larry Marr).
The latter category is additionally well represented, with no fewer than five of Fitz's brilliant settings of poems by Cicely Fox Smith (four of these may be familiar from the landmark Pinch O' Salt tape made in the mid-'90s by Fitz and Pete with Danny McLeod), and three songs with a specific Nelson connection (two particularly fine examples written by Pete and Mike O'Connor's Carrying Nelson Home an apt disc closer). The sixth of the CFS settings is the whimsical canal-themed portrait of the Jolly Bargeman.
A majority of the items are performed in rich a cappella mode, with Pete's concertina in support on the remainder and Fitz contributing a smidgen of whistle (on Carrying Nelson Home) or tambourine on Johnny Handle's Roughneck Riggers (its mid-'80s lyric cannily updated by Pete). This is a wonderful collection (and at 66 minutes also great value); I really can't recommend it highly enough.
David Kidman May 2013
---
Dubl Handi - Up Like The Clouds (Own Label)
Weird band name this -but not only is this Brooklyn-based "new revival" outfit named after an old washboard company, it also signifies the musical collaboration between multi-instrumental percussionist Brian Geltner and banjoist Hilary Hawke. And yet, such is the lively quality of this meeting-of-like-minds that it often sounds as though there's more than a double-handed presence! The duo's home-grown Appalachian rusticity and overall rootsiness is accentuated by Brian's use of eccentric percussion and washboard alongside the trusty snare, while he also picks up an electric guitar, marxophone and mellotron (it says here) at times.
Hilary's the principal vocalist, and she evidently also skilled on banjo (which she often plays quite percussively) and guitar; hers is arguably the dominant musical personality, to which Brian proves an ideal foil. An especially fascinating moment is provided by the album standout, a beautifully characterised take on Undone In Sorrow (sourced from Ola Belle Reed) which benefits from a mournful trombone line (courtesy of guest Sam Kulik), while to their credit the duo also breathe fresh new life into a number of old-time classics like Shortnin' Bread and Little Birdie. Katie Cruel, another highlight, receives an intriguing chugalong minor-key setting that utilises tonalities from hammer dulcimer and tambura; the latter timbre also figures large on their atmospheric, modal rendition of New River Train, but this latter track (and more particularly Cluck Old Hen) could've done without the imported sound effects, which irritate on repetition. Hilary also proves herself a good composer of songs and tunes in the true old-time tradition (her Little Orchid and Lonely Ghost could both almost pass for traditional), while the duo also delves respectfully yet with due gusto into staples from the likes of Earl Scruggs, Roscoe Holcombe and Brad Leftwich.
I do rather like the raw sense of spontaneity in their music-making, for it gives a greater appeal to the inventive arrangements, which otherwise might at times seem just a touch self-conscious. This quality gives them an edge with which to carry the tradition forward into the current fickle climate of acoustic roots music.
David Kidman May 2013
---
Thea Gilmore - Regardless (Fullfill)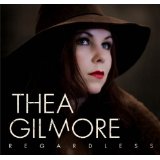 Making her recording debut in November 1998, Gilmore has now released 14 albums (15 if you count the Reel And Folk Association one where she shared vocals with Kellie While), but it's been three years since her last collection of wholly self-penned material. However, this long awaited offering may come as something of a surprise to fans anticipating something along the familiar lines of Avalanche, Liejacker, or Murphy's Heart.
She's used them before, but the album marks the first time that strings have been employed so extensively, bringing a lusher and, especially on This Is How You Find The Way (a lovely song with its images of angels in the abbreviations), a sometimes more orchestral, cinematic feel. Additionally, while profession and personal partner Nigel Stonier again oversaw production, the album, recorded in different studios, also features behind the desk collaborations with Seadna MacPhail (who's worked with Elbow) and The Suppliers, a trio of London based Danish producers, one of whom is Dyre Gormsen, who's engineered, among others, Jamie Cullum, Train and Ron Sexsmith.
She's also thrown some unusual musical shapes, such as the beats, Oriental colours and accordion solo of her staccato rhythm spiky ode to England, Spit And Shine, the tumbling title number with a click track like sound, and the shimmering Eastern percussion behind the snake-charmer staccato urgency to the verses of call-to-arms ('you'll wish we'd stayed singing when we lift our voice to shout') Something To Sing About.
None of this, of course, takes away from her essential sound and whether it's the jangling we're not gonna take it folk-rock of Start As You Mean To Go On, the pure-voiced Baez echoes behind the slow-building life-affirming parent to child anthem This Road or the lovely, violins-kissed, folk-rooted ballad I Will Not Disappoint You, there's no mistaking who you're listening to.
But, maybe because she became a mother for the second time ('I've got these two good reasons here why I can't get it wrong', she sings at one point) and the enforced hiatus gave her chance to re-examine her music, while no less sharply observant or emotionally direct there's a calmer, more mature and (particularly on the Cohen-esque Let It Be Known) reflective feel to things, though fans of her earlier work may feel it comes at the cost of the bite that informed things like We Built A Monster and God's Got Nothing On You. But then they should listen a little closer to the barbed social comment lyrics of Punctuation with its clever imagery and reminder that 'the real power's in parentheses.'
Incredibly, given her following, critical acclaim and consistency of high quality work, she's still yet to have a Top 40 album, hopefully this will finally bring her the wider recognition she deserves. But if not, you can be sure she'll continue to make great music, regardless.
Mike Davies May 2013
---
Deadstring Brothers - Cannery Row (Bloodshot)
Taking its title not from the Monterey street that provided the setting for Steinbeck's novel, but rather the area of downtown Nashville that once housed one of the city's leading country music venues and is now the site of The Mercy Lounge. It also happens to be where Detroit-born singer Kurt Marschke now lives and where the songs for this album were written.
Past albums have regularly seen them likened to the cosmic country of Gram Parsons, the country side of the Stones epitomised by Wild Horses and the soulful sound of The Band, and the latest is no exception. GP's readily evoked from the opening with the swirling pedal steel and yearning notes of Like A California Wildfire, revisited again with the closing Song For Bobbi Jo while Jagger looms large over the likes of Oh Me Oh My (its melody vaguely reminiscent of You Ain't Goin' Nowhere), the swaggery Long Lonely Ride and the mid-tempo title track itself, a reflection on the lives that have been played out on the street.
Save for the thigh-slapping Lucille's Honky Tonk and the shuffling It's Morning Irene which hark to the bar rooms and train tracks of Hank Williams, the rest is pure Robertson, Helm, Hudson and Danko, riding those gospel-esque organ lines, slide guitar and soulful Southern vocals on the banjo and harmonica-flecked The Mansion, Just A Deck of Cards and the storytelling Talkin' With A Man In Montana.
There's nothing particularly original perhaps, but the songs are strong and the playing is just fine while Marschke sings like he's lived every word. Sometimes, that's all you need.
Mike Davies May 2013
---
Beau - Twelve Strings To The Beau (Sound of Salvation)
Musical archivists, those in their late 50s and anyone with an interest in the British music scene of the late 60s may remember Beau, or Christopher John Trevor Midgley as was his more prosaic real name, as the first person to release a record on John Peel's Dandelion label. Issued in July 1969, a song about the Russian uprising, 1917 Revolution was fairly representative of the sort of articulate, intelligent and precisely sung English protest folk also being turned out by the likes of Al Stewart and Roy 0Harper.
A No 1 in the Lebanon, it's success back home was considerably less spectacular, but obviously generated enough interest - along with Peel's continued admiration - to spawn two albums, the eponymous debut and 1971's Creation, which featured backing by Jim Milne and Steve Clayton from Tractor. A third was planned, albeit to be released under the name of John Trevor, although the only recording to surface in that guise was Sky Dance, a track that formed part of the label's last release, There Is Some Fun Going Forward.
For most, Beau was now likely consigned to the land of the musical forgotten, but the truth is he has continued to be active, albeit since 1975 largely as a songwriter with the occasional live performance. Interest remained, however, with reissues of the two albums in expanded formats and then in 2009, the release of Edge of the Dark featuring five 1972 recordings (backed by Tractor) from what would have been his third album for Dandelion, provisionally titled High Mass, alongside other previously unreleased tracks from 1975-1985. Then, last year, Cherry Red issued Fables & Facades, a collection of full band versions of songs recorded between 1978-2000.
Yet, lurking in the vaults there remained another set of recordings that had still not seen light of day. Recorded in 1975, the original idea was to road test Tractor Studios in Lancashire, recently set up by erstwhile Dandelion label-mates Tractor. Playing 12 string guitar, the sessions went so well he decided to record what would have become his fourth album only to have a promotion at work and family relocation leave it gathering dust. Until 38 years later when a random blog and a rare live show, led to it finally being dusted off and put out there.
So much for the preamble, but what about the music? Fourteen numbers in total, three (Cartoon, The Commodore, Bristol Museum) appear on the Angel Air album, though whether these are the same versions or reworks from 1972, is unclear but either way, like the others they're in the folk styling of the time, the themes political, the words clearly and passionately delivered against 12 string guitar accompaniment, calling to mind such names as Harvey Andrews, Country Joe McDonald (especially The Wine Was Sweeter Then), Jackson C Frank, Don McLean and Paul Simon.
Presented in pristine analogue, they may be of their time but numbers like the gentle Love Is, the social injustice of Miss Alice Preece, the nine minute Why Do You Laugh? (his American Pie) still sound sharp and fresh. Plus, although it did appear on the reissue of his debut, this affords the first chance to hear in context the original recording of The Roses Of Eyam, the song made famous by Roy Bailey but written by Midgley.
I have no idea what sort of music he's making now, but listening to what he made then he deserves to be far more than a folk obscurist's footnote.
Mike Davies May 2013
---
Red Moon Joe - Midnight Trains (DBS)
After building a reputation as one of the UK's finest country guitarists, Mark Wilkinson formed Red Moon Joe in 1985, releasing their acclaimed debut album five years later. But by 1993, he'd folded the band and taken to the road as sideman for hire, working with the likes of Townes van Zandt, John Prine, Steve Earle, Guy Clark, Emmylou Harris, Little Feat and Jay Farrar.
Then, three years ago, he decided to revive the band, recruited all the original members (David A Smith, bass; Paul Casey, drums; and David Fitzpatrick, banjo, mandolin, harmonica) and added multi-instrumentalist Steve Conway to the line up, heading into the studios to record their rather belated follow-up.
Musically, it neatly divides between those songs driven by electric guitars with a rocky punch and the more bluegrass inclined numbers favouring banjo, harmonica and mandolin, ready examples being Midnight Trains, Save Me and The Blues on one hand with the sprightly Drop The Anchor, and Valediction, a bouncy lament about the decline in British pubs.
Given the time Wilkinson spent with assorted Americana legends, it's not too surprising to hear things that have rubbed off, most evident on the slower, reflective tracks such as Our Song and the slow swaying border country tinted Listen To Her Song with its troubadour stylings of Clark. Indeed, the man himself provides the very title of the album's closing track, a playful, mandolin-accompanied talking country blues where, seasoned drawl to the voice, Wilkinson wryly looks back over his life and career, touring the world, playing a set for Stonewall Jackson and how he once 'rolled Guy Clark a cigarette', before slipping in to a burst of Let It Roll. This album deservedly marks another highpoint.
Mike Davies May 2013
---
The Good Intentions - Travelling Companion (Drumfire)
Released on the label responsible for finally bringing My Darling Clementine to public attention, the third offering from the Liverpool trio - R Peter Davies, Gabrielle Monk and Francesco Roskell, Best Americana Act winners at the 2011 British Country Music Awards - is in good hands. It's a collection of old school country built around instrumentation that includes auto harp, accordion, dobro, banjo, fiddles and both pedal and National steel guitar, variously played by the trio and guests that include Greg Leisz and producer Rick Shea.
Firmly declaring their influences, AP Carter's shuffling folk tune Gold Watch And Train opens the album as it intends to continue, proceeding to unfurl a fine set of Davies' relaxed, easy on the ear songs about loss and change that bear testament to the band's chemistry and affinity with classic Nashville. Hank' Last Ride is, as you may suspect, about Hank Williams, a gently rolling number with keening vocals and lyrics that reference such country classics as I'm So Lonesome I Could Cry and Montgomery In The Rain before a brief yodel close.
Elsewhere, Pull The Jailhouse Down calls to mind Gram Parsons, Black Dog Blues is a slide guitar stomper, set to simple piano I Dreamed About You is a moving hymnal, and According To A Witness, a tale of love and robbery gone wrong, highlights the bluegrass fiddle of Brantley Kearns and Aubrey Richmond.
Pretty much everything is a highlight but I'd especially single out two numbers; Angel Train, which shares the imagery and mortality themes of A Driver's Farewell, and is guessingly about Roskell's late wife to whom the album's dedicated, and the closing Paul The Apostle, a poignant hope of renewal and reunion that features a reading from a Welsh bible by actor Ioan Gruffud. However long the ride may be, you couldn't ask to share it with better company.
Mike Davies May 2013
---
Christa Couture - The Living Record (One Foot Tapping)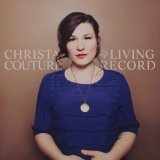 The Canadian singer-songwriter has had more than her share of heartache and tragedy, suffering cancer as a teenager and then having to endure not only the death of her infant son (which was at the heart of her previous album The Wedding Singer and the Undertaker), but then the loss of her second born too.
It's not surprising then to find lines like 'It's hard to say if I'll ever find the capacity for joy again' (the lilting Lucky Or Lost) on an album that again deals with loss but never gives way to despair. Indeed, it opens on the upbeat tones of You Were Here In Michigan, a recollection of the first time she felt happiness again, while throughout are peppered songs that balance the heartache (Parasite with its 'could it have been prevented' agony) with memories of better days, such as Pussycat Pussycat where she recalls her time in London and falling in love and Good Bayou's chugging recollection of the chance meeting that lifted her spirits and 'was exactly what I needed then'.
Rather than collapsing, Couture has chosen to look upon the things that have befallen her as learning experiences, hence the wryness of Hopeless Situation of which she says 'I'd go as far to say that we're good friends', but adds that 'loss became my lover', channelling her hurt and grief into songs for others to share and benefit from, a theme that underpins Wooden Shoes And Windmills.
Music has clearly been her salvation, something she spells out clearly on Sing For Me with its brilliant line about how her mouth 'is a cocktail of lemon and chalk' as she declares 'give me music... I could use it'.
Trading in a variety of styles that range from the cabaret setting of Pirate Jenny and the Storm (with its quite from the Brecht/Weill opera) to country folk and the dreamy bluesy waltz Paper Anniversary, a love song to her husband on which she duets with Jim Byrnes, Couture's light voice girlish, but never quite far from cracking up.
The album closes with piano-led ballad The Way of the Dodo (The Living Record), a songs that pretty much seems to encapsulate that power of song to keep close those who have shaped us, a language that reaches beyond death to be a living record of those who have passed as the singer becomes 'the work of art that was made by your presence'. Beautiful.
Mike Davies May 2013
---
Julie Doiron - So Many Days (Aporia)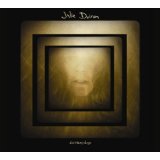 That the New Brunswick born French-Canadian was to be previously found releasing her work through Sub Pop and Jagjaguwar and has recorded with the likes of Herman Dune and the Tragically Hip should tell you that she's not your everyday brand of guitar strumming singer-songwriter.
It's an impression reinforced by the opening Cars And Trucks, a rush and tumble song built upon a simple repeated bassline over which her airy vocals skip, vaulting over the moments when everything erupts in a noisy squall. By this point I was already won over, the rest of the album merely serving to confirm my new-found affections.
I'm not being dismissive when I say 'merely', I 'm just saying that everything here, individually or collectively, should have you swooning at her musical feet. By The Lake reminds me a little of Kimya Dawson with its offhand coy innocence, Our Love a strolling rhythm with slightly distorted electric guitar, Beneath The Leaves a celebration of the soothing powers of pastoral beauty transporting you from the world's worries, sung in appropriately childlike tones.
Listening to these songs, you wonder how on earth she could question her own abilities and worth, but self-doubt looms large in many of the songs; the unaccompanied, cracked opening lines of the bluesy confessional Homeless declaring 'I used to be good' before a sparse throbbing bass backdrop confessions of drink, heartache and abandonment as she sings "to all who love me, I am sorry." Elsewhere she says that, despite all the positive things to her life, she feels she Can't Make It No More while Another Second Chance's simply whispered acoustic strum has her waking up feeling inexplicably lost.
The sparkling, jaunty Our Love seems momentarily upbeat, but she remains haunted by the prospect of loss, left alone on The Gambler, unable to find the love she needs on I Thought I Could Do It (one of the flowers that no one will pick) and even on the apparently content Last Night I Lay In Bed she finds herself thinking about losing the man she's with.
Part way through Cars and Trucks she tackles writer's block head on and sings 'I'm writing this song to prove to myself that maybe I can write songs'. She most certainly can and hopefully will continue to do so for many more albums to come.
Mike Davies May 2013
---
Mark Wynn - Eggs, Kes and that Bike I Never Bought You Even Though That I Would Like To (Little Num Num)
As reassuringly prolific as he is sometimes barking, York's stream of consciousness minstrel returns with yet another assemblage of poems and songs that further serve to reinforce claims for him as this generation's John Cooper Clarke. Musically never moving beyond a couple of strummed chords, there's not what you might call any proper melodies, just backdrops for what frequently sounds like improvised lyrics as Wynn garbles his way through like a sprinter, changing tack, correcting himself, apologising and commenting (usually disparagingly) on his own choice of words or lines.
Two tracks (Kes, about exchanging an unwanted gift at HMV, and Buses On New Year's Day) are less than 50 seconds and nothing makes it past the three minute mark, but within that Eggs And Juice (if I may over-intellectualise) offers commentary on the misunderstood artist, Radio Song features the incisive line 'our friends are still struggling to attain the standards we have set for them', BHS Thing takes in a swipe at music critics, Words celebrates what words can do and the reflective Sunday We Went To See The Baby echoes the mundane lives depicted in 60s kitchen sink movies. He's not going to be to everyone's tastes, but there's just something about him that keeps you wanting to hear what he does next.
As with the last album, he also gives over several track to artists he likes, mostly noisy, thrashy punk, but Buffalo Skinners are well worth a listen with their waltzing Guthrie-esque death and drink song Wooden Box.
Mike Davies April 2013
---
Annie Keating - For Keeps (Own Label)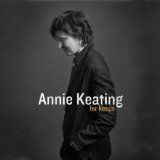 For an album of Brooklyn alt-country, it comes as a bit of a surprise when, on Let It Come, the Boston singer-songwriter suddenly launches into a funky jazz number that calls to mind Blondie's Rapture and the disco groove of Nile Rogers. However, it's the only thing here that might spook the horses as Keating delivers a mix of bluesy chuggers like the opening Storm Warning and Thrill Of The Chase, the mid-tempo twang of Leap Of Faith and All Gone, and pedal steel stroked balladry such as Right By You and the slow Celtic sway of River Clyde with its choral voices.
Inbetween, Sidecar offers a slow blue burns with strings and there's two versions of Take Only What You Can Carry, one a breathy-voiced band driven country rocker and the other, and to my mind better, a slowed down, late night last dance interpretation where you can almost hear the fireflies. The album ends with its sole cover, a laid back reading of Neil Young's Cowgirl In The Sand, though disappointingly Keating pitches it at one note throughout and the songs simply never seems to get going. Reservations aside, however, it's another step to bringing her the wider appreciation she warrants.
Mike Davies April 2013
---
Luke Winslow-King - The Coming Tide (Bloodshot)
Though hailing from smalltown North Michigan, Wilson-King's third album musically draws on his adopted home of New Orleans, the title track opener setting the mood with a good time gospel shuffle which, with its hi-hat, string bass, brass and Esther Rose's harmonies, conjures a carnival swaying its way down Main Street. The same lazy summer blues and jazz vibe rises like steam from the sunny sidewalk on the honky tonky piano and washboard backed Moving On (Towards Better Days), Let Em Talk and I Know She'll Do Right By Me where he calls to mind Leon Redbone.
Unashamedly retro, the album has a real affection for the era it evokes so superbly through the playing, production and arrangements of things like the hula swaying Staying In Town, I've Got The Blues For Rampart Street, and a leg slapping You & Me. As well as self-penned material, there's also a jerky cover of Blind Willie Johnson's Keep Your Lamp Trimmed And Burning with some fine bottleneck slide picking and a brooding version of Rudy Clark's I've Got My Mind Set On You that calls to mind Creedence at their swampiest.
In recent years, there's been many fine revivalists of the New Orleans sound, but Winslow-King is probably the closest I've heard yet who stands comparison with the vintage work of Dr John.
Mike Davies April 2013
---
Blackbeard's Tea Party - Whip Jamboree (Own Label)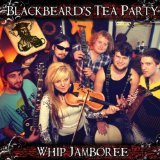 The latest offering from York's finest folk-rockers-cum-ceilidh-troupe bears all the hallmarks of a band who, having passed the initial acid-test hurdles and milestones and established a real definite presence on the scene, are now confidently moving onward and upward with an even more pronounced sense of purpose. On this they're proving they care strongly about establishing their own identity for the all-important stage in their career marked out as that difficult third album (well, 2½-ish!), and although to be fair they're still on occasion displaying traces of that partially (if unconsciously) adopted "Bellowhead meets Duncan McFarlane Band" mantle, by and large they show they can rise above such pretensions.
Setting out their collective stall from the very first up-beat, with that archetypal (yet deceptively well-controlled) power-drenched throw-everything-at-you sound bringing all the essential elements of the BTP experience: thumping, stomping beat with intelligent deployment of cross-rhythms from the winning twin-hitter-team of Yom Hardy and Dave Boston, Laura Barber's demonically brilliant flying-every-which-way fiddle, Martin Coumbe's blinding raucous fuzz-drenched electric guitar, Stuart Giddens' suitably animated melodeonery, Tim Yates' stocky, chunky new electric bass, and full-throated piratical yo-ho-hos interacting with Stuart's commanding, robustly characterised lead vocal.
The first seven tracks spring this hearty smorgasbord through your headphones in a bewildering headlong romp through tradition and invention, from a significantly sturdy opening take on Valiant Turpin; a scintillating, whirling Devil In The Kitchen tune-set; a mighty snare-tattoo-driven account of Ford O' Kabul River; a wonderfully raggle-taggled solo fiddle ride into the shanty-filled abyss of Bulgine; a modestly-titled and freshly-squeezed set of The New Jigs; a phantasmic, portentously mendled grind-'n'-bump treatment of the grisly Lankin ballad; and a more extended, episodic instrumental set making good use of textural contrasts.
Now - and here's the curious part - thereafter I found myself losing faith just a touch. It's not that BTP is making any less effort to entertain, or that their performances over the latter few items of the disc are any less committed, or that there's any shortfall in dynamism. Maybe there's hints of a sound-stage formula creeping in, and there might be felt less of a capacity to surprise once the listener's gotten a bit more used to the way BTP are. Anyway, I didn't find the disc's final stages quite as compelling as those which had gone before - although having said that, when taken in isolation it still proves pretty hard to resist the choppy dance-floor funk of Rackabella or the deliriously twisty-and-turny contours of Whitstable Cottage in particular.
Arguably, taking on Jake Thackray's formidable Landlady in madcap klezmer mode was a brave gambit indeed even if it doesn't quite come off (and the humour feels a tad self-consciously manipulated to avoid being glossed over), and perhaps the singalong title number seems a bit of an anti-climax after Laura's breakneck whiplash opening tune. But these observations, I stress, are merely comparative when any listener is bound to be knocked out - or at least pleasantly overfaced - by the impact of the album's stunning first half.
Whatever, no true-blooded folk-rock fan will be disappointed in purchasing this seriously invigorating disc. Because what's still important is that these guys sure know how to party - with more than a vengeance!
David Kidman April 2013
---
The Stray Birds - The Stray Birds (Own Label)
This disc arrived with high recommendations from folks I trust, and in the wake of an excellent grapevine. If traditional-sounding bluegrassy-oldtime-folk with the authentic backporch vibe is your bag, then you'll not fail to lap this up eagerly. They hail from Lancaster County, Pennsylvania, and have been together just over three years now. Though they're but a trio, they make a sound that's not exactly sparse: clear-textured yet full in tone, with fiddle, occasional banjo, guitars and bass together conjuring a generously rounded sound picture that fits their self-penned material like a glove. Having received glowing reports of live appearances since the release of their debut recording (2010's Borderland EP), I'm heartened to observe that a potent intimacy of delivery and expression is a keynote of their approach on this eponymous new record too.
Fiddle player Maya de Vitry has one of those memorable voices that sells a song straight into your heart by combining plain-talking southern sultriness with a sweetly moulded observance of the lyric that demonstrates deep understanding and insight, while guitarist Oliver Craven does the biz in time-honoured country fashion with straight-down-the-line conviction and an honest-to-goodness grasp of any emotion. And then those two voices gel together with that of bass player Charles Muench to produce some subtle yet forthright harmonies that really breathe rather than smothering the melody line.
Having already confirmed the exceptional quality of the singing and the keen musicianship (which also incorporates a telling feel for the inventive, if only occasional use of textures like electric and resophonic guitar). I might now stand to be accused of hyperbole when I come to report that the songwriting is first-rate too. Just to have written the opener Dream In Blue would probably ensure Maya's name a place on any Awards nomination, but her remaining compositions on this disc are no less fine: the lilting waltzer Wildflower Honey wouldn't disgrace a Katy Brislin or Hazel Dickens album, while the atmospheric Harlem might easily've come straight out of the Gillian Welch songbook and the final track, Wind And Rain, is 100% pure undistilled essence of backporch (complete with crickets etc.). Oliver tends to take the vocal lead on his own songs, of which 25 To Life, Heavy Hands and My Brother's Hill are the pick of the crop. And it must say something too that, even when surrounded by all those glorious songs, one of the disc's undisputed standouts, and a crowning achievement, turns out to be a breathtaking, truly air-cutting twin-fiddle instrumental medley.
OK, so there has to be a caveat somewhere that prevents me from awarding this record the ultimate accolade - and so it proves, in the shape of the pair of uptempo numbers, which, though brilliantly authentically managed in an appealing hick/hillbilly-barroom-swing mode, seem to disrupt the mood of the disc a touch (though I bet Just Sayin' is a real hoot at a live gig). But hey, that sounds a mite churlish, and after a few playthroughs I certainly felt more comfortable with those contrasting manoeuvres, so maybe in time something approaching an ultimate accolade can be dusted off after all.
David Kidman April 2013
---
David Philips - December Wine (Black & Tan)

Barcelona-domiciled though Nottingham-born, Philips had an attack of nostalgia back in autumn 2012 and, having tracked down a supply of TDK SA90s, brought his old Teac Portastudio 4 track cassette recorder out of retirement to record a few demos.
Pleased with the results, he sent them to his label boss for a second opinion. This release is that opinion. However despite the recipe for lo fi bedroom roughness being writ large the limitations – limited editing, tape hiss and the inherent compression of the cassette system – the sound is fine and the production assured.
Not that matters too much if the music is actually the ultimate weak link and that most definitely is not the case. Philips may not be the most original writer you're going to hear, but his songs are straightfoward, emotionally candid and performed with an engaging truthfulness. They're mostly folky meditations on life in all of its colours, but Philips' vocals have a bluesiness about them that adds a faint whiff of John Martyn and, on occasion, I was reminded of the best moments of Medicine Head when the percussion kicked in. A hugely listenable album that's well worth tracking down.
Steve Morris April 2013
---
Susan James - Driving Toward The Sun (Susan James Music)
An album of 'psychedelic country-folk rock' rooted in LA's canyons, lauded by Ryan Adams, featuring the production work and playing of Tom Petty alumnus Ryan Ulyate and listing Don Heffington and Neal Casale should have been a shoe-in for an instant five stars in my house.
However something as simple (and I guess outdated in these iPod days) as choosing the wrong opener continued to niggle me and soften both the impact and that star rating. Took me a while to fathom that out too; I kept listening and genuinely enjoying the album, but only after the opening title track had passed its half way point. Now you might think that I'm just being pernickerty, but had Ms James simply switched track 2 with the opener I would have been so easily won over!
That said this really is fine country-folk rock (not sure about the psychedelia, mind) with finely played and layered guitars topped with sweeping pedal steel. Moreover, they're serving a set of very good songs that examine relationships with a fine eye for detail and ear for melody. The title track, a song about leaving, for example includes the lines "On the floor / Souvenirs / Of all the things we've been" which captures so much in so few words. And that's pretty typical of all of the songs featured here.
Years ago this would have come out on Asylum with J.D. Souther guesting on harmonies and it would have stood proud in that catalogue. And maybe, just maybe, someone would have gotten the track order right!
Steve Morris April 2013
---
Terry Allen - Bottom Of The World (Own Label)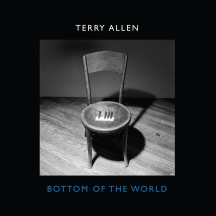 It's been 14 years since the Texas singer-songwriter last released a new studio album, during which time he's been busily involved with his painting, sculpturing and theatrical work. However, listening to that dusty Guy Clark-like drawl and hearing his often enigmatic lyrics, it's like he's never been away. Indeed, the album opens with a firm reminder of his past, once again (as he has done for all his albums) reworking a track off his 1975 debut, Juarez, here a more reflective version of emotional field trip Four Corners with Lloyd Maines providing the weeping pedal steel.
It's not the only revisited number, the second track, Queenie's Song, a Clark co-write about burying his pet dog after it was shot by some 's.o.b.' who 'must have got a gun for Christmas' originally appeared on Clark's 2002 album, The Dark. Likewise. with son Bukka on yearning accordion, the lovely Angels In The Wind is a honky tonk waltzer (with an oblique Ernest Tubb reference) that dates back to 1994 as part of Allen's theatrical production Chippy: Diary Of A West Texas Hooker and appeared on the 'soundtrack' album the following year.
All previously unreleased, the other songs (some new, some from other plays) offer a varied selection of themes and stories. Hold On To The House was the subtitle of his 2004 audio-visual work Dugout II, part of a love story set in 1950s America that he calls an "investigation into the end of the world, how memory blows up and changes everything", which makes a lot more sense when you hear him singing lyrics about making a stand in various rooms.
Introed by pedal steel, Do They Dream Of Hell In Heaven (from 2006's Antonin Artaud-themed Ghost Ship Rodez) is a wry reflection on rewards and regrets that's worthy (and reminiscent) of John Prine, the part-spoken Emergency Human Blood Courier with its repeated keyboard pulse unfolds a noirish tale on the Mexican border inspired by ten years of murders in Ciudad Juárez while, another moodily sparse spoken track drawing on real events, The Gift harrowingly addresses the tragic suicide of Mark Madoff, son of the Ponzi fraudster.
Elsewhere, the title track's a playful list of places he may visit (but never does) that manages to slip in an Ava Gardner name check and, a meditation on cinema as escapism, Wake Of The Red Witch, which also mentions The Robe, The Searchers and The Sands of Iwo Jima, recalls his childhood big screen hero, adding extra poignancy to the refrain 'John Wayne's dead.
The album closes with Sidekick Anthem and Covenant, two simple, sweet and tender melody-sharing love songs for his wife and collaborator of 52 years, actress, poet, playwright Jo Harvey Allen that leave you with a warm, fuzzy glow. 38 years on from that first album, while he may have been born in Kansas, this serves a timely reminder that Allen remains arguably the finest Texas troubadour of outlaw country.
Mike Davies April 2013
---
Gary Hall - Winning Ways On Losing Streaks (Northern Sun)
Releasing his debut album back in 1988, Hall spent four years fronting The Stormbringers (the band in which Michael Weston King played prior to forming The Good Sons), releasing four albums before relocating to Nashville for a solo career. Three further critically acclaimed albums followed before he returned home to open his Voodoo Room recording studios. A fifth Stormbringers album followed in 2001, but then he dropped below the radar for a decade, finally returning with two albums, Songs From The Voodoo Rooms with Ian Bailey and, his first solo album in 15 years, That Old Brand New, both of which sadly appear to have passed me by.
So, the arrival of this new album was like meeting up with an old friend again after many years and discovering that, while they may look and sound older, they've matured with time like a fine whisky. Again joined by Bailey on vocals and guitars with assorted guest contributions on mandolin, banjo, lap steel, dobro, and strings, it's an acoustic collection of roots-country music variously grained with Texas dust, Appalachian pines and honky tonk fumes. Hall's voice has seasoned and deepened into a warm, slightly husky twang which on barroom weepie I Can't Believe She's Gone sounds somewhere between George Jones and Johnny Cash while the beautiful reflective Long Mynd Mornings has definite hints of John Stewart.
Opening with the laid back shrug of The Feel Good Factor Blues, there's a solid fist of uptempo numbers, ranging from the slide driven six minute One Step Ahead Of The Blues and the TexMex country rock feel of The Enemy Within to the upbeat fiddle accompanied Stick Around Bojangles and a punchy cover of the Old Crow Medicine Show's part Dylan-penned Wagon Wheel.
These are well balanced by a fine selection of slower or mid-tempo tracks; the metronomic rumbling and spooked dobro of A Country Mile From The Shore's reflections on a life lived, a steadily strummed A Small Price To Pay which, complete with harmonies and harmonica, could easily pass for an Everlys country classic, the twang and warble Still My Reason Why and the terrific close harmony Red Dirt Roads about a girl leaving home and baby to become a big city singing star and finding only a jar of empty dreams and an audience of drunks and losers.
The only niggle is that there's no lyric sheet, but with this and a second My Darling Clementine album due, classic old school country has never been in better British hands.
Mike Davies March 2013
---
Markus Rill & The Troublemakers - My Rocket Ship (Blue Rose)
The second album in as many years from the German singer-songwriter continues to establish his credentials as an honorary Austinite, again evoking comparisons to Steve Earle. Although you'll hear some dark Appalachian tones swirling around the loneliness, love and liquor themed One Fix Or Another and When The Night Calls filters in doo wop and Southern soul, he's once more painting from a very Texan pallette. Brushtrokes range from the throaty, bluesy drawls like Edge Of Nothing and the funky boneyard stomp of Way Down to dusty, reflective troubadour numbers like the title track's ode to his guitar and the poignant The Facts Of My Life, the lyrics based on the tweets of Lauara Kinney, a 31-year-old infant victim of viral meningitis born with club feet who's never grown beyond 4'9" as opposed to the Marvel universe Wolverine clone.
There's a streak of sentimentality evident on Far Too Long Too Far, a jaunty brushed snare and slide guitar road song letter home to his daughter while the strive-harder For The Stars casts a romantic optimist light, but there's never anything less than honest emotions. Which is why the album's closing track, The Late Great TvZ, a part spoken reminiscence of and homage to Townes Van Zandt backdropped by just acoustic guitar and lap steel, comes from the heart without any hint of cheese or corn. "God believes in me", he sings on his award-winning 'gospel' song. You should share the faith.
Mike Davies April 2013
---
Various - The Music Is You: A Tribute To John Denver (Ato)
Hard to believe, but it's just over 40 years since (after six previous releases) John Denver scored his first US Top 10 album with Rocky Mountain High, To mark both that (the album appeared in the US last year, so the UK release is a few months out) and the 15th anniversary of his tragic death, a diverse array of artists have come together to record this tribute collection.
Born in New Mexico, with his mop of blonde hair, glasses and permanent smile, Denver was the epitome of gee shucks folk music, a sentimental romantic who sang about Colorado, sunshine, nature and his wife. who hung out with the Muppets and campaigned for the environment. He seemed such a poster boy for All American wholesomeness that it was as much a relief as a shock when he confessed to drug abuse, adultery and domestic violence. If it didn't make him hip, it did make him seem human.
Until then, however, his image seemed to detract attention from his talent as a writer and it became popular to parody or mock his perceived sappiness, overlooking both the affecting emotions and sometimes political fire in his music. This tribute goes some way to putting the attention back on his craft.
The selections vary between the obvious well known hits and more obscure album tracks and, inevitably there'll always be those asking why, for example, Calypso, Poems Prayers and Promises, Goodbye Again or Autograph aren't here while, despite excellent performances from Mary Chapin Carpenter and Josh Ritter respectively, I Guess He'd Rather Be in Colorado and Darcy Farrow are when they weren't even written (his name's been dropped from the former's credits) by Denver. For the most part, though, the choices are solid.
The album opens with its stand out number, an achingly sad reading of Leaving On A Jet Plane (one of the quintessential life on the road songs) by My Morning Jacket. Unfortunately, as covered by the little known Brett Dennen and Belgium's Milow, Annie's Song, Denver's other best known track, doesn't fare quite as well.
Other misfires include Dave Matthews' strangled reading of Take Me To Tomorrow, Prisoners which J Mascis and Sharon Van Etten seek to turn into a Dinosaur Jr excursion into rock guitar distortion, Blind Pilot's plodding rock anthem The Eagles and the Hawk and Rocky Mountain High itself, rather spoiled by Allen Stone's very audible intake of breath after every verse.
However, the gold nuggets outweigh the iron pyrites with Kathleen Edwards (the waltzing All Of My Memories), Evan Dando (Looking For Space getting a cosmic country feel), Amos Lee (a simple acoustic wearied Some Days Are Diamonds), Old Crow Medicine Show (giving Back Home Again their trademark touch) and, predictably, the teaming of Brandi Carlile and Emmylou Harris (who herself once duetted with Denver) for the irresistible Take Me Home, Country Roads.
The jury remains out on Train's Sunshine On My Shoulders, not such much for their fluid, dreamy version, but because the song itself can't shake off the country boy corn, a croaky Lucinda Williams slurring through This Old Guitar, and an 'energetic' take on protest number Wooden Indian by Edward Sharpe and the Magentic Zeros who manage to turn the concise 1:38 original into a five minute carnival jazz jam session.
Overall though, it's a pretty good collection and, if it prompts fabns of any of the artists featured to seek out one of Denver's own Best Of compilations, it'll have done its job.
Mike Davies April 2013
---
Pharis and Jason Romero - Long Gone Out West Blues (Lula)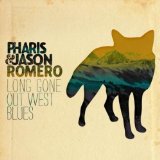 I was much taken with the Canadian duo's debut album, a collection of self-penned and traditional old time country music that sounded as though it might have been plucked from the Folkways archives. So I'm delighted they've found time between crafting banjos at their cabin in the delightfully named Horsefly, British Columbia, to record a second. It's more of the same, in a good way, with a mixture of trad tunes, covers and songs penned by the duo, either individually or together, played on a 1937 Martin , 1941 Martin, resophonic guitar, and self-made banjos with Pharis taking lead vocal.
Dylan, Baez and Mitchell have been toted as influences while a comparison to Welch and Rawlings has been as obligatory as it is inevitable, but while elements of each hold true that's more because they all drink from the same hillbilly well that fed pioneers such as The Carter Family, the Stanley Brothers, Jimmie Rogers, Pete Seeger, Woody Guthrie and Roy Acuff.
The couple certainly know their way round the backwoods of American folk music, including not only the familiar in Sally Goodin (one of two banjo instrumentals) and Wild Bill Jones but the rather more obscure It Suits Me, a country blues reworking of a number by 50s gospel singer Bessie Jones and Appalachian fiddler Hobart Smith recorded as the Georgia Sea Island Singers.
The choice of covers also suggests a life of rummaging through record racks and folk archives: , though popularised by both Merle Haggard and Webb Pierce, they learned Ted Daffan's Truck Driver's Blues from a 40s radio broadcast by the Collard Brothers, Billy Baskette's Waiting For The Evening Mail (a song once recorded by Al Jolson) from a 30s 78 by Riley Puckett, and, while best known for the Jim Reeves version, Walter Scott's country gospel Across The Bridge was learned from a 1970 release by white husband and wife gospel duo The Cooke Duet.
What really impresses, is how the couple's own songs measure up to the extent that, unless you read the credits, you'd be hard put to distinguish numbers like the melancholic I Want To Be Lucky, the lost love title track, and Come On Home's beautifully harmonised called to glory from those written 60-70 years ago. Indeed, Lonely Home Blues sounding like a kissing cousin of Lovesick Blues, albeit without the yodel.
Imagine finding a faded sepia photo of late 30s rural America, a cropsharer family posing for a portrait or the gathering of a small congregation at the wooden church in some pasture. Hold it to your ear, and this album is the music you would hear.
Mike Davies April 2013
---
Bart Budwig - Whisky Girl (Woolly)
Faced with a grotesquely unappealing cover drawing and a twee lyric that goes "Why can't life be simple? Why do I have to complicate? Bees seem fine making honey. Maybe I should make honey too", you might well decide to steer clear of this debut album by the small-town Idaho singer-songwriter. That would be your loss because Budwig has a warmly relaxed, rural America acoustic sound that brings with it the feel of country fields and skies as he balances the trials of life with the joy of being part of it. Or, as he puts it on the simple shuffling Weary Mind , "I'm hopeless but I'm happy. I know that life is hard. I'm tired but I'm working. I want to do my part."
It is, admittedly a frustratingly uneven album on which things like the echoey distorted Intro, the scrappy blues dirge A Coke And A Smile and clattering, bass throbbed, funky rhythm Smokin' test patience, but are offset by the keening pedal steel driving title track where he vaguely suggests a country version of the young Paul Simon, and the album's two covers, Alex Van Tuyl's loss-laden melancholic twang Texas and, especially, the waltzing MDLYBGUTBC (which acronym fans will know as Mothers Don't Let Your Babies Grow Up To Be Cowboys) on which he's a dead spit for John Prine.
Next time round, a little more quality control would be in order, but there's enough here to warrant further listening.
Mike Davies April 2013
---
Trwbador - Trwbador (Owlet) Having waxed lyrical over Laurence Made Me Cry, here's another off-kilter avant-pop Welsh act that weaves together folk, electronics and experimentalism to intoxicating effect. Hailing from Carmarthenshire, they comprise Welsh-Dutch singer and xylophonist Angharad Van Rijswijk and guitarist cum knob-twiddler Owain Gwilym with tamboura and sitar courtesy of Cornershop on the wheezy mantra-like Sun In The Winter and some Welsh rapping from Odlgymix on the stop start suitably watery pattering of Rain.

Recorded in their Llandeilo bedroom, the music's not easy to describe (and harder to pigeonhole), but suffice to say Carpet Burns marries trip hop with fragile folk in a way that recalls the solo album by Portishead's Beth Gibbons, Eira's a fractured acoustic guitar and electronics instrumental on a loop, Mountain a pixieish shimmer and Drws a sort of Welsh equivalent of Bjork at her weirdest.

The best moments though are Safe, where Broadcast meets St Etienne meets Kate Bush, Lluniau with its synth harp sound and Risjswijk's interlaced weave of vocals and vocalese, and the delightful Red Handkerchiefs on which her voice takes on a shape-shifting form that sees her range chameleon-like between whispering puckish sprite and trilling folk faerie while simultaneously providing choral backing and a hypnotic a capella don don don rhythmic refrain over Gwilym's dreamy melody. Folk music from beyond the mists of time and for futures yet unwritten.

Mike Davies April 2013
---
Brass Monkey - The Best Of Live: 30th Anniversary Celebration (CD & DVD) (Park Records)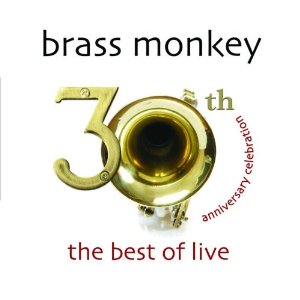 Hard to credit it, but it's been 30 years since the time when the (then-largely-unproven) teaming of brass instruments with traditional folk instruments thrust itself on unsuspecting folkies with the formation of Brass Monkey. It arose from the augmentation of the oft-time (and by then fairly regular) duo of Martin Carthy and John Kirkpatrick with the three stellar brass players Howard Evans, Martin Brinsford and Roger Williams, and its truly unmistakable sound and approach quickly became a welcomely ubiquitous fixture in the folk-scene furniture of the '80s.
Following a short period of inactivity in the '90s, normal service was resumed in 1997 with the fired-up and newly energised band, which has continued to thrill audiences to this day, interrupted only by the sad and untimely death of trumpeter Howard in 2006, in eventual replacement for whom the band has now settled with Paul Archibald and Shane Brennan - resulting in the six-piece lineup that recorded the pair of live sets that appear on this resplendent double-disc package. Inexplicably, the otherwise well-informative booklet neglects to credit the actual occasions, although both seem to emanate from last year's tour (the DVD caption gives a spring 2012 show at Derby Assembly Rooms). The set-lists vary almost negligibly from CD to DVD, aside from a modicum of reshuffling of the running order and the DVD's interpolation of a vibrant account of Soldier Soldier (Will You Marry Me Now?) led by Mr Carthy.
The menu comprises a parade of Brass Monkey's best-known material from the early days plus a handful of their more recent conquests, and carefully mixes instrumental with vocal numbers. Beginning (as does every Brass Monkey gig these days) with The Old Grenadier, in memory of Howard, the energy never lets up, and foot-tapping highlights come thick and fast with all the genuine excitement generated through the combination of stirring solo work and taut (and commendably loud) ensemble that keeps so fine a dynamic balance, high points coming on the Lichfield Tattoo set, The King's Hunt, Martin B's jolly harmonica showpiece Happy Hours and, among the songs, The Maid And The Palmer and The Swinton May Song.
The sense of presence on both CD and DVD is magnificent, though the former arguably has the edge in purely audio terms. The 82-minute DVD presents a straightforwardly filmed stage performance, but (like its companion 76-minute CD) it's been edited down to exclude the between-numbers banter and often crazy introductions, so it could be argued that in concentrating on the music it might give a slightly misleadingly over-solemn representation of what is usually a more fun gig than it appears (having said which, there's no shortage of enthusiasm or sense of enjoyment in the actual music-making).
Whatever though, this is a must-have celebratory package that's also touted as heralding the start of a new phase of musical adventure for Brass Monkey - I wonder what they have in store for us next.
David Kidman March 2013
---
Nataly Dawn - How I Knew Her (Nonesuch)
Dawn's generally known as one half of the oblique (in the sense of record-label-resistant) San Francisco-based duo Pomplamoose, whose own music has so far been nigh impossible to source on CD (in spite of its massive exposure on video and internet media). Now, through the innovative Kickstarter funding process, she's finally made it onto a major-label list for the purpose of showcasing her own quirky, largely autobiographical and introspective songwriting, and with the help of longtime partner Jack Conte has created a strangely alluring collection, three of whose 12 songs (Please Don't Scream, Leslie and Araceli) have already been available both on YouTube and in EP form since December last year.
Familiarity won't breed contempt, however, for there's a sometimes thorny challenge for the unwary listener lurking beneath the chirpy, bright and almost carnivalesque musical settings that often rather belie the distinctly inward-looking nature of Nataly's lyrics. Even after several weeks of fairly close acquaintance, it's not always proved easy to reconcile these elements - although in this context one can understand Nataly's infatuation with the music of Tom Waits and just how much it has influenced her own music, especially in the use of oddball textures and skewed instrumentation.
Disc opener Araceli employs banjo, violin, cello and kitchen-sink percussion to convey the rustic antiquity of its mythological allegory and subject, contrasting with the carefree fairground ambience of Leslie and the more ominous, low-key questioning of the ruminative title song. But from the insistent Jupiter cello ostinatos of Long Running Joke to the resigned delicacy of Counting Down, the cheeky clappy Caroline and the insouciant cabaret of Still A Believer to the faux-nostalgic swooning echoey ballroom strings of Why Did You Marry?, there's constant interest in the creative instrumental settings, which were recorded by a full band in just the one room, yet (weirdly) sound less cluttered or claustrophobic than merely a touch heady.
Her vocal style is idiosyncratic yet accessible, savvy yet coolly cute and often quite childlike but not twee or sugary, and imparts an attractive waywardness that manages to stay the right side of listenable. But even more overtly attention-grabbing of all, perhaps, are the delinquent electric numbers: the smoky revenge-grunge of Even Steven and the gutsy garage-rockabilly of Please Don't Scream with its killer guitar solo (Ryan Lerman). And although Jack's production skills are a key element in the success of the album, there's an equally compelling pair of tracks where Nataly's plaintive vocal has only a bare acoustic guitar accompaniment: the thoughtful Back To The Barracks and the intimate, if petulant I Just Wanted You To Get Old. Here just as much, Nataly bares her soul, and it's hard not to respond.
David Kidman March 2013
---
The John Langan Band - Bones of Contention (Own Label)
Forged in the eclectic Glaswegian crucible of all things contemporary Folk, European Fusion, Celto/Gypsy Jazz and kick-ass, klepto-Klezmer this is an album you really want your self to like. Given the band's tendency for slightly left of field fiddling whilst Rome burns live-gig lunatic abandon there are few surprises. With Dave Tunstall on double-bass and Alastair Caplin on fiddling/backing vocals - at Langan's command - they unleash all Hell. And, indeed, press-release 'Psychedelic/Punk' nomenclatures are not bestowed lightly in consideration of what unfolds in this Curate's egg of an album. Opening track Aquaplane sets the pace with a delirious Balkan-blitz fiddle 'n bass hoe-down showdown. There's a mystic, heather musk dreamy air to Winter Song - its Celtic romance tinged with plaintive resonance. If anything, at over an hour's playing time this album may trip up for being (laudably) too ambitious and over eager to please. What works live doesn't always translate to CD.
Nevertheless, it's an utter smorgasbord of Bluegrass, Appalachian Pogue-in-the-eye naughtiness and the already converted will clasp it to their bosoms with whoops of glee. '...a kaleidoscopic swirling cocktail of carnival and colour..' wrote Adam Curtis for the Eden Festival. Quite so. Or, perhaps a flickering 'What The Butler Saw' peep-show. Saucy expectations best left to the imagination. There's no disputing the sleazy, Southern drawl, box-car clattering menace of Dave Tunsall's double-bass bowing divertimento in to the dronal Dark Side on Charlies Rant (sic). The lyric insert booklet has illustrations that are..well cock-sure to say the least. And, we'll leave it to the band errhum 'members' to decide who measures up the best. - bones of contention as it were...
www.facebook.com/thejohnlanganband
John Kennedy April 2013
---
Katie Rose - empty cup (The Rose Window)
A couple of years ago, Katie brought out a tantalising EP Fol-de-Rose, on which she delivered intriguing, experimental treatments of traditional material, and its full-length followup, tests her personal ingenuity (not to mention her impressive vocal technique and her skill in instrumental arrangement) even more bravely in "blending her lifelong fascination with sacred sound with wayward wanderings along the lanes of traditional songs".
Fittingly, since it was released in celebration of World Water Day, the CD has water seeping through its very pores, providing a both unifying life-force and a recurring element in the tales being told, as well as a kind of literal counterpart for the distinctly liquid qualities of Katie's singing voice. Although Katie's inventive approach to the interpretation and setting of traditional song is highly individual, there are at times post-echoes of singers as disparate as Sheila Chandra, Lisa Knapp and Kate Bush, the latter especially on tracks like Willow (a lyrical setting of Desdemona's song from Othello) with its swooping, soaring vocal lines. But stunning vocal aerobatics could not in isolation be considered so crucial an element in the success of any contemporary album of reworked traditional song, and Katie's gorgeously urbanised take on tradition relies equally as much - if not more - on keenly imaginative musical arrangement for its impact.
The album's highlights begin at the outset, where the sampled sound of fading gunshots makes for an arresting opening, ushering in a bleak programmed beat over which enters Katie's voice - resigned, desolate and almost matter-of-fact, at first solo and then in harmony - for an urban retelling of the ballad of Molly Bawn; supporting organ chords are then added, and the texture builds then dies, leaving only the lone minimalist heartbeat.
Other notable moments include Requiem, introduced by crashing waves and eternal tambura-drone, which creatively utilises Fauré's soprano aria Pie Jesu (from his own Requiem) as a frame for a 19th century whaling ballad (sounds unlikely but it really works); Robert Burns' Red Red Rose, which is given a coquettishly caressing wee-small-hours lounge-jazz setting; Quiet Silent, which employs a gutsy shanty-styled rhythm as a counterpoint to a winsome rendition of All Things Are Quite Silent; Streets, which relocates its ballad from Derry to South London to a bleak backdrop of bare block-chording; a compellingly edgy and clear-sighted take on Maid On The Shore; and the title song, which turns out to be a mesmerising melange of a Sanskrit mantra, a verse of Ben Jonson's Song To Celia (aka Drink To Me Only) and a poem by 13th century mystic Jallaludin Rumi.
Given the overall theme of the disc, its centrepiece could be considered to be Oshun (which by the way comes eighth in the running-order, not ninth as listed on the package); this song is named after the West African goddess associated with moisture, water, attraction, harmony, ecstasy, fertility, sensuality and beauty, and mirrors those very qualities in its gently pulsing invocation and soothing, rather new-age vibe.
The disc's attractive organic-DIY ambience is accentuated by Katie's accomplished musicianship; she plays all instruments herself - piano, keyboards and sundry percussive exotica - and all the voices you hear are her own, multitracked where necessary. The exception is Brigg Fair, an affectionate rustic idyll on which the vocal part is taken by Katie's father John Burden, who had introduced Katie to the music of Vaughan Williams and Britten (and presumably therefore also Delius?) at an early age. However, the flowery tone of his delivery and the self-consciously mellow keyboard washes of the backing seem rather at odds with the more natural expressive tonalities Katie tends to favour elsewhere on the disc. And even then, perhaps not all of the selections quite suit Katie's self-styled "folk-mantra" treatment. Water Is Wide's lapping, splashing rhythms and jazz-improv feel don't really convey the essence of the lyric, while Katie's adoption of a girlish warble as primary timbre on some songs isn't always entirely believable, and the closing Epilogue (which pleasingly reprises or develops bare fragments from some of the preceding tracks) might be considered a touch redundant.
But any largely experimental outing is bound to involve a small measure of curate's egg, and Katie is to be applauded for her initiative nonetheless. Her abundant artistic creativity extends to the CD package, which sports a complex origami design. Since this gambit allows no room for lyrics or song notes, these are available as a pdf from Katie's website.
David Kidman March 2013
---
Cathryn Craig & Brian Willoughby - Real World (Cabritunes Records)
This partnership has been delivering honest, top-quality rootsy folk music for several years now, building a loyal fan-base irrespective of passing trends. Their special blend of Americana and contemporary folk derives from the dream-teaming of two highly talented and wholly complementary musical personalities: Cathryn the accomplished Nashville singer-songwriter and Brian the virtuoso former Strawbs guitarist. A hallmark of any Craig & Willoughby recording or gig is their perennially assured performance style, but nowhere is the impact of their music greater than when they're performing live and intimate. As on this live-in-the-studio, almost-bare-bones (undoctored, with minimal studio enhancement) recording of a dozen consistently strong Craig-Willoughby compositions. Seven of these fall into the by-now-well-proven category, and although the particularly-well-loved Alice's Song is here making its fourth appearance in the combined Craig-Willoughby recorded catalogue, this latest, brilliant rendition will surely prove to be the definitive one to have in your collection. As is likely to be the case with the remainder of these songs, which range from Kathryn's early Porch Songs classic Two Hearts, One Love and the rousing (and distinctly Parton-esque) I Will to the equally worthy but arguably more obscure (if only by direct comparison) numbers like the tender Goodbye Old Friend, the perceptive portrait of Cathryn's aunt Genevieve and the forthright incantatory Accanoe. Standouts among the five new compositions in the set include the gently thrilling pair of childhood reminiscences Eastview Lane and Malahide Moon, the moving Time Has Proved You Right and the powerful confessional Spirit Is Stronger Than Truth, while Cumberland sympathetically recounts the tragic flooding of that Nashville river just a couple of years ago.
Each and every one of these songs embodies that delicately-crafted quality we associate with true masters of songwriting, and the empathic togetherness in Brian's lovingly cradled accompaniments is miraculous, with gently textured invention that unerringly follows the contours of the melody yet succinctly and charismatically embellishes the expressive import of Cathryn's vocal prowess. The often stupendous emotional impact of these performances is invariably of the hairs-standing-on-back-of-neck variety each and every time you hear them, which is an astonishing achievement when you consider how many times the duo must have performed these songs. Brian's extended solo on the aforementioned Two Hearts, One Love is just one of the disc's many treasurable instrumental moments, but there are so many beautifully judged subliminal touches that surface on repeated play, and Cathryn's wonderful singing is always a deep pleasure to savour.
And never has the essence of this duo's personalities and their uniquely persuasive music-making been more accurately captured in the studio than here, by master engineer Ron Angus. Sublime! So welcome to the real world of this charmed circle.
David Kidman March 2013
---
Roddy Woomble - Listen To Keep (Reveal)
Former Idlewild frontman Woomble has been busy guesting on other folks' albums while keeping afloat his own solo career as an increasingly acclaimed singer-songwriter. And that acclaim should swell considerably on the evidence of his aptly named third solo album. It's a hard one to review, though, simply because its well-crafted nature and consistent listenability tend to conceal the deeper aspects of his creative artistry and make his songwriting difficult to pin down in any critical sense, even though it can't fail to generate a distinctive presence and a well-defined emotional response in any listener.
I admit to finding his persuasive debut album, My Secret Is My Silence, such a hard act to follow that I never actually got round to getting a copy of the second, The Impossible Song & Other Songs, but Listen To Keep marks a significant advance even over what I'd expected in terms of overall sound and quality of arrangements, let alone the thoughtful poignancy of Roddy's lyrics and the memorability of his melodies.
The powerful and dynamic musical settings to this latest collection of original songs are conjured by Roddy's fantastic backing band - Seonaid Aitken (violin, piano, keyboard), Sorren Maclean (guitars, banjo, piano, harmonium), Gavin Fox (bass), Danny Grant (drums) - whatever the musical idiom, which ranges from atmospheric, enigmatic contemporary chamber-folk (The Universe Is On My Side) and the contemplative Into The Distance On Luck via catchy folky-pop (Travelling Light) and introspective new-wave (I Know Where I Went Wrong) to edgy bluegrassy-country (the abundantly infectious Trouble Your Door, which contains some of the album's niftiest picking and superb fiddle playing from guest muso Hannah Fisher). And notwithstanding the impact made by Roddy's songwriting in its own right, the solo contributions from the band members (Sorren especially I thought) have to be credited as specially outstanding too, while the cohesive togetherness the musicians display as a team is also quite remarkable, suiting Roddy's own style down to the ground.
It would've been good to have the lyrics printed in the booklet, however (for all that its artwork and photography are stunning). This fine record, which has been on frequent replay since its arrival on my mat, deserves a more distinguished fate than that of its cult-classics predecessors.
David Kidman March 2013
---
Stone Blind Valentine - Burn Like A Field (Own Label)
SBV is the acoustic project of three Chicago musicians (Emily Hurd, Gregg Ostrom and Colby Maddox) whose music, though self-evidently steeped in bluegrass, early country and rock, sounds unlike any of these although by virtue of its instrumentation (mandolin, banjo, guitar and some fiddle, with album producer John Abbey guesting on upright bass) it most closely approximates traditional bluegrass (at least for most of the album's span).
Tried-and-tested-sounding licks and reliable picking, coupled with simply but effectively managed supporting harmonies, are used to best advantage to clothe the songs, all original compositions by Illinois-born Emily, the trio's lead vocalist and banjo (and piano) player. She's a savvy, versatile singer whose vocal range copes well with delicate lilting and belt-out soulfulness alike, and she displays these talents to good effect on her latest project with SBV (although the adoption of a rougher, grittier edge on Whiskey Neat feels slightly self-conscious).
Hurd's writing has already gained a measure of critical acclaim (she's released nine solo albums since 2005!), and although her songs may not always initially make you shout out loud and proclaim them the greatest, equally they're not in any way unmemorable. Her lyrics have an emotional honesty (and also a sense of humour) that is rather appealing, as is her use of nature imagery to tell her straightforward stories of matters of the heart.
From a strongly characterised start (the title number), and a comparably strong mid-section (Lucky Stars, Blue Columbine), the album maybe gets a touch uneven as it progresses further, with the final track Think What You Will a piano-backed folk-pop-style reflection that (musically) doesn't seem quite to belong with the rest of the album. But there's still enough here to stimulate my interest in Emily's back-catalogue (which I can't believe has eluded me for so long).
David Kidman March 2013
---
Hanz Araki & Kathryn Claire - As I Roved Out: Songs Of Spring (Celtic Conspiracy)
This is the second release in the duo's seasonal cycle of four discs (A Winter Solstice Celebration appeared only a few short months ago), and is an equally attractive prospect, presenting, over the course of its dozen selections, a brief tour through some very well-known folksongs (Searching For Lambs, Verdant Braes Of Skreen, Blackbirds And Thrushes, Rosemary Fair, etc.) interlaced with a small number of sufficiently sprightly tunes arranged into neat little medleys.
Hans and Kathryn are respected on the Northwest coast of the US for their interpretation of Irish traditional music, and the various tunes chosen for this release are reliably played on flute (Hans) and sometimes fiddle, with guitar accompaniment (Kathryn), and sufficiently genial soft-folk-rock-style rhythm backing from guest percussionist Joe Trump. The songs tend to employ a similar strategy, although there's a suspicion of formula in the arrangements and general approach (once you've heard one setting, you've heard them all), although some necessary variety is provided by Hans and Kathryn taking it more or less in turn to provide lead vocal.
The menu of the disc as a whole is intelligently balanced, and the overall tone is warm and pleasing. It's hard to fault the performances either in freshness of execution or basic technique, though I do wish there'd been a touch more imagination in the arrangements on occasion, and interpretively the duo have little new to offer on this material. As with their previous CD, perhaps the most satisfying tracks are the pair of a cappella renditions - here, Rosebud In June and Pleasant And Delightful, with their tightly coordinated (if at times a touch matter-of-fact) harmonies. Yes, As I Roved Out is a most acceptable set; in fact (while not wishing to damn the CD with faint praise) one could probably best describe it all as quite pleasant and delightful.
David Kidman March 2013
---
Ray Cashman - Rough And Tumble South (D Bomb Records)
I started off here not exactly enamoured of Cashman and what I first felt to be his almost dismissively casual approach to music-making, the opening cut being a loud and fairly unremarkable slice of deep-fried riff-laden blues-rock centred around an unhealthy-seeming preoccupation with food. Not exactly what you'd expect from a Nashville songwriter five albums down the line, especially in terms of the raw, at times grindingly heavy band sound - which it turns out is Ray's first excursion into that milieu.
The second track brings on a hearty country/swing fiddle to support his signature gritty, gruff baritone on a bluesy twelve-bar number with a twist, Simple Life, from which point things get somewhat rootsier intermittently, but often still maintaining a heavy-duty electrified backing that's so capably managed in its own way that by the time we reach the full-on charge of Devil And I, it's become well nigh irresistible and crushes everything in its path. The late-'60s-style wah-wah electric blues of Nobody But You provides a similarly persuasive instance of the literal aptness of the CD's title - this is rough and tumble southern music with a vengeance, and I soon found myself warming to its growly charms.
The set continues with abundant rootsy contrasts: the breezy brassy trombone and banjo ragtime-blues of Feeling No Pain, the driven snare tattoo of Mudbugs, the rich-toned acoustic jangle of Evangeline and the sneaky shuffle instrumental Holcomb Roll all fit snugly in amongst the determined thrust of in-yer-face electric excursions like Skin, while the album closes cheerfully with a fiddle-rich country romp Turn The Key. OK, for all that Cashman considers himself first and foremost a songwriter, I couldn't always get off on his writing (that fixation with food didn't help matters, I guess!), but I can sure admire the guy's no-nonsense grit, passion and conviction. What matters in the end is that the final outcome in terms of impact of this collection is that it made me reach for the replay button pretty soon after the music was over.
David Kidman March 2013
---
The Steeldrivers - Hammer Down (Rounder)
I was much taken with this Nashville-based outfit's first two albums, particularly the second (Reckless), one of my favourite bluegrass albums of 2010, but for some reason this latest release, though offering up a similarly robust and confident collection showcasing their intense, gutsy and soulful brand of bluegrass, didn't quite strike home to the same extent overall.
I don't think this is entirely down to the recent lineup change, whereby Chris Stapleton and Mike Henderson have now completely departed the band (although their writing partnership still contributes two fine songs, also Mike one on his own and Chris is co-writer on one more); and in come mandolinist Brent Truitt and guitarist Gary Nichols to augment existing members fiddler Tammy Rogers, banjoist Richard Bailey and bass-man Mike Fleming.
But there need be no serious worries while the playing and singing are both exemplary, and full of the commitment and passion I'd noted on those previous records. Highlights this time round come with the classy, fiddle-driven triple-time Lonesome Goodbye and the chugging closer When I'm Gone (coincidentally perhaps, both of these turn out to be the Stapleton-Henderson compositions I referred to earlier). But despite the quality and level of energy expended within, I do still feel mildly shortchanged with a mere 34 minutes of music on this latest disc.
David Kidman March 2013
---
The Bean Pickers' Union - Better The Devil (Inseam Records)
The band name gives no significant clue as to the musical content of the disc under review, so I'll start by tagging their music as original, thoughtful Americana. Essentially a loose collective of musicians from the New England scene and a vehicle for the moody and poetic creations of veteran north-east-US songwriter Chuck Melchin, this turns out to be the second disc released under the BPU banner (Potlatch, the debut, came out in 2007).
Simple but gently powerful, slightly underplayed musical arrangements furnish an at times fairly sparse backdrop, entirely suited to the slow-burning nature of the lyrical invention. Chuck's vocals are warm and clear-toned, listenable without drawing attention to any expressive quirks - and all the more refreshing for that. The general tenor of the songwriting is pensive and reflective, often one of wistful reminiscence, and the slow-to-medium pace of virtually all of the material accentuates this feel, with no need to hurry or force any more hectic pace or dramatic expression (the welcomely faster pace of Ditch and Tranquility doesn't match an increase in memorability of those songs, sadly).
The variety within the musical settings allows for individual colours of organ, lap and pedal steel, violin, banjo, mandolin and electric guitar to ring out or seep through effectively, lifting any potential for tedium that might start to surface; and tracks like Magnolia, Numb, Down and the charming Lydia's Lullaby stay around to haunt you for some time after they've ended.
However, not all the songs are equally distinguished, and thus the sum of the parts may in the end prove a little unrelieved, especially if all of its eleven tracks (ten songs and an atmospheric instrumental prelude) are played through in one listen. I guess that'll depend on the mood you're in at the time.
www.myspace.com/beanpickersunion
David Kidman March 2013
---
The Moors - The Moors (Reality Street)
This one's been languishing on my review pile for far too long, and I'm pleased to report that it was worth my patience, keeping it hanging round instead of consigning it to the cat-scarer heap! The Moors actually originate closer to the Downs - in Hastings (East Sussex), in fact - but their music references the Moorish tendencies of the East as well as folk-rock, Balkan gypsy music and klezmer, with occasional dipping into Cuban rhythms.
That sounds like an unprepossessing and muddled melting-pot, but for some weird reason it all comes together splendidly (for the most part) on their debut album, which has evidently been recorded only after there's been a three-year stint on the tough proving-ground of live gigging their unusual and adventurous mix of musics. Sure, there are one or two slightly uncomfortable moments, but within the compass of a generously-stocked 58-minute disc these are definitely more than forgivable, especially when the predominant vibe is so energetic and all-consuming (and technically brilliant without calling undue attention to the virtuosity).
As far as today's fusion outfits go, they seem to have the field to themselves in terms of the distinctive combination of influences they proudly and confidently display. But, for me, the band they most call to mind is East Of Eden, whose pioneering mix of Bartók, eastern-style folk-rock, jazz and prog-rock (and later, ska) formed a favourite, and rather individual, part of my early-70s listening regime. The instrumental complement, heavily featuring the violin-and-flute/soprano-sax combination, certainly further encourages this comparison, but that's where it ends, for The Moors add in some altogether stranger flavours such as twangy, gutsy electric guitars (Richard Butler) and, on just a couple of tracks (the politically optimistic - is there really such a thing?! - Time Is Now, and the rousing Calling Me Home - set to the exotic gypsy tune of a hit by Balkan singer Lilijana Buttler), some curiously discomforting-sounding (but weirdly likeable) vibrato-laden vocals from ace bassist Ken Edwards.
Other key elements of the Moors' repertoire surface on the cheeky throwaway madcap-dash-klezmer of Silver Wedding and Dancing With The Rabbi(t), the pounding surf-rumble vibe of Oh, Anything!, the sensual Sephardic lyricism of Sa'Dawi (take a bow, Jenny Benwell on fiddle and Elaine Edwards on piccolo!) and of course Tom Alexander's admirably rock-solid yet flexible drumming.
And the whole band has a keen ear for flow and contrast too, as demonstrated on the logically episodic nature of portmanteau tracks like Village Dance, the extended New Year/Yiddish Blues set, and the opening Cradle Dance/Moorish Horo pairing (sinuous flute intro kicking into an earthy, galumphing foot-stomping Bulgarian dance workout). It's arguably when they slip into Cuban mode that it all feels a touch out of place (the band's cover of the Che Guevara tribute Hasta Siempre Comandante, though spirited, sticks out like a sore thumb here). The remainder of this disc, however, is simply one of the most invigorating fusion releases to have come my way over the past year.
David Kidman March 2013
---
Camille & Stuie - Big Days And Little Years (Reckless Records)
Disc in the player, and here's a comforting female voice, with tasteful, soft-hued and sensitive instrumental backdrop referencing retro (in the sense and mould of classic 40s and 50s country and croonery), performing the kind of mix of material you might hear on one of those old radio shows from those days when country was about to gently roll over into the mainstream right away from the tougher arena of rock'n'roll. Well, at any rate for the first half of this disc. The duo's self-penned songs bravely but unassumingly take on the whole potential template, and carry it all off; they move on along from tender nostalgia (Things Change), juicy mid-tempo swing (Pretty Katalina) to authentic old-school-country duetting (Hey Heart) and genial country-jazz (Gone For All Money).
But wait a minute now - for the tone of the album kinda gets more introspective and thoughtful as it approaches its mid-point, with the easy-paced New Day and the relaxed reminiscence The First Time. It becomes apparent then that these songs are set to form a kind of concept cycle about change and the calm acceptance of the passage of time, but hey, let's not get too pretentious. For this is a naturally-conceived sequence of songs, each one convincingly self-contained and with everything in its rightful place in the sense of being lovingly crafted to pay homage to the classic song-creators of folk and country. Licks and moves are similarly dextrously coordinated, from the smooth-voiced Stuie and his trademark Les Paul-style guitar embellishments to Mick Albeck's spry fiddle fills and Michel Rose's deft pedal steel and dobro. It's all a little too good to be true perhaps, although it sure makes companionable, and sufficiently easy listening to satisfy during its tenure on the player.
It transpires that Camille and Stuie are stars of the Australian country scene, and this is their fourth album together already. Camille Te Nahu was a backing singer for Kasey Chambers well over a decade ago, while Stuie French toured with Merle Haggard in the late '90s; their teaming in the early noughties has subsequently proved something of a musical marriage made in heaven, and their songwriting bears all the marks of genuine togetherness and healthy respect for their tradition. Only on the slightly twee, if tongue-in-cheek duet Learning do they betray Australian accents and the authenticity quotient slips; happily, the touching closing number Waves effortlessly redeems matters.
David Kidman March 2013
---
Jackie Oates - Lullabies (ECC Records)
Having busily participated in numerous folk-oriented musical ventures over the past few years (including The Imagined Village and the Cecil Sharp Project), Jackie now returns to the more intimate scale with her fifth solo album, part of a special project where she focuses on lullabies, a sub-species of song that has fascinated her long-term. But I'd stress right from the start that this record is neither soporific nor sleep-inducing: instead it's a thoroughly charming sequence of (mostly) sleep-songs sourced from various traditions; many of these have been tucked away in arcane collections, and their unearthing has been a real revelation to Jackie, as has the discovery that while exploring the folklore of the cradle with its superstitions and customs, lullabies can also be outlets for the many aspects of parenthood as well as sounding-boards for the joys, grievances and anxieties of the adult world.
Even by the standards of Jackie's known enterprising and adventurous approach to repertoire-building, the variety of material on this disc is stunning; it encompasses the well-known Dream Angus (from Scottish tradition), a pair of dandling songs from the nursery, two songs from Ruth L. Tongue's magical but little-known collection The Chime Child and the melodious, lilting Philomel from Shakespeare's A Midsummer Night's Dream. I'm not won over by her spoken-word exhortations at the close of A.A. Milne's "moral tale" of Alexander Beetle, but that's a minor reservation among so many inspired and unerringly convincing interpretive decisions she makes over the course of the album. Jackie's solo discs invariably also exhibit ingenuity in choice of material, with at least one slightly maverick inclusion - in this case it's Paul McCartney's 1970 opus Junk, as well-turned as it is unexpected even in this context.
One particularly captivating strand of the disc is provided by its Icelandic contingent: firstly in the form of an atmospheric string-ensemble accompaniment to several of the songs, and secondly in the inclusion of three dark Icelandic lullabies, on which Jackie is joined by Chris Foster and Bara Grimsdottir (on langspil and kantele). Chris and Bara also add their vocal talents to Jackie's dulcet tones on a standout a cappella rendition of Wexford Lullaby (John Renbourn's lyrical expansion of the 12th century carol). Another key contributor to the feel of the project is pianist Belinda O'Hooley, whose limpid and ever-imaginative playing graces four of the disc's early tracks including a truly gorgeous version of Bill Caddick's Waiting For The Lark (which employs the closing masterstroke of a string-quartet lark ascending into the instrumental texture). Some other songs also selectively employ other musicians including Chris Serjeant and Barney Morse-Brown, but although textures are kept spare the effect is always telling and warm and the desired intimacy is never compromised.
The dreamlike and slightly otherworldly demeanour of the music also conveys a soothing and often wistful ambience that also ideally suits Jackie's vocal characteristics: the gentle delicacy, the tender and slightly sweet timbre that conceals an understated strength. All of these elements add up to a beautiful invocation of the mysterious and yet strangely delectable realm between the states of wakefulness and sleep. This is nowhere better depicted, however (IMHO) than in the disc's closing item, a transformation of Mike Heron's comforting morning hymn Sleepers, Awake on which, in making the song her own, Jackie invokes the essence and adventuresome spirit of the ISB themselves in her bold treatment, which tweaks the contours of the group's own setting in bringing fragments of the original melody and harmony lines through the texture almost like slivers of a half-remembered dream recalled on waking, and yet building all into a cohesive new creation of startling originality.
Finally, to set the seal on a marvellous achievement, the presentation of the album is extremely attractive too, with complementary illustration and artwork (Lizzy Stewart and Brad Waters) and succinct booklet notes which relate the rationale for choice of songs as well as detailing Jackie's sources. Sheer magic - Lullabies proves a significant addition to Jackie's already very special canon of highly cherishable solo records.
David Kidman March 2013
---
Rose's Pawn Shop - Dancing On The Gallows (Own Label)
The LA-based five-piece hereby deliver their second CD, a somewhat more polished follow-up to 2006's acclaimed raw charger The Arsonist. Centred round the songwriting of vocalist Paul Givant, and clearly boasting some accomplished musicians amongst its ranks, the band dashes full steam ahead with their heavy-duty arsenal of guitars, banjos, fiddles, pedal steel, mandolin, upright bass and thundering drums a-blazing, on anything from bluegrass to country rock, and mostly very convincingly - although it must be said not always with an ideal measure of necessary economy.
There's never any shortage of high-octane energy however, as the menacing Stray Cats bass rumble of the rockabilly-inflected standout Ball Of Flames, the punkabilly riffing The Bed In Which You Lie and the punkgrass twang of The Garden all demonstrate, while quieter, more tender moments such as Patiently and the gently swinging fiddle-driven Strangers also prove persuasive. Textures tend to be thick but well-coordinated, with a keen sense of instrumental dynamic to maintain interest. It's a shame that the more inventively scored tracks are counterbalanced by more mundane rock-styled forays such as Danger Behind The Wheel and Pine Box. But it's also good that the album's sensible 54-minute timespan enables the listener to forgive and forget such moments.
For the most important thing is the band's high level of passion, their absolute conviction - they mean business, give their all and command our respect; and I found myself warming to their uncompromising vision with each successive playthrough. And by the way, my earlier comment about economy doesn't apply to either the distinctly classy 2½-minute ballad One Last Glass Of Whiskey or the seven-minute closer Debt Collector, the latter deserving every last inch of its more expansive length.
David Kidman March 2013
---
All Things Considered - Dance Through The Storm (Own Label)
Berkshire's folk-roots five-piece received much acclaim for their 2009 debut album Scarecrow, and its successor is an impressive record indeed, with a very distinctive identity, a sound-world that's built around the key elements of Emma Baldwin's mellow, haunting vocals, Gethin Webster's wirily energetic fiddle, Adrian Holden's deft fingerpicked guitar and Phil Daniels' insistent, pulsing and driven yet often quite subtle percussion. This corporate identity makes its mark immediately, although a more precisely detailed impact of the songs themselves doesn't necessarily occur simultaneously or straightaway, which may be down to the sinuous and almost improvisatory nature of the weaving melody-lines.
But it's all rather addictive, and at many points seriously exciting (whipping up a veritable storm on tracks like Pastimes), at other moments mesmerising the listener into submission (Gatwick). A slight disadvantage, though, is that the overall cohesiveness and punchy nature of the group sound is so consistently present that at first several of the individual tracks tend to merge in the memory, and in the end the best option might be to take each track on its own, in its own isolated setting as it were, for concentrated listening which will undoubtedly bring its own rewards.
The actual songs - all group compositions - are songs of conscience which are almost always defiant, positive-attitude, thoughtful and peace-inviting messages of hope, even when also questioning in nature (as on Tales Of Urban Sprawl). On occasions this balance reminded me somewhat of the music of early-70s collective Principal Edwards Magic Theatre. Arrangements are busy and creatively involved, while building on the essential musical signatures of the players; and the occasional interpolation of recorder (on Where You Are) and keyboard (on the title number) prove welcome additions, while Chris Ricketts contributes a guest vocal to Where You Are. Production is keen and lively, matching the stirring nature and intense commitment of the performances.
www.allthingsconsidered.org.uk
David Kidman March 2013
---
Adam Piggott & Jayne Freeman - The Firefly and the Half Diamond (Big Village)
This turned out to be a lovely disc, although - and this is in no way a complaint - I couldn't quite square its many fine qualities and copious attractions with the accompanying, well-written press release, especially in the matter of describing the sound of the album as having "a kind of distracted, post-modern skiffle feel". Distracted only in the sense of slightly lazy; leisurely-seeming but in reality acutely focused, a trait that extends to the crafted economy of expression and a flat refusal to over-indulge in terms of either language or emotion.
Although both undertake vocal duties here, Jayne takes the lead on the majority of the tracks - all 12 of which are self-penned joint compositions. She's blessed with a smooth-toned, caressing voice which has a natural, comforting range with a real bloom (in terms of general timbre it sometimes recalls Debbie Harry - on Empty Rooms especially - or Alice from Chumbawamba). Its subtly confident presence really suits the material (except perhaps on What If You Were Like, where the later passages employing her higher-register delivery show a tendency to whine). Adam's vocal contributions tend to be confined to well-coordinated and intuitive harmonies, which considerably enhance the reassuring and genuinely uplifting overall impact of the lyrics.
He gets just a couple of chances to use his breathy, confidential delivery, taking the lead on the pulsing Only The Devil Will Know and the "A-part" of the true duet Let Them Slide, and on that evidence I'd have liked to hear more of his singing. As compensation, however, most of the songs are built around his intensely adept acoustic and electric guitar stylings, often subtly multitracked, and with occasional soft reinforcements from Jayne's ukulele. Some songs also prominently feature piano or other keyboard parts courtesy of the album's co-producer Harvey Summers (the only artificial note being struck by a steel-drum-like tone used on Pocketful Of Change).
The songs themselves are pleasing, entirely unassuming and largely on a level emotional plane of soothing, acquiescing and almost spiritual character, finding no need to display any extremes of drama or tension, especially at their easygoing, unforced pace. Song titles such as When We Fly We Never Land, With You All The Way and Heart Of Me give a big clue as to the genial, naturally loving nature of the sentiments here, while other songs (e.g. Pocketful Of Change) can exhibit a curious aftertaste of mixed emotion that seems to be conditioned by one's receptiveness and mood at the time of listening. Then again, OK, admittedly at times there's a definite sense that it's all almost too good to be true maybe, and undoubtedly also a feeling of comforting familiarity, that it all should've been done before, but then you kinda realise it probably hasn't, at least not exactly like this. Moments like when the verse of Take Them With You When You Go possesses a beautiful tune that uncannily resembles a key Leonard Cohen melody… Hmm, and I wonder sometimes too, are the firefly and the half-diamond meant to represent the couple themselves?
Yhe Hastings-based duo's second CD (I'm likely to be tracking down its predecessor, Anytime Now, sooner rather than later), it's a record of gentle, understated enchantment in its pleasing melodies and simple imagery, and one which will doubtless win the duo many admirers.
www.adampiggottandjaynefreeman.com
David Kidman March 2013
---
Iain MacDonald - Colour of Dreams (Tin Tambourine Music)
The Isle-of-Lewis-born singer-songwriter released a couple of albums on Greentrax (Beneath Still Waters and This Land Once Was Free, both produced by Dick Gaughan) just over 20 years ago, then retired from touring in the early '90s. Shortly after he'd decided to return to music in 2010, however, he suffered a double brain haemorrhage, and only after a lengthy recovery period has he this past year or so been able to get back down to writing and recording again. Colour Of Dreams, the product of this latest round of activity, also advertises his return to live performance.
It's a collection of nine new songs which run the gamut from personal memoir (the slightly self-conscious Fragments Of My Past), the impact of religious belief (Hope That He Sees Me) and deep loss (21st February 2010), through to political biography (Frank Collier The Preacher Man, on The "Real Deal"). John O'Groats is a rambling reminiscence of wistful beauty and the disc's title song embodies an almost innocent expression of love that for some reason reminded me of Donovan, while the Celtic-folk vibe is strongest on the rollicking Band Of Gypsies (dedicated to Mike Scott). Disc closer The Missing Years is another song to benefit greatly from a rustic-folk-style accompaniment (here prominently featuring Iain's banjitar in addition to fiddle and clarsach) - indeed, this poignant personal lament might well be considered an album standout.
Memorable quality of the songwriting notwithstanding, part of the reason the album sounds as good as it does is the interest generated by the capable and ingenious musical backdrops, which feature some fine musicians including Louise Mackenzie (fiddle), Vivienne Tegg (clarsach), Steve Ransome (keyboards), Ivor Walker (basses) and John Marshall (mandolin). The Fyvie Church Choir also appear on two of the songs, one of which (Soulmate) has a rather twee, over-chirpy chorus which sits uneasily with the mood of the remainder of the disc.
Generally speaking, Iain's songs display a fortitude and inner strength which is impressive, and his confidence is unshakable, but it must be said that this attribute can sometimes lead him into over-indulgence which manifests itself in a tendency for songs to go on too long, using maybe a verse or two too many to draw out their sentiments. In certain moods I found this trait more tiresome than others, although it's not to be counted a major-league weakness in the overall scheme of things on this appealingly honest CD.
David Kidman March 2013
---
Josh Ritter - The Beast In Its Tracks (Yep Roc)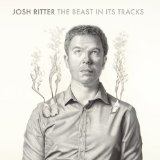 When Ritter released his last album, So Runs The World Away, he'd just got married yet, perhaps prophetically, a track titled The Curse explored the malignancy into which love can turn. By the time he came to record this follow-up, he'd got divorced, fallen in love again and become a father (as well as writing a novel), experiences that inevitably feed into the songs it contains.
Unlike many a break-up album, this isn't awash with vitriol and bitterness and while he tracks an arc of heartbreak he does so in largely even-handed manner. On the the tick tocking scurry of Evil Eye he moves from the 'someone must really have it in for him' stance of the wounded party to a realisation that he can't go around seeing bad in everyone because of his own experience. On Hopeful, his words tumbling out, the song documents the moment "the whole world stopped spinning and just went up in flames" and gets in a snide dig when he says how little love there was she packed in her bags as she left, but still acknowledges his wife's explanation that she wasn't the woman he thought he wanted. By the end of the song, he's met someone new who's had her own hard times and he's 'coming out of the dark clouds'.
As such, the songs are more about new love discovered than old love lost, even if, on the brief opener Third Army he declares "last night I saw someone with your eyes, someone with your smile' and on A Certain Light he qualifies "I'm happy for the first time in a long time" with "she only looks like you in a certain kind of light." Letting go may be necessary to move on, but it's obviously not easy for the wounds to fade. Even so, on the Dylanesque New Lover he's magnanimous to hope his ex finds someone else who makes her happy too, even if, he candidly adds "but if you're sad and you are lonesome and you've got nobody true, I'd be lying if I said that didn't make me happy too",
Inevitably, the album's subject matter's somewhat constrained by what he's been through but there's more than enough variation of emotion and observations for it not to feel like everything's on a lyrical repeat cycle while the likes of the tumbling Heart's Ease, the Paul Simon-like touches to the hiccupping Nightmares and a flurrying Bonfires, the jangly, echoey folk-pop In Your Arms Awhile and the hushed, fragile Lights ensure the music is also far from one note.
Considerably easier to listen to than your usual divorce album, which generally try and make you bleeds along with the singer's heart (though songs written immediately after the split he rejected as too poisoned), there's a loose, almost contemplative feel to things reflected in the mostly simple arrangements. "Joy to the many, joy to the few, joy to you baby, joy to me too", he sings. The album ensures it.
Mike Davies March 2013
---
Son Volt - Honky Tonk (Rounder)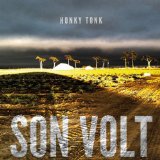 The title of the latest album from Jay Farrar's ongoing band pretty much tells you what's inside the box: two step tunes, pedal steel, fiddles, songs stained by beer and broken hearts. On Seawall it even duly makes mention of honky tonk angels .Stripped of all guitar rock settings, it finds him getting back to the spit and sawdust sounds of such heroes as Buck and Hank, inviting dimes into jukeboxes and gingham-clad girls on to the dance floor.
With a touch of Cajun fiddle about it, Hearts And Minds sets the ball rolling in backyard waltzing fashion, leading on to the Brick Walls which takes its cue from the classic Bakersfield blueprint (there's even a number titled Bakersfield a few tracks later), a straightforward, no frills dust country sound that pretty much characterises everything here. But if Farrar doesn't much deviate from the staple tempo, melodies and themes he certainly makes the best of them, his unhurried drawl catching the ache of the lyrics on numbers like Angel Of The Blues, Wild Side, Tears Of Change and the road philosophising of Down The Highway where he observes that "there's a world of wisdom inside a fiddle tune."
Farrar's a self-confessed fan of the classic recordings of Gram Parsons and the Flying Burrito Brothers and this album keeps their legacy alive in sterling fashion.
Mike Davies March 2013
---
Various - Way To Blue: The Songs Of Nick Drake (Navigator Records)
These cover versions of Drake songs featuring Luluc, Scott Matthews, Teddy Thompson, Vashti Bunyan, Green Gartside, Shane Nicholson, Krystle Warren, Robyn Hitchcock, Danny Thompson and Zoe Rahman, Vashti Bunyan, Robyn Hitchcock, Lisa Hannigan, Krystle Warren – were recorded live in both London's Barbican, 2010 and Melbourne, Australia November, 2011.
Writing in the album sleeve notes, Joe Boyd, Nick's original producer says: 'Every week, somewhere in the world, singers gather in clubs and halls to sing the songs of Nick Drake. It is sobering to think that more people now hear his songs in a month than ever heard them in his lifetime....[s]electing singers has been one of the most rewarding parts of this exercise. One criterion was that none of them should sound like Nick.'
There's everything to engage all but the most purist of fans with this anthology of thoroughly enjoyable cover dedications. Last year's Lunar Festival, set in the leafy Warwickshire village of Tanworth-In-Arden, where Drake's modest family grave lies, proved just how important the songs remain. Artists were invited to feature a Drake favourite at the end of their sets. The range of interpretations was stunning. Though each and every artist was pained to admit they hadn't quite cracked Drake's esoteric alternative guitar tunings.
These songs need to breath, to be rediscovered and celebrated. It's not a matter of reverence, deference or homage - they belong to all of us - a contemporary Folk heritage we feel part of. Though Boyd might qualify that with: 'Nick was never a folkie and some from that world have been uncomfortable with his privileged education and accent. Yet Neil MacColl, son of that founding anchor of British folk, Ewan MacColl, is the most supremely accomplished virtuoso of the impossibly complex Drake guitar parts. Which needn't be that much of a surprise – his mother Peggy Seeger is a banjo and piano virtuoso who can startle the uninformed by playing brilliant renditions of Debussy and Scriabin!'
Ten of the fifteen songs are from the Elisabeth Murdoch Hall, Melbourne gig. Of which the Danny Thompson and Zoe Rahman's instrumental piano take on One Of These Things First opens with a slow burning, jazz improvisation that segues in to cascading piano flourishes that discovers then runs with the unmistakeable uplifting melody. Warren's Time Has Told Me stirs from a Spiritual/hymnal opening to a soaring soul power-ballad, stunning as it is, some may feel a sense of being overwhelmed. One of those - you needed to be there.
Back in Blighty, at The Barbican, Hannigan's visceral, harmonium dronal Black Eyed Dog has echoes both of Anna Calvi and Sinead O'Connor's vulnerably insistency: that it climaxes in a near manic shanty-come-jig only emphasises the vortexes of emotional confusion that eventually overtook its composer. With a West Midlands/Warwickshire bias proudly declared this reviewer's special treat is Matthews' (the song everyone knows even if they don't know who Nick Drake was) Place To Be with its distinguishing lonesome train harmonica opening, rich, anthemic guitars and his signature breathy-baritone voice. But then - Teddy Thompson and Warren's bold harmonies and weaving piano counter-melodies on closing track Pink Moon will equally charm.
So there! Comfort food for thought as you cuddle-up to Matthews' haunting When The Day Is Done, remember Boyd insisting... 'none of them should sound like Nick.'? Just listen to the aforementioned and not have your spine shiver with contrary melancholic joy.
www.navigatorrecords.co.uk/2013/02/ new-album-way-to-blue-the-songs-of-nick-drake
John Kennedy March 2013
---
Rebecca Pronsky - Only Daughter (Nine Mile Records)
Brooklyn songwriter Pronsky was, over the course of her first couple of albums, touted as a witty countrypolitan whose voice of experience was brilliantly conveyed in her strongly individual performance style. That "difficult third album" signals a change in musical direction to the extent that the overall sound is even more adventurous: dark, gritty and atmospheric. The production, by husband Rich Bennett, is largely responsible for this and his own charismatic, swirling electric guitar playing forms an integral part of the soundscape, in stylings that lean heavily on rockabilly and twang but also occasionally verge on grunge or mirror the jangle of the Smiths.
At first, it's all too easy to let the settings take charge of your ears, but close attention to Rebecca's voice will be amply rewarded (even better with parallel perusal of the lyric sheet off her website), for her songwriting is mighty fine. I was surprised to find that these settings really fit with Rebecca's writing, and Rich's wavelength sure suits her confident singing voice with its special brand of sometimes retro-sounding songs questioning love and life. On Better That Way, she recalls the easy accessibility and sweet memorability of Dar Williams; and Please Forget Me has the air of a 60s Goffin-King number taken with a more jaunty rhythm. Other tracks (e.g. the defiant opener Rise Up) possess an altogether doomier ambience; on Big Demands, she sounds uncannily like Grace Slick, whereas the contours of Another recall classic Doors and The Garden parades heavy grinding Sabbath-style riffs in desperation. The disc's non-original is a splendid cover of the cannily referential Glenn Tipton, from the pen of Sun Kil Moon's Mark Kozelek – a song deserving of wider currency.
This is an album of serious character, with its own distinctive sound-world setting the seal on some quality songwriting.
David Kidman March 2013
---
Mara Levine - Jewels and Harmony (Own Label)

A New Jersey based singer and jewellery designer, Levine should have a word with whoever designed quite possibly one of the least appealing, most unflattering album covers I've ever seen. Get past that, however and you'll discover a pure voice that recalls the young Judy Collins and Sylvia Tyson and, while not a writer herself, some lovely acoustic arrangements of songs by both well known and unfamiliar artists.
Paul Simon's songbook provides two covers, faithful readings of lesser-covered numbers Leaves That Are Green and April Come She Will. the latter featuring some fine slide guitar work from Pat Wictor. Lesser known perhaps, Michael Smith's The Dutchman, a song popularised by Steve Goodman, sees her duetting with the husky Si Kahn on a version that perfectly captures its yearning loneliness while, backed by two acoustic guitars, she offers a suitably bluesy take on Gershwin's well worn standard Summertime.
Kahn himself wrote When I Sing With You specifically for the album, but I suspect most of the other contributors will mean little the audiences beyond their own circles. Like Levine, they deserve a wider appreciation, most especially Nancy Cassidy whose Woody Guthrie-like Hallelujah is, with its upright bass and mando/guitar is one of the highlights alongside Bob Wright's Celtic flavoured Immigrant Dream, Levine's harmonising with Terry Rivel on Rowland Salley's acoustic folk strum Killing The Blues, Pat Wictor's I Will Walk With You and, the oldest song here, Bob Franke's nativity-themed Straw Against The Chill.
Very much in the vein of mid to late 60s American folk music, as well as the two comparisons already cited I'd say anyone with an appreciation for such artists as Stan Rogers, Gordon Lightfoot, Joan Baez or Judy Small will find Levine very much to their tastes.
Mike Davies March 2013
---
Judy Dyble - Talking With Strangers (HST)
Don't get too excited, this isn't a new album by the original female singer from Fairport Convention. Her first fully released album (2004's Enchanted Garden and 2006's Spindle and The Whorl were very limited) in over 30 years, this originally appeared in 2009. A stylistically adventurous affair that saw her collaborating with Robert Frpp and Ian McDonald as well as Simon Nicol, it embraced folk, jazz and avant garde experimentalism in equal measure on numbers such as Jazzbird, Neverknowing, Grey October Day (a duet with Tim Bowness) and the 19 minte epic autobiographical epic Harpsong, a track that took off into a jam-lie esoteric section of Eastern psychedelia and free form jazz.
However, the album never received a US release, a matter now rectified by this reissue that also features two bonus tracks, Sparkling and Waiting, recorded at the same time but originally released on 2010's limited edition Fragile EP. The former a shimmering folk tune with acoustic guitar and electronic sheen that reflects the title and the latter a six minute, more musically experimental, number with Bowness providing the e-bow soundscapes of what sound like geese calls. A brand new album, Flow And Change, is set for release some time this year.
Mike Davies March 2013
---
Molly Drake - Molly Drake (Bryter Music)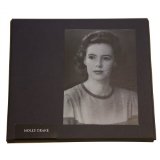 Initially released in a limited edition of 500 copies and rather modestly promoted by the Drake estate, this, as producer Joe Boyd puts it, is the "the missing link in the Nick Drake story ? there, in the piano chords, are the roots of Nick's harmonies". Molly was Drake's mother and, while she never released any of her own music, during the 50s and 60s she did amass a collection of reel to reel domestic recordings and husband Rodney cut several of her songs to three one-off vinyl discs, the CD depicting the label they bore.
Two of the 19 tracks on the CD have been previously released with both Poor Mum and Do You Ever Remember surfacing on the Nick Drake compilation Family Tree, but otherwise none have ever been officially available. Generally around the two minute mark, the material's drawn from the reel to reel archives and while the sound reflects their origins and the 60 years in storage, there's an alluring quality about them.
Accompanying herself on piano, her songs very much reflect the times, calling to mind the sort of music that might have been heard on the BBC Light Programme of the day. Indeed, her breathy, soft and slighty fuzzy (though that may be the age of the tapes) voice and BBC English enunciation and accent may well put older listeners in mind of Listen With Mother presenter Daphne Oxenford.
The songs are generally sentimental ballads with an intimate fragility - and a lyrical sadness - that would find equal expression in her son's own songs. With titles such as Fine Summer Morning, Woods In May, Cuckoo Time and Breakfast At Bradenham Woods, you can see where his love of pastoral imagery came from too.
Accompanied by a booklet containing some 45 hitherto unpublished poems (many written in the 30s and 40 when she and Rodney lived overseas in counteries such as Burma and India) variously addressing love, regret, identity, war, isolation, and nature with most imbued with an aching sadness, they may well cast light on Nick's music, but it would be a shame if they were not also appreciated in their own right.
Mike Davies March 2013
---
Erin McKeown - Mainfestra (TVP)
Four years on from her last studio album (let's discount 2011's Anti-Holiday festive season antidote), the Massachusetts singer-songwriter-activist returns with this self-released collection that reps her most political work to date and, while her folk, jazz and blues influences are again evident, she's also brought a fuller punchy rock sound to the table.
Opening track The Politician, a savaging of duplicitous elected representatives with a chorus refrain of "If nobody knows, tell me what's the crime?", is a swaggering mid-tempo gospel blues lashed with horns, her lyrical hackles remaining raised for the edgy, ironic skittering In God We Trust that notes how religion's become a weapon not a faith, the swampy R&B syncopation swing of The Jailer asks what effect the death penalty has on those who (tacitly or otherwise) condone it, while the snakey New Orleans soul slouching Baghdad to the Bayou's call to accountability explores the relationship between patriotism and profits. Even something like the apparent love song that is Proof has a political corruption subtext while, lining up her targets, the music biz doesn't get off unscathed either with the sweet soul pop Instant Classic a swipe at the way it wants to reduce everything to hit song formulae.
If this all sounds a little earnest (especially in the light of the mostly spoken six minute mantra rhythm title track), rest assured it's immensely listenable and at times unexpectedly playful, as with the sunny, choppily poppy Histories, stately piano jabbing, strings washed Delight/Device and That's Just What Happened, a slow New Orleans march that bursts into a Dixieland romp midway.
However, if the idea of all that musical soup causes hesitation, the album comes with a second disc on which she performs the same numbers (though not in the same order) with just solo acoustic guitar accompaniment bringing the lyrics into sharper relief. She's not just repeating them without the instrumentation, but also stripping them back to raw form and more direct arrangements to the extent that (as with In God We Trust, and Delight/Device) they often sound like totally different songs. To be honest, I prefer her naked, but that doesn't mean I don't admire her dress sense too.
Mike Davies March 2013
---
Night Beds - Country Sleep (Dead Oceans)
The latest folk-Americana singer-songwriter to arrive on the wave sof a fascinating backstory. Written after loss of job and girlfriend, following a period living out of his car Winston Yellen recorded his debut album in a house in the woods outside Nashville that once belonged to Johnny and June Cash. With its echoes of Bon Iver romanticism, it's enough to attract any journalist to lazy to play the music first.
Of course, the moment you hear him sing, then back stories become redundant. Yellen has a warm, woozy keening voice that suggests what might happen if you stirred toger Gram Parsons, Ray Lamontange, Jeff Buckley, Devendra Banhart and, notably on the heart-breaking Cherry Blossoms, Roy Orbison. From the a capella opening of Faithful Heights he holds you in his spell, keeping you transfixed with his melancholic songs of loss and loneliness and the swoonsome melodies they inhabit, delivered in languid mood with low key acoustic instrumentation.
The breezy chugging Ramona kicks the album into its fuller band sound with cascading guitars, followed by a brief return to unaccompanied mode for the intro to the Even If We Try where you can almost imagine him some lone wolf serenading the moon from atop a cliff before strings roll in. Brushed snares and syncopated drum beats caress 22' scuffed shuffle, pedal steel weeps behind Borrowed Time, and Wanted You In August shifts the vocal register to falsetto for a slightly jazzy evocation of clear, starry nights. The album ends with the hushed introspective five minute TENN where, catching his breath everytime the sadness hits, he sings "sorrow stole my youth, what's left I'll give to you." You should accept it with thanks.
Mike Davies March 2013
---
The Self Help Group - Not Waving, But Drowning (Union Music)

I'm not sure which is the most outstanding element of the Brighton quintet's debut album, the music or the songs - by singers Mark Bruce and sisters Clara Wood-Keeley and Sarah Natalie Wood - themselves. Let me explain, musically the band are steeped in the sound of 70s Laurel Cayon, their harmonies and melodies evoking the very best of CS&N and Fleetwood Mac while still retaining their roots in English folk. Instrumentation that includes banjo, charango, strings, congas, trumpet and xylophone brings further colours to the sound, touching on traditional American. Select any track at random and you'll be entranced by the way the voices weave together (beautifully produced by Jamie Freeman) and complement the melodies.

Then turn to the lyrics and the inspirations behind them and you'll find yourself spending a profitably educational few hours on Google. Opening with morse code and radio static, the rhyhmically pulsing, handclaps accompanied Needles (which reminds me of Pentangle without their jazzy ambience) draws on the story of how, in a German PoW camp, British army Major Alexis Casdagli stitched the morse code for F*** Hitler into Nazi tapestries. A suitably spooked banjo phrase underpins the violin accompanied Murmuration which tells of the unexplained Jan 2011 event when some 5000 blackbirds dropped dead from the Arkansas sky before giving way to The Rapture, its open desert mood evoking Calexico and Matthews Southern Comfort and based on the drowning of a Michigan student in the Kalamazoo River while celebrating the unfullfillment of Harold Camping's doomsday prediction.

And so it goes: the jaunty handclapping Kings derives from the news report of a bunch of kids stalking vampires in a Glasgow cemeteary; the poignant Jerome And Irving is the hushed, slide guitar-haunted story of two brothers who spent their entire life together, most of it as Franciscan friars, before dying within hours of one another; Fifth Man On The Moon is an America-like track sung in the voice of astronaut Alan Shepard; and the Appalachian toned Sand with its anthemic gospel tinted refrain is an achingly romantic lyric about a lost love inspired by Devon poet Steve Fox who writes his messages in sand.

Featuring a circling banjo pattern like falling rain, The Bus comes from the news report of a Utah father who, much to his kid's embarrassment, waved his son off to school every morning wearing a different costume, 170 in total, rannging from pirate to mermaid. It sounds eccentric, but it's actually quite touching. Without doubt though, the most bizarre story is that of Big Nose George; given a darkly dreamy pizzicato waltz setting, it tells of the castle rustler whose skins was turned into shoes after his death!

The album closes with the sparse, close-harmony Uniontown which, again featuring repeated banjo notes, recalls the 1894 coal miners' strike in the Lafayette city (founded by Henry Beeson) in which, during violent clashes with guards, five miners were shot dead.

The only track that has no directly corresponding true story is Prisoner, its sparsely arranged simple tick tocking melody and staccato vocal delivery by the sisters telling of a man facing a professedly unjust execution. It may have no specific source, but its resonance is universal. Superbly balancing involving lyrical content with entrancing music, the group have arrived at one of the year's best debuts and I, for one, can't wait to see what their research produces next.

Mike Davies March 2013
---
The Rockingbirds - The Return of the Rockingbirds (Loose)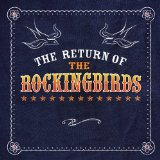 It may not have been the most eagerly anticipated reunion in the history of contemporary music, but the decision by original members Alan Tyler, Sean Read, Andy Hackett and Dave Morgan to get back together almost 20 years after the band split will be welcome news to anyone with an interest in alt-country.
Formed in 1990, they were the leading British light in what would come to be termed Americana, their two albums seeing them hailed as the UK's answer to The Jayhawks or Uncle Tupelo before calling it a day in 1995 after releasing the prophetically titled Whatever Happened to the Rockingbirds? They actually reformed in 2008, playing a few gigs the following year to support a reissue of their debut, but other than sporadic appearances things have been low profile until the arrival of this, their comeback third album.
From the opening notes, it's like they've never been away, just grown more seasoned with time. Jangling guitars, keening pedal steel, and upbeat tumbling melodies drive songs that, strummed or with a rockabilly kick, sound as though they born in the heart of Austin or Nashville while Tyler's low tone register still conjures thoughts of Johnny Cash (Country Humming, Brand New Plan) and classic Willie Nelson (Lady Of The Llamas, Now I Do), the swing swaying booze and broken heart of The Lonely And The Drunk managing evoke both in the same song.
Country Humming, tearjerker You Can't Win The Heart That You Broke and Now I Do (which melodically reminds me of Glen Campbell's Honey Come Back) are terrific ballads, but it's the rockier numbers that dominate, Stop The War (a love song not a protest) a belting, ringing guitar chugger and Juliet a jaunty saloon piano and harmonica honky tonker strum while both Fanny and Fixing The Dream In Your Roof is going to go down a treat with Rockpile and Status Quo boogie fans.
There's been many sterling new arrivals on the homegrown Americana scene since the Rockingbirds flew the nest, but Tyler and the boys prove they can effortlessly still soar as high as the best of them. On the chorus friendly celebratory opening number, Tyler sings he'll "drink the ale and sing these sad old country songs" 'Till Something Better Comes Along'. On the evidence of this album, it's hard to imagine what that could possibly be.
www.facebook.com/pages/The-Rockingbirds.com
Mike Davies March 2013
---
Larkin Poe & Thom Hell - The Sound of the Ocean Sound (Edvins)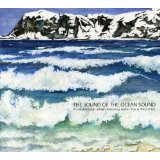 The Lovell sisters, Megan and Rebecca, have already staked their claim as one of contemporary folk-rock/country's brightest new names with 2010's seasonally titled quartet of EP's and last year's Thick as Thieves, so a full album was much awaited. Strange then that they've opted to share the spotlight with Norwegian singer-songwriter. However, while he may have released five albums of his own, you can't help but feel he's the one hitching his wagon, at least in terms of making his name known outside of his native home.
Ranging between country, soul, bluegrass and folk, it's a fine showcase for the sisters' voices, Rebecca generally taking lead while Megan takes care of lap steel, but from his back and forth duet on P.S. I Love You, the third number in, Hell's presence becomes more and more dominant, even pushing the sisters into backing singer roles with As Good As You. The trouble is, it's hard to see what he - and his sometimes soaring falsetto - brings to numbers like Shoulder To Shoulder, I Belong To Love and when, as ably shown by Wait For Me and Widow's Walk, the girls are more than capable of handling them by themselves. The same goes for the writing, Hell's three contributions, Tired, Leave and Missing Home (another where he dominates the track), easily the most middle of the road - if not the weakest - in the collection while, as demonstrated by the final two tracks, the Lovells have far more interesting lyrics.
It'll probably swell their following in Scandinavia (where I'd not be surprised to find the billing reversed), but next time round they'd do well to rely on themselves if they want to build on their reputation rather than squander it.
Mike Davies March 2013
---
Annabelle Chvostek - Rise (Borealis)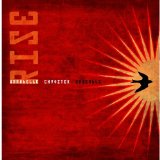 Formerly with The Wailin' Jennys, Chvostek's second solo release since leaving the band in 2007 is inspired by the Occupy Movement of her Toronto home as well as similar protests around the world. With songs addressing social injustice, corporate greed and violent opposition, it calls for unity and peaceful protest to achieve change.
A musically acoustic affair, it mostly hews to folk but does colour this with jazz, blues and country elements, opening with End Of The Road, a six minute celebration of Occupy and people power to a strummed mandolin and mass voices chorus and proceeding to the mazurka-styled G20-Song with clarinet, tuba and a 'the people united will never be defeated' refrain. Baby Sleep 'Till Sturovo is a bluesier, spooked number featuring dumbek and violin while, with brushed snare, bandoneon and violin, the slow swaying The Will Of How harks back to the music halls of the 30s and 40s and All Have Some is a fiddle scraping 'we're not gonna take it anymore' vision that features Bruce Cockburn on vocals and electric guitar.
While Do You Think You're Right?, a response to the Jesus Camp documentary, is a sober questioning of how religion's invoked to justify wars, as the album title suggests, for the most part there's a thick seam of optimism, the buoyancy spilling out of both the jaunty traditional minded Fox Tail and, joined by Oh Susanna, a skittering Ona (In Toronto I Get More Hugs in Montreal I Get More Kisses) love letter to Canadian hospitality. The title track itself deftly encapsulates the album's belief in people power with its image of a grassy meadow being defended against development.
She closes with two covers, a lazing, breathy version of Lou Reed's Some Kinda Love and, bringing back the People's Chorus for a final flourish, a simple but stunning reading of reggae star Peter Tosh's people's anthem, Equal Rights. It may not change the world and cause multinationals to tremble, but if just a fee of the seeds its plants germinate, it will have done its job and given listening pleasure in the process.
Mike Davies March 2013
---
Lindi Ortega - Cigarettes & Truckstops (Last Gang)
Although the bittersweet unrequited love title track's puts me in mind of the chorus melody to Closest Thing To Crazy, the immediate comparison the Nashville based Canadian singer-songwriter evokes is Dolly Parton. And not just because the song namechecks her. This is a good thing. It is, unquestionably, the best track here, but that's not to say the others come up short.
The Day You Die and Don't Wanna Hear It are rockabilly flurries, the latter laced with some snarly electric guitar licks while more old school keening country balladeering's to be found on the Carter family tinted Lead Me On (where Dolly's complemented by a touch of Tammy) and both the sassy Use Me and the slap bass, piano trilling Demons Don't Let Me Down are clearly familiar with the inside of a rowdy honky tonk.
She give good moodiness too, dipping into dark corners for some Old Testament damnation with Heaven Has No Vacancy and getting confessional for the twang and dobro wail of fiery rocker Murder Of Crows. The fact that she's worked with Brandon Flowers of The Killers and supported punk outfit Social Distortion suggests she's not your average Nashville artist, but this album still has its heart beating to the sound of its vintage years.
Mike Davies March 2013
---
Laurence Made Me Cry - The Diary of Me (Own Label)
The name taken from a newspaper headline about Laurence Llewelyn Bowen's over enthusiasm on a Changing Rooms episode rather than a reflection on her love life, I belatedly encountered Jo Whitby, a West Country ex pat now based in Cardiff, with her 2011 Rain Song EP, its charms and warm combination of folk, pop and electronics leaving me eagerly anticipating this debut album. Described as 'exploring the dialogue we all have with our individual inner voice' and the songs acting as 'snapshots of days, experiences and thoughts', it doesn't disappoint.
It opens with the sparklingly wonderful All That Patience Brings, a shimmering cascade of descending guitar notes summoning thoughts of streams rushing over pebbles a she sings "So quiet in the morning, as the dawn begins to sing, and I will still be waiting, for all that patience brings." Though eager to hear the other tracks, I confess I played this a couple more times before being able to let it temporarily go.
The repeated guitar figure strikes a similar melodic structure to Last To Know, but here her vocals are intermittently overlaid with guitarist Freddie Nunez's counterpoint refrain, a strange experience when you first hear it but ultimately quite effective. It's emblematic of the quirks and originality Whitby brings to the album.
Set to a soft chugging rhythm, Between Destinations takes a train journey to Cardiff, the shy girl narrator staring through the window at the magic of the world passing by and is bookended by station master's departure and arrival announcements while This Evening is spoken track with Chicago avant-pop artist Diane Marie Kloba reading a poem by Astrid, a German teacher also known as YouTube blogger Sillysparrowness.
Remedy is another part-spoken number (this time by Jo) set against a backdrop wash of electronics and violin, featuring treated piano Intelligent Mr Toad sounds like something Mike Oldfield or Terry Riley might have written for a fairytale fairground carousel, Whitby's soft, dreamy tones appearing mid-way along with skittering beats and Lay Her Down To Rest is a discordant whorl of plucked violin, siren backing harmonies, electronics and mournful glacial vocals that conjure images of an otherwordly folk cabaret. Paper Chain
Comparatively speaking, the rest of the album is fairly normal assuming the definition encompasses something like Bientot A Moi, a jittery number with trumpet and a woozy fairground organ effect about a stalker, sung in French, or Paper Chains with its offkilter hand percussion and skewed scuffs, blips and bleeps.
Houses, though, is a lovely straightfoward fingerpicked number about impermanence, the simplicity maintained for the tinkling folk pop A Channelling/Northern Lights, a ukulele climaxing track that may well have her tagged as a female Mumford And Sons, and, a return to the repeated guitar pattern, the beguiling six minute we're in this together lullaby closer The Cunning Folk (a hint of McGarrigles) and its 'go on towards the light, make sure you're shining bright and I worry that they'll take it all away from you' chorus. Utterly enchanting, diarise an appointment immediately.
Mike Davies March 2013
---
Jess Morgan - Aye Me (Own Label)
A fresh-faced folksy singer-songwriter from Norwich, drawing on British and American folk influences (opening acoustic guitar instrumental Heads Of the Valleys Road borrows from Dixie), Morgan has earned deserved praise for her deft storytelling, nimble guitar work and a little girl voice that is at once innocent and knowing.
Resonating with the present economic climate, there's a recurring theme of hard times: Workhouse is a mother's words to the son she's given up in the hope of adoption by a wealthy couple, in the harmonica accompanied The Thompsons Family Singers And I the narrator sings of leaving her impoverished home to join the travelling musicians and of the tragedy that strikes the children cursed by a peddler, while the perkily trad A Musket Of My Own sees one of seven sisters hitching her fortune to a soldier only to find he's not as rich as he claimed and taking appropriate revenge.
It's not all toil and tears. Leave A Light On is a gospel tinged song about holding on to hope, Since I've Known You brings a ragtime feel to its life changing relationship, Connecticut takes a playful bluesy look at how it's love not money that matters, The Most Of All's a lighthearted tale of unrequited love for a bespectacled librarian, and bluesy strum Well Dressed Fellas offers a cynical perspective on cross class romance.
There's a touch of the young Melanie about her voice while the tender bittersweet piano waltzing Ugly Women displays accomplished songwriting worthy of Janis Ian, Dory Previn or Randy Newman, but she has no need to ride the coat tails of any comparisons because she's very much a one off in her own right.
Mike Davies March 2013
---
Simone Dinnerstein & Tift Merritt - Night (Sony Classical)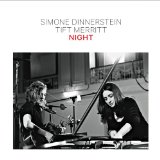 On paper the pairing of the Juilliard trained classical pianist and the Americana/folk singer-songwriter for a (mostly) covers collection song cycle about the night and the moods it engenders seems an unlikely combination. On disc, it's a thing of beauty, Merritt's plaintive emotional tones perfectly complementing Dinnerstein's elegant, understated playing.
Merrit herself contributes four numbers, the achingly tender opener Only In Songs, a melancholic Feel Of The World with, like the reflective Colors, minimal piano backing and the perkier Appalachian feel Still Not At Home which features just her and acoustic guitar. Merritt also takes the solo spotlight for a starkly rendered version of trad stable Wayfaring Stranger while Dinnerstein's breathtakingly showcased on The Cohen Variations, Daniel Felsenfeld's solo piano variations on Suzanne and Bach's Prelude In B Minor.
But it's the collaborations that make this so special, not least in the way Merritt, while at home on Patty Griffin's title track, delivers such stunning interpretations of classical works like Schubert's Night And Dreams and Purcell's aria Dido's Lament when removed from her comfort zone. Wisely she doesn't try to emulate a classical reading and as such her treatment feels an honest response, the same holding true of the Billie Holiday/Nina Simone jazz standard Don't Explain where, steering clear of attempting to channel either, she turns in a late night torchy blues with her own imprint.
Elsewhere the couple take on Brad Mehldau's I Shall Weep At Night and the traditional I Will Give My Love An Apple with similar restraint and minimalism, winding the project up as dawn breaks with a simple strummed tempo cover of Johnny Nash's I Can See Clearly Now. It's a perfect way to spend an evening's listening.
Mike Davies March 2013
---
Caitlin Rose - The Stand-In (Names)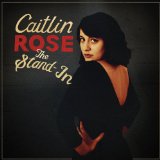 Vocally reminiscent of a twangier Zooey Deschanel, Rose is an old heart in young body, bemoaning that "the songs I wanna hear, they never play," on the opening ringing guitar rocking Americana of No One To Call. So she's made an album for anyone who feels the same way, full of musical valentines to that rootsy vintage vibe of yesteryear Nashville. As such she knowingly plays to the cliches with her characters and tales of quarrelling couples, heartbreaks and faded dreams, but without ever giving the impression that she's doing pastiche.
Pedal steel keens throughout, weeping over Pink Champagne's couple deciding to make the best of an impulsive Vegas wedding, adding its bite to the forlorn I Was Cruel, a song by her backing band The Deep Vibration reworked as a banjo led backwoods ballad, lacing the guitar chiming drive of the Gary Louris co-penned Only A Clown and crooning along to her cover of The Felice Brothers' lonely hymn to home, Dallas.
She shifts slightly outside the template for the strings swathed hula sway of Golden Boy, When I'm Gone's warm Southern soul and the brassy New Orleans ragtime jazz slope to Old Numbers reflection on calling up ex-lovers while the poppy drum thumping Menagerie perhaps owes a little more to The Bangles than Bradley's Barn, but anyone wanting their country nostalgia served with a freshly minted spirit will be well satisfied.
Mike Davies March 2013
---
Jimmy Brewer - As Time Stands Still (Own Label)
Now, here's an odd one. Having got his break when he was one of chosen to represent Northampton as its local support act for Joan Armatrading, he's now making his album debut amid pr claims that he can 'silence a room with little more than an intro'. Well, it's going to take more than an intro to find a substantial audience for an album that often plods along (the dirgey blues of Open My Eyes,) or flounders insipidly (the lacklustre jazzy swing Two Inches Taller. His voice falters at times too.
But then, when you're ready to consign him to the bin, he comes along with Want You where he sounds very much like Jonathan Richman, tremulous piano ballad heartbreaker It Still Aches, twee but affecting best friend elegy Gordon, Days, Weeks, Years where he reminds you of David Bowie when he was still David Jones and the warm 50s doo wop nostalgia of love and vinyl number Watching Records Go Round & Round. Best of all though is the medieval troubadour styled Velcro Girl that, delivered with a disarming catch to his voice, has a simple melody, clever lyric and the sort of chorus that you can't shake.
Flawed genius who needs more discipline or a no hoper who got lucky with a handful of songs that probably exhausted his talent, I guess only time and a second record will tell.
Mike Davies March 2013
---
Bridie Jackson and the Arbour - Bitter Lullabies (Debt)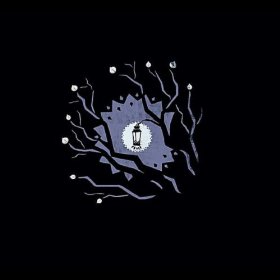 Every now and then an album comes along that takes your breath away with its bracing originality, bringing something previously unheard to the genre. Such is this offering from the Newcastle-upon-Tyne based Jackson and her band, cellist Jenny Nedick, violinist Ally Heley (now replaced by Rachel Cross) and percussionist Carol Bowden, the latter two also providing harmonies. All of them play bell plates, a sort of handchime. The recordings also feature guest contributions on bassoon, piano, mandolin, and glockenspiel.
Jackson spend her childhood travelling Europe with her composer father, which goes some way to explaining the diversity of influences that feed into her dreamlike, often ethereal and often darkly atmospheric music. The folk tradition is the core of her work, but the mould and twist it into many different shapes, bringing a sense of space and tension to often minimalist arrangements and instrumentation.
You're in uncharted waters from the star with We Talked Again as melting icicles opening notes backdrop Jackson's clear, pure vocals, bowed cello entering proceedings half way before the number ebbs back to a hushed close. Bitter Lullaby floats on spare mandolin patters and harmonies and is probably the closest the album comes to a traditional (yet otherwordly) feel. Then comes the wintry Promises Are Broken as you're transported to medieval plainsong with the unaccompanied echoing voices sounding as though they're emerging from some cathedral crypt, the mood immediately shifting as Aliens sets up camp in European gypsy territory with moody flamenco guitar, violin and bassoon complementing Jackson's dramatic soaring wail.
Elsewhere, sparse acoustic guitar brings a dank air to The Burden Of Survival, with its mournful violin, pensive guitar and scale-soaring vocals The Woman With Milk Teeth has a strong Eastern European flavour while the a capella Please Forgive Me My Human Ways crosses continents for passionate gospel. The album ends on a peaceful, lullabying note with a dreamy All You Love Is All You Are, the soothing vocal equivalent of a plaintive accordion drifting into the night air around a camp fire.
If you want reference points, then imagine a cocktail of Smoke Fairies (particularly on the blend of gypsy jazz and folk blues that is the sexually electric Mucky), Mahalia Jackson and Les Mysteres des Voix Bulgares, but brushed with Jackson's very individual magic. With lyrics as evocative as the music, this is intoxicating listening (she's also released non-album spine-tingly folk-jazz single Scarecrow) from a name that seems destined to set the folk world ablaze in the months to come.
Mike Davies March 2013
---
Faustus - Broken Down Gentlemen (Navigator)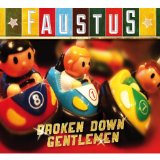 You might well be amazed that this dynamic outfit has managed to keep going while its members have all been heavily involved in other high-profile ensembles (Paul Sartin and Benji Kirkpatrick both as key members of Bellowhead, Saul Rose with Waterson: Carthy and latterly with Whapweasel). But here, after taking only a mere two-year break, the guys deliver a further inspiring and fresh collection of songs deeply rooted in the English tradition, tastefully and inspirationally arranged. But informed with an even more powerful sense of presence. So the album title is surely more than a touch tongue-in-cheek? Broken down? – no way! For there's an infectious energy here, with each song treated with a directly expressed passion that's shot through both playing and singing. The Stu Hanna production is crisp and clear, and the sound is admirably full-bodied at all times.
Faustus are thrice blessed, too, in that each of the musicians, though not primarily known as a singer, is a singer of real character in his own right, which gives the album an extra dimension of freshness and variety. Moreover, each singer proves well suited to his individual "lead" songs: in particular, Paul to Captain's Apprentice and American Stranger, Benji to I Wish, I Wish and Banks Of The Nile, and Saul to Apprentice Boy and Thrashing Machine (shame he only gets to sing those two, while Paul and Benji each take the lead on four songs). The possibilities afforded by the relatively limited instrumentation are more extensive than you might expect, and textures are constantly interesting to say the very least – and abundantly rich for the most part (The Captain's Apprentice especially so, I thought, and I Wish I Wish with its thrusting Seth-Lakeman-like charge).
And the sense of earthy conviction, a wide-eyed joy in discovery and sharing these song variants, is very strong – indeed, there's often a distinct feeling that this is almost to be treated as an object lesson in effective presentation of traditional material, eschewing any gimmicks and bringing it to you straight down the line with full force and commitment. The only aspect of this devilishly brilliant album that feels a let-down is its packaging. (It almost wins the award for the least informative accompanying booklet; why go to the expense of including a four-page insert at all, if it contains no information? OK, so the lyrics and "extended notes" are available on the band's website, but then we're left with all the hassle of having to re-format and print them out…) That unfortunate non-musical aspect notwithstanding, this album is extremely likely to turn up in the year-end best-of lists.
David Kidman March 2013
---
Billy Bragg - Tooth And Nail (Cooking Vinyl)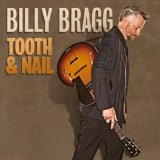 His first studio album in five years follows a period in which Bragg had become disillusioned with the record industry, "wondering whether there was any place for a middle-aged Billy Bragg in a market dominated by the X-Factor", and then suffered a major bereavement (the death of his mother) – all of which forced him to take stock. He says: "I took a long, hard look at who I am and what I do. This album is the result."
He made the decision to call upon his old friend Joe Henry, and once securing Joe's agreement for production he then set about putting together a set of songs. With Joe's regular crew of musicians in tow, Bragg fairly sneaked into the studio, and the record was made in just five days. It possesses a spontaneity, a rootsy ambience that in many ways is a stylistic continuation of the experience of the Mermaid Avenue Sessions (the Guthrie project which was reissued in complete and expanded form only last year). It even contains a sensitive and heartfelt cover of Woody G's I Ain't Got No Home, while two further tracks (Over You and Your Name On My Tongue) are joint Bragg/Henry compositions. The remainder of the songs explore the ups and downs of relationships that have stood the test of time – perhaps a rather different Bragg from the one of England, Half English or even Mr Love & Justice, then, but definitely not one to be ignored.
He's come full circle to the painful personal politics of some of his early classics, and he explores, with impeccable economy, the pain of love (and loss) in all its aspects; Swallow My Pride is both intensely vulnerable, soulful and soul-baring, January Song is both soulful and forlorn, while Handyman Blues is both rootsy and sublimely, truthfully lyrical. The supporting playing is comparably lovingly managed, as on the tender gospel-flavoured Do Unto Others which inhabits a kind of English Ry Cooder vibe, and the equally tender country-flavoured Chasing Rainbows. Not forgetting the cautiously hope-ridden closer Tomorrow's Going To Be A Better Day…
Bragg tells it like it is, and we can take it. Tooth And Nail is a masterly set indeed, an artistic statement of true integrity. There's also a limited special edition Bookpack which appends to the basic CD a 36-page booklet and a DVD of ten promotional videos made for earlier singles.
David Kidman March 2013
---
Spriguns - Revel Weird and Wild/Time Will Pass (Esoteric)
One of the ultimate names-to-conjure-with, Spriguns (the cult 70s folk-rock outfit) will undoubtedly enjoy a healthy revival of interest among folk-rock aficionados – and even gain a new audience – with this commendable pair of CD reissues. For those not in the know, Spriguns was formed by Mike and Mandy Morton in Cambridge in 1972, as an acoustic duo with the slightly more unwieldy handle Spriguns Of Tolgus (Cornish names referencing a pixie and a tin-mine), subsequently expanding to a four-piece and recording a self-financed tape that took its principal musical cues from Steeleye Span. This alerted Steeleye's Tim Hart to their talent, and he produced their next album (Jack With A Feather). Then came the signing to Decca, the truncating of the band name and the replacement of original recruits with three different musicians – keyboardist Dick Powell, fiddler Tom Ling and drummer Chris Woodcock – to produce an altogether more ambitious rocky sound in which to clothe Mandy and Mike's original songs (which were, however, still largely based on traditional sources).
Revel Weird And Wild (1976) was Spriguns' first album for Decca; stylistically it still owed much to the early-70s Steeleye, especially on the flouncing danserye of Laily Worm and the more episodic ballad-reworkings like Sir Colvin, but closer scrutiny revealed what was in many ways a more delicate musical sensibility.Mandy's beguiling singing voice possessed a rather softer kind of thrust, while instrumental textures sometimes relied on quite a bit of over-sweet keyboard work, which on moments such as the ultra-accessible Piscie Song imparted a slightly twee air to the proceedings.
But when the band rocked, as on the thundering Soldier's Joy coda to The Outlandish Knight or the darker, sterner sections of Sir Colvin, they proved every equal of the finest folk-rock around – if (let's be honest) resolutely unfashionable. The music contained elements very much of that time, like Caravan-style wah-wah electric violin and courtly keyboard timbres, although some pedal steel from guest B.J. Cole provided a more subtle degree of textural enhancement. Song-focused rather than reliant on jam-based musicianship, Revel Weird And Wild may not have quite lived up to the extreme adjectives of its title, but it nevertheless proved a satisfying collection that acquits itself just fine on this CD reissue (although its transfer level seems a touch low so you'll need to crank the volume up).
A further lineup change occurred before the recording of the band's next Decca album, 1977's Time Will Pass, with Australians Dennis Dunstan and Wayne Morrison (drums and guitar respectively) stepping in to replace Chris Woodcock and Tom Ling (the latter being retained only in a guest role for the album sessions). The harder edge of the resulting new sound may have enhanced the outfit's rock-cred, but at times it seemed at odds with the slightly mysterious gorgeousness of Mandy's voice and her ever more ambitious songwriting (although Renaissance they were not), and the album's quieter moments and studio effects (as on For You) felt a touch dated at times. /pAnd at least two of the tracks (You're Not There and the title song) feel to have been prematurely faded.
For three of the songs, noted arranger Robert Kirby was drafted in to provide a lavishly-upholstered 30-piece orchestral backdrop, which works particularly well on White Witch. Perhaps the most successful of the album's folk-rock marriages are the radical re-imagining of the traditional Black Waterside, which sports some swirling, majestic synth power-chordings alongside the chunky rock rhythms and punchy guitar solos, and the glorious full-score peroration of the finale Letter To A Lady.
Of course, Time Will Pass proved every bit as unfashionable as its predecessor in the then-prevailing musical climate where the winds of change were blowing hard and fast. And yet, perhaps against the odds, both these albums have stood the test of time better than I'd anticipated. Their charm is most persuasive, and the customary high Esoteric standard of booklet notes is observed on both of these CD reissues (lyrics also being included), prompting me to wish (probably in vain!) for this label to next reissue Spriguns' two pre-Decca records and their post-Decca offering (1979's concept album Magic Lady).
David Kidman March 2013
---
Carrie Rodriguez - Give Me All You Got (Ninth Street Opus)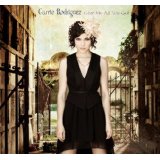 If there's a vacancy for a rootsier, post-Raising Sand Alison Krauss then all other candidates should gracefully withdraw, the position is filled.
That's not damning Rodriguez with faint praise merely accepting the fact that her harder edged cocktail of country, bluegrass and pop - Sad Joy, Devil In Mind - occasionaly filtered through the sensibility of Daniel Lanois - Cut Me Now - and even a measure of southern rock as in the instrumental reprise of Devil In Mind.
But what holds it all together, aside from exemplary musicianship throughout and the playfully attractive quality of Rodriguez' vocals, is the quality of the songs. Rootsy they may be, but they have a pop sensibility that sticks to the mind after very few plays. Rodriguez has a hand in all of them and thus it would be reasonable to assume that she paid close attention during her time as musical partner to Chip Taylor, a man with an admirable track record in that particular arena. What is surprising is reading the liner to find that that erstwhile partnership is far from dead as Taylor actually co-writes on almost half the album. Frontman and muse changing roles perhaps?
So, as suggested at the top, if you want something like Krauss but with a little more grit, you'll love this and as it sits at number two in the AMA chart as I write plenty of folks clearly do.
Steve Morris March 2013
---
Erica Buettner - True Love and Water (Peppermoon Music)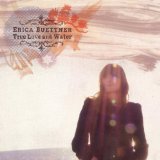 The more cynical amongst you might feel spoilt for choice as to which of these many tracks would shorten an Abigail Party host's evening of horror-guests by playing it on rotation to be rid of them. A little harsh, perhaps. Although 27 year old, American Born, Parisian educated, now resident in Portugal, Buettner's debut album is more for the dedicated enthusiasts of attic-bound Parisian skyline introspective muse gazing, it has a lyrical magic that beguiles the listener into repeated indulgences. Echoes of Marianne Faithfull, Leonard Cohen and Nick Drake's heart-beats measure in sparse guitar-picking fragility come to mind.
It's a dreamy, ethereal rootless road-movie of the imagination redolent with enigmatic charms - a tortured 'Torch' meander along Autumnal Montmartre rain-patina cobbled alleyways. Conversations about Buettner's works involve references to Goethe, Sibylle Baier and 'Ginsberg-ghosted Parisian-Beat-music' ('For Folk's Sake') must surely entice both the inquisitive and smokey, bar-stuck lovers weighing ambiguous truths between them.
John Kennedy March 2013
---
Jennifer Hardy - Blackened Eyes (Slow Train Records)
Although a child of native Derry, now resident Western Australia, there is an almost immediate sense that there's something wickedly French-Canadian in this heady, eclectic special brew - check the eponymous opening track. Sure enough, the PR reveals that the family up-rooted to the Canadian East Coast when Ms Hardy was five years old. Think perhaps McGarrigles/Mary Margaret O'Hara? Her vocals are signature singular complementing her magpie influences be they Folksy/dreamy romance, unashamedly retro 60s bobby-sox romantic and even a splash of Ska. It's strongly suggested that those of a more inquisitive nature, and you are to be encouraged to do so before a recommended purchase, ought dip into some of the tracks on her website.
An accomplished, most enjoyable debut album, a toe in the water sampler would have to be These Three Words. Its hazy-lazy/dream-dusted mantric vocals and stripped down acoustics might well have you imagining Anna Calvi gliding through the evening mists of Grantchester Meadows. Though Freedom's vibrantly naughty Diva recklessness insists the girls don their Audrey Hepburn shades and get down to some cocktail-shakin', pool-side swinging - of the more innocent variety, of course. Further explorations uncover even more subtle themes and nuanced perspectives. Recommended.
John Kennedy March 2013
---
Blue Rose Code - North Ten (Reveal Records)
The contemporary Folkish airs and Celtic laments on this debut album from Edinburgh born Ross Wilson have been wryly described as 'Caledonian Soul'. Quite so, and if not for sometimes disparate, then certainly engagingly contrary, reasons - and all the more enjoyable for that. Ross's precarious history saw his teenage years in Scottish Secondary education revolved around, in absentia, an alternative approach to achieving 'scores' and 'Highers'. More Trainspotting than swotting as it were. And, until recently, a bane that was seemingly to curse his singer/songwriting achievements going much further. Fortunately for all, a Damascene de-tox in Brooklyn, NY saw him regenerate his neglected muse to build-up both a grassroots fan-base and peer appreciation – not least the double-bass master of Jack Daniels improvised hotel conversions himself, Danny Thompson, who guests on several tracks.
It's the album's collective essence that invites further indulgence given that no songs immediately make you sit up and beg but then fine wines need to breath. Though, 'This is not a) Love Song with its liquorice, rich gentle Gypsy-Swing and ghosts of Phil Lynott's broguish romanticism, will probably be the first you flick-back to replay. The atmospheric, harmonic cadence and simplicity of Skin & Bones is a certainly a contender for this Summer's French campsite romantic strummer. Think Benjamin Francis Leftwich sipping Calvados with Stars Of The Lid. Much to enjoy from this heart-on-sleeve troubadour of candour. You'll dream of seagulls and herons' cries as the fading embers of past loves are wafted aglow by their passing wing-beats.
John Kennedy March 2013
---
Kris Drever & Éamonn Coyne - Storymap (Reveal)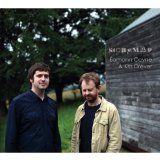 Not counting an EP released for last year's Celtic Connections, Storymap is the second collaborative album to be released by Éamonn and Kris, following some five years on from 2007's acclaimed Honk Toot Suite. But this is a different animal altogether, with what might best be termed a distinctly polarised approach whereby its half-dozen purely instrumental tracks (tune-medleys) are complemented by three songs.
However, that somewhat plain-sounding description conceals an abundance of skill and dynamism; although each of the two musicians is already renowned for his contribution to a major group act (Éamonn with Treacherous Orchestra and Kris with Lau), their collaboration on this album is even-closer-knitted, radiating a keen warmth and palpable sense of true enjoyment of each other's company that brings a joy-filled glow into the ears of the listener from the very first bar of the opening set of reels. Notwithstanding the obvious virtuosity on display, the protagonists clearly feel no need (or desire) to rush onwards to reach the three-minute milepost; they both wear that virtuosity very easily indeed.
Maybe the "storymap" concept – of producing what are, in essence, stories in miniature mapped out over a portmanteau format – is a little stretched imaginatively, but the music tells its own story without resorting to any pretension, and each specific combination of tunes has been thought through carefully and makes a telling impact on its own terms. Whether it's the stirring, if frenetic, Marches And Reels set, the brilliant Teddy Bears' Picnic Jigs finale or the tour-de-force Goat Walk (on which the tender Mickey Finn's Air and a fine tune composed by Kris himself are finally ousted by the rabble-rousing Abe's Retreat), the partnerships, both material-wise and musician-wise, are exemplarily judged.
Another of the disc's instrumental high points is the fabulous penultimate track, Pot Luck, which shows just how much mileage can be got out of a simple duet on two guitars (six-string and tenor). Most of the tracks employ some guest musicians – notably Megan Henderson (fiddle and harmonium), Calum McIntyre (drums), Nico Bruce (double bass) and Eamonn Nugent (bodhrán).
But I really mustn't undersell the songs, each of which receives a standout vocal performance from Kris. His interpretation of May Morning Dew (which also features Henderson's specially evocative fiddle playing) comes close to rivalling the treasurably intense reading from Sherburn & Bartley, and his passionate treatment of Isle De France also enables Éamonn to showcase what he calls his "electric-guitar-style-tremolo tenor guitar" (a wondrous texture, to be sure), while Farewell To Stromness brings in Eliza Carthy for a lovely, characterful harmony vocal. The whole adds up to a marvellously clear-sighted and deeply engaging album, as much of a real treat for the listener as for the participants. Thanks, guys.
www.krisdrever.com
www.eamonncoyne.com
David Kidman March 2013
---
Aly Bain et al. - Aly Meets The Cajuns (DVD+CD) (Whirlie Records)
Some of us have been waiting eagerly for this landmark documentary film to be made available for home consumption! Made for (UK) Channel 4 as a 1988/89 New Year Special, and beating over 30 other competitors to be screened for that occasion, it featured the killer combination of master Shetland fiddler Bain and a host of stars of cajun music, a genre which Aly was known to heartily espouse and for which he has always had a deep affection and affinity.
This film was a natural follow-on from the 1986 Channel 4 series Down Home, and later paved the way for key collaborations in the Transatlantic Sessions series. This celebration of cajun music and culture includes plenty of footage of musicians in their home environment, often in the same room as groups of dancers, and a tremendous feel of intense enjoyment permeates every second. From the classic cajun of the late Dewey Balfa to the unashamedly sassy "bean-feasts" of Queen Ida Guillory's Bon Temps Zydeco Band and Boozoo Chavis (the latter now sadly no longer with us), via the "renaissance cajun" of the wonderful Savoy-Doucet Band, this film covers the many and varied aspects of cajun music, and the musical extracts are spiced with conversations with the artistes unearthing often fascinating snippets of information regarding cajun culture – a way of life, indeed.
Other, arguably lesser-known artists appearing include charismatic fiddler Harry LaFleur, vibrant singer D.L. Menard (with his Louisiana Aces) and champion of progressive cajun, Wayne Toups; and Aly can be seen adding his trois sous to the musical gumbo by joining in enthusiastically at every session opportunity!
This 50-minute film is over way too soon, and fair exudes joie de vivre par excellence! As does the accompanying CD, which contains 16 full-length music tracks from the film's featured artists (9 of the cuts also involve Bain himself). These are presented in the same order as they occur on the documentary, although the audio CD omits two additional song performances (the rockin' Zydecajun Train by Wayne Toups and Raywood by Queen Ida respectively) which are exclusive to the DVD and otherwise would've conveniently slotted in after track 11 and before track 15 (total playing-time of the CD would easily have permitted their inclusion). While on the other hand, tracks 12, 13, 14 and 16 of the audio CD are exclusive to that format… But hey, laissez les bons temps rouler!
David Kidman March 2013
---
The Owl Service - Garland Sessions (Stone Tape Recordings)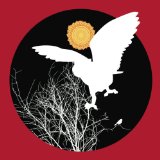 The Essex-based alt-folk outfit was formed by Steven Collins back in 2006, originally as a solo vehicle for exploring within the context of the latest English folk revival his own love of the distinctively British film, TV and music culture of the 1960s and 70s (the very band name being taken from the TV serial based on Alan Garner's tale which melded fantasy with folk tradition).
To help realise his vision, vocalists and instrumentalists were recruited gradually over the ensuing years, with the result that the Owl Service brand-name became more of a collective than a band as such, I suppose you could say, with personnel "passing through" the ranks to a greater or lesser extent. These have variously included Rebsie Fairholm, Nancy Wallace, Kate Denny, Jo Lepine, Diana Collier, Katie English, Rachel Davies, and the Straw Bear Band's Dom Cooper, several of whom have since made solo recordings in their own right.
The extent of the project's legacy and influence is brought home here by this expanded, reworked re-release of Garland Sessions, in effect the band's debut album, which first came out as a limited-edition back in 2007 and was subsequently reissued the following year. This new edition presents "alternative versions and outtakes of all 13 original tracks, tweaked, remixed, remastered and partially re-recorded", plus an additional six tracks "which the band worked on at the same time as the debut, but which only saw the light of day on various short-run releases".
I've always found the Owl Service's recorded catalogue hard to get to grips with, due to its bewildering multiplicity of alternate readings, out-takes, re-recordings, live versions and large number of obscure limited-edition releases, and it's mildly frustrating that the exact provenance of the tracks making up the wondrous cornucopia of Garland Sessions is nowhere outlined for the fan's benefit (what we still need, I guess, is a comprehensive discography, so that we can see the wood from the trees…!).
Not having been in possession of either of the earlier editions of Garland Sessions, I'm unable to comment either on any improvements in audio terms or on changes with regard to specific repertoire items included. But it's apparent that this new incarnation (which effectively serves as a kind of swansong for The Owl Service as a band) has been most carefully sequenced, for it's impossible to spot any joins or find any discrepancies in terms of quality, notwithstanding the various sources from which recordings have been drawn. The album flows really well too, with no sense of being just a disparate group of session tracks (as its collective title might otherwise imply).
Steven's skills as a multi-instrumentalist and arranger are a unifying creative force, onto the always intriguing layers of which are tellingly introduced a number of different singers who bring their own personal character to the songs, the bulk of which are traditional in origin. The folk circuit is already spoilt for choice as regards renditions of many of these songs – e.g. North Country Maid, Two Magicians, Flanders Shore, Turpin Hero and Lyke Wake Dirge – but rarely do such interpretations contain such a high degree of insight as do those of the Owl Service, which tend to be both distinctly unorthodox and particularly imaginative (I'd namecheck Diana Collier's Katie Cruel and The Gardener Child, and Dom Cooper's Apple Tree Man, as standout tracks).
The set also contains a memorable account of Lal Waterson's Fine Horseman (by Nancy Wallace I believe, although copious scrutiny of the otherwise well-detailed personnel credits doesn't reveal her identity), and, scattered sensibly amongst the songs, a small handful of brilliantly atmosphere-laden, often suitably sinister instrumental tracks (notably the extended tone-poem The Dorset Hanging Oak) which are much redolent of wyrd-folk film scores. In tandem with the fresh and invigorating acoustic-based settings, a significant number of the tracks also thoughtfully and judiciously employ a modicum of electricity and amplified instrumentation and effects that bring the sound altogether closer to folk-rock, and the mix proves very persuasive indeed.
So my advice is to snap this one up before it disappears from the racks, for it contains much important music, indeed some of the finest examples of adventurous British folk of the past half-dozen years.
David Kidman March 2013
---
Various Artists - Celebrating Subversions: The Anti-Capitalist Roadshow (Fuse Records)
The Anti-Capitalist Roadshow is a collective of eleven like-minded souls – comprising a host of illustrious singers and songwriters (and the UK's one and only socialist magician) – who have of late been taking their songs and magic to enthusiastic audiences across this land, with the humble aim of raising spirits and giving hope and heart and a smile or two to those angry at injustice. It all began with the Occupy movement and the overwhelming sense that this government was imposing an ideologically-driven austerity programme on all but the elite, and in particular on the poor, the vulnerable and the disabled.
The ACR's united aim is to challenge the narrative that says "there is no alternative", and the two hours' worth of music (together with a visionary poem by Ian Saville, the aforementioned magician) on this pair of discs forms part of the resistance to insidious capitalism, and part of another way of looking at the world. The participants could not have been better chosen to voice these concerns with total conviction, all of them having proven (and mostly very much long-term, nay virtually lifelong) credentials in the field of musical agitprop and eminently sensible social and political commentary in song. All but a very few of the recordings here were made last summer, although a number of them serve as contemporary updates to, or timely revisits of, songs that have previously appeared on record (or tape! – some being now long-deleted).
The range and tone of the songwriting is, as you'd expect, extensive, from justifiably angry (Jim Woodland's The Grapes Of Wrath) and satirical (Janet Russell's lambasting of the arms trade in Guns And Bombs) to cheerily caustic music-hall-style (Robb Johnson's Why Not?) and sharply perceptive (Leon Rosselson's wry account of the 2011 riots, Looters, and his cheekily cautionary tale of fitness-for-work, Benefits), via the feistly anthemic (Robb Johnson's Be Reasonable and Peggy Seeger's adaptation Doggone, Occupation Is On). Roy Bailey contributes several key tracks including passionate, typically adept accounts of songs by Si Kahn; Frankie Armstrong brings her stentorian tones to powerful activist texts by Godoy, Biermann and Brecht; Reem Kelani delivers a stunning performance of a song from Tunisia expressing the pain of worker migration, also a riveting account of Leon Rosselson's celebrated Song Of The Olive Tree; and Sandra Kerr poses the still-all-too-relevant question Can We Afford The Doctor?
But perhaps the biggest discovery of the set for me was Grace Petrie, an impressive young Leicester-based singer-songwriter who, despite not having been born for the majority of Thatcher's reign, has a singularly acute grasp on the evils of the world she inherited – the world which Mrs T shaped. Grace's three contributions to the set are distinct highlights, and choice tracks certainly, but I could almost as easily turn the spotlight on the many more incomparable performances here which make the set thoroughly recommendable to any thinking listener with an ounce of humanity and political sensitivity.
www.redmagic.co.uk/anticap/index
David Kidman March 2013
---
Emmylou Harris & Rodney Crowell - Old Yellow Moon (Nonesuch)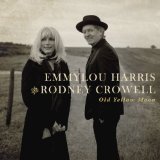 Probably one of those "even more than the sum of its parts" records in the end, although on first play it's a deceptively laid-back outing that has a classic backward-time-tripping feel that should be regarded as timeless but actually reeks strongest of the Southern California country-rock-meets-rock'n'roll of the Burritos and often of those classic Emmylou-and-Gram recordings prior to Crowell's joining the Hot Band back in '75.
It's good to be able to report that Emmylou's in finest voice, and clearly well pleased at being within her comfort zone for what (believe it or not) actually marks her first official collaboration with Crowell on record. And Crowell's no mean singer either, his smooth timbre an ideal foil for Emmylou on this album of duets. The material has been chosen carefully too, with four songs written by Crowell taking a pride of place among the covers, which include Roger Miller's swinging Invitation To The Blues and Hank DeVito's Hanging Up My Heart.
It all sounds great, with a modern-day Hot-Band lineup (including many of its original members alongside Stuart Duncan, Bill Payne and Vince Gill) on expectedly excellent form. And as a further throwback and connection to the old Hot Band glory-days, the team chirpily re-works Bluebird Wine, the driving uptempo Crowell composition that opened Emmylou's very first solo record way back then, to good effect.
Special favourites for me on this set are probably the slowies – Spanish Dancer, Here We Are, Crowell's own Open Season On My Heart and the even more gorgeously harmonised Allen Reynolds waltzer Dreaming My Dreams – but in truth there's not a weak cut. The whole set is ably produced by Brian Ahern, and it marks a further high point in the two protagonists' careers for sure.
David Kidman March 2013
---
The Malingerers - The Lonely Years (Fat & Bulbous)
Another of those outfits proudly touted as "hailing from the long-gone lonesome plains of East Anglia", delivering a raggedy melting pot of twisted country-blues-cum-Americana that echoes less of the anarchic, slightly Beefheartian vibe of their label name than the genially punchy feel of an informal back-porch band.
The Peterborough-based Malingerers bring to the scene an album-full of authentic-sounding music with variety aplenty yet almost entirely consistent over the 11-song span; the first four tracks provide a good indicator of the strengths of the combo, moving idiomatically from rough-house blues (House Of Mine, with a typically gravelly vocal from Kev Murphy) through the title song (featuring some fine lonesome fiddle from Tim Palmer) and the achingly soulful emotional journey of The Optimist, and onto the raucous harmonica-draped shoutiness of Want Me Back.
On reflection, maybe the rest of the album, though good, isn't quite as distinguished, although the songs (all group compositions) tend to display a degree of thoughtfulness that one doesn't always associate with Americana-inspired bands. Curiously, though, Murphy's singing doesn't suit all of the material equally well perhaps (gentler melodies tend to make his voice sound a touch strained).
But the playing is always tight and characterful, and some subtly moulded solos and fills bring moments of additional interest (eg acoustic guitar on Could You Believe, touches of mandolin and harmonica elsewhere); John Mosely's drumming keeps a keen pulse that maintains a neat balance between the purposeful forward momentum and the leisurely, relaxed pace, best demonstrated on numbers like Maddie and the rockabilly-styled Down By The Sea. And all in all, there's a nice basic upfront intimacy to the analogue recording that well suits the as-live-sounding nature of the performances.
David Kidman March 2013
---
Mary Dillon - North (Back Lane Records)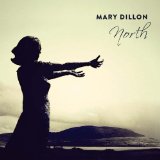 If, like me, you remember the Irish band Déanta from the 1990s, you'll have wondered what happened to their singer. Well, Dillon's spent the past 15 years raising a family and only occasionally visiting a recording studio to lend guest vocals to some of her friends' projects, but now is ready to re-launch her singing career in earnest. You might feel that on the evidence of her comeback recording, this move is not before time, since it's her younger sister Cara who's enjoyed the (not undeserved) limelight of late.
Here, Mary is proud to showcase a diverse collection of (mostly, but not exclusively) traditional songs from her native Ulster, proving herself one of the finest of contemporary interpreters in the process. And what a voice she possesses – gently pure and clear with every word lovingly enunciated. A special feature of her enchanting delivery is the expression of her involvement in the story by the creation and confident use of light and shade – I might usefully single out her wry takes on The Banks Of Claudy and When A Man's In Love on one hand, and her touching a cappella account of the lament Ard Tí Chuain on the other, with a particularly emotional, even angry rendition of The Month Of January also receiving a standout performance here.
Another high point of the album is the stunning cello-bed-bedecked account of the ballad Edward On Lough Erne Shore, while her timely revisit of the poignant, tragic tale of under-age First World War soldier John Condon (from the pen of Sam Starrett, Tracey McRory and Richard Laird) shows ever more depth of understanding and response even than on her landmark 2003 demo recording of the song. Then there's Mary's own composition The Boatman could be taken for traditional, for it definitively proves her keen grasp of the idiom. Another aspect of this thoughtful disc that works so well is the insistence of its co-producer, nephew Odhrán Mullen, on utilising the simplest of settings involving almost the barest minimum of instrumentation – basically any permutation of guitar (Eamon McElholm), fiddle (Clodagh Warnock), whistle (Neil Martin), and flute (Brendan Mulholland), with occasional guests playing mandola, accordion, pipes or bodhrán – and so very effectively too.
The whole album's quite masterly, and although its comparatively undemonstrative nature and aura of delectable quiet elegance may require a touch more listening concentration at times, Dillon's thoughtful performances are destined to haunt you.
David Kidman February 2013
---
Andy White - 21st Century Troubadour (Floating World)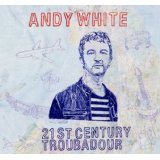 Belfast-born and raised but now living in Melbourne, White's another of those travelling singer-songwriters who's been peddling quality for over a quarter of a century now, over the course of ten studio albums and a couple of books of poetry. A couple of years ago, he published a semi-autobiographical book, 21st Century Troubadour, that gave an often hilarious account of life on the road, and this new double-disc set is intended as a kind of "album of the book" companion.
The first disc collects together a generously representative selection of 14 songs; these are mostly taken from his latest four studio albums (Andy White, Boy 40, Garageband and Songwriter), and there's one apiece from early-90s records Himself and Out There. In all these provide a good introduction to his accessible and convivial style, which encompasses elements of rock, pop, roots and folk to communicate his thoughts and feelings on a wide range of topics entirely relevant to his own experiences and musical and cultural heritage. Although an inveterate world traveller, he's not forgotten his native Belfast either, as standout Twelfth Of July proves, but there's much more to his work, and favourite songs like Travelling Circus and If You Want It are both catchy and rewarding creations for all that. White's songwriting has always been both reflective and insightful, and this collection contains plenty of fine examples including at their simplest and most memorable The Fortune Teller's Right and Italian Girls On Mopeds.
Themes and preoccupations resonate into the second disc, which he describes as an "audio book with a soundtrack", on which he reads excerpts from his memoirs (to background music), as well as In LA I Dream Of Books, a bebop poem from his second volume of poetry and then plays us out with the collection's title song, recorded in 2011. It's strange maybe, but I find this second disc even more compelling than the songs on disc one – perhaps it's a minor case of over-familiarity with the songs? – but that's no criticism!… For, as White rightly says, "life is just a travelling circus, stops off when it rains"; and he enables you to share this experience directly through his book and this excellent double-CD. Oh, and do check out his brilliant website, which contains even more information and full notes on all the material.
David Kidman February 2013
---
Ted Russell Kamp - Night Owl (POMO Records)
Kamp's been recording his albums independently since 2005, producing his own solid brand of laid-back singer-songwriter Americana that owes much to what's been dubbed a "Levon-Helm-meets-Eric-Clapton-circa-'72" feel, a relaxed vibe that can't go wrong almost, as his ever-increasing album sales must surely to some extent testify. The classic sound of Hammond organ, cushions a gentle rhythmic impetus and soft-rollin' ambience, an ideal vehicle for his songs that have the California desert ambience shot through their honest and thoughtful lyrics.
There's nothing new or radical here, just steady, reliable writing that takes the gritty soulful country of The Band forward into our time. The strongest tracks like Another Love Song, A Whole Lot Of You And Me, At The End Of The Day, Fireflies and the stripped-down When The Radio Goes Dead certainly wouldn't disgrace any modern-day best-of-Americana compilation; the former-mentioned track boasts some especially fine lead guitar playing courtesy of Troy Lancaster, but the contributions from other musicians including Scotty Sanders, Jerry Roe and Aubrey Richmond don't let the side down and enhance Kamp's own playing, just as the doctor ordered.
And he can do jaunty too, as the Dixieland-strut of The Last Drop shows. Although you couldn't ever describe his songs as weak, perhaps it's nevertheless its general lack of overall distinction that may tend to count against the work when set out there in the wider market.
David Kidman February 2013
---
Iain Morrison - To The Horizon, Sir (Peatfire)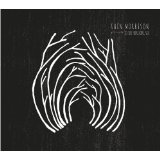 Winner of Composer Of The Year at the Scots Trad Music Awards 2010, Outer Hebrides (Isle-of-Lewis)-born Morrison's profile has been much enhanced of late by his appearance on Series 5 of Transatlantic Sessions, where he performed three of his own compositions (Fire In My Hands, A Lewis Summer and Broken Off Car Door) in typically illustrious company. An accomplished piper from an early age, he then moved into indie music with the band Crash My Model Car, and now is exploring the realm of nu-folk.
At first hearing, though, it's his singing, more than any other element, that tends to grab your attention – its intrinsic exposed vulnerability is very appealing, while its disarmingly understated nature reflects the elusive, enigmatically yearning nature of his lyrics (which, sadly, aren't included in the digipack or even on his website). To The Horizon, Sir is Morrison's fifth album release (that includes the joint CD Haunted Bird with poet/storyteller Daibhidh Martin), and has an intense, yet almost reserved demeanour that proves very attractive. And yet – despite the undoubted quality of the writing – it's not an easy album to get a handle on.
The musical settings are tightly controlled and thus can seem a touch cautious at times, although at their most inventive (as on Psalm and Little Colt), the textured timbres exude a quite special kind of intimate dynamic beauty. The dark yet calm delicacy of Dream Of The Bear is magical, and builds to an expansive climax before departing. For most of the album's playing-time, the simple, unpretentious backdrops (guitar, cello, double-bass, drums and harmonium) prove enticing and mesmerising, creating a careful, though surprisingly rich adornment that only occasionally allows itself to more fully open out its petals (as on the cathartic second half of the title song).
I'm neither exaggerating nor underplaying the disc's charm and fascination when I say the album's quite a grower, and it definitely deserves close attention before you might decide to leave it aside in search of more immediately exciting (and comparatively momentary) aural delights.
David Kidman February 2013
---
Kathleen MacInnes - Cille Bhride (KMAC Recordings)
The Scottish Gaelic singer released her first CD, Og Mhadainn Shamraidh (Summer Dawn), six years ago on the Greentrax label; the acclaim with which it was greeted was swiftly followed by film and TV appearances, notably on the 5th series of Transatlantic Sessions. Now, at long last, she's finally got round to making a follow-up record. It's exactly as you'd wish: another truly lovely collection of songs blessed with gentle, well-judged accompaniments.
The disc takes its title from the township of South Uist, her mother Mary's birthplace, whose name literally means Church Of Saint Bride; Saint Bride, popularly referred to as Moire Nan Gaidheal, gave her name to the Hebrides, from whence come a good number of the songs MacInnes has chosen to sing for this record. It matters not at all that she sings exclusively in Gaelic, for full texts and translations and explanatory notes are given in the sumptuous booklet, together with musician credits. And with musicians of the calibre of Donald Shaw (field organ), Laoise Kelly (clarsach), Iain MacDonald (flute, whistle), John McCusker (fiddle), Andy Seward (bass), Ross Martin (guitar) and Donald Hay (percussion) at your beck and call, it's no wonder she sounds so much at ease, letting the accompaniment do its work while she concentrates on projecting the essence of the texts via her distinctive and uniquely haunting voice which inhabits its very own expressive world. Her elegant phrasing and assured control of line are a real joy: particularly persuasive, methinks, on the hymnal A'Ghrian, the lullaby Gur Milis Mòrag, the Benbecula song Thugainn a Bhlàrag and the enchanting clarsach-accompanied Shìos an Taigh an Taidh an Tòraidh (nudged from Donegal Gaelic into Scots Gaelic!).
I also need to give a special mention to the pair of working songs (the waulking song Alasdair Oig 'ic 'ic Neacail and the clapping song Latha Siubhail Beinne Dhomh), to which guest Bela Fleck adds a subtle yet brilliant banjo counterpoint. This is but one of the disc's many imaginative instrumental touches, all of which present the special shadings of Kathleen's voice in the best possible light while remaining entirely appropriate to the song which they're accompanying – organ and brass for Òran an t'Saighdeir Ghàidhealaich, Inverasdale poet Iain Cameron's powerful expression of a Highland soldier's feelings when awaiting orders to be shipped off to World War 2, and a chirpy bouzouki, accordion and fiddle for a Michael "Ruadh" MacPherson song about his neighbours looking for a missing cockerel.
This has to be one of the finest Scottish Gaelic albums on the market, fabulously presented and packaged to match the care and detail that's been lavished on the exceptional recording itself.
David Kidman February 2013
---
Drever McGuire Young - Gifts (Orcadian Music)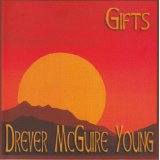 Is this a Scottish supergroup? Hmm, it probably ought to be considered as such, for it gathers together three artists of nigh impeccable credentials: Orcadian singer/songwriter Ivan Drever (of the legendary Wolfstone), Glasgow-based flautist and percussionist Frank McGuire (a founder of Lyra Celtica) and multi-instrumentalist Richard Young.
Their various strands of musical activity are well represented on their debut offering, although (be warned) it's not an especially rootsy or folk-flavoured record. But I can still appreciate its heady virtues of listener-friendliness, finely judged arrangements and brimming musicianship. I found myself recalling Gerry Rafferty and Stealers Wheel, as much for DMY's easy blend of acoustic accomplishment and capable songwriting as anything else. And I really rather like Drevan's vocal style, with its shades of Allan Taylor, but I do feel it suits some songs more than others (tending at times to get a touch too croon-ey for its own good); it's heard at its best on the rolling Candle In The Storm, the gentle entreaty of If You Took Your Love Away and the slight-bluesiness of You Get The Rhythm.
All the songs are Drever originals, and there's no denying the consistently crafted quality of his work. The musical arrangements are positive, comforting and faithful, although there's perhaps a little too much reliance on cinematic keyboard washes amidst the clearer acoustic-based textures; the Celtic touches of whistles and flute are more convincing, as on the disc's one instrumental Forget Me Not, whileMcGuire's use of soft percussion textures is always delightfully inventive. The cautiously tongue-in-cheek boogie-woogie/R'n'R of Roll Over Stonehaven is a fun interlude in the proceedings.
In fact, curious though it may seem for an album exhibiting so much musical variety, I enjoyed several of the tracks more in isolation than when playing the disc as a complete integrated sequence; I'm not sure why that should be.
David Kidman February 2013
---
Eagle McCall - Song Of The Seas (Own Label)
Born to a naval officer and his wife on an island in the coastal waters of southern California, McCall spent four years in the navy at the tail-end of the 60s as a submarine sonar technician, at the same time performing, writing and collecting music; he was able on leaving the navy to begin a career as a full-time folk musician, moving to rural north Dakota and then to Portland, Oregon, where in 2006 he embarked on his first recording.
Song Of The Seas is his second, and delivers a pleasing enough sequence that starts off in self-penned mode, but just over halfway through the disc turns entirely to trusty traditional fare. It's fair to say that the main interest will lie in his own songs, from the whaling story The Mains'l And The Bell (based upon the same story that inspired Melville's Moby Dick) and the ballad The Song Of The Peter Iredale, which tells the story of what remains of the Pacific Northwest's most iconic shipwreck, to the evocative portrait of life at sea When I Was A Boy and the fictional immigration-tale of My Ireland (probably the disc's highlight). There's also a nifty instrumental, the rather misleadingly-titled Valparaiso Suite (which isn't a suite at all but a single piece!).
On the vocal tracks, McCall's sensitive, understated guitar accompaniment is supplemented by guest musician friends Eddie "Skip" Parente (violin/viola/mandolin) and Rob Barrick (cajon, whistle, bass), arrangements being kept uncluttered, simple and economic and all the more effective for that. His singing is warmly even-toned, with a slight tremor and appealing in its companionable phrasing, but I don't altogether share his enthusiasm for inserting spoken delivery during The Song Of The Peter Iredale.
McCall's accounts of the traditional songs I rather liked, for all that they're undemonstrative in nature; but basically, if you're looking for lusty on The Bonnie Ship The Diamond or The Leaving Of Liverpool, look elsewhere, for these are more meditative readings and all the more welcome for that (there's some affectionate, refreshingly gentle harmony vocals from Dave & Meeky Blizzard on the latter too). Elsewhere, he brings a hushed excitement to the classic ballad of Henry Martin and the famous lament Lord Franklin, while his version of Black Is The Colour includes a newly-written verse in which the narrator goes off to sea. The CD presentation is attractive too, with a well-designed package – but the disc itself presents short measure at well under 40 minutes – I feel sure he has plenty more songs up his sleeve.
David Kidman February 2013
---
Chris While and Julie Matthews - Infinite Sky (Fat Cat)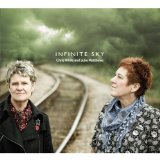 What is there to say? I long ago exhausted my thesaurus of superlatives when it comes to reviewing the duo's albums, leaving me struggling to find the words to do them justice. So, let me just start at the beginning with the joyously optimistic This Beautiful Life where, sounding like the Indigo Girls in their pomp they serve a timely reminder that 'bad luck won't last forever' and that we should be looking beyond the horizon rather than no further than the end of the week.
Next up is one of Chris's songs, a lilting missing you love song guitar waltz written on a sunny Melbourne morning that knows you don't need new words to express feelings as old as time. Inconvenient Hero is the first of two of Julie's storysongs, a biting indictment on the way the 911 rescue workers have been shut out of remembrance gatherings and that many are dying as a result of what they did that day because they have no health cover. A powerful message deserves a powerful melody, and Matthews does both justice.
The second number is Nie Weider (Never Again), a piano ballad (featuring Nancy Kerr's fiddle and Andy Cutting's melodeon) with a gypsy melody line that part echoes Janis Ian's At Seventeen and a lyric about the persecution of Jewish athlete, Gretel Bergmann, in the run up to the 1936 Berlin Olympics.
They're not the only ones inspired by world events, Shaky Town, the sole joint composition is an uptempo jazzy blues shuffle, with bubbling slide guitar from Martin Simpson, inspired by the 2011 Christchurch earthquake and the resilience of its citizens.
While has her own story song too, one that may well have been lifted from a news item, Broken Crash Barrier another jazzy blues track with a sort of choogling JJ Cale rhythm about a car crash in which both the occupant and would be rescuer (and song's narrator) are drowned.
The remaining numbers are all relationship focused. From Chris there's Come On Over (essentially her You've Got A Friend) and the slow swaying, pure voiced, Celtic-tinged parting of South America (Come Home Soon) with daughter Kellie on backing vocals while Julie's tender love songs embrace the waltzing I Apologise, the starlit feel of Gravity and the near hymnal Appalachian colours of Hope Springs which features the album's title and both Chris and Kellie on gorgeous harmonies.
Beautifully crafted and immaculately sung, at times disarmingly moving, at others joyously uplifting, and a superb new addition to an already illustrious catalogue, I've found the superlative to describe it. It's a Chris While and Julie Matthews album.
Mike Davies February 2013
---
Ron Sexsmith - Forever Endeavour (Cooking Vinyl)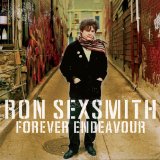 In the 22 years since he released his debut album, Sexsmith's had more than his share of setbacks, but somehow he's always managed to come up on the sunny side. This, his thirteenth, was born of two more. When shopping around his last album, Long Player, Late Bloomer, he met with constant rejection. not because it wasn't any good but because record labels felt it was, pause for incredulity, too commercial. Then there was a cancer scare when he found a lump in his throat. That turned out to benign but the flirtation with mortality led to a bout of introspective, personal songwriting, the results of which found their way into the studio with producer Mitchell Froom.

The other good news, is that the concerns of those labels turned out to be welcomingly correct, to the extent of becoming his best seller in some time and even going silver in Europe. At the time, however, the response was a kick to his confidence that left him wondering what he could possibly do next. The outcome of which was to write this album's French horn coated opening track, Nowhere To Go, a rather fine tune about life running you over.

Between the two experiences, he's come up with another fine set of songs and yet another immensely pleasurable album that, steeped in warm often playful melancholy (She Does My Heart Good even uses flatlining as spur to a romantic ending), harks back to those early recordings on which he also worked with Froom.

Echoing their reflective nature, there's lot of 50 dreaminess to many of the songs, a feeling enhanced by the use of strings and woodwinds and, as on If Only Avenue (situated next to that hotel down at the end of lonely street), the occasional mellow twang of a guitar. Lost In Thought perfectly lives up to the air of reverie in its title, you could even imagine it being sung in some 40s ballroom, a mood that also embraces Life After A Broken Heart and the wistful memories of Autumn Light, the two bonus tracks with words not by Sexsmith but Don Black.

It's not all about curling up in a languid swoon: Snake Road comes with a funky groove that's part Latin, part Motown with some fat brass as he recalls how many times he succumbed to bad advice in his youth and 'couldn't keep my trousers on', Back Of My Hand has a McCartneyesque cascading melody line (and whistling) and My, Myself And Wine takes a New Orleans jazz marching sway down main street with tambourine, horns and a vintage red.

A song that specifically relates to his feelings after his health scare, on Deepens With Time he recalls his mother's voice calling him home, the touch of his brother's hand, a favourite song, fingers entwined with a lover's, memories that, precious or painful. are part of growing older and ever more resonant. The title seems a perfect description of listening to an album which ranks among his very best.

Mike Davies February 2013
---
Love and Theft - Love and Theft (RCA Nashville)
A newish country duo (this is their second album, but the first for a major label), Stephen Barker and Eric Gunderson are both sons of Bible Belt pastors, reared on a diet of gospel bit with specials dispensations for the country music of Elvis, Orbison and the Nitty Gritty Dirt Band. As you might imagine, there's a fair few religious images and Jesus references scattered around, though when they sing 'I'd love to get you out of this bar' and about 'turning those blue jeans Inside Out', it's clear their interests are more in earthly than spiritual pleasures.
They have a track called Amen (which adopts a similar slow handclap style to The Lumineers' Hey Ho) but the answered prayer here comes in a sweet red dress they want to give the day off and, just there'd any doubt as to what occupies their waking thoughts, there's the uptempo rocking Girls Like To Shake It and the pedal steel streaked Girls Look Hot In Trucks.
Although Runnin' Out Of Air has a Doobies groove, the pair stick fairly close to the familiar Nashville country, though without the sterile slickness of those who've become entombed there, and wrong side of the tracks romance Town Drunk shows they can handle a storysong as well as a radio friendly verse and chorus.
They're not for those who like their Americana with an alt edge, but there's a freshness to them that might just blow a breeze through the often stale air of mainstream country.
Mike Davies February 2013
---
Troubadour Kings - Heartache Town (Ride)
The sleeve may credit vocals and guitars to Jimmy James and Johnny Ray, but those names only mask the real identities of singer-songwriters James House and John Brannen who formed their collaborative project last year. Between them, have had their material recorded by the likes of Martina McBride, Rod Stewart, Dwight Yoakam and The Eagles.
House also co-wrote The Mavericks' come back single, Born To Be Blue, with Raul Malo and you can hear that same Roy Oribsonesque warble on several numbers, notably Everybody, Souvenir and The Next one, though the twang of ringing guitar chords and harmonies that permeate the debut album also prompt comparison to vintage Tom Petty with a sprinkle of Everlys.
Hook laden melodies and strong choruses, underpinned by steady drumming, are the order of the day for numbers like Shadowland, The Torch, Gone Again, Get Lucky and the title track and if most of the album takes ballad to mid-tempo approach, they also show they can turn it up a notch with Moving On Over and the loose limbed southern country bluesy swing of Ballad Of The Troubadour Kings.
There's nothing groundbreaking here, but the guys know their way round their chosen territory like state of the art sat navs and if catchy Americana country rock is your destination they never once steer you wrong.
Mike Davies February 2013
---
Devon Allman - Turquoise (Ruf)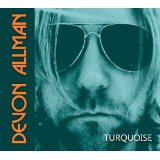 As the son of Gregg, although he never capitalised on the family name it was almost a given that Allman would follow the Southern jam rock path, which indeed he did, forming Honeytribe in 1999 and making several appearances with his father's band. However, it would seem he's had a musical make over and, in his own words (on Turn Off The World) decided to 'wash off some of that rock n roll".
So, with Jim Gaines in the producer's chair, his solo debut is very much steeped in country and country-soul, at times suggesting the influence of Cyril Neville with whom he's toured as part of Royal Southern Brotherhood. It opens with two up-tempo tracks, a ringing Southern country rock When I Left Home that looks back over 20 years on the road and features Luther Dickinson on slide, and Don't Set Me Free, an organ and guitar driven number evocative of Petty & The Heartbreakers. To which end, it's no huge surprise when two tracks later, you find yourself presented with a cover of Stop Draggin' My Heart Around featuring Samantha Fish sharing lead vocals.
With the exception of There's No Time, a decidedly Allmanesque groove co-penned with newcomer Tyler Stokes that encompasses African and Latin flourishes, the other tracks all take the pace down to a slow soulful or bluesy groove with an air of reflection informing the likes of Time Machine, Strategy, life on the road number Homesick and his domestic trilogy of Into The Darkness, Key Lime Pie and the acoustic guitar instrumental Yadira's Lullaby variously written for and about his girlfriend and their son.
A warm, relaxing and at times honeyed album, it may be a different shade of blue but the Allman colours still shine with real lustre.
Mike Davies February 2013
---
James Summerfield - Two Brothers Leave Home (Commercially Inviable)
Four years on since the divorce-fuelled yet surprisingly breezy Count To 10 And Start Again saw him moving from his past Americana to a more 60s West Coast sound, the Birmingham singer-songwriter's latest finds him balancing the two in perfect harmony.
Opening number Parachute Adams is a lazy rolling summer number with cheery banjo and pedal steel that puts me in mind of the halcyon country moments of The Lilac Time though, even with the lyrics, I have no idea what it's about (the title refers to a type of fishing fly) other than being something to do with a relationship hiccup.
Another relationship screw up, Butterflies And Angels was actually written by a former local barmaid named Gill. A lovely song, given a gentle summer meadow treatment that flows into the sound of early Neil Young, it'd be nice to know if she penned a few more.
While Angina Pectoris is reference to a German band, I have no idea who Parade of Souls or Henrik and Rushka's heavy metal gothic outfit are, or if Ben James refers to a real person, but, opening with electronic organ, the mid-tempo song named after him has definite shades of The Band.
Sketched on sparse banjo before woodwinds whisper in, the melancholic Where The Water Folds, a haunting duet with Anna Russell from Friends Of The Stars, is another enigmatic lyric that works emotionally rather than literally. Like the following Nervous Dancer, a gentle sway with bass clarinet and steel providing the mood, it bolsters the Harvest Moon era Young comparisons, especially when James goes for the high notes. Things get a little gnarlier with the wittily titled Best Witches, electric guitar taking the spotlight while People Talk is a simple almost sparse slow march acoustic guitar number, it's thrice repeated 'people were talking' chorus stained with a weariness.
A memory of childhood, shot through with sadness, Noel's House is an inexplicably touching numbers before the similarly childhood themed Oliver takes the tempo up with a hint of Iron & Wine, touches of bluegrass and some fine fingerpicking. Pilots In The Sky is another of the relatively grungier numbers and again the lyrics resist easy interpretation though I'd suspect the bombing of Hiroshima might be a reference. The final track proper is also the longest, Little Steps clocking in at seven minutes, a song about barstool dates, loneliness and wariness about getting back into the game built around a drone like pulse of guitar and pianet.
The actual final number is a two minute reprise of Butterflies And Angels, the original raw recording with Gill herself talking the lines over the psychedelic haze shimmered by Craig Hamilton providing the instrumentation. It's like Nancy and Lee, if Nancy sounded like Lee.
Lyrically the album may leave you scratching your head, but the melodies and the cumulative effect prove intoxicating, a quantum leap in Summerfield's artistic development and a tantalising vision of what may lie ahead.
Mike Davies February 2013
---
Salif Keita - Talé (Universal/Proper)
Featuring the guest rapping tones of Roots Manuva on C'est Bon, C'est Bon, Afro-Pop royalty Keita sets out his rich stall of musical delights in this colourful bazar of reinterpreted Malian traditional styles fused with a polyphony of cross-cultural influences. Its release being a poignant reminder of how much music is an international language. Amongst the many tragedies contributing to the Malian crisis is the existential threat from the fundamentalists to eradicate any musical celebration seeing it as apostasy. Many brave Malian musicians and public figures have railed against this, not least because of their being devout Muslims themselves.
There's much to please the already converted aficionados and perhaps its more commercial leanings will attract those given to curiosity. The default insistent rhythmic flavours and harmonic motifs are in abundance together with many idiosyncratic, highly engaging, experimental fusions. Very much given to a lightness of spirit and prompting that insatiable itch to get up and dance it is, nevertheless, abundant in vibrant textures and Keita's leitmotif humanity. Hosting a guest musician line-up to die for (amog them Bobby McFerrin and Manu Dibango) together with his youngest daughter, Natty, featured on the eponymous track, we hear samples from The B52's Planet Claire and quixotic diversions into retro 70s disco and, we are told, 'Detroit sticky afro-beats'.
John Kennedy February 2013
---
Jack Day - The First Ten (Bucketfull of Brains)
Day's economical myspace biog describes him as, 'An exciting talent on the London acoustic scene, [his] original compositions are of the rich and accomplished variety, all sung in a time-drenched voice with expression and insight far beyond his years.' Quite so. Genre listed on the CD as C&W - Americana, better embraces his self-penned songs of ghost-rider laments, lonesome prairie campfire lays and heart-charming ballads of love, reassurance and redemption but - in a very English way.
Ten songs in thirty-eight minutes is a salutary lesson in the canon of less is more. His assured brevity exposing the essence of simple melody and instrumental economy. There's an austere spirituality in his heart-on-sleeve sincerity put to good effect on Just A Little Time - its plaintive, hand-picked electric guitar resonates with echoes of Jeff Buckley enhanced by the fragile vocal sparsity of Bryony Afferson duetting across the chorus refrain. Edward Hopper images of parting lovers at a midnight, rain-soaked Greyhound bus-stop easily come to mind.
Isn't It Strange will charm the sentimental 60s retronauts with recollections of Donovan's Catch The Wind and its lilting acoustic guitar and paused vocal phrasing. The harmonica, of course, there to lend a reminiscent assurance that these young Folksters still carry the flame. These brief encounters have you longing for more.
John Kennedy February 2013
---
Quiet Loner - Greedy Magicians (Little Red Rabbit)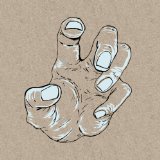 Recorded totally live before a small audience in an 18th century Salford church lit of candles and fairy lights, Matt Hill and his backing musicians raise the flag for political protest pop with this collection of acoustic songs dealing with the recession, unrest and the ConDem government.
More folk than the Americana with which Hill's usually associated, it makes its position clear from the outset as Days Of Surveillance (a sort of latter day Eve Of Destruction) with its lines about shooting Brazilians on CCTV, 'criminals and imbeciles at the heads of our nations'. Kneel And Comply is equally unambiguous with its opening 'have the radicals arrested make sure the borders are all closed'.
Bragg, Dylan and Frank Turner are likely to be wheeled out as reference points (he does, after all, include a cover of Bragg's Between the Wars) but while they may be apparent, Hill also reminds me of the early post Terry & Gerry work of Gerry Colvin (now of Colvin Quarmby), especially as they both share an affection for the Buddy Hollyish folk pop side of rock n roll.
Some of the targets are obvious, the title track, for example, taking on bankers, but Hill's political perspective is historical rather than simply targeted at the current climate. The fingerpicked blues A Matter Of Time casts its eyes back to the days of Empire in its account of corruption and the exploitation of the working man, Discontented Winter recalls Thatcherism, to underline how some political agendas never change while the strummed We Will Not Forget is a rousing roll call of names in the fight for justice and equality, from Peterloo to Jarrow, Emily Pankhurst to Joe Strummer, David Kelly to Bill Hicks.
Perhaps the most sobering number is The Ghost of Oswald Mosley, a thoughtful observation of the resurgence of fascism in what were once strongly socialist mining communities as a direct result of the economic slump.
More a call to shake of apathy than a call to arms, Hill uses simple, catchy, familiar sounding tunes and singalong choruses to direct attention at issues that need to be addressed, and if, in many instances, the stories he tells and the pictures he paints have a depressing tone, he ends the album on an upbeat note, the wistful Quiet Despair an optimistic hymn to community action as he sings 'don't be scared and don't despair, Wherever there's people hope is always near.' And as long as voices like Hill's that refuse to stay silent.
www.quietloneruk.wordpress.com
Mike Davies January 2013
---
Trevor Moss & Hannah-Lou - La Ferme De Fontenaille (Anglophone)
For their latest album the husband and wife duo decamped to a tiny village in northern France to spend 10 days at a converted stone cowshed where, armed with just two acoustic guitars, harmonica, tambourine and the odd dash of keyboard, they laid down the songs on a four track cassette recorder. Steeped in the English folk tradition, the result's a beguiling musical simplicity with lyrics that, dealing with a faded past, loss, death and love, are often anything but.
The album opens with A Proud Surrender, Hannah-Lou's vocals to the fore, guitars strumming a melodic sway while the lyrics make reference to the Falklands conflict while questioning the idea of taking up arms and the price of progress. By contrast, the lovely Arica Road is steeped in a sepia nostalgia for an idealised yesteryear while Two Strangers is an ironically jaunty reflection on growing older, emotional stagnation and drifting apart.
Harmonica provides the lead into Gypsy Child, another number streaked with disillusion and cynicism with lovers that part after a night and small town heroes who never made the grade, that air of melancholy also seeping into Grand Tales In Tired Covers though here, as fingerpicked folk blues guitar ripples behind Hannah's pastoral tones, it's offset with the warm glow of fond memories. That same air of nostalgia hovers over Sweet Mary Jane (vaguely reminsicent of There But For Fortune) with its images of names on a memorial, a young girl playing fiddle and, his sons having forsaken the family trade, a fisherman (his boat providing the title) casting his last line.
Conjuring thoughts of both the young Dylan and the vintage days of Richard & Linda Thompson, Never More Than A Moment offers a finely harmonised anthemic reminder to seize the day, whereas there's no time to make memories in failed romance For A Minute There. There's a strong hint of 60s pop here with echoes from same era to the bittersweet Enough To Let You Go where the watery skittering guitar line prompts passing recollections of Everybody's Talkin'.
They close with The Day The Rebel In Me Dies, a song of defiance that might have come from the troubadours of mid-60s Greenwich Village even if the final image of riding the wind astride a beautiful machine 'until the piston screams' probably owes more to Bruce Springsteen.
A reminder of and testament to the power you can bring with just two voices and two acoustic guitars, it's an album you'll find yourself returning to time and time again. And, their DIY ethic gets bonus kudos too for the fact that it's only available at independent record shops.
www.trevormossandhannahlou.com
Mike Davies January 2013
---
Emily Hurd - Any Given Day (Own Label)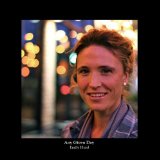 'I wish it could be Christmas every day', sang Roy Wood. Well, the festive season may be over but here's an album of 'original Christmas music for year-round listening'. . The ninth album from the Chicago based singer songwriter, it does contain references to snow and cold weather and yes the title track lyrics do mention silver bells and a silent night, but you won't actually find the C word anywhere. What she's singing about is how 'this season should happen year round' and that any ordinary day could be a 'holy night'.
The question is, is it an album you might want to listen to on 'any given day'? Well, despite liking her previous release, I confess it took me a while and several plays to be won round. I'm not keen on the production which at times, notably on the opening Evergreen, seems to lose Hurd's voice in the mix at the end of lines. Indeed, in keeping her vocals (which can belt it out when required) restrained, they sometimes seem to be fighting a losing battle with the backing. But, while no Kitty Wells, she does turn in pleasing 50s and 60s era Nashville rock n roll with numbers like Cold Outside, the bluesy Good Will and Glögg, a shuffling boogie about how anything's a good excuse for a glass of hot wine.
One of the stronger numbers, Children Believe is a lazy speakeasy country blues with brushed snare and honky tonk piano while, tinted with shades of Shawn Colvin and the country side of Bonnie Raitt closing piano ballad Westminster Chimes has that curl up in front of a warm fire vibe. However, by way of complete contrast, the jaunty six minute Heart Of Snow with its tinkling piano and airy chorus sounds like it could have come from the summer of love 60s, sharing a musical spirit with John Stewart's Daydream Believer and the Cowsills as well as reminding me of Sheena Easton's 9 To 5. I've listened to the album several times since and it's grown on me, and while I probably won't be digging it out to go with the Band Aid, Buble and chestnuts roasting by an open fire in 11 months time, it certainly the Christmas present that keeps on giving.
Mike Davies January 2013
---
Angie Palmer - Old Sticks To Scare A Bird (Akrasia)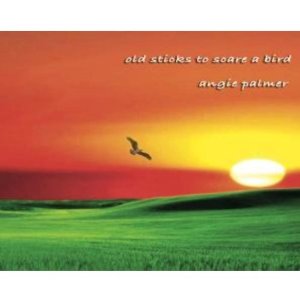 Reviewing each of Angie's previous albums in turn, I've not been able to avoid tagging this exceptional Lancashire-raised (now France-based) artist as a best-kept secret; and, despite persistent championing by Bob Harris and in the pages of many well-respected music publications, that status inexplicably remains even now, several years down the line. And yet Angie, in collaboration with her lyricist Paul Mason, has delivered some of the most lasting of singer-songwriter albums of the past decade, and her career now gains another memorable instalment with the release of album number six, which once again sports an eye-catching and highly colourful package design (also Paul's work, incidentally).
Old Sticks… has been deliberately conceived as a "two-sider" in the tradition of the vinyl LP, with Side One a series of songs with more electric, comparatively rocked-up arrangements and Side Two containing the more delicate (and delicately-scored) numbers. Although there's not really a weak track as such, the "second side" arguably brings the stronger material. It's a shame that disc opener Ballad Of Jack Everyman is subjected to what sounds a premature fade, but, that quibble aside, the predominantly uptempo Side One provides plenty of gutsy electric music with a strong acoustic base, formats taking in the classy 12-bar western saga Poor Johnny (neat electric sitar solo), the gritty-but-fun blues-rocker Dirty Little Secret, the slinky southern-roots tale Raising Hurricanes (tasty dobro work), the chiming, tender-but-tough Chrissie Hynde stride of Little By Little (nice mando solo) and the edgy shuffle of Time For Thunder (killer guitar solo from Billy Buckley).
Richard Curran's spirited, sinuous violin work provides a link from the latter song into Side Two (after you hear the actual side-turnover being made!). Here, string textures feature more prominently, culminating in the glorious fulsomely-orchestrated sound of the eight-minute finale Fresco. In between, Song For Drowning Sailors dwells in the realm of traditional folk ballad as might be interpreted by a contemporary troubadour; Postcard From Paris is a skipping mando-jig-time invocation of that city; William Of The Desert depicts a strange vision with a slightly undersold air that's rather reminiscent of Sandy Denny; Haunted By A Stranger is a masterly linked two-part opus that presents a pair of failed lovers' contrasted perspectives on their experience, while the aforementioned Fresco conjures a fragile, dreamily beautiful, exotic soundscape that can't fail to melt your eardrums time and again.
The adopted "two-sides-of-vinyl format" idea may not be the best method of introducing her music to a new listener, but on the other hand taken as a whole it still manages to embrace all the trademarks of Angie's stylish, effortlessly genre-crossing "English Americana", and there's plenty of her fine songwriting showcased within. Angie herself is on splendid form, and her band (the abovementioned Messrs. Curran and Buckley with bassist Ollie Collins and drummer Tim Franks) do a fantastic job and are brilliantly cleanly engineered by Alan Gregson. The booklet's artsome attractiveness is only mildly spoilt by the unfortunate blending-into-the-background of some of the lyrics. But finally, the only thing I don't quite get is the specific relevance of the album's title, taken from a line in W.B. Yeats' poem Among School Children.
David Kidman January 2013
---
Ryan Bingham - Tomorrowland (Axster Bingham)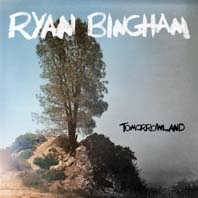 Two years ago, the Oscar winning Texan singer-songwriter released Junky Star, an album which, like its predecessors, leant on such influences as Dylan, Springsteen, Townes Van Zandt and Steve Earle, to whom he's regularly compared. It was exactly what the fans would have expected, a collection of dusty Americana. God knows what their initial reaction was to this, then.
Opening number Beg For Broken Legs serves warning that things might be a tad noisier this time around with Bingham's voice a throatier, deeper, pebble-gargling instrument and heavy rifffing guitars snarling around the midsection of the song. The acoustic intro to six minute second track Western Shore might make you breathe easier, but then the damn thing turns into a tempest of electric guitar, bass, fiddle, drums and keys. There's plenty of this. Guess Who's Knocking's a swamp of distortion and heavy, grinding riffs, Heart Of Rhythm is heavy southern blues rock n roll and Keep It Together's another devil howling in the wilderness blues that comes on like an Americana Led Zeppelin.
He does have mercy on more sensitive ears, though. The Bruce-like Flower Bomb offers early rumbling acoustic respite, No Help From God is a six minute country blues moan with brushed snares and both The Road I'm On and Never Ending Show serve reminder that he can still turn out staple alt-country rockers with twanging guitars.
The most powerful number, however, is the eight minute Rising Of The Ghetto, a tribal rhythm call to urban revolution against 'the fellows who try to make it hard, to live, around here' and see those that live there as just war fodder.
A progression on rather than a deviation from his sound, it's an album fuelled by rage at and defiance of a system designed to keep you down ("It's me motherfucker, I'm knocking on the door,' he sings on Guess Who's Knocking). but, just to let you know he's still in touch with his roots, the album winds up with To Deep To Fill, a throaty acoustic blues invested with the spirit of Woody Guthrie, right down to lyrics that run 'I'm going to join the protest, I'm going to stand up and sing this time once again, stand up and be a man. cause this land was made for you and me.' Tomorrowland, it's a new dawn.
Mike Davies December 2012
---
Martyn Joseph - Songs For The Coming Home (Pipe) RECORD OF THE MONTH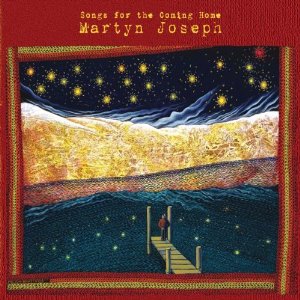 Eighteen albums into any artist's career and you might not be surprised to hear the occasional hint of complacency, a lack of the passion that sparked their early work, a falling off of lyrical or musical quality, maybe even a feeling that recording a new album has become just a necessary part of the process. That's certainly not the case with Joseph who, in addition to his own studio output, has also released four collaborative albums and eight live collections, not to mention fan club only recordings. His latest is among his very best, which, given the high standard he's maintained over the years, says much.

As ever the personal mingles with the political as he addresses relationships, religion, regret and redemption on songs such as the step-too-far themed Crossing The Line, Beyond Us with its aurora borealis intro, echoes of Yeats' The Second Coming and barbs about mankind's self-destructiveness ("we still, repeatedly shell the perfect ripened vineyard and scorch the olive tree"), and Not A Good Time For God which addresses how religious belief has been corrupted ("men with bombs adore him") for political agendas.

However, textured with field recordings, cello, violin and double bass, the album is probably at its strongest when he deals with its central thread about the need for healing, of the need to find our 'home' in a spiritual and emotional rather than a physical sense.

As such the most affecting numbers are the quieter, reflective ones: Let Yourself's stand firm call for self-realisation; the world weary Welsh-hymnal like Whoever It Was (a rework of 2003's Whoever It Was That Brought Me Here); Archive's six minute wonderment of the simple purity of the natural world, the letters home lyrics written by a friend during a cross Canada road trip; and, above all, the sparse, piano accompanied and semi-spoken Clara from which the album's title comes.

A true story about the healing power of love and music, it recounts how a young man, driven to suicide by feelings of rejection, recalls a melody from his childhood that makes him change his mind. Years later he meets an old woman and realises she was the young nanny employed by his parents, who sang him the song that saved his life.

Carole King wrote 'you've got a friend;', and it's a sentiment Joseph reiterates, wearily acknowledging that, as his lyrics have it "everyday sees someone falling from grace" but holding to the hope that, as he sings on There's Still A Lot Of Love Round Here, "at the end of that rope....there's a lot of good folk still pulling for you".

Very much an album about refusing to succumb to the dark and reaching out for the light, it's no accident that the most musically upbeat number is Feel Like This. You may wear a 'counterfeit smile' to hide how you feel, you may think 'the darkness owns you', but, if the world is oppressive we need solutions not submissions. Or as the album's best line puts it, "the house is dark so let's find a window." The lights are on, someone's home.

Mike Davies November 2012

Sandy Denny - The Notes And The Words (Island/Universal)

Almost exactly two years ago, in November 2010, Universal brought out what might be regarded as the ultimate in box-sets: a massive, and glorious, 19-disc retrospective celebrating the music of Sandy Denny, which contained, in addition to all her studio recordings, an exhaustive collection of live tracks and radio sessions, rarities and demos and – most crucially – a host of previously unreleased material from within those categories, much of it well remastered. The exceedingly lavish presentation involved the provision within the large box itself of a number of items of memorabilia in addition to (most significantly) a really handsome LP-size booklet, and the whole artefact, being a limited-edition item, quickly became a highly-prized collectible that is currently fetching obscene prices on the Internet.

However, many true Denny enthusiasts felt (quite legitimately) distinctly deprived, being genuinely unable to afford to fork out around £150 for the box in order to gain access to what amounted to probably eight or nine discs' worth of hitherto unavailable or ultra-rare material; and so this new limited-edition four-disc box should be at least partly the answer to their prayers, for it gathers together a major selection (in total a generous 75) of arguably the most significant of the demos, outtakes and rarities from the big box-set and, importantly, sequences them (more or less) chronologically. The discs are housed in a high-quality, sturdy near-DVD-sized case approximating previous similarly-scoped compilations, and within the enclosed 42-page booklet each disc sports (along with a good quotient of well-reproduced photos etc) a comprehensive sleeve-note that provides as much relevant detail as possible (not exactly track-by-track but the next best thing, and in several cases illuminating or elaborating on the comparable information provided with the original big-box, which was often either frustratingly imprecise or else difficult to extract from the main text), together with a decent appraisal of the necessary contextual perspective for the recordings on that disc, incidentally furnishing further fascinating nuggets of insight and back-story.

Thus, the first disc takes us through the early home demos, culminating in the very first (and revelatory), 1967 recording of Who Knows Where The Time Goes?, before presenting the acoustic demos Sandy recorded between Fairport albums What We Did On Our Holidays and Unhalfbricking. Disc 2 samples an obscure 1969 film soundtrack before straddling the Liege And Lief sessions, the years with Fotheringay and moving on into Sandy's first solo record (North Star Grassman), ending with the most-recently-discovered item from the box, her quite stunning a cappella take of the Lord Bateman ballad.

Disc 3, which covers the years of Sandy's burgeoning songwriting and the solo albums from North Star Grassman through to Like An Old Fashioned Waltz, presents either solo acoustic demos or (in the case of the latter album sessions) alternate takes without overdubs or in different arrangements. Pride of place inevitably goes to the solo rendition of No End, where we gain considerable insight into Sandy's creative processes and can virtually hear the song evolving before our ears through this intense yet relaxed performance.

Disc 4 gives us the non-album-track home demos recorded just as Sandy was rejoining Fairport in early 1974, followed by some Troubadour live cuts and Rising For The Moon alternate takes, then presents the Rendezvous-period acoustic takes and ends with Sandy's very last studio recording (Moments) and the 1977 home demo of her very last original composition, Makes Me Think Of You.

So, as I've already hinted, the release of this well-presented four-disc set provides, rather than a mere cynical "further repackaging exercise", a genuinely useful service for the serious Sandy Denny collector who for whatever reason was forced to miss out on the not inconsiderable number of treasures that were liberally (and not always entirely logically) scattered amongst the 19 discs of the 2010 big-box; while, although still somewhat of a "tip of the iceberg" in nature, it also constitutes a useful supplementary (and complementary) stand-alone set to be taken and shelved alongside, and within the context of, this year's "enhanced edition" reissues of the four Sandy Denny solo albums.

David Kidman November 2012
---
---
To view previous album reviews select the first letter of the band or the surname of the artist from the menu above.