If you can't find what you are looking for here - or you want to view past reviews
select the first letter of the band name or the surname of the artist from the alphabetical section below.
NB we apologise that we are no longer able to archive every review.

The Latest Album, DVD & Book Reviews - DECEMBER 2013


The Gentle Good - Y Bardd Anfarwol (Bubblewrap)
Piers Faccini - Between Dogs and Wolves (Beating Drum)
Los Lobos - Disconnected In New York City (Proper)
Steve Rich & The Hills - Rolling Thunder (The Animal Farm)
Tim Grimm - The Turning Point (Cavalier)
Caz Forbes & Ste Moncrieff - The Green Lady (Haul Away Recordings)
Sarah-Jane Summers & Juhani Silvola - Sarah-Jane Summers & Juhani Silvola (Dell Daisy Records)
The Two Sisters - Songs and Chansons (Acoustics Records)
Jasmine Kennedy - A Love Song To Finance (Self-Released)
Scott Miller - Big Big World (F.A.Y)
Gareth Davies-Jones - Now But Not Yet (Self Released)
Drag The River - Drag The River (XtraMile
Josephine Foster - I'm A Dreamer (Fire)
Ashleigh Flynn - A Million Stars (Home Perm)
Dead Flowers - Midnight At The Wheel Club (Hee Haw)
Sukh - Kings (Own Label)
B.B. Wolfe - Tightrope Walkers (Dojo)
The Lonesome Southern Comfort Company -The Big Hunt (On The Camper)
Lisa Cuthbert - Paramour (Self Released)
Nick Lowe - Quality Street: A Seasonal Selection For All The Family (Proper)
Jess Vincent - Seesaw Dreams (Hatsongs)
Harvey Andrews - Encore (Haska)
Linda Thompson - Won't Be Long Now (Pettifer Sounds)
Pernille Quigg - Driftwood (Lowland)
Austin Lucas - Stay Reckless (New West)
Dave Rotheray - Answer Ballads (Navigator)
Crazy Arm - The Southern Wild (Xtra Mile)
Calum Ingram - Making It Possible (Wood'n Heart Records)
Ry Cooder & Corridos Famosos - Live In San Francisco (Nonesuch)
Emily Herring - Your Mistake (Turquoise Earring)
Troubadour Rose - Find An Arrow (Clubhouse)
The Band - Live At The Academy of Music 1971 (Capitol/Universal
Chris Corrigan - The Crooked Mountain Road (Own Label)
Meg Hutchinson - Beyond That (Red House)
Roja - Promises - Should Have Kept (Probe Plus)
Earl - Peanuts & Monkeys (Acoustic Records)
The Fallows - Liars & Kings (4 Real)
The Carrivick Sisters - Over The Edge (Self Released)
Mandolin Orange - This Side of Jordan (Yep Roc)
Martyn Joseph - Tires Rushing By In The Rain (Pipe)
Fabian Holland - Fabian Holland (Rooksmere)
Audrey Auld - Tonk (Reckless)
Rod Picott - Hang Your Hopes On A Crooked Nail (Welding Rod)
Lisa Knapp - Hidden Seam (Navigator)
Sheesham & Lotus & 'Son - 1929 (Sepiaphone Records)
Will Varley - As The Crow Flies (Smugglers Records)
Rusty Shackle - The Bones (Get Folked Records)
Roy Harper - Man And Myth (Bella Union)
Amy Speace - How To Sleep In A Stormy Boat (Windbone)
Benjamin Folke Thomas - Too Close To Here (Bucketful of Brains)
Court Yard Hounds - Amelita (Sony)
Israel Nash Gripka - Israel Nash's Rain Plans (Loose)
My Darling Clementine - Reconciliation? (Continental Song City)
April Verch - Bright Like Gold (Slab Town Records)
Josienne Clarke & Ben Walker - Fire And Fortune (Navigator)

---
The Gentle Good - Y Bardd Anfarwol (Bubblewrap)
That this album will hardly trouble the charts may be accepted as a given and with magnanimity by principal artist, Gareth Bonello. That it will most certainly soothe many a troubled disposition with its elegiac charm and simple sincerity is equally certain.
In 2011, Bonello, worked as an artist-in- residence in China collaborating and absorbing many of the Folk music and literary traditions. This album, translating approximately as 'The Immortal Poet', is part spiritual allegory, part contemporary Sino/Welsh Folk-fusion, but foremost a celebration of the poetic/epic quest written in the 7th Century Tang Dynasty by the renowned Li Bai.
Combining compositions from Seb Goldfinch, The Mavron String Quartet and members of the UK Chinese Ensemble, it tells of the poet's arduous journey seeking enlightenment that culminates in (according to legend, and of course, Romantic necessity) his drowning as he attempts to embrace the Moon's reflection.*
Choosing individual tracks seems as superfluous as Li Bai plucking a single petal from the peach-blossom shower that brings him solace and succor. There's much the meditative listener can enjoy and embrace, Welsh speakers certainly have the additional advantage in hearing Li Bai's voice in a novel, bardic context. The delightful blend of Sino/Welsh song titles alone resonate with mystic promise. Something to go gentle with into your good nights.
* Apparently, you can have Moon-Cakes to order at the Li Bai Restaurant, Sheraton Towers, Singapore…yes, exactly!
John Kennedy December 2013
---
Piers Faccini - Between Dogs and Wolves (Beating Drum)
The broken-heart-on-sleeve aesthete of Faccini's vocals on opening track Black Rose - a prickly, Folk-noir cri de coeur - has, for this reviewer, a recall resonance of the softer, balladic vulnerability of Chilli Peppers vocalist Anthony Kiedis (never say the Netrhythms motherload eschews an inclusive broad church). If the sock fits - wear it, so to speak.
Together with the hypnotic pact of Faccini's dulcimer and long-time collaborator, Jules Bikoko's double-bass, spells soon begin to weave their charms. Further enchantments are conjured from Brazilian born, Dom la Nena's, backing vocals and her dream-weaving subversively, naughty cello. Oddly enough, Broken Mirror's vocals and distinctive acoustic guitar picking might well evoke a nostalgia buzz to those of the Jake Thackray generation.
'If my songs were maps I'd want them to stretch from the English moors to the Saharan dunes via the plains of the Mediterranean…' - the trans-ethnic, chameleon genre sponge, Faccini, recently Twittered. Best then, have your musical passports ready to be eclectically and exotically stamped.
The reflective, poetic imagery of Fuccini's cheekily entangled, Wide Shut Eyes, has moments of Nick Drake that bob and weave throughout the album. You just know that that haunting piano refrain will resurface sometime.
Songs in French, Reste La Marée, and the Italian, Il Cammino (journeys exploring chosen paths less trodden and all that Walt Whitman metaphysical stuff, probably) celebrate his English/Italian parents/French childhood cultural antecedents.
A fellow troubadour homage to Donovan's mystical garden of innocent delights ripples within and without the charming Pieces of Ourselves. The sparse, pared-down melodic eroticism of Girl in the Corner has a hymnal cadence blessed by a nuanced closing cello coda from Dom la Nena. Last song, Like Water Like Stone, is a brief, elegiac, Celtic infused celebratory lament d'amour. Like that bashful, tentative tickle of toes in bed after a flaming row, it's a song of resolution and hope.
Between Dogs & Wolves is a nuanced understatement of crafted subtleties and lyrical stealth. Its slight-of-hand and beguiling trompe l'oreille infectiousness becomes increasingly and nigglingly irresistible the more you listen. And, rather a bonus these days - the leaping wolf/buzzard/copulating couple motif cover/insert artwork by Faccini is an additional treat…it obviously was for them. This might well be my Netryhthms album of the year.
John Kennedy, December 2013
---
Los Lobos - Disconnected In New York City (Proper)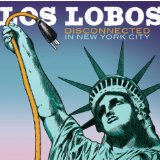 This is a typical live album – suitably energised, musically adept and polished, conveying the essence of the band's stage presence and musicianship, but inevitably edited down and equally inevitably lacking in the final dimension of being-there sweat and excitement. Los Lobos could never disappoint a captive crowd though, and this cross-selection of material from throughout their career shows why they've retained their popularity and credibility over well over 30 years.
However, having already released a live DVD a few years back, I'm a bit puzzled at the rationale for releasing this new live set now, since it doesn't really add anything to our appreciation of the band's contribution to the roots scene. Sure thing, David Hidalgo and his chums were pioneers in the fusion of rock'n'roll with Mexican music, liberally stirred with flavourings from R&B, Spanish and Latin soul, and the uniquely spicy stew they served up from La Bamba outwards has always provided an antidote to the manufactured, sterile products of much of the past decades' music. Tasty is as tasty does, right through the 59 minutes' worth of music presented here.
Best representations on this well-paced set include Chico's Cumbia, Oh Yeah and the decidedly Band-influenced 12-bar Tin Can Trust, and the band also cranks up the tempo by revisiting Gotta Let You Know (dating from their 1984 success How Will The Wolf Survive?), but there's not a weak link even though a handful of the numbers may well by now feel a touch routine through over-familiarity. For the fans, this is a good album, but not a special one. For the rest, it's an impressively faithful live record – which is good enough, since I can't see how I could reasonably expect anything more. Even so, Los Lobos won't ever compromise on quality, and if you don't have the earlier live DVD this new release will deserve a place on your shelves nevertheless.
David Kidman, November 2013
---
Steve Rich & The Hills - Rolling Thunder (The Animal Farm)
I know nothing about his background other than he apparently spent his twenties in an alcohol abuse fog. I have no idea how old he is now or how long he's been singing and writing. What I do know is that he and the band only got together last year and this is their (and his) debut album. I also know that it's been on the car CD player for a few weeks now.
As you might guess from the title, Dylan is an influence, but perhaps more so is Steve Earle, who inspired Rich to buy a mandolin on which, in a couple of weeks of learning how to play it, he wrote Someday Someday, a swayalong slice of Americana that's echoed throughout.
Whatever he was ingesting back in the day, it's left him with husky, parched nasal voice that sounds just right for the songs he sings, the title track opening proceedings with a rumbling train rhythm and desert vista mood carried along on twangy guitar and organ. He's in similar moody widescreen mode for Gonna Love You Forever, a song that wouldn't be out of place in one of Robert Rodriguez's spaghetti western homages.
He keeps the atmosphere and kicks it up a gear and brings in band member Hillary on backing for The Thrill, a track that adds Dire Straits to the influence stockpile before hitting the first of the album's two stands outs, On The Road, an alt country chugger with a nagging chorus hook, a sparkling slide guitar solo and a hint of Roger McGuinn. It's a number mean to be heard rolling along an endless highway with the windows down and the breeze through your hair.
It's followed by the second diamond, shifting the style to more of a mid tempo folk shanty with the regret and resignation stained Whiskey and Wine. But while these may be the highlights, the other numbers don't fall far short, Sooner Or Later another rootsy rolling twang, Rake a soulful organ backed ballad that meets Earle and Dylan midway, the romantic Tonight I'm Gonna Take You Home's woodsmoke-voiced drawl and easy lilting melody, Chasing The Sun soothing the album to a warmly crooned close.
He has the sort of voice you can listen to all night while his band play with a relaxed effortlessness, never showy but always perfect for the demands of the song. There are many band in London and around the UK with the same influences, playing the same Americana folk, but few do it as well as this.
Mike Davies, November 2013
---
Tim Grimm - The Turning Point (Cavalier)
Those who pay attention to the end credits of movies may recognise the name from Harrison Ford starrer Clear and Present Danger where Grimm played an FBI agent. In a string of bit parts, it's probably the most prominent role he's had on the big screen although he was one of the stars of 90s TV series Reasonable Doubts.
As a musician. however, he's been rather more feted, his 2006 release, The Back Fields, named Best Americana Album at the Just Plain Folks Music Awards in Los Angeles while his albums have been consistent high flyers on the US Folk or American-roots charts. These days he lives back in his native Indiana and works his farm, but thankfully still finds time to write and get into a studio.
He's been likened to Cash (most evident on opening cut The Lake), Guthrie and the Nebraska-era Springsteen, to which list I'd also add Tom Russell and Guy Clarke, especially for his gifts as a storyteller. Robing his songs with cello, violin, harmonium, banjo and piano as well as the obligatory guitar, given the influences and comparisons you don't really have to hear the music to know he sounds. But you most certainly should.
The title track relates the story of a preacher's murder by an army deserter in 17th century Holland while the same country gives rise to the violin backed Anne In Amsterdam, a poignant salute to courage and grace inspired by his visit to Anne Frank's house while King of The Folksingers is a more personal tribute to his own hero Rambling Jack Elliott and those his influence touched, a litany of name-checks that include Dylan, Arlo Guthrie, Jack Kerouac, the Rolling Stones, Jerry Jeff Walker and Tom Waits. And if that's a love letter to his hero, the Tom Paxton-like Indiana is one to his home, a celebration of its pioneers and local legends.
He's playful on the jaunty banjo and violin led Blame It On The Dog and The Tree, a spoken story about how a tree in his garden resisted his attempt to cut it back that serves as a metaphor for the force of life to endure and keep growing but is also capable of welling up tears as he does on I Don't Mind's story of an estranged son regretting the rift with his parents that drove him from home and on The Canyon's end of a relationship where he sings 'when I took off the ring I wasn't thinking of you, this mark on my finger looks like a tattoo."
Rounding out the track listing with two covers, Beth Lodge-Rigal's Family History, the subject matter of which chimes closely with his own concerns, and the a folk-blues flavoured account of the traditional Roving Gambler that calls to mind such 60s American folk luminaries as Eric Andersen. He may not have become a major movie star, but as a musician he'll always have his name above the title.
Mike Davies, November 2013
---
Caz Forbes & Ste Moncrieff - The Green Lady (Haul Away Recordings)
The duo teamed up a few years ago when both were performing on the London folk scene. Then last year, calling themselves The Raven, they released a rather fine (self-recorded) dark-folk-style album, Black Is The Colour. But now they've gone and deliberately tossed away the Raven name in favour of their own plain monikers, while at the same time recording a version of Twa Corbies! Huh?
Well-produced (by WildGoose supremo Doug Bailey), the studio set further demonstrates Caz and Steve's trademark spacious and deliberately considered way of treating traditional song. In that respect, Lowlands Away and Geordie are especially successful and compelling in their tale-spinning, while The Leaving Of Liverpool sheds its hoary old sailor's-tavern seadog-singalong demeanour to reveal its truer, rather more tragic essence.
But this careful approach also has its downside – that it can seem a touch wearisome over the course of what amounts to almost all of the tracks. And even passionate expression can seem mildly overdone by slowing the pace down, as on Adieu Sweet Lovely Nancy (sung here by Ste). Having said which, the duo's imaginative vocal harmonising is an undeniably impressive feature of the disc, while Caz's own solo singing (heard on most tracks) is beautifully understated, and both voices resound well together on the lone a cappella selection Young Edwin In The Lowlands.
They have the easy ability to best focus our attention on the songs' narratives through their conscious paring-down of instrumental backing to, usually, just a gently picked guitar, with occasional concertina or flute embellishment (and there's some gorgeous cello playing from Gill Redmond too on several tracks). This is done so skilfully that one almost doesn't notice the backdrops – except maybe on the CD's isolated uptempo songs (Maggie May and the little-heard Riding Down To Portsmouth). Those moments apart, theirs is an involving and strangely comforting approach, despite the generally discomforting nature of much of their storytelling, as evidenced by the title track, The Green Lady itself (a particularly unnerving example of a classic folk tale); after which their final, and welcomely inevitable, gesture here is naturally to send us all off to restful sleep with the lullaby The Little Fish.
David Kidman, November 2013
---
Sarah-Jane Summers & Juhani Silvola - Sarah-Jane Summers & Juhani Silvola (Dell Daisy Records)
Summers is a respected Scottish fiddler, a successful solo artist as well as member of the award-winning four-piece RANT. Her impressive CV thus far includes a well-received solo album Nesta (2008) which also involved the talents of a number of other musicians including Ewan MacPherson and Kevin McGuire. She's also the musical and marital partner of Norwegian guitarist Silvola, with whom she plays in the band Mala Fama. Now they together release this magical duo album, which explores and exploits the two musicians' common ground and cultural heritage while also springboarding exciting new ideas.
As the press handout rightly posits, they're not exactly your average fiddle-and-guitar duo – although the only sounds you'll hear on this eponymous offering are those of the two instruments – with a hardanger fiddle sometimes replacing the Scottish counterpart. The spartan character of the album's soundscape and scoring doesn't however mean any lack of richness, for the intimate, close-knit interplay between the couple imparts a fulsome tenderness into their playing that fills any potential gaps in texture (I'm not even sure exactly how, but it seems to work almost subliminally). Every note, phrase or shift in dynamic tells, and each musical tale is told economically – and yet the listener never feels shortchanged.
The facility with which each switch between melody, accompaniment and improvised lines is also most impressive. And the duo's personal consistency in approach is arguably even more miraculous when you learn that the sources for their chosen tunes range from an "old" jig from an 18th century collection (the opening track) to a pair of ace compositions from Sarah-Jane herself (the Outlaws Don't Dance Waltzes set) to a beautiful tune by Juhani that just has to be a portrait of Sarah; other highlights include the fleet-footed set of dance tunes (track 7), the pipe tune The True Love's Lament and the animated strathspey-and-reel medley at track 9.
Although not without its suitably energetic and passionate passages, this is a subtly beguiling record that reveals its charms gently, and is all the better for that.
David Kidman, November 2013
---
The Two Sisters - Songs and Chansons (Acoustics Records)
These Two Sisters, Hilary James and Janet Giraudo, turn out to be "real" sisters; we learn that Janet emigrated to France at twenty, whereas Hilary stayed behind in England and formed her fruitful and long-running partnership with Simon Mayor, who produces – and, inevitably, plays several instruments on – this record. And yes, Hilary and Janet were born to sing together, as you'll hear on this sparkling, typically varied collection of vocal classics that seemingly effortlessly takes in any genre from folksong (I Live Not Where I Love, My Faithful Johnny), the Everly Brothers (All I Have To Do Is Dream – which turns out to be the first song the sisters ever sang together) and ragtime (Hot Time In The Old Town Tonight) to the '30s Harry Woods standard What A Little Moonlight Can Do (long associated with Billie Holiday), the Mama Cass evergreen Dream A Little Dream Of Me (which doubles up as a bonus track spanning the generations) and the trusty baroquerie of Vivaldi's Laudamus Te (here boasting a luxurious mando arrangement).
There's also beaucoup d'interest for hardened Francophiles, in the form of Plaisir D' Amour, a Provençal carol (Un Flambeau, Jeanette, Isabelle) and a brilliantly aromatic Parisian tango L'Auberge Du Crepuscule. The disc is enticingly topped up with a brace of delicious setting (by Simon) of well-known poems: John Masefield's Sea Fever and Christina Rossetti's Lullaby. The sisters' skill and versatility is unquestionable, their performances right across the musical spectrum genuinely harmonious, uniformly eloquent and naturally accomplished; if just occasionally their delivery might come across as a touch cultured, even sweetly understated, this doesn't present a problem to the listener who will find the whole selection pleasingly sequenced and coordinated.
David Kidman, November 2013
---
Jasmine Kennedy - A Love Song To Finance (Self-Released)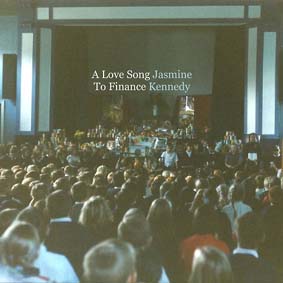 Earlier this year I reviewed I Don't Have An Uncle Pat, the debut album from the Batley singer-songwriter. Although the album was released a few years back, when she was just 16, it had never had much exposure and I felt this was a talent that warranted discovery by a wider audience. Now 20, this is her second album and confirmation that she truly is of world class, a literate writer of worldly wise observational insight, humanity and compassion blessed with a voice so intimate it's like eavesdropping on a death bed confessional or being privy to the early hours whispers between lovers.
As I said before, her rich, husky, dark and deep voice reminds me of Tanita Tikaram but her songs are far more emotionally open, her words enfolded in tender, melancholic and pensive melodies etched in her delicate, sensitive acoustic guitar playing. This time round she's been able to flesh out the instrumentation with other musicians variously providing brass, woodwind, piano, vibraphone and double bass (courtesy of co-arranger and producer Neil Innes, but not that one) but sensibly uses the new colours with restraint rather than daubing them all over her canvas. The effect is beguiling and, at times, heartbreaking.
Some of the songs, many of which address themes of loneliness and unspoken feelings, revisit past, non-album recordings. First up is the opening track, Laura, where, to a slow metronomic beat and organ behind her hushed vocal, she sings "I met a stranger, a stranger, in the city today and I gave her my umbrella 'cause she had no coat on in the rain and she smiled and she said "I thought chivalry was dead." I just smirked, passed her by, failed to catch her eye or her name", the song gradually swelling to a fuller sound with a gospel choir in a Cohenesque manner as it turns into reflection on missed opportunity and "a growing irritation wishing I was braver."
The second is a studio version of Percy Anderson, a number that shares that theme of shyness and words unsaid: " it seemed like you were waiting so I turned, opened my mouth to speak. All I could say was I'm so glad we could finally meet. What I meant was 'I've never seen eyes such a beautiful green. And you seem like a sweetheart to me. Like you're wise, caring, and kind to an immeasurable degree.' At least that's what I'd mean… but I just turned to leave." There can be few who can't relate to this.
Another of her earlier songs, accompanied by just a sparse and naked guitar Dinner For Breakfast's confession of loneliness is breathtaking in its mix of disarming simplicity and profound emotional depth, a sign of a truly great writer; " I miss the way that you'd be happy if I didn't always get it right 'Cause it meant it didn't matter if you did" runs the chorus as the song builds to its "I want you to miss me" muted multi-tracked vocal climax.
The last of the older numbers is also one of her finest, the gloriously romantic but unspoken love of the six minute Cardigan Sweater, here the circling guitar figure brushed by piano, hints of brass and an accordion that transports you to some French Cafe apartment.
The remaining numbers are, to the best of my knowledge, all new, the organ drone Twenty-Six & One giving way to the more uptempo shuffling Company, the most Tikaram-like track. Clarinet and clip clopping percussion anchors the airy, jazzy waltzing Don't Blame Me, a perfect example of the way she's developing and growing as a musician, a similar jazzy shuffle, here featuring minimal piano notes, carrying along All It Is. Descending dark resonant piano notes underscore the brooding emotional dread of Wait Until It's Over and the album closes with the unadorned acoustic guitar filigrees of 446230, her voice like breath upon a widowpane as she sings 'I will give this all for you, it's just words and words will never do."
There is one more song, a track that eclipses everything else on the album and shivers your soul. Sung totally unaccompanied and making brilliant use of the silences between lines Reasonable Reaction addresses proportionate response, whether that's to being dumped or cut up as you pull out of a slip road, as she concludes "the things that you've found with this moral compass Lay them down on the ground This chance only comes once." It's something you could hear both Billy Bragg and Martin Carthy sing.
To borrow the language of the album title, any investment in this remarkable artist will reap rewards tenfold.
Mike Davies, November 2013
---
Scott Miller - Big Big World (F.A.Y)
With Virginia-born Miller's lyrics written for music by John Hiatt sideman Doug Lancio, the pair of them sharing the instrumental tasks between them (with a little assist on fiddle, medal steel and occasional drums), the resulting collaborative project is as stylistically diverse as you might image from recording time snatched where possible over the course of a year. Opening number How Am I Ever Gonna Be Me? is a dusty voiced fingerpicked acoustic number about self-examination and God while a choppy I Gave You the Power and the power chord Cold War Veteran nod to the duo's southern rock influences, It's A Big Big World is a lazy jazzy blues shrug with hiccuping rhythm and fiddle, and Heavy On My Mind nods to 70s Neil Young.
They even embrace the rhythmical influence of Tuareg music from the southern Sahara on the bluesy rock You Got Love and, arguably the album's highlight, the percussive, shuffling gospel and folk of Freight Train Heart/Stone Wall Love. Closing with a cover of The Country Gentlemen's Going Home backed by the Black Lillies, it's unlikely to bring Miller any more wider success than past solo albums or his days fronting The V-Roys, but it'll certainly keep his established fan base very happy.
Mike Davies, November 2013
---
Gareth Davies-Jones - Now But Not Yet (Self Released)
I have to admit I've never previously encountered the Bangor born, Northumberland based singer-songwriter, but on the evidence of this, his fifth solo album, I'm keen to discover more.
A singer-songwriter in the troubadour, storytelling tradition, the songs here cover many different locations and subjects, but always with a deep humanity at their heart. Taking its title from the memorable opening line of Elusive's search for certainty, it's an acoustic affair with Gareth taking charge of guitars, banjo, piano, mandolin and 12 string mandocello variously supported by Graeme Duffin and Sandy Jones on drums, bass and electric guitar with daughter Bronwen making her debut on backing vocals.
It begins suitably enough with the simple fingerpicked acoustic backed Dawn and immediately prompts comparison with Martyn Joseph, more in the writing than the voice with the terrific chorus line of 'you said you'd wait for me, your patience is legendary and I am consistently late.'
The catchy Hundred Year Skin introduces strummed mandolin and more of a folk sound on a song about a former, now weary, fire brand looking to carry the torch a little further down the road. Social activism is at the heart of the banjo accompanied, Appalachian-sounding New Deal, a protest song for the new depression about greed and economic disparity. The imagery of the former track also harks to his Christian faith, something that surfaces again on Guide, another song about asking for support to finish what was started.
A much travelled man, places figure frequently. Monstoreau is a gentle song of love and memories of time shared in the Loire valley, featuring Bronwen on whistle Rua Reidh recalls finding inner peace at the lighthouse in North West Scotland, From Castlereagh references the Northern Ireland borough in a song which I suspect is about how he always finds his God challenging him about what he thought he knew. If the book he alludes to is the Bible, it find a link in gently rippling Lindisfarne which, though titled after the island, is actually a song in reference of the Lindisfarne Gospels, a beautiful illuminated manuscript produced there around 175AD.
However, the best of the 'place' settings is Messines which, with its blast from the past pun, descending guitar lines and catchy, lyrically pointed chorus, recounts the defusing of an unexploded mine in Flanders on the site of the WWI battle and transforms it into a parable of everyday courage. Such courage is also at the heart of One Girl Among Many, a heartfelt, piano backed, hymn-like slow waltz tribute to Malala Yousafzai that once more showcases his way with words in the line 'you are my favourite renegade'.
The album closes on another banjo tune, a swayalong chorus shanty-like affirmation of faith and searching for signs of hope in troubled times, of 'fragile beginnings, insignificant things, rising around us but mostly unseen.'
It's not going to make him a household name and it'll probably slip under the radar of most of the tastemaker music mags and websites, but for anyone who appreciates a well crafted tune and well wrought words, sung with warmth and conviction, then it should be a case of buying it Now, Not Later.
Mike Davies, November 2013
---
Drag The River - Drag The River (XtraMile)
If you like your Americana served up with a generous helping of ringing Telecasters, driving drums and twangy croon, then you could do much worse than this, the Colorado based outfit's first in five years. Anchored around the core of co-founders Jon Snodgrass and Chad Price and describing themselves as Country & Midwestern, they lean heavily on the punk energy rock n roll side of alt country, numbers like Not That Kind, Black In Bloom, Wichita Skyline and History With History conjuring the best urgent moments of Miracle Legion, Gin Blossoms and The Replacements, On the other hand the sprightly pedal steel driven Like Longfellows has a definite Sweethearts Of The Rodeo air to it while The Other Side of OK nods to the early Eagles.
They have a quieter side too, rolling out the pedal steel for the slow waltzing life on the road regrets of Here's To The Losers, a song that might easily have found a place on a Waylon Jennings album, and the simple acoustic, emotionally anthemic Waste of Time, Valentine.
There's a couple of tracks that don't come off as well as they could, Ghosts of High School adding some unnecessary organ backing and Song For My Roomates inexplicably thinking a kazoo might be a good way to play out the album. Those aside, however, this is a welcome return to the frontiers they helped colonise.
Mike Davies, November 2013
---
Josephine Foster - I'm A Dreamer (Fire)
Now on her 13th album, the Colorado singer is as eclectic as she is prolific, previous offerings having included interpretations of 19th Century German Lieder songs, settings of the poems of Emily Dickinson, children's songs and two albums of Spanish folk songs. This takes her back to the 20s and 30s of her debut, to the cabarets, saloons and ragtime gin joints with their piano players and songbirds.
On the opening Sugarpie, I'm Not the Same, Foster's trill, the double bass, piano (courtesy of Micah Hulscher) and harmonica immediately transports you in time as she sings a widow's lament about lost love. Like pretty much everything here, it conjures an era when families gathered round the wireless in the parlour to hear scratchy 78s or live broadcasts of the popular ballroom orchestras and their vocalists.
No-one's Calling Your Name continues the musical and lyrical mood, steel guitar underlining the heartache before double bass throbs My Wandering Heart into life, her pronunciation conjuring thoughts of Berlin and Deitrich, before the title track arrives with brushed drums, grand piano and harmonica every bit as sad and languid as the lyrics.
Hulscher does his best Ferrante & Teicher again on the macabre Amuse A Muse, though Foster's curious insistence on singing with a Germanic Nico-like accent works against what is already a bit of a throwaway number. You could imagine folk in their evening best stepping out on to the dancefloor with Blue Roses, a waltz time musical setting of Kipling's poem while the ragtime piano bar charm of Pretty Please keeps them there.
To be honest, Foster's vocal acrobatics can get a little irritating at times and the experimentation of the jazzy This Is Where The Dreams Head, Maude with its swoops, discordant piano keyboard runs and uncharacteristically upfront electric guitar feels just a touch self-consciously pleased with itself. But mostly she charms, most certainly so as she soars to the clouds on the lovely, lazy soft guitar strum and brushed drums of Magenta and the closing ragtime piano Cabin In The Sky, the title song of the Lena Horne/Ethel Waters 40s musical by Vernon Duke and John Latouche. An oddity perhaps, but a beguiling one.
Mike Davies, November 2013
---
Ashleigh Flynn - A Million Stars (Home Perm)
Highly rated by Nanci Griffith, the Kentuckian singer-songwriter's fourth album digs into the old west with a clutch of songs about pioneering women, kitted out in a mix of bluegrass, folk, country and rock. Dixieland jazz number Prohibition Rose pays tribute to the anonymous queen of Portland's shanghaiing and bootlegging underworld, the fiddle and banjo backed Appalachian flavoured title track tells the story of Cattle Annie and Little Britches, a pair of female outlaws in the late 1800s who disguised themselves as men, and the country rocking How The West Was Won celebrates the legendary Calamity Jane. In keeping with the inspiration, she also includes a cover of Prove It On Me by Ma Rainey, one of the very first professional blues singers from the turn of the century.
Not all of the references are that old, A Little Low is a bluesy acoustic ballad with keening pedal steel in memorial of her friend, Nancy Bergeson, an Assistant US Federal Defender whose 2009 murder remains unsolved.
Nor are all the songs about specific historical characters. Atmospheric desert mood bluesy opener The Devil Called Your Name has the narrator bemoaning her drunken, philandering lover, in bluegrass romp Dirty Hands And Dirty Feet she's cheerfully heading back home to Butcher Hollow, coal-mining birthplace of Loretta Lynn, while See That Light's an organ backed playful country blues about tolerance and hypocrisy that has Todd Snider as a preacher telling folk to 'leave them gay kids alone' and both the country keening Runnin and the banjo dappled Rainy Days are simple love songs. There's even a fiddle waltzing nod to a country music staple with New Angel In Heaven.
Touring the UK and Europe in 2014, she's well worth keeping an eye out for.
Mike Davies, November 2013
---
Dead Flowers - Midnight At The Wheel Club (Hee Haw)
Mostly speaking the lyrics in a low, thick, smoky gruff whisper voice of a voice, it's not hard to spot that Cohen, Waits and Smog's Bill Callahan are big influences on Ian Williams, songwriter, frontman and producer of this London based Americana outfit.
Their debut album, it hews closely to the genre blueprint with melancholic meandering melodies, the occasional skittering shuffle (Wonderwheel and train rhythm opener Make It Bright), acoustic finger-picked guitar, fiddle, ruminative piano and, on The Beach, some churchy pump organ. Lyrically, Williams colours his introspection in muted, dark shades, his mournful delivery making everything sound even more fragile and broken although, as befits the title, Supernova rises to a buzzing, swirling climax of electronics.
When he sails too close to Cohen, as on Fences, casual listeners may ask why bother when you can have the original, but the songs and the often hymnal nature of the music give the Dead Flowers a bouquet of their own.
Mike Davies, November 2013
---
Sukh - Kings (Own Label)
Doctor by day, singer-songwriter by night, Manchester-based Sukhdeep Krishan doesn't have a particularly great voice (which may account for the echo in which it's often drenched), but he does know how to deliver a song and writes numbers possessed of catchy hooks and melodies.
There's a strong folk flavour to his work, more Goodbye Mr Mackenzie than Mumfords, effectively laced, as on the uptempo, upbeat title track, with a firm pop sensibility. Apparently inspiration's taken from such literary giants as Tolstoy, Turgenov and Ibsen (and no prizes for guessing from where he took the title To The Lighthouse) not to mention, though he does, Austrian neurologist and psychiatrist Viktor Frankl, but thankfully, often dressed in arrangements for viola, violin, cello and French horn, the songs are as portentous as that suggests, generally hovering around relationships and looking for meaning.
Just What I Thought is the only other uptempo number, the album otherwise full of ballads, sometimes airy and fragile like the piano accompanied Arisen and the strings-laced St Cats, others like Clear Horizon and Now/Tomorrow swelling with stadium ambitions.
Stevens Sufjan and Cat have been referenced, but while you might discern hints listening to Chair, easily the most immediate and memorable track, you might be put more in mind of the early Neil Diamond. It takes a while to reveal its charms, but they're certainly present.
Mike Davies, November 2013
---
B.B. Wolfe - Tightrope Walkers (Dojo)
The musical pseudonym of Flint, Michigan singer-songwriter Don Goldsmith, this is Wolfe's third release, though the first to pass my radar. Sparely accompanied by Uncle John Potthast on pedal steel, dobro and electric guitar and Bruce Bartlett on bass and strings, he has a cracked, dusty voice that conjures Mickey Newbury on Tightrope Walker (The Sermon On the Couch) and Without You while Balance and If I Could are more John Prine, his songs as thoughtful as you'd expect from someone who's steeped himself in French philosophy and the symbolic nature of language.
Musically stripped down to the bone, it emphasises Wolfe's raw, emotion stained vocals sometimes desolate as on the Clothesline Blue and at other times achingly tender, as on the quite lovely Will I. He says the album explores the tension of life, between the twin poles of birth and death, but if that's all a bit too heavy then just appreciate it for its simple, affective charms. And when you've finished listening, you can read the fable of Jack and Jill that's printed on the disc too.
Mike Davies, November 2013
---
The Lonesome Southern Comfort Company -The Big Hunt (On The Camper)
I'm used to hearing Americana coming from the UK, Scandinavia, Germany, even Denmark but this is the first act I've heard from Switzerland, a country hitherto perhaps best musically known for Krokus, Yello and Double.
I say Americana, but there's a fair few flavours to the band's sound, the opening When He's Down, for example, an acoustic folk blues that gradually puts on an electric coating of throbbing reverb guitar, or the spare banjo accompanied That 2am Call that suddenly breaks out into a viola and dramatic acoustic guitar tarantella while 64 Warwick Way is an eight minute waltzing drone with a shuffling military drum beat into which viola slow seeps over John Robbiani's nasal vocals, a meeting point between the Handsome Family, Richmond Fontaine and Son Volt.
They meander to mesmerising effect, picking up the tempo for the psychedelic Paisley Underground hoedown Retreat, stripping it back to the forlorn viola waltzing Ct Scan where Robianni sounds like a man clinging to the last straws of hope while the whisky and hymnbook title track (where they most recall South San Gabriel) and the marvellously evocative bitter slow building acoustic Wall Street's Foreign Legion are perhaps the two brightest gems in a truly glittering diamond mine. If this gets the exposure it deserves, they should be glad they live in a tax haven.
Mike Davies, November 2013
---
Lisa Cuthbert - Paramour (Self Released)
In view of Stephen Frears' new film Philomena, this is a timely release as both deal with the Magdalene laundries, the controversial Catholic hell holes where girls labelled as unfit for Irish society were imprisoned and make to work in physically, emotionally and spiritually draining conditions. Many of the girls were unwed mothers, incarcerated for their sins, but the inmates also included the disabled, orphaned, illegitimate or even those who had suffered sexual abuse such as rape. Babies born here were put up for adoption and the mothers forbidden to ever make contact. Girls who defied the nuns were put into solitary confinement or mental institutions. Some would eventually get their freedom, but many died in these so called laundries.
Astonishingly, the last of them was not shut down until as recently as 1996, and were certainly operation at the time Cuthbert was going to her Dublin Catholic convent school. As with Peter Mullan's powerful film The Magdalene Sisters, they have inspired this dark, dramatic and angry album.
As you might imagine, it's an often oppressive affair, the near eight minute opening track, Destitute, building slowly from sparse, haunting piano notes and rumbling percussion that sets the chill tone before Cuthbert's clear folk voice (a sort of cross between Tori Amos, Sinead O'Connor and Maire Brennan) appears and the number suddenly explodes into a fiery rock urgency. Sombre piano sets the mood again for Coils Of Blue before Gartan Mother's Lullaby, unaccompanied save for a musical box and a playout rumble, showcases her Celtic angelic tones with Cuthbert double tracking her own harmonies.
Told through the characters of a mother, victim, prisoner, bystander and the lovers, there's very little let up in the intensity (having worked with both Anathema and The Sisters of Mercy, she's no stranger to forbidding atmospheres) of either the music or the lyrics, although This Kind of Sin does see her departing from the mournful Irish folk (and, as on piano instrumental Libra, classical) template by introducing hissed trip hop beats, electronics and loops again deployed on the closing Portishead/Clannad hybrid Party's Over.
There's scratchy electronics too, filing away in the background of The Balancing Act , a 10 minute number that gradually swells to a sonic crescendo after conjuring musical images of forbidding cloisters and penitent cells with its circling, claustrophobic notes. By contrast, the following The Sooner You Know employs a fuller orchestration, albeit to add more weight to the oppressive air.
As a concentrated listening experience, the absence of light from the shade keeps it all very much on the one musical level, but then it's hard to see how such subject matter would lend itself to frivolity. Difficult listening then, but important nonetheless.
Mike Davies, November 2013
---
Nick Lowe - Quality Street: A Seasonal Selection For All The Family (Proper)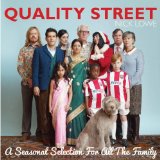 Christmas is just over a month away and so, naturally, the market's starting to flood with the annual festive collections. Usually, it's country stars and easy listening acts like Michael Buble that like to roast their chestnuts in front of an open DVD player, but it seems everyone's getting in on the act, including some unexpected names.. This year Erasure have polished up their electro pop snowglobes and now here's old Basher with his pitch to soundtrack the turkey dinner.
Seeing Silent Night and the traditional Rise Up Shepherd among the titles, you might think you're in for the usual round, but if so then you clearly don't know this little saint Nick. The latter gets a jaunty revival tent folk singalong while the former gets a swamp pop soul shuffle treatment and, in similar vein, the trad spiritual Children Go Where I Send Thee is all rockabilly skiffle and thoughts of Lonnie Donegan.
The other cuts are a mix of self-penned and covers, Lowe bringing his individual wit to Christmas At The Airport (which sounds suspiciously like a Chris Rea's Driving Home For Christmas given a 50s country pop retro sheen) as he finds himself locked in for the holidays and I Was Born In Bethlehem, a soft retelling of the Nativity in the persona of, well I guess the title's a giveaway. The third original number is an unexpected treat as Lowe teams with Ry Cooder for A Dollar Short Of Happy's wry spin on The Christmas Song delivered in authentic Ray Conniff Christmas Special wrapping.
Backed by Hammond organ, the first cover comes courtesy of Boudleaux and Bryant's Hallmark card styled Christmas Can't Be Far Away, then there's Roger Miller's cheesy Christmas Eve lullaby Old Toy Trains (though Lowe's warm performance melts some of the fromage), a chug through The North Pole Express that sounds like a bluesy slowed down Bill Haley rock n roller complete with twangy guitar and, taking a visit to the bontempi cocktail lounge, Just To Be With You (This Christmas), an obscure track lifted from the 2000 Christmas album by Chicago jump blues man Ross Bon.
The remaining covers are by more familiar names. Finger clicking and upright bass throbbing like something from the Bobby Darin catalogue Hooves On The Roof was written specifically for the project by Ron Sexsmith and the album closes with Lowe's take on Roy Wood's contemporary evergreen, I Wish it Could Be Christmas Everyday, given a treatment that marries ska and Doug Sahm.
It's never going to find a place along Phil Spector's seasonal offering and Lowe's increasingly gummy voice is not what it was, but this is affable festive fare, even if they are all soft centres and, true to his promise, there's not a sleigh bell in sight.
Mike Davies, November 2013
---
Jess Vincent - Seesaw Dreams (Hatsongs)
Just over a year on from her debut album, the Wiltshire singer-songwriter returns for her second release on Reg Meuross' label, her high flying voice once more in service of Appalachian flavoured folk. Save for the absence of Olivia Dunn, she's joined by the same musicians as before with Marcel Rose again on mandolin but swapping lap steel for fiddle and uke, Roy Dodds on percussion, Beth Porter on cello and producer Reg Meuross contributing banjo, guitar and mandolin while Vincent brings shruti box and glockenspiel to the party.
The traditional Silver Dagger is the only non original, the remainder being either penned by Vincent herself or in collaboration with Meuross, opening with the crystal waters freshness of a rippling Sail Away, that same lightness of touch to be found on the emotional push and pull of Seesaw Heart and several other of the similarly relationships ups and downs themed songs.
While the debut touched on blues and American trad, although murder ballad The Orchard has elements of the latter, her mountain music influence is far more dominant this time around, notably so on the lovely swaying Emerald Eyes with Meuross on backing vocals and the perky Fetch My Heart, both of which are underpinned by circling banjo patterns. Iris DeMent and the less commercially tainted side of Dolly Parton remain very much the guiding spirits and songs such as Caged Bird, Slow Down My Heart and Anny Bonny serve reminder that her writing abilities are as well honed as theirs.
It's not easy for English musicians to make their mark on this very American genre, but Vincent continues to make an indelible impression.
Mike Davies, November 2013
---
Harvey Andrews - Encore (Haska)
He may have retired from touring (though he's happy to respond to invites within 80 miles of Shrewsbury), but, thanks to nagging from wife Wendy, the Birmingham-born veteran troubadour hasn't closed on the door on making albums yet. With the past May marking both his 70th birthday and the 50th anniversary of his life as a folk singer, he took himself up to Scotland and old friend Bruce Davies with a clutch of his unrecorded songs (and a cover of David Mallet's The Summer of my Dream), gathered a bunch of musicians around him and recorded the album in Dundee.
As you might imagine, it's strongly reflective with songs talking of his life as a musician, his childhood, family and the changing years. Opening number I Love This Guitar pretty much speaks for itself as he looks back on the instruments that had accompanied him on his journey while Way Back Then recalls how seeing Rambling Jack Elliott at the Jug of Punch folk club inspired him to follow in his footsteps. The waltzing Poor Maggie Ann is based on the life of his grandmother while, backed by cello, the dreamily closing This Is Home with its spoken reminiscence intro finds him going back to where he grew up, a touching tribute to family and more innocent times.
There are darker moments too, recalling the sacrifices of the young men who died to free Europe in WWII, The Prize Of Bronze is an angry song about the theft from war memorials while, referencing the Blitz, the Cuban Missile Crisis, the Birmingham pub bombing and 9/11, among others, The Innocent is a powerful reminder of the senselessness of war and violence and of those caught up in its wake while, accompanied by fiddle, a timely, dramatic Give A Boy A Gun addresses how religion, nationalism and conflict generally go hand in hand.
There's a playful side too, though. With whistling and ukulele, the jaunty Encore is an ode to putting your feet up and taking it easy and enjoying your retirement after a life long and hard, Antiques a lovely cello backed, very English portrait of lifelong lovers in their twilight years with a chorus comprising the objets d'art collected along the way, and I Got The Mortage a witty observation on the where the spoils of divorce tend to fall. And it's hard to resist a smile listening to the punning Mr Arthur Itis, a ukulele strummed Music Hall styled number that would have done George Formby proud.
However, two numbers stand out above all. Featuring a choral harmony backing and fingerpicked guitar, Moon Over Callow is a tender song of love and renewal, of growing with the hours and storing up memories and easily one of the finest things he's written, making it all the more incredible it's never been recorded until now.
And then there's Whisky Jack, a guitar, harmonica and fiddle song that dates way back to the 70s, co-penned with his late friend and partner Graham Cooper which, essentially, a rework of Paul Simon's The Boxer (it even has a la la la play out), tells of a fading musician, his name slipping down the bill, giving it one more shot. Harvey's star has never faded, but it's good to hear it shining once again.
Note: as he's no longer gigging copies are available directly from his website
Mike Davies, November 2013
---
Linda Thompson - Won't Be Long Now (Pettifer Sounds)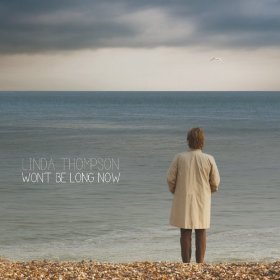 She doesn't rush things. This is only Thompson's fourth solo album in 28 years, a mere six after Versatile Heart, but as ever it's been well worth the patience. Recorded at various times and studios in New York, London and other parts of the UK, like its two predecessors it's very much a family affair, Linda co-writing three of the six self-penned songs with her son Teddy, who also contributes two of his own as well as providing acoustic guitar and backing vocals here and there.
Daughter Kami not only sings on four tracks, she actually takes both lead and harmony on a breezy romp through Anna McGarrigle and Chaim Tannenbaum's As Fast as My Feet which also features Linda's other children Jack on bass and Muna on harmonies while the latter's own son, Zak Hobbs, provides the twangy guitar. And if you're wondering where Richard hot to, well the icing on the family cake is the superb trad-flavoured opening track Love's For Babies And Fools (originally written for Rufus Wainwright) on which he plays acoustic guitar while his ex-wife sings.
And if the family's impressive, take a look at the list of friends which (while the backing's never overstated) includes such luminaries as David Mansfield, Sam Amidon, Dave Swarbrick, Martin Carthy and daughter Eliza, the latter three all featured on Mr Tams, a playful tongue in cheek drinking song (with suitably intoxicated chorus sway) tribute to fellow musician John Tams (even if, of necessity, it casts his wife as the party pooper), recorded in Eliza's Scottish home studio with both her and Susan McKeown taking a verse each.
There's a whole troupe too on the mother and son penned slow waltzing spinster's lament Never the Bride, among them Kirkpatrick providing accordion, Jenny Muldaur on harmonies and, roping in the family again, son in law James Walbourne on slide. The tale of a woman who lost not one but two lovers to the sailor's wanderlust, it's one of four nautically-themed songs, the second being Never Put To Sea Boys, a pulsing shanty co-written with a featuring Irish singer-songwriter John Doyle and, with its brooding atmospheric atmospheric programming, the only track not to be wholly organic in its sound. Doyle also pops up again, alongside Swarbrick and Glenn Patscha on pump organ, on Teddy's traditional styled stark bitter anti-war coming of age Father Son Ballad.
The third briney ballad has a somewhat unexpected co-writer in the form of Ron Sexsmith who, introduced to her by her son, provides the tune for the Appalachia meets Yorkshire flavoured If I Were A Bluebird that sees Amidon on acoustic guitar and banjo, Mansfield on Weissenborn guitar and Levon Helm's daughter Amy on harmonies.
The final sea song is one of three numbers taken from the public domain. Having been singing it to herself for 45 years, she now finally joined by Martin Carthy with Garo Yellin on cello for Nursery Rhyme of Innocence & Experience, Tony Callen's sombre setting of Charles Causley's poem that infuses the traditional feel with a hint of Kurt Weill.
The first of the two trad numbers, featuring just her and Teddy, the bare-boned Paddy's Lamentation is taken from the soundtrack of Scorsese's film The Gangs Of New York while, also recorded some years back, Blue Breezin Blind Drunk is an electrifying unaccompanied live performance from New York's Bottom Line of a traditional (with Thompson adding a final verse) Glasgow battered wife ballad.
The album closes with the title track, a folksy McGarrigles-like tune featuring mandolin and banjo (courtesy Tony Trischka) about getting older and preparing to face mortality without regrets of things undone or words spoken in anger. A bit of an odd one for a son to have written specifically for his mother, but given the whole family reunion that the album encompasses not, perhaps, without poignant meaning. Despite the long gaps between albums, with Thompson sounding in marvellously expressive voice and her writing as sharp as ever, hopefully this is far from a swan song and that the arrival of the unreleased tracks referred to on the sleeve thanks won't, indeed, be long now.
Mike Davies, October 2013
---
Pernille Quigg - Driftwood (Lowland)
Originally from Denmark but now a fixture on the West coast of Scotland with former MaCalmans member husband Stephen, Quigg was reared on a diet of 60s American folk and artists like Dylan, Seeger and Baez before discovering Irish traditional song. Her debut album is a soothingly pleasant mix of trad and contemporary folk covers as well as her own material, sung in a soothing and pure crystal waters voice to a simple acoustic guitar backing, Stephen providing the occasional harmonies.
Her choices range between well trodden paths and less discovered byways, trad chestnuts Lord Franklin and Amazing Grace (sung a capella a la Judy Collins) set against the far from familiar Scottish ballad The Shearing's No For You. Likewise, while Malvina Reynolds' Turn Around and Phil Ochs' There But For Fortune (Baez' version clearly the template) are staples she also shines a welcome spotlight on John Stewart's Armstrong and Judy Small's wonderful protest song Walls And Windows.
Other covers are even more obscure, the unaccompanied Andy's Gone With Cattle a 1888 poem by Australian short story writer Henry Lawson, Lord Yester a faux trad anti-war ballad written by George Weir and Roy Williamson and sung from the perspective of the women left behind and Regnvejrsdag 1 November a Danish song from her childhood.
Her own material's not diminished by the company it keeps, Inheritance a shimmeringly lovely memory of her grandparents that borrows the chorus from Shenadoah to emotive effect, Hold Me Tighter a carpe diem number with a chorus loosely translated from an old Danish poem, Between The Lines a heartfelt elegy to an inspiring teacher of poetry who committed suicide when a stroke robbed him of his power of speech and Easter Sunshine which, based on an incident in which an elderly neighbour fell and had to wait to be found, reminds of the importance of community in looking after those in need of care.
Patently inspired by the early work of Baez, Quigg does her guiding spirit honour and while it may not be an album you'd actively seek out, those who stumble across it will hold it as a treasure.
Mike Davies, October 2013
---
Austin Lucas - Stay Reckless (New West)
If you like your Americana with plenty of ringing guitars and nasal drawl, then Lucas would like to be your man. Opening with the driving urgency of the alt-country rocking Let Me In he calls to mind both early REM and Miracle Legion. He delivers equally scorching moments with the title track and So Much More Than Lonely and the guitar still flares frequently on less driving buts till rock centred numbers such as Different Shade Of Red and Small Town Heart, but it's more ruminative moods that dominate.
The melancholic mid-tempo Alone In Memphis delivers a road weary chorus and circling guitar before the violin and pedal steel-stained Four Wheels snags another hook in the heart and the emptiness of loss hangs heavy over the barely there, beaten to the ground Rings. He closes up with the mandolin-backed Splinters, a meditation on faith and love that recalls his earlier bluegrass offerings before building to a tightly coiled climax. There's nothing new here, but he's certainly on the right side of the familiarity fence.
Mike Davies, October 2013
---
Dave Rotheray - Answer Ballads (Navigator)
The former Beautiful South songwriter may have his name above the title, but this is very much a multi-artist project, a twelve track collection on which he (the words) and his collaborators (the music) seek provide retorts to classic pop songs. Big in the 50s and 60s, mostly in the country genre, answer songs were responses (usually by female singers) to hits of the time from the perspective of the character addressed in the original, thus things like Yes, I'm Lonely Tonight, He'll Have To Stay and Queen Of the House.
Rotheray's recruited a dazzling array of names from the folk world as vocalists and co-writers, kicking off with Lisa Knapp and Mrs Jones' Song, a cooingly sad and tender reply to Me & Mrs Jones before Eliza Carthy roughs it up down the barroom a little for a piano backed Maggie's Song.
Inevitably, perhaps, the numbers reflect the style of those singing them, thus Kris Drever's Daniel's Song has a slow march Scottish folk feel, Mary Coughlan brings a smoky jazz blues cellar vibe to Lucille's Song (co-written by Rotheray and Elenaor McEvoy), Gemma Hayes takes a breathy poppy approach on Pearl's Song' keyboards driven tale of a former star and Jackie Oates and Bella Hardy apply their trad folk talents to the fiddle scraped metaphor laden Mrs Avery's Song and a slow piano waltzing Sylvia's Song, both different character responses to Dr Hook hit Sylvia's Mother.
On the other hand, there's a few surprises. Alasdair Roberts, for instance, puts down the guitar in favour of a simple repeated piano chord for Dino's Song, a reply to The Boys Are Back in Town with more than a hint of Werewolves Of London, while Kathryn Williams shows a spookier, prowlingly feline side on the neurotically pulsing beats of Roxanne's song.
In the persona of Ms McGee, Naomi Bedford offers a bluesy Bobby's Song and guitarist John Smith is on appealing hushed form on the slowly gathering pace narrative of an Americana coloured Billy-Joe's Song (not a reply to Gentry's Ode but rather Cash's Don't Take Your Guns To Town) while I was particularly taken by Josienne Clarke's lovely, Americana-burnished treatment of the heart bruised Marie's Song, recounting how her father never made it home to Memphis Tennessee.
Julie Murphy rounds things off in stately form with the stark and sombre piano and violin ballad Jolene's Song where the protagonist becomes a nun; if the lyrics of Rotheray's answers sometimes beg questions, this is undeniably one of the best and, like all of the tracks, very much has a life of ist own away from that which inspired it.
Mike Davies, October 2013
---
Crazy Arm - The Southern Wild (Xtra Mile)
They may hail from Plymouth, but with Vicky Butterfield's powerful a capella opening of the traditional Oh Death its obvious their souls have set sail to the rugged American landscapes of the title and as the song flows into their own mournful twang chain gang styled Hell To Pay you'll likely find yourself thinking of Woven Hand, Nick Cave and the dark side of Johnny Cash.
From here the trail heads off into the acoustic strummed, harmony vocals protest of Remembrance as Guthrie and Ochs rear their heads before Don't Be Cruel kicks up its heels for a rousing clawhammer banjo led stomp that draws together both bluegrass and Irish traditions and would have easily been at home in one of the tavern scenes in Gangs Of New York.
Again accompanied by banjo, but here plucked, Fossils has more of a bluesy mountain music feel and a lyrical darkness that pervades much of the album while Roasting River is another rowdy stomp round the barroom fuelled by moonshine fumes and Patrick James Pearson digs out the fiddle for the folk shanty urgency of We Don't Go There Anymore.
It doesn't all work, the medieval colours of the instrumental The Wild Cats Of Denbury are fine but sound like they belong to a different album while, a self-confessed Midlake rip-off, the arrival of blues-psychdelic Manzarak organ towards the end of County Jaws seems out of place.
However, for the most part - and despite raw vocals that sometimes (as on the Darren Jones' drone accompanied Valley Of the Damned) come up a little short - this is a solid and often blood-stirring listen, A Pocketful Of Gold showing of some nimble-fingered fretwork and anthemic swelling album closer Black Canyon (on which Jones openly admits the David Eugene Edwards and Cave influences) a powerful dynamic between piano and acoustic guitar. They used to be a much rockier roots-punk outfit until a shake up of members and audience response to acoustic tours caused them to revise their approach. In doing so they may well have opened up a long future.
Mike Davies, October 2013
---
Calum Ingram - Making It Possible (Wood'n Heart Records)
Like its Autumnally colour-saturated packaging this album vibrates with textures and hues - tempest tossed in a crucible of experimental mellow-cello led esoteric eccentricity. Classically trained Ingram hails from Glasgow where carrying a cello case on Saturday night public transport must be worth a thousand fliers alone –plus potential body armour. Having a guest-slot for fellow homeboy, Jack Bruce, probably guarantees seat-stealing immunity.
Stereotypes aside, this infuriatingly compulsive Curate's egg of curiosity bubbling in a witch's cauldron of eclectic trail blazing is so left field the pitch is in another dimension. You want Blues, you want uber-cool Jazz and alt Folk/Celtic airs? Form a disorderly cue (sic). Going Home is an affectionate hybrid of Americana Road-Romanticism and Nick Drake charged vulnerability. One for lovers to make amends to. Trust me on this one! However, that Ingram uses a tungsten barbed-wire bow on Game is open to muso late night conjecture. That it mutates magnificently from the moment Jessie Arlen's flanger/freak-out vocals bleed in to climactic psychedelic cello wah-wah abandon is a joy formidable. Cello? Psychedelia? – Yes, you read here. Netrhytmns ever burns the midnight lamp for those who choose the less-trodden paths. Not to be damned with false praise – it's a brief album of eight tracks and the better for it. No fluff or indulgence – pared and bared down and utterly bad to the bone. (Tracks mastered by Gene Paul, son of Les – no less).
Closing track Butterfly gets pizzicato Sly Stone/Lalo Schifrin funky in a groove-Blues kind of way. Think Black Keys/White Stripes rhythm-flayed minimalism. This is an album you have to go out on one for. Go on – crack open that Curate's egg and dunk your soldiers of Fortune.
John Kennedy, October 2013
---
Ry Cooder & Corridos Famosos - Live In San Francisco (Nonesuch)
This new release from the redoubtable Mr. Cooder bridges three and a half decades, with an uncanny sense of continuity. For starters, it was recorded at the very same venue that hosted the man's previous live outing (1977's ebullient Showtime): San Francisco's Great American Music Hall. Secondly, as well as Cooder himself, the on-stage roll-call also included veteran accordionist Flaco Jimenez and vocalist Terry Evans (this time round Flaco only appears in the capacity of guest, albeit for a decent handful of numbers including the time-honoured feelgood Guthrie number Do Re Mi).
The disc contains well over an hour of music and would doubtless have been required to straddle a whole double-album package in the pre-CD era, so there's an even better sense of continuity here, with the strong feel of a seamless set. The intense unity and utterly distinctive (pioneering) eclecticism of approach that Cooder has always brought to his chosen material is well in evidence here, as the set moves effortlessly down the ages spanning his career, from the early successes – nay, landmarks – of Vigilante Man and Boomer's Story (both as vitally rootsy as ever and further informed by close on four decades of experience and performing history) to more recent rants such as Lord Tell Me Why. That aside, however, the politicising is largely forgotten as the emphasis of the gig (recorded a couple of years back,) is firmly on relaxing into havin' a real good time, with solid rock'roll, blues, R&B and gospel the ideal true backdrop for a night's musical adventures.
There's plenty of contrast too, with masterstrokes of programming like the superb recent Cooder original El Corrido De Jesse James being followed by a judiciously-paced romp through Sam The Sham's strut Wooly Bully and Juliette Commagere taking the vocal mic for Volver Volver, finally giving way to a viciously moody Vigilante Man. Crazy 'Bout An Automobile and Leadbelly's Goodnight Irene provide the set's natural bookends.
It goes without saying that whatever the mood, Corridos Famosos proves itself more than just a backing band, with some suitably spirited musicianship that can play fast and loose (especially when spicily augmented with the ten-piece Mexican brass band La Banda Juvenil on the above-mentioned El Corrido) or cut it sensuous and soulful (on The Dark End Of The Street, a powerful set highlight) as the mood dictates. The audience is riotous, very much present but admirably non-intrusive, only adding to the splendid hey-man-you-shoulda-been-there atmosphere of the occasion.
Typical of live-album releases,it may not be quite the Cooder album to recommend straightway to the outsider, but having said that it might still have the potential to convince a non-believer or alert a newbie to the Cooder Phenomenon.
www.nonesuch.com/artists/ry-cooder
David Kidman, October 2013
---
Emily Herring - Your Mistake (Turquoise Earring)
Emily sounds like she couldn't have come from anywhere but Texas, and kicking her album off with the stall-setting anthem Austin (Ain't Got No) City Limits sounds like the only natural thing to do. Straight-down-the-line, tough, no-frills gutsy honky-tonk of the old school, with a bold, high-twanging, brilliantly authentic swagger of a singing style that echoes right down the past 50 years, starting out like she means business then won't go anywhere else.
The title track comes next, one of those admonitory ditties in the approved fashion, and is swiftly followed by Prairie Lea, a sweet-toned tale of homecoming, and Turquoise Earrings, a strident midtempo ballad. pAnd so it continues for nigh on 40 minutes, with self-penned song after song of classy quality, delivered with a punchy, raw, almost punk sensibility that takes no prisoners; as I said she means business and refuses point blank to compromise.
Hard to pick out highlights, but With This In Mind, One Sip Of Water and especially that title number all have the timeless feel of barroom classics, and are put across with typical hard-won confidence. Even so, Emily seems to excel herself on the gritty bluesy closer One Steals The Load. Emily's rock-solid backing crew are excellent, right behind her all the way, framing her honest'n'true "wanna holler" yodel with some tremendous lead guitar, pedal steel, dobro, bass and drums brewing up a neat ol' storm way beyond the call of mere sessioners. Emily's got a lot of home truths to sing about, and the odd track might sometimes come across as a bit of a soapbox, but hey she deserves to have you for her captive audience, and you can't help but find her stance totally likeable and ride out there in sympathy. After all, "if it ain't worth saying, it ain't worth singin'!""…
Right at the end of the playthrough, I glance over Emily's biog, check out some background and discover she's gay – well ok, so what? Should it matter? Hell, not to me. (And it might seem a bit of a cliché to namecheck kd lang, with whose early records it's entirely possible to hear a musical kinship within Emily's singing.) Even so, I'd imagine that even in this enlightened age, it can still be kinda tough, especially in redneck territory. But Emily's sure got the chops for staying alive in a hostile climate, and music is always the best possible kind of calling-card as a survival strategy too.
David Kidman, October 2013
---
Troubadour Rose - Find An Arrow (Clubhouse)
Troubadour Rose is a London-based folk-roots trio who over the course of their four-year-so-far existence have also been a five-piece, but even as a trio they make a persuasively full sound. They're blessed with a particularly strong lead singer (Bryony Afferson, also the outfit's songwriter), but backing vocalist Lizzy O'Connor makes a notable and prominent contribution to the characteristic group blend which displays a distinctive dynamic through the confident and deployment of the colourings of violin (Gary Bridgewood), banjo/mandolin/piano (Lizzy) and guitar (Bryony), subtly enhanced by occasional percussion.
I guess you could say they inhabit an attractive crossover territory midway between folk and old-time, but the feel of their songs is more Emmylou, Union Jill, Carrivick Sisters or contemporary nu-folk/acoustic than traditionally inclined. The trio's combined style is informed by the individual members' influences, sure, but the whole – and the group identity – is here definitely greater than the sum of the constituent parts. Bryony's delivery is thrilling, and possesses definite shades of Stevie Nicks (she grew up listening to Fleetwood Mac and P.J. Harvey as well as Nanci Griffith), while Lizzy's grounding was more in the arena of traditional Irish music and Gary's was even wilder (klezmerites Beskydy and subversive pop/jazz band The Real Tuesday Weld); the explosive potential of this kind of cocktail is reined in, yet there's no shortage of energy in the performances. Even so, the vital, urgent, very-much-forefront quality of the music-making, and the busy quality of the vocal lines, tend to mildly obscure the eloquent darkness of the message in Bryony's often quite delicate self-penned stories; this imparts an occasional elusiveness to the overall picture that's hard to escape. Thorny and also nomadic in its tendencies, as the band name might betoken – if that's not stretching too much of a literal point.
It would, however, be good to have just a few more clues; and to that end, the disc's bland and uninformative packaging is rather unhelpful (although lyrics to four of the eleven album's tracks can be found on the band's website). But the impact of Troubadour Rose's music is instant, and certainly addictive.
David Kidman, October 2013
---
The Band - Live At The Academy of Music 1971 (Capitol/Universal)
It's widely accepted that The Band, from their humble Hawks beginnings to being Bob Dylan's backing crew when he dared to "go electric", subsequently became in effect the inventors of the very notion of Americana. And that's not an extravagant claim, as regular followers of this website will readily acknowledge. So, with that as a given, this review will concentrate on nitty-gritty considerations and questions to which the devotees will doubtless want answers before taking the decision on whether to purchase this latest addition to their recorded catalogue.
Fact is, this rather plainly titled new release is destined straightway for the best-seller racks and "reissue of the year" nominations, no question. If you were, like me, one of those fans who's always voted Rock Of Ages one of the greatest live albums of all time, and had embraced the 2001 (expanded-to-two-discs) remastered CD edition of the original 1972 double-disc (vinyl) set as the final word on the subject, then Live At The Academy Of Music 1971 will just have to satisfy everyone but the most rabid Band completist.
It presents what amounts to a lavish house-extension (one of those that doesn't need planning permission!), but it's actually quite a bit more than that, more like a knock-down-and-rebuild of the original dwelling with a spanking new one built onto the side, fitted out with all the mod-cons standard nowadays. The 2001 reissue was fabulous, simply because it made available a whole album-full of (ten) previously unreleased tracks taken from the same series of gigs – the four legendary year-end concerts The Band gave in 1971 at New York City's Academy Of Music. But however fine the discs sounded, especially in the running order that The Band themselves had elected to follow for the LP issue (completely changed from the actual set-lists performed on the nights), there's always been a residual nagging feel of incompleteness. Especially since, although the two discs then comprised what the compiler judged the best versions of each song performed over the four nights, the multi-track recordings of two of the 29 songs (Strawberry Wine and Smoke Signal) were thought to have "mysteriously disappeared".
So the newly expanded edition, stretching to four discs in total, will represent the most complete edition thus far for, while it doesn't give us all four concerts in their entirety in their original set-list sequence, what it does do is present – on the second pair of discs – the entire New Year's Eve gig in its correct sequence, as one continuous performance, in the soundboard mix, uncut and unedited, taken straight from the master recordings. Discs 1 and 2 differ significantly from their counterparts on both the original vinyl set and the 2001 CD reissue, in that all 29 of the songs performed are now represented, including the two previously missing songs; the set is shorn only of the brief speech introducing the mighty Allen Toussaint New Orleans-flavoured horn section that was ceremoniously brought onto stage for each night's second set.
Although the running order here is distinctly different from that of either previous reissue, the whole sequence is edited to run through and thus sound more like a complete performance than hitherto. However, individual song performances from all four nights of the tour are used here, and (as opposed to the earlier reissue) credited accordingly and correctly. However, this leads me to wonder whether the 11 tracks listed as being taken from the 31st December show – which of course climaxed with a four-song encore-finale on which Bob Dylan made a (then rare) surprise guest appearance – have all been duplicated (albeit in a non-soundboard mix) from those already included as part of the complete show on Discs 3 and 4; the fact that Discs 1 & 2 are being released as a stand-alone edition makes me think this to be the case.
Finally, one extra consideration, but one which won't necessarily sway prospective purchasers of this new collection, is that the fullest edition also includes a deluxe 48-page hardbound book with several previously unseen photos, a repro review and essays-cum-appreciations by Robbie Robertson, Mumford & Sons and Jim James, together with a fifth (DVD) disc that presents the music from Discs 1 and 2 in 5.1 Surround plus filmed performances of two of the songs.
Whatever, though, I'd judge the four discs' worth of music essential - with the only caveat that surely it would have made more sense to release discs 3 and 4 separately than the revamped discs 1 & 2, purely for their greater sales potential. If ever any concert in the illustrious history of rock deserved legendary status, then That New Year's Eve concert from The Band vintage 1971 would fit the bill, period. It might have "winged it" at times, but the sense of unbridled joy allied to brilliantly muscular, passionate and edge-of-the-seat white-heat music-making from a crack team at the top of their game is so incredibly powerful. It was truly one of Those moments in time.
David Kidman, October 2013
---
Chris Corrigan - The Crooked Mountain Road (Own Label)
Liverpool-born Chris was playing piano and violin from an early age; on later moving to Armagh with his family he took up traditional fiddle then took a degree in sound recording, working in Co Cork with many noted traditional Irish musicians. His debut CD The Shadowed Gateway was released in 2006, and featured the talents of a selection of fine players including Liz Doherty, Úna Monaghan, Jim Woods, Ivan Goff and Andrew Holdsworth. Giving a sense of continuity, the last two named also appear here, recorded at the Sonic Arts Research Centre at Queen's University Belfast where he's Technical Manager of the School Of Creative Arts (that also means audio engineering is his speciality).
And yes, it is a consciously studio creation, stylistically possibly best described as Irish-symphonic, wherein tunes that are very obviously of or inspired by Irish tradition are played straight by the lead instrument (principally – although not exclusively – Chris's own fiddle), and transmuted, fused with experimental or other influences (classical and jazz especially) in creative counterpoint, with conscious arrangement (rather than free improvisation) being the key. The vast majority of the tunes are of Chris's own devising, and he clearly has the gift for recreating the authentic idiom, even while there's also a whiff of Percy Grainger in some of the paraphrases and jolly keyboard stepping (eg on The Nip Is Upon Me).
Chris is a fluid and expressive fiddle player, coaxing an attractive, rounded and full tone from his instrument, and is evidently equally comfortable with his lead role and with steering his support crew. He also demonstrates a kinship with Scandinavian music in his sensitive phrasing on a beautiful wedding waltz by Esko Järvelä and a halling by Maria Jonsson. The level of invention on all of his repertoire, however, is such that it's not easy to get bored with this all-instrumental album, for Chris and his fellow musicians cleverly vary the textures to maintain interest and progression of elements within. The dominant richness of timbre is largely down to the prominence of Andrew's piano (and sometimes bass or electric guitar) within the soundscape, although Ivan's uilleann pipes and flute are also used well and some intriguing cameo effects are provided by the imaginative use of electronics (specifically, MiSS – ie. modular sound sculpture) or trombone (Agein'), although it does very occasionally feel there's too much going on in the soundscape to be able to concentrate quite on everything that you might need to. Finally, after the exertions of Diggin', Easin' brings the album to a relaxing and reposeful close.
If you respond to interesting treatments of tunes composed in the tradition and are prepared to open your mind to a gentle and accommodating degree of fusion, sufficiently adventurous in scope without you worrying about anything too demanding, discordant or cutting-edge emanating from your speakers, then this departs just far enough from the strictly straight and narrow to provide listening satisfaction. It's classy and atmospheric, with a predominantly tranquil, relaxing mood, and surprisingly accessible without ever frightening the horses.
David Kidman, October 2013
---
I've always had a soft spot for songwriters like Meg who use poetic inspiration to artistically (and artfully) document the human condition – and even more so when that talent is combined with a gift for memorable and apposite melody construction. Meg's songwriting has (deservedly) won awards in the past, and I was much taken with her 2008 Red House label debut Come Up Full, where a sense of wistful yearning combined with some hypnotic, genial yet unassuming musical settings to produce a work of gentle magic that's stood the test of time. However, one can have too much of a good thing, and her music's very evenness of tone and expression seems to have proved her Achilles Heel.
This is her first release in quite some time, and is described as a collection of celebratory hymns from a woman who has made it out the other side of some difficult years and is inviting us to go "beyond that" with her now. It's a comforting, uplifting collection, reflected in its musical landscape and climate; piano and soft, intimate synth/keyboard tones are the order of the day: not exactly bland (or in any way overbearing), but at the same time proving much of a muchness over the disc's 57-minute span. While not denying that Meg retains her gift for poetry and inspirational lyrics, this latest collection displays a measure of contentment which, albeit emotionally genuine, doth not especially interesting music make.
Listening to just one song from the album (say, When The Lights Went Down) in splendid isolation makes for a really attractive experience, but the drawback is that almost every song on the disc is taken at an identical (medium-slow) pace, with a dynamic level rarely approaching anywhere near forte. As before, Meg's singing voice is charming and soothing, yet the ongoing and cumulative effect of this song-cycle is curiously soporific despite its undoubted personal conviction and an all-pervasive sense of wonder and love being communicated to the receptive listener. The presentation is wonderful, by the way, with a really appealing accompanying booklet. Maybe it's just that it's all too beautiful…
David Kidman, October 2013
---
Roja - Promises - Should Have Kept (Probe Plus)
This brouhaha self-confident eleven-song debut album from the eight-piece Merseyside Mariachi merchants of love, loss and menace, is a crucible of crossover cool and mutually shared guilty pleasures. With principal vocals from Simon Bradshaw there's a distinctly hybrid whiff of Chris Cornell's Casino Royal Bond brass bombast and Tex-Mex magnificent, fatal grandeur to opening track The Evil Stands High. Following song with its eerie, one horse Spaghetti Western intro climaxing to emotional, cathartic showdown, Don't Leave Me Here To Die, must surely be contender for the Peaky Blinders series two opening credits theme.
By now you'll be getting the drift. Images of ghost riders galloping through haunting Morricone and Tarantino musical landscapes weaving within the iconography of tumbleweed disconnections, bandit-infested arroyos and adobe crumbling church bell-towers – and that after just one Tequila!
Things mellow with the evocative Oh L'amour (Part 1 - a lovers' dialogue (guesting spouse, Rosalind Bradshaw) sung in lullaby, Tango slow-step to a haunting Tex-Mex refrain. Quite charming. Some Moments Of Silence is quintessential evocative Leonard Cohen homage with its trademark rainy Parisian Torch-heartbreak noir. Penultimate song The End is driven by its insistent, percussive acoustic guitar riff and choral brass ensemble, and has delicious recollections of Mason Williams' Classical Gas - but with words. And so to the reprise closing Oh L'amour 2, a surrealist battle-hymn for the broken hearted. Shamelessly kitsch and forlornly forgivable - it provides a resolving coda to an intriguing album deserving more thorough investigation. Accumatively insinuating in the psyche for sure - señor.
John Kennedy, October 2013
---
Earl - Peanuts & Monkeys (Acoustic Records)
Previously trading as My Name Is Earl, the expansion from a duo to quartet has also brought a shorter moniker, but singer songwriter Stuart Earl remains the focus of this collection of blues and soul streaked Americana that sees the band joined by guest legends BJ Cole on pedal steel and blues slide maestro Michael Messer.
Opening with blues shuffle Asleep At The Wheel, it's a relaxed, easy rolling affair, mellow of mood and melodic of tune, the rock n rolling title track, Faded Glory and BLT all offering different shades of the blues while the steel weeping That's What Tomorrow Is For, a choppy Mind The Gap, the Band-like Love Song and the soulful The Devil Drives with its tasty slide and keyboards lean to the country side of things.
Nothing immediately leaps out at you, but the more you listen the more you find yourself drawn in to the warmth of the playing and Earl's voice and before you know it you're hitting the repeat play more often than you might have first imagined.
Mike Davies, October 2013
---
The Fallows - Liars & Kings (4 Real)
An indie folk five piece from Coventry led by Ross Darby and featuring All Britain fiddle/mandolin champion Neal Pointon, the Irish heritage would be evident even without a pretty little number called Kerry Girl, Washed Out and Cast The First Stone the sort of stomping shanty you can imagine whipping up a storm at the pub ceilidh.
Pointon gets the wheel turning with some fine fiddling on the title track opener, a fiery little number that will doubtless call to mind the Waterboys and the band mix the tempos to good effect, bouncing along with I'll Let you Know while taking it down to a slow funeral march beat for Red and kicking up the dust for the acoustic Run Like A Dog.
Closing numbers Broken Glass and the Stamping Their Feet show they know how to put together the sort of crowd swaying anthems to bring the pub crowd together at closing time. As such, they're probably better live than on record (indeed, they're apparently one of the city's hardest working bands) but this is a perfectly respectable and enjoyable effort that certainly makes you want to check them out in the flesh.
Mike Davies, October 2013
---
The Carrivick Sisters - Over The Edge (Self Released)
Enjoy English trad folk but also have a liking for Appalachian flavoured bluegrass Americana? Then you get the best of both worlds and a little bit more from the close harmony Devonian identical twins whose fifth album contains, arguably, their best work to date. Sharing lead vocals and variously armed with acoustic guitar, fiddle, dobro, mandolin and clawhammer banjo with John Breese on double bass with piano, percussion and electric guitar appearing on a track apiece, they kick off with Over The Edge, the sprightly banjo flecked tale about the 1890s fishermen's protest against the building of Newquay's Headland Hotel and the tourist threat it embodied.
That old time sound resonates throughout, indeed you could imagine the fiddle wheezing Bird being played in one of the spectacular dance hall scenes in Heaven's Gate, I Know You is as lovely as a stream running from the mountains of Mourne to the hills of Tennessee while Lady Howard and Laura's reading of Pretty Fair Damsel keen to English and American traditional folk respectively.
As the bittersweet Man In The Corner ably illustrates, the sisters' songwriting craft is more than a match for the musical and vocal prowess while both the fiddle and guitar showcasing Making Horses and the jazzy Django flavoured Slap On Eleven (a clapping game, illustrations on how to play are on the lyric sheet) are impressively complex instrumentals. Laura's fiddle work also gets to shine on the playout solo of Outside Time/Salamander.
Produced by Joe Rusby, there's not a weak track here, but I'd particularly direct you to The Moon which, evoking the McGarrigles and one of two tracks that features Blair Dunlop on harmonies, is the sort of song that should come with its own log cabin front porch, and If You Asked Me which, by way of ringing the changes, is a terrific uptempo foray into 30s swing complete with tea chest percussion.
The girls have been gradually strengthening their powers and building their reputation over the past six years, garnering a clutch of awards, but this is the album that should finally and deservedly catapult them to the major leagues.
Mike Davies, October 2013
---
Mandolin Orange - This Side of Jordan (Yep Roc)
It's said that what doesn't kill you makes you stronger. That's certainly the case here. In 2011, Andrew Marlin took a night time walk across a North Carolina dam, slipped and fell 10 feet on to his pelvis. He survived, waking up in hospital where professional and now personal partner Emily Frantz was waiting with a guitar.
Marlin started to play and from that grew the songs that inform the duo's third album of roots-rock, one that feels seasoned with wisdom and maturity and lyrics that draw on Marlin's faith with Biblical references (the title being just one) that counterbalance the often very secular concerns.
The album opens with the reflective House Of Stone, Marlin sounding like a nasal, weary Guy Clarke while fiddle adds to the overwhelming sad tone, and that's pretty much the mood throughout, the music steeped in Appalachian tradition as the duo traverse gospel, folk and country rock. Frantz takes lead for There Was A Time as she sings "If I showed up to your wedding wearing black and blue and red, wouldn't it seem fitting? 'cuz I'm as bruised and angry as I've ever been", a task she reprises for The Doorman, but otherwise it's either Marlin upfront or the pair sharing harmonies, a chemistry perfectly illustrated on Cavalry, a song told from the perspective of a soldier's horse, as she joins in on the chorus.
The songs explore a variety of subject matter, Morphine Girl concerned with the attempts to dull the pain of life and the ripplingly gentle Hey Adam addressing gay relationships while Waltz About Whiskey sees the broken hearted world from the bottom of a glass ("the only thing I know of a ring is the circle my glass leaves behind.") and, a song for Frantz directly inspired by his brush with death, The Run Around confesses "true love ain't true love without you."
Almost inevitably the Welch/Rawlings comparisons have been hauled out. To be honest, they're not in the same league, lacking that couple's depth and timelessness, but as the album closes with the lovely Until The Last Light Fades you're nevertheless willing to be persuaded.
Mike Davies, October 2013
---
Martyn Joseph - Tires Rushing By In The Rain (Pipe)
Of all the artists who have inspired entire albums of covers, Bruce Springsteen is up there leading the field with Dylan and The Beatles. However, while there have been several tribute collections, both of individual songs and entire albums, to the best of my knowledge, this is the first album of cover versions by a single artist.
Of course, it raises the question as to who it's for and why. Springsteen devotees will, naturally, always want the originals while I suspect that, while appreciating the occasional live inclusion or even the odd recorded cover, a fair number of Joseph's fans would prefer to hear him sing his own material. Both factions will be missing out if they don't give this a fair hearing. Suffice to say, no less a figure than Springsteen biographer Dave Marsh not only endorses the album but also provides the sleeve notes.
Martyn has, of course, been dubbed the Welsh Springsteen and the Boss is clearly an influence, so perhaps there was a certain inevitability to the album. But this triumphs in its sheer simplicity, just Joseph, an acoustic guitar, harmonica and the songs, stripped down to their bare bones in a way that, to the surprise of at least one Springsteen fan (myself) actually brought a new light and clarity to several of the lyrics.
Opening with Growin' Up (a song that shows Springsteen's own Dylan influences), there's 17 songs and I have no intention of going though them one by one; suffice to say the choice is well made, balancing anthemic classics such as The River (a song which, with its lines about coming from down the valley, is as pertinent to Joseph's roots as Springsteen's) and a bashed out Badlands with the lesser known numbers from the canon like Happy and The Promise, the latter providing the album's title.
As a storyteller, Joseph is a perfect fit for songs like Thunder Road (his version exposing the raw nerves of the song's emotional core), The Ghost Of Tom Joad, One Step Up and Blood Brothers while you can hear his own background and heritage bleeding into Factory.
Picking favourites is an impossibility, but at the time of writing If I Should Fall Behind and Cautious Man are tying knots in my heart and for those who reckon there's no point doing a cover version unless you do something different with it, may I just say -No Surrender with ukulele. Marsh calls the album a new route across the same map. Rip out the SatNav and take the journey.
Mike Davies, October 2013
---
Fabian Holland - Fabian Holland (Rooksmere)
Virtually unheard of a year ago, Holland's eponymous debut is nevertheless the result of four years graft, developing his craft and style in the mountains of Italy before returning home to launch his musical career.
And from the opening guitar notes of The Landlord's Daughter, you're in no doubt that it's going to be a spectacular one. Even so, the opening track is a touch deceiving, suggesting as it does another young folkie with a predilection for the traditional and the work of Messrs Carthy, Graham, Jones and Simpson. The same holds true if Little Boy Jonny, where he's joined on fiddle by Guy Fletcher on a soldier's song inspired by hearing radio reports of the Afghan conflict while in Italy.
The trad connection's reinforced by the inclusion of two lesser known examples, a sprightly reading of Dr Price (the tale of the eccentric Welsh undertaker who introduced cremation to modern burials and which features the catchy refrain "I don't give a bugger what anybody thinks of me") and Banks Of the Dee's lament of an unemployed miner.
Yet, trad songbooks and the stalwarts of the English folk scene were not the staples on which he was raised. Rather he grew up listening to the music of the blues greats in his father's record collection and such names as Sonny Boy Williamson, Muddy Waters, Howlin' Wolf and Skip James whose Hard Times Killing Floor Blues is given a find treatment here. There's a natural connection then to Like Father Like Son, a melancholic self-penned song about growing up and turning into your parents that's both resentful and accepting. That same pull, here between family and independence informs Home, a song which seems likely to find him likened to more to Martyn Joseph than Martyn Carthy.
The album's two remaining tracks, Charlie and the seven minute Mad Eric, are both narratives, the former about a man who escaped the chains that held him back and the latter about one who didn't, succumbing to the pressures of life that have led him to the bottle and the ruin within it.
Simple and direct, with gifted guitar work ( he plays two Lowdens) and thoughtful lyrics invested with soul and passion, this is a mightly impressive calling card by a name likely to loom large when the folk awards season comes around next year.
Mike Davies, October 2013
---
Audrey Auld - Tonk (Reckless)
She may hail from Australia but she's now firmly entrenched in Nashville and the album title pretty much tells you what to expect. So, here's a collection of traditional styled country music with an antipodean twang which kicks off with Bound For Glory, a gospel tinted folk bounce that Woody himself would have appreciated.
Save for Willie P. Bennett's slow dancing Crying the Blues and the regret-stained elusive dreams of Terry McArthur's Sweet Alcohol, all the songs are self-penned, the yee-hawing leg-slapping rhythm of Broken Hearted Woman, Drinking Problem's twangy Kitty Wells swing and the witty Jeannie C Riley sounding Your Wife all ample proof that she's taken to her new home like a fish to water. That said, the different portraits sketched by the bluesy Nashville #1 and the lovely fiddle waltzing Nashville #2 show she's as aware of Music City's downsides as she is its dreams.
Elsewhere, she's sultry on the lazy shuffling come hither Kiss Me and playful on the Western swing of Bury Me At Walmart while Lonely Town (which namechecks Tammy, Loretta, Hank and George) shows she can do sad country Cline waltzing in style.
It could have done without the asides and chuckles thrown in to give it a live feel and Rack Off, a rockabilly romp of insults built around the Aussie slang expression that should have been left in the live set where it doubtless goes down a storm, but otherwise this will be well worth honking on the horn about when she tours the UK next year.
Mike Davies, October 2013
---
Rod Picott - Hang Your Hopes On A Crooked Nail (Welding Rod)
Between his last album, Welding Burns, and this, Picott split from violinist and partner Amanda Shires who went on to marry Jason Isbell. As a consequence, his songs of economic turmoil and blue collar despair and determination have taken a back seat to heartache this time around on an album of post-relationship musings sporting such titles as I Might Be Broken Now, All The Broken Parts, Just A Memory and Where No One Knows My Name.
The opening lines of You're Not Missing Anything, the album's first track, sets the theme as he sings 'two coffee cups here beside the bed I made too much again, sometimes I forget' and he rarely shifts from this downcast, moping attitude. On Mobile Home, a track that sounds like he's musically channelling Guy Clarke, he may not be chewing over the hurt but the song's still about being stuck in a rut with nowhere to go while the banjo backed Milkweed and the plaintive, dust coated hymnal Nobody Knows both contemplate fading away after death and leaving nothing behind.
It's fair to say, he's wasn't in the most cheerful frame of mind when he wrote the songs for this, though at least on the gently jogging Bluebonnet (where he sounds like a cross between Cash and Orbison) here's a faint glimmer of light at the end of the tunnel when he sings 'it's just a little flower but it's stronger than you think, you can cut it down but it comes back again' while on Dreams, with its Fleetwood hints and from whence the title line comes, what's left of his world may fit into a broken coffee cup but he declares 'I won't give up'.
Even so, it's still very much a thematically one note album, so it's a good thing that while he may have lost his woman he hasn't lost his ability to write a memorable melody and lyric or sing with an engaging drawl that makes you want to listen to his hurt. Even so, hopefully next time, he'll have taken another look at the world around him and found the fire of anger and indignation that is sadly missing here.
Mike Davies, October 2013
---
Lisa Knapp - Hidden Seam (Navigator)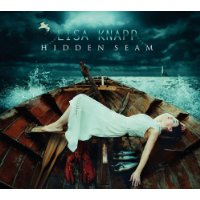 It's five or six years now since nu-folkster Lisa unleashed her stunning debut album Wild And Undaunted, a remarkably clear-sighted artefact that still stands the test of time today. Equally inspired by folk tradition (as exemplified by Anne Briggs and Shirley Collins) and fresh insights brought by contemporary production and experimentation, that landmark release was a hard act to follow.
Keen acolytes have only really been able to observe Lisa's musical progress since then through last year's seasonal EP, Hunt The Hare (A Branch Of May), and the two-part track of that name which crops up towards the end of this new CD represents this new disc's closest brush with folk tradition (paraphrasing Rocky Road To Dublin) and also features the voice and guitar of Alasdair Roberts. The preceding track, Two Ravens, a touchingly intense self-penned number on the subject of Alzheimer's Disease, sports a characteristic and distinctively moulded guitar accompaniment from Martin Carthy, while the spacey yet reassuring closing lullaby Hushabye includes a harmony vocal from its co-writer Kathryn Williams.
But this defiantly original album is much more than the sum of its parts (or its guest contributors); Lisa's own personal vision has clearly also been greatly inspired by the practical and spiritual assistance she's derived from her husband, musical partner and producer Gerry Diver, who's contributed several instrumental parts and string arrangements to the album. At the same time, the disc's unbridled freewheeling creativity celebrates Lisa's own perennial and immutable obsession with language. as well as her love of folk themes such as the sea, the elements, death and mortality.
Hidden Seam walks the plank right at the start (so to speak) by ingeniously taking as its springboard the Shipping Forecast, mirroring Lisa's undying fascination with place names and "diving in" with her incantation of the time-honoured litany to a decidedly weird yet ultimately logical backdrop (snatches of American Marine sound testing from the 1950s involving samples of sea creatures). Here, as throughout, Lisa's singing is strange, almost other-worldly and yet very much of this world, exploring the twists and turns of meaning through vocal sounds and noises carried through into and out of ever-imaginative instrumental soundscapes.
The disc's title track (an oblique expression of the notion of similar or common themes transcending cultural boundaries) provides perhaps the most radical example of that technique here, while the ensuing Ruler Of The Rest brings an aromatic oriental exoticism (via the sound of the Chinese guzheng) to Lisa's breathy and chillingly enigmatic paean to love. An insistent pounding pulse ushers in Black Horse, a Lal Waterson song, which features James Yorkston and Marry Waterson, and this is succeeded by the ominous Seagiver, where the slight warble that creeps into Lisa's voice kindof brings back the soundworld of Kate Bush (whose music, and that of Björk, has been a key influence on Lisa, we know) but with altogether less (if indeed any) of a sense of wayward contrivance or striving for effect.
Lisa's a true free spirit who communicates through her singing with an unnervingly easy intimacy, and even one cursory listen to the extraordinarily beguiling, and very special, labour-of-love that is Hidden Seam will guarantee your deep involvement in her unique vision (which, by the way, is tellingly enhanced by David Angel's photography and design work on the package).
David Kidman, October 2013
---
Sheesham & Lotus & 'Son - 1929 (Sepiaphone Records)
Lovingly recorded in authentic mono "live off the floor with one North of Princess G7 microphone", this brings the vital, fun-giving music of the depression era (à-la-Mississippi Sheiks) straight into your homes and a permanent smile to the grimmest visage. If your kind of bag is "real deal" ragtime, hoedowns and stomps played with all the chutzpah of the era, then this Canadian outfit with real mud on their boots will be just what the medicine show ordered.
They'll be a hell of a hoot live too, but even on disc you'd be exceeding hard put to resist the high-steppin' energy of this brilliant combo, who (it must be admitted) make a mighty sound for a mere three-piece. Step forward then: the raw, rustic fiddle of Sheesham Crow (who also plays harmonica, whistles a bit on Lazy Lazy River and does a positively delicious line in rough-hewn kazoo – and I never thought I'd use that "d" word to describe that instrument!), the clanking rhythmic tenor and five-string banjos of Lotus Wright, and the glorious galumphing sousaphone of Son Sanderson.
All set into due context with gruff, gritty vocals where you can taste the barroom liquor without going over the top – sample the ultra-woozy delights of Drunken Nights for starters, but established standards such as Georgia Crawl and Keep It Clean and even Viola Lee Blues emerge into the spotlight with considerable credit in what I'd class top-flight renditions, full of rhythmic vitality and joyous elan, the furthest from tired retreads you could imagine, and the trio's deliriously upwardly-paced take on Frankie & Johnny will revive even the most jaded palette. Instrumentally too, SL&S score highly, when we're treated to absolutely cracking versions of Cow Cow Davenport's Jackson Stomp and Daniel Williams' little-known Mineola Rag. This record is a shining example of just how no-frills revivalist grass-roots old-time should be done, and it's a sublime feelgood tonic from start to finish. I really can't get enuff – so play it again!
David Kidman, October 2013
---
Will Varley - As The Crow Flies (Smugglers Records)
Will's described as a fiercely independent singer, novelist and filmmaker; having three years ago moved out of London to the seaside (Deal, Kent), he then fairly promptly went off on a self-imposed 140-mile busking odyssey (guitar and tent on his back, apparently). Now, at the age of 26, he's just released his second album of original songs, which showcases his own particular brand of contemporary folk songwriting that, while very much of our own time, nevertheless contains distinct resonances (if not specific echoes) of the more forceful of the late-60s/early-70s champions of the craft.
His powerful, mostly admirably dedicated commentaries take up the mantle of those exponents with a stylishly lyrical intensity of observation, his own trademark rippling acoustic guitar setting up an atmosphere of urgency that never quite lets up over the album's span. Home truths and pertinent observations characterise the best of Will's creations, and there's much to get one's teeth into, very much in the angry-young-man mode at times but not exactly derivative while paying more than a nod to subsequent rough'n'ready folk-troubadour leanings.
Unfortunately, this gambit sometimes also goes too far and there's a sense of the trying-too-hard, the over-obvious statements permeating Will's thought-processes, expounded in a kind of excessively "knowing" clubbishness that trades insight for political posturing and cheap namechecking (as on I Got This Email); better perhaps is The Self Checkout Shuffle, a justified rant in the approved Subterranean Homesick mould. Will arguably strikes the best compromise and balance of perspective on songs like Weddings And Wars and the economic, if darker, vision of Down The Well.
The emphatic rawness of the production and backdrops is also a key element in the impact of Will's music, and although various guest musicians' fiddle, saw, mandolin and accordion and percussion all make appearances the predominant aural image is Varley's own rough-hewn voice and continually busy guitar. There may well be even better songs to come in the future - I wonder, should he now reflect more and curb his nomadic tendencies to sharpen his more poetic gifts, or should he set off on his travels anew? The jury's still out here I guess.
David Kidman October 2013
---
Rusty Shackle - The Bones (Get Folked Records)
First impression of this acclaimed Welsh five-piece is of the instrumental blend of a latter-day Dando Shaft perhaps, but boosted by a catchier pop-folk sensibility and an altogether more driven rhythm section. A bit more Dexy's then? And the energy level almost never lets up, right through the disc's ten songs. The express intention of the band this time round, we're told, is to achieve a more rootsy, stripped-back (to the bones) sound to the whole record. To be honest – and this is not meant as a criticism but rather as an observation of texture – I really don't feel that the album's sound is much stripped-back, unless marginally in direct comparison to the band's studio debut Wash Away These Nights that appeared barely a couple of years ago.
That consideration notwithstanding, The Bones is an extremely attractive proposition, its ten original compositions by band member Liam Collins positively exploding with the optimism of direct experience of life's good things. Musical climate is what I'd happily term commendably accessible big-stage folk, its character largely determined by fiddle, banjo, electric guitar and a solid thumping backbeat, and upfront vocals provide plenty of irresistibly anthemic riffs to add to the overall brilliant good-time hootenanny-style live feel of the recording itself. It's no wonder Rusty Shackle have been making such a hit at festival stages! The only moment of comparative repose comes on the penultimate song, the thoughtful Tommy's Letter, which proves the band can cut it in that sphere too. But for the rest of the ride, just be content to crank up the speakers and soak up the thumping good entertainment Rusty Shackle provide.
David Kidman October 2013
---
Roy Harper - Man And Myth (Bella Union)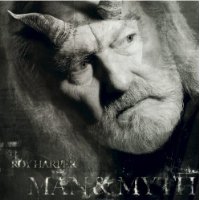 Having received the BBC Radio 2 Folk Awards Lifetime Achievement Award earlier this year, a little less than a couple of years on from his 70th birthday concert at the Royal Festival Hall, Roy's being increasingly – if belatedly – appreciated as the unique artist he undoubtedly is, and, one might say, the very epitome of "The Original Awkward Cuss raised to the level of genius" (a phrase actually used by Robert Simpson to describe fellow British composer Havergal Brian).
Roy's supreme personal integrity and perennially, admirably uncompromising stance has meant that he would not endeavour to release a followup to his fine 2000 album The Green Man just for the sake of it (or to appease the gods of marketing), but instead bide his time until he had the will to make another record. Now, at long last, we can celebrate the return to the recording scene of the original Sophisticated Beggar – the man whose magnificent Flat Baroque And Berserk LP my father ordered me to return to the record shop simply because he found the cover offensive (ha!).
No doubt partly as a result of the plaudits surrounding him over the past couple of years, especially those from the younger generation of artists intent on checking out key artists they'd heard of as being influential, Man And Myth is a work of extraordinary confidence and impressive power, which shows unequivocally and typically defiantly that "the man can still cut it" (and how!). It capitalises on Roy's proven strengths as a lyric writer, singer and guitarist, embracing his familiar preoccupations and themes with all the intelligence, passion, insight, wit and venom we associate with his work. And while it presents no surprises in the literal sense (in that its sequence of seven telling tracks includes, in best Harper tradition, a 15-minute "long song" that's part of a linked 23-minute epic album-finale), its enduring deep commitment and genuine power and artistic consistency may surprise those listeners who might now have been ready to write Roy off as another tired old hippie parading immemorial clichés and jumping on the comeback bandwagon.
There's no disgrace in the fact that Roy's as angry as ever, his justified anger as always tempered by right-minded indignance and (if occasionally prone to a trite turn of phrase) his writing remains suitably economic, pithy and above all still highly relevant to our time; he can still rant with the best, as The Enemy and Cloud Cuckooland both exemplify par excellence (although the presence of Pete Townshend's thrusting lead guitar on the crashing, rocking latter track just might also increase the sense of irony that we will get fooled again!). It's great too that the more lyrical, personal, introspective side to Roy's writing is also given full rein, on the touchingly elegiac January Man and the eastern-inflected The Stranger with its barely-concealed indictment of the alienation that contemporary society can bring.
All of these contrasted utterances show Roy to be still very much in fine voice too, as the perceptive outsider still capable of expounding emotional bases ranging from contempt for lust and greed, painful realisation of the ageing process and loss of identity to unutterable sadness and regret: gutsily raising Cain (The Enemy), gently wistful (Time Is Temporary) or waxing confidential with controlled delicacy (Heaven Is Here). The last-mentioned song, which together with its successor (and tender "forever" postlude) The Exile represents the "myth" side of the album, rejoices in a seductive, aromatic (if at times cryptic and more than slightly autobiographical) narrative replete with resonances from ancient Greek myth, and contains some of the disc's most compelling and thoughtful imagery, all couched in a memorably characterful musical backdrop which features Tony Franklin's outstanding fretless bass work and a neat Robert Kirby-style string arrangement.
Musicianship on the remainder of the album is no less keen, and the settings, coordinated by Jonathan Wilson and John Fitzgerald, are no less enticing, and prove an ideal foil for Roy's often contradictory yet invariably percipient verbal musings on life and death. OK, Roy may be necessarily wary of the old ghost (The Stranger), but it can't help but continue to inform his writing, which retains all its trademark emotional honesty. Man And Myth is nothing short of masterly - welcome back, Roy.
David Kidman, October 2013
---
Amy Speace - How To Sleep In A Stormy Boat (Windbone)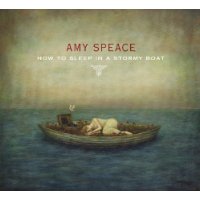 Having discovered Speace through her 2009 album, The Killer In Me, I was very keen to hear what she did next. 2011 saw the arrival of Land Like A Bird. Her management said they hoped it would be released in the UK in 2012, but if it was then it must have been under the official secrets act because no review copy, let alone any news of it, ever made its way to the netrhythms postbox. This, her third, surfaced Stateside earlier in the year and I waited patiently to see if it received a UK release. Well, apparently it did, but again its arrival wasn't exactly shouted from the rooftops. Indeed, this is a somewhat belated review (apparently there's also a deluxe edition with an EP of 6 extra tracks) but better late than never because she really deserves to be far better known than she is.
Writing about Killer, I said she occasionally reminded me of Roseanne Cash and, in the tremulous purity of her voice, the young Joan Baez. Written and recorded during and after an attack of severe laryngitis that robbed her of her voice and in the aftermath of a collapsed relationship, Baez remains magnificently pertinent, most strikingly so on In Salida but also the border country mood of Left Me Hanging (a co-write with Mary Gauthier) but perhaps a far more apposite comparison would be Judy Collins, especially listening to the likes of the knockout opening number The Fortunate Ones (on which Gauthier also sings) with its waltzing fiddle and soaring refrain, Feathers & Wishbones, the quiveringly tender Perfume and the starry night sky air of The Sea & The Shore, a standout duet with John Fullbright that, featuring David Henry on cello, also underscores her development as a writer.
She's rebounded from emotional and physical setbacks with a renewed and centred confidence, something clearly demonstrated by the Laura Nyroesque vocal control of the unaccompanied opening to Hunter Moon. The album also serves reminder that she was an actress before she was a singer, her work in Shakespearean rep leading her back to the timeless universality of the plays (apparently King Lear was a touchstone for the title track's seeking for calm amid turmoil) and the epigraphs that precede each song on the lyric sheet. She also notes how some of the music here could be at home in a Sondheim show (the lovely piano and cello arrangement of Hesitate) while others invoke the spirit of Anglo-Celtic folk balladry, none more so than Bring Me Back My Heart, a tender love song to a simple acoustic guitar backing that's probably my favourite on, to offer my own Shakespeare quote, an album "Whose golden touch could soften steel and stones, Make tigers tame and huge leviathans Forsake unsounded deeps to dance on sands".
Mike Davies, October 2013
---
Benjamin Folke Thomas - Too Close To Here (Bucketful of Brains)
Raised in Stockholm but now based in London, Thomas wears his influences on his sleeve. Perhaps rather too obviously so. The guitar work on opening track Someday is vintage Mark Knopfler circa the first Dire Straits album while the delivery and the song itself is firmly indebted to Dylan, All Along The Watchower to be specific. Dylan rears his head elsewhere too, OK Blues setting the Sat Nav to revisit Highway 61 and the more muscular Fire has blood on the track. There's more Knopfleresque guitar too on the memorable Let Her Down, though this time round he sounds like a dustier Gordon Lightfoor while elsewhere his gruff, slightly nasal voice variously recalls Harry Chapin, Fred Neil and Pete Seeger. That Bye Bye Baby (Bye Bye) also namechecks Warren Zevon throws another hat into the ring.
However, while he may recall the work of others, its patently obvious from the way he sings, and the words he writes, that Thomas is no mere imitator. Songs like the roll along acoustic folk troubadour Love Somebody!, the 60s folk blues echoes of Extend No Greeting, the Ronnie Lane campfire jauntiness of I'm Alive and the fingerpicked Postcard From Cazal all serve notice that this is an artist of real substance and a voice that you want to hear over and over again.
Mike Davies, October 2013
---
Court Yard Hounds - Amelita (Sony)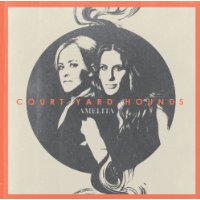 Emily Robison and Martie Maguire recorded their 2010 debut as a side project while the Dixie Chicks took a sabbatical after what had been a fairly tempestuous few years and Natalie Maines got her head back together and explored her rockier ambitions. Three years on, while the trio have played a few live shows, there's no sign of any return to the studio in the foreseeable future, so that side project looks like becoming more of a full time occupation.
Thus this sophomore release, on which the pair, together or individually, had a hand in writing 10 of the 11 tracks while Robinson takes the lion's share of the lead vocals. A rather low key release, suggests the label would rather nudge them back into reviving the cash cow than embolden any permanent new directions, indulging rather than encouraging, especially given that, lyrically at least, it's not exactly teeming with positivism with many of the songs perhaps reflecting the state of uncertain career limbo in which they find themselves, though the splitting up Divided seems particularly relevant to Robison's divorce.
Musically, however, it's generally upbeat affair that either makes you feel like skipping along, as on the opening bounce of Sunshine, laze back with something like the bluesily happy hanging out A Guy Like You (featuring Maguire on vocals, it's also one of the few optimistic numbers) or strut and slap thighs to the chugging Rock All Night and the swampy bluegrass riffing Phoebe, even if the latter is a tale of suicide.
Like the debut, it's not exactly pushing any musical frontiers, content to plough a melodic rock-tinted country pop furrow (the title track a showcase example) with the occasional nod to the blues and (as on Watch Your Step) a more than occasional hint of Sheryl Crow while the closing The Road You Take provides the prerequisite slowly building piano ballad.
While Maines' absence means it doesn't have the same bite as the trio's work, this serves perfectly well as both a band aid for Dixie Chicks fans wanting to some home comforts and evidence that they can make it on their own if they have too. Their label should bite the bullet and invest more in the future rather than hope the past isn't over and done.
Mike Davies, October 2013
---
Israel Nash Gripka - Israel Nash's Rain Plans (Loose)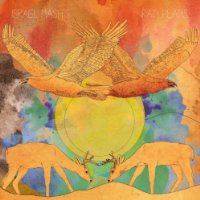 Gripka's first two albums announced him as a major talent, mining new gold from the well-tilled Americana field with a strong storytelling sensibility and Ryan Adams, Gram Parsons and John Fogarty ashis core influences. Only on the electric guitars of his sophomore release's final track was the re any hint that Neil Young might also be part of the musical DNA.
It appears that since then he's been on an intravenous drip feed because his third album might even convince Young that it was something he'd misplaced in the archives. It's obvious from the opening widescreen Woman At The Well with its steady paced tempo and Gripka's soaring whine. Some may argue that there's a touch of Eagles country rock in there too (a hint of Lying Eyes, perhaps), but when track two, Through The Door, rolls around with its keening pedal steel to be followed by Just Like Water you're in no doubt that of what he's Harvested.
Listen to the double tracked harmonies of Who In Time and it's hard not to think of the same effect used on Old Man and many other Neil numbers while the lengthy title track is a slow burning, falsetto vocal country blues that comes with a full five minute ragged, feedback fuelled Youngian guitar solo work out. But why buy a Neil Young clone when you can have the real thing? Well, perhaps because not only does Gripka sound and play like him, as things like Iron Of The Mountains and Who In Time demonstrate he's also of a similar songwriting calibre, something that elevates this beyond karaoke homage into a timeless classic of its own.
The only time it departs from the blueprint is on the final cut where Rexanimimarum switches track for a Southern country rock ballad that perfectly replicates the Wild Horses sound of the Stones. Given the pattern, perhaps it's a clue to what we can expect from album number four.
Mike Davies, October 2013
---
My Darling Clementine - Reconciliation? (Continental Song City)
After initially being turned down by a plethora of labels, Michael Weston-King and Lou Dalgleish finally had the last laugh and were mightily vindicated when How Do You Plead?, the debut album by their joint project wound up being universally acclaimed and they duo winning Americana act of the year at the British Country Music Awards.
They return now with a follow up that's more than equal to the original and while they've brought in Richard Hawley's band and producer, with Alan Cook still there on pedal steel they rarely stray from the proven path of recreating the classic country sounds of George and Tammy, Dolly and Porter and Buck Owens.
Again you get songs of broken love and heartache, of loss and regret, of joy and pain that perfectly capture (as opposed to pastiche or homage) the quintessence of their influences, both in terms of subject matter and music but also in the way the lyrics feature the word play reversals and ironic contrasts that characterise so many of the great country songs. Case in point the opening track, Unhappily Ever After, an end of marriage weepie compete with heavenly choir and a guest appearance from the legendary Kinky Friedman as the preacher that has as much to do with Elvis as G&T, which features the line 'we both said I Do instead of I don't' as well as a sly Johnny Cash reference in 'we don't lie together so I don't walk the line'.
No Heart In This Heartache follows in honky tonk form as the pair trade verses and come together for the infectious chorus ('there's only good in goodbye') while Pat Walker contributes some fine fiddle work. Then comes the album's only non-original, a cover of Ronnie Self's I Can't Live With You (When You Can't Live With Yourself) that fits right into the album's sound and theme before the mood changes for Our Race Is Run, a soulful sax-kissed slow burn ballad that's a little more Memphis than Nashville and one of the many highlights.
It's back to the twang for the honky tonking swing bounce of Leave The Good Book On The Shelf with its tasty boogie woogie piano and steel break, a track destined to get the live crowds jumping. A violin playing the refrain from Beautiful Dreamer heralds the first Dalgleish-penned number comes with No Matter What Tammy Said (I Won't Stand By Him), a deceptively jaunty song that introduces a sober note to the proceedings with its tale of domestic violence ('I'm seeing black and blue and purple 'cause he keeps seeing red') with King playing the knight in shining armour. The co-written I No Longer Take Pride is another deceptive appearances number as King sings in the persona of a guy who's lost self-respect and purpose since his wife's death, Dalgleish taking over for the final verse as she offers love and encouragement from heaven. It may sound maudlin, but it's unexpectedly moving. Abnd it doesn't hurt that she has one of the most perfect voices you'll ever hear.
King Of the Carnival shifts shape again for a Tex-Mex heartache down on the border tumbling rumba with mariachi horns that could have come from a Tom Russell or perhaps early Roy Orbison album. Released as a single to mark the passing of the legend and with echo on the vocals, the Gospel According To George is King's tribute to George Jones, the lyrics inspired by the warts and all autobiography.
As with the previous album, the songs about broken hearts and cheating have nothing to do with the couple's own relationship, but there are two very autobiographical numbers here. The first, written by Dalgleish, is Ashes, Flowers And Dust, an admittedly sentimental but also emotionally raw duet in memory of his father and her mother. The mood's lifted by the make the best of a bad job Let's Be Unhappy, the album's rock n roll boogie musical mirror to the debut's Going Back To Memphis, before the album ends with the second of personal songs, Miracle Mabel, a gentle acoustic love song to their daughter.
On the sleeve it says file under country. No, file under country album of the year.
www.mydarlingclementinemusic.co.uk
Mike Davies, October 2013
---
April Verch - Bright Like Gold (Slab Town Records)
In the space of a packed 62 minutes of music, the consummate Canadian singer, fiddle player, songwriter and step-dancer sets out her stall for the ninth time on record with a brilliantly balanced selection of vocal and instrumental items which possess all the authentic old-timey feel yet also sound confidently contemporary (in the sense of relevant to our own time rather than specifically radical in any purely musical sense).
The basic complement to April's unique voice and genuinely exciting fiddle playing consists of Cody Walters (banjo and bass) and Hayes Griffin (guitars), both contributing trusty harmony vocals as and when required. The style of playing is what one might call gently virtuosic, naturally accomplished yet entirely unshowy, with no sense of any individual contribution distracting or outstaying its welcome, even if once or twice (as on Raven In The Hemlock) it might perhaps seem a touch too relaxed. And then there's the icing on the cake provided by guest appearances from Bruce Molsky (fiddle on two of the disc's highlights including a matchless duet on Evening Star Waltz), Sammy Shelor (banjo), Josh Goforth (mandolin), Matthew Smith (dobro, pedal steel) and Mac Wiseman (providing a vocal foil for April on a couple of duets).
April's own compositions are so darned idiomatic you wonder immediately how you could've missed out on them all these years! (Check out The Only One and Sorry for starters…). She also clearly has a keen feel for latter-day country tradition, turning in a particularly convincing take on Loretta Lynn's Don't Come Home A-Drinkin' for instance, while she generously passes the pen (and microphone) over to Hayes for a playful Hot Club-cum-western-swing number Foolish Heart. Other highlights come with a plaintive Ola Belle Reed cover (Six Feet Of Earth…) and a heartfelt take on her father's one and only composition No Other Would Do.
April's singing style is also slightly unusual, initially erring on the side of quirky maybe, in that it encompasses both a girlish sweetness and a mature expressiveness, a chirpy warble and a firm command of line; some listeners will doubtless find her approach more akin to the rustic backporch charm of Iris Dement, say, than the purer tonality of Alison Krauss. But April's voice quickly imprints itself in your memory, and you'll just keep on wanting to hear more. As you will in the disc's closing tracks, an energetic Molsky-led Big Eyed Rabbit and the finale, her own tune Morris & Boris, on which her infectious, almost breathless waltzery truly does captivate "bright like gold".
April's on an all-too-brief 12-date UK tour from 4th October.
David Kidman October 2013
---
The Deadly Gentlemen - Roll Me, Tumble Me (Rounder)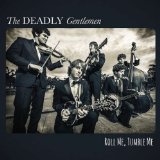 When I checked out this Boston-based outfit at the time of their first CD, The Bastard Masterpiece, close on five years back, their music came across as nothing less than a weird liaison of traditional bluegrass and edgy western rap. Then with their second, Carry Me To Home, late in 2011, came a lineup change and a musical shift towards a rather haphazard kind of "epic folk and grasscore".
For album number three, which marks the band's Rounder label debut, the lineup remains stable, with founder (and erstwhile Crooked Still banjoist) Greg Liszt again joined by the youthful Mike Barnett (fiddle), Dominick Leslie (mandolin), Stash Wyslouch (guitar) and Sam Grisman (double bass). Their music has progressed inasmuch as it's more consistent in overall quality and the vocal work is generally more convincing (even though there's still a tendency to shout on occasion).
The songs themselves are tauter, with a keener sense of construction (more akin to pop than bluegrass tho', it must be admitted), and individual tracks like It'll End Too Soon, Now Is Not The Time and the title number are memorable in a neat kind of retro throwback way, even if others may still lack a sense of overall direction and the more tongue-in-cheek moments such as Working probably err on the side of self-conscious.
But the plus side yields an altogether richer instrumental blend and the musicians' proven chops seem to be better managed and integrated this time round, with a greater sense of teamwork that's come with two years' bonding and touring. And once again it's a case of familiarity bringing that greater feeling of consistency and vision, even if Greg's lyrics still have their awkward moments and – with the possible exceptions of Falsehearted Anthem and Bored Of The Raging and a couple other cuts - don't always appear to fit quite centrally into the musical frame the players so ably provide.
In the end, I find it's the strength of the playing and the conviction with which their music is delivered that wins me over to the Deadly Gentlemen's cause.
David Kidman, September 2013
---
Chris Flegg - Gazing At The Stars At Night (Own Label)
Easy on the ear with a warm, mellow relaxed vocal, born in Hampshire and now based in St. Albans, Flegg's been treading the boards for many years, initially working in the jazz medium, an interest sparked by meeting Diz Disley. Since moving to his current home, he's been an active part of the local folk scene as well as keeping his jazz hand in.
This, his ninth album, is drawn from both repertoires, the title track bookending it, firstly in three minute fingerpicked acoustic style (where he recalls Ralph McTell) and lastly as an extended five minute version featuring Jez Guest on sax and Richard Simmons on piano. Inbetween you get the samba flavours of I'm Going Home, a laid back harmonica blowing Easy Living Blues (which borrows part of it melody from Sentimental Journey), the old school mid-tempo country swing sounds of I Don't Write Sad Songs anymore, moody jazz guitar and piano instrumental Espirito Calmo and the more obviously folkier sounds of French Row, a song about a local busking strip, The Day That We Painted The Apple Tree and When I Go Out with clarinet solo by Terry Ede.
It's cosy and old fashioned in a good way (though Flegg's lyrics keep a spry contemporary eye open) and it's easy to understand why he has a substantial local following. He's unlikely to broaden that without extensive legwork, but anyone who partial to the music of McTell, Thackray and Garbutt won't be disappointed.
Mike Davies August 2013
---
Josienne Clarke & Ben Walker - Fire And Fortune (Navigator)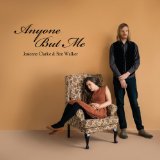 This duo has been attracting a lot of attention of late, but (I'm ashamed to say) this is the first time I've come across them - and that's despite their having already issued two joint releases (and Josienne a solo disc too) during the course of the past three years - and gained the Isambard Folk Award and the Fatea Female Vocalist of the Year award. Believe it or not, Josienne and Ben only got together, and that by chance, in July 2009, but such is the obvious intense rapport between them that you'd think they'd been in musical partnership for at least twice as long.

Both are classically trained - not that it should be a conditioning factor in one's appreciation of their talent - but it definitely shows in the deft, measured precision of their delivery; the slight downside to this is that it can on occasion come across as just a touch deliberate. Having said that, both of them make an immediate impact with their intimate expressiveness. Josienne's singing can reduce the listener to reverent hush at a stroke, with its compelling combination of awesome melancholy and pin-sharp pitching, remarkable sensitivity and a formidable underlying, latent strength; there are shades of both June Tabor and Sandy Denny, but with an added air of what I can only term cultured delicacy in the very precision of her enunciation and overall control.

Ben's musicianship is both unobtrusive and unquestionable, yet at times it's so darned subtle that it can also all too easily be underestimated, even while his ostensibly gently configured yet finely imaginative guitar accompaniments are responsive in the extreme (a feature of the best classical lieder accompanists, of course).

Fire And Fortune presents a set of exquisitely-turned performances that can't fail to make an impression in so many ways. Unlike their previous records, however, traditional songs are in a minority amongst the disc's tracks (accounting for five out of twelve here). The finest of these, in my opinion, is Green Grow The Laurels, which interestingly is done to the tune I associate with Once I Had A Sweetheart (as sung by Jacqui McShee in Pentangle), where Josienne's unerring control of pitch, register and dynamics is both exemplary and effortless. Any singer attempting The Month Of January will inevitably invite comparison with Sarah Makem, and Josienne's interpretation may by contrast appear more haughtily knowing than sympathetically commanding, but it's still well worth hearing and grows in stature over subsequent acquaintance - although I do feel the song's very ending is rather too abruptly managed.

The duo's lilting treatment of The Seasons recalls Sandy Denny, as much in its textual adaptation as in Josienne's captivating delivery. The overall tone and quality of the phrasing on several of Josienne's own compositions is also often distinctly reminiscent of Sandy (sample Anyone But Me or A Pauper And A Poet), while the wistfully beautiful Sycamore Tree could almost be a lost Kate Wolf opus. The opening track, After Me, is an enigmatic masterpiece, and another standout moment comes with the spooky, pounding mantra of the album's title track, which is rendered even more effective by the deployment of a wordless melodic counterpoint to the sung lyric.

The album's telling musical backdrops are compellingly arranged by Ben (with help from Josienne on just over half of the tracks), and mostly embody a rather special signature that prominently features cello (Jo Silverston) and violin (Basia Bartz), whereas in contrast the late-night-jazzy vibe of Another Perfect Love is characterised by brushed drumming (Ivan Mendiola), double bass (John Parker) and piano (Jim Moray). This intriguing record is definitely more than the sum of its already considerably intriguing parts, and augurs well with equally intriguing prospects for these two talented performers, in whatever context.

David Kidman July 2013
---
---
To view previous album reviews select the first letter of the band or the surname of the artist from the menu above.