If you can't find what you are looking for here - or you want to view past reviews
select the first letter of the band name or the surname of the artist from the alphabetical section below.
NB we apologise that we are no longer able to review albums.

The Latest Album Reviews - APRIL 2014


Bap Kennedy - Let's Start Again (Proper)
Eileen Rose - Be Many Gone (Holy Wreckords)
Eleni Mandell - Let's Fly A Kite (Yep Roc)
Josienne Clarke & Ben Walker - Midwinter (Own Label)
Swampcandy - Midnight Creep/Noonday Swamp (CD Baby)
Krista Detor - Flat Earth Diary (Tightrope)
Shonna Tucker and Eye Candy - A Tell All (Sweet Nectar)
Chris Eckman - Harney County (Glitterhouse)
Mary Chapin Carpenter - Songs From The Movie (Decca)
Baskery - Little Wild Life (Mother Tarantula)
Beth Nielsen Chapman - UnCovered (BNC)
State of the Union – Snake Oil (Reveal Records
Sarah Jarosz – Build Me Up From Bones (Sugar Hill)
Seth Lakeman – Word of Mouth (Cooking Vinyl)
The Furrow Collective – At Our Next Meeting (Furrow Records)
The Bevvy Sisters – Plan B (Interrupto Music)
Eddi Reader – Vagabond (Reveal
Calum Stewart & Heikki Bourgault – Hunter's Moon (CH/2)
Lincoln Durham – Exodus of the Deemed Unrighteous (Droog Records)
Ross Ainslie – Wide Open (Great White Records)
Josienne Clarke & Ben Walker - Midwinter (Own Label)
Joel Owen & The Antoine Band - Roll Your Stone (Self Released)
Ags Connolly - How About Now (Drumfire)
Alister Atkin and the Ghost Line Carnival - To Evangeline (Self Released)
The O's - Thunderdog (Electric Honey)
Michael Rattray - Human Life (Self Released)
The Young 'Uns - Never Forget (Hereteu)
Adrian Nation - Live At Crossroads (Laburnum Bridge)
David Berkeley - The Fire In My Head (Straw Man)
Gavin Pennycook - Octave Fiddle - Baritone Violin (GCP Records)
The Sweet Lowdown - May (Own Label)
A.L. Lloyd - Turtle Dove (Fellside)
Harp & A Monkey - All Life Is Here (Moonraker UK)
Wilson & Swarbrick - Lion Rampant (Shirty)
Abi Moore - Amoeba And Stone (Honest Records)

---
Bap Kennedy - Let's Start Again (Proper)
For his sixth solo album, the Belfast singer-songwriter's taken an upbeat roots approach that swings between the bluesy roll of If Things Don't Change, the relaxed country twang of Radio Waves with its sha la backing vocals and the Western swing of Heart Trouble. Dylan's influence rears its head on the urgent bluesy, fiddle scratched Revelation Blues while the border country flavour of the pedal steel coated Let's Start Again, King of Mexico, Fool's Paradise and Under My Wing summon various echoes of Doug Sahm, the Mavericks and Ry Cooder. The album closes in fine old school country style with wife Brenda's harmonies, John Fitzpatrick's fiddle and Richard Nelson's pedal steel on the waltzing Let It Go, a perfect end to an unassuming but warmly inviting collection from a far too undervalued artist.
The deluxe edition features a second disc, bookended by his first solo recording, the country rolling Long Time A Comin', and the steel yearning Too Old For Fairytales, the last thing he wrote before returning to his hometown after 20 years. Between times are new recordings of live favourites like the swing Be Careful What You Wish For, the Guthrie-folk Cold War Country Blues, Domestic Blues and acoustic versions of both Jimmy Sanchez and Please Return To Jesus.
Mike Davies, January 2014
---
Eileen Rose - Be Many Gone (Holy Wreckords)
Some may have already encountered four of the songs here on last year's stripped down limited edition taster, Bones, but here they come in fully fleshed versions, four years after the Nashville based Italian-American's last album proper. Last time round her band, Holy Wreck, took co-billing, but, while she's still working with them,, here the spotlight's firmly on her.
Her vocals variously recalling Dolly and Patsy (most evidently so on the torchy She's Yours with its early hours trumpet), it's a varied collection, her recent Silver Threads side project involving traditional honky tonk clearly seeping into the material's Americana colours.
She opens with the strongest card, the fiddle-featured, lyrically biting upbeat Partonesque Queen Of the Fake Smile, but while Just Ain't So is an out and out retro rock n roller with Joe Frick's upright bass providing the bedrock and Each Passing Hour, a duet with Frank Black, takes a musical journey down to the border for a mariachi takeaway the majority of the tracks here take a more laid back approach.
Backdropped by muted twangy guitar and washed by Rich Gilbert's pedal steel, Prove Me Wrong, co-written with Boo Hewardine, is a lovely slow dance country tune, a dreamy Wake Up Silly Girl nods to classic country laments of love gone wrong, smoky blues Comfort Me features yearning violin straight out of some faded 40s ballroom and, stretching past the five minute mark, fiddle waltzing album closer, the semi-title track There Will Be Many Gone, is a song of endurance as everything goes to hell that, following a boundary marking drum roll, builds to a rousing choral finale of the title. Her past releases have set Rose a high standard to match, but this easily pushes that to the next level.
Mike Davies, January 2014
---
Eleni Mandell - Let's Fly A Kite (Yep Roc)
As befits the title, Mandell's latest is a breezy affair, a buoyancy informed by becoming (by sperm donor) the mother of twins, a state of contentment reflected in the opening shuffling Put My Baby To Bed, a double entendre of parental love and romantic desire. Kids and relationships, and society's expectations of having both, inform several numbers; the dreamy Wedding Ring and the difficulties of getting spliced, the catchy pop mumsy doting of Little Joy, Like Dreamers Do's brushed drums 30s swing, the wistful longing of Love Never Acted, I Like You and the rewards after struggle in the fate-themed Cool Water.
There's plenty of sunshine and light here, though, as the skipping, clarinet-coloured Patti Page goes mariachi The Man Who's Always Lost and the niggling anxieties rippling through the crooningly jazzy Something To Think About, shows Mandell's not entirely pushed aside the shadows in the corner of her world.
Recorded in London with Nick Lowe's band providing the backing, it's a celebration of life's simple joys, but also a reminder that sometimes you really do have to fight for them.
Mike Davies, January 2014
---
Josienne Clarke & Ben Walker - Midwinter (Own Label)
Apologies for the late appearance of this review, but the disc only reached me shortly before Christmas, when any sensible websites had to all intents and purposes closed their drawbridges to seasonally-related releases. During 2013, Josienne and Ben twice became deserved Folk Award nominees, and consolidated an already healthy reputation as a captivating live act, but their crowning achievement was to be proud recipients of the Fatea Album Of The Year Award for their exceptional breakthrough CD Fire And Fortune. Given the generally downbeat, even melancholy nature of the material customarily associated with Josienne and Ben, it might be thought against their nature to be releasing a whole album of bright-eyed, pure and overtly celebratory seasonal fare, but they demonstrate that their known virtues of purity of tone and simplicity of approach can be applied equally effectively to carols and songs for the turning year.
Now I am getting heartily sick of cash-in carol albums that turn up unbidden each and every year, but my faith in, and previous experience of, the duo's music were to prove sufficient justification to chance placing this disc in the player at the appropriate juncture of the seasons. And this despite the tracklisting revealing the presence of all six of my least-favourite carols! These can be regarded as perfectly charming, and they're certainly faultlessly and tastefully dispatched, with a disarming (and innocently childlike) simplicity (which however can't entirely avoid cloying), and a mild overdose of backing vox in the heavenly-angelic-choir department at times. I'll admit, I'd have preferred Josienne to've been a little more enterprising with some of these (well-considered though her singing is at all times), and to have sought out one of the alternative tunes for Away In A Manger, for instance.
But the rest of the disc more than makes up for my curmudgeonly personal prejudices, both in terms of repertoire and performance. Josienne's neatly poised a cappella rendition of Shepherds Arise is singularly thoughtful, while she also turns in well-judged performances of Adam Lay Ybounden (the Ord setting, with Ben's nimble guitar supplying precisely the requisite measure of courtly elegance), Balulalow (based on the Britten setting with its notoriously difficult compass), and the delightful Tomorrow Is My Dancing Day, whose tricky cross-rhythms are expertly negotiated by Ben's nifty, skipping guitar work. The deliciously swing-mode Hot-Club-style take on God Rest Ye Merry, Gentlemen is also a triumph for both singer and guitarist, and proves both wholly irresistible and full of the necessary spirit, whereas Josienne and Ben show that even We Three Kings can survive a more tentatively jazzed-up treatment. The judicious use of recorders, and very occasional flute, sax and mandolin, to augment the basic acoustic and/or Spanish guitar textures also pays dividends.
Congratulations, then, to Josienne and Ben for taking the brave decision to produce a seasonal record – and let's hope this will inspire them to reach further afield for suitable material for a 2014 or 2015 sequel.
http://www.josienneclarke.co.uk/
David Kidman, January 2014
---
Swampcandy - Midnight Creep/Noonday Swamp (CD Baby)
Connect to the Interweb, type in the name Swampcandy. The words regarding their proto-retro blues/gut-grunge go thus…'Swampcandy's aggressive Stomping-Mississippi-Blues and cross-genre (live) sets create an eclectic mix of honestly-crafted songs that will take you on a journey of raw emotion and refined sensation.' Quite - same goes for the album.
Guitar/vocals, Ruben Dobbs, together with upright bass player/kick drummer, Joey Mitchell, create a growlsome groove that seethes with feral, moonshine soaked levee-breaking viscosity. All reassuring evidence of childhoods productively misspent busking down in the bayou, dabbling in the Delta.
The homepage hullabaloo of hyper-venting hyphens is little short of understatement and might just explain that, being just the two of them, why there was more than enough space on the record to fit in seventeen tracks. However, sleeve notes list a conspiracy of exotically named contributing musos gurgling in the rye whiskey-fumed mash-up. Perhaps they just didn't all play at the same time? Anyway, with its value for money track-weighted cost benefit ratio and its eco-economic use of resources: what's not to like?
The single disc comprises of the 'official' album Midnight Creep together with an additional seven 'ep' tracks entitled Noonday Swamp. Not as you'd notice any transition particularly, but there's fun to be had unpicking the Devil's best songs in the detail. Several song credits go to the likes of Canned Heat's Future Blues. The Aberdeen cover seems hardly likely to be Cage The Elephant's whilst Preachin' Blues goes to The Man who met his destiny down at the crossroads, one Mr. Robert Johnson.
Picture them, if you will then, occupying the brash and ragged, bare-wired showman's land between sub-boogie Black Keys and the head butting a buffalo bradaggio of The White Stripes – and then some. The deliberate lo-fi production drawing possibly on antecedents of bootlegs recorded in Dr. John's studio cellar, pungent with hypnotic voodoo vapours. Name-checking any particular songs is akin to shooting catfish in a barrel of Jack Daniels. Opening track Aberdeen is a scrap-heap chaos of chrome resonator slide-guitar, howling hound-dawg vocals and blister-bursting foot-stomping hoedown. Repeat recommended doses as required. Discerning listeners' (a Netrhythms default setting) ears may well prick-up with nuances – i.e a bulldozer of sound in the nuts - of Pearl Jam, Early Nirvana and Captain Beefheart's seminal Big Eyed Beans From Venus. Utterly good fun with hearts and livers in all the right places. The CD Baby label is worth a glance for their sterling, supportive ethos.
John Kennedy, January 2014
---
Krista Detor - Flat Earth Diary (Tightrope)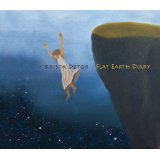 Over the course of five albums and 10 years, Indiana born Detor has been quietly but steadily establishing herself as one of the finest singer-songwriters of her generation. And a pretty nifty pianist too. She's build a loyal following and found prominent national and international exposure, but with this, her sixth and most personal release, she will hopefully finally find the wider audience she deserves.
Inspired by a trip to the North Channel of Lake Huron, the quiet waters brought back childhood memories that would serve to provide the missing connection between a collection of songs looking to find a unifying thread.
Working with an impressive array of bassists (Victor Wooten among them) alongside musicians that include John Prine guitarist Jason Wilbur, 17 yr old Itzhak Perlman protégé Ariel Horowitz on violin and longtime accompanist and producer David Weber, it's a lovely, relaxed affair that conjures images of sunlight glancing off streams and stars shimmering in clear night skies.
A literate writer, gorgeous opener, the liltingly lazing Ferryman's Dream, has her singing about being 'buried in books I don't read', so when she talks of wuthering weather, a scarlet letter and bell jars, it's not a stretch to find yourself thinking of Bronte, Hawthorne and Plath. Likewise, a closing reference to Miro and Ives seems a likely references to the Miro Quartet and composer Charles Ives while a line in Always Somewhere conjures Maya Angelou.
Such touches are there for those who want to find them, but you don't have to be a Sherlock to recognise her brilliant marriage of words and music on the likes of Hear That? with its "bottle of half-drunken wishes' or "the fine print on my heart' in Fine Print's burping rhythms, a song inspired by memories of her mother's "too pink" lipstick.
If you need reference points, then the breezily rolling Belle of the Ball, arguably the catchiest number with its scurrying tempo and descending chorus line, might be described as a meeting between Dar Williams and Simon & Garfunkel's The Boxer with an added Arabian hint while the sway waltzing Bridges and, featuring cello and violin, tender portrait of frailty Marietta (a song about her grandmother, perhaps) both recall vintage Suzanne Vega.
That said, on the other hand, the jazzed, foxily undulating come hither Red Velvet Box has definite echoes of Harry Nilsson's Coconut and snatches of the scurrying, vocally tumbling banjo backed title track even puts me in mind of I've Just Seen A Face.
Closing with the simple Celtic coloured acoustic bonus love song, Blowing Kisses, this is already guaranteed a place in my year's best of list and it really should fine one in yours too; a Flat Earth society of which you should be proud to become a member.
Mike Davies, January 2014
---
Shonna Tucker and Eye Candy - A Tell All (Sweet Nectar)
Another former Drive-By Truckers member hits the solo trail, looking to expand their singer-songwriter horizons outside of the Hood/Cooley monopoly. The band's erstwhile bassist and ex-wife of fellow one-time Trucker Jason Isbell, Tucker may be driving down a different road but she's still hauling a similar cargo of southern roots rock, albeit with a slightly poppier approach.
This is particularly evident in opening cut, the hooks and chorus friendly Since Jimmy Came which may not be the strongest song on the album but does get the ball rolling effectively. The following number, Your Jealousy, is better, a slow rolling country ballad with a nice hummable tumbling chorus melody and engaging guitar lines. There's a definite hint of Dolly Parton about Tucker's vocals, notably surfacing in the bluegrass country hues of Family Dinner and the chugging Linda Please, the latter's tune a not too distant cousin of Jolene.
The album runs out of steam in the final stretch with pleasant but unmemorable coutnry ballad Austin Side, throaty blues rock I Bought A Pie, the meandering acoustic Lonely People and a metronomic slow, slightly country gospel and lyrically plodding You Went All The Way all feeling like end of session fillers, all the more disappointing after something as strong as Arielle's musically gentle but lyrically disturbing pedal steel laced tale of a rock n roll paedophile.
More a tentative toe in the solo waters than a big splash arrival, but there's enough here to make you want to know where the new journey takes her.
Mike Davies, January 2014
---
Chris Eckman - Harney County (Glitterhouse)
Co-founder of The Walkabouts, Eckman has had a relationship with Oregon's desert county since he first visited its hard, uncompromising but strikingly beautiful landscapes of drylands, mountains and marshes with its dusty towns some 20 years ago. It first found expression in a track on an early Chris and Carla album and has subtly informed his work ever since. However, this is the first time he's released an album specifically drawn from his memories and experiences of the area. Like his band's Travels In The Dustlands album, these are desert songs but where those were abstract and mythical, these relate directly to sights seen and roads travelled, Eckman citing Steens Mountain and the Alvord desert with its trailer homes.
Character studies and stories, the songs echo the the hardscrabble lives of those who live there in both the lyrics and the sparse, raw nature of the music and arrangements, Eckman's throaty voice conjuring the parched rocks and gravel of the settings. Titles like Ghosts Along The Border, Nothing Left To Hate, Sound of No Return and Rock Springs, an 11 minute road trip involving a broken down car and a relationship in equal disrepair, give a flavour of what they hold and listening is an intense, often emotionally draining experience but, ultimately, a rewarding one.
Mike Davies, January 2014
---
Mary Chapin Carpenter - Songs From The Movie (Decca)
Where Suzanne Vega reworked her songs to strip thm back to acoustic form, Carpenter has taken the opposite approach by giving 10 of her songs full orchestral arrangements which, as the title suggests, arranged and conducted by Vincent Mendoza, imparts a lush cinematic feel.
Carpenter's apparently a big fan of classic film and symphonic music and, inspired by the likes of Elmer Bernstein, Thomas Newman and Morten Lauridsen, she's been wanting to do this for some time, but it was only when she hooked up with Mendoza that the dream, which receives its world premiere at Celtic Connections in Glasgow on Jan 24, became a reality.
The press release calls them classic Carpenter songs, which might lead you to expect things like The Moon And St. Christopher or Stones In The Road but perhaps Come On, Come On from the album of the same name is the only song that will register with a wider audience. Not that the choices here disappoint, all have been carefully chosen to provide a continuity of mood as a coherent imaginary soundtrack and because they're suitable to adaptation to a 63 piece orchestra and 15 strong choir. Not to forget Diana Krall's drummer Peter Erskine.
The numbers draw on seven of her albums, spanning Come On, Come On (which also yields Only A Dream and I Am a Town) and Age Of Miracles, from whence comes Mrs. Hemingway. Opening with One And On it Goes (off The Calling) and closing with Good Night America (from Between Here And Gone), it's a dreamy, romantic widescreen affair and while swathes of strings and soaring choirs might somewhat sweeten the melancholy of things like From Between Here And Gone and I Am A Town, Carpenter's restrained, quiet vocals ensure the emotion is never diluted. Ideas Are Like Stars, she sings; this one's an impressive constellation.
Mike Davies, January 2014
---
Baskery - Little Wild Life (Mother Tarantula)
Compared to The Roches and Black Rebel Motorycle Club alike and variously dubbing their music killbilly and banjo punk, Swedish sisters Greta (banjitar), Stella (double bass) and Sunniva (guitars) Bondesson clearly don't fit easy pigeonholing. As if to underline the fact, the album opens with the unaccompanied, plainsong sounding Northern Girl only to then proceed to the guitar ringing Rumours-like roots pop of The Shadow and then the slow slurred rhythm First Aid Kit style folk of The Charm while The Kid slips back into Stevie Nicks territory and The No No kicks up some Zepish folk blues.
Although instrumentation also features Wurlitzer, sax, piano and, er, sandpaper, the arrangements are never cluttered or the vocals overpowered, the girls entwined harmonies creating a similar dank leaf feel to The Smoke Fairies, though of rather less concentrated intensity. Adeptly switching tempo between something like the jittery folk pop The Last Beat, a jazzed and the spooked lurching The Reverend, this is their third album and one that should go a considerable way to building a name well beyond their native shores.
Mike Davies, January 2014
---
Beth Nielsen Chapman - UnCovered (BNC)
While she may not have set the singles charts alight in her own name, Chapman can take credit for more than a few big country hits, among them Faith Hill's This Kiss, Willie Nelson's Nothin' I Can Do About It Now, Alabama's #1 Here We Are and Mindy McCready's One In A Million. Chapman wrote all of these, but until now she's never recorded them herself.
That's put to rights here along with eight more only previously known through other artists, among them Strong Enough To Bend, a banjo backed number that gave Tanya Tucker her last country #1 back in 1988. Chapman's enlisted some heavyweight support for the project too. kicking off with Kim Carnes providing harmonies on Simple Things, to be followed by a duet with Vince Gill on Here We Are and the teaming of Duane Eddy's twangy guitar and Jessie Colter-Jennings' harmonies for the bluesy Sweet Love Shine while Amy Grant's to be heard on the suitably hymnal Pray, Bekka Bramlett and guitarist George Martinelli boost the blues of Meet Me Halfway and, after scoring a hit with it herself, Lorrie Morgan joins Pam Tillis for the classic Tammyish old school Nashville ballad Five Minutes.
Chapman gets all star vocal backing support from Gretchen Peters, Suzi Boggus and Matraca Berg on Almost Gone, a fine close to what rally is Beth Nielsen Chapman's greatest hits.
UK tour until Mar 1
Mike Davies, January 2014
---
State of the Union – Snake Oil (Reveal Records)
I heard President Barack Obama's State of The Union address just the other day. To my surprise, there was not a single mention of their live dates or this great new record. As they are well worth a 'shout out', I thought I'd do it myself. This mid-Atlantic meeting of musical minds, State Of The Union, brings together Boo Hewerdine and Brooks Williams. Hewerdine is well known for his work with The Bible, but more so for his recent solo career which has spawned a number of wonderful songs that have been picked up by Eddi Reader and many more. Williams also turns his hand to song writing, but is equally established as an instrumentalist with a nice line in blues and roots styles. This is their second collaborative album.
A collection of 11 songs, written together or independently, find the talented pair providing plenty of variation. Those of you attracted to the Hewerdine style that has brought us Patience of Angels will have an immediate affinity with Daydreamin', a song that could have turned up on one of his solo albums but, in this collaboration, benefits from some smooth harmonising and the addition of an old time feel. The following track from Williams' pen, Going Away, has that down feel of some country/Americana music where the melancholy oozes in a way that should move the coldest of hearts. John McCusker also gets a writing credit alongside Hewerdine for Rags and Bones, a song that sounds like a classic in the making with its dreamy, wistful chorus begging for a sing along audience.
The ability of this pair to come up with something special has already been noted by others as you'll see by the inclusion of Man With The Hammer which was written for a BBC Olympics project called The Ballads Of The Games. The expression in the title comes from when marathon runners 'hit the wall' of pain after a number of miles. Mind you, you can safely say that this pair is definitely not running on empty. Do check this record out or see them live and you won't be disappointed.
Steve Henderson, February 2014
---
Sarah Jarosz – Build Me Up From Bones (Sugar Hill)
As a promising instrumentalist (banjo, guitar and mandolin) and singer, Sarah signed to Sugar Hill six years ago, at age 16 – and yet by the sound of this her third album she sounds mature way beyond her 22 years. Maybe it's the company she keeps – she'll be touring with the Transatlantic Sessions showcase this month, and guests on this album include Darrell Scott, Chris Thile, Dirk Powell, Jerry Douglas, Aoife O'Donovan, Viktor Krauss, Dan Dugmore and Kate Rusby.
But seriously, Sarah herself credits her recent graduation from Boston's New England Conservatory Of Music, where she explored a variety of artistic realms outside her core comfort-zone and experiences hitherto. Build Me Up From Bones also develops with an even greater credibility Sarah's own songwriting, in the musical context of working with her regular "trio" partners Alex Hargreaves (violin) and Nathaniel Smith (cello), whose backdrop gives her own singing and playing a wonderful deep resonance, a blend accentuated by Gary Paczosa's adept and sympathetic production. Sarah's own musical personality has grown immeasurably from its newgrass-prodigy beginnings through the transitory stage of Follow Me Down to this fully-aware new record. This awareness is illustrated in the intense assurance she displays on the disc's two covers. Her expressive and knowingly ornamented take on Dylan's Simple Twist Of Fate is simply backed by the masterstrokes of Nate's pizzicato cello, and it's definitely one of the most insightful versions of that song I've ever come across, while on Joanna Newsom's The Book Of Right-On Sarah gives the strange, quirky opus an altogether new dimension with an imaginatively plaintive vocal treatment.
But the overwhelming confidence of Sarah's own first-person narratives is remarkable for one so young, and the nine original songs on this disc should herald her as one of the outstanding songwriters of the contemporary acoustic stage, with songs like Gone Too Soon and Mile On The Moon rivalling the best of Emmylou and Anything Else taking on the mantle of Nickel Creek in its handling of the romance-driven lyric. Here Sarah displays her gift for making the highly personal relevant to her listeners, whereas tracks like Rearrange The Art explore the connection between poetry and art with a keener knowledge of perspective. Sarah's increased awareness of perspective also manifests itself in the imaginative settings, where all the individual elements are set into relief and special contributions such as Dan's burnished electric guitar transcend the "obligatory twang" that bestrides so many Nashville productions these days. Sarah's own brimming, delirious creativity is well mirrored in the surprising, often almost psychedelically visionary nature of the music. This is a gorgeous record with a stunning impact.
On UK tour until Feb 7 with Transatlantic Sessions
David Kidman, February 2014
---
Seth Lakeman – Word of Mouth (Cooking Vinyl)
Throughout his career thus far, Seth's always made a strong impression with his music, notably his electrifying and flamboyant stage presence and fiery playing style; his songwriting in particular has displayed a keen sense of place (location) and of its relationship with the past and tradition. He's often gone to extraordinary lengths to tell his stories, indulging in practices like recording down a copper mine – such imaginative gambits have seemed to some like mere publicity stunts and led to folks underestimating Seth as a trendy image-peddler jumping on the folk bandwagon. I'll hear none of that, I hasten to add, for Seth clearly has the courage of his convictions, even when the level and nature of musical invention more closely approximates pop than folk (and that's not meant as a criticism).
The degree of thoughtfulness with which he approaches any new project is invariably impressive too, and for his latest venture he takes cue and inspiration from the MacColl-Parker Radio Ballads and their successors without actually aping their method or execution in the literal sense. Here, he supplements the standard 12-track CD of new original songs with (on the limited-edition bookpack version of the album) a second CD that presents snatches from interviews conducted by Seth with the real-life protagonists whose experiences and stories directly inspired the songs (well, nine of them – Portrait Of My Wife, The Saddest Crowd and The Ranger being excepted), together with a "making of the album" DVD and a lyrics-and-photos booklet. The interviews are both fascinating and entirely relevant to our appreciation of the songs and no mere gimmick-appendage; their presentation seems to deliberately echo the Radio Ballads in that they punctuate snippets of the songs themselves. The problem is that there's no attempt at a linkage or wider perspective, and they appear rather as bleeding chunks with no sense of ongoing purpose. It seems more as if Seth wasn't in the end quite sure of where to take these stories, or how to consolidate the concept with any kind of thematic unity.
Even so, within each song's individual context, there's no denying the gambit's effectiveness, as we can't help but gain insights from personalities such as the veteran, long-serving workers of Another Long Night and Last Rider, the traveller couple of The Wanderer, the man with the grim, troubled memory of the disastrous World War 2 training exercise on Slapton Sands (Tiger), and reminiscences of the forgotten labour force of the tin mines (Bal Maiden). The basic songs-only CD package stands on its own as a fine bunch of new songs, whose value is nevertheless enhanced by the interviews. Especially compelling examples of Seth's developing craft include pounding opening track The Wanderer, the chiming pizzicatos of Bells, Tiger with its somewhat Peter Gabriel-like feel, and the powerful album closer Portrait Of My Wife, but (possibly the rather over-emoted The Saddest Crowd aside) there's not a weak track.
The album was recorded in North Tamerton Church, East Cornwall, and the sense of space works in tandem with the honest edginess of the instrumental contributions. The production is full and thick, finely detailed yet at times quite densely upholstered, with haunting drone textures and atmosphere-laden fiddle tones to the fore; the fabulous sound Seth conjures from his regular live backing musicians Ben Nicholls (double bass) and Cormac Byrne, together with guests India Bourne (cello), Leon Hunt (banjo) and Martin Green (accordion), proves genuinely thrilling. As does Seth's passionate delivery. So it's a bit of a shame that the whole concept implied by the album's title doesn't quite get to emerge fully formed in the final package.
David Kidman, February 2014
---
The Furrow Collective – At Our Next Meeting (Furrow Records)
The Furrow Collective is to all intents and purposes the Emily Portman Trio plus Alasdair Roberts, and on hearing this quietly compelling album of deep traditional balladry I'm wondering why this wholly natural and obvious collaboration had never got together before (perhaps it's because Alasdair's been so much in demand for other projects?). Emily and her colleagues bring an unaffected, direct, intense and almost improvisatory approach to their chosen material, which consists almost exclusively of dark, magical ballads. This, of course, is but an entirely logical development of the indigenous songwriting of Emily and Alasdair themselves, which as we know is heavily influenced by folklore, and the ballad tradition in particular, of which it might easily be seen as a contemporary continuation.
Over the course of the album's 13 tracks, each of the four participants takes over the principal vocal delivery of a number of individual songs; although each has a well-defined singing style, they all share a keen interpretive intelligence, and thus every single rendition proves chock full of refreshing insight (a quality that's reflected in the accompanying booklet notes too by the way). Sparse, almost minimalist intimacy is the order of the day, and especially riveting in this regard is Lucy's scary retelling of the ballad of Henry Lee, while Johnny My Man's sombre expose of the perils of drink has ne'er been more desperately pleaded than by Alasdair and Rachel here, with its comparatively lush accompaniment (harmonium and viola) bestowing a (strangely) almost funereal air on the proceedings.
Seriously ghostly timbres (saw, harp glissandi and ominous bass pizzicatos) impart an ultra-cinematic atmosphere to Emily's gripping take on The Demon Lover, while Alasdair's desolate account of The Blantyre Explosion is cradled within a surprisingly ornate setting and some rich harmonies from the ladies. The segue-cum-interweaving of "kind of the same story but from different sides", Handsome Molly and Our Captain Calls, is nothing short of pure inspiration. Rachel's take on Skippin' Barfitt Through The Heather is delicious, and her version of Hind Horn is lithely expressive and involving. "Gallows ballads" The Outlaw Of The Hill and Wild And Wicked Youth are also persuasively managed by Alasdair and Lucy respectively.
Finally, all four singers come together in harmony to support Lucy on the chorus of the reflective closing track, I'd Rather Be Tending My Sheep (sourced from Ruth Tongue's book The Chime Child), while earlier on Wondrous Love Alasdair ushers in a cautiously harmonised treatment of the kind that Robin Williamson might have led the ISB into at timeline circa 1970, its only deficiency being its curtailment and lack of further development. This exceptionally engrossing record is my first contender for album of 2014 – and it's only February!
David Kidman, February 2014
---
The Bevvy Sisters – Plan B (Interrupto Music)
Back in 2010, Scottish singer Heather Macleod teamed up with kindred spirits Lindsey Black, Kaela Rowan and David Donnelly to form what to all intents and purposes was an offshoot of all-star swing combo The Loveboat Big Band. Calling it The Bevvy Sisters, they released a wow of an album (St. James Sessions) that presented a canny cocktail comprising swing, jazz, folk, Americana and a healthy soupçon of self-penned material. It proved easy to like, with its cheeky spontaneity of execution and persuasive command of all and sundry idioms, and even if at times that distinctly mercurial sensibility got the better of the listener, it proved a durable album over the past three years.
Plan B sounds for all the world like the earlier disc's natural followup, and gives us more of the same in that its mix of music is equally adept and varied (although the gear-changes can still be a touch disconcerting, especially during the disc's more uneven first half, which coincidentally seems also to contain the set's arguably weaker tracks). What's important tho' is that the as-live vibrancy of the music-making is still a key feature, and the keen sense of joy and abandon remains. Interestingly, the Bevvy Sisters' personnel for Plan B is fully half different from that of the outfit's debut, with Lindsey and Kaela having been replaced by Cera Impala (of The New Prohibition) and Gina Rae. But the empathic spirit of the band is intact, notably in the artful and highly seductive vocal harmonies with their trademark mix of sweetness and sass, while the light touch and perennial deftness of the instrumental backing proves both enchanting and scintillating in equal measure. The quartet's own acoustic guitars, banjo, whistle and bass are augmented occasionally by guests on fiddle (Dr. Dirk Ronnenburg) and percussion (producer Mattie Foulds), by the way.
I mentioned the eclectic mix of material – as a taster, the disc kicks off with the gospel rouser Ain't No Grave, moves on via the Cooderesque but repetitive Junkyard Man (one of David's own compositions) to the Andrews Sisters-style swinger Devil May Care and then onto a more satisfying Americana-infused second half. There's two songs penned by underrated contemporary Scottish songwriter Sandy Wright (the Bevvy Sisters' cover of his Little Bird is particularly spellbinding), and compelling treatments of the traditional Willow Garden and Father Adieu, and three of Cera's compositions ranging from the western-swing of Row My Boat and the modern gospel of Higher Place to the country-waltzer Whisky. Authentic but at the same time innovative, the enlightening Bevvy Sisters approach is perhaps best illustrated on the closer, a striking a cappella rendition of (Bring A Little Water) Sylvie. This is an abundantly tasty product, and the whole album gets more enjoyable and addictive with each play. Honest!
David Kidman, February 2014
---
Eddi Reader – Vagabond (Reveal)
Vagabond is an interesting and rewarding disc. And yet, this latest offering from Eddi might, on first acquaintance, be judged a curious affair, with an atmosphere that's at times almost carnivalesque (albeit perhaps not exactly a fairground attraction!), with swooning textures and incidental effects that sometimes distract beyond their sell-by date (as on the noisy, somewhat overcrowded Back The Dogs). The lush, slightly swooning ambience conjured by her backing ensemble is much to do with this, I suspect, and the presence of Alan Kelly's signature accordion wafting in and out of the texture throughout is undoubtedly a key element too.
Another factor in the above impression being so strong is the definitively dance-floor demeanour of many of the songs. Several of the tracks have the distinct air of standards – whether they actually are or not… the opening swing number I'll Never Be The Same is of time-honoured 30s vintage, from the pen of Gus Kahn, whereas the genial shuffle of Snowflakes In The Sun could've come straight from the soundtrack of a 40s or 50s movie. but was actually written by Eddi, Boo Hewerdine and John Douglas as they relaxed during the album sessions! The slightly antique air of Baby's Boat could be attributable to its lyric's original source being a turn-of-the-century lullaby, although its dancing-minstrel gait seems more akin to a cheery musical-box tune. Equally delightful is Eddi's lyrical, lilting setting of John Masefield's poem that gives the set its overall title, while two more of her own songs, Pray The Devil Back To Hell and the touching, inspirational Edinah (both co-written with John Douglas) make for album highlights. Midnight In Paris 1979, on the other hand, is a potent slice of autobiographical evocation (the unexpurgated back-story of which is reproduced in the booklet).
But best of all perhaps, around two-thirds of the way through the disc, there's a gorgeous pair of tracks where Eddi returns to pure tradition; first, her eager espousal of her Scottish heritage is now taken a stage further than Burns with her dual-language rendition of the Gaelic "fairy love song", Buain Na Rainich, and second she delivers a beautiful account of In Ma Ain Country, both tracks being blessed with a richly textured celtic backdrop featuring Messrs McCusker and McGoldrick. These songs, together with an aching rendition of Declan O'Rourke's Married To The Sea and a lovely cover of Michael Marra's delectable Macushla (My Darling), are more than enough to evidence that Eddi's at an expressive peak right now; her voice has never sounded better.
Finally, the album's completely natural closer, a Patsy Cline-flavoured cover of Boo Hewerdine's It's A Beautiful Night, seemingly effortlessly recaptures the glow of the convivial session and waltzing with the company of "gid companions".
David Kidman, February 2014
---
Calum Stewart & Heikki Bourgault – Hunter's Moon (CH/2)

One of Scotland's finest young exponents of the wooden flute, and brilliant on the uilleann pipes too, Calum first came to my attention by way of his excellent duo CD with fiddler Lauren MacColl, but this is the first I've heard of this new partnership with Breton guitarist Bourgault – although the press release describes Hunter's Moon as "following swiftly on from the success of their debut album". No matter, for it's hard to imagine a more vital-sounding instrumental album, not least because the exceptional recording conveys the sheer drive of the playing as well as every nuance of the instruments' colours.

The opening set, Lough Gowna, is a tour de force in anyone's book: led off by some powerful piping, this set ingeniously pairs a couple of storming jigs with a barndance. The pipes are used to double the melody line on three other tracks, but they're most upfront on that opener. The flute takes over for the majority of the disc's selections, but there's an abundance of variety in approach and the sparkling, joyous virtuosity of Calum's phrasing is always compelling, even when the pace slackens, as on the graceful, coolly reflective Another Winter. <.p>

That's a joint composition by Calum and Heikki, while Calum's responsible for a further half-dozen of the album's tunes including the enchanting Schottische Kerlou (whose lovely melody uncannily reminds me of Braw Sailin' On The Sea). Heikki's a Fest Noz dancer as well as a respected guitarist, and this can be felt in his keen sense of rhythm. He's noted for pushing the boundaries of the open-stringed guitar while embracing the strong tradition of Breton playing, and his sense of tradition turns out to finely complement Calum's own strong interceltic sensibilities.

The interplay between Calum and Heikki is both instinctive and assertive, each musician spurring the other on to greater heights, while never losing sight of the essential level of communication with the listener. Hunter's Moon provides a perfect demonstration of their individual and collective mastery of their instruments and of the art of musical collaboration. David Kidman, February 2014
---
Lincoln Durham – Exodus of the Deemed Unrighteous (Droog Records)
Listening to this thundering, heavy-amped-up record it sure is hard to believe that the good Mr Durham started out as a Texas State champion fiddle player from the small town of Itasca. This, the man's second anything-like-full-length record, might well be deemed even more rough-hewn and edgy than its predecessor (2012's The Shovel vs The Howling Bones) in its sheer uncompromisingness, although I wouldn't go as far as to tag it unrighteous!
Shouty, full-throated primitivism is Lincoln's trademark, with a grizzled delivery that kindof crosses White Stripes with Creedence riffing and Beefheart rhythms. Once again, there's loads of battered, bastardised old guitars and various homemade contraptions doubling as instruments, counterpointed with driving, thudding raw backbeats from Rick Richards hitting on "the most percussive household instruments we could find", minimally produced and seemingly haphazardly thrown together but bleeding the dirtiest angst and demanding to be played loudest.
Some might judge Lincoln's music all blister, gesture and no content, but they'd be missing out I say. Lincoln gets away with a track titled Beautifully Sown, Violently Torn that kinda sums up his ethos, then follows it with a Led-Zepp-3-style number (Stupid Man) with limpid crashing acoustica; he keeps on a-chooglin' thru Rise In The River and the passionate, if morbid preachery of Strike Us Down with its phased harmonica fills (more Strictly Personal Beefheart there), then settles down to Guthrie-esque bare-bones mode for the seductive Keep On Allie before regaining the growling full-on cranked-up electric-mud for Sinner, engaging in some howlingly rustic fiddle'n'banjo banter on the manic Exodus Waltz and for a grand finale delivering the anguished, shuddering Mama in all its glory.
Once again, Lincoln's producer/engineer George Reiff provides some additional handclaps and kalimba, but the overall effect is of just Lincoln and Rick shut in there in a tiny studio where you can taste the dirt and sweat – and yes, internal pain – of this intense, immediate half-hour in a life. Tremendous.
David Kidman, February 2014
---
Ross Ainslie – Wide Open (Great White Records)
Ainslies's one of the most sought-after musicians on today's Scottish music scene, singularly accomplished on two distinct fronts: firstly master piper and whistle player and secondly a virtuoso on cittern and mandolin. This unusual combination of talents was doubtless one factor in his being nominated for the Musician Of The Year title in 2013's BBC Radio 2 Folk Awards. And his CV is already stacked full of impressive collaborative achievements, including membership of Salsa Celtica and Treacherous Orchestra, accompanying Dougie Maclean and working with Capercaillie, Mike McGoldrick, Zakir Hussain and Flook, though it's probably in his recent teaming with fiddler Jarlath Henderson (a "partnership in crime" which has just produced its second duo CD), that his profile is currently at its highest.
As it turns out, his new solo CD is aptly titled, the phrase being a good description of the character of the music-making on this record – honest, relaxed, free and with everything on display. It presents a compelling and balanced snapshot of Ross's influences and the musical styles that have inspired him over the years, sufficiently varied without being too overtly diverse (if you see what I mean). The bulk of the material originates from Ross's prolific pen, topped up by two co-writes with his teacher and mentor, the late Gordon Duncan (to whom the CD is dedicated), a couple of Gordon's own (Jug Of Beer, Tain In The Rain) and isolated items by Tommy O'Sullivan, Matheu Watson, John Bews and Ali Hutton – the latter also being responsible for the skilled and intensely musical guitar work that (in tandem with Duncan Lyall's sterling double bass work) does much more than underpin the textures. These maintain interest throughout, with the key participants alongside Ross, Ali and Duncan comprising James Mackintosh (drums), Innes Watson (fiddle), with appearances from Angus Lyon (keyboard) and John Somerville (accordion); Gyan Singh bringing the distinctive timbre of tabla to the mix for Otter's Pocket and the especially satisfying To The Woods Suite which closes the disc.
The freewheeling driving energy that's such a hallmark of Ross's own playing is abundantly infectious, spreading its keen sense of rhythm to all of his musical companions, even at a more wandering, slower tempo (check out the tender first tune of the Wedding Waltzes set – which isn't a waltz). What seems to set this record apart from other, similarly well-intentioned purely instrumental albums is the extra dimension of creativity present in the arrangements – this is by no means standard fusion-by-numbers, and Ross doesn't fall into the trap of overloading the soundstage (even when fully rocking out as on Problem). Rhythms build into each other, and transitions are believable rather than forced. The contrasting Clans and Again sets are especially delightfully, deftly managed. A mighty fine instrumental album.
David Kidman, February 2014
---
Josienne Clarke & Ben Walker - Midwinter (Own Label)
Apologies for the late appearance of this review, but the disc only reached me shortly before Christmas, when any sensible websites had to all intents and purposes closed their drawbridges to seasonally-related releases. During 2013, Josienne and Ben twice became deserved Folk Award nominees, and consolidated an already healthy reputation as a captivating live act, but their crowning achievement was to be proud recipients of the Fatea Album Of The Year Award for their exceptional breakthrough CD Fire And Fortune. Given the generally downbeat, even melancholy nature of the material customarily associated with Josienne and Ben, it might be thought against their nature to be releasing a whole album of bright-eyed, pure and overtly celebratory seasonal fare, but they demonstrate that their known virtues of purity of tone and simplicity of approach can be applied equally effectively to carols and songs for the turning year.
Now I am getting heartily sick of cash-in carol albums that turn up unbidden each and every year, but my faith in, and previous experience of, the duo's music were to prove sufficient justification to chance placing this disc in the player at the appropriate juncture of the seasons. And this despite the tracklisting revealing the presence of all six of my least-favourite carols! These can be regarded as perfectly charming, and they're certainly faultlessly and tastefully dispatched, with a disarming (and innocently childlike) simplicity (which however can't entirely avoid cloying), and a mild overdose of backing vox in the heavenly-angelic-choir department at times. I'll admit, I'd have preferred Josienne to've been a little more enterprising with some of these (well-considered though her singing is at all times), and to have sought out one of the alternative tunes for Away In A Manger, for instance.
But the rest of the disc more than makes up for my curmudgeonly personal prejudices, both in terms of repertoire and performance. Josienne's neatly poised a cappella rendition of Shepherds Arise is singularly thoughtful, while she also turns in well-judged performances of Adam Lay Ybounden (the Ord setting, with Ben's nimble guitar supplying precisely the requisite measure of courtly elegance), Balulalow (based on the Britten setting with its notoriously difficult compass), and the delightful Tomorrow Is My Dancing Day, whose tricky cross-rhythms are expertly negotiated by Ben's nifty, skipping guitar work. The deliciously swing-mode Hot-Club-style take on God Rest Ye Merry, Gentlemen is also a triumph for both singer and guitarist, and proves both wholly irresistible and full of the necessary spirit, whereas Josienne and Ben show that even We Three Kings can survive a more tentatively jazzed-up treatment. The judicious use of recorders, and very occasional flute, sax and mandolin, to augment the basic acoustic and/or Spanish guitar textures also pays dividends.
Congratulations, then, to Josienne and Ben for taking the brave decision to produce a seasonal record – and let's hope this will inspire them to reach further afield for suitable material for a 2014 or 2015 sequel.
David Kidman, February 2014
---
Joel Owen & The Antoine Band - Roll Your Stone (Self Released)
For bluesy, boozy-dancing Big Band honky-tonk boogie and then some, this unashamedly retrospective project engagingly hits all the right feel-good buttons. For someone who always infuriated his elder brothers for referring to that iconic album cover from John Mayall & The Bluebreakers as 'The Dandy album' because of that up and coming whipper-snapper Eric Clapton laconically reading aforesaid tome, Roll Your Stone* sure rattles the chandeliers in this reviewer's memory palaces.
From an inexcusably young and damnably talented ensemble, this album is simply a joy-fest of honkin' horn, moonshine-soaked piano and vintage valve cleansed guitar. Lonesome freight-train harmonicas twelve-bar rattle over tumbleweed haunted crossroads as slide-guitars weep a melancholy refrain 'cos the man gone done lost his dawg and his wife has come a running on back home – how can a poor man stand such times and live?
The titular Mr Owen's vocals recall aforementioned John Mayall together with Paul Rodgers and Gomez's Ian Ball. Enough said and hats off to Neil Segrott's production wizardry. Seems hometown Leicester 's becoming the new Muscle Shoals, Motown and Memphis. There's sure something seriously groovy a'cookin' in their currys yawl! It's enough to make an Englishman wanna dance.
*Luke Walker's artwork - Sisyphus/Roll Your Stone abstract, eh, Luke? Nice.
www.facebook.com/joelowenandtheantoineband
John Kennedy, February 2014
---
Ags Connolly - How About Now (Drumfire)
Hailing from Oxfordshire and describing his music as Ameripolitan' (copyright Dale Watson), right from the start Connolly leaves you in no doubt about how he feels about the contemporary country scene. Although he seems to be under the impression that you play CDs on turntables, opening number, When Country Was Proud, finds him extolling old school outlaws "like Willie Nelson, Waylon Jennings and David Allan Coe" who don't get TV or radio exposure now the 'new outlaws' have come along, about whom he says, "I don't think there's one amongst them that wrote a real country song."
A few songs later, he adds another veteran to his roll of honour with I Saw James Hand, on which he basically sings about confirming himself as country on first seeing the Texan at the Borderline and then at other gigs, including performing 'as high as a kite' in Fort Worth.
It won't be a surprise that Connolly aligns himself with his heroes, Cash and Paycheck also on the list. Which may make him sound a bit of a Victor Meldrew, were it not for the fact that he walks the walk as well as talks the talk, his debut album packed with authentic sounding traditional styled country tunes, served up with fiddle, pedal steel, mandolin and upright bass and sung with a grainy and slightly gummy twang to the voice.
Naturally hurting, hard times and drinking loom large in the lyrics with tales of broken hearts and barrooms, and it's testament to his love of the genre that numbers like A Good Memory For Pain, I'm Not Someone You Want To Know, I Hoped She Wouldn't Be Here and the tear-stained The Last Time wouldn't be out of place on old albums by such legends as George and Merle, pretty much guaranteed to get honky tonk audiences swaying along with their beers en masse. He's unlikely to be invited to support Tim McGraw or Luke Bryan anytime soon, but he should be a welcome headliner on the UK country club circuit.
Mike Davies, February 2014
---
Alister Atkin and the Ghost Line Carnival – To Evangeline (Self Released)
Already in demand as a guitar-maker, clients including Richard Hawley, Eddi Reader, Elbow and Graham Coxon, the Canterbury-based singer-songwriter's sophomore album seems likely to increasingly keep him away from the workshop.
Although he, like his band, call the historic cathedral city home, the album's influences stem far more from Nova Scotia, his wife's native home, and his frequent visits to the area. Enhanced by Aidan Shepherd's accordion, there's certainly a salty air to the folk-based material, not least given such titles as Seadogs, Lobster Claws, the cello dominated The Lighthouse/When You Go and the sprightly uptempo Shipping News with its references to Dogger and German Bight while Rolling Thunder comes with lines about metaphorical rocky shores and storm heads.
It's not all so nautically inclined, lyrically or musically; while some of the rhyming's clumsy, the fiddle laced San Diego's a jaded musician's rejection of life on the road and the music business' promises of fame, the mandolin-accompanied, accordion wheezing Wandering another song about the weariness and loneliness of the road and opener Jess's Song is a simple love song for his wife. It doesn't have that killer song to elevate him into the national consciousness, but as a body of work it should certainly help get his name around.
Mike Davies, February 2014
---
The O's - Thunderdog (Electric Honey)
They may display a blatant disregard for the correct use of the apostrophe, but Dallas duo Taylor Young (vocals, kick drum, guitar) and John Pedigo (vocals, banjo, Lowebro – a sort of dobro) make a decent fist of folk-rock with a pop sensibility stemming from their shared time as members of Polyphonic Spree, echoes of whom can be heard on several numbers here.
Indeed, while some have bizarrely likened them to the Louvins, more recognisable reference points would be the Mumfords, Proclaimers (especially on the banjo led You Are The Light) , the Avett Brothers, the Lumineers and, when harmonica and kick drum get busy, even Medicine Head. Being from Texas, the vocals naturally come with plenty of twangy drawl and the album's big on foot-stomping, thigh-slapping tunes like Cicerone, Outlaw and the march beat Rearranged with its woh oh woh shouts and harmonica, a song to which you could imagine crowds doing a pub closing time conga.
Save for the banjo and acoustic guitar accompanied Levee Breaks, they don't much dial down the ebulliance, indeed they push it to frantic leap around levels on Go With Me, all of which leaves you feeling a little exhausted by the time they get to the closing bluesy note of the urgently sung Kitty, a sort of Appalachian flamenco rhythm with raging electric guitar solo. A little more light and shade of pacing and volume wouldn't have gone amiss, but otherwise this, their third album and the first American singing to the Scottish student label, provides a welcome introduction for ears on this side of the Atlantic.
Mike Davies, February 2014
---
Michael Rattray - Human Life (Self Released)
An artist and songwriter from Perth, Scotland, the songs on Rattray's album were written during a particularly dark patch during which, suffering from both depression and ME, he was forced to move back in with his parents. This explains the often downbeat nature of the lyrics (though not necessarily the melodies), although (as Got This Far and I'm Still Breathing show), there's also a strong streak of optimism, The fact that it was recorded and engineered over a five year period at, I would assume, a variety of different studios would account for the unevenness of the sound quality and production. That, however, shouldn't deter you from checking it out.
As a writer, he can turn his hand to various genres, but here he's very much in a folk mind, the songs either sparse, stripped down affairs or benefitting from the contributions of local musicians on cello, violin, accordion, double bass and flute. The contemplative stately Lennoneque piano ballad title track kicks things off before he slides into the frisky, summery jaunt of The Ghost of Nick Drake, a rather more playful and sunny lyric than the title might suggest. Big Black Dog, a number about his depression, offers a bluesier, rockier side while a choppily shuffling Here Comes The Silence fuses Gerry Rafferty, George Harrison, Ticking Boxes is a violin accompanied waltz with Higher Ground bringing a country flavor with its keening pedal steel, twangy guitar and train-wheels rhythms.
Although there's times when you suspect his health meant the voice was not as strong as it might have been, he's never less than engagingly listenable and, on something like the dreamy acoustic Getting Up, often affecting, while an image like 'under my skin there's porcelain' bears testament to his skill as a lyricist.
He saves the best to last, however, with the near seven minute Life Without Love, a (non-denominational) prayer for help, peace of mind, a reason why and love, strings gradually enfolding the piano and a full gospel choir carrying it to a swelling climax. Choose life.
Mike Davies, February 2014
---
The Young 'Uns - Never Forget (Hereteu)
That it takes the narrative tradition of the protest ballad steeped in the Folk music idiom to highlight contemporaneous social issues brings to light the ephemeral vacuity of many lauded pop stars. It was ever thus, but subtle transitions still prevail and Never Forget's poignant inclusivity would surely have warmed a cockle or two of the late Pete Seeger.
For David Eagle, Michael Hughes and principal songwriter, Sean Cooney, this is all grist to the mill. All of which might throw light on opening track, The Biscuits Of Bull Lane, whose opening refrain of august grand organ has a nuanced Arcade Fire – imagine them at a Folk Club! The PR release notes tell of last year's incident where worshipers outside a York mosque greeted belligerent thugs with tea, biscuits and love. One soon begins to glean where these agi-animated, romantic young bucks are coming from.
A tune, a voice and a story to tell remain timeless and The Young 'Uns prove mightily adept at demonstrating Folk Music's traditional repertoire for retaining its malleable capacity for assimilation and reinvention. From the acapella harmonies of Jack Ironside and sea shanties, Blood Red Roses & Shallow Brown, to the sombre, harmonium harmonic ballad of Rosario, this 'young Teesside Threesome' weave a socio/historical, industrial and mythical tapestry of British culture, both beautiful in its mysticism and blood-raw, tooth and claw outrageous sense of injustice.
Nevertheless, Clooney shows his softer side with self-penned 'tender Northern love song', The Long Way Home. Noble in its message, joyous in its cause for celebration and optimism this album adds mightily to the Folk canon. Perhaps an album more for the discerning pursuer of traditional British Folk/Root antecedents where an appreciation of uncluttered sincerity, combined with understated musicianship and light touch production, enables a complex social heritage and febrile future to sing throughout the ages.
John Kennedy, February 2014
---
Adrian Nation - Live At Crossroads (Laburnum Bridge)
On reviewing his second album, Fall Or Fly, four years back, I said the Essex singer-songwriter would always pack out clubs but was unlikely to cross into the folk mainstream. Recorded at the opening of the Crossroads Festival in the Netherlands, his third release reaffirms the former, but also shows why he really should be discovered by a wider and international audience, notably so on the politically pointed The Dying Of Democracy with its echoes of Bruce Cockburn.
One of several highlights, it's also one the two self-penned songs not taken from either of his studio albums, the other being the one take live recording studio bonus track The Dancer, a warmly sung, pastoral and reflective number which again calls Ralph McTell to mind.
Debut album Sowing Seeds provides the opening track, The Coming Of The Day, Nation speaking the in awe of nature lyrics over his dazzling deft acoustic guitar fingerwork, and, adopting similar imagery, with hint of Knopfleresque Local Hero spirituality, No Question.
Save for a sterling cover of Richard Thompson's Vincent Black Lightning 1952 (though he confesses to a bum note) delivered at a full rev pace, everything else is drawn from his sophomore release; the quite lovely 'I'll be your shelter' pledge of The Brightest Star, a hushed, atmospheric Set Fire To The Sky and the bluesy uptempo skittering Heart Beats On.
The latter two feature very different playing styles and perhaps the best thing about this live setting is the way it showcases his nimble six string brilliance. The late Isaac Guillory was a major influence and he does him more than credit on the fourth Fall Or fly number, the aptly titled quicksilver fingerpicked Five Finger Rapids. Live albums are usually for the already converted, but if this gets the exposure it deserves it could well bring him a legion of new admirers too.
On tour throughout April.
Mike Davies, March 2014
---
David Berkeley - The Fire In My Head (Straw Man)
Recorded as live in a concentrated two day session in a remote New Mexico studio, Berkeley's fifth album is a stripped back dusty Americana affair on which his vocals and acoustic guitar are joined solely by Bill Titus on electric guitar, Wurlitzer, organ and drums and Jordan Katz on trumpet, banjo and, Oh The Hedges Are High, which also features guitar by producer Jono Manson, bass. It's a dry sound, the sparse arrangements and uncluttered instrumentation placing the focus on Berkeley's high falsetto and slightly forlorn baritone and lyrics that talk of mental exhaustion, endurance and the land.
A restless soul, Harvard graduate and published storyteller, he's a literate wordsmith who deals in images and metaphor to evoke emotion and atmosphere. One of the songs, the rippling trumpet warmed, fingerpicked love son Broken Crown was written to accompany The Free Brontosaurs, a forthcoming collection of interwoven short stories, while the emotionally fragile Shelter was commissioned by Harlan Corben who asked him to write a song based on his novel of the same title. It's much better than the book.
After two songs praying for the salvation of rain (Fire In My Head, The Well), the album ends on a note that strikes a timely chord with Song for the Road as he sings " the river's too full, but the land is too dry. When the floodwaters came there was nowhere to hide So I sing for the land, for our fields washed away." And yet, in the face of adversity, the song swells to an anthemic note of refusal to give in, as he says "They can flatten a house. They can flood all we see. They can't take the soul from my family and me." Someone should buy Environment Agency Chairman Chris Smith a copy.
Mike Davies, March 2014
---
Gavin Pennycook - Octave Fiddle - Baritone Violin (GCP Records)
Gavin's previous CD concentrated exclusively on Celtic music played on the nyckelharpa, an idiosyncratic Scandinavian instrument that's been coming increasingly into vogue of late. Its successor is a similarly creative endeavour that brings to the centre-stage the octave fiddle (sometimes known as the baritone violin), a regular acoustic violin strung with purpose-built octave strings that allow the player to play an octave down, in other words, in the range between the violin and the cello. This produces a specially dark, haunting and captivating sound, and "blind acquaintance" will often keep even experienced listeners guessing. Although the octave-strung fiddle itself has been around for over 40 years, it's still "quite an underground phenomenon", with a low profile. Indeed, this disc is claimed to be the first ever entirely devoted to the instrument.
Gavin was the first Scotsman to win an All-Ireland fiddle title, and is clearly comfortable with a variety of fiddle styles and musical traditions, from Scottish and Irish through to English and Welsh and Scandinavian; his uncanny empathy with all of these is reflected in the eclectic nature of the music on this disc, which in addition to the aforementioned even sports a couple of selections from the classical repertoire (Mozart's Turkish Rondo from the K331 piano sonata, and a strangely effective juxtaposition of Grieg's Hall Of The Mountain King with a reel allegedly based on Beethoven's Für Elise, although the latter source is nigh unrecognisable here). <.p>
Back in the safe hands of the tradition, Gavin's measured yet heartfelt rendition of The Kerry Woman's Lament is a thing of sparse beauty (and very probably a joy for ever), while the closing pairing of The Magic Of The Rush and Viktorin loses only to its being faded out. Gavin also brings his breathtaking sense of rhythmic dynamism to the Grannens Favorit/Koukkulammin Polka medley (track 7), helped along by the sparkling driving guitar of guest Ewan MacPherson; Ewan also accompanies Gavin on five other tracks (one on the humble jew's harp), while John Morran does equally sterling guitar (or mandola) duty on a further four. The intention of introducing these extra layers may have been to prevent the sound of Gavin's solo instrument from sounding unduly rarefied or exposed, but nobody need have worried when the octave fiddle produces such a rich and full-bodied tone, and its potential as a solo instrument couldn't be more persuasively demonstrated than here.
A most invigorating album: one of brilliant textural and rhythmic vitality, destined to appeal to all lovers of fine musicianship.
David Kidman, March 2014
---
The Sweet Lowdown - May (Own Label)
The Sweet Lowdown, Victoria (Canada)'s award-winning female acoustic roots trio, will be touring the UK in April and May this year, and they're releasing their latest album May in this country well in advance, which should guarantee them some nicely full houses on the tour.
Their individual and collective musical passions inform the music they themselves produce – an appealingly harmonious blend of old-time, bluegrass and folky songcraft – and yet, not all of the trio's members have a specific grounding in bluegrass. Sure, Shanti Bremer has been playing banjo since age 11, and guitarist Amanda Blied admits to being heavily influenced by Doc Watson and Clarence Ashley, whereas Miriam Sonstenes is a classically-trained violinist-turned-fiddler. All three ladies are also extremely capable singers, but again not necessarily of a bluegrass persuasion (Amanda sang with The Balkan Babes, for instance) – tho' what matters here is their impeccable and brilliantly intuitive grasp of harmonies. And it also needs to be stressed that each of the three is an impressive songwriter.
The combination of all these attributes makes for a thoroughly charming and highly persuasive album, easy on the ear but not in any way devoid of substance. In that respect The Sweet Lowdown would have much in common with our own Carrivick Sisters perhaps, while there's also a simplicity of sensibility that strongly recalls the McGarrigles. Two of the standouts among the songs, coincidentally, are penned by Amanda: The Heart Is A Hollow Thing and the "lullaby for hard times" Hushabye. Even so, Shanti's Please Take Me Home and Miriam's wistful Let It Go also make a considerable mark, as does Shanti's sincere appreciation of water Drink It Down. The disc's pair of traditional numbers (Reuben's Train and Sail Away Ladies) are credibly and affectionately done.
There are also four instrumental cuts, all expertly managed, ranging from a playful jig-and-reel medley composed by Miriam to an eastern-inspired meditation Lucknow and the reflective nature portrait that forms the disc's title track. The basic trio sound is gently augmented on four tracks by Sam Howard (bass), while album producer Adrian Dolan plays mandola on one track and viola on another. My final, and probably most literally obvious comment, is that once you've heard the trio's music, you will, like me, believe in the total aptness of their chosen name, for they make a sweet and lowdown sound indeed.
David Kidman, March 2014
---
A.L. Lloyd - TURTLE DOVE (Fellside)
The good folks at Fellside hereby conclude (well, probably!) their admirable series of Bert Lloyd reissues with the second volume of England And Her Traditional Songs. This comprises the original LP The Foggy Dew and Other Traditional English Love Songs album recorded in the mid-50s (and released on Tradition Records in 1956), to which has been added a fairly arbitrary selection of three further songs on the theme of love and relationships (here, specifically, in the maritime environment) that were recorded slightly later in the decade.
Do Me Ama and The Handsome Cabin Boy are both taken from the Tradition label's 1957 Blow, Boys, Blow LP, and on these Bert is accompanied by Ralph Rinzler (mandolin) and Steve Benbow (guitar), whereas Greenland Bound is sourced from Thar She Blows! (Riverside, 1957) – and thus (according to discographical sources) features Peggy Seeger on guitar (not Steve Benbow as credited here – an uncharacteristic slip for Fellside…)
Anyway, to the actual performances. As befits Bert's status as a seminal figure in the 50s/60s folk revival, these are commanding, stark, authoritative and genuinely insightful renditions of the songs concerned. Alf Edwards (concertina) provides accompaniment for nine of the 14 tracks from the Foggy Dew LP (including Reynardine and The Maid On The Shore); the remaining five songs from that record are rendered a cappella fashion (allowing for maximum concentration on the stories being told, of course). As far as repertoire goes, there are two duplications within Bert's recorded output: The Bird In The Bush, which reappears a decade later, on his 1966 themed LP of that title, and The Seven Gypsies, which also appears on a separate ballads collection (albeit with a significantly different text).
The majority of the songs presented on Turtle Dove are nowadays well known within the folksong community, and it can easily be forgotten that Bert was responsible for introducing many of these songs to the folk repertoire. Gems included here include The Husband With No Courage In Him, The Maid's Lament, the rarely-collected The Isle Of Cloy, and a (for Bert, uncharacteristically) strongly ornamented rendition of Brigg Fair. The latter, in common with a couple of other songs, is very slightly spoilt by some pitch fluctuation, although I'd guess this is most likely attributable to a deficiency in the original tape source; rather less easily digestible is the decidedly fluttery quality of the mandolin backing on Do Me Ama. But the direct, unadorned quality of the performances transcends any potential drawback arising from the "basic" nature of the recording itself, having said which I still find it for the most part a few notches above merely bearable and neither unduly primitive or in any way offputting. Needless to say, this is still an important reissue by any standards.
David Kidman, March 2014
---
Harp & A Monkey - All Life Is Here (Moonraker UK)
The inventive Manchester-based alt-folk experimentalists follow their eponymous 2011 record debut with a similarly addictive collection of defiantly unusual and quirky storytelling. The H&AM sound is defined by the distinctively gritty northern vocals of Martin Purdy set against a deft an simply executed toyshop instrumental backing mostly comprising the plucking of banjo (Andy Smith) and harp (Simon Jones), while glockenspiel, accordion, guitar, melodica, viola and keyboard all play their part in creating a uniquely delicate and subtle sound-stage on which the playful players may unashamedly parade their wares. Use of samples and creative programming are also features that aid in the threesome's telling of these stories.
The self-penned items include two intriguing narratives with local connections (The Pilgrims' Cross, The Gallipoli Oak) and a contrasted pair of songs concerning day-trips (to Bogart Hole Clough in Doolally Day Out, and to the seaside in Tupperware And Tinfoil). These are all infused with inspirational imagery and often exhibit an appealingly direct and innocent child's-eye perspective (childlike but not childish) and a surreal yet curiously logical thought process. Dear Daughter is perhaps the exception, a more straightforward and affectionate tale concerning, and dedicated to, a recent addition to a friend's family.
The remaining four out of the album's ten songs are rearrangements-cum-reworkings of traditional songs/poems. These include The Manchester Angel, which blends the atmosphere of the modern-day city with a retelling of the soldier-and-his-young-lover story familiar from the 1960s Ewan MacColl recording of the song; Pay Day, the playground sing-song nursery-rhyme feel of which recalls Megson's recent forays into this kind of repertoire; and a time-considered revisit of the bawdy, frolicsome Molecatcher (originally essayed on FolkPolice's 2012 Weirdlore compilation, but now even more spooky and comically menacing). The Deep Lancashire influence is still pervasive but the grit seems to have seeped even deeper into the lads' boots where these influences are more consciously integrated.
All of this low-key originality brings a charming and accessible 37 minutes' worth of what might be termed rustic-industrial folk-antiquity (with all the contradictions that implies); perhaps not as outlandish, eccentric or disquieting as that on H&AM's previous record, but every bit as evocative – and haunting – in its own special way.
David Kidman, March 2014
---
Wilson & Swarbrick - Lion Rampant (Shirty)
Wilson being the Scottish Canadian reggae artist…cousin of Michael Virtue, erstwhile keyboardist with UB40 within whose ranks were Ali and Robin Campbell, sons of Ian in whose group played a certain Mr Swarbrick, of course! The other aspect of the men's connection is arguably less involved: Jason invited Swarb to play on a cover version of the archetypal Fairport number Matty Groves. I've not actually heard it, but apparently the experience inspired the project which became Lion Rampant, a set of enterprising (and sometimes surprising) covers with a pronounced reggae element which, happily, sets the bar well above "reggae-by-numbers-backbeat" standard.
The arrangements are generally a joint effort between the protagonists, and there's a welcome communal feel of fair trade and equality and a refreshing lack of grandstanding on either's part; Swarb's contributions in particular are a brilliant example of complete appositeness. Some of the chosen material lends itself unexpectedly well to a reggae-based treatment: Sandy Denny's John The Gun, for instance, and a strangely logical Red Rose Medley which ingeniously partners Burns and Bob Marley in the dance. Talking of the latter, there's even a gleeful excursion into reggae-morris (Lads-A-Bunchum Medley), in the company of the illustrious Messrs Carthy and Kirkpatrick. Against which, Richard Thompson's Why Must I Plead? feels a touch overwrought in this guise, even considering the tough passion of the lyric, whereas Ewan MacColl's adaptation of The Fish Gutters' Song is light-textured and benefits from some delightful guest vocals (The Bevvy Sisters) and Peggy Seeger joyfully plonking along (I mean that in the nicest possible way!) on banjo.
The irrepressible punk charge the guys bring to Alistair Hulett's classic Among Proddy Dogs And Papes is a real triumph, and it's good to hear the early Jamaican rebel song War Down A Monkland (which features guest vocal from Carol Brown). Jerry Donaghue contributes a beautifully moulded guitar solo to Dick Gaughan's reflective Sail On, which closes the disc. But even after several plays I'm still not entirely convinced by the ambitious, somewhat Colosseum-like nine-minute epic Damascus, credited jointly to both Jason and Swarb and described in the liner note as "a garden-variety 21st-century mento-reggae-jazz version of Burns' Tam O'Shanter", although I feel sure it will make sense in time.
The musicianship is spot-on throughout the album, with The Jason Wilson Band (Marcus Ali, Iain Green, Arjuna "R.J." Satchithananthan, Andrew Stewart and Jason and Swarb themselves) a veritable model of togetherness. On first glance, looking in from the outside, Lion Rampant possibly shouldn't work, but in the event the abundantly generous spirit, the sense of fun and give-and-take in the performances, overrides any minor misgivings about any of the material and the whole provides a stimulating experience that's more than the sum of its parts.
www.jasonwilsonmusic.com
www.folkicons.co.uk/swarb
David Kidman, March 2014
---
Abi Moore - Amoeba And Stone (Honest Records)
Essentially alt-country/Americana in styling, with a dash of folk-rock here and there, the third album from Lincolnshire singer-songwriter Moore is an honest (sic) and personally aware set that deals candidly with relationship issues yet feels both inclusive and listener-friendly. Fortunately, Abi also has an engaging singing voice, pure and confident, while her musician colleagues Tristan Seume, David Booth, Andy Trill and Jonathan Evans do her proud and well complement her own acoustic and electric guitar texturings.
The opening (title) song really captivates with its intriguing mix of instrumental colours that mirrors the contrasts in the artist's own life and the lyric's theme of the taking of the "normal" versus "creative" path through life. That track proves quite an act to follow, though, and no subsequent number seems to quite equal that one in terms of impact or memorability – although the gentle Protection and the deeply felt In Your Hands possibly come closest.
Abi's lyrics are always worth hearing, but for me they don't always receive the distinctiveness of musical setting they might best deserve, since for too much of the time the all-purpose uptempo country-rock-type backdrops (songs like All Outa Sympathy and Wish I Believed In Love for instance) feel decidedly routine, albeit pleasant, while Nickajack Cave just doesn't gain the impact its subject matter (Johnny Cash's attempted suicide in 1967) seems to demand. There's a gospel choir on I Nearly Told You and Wishful Thinking's conversation between living and dead lovers has some eerie keyboard touches; Abi has clearly tried to provide contrast through introducing adventurous elements such as these into the musical arrangements, but in the main it's hard to escape the slightly-too-purposely-accessible feel and well-drilled nature of the end-product that's housed within the attractive and more individual artwork and package.
David Kidman, March 2014
---
---
To view previous album reviews select the first letter of the band or the surname of the artist from the menu above.