---
NETRHYTHMS' CHOICE
Mike Davies' Album of the month - Jasmine Kennedy - A Love Song To Finance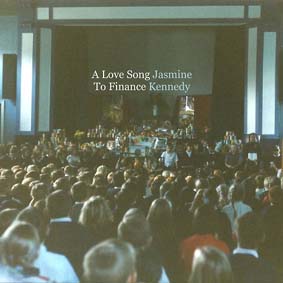 Earlier this year I reviewed I Donít Have An Uncle Pat, the debut album from the Batley singer-songwriter. Although the album was released a few years back, when she was just 16, it had never had much exposure and I felt this was a talent that warranted discovery by a wider audience. Now 20, this is her second album and confirmation that she truly is of world class, a literate writer of worldly wise observational insight, humanity and compassion blessed with a voice so intimate itís like eavesdropping on a death bed confessional or being privy to the early hours whispers between lovers.
As I said before, her rich, husky, dark and deep voice reminds me of Tanita Tikaram but her songs are far more emotionally open, her words enfolded in tender, melancholic and pensive melodies etched in her delicate, sensitive acoustic guitar playing. This time round sheís been able to flesh out the instrumentation with other musicians variously providing brass, woodwind, piano, vibraphone and double bass (courtesy of co-arranger and producer Neil Innes, but not that one) but sensibly uses the new colours with restraint rather than daubing them all over her canvas. The effect is beguiling and, at times, heartbreaking.
Some of the songs, many of which address themes of loneliness and unspoken feelings, revisit past, non-album recordings. First up is the opening track, Laura, where, to a slow metronomic beat and organ behind her hushed vocal, she sings "I met a stranger, a stranger, in the city today and I gave her my umbrella Ďcause she had no coat on in the rain and she smiled and she said "I thought chivalry was dead." I just smirked, passed her by, failed to catch her eye or her name", the song gradually swelling to a fuller sound with a gospel choir in a Cohenesque manner as it turns into reflection on missed opportunity and "a growing irritation wishing I was braver."
The second is a studio version of Percy Anderson, a number that shares that theme of shyness and words unsaid: " it seemed like you were waiting so I turned, opened my mouth to speak. All I could say was Iím so glad we could finally meet. What I meant was ĎIíve never seen eyes such a beautiful green. And you seem like a sweetheart to me. Like youíre wise, caring, and kind to an immeasurable degree.í At least thatís what Iíd meanÖ but I just turned to leave." There can be few who canít relate to this.
Another of her earlier songs, accompanied by just a sparse and naked guitar Dinner For Breakfastís confession of loneliness is breathtaking in its mix of disarming simplicity and profound emotional depth, a sign of a truly great writer; " I miss the way that youíd be happy if I didnít always get it right 'Cause it meant it didn't matter if you did" runs the chorus as the song builds to its "I want you to miss me" muted multi-tracked vocal climax.
The last of the older numbers is also one of her finest, the gloriously romantic but unspoken love of the six minute Cardigan Sweater, here the circling guitar figure brushed by piano, hints of brass and an accordion that transports you to some French Cafe apartment.
The remaining numbers are, to the best of my knowledge, all new, the organ drone Twenty-Six & One giving way to the more uptempo shuffling Company, the most Tikaram-like track. Clarinet and clip clopping percussion anchors the airy, jazzy waltzing Donít Blame Me, a perfect example of the way sheís developing and growing as a musician, a similar jazzy shuffle, here featuring minimal piano notes, carrying along All It Is. Descending dark resonant piano notes underscore the brooding emotional dread of Wait Until Itís Over and the album closes with the unadorned acoustic guitar filigrees of 446230, her voice like breath upon a widowpane as she sings ĎI will give this all for you, itís just words and words will never do."
There is one more song, a track that eclipses everything else on the album and shivers your soul. Sung totally unaccompanied and making brilliant use of the silences between lines Reasonable Reaction addresses proportionate response, whether thatís to being dumped or cut up as you pull out of a slip road, as she concludes "the things that you've found with this moral compass Lay them down on the ground This chance only comes once." Itís something you could hear both Billy Bragg and Martin Carthy sing.
To borrow the language of the album title, any investment in this remarkable artist will reap rewards tenfold.
Mike Davies, November 2013
~~~~~~~~~~~~~~~~~~~~~~~~~~~~~~~~~~~~~~~~~~~~~~