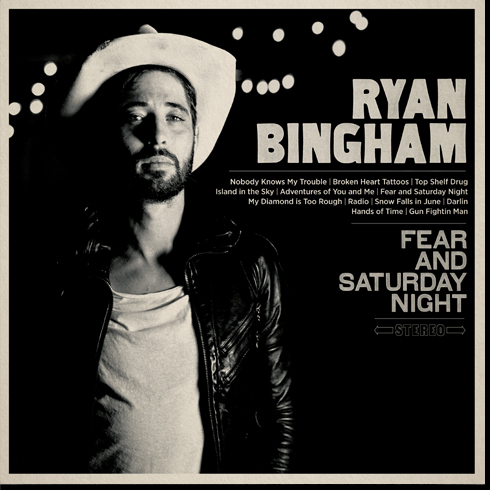 "I find myself back in a more hopeful place", the American singer-songwriter says of a collection that was crafted while he was holed up in an airstream trailer in the mountains of California.
Bingham explains, "Up there, it was totally isolated. No phones, no noise, no lights. At night the only thing you'd hear is the bugs and the coyotes. It's lonely when you get back up in there and there's nobody around, but for me, I kind of grew up that way in the middle of nowhere. Since I've started touring, I'm surrounded by people all the time, so getting back to the roots of everything, that's really where I seem to find stuff that's meaningful when I'm writing songs."
"My mother drank herself to death, and my father shot himself. I was also going through a huge transition with the band - we were breaking up - and I felt so lost playing with different musicians for the first time in years." This time out he deals with his demons more assertively, a philosophical shift encapsulated on the tracks 'Radio', and 'Hands of Time', both of which find Bingham resolving to stay strong. 'Broken-Hearted Tattoos' is a wistful waltz for an unborn child, the singer imagining what kind of parent he'll become, while on the title track he declares, "I don't fear nothin' except for myself/So I'm gonna go out and raise me some hell."
Sonically, Fear and Saturday Night has pure Rock 'n' Roll attitude and a folkie heart coursing through its veins. Flanked by crack players like Daniel Sproul and Jedd Hughes on guitars, and Chris Joyner on Hammond organ, piano and Wurlitzer, it makes a mighty noise, its spiritual uplift and Bingham's grainy vocal delivery resonating with the ghosts of Bruce Springsteen and Steve Earle, touchstones and kindreds whose sincerity and everyman poeticism he shares.
Bingham, a native of New Mexico, grew up in Texas and, as a teenager, juggled playing guitar with riding bulls on the rodeo circuit. Writing became a cathartic conduit for the torment of his wretched upbringing. Those who heard his songs were deeply affected by them, and pretty soon he was trading the peripatetic life of a cowboy for the peripatetic life of a musician. His first albums were the self-released Wishbone Saloon and Dead Horses, after which Lost Highway Records (Universal) signed him up. Former Black Crowes guitarist Marc Ford produced his major label debut, Mescalito, which slayed the critics. Texas Music Magazine reckoned he talked and sang "with a whisky-and-cigarette throat that screams hard living". Roadhouse Sun followed, before Bingham collaborated with T Bone Burnett on the soundtrack for the 2009 movie, Crazy Heart, co-penning and performing the Oscar and Golden Globe Award-winning 'The Weary Kind'. He was feted with an Americana Music Association accolade as artist of the year in 2010, and in the same year issued Junky Star - his most successful record yet - with his group, The Dead Horses. A lot of peopled didn't realize when that Oscar stuff was going on and Junky Star was released, he was dealing with the loss of his parents.
It's a loss that still haunts Bingham, but rather than be defined by it, he wants to defeat it, to emerge form it a better and more blessed man and artist - something he does with grit, grace and considerable beauty on Fear and Saturday Night.
Ryan Bingham will play:
31 January 2015 Whelan's – Dublin, Ireland
1 February 2015 King Tut's – Glasgow, UK
2 February 2015 Borderline – London, UK (SOLD OUT)
www.binghammusic.com
www.facebook.com/ryanbingham
~~~~~~~~~~~~~~~~~~~~~~~~~~~~~~~~~~~~~~~~~~~~~~