Book Reviews
---
All Music Guide to Country - The Definitive Guide to Country Music (2nd Ed) (Backbeat Books)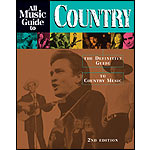 The first edition came out in 1997 and I have it, although it's now all dog-eared and scruffy. So, I was very pleased to receive this expanded and updated version. Completed last year, it's larger and thicker than the first and includes information on more than 1,200 artists with about 10,000 album reviews.
However, as the editor explains in his introduction: not quite definitive - not enough space, not enough time and things change too quickly. If you need your information up-to-the-minute, he suggests that you visit their website - www.allmusic.com - and it will all be there for you.
I prefer the book. I like something to hold on to and dip into whenever I'm in the mood.
The information is well organised. A few pages in there is an example biography/discography to explain how everything works. The artists are listed alphabetically, the biography is short and to the point and the recordings, listed chronologically, are rated with one to five diamonds, most of them backed up with solid reviews. Essential or what should be your first purchase are marked with circles and stars. All very clear and easy to understand with enough personality to keep things interesting.
A few pages further on, there is a quick guide to country music styles - 36 of them to be exact. I'm not a big fan of labels myself but I can see the advantage of the explanations for those less familiar with the music.
Next, of course, are the artist listings. Since I have the earlier version it was easy for me to make comparisons. Firstly, I noticed that the information for artists already there had been updated in most cases and errors or omissions corrected. I think that's a good sign that care is being taken. Secondly, many, many "alt country" (there we go with those labels again) artists were included this time. As well, gratifyingly, many bluegrass players are now included, after being overlooked for years. Yes, a few of my favourites are missing and probably some of yours will be too. But we are invited to go the website and let the editors know. These guys are really committed to making this the definitive country music guide and it shows.
Also, there are essays at the back of the book, covering subjects from The Grand Old Opry to Albums by Rock Stars, and these include musical time lines to show how the music comes together. Terrific stuff.
Is the book user-friendly? Definitely.
A good read? Incredibly good.
Just ask the woman who takes it to bed with her every night.
Gail Comfort
www.gailcomfort.com
---
Mark Brend - American Troubadours: Groundbreaking Singer-Songwriters Of The '60S (Backbeat Books)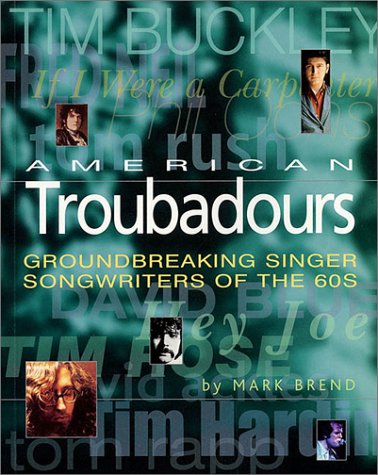 This new book discusses the lives and work of just nine (male) singer-songwriters who "expanded the standard pop blueprint" with their songs and "made a significant contribution to rock music's coming-of-age". By the time this book came to be written (2001), five out of the nine had died, and eight of the nine had been, or were in the process of being, rediscovered, although in all cases their music still obstinately remains the province of relatively small groups of enthusiasts. However, this book should, taken together with the timely reissue of their recordings, aid the process of re-evaluation further. Now there have been isolated critical treatments of the singer-songwriter phenomenon, notably Mike Swann's largely unknown but valuable How Many Roads? (The Book Guild, 1989), which discussed, necessarily briefly though with admirable critical acumen, the work of 103 American singer-songwriters. All but one of the nine in Brend's book were also discussed in Mike Swann's volume, the exception being psychedelic maverick Tom Rapp (of Pearls Before Swine). The remaining eight range from the comparatively well-known (the three Tims - Buckley, Hardin and Rose - and Phil Ochs) to David Ackles, Fred Neil and Tom Rush and the (until recently) defiantly obscure David Blue. Some are only better known due to certain of their songs having been covered by others - Tim Hardin's If I Were A Carpenter and Hang On To A Dream, Tom Rush's No Regrets, Tim Rose's Hey Joe and Morning Dew for instance - whereas Tim Buckley's cult reputation has rested firmly on his own performances. As someone having already more than a passing familiarity with at least half of the songwriters under discussion, I nevertheless found the book illuminating and the portraits honest and (by and large) pretty fair in assessment. And I actually learnt quite a bit in the process. The individual chapters, varying in length from six to ten pages (of text) plus photos, draw on previous interviews and magazine articles, all of which are properly annotated, and aim to present as complete a picture as possible without going the whole hog into producing a full-length biog; much in the manner of the better-class set of CD insert notes in fact, balancing factuality with a sensible degree of evaluation and - importantly - the reader is positively encouraged to go and seek out the recordings. To which end the appended discography is useful and is a brave attempt, although the CD reissues aren't all that well covered (for instance, the past two years' extensive and crucial programme of early Elektra reissues obviously missed the boat as far as the book's publication date is concerned). But, should you want a primer for getting to grips with some of those hitherto obscure cult figure singer-songwriters, then you could do far worse than acquire a copy of Mark's book, which certainly conveys their patchy brilliance economically in well-chosen words.
David Kidman
---
Geoff Wall & Brian Hinton - Ashley Hutchings: The Guv'nor & The Rise of Folk-Rock 1945-73 (Helter Skelter) - Book Review
In most of the official (and unofficial) histories of the English folk-rock phenomenon thus far, although there's never been any disputing of the seminal role of Fairport Convention (whether in any particular incarnation or as a concept), the personal part played by the band's original bassist Ashley "Tyger" Hutchings – whether in that band or as instigator of many other projects – has not always been fully acknowledged. This well-written and extensively researched book attempts to redress the balance – or rather, to more properly give credit for Ashley's achievements within the wider perspective and define the extent of his guiding influence on the whole English folk-rock scene over the past 30 years. The writers therefore (rightly) feel the need to spend some time attempting to explore what exactly constitutes English music and why it may have failed to make the same inroads into recent popular consciousness as Irish, and to a lesser extent Scottish, folk music. This exploration counterpoints the recollections of Ashley himself and those of several of his musical associates past and present (drawn from hours of interviews). So it's still very much the insider's account of the British folk-rock boom that you'd expect, but the additional perspectives make the account doubly valuable to the folk and folk-rock aficionado alike – both of whom are likely to be already pretty familiar with all or some of the various Fairport biographies. Much of the material in this new book will thus be well-trodden ground for these readers, but there are still fascinating new insights to be had. In particular, this new book encourages one to listen afresh to Ashley's bass playing on the early recordings, and especially to re-evaluate that instrument's "melodic creative underpinning", still somewhat underestimated in the scheme of things. As well as Ashley's development as an instrumentalist, his pivotal role in talent-spotting is also examined with reference to each stage in his early career, from early Steeleye through to the initial (and exhaustingly confusing) incarnations of the Albion Dance Band/Albion Country Band. The book's such a good read that it really is hard to put down, so it's all the more frustrating that the clock stops at 1973, which means that it barely manages to touch on the other important aspects of Ashley's contributions to the development and profile of English folk music, his enthusiastic and learned forays into the worlds of Morris dancing and the theatre and his celebrated embracing of the spoken word within various thematic conceptions. (After all, Ashley is not only the "Compleat" dancing master, but the "compleat" renaissance man.) Room for a sequel then!… And it's a shame that there's no attempt at an index. But let's not criticise this fascinating book for what it doesn't embrace; instead we must rejoice at its achievements, the revelations and insights it contains into the enduring music and influence of "the guv'nor".
http://www.skelter.demon.co.uk
David Kidman
---
Mick Houghton - Becoming Electra: The True Story Of Jac Holzman's Visionary Record Label (Book) (Jawbone Press)
The long history of the amazing multi-genre record label Elektra has recently been celebrated in style by the publication, just a few weeks ago, of this meticulously-researched, copiously illustrated, magnificently readable and tremendously informative largish-format book, one that will tell you virtually everything you ever wanted to know about the label and much else of interest besides.
Elektra Records was started in a humble Maryland college dorm room, as far back as the fall of 1950, by Jac Holzman – a keen music fan (and self-confessed audio engineering buff) who just happened to possess the complementary qualities of a true vision allied to a shrewd business sense, attributes that have carried him forward into his 80th year still active in the record industry (ironically perhaps, as a senior advisor to the Warner Music Group) – one of its survivors, no question. Initially, Jac's steering vision for Elektra was informed by his appreciation of folk music in the widest sense – literally living up to the claim "folk songs from just about everywhere".
The label's roster, healthy from the very start, grew (along with the LP format) enviably and intuitively during its first decade, embracing artists as diverse as Jean Ritchie, Tom Paley, Susan Reed, Ed McCurdy, composer and accompanist John Gruen, folklorist Frank Warner, blues legend Josh White, the eccentric Oscar Brand, chamber jazz ensembles, flamenco, Trinidad steel bands, the folk music of Israel and the Russian gypsies in a long-running series of records by actor-singer Theodore Bikel, alongside library-resource albums of mood music and authentic sound-effects – and even a morse-code training disc! – with the result that by the early 1960s it had established itself as one of America's leading specialist labels, a status which it was able to build on during the ensuing decade and thence, inspired by the confidence this repertoire fostered, grasp every opportunity to explore and showcase new musical talent.
This book charts "the Holzman years" of the label's history (1950 through to 1973, when Jac sold the label to Warners) in deep but never impenetrable detail, shedding much-needed light especially on that relatively unsung yet massively important first decade, a period which has hitherto received so little sympathetic or decently-researched coverage by commentators (most of whom have, perhaps understandably, been more eager to proceed straight to the better-documented glory days of the label in the second half of the 60s).
The DJ John Peel was one important and influential champion of Elektra's output; he wrote a perceptive sleeve note for one of its sampler albums, and many of its artists did regular session work for his Night Ride and Top Gear programmes. Holzman and Peel clearly had much in common – I'd say principally in matters of integrity, open-mindedness and eclecticism – and there were many times when the spectrum of musics played on John's programmes almost exactly mirrored that of Elektra's output, from important singer-songwriters David Ackles and Tim Buckley to percipient singer-interpreters like Judy Collins and the iconoclastic and vastly influential underground-folk-world hybrid music of the Incredible String Band; white-blues pioneers The Paul Butterfield Blues Band and wildly disparate psychedelic rock bands like Love and The Doors to nascent punks MC5 and the Stooges and the arguably slightly dubious supergroup Rhinoceros. Holzman (like Peel, indeed) cared deeply for all of the artists whose careers he nurtured through the label; and laudably, as has been noted, Elektra's catalogue was similarly built on musical merit rather than direct commercial potential.
The label's innovative and eye-catching sleeve designs betokened both the very sense of adventure and the at times slightly esoteric (even elitist) nature of the contents within; and many an hour will be spent by the reader of Becoming Elektra thoroughly absorbed in the pages upon pages of scintillating butterfly-proud, bright reproductions of the label's sleeves together with much ancillary cover artwork and pics. Giving credit where due, Mick also refuses to gloss over other vital features of the Elektra brand such as the state-of-the-art, often extraordinarily high quality of the engineered sound and the daring artistic adventures and crusading risks taken by Holzman in the development of his impressive roster and its sometimes unpredictable but always engaging and stimulating music.
Me, I've many fond memories of investigating Elektra releases; my first actual acquisition was the ISB's Wee Tam & The Big Huge double-LP, but I'd borrowed earlier releases from friends. It had always been my intention to collect the label's products more assiduously, but the painful truth was that at the time I started my LP collection in earnest the discs simply weren't all that easily available, by and large. There was also the unfortunate issue of teenage penury, which meant that quite often I could only manage to buy the singles in the hope that in due course I might be able to afford the albums whence they came. Except that in some cases singles were not succeeded by albums… as in the case of British cult psych band Leviathan, reference to whom is uncharacteristically skimpy in Mick's text (and the book's otherwise so admirably exhaustive Elektra discography fails to list the group's three singles, or indeed any of the label's other 45-rpm releases – an unfortunate omission, and my only real criticism of the book).
This book has so many virtues that it just has to be held up as an example of exactly how to research and present a label history. It focuses equally on the music and the personality of its founder, and to this end Mick has obtained impeccably honest and insightful comments and feedback from Holzman himself (who also kindly provided some memorabilia and photos for reproduction etc) as well as a host of former Elektra artists.
Mick's own credentials are second-to-none, both as long-term music journalist of considerable repute and successful independent music publicist, latterly also coordinator of a number of crucial CD reissue projects. Mick's skill for unearthing intriguing nuggets of information produces plenty of absorbing facts (did you know that Neil Young was originally scheduled to produce Love's Forever Changes, for instance?).
And not many people will realise that some of the actual recordings from the label's successful sound-effects series were capably utilised on Elektra's rock releases (notably Seven And Seven Is and Riders On The Storm). In this connection, a further illuminating footnote to the Elektra story comes with the knowledge that Jac's profits from the sound-effects records enabled him to finance the setting-up, in early 1964, of Nonesuch Records, the low-price baroque-classical label that subsequently through its landmark Explorer series pioneered and revolutionised the marketing of indigenous musics from all over the world, and in a parallel venture introduced electronic music, and in particular the synthesiser, to many a receptive musical head. All of which information proves less tangential and more relevant the deeper your own experience of Elektra's own output, which encompassed electronica in The Zodiac: Cosmic Sounds and pre-classical potential kitsch in The Baroque Beatles Song Book.
Becoming Elektra is both lavishly researched and presented, although it comes with just one minor practical drawback: its dimensions are slightly cumbersome, making it a touch awkward to handle and not entirely easy to store on conventional shelving. But hey, grow yourself a larger hand, expand its span along with your mind! And to assist you in your investigation of the label's musical delights (which I can guarantee will be an imperative, nay become an obsession while you're reading the tome!), why not purchase the soundtrack, still available in the form of the formidable, and thoroughly essential, five-disc box-set Forever Changing: The Golden Age Of Elektra Records 1963-73 (Rhino, 2006), for which, incidentally, Mick Houghton also wrote the accompanying booklet. There's also a continually evolving interactive website, www.elektra60.com, curated by Jac himself, which enables the viewer to peruse and obtain many exclusive label-related features and artefacts.
David Kidman January 2011
---
John "Drumbo" French - Beefheart: Through The Eyes Of Magic (Book)(Proper)
Here's another exceptional book that has proved so utterly compelling that it's taken up much more of my time to read and digest than even I originally envisaged. And not just for purely practical reasons associated with its hefty weight and its massive page-number count (864)… but because during the reading process it became genuinely imperative that I search out (whatever that entailed!) every single Beefheart record I own, and play them through (and some over again) in what amounted to mini-Beefheart-fests. And that was A Good Thing, believe me!
I've always specially admired John French's distinctive drumming, his vital contribution to the characteristic Beefheart sound, and to gain his unique perspective on the creations that have formed a key part of my own musical life-soundtrack has been a privilege to be able to look forward to, indeed. The writing of this book has been on the cards for a very long time – so it's to be viewed as no less than a miraculous achievement that it has been completed at all, let alone manage to see the light of day in this fickle soundbite-focused goldfish-attention-span society. Heartfelt congratulations to John, then, for his integrity and perseverance in its writing, and thence to Proper for having the vision (and integrity) to publish it. For it's just got to be regarded as the definitive insider's account, presented as a magisterial, fantastically exhaustive tome that (for all its heavenly length) I could neither have imagined nor wished being issued in any abridged or otherwise truncated form. The devil is in the detail, in other words.
Generally speaking, John's account takes a straightforwardly chronological approach. Initially, though, I guess I was mildly surprised at the book's ostensibly bitty structure, which within each successive chapter takes a thematic-cum-episodic rather than an all-embracing, largely linear approach to telling its story, interspersing these sections with telling segments of interviews with fellow Magic Band members and others; having said that, all this is seen to be perfectly logical, especially so if you've already come across John's booklet notes for Grow Fins (Revenant's fabulous multi-disc treasury of juicy Beefheart rarities spanning close on two decades) which employ a broadly similar gambit to good effect.
What comes across very clearly throughout this new book is that in the very act of writing it John is making an entirely honest attempt to come to terms with his love/hate relationship with the Captain, Don Van Vliet, even while admitting candidly that he cannot completely recall every event from all those years back (let's face it, who can? and in any case John does incredibly well in recollecting everything he does in such abundant detail). It makes for perversely fascinating reading, even if there are bound to be times when it feels uncomfortably like eavesdropping a touch insensitively on some strictly personal memories that perhaps should've stayed in the confessional box.
That aspect of the narrative aside, and on a level of purely factual analysis, there are passages, particularly in the early chapters, where I was overwhelmed by the bewildering amount of intense detail, and where the profusion of characters (band members etc.) – inevitable given the circumstances – makes for slightly confusing reading. Yet it's no mean achievement that John manages to hit the clearest spot with his ongoing evaluation of the Captain's achievements in the light of the two men's interaction, their constant seesaw of fallout and rapprochement. After 41 chapters, John's loosely chronological narrative draws to an end, naturally, with an assessment of the repercussions that Van Vliet's music and personality had, and were to have, not only on John himself but also on others around him. And noting dispassionately but affectionately the Captain's decision to retire from music altogether and concentrate on painting (another branch of art for which he had a definite talent) for the remainder of his life.
What then follows, comprising the book's final close-on-a-hundred pages, is what for many fans (both the diehards and the more-than-curious of any degree) will surely be its glory: a magnificently comprehensive Track Notes section that knowingly dissects and meaningfully comments on every track the good Captain recorded that ended up on a "legitimate" release of some kind or other. (Apart, that is, from the notorious brace of mid-70s albums, Unconditionally Guaranteed and Bluejeans And Moonbeams, that Beefheart recorded for the Virgin label – and I'm sorry but on balance I'd disagree with John's decision to exclude these from consideration, notwithstanding the widely-held and largely undisputed view that those two albums formed a definite nadir with their unimaginativeness and their unfortunate pandering to commercialism…) John's commentary gives us some extremely revealing insights into aspects such as the genesis of the songs, their developing history pre- and during-recording, the technical processes involved, the distribution of instrumental parts and the effectiveness of the contributions of individual musicians, all concluding with John's necessarily personal assessment of the success (or otherwise) of each individual cut.
As well as reading strangely easily, the book looks great. Paragraphing is clear-cut, and fonts are friendly. The book also contains a healthy quota of rare photos, some used as background on chapter title pages but mostly resplendent within a lavish 16-page part-montage section midway through the volume. Aside from there being no index (oddly), the only thing seriously missing, really, is anything approaching a discography, or at least some basic discographical information beyond album titles and track groupings in the final section (surely these omissions aren't the result of the publisher's desire to keep the book under the 900-page threshold?)
Invaluable is an over-used word when critics get down to appraising so weighty a publication in a mere few hundred well-chosen words, but it doesn't convey the half of the worth of this book IMHO. Sure, I'm a long-time Beefheart devotee, but objectively I'd say it might just be the case too that those music-lovers in the curious-and perhaps-slightly-hooked camp will now be inspired to a greater appreciation of Van Vliet's music through investment in this brilliant, eminently persuasive book, a tome that just has to be the best available work on the Beefheart phenomenon.
David Kidman January 2011
---
Book - Ben Harker - Class Act: the cultural & political life of Ewan MacColl(Pluto Press)
Ewan MacColl's pre-eminence as an important and influential figure in the folk revival (and in many other spheres of activity) has never been questioned. Whatever you may think of his politics (and yes, he did join the Communist Party at age 14), his status as a major creative force – singer, songwriter, teacher and "cultural archaeologist" – can never be denied, but arguments have raged about the terms, and subliminally nigh all-pervasive, extent of his influence on contemporary culture, while the man himself has been the stuff of legend and myth galore.
MacColl's own autobiography (Journeyman), though in several respects illuminating, was necessarily selective in what it revealed, and several chapters (or parts thereof) appear in retrospect to be little more than afterthoughts. I suspect that a similar observation may in time be made about Ben Harker's admirable attempt to address (or should that be redress) some of the issues raised by MacColl's hectic and fully-crammed life, even though its insightful stance does an awful lot to genuinely enhance our knowledge of the distinctly contradictory (and much contradicted) man himself.
The book's subtitle both narrows and widens the scope of potential discussion – for one could also argue that nothing in MacColl's life was neither cultural nor political in some way or other. I sense that Ben fully realises this, and that his subtitle is coined partly to test the waters for a potential sequel – but I may be mistaken… Whatever, Ben proves not insensitive to his subject, while at the same time he is valiantly (and rightly) determined to scotch some of the many curious myths that MacColl perpetuated about himself in order to reinvent his own past (his oft-quoted misappropriation of a Scottish birth and heritage being a case in point). He wants us to understand the man better, and yes the reader does come away from the book's pages both educated and informed and at times genuinely moved by its insights and its respectful observance of often quite intimate detail (the book's final chapter reveals, for instance, that MacColl played with words to his dying breath). MacColl's skill as a teacher and mentor, especially in matters of songcraft and stagecraft, shines through. Reminiscences of participants in the Critics' Group (e.g. Sandra Kerr) both strike a hefty chord and vouch for the almost wilful logic of MacColl's leadership of such a group ("He had the ability to make you feel like a small heap of shit, but when the energy was positive it was an extraordinary inspiration…", for instance).
Ben probes deeper into what MacColl was "really" like, and it's a very readable book, while, entirely befitting the often controversial nature of its subject, refusing either to generalise or to take for granted received wisdom, hearsay and heresy. It has much to say both to those already familiar with aspects of MacColl's life and work and those coming new to the man. It's true that nobody can claim to really know MacColl; but Ben takes a jolly good stab - and provides balance, remaining sympathetic while not uncritical into the bargain and re-evaluating the man in the light of his more positive attributes.
It's indicative both of the exhaustive nature and high academic standard of Ben's research and of the complexity of MacColl himself that close on a fifth of the book's total length (77 of its 348 pages) is taken up by the copious referential notes. The reader gets the definite impression that Ben had to rein in his enthusiasm for the project and there are more stories still to be told and more nuggets to be unearthed. Yet MacColl still remains something of an enigma, and we just know that the contradictions will never be resolved. While it's tempting to conclude that the ultimate book on MacColl will (can) very probably never be written, Class Act comes very close.
David Kidman February 2010
---
Stan Hugill - The Bosun's Locker (David Herron Publishing, in conjunction with the Chantey Cabin)
The mighty Stan Hugill was a fascinating character who has acquired the status of legend, being universally recognised as a consummate authority on ships, sailing and maritime music. If for nothing else, he'll be remembered as the last working shantyman to sail the high seas, on the last of the square-riggers, yet he was also an artist and linguist of some note. Without Stan's legacy as a collector (and authentic performer) of shanties and worksongs, the corpus of knowledge of those sub-genres would be so much the poorer; Stan's writings were an inspiration to a whole generation at the time of the folk scene's "revival". Sure, there have been other collectors, but none of those possessed Stan's unique combination of working knowledge and healthy academic interest.
This new volume is intensely useful in that it collects together for the first time all the articles Stan contributed to Spin magazine (which had begun life as a duplicated publication launched by a handful of enthusiasts from the Spinners Folk Club in October 1961), under the aegis of the column The Bosun's Locker. The first of these articles appeared in 1962 in the magazine's fourth issue, shortly after the publication of Stan's magnum opus Shanties Of The Seven Seas, the shantyman's bible and the first of his (eventually five) books to "cause a stir and open many eyes regarding sea shanties". According to Beryl Davis (of Spin Publications), in her foreword to this new collection, Stan regarded the series of articles which he contributed (57 in all, that is one per issue right up to the magazine's final edition in 1973) as "a sort of supplement where he could keep adding his latest discoveries or explain something he thought may not have been made clear". But this could work both ways, for as you'll see immediately, many of the individual articles acted as "spin-offs" (sic!) for discussions and also contained ideas that later appeared in his books. It's the first time that the vast majority of these writings have been available in print anywhere since their original appearance in Spin, and the unified presentation of the whole set of articles in their correct sequence enables you to see how Stan was to develop and formulate his ideas and follow the themes. On occasion, admittedly, an individual article would be more of a tiding-us-over snippet outlining Stan's reasoning or promoting his latest book, but all of them were worth reading for the insights we gain from Stan's illumination of a branch of folklore which was fast disappearing and which had not hitherto been treated to serious study (or record) in the way that, say, the ballad repertoire was being.
Following a similar approach to that of his books, virtually every one of these articles includes an example of an actual shanty, generally illustrating or expanding some point made during the learned discourse preceding it. And (here's a bosun's bonus!) several of the songs herein don't appear in Seven Seas itself…! Stan explains not only the shanties themselves, their origins and functions, the mechanics of the actual tasks to be performed and to which the various categories of shanty were to be sung, but also ancillary activities and topics. Individual articles have titles such as The Speed Of The Shanty, Shipboard Music And Dancing, Songs Of American Sailormen, The Press Gang, Humour At Sea, and there's even a pretty exhaustive five-part series on Songs Of The Ratcliffe Highway. In expounding the mysteries of the various categories of maritime music Stan reveals much of himself, and reading these articles is just like hearing this larger-than-life character in the flesh. It all makes for supremely entertaining reading; nowhere is Stan's writing remotely stuffily academic, but by jove the reader learns a lot, and the forthright clarity of Stan's language is refreshing as a stiff sea-breeze, one that enables you to steer a steady and unwavering course through the often murky waters of maritime folklore by employing the full compass of Stan's knowledge. The layout of the book is most attractive, the design equally so, with stave examples and Stan's own line drawings all faithfully reproduced. There are two useful indexes: a general one and one for the songs themselves. This is an absolute treasure-trove: what one might call a hugilly (sic!) enjoyable and informative volume.
David Kidman April 2007
---
Greg Ward - Blues 100 Essential CDs (Rough Guides)

This is a welcome addition to the very good family of Rough Guides. As with any choice of 'essential' albums it is very subjective although I found it an illuminating insight to blues albums. One slight criticism that I have is that there are too many 'Best Of' albums and not enough seminal offerings from the artists chosen.
One album per artist would have been better so that more of them could have been included. Having said that, it is a fantastic introduction for anyone not too sure what albums to buy to start their blues collection. It is pocket-sized so you can take it to your local record shop or have it sitting by your computer, as I have when I'm surfing the web in search of the elusive rarity.
I have a few of the albums listed so Greg and I do share some of the same tastes and I'm sure that there will be many more in my collection before the year is out.
David Blue
---
Book Review - Bob Dylan – Chronicles, Volume One (Simon & Shuster)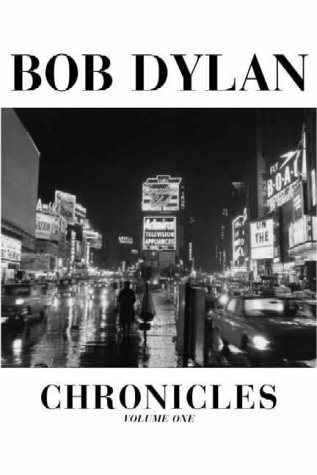 The banner headlines this summer had trumpeted the exciting news – "Dylan is poised to tell all"… Well, nothing'd ever hope to live up to that now, would it? …
Chronicles is, however, a very good read. It consists of a series of five separate, highly personal memoirs, each focusing on a significant period of Dylan's life and times. The memoirs are not presented in chronological sequence however, although at least two of them could be considered roughly sequential (if not presented as such) in terms of the timespan covered. The style of these memoirs is discursive, often eminently tangential in nature, and very much like you're sitting there listening to a one-sided conversation with the man, a conversation where he's just left to ramble and recount his memories of selected significant experiences (or streams of experiences) and the feelings arising from them (leavened with a judicious touch of hindsight), rather than the reporter or interviewer steering the topics or imposing an artificial commentary on them.
Bob's stream of consciousness naturally enough expresses his feelings, but without bringing any personal malice or rancour into the equation; artistic judgements are made in passing (sort of), but that's all. His memory may not always be perfect at this temporal remove, but his reminiscences of key figures of the folk revival (such as Mike and Pete Seeger, Cisco Houston and notably his major inspiration Dave Van Ronk) are warm yet (in spite of their succinctness) detailed (Dylan has a cute way of sizing folks up!), affectionate and honest, and betraying no trace of sensationalism. His discussion of the appeal of other musicians is revealing too (like his specially potent summary of the unique qualities of Roy Orbison). Any occasional impression of name-dropping is incidental and short-lived, and in the final analysis wholly forgivable.
On more abstract matters, it's likely that some readers may view Dylan's expression of truth as bordering on philosophical pretension, but there's a candour in his writing that likeably transcends deviousness and/or over-reaching of ambition or station. There are nuggets of real insight here, and Dylan's obviously thought deep and widely. He openly discusses his inspiration and adoption of the Woody Guthrie ethic, sets in context the rationale for writing his own songs, and undertakes a direct hindsight appraisal of his own songwriting that turns out a refreshing – if generalised – critique (in the sense that you feel it never gets given the chance to stretch far enough, and there's tantalisingly little illumination of individual song lyrics).
In the 1987 chapter, Dylan honestly admits he felt he was "no longer capable of doing anything radically creative with" many of his songs, then credits a re-hearing and adoption of a Lonnie Johnson-influenced guitar style as the catalyst to revitalising these songs in performance. Fans may not agree, of course, but at least this is from the horse's mouth…
The chapter dealing with the Daniel Lanois-produced New Orleans sessions is possibly the least captivating, but the tale's still worth recounting. The final chapter returns to Dylan's early years, his Duluth upbringing and formative influences, and forms a satisfying cyclical perspective on what you've read in the foregoing pages. Well, although Chronicles doesn't exactly qualify as the long-awaited autobiography, if the next two projected volumes are as compelling a read as this, then I've no major complaints. But I do find the complete lack of any kind of index more than mildly frustrating.
David Kidman
---
The Bob Dylan Scrapbook (Simon & Schuster)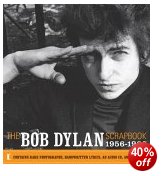 Published to tie in with the recent rejuvenation of interest in Dylan with the release of the No Direction Home DVD and CD sets and the republication (in paperback) of (the first volume of) his memoir Chronicles, this large-format "interactive biography" consists of a unique collection of interviews, photographs and artefacts from one of the most eventful and formative decades of Dylan's career (1956-66), all housed within a durable slip-cased hardback book. The package also contains a 47-minute audio CD which charts Dylan's growth as a musician and as a public figure, from early interviews with Oscar Brand in which he created his own history right through to interviews recorded as recently as 2004 for the No Direction Home documentary in which he reflects on his early career (shame it contains no music tho'). The actual text binding the book together, by Robert Santini, is fair enough, a story reasonably well told given the 60-page limitation, although in the end it probably tells the Dylanologist little significantly new; the book's principal interest is rather in the atmospheric evocation of the era being portrayed through the many inserts or foldouts contained within or on its pages - facsimiles of what might loosely be termed ephemera. College yearbook pages, concert tickets, programmes, handbills, posters, newspaper clippings, press releases, repro handwritten lyric pages, and so forth - even a popup cardboard cutout! And, perhaps most of all, a really good selection of contemporary photographs, including plenty I'd not seen before - album cover shoots, Newport Folk Festival stills, action shots (and inaction shots...!). The Dylan addict will appreciate the care which has been lavished in compiling this book, while the more discerning fan of Dylan's music may find it all a little peripheral although there are still insights to be gained from the study of incidental detail; however much you may think you know, there's always more to know it seems. Hindsight's a wonderful thing, ain't it?...!

David Kidman - December 2005
---
Classic English Folk Songs: Selected & edited by R. Vaughan Williams & A. L. Lloyd (EFDSS)
First published in 1959 then reprinted several times up to 1990, this slim tome has long been acknowledged as a "ground-breaking collection" that "reclaimed traditional song from the school and the recital room". Previously known as The Penguin Book Of English Folk Songs (cynics might just wonder if the title's been changed now to avoid confusion with the acclaimed Les Barker tome!), this collection has been republished (to coincide with the centenary of both Cecil Sharp and Ralph Vaughan Williams beginning song collecting) by the English Folk Dance And Song Society (EFDSS) in association with the South Riding Folk Network, whose own Malcolm Douglas has masterminded the book's revisions and provided an additional two-page introduction. Any owner of the original edition (in whatever printing or format) will first be asking what exactly has been added for this new edition? Well, obviously the original bibliography has been replaced by an updated and much expanded one, and there's now a listing of online resources and specialist record labels too (though the website address given for Veteran is incorrect). More importantly, though, there's a lot more information on the singers whose songs appear in the main part of the book, including a good-sized biographical digest that altogether runs to over 20 pages. And the actual Notes On The Songs themselves are in many cases considerably more comprehensive, with incorporation of Roud and Child numbers and other useful references that take due account of the advances in scholarship and availability of source information since the original edition. I still find the placing of the Notes (as a separate section, after the actual songs themselves) rather cumbersome for quick reference, but that's a matter of personal taste. The songs themselves (70 in all) are presented much as in the original edition, though the slightly larger page size benefits the readability of the text and musical notation. I understand that a few corrections have been made to these song pages, although I'll admit I didn't spot them! However, I did spot that the line at the top, below the title, which denotes the singer from whom the song was collected, now conveys some useful extra information. Elsewhere, in the new edition's all-important opening pages, these are graced with a brace of brief introductory prefaces (by Ursula Vaughan Williams and Caroline Clayton) and a foreword (by Martin Carthy), then is reproduced the original Introduction followed by Malcolm Douglas' new (sensibly concise) Introduction, after which we get some pertinent Acknowledgements and quite substantial biographical sketches of RVW and ALL. All in all, this new edition is just fine, and admirable in as much as it is fit for its intended purpose. It looks good on the shelf too, with an attractive cover design, although I had difficulty reconciling the perhaps untypical choice of singers for the photomontage - and I've only just discovered the identity of the distinguished-looking chap in the middle (not credited inside, by the way)…..
David Kidman
---
Cubase SX: The Official Guide - Michael Prochak (Sanctuary Publishing)
In case you didn't know, Cubase SX is a hard disk recording application which allows your PC to be turned into a multi-track studio quality recorder. There are other recording programs on the market such as Cakewalk, ProTools and Logic, but for my money Cubase SX is probably the easiest to operate and get results faster than most. If all you want to do is plug in and record your songs, then this is the software for you. It can also take your production to a level that is every bit as professional as other more expensive packages on the market.
This 'Official Guide' covers just about everything you need to install, set up and operate Cubase SX. As with many software applications, the operation manuals they come with can be complex and off-putting to the musician or producer who simply wants to get the job done. This book is a welcome explanation of what Cubase SX can really do, and it is quick to read and easy to understand with the aid of clear pictures and drawings.
However, one thing I would have liked to have seen here is a more 'in depth' section detailing what to do if you get latency problems or hard disk read speed difficulties. The book seems to almost bypass the subject of latency (delayed recording) with a short paragraph on the subject of avoiding crappy Sound Blaster cards. This is true as I speak from experience here. But to the unfamiliar user, this may not become apparent until it is too late and a new sound card has been purchased that still doesn't work correctly. But what soundcard is the right one for you? There are some really great ones out there so it's worth doing some homework before you part with your hard cash. You would be advised to go to www.google.com and do a web search using key words like Low Latency, ASIO drivers, Sound Cards, Cubase and Monitoring. The choice of sound card is directly related to many latency problems.
And there are other hardware considerations users should watch out for before going out to the local music shop and buying a new sound card or new PC, such as your operating system (PC users must use either Windows 2000 or XP and Mac users can only use the OS X platform). These latter points are covered in the book and this is backed up with a section that covers the history of Cubase dating back to the early 80's.
I can see this book being a real help to all Cubase users whether semi-pro or pro alike. I have personally been using SX recently to finish my latest album, and I think if I had seen this book before hand, I would have taken in some of the tips mentioned and used them in my own work. So in summery, it's a big yes to this one and all you Cubase SX users out there go check it out. It is also very reasonably priced considering the level of information is covers.
Amazon.co.uk page
www.sanctuarygroup.com
Paul Wood
---
Colin Irwin - In Search of the Craic: One Man's Pub Crawl Through Irish Music (Andre Deutsch)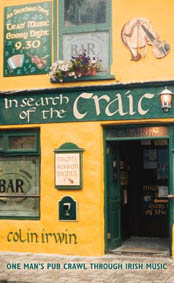 Colin Irwin's travelogue combines several uniquely Irish strands and weaves them together with large helpings of humour, a seasoning he has a great talent for writing about. Those ingredients are music, scenery, friendship and the humour of the plain people of Ireland, where humour is never far away. Colin has written about Irish music for over 25 years, rising to assistant editor of The Melody Maker, he has also contributed to such august publications as The Guardian, Daily Telegraph and The Sunday Times. I have always liked his low-key approach to his work.

He sets out on his musical odyssey to find the mighty fiddler, Tommy Peoples, whose fiery fiddling seered the vinyl on the first Bothy Band album, which is where Colin met his road to Damascus and his life became distracted by Irish music. A very good starting point for Irish music has never again attained the heights that the Bothy Band reached. They were the first Irish super group and although several have tried, and indeed many with the same instrumentation, none have succeeded. To have enjoyed The Bothys live was indeed something to remember and tell your children about in your dotage.

Irwin within his 256 pages manages to pay tribute and give the reader a brief introduction to most of the important arrivals on the Irish music scene Those who have conquered the musical world by touring and recording success. Also those who have gained worldwide reputations without leaving their townland. These are maybe more interesting and fulfilling. Hopefully the casual reader will be induced to look further and find the wonderful world of Irish music and join us, the distracted. Within that world they will meet many of the wonderful characters who still grace that world and maybe even find the meaning of life. Maybe one day they will end up sharing muffins in Caherlistrane with Sarah and Rita Keane, or sit at the feet of the mighty flute player, Seamus Tansey, and hear the benefit of his unusual take on the whole ball of wax. This world is peopled with the listeners who are also invariably great characters. One of my favourite incidents in this book was Colin's delightful description of a Frankie Gavin gig which is torpedoed by a man with his own and borrowed Weapons of Mass Destruction, Johnny Spoons. Only in Ireland, as they say.

One of my favourite effects of the book is how clearly Irwin shows that the music is still part of everyday life in Ireland; everybody knows where the craic (not a word I like) is tonight. There you can find yourself sitting beside a living legend like Kevin Rowsome or Dervish in full flight in their pub in Sligo. All you have to do is listen. And every Irish town has its own master musician whom they are very proud of, even a little village like Doolin in West Clare, a haven of Irish music for the last 50 years. I recall meeting the great Clare whistle/flute master and singer, Micho Russell, leaving Gussie O'Connor's (R.I.P.) bar and on going into the bar, where Gussie was tearing a strip off two Canadian guests who were laughing at the ramblings of the local who had been telling them of his recent trip to Canada. They were obviously not in the audience for Micho's show stopping performances at The Edmonton and Toronto Folk Festivals.

He has done lots of research into history of the fantastic game of Hurling which each year enthrals the entire island's population in the adventures of his or her own county. He also carries a deep knowledge of the Turf and its many machinations. Obviously a deep thinker our CI. He also managed to make contact with that hidden Ireland, which most tourists don't come into contact with, mainly because of his deep understanding of the Irish sense of humour which seems the life source of most Irish men and women. Like the hidden pub which only opens on a Thursday night, mainly for the entertainment of the landlords friends and neighbours. He is a brave man who travelled far and long to meet up with Seamus Tansey the legendary Sligo flute player who has a very individual insight of Irish music and all relating subjects. Irwin would have considered his book incomplete without Tansey's input, where most others would not know of Seamus and his opinions and would not have bothered. But as always when you got that further yard, the story is the better for your journey.

So to sum up, this is a great humorous journey during which you will learn a lot about Irish music and its exponents, Horse Racing and Hurling and you will get a delightful insight into the Irish way of life which will warm you on a cold night and hopefully entice you to make the trip yourself and have your own adventures in search of the craic.

© Alan O'Leary 2/2004
www.alanoleary.com
---
Jack Bruce: composing himself, the authorised biography by Harry Shapiro (Jawbone Press)
With a handful of notable exceptions, the history of rock is not exactly teeming with acclaimed or even influential bass guitarists, well at least not to the extent that it idolises the legendary lead guitarists. But Jack Bruce certainly has a claim to belonging in that list of exceptions, for he's one of the greats, a genuine pioneer – and not just as bassist but as songwriter and singer; and as evidence, this new biog's mission is to present the case for the telling of Jack's tale (as opposed to that of his partners-in-Cream, Clapton and Baker). Which it does, admirably, for the most part, and thus earns a recommendation.
So many folks persist in viewing Jack's achievements exclusively through his stint with Cream - but there was, as Harry Shapiro points out, so much more both before and – especially – since, that (in real terms) brief period of commercial success. In collaboration with his subject, he chronicles Jack's career path with honesty and respect, within a sensible chronological framework that leads us from the early days as a classical music composer, improviser and cellist, on to his discovery of jazz (Mingus and Monk) and his work with Alexis Korner, Graham Bond and John Mayall prior to early tastes of chart success with Manfred Mann - all well pre-Cream!
The formation and hectic career of Cream itself is covered a touch desultorily it must be said, and I didn't learn much new here (I was hoping for some illumination of his songwriting for the band). But his subsequent solo albums are given due weight of coverage, as are Jack's subsequent forays into jazz-rock and his contribution to the ill-fated, thrown-together West, Bruce & Laing outfit prior to the inevitable decline into drug addiction. Other issues are covered well and honestly, in particular Jack's long-term musical and personal relationship with Ginger Baker (that awkward combination of deep respect and bitter rivalry).
And, to maintain the correct perspective, the stunning array of further solo projects and supergroup collaborations since Cream (from Songs For A Tailor to Songs With A Taylor, indeed), many of which are hitherto sparsely documented, are here given good consideration, while positing and acknowledging that notwithstanding his intrinsic honesty and his sheer embodiment of the "ethos of the working musician", always displaying confidence in his own abilities (and his assessment of those abilities), Jack has still never quite achieved the success and recognition he really deserves. This, of course, may be in part due to assessment being more difficult when there is little evidence (in terms of actual recordings) of many of his big-name collaborations. Even so, Jack's profile was almost never higher (certainly post-Cream) than in the year the biog closes (2008-9), with multiple awards and a six-CD retrospective – and the brief but blindingly successful Cream reunion! – under his belt. Like any musician, Jack has had his fair share of life troubles, not least those of a medical kind, but he's emerged and triumphed for sure.
The book's given a head start by its foreword (by Eric Clapton), and ends with appendixes that contain a discography and catalogue of live performance, both of which appear suitably exhaustive (though I can't pass a final judgement on their total accuracy or completeness, they seem pretty comprehensive to me).
The jacket describes the book as "the definitive insider account" – in the end this is a pretty accurate tag, I'd say, and as close as anyone is likely to get to that, especially in its discussion of most of the key relationships in Jack's story. However, that of his writing partnership with Pete Brown (and why exactly the two musicians fell out) seems to have been glossed over somewhat, surprisingly, especially considering the extensive interview opportunities Shapiro was granted. But bearing in mind the slim probability of anyone else being granted similar access to Jack, it'll surely be hard to imagine a better Jack Bruce biography being written in the future (and this despite a frustrating handful of careless errors in namechecking which surely can't all be mere typos).
David Kidman November 2010
---
Jambands: The Complete Guide To The Players, Music & Scene Dean Budnick (Backbeat Books)

There is, of course, absolutely nothing new about the concept of jambands. It's probably true that the concept has held sway since there were two musicians. Indeed it's the very basis of jazz and if we apply the notion to the rock age it would be a very different landscape without the jam. Cream, Hendrix, Dead, Santana, Man, Brinsley Schwarrz - stick a pin at random and you'll find an outfit that enjoyed the freedom to blow.
What Budnick's fine book is essentially concerned with is the recent rise of the Jamband scene in the US; a scene sired by the likes of Phish and musicians of a generation who, inspired by the likes of the Dead, Allmans and Little Feat have rejected the constraints of the present day music biz and chosen to plough a new furrow. Where it gets interesting is that not only does this rejection embrace the creative side of music but also the business side.
And it's the latter that makes the phenomenon truly fascinating. Empowered by the net and the potency of e-mail and chat groups, the Jambands have shown that you can seed and nurture an apparently media invisible audience that has clearly been awaiting a substantial musical meal. The bands have proved that not only can you sell music but you can sell shows and indeed create a festival circuit populated by (no doubt profitable) thousands.
Now this requires a close bond with audiences and the development of a relationship that goes way beyond the imagination of the 'man' and is all too significant in that such communication whilst easily dismissable as databasing creates a mutuality that benefits artist and audience.
From a musical perspective it's heartening to see that Jambands are apparently blind to genre with jazz, Bluegrass, folk, country and rock in all its many hues cohabiting in all fertilising peace (sometimes, it must be said, within the one long jam!)
The potential of the scene is clear. Read Budnick on Little Feat and find out how close interaction with the fanbase not only saved but inspired the band and note how bands like Cowboy Junkies on their recent tour made clear that in defiance of chain store indifference they were stocking their own entire catalogue and offering their own specials via the net as well as building an e-mail communication system. The Junkies may not be a jamband but the influences are appearing.
Dean Budnick's fascinating tome may turn out to be both history and manifesto.
Steve Morris
---
Joe Boyd - White Bicycles: Making Music In The 1960s (Serpent's Tail)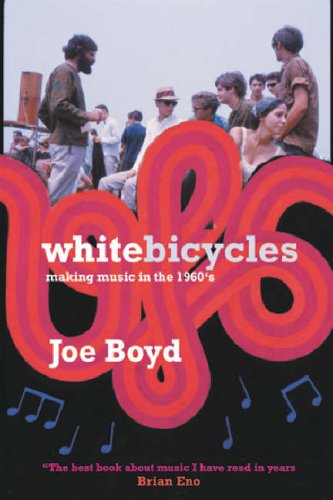 This has gotta be one of the best reads I've had in a long time (albeit partly because - cards on the table here - the subject-matter is of prime interest to me and personally I admire the hell out of its author). It's also one of those (nowadays increasingly few) books that's impossible to put down once you've started on it, being both compelling and compulsive reading. There can't be many who haven't heard of Joe, very likely by loving long-term or big-time (or at least admiring at a distance!) some if not all of the recordings with which he's had a key involvement. Joe's widely acknowledged as one of the most influential figures of the mid-to-late-60s music scene, and those in the know will unquestionably view this often iconoclastic record producer, mover, shaker and all-round talent shaper as possessing one of the most uncannily percipient musical minds of all time.
This wonderfully concise book (a little over 250 pages of text) presents a sequential series of linked memoirs in which the proudly single-minded Joe tells how he helped to shape the 60s (a temporal definition which in his case, is stretched to encompass summer of '56 to autumn of '73!). Many of us I suspect will identify with Joe's account of his early years as an incurably eager and insightful (Joe credits his grandmother for having taught him to listen!) fan who was perennially euphorically excited by new and interesting sounds; but so very few could claim to have the bottle to take this beyond the level of the familiar yet vitally important role of musical evangelist, all the way to that of fully-committed (and risk-taking - nay, some said foolhardy!) entrepreneur (there's that priceless story recounted in an early chapter about him driving off to Chicago to seek out blueser Lonnie Johnson to book him for a gig in a neighbour's living-room in Princeton!). It's this extra level of daring and depth of involvement, going that extra few hundred miles, that makes one admire Joe all the more and it all enables him to paint such an incredibly evocative picture of what it was like to be in on the cutting edge of musical appreciation while growing up in early-60s middle-class Harvard-educated America.
Throughout the succeeding years, Joe's unerring good taste and uncanny ability to root out the finest music, his dogged persistence in the face of indifference, his unshakable belief in the artists he would produce and promote - and in his own ability to do so - would bring to the public consciousness some of the very finest music the scene had to offer. This "kid from Boston" was not long into his twenties at the time when, acting as tour manager, he brought Muddy Waters over to England with the Blues & Gospel Caravan, yet as if that weren't enough to earn him a place in the history books the list of the guy's successive achievements is just mind-boggling. Sure, some of these are happenstances which have achieved their importance and momentous stature in retrospect - for instance, Joe was the sound engineer who plugged Dylan into electricity at Newport, and he was the producer of the first single by his UFO-Club protégés Pink Floyd. But his long list of seminal Witchseason record productions for the Elektra and Island labels in the late 60s (including Fairport, the ISB and Nick Drake) is staggering, and his contributions as head of music for Warner Brothers Films in the 70s no less impressive. And then in 1980 he went on to found the much-admired Hannibal record label, which he steered, and kept at the forefront, for 20 years. This latter chapter of Joe's career of course falls outside the timespan of White Bicycles, but its mention is essential in order to recognise that Joe never became a spent force of relevance only to the past; his influence on taste-forming and on the unearthing and appreciation of good music is legion, for, in his turn, he's taught folks to listen, if sometimes his didacticism has been subliminal. For my part, I've a personal anecdote of less than comfortable nature, involving my receiving a phone call from Joe himself totally out of the blue one day, in response to a letter I'd ignorantly if wellmeaningly written to Hannibal innocently querying some track origination details on one of their reissues; Joe had (perhaps not entirely unjustly) interpreted my queries as criticisms of his track selection and reissue policy. I'm not sure the call ever satisfactorily resolved the queries, and Joe may well have harboured a rather low opinion of this fan who after all was (as I see it) only exhibiting a desire akin to his own for getting at the facts and assessing all the available evidence! Ho hum...!
But back to White Bicycles - a book which both transcends the public's thirst for juicy revelations and/or sensations by telling it straight, yet at the same time stokes that thirst with plenty of "hey, fancy that, did you know...?" titbits, lacing the text with tantalising "so wish I'd been there" reminiscences and ear-watering descriptions of tapes of gigs from the realms of fan-fantasy (like Page and Plant jamming with Fairport at the Troubadour in 1970!). The book's final chapter takes us thrillingly through Joe's first-hand account of the aftermath of Nick Drake's death, leading on to a typically thoughtful appraisal of his art, after which Joe moves on to muse on the fates of other key protagonists and finally to reflect potently on the changes in everything that effectively slammed the door in the face of the all-embracing "we can do it" idealism and optimism of the 60s and brought in its place disaffection and greed. Sure, some things haven't changed - there are those who continue to perform with the same spirit that first delighted Joe some thirty years ago. But Joe's final self-assessment is (surprisingly?) modest, even self-effacing: "I cheated. I never got too stoned. I became the eminence-grise I aspired to be, and disproved at least one sixties myth: I was there, and I do remember." For at the end of the read we feel we know so much more about the characters who inhabit the scene, yet Joe himself is more elusive except where he relates directly to those characters. Perhaps that's best, perhaps that's deliberate; OK, so Joe's biased, but warmly and affectionately so; his bluff, assured suffer-no-fools demeanour and apparent sometime bullishness is a trait shared by many musical visionaries and can often be mistaken for arrogance or mere self-interest. Joe really is one of the good guys though, and in White Bicycles he presents his own distinctly "insider's view" from the unique perspective of a cultural outsider, always thoroughly engagingly and often very movingly, inviting us too to reflect on the ramifications of that key decade.
www.joeboyd.co.uk
www.serpentstail.com
David Kidman
---
Jon Langford - Nashville Radio: Art, Words, and Music
A catalogue of paintings by artist/musician Jon Langford includes over one hundred pages of his visual works,
song lyrics, autobiographical writings, plus a CD with newly recorded versions of 18 songs
144 pages paperback, 215 paintings and etchings, Published by Verse Chorus Press, ISBN: 1-891241-19-2
Any collector of country music CDs must be aware of Jon Langford's album sleeve artwork if not his name. Langford as visual artist produces highly individual paintings - cartoon-styled and lettered - of his Country heroes and skeletons, grinning, white-faced and blindfolded, and decorated with the iconography of death. Giving the impression of being painted on weathered wooden boards, scratched and cross-hatched with a sharp knife, they are powerful and often uncomfortable viewing. They are his commentary on the culture of his adopted homeland. The 18 song CD included with his book is a solo affair of newly recorded songs. His songs, sung with a pronounced Welsh 'r', jolt you out thinking his is a solely American diatribe. These are universal themes of social commentary. He also uses his music to make an anti-death penalty statement.
Welshman Langford studied Fine Art at Leeds University where he was a founding member of the Mekons and the Waco Brothers. He relocated to Chicago in 1992 - home of Bloodshot Records, for whom he records and designs (but not exclusively) album sleeve art. A small selection can be seen below: Hank Williams (Mercury), The Sundowners (Bloodshot), Wanda Jackson tribute album (Bloodshot), Jim Langford's The Executioner's Last Songs (Bloodshot) and Jim Lauderdale (Yep Roc). His paintings and prints have been exhibited widely throughout the USA.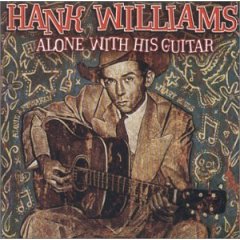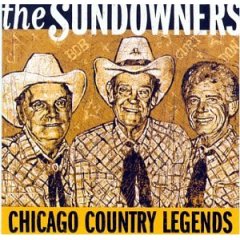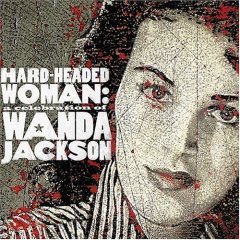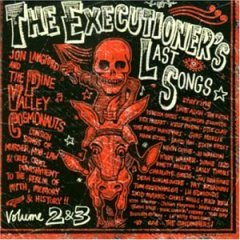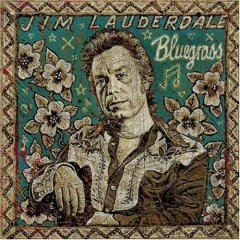 www.versechorus.com
www.jonlangford.de
www.bloodshotrecords.com
---
The Kinks: All Day And All Of The Night - Doug Hinman (Backbeat Books)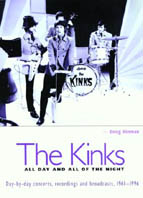 If you're one of the poor souls who can't remember to bring in a loaf of bread at the end of the working day when the request was stressed as important as recently as a lunchtime text; can't remember your partner's birthday, your own shoe size or the hamster's name But can rattle off the set list for Jethro Tull at Hull Uni in 1969 and quote album label numbers with the dexterity of Derren Brown then this is for you.
If you're a Kinks fan - and by and large you certainly should be - this is fact heaven. Want to know what they did on, oh, let's say Saturday March 15th 1969? They played two shows at the Sunderland Empire as part of the NorthEast Folk Song and Dance Festival and they were probably the last shows with original bassman Pete Quaife. Amazed. Right, it's the book for you then!
What's more, it's a large (A4) format so the facts are easy to browse and the pictures have space to breathe.
It's a simple format for sure but it's prosecuted with care and attention that had me quite hooked and I'm the sort of chap that doesn't really need anymore than a handful of klassic Kinks kutz to keep me happy on a day to day basis. A genuine labour of love.
Steve Morris
Oh, and those Sunderland shows - 5pm and 8pm!!
Check out The Beat and Roots & Branches - Wolverhampton-based Internet music news, reviews and listings magazine, and radio programme, edited and DJ'd by Steve Morris
www.roots-and-branches.com
---
Ed. Frank Purslow, revised Malcolm Douglas & Steve Gardham - Marrow Bones: English Folk Songs From The Hammond Gardner Manuscripts (EFDSS)
Marrow Bones, originally published in 1965, was the first in a series of four pocket-sized (and pocket-priced) song-books which quickly became a valued source of material for singers in the English folksong revival of the 1960s, effectively shaping much of their repertoire. The shoddy and cheap presentation of the original edition, however, somewhat masked the riches within, for it presented a hundred songs collected in the 1900s by Henry & Robert Hammond (in Dorset) and George Gardiner (in Hampshire); indeed, considering its pivotal role, it's unbelievable that the book languished out of print for so long - over xx years - before finally being republished last autumn in this handsome revised edition containing much-needed new notes as well as commentaries by Messrs Douglas and Gardham. Not only is the format more user-friendly and yes, practical (gone are the original suspect chords for suggested accompaniment, heavily criticised at the time, so we are left with a straightforward statement of the melody line); also now jettisoned are the slightly silly, if quaint illustrations/drawings, so that the songs themselves can now be allotted more space and are more clearly reproduced. Conveniently, the format allows for one song per page in the majority of cases (although in a small handful of instances an apparently unavoidable split could've been better managed). The new notes are both extensive and a vast improvement on the over-skimpy original "jottings", with detailed information on the song collations as well as the changes, corrections and amendments (and updates) made and better cross-referencing of sources (eg to Roud index numbers). (Even so, there's a candid acknowledgement that more could have been done to research the singers had time, finance etc been available...) The songs themselves cover a wide spectrum, with subject-matter ranging from life and death, war and peace to love and work, whereas there are also some distinct curiosities apparently drawn from the more theatrical arenas of stage and music-hall. Although since the book's original publication more than one generation of folk performers has drawn heavily on this volume for its repertoire, even a cursory perusal of its contents is likely to yield a hitherto undiscovered gem; tastes change, and some songs that might have seemed de-rigeur 40 years ago will be out of fashion (or non-PC!) nowadays, while conversely yesterday's surreal obscurities will be today's hits - and there's plenty of both in Marrow Bones. This all adds up to a wholly worthwhile and totally commendable reprint of an essential collection of songs, and it would be great to be able to confirm that volumes 2, 3 and 4 are to follow in due course.
David Kidman May 2008
---
Maypoles To Mistletoe: The Book Of The Show - Martyn Wyndham-Read & Chris Brown - (Educational Printing Services Ltd)
For the past 36 years, Martyn and his doughty team have been performing the Maypoles To Mistletoe show around the country (and latterly also at festivals, where it has generally been staged as workshops culminating in a performance within the festival). Live performances of the show (usually occurring just before Christmas) have become a seasonal tradition in themselves! This heartwarming production consists of songs, dances and readings that take us through the seasons of the year, and so far there have been two recordings of music from it, of which the lovely Country Branch CD from 1998 is, happily, still available - although (frustratingly but necessarily) it omits many of the songs. This new book, with its accessible A4 spiral-bound format, is intended as an enabling handbook, from the study of which folks will be able to present their own customised local version of the show. The introduction discusses the foundations and fundamentals, also the practical aspects, of the show, then comes the meat of the book: complete text and music for 35 songs (of which nine are designated as forming the core of the production) is presented in user-friendly simple stave notation, sequenced chronologically and with each seasonal section preceded by notes on the customs and practices of that season. Then follow some copious performance notes (including advice on staging), and five appendices, these respectively providing notes on (and an index to) the songs; information on the readings and narrations; tunes for, and notes on, the dances; movement diagrams for the dances; and three pages of particularly sensible notes for schools. After which we find a bibliography and discography, and a list of useful contacts and acknowledgements. Finally, tucked at the back in its own little pouch, is a 36-minute CD of fresh (2007) performances (by Martyn and his merry band) of a total of 13 items from the show that (apart from Seasons Turn) do not appear on the 1998 CD. This disc sports two pages of supporting notes, and although the handful of songs Martyn performs here must be considered the jewel in its crown the dance tunes are invigoratingly played too and Jim's uniquely personal style of narration is most entertaining. All in all this book is a wonderful production, very attractive in both design and usability. It can be used for its stated purpose as a resource – an inspiration for, and guide to, mounting one's own production - or else treated as a superior reference tool (keep it handy on the shelf alongside Free Reed's fine Midwinter box). Either way, it fulfils its aim admirably and unerringly.
David Kidman March 2009
---
Sid Griffin - Million Dollar Bash: Bon Dylan, The Band And The Basement Tapes (Jawbone Press)
Well now, as every Dylan fan will agree, the Basement Tapes were something special: ad-hoc recordings of Dylan and his musicians (the erstwhile Hawks) holed up in upstate NY (Woodstock) casually trying out a whole bunch of new songs (some even collectively-written) that with hindsight can be viewed as kick-starting the whole Americana-roots genre. They also jammed loosely on a whole load of covers of blues and country material. At a time when the rest of the music world was tripping out and turning on, such a back-to-basics rootsiness gambit was determinedly unfashionable, and although some songs leaked out through pirated acetates to bands eager for quality new material (and some of those bands' covers - eg This Wheel's On Fire, Mighty Quinn - even made the UK charts!), the majority of the music recorded at the sessions became the stuff of legend and remained thus for so long that it took nearly eight long years for even some of the tracks to appear in official, legal LP form (on 1975's edited-highlights two-disc set The Basement Tapes). Such, then, is the history. And now comes the commentary and research. In an age when virtually every aspect of Dylan's œuvre has already been laboriously examined by the academics and hacks, it's most refreshing to find a book written by so sympathetic and insightful a commentator, one which takes a new angle and explores a relatively uncharted field with such depth of incisive perception. Sid Griffin's credentials are impeccable, not least as Americana pioneer (Long Ryders, Coal Porters) and author of a key book and a film documentary on Gram Parsons; here his meticulous research into every aspect of the Basement Tapes sessions shines through in the loving detail with which Million Dollar Bash is riddled. Entirely in the context of the recordings, and with the help of exhaustive interviews with important movers and shakers of the time (Robertson, McGuinn, Hillman, Boyd et al.), Sid entirely credibly ponders the significance of the music laid down at those legendary sessions and considers their lasting influence. His examination of minutiae is sometimes almost obsessive, yet never intrudes on the book's narrative element or blunts its critical thrust. The book's structure helps too: following background and scene-setting chapters giving a sensible perspective, including an account of Dylan's motorcycle accident, each of the individual session-locations is then allocated its own chapter, within which each song recorded is given a critical assessment. This treatment made me go right back to my set of bootleg CDs and reacquaint myself with the music, in long and compulsory sessions. Finally, the book offers a useful evaluation of the "official" edited LP release, then a handful of well-chosen contemporary overviews and a discography of subsequent known covers of the Basement Tapes songs. All in all, this satisfyingly chunky (400 pages) - and compulsively readable - volume forms a most valuable contribution to Dylanology.
David Kidman February 2009
---
(Book) Minton Sparks - Desperate Ransom: Setting Her Family Free (Westbow Press)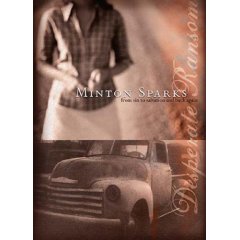 You may well have come across the work of Minton Sparks on CD but, as a performance poet, she's obviously going to be equally at home on the written page. Her CDs have attracted plays from Bob Harris and the contributions of the likes of Chris Thile, Keb Mo, Abigail Washburn from Uncle Earl, Waylon Jennings and Darrell Scott. Without the music, the words are equally high impact drawing inspiration from the finest of the southern US gothic writers like Carson McCullers or Flannery O'Connor.
Here, she's gathered some of the poems that you'll find on her three studio CDs and a few that appear to be new to me - could be wrong there. What she's done is to pick out those that can make up a narrative that slowly unpeels the quirky 'family' and their friends. Prose sections link the poems into a whole that allows the book to be consumed in one hungry meal. The prose elements are clearly there to link and are less vivid than the poetry but, hey, you need something to help those poems to go down. The poems are not just sweet, southern charm but also sharp-eyed observation of some of the worst behaviour between so-called adults. There are moments of charm but anyone approaching this book as an exercise in nostalgia will find that the good old days had a slice of bad, too.
You'll find the Church of Christ Deacon who betrays his vows with a girl thirty years his junior in 'Sin-Sick Soul'. Then, there is the prejudice of her Uncle Clubfoot who is found taking pot shots at a bunch of hippies and shouting 'Get off my property, you bunch of long haired dope addicts!' before adding 'You can't never trust somebody looks like that'. They're all here in this southern soap opera that lifts the stones to look at the bugs crawling underneath. It'll satisfy those fans that wanted the words documented and, hopefully, attract a bunch of poetry fans to her performances too.
Steve Henderson July 2007
---
John Einarson - Mr. Tambourine Man: The Life And Legacy Of The Byrds' Gene Clark (Backbeat Books)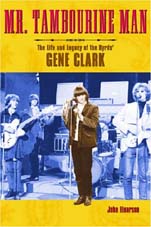 This new book focuses in on telling the story of a founding member of the Byrds - but for a change not the usual suspect/s. This time it's the turn of Gene (born Harold Eugene) Clark, who, the book's author claims, is "one of rock music's key innovators and visionaries". Certainly this very readable account - told through the personal recollections, insights and reflections of those closest to Gene as well as through extracts from unpublished interviews with Gene himself - can be seen to provide plenty of evidence that his accomplishments have for some time gone at least partly unheralded, and that he had a significant part to play in pioneering several important genres, from folk-rock, country-rock and even alt-country to a certain brand of psychedelia. All this started through his songwriting activities while co-fronting the Byrds with McGuinn and Crosby; since as a performer his voice was his strength, it was natural that as a songwriter lyrics and melody would be his forte and arrangement would be markedly less innovative. But his formative years as a member of the horrendous New Christy Minstrels after leaving Kansas had stood him in good stead for "being an entertainer" in the broadest sense, and so Gene's (and Roger McGuinn's) discovery of the Beatles crystallised and informed his stance, the net result being that he became very much a visual focus of the group when in the Byrds. Gene's emotionally charged love songs like Here Without You and I'll Feel A Whole Lot Better proved a potent counterpoint to the Dylan covers and the band's more esoteric fare, yet it was a combination of record-company misunderstanding and sheer bad luck that led to Roger McGuinn rather than Gene being promoted as the voice of the Byrds (in more senses than one). Gene's later innovation, the integration of traditional country and bluegrass into pop and folk-rock, ironically came to the Byrds after his departure from the group, and this aspect too is explored in Einarson's narrative, which leads the reader compellingly through his subsequent ventures as a restless spirit until settling for the Dillard & Clark format as a more "ethnic" alternative to the Burritos. Gene's various "lost causes" through the 70s, including the critically panned McGuinn, Clark & Hillman reunion, have up till now been none too well documented, and so here in this book receive examination in greater detail through key reminiscences and choice interview excerpts. Indeed, Einarson's investigative research seems to have known no bounds, for he's even managed to gain some revealing insights into Gene's final "problem years", his unfortunate 80s descent into drugs and alcohol, from which he was never really to recover before his death in 1991 aged just 46. Einarson clearly has a great deal of sympathy for Gene, his life and his music, and this comes through in the fair-minded and generous way he writes; by and large he refuses to be judgemental, while at the same time remaining mindful of the pitfalls of fame which inevitably form a backbone to Gene's tale. The book also includes many rare and previously unseen photos, and all in all proves a genuinely revealing account of this hitherto elusive "Great Lost Byrd" and his underrated and overshadowed musical personality; its only serious flaw is the lack of any kind of discography and/or sessionography.

David Kidman
---
Nick Burbridge - The Unicycle Set (Book) (Burbridge Arts)
Not for nothing does the press sheet for McDermott's Two Hours' front-man and long-term Levellers collaborator Nick's latest collection of original verse dub him "poet and pub-magpie of the Brighton-Irish bogs", for this slim-yet-rich (84-page) volume contains much that is of an at times almost Joycean literary grandeur.
Why the Unicycle? Well I see it as an exceedingly apt metaphor, conveying the image of an often daredevil ride, a sometimes quite delicate balancing act, and at the same time a decidedly eccentric portrayal of life's circus using a mode of transport that is solo and personal, old-fashioned yet at the same time (thankfully) not yet obsolete. The poetry within this new volume is, typically for Nick, both highly literate and precisely articulate and yet never descends to a level of exclusive preciousness. It also embodies the essential quality of musicality that characterised his earlier collection All Kinds Of Disorder, with all its concomitant intelligent cross-references to bohemian culture.
Initial impressions are that a significant majority of the poems comprising The Unicycle Set are, if not exactly dominated, let's say inhabited by the spirit of one or other of the collection's two recurring characters: the inimitable, nay irrepressible Flynn and his seamy world (in Hamster, S.O.S., Impotence and Flynn's Budget) or his compadre, fiddle-player Molloy, aka Malloy (As We Forgive Those… and the priceless pair of Alt. Folk Tales). It might be felt, too, that more than just occasionally, as in Monk's House, the presence of Flynn intrudes on another's world, with telling consequences, or else his spirit (and sometimes his name too) looms large within the overall sensibility of the retelling of a situation in which he is not directly involved – his presence may act as the lens through which that situation is being viewed or expressed to the reader, or as the starting-point for a timely reflection (as in Unicycle).
However, these initial impressions of the collection as a whole can as it turns out be quite misleading, for there's an equally significant number of the poems where neither character figures at all, not even subliminally. These include some altogether pithier (and perhaps less overtly edgy) vignettes, such as the appealingly sinister Connection, Cappuccino and On Guard, Rationalists, the carnivalesque Euphonium, alongside the carefully pointed portrait of Mandolin Man and a handful of ostensibly more orthodox but intensely evocative observational pieces like Christmas Eve and Trust Property. The promise inherent in a poem's (often eye-catchingly punning or ironic) title, and its concept, is delivered with satisfying precision on some of the finest poems in the book (Bipolar Expeditions springs to mind), while the plainer title of the book's closing poem Envoi conceals a Stowaway's Song of hope couched in a limpid beauty – a quality that has arguably been only more intermittently glimpsed through the powerful life-imagery conveyed in the preceding pages, but is not at all absent when you can be bothered to dig for it…
It's a mark of the collection's stature, surely, that on successive readthroughs I could very probably single out some quite different highlights on which to focus; but, again drawing on the unicycle analogy, the reader (rider) needs to exercise a degree of extra care to avoid being thrown off balance by the heady and giddy pleasures of the ride, for there's almost too much that's enjoyable and stimulating within this slim volume's pages.
David Kidman June 2011
---
Rip It Up: Rock & Roll Rulebreakers - Denise Sullivan (Backbeat Books)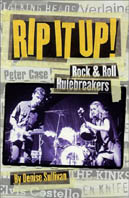 I guess that once you apply the sobriquet rock and roll to a music or, more specifically, as in this book, an artist, you've already accepted them as rulebreakers. Rock and Roll, surely is man as Pop is boy, if you see what I mean.
And it's for that very reason that this book disappoints. Having set up your interviewees as rulebreakers - rebels by another name - it's a pain to find that in the main they can't talk the walk. In trying to justify, examine or explain their art they tend to expose a common Achilles heel. To almost each and every one of the featured musos - and it's an impressive list that includes Peter Case, Elvis Costello, Chuck Prophet, Julie and Buddy Miller and The Crickets for starters - it's clear that what they do is follow their instincts and that the wonders they unleash are as inexplicable to them as to us.
What you get is a series of features that might have graced the better of our various music rags over the years and that's fine, it's always good to read about such greats. It's just that I wanted more than was on offer.
Steve Morris
---
Rock And Roll Doctor - Lowell George: guitarist, songwriter, and founder of Little Feat - Mark Brend (Backbeat Books)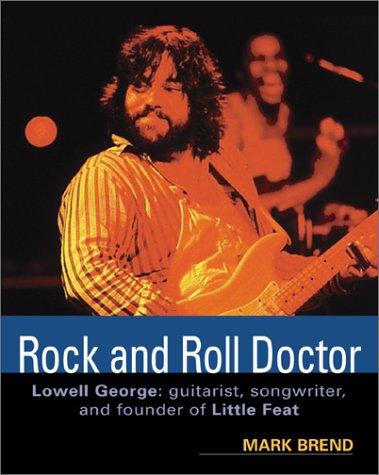 When I interviewed Little Feat's Paul Barrere at the time of their Shake It Up 'comeback' album, way back in '91, he was clear on two points. One, that Little Feat were an entirely fine creative and performing unit without Lowell George and two, that his wayward charisma brought something unique to the band. He's right of course. Without George - no Feat. It was Lowell who pulled it together; wrote the songs that no show dare leave out to this present day and yet had the stars brought together the Feat as we know them bypassing the funky physician we'd surely still admire 'em.
This is one of the conundrums that undertows Brend's impressive volume. We learn that he came from well connected Hollywood stock; he was a learned bona fide muso and despite his bohemian image and fondness for recreational narcotics he had a prodigious work ethic (examine the discography). He was also, of course, arguably, the best slide guitar player ever. Listen to Cooder and you hear genius, architectural genius maybe, but listen to Lowell and you hear soul, real open soul. Maybe, and this is my though rather than Brend's, if you live your life in some turmoil and best communicate through a Fender Strat stroked with wrench socket . . .
Whatever, you must read this account of one of rock's finest ever prescription writers, listen again to his unique music and don't miss the Feat on their upcoming tour.
Steve Morris
Rock And Roll Doctor - Lowell George: guitarist, songwriter, and founder of Little Feat - Mark Brend (Backbeat Books)
The best recommendation I can give to Mark Brend's well written book on Lowell George is that it made me want to play all my Little Feat albums and go out and buy the one's I hadn't got. I've always loved their music and was fortunate enough to actually 'be there' and share stages with them in California, watch them play live and also jam and record with drummer Richie Hayward during some of those down times the band frequently went through. They really did bring something new to the table and under Lowell George's inspiration they managed to provide a feast for those of us who were hungry that still satisfies 30 years on.
Along with Lowell's quirky approach to song writing and a great voice, he was a master of the art and application of the slide guitar; I would love it if this book could introduce many more people to the joys of the music Lowell produced, and that Little Feat still produce today.
Rock & Roll Doctor is a well produced, detailed and honest account of Lowell's life and prolific musical output. The size and format of the book feels good in your hand, it's easy to read, and it makes you want to celebrate the man's life by playing the music.
Bryn Haworth
---
Book: Rock and Roll Tourist - Graham Forbes (Northumbria University Press)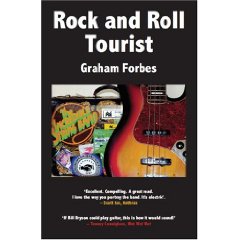 Former Incredible String Band bassist Forbes has come up with a great idea. Go and watch gigs, write a book and get paid for it! Seems simple, doesn't it? What I have missed out is the fact that Graham Forbes has a talent for explaining his surroundings in such a way that you can almost feel that you are there. His accounts of going to see such diverse bands as The Bootleg Beatles, Anthrax and Hayseed Dixie as well as music heavyweights Kiss, U2, Elvis Presley and BB King don't glamorise life on the road but will still make you want to be a rock n roll star.

Sometimes things don't turn out such as the time that Graeme went to see Chuck Berry in Glasgow and the "cantankerous old sod" didn't turn up. Eminem did the same in Hamburg. But these aren't the tales of the road that you want to hear. You want to hear about what it's like to travel with a band, don't you? Take Anthrax, for instance. They'll really be rock n roll, won't they? Forbes' main problem was how he was going to get from Galway (where he had just seen Amos Garrett) to Oxford, where Anthrax was playing. The resulting paragraphs sum up public travel in the UK and are hilarious.

Anyway, back to Anthrax. After seeing them in Oxford, Graham travels across the Channel with them to Calais and then on to Brussels. Graham describes the toilet on the tour bus as smelling like a tent for geriatric elephants - I don't think that any other descriptors are required. However, days of hard drinking and wrecking hotel rooms are all in the past and now Scott Ian and Charlie Benante are Anthrax's answer to Aerosmith's Toxic Twins - they are the Blackberry Brothers! Rock and Roll, eh?

If you only read one music book this year then make it Rock And Roll Tourist.

David Blue August 2009
---
The Rod Shearman Songbook - Ed. Dave Webber & Anni Fentiman (publ. Lyngham House/Old & New Tradition)
This lovingly presented volume of words, music and pictures is the finest possible tribute to Londoner folk songwriter Rod, who sadly passed away a short while back. First, Dave Webber's short preface sensitively yet informatively sets the scene, mirroring Rod's own gift for expressing touching and inspiring thoughts simply but effectively. The central thesis of Rod's philosophy, that "humanity still has a long way to go but that hope burns bright", is given due emphasis, and then across on the next page it's straight down to presenting the songs themselves, 46 in number. Musical notation is directly and straightforwardly presented (basic melody only, staves and key-signatures), with words below; each song occupies a single page, and there's even room on many of the pages for relevant (and beautifully reproduced) photographs of the man himself, his friends and family over the span of his life. Perhaps the font size used for the ensuing verses is a tad small, but that's a minor carp really in the context of the achievement of the whole. Leafing through a whole volume of songs like this only accentuates their positive qualities and enables me to marvel anew at Rod's gift for writing memorable, singable songs, whether chorus-ridden or narrative-based. The best-known of these are probably London River and Is The Big Fella Gone? - two highly contrasted opuses - though the atmospheric Song Of The Sea (latterly taken up by Dave and Anni themselves) should by rights be equally well regarded, as indeed should be a large number of the other songs herein (Rod's own recordings of just over half of these are available on his two CDs, incidentally). So - turn straight to Here's To Friends (on page 26, the centre-page as it happens), learn it and sing it in memory of Rod - although it was written by Rod in memory of Alan Bond, there's no more fitting epitaph for Rod himself….
David Kidman
---
No More Sad Refrains: The Life and Times of Sandy Denny by Clinton Heylin (Helter Skelter Books - July 2000)
"I've not heard a singer since with that much of a gift; some of my all time favourites are Sandy songs, some of the best songs written since the war." Richard Thompson
Both with Fairport Convention and in her solo career, Sandy Denny had one of contemporary music's great voices - in many ways she was the English Janis Joplin - and Melody Maker voted her best female singer in 1970 and 1971. She appeared in the stage version of The Who's Tommy and sang on Led Zeppelin's legendary fourth album. She was also a highly acclaimed songwriter, composing most of her own material. However as one of the few women in the fast-living, hard-drinking music industry of the era, Sandy was forever torn between the thrill of the rock'n'roll lifestyle and the need to settle down and start a family. It was a contradiction she never resolved, and, plagued by self-doubt about both her appearance and her talent, she took refuge in drink and drugs.
Sandy Denny died aged 31 in 1978 in circumstances shrouded in rumour and mystery. Since her death her songs have been covered by Nina Simone, Nancy Griffiths and Mary Black, and she has been cited as an influence by Kate Bush, Don Henley and Beth Orton.
Drawing on hours of fresh interviews with Sandy's friends and musical collaborators and with unprecedented access to her journals, diaries and unreleased recordings, Dylan biographer Heylin has produced a moving portrait of a complex, driven and ultimately human, flawed genius who may well have been this land's greatest ever female singer-songwriter. He has also provided a study of Sandy's work - beautiful, haunting and timeless songs that mysteriously are still relatively undiscovered.
Clinton Heylin is a highly-respected historian of popular music, whose Dylan Behind Closed Doors (1996, Penguin) was nominated for the Ralph J. Gleason award.
"I tend to forget the traumas and tragedies, and I just hear her laughing the most infectiously funny, unique Sandy laugh." Richard Thompson
"When she wrote a song, you thought it was an old folk classic." Danny Thompson
"In her strongest moments, no female singer of the last ten years could touch her." Greil Marcus, Rolling Stone, May 1978
http://www.skelter.demon.co.uk
---
Peter Cox - Set Into Song: Ewan MacColl, Charles Parker, Peggy Seeger And The Radio Ballads (Labatie Books)
The original Radio Ballads are today widely acknowledged to be one of the most important and influential aspects (I'd hesitate to term them honourable byways!) of the folk revival of the late 1950s to early 1960s: pioneering masterpieces in engineered sound that innovatively and seamlessly integrated the voices of actual working people into the context of relevant songs and music. Although their own story has often been told in basic outline there has been remarkably little detailed and knowledgeable exploration of the lives of the musicians and singers involved and how the programmes were actually made, and misconceptions have inevitably arisen over the years. Set Into Song is a singularly insightful book that plunges into the topic head-first, with clear admiration and deep respect for the Ballads' achievement but also unafraid to constructively criticise and comment, fairly and dispassionately evaluating the Ballads' role in, and ongoing influence on, the presentation of folk-documentary as an art-form in its own right. The sheer determination and vision of the Radio Ballads' creators to see their projects through is mirrored in Peter Cox's dogged examination of every possible lead to unearth the whole story (he exhaustively trawls the recorded memories of the participants for instance), just as their painstaking attention to detail in creating the programmes themselves is mirrored in Peter's equally painstaking research which has enabled him to produce a wholly convincing chronology and utterly fascinating technical account of the production and progress of the series of Ballads. Peter's own incisive and acutely observed assessment of the historical importance of the Ballads is underpinned by the hindsightful reminiscences of Peggy Seeger, the only surviving member of the Ballads' production team, which are drawn on throughout the book. The structure of the book is both helpful and reader-friendly. Peter first paints sympathetic biographical sketches of the participants, then goes on to examine the Ballads' intrinsic gestation from theatre and folk song before carrying out a substantial critical appraisal of each Ballad in turn, supported by sometimes extensive, but always ideally chosen and pertinent, quotes from the actual recordings. Taking the historical-novel approach you might say, Peter then in subsequent chapters follows up the creators' lives and deeds post-Radio-Ballads, which spurs him onto a consideration of other works which have showed the influence of the Ballads. His final chapter is a valuable discussion of the "new generation", the contemporary (2006) series of Radio Ballads, with an inevitable evaluative comparison (reluctantly) made. There follow notes on Peter's sources, and a good Index. The whole book is superbly written and eminently reader-friendly: it's like a definitive work of reference, critical study and compelling historical novel rolled into one 300-page volume. You can't put it down however hard you try: it's both enthralling and entertaining, and as a substantial bonus, brilliantly and accurately informative.
David Kidman February 2009
---
Shirley Collins - America Over The Water (S.A.F. Publishing)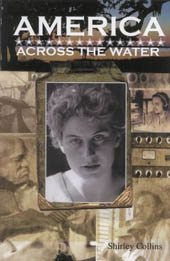 Folk singer Shirley Collins was just 19 when she met and became involved with the American folklorist Alan Lomax, and in 1959 she set off with him on a year-long trip to the States to discover the traditional music of America's heartland. Their adventure into the cultural roots of the deep South (visiting Virginia, Alabama, Kentucky, Mississippi, Arkansas and Georgia) has passed into legend, and the legacy of field recordings Lomax made during that period is still being assessed in detail, although its immense importance has for a time now been almost universally recognised. On that very trip, for example, Lomax "discovered" Mississippi Fred McDowell (and the rest of course is the stuff of legend) … Shirley gave a lecture-tour a few years back, which turned up some fascinating snippets and anecdotes, but only tantalised in that we could sense there was so much more to be told.
This book is the long-awaited and long-promised written account following her lecture-tour, but in reality it's rather more, for it intersperses chapters chronicling Shirley's travels across America and the circumstances of the field recordings with a series of rather touching chapters putting the US experiences into perspective by recounting Shirley's memories of her upbringing in working-class wartime Hastings and her childhood and teenage introduction to folk music. These chapters inevitably provide some fresh and illuminating insights into Shirley's own character and (interestingly quite innocent) attitudes both then and now, and cause us directly to reflect on other aspects of society both in southern England and the southern states. But the whole book makes for a really absorbing – and quite often heart-rending – read, not least because of its first-hand depiction of the frighteningly co-existing parallel worlds encountered in those southern States – worlds of beauty and harshness, dignity and deprivation, all told with an almost naïve candour. Having attended dates in Shirley's aforementioned lecture tour, it's amazing how like her speaking voice is her writing voice – by which I don't mean that the book merely repeats the same information parrot-fashion – far from it. Charmingly, she seems at times (and deceptively) almost unaware of the seminal importance of that American trip – though I sense more that she's inclined towards playing it down through her unassuming nature and innate modesty.
Shirley's contribution, it can now be seen, was far more than as mere assistant to Lomax in his endeavours, for, as the author of the book's foreword David Tibet recognises, her innate interest in people and their stories was a vital factor in getting the necessary co-operation from the performers whom they encountered and the folks who, effectively, controlled their destinies. Shirley communicates so much so enjoyably through these 200 pages, neatly and completely you could say, and yet the final page is particularly poignant as Shirley recalls how she and Alan parted. Finally, her narrative is topped with appendices containing a selected discography and – glory be – a reproduction of her complete typed logs (with handwritten annotations) of the recordings made during the trip.
David Kidman
---
Sing My Way Home: Voices of the New American Roots Rock - Keith and Kent Zimmerman (Backbeat Books)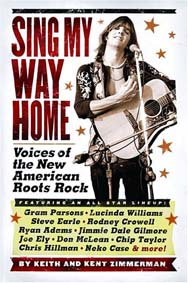 For the Zimmerman twins it all started in 1969 at the Altamont Free Festival in Northern California when the Flying Burritos scrambled on stage. For me it started in 1999 at Shepherds Bush Empire here in London when I saw Lucinda Williams for the very first time. The beginning of the love affair with a mixed up country/rock/blues/gospel hybrid.
Keith and Kent were only 16 years old in 1969 but the affair appears to have lasted because in 2004 they wrote "Sing My Way Home: Voices of the New American Roots Rock". It's all about music they love and artists they admire and ideas they support and you can tell that their teen-age enthusiasm has never wavered. The book is a series of interviews, stories, character studies and essays - it's easy reading, it has a lot of heart and it's the kind of book you can dip in and out of. It's also the boys' personal history. I was hooked early and ended up reading the whole thing on one comfortable Sunday afternoon.
It's a good read. They start with Gram Parsons and then on to Steve Earle, Rodney Crowell, Chris Hillman, Kris Kristofferson, Chip Taylor and many many more. These artists are among my favourites so I've read an awful lot about them over the years but the Zimmermans have a knack of giving a special little bit of information about each one of them that I didn't already know.
Did you know that Gram Parsons was responsible for introducing Delaney and Bonnie Bramlett to Eric Clapton, Joe Cocker, George Harrison, Dave Mason and Leon Russell and then they all ended up playing that wonderful and wild gospel soul rock together I sure didn't. I hardly even knew who Delaney and Bonnie were. I know now and I'm out there looking for the music. And I've got help. At the end of each chapter is a "best of." section called "Download This!". Terrific! And worth the price of the book all by itself..
Also worth the price is the educational value of a chapter at the close of the book detailing the end of imaginative American radio broadcasting turning mainstream radio into a money making machine with no heart. Everyone is suffering, most of all the artists on the fringes - there appears to be no room for individuality or even creativity. It's like we all know something is terribly wrong but we can't connect the dots. Keith and Kent Zimmerman connect the dots in a way that makes you really think.
The low points? A chapter devoted to reshuffling Ryan Adams' missed hits into one concise album that would (they think) make him a superstar. A bit too boyish for me. They obviously love the guy but they could not think of anything interesting to say about him. And maybe they should have profiled a few more women - mentioning Emmylou Harris only in passing is unforgivable.

However, in the end I do forgive them because these guys have succeeded in getting the best interview with Lucinda Williams that I have ever read. They present her in a simple "Q&A" conversation, no embellishments, and it works beautifully. Maybe it's how they asked the questions, maybe she was in a good mood that day, but whatever it was she comes across as warm, open and sincere. She's also smart and talented and "one of the few American musicians out there performing, producing, kicking it, and behaving like a true icon." The Zimmermans truly love her. And I love her too. And I think this is where I came in.

One more thing - Don't miss the list of the "Top 100 Modern American Roots Rock Classics" at the end of the book. If you get them all you'll have a great collection. Keith and Kent have excellent taste.

Gail Comfort
www.gailcomfort.com
---
Singing The Changes: Songs By Dave Rogers For Banner Theatre (Bread Books)
The subtitle of this book is "Songs Of Resistance And Celebration Written By Dave Rogers Of Banner Theatre, In Support Of The Ordinary And Extraordinary Peoples Of Birmingham, Britain And The World" - a lengthy tag, certainly, but one for which no apology need be forthcoming, for it is an extraordinary collection of great significance. Banner Theatre was founded just over thirty years ago, at the dawn of the 1974 Miners' Strike, by its prime mover-and-shaker, songwriter Dave Rogers, since which time it has been a constant inspiration to socialists and trade-unionists in its exploration and espousal of just about every left-wing cause imaginable, from the Shrewsbury Three (The Flying Picket Song) to the closure of Corby Steelworks, the futility of the Falklands and Gulf Wars to The Little Red Mole. In contrast, there's also a celebration of the achievements of Ewan MacColl (Ewan's Song,), a simple personal expression of feelings (Missing You), and, bringing things bang up to date, a delectable Blairite "tribute", Dedicated Follower Of Thatcher, that was penned way back in 1998!
Dave's songs, of which this chunky volume contains no fewer than 85, are written in a variety of styles, representing folk as "people's music" in the widest sense and with tunes drawn mainly from oral traditions. Reflecting the warmth, creativity and passion of the working class through difficult times, they have invariably been a vital and organic part of the struggles of which they sing; the theory being that through their performance one feels the camaraderie, hope and pain of the collective experience. Dave was very much influenced by a series of evening classes run in the late 1960s by Radio Ballads creator Charles Parker (who in the end co-founded Banner Theatre and had a large degree of influence on its activities in the years up to his death in 1980), these songs, inspired by the Radio Ballads ethos of using "actuality" recordings for raw material, were based on people's direct life experiences. And as songs for political and social activists go, Dave's are suitably hard-hitting yet also eminently singable, and certainly among the finest you could hope to have on your side when going into battle! A vital factor in their success is surely keeping them relevant and appropriate and unwaveringly focused to the campaign in hand, while addressing the concerns in a universally understandable language. A large number of these songs transcend, and thus deserve to be heard outwith, their original context; you may have heard Roy Bailey perform one or two of them, for example a version of Dave's powerful 1982 song Malvinas, but few of the rest seem to have had any airing outside of Banner to my knowledge.
As for the actual presentation of this 30th Anniversary volume, well this is a real credit to the Company. The songs are easy to comprehend at first glance, since they are notated clearly and precisely, verse by stave (inspired by Peggy Seeger's dictum) and generally one song per double-page (obviating the awkwardness of page-turning), and they're complemented by some excellent-quality photographs, taken where possible from the relevant theatre productions, giving a potent flavour of the whole enterprise. There's also an invaluable Glossary which illuminates references and names used in the songs. Naturally, with on average ten songs being created for each Banner production, the choice of material for this book was bound to be a tip-of-the-iceberg exercise, but the criterion for the songs being selected was that they "remain relevant, not just as historical documents of the time but as powerful testimonies to the experiences of working people … through very troubled times". And it succeeds admirably. For those wishing to dig deeper into this resource, details of available Banner recordings of the songs are also usefully included in an Appendix.
David Kidman July 2006
---
Paul White - The Sound On Sound Book of Home Recording Made Easy (2nd Ed) (Sanctuary Publishing)

It's hard to review a book that has everything. Well, everything relating to building up a home recording studio anyway. But this book has just that. Covering a comprehensive range of subjects to get your teeth into, directly aimed at beginners and home demo project studios, this book describes in good detail the workings of mixer desks, tape recorders, multi-track machines, effects, microphones, recording principles, sound proofing, patch bays and so on. The list is quite long. The author (Editor in Chief of SoS) writes from a background of twenty years plus of experience in studio recording.
The main body of the book, something like half of it, concentrates on 'analogue' recording techniques rather than diving into computer gadgetry from the beginning, and quite rightly so in my opinion. Those who have a good analogue background have a great advantage over those only able to click a mouse or cut and paste audio parts on a screen. And as the author clearly points out this approach, by way of analogue not digital introduction, is because nearly all digital systems tend to emulate analogue machines anyway. Most have similar looking Start, Stop, Rewind buttons and so on. So having good analogue knowledge is a perfect primer for today's modern digital recording techniques. Of course, a lot of engineers and producers still prefer to use analogue, so that's another reason to read about it.
The book does cover digital recording in the latter sections, including digital tape like ADAT and computer hard disk recording packages like Qubase. The book does not attempt to go into too much detail about music software packages, this being the subject matter of other publications.
Also covered is a great section on microphones and microphone techniques. Placement and which type of microphone to use is fully explained. The book ends with a technical glossary on studio terms.
I have always regarded Sound on Sound magazine as a credible studio publication. The information they supply is always interesting and accurate so their connection with this book comes as no surprise. In summary, this is a great home studio starter book. If you are wanting to put together a home recording studio and maybe you're on a tight budget, this book is a great way to make sure your money goes on the right equipment, while also saving you time when it comes to creating your first master piece!
Recommended - Go get it.
Paul Wood
---
Dan Levenson - Old-Time Festival Tunes for Clawhammer Banjo (Mel Bay)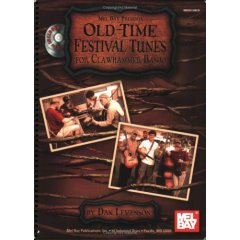 This book is for clawhammer banjo players. Considering the phenomenal rise in popularity over the last two decades of the clawhammer style of banjo playing this book should find many a happy home. The clawhammer style is particularly favoured by those who want to play fiddle tunes on the banjo and who expect, or aspire, to jam along with fiddle players. A lot of this jamming as communal music making takes place at folk music camps and festivals, usually in among the tents or in the parking lot. The beginner who wants to join the social jam session usually finds themselves at a loss on a number of fronts. Firstly and probably most importantly, they don't know the repertoire. Secondly as a beginner their skill level may be insufficient and it may just be too difficult to join in.
This book goes a long way to ameliorate both problems and give the new entrant an easier access to the pleasure and sheer fun you can get from this type of music making.. The book contains 117 tunes, what the author Dan Levenson calls "Festival Favourites", meaning tunes which are popular and usual at these sessions and are likely to be encountered sooner rather than later. So it is a thickish and meaty book containing so much material. Happily the book is spiral bound which means it lies obediently flat when open and spares you from the self-closing book nightmare which has haunted most musicians.
Such a wealth of content represents quite a slab of time which will need to be devoted to getting your head and your fingers familiar with the playing. You don't need to be able to read standard music notation as the tunes are all set out in tablature which is a simple and diagrammatic way of showing you what to play. One innovative aspect is that he gives you three lines of information here, traditional musical dots for those who like it and then two alternative lines of tablature: One for the beginner and a more complex version for the more advanced player. The level is not so high it will make you into a banjo star but it will give you a solid and interesting basis, enough to hold your head up in a jam. Something for everybody.
There is no doubt about it, there are some great tunes in this book which you will love to play. It contains a good number of old chestnuts too like "Old Joe Clark" and "Black Eyed Suzie" but there are plenty of slightly less usual, or even hard-to-find tunes, which will make this book a valuable reference and justify its place on your bookshelf. It comes with two CDs too so you can hear Dan Levenson himself play each tune for you so you know exactly what it should sound like.
The purpose of the book is very clear and stays tightly focused on its goals without cluttering up the book with informational padding or irrelevant material. As an example of this, the book covers all tunes with just two tunings, the Open G tuning for tunes in the key of G, (or Key A with a capo at the second fret) and Double C tuning for tunes in the key of C (or key D with a capo at the second fret). The temptation to get into other (no doubt very interesting) tunings was sensibly resisted.
Dan Levenson is a well known and very highly respected performer and teacher of Clawhammer Banjo. He has authored a number of books and DVDs designed to teach the skills and is in constant demand at festivals everywhere to provide his very successful teaching workshops as part of the musical attraction.
Roger Young March 2008
Editor Norfolk Folk Directory: www.norfolkfolk.co.uk
---
Dear Companion: Appalachian Traditional Songs And Singers From Cecil Sharp Collection (published by EFDSS)
This fine new book follows neatly on from EFDSS' Still Growing volume (reviewed here in May last year), which demonstrated the abundant richness of the song tradition that Sharp found in England. Dear Companion presents just 53 songs and ballads from the thousand-plus that constitute arguably the most important part of Sharp's collection, i.e. that which he assembled during the First World War years in the Appalachian states of America (Virginia, West Virginia, North Carolina, Tennessee and Kentucky). However, the rationale for the selection of these songs over any others is not explained in Mike Yates' otherwise excellent, informative and thoroughly readable 25-page introduction, which focuses more on the singers themselves (and Sharp's interaction with them) than the songs they sang. Whatever, the actual presentation of these songs within this book is distinctive and clear, with an abundance of information outside of the basic text and simple musical notation. The snag is that the format itself needs a bit of explaining and (like that of Still Growing, in fact) is perhaps not ideally consistent, in that the main "Singers And Their Songs" section presents the singers alphabetically, complete with archive photographs, whereas the songs which were collected from each singer occur in no particular order within the pages devoted to that singer. It's frustrating, then, that the illuminating Notes to the individual songs are contained in a separate section after the one devoted to the singers and songs, and there occurring in a different alphabetical order (by song title, as in the Index at the very back of the book). The level of information in the Notes, however, is exemplary, and even includes pertinent discographical references (though wouldn't a companion set of CDs have been an even more fascinating enhancement?). Whatever your views on the potentially arbitrary selection of the songs, you'll no doubt find plenty of intriguing detail in this book, and spend hours comparing the versions collected here with those which have become more familiar over the years – like Lamkin, The Wife Of Usher's Well, Black Is The Colour, Edward and Green Grows The Laurel to name but a few. Other bonus features of the volume include a preface by Shirley Collins, a short essay on Maud Karpeles (by David Atkinson), and what's actually a pretty exhaustive "Select" Bibliography and Discography. Unusually for a song collection, the photographs are an integral part of the book's appeal, and really do help set the scene; what's more, their reproduction is of a very high standard indeed. This book is an extremely attractive proposition at only £14.99.
David Kidman
---
Doug Hoekstra - Bothering The Coffee Drinkers (Canopic Publishing)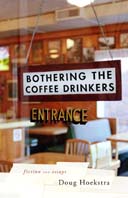 Records by this accomplished Nashville-based singer-songwriter have been reviewed here on NetRhythms on a regular basis, with mention often being made of Doug's skilled use of conversational language and his distinct literary leanings. It comes as no surprise, then, to receive for review now a collection, subtitled "musical fiction and essays", presenting a series of writings which exist independent of the lyric sheet and the recording studio. One might at first argue that's only the case in terms of medium (hard-copy reality), as is apparent if you've listened to Doug's music/songs (where "everyone is a story and everything a storyline"), and in the end the medium of the telling might thus be seen to be of less consequence than the tale being told. However, as Doug so rightly observes, with prose (unlike songs) the writer doesn't have the "luxury" of immediate feedback from an audience to see how (indeed, whether) something's working, and therefore this medium poses more of a challenge to the artist, rather akin to a spell of self-imposed solitary confinement, and - for the right artist - every bit as character-building and developmental.
Bothering The Coffee Drinkers (and hey, what a marvellous title by the way!) collects together a large handful of short stories (fiction) bookended by two essays (autobiography). To an extent, this structural gambit deliberately blurs the (already thin) fine line between the two, since all 17 pieces can be seen to be in some way directly informed by Doug's own experiences "negotiating the realm of the under-the-radar independent artist". Inevitably, the art-forms merge as music, musicians and the world of the travelling musician permeates the adventures of the protagonists of his stories, and to some extent it's an immense advantage if the reader is into music, but that doesn't mean Doug's stories are exclusive or excluding in terms of wider potential appeal, for it's the directness with which Doug conveys an overall sensibility that's a major factor in proving his skill in communicating ideas, thoughts and feelings both within and outwith the characters that people his stories. Here, as in his songs, Doug's stories tell of ordinary lives and subliminally accentuate their very eventfulness, drawing you into their world. But then again, it's often a matter of perspective, for, typically, minor events become of immense importance to the stories' protagonists, setting in train dramatic and often life-changing scenarios.
Doug's stories are peopled with memorable characters, who are portrayed with true sympathy (generally, you'll find, he's been there himself!). These characters tend, like Doug himself, and the singer-songwriter in particular (indeed, anyone involved in creative endeavours) to operate independently of the world at large and its organisations. In both the title story and Stage Energy, the protagonist, an aspiring artiste, runs on a cocktail of mixed emotions; in the former dejected and despondent yet rescued by the acclaim of just one genuine fan. The need to seize each moment of triumph, however small or bitter or hard-won or momentary or potentially or seemingly fruitless, is paramount. And a wry sense of humour can be important in dealing with these situations, as The Town Crier posits. In many of the stories, music is important in some way, if even merely a loose peg on which to hang your hat, almost incidental but still a vital element and imparting an extra dimension of credibility for those who are in the know. Most obviously perhaps in That's How Strong Love Is, a kind of sci-fi time-travel fantasy that gains in potency if you're familiar with the classic Stax sound and background, but also in Next Of Kin where the record that's playing in the background throws into relief the character's life and relationships. All in all this fine and wholly engaging collection can be seen to carry Doug's intimate, confessional style of communicating thoughts and ideas straight over into the print medium (which in itself is both intimate and universally open - now there's a contradiction!). Catch it before it sells out!
www.doughoekstra.com
www.canopicpublishing.com
David Kidman, July 2006
---
Richie Unterberger - Eight Miles High: Folk-Rock's Flight From Haight-Ashbury To Woodstock (Backbeat Books)
This is the long-awaited sequel and companion to the same author's Turn! Turn! Turn! (reviewed on NetRhythms earlier this year), and documents the continuing development of the folk-rock movement from mid-1966 to the end of that decade. As in the previous book, Richie proves himself highly adept at defining and dealing with the various strands of development within the broad genre - here, the mutation of folk-rock into psychedelia, the maturation of folk-rock composers in the birth of the singer-songwriter movement, the re-emergence of Dylan and the inception of country-rock, the origination of a truly British form of folk-rock, and the growth of the live folk-to-rock music festival. There was so much going on, you're bound to have missed out on much of it at the time (and subsequently, indeed!), and one of the main virtues of the book is that it really does make you want to investigate any music you'd missed out on, and soon! In this regard, perhaps it's useful for the British reader (already well versed in folk-rock on this side of the pond) that the book's focus is primarily on the US folk-rock phenomenon and its offshoots. Taking this into account, it's salutary to note that a key factor in the development of that US phenomenon was the influence of the British beat invasion of the mid-decade, where folk-bred harmonies and strumming/picking styles melded with that magic ingredient - lyrical intelligence - to take the music beyond what mainstream rock acts were hitherto attempting. At the same time, there was a strong desire to move beyond the narrower political parameters of "hard-line" folk with its dry, minimal acoustic accompaniment. So in many groups' music you might find all these not necessarily disparate strands - the pop-informed, the romantic, the cerebral, the down-home (folk-jug) and the gritty protest - coexisting, often uneasily but always creatively. It was a very exciting time, where sub-genres were positively encouraged to be blurred by the progressive sensibilities, receptiveness, and let's not forget increasing versatility and consciousness, of the musicians. After all this "loosey-goosey unpredictability", folk-rock's return to its acoustic roots at the end of the decade came to seem like a radical innovation! As I mentioned earlier though, Richie doesn't ignore UK developments; rightly enough, he acknowledges that the "Liege And Lief/rocked-up trad" strand may have been overplayed by music historians in the overall context of the development of folk-rock in the UK as a whole; after all, Britain has always had its fair share of singer-songwriters, latter-day bards, storytellers and so forth, often each with a distinctive and highly individual flavour every bit as much so as their US counterparts (indeed, many having no immediately identifiable counterpart across the pond). As I remarked when reviewing the earlier book too, Richie's writing style is very readable, and it's hard to put the book down, even between chapters, but there's so much incidental information packed in that you do find yourself nagging to return to check up some reference one more time when something related becomes important later on in the text. As with the earlier book too, there's excellent use made of first-hand interviews with participants and protagonists. The test of a good book on a subject where the reader already has some knowledge-base, is that that reader learns much that is new and/or gains some real insights, and Eight Miles High passes that test for me with flying psychedelic colours! It's a shame though that the discography is a "critical discography", and therefore rather more selective than I'd ideally like; the ancillary commentary is useful enough in its own way, but if a compromise must be made then it cannot replace factual completeness in my opinion. That said, this is an excellent book, earning a definite recommendation in this house.

www.backbeatbooks.com
www.helterskelterbooks.com

David Kidman
---
Empty Pocket Blues - The Life and Music of Clive Palmer - by Grahame Hood (Helter Skelter)
Clive Palmer, for the uninitiated, is one of the unsung heroes of the sixties acoustic boom, a north London banjo player who found himself on the Edinburgh folk scene helping to kickstart the influential Incredible String Band, possibly the only instance of right place, right time in his chequered career.
Eventually overshadowed by the two Scots, Robin Williamson and Mike Heron, it is perhaps strange that Clive's biographer Grahame Hood, Scots-born but long term resident of Beckenham and Bromley, should choose to chart the career of the only Londoner in the ISB, while also championing that most maligned of instruments, the banjo, in all its variants - Clive apparently favoured an Edwardian music-hall style, as opposed to the frailing or bluegrass forms used by most players of the time.
The detailed information on the parallel sixties folk scenes of London and Edinburgh, particularly the celebrated Sauchiehall Street club, is where the book really comes into its own, with new contributions from many of the leading lights, Bert Jansch, Billy Connolly, Wizz Jones and of course, Clive himself. Fascinating stories abound, from busking with Wizz Jones in Paris, following the hippy trail though Afghanistan to India, trying his luck as band leader with the Famous Jug Band and COB, before eventually decamping to Cornwall to try his hand at traditional instrument making.
Exactly why Clive never achieved the acclaim afforded many of his peers is not such a mystery. His ex-wife Shirley describes him as a "confirmed group escapologist", due to his habit of leaving a band just as they appeared to be hitting their stride. Palmer dismisses this as coincidence, but freely admits to a wholesale dislike of fame and commerciality.
Today's young, wannabe pop star may consider Clive's career a failure, but in the current climate his music for music's sake attitude will come as a refreshing antidote to our get-rich-quick, fame-at-any-price society. That alone, to my mind, makes Clive Palmer one of life's winners and Grahame's biography will tell you everything you need to know about the man and his music. Essential reading for anyone with even a passing interest in the ISB, it makes a fine companion to the Be Glad ISB compendium (from the same publisher). Empty Pocket Blues is an engaging piece of work, written by a fan with a musicians perspective, critical where need be, tempered with wry humour and well illustrated throughout. Highly recommended.
Chris Groom July 2008
---
Mark Joseph - Faith, God and Rock'n'Roll - forward by Dave Mustaine - Megadeth (Sanctuary Publishing)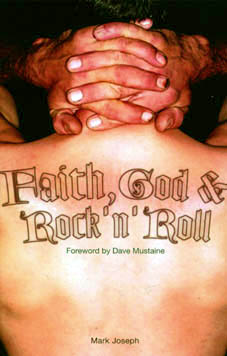 It's fascinating to see how many top musicians there are today who feel equally at home in both the secular and spiritual arenas. In his book Mark Joseph reports on this US phenomenon, featuring interviews and profiles from acts such as Creed, U2, POD, Lenny Kravitz, Alice Cooper, Nickel Creek, Sixpence None The Richer and Destiny's Child, and looks at the challenges they face in reconciling their rock and roll lifestyles with deep rooted religious convictions.
It's a 'must read' for anyone trying to make their way in the music world, and it goes to show you don't have to do it the way it's always been done.
Bryn Haworth
[Ed. Water From The Rock, a new compliation CD from christian musician and slide guitar maestro Bryn Haworth, is available from www.brynhaworth.com]
---
Book - comp. & introd. Fintan Vallely - Sing Up!: Irish comic songs & satires for every occasion (Dedalus Press)
Subtitled "hilarious songs from the living tradition", Sing Up! is a collection of 76 comic and satirical songs that comment on recent changes and developments in Irish society– in matters of sex, politics, food and drink, religion, recreation… and of course traditional music itself! Well, to be sure, several of these could equally apply to all sectors of society, but these songs, predominantly penned by Irish writers, in the main take that unique Irish slant, that deliciously prejudiced tone that, in the words of the book's editor Fintan Vallely, represents "a gather-up of intolerance, irreverence, slagging and sedition". (Right up our street, then!…)
Now, this gather-up was inspired by Fintan and Tim Lyon performing as the duo Schitheredee in the late 80s and 90s, purveying a repertoire "constructed out of frustration with the gap in the "traditional" style of Irish ballad-making which had left singers devoid of any up-to-date comic material other than Val Doonican songs". The Sing Up! selection expands beyond the creativity of Fintan and Tim to embrace the work of a further 22 writers (these include Hugh Collins, Patsy Cronin, Crawford Howard, Con Ó Drisceoil and Bríain O'Rourke). Just to give you a flavour of the contents, well there's several songs about bodhráns and their players (of course), and well-loved diatribes such as Willie MacBride: The Revenge, Nell Flaherty's Drake, The Fenian Record Player, Paddy's Lament, The Waterford Boys, The Pool Song and Invitation To A Funeral. (I was, however, a mite puzzled by the inclusion of Adam MacNaughtan's hmm, non-Irish classic Oor Hamlet!…)
Complete lyrics are provided, along with copious footnotes and references; but not the music, for a good number of the songs are based on traditional tunes (or slightly tweaked variants thereof). A companion CD would've been sheer genius, but as part-compensation some sample songs are available for free download on the publisher's website. As far as to-be- sureness of editorial hand is concerned, well Fintan's the ideal man for the job: not only a musician, lecturer, writer and former music journalist and an acknowledged authority on traditional music, but also - importantly - a Character and Wit of no mean distinction, as his often lengthy, delightfully rambling commentaries (on almost each individual song herein) ably demonstrate. I don't for a moment intend this as a complaint, but these discourses almost upstage the songs themselves at times – albeit (I feel sure) unintentionally (well perhaps)!… for they're absolutely priceless, and yet so beautifully logical is the argument he pursues that sadly it's impossible to provide a representative quote here for your own delectation, so I'm sorry but you'll just have to buy the book!
David Kidman February 2010
---
Ed. John Morrish - The Folk Handbook: Working With Songs From The English Tradition (Backbeat Books/EFDSS)
This 288-page spiral-bound hardcover volume is probably less of a handbook (in the strict sense of the word) than a workbook, or an annotated songbook, but its sound and authoritative intent and status cannot be questioned (given of course that any claim to such is (a) bound to be subjective and (b) can never claim utter completeness, bearing in mind the vast potential corpus of source material involved).
In a nutshell, The Folk Handbook republishes the texts and melodies of 87 traditional songs (subdivided into nine thematic groups or sections) and sets them into the context of their history and meaning. What we'll call the Folk Songbook, then - the main body of the book - is preceded by an ideally judged Foreword (by Shirley Collins), then a series of perceptive and learnèd essays by acknowledged experts in the field, which alone should serve to dispel the myth (itself bolstered by many English persons' persistent ignorance, and undervaluing, of their own abundantly rich traditional folk culture) that folk music is but shallow beer and whimsical pastoral, or trivial and insignificant at best. As of course we know different- but the more general reader looking for a way-in (at whom this book would appear to be first aimed) will need the necessary guidance to arrive at the more positive view for him/herself. It's symptomatic of the seriousness with which the exercise has been carried out that The Folk Handbook does in the end contain plenty to interest the more knowledgeable folk enthusiast or specialist, to whom it certainly does not "talk down"; indeed, the standard of erudition and commentary is refreshingly high indeed, wholly sensible and entirely lacking in condescension. Vic Gammon's introductory essay is one of the best overviews of its kind, while the "folk portraits" (thumbnail biographical sketches of key figures in "folk") are exactly what one needs to get started, with a view to embarking on a deeper exploration of the music and culture. Virtually every key aspect of "folk" is granted a short essay within the seven here, and provided you accept that a degree of subjectivity goes with the territory, you'll find that the various contributors (who include Mark Brend, Nigel Williamson, Stephanie Smith, Rikky Rooksby and Martin Carthy) provide a reliable and authoritative - and usefully detailed, befitting the purpose - map of that territory. For as I've already hinted, we're all likely to learn something (much!) from one or more of these essays - and that's before we even get to the actual songbook pages (they start at page 65!).
The Songbook brings together but a selection of the many, many folk songs collected in England at the turn of the 20th century, both representative of the range and subject-matter and being interesting and appealing in their own right; unusually for a songbook, it is made up entirely of songs taken down from singers rather than written for the page, and mostly based on manuscripts held at the Folk-Song Society (ie EFSS) in London. The songs are grouped according to subject-matter: love, death, drinking, the sea, murder, seduction, trickery, war, work and protest – with between seven and eleven songs per category. Each song is accorded its Roud (and, where appropriate, Child) number - this a reference tool aiding further investigation. The given notation is in the form of a single-line melody, this either taken from the manuscript in the Vaughan Williams Memorial Library or transcribed from the audio recording on the accompanying CD (see below). The song text is followed by a brief and illuminating commentary on the song's history and meaning and its collection (where known), and a (necessarily selective, but in the main well-informed) list of known recordings (in some cases that's quite an impressive tally!), with examples of both "source" unaccompanied and more contemporary-style renditions given (albeit with no opportunity to denote current availability, but at least the relevant discographical information is to be found in the Handbook's Reference section). I've not the space for a more in-depth discussion song-by-song of the contents of the songbook, but suffice to say that the general impression is extremely favourable and user-friendly, with the actual presentation clear and consistent (and in a decently readable font type and overall size!) and the supporting commentaries both helpfully broad-referenced and factually illuminating and genuinely thought-provoking. Generally speaking, I'd class the documentation aspect of the presentation as exemplary. It's a pity that the songbook pages are let down by containing three extremely unfortunate – and very obvious – editorial errors (the omission of a whole first line of one song's melody, a completely wrong melody given for another and the wrong song entirely for the third!), but let us give credit where it's due because errata pages for these are easily downloadable from the Folk Handbook website (which also contains downloadable files of MIDI versions of the songs covered in the songbook and other useful features such as an extensive list of online resources and a discussion forum).
The final dozen pages of the Handbook comprise the Reference appendix, and these include notes on the contributors, a select bibliography, an index and acknowledgements. And a tracklist and notes for the aforementioned CD; for the Handbook comes with a companion CD, on which are presented historic field recordings of 14 of the songs in the Songbook itself, all sung unaccompanied. The singers represented encompass a healthy cross-section of performing styles, from Harry Chambers to Will Noble & John Cocking, Jean Orchard to Charlie Hancy, and Vic Legg to Gordon Hall (these, incidentally, being the only two of the singers to have been allocated more than one song on the disc) - giving the lie to anyone believing that all source singers (a) sound the same and (b) can't sing properly, for the rich variety of expression and phrasing to be found herein is an ear-opener to the uninitiated… I might mildly criticise the sampler for only including the one female singer, however. All but one of the selections on the disc have already appeared on CD releases courtesy of the estimable Veteran label - the exception being The Rambling Blade, which was recorded at the singer (Walter Pardon)'s home in 1981. (A second, and complementary, companion CD, Old Wine/New Skins, consisting of intriguing contemporary interpretations of 17 of the songs which appeared in the Handbook, was released separately from the book, on the Dusk Fire label, a couple of months ago; and it proves a fascinating exercise to compare the rather different interpretations of the six songs which the two discs have in common…) I have just two (and then only comparative) reservations with this fine and largely thoughtfully-presented volume. The first, which is likely to be of more universal import and thus more puzzling in context, is the lack of provision of a separate index to song titles (also cross-referencing to their alternate versions if possible), for hiding these within the body of a general index does not make for easy quick reference. My second reservation concerns the binding - principally in that I find the act of rapid necessary page-turning somewhat laborious with a spiral-bound format, although I also realise its bulky proportions won't easily fit a standard bookshelf. However, I'd stress that this latter point is very much a personal observation which is probably unlikely to concern all potential users. For it's the actual content by which the Folk Handbook will be judged after all, and rightly so. In summary, I feel that the Handbook is an admirable attempt to address (recognising, and in keeping with, the technology of the age in which we live) the methods of working with the tradition. It is sure to prove a most valuable resource, especially (but not exclusively) when used in conjunction with the website and both CDs mentioned above, and importantly too, it will stimulate both further debate and further and more widespread appreciation of English folk song.
www.folkhandbook.com
www.backbeatbooks.com
David Kidman January 2008
---
John Einarson - Forever Changes: Arthur Lee And The Book of Love (Jawbone Press)
Arthur Lee, leader of the band Love, died of leukaemia in August 2006, a mere few days after Robert Plant (no less) had headlined a high-profile tribute concert to Lee which reminded the world of in just how much esteem his music was - and is still - held.
Love's third album, 1967's Forever Changes, has been acknowledged one of the masterworks of rock, not just of its era but of all time (and yet neither its originality, nor its profundity nor the true nature of its statement, which Lee describes as "representing the last words I would say about this planet", were recognised at the time). For thereafter, although Lee continued to record for much of the ensuing 30 years, he was never able to top this crowning glory. At one point he even experienced a period of especially bizarre behaviour which culminated in a prison sentence for a firearms offence; released early from this, he underwent a period of great redemption shortly before his death, during which he was preparing the first volume of a projected autobiography. He never managed to publish this, but Einarson's book has been granted unlimited access to draw on this work-in-progress, as well as Lee's own personal journals and diaries, and he has been allowed to carry out several exclusive interviews with those closest to the man.
Not only was Lee's musical vision radical from the start (he accelerated the evolution of derivatively Byrdsy, R&B-tinged Californian folk-rock by infusing it with jazz and orchestral influences), but although he was a pioneer in fronting one of the first racially-mixed bands other (less desirable) personal characteristics were to count against him. His own hot-headed emotional disposition, his dissolute and flamboyant lifestyle, his drug use and his reticence to tour, all contributed to make him his own worst enemy from the outset, and his later career (albeit haunted for all time by the shadow of his masterwork) was wildly erratic to say the least.
But then again, as Einarson is quick to point out, although every one of Lee's album projects was almost entirely different in character and personnel to the next, it's quite extraordinary that there was any degree of (perceived or otherwise) development or consistency in Lee's music. Considering the massive (albeit not always readily admitted or even realised) influence Lee had on successive generations and on all manner of music both in the States and here in the UK since, it's surprising also that up till the year after Lee's death (and the appearance of the Love Story DVD documentary) there had only been one book purporting to tell Lee's story (Barney Hoskyns' insubstantial biog).
Einarson's labour-of-Love (sorry!) can surely lay the best claim to being a definitive account, laced as it is with sincerity, insight and plenty of genuinely revealing hitherto-unknown details. It's been carefully researched, of that there is no doubt, and the resultant validity of Einarson's historical perspective is particularly useful in debunking some of the (often wilfully and deliberately inaccurate) myths that have grown up around Lee's own life-story.
You could say that from the beginning (not literally Da Capo, of course! even that was a bit of a false start!) the book is full of Revelations, but that hindsight forever changes one's perspective and Einarson makes sure that the information is out here… It really is an essential buy.
David Kidman October 2010
---
Mark Leightley - A Gathering Of Folk (Book Review)
Guernsey-based Mark is justly famed for his photographic portraits, and his self-publication of this collection coincides with an exhibition of his work which runs until September at the Oxford Street branch of Virgin Megastore. I often find coffee-table photographic volumes tiresome and little more than a rip-off with minimal content other than superficial gloss, but this collection is absolutely stunning. Why? Well, just as it can be real hard to explain to someone who's not into the music, exactly what makes the music so special, it's not easy to sum up the appeal of this book in mere words. But Mark has a stab in the book's frontispiece, and I can't do much better than to use his words as a starting-point: "What is it about folk music that moves people from joy to sadness, from laughter to tears? Forces the listener to sit and wonder and then in a moment brings them stomping to their feet? It is the people who sing their songs, tell their stories and play their music. They keep a heritage alive…" And thus it proves, for so too the images in this book are kept alive in your consciousness long after you've turned the page or gone on to do something else. Like the very best photographic essays, these black-and-white portraits are genuinely haunting. At the same time, they sure-handedly convey the essence of their subjects and of the work within the arena of folk music for which they are celebrated, while incidentally imparting unexpected partial insights into deeper aspects of their character. Interestingly, though, the front cover features not a portrait of a performer but of a musical instrument – the violin of Peter Knight, as it happens, captured in loving detail mirroring the cradled pose in which the instrument is being held by its owner's "gifted hands".
There's close on 50 single portraits in the gallery, along with two uncredited extra portraits (of Peggy Seeger and Bob Copper, both of whom appear in their own right elsewhere in the volume). Each of the single portraits is graced with a short but informative biographical essay (some are little more than a thumbnail sketch, others stretch to nearly an A4 side in length) – a few of which have been specially commissioned from John Hillarby or Alan Murray. In this book, the portraits of the "great and good of folk music" encompass both old stagers and modern-day celebrities, from Dave Swarbrick, Martin Carthy, Ralph McTell, Maddy Prior, John Renbourn, Chris Leslie to Beryl Marriott, Rosie Hardman, Nic Jones, Julie Felix, Cyril Tawney, Ashley Hutchings, Bob Fox and Mike Waterson (to name but a few).
The vast majority of the portraits are very striking indeed – some of the unforgettable images in the book include John Tams staring out reflectively from an open barn door, the keen eyes of Kate Rusby and Eliza Carthy captivating and following you long after you've moved on to the next portrait, the cheeky, chummy ale-quaffing persona of Dave Pegg, the sly Soho stance of a subtly-shaded Bert Jansch, the thoughtful repose of Gerry Conway, the curiously distrustful air of Derek Brimstone… and I find more in each successive visit I make to the gallery. So, down to hard facts: the book is a limited edition of 1500 copies. It will be on sale at this year's Cropredy Festival; otherwise, it's available only from The Studio, Braeside, St. Sampsons, Guernsey GY2 4FF. Price £15 plus £1.50 P&P. Profits from sales of the book go to Teenage Cancer Trust
David Kidman July 2007
---
Graeme Miles (ed. Sam Dodds & Ed Lawrence) - Forgotten Songs Remembered (Folk Leads Publications)
Graeme's unarguably one of the very finest of the latter-day Teesside folk songwriters, and between 1949 and 1972 he wrote well over 200 songs in total, a staggering achievement by any standards. His work has enjoyed a richly deserved renaissance in recent years, with the release in 2001 of an entire CD of his songs performed by the estimable Martyn Wyndham-Read (Where Ravens Feed), the roughly concurrent publication of Songscapes, a lavish A4 volume which contained an initial, careful selection of some 58 songs superbly complemented by Robin Dale's fine photographs, and, over the subsequent years especially, an increased awareness of the sheer size of that corpus of songs together with a growing number of performances (and recordings) of his songs by other singers. Now, happily, we see the publication of a second volume, collecting together a further 67 of Graeme's songs, taken from right across the 23-year span though inevitably the majority date from the prolific 1960s. Forgotten Songs Remembered is an altogether more modest - but no less welcome - publication, this time housed in a compact A5 paperback format, in which the songs themselves are presented clearly, each taking up either one single page or two adjacent pages, with basic stave notation for the melody and the full lyrics beneath, and enhanced with characterful little woodcut-style illustrations of Graeme's own. The selection is comprehensive and canny, containing examples both well-known (at least in terms of being heard to be sung around the clubs) and less so: the most famous of them all being Ring Of Iron, followed by William Stone, An Evening In Summer and Dark December. But there are plenty more cracking songs where those came from, as even a cursory leaf through this book will prove. The sheer breadth of Graeme's stylistic invention, from deeply poetic to chummy conversational, staggers the reader anew. Many of the songs in this volume are known to exist in a number of versions, but Graeme has wherever possible used his original or preferred texts and music here. I can imagine the book quickly becoming very well-thumbed by any singer worth his or her salt who responds to the intense poetry of the texts and who is not afraid to tackle some occasionally quite challenging (and often slightly awkward) melodic contours. For most singers, I suspect, actually reading music is not second nature, and so a companion CD of recordings would be a really attractive adjunct - though I acknowledge the potentially prohibitive enormous logistical difficulties inherent in such an undertaking. Finally, the songs themselves are prefaced by a brief biographical sketch, an introductory "writing-career summary" by Graeme himself, an appreciation by Martyn WR and a complementary and perceptive general foreword. There's only one index, which takes the form of a table of contents at the front of the book. It would have been nice if the book could have included a kind of concordance or discographical appendix pointing the way to some recordings of the songs (where these exist - for a large proportion of them remain unrecorded, of course).
David Kidman July 2007
---
Hardcore English - comp. & ed. Barry Callaghan (EFDSS)
This brilliant new book presents what it terms "300 cracking tunes from manuscript, recorded and aural sources, for the internet age", in an attempt to redress the balance back towards an appreciation of English (as opposed to Irish or Scottish) traditional tunes. This volume proves that there's a lot of fine tunes out there just waiting to be discovered – and, most importantly, played! It's indicative too that the past 30 years has seen a major shift in our knowledge and understanding of the repertoire and style of the music that was played for traditional dancing; inspiration has been provided to younger musicians, not only by the increased availability of source recordings of traditional musicians but also by the discovery of manuscript tune books in all manner of places. Hardcore English is the first of the modern tune books to reflect this range of sources, both giving an overview of our current understanding of English traditional dance music and constituting a guide for further exploration. Now I may not be a hardcore dots'n'diddley devotee, and I don't play in sessions, but I do enjoy hearing the music well played, and any book that disseminates these tunes in a user-friendly way that encourages them to be played more widely is a good thing. The sizeable bonus with this particular book is that its format is pretty much ideal: the tunes are arranged by type (hornpipes, tunes in common time, different kinds of jigs etc.), the music notation is perfectly clear, and the source notes for each tune are located right beside the music for quick and easy reference. The book's size and presentation are perfect for putting on a music-stand - or a pub table! - ie spiral-bound A4 in landscape format. And best of all, the ancillary and background information is intelligently presented too. The introduction sets the English dance music scene in context, with brief but sensible discussion of sources (tunes and recordings), playing styles and approaches and the important individual bands or musicians. There's an appreciation of Barry Callaghan himself, who sadly died before he could see the finished work published. And a very useful appendix listing first the manuscripts themselves and then the various republications over the past 30 years (whether of original manuscripts or compilations), a selective list of published collections and a distribution map, a brief bibliography and a necessarily space-restricted list of recordings. Finally, there's a list of current internet links for resources - valuable, but coming with the usual caveats! – and an index to the tunes themselves. Excellent.
As if this were not enough, the book has an absolutely superb companion double-CD, also available separately, which gives a generous and comprehensive two-hour-plus, 32-track overview of what might loosely be termed the present-day practitioners of English dance tunes, "the bands who still use them every week"! The roll-call includes quintessential performers the Old Swan Band, Pete Coe, Dan Quinn & Will Duke, Rod Stradling, Katie's Quartet, the Mellstock Band, the Posh Band, piper Julian Goodacre, Flowers & Frolics and the Boat Band... ceilidh heaven! (And there's even a glorious archive barrel-organ recording of three tunes including Speed The Plough!...) The accompanying booklet gives brief biographical sketch outlining the regional provenance of each artiste therein. Totally authoritative performances, full of presence and gusto, these recordings, drawn from all manner of obscure and not-so-obscure discs (and even some sets specially recorded by Anahata and Our Northern Branch – though shame about the premature fade on the latter), are without exception wholly delightful, vital and replete with the spirit of the dance, and make a jolly listening sequence in their own right, with varied instrumentation, sparkling pace and mood changes. It really does enthuse a listener into wanting to get up and dance – and yes, even to learn to play the music!... To which end, brings in my only small criticism of the book: that the text for each tune doesn't close the loop by pointing to cases where there's a recording on the companion CDs. In all other respects though, this is a tremendous issue, and a most persuasive case for re-assessing the too-often-neglected corpus of intrinsically English dance music.
David Kidman November 2007
---
Comp. & Ed. Alison McMorland - Herd Laddie O' The Glen: Songs Of A Border Shepherd (Scottish Borders Council)
This volume is a revised and enlarged reprint of that first published in 1988, wherein Alison, herself one of Scotland's finest ballad singers, pays tribute to the memory and legacy of celebrated Liddesdale shepherd and singer Willie Scott, who sadly died, aged 91, barely a year after the book was published. The book is therefore as much a memorial to the man as an invaluable social document which both chronicles his life and fulfils his ardent long-term wish to have his songs written down in book form. The book begins with an introductory essay by Hamish Henderson, followed by a map delineating the areas Willie lived and worked in the Borders. A discussion of Willie's song sources relative to his life experiences, followed by a direct reproduction of Willie's discourse Reflections on Shepherding, form an enchanting and informative prelude to the meat of the book: the songs themselves. These are presented straightforwardly in conventional stave notation, except in the aspect of metre; although a metronome marking is given, actual time signatures are omitted (as is a rigid adoption of bar lines) due to the free nature of Willie's unaccompanied expression. Any other interpretative quirks of Willie's singing, such as glissandi and modal interventions, are clearly and unfussily notated. Many of the 61 songs given in this book are further illustrated with apt and well-reproduced period photographs, some also incorporating a fascinating historico-geographical commentary. Then, to the sequence of song texts and music is appended a glossary of abbreviations used for the sources, and then a series of useful notes to the individual songs. An updated discography of available recordings of Willie himself, a selective glossary of dialect words and finally an alphabetical index to the songs, bring the book to a close. For anyone who bought the first edition, I need to point out that this second edition is much improved in that it includes additional songs and transcripts and incorporates various minor corrections; but most importantly, the very fine song notes (all the work of Geordie McIntyre) are entirely new to the present edition. This richly expanded nature of this new edition is but one feature which will ensure the book's status as a landmark publication in its field and one to occupy a cherished place on the shelves both of the serious student of Scottish folklore and of the lover of Scottish songs and singing. This sturdy paperback retails at just £9.99 plus P&P, and is available from the publishers or from Alison herself.
www.alisonmcmorland.com
www.scotborders.gov.uk
David Kidman June 2007
---
Pamela Des Barres - I'm With The Band (Helter Skelter)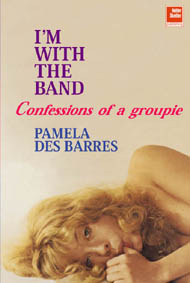 This re-issue of the 1987 autobiography of Pamela Des Barres should perhaps be titled "I've Had The Band", as this revealing diary of a groupie in the late sixties and early seventies is an affectionate romp through the beds of many legends of rock - Mick Jagger, Jimmy Page, Waylon Jennings and more.
The sixteen year old Pamela Miller is introduced to the L.A. rock scene by Captain Beefheart and from then on it's a pilgrimage to sex, drugs and rock'n'roll through one of the most creative eras of popular music.
Rock stars were more accessible in those early days and "Miss Pamela" as she liked to be known, certainly gets up close and personal with dozens of them. She follows them back-stage, on the road and into their beds. One should also mention that she had a music career herself with a band - the GTO's formed by Frank Zappa - and some minor acting roles on film and TV. First and foremost, though, she was a groupie and proud of it.
The book is littered with famous names and not just musicians. One of her great loves was the actor Don Johnson (before he dumped her for the pubescent Melanie Griffiths and rolled up his sleeves for Miami Vice). Pamela was also friends with Woody Allen and her description of going to see the film "The Exorcist" with him is one of the funniest passages of the book.
Given the public's fascination with the private lives of celebrities there probably is a niche market for this kind of book. Although the teen-diary format can make for pretty turgid reading ie: "January 25th: The misery has so overcome me that all I can do is sleep. There is no time to dwell on the lovely Mr.Hillman and wait for tears to drown me." Hmm....
Despite the dire prose, the book is entertaining and doesn't have a grubby kiss and tell feel. However I am sure a few very famous people (and their lawyers) cringed on reading about their early excesses in such vivid detail.
"Miss Miller" eventually found true love with the musician Michael Des Barres and lived happily ever after. In the post-script to this re-issue she writes of her sadness of the death of so many friends Morrison, Hendrix, Gram Parsons, Keith Moon and countless others. Unlike them she lived to tell the tale, and this is it.
Liz Guillemet
---
Steve Earle- Fearless Heart, Outlaw Poet - Lives In Music - David McGee (Backbeat)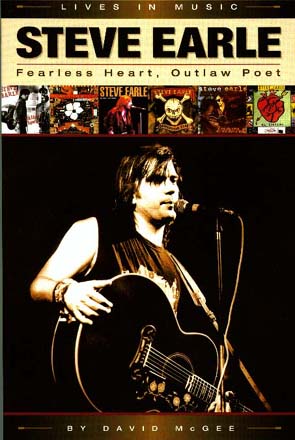 If the excellent and here much-quoted Hardcore Troubadour is the red top version of Steve Earle's life - and God knows he's lived a life to fill a year's worth of them - then David McGee's equally excellent Fearless Heart, Outlaw Poet could be said to be the more measured broadsheet version.
While the labels are simplistic as St. John and McGee approach Earle's life and often troubled times, from different directions - McGee's take on one of country music's true icons concentrates much more on the music than it does on the lurid headlines. And for those who believe that Earle is not only charismatic, passionate and committed but also one of the finest songwriters to pick up a pen and guitar, he provides compelling evidence to back that belief.
As well as describing its birth, each album along the way is given an honest appraisal and breakdown that opens up Earle and makes him and his music infinitely more human and approachable.
However, the inescapable conclusion drawn from the book is, that if Earle hadn't gone through the divorces, the bust ups and a near-fatal slide into drugs hell, then we wouldn't have the artist that we are blessed with today but it was a high price to pay and on reflection perhaps too high a price.
And that's where McGee's effort becomes a complete and rounded read because it sets everything about Earle fairly and squarely in the middle of the music. The disintegration of the early Dukes may have been fuelled by his increasingly erratic ways but it served a purpose as did the later 'firings' of producers and partners. The former led to the formation of the band that made Copperhead Road, the latter freed a reborn Earle to record the music that he'd always been compelled to make, socially committed, from the heart and true to the man and, by majority agreement, the best of his career.
David McGee makes the point clear that Steve Earle needs a maelstrom swirling around him, whether marital, musical or political and if there isn't one then he creates one.
The section covering Earle's early life gives few clues as to why he became what he was. He was rebellious, prodigiously intelligent and came from a family that supported him throughout, it may be that there are no answers and Earle is simply unique, a musical genius and a flawed man.
The one common thread is that he cares, firstly about himself, secondly about his music and thirdly about his 'causes'; political (anti war, The Revolution Starts Now) and social (anti death penalty, Billy Austin) but he is no bleeding heart, throughout his music runs a cold, steely-eyed realism.
It would have been easy for Fearless Heart, Outlaw Lives which focusses largely on the music and the process of its making, to become a dry tract, a musician's book about a musician. But the 'conversation' with The Pogues' Philip Chevron brings to vivid life the creation of just one song, Johnny Come Lately, for that passage alone McGee is to be commended as it gives an insight into not only Earle's dedication to work and play but also his innate understanding of the roots of what he does.
In any book about Steve Earle drugs loom large but McGee doesn't moralise or sensationalise, admittedly it would be hard to underplay what happened to Earle, the four-year nadir is told largely through the experiences of his sister, Stacey and her husband Mark Stuart, an Earle fan before his marriage and a man for whom the scales quickly fell but the affection remained.
In a telling passage Stacey Earle describes finding needles around the house and blood on the walls and then describes her brother as a 'smart user', perhaps her defininition of 'smart' is different. However, the matter of fact way in which the story is told makes it all the more chilling and salutary but throughout McGee remains the objective storyteller not the judge.
Unfortunately, those who expected that Earle's salvation would make him a calmer, more reflective man will be disappointed and McGee pulls no punches in saying that a post-drugs Earle was pretty much the same character as a drug-fuelled Earle, he leaves behind him a string of disgruntled partners and collaborators but again McGee presents compelling evidence that these were, in Earle's mind, necessary career moves not callous personal snubs to those, most notably E-Squared co-founder Jack Emerson, who picked him up when he was at his lowest. The book doesn't paint the picture of a saint but of a man desperate to make up for lost years, yet unsure whether the raw talent remains to do so.
From Chapter 15 (Resurrection) the book changes and, if Earle's earlier life was a rollercoaster then, from this point on his musical output makes the book a page turner for any fan, it crackles and spits as it recounts the making of I'm Alright, The Mountain, El Corazon, Jerusalem and The Revolution Starts Now as Earle creates a political storm with John Walker's Blues and held his country's leaders to account with The Revolution Starts Now.
And, for the first time, the man himself gets a look in with a couple of slightly unrevealing reprinted 'conversations', in the context of this book Earle's own comtributions are the least required, McGee has written an objective and believeable account without them. It is neither a hatchet job nor a hagiography and the cases for the prosecution and defence are well-argued.
The one grating element of Fearless Heart, Outlaw Poet is its slight over referencing of Lauren St John's Hardcore Troubadour, it's almost as if it were deferring to some superior source, to the point of contradicting a minor point about Roseanne Cash. There will be those who read Fearless Heart, Outlaw Poet in isolation and McGee has produced a rounded review of a musician who largely defies description, he has no need to look over his shoulder.
Fearless Heart, Outlaw Poet is well written, straightforward, honest and without any agenda and David McGee has done a job he can be proud of. One small correction: Rupert Murdoch is not a British newspaper baron, he was born in Australia and is now an American citizen, minor but depending on your political hue, crucial.
Michael Mee
---
Still Growing: English Traditional Songs & Singers From The Cecil Sharp Collection (Ed. Steve Roud, Eddie Upton & Malcolm Taylor; published by EFDSS in association with Folk South West)
This comparatively slim (120 pages) but eminently worthwhile book ostensibly commemorates the centenary of the first collection by Cecil Sharp of a folksong, this being The Seeds Of Love as sung by the gardener John England in Hambridge, Somerset in August 1903. It brings together 50 songs from Sharp's manuscripts, all of which were collected in southern counties of England; the main criterion for selection was that they be "good to sing", although the ancillary criterion of relative significance within the Sharp collection is arguably more arbitrary. The songs come fully annotated along with biographical information regarding Sharp's sources, together with a bibliography. The songs are prefaced by an authoritative, perceptive and well-written 20-page introductory essay (by Vic Gammon) defining Sharp's role in the folk music revival. This, of course, is currently being reassessed, so this book is doubly timely. As for the songs themselves, nearly half of these appear here for the first time (having not been previously collated in the 1974 two-volume Karpeles edition). The actual presentation of the songs is exemplary, with clear notation of the melody and straightforward text layout, appended to which are alternate or fuller versions of those texts. The basic format is unusual, though, in that you'll need first to refer to the alphabetical index of songs at the back of the volume, for each song is given within the section devoted to the singer from which it was collected (the singers themselves being presented in alphabetical sequence and forming the main body of the book). And by the way, these sections often also include superbly evocative photographic portraits of the singers, while the singers' biographies contain some fascinating factoids, which I wouldn't wish to spoil by revealing…! A more detailed consideration of many of the individual songs in the volume appears on the Musical Traditions website (www.mustrad.org.uk), but suffice to say that if you have any interest in the sources of these songs you'll not be disappointed if you purchase the book. Also, I suspect that many readers might have found the provision of a companion illustrative (double-) CD a most attractive proposition, especially in view of the fact that a number of the songs come with tunes which are less familiar (and often more interesting) than those to which we've become accustomed to hearing over the years. Yes, even if you're knowledgeable in the field, I'm sure you'll still learn plenty from this abundantly fascinating volume. £12.95 is a modest price to pay for such a well-presented book.
David Kidman
---
Mike Yates (comp.) - Traveller's Joy: Songs Of English & Scottish Travellers & Gypsies 1965-2005 (EFDSS)
This book is a handsome celebration of the unique musical legacy of the travellers and gypsies of England and Scotland. Though first and foremost a songbook, it also includes within its covers a 68-minute, 20-track companion CD containing source recordings of songs from the songbook itself, sung by traveller singers mentioned therein and recorded by Mike Yates (some during the 1970s, others as recently as the present decade), thus providing a direct and illuminating soundtrack and enhancing the value of the book considerably. Having said that, the book stands alone in its role as originally intended, and Mike's introductory essay alone is a good and informative read, also serving as a useful overview. After that essay, we find a few pages of biographical notes on the singers themselves, as well as explanatory notes regarding the ensuing song transcriptions. The copious referential "Endnotes" are an ideal compromise, packed with detail yet remaining concise and readable rather than stuffily academic or offputting (although, however much you already know, the more you'll realise there is to know!). Finally there's a separate bibliography and discography, both commendably exhaustive and thoroughly creditable. Mike Yates has over the years been a leading figure in his contribution to the collection and recognition of the music of the travelling people as a vital living tradition; he's masterminded a hell of a lot of excellent-quality source recordings (many of which have already been released on the Topic, Veteran and Musical Traditions labels), and has done an enormous amount of research into the tradition, following this up with persuasive advocacy (this clearly rubs off on Norma Waterson, who has provided the book with its enthusiastic preface). For of course, the book's unstated thesis is that the culture of the (too often unjustly maligned) travelling people is vibrant and every bit as valid as other, more widely acknowledged and conventionally recognised roots and branches of folk culture. The actual presentation of the songs is both user-friendly and sensibly informative; the additional detail at the foot of each song's basic musical transcription, which includes background information as well as usefully suggesting comparative recordings and textual variants, illuminates rather than swamps the songs themselves. The main body of the book gives us no less than 50 songs from the traveller tradition, while the book's introductory essay incorporates transcriptions of eight key "anglo-Romany" compositions, two of which bookend the accompanying CD. (Surprisingly, however, given the scrupulous attention to detail that marks the book generally, none of the splendid photographs are captioned …) Now the actual selection of songs is just fine, since it deliberately rejoices in the tradition's impressive variety of genres and treatments, from big ballads and less ambitious narratives to tender romance, personal tragedy, fun commentary and bawdy escapades: all human life is here, indeed. Many of the songs are intriguing variants of songs we think we've heard enough of already, but these versions really do give a fresh new perspective; many other songs are unique to the traveller culture. Any singer looking to extend his or her repertoire with authentic and/or less familiar material from the tradition will find plenty to embrace and "collect" here, and will gain ample further inspiration from the charming performances on the accompanying CD, which come from such important traveller singers as Mary Ann Haynes, Harry Brazil, Phoebe Smith, Sheila MacGregor and Duncan Williamson (the latter-named also contributing his own original song Closing Our Camping Grounds Down). However, one aspect of the songs' presentation which I find frustrating, is the inconsistency in mentioning whether (and where) these recordings have already been issued elsewhere: the compiler owns up to just two of the 20 recordings here being taken from existing available releases (Wiggy Smith's Oakham Poachers from volume 18 of Topic's epic Voice Of The People anthology, and the delightful Debbie & Pennie Davis duet version of Barbara Allen from the Musical Traditions CD The Birds Upon The Tree), but of the remainder I recall a further three (Bold Keeper, Sweet William and The Female Drummer) also appearing on VOTP (two on volume 11 and one more on volume 18), while the first two items on the Traveller's Joy CD appear on the MT collection Here's Luck To A Man. No quibbles about the recordings themselves, however (for these are of excellent quality), or about the performances, which really do bring to life the songs on the page, especially in respect of quirks which can't be notated accurately like approximations of tempo or in-between-notes – and the audio format is of course a godsend for those who don't read music!… The sequence of the songs on the CD doesn't correspond to that of the songs in the book (which are presented in alphabetical order of title), but in the end this doesn't matter one jot (as there's nothing to stop you "tinkering" around (sorry!) with the running order by programming your CD player!) and it's a great listen on its own terms even without the book to hand. Even the one glaring gremlin (that of erroneous information regarding the true source of The Widow's Moor, here credited to singer Duncan W though actually deriving from Mick Ryan's song The Widow's Promise) is already being rectified for future printings of the book. There are some minor transcription inconsistencies between printed and sung words, which is to be expected I suppose, but the most curious inconsistencies occur in the actual titles given to some of the songs (departing from what one might call the accepted ones – I'm thinking particularly of The Two Turtle Doves, which I've most often heard called Edward…). But, those admittedly nitpicking considerations aside, this authoritative and still tremendously enlightening volume, retailing at significantly less than £20, will undoubtedly prove a vast inspiration to present and future generations of singers and folk enthusiasts, and should go a long way towards redressing any prejudicial imbalance or unfair perceptions of the true value of, and contribution to our folk culture made by, the travelling people. The book and CD are thus indeed exactly what they set out to be: "a collection - to be learned, sung and enjoyed by the reader", in which the singers and their music are portrayed with honesty and sensitivity.
David Kidman July 2007
---
Richie Unterberger - Turn! Turn! Turn!: The '60s Folk-Rock Revolution (Backbeat Books)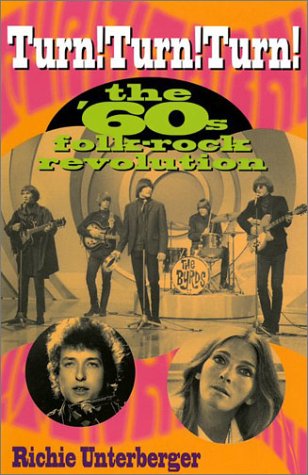 This author's interpretation of the term "folk-rock" focuses on (while not exclusively attributing the phenomenon to) the rise and subsequent development of what might be loosely termed protest music in the States, from acoustic coffee-house and agit-prop obscurity to trend-setting paisley modishness and psychedelic revolution. It was an instrument for change both musical and social, in fact, and the parallel Richie draws is a pertinent one. Despite the tendency, in the wake of Dylan's conversion to electricity, towards implementing "rockish backup" to spice up jaded folk acts, and calling it folk-rock, there can be no argument that some of the most innovative and long-lasting music of the mid-60s arose from the folkier-influenced side of pop culture, indeed. Richie's penchant for observing and unearthing the more intriguing obscurities of the wayward music scene stands him in good stead for this exercise, and enables him to forge a healthy and balanced perspective on the emerging folk-rock movement (not that it would have been acknowledged as such at the time). To assist him in this task, Richie draws fairly extensively on first-hand interviews with many of the movement's "visionaries", including Roger McGuinn, Arlo Guthrie and Judy Collins. Key movers and shakers such as the Byrds and their style-defining treatment of Mr. Tambourine Man are accorded due prominence, as is the cross-pollination of British influences such as the Beatles, whose songs were being appraised by emerging US talent almost as folk songs, recognised as something more lasting than the disposable pop fodder many believed them to be. The ensuing "boom and bust" era then ushered in a fresh breed of singer-songwriters, and the folk-rock crossover took on a new and healthy eclecticism that transcended protest and social commentary while drawing on a diversity of musical traditions. Again, an attention to literacy was starting to go hand in hand with rebellion. Richie ends his story at July 1966 with Dylan's motorcycle accident, using this incident as a symbolic turning-point after which the music would never be the same again, a thesis that has its attractions as well as its conveniences. (Good, then, to learn that a sequel volume is planned, titled Eight Miles High: Folk-Rock's Flight From Haight-Ashbury To Woodstock.) Remember that this book concentrates primarily on folk-rock as understood in the States' context, so Richie's final chapter (Folk-Rockin' Round The World) may come as a mite dismissive to UK readers; for a time, he seems to credit only Donovan among the UK acts as having any true folk-rock cred, although at least he also (quite incidentally but meaningfully) gives credit where it's due by pointing up the all-important forward connection to the emergence of Fairport Convention and similarly open-minded bands in the UK who were receptive not only to the darker corners of the Dylan œuvre but to other American singer-songwriters, these bands initially basing their repertoire around such music before turning their attention inwards to the indigenous traditional music of their own country and giving birth to the musical sub-genre that, here in the UK at any rate, is more commonly recognised as folk-rock.
David Kidman
---
Richie Unterberger - Unknown Legends Of Rock 'n' Roll (Backbeat Books)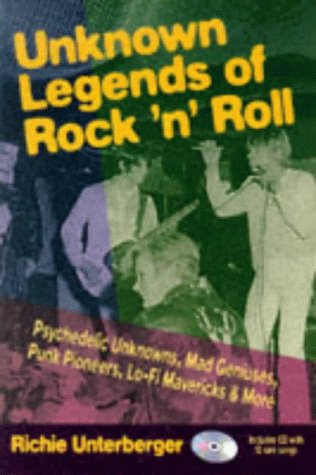 The central thesis of this book is sound – that throughout the annals of rock'n'roll, for every well-known name there are literally hundreds of visionary rock artists (groups or solo performers) who remain unsung heroes. Some of them achieve limited recognition through belated cult status, others continue to languish in undeserved obscurity. This 400+-page volume attempts to shed some light on just 60 of these "legends" whom Richie has carefully selected, his rationale for inclusion (explained in the book's introduction) being determined as much by personal preference as by the book's market (the States).
Richie's own interest in "records that no-one else he knew had heard" was sparked by his purchase of Love's seminal Forever Changes album (at age 17, in 1979), following which he avidly collected the records of "artists about whom little was known and little was written". To date he has amassed such a large collection that the selection for this book has (naturally) caused much anguish. Eschewing for the nonce some of Richie's own personal favourites (worthies like the Pretty Things and the Bonzos) and some of the more expected artists like the Residents, the Seeds, Robyn Hitchcock, the book does nevertheless manage to range far and wide, from the (let's be honest) not-entirely unknowns such as Syd Barrett through to Wanda Jackson, Tomorrow, Robert Wyatt, Roky Erickson, the Misunderstood, Blossom Toes, Savage Garden and on up to punk and post-punk (Raincoats, Young Marble Giants) and a veritable parade of defiantly one-shot enigmas.
Even for me, a self-confessed obscurity addict, there are some important discoveries to be made in these pages. (I'll admit, though, to being a mite puzzled by the inclusion of tragic folk-rock icon Sandy Denny.) Spanning the 50s right through to the 90s, the chosen artists are organised into sub-sections with titles like Overlooked Originators, Mad Geniuses, Post-Punk Hybrids, Psychedelic Unknowns, Lost British Invaders, Lo-Fi Mavericks – all of which prove a rather useful method of approaching the enormously varied rag-bag of talent under investigation here. And spoof band the Rutles gets a fair appraisal in the unexpectedly illuminating Comic Relief chapter, which also features Screaming Lord Sutch.
Each of the sub-sections is prefaced by an equally useful general overview of the genre or sub-genre after which it is named; some, like From The Continent, embrace several such overviews. The individual artist portraits are invariably revealing too; inevitably some more so than others, but the research is always sound and even the hard-core fan is likely to learn something useful from the majority of them. (Having said that, Richie's portraits of Syd Barrett, Nick Drake, Joe Meek and Sandy Denny, though pretty good as general introductions for those who know next to nothing, can't pretend to be a substitute for the available full published biogs.)
Richie's years of research have enabled him to track down, and conduct interviews with, surviving musicians or close confederates, on which each of the individual artist portraits heavily draws, and this is a further bonus point for the book. There's an accompanying CD too, which presents one representative track each from twelve of the featured artists; included are some tracks that (as far as I can tell) are appearing for the first time in this format. This CD will also help you to decide whether you agree with Richie's assessments of the artists' music (for instance, I can't fathom how he manages to avoid making the obvious Joy Division comparison where Savage Republic are concerned), and if nothing else, is likely to lead to further exploration.
Which brings me to the one aspect of the book which is by comparison rather inadequate – the discographical details at the end of each chapter, which will by now be largely quite a bit out of date (the book is copyright-dated 1998), and in any case could I'm sure have been amended for UK publication. But in any case, the book is still well worth having for the nuggets it contains (reference intentional!), and it's a darned good read to boot.
David Kidman
---
When The Snows Of Winter Fall: Songs In Harmony From The Repertoire Of Craig Morgan Robson (Book) (Reiver Music)
This slim but engrossing volume from the Reiver Press imprint presents tablature and lyrics for a dozen songs from the repertoire of that scintillating female trio Craig Morgan Robson. Its format is consistent with that adopted by previous volumes from that imprint, admirably clear and easy to read. It presents straightforward musical notation for each song, clearly delineating the tune and the harmony lines on separate staves, below which we find a reprint of the entire song lyric, followed by a concise paragraph giving the song's origin or background and finally a paragraph outlining CMR's method of performing that particular song (matters such as which verses are sung with which harmony by which part at which point, and how the texture and mood is subtly varied during the course of the song according to the import of the lyric and its interpretation by the singers). Seeing the CMR harmony arrangements so clearly presented in this way serves to illuminate the apparent mysteries of what you hear in performance - having said which, Sarah points out in her invaluable post-foreword page of notes to learning and singing the songs (this page alone is essential reading!): "if you come to a live performance you may find that what we sing is not exactly what is written in the book. This is because the music evolves and changes over time." Like the rest of the good-sense notes on that page, that may seem an obvious caveat, but it's surprising how many folks expect harmony arrangements to remain etched once made, precise and cast in stone. For a significant part of the appeal of CMR's harmonies lies in their degree of relative unpredictability, organic flexibility and ingenuity. "What is written in the book", therefore, is to be taken as but a starting point for the singer's own exploration, rather than as a rigid instruction manual for what exactly should be sung note-perfect each time. The actual choice of songs is an enterprising and appealing one too: all but three are drawn from traditional sources (the others being a fine Mike O'Connor wassail, Rani Arbo's beautiful setting of Tennyson's Crossing The Bar, and the supremely evocative Graeme Miles song that gives the book its title), running the emotional gamut from ballad to broadside to cradle song to hymn to comic song. And you can of course hear CMR performances of all twelve songs between their two trio CDs Peppers And Tomatoes and Stranded. A very appealing volume, well presented, from which one learns significantly more than just a theoretical harmony line for a few songs.
David Kidman February 2008
---
Book Review: Pete Wood - The Elliotts Of Birtley (David Herron Publishing)
This is a unique book, as essential for the lover of folk music as for the student of local and industrial history or folk culture in the north-east. It's also uniquely compelling and truly hard to put down, but demands careful reading, for although its central story (that of the lives of the Elliotts and their involvement in folk music in the north-east) is keenly told and chock-full of incidental interest, there are numerous side-threads and ancillary issues that can all too easily (albeit pleasantly!) divert and preoccupy the enquiring mind at the same time! The family saga chronicled in the book centres round Jack Elliott, his brother and "marra" Reece, his wife Em and his family, and their lives during the early part of the 20th century. The family's history is seen in many ways to reflect the hardship of many mining families in the Durham coalfield, yet the Elliotts, as Pete rightly emphasises in his thoughtful, insightful commentary, are unique in their character, their political conviction and (most especially) in their heritage of song. Writing this book has evidently been a true labour of love for Pete, as he not only tells the family's history in a readable and entertaining manner, displaying considerable natural sympathy for his subjects (and his own resilient spirit mirrors that of the Elliotts, I'd say!), but he's also able to bring his own extensive folk scene background and knowledge to bear when recounting (and informedly discussing) their interaction with the folk scene and the folk revival in all its aspects. These ranged from their inborn deep-rooted love of singing, their interest in songs of the mining community (which led to their assistance in providing essential source material for Ewan MacColl's Radio Ballad The Big Hewer), their establishment of one of the country's longest-running folk clubs and their unflinching support of the political life of their community (the family still remains at the core of the Durham Gala). The book is doubly valuable in that Pete's special insights and direct experiences supplement his ever-canny selection of relevant personal reminiscences and recollections which serve to bring the events and personalities to life right before us. This is living history, told in the most persuasive manner imaginable, both from the heart and from the heart of the community as it were and without a trace of dry academe - although the book would still make an excellent "set text" learning resource I'm sure. References and index are both well organised, and there are two appendices: the first of which usefully gives full lyrics and basic tune notation for the 20 "full songs" from the family's original core repertoire, and the second of which reproduces a fascinating memoir by Doreen Elliott. As for purely design aspects, the layout is very attractive indeed, the photos well chosen and reproduced and relevantly placed; the photographically-enhanced family-tree is a good idea too. I could raise a minor quibble or two re ambiguity of detail: for instance, sometimes it's not ideally clear which actual family member is being referred to (especially where Christian names are common across generations). And (here's another great idea perhaps, but not easy to achieve I know!) - how about a companion CD? But in all seriousness, it's impossible to do the book justice in this short space, so I'd highly recommend you buy a copy. It's only been out a short while, yet sales figures thus far have been amazingly high, and the book has I believe been the only book on folk music ever to have an Author's Evening at Waterstone's!
David Kidman November 2008
---
Roy Palmer - Working Songs: Industrial Ballads and Poems From Britain and Ireland, 1780s TO 1980s (Book - Herron Publishing)
Roy's credentials in the field of folksong scholarship and research are impeccable, as anyone who has encountered his classic books Touch On The Times, A Ballad History Of England, Boxing The Compass and The Rambling Soldier will concur. Roy's forte is and always has been the academic exploration of the importance of song in social history; having said that, he undoubtedly possesses the ability to communicate masses of relevant information in a lively and readable way that's anything but dry; he pays due heed to the necessities of neatly ordered chronology-based analysis while observing and pinpointing trends and patterns in development.
In his latest book, Working Songs, he arguably excels even his own high benchmark standard, and it's an exceptional work, not only because it's the first major examination of industrial folk song for over 40 years. As the book's introduction points out, there's no denying that the Industrial Revolution marked a fundamental transformation of human life, one that was recorded extensively – not only in written documents, but also in songs and poems. Thus the author is able to define and delineate the scope of this volume, deliberately restricting this to songs concerning industry and industrial practice (as opposed to songs sung while at or carrying out work). Even so, it has evidently been a mammoth task to select just 200 songs as illustrations here (around half of these also possessing tunes).
The book's nine chapters are each arranged around an aspect of working life – or life with (and without) work, from the organisation of time for work through to the organisation of time off work. Each chapter examines a sub-theme in the context of songs penned on that aspect of working life, and contemporary broadside "ballads" sit easily and logically alongside modern-day song creations by the likes of Dave Goulder, John Tams, Johnny Handle, Jock Purdon, Cyril Tawney and Kay Sutcliffe (although I might take slight issue with the use of the word "ballad", since to most folksong enthusiasts the word has a quite specific, and more specialised, meaning than is evidently meant by Roy here.)
The term "industry" necessarily centres on coal and cotton (these being in the majority during the stipulated timeframe of the book), but is occasionally extended to other industries (such as combing, hand-knitting, railway workers, carters, iron & steel, dockyards, the motor trade, the potteries); whatever, all these industries had in common factors such as of hard times and unjust actions, strikes and walkouts, dangerous working practices and disasters, and thus were ripe for treatment in song. As in fact were the working lives of sailors and other servicemen – the former also touched on briefly in this book - but, strictly speaking, songs concerning sailors (and soldiers) are more a part of "traditional" balladry than industrial "balladry" and thus, quite legitimately, outside the book's scope.
The layout of the book within the basic format is attractive and reader-friendly, while all musical illustrations are clearly and sensibly laid out and placed within, and where relevant to, the text. During the course of the book, we learn much incidental detail about the practices in the industries concerned – and not only through the texts of the songs themselves. And the many references are both copious and genuinely apposite. I might quibble about the decision to combine bibliography and discography within the one Index, and I thought that for absolute clarity the heading of Chapter Ref within the Index Of Songs Appendix should really have been retitled Page Ref… but otherwise the format and organisation of the book (in providing what amounts to a hell of a lot of information, both primary and supplementary) is exemplary. And the bottom line has to be: yes, you really do need this book!!!
David Kidman February 2011
---