A to Z Album Reviews
---
---
Tom Napper & Tom Bliss - The Kelping (Slipjig Music)
This second album release from this great team builds on the artistic success and wide acclaim of their first, The Silverlode, which came out at the end of 2002 and (for those who'd not followed his earlier work with the band Slide) revealed Tom Bliss as a songwriter of real stature. The Kelping is defined as the process of the making of size from seaweed, and in leading off the new disc it typically illustrates Mr Bliss's penchant for authentic tales derived from local and/or industrial history, which he has the gift for expressing vitally and in an equally typical, catchy quasi-folksong mode; this loosely thematic approach forms the basis for many of the songs on this fine album. In fact - and this ain't meant in any way as a complaint - there's almost too much Quality to cope with here, so many bloody good ideas, so many damned good songs, so much excellent playing, a real embarrassment of riches. You get 16 tracks, with a total running time of 68 minutes, and the proportion of top-drawer original songs on this CD is higher than you might find on two whole albums by an average singer-songwriter. But then Tom Bliss ain't yer average singer-songwriter - no way!; he informs while he entertains, for you learn loads of interesting incidental and historical detail from his songs, and it's all been properly researched too (you can tell that straightaway from his brief but telling booklet notes!). So here, as well as learning of the kelping, you find out about the "raven queen" Henrietta Maria, also the "real" Grace Darling, as well as the dubious deeds of Sir Cloudisley Shovell, the last land battle fought between England and France (on Jersey!), and even Mr Bliss's own mill-owning ancestor! Tom Bliss the songwriter has an unerring ability to choose just the right kind of musical setting for his narratives too, from the compelling ebb-and-flow of Flotsam And Jetsam to the jaunty jingle of Silken Leather, the lively refrain of the title track (now there's one that's tailor-made for Duncan McFarlane and his merry band!) to the poignancy of God Speed (an abstract of The Snow Goose) and the anthemic closer Tower Of Refuge (which celebrates the deeds of Sir William Hilliary, founder of the RNLI). But I digress… For those not yet in the know, Napper, Bliss are blessed with a well nigh unrivalled combination of talents that any top-name duo would kill for. They've been compared with Show Of Hands and Fox & Luckley, and these are certainly quite pertinent reference points for anyone starting out on the Napper, Bliss trail. Some biographical detail won't go amiss here though: originally from the Channel Islands but now based in Yorkshire, Tom Bliss has recently returned to the folk fold, initially with Leeds band Slide and then latterly teaming up with Leeds's stalwart sessioneer the eminently versatile Tom Napper. Now Mr Napper is a true "dab hand" in so many ways; he's best known perhaps as a banjo player, but he deserves a far, far better reputation than that description might normally infer, for he's also an expert exponent of the mandolin. And what's more, he's nowhere near rubbish as a singer either, putting it mildly (as demonstrated here by his expressive singing of Bliss's On Longstone or his adaptation of the traditional Campbell The Rover). Napper's serious prowess as a tunesmith is highlighted on the album's five purely instrumental tracks, which aptly punctuate the vocal cuts, but then again these are as much a vehicle for Bliss's skilled counterpoint on guitar, mandocello or mandolin. And that's another big feature of Napper, Bliss; i.e, that each of the two musicians can effortlessly and credibly take on either lead or support role within any given framework - and what a trick that is if you can pull it off! Bliss has composed three of the tunes himself, Napper one, and the rest are vital arrangements by both lads of traditional material. Icing on the already satisfyingly rich instrumental cake baked by the Toms is provided by the guest appearance of that exceptional bodhránist Ciaran Boyle on three instrumental and two vocal tracks. Then, having said all that, the centrepiece of the whole CD turns out to be the riveting solo rendition by Tom Bliss of the traditional Lady In The East, on which he accompanies himself variously on concertina and accordion - a real showstopper, that. But I must conclude by saying that extreme musicality is in abundance all through this beautifully recorded CD, and the whole classy package is a shining example of the true lasting quality that can be achieved without artistic compromise or need for major-label backing. I'd not hesitate to say this is an absolutely brilliant album, in fact, and I'll be surprised if it doesn't make my Albums of the Year list in 10 months' time! (By the way, grab it before 1st April and it's yours for a special price of £11- see website.)
David Kidman
---
Tom Napper & Tom Bliss - The Silverlode (Slipjig)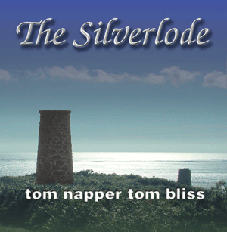 These two Leeds-based musicians have buckets of skill and experience between them. Napper, currently one-third of The Idle Road (with Ciaran Boyle and Dave Kosky), has in the past worked variously with Gina LeFaux, Tom McConville, Gordon Tyrrall and Alistair Russell. Bliss has latterly returned to acoustic music after a post-student flirtation with new-wave rock through bands like Pin-ups; he now fronts the excellent Slide (uk), and is fast gaining a reputation as a gifted (predominantly) folk-style songwriter. The teaming-up of these two in a working duo context was perhaps inevitable, for their talents can be seen as perfectly complementary and their ideas and approaches genuinely compatible. With each of them, a proven high level of musicianship can be taken as given - both are gifted exponents of mandolin-family instruments, Napper additionally a virtuoso on tenor banjo, Bliss no slouch on guitar, and both possess characterful singing voices - but, every bit as importantly, each is equally comfortable with either a leading or supporting role, which makes the internal flexibility for such a working arrangement infinitely more satisfying than in many similarly instrumentally-disposed duos. Each has a wholly natural mutual responsiveness to each other's playing and/or singing, which, allied to their enthusiasm for music-making (in and out of sessions), makes for a tremendously winning combination.
The Silverlode is their first duo release, and intersperses short tune-sets with songs, some traditional and some self-composed. The tunes are intelligently arranged for the various instruments and expertly played, with neither undue haste nor emphasis on note-spinning, and the non-traditional examples, all composed by Bliss, have a true feel for the idiom. The songs necessarily include solid traditional fare from each Tom's repertoire - Napper contributes Poor Labourers, Bliss The Blue Cockade for instance - but it's Bliss's own compositions that stand out here. They're superior examples of modern-day folk writing, clearly rooted in traditional styling yet with a contemporary sensibility. Show Of Hands are clearly a major influence (and I'm sure Bliss won't mind me observing that he even visually resembles Steve Knightley!), but Bliss is very quickly acquiring his own distinctive songwriting voice; he has a grand sense of narrative, augmented by the knack of creating catchy hooks and choruses to enhance already memorable tunes. The Violin, a partially-invented tale ostensibly told by said instrument over the ages, is an outstanding piece of storytelling indeed, and here benefits from a guest appearance by Tom McConville weaving his own individual magic. The whole album has an immediate, live feel, and the limited amount of multitracking is sensible and non-distracting. Typically too, the duo's craftsmanlike attention to detail extends right to the insert notes. A superb package that's unlikely to disappoint.
David Kidman
---
Nada Surf - Lucky (City Slang)
Five albums in and the New York trio have arrived at their most appealing and accessible to date, a chiming collection of hooks laden guitar power pop that recalls the halcyon days of The Byrds and the best of early REM or vintage Fleetwood Mac. Parading their academic prowess, they open with See These Bones which takes the quotes from the epithet at the Capuchin crypt in Rome ("What you are now, we were once") and makes it a reminder to live life while it's here. The rest of the album provided an uplifting soundtrack to doing so, firing the blood with the blurred crusade of guitars on Whose Authority and the lyrically haunting Ice On The Wing, celebrating the transfigurative power of music on Beautiful Beat, slow dancing to a twilight breeze for Are You Lightning? and radiating skiffle beat harmonies on the wonderful Here Goes Something.
Some of the songs may have fatalist hearts, but even the closing The Film Did Not Go Round with its observations on the nature of relationships to end (either with parting or death) comes with a beguiling gentle melody and grace notes about accepting the inevitable and being grateful for whatever transient pleasures have been experienced. It's a love song in disguise. "I only want to make you happy", they sing on the ringing, bouncy I Like What You Say. Ambition satisfied, then. Grab a wave and get lucky.
www.nadasurf.com
Mike Davies February 2008
---
Peter Nardini - Rain Din (Whistleberry)
The third in the initial batch of releases from this new Songwriters' Cooperative record label is a bit of an enigma, for it has so far sharply polarised critical opinion. Peter Nardini is an award-winning painter based in Lanarkshire, who also happens to be a singer-songwriter with a certain degree of cult status. This may be due to the (obstinately?) stark, minimal presentation Peter uses on this CD (his third, it turns out) - just guitar, voice and harmonica. The album's very title proves a creative pun - Peter's talent is "reined-in" to this restricted palette… A very direct comparison with early Dylan isn't misplaced, as Peter's slightly nasal vocal delivery and his distinct penchant for irregular line-lengths both reinforce. But Peter's painter's-eye-gift for storytelling brings some curiously tender insights as well as some sharply-observed vignettes and imaginatively poetic commentary. The lyricism of Peter's world-view is conveyed with a remarkably compelling economy and an often surreal turn of phrase (there's another point of comparison with early Dylan) - but you do need to listen closely and get yourself past what some listeners will consider the biggest turn-off, the relative lack of melodic content in Peter's songs (and yes, that was a barrier for non-converts to early Dylan too!). There's a bleak Leonard-Cohen-like demeanour to Bright-Eyed Boy, but (like his unintentional model) this isn't depressing music; rather, it's very much life-affirming. I'll apologise to Peter for any labouring of the Dylan comparisons, but quite honestly no review could truthfully ignore these reference points; however, please don't dismiss Peter as a mere Dylan clone, for what's striking is that Peter transcends this potentially merely superficial congruence by making us listeners really pay attention to the plights of his protagonists, to appreciate their innermost feelings and thoughts by dint of what I can only describe as a more intensely personal delivery (ie Peter's singing to you rather than at you?). Rain Din breaks the usual singer-songwriter-album mould in that more than a handful of its songs are genuinely top-drawer material - and there are two uncredited bonus tracks appended at the end of the CD, one of which proves Peter's got a good grasp of f** (I mean fun) too! So don't just give Peter a cursory listen, do persist - his songs are worth it.
David Kidman
---
Nina Nastasia - Outlaster (Fat Cat)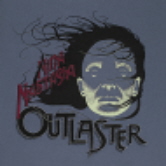 While there were spine tingling moments, her collaboration with Jim White on 2007's You Follow Me would surely have perplexed many a fan who found it hard to reconcile her spare, fragile and introspective folk songs with his frenetic bluesy rumblings. They'll be happy, then, to hear that for her follow-up she's returned to the spooked intimacy and world music colourings of her early work, but with orchestral arrangements and an often melodramatic flourish to its ten tales of seclusion, mortality and a journey towards a fixed but unknown destiny.
With its pizzicato strings, tango rhythms and gypsy violins, This Familiar Way offers European cabaret with Nastasia turning on the melodrama somewhere between Piaf, Dietrich and Lenya, while the rumbling slow march beat of You're A Holy Man is streaked with snake charmer Arabic swirls.
Swathed in strings and horns, there's a strong air of musical theatre blowing through numbers such as What's Out There, the Cohenesque Yiddish textures of A Kind Of Courage, the tender acoustic ebb and flow One Way Out and the funeral dirge slow waltzing waltz Wakes.
Her voice sounds stronger, clearer and more authorative than ever, though it's arguably when she's at her more restrained and liltingly tender, as on the swaying romanticism of the Americana dusted You Can Take Your Time and the country torch of Cry, Cry, Baby where echoes of Margo Timmins waltz languidly through the air.
The five and a half minute title track closes the album, a vocal swooping quasi-traditional gothic romance folk ballad (polar seas, drowned lovers, ice floes and damned souls involved) set against quietly throbbing bass, nervous percussion, and swirling strings that conjure a mood of becalmed stillness. If Mary Shelley and Lord Byron aren't prominent in her library, I'd be very surprised. Were they around today, they'd have her on their i-pods. You should do likewise.
www.ninanastasia.com
www.myspace.com/ninanastasia
Mike Davies June 2010
---
Nina Nastasia & Jim White - You Follow Me (FatCat)
The intimate ethereality of Nina's presence captivated me greatly on her 2006 album On Leaving, and her latest offering pits her tenderly expressive voice against a quite stark yet tremendously busy musical backdrop consisting exclusively of Jim White's tumbling drumming and insistent (yet equally often elusive) interjections from Nina's own fingerpicked guitar. (By the way, in case you're wondering, this is the Jim White from the Australian trio Dirty Three, not the maverick singer-songwriter). It proves to be quite an extraordinary combination, one which - if you're already acquainted with Nina's songs and singing - you might not expect to work, but it does! Described as somewhere between a duel and a dance, the music takes on a life of its own as a vital, organic dialogue between two creative minds (and bodies), in which Jim's fresh, raw and often experimental style and unpredictable rhythmic impulses (one minute dapper shimmering, the next explosive flurries of activity) serve to impart Nina's quaint and fragile musings with a new toughness of expression, while emphasising the volatile nature of her vocal talent. On songs like Late Night, Nina can turn almost at a whim from langorous, soft and breathy melodic lines to intense, howling outpouring, whereas I Write Down Lists makes a virtue out of its almost onomatopoeic jitteriness. The feel of the recordings is quasi-improvisatory, almost as if the music's being made up and reacted to as it progresses, yet the looseness of the approach conceals curiously open, special perspectives between the words. Nina's is a genuinely cathartic performance, emotions are laid bare and yet... it's all oddly sensual, while inwardly satisfying in a more quiet-spoken sort of way. Apparent contradictions are rife, but I still say you gotta hear this collaboration.
David Kidman September 2008
---
Nina Nastasia - On Leaving (Fat-Cat Records)
The venerable Peel was mightily impressed by Nina's debut album Dogs, which spurred her on to release two further discs on Chicago indie label Touch And Go before signing to Fat Cat this year for On Leaving, her fourth album. This NYC singer-songwriter has an intimate presence, with a voice that's powerful yet gentle, brushing past your consciousness like a ghost, yet mouthing words that make an immediate impact not least because of their deep sense of loss. Instrumental settings are considered and minimalist, courtesy of Nina's regular band members Dylan Willemsa (viola), Steven Beck (piano) and Jay Bellerose and Jim White (drums); at times the arrangements almost seem to have been thrown together in the studio, plucking sounds out of the air, such is the immediacy they bring across. Also, the space between notes and chords is often as important as the sounds themselves. All these elements provide the perfect backdrop for Nina's songs, which combine a gritty, rustic charm with equally gritty emotional honesty. Nina's trademark is tender, soft expression, yet always with the feeling that unsettling undercurrents lie not far beneath the surface; her spareness and expressive simplicity is deceptive. On the fleeting portrait of Jim's Room, strangely hazy string harmonics provide a subtle counterpoint to the detached, simply expressed vocal line, contrasting with the more direct idealism of Our Day Trip and the cooingly childlike If We Go To The West and Dumb I Am. Then again, Counting Up Your Bones is irrepressibly eerie, disturbed and introspective to the point of impenetrability perhaps, yet still most rewarding. On Treehouse Song, almost random neo-classical piano notes cascade through the air like falling leaves, while the ensuing Lee, the album's longest song, ebbs and flows mysteriously then ends abruptly like a wave breaking on the shore, leaving us with the sands of time in the shape of the appealing gentler rippling, swaying rhythm of Settling Song. The album's invitingly pithy 34 minutes is over far too soon however, and I find myself compulsively reliving the whole experience straightaway.
David Kidman
---
Nathan Music Co - Jimson Weed (Nettwerk)
Of the species Datura, Jimson Weed grows in the deserts of the southwestern USA, usually along roadsides. They have trumpet-shaped white flowers that open at night and wither early in the day. They contain hallucinogenic alkaloids and are often smoked to get high, though the hallucinogenic dose is very close to the fatal dose. The name is a corruption of Jamestown weed, because many soldiers were poisoned by this plant when stationed at Jamestown to quell a rebellion in 1676.
Well, so much for your botany lesson. Musically speaking, it's the latest album from Winnipeg outfit Nathan (they had to change the name outside of Canada so as not to be confused with some UK r&B act) who comprise harmonising singer-songwriters Keri McTighe and Shelley Marshall with Doug Latimer on bass, Daniel Roy on drums and any number of chums on accordions, steel guitars, pianos and, er, tubas. Nominated for the 2005 Juno Awards as Best Roots or Traditional album, it's a wonderfully dreamy set of dusty old-tyme Appalachian influenced songs that also lean to shades of country jazz on dance hall good timin' Emilina and the brushed shuffle One Spend or to the wonderfully galumphing reggae beat Big Galoot and the front porch jug blues (with added twang) on Lock Your Devils Up where those McGarrigle or Oh Susannah comparisons bubble up.
With songs that treat on regret, betrayal, murder, anger, and dysfunctional relationships, the lyrical moods are considerably darker than their musical settings but so intoxicating are the likes of Sunset Chaser, Stone and Home With Me that you'd not wish them any lighter less the spell be broken. "I've got gadgets that mold the things that are old into sleek facsimiles of what was once guaranteed to please," sings McTighe. But there's nothing fake about the music here.
Mike Davies
---
Adrian Nation - Fall Or Fly (Laburnum Bridge)
Hailing from Essex and citing Dylan, Simon and Isaac Guillory as influences (he frequently gigs with Guillory's widow), Nation is one of those singer-songwriters who'll always have an audience to pack out the clubs but is sadly unlikely to make the crossover into the folk mainstream.
He opens the album in punchy folk-rock mode with Don't Turn Away, electric guitars, fiddle and Gerry Conway's drums kicking it along but, save for the mid-tempo pop-folk rhythms of Undo The Chains and the bluesy Heart Beats On with its tick rocking rhythm, wailing harp and Colin Linden's slide guitar, the material is dominated by reflective, acoustic ballads.
The best of these come with the Clive Gregson/Ralph McTell like Balance, a written on Clacton sea front six years ago taking its metaphors of life from watching a boat wrestle with the wind, and The Other Side Of The Night (Song To Maria), a gentle lament for and celebration of a lost friend given extra wistfulness with Uillean pipes. They make a reappearance of Sweet Molly, a haunting song about weathering the storm and moving on set to a simple arrangement of just Troy Donockley's pipes, guitar and percussion, which picks up the imagery of wind and water that permeates the lyrics.
With the Knopfleresque solo spotlight Set Fire To The Sky and the instrumental Five Finger Rapids (on which the sound of the sea washes over the intro) showcasing his virtuosity on the six strings, it's a fine album which deserves to be heard a lot more than it probably will be.
www.adriannation.co.uk
www.myspace.com/adriannationmusic
Mike Davies October 2010
The National - Sad Songs For Dirty Lovers (Talitres)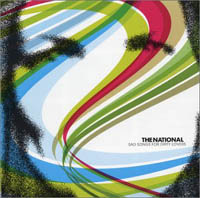 Languid, lazed displaced music from a bunch of Cincinatti guys who found themselves washed up on New York's shores, this trades in the same wintery heartbreak soundscapes of American Music Club. Lambchop and Tindersticks, singer Matt Beringer's voice a bruised, wounded baritone stained with nicotine, disillusion and too many late night lonely bar stools. Sometimes, as on Murder Me Rachel and Available, this erupts in the sort of angry rock roll the Velvets might have made in their more vicious moments, sometimes it's the walking pop melodies of Fashion Coat and Trophy Wife, but more often they curl their songs of self-disgust, emotional unease, and disconnection around such desperate, cracked and scraped acoustic strummed ballads as 90-Mile Water Wall, Patterns of Fairytales (on which Beringer reaches into his Leonard Cohen growl) and the superbly forlorn I'm yours deal with it of Lucky You. A National treasure.

Mike Davies
---
National Debt - From The Horse's Mouth (No Tom Records)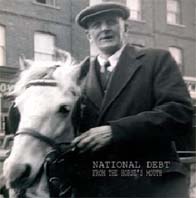 National Debt was formed by Ronnie Smith and Michael Messer in 2002 to play for fun when Messer was not out on tour. That is still the situation but last year they decided to record an album and From The Horse's Mouth is the result of that decision. Oozlin' Daddy Blues sets the tone for this Rootsy album however, don't ask me what the title means as I have not got a clue. Slide guitar from Michael Messer is fantastic. Charlie's Tale is the first of a trio written by vocalist Ron Smith. This is top class folk with added value in the form of Messer's guitar. The second of Smith's trio is Love To Burn and this one is old style Country/Mountain music. Backing vocal from Cheyne Pride is very good and her voice compliments Smith's extremely well. By now it should be taken for granted that Michael Messer's guitar work is nothing short of superb and the short solo on this is sublime with backing from long time musical partner Ed Genis. Dead Men's Wages makes it three in a row of Smith penned songs. This is the weakest of the three and his vocal is not really on form here. He would be best leaving this type of song to the guy that I was reminded of when I heard it and that is Nick Lowe. Leaving Home is a Charlie Poole song and is firmly in the Roots/Americana genre. This earthy offering would go down great in an intimate live venue.
Preach The Gospel has the band going electric for the first time. Written by Washington Phillips, this is an easy going, laid back stroll. Lonely Road is another of Smith's songs and this is brilliantly raw Alt. Country. No matter how good a song is, and believe me, this is a highlight, Michael Messer always manages to lift it with his guitar fills. Salvation Blues is Smith's last solo song writing credit and is Americana of a high standard. Turning Blue sees Messer co-writing with Smith for the first time on a stripped bare rootsy offering. They turn to the mountains again for Ridin' That Midnight Train. Messer and Genis are standouts here again on this up-tempo classy Americana. I would have swapped the final two tracks around for the last song, The Memory Of Your Smile is a bit too laid back for my liking, good though it is. Backing vocals from Pride and bassist Chris Clarke are top drawer and there is a powerful chorus to its credit but the pace lets it down for a closing track as it does not really implant itself in the memory. However, the track is of such a high standard that it is only me being picky. This is a very good album by very good musicians.
www.michaelmesser.co.uk/NATIONAL%20DEBT.htm
David Blue July 2007
---
Derrin Nauendorf - Skin Of The Earth (Ruf Records)
Life just isn't fair. Not only is Australian Derrin Nauendorf young and good looking he is also one of those naturally gifted musicians that can lift our spirits, even Meatloaf conceded that two out of three ain't band so Naunedorf is just being greedy.
And if all that weren't enough, he has now released Skin Of The Earth, the album that with a fair wind behind it, will bring him to a wider audience. However, he should be also be given credit for forging a career the old-fashioned way. Since arriving from his native Australia, Nauendorf has learnt his craft with a solid diet of touring and recording. His talent may well be God-given but he's learnt his trade the hard way.
Having seen him demolish some rock classics and set fire to some blues standards, Skin Of The Earth came as a bit of a shock that turned into a very welcome surprise. Nauendorf has clearly matured into his own talent, there is now a complete confidence in his own music that has done away with the need to rely on the work of others.
The difference with Skin Of The Earth is that it is a singer-songwriter's album in its truest sense. Understandably some of his earlier albums were showcases, but this banishes any thoughts of Nauendorf as simply a competent 'jobbing' musician, he is now a strikingly original talent.
The album sets off in fine style with the deep, rich earthy blues of the title track, he sets his stall out early - strap yourself in tight, you're in for a ride.
However, Skin Of The Earth is not without its flaws, Push The River, one the best written songs on the album - which is saying something. That thought is reinforced by Pride Before A Fall, a singer-songwriter in his the perfect setting with virtually no production, there is more than enough to listen to with voice and guitar.
When you can bend a guitar so completely to your will as Derrin Nauendorf can, the temptation must be to play to that strength and continually dazzle everyone, to his credit and the album's benefit he resists. True, tracks like Not Alone and Mystery Child are guitar driven but both are 'whole' tracks, the raw naturalness of the voice is given equal prominence.
But the 'proof positive' that Derrin Nauendorf is anything but a 'one-trick pony' arrives in the beautiful form of Most Of The Time, again it's the deep, dark rich, honest quality of Nauendorf's vocals that carry the song. Songs like these depend on an artist's ability to mine the lyrics for every meaning and Derrin Nauendorf extracts every last ounce of honest emotion.
Slightly strangely, Skin Of The Earth ends with what can only be described as two minutes of stripped back, elegant acoustic magic. For a guitarist who has the talent to mesmerise at his fingertips, to end an album with something as simple as Sometime was inspired bravery but it works.
www.myspace.com/derrinnauendorf
Michael Mee October 2008
---
Derrin Nauendorf - The Rattling Wheel (Rising Records)
Anyone fortunate enough to catch Australian Derrin Nauendorf on one of his many tours the length and breadth of the UK, will know exactly what to expect from The Rattling Wheel, the unexpected.
Nauendorf may incorporate the blues, rock n roll, country and a hint of folk into his music but in truth he is none of these. The wellspring of his talent isn't tainted by influence, it is pure Derrin Nauendorf. Instead of a 'mid-Pacific' rock 'wannabe', with American affectations searching for success, Nauendorf is an untamed, free spirit, constantly testing the limits of his own, considerable, musical talent.
Derrin Nauendorf is blessed with three things: The ability to write songs like I Won't Turn My Back, where he doesn't skirt around the margins of the song, he dives straight into its heart, taking willing listeners with him. Secondly, he has a voice that, like an awakened volcano, appears to be on the very edge of eruption. It seems that at times Nauendorf struggles manfully but fails to hold it in check, Where Two Men Go Tonight, travels at the speed of a runaway train, heading for a spectacular but disastrous end. And finally his guitar prowess: Nauendorf's playing ranges from the poignant to the manic. However, even during the fast and furious My Hurricane, Nauendorf's guitar maintains a frenetic grace, throughout The Rattling Wheel he weaves a delicate and magical spell.
When you throw into the mix the passion and energy of a young artist for whom making music is as vital as food and drink, you have a recipe for spontaneous combustion.
And while it is understandable to be dazzled by the sheer force of Derrin Nauendorf, the depths to which Deliver Me An Angel reaches cannot be ignored, underneath the young rock n roller lurks the soul of a romantic poet. The song is a plea to the gods that only the hardest-hearted deity could ignore.
Derrin Nauendorf is perhaps one the rarest of artists, a musician born with all the tools of success but without the cynical and calculating nature to exploit them for anything other than the creation of wonderfully exciting music.
Michael Mee, May 2006
---
Derrin Nauendorf - New History

Derrin Nauendorf returns to the live arena for his third album, New History. The sound is better, the playing is more polished but it is still the same dynamic Derrin. Recorded at Mr. Kyps in Poole, Dorset, UK just two months ago, it opens with Wasted In The City, a gentle introduction to the style of Derrin Nauendorf. Things speed up a little on Queensland and some of Derrin's trademark guitar flurries start to appear. His voice has a more rounded tone to it these days. Careless Hands is an ethereal burner and Let It Go is another fast one where you wonder how he manages to keep the pace up. There's a bit of respite towards the end but his fingers must be blurs.
If I Were A Winner has a bluesy feel and the Tex Perkins song, What I Done To Her allows Derrin to express himself fully. He doesn't do too many covers but this is one of Derrin's best. He has a wonderful way of expressing feelings through a song. This one has him promising not to make the same mistake twice. Shipwrecked is classic Nauendorf with lines such as 'better to be shipwrecked than never sail at all'. As ever, the guitar is the star and his technique is top-drawer. Shatter Like Stars is from his last album, Wasteland, and is as stunning live as it is in the studio. He has the audience is the palm of his hands and you could hear a pin drop. The finale is Tom Waits' Get Behind The Mule, which is delivered at breakneck speed and again shows what a talent Derrin Dauendorf is. This is the third album of Derrin's that I have reviewed and he just keeps on getting better and better.
David Blue
---
Derrin Nauendorf - Live At The Boardwalk (Swingout Propductions)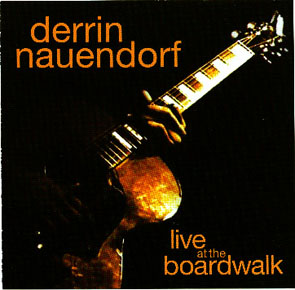 First impressions? One Australian guy with an acoustic guitar and his mate with a home-made drum kit. What would you think? Me too.
I then listened to this live album and Derrin, guitar, sidekick and drums proceeded to blow me away. They are obviously in their element in the live format and they give a performance that sounds so effortless.
From the opening strains of the slow-burning Ghost Town to the last track Danielle Nauendorf puts in a virtuoso performance. His powerful yet graceful guitar style is perfectly complimented by David Downing's minimalist drums.
Although he does sometimes go over the top with his Gordon Giltrap-esque flurries up and down the fretboard, Nauendorf does show himself to be an accomplished songwriter.
His influences are hard to figure out but he does give himself away by adding one cover, a nine-minute, wall of sound version of Jimi Hendrix's Voodoo Child. This builds into such a crescendo that you think that something has got to fall off of his guitar. Thankfully, nothing does and he returns for the excellent Shadows Of Love.
It's hard to pick an outstanding track from such a marvellous collection of songs but if I had to then I Won't Turn My Back has to be up there. This is a stunning track but the other eight run it very close although, for some reason, Scared Of Being Free sounds a bit like Lyle Lovett's Family Reserve to me.
If you can categorise Derrin Nauendorf then you're a better man than I. Blues, country, folk, rock - you choose. Whichever you choose, the man, and drummer Downing, deserves to be a star. Buy the CD, see him in concert and make him one.
David Blue
---
Navaro - Under Diamond Skies (Halo)
Once solo, now a trio (sorry, singers collective) with fellow songsmiths Pete White and Steve Austin, this is London born (Holloway Rd if you must know) Beth Navaro's (not to be confused with US children's writer Beth Navarro) follow up to last year's debut country album Sanctuary. Navaro only contributes one song ( the pure voiced closing Blackbird with its simple piano backing ensures it's a strong one), the rest penned by either White or Austin, but all three handle the vocal duties.
The country flavour is still in evidence on White's Made To Match, but this is a far more acoustic folk affair and, arguably, the more distinctive for it. Featuring Gareth Turner on melodeon, album opener When You Go From My Door sets a high standard with its lightly waltzing melody, harmonies and the scent of autumn hops.
While White's nasal tones may prove an acquired taste (especially over a six minute For A While), it's a standard that never dips, even as the styles shift between the airy piano ballad Home with its rolling hillsides freshness, jaunty brass band fattened Always, the stars over still lakes mood of Moonrise and the warm buttered brass duet Stepping Back From The Edge which puts me in musical mind of Fairport's White Dress.
With plenty of young bucks looking to carve out their slice of the folk pie, it's a bit of a crowded market out there at the moment but there'll always be room for quality music played by quality performers, two boxes Navaro tick with aplomb.
Mike Davies October 2008
---
Marvin B Naylor - The Last Flight of Billy Balloon (Barcarolle)
Born in London and raised in Canada, formerly of 80s outfit Salvation Sunday that Naylor's sophomore solo album title comes from a line in Scott Walker's Plastic Palace People and conjures thoughts of French cinema classic The Red Balloon, should give an idea of where he's coming from.
With a voice reminiscent of Noel Harrison, other influences would include Brel, Beatles, Beach Boys and, in his dominant use of 12 string guitar, Roger McGuinn. The musical atmosphere is classic English psychedelic folk pop but filtered through a prism of French cafe society, so that you might well expect to hear Little Piece of Magic floating out across the Paris rooftops. That the song's about the characters of a Folies Bergere-like cabaret simply reinforces the mental landscape. That same vibe informs the carnival feel of Little Creatures and the deeper voiced electric piano and synth strings backed Walkerish Belle-Amie with its references to boulevard and Notre Dame. Alice And Marianna has a touch of the gypsy flamenco about it, but the likes of Out Of My Mind, Daisy Sunshine, Portrait Of A Woman and White Lady could only be written by someone with experience of country English pastures and drifting lazily down the sun-dappled Isis or Thames in a rowing boat.
Wriiten sung and played entirely by Naylor, whose guitar work suggests he's a student of early Michael Chapman and Roy Harper as well as McGuinn, it's a beguiling, evocative and pleasurable affair that bodes well for future flights of fancy.
Mike Davies July 2010
---
Youssou N'Dour - Nothing's In Vain (Nonesuch)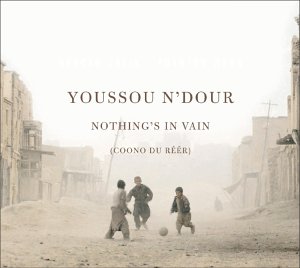 Fresh from overseeing the comeback of Orchestra Baobab, N'Dour now re-establishes himself as the greatest voice of contemporary African music. Gone are the excursions into funk and back come acoustic rhythmic African folk balladry, traditional Senegalese instrumentation given contemporary arrangements and rippling uplifting melodies Most are sung in his native tongue (the lyric sheet helpfully providing translations so you know what he's on about, basically celebrations of the human condition and friendship, reminders that women should be celebrated and, on Genne, socio-politics about the world's displaced), but there's also songs in French (La Femme Est L'Avenir De L'Amour andGeorge Brassens' chanson Il n'y a pas d'Amour Heureux), English (the rather self-conscious and ironically Westernised pop anthem Africa, Dream Again that sounds like a Tim Rice Lion king out take) and, on So Many Men's song of freedom, all three. He should stay away from Wyclef Jean more often
Mike Davies
---
Neck - Come Out Fighting! (Golf Records)
Emerging pell-mell at the bell from the far corner of the ring, here's another furious full-on assault on your senses from this ballsy London-Irish outfit who would probably make a natural alliance of the Pogues, Clash and Stiff Little Fingers seem as tame as play-school. Though still under the leadership of ex-Popes man Leeson O'Keeffe, Neck's undergone some lineup changes and other hassles over the past year or three, but the resulting six-piece proves well-matched to its task, both up to it and up for it you might say.
On this sequel to 2005's Sod 'Em And Begorrah, everybody's welcome to the hooley once again (from all sides of the artificial divides that beset this world), and there's five-star mayhem on tap in every room. Though producer Pat Collier has arguably even more faithfully captured the band's visceral presence this time, it's still another welcome jab in the arm, another dose of the same medicine that's guaranteed to cure all ills, rouse the dead and disperse the evil spirits. Again supremely mighty, 200% in-yer-face, brilliantly raucous, and with a mere handful of marginally less decibel-laden moments to give the ears a relative break. Some deceptively countrified vocal harmonies give a false sense of security to I Turn My Face To The Four Winds before the tempo whacks it up for the chorus, while the instrumental Lilting Banshee Set keeps the meter hovering below the threshold for a surprisingly lengthy intro. But elsewhere it's full-tilt fire, arson at the mercy of the shrieking tin whistle, flaming fiddle and spitting banjo, guitars blazing with high-energy incendiary: so much so that the faint-hearted (or otherwise unaccustomed) may find it all too relentless and unyielding.
Neck's massive wall of sound has copious graffiti scrawled all over it, sure, some of it wilfully derivative, but still I find it impossible to resist the barrage, and all the while the courage of Neck's convictions remains very persuasive (check out their burnished take on Homes Of Donegal and the solid anthem Ourselves Alone for instance). Half of the disc's tracks are Leeson's own compositions, the remainder passionate and gutsy renditions of traditional source material. Maybe the thrash rendition of McAlpine's Fusiliers is a touch predictable, and I'm not at all convinced of the need to revisit Star Of The County Down yet again (this latest version is messy and overwrought and adds nothing except perhaps the kickass guitar solo), such crowd-pleasers are probably best experienced live after all. But even the more standard of Neck's pub-celt gestures knock spots off the competition, and as a bonus it's refreshing to find a heavy-duty degree of scholarship has been employed in the glossary notes to each and every track (as with the equivalent entries on the band's previous album, this feature provides a useful guide to terms and expressions used in the songs).
The album's a good time and a life-affirming experience alright, for there's an abundance of life in Neck's music, enough to dropkick the proverbial Murphys through the goalposts for sure.
David Kidman December 2009
---
Neck - Sod 'Em And Begorrah! (Hibernian Records)
London-Irish band Neck were a new name to me, but the press handout says they've firmly established themselves as a leading force in the folk-punk scene - and who'm I to challenge that? well certainly not on this evidence. Reading further, it transpires that Neck have played at Glastonbury, and supported or toured with every major name in Irish punk, SLF through Levellers and Stateside contemporaries Flogging Molly and The Dropkick Murphys. Pedigree assured, then. This album may only be a studio representation in the cold, harsh laser light of CD, but it's got a tremendous "live in the cavern" feel to it and it's probably not one to play if you've even only a mild headache! It hits you from the very first thump: the visceral energy, the full-on thrash is palpable, everything's thrown at you with the kitchen sink in the mix - crashing guitars and pounding, thumping drums, piping whistles, heavy "distortion flute", fiery fiddle, plangent banjo, churling pipes, snarling vocals, heaps of whooping and yelling, all set to often (tho' not always) suitably manic, driven tempi. All tracks bar two are original compositions by Neck's supremo Leeson O'Keeffe (formerly of Shane MacGowan's Popes) - frantically stirring songs in the best Pogues tradition with plenty to say and transcending clichés even when they get seriously anthemic like May The Road Rise With You. (And incidentally, the comprehensive booklet notes are worth the effort of deciphering too, containing as they do a full glossary of useful terms and origins of useful expressions.) Sometimes, you might feel, the cataclysmic onslaught of sheer full-on rowdiness is just a little too hectic to assimilate on any level - on tracks such as Down Where The River Bends, the band rather tend to run the mild risk of losing the vocal line altogether (or at any rate any semblance of lyrics), although I feel that part of the problem may be the difficulty of achieving a credible recording balance with so much going on; I appreciate that keeping both reverb and presence strong in the sound picture can be a tricky combination to fulfil. If you believe anything the beer-fuelled booklet credits say, Neck comprises a wild septet of "lunatics, drunkards and gob-shites", which was boosted on the recording by a "whole rake of muckers" along for the ride at the hooley – it sure sounds like it!… Any moments of comparative repose and/or relative textural clarity (like the Caoineadh section that opens for Blood On The Streets) are striking, yet equally soon get subsumed in the chaos. The non-original tracks present a kick-up-the-arse madcap instrumental medley (The Psycho-Celilidh Mayhem Set) and what seems in present company an oddly routine thrash through Star Of The County Down. But whatever, Neck's pungent brand of "psycho-ceilidh punk-folk" sure is the real deal - a glorious noise, and most highly recommended. Great title too - sez it all! Sláinte!
David Kidman
---
Casey Neill - Memory Against Forgetting (Daemon Records DAM19049)
So, broadband internet connection may now be cheap but, boy, is it going to cost music fans as they pick up on all the radio available out there. Listening to Boston Folk Radio, my ears pricked up at Casey Neill's 'Kitty' and I had to find out more. When I dig into his 'Memory Against Forgetting' CD, I find that Casey has a wide range of style outside the troubadour approach to traditional song that originally attracted me. To some extent, the variation on this release comes about from the fact that it pulls together some of his best material from the last 10 years. Yet, the record reveals a common thread of political commentary that attracts him to his subjects. As Steve Earle has commented, he's a man who tells tales. You'll get everything from the stories of street kids on 'Sisters Of The Road' to struggles against the hard labour of mines in 'Moly'. In its tale of the downtrodden, the latter is reminiscent of fellow Canadians such as James Keelaghan and Stan Rogers. On other material such as 'The Valley', you can hear the influence of the acoustic Springsteen coming across. Then again, tracks like 'Riffraff' show his Celtic side with a punk flourish that could be straight out of The Pogues' songbook. Such flavours were no doubt part of the attraction for the fiddler Johnny Cunningham, Phil's brother. Sadly, his untimely death late in 2003 robbed the band of a great asset and supporter. Nevertheless, there's some strong material here and other pals like Kevin Burke on the live 'Paddy's Lament' lend a helping hand of support. Though the mix of approaches might be a little confusing to the casual listener, there's no question that there is a great songwriter here ready to expand his audience.
Steve Henderson
---
The Nelson Brothers - Places In The Heart (NB Music)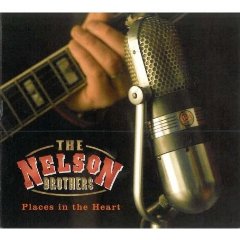 If you didn't know better, listening to the opening New Me, you might mistake this for some Mark Knopfler album. Not to be confused with Rick's sons, these Nelsons are singer Steve and multi-instrumentalist brother Simon who head up the London based (but generally on the road) five piece featuring Goldfrapp's Rowan Oliver on drums. Having managed to lose their second album (they've apparently found it again and are re-recording it) this is their follow up to 1994 debut Hometown, a 12 track set of relaxed sophisticated soulful and blues roots rock that drips like warm Southern honey.
Aside from Knopfler, you'll hear such influences as Tom Waits, Chris Rea, Jacques Brel (notably on Love Calls Her Name and piano cabaret tune Song Of Frankenstein) and, especially on the old school jazzy country Golden Age Of Song, another Nelson by the name of Willie. They up the groove on the swing jazzing Shake The Monkey and the funky blues Sail On, but otherwise this is mellowed out, late night jazz cellar listening to be savoured over a vintage malt. Pity the classy production values of the music aren't reflected in the packaging though, the sleeve spine crediting them as the Nelson Brotheres
Mike Davies November 2009
---
Chris & Siobhan Nelson - Early Birds (Own Label)
Chris and Siobhan, well-respected long-term resident performers at Southport's Bothy Folk Club, have been showcasing their considerable talents in a series of varied and accomplished musical adventures leading from 80s "rogue folk" band Cluster Of Nuts through to 2008's Nelsons Wake (a collaboration with Southampton-based songwriter Barry Wake) via two superb duo recordings (the second, Day Has Dawned, was reviewed on this site, you may recall).
Early Birds is arguably an even more distinguished a release, for it's an admirably diverse, keenly chosen and carefully-sequenced collection of (mostly infrequently-covered) songs, very well sung, which are blessed with imaginative settings that display a genuinely creative yet refreshingly non-gimmicky approach to multitracking – and steering clear of today's ubiquitous guitar-dominated folk-template in the process. It helps that Chris is a highly skilled musician (fiddle, viola, tenor guitar, mandolin etc.) and producer; he also (selectively) contributes sensitively understated vocal lines that harmonise satisfyingly with Siobhan's crystal-pure yet highly expressive tones.
Chris and Siobhan work extremely well together, Chris's instrumental backing supporting not dominating, proving entirely complementary with its individual "voicings" surrounding Siobhan's singing; Siobhan's voice radiates a gentle, movingly tender quality that's deceptive, in that attentive listening reveals a considerable latent reserve of power within.
Chris and Siobhan enterprisingly draw their repertoire from a wide range of sources, with (occasionally surprising) choices from all over the musical shop: there's two more fine examples of Barry Wake's craft, a rollicking Seasick Steve number (That's All) and Brecht's laconic The Wife Of The Soldier (taking Martin Carthy's 60s rendition as its source), alongside Jennie Benford's beautiful (if downbeat) Stars Fall, the charming (and pleasingly unsentimental) Ellen's Song (Ray Rooney's portrait of Siobhan's mum who made a late, triumphant return to singing after a 60-year gap), and the disc's persuasive title song (one of a pair of social-conscience lyrics by Geoff Parry).
But most telling of all, at the core of the CD is cradled a superlative acappella version of John Tams' iconic Scarecrow that's nothing short of heart-stopping. The disc also contains Chris and Siobhan's inspired treatments of three traditional songs: Siobhan's rough-hewn, boisterous and quite ominous take on Radcliffe Highway seems demonically possessed (almost à-la-Carole Pegg), and contrasts well with her plaintive interpretation of The Loyal Lover.
Arguably, Chris and Siobhan's greatest achievement is an unobtrusive demonstration of their expertise and artistry which also manages to convey that all-important sense of true commitment to their chosen material.
David Kidman October 2010
---
Chris & Siobhan Nelson - Day Has Dawned (Own Label)
Chris and Siobhan, now based in Southport (Lancashire) and residents at the celebrated Bothy Folk Club there, have been around the folk scene for more than 20 years. They first got together while members of "rogue folk" band Cluster Of Nuts in the 80s, but of late they've been concentrating on working in a more intimate acoustic setting. Day Has Dawned is only their second record as a duo, yet it's an extremely fine set that shows them to be a hell of a team as well as a talented pair of individuals! Chris is unafraid to try out imaginative combinations of instrumental timbres for accompaniment; for, while Siobhan is a really good singer with a moving, appealingly tender-sounding voice which can sometimes quite belie its very power, Chris is a way-better-than-skilled accompanist on fiddle/viola and mandola/mandolin/tenor guitar and his arrangements make superbly inventive use of minimal resources. Enterprisingly, they draw their repertoire from a wide range of sources, both traditional (around a third) and top-quality contemporary; the latter category includes some real gems: Abbie Lathe's gorgeously evocative Curlew (a real highlight) and Barry Wake's pensive City Lights provide good contrast with Richard Thompson's infrequently-covered savage indictment of intolerance Outside Of The Inside, Mike Waterson's superficially jolly Mole In A Hole and the old Jack The Lad favourite Rocking Chair. Chris and Siobhan also turn in great covers of Tucker Zimmerman's epic settler's tale Oregon (learnt from the singing of Maggie Holland) and Cathie O'Sullivan's brilliant setting of Banjo Patterson's Song Of The Artesian Water. And perhaps best of all, The Climbing Boy and Chapel Streets, two excellent local-historical songs by Barry Wake (a Southampton-based songwriter) bookend the album, while a further composition of Barry's (Purple, White And Green) relates the story of women's fight for voting rights. The traditional songs are no makeweight either, with a persuasive solo acappella version of the ballad Young Waters by Siobhan set alongside equally thoughtful (and sometimes quite unusual) renditions of Streets Of Forbes, The Bold Dragoon, Rain And Snow and False Knight On The Road. Although Chris and Siobhan's performances carry the material so very well on their own, Roger Gardiner (basses) and Bill Hackney (harmonica) are brought in on many of the tracks to augment judiciously, with local legend Pete Rimmer's distinctive guitar work adding further ambience to City Lights. This is a quite exceptional CD, which manages the difficult feat of being both satisfyingly charming and thought-provoking in a way that doesn't need to shout at you but makes a more unassuming impact by virtue of its integrity, excellent taste and high-quality musicianship.
www.cnelson.plus.com
www.myspace.com/chrissiobhannelson
David Kidman March 2007
---
Drew Nelson - Dusty Road To Beulah Land (Waterbug)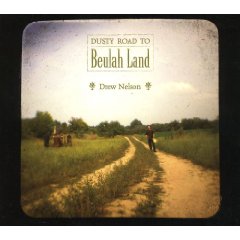 Michigan-born Drew turns out to be another significant discovery for me in the murky world of s/s Americana, On this, his second record (and oh how I wish I'd heard his first, Immigrant Son!), Drew gets straight to the core, the nub of the real human stories of his characters, and tells them with a careful attention to detail and a soft-spoken urgency that demands, and gets, your rapt attention right away. Drew acutely and intimately observes and relays everyday midwestern life, employing an astounding clarity of focus that enables his characters' setbacks to be turned into opportunities where the dominant sense is of hope. The resultant songs are significant creations indeed, a sequence of gorgeously close-knit experiences for which Drew's opening poetic road-trip down Highway 2 sets the scene for what's to follow. Waiting For The Sun is worlds away from the Doors, yet is as strangely compelling in its own bangingly squalid way. The nigh timeless dirt-roads of the midwest are evoked compellingly on tracks like True And Fine, while Grandmother Moon and Raindance show Drew's insights into Native American culture. That timelessness crops up again on the time-stands-still aura of Hello and the eerie Molly's Home that closes the disc. Drew's husky, warm-toned, distinctively dust-flecked voice sounds midway between Josh Ritter and early John Martyn, you might say, and with a dash of Knopfler there too maybe, even a dustbowl Springsteen at times. His songs are couched in an ultra-sympathetic musical setting: an immaculately judged acoustic backdrop of guitars, with occasional pedal steel, dobro, mandolin, banjo, accordion, piano, organ, and a gently brushed snare brought in now and then to propel the train along the tracks. Producer Michael Crittenden lends a playing hand too, with exceptional support from Drew Howard (aka Captain Midnight) in particular, while there's also some richly aromatic backing vocals from Rachael Davis, Claudia Schmidt and Natalia Zukerman that counterpoint Drew's own confidential tones, displaying equally solid control of dynamics and timbre. Drew just can't fail to engage your senses, and this really is a rather special record, a highly evocative yet admirably subtle mini-epic of modern-day Americana.
David Kidman April 2009
---
Drew Nelson - Immigrant Son (Mackinaw Harvest Music)
This is a cracker of a debut album from Drew Nelson, so accomplished it speaks of years of work building to this point of getting himself recorded. A lot of the credit must go to Michael Crittenden who produces and plays guitar and piano (amongst other things). The production is fantastic: warm, intimate and clear. The songs come through and speak for themselves but there's lots of background detail that rewards repeated listening. Drew is firmly in the singer/songwriter mould, and his acoustic guitar playing is excellent - sometimes coming over jazzy enough to be reminiscent of John Martyn in the early 70's. His singing is pleasingly gruff, very warm and sincere; when he rocks out a bit on "Wal-Mart V2.0", a kind of protest song about changes for the worse in his neighbourhood, his singing is harder and more assertive but he knows better than to try too hard; he doesn't need to batter his audience into submission, he's got subtler tricks to his trade than that.
Drew's songs cover a wide area, from social commentary to celebration of the simple pleasure of being alive in the world; he's serious and thoughtful, and definitely cliche free, which is always welcome. Clearly all these songs would come over strongly with just the man and his guitar, but for the benefit of the album each song is drawn out to a distinct musical character - so that the sublime "Summer Rain" has a mellow, jazzy feel, even with a pedal steel in the arrangement, and it captures the feel of a hot, sticky day quite magically. "Immigrant Son", on the other hand, a meditation on the immigrant state of mind that continues to play its part in American society, is coloured by fiddle, tin whistle and bodhran to evoke the Celtic heritage of so many of those immigrants.
I hope this guy has some more songs in his locker, and that he gets to work with Michael Crittenden again. They're a good team and this is a richly rewarding album.
John Davy
---
Willie Nelson & Asleep At The Wheel - Willie And The Wheel (Bismeaux Records)
This album has its gestation in an idea of the late and legendary label boss Jerry Wexler, around 30 years ago, for Willie Nelson to record an album of classic Western Swing songs. When Willie switched labels from Jerry's Atlantic onto CBS, the idea died, until in 2003 Asleep At The Wheels Ray Benson received a pile of Western Swing LP transfers which Jerry had offloaded to save space, some of which were annotated in a manner indicating their suitability for Willie's originally projected Western Swing collection. Four years later, when Asleep At The Wheel appeared as backing band for Willie, Merle Haggard and Ray Price on the Last Of The Breed tour and TV show.
The Western Swing element was always a natural for Willie, and the swift recall of the album project idea was inevitable given the success of the tour. The sessions, which involved Jerry in every aspect, were by all accounts a joyful and highly productive affair, and the authentic goodtime vibe has translated in every respect to the final record, with a loving attention to detail that extends from the idiomatic singing (and authentic backing vocals) to the lively instrumental work, which incorporates Dixieland influence and Asleeps sterling horn section alongside the time-honoured Western Swing lineup of fiddles, lap steel guitar, slap bass and drumkit.
Numbers such as Bring It On Down To My House prove a perfect encapsulation of everything thats great about Western Swing: vital and exciting and spicy, yet almost casual in its accepting combination of string band and jazz, goodtime upbeat and rueful romance. I could point to so many incidental delights: the cheeky piano solo on Corrine Corrina, the knowingly sexy vocal duet with Elizabeth McQueen on Sittin On Top Of The World, the equally knowing (almost-rockabilly) stance prefigured in Hesitation Blues, the individual horn licks that counterpoint the fiddle lines on Sweet Jennie Lee and Right Or Wrong, the brilliant cameos on the classic instrumental South (the Bennie Moten standard that just had to be included!)
The performances are just everything you could wish for; this is a totally irresistible release, that's probably as much fun to listen to as it was for the guys to make. In that regard too, it turns out to be as much a classy Willie Nelson album as a truly fitting memorial to the great R&B legend who happened also to be a great closet Western Swing admirer. Yep, its real easy to fall in love with Western Swing all over again!
David Kidman October 2010
---
Willie Nelson - Country Music (Rounder)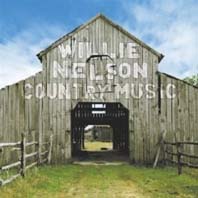 What it says on the tin, produced by T Bone Burnett with a backing band that includes Buddy Miller, Ronnie McCoury, and Jim Lauderdale, this finds the veteran legend revisiting his core genre for new takes on a collection of country classics.
Don't have palpitations when I say 'new', though. There's no radical reworks here, rather a case of taking the old school sound and giving it a refreshing spray as Nelson works his way through bluegrass, western swing and honky tonk like a tour through the Grand Ole Opry archives.
Opening with a rework of his own Man With The Blues, he proceeds through a treasure trove of songs made famous by such fellow legends as Merle Travis, Johnny Cash, Doc Watson and Ernest Tubb. Among them you'll be regularly pressing the repeat button for the likes of Dark As A Dungeon, Satisfied Mind, the string bass throbbing and fiddle swinging Pistol Packin' Mama, Seaman's Blues, Drinking Champagne, I Am A Pilgrim and, Nelson's own addition to Burnett's choice, a spooked, lonely saxophone haunted bluesy rendition of Nobody's Fault But Mine.
Much of the material will be familiar, but if Nelson himself hadn't previously come across Bob Wills tune Gotta Walk Alone chances are few others will know if it either. Likewise he says he'd never heard the trad gospel Satan Your Kingdom Must Come Down, here stripped down to minimal strings and a ghostly discordant banjo. Which, given rather excellent past recordings by Martin Simpson, Uncle Tupelo, Medeski, Martin and Wood, Two Fingers of Firewater and Marc Caroll to name but a few, suggests he ought to visit his local record store more often.
There's been times when Nelsons albums have sounded like he's churned them out to pay the rent without any real commitment, but here, his honey and leather voice sounding on vintage form, you can hear he's involved in every word and note he sings. You will be too.
www.willienelson.com
www.myspace.com/willienelson
Mike Davies April 2010
---
Willie Nelson - Moment Of Forever (Lost Highway)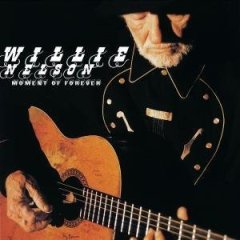 American iconography stalks Willie nelson like a prowler in the night. With an unmistakable voice and rough-hewn face that could have come straight from Mount Rushmore, he has plotted a stately and unstoppable course through American culture. Even the odd patch of personal turbulence has only added to the legend.
In a 50-year career Nelson has collaborated with fellow legends Johnny Cash, Waylon Jennings and Kris Kristofferson, 'young guns' Toby Keith and here Kenny Chesney. He's even duetted with Julio Iglesias and, if Gary Allan is to be believed, that ain't easy to do.
Wherever you look in modern music, the hand of Willie Nelson is never far away, either as a performer, or the writer of the likes of Crazy and Funny How Time Slips Away. It all means that you can't really review a Nelson album in the accepted sense. He is a treasured landmark, so any new release is about the what, not the how and why.
So fixed in our minds is the image and music of Willie Nelson that any attempt on his part to radically alter his approach is fraught with danger. However within moments of beginning Moment Of Forever you're met with a myriad of moods, shades and subtleties, all delivered with the warmth and integrity. In fact it's only when you delve into the likes of the title track that you fully realise just how tender, honest and caring a musician Willie Nelson is.
But as she should, he also uses his gift and the status it has brought wisely, Louisiana engages heart and mind without browbeating either. He knows he commands respect and it is a responsibility he takes seriously. It's somehow amazing that within Moment of Forever there is such a sense of an artist discovering the full depths of the music, he's been at it for half-a-century but he's still learning. The Bob Song is, in the context of a Willie Nelson album, a towering epic and it becomes almost irrelevant that the dark Gravedigger is a Dave Matthews song. Nelson moves both beyond their respective starting points. The exception that proves the rule is Gotta Serve Somebody, which closes the album, but then again not even icons can ever truly 'own' Dylan songs.
If Gravedigger exposes the 'dark' side of Willie Nelson then the truly exquisite and delicate balances of Always Now open up the album to the sunlight. I'm Alive and When I Was Young And Grandma Was Old offer up thechance for some poignant reflection. In what is essentially a country album, Willie Nelson travels so many roads.
In the case of Moment Of Forever, it's not insulting an artist of the calibre of Kenny Chesney to say that his is a walk-on role, in the presence of greatness, second fiddle isn't so bad. His 'moment' arrives with the slipping, sliding country blues of Worry B Gone, which sees the pair take turns to bemoan the state of the world.
Willie Nelson is Willie Nelson and Moment Of Forever is a Willie Nelson album. However as the lines on his face grow deeper so do the places where he takes his music and he's not done yet.
www.willienelson.com
www.myspace.com/willienelson
Michael Mee March 2008
---
Willie Nelson - It Always Will Be (Lost Highway)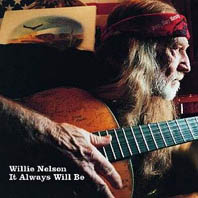 Another week another Willie album. Following swiftly on the heels of the live ...And Friends set, here's his latest studio venture, and another familiar set of dusty weary ballads and Nashville outlaw rock n roll. Thankfully there's only two of the latter, I Didn't Come Here (And I Ain't Leavin') and, er, Big Booty, neither of which are going to go down in anyone's history books. The success rate is fortunately higher on his lost love laments, those leather and honey tones easing their customary relaxed way over You Were It, My Broken Heart Belongs To You (which sounds suspiciously like Angels Flying Too Close To The Ground) and Dreams Come True, a duet with Norah Jones that's planted firmly in Crazy territory.
None of them are up there with the classic days of Red Headed Stranger but they slip down warm and easy. The trouble is these days, impeccable though the playing and singing may be, Nelson can do stuff like his Lucinda Williams duet Overtime in his sleep, and there's times here when he may well be. And while you wouldn't fault the playing, singing or his sentiments the truth is that things like blue collar storysong Tired (factory man tells of 20 years of working and struggling trying to raise a family) and the bluesy desert mood Texas (Willie tells us where he belongs) are becoming dangerously close to cliche.
Mike Davies
---
Willie Nelson and Friends - Outlaws and Angels (Lost Highway)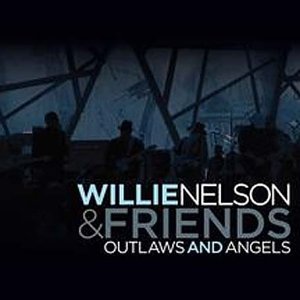 When you've just about seen it all and got a wardrobe of T- shirts to prove it, your friends get together and hold an all-star tribute in your honour.
This one celebrates Willie Nelson's 70th birthday (better than a telegram) and a true measure of the respect in which Nelson is held is that lurking in the 'House Band' are none other than Nils Lofgren and Jim Keltner, while Sonny Corleone (sometimes known as James Caan) acts as MC.
The list of major contributors is quite staggering, from Toots Hibbert to Kid Rock, from Lucinda Williams to Carole King and from Keith Richards to Jerry Lee Lewis. Add in Al Green and Lee Ann Womack and there isn't a genre or generation that isn't represented.
By definition the night is a Nelson 'love-fest', however that shouldn't mask the fact that there are some staggering performances. Georgia On A Fast Train and Ramblin Fever with Toby Keith, Joe Walsh and Merle Haggard get things off to a rumbustious start. But it's when you hear Nelson go toe to toe with soul legend Green on Rainin' In My Heart that the tingle of excitement really kicks in.
The CD is full of golden nuggets Will You Still Love Me Tomorrow becomes even more plaintive with Nelson alongside Carole King. While Whole Lotta Shakin Going On with an all-star band of Kid Rock, Richards, Haggard and of course Jerry Lee couldn't be anything less than stunning.
But standing head and shoulders above them all is Nelson's 'homage' to a tortured soul of country music. His version of Townes Van Zandt's Pancho and Lefty, with Haggard and Keith along for the ride, has no glitz, no showbusiness, no backslapping. It's a country great giving an affectionate nod to a fellow traveller. Worth the money on its own.
Michael Mee
---
Nelsons Wake - Ebb And Flow (Own Label)
Contemporary acoustic duo Chris and Siobhan Nelson were for many years part of Southampton's Appalachian dance team Loose Screws alongside songwriter/guitarist/singer Barry Wake, and they formed a bond which extended to a keen interest in, and growing admiration for, Barry's developing songwriting. Since relocating to Southport, Chris and Siobhan have recorded two fine duo albums, on each of which they've covered four of Barry's songs. Now they've teamed up with Barry for the first time as a trio, to perform a further fifteen of his songs, all hitherto unrecorded. Anyone who's responded to Barry's writing thus far will revel in this new album, which is chock-full of true craftsmanship in the writing and partnered by responsive and abundantly sensitive musicianship. For although Barry's songs are the focus, his own voice takes the lead on four of the fifteen songs and his own guitar features on these performances, what is particularly striking is the feeling of togetherness coming across with the whole project, in the extent to which the vocal and instrumental contributions of Chris and Siobhan furnish the songs with an ideally complementary musical character and signature. So, what of the songs themselves? I suppose you could define them as old-fashioned (at least in the best tradition of contemporary folk songwriting), in the sense that they're characterised by a combination of appealing melodies (many also with good choruses for those inclined) and simple sentiments, conveyed without sentimentality, in plain language yet powerfully evocative. Almost always with a socio-historical bent, they convey the stories they set out to tell with a trademark wistfulness, an often deeply moving sense of nostalgia that's nevertheless not without regret or bitterness in its believable perspective. Some songs concern themselves with Southampton's industrial heritage (Heartbeat Of The Town, Woolston's Pride) or its local characters (St. Crispin's Day, The Itchen Ferry Lad), some with often harrowing wartime experiences (this time, WW2: The Morning Train, recounting the plight of evacuees, and Along The Way, reflecting poignantly on the D-Day landings). Mazey Days is a catchy little number that cheekily uses the opening phrase of MacColl's Schooldays' End as a springboard for portraying the copper miners' way of alleviating their harsh working life by drunken celebrations, while Living In A Shadow recalls the Lancashire cotton industry. And then there are songs whose raison-d'être is altogether more universal (a plea for peace, Raise A Banner, and a convivial farewell-chorus-song, Close The Door).
The accompanying instrumental work is both fresh-toned and appropriately skilled, with Chris's fiddle, viola, mandolin and octave mandola (and very occasional accordion from guest Roy Eccles) providing an entirely refreshing and gently virtuosic foil for Barry's own solid and simply judged guitar parts. Just under half of the songs are sung by Siobhan, beautifully and expressively and with exemplary diction, which is not to underplay Chris's sterling renditions of a further three. Perhaps I could make one or two minor observations, which aren't intended as adverse criticisms of Nelsons Wake in terms of the quality or integrity of their own performances or interpretations: firstly, that some of the songs might alternatively benefit from being sung by a rougher-toned (perhaps "older") voice, and secondly that one or two of Barry's melodic hooks or phrases have a distinct (though I'm sure unintentional) resemblance to existing, familiar songs (The Morning Train's opening line resembles that of The Little Piecer and James And John that of MacColl's My Old Man) – I hasten to add, I'm not accusing Barry of plagiarism!… And finally, there may be times when the cumulative impact of so many high-quality individual songs may be diluted by a touch of emotional overload in the listener (pleasing though this may be). But all in all, this is a most attractive collection of classy and satisfying songs that richly deserve to be heard (and sung) more widely. Anyone responding to the writing of (say) John Conolly, Dave Evardson or Graeme Miles is sure to find these songs well worth investigating. For Barry's songs are rapidly forming an impressive body of work, of which Nelsons Wake are likely to be considered definitive interpreters.
David Kidman May 2008
---
Tara Nevins - Wood And Stone (Sugar Hill)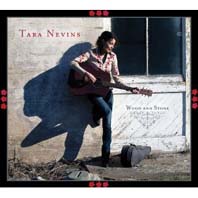 Founder and on-going fiddle and accordion playing member of bluegrass outfit Donna the Buffalo, this is her first solo venture since 1999 and casts its net over her several musical influences. Formerly part of all female Cajun outfit The Heartbeats, there's no surprise to hear that background feeding in to the poppy bounce of All I Ever Need while her bluegrass roots are firmly in evidence on numbers like Snowbird With Jim Lauderdale on harmonies), Down South Blues, the rock n rolling title track and the fiery fiddle instrumental Nothing Really where she's joined by her ex Heartbeats colleagues, Rose Sinclair on banjo, Bev Smith on acoustic guitar and June Drucker on upright bass.
Elsewhere there's a mix of the straight ahead country of Who Would You Tell, You're Still Driving That Truck and You Got It All, the old timey The Wrong Side where she duets with Allison Moorer, the bluesier, muddy notes of Tennessee River with its thrumming distorted electric guitar and slow prowl rhythm and even hints of a reggae lurch to What Money Cannot Buy.
Produced by current go to guy Larry Campbell, it's all self-penned save for three tracks, an arrangement of the aforementioned traditional Down South Blues, a backwoods take on Van Morrison's gospel waltzing Beauty Of Days Gone By which closes the album and is one of two to feature Levon Helm on drums, and, arguably the album stand-out, a lovely, banjo-backed rework of the standard Stars Fell On Alabama.
Her slightly reedy voice isn't the world's strongest or possessed of the biggest range, but it has the soul and authenticity to persuade you she's invested herself in every note.
Mike Davies August 2011
---
The New Amsterdams - Story Like A Scar (Vagrant)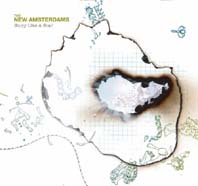 Having fronted The Get Up Kids for a decade, singer Matt Pryor called it a day some six years back and put together this new outfit, named for an Elvis Costello song. There's still evidence of his power pop punky days on the short burst of new wave guitars and snarls of Intelligent Design, the 60s pop jangles of Bad Liar that curiously conjures thoughts of The Monkees and Neil Diamond crossed with Whiskeytown, and the reverb heavy A Small Crusade, but by and large the blueprint here is country inflected roots rock, set to the service of songs that tend to suggest Matt's not the luckiest in the romance and fulfilled dreams stakes.

It's not particularly polished (they adopted a first take philosophy) and his voice cracks now and again, but that's part of the ragged charm inherent in something like the empty barstool moods of Your Ghost and the lonesome keening of The Death of Us with its shuffling train rhythms and the rather lovely mountain streams ripples of Turn Out The Light, a wistful love song about finding your emotional home. If it means he keeps making albums like this, then let's hope the scar never fully heals.

Mike Davies, May 2006
---
New Celeste - Best (Park Records)
This retrospective compilation came somewhat out of the blue. In fact, I'd almost forgotten about this Scottish band, whose music was notoriously hard to get to hear, in the early days of its existence (late 70s) especially. The few tracks I did get to hear over the years (mostly from their seven-piece post-reformation lineup's 90s releases on Lismor and Iona) had never quite hit the mark for me at the time. But what this new compilation does reinforce is the influence, then largely uncredited, that the innovations of New Celeste (who were "named after a stop on a harmonium") were to have on subsequent adventures in folk-rock from Oysterband to Runrig. Their often wild eclecticism is apparent at once when you play just the first four tracks of this compilation: gentle acoustic balladry, worked-up dance tunes, East-European-inflected instrumental pieces, funky flamenco-style guitar and mandolin embellishments, sturdy reinterpretations of traditional material. Stylistically you'll probably find it's quite a jolt, then, from the lovely Rosemary (taken from an obscure 1977 album, then re-recorded in 2004, along with the two brand new songs in the shape of bonus tracks here, The Pool and Copper And Gold), to the synth-ridden disco-beat of 1996's Stumblin' & Stottin', the sequencer-heavy Polkadotty and the brassneck-rock-guitar-laden Reconnected. But it's all quality stuff, and worth hearing again even at this temporal distance. Additionally, this new compilation is a salutary reminder of Iain Fergus's songwriting and adaptation skills, which are more noteworthy than I remember. Myself, I love the 70s tracks, even though they may have their dated moments: P Stands For Paddy moves the traditional song convincingly through a procession of ever-inventive ideas, and Ploughmen looks forward to the gutsiness of early LJE. By the end of its 68 minutes, I'll admit, this handsomely lengthy new collection had my mouth watering for more (and the fine historical booklet notes were well worth reading); so, if it were to prove possible to retrieve the lost masters for the band's 1977 debut, and license more of the band's back-catalogue for another volume... well, how about it Park?
David Kidman, July 2006
---
New Lost City Ramblers - Where Do You Come From? Where Do You Go? 50 Years (Smithsonian Folkways)
This wonderful and typically top-grade lavish package contains within its robust hardcover book-sleeve three well-filled CDs (containing 81 tracks in total), each in its own sturdy inner sleeve with individual booklet of between 24 and 36 pages. It chronicles the ultra-influential New Lost City Ramblers, who pioneered the revival of what became known as Southern mountain music, largely through their own recordings made between 1958 and 1973 but also setting some of their key performances alongside their own field recordings of the traditional southern musicians who directly inspired them. The first two discs are reissues of previously released compilations of classic NLCR recordings, themselves surely ripe for reassessment and investigation by a new generation of old-time enthusiasts.
Disc One, subtitled The Early Years 1958-1962, brings us 26 tracks sourced from the 12 albums made by the original NLCR lineup (Mike Seeger, John Cohen and Tom Paley) during those five years. The tip of that particular iceberg, sure, but a well-balanced selection that could easily have been expanded to a second disc with no concession to quality. The balance is fair and sure, although it leads to some almost wilful juxtapositions, leaping about energetically from country-jazz tunes (Colored Aristocracy, Dallas Rag), exuberant revelry (Crow Black Chicken) and nonsense or hillbilly songs (Hopalong Peter) to outright comic songs (The Battleship Of Maine) and archaic balladry (The Old Fish Song), interspersed with Carter family staples (No Depression) and more thought-provoking fare (How Can A Poor Man Stand Such Times And Live?), with the occasional curveball in the shape of a lovers' lament (I Truly Understand You Love Another Man). Only some of the more serious material sounds at all dated, and then only in the sense that the performances are a touch tentative, even straight-laced perhaps, compared with the more assured renditions we're accustomed to hearing nowadays. But the musicians' complete mastery of so many different country styles is astounding (and not just for their time), and theirs can be considered definitive performances, a benchmark for all future interpretations not only in the scope and nature of the performances themselves but also in the depth and intensiveness of their research into their sources. They made serious study, but it was also fun, and an inspiration to so many.
Disc Two finds Tom Paley replaced by Tracy Schwarz, and more use of banjo by both Mike and John in order to further enhance their musical adaptability within the trio framework. This disc contains 27 tracks sourced from the group's seven albums recorded between 1963 and 1973, blessed with a slightly less Spartan recorded sound generally but also even more assured in terms of group chemistry and skilled interplay between parts. The tracklist includes less of the acknowledged repertoire staples perhaps, but the music is no less fine and we can still marvel at the variety of expression as well as the variety of material the three were continually unearthing in their researches. In the Ramblers' set-lists, arcane minstrelsy like Old Johnny Bucker Wouldn't Do is placed unashamedly next to the lonesome magic of I've Always Been A Rambler and classic hillbilly blues (Riding On That Train 45), with odd but rewarding interludes like Tracy's delicately decorated unaccompanied rendition of Shut Up In The Mines Of Coal Creek and the intense, haunting Tommy Jarrell tune John Brown's Dream with its intriguing tunings and dulcimer drone. The disc also includes a pair of landmark early folk revival performances of cajun standards (Parlez-nous À Boire, Valse Du Bambocheur), and a rousing Old Joe Bone, termed by John Cohen himself "an exercise in improvisation within the limits of great consistency and madness"! Oh, and hands up ISB devotees who recognise the melody of Cowboy Waltz (here attributed to an assemblage by Woody Guthrie no less)! Yes, the NLCR really were, as the disc's punning subtitle states, "Out Standing In Their Field".
Finally to Disc Three, which presents in celebration of the group's 50th anniversary, a newly-compiled further selection of a dozen classic NLCR performances placed in telling juxtaposition with field recordings from three decades by representative artists who formed the group's particular inspirations. The latter, some of whom had been showcased by the Ramblers on their tour dates, here include Clarence Ashley, Dock Boggs, Roscoe Holcomb, the Rev. Gary Davis, Elizabeth Cotton, cousins Sara & Maybelle Carter, Dillard Chandler, Eck Robertson, Dewey Balfa and Crockett Ward, with modern-day exponents Sue Draheim and the New Tranquility String Band (recorded in 1970) the most recent of the selections. They range from fiddle and banjo tunes to a swinging string band side and a raggy autoharp solo, unaccompanied balladry and mountain music to gospel blues. Several of these tracks have been taken from existing Folkways anthologies, but it's instructive to compare and contrast and good to have them all together in one coherent package that points to the work and achievements of the Ramblers.
A fabulous and great-value set, one that should be in every home in a fully accessible place on the shelves.
David Kidman August 2010
---
New Lost City Ramblers - Always Been A Rambler DVD (Arhoolie Foundation)
The rich legacy of the often underappreciated New Lost City Ramblers is expounded and explored in loving detail in this excellent DVD release, the principal element of which is a superb 58-minute film by Yasha Aginsky that presents a rounded perspective on their achievements by interleaving basic chronological and more detailed biographical information with loads of historic archive footage, contemporary live performances and interviews and testimonials from a whole host of fellow-performers and oldtime-music fans.
Presentation is straightforward and ungimmicky, like a breath of fresh mountain air in this age where uncontextual goldfish-sized soundbites and meaningless graphics so readily take the place of informed documentary. The film was self-evidently made by someone with a true understanding - and importantly, a deep love - of his subject, but stays well to the right side of the line of good taste by avoiding any gushing, emptily adulatory commentary, instead letting the protagonists and their admirers speak (and sing and play) for themselves, and always with relevance to the central topic/s at that moment being discussed.
The NLCR's long career as a performing unit is unfussily progressed and clearly outlined (a task made easier no doubt by its comparatively unconvoluted history - only one personnel change, and that very early on, where Tom Paley was replaced by Tracy Schwarz in 1962). Inevitably, there are various enlightening asides and minor tangents, which are unashamedly albeit economically pursued where relevant. The film starts by pointing out the vital fact that the kind of music the NLCR played when they started out was (after the golden era of recording by the likes of Lomax and with the advent of pop culture) fast becoming virtually unheard on record, only persisting in "live" form in obscure pockets of the country, the provinces of traditional musicians and singers who carried the music on orally.
While bringing this music to the attention of folk culture enthusiasts through its authentic performance via their own voices and instruments, the NLCR would of course gain converts in other musical ambits too (like the wider folk scene). Yet, importantly, they in effect pioneered the then-unheard concept of urban musicians like themselves working side by side with authentic traditional musicians, for they would place due emphasis on promoting the re-discovery of these key old-time performers who were still very much active, bringing them onto stage with them where they toured. While on one hand they showcased the likes of Roscoe Holcomb, Dock Boggs and Clarence Ashley, the NLCR also played a role in the rehabilitation of cajun music in the 1960s (or at least that's the view of Dewey Balfa as expressed in a fascinating little segment around midway through the film). And naturally, Pete Seeger puts in several appearances during the course of the film, in some fascinating and revealing archive sequences.
The whole film cleverly unites the NLCR themselves with their impact and pervasive influence on successive performers, not least by the inclusion of telling comments from modern-day practitioners (Ricky Skaggs, Bela Fleck, Abigail Washburn) all present at the 2007 Not Quite Bluegrass Festival attending a NLCR performance there. And towards the end of the film, we get footage of other latterday performers who are directly inspired by the vision of the NLCR: from Doc Watson and Hazel & Alice through to Rayna Gellert, the Stairwell Sisters and the Carolina Chocolate Drops – bringing the wheel full circle, in effect.
The main feature is complemented by a rare chance to view some typically-1969-vintage footage of the Ramblers performing eight archetypal songs "on location", and a further bonus comes in the form of some previously unseen 1959 footage of Mike and John with Tom Paley. What comes across so very strongly in all parts of this DVD too is just how darned good – and exceedingly versatile – a musician each of the individual Ramblers was and is; and, seeing them all on such sprightly form throughout their close-on-50-year career, it's impossible to avoid that extra note of poignancy being struck with the film appearing so soon after Mike Seeger's death last summer. This DVD is a must - a handsomely presented treasure trove, an education in its own right, and a finely judged tribute to these influential folk-revivalists which puts their many achievements in proper perspective.
David Kidman April 2010
---
The New Orleans Social Club - Sing Me Back Home (Burgundy Records)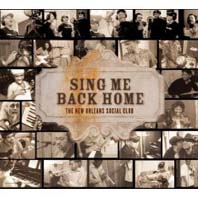 At first glance, Some Me Back Home, looks like just another master-class in the musical gumbo of New Orleans.
Just check out the roll-call of house band The New Orleans Social Club. With two founder members of the Meters, Leo Nocentelli and George Porter Jr, pianist Henry Butler, and Ivan Neville on board, this was always going to be a star-studded affair.
The guest stars are not too bad either. Musicians like Cyril Neville, Dr John, the subdudes, Irma Thomas, Marcia Ball and John Boutte simply do not know how to make a bad record.
But scratch a little deeper and you'll find the ghost of Hurricane Katrina and the plight of those whose lives have been turned upside by last year's tragedy looming heavily over proceedings.
What makes this a truly remarkable CD is the hope, resilience and defiance which shines through. The opening track, This Is My Country, may date back to 1968, but in the hands of Cyril Neville it is as potent as ever. Politics remains close to Ivan Neville's heart as he sings John Fogerty's Fortunate Son with an earth-shattering amount of conviction and soul.
This is also a remarkably uplifting record. Irma Thomas and Marcia Ball's take on Look Up is resolutely upbeat. Likewise, the Sixth Ward All-Star Brass Band Revue give us an authentic slice of Mardi Gras with their medley of Jesus on the Mainline, I'm Walking and The Saints.
The producers save the best to last with John Boutte's version of Annie Lennox's Why. Singing straight from the heart, the New Orleans singer pours so much emotion into the song that the original by Lennox almost becomes redundant. It's an incredible cover version, which deserves to be heard the world over, and especially in Washington DC to make sure the tragedy of Katrina never happens again.
www.shorefire.com/artists/nosc/
Jamie Hailstone, May 2006
---
New Riders Of The Purple Sage - Home, Home On The Road/ Brujo (BGO Records)
BGO continue their NRPS reissue programme with albums 5 and 6 of the series. Following the success of the Adventures Of Panama Red, a semi-concept album, it was time for the obligatory live set, which turned out to be Home, Home On The Road. Although this proved a reasonable gambit, the performances therein being better than workmanlike, the album didn't sell particularly well (sharing the fate of similar live albums of the era by country-rock combos like Poco, in fact – very much a sign of the times with the genre on the wane generally by then). The band lineup for the shows from which Home… was taken was Dawson, Nelson, Dryden, Torbert and Cage, with production by Jerry Garcia. The release was arguably most noteworthy for the inclusion of five songs which hadn't hitherto been issued in studio performances – Hi, Hello, How Are You?, Sunday Susie, Truck Drivin' Man, School Days and Dead Flowers. (The latter Stones song would eventually get a studio recording on the band's eponymous 1976 album for MCA.) Shortly after the release of Home… and before the release of the band's fifth studio album Brujo which followed quickly thereafter, Dave Torbert had left the band, to be replaced by bassist Clyde "Skip" Battin fresh from the Byrds. Four of the songs on Brujo turned out to be joint compositions by Battin with Kim Fowley, but in spite of the inclusion of three compositions by John Dawson, much of the rest of Brujo was made up of covers, albeit respectable ones – Dylan's You Angel You for instance – while Crooked Judge was co-written by David Nelson with Dead lyricist Robert Hunter. Musically, Brujo was necessarily patchy, with the covers probably faring best, and although the playing can't be faulted the earlier NRPS spark was distinctly lacking for much of the time. Indeed, it's probably fair to say that one of the best things about Brujo was its sleeve painting! Whatever, Brujo sold even less units than its predecessor, and Columbia was to drop the band from its roster after just one more album (Oh What A Mighty Time).
David Kidman
---
New Riders Of The Purple Sage - N.R.P.S./ Powerglide (Beat Goes On Records)
BGO now follow last year's reissue of the third and fourth NRPS albums with the first and second, dating from 1971 and 1972 respectively. That eponymous debut is particularly welcome, as it contains the fruits of the teaming-up of the Dead's Jerry Garcia with young Bay Area bluegrassers John "Marmaduke" Dawson and David Nelson, together with bassist Dave Torbert. This produced some quintessential "nouveau-grass" with occasional psychedelic leanings. Rumour has it that Garcia needed a vehicle for his newly-acquired pedal steel guitar, which was not appropriate to the sound of the Dead of the time (1969-70 vintage), and this spurred him on to rehearsing with Dawson and Nelson (though the first NRPS album wasn't in the end to emerge until a year after the Dead's re-embracing of their country-roots heritage with the landmark Workingman's Dead album). Powerglide, however, was a far more inconsistent affair. Out of its 11 tracks, no less than five were covers (though not bad ones by any means) and sat none too easily with the band's self-penned material. By Powerglide, Garcia had left the lineup (though it was a moot point whether he should ever have been considered a full member, if the first album's sleeve credits are to be taken literally!); Buddy Cage had been recruited, although Garcia and other Dead members guested on the album sessions. There's some good stuff on Powerglide, sure, but it still doesn't hang together as an album in the way the first album does. Still, both are worth having in the 70s country-rock collection.
David Kidman
---
New Roanoake Jug Band - Play It For A Long Time (Copper Creek)
The New Roanoke Jug Band takes both its name and inspiration from the original Roanoke Jug Band, an old-time group that hailed from Roanoake in southwestern Virginia and was active between 1926 and 1933. It made one lone visit to the recording studios in October 1929 and cut just four sides, which are usefully appended on this CD as bonus tracks enabling us to compare and contrast interpretations with those of the band's present-day counterpart, which has now recorded three out of those four titles anew (sounding just a little more relaxed nowadays, perhaps due to the absence of the constraints imposed by those 78 rpm side-lengths!). The New Roanoake Jug Band, unlike the original five-piece, comprises basically just three musicians - Jay Griffin (fiddle and washboard), Scott Baldwin (guitar, banjo, jug, slide guitar), and Andrew Thomas (double bass) - but they're variously augmented on a handful of tracks on this CD by four different banjoists, two guitarists and a vocalist/mandolin player. Together they certainly carry the spirit of the original lineup and impart much of its intrinsic flavour: essentially unpretentious, unsanitised good-time music-making, an uncluttered sound, and totally infectious. The material is typical jugband fare - bluesy and ragtime numbers both fun and pensive, interspersed with oldtimey hoedown dance tunes, played and sung straight down the line with a genuine appreciation for this special brand of early American rural music. The NRJB prove that you can have a good time without resorting to overstressing the air of hokey silliness that's often a feature of many latter-day outfits who choose to revive the jugband idiom. The music's in safe hands here, for sure. Presentation of this release is just fine too, and as a bonus the insert note succinctly identifies the original source for each selection (where known). This CD's a treat from start to finish, and, since it lasts a generous 78 minutes, you can indeed "play it for a long time"!
David Kidman
---
Carrie Newcomer - Before And After (Rounder)
Carrie's twelfth Rounder album, while continuing to introspectively explore her characteristic emotional themes, also delights in showcasing her expertly controlled and richly contoured vocal apparatus for which she's rightly renowned. Again surrounded with a core of reliable musicians (including Byron House, Jim Brock, Keith Skooglund, Chris Wagoner and Gary Walters), Carrie is able to make the most of these self-penned creations. In addition, Mary Chapin Carpenter and Krista Detor each contribute vocals (to one track apiece). Before And After is a graceful, melodious set that, while it springs no surprises, satisfies by virtue of its gentle poetic lyricism. It's hard, though, to pick out any individual songs for special mention, for each one is quietly crafted on its own terms. Maybe it could all be deemed a little too elegant, being even-toned and easy on the ear at all times, with the rootsier influences sublimated to the wider accessibility of the musical arrangements, but at least it doesn't stray over the line into blandness and - more importantly - Carrie's spiritual conviction remains clear-sighted and true and never in doubt.
David Kidman April 2010
---
Carrie Newcomer - The Age of Possibility (Philo Records)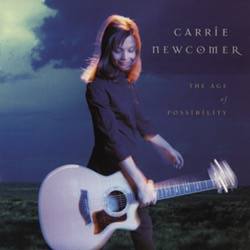 Newcomer she isn't. This is Carrie's 6th (or is it seventh) album; a mature collection of rich, warm-alto vocals; tender, melodious, autobiographical songs and full band production. Within you'll find no surprises or rough edges. There's a pot-pourri of instrumentation, often giving it an uneven feel and a longing in this listener for simplicity. But listen for her duo with fellow musician from Indiana, Slats Klug, on accordion on three tracks, particularly the bitter-sweet This Too Will Pass, beautiful in its sparseness with just acoustic guitar and accordion. (Slats toured with singer/songwriter Bob Cheevers earlier this year and has his own album, My Brown Country Home - Rebo 0727, which is well worth checking out. Email him at mojohand1@juno.com)
Carrie has been touring the festivals of USA, roots venues, plus supporting major acts for some years now. Born in 1958, she started playing guitar and writing songs at 14. Of immigrant Italian and Indiana farmer stock, she's steeped in the Country roots tradition; her songs are personal and positive, sometimes political, always delivered with compelling honesty. One to look out for.
www.carrienewcomer.com
www.rounder.com
Sue Cavendish
---
David Newey - Cities And Power (Furrow Records) This tremendously able guitarist-singer-songwriter (and 2003 Young Folk Awards finalist) has been very busy over the past five years, not only touring with BBC Radio 2 Folk Musician Of The Year Tom McConville but also working with Emily Portman and Christi Andropolis in the trio Rubus. And here he follows up his first solo album, 2006's slightly over-cryptic A List Of Names, with an even more compelling new set of self-penned songs (and one cover that nestles snugly and relevantly in their illustrious company).

It's apparent right from the start that here we have songs of serious intent, songs that command respect and demand your undivided attention. They're intelligently thought through and well-constructed examples of modern-day commentary, with something distinctive to say and an economical, punchy means of saying it, couched in an appealingly austere and yet satisfyingly intricate musical language which doesn't deliberately reference any particular style of singer-songwriting yet feels utterly classic. David's songs concern themselves with both political and personal matters: not without a sense of humour, but always embodying an underlying earnestness of expression and a deep integrity. The politics of society and war are examined especially powerfully on the opening statement Heathens (and on the aforementioned cover, a chillingly pared-down voice-and-guitar rendition of Billy Bragg's masterly Rumours Of War), while the funky Move On tellingly develops and interweaves its various themes of history and progress and the melancholy All This Work Is Done demands instant replay as the disc moves inexorably to its close. Knocking At My Door, on the other hand, is a delicately observational piece of immediate impact.

All these songs – even the ostensibly slightest (content-wise) of them – will amply repay more detailed scrutiny. Despite the songs' intrinsic directness of expression, there's a concomitant oblique quality about the more elusive of them like Word From The Wise that's offset by the charming idealistic simplicity of Buy You A Horse. For indeed, even after a few plays I'm finding that some of the songs still don't seem to have quite yielded up all their secrets. Part of the reason for this may be that David's melodies are so interesting in their own right that the lyrics are sometimes in danger of being glossed over a touch. Part of the reason may also be that the sense of unease which the lyrics convey is so potent, almost all-pervasive, that it's difficult at times to feel settled and relaxed enough to be able to take a step back from the music. It's simply so involving that you can't do anything but be drawn in, immersed and onwardly captivated.

David's vocal delivery is significantly accomplished, admirably direct and at the forefront of the recorded balance without denying the musical accompaniment free rein and at all times remaining firmly in control of the recorded environment. His exceptional guitar playing (highly competent on both acoustic and electric varieties of instrument) is omnipresent – but welcomely so, underpinning and embellishing the songs ever-thoughtfully. A cleanly delineated extra richness of texture is then etched into and around the mix by the presence of additional vocal and instrumental colourings from fiddle, viola, piano, Hammond B3 organ and percussion, these courtesy of Christi and Randy Andropolis – the combined effect being both spellbinding and aurally stimulating.

Notwithstanding its occasional resonances of latter-day masters of the art like Clive Gregson and Richard Thompson, Cities Of Power is an impressively individual example of thought-provoking, understanding and imaginative songwriting from one of the younger exponents of the contemporary tradition.

David Kidman April 2010
---
David Newey - A List Of Names (Seely Records)
Brief biog first: David's a Hampshire-born guitarist, singer, songwriter and composer who's currently graduating from the traditional music degree at Newcastle University. Although he was a finalist in the 2003 Young Folk Awards, he's clearly more than yer average singer/songwriter, yet his debut CD can't entirely escape the tag of singer/songwriter album - if only in that it presents David, his voice and guitar performing ten of his own compositions (albeit with just a modicum of instrumental augmentation). That factual statement should not deter anyone from investigating this excellent set of songs, which exhibit a fine sense of storytelling, a keen grasp of structure, and plenty of character and variety. It might be thought unduly cryptic that the track titles comprise merely a list of names, and first-names at that, but as David's pithy insert note explains, "that's how life works", so "here they are, some names, some stories, and that's your lot"...
Even cursory examination of David's lyrics will reveal that he understands people, their motivations and attitudes; his stock-in-trade is the exploration of the unstated relationship between name and perception, memory, place and other factors which may exert a subliminal influence on the person's subsequent development and progression though life. It's probably indicative that David's songs, though typically well-constructed and full of subtly memorable hooks, don't betray any specific musical reference points, although one could argue there are vague echoes of contemporary songsmiths like Clive Gregson and Cat Stevens and even hints of traditional song. It may seem potentially contradictory, but although David explores a different persona in each song his own musical personality unifies the songs, even though his role is either that of an imaginative observer or a close friend and the song necessarily examines or outlines the subject's own interaction with David himself or his/her perceptions or attitude to David or to the world at large.
David has a gently creative approach to musical setting too, bringing in Christina Andropolis (violin, viola, backing vocal) to deploy deft and effective colours and modes offsetting David's own vocal, guitar and occasional piano, bass and percussion. David's is a particularly telling use of minimal resources, where the listener's not left feeling shortchanged; his experience as composer of music for string quartet comes through in his economy of approach and use of texture (on Peter, for instance). This is an impressive set of songs, OK there are one or two individual songs/characters I couldn't quite connect with but that's par for the course and I wouldn't consider that a failing on the part of the songwriter.
David Kidman, July 2006
---
Newfound Road - Same Old Place (Rounder)
This energetic four-piece, hailing from Franklin, Ohio, here presents its second album for Rounder (and fifth in total), with all the hallmarks that made its earlier records the product of a "band worth watching": principally the unusually soulful vocal work of Tim Shelton and the exciting, driving playing of his fellow-musicians who also know intuitively when to take a step back and relax - and aren't afraid to do so. The album title mustn't be taken at face value though, for the disc's anything but a tired replay of former outings even as it (at least partly) revisits familiar bluegrass territory. Kicking off with Try To Be, one of those catchy contemporary bluegrass songs that manages to fit in juicy little solos from everyone on stage, the record then moves into more mellow ballad territory with the title track. The real standout songs crop up later tho': the Ronnie Bowman number River Of Pain, the true-gospel of Ralph Stanley's I Am The Man Thomas and the four-part acappella Give Me Jesus, and Larry Sparks' delectable Brand New Broken Heart. The disc's lone instrumental (Piledriver) does precisely what the label says, while good capital is made throughout of sterling guest contributions from Justin Moses (guitar), Brandon Godman (fiddle), and producer Jim VanCleve (Jim's also responsible for the string arrangement on Tim O'Brien's Full Circle, which closes the set). Well maybe not quite every selection's a gem, but there aren't any disappointments either on this fresh-sounding collection that shows due respect while igniting the fires.
David Kidman December 2009
---
Chris Newman - Still Getting Away With It (Old Bridge Music)
It's a well-known fact that upon hearing Chris play, many aspiring guitarists have just thrown their instrument into a skip vowing never to play again (whereas others have been inspired to greater achievement!). So, you could say that Chris is the "guitarist's guitarist" – but remember, he's no slouch on the mandolin, and he's also widely acclaimed for his composing and arranging work.
And now he proudly presents, in celebration of his just-over-40-year career, his latest solo CD (only the fourth!), which he describes as a disc he always wanted to make. It contains 18 satisfying, mostly guitar-led excursions across and within a bewildering number of musical boundaries. Eclectic and ever-inventive, the music on this outstanding disc (much of it composed by Chris himself) takes us briskly through all imaginable moods, from the darkly extravagant Pear Drops And Fourteen Pounds (that's a reference to Chris's first two paid gigs, one at the tender age of five – or so the apocryphal story goes!) and a breakneck Hot-Club 12-bar concoction (Not Likely!) to the strangely haunting Air On A Shoestring; an intriguingly-named Three Degrees Of Separation (which points similarities between Northumberland's 3/2 hornpipe and Sweden's native polska); the effervescent Kinshasa township groove of The High Life; and the tenderly reflective Closing Time.
Chris pursues his own individual slant on barndances, Irish slip-jigs and Québecois reels, combining old-time with ragtime, blues and jazz with Hispanic: you name it…! But all with an exuberant abundance of intricate detail in the fretwork – delirious licks, fills and runs, delectable harmonics, delicate sostenuto – all of which demonstrates Chris's unreserved love of music and a constant, unbridled delight in performing it, with a keen grasp of idiom that goes hand in hand with his super-skilled mastery of technique (not showing off for the sake of it but genuinely at the service of, and at the centre of his own personal take on, the music).
Balancing the obvious, distinctive trademark virtuosity, though, there's a spellbinding warmth in Chris's immaculate playing, a consummate lyricism that never compromises the onward momentum, whatever the tempo adopted. On this new "solo" outing, Chris's own intense yet lightly-worn virtuosity is mirrored in the quietly dazzling playing of the fellow-musicians he's invited along; these include his older brother Mark (a darned fine guitarist too), mando maestro Simon Mayor, fellow-guitarists-extraordinaire Paul Buckley and Arty McGlynn, also brilliant harper Máire Ní Chathasaigh and her sister, the equally charismatic fiddle player Nollaig Casey; not to mention (but I must!) Roy Whyke who does sterling service at the trusty drumkit as and when required. With typically effacing modesty too, Chris is happy to sit back and let other musicians bask in the limelight on occasion (as he does for Mark and Paul on a deliciously smoky F-minor coast through Bobby Timmons' Moanin', for instance), invariably at just the right moment in the musical argument.
Chris's own eager and easy engagement with, and thoroughly tasteful incorporation of, every musical genre under the sun makes him virtually a one-man Transatlantic Session on this scintillating, irresistible disc. It all adds up to a full-hour's-worth of ingenious, classy and above all supremely entertaining tune-spinning that celebrates in true style the engaging musicianship of one of this country's very finest instrumentalists.
David Kidman October 2010
---
Mark Newman - Routes (Green Opal)
Let's get that ol' "relationship issue" out of the way at the outset shall we? - yes, Mark's brother to Chris Newman, partner of harpist Maíre Ní Chathasaigh and an exceptional guitarist in his own right, so that talent evidently runs in the family! But notwithstanding Mark's own immense degree of accomplishment as an instrumentalist, and the presence of Chris on this album (playing bass, mandolin and guitar and producing and recording the whole shebang), Mark easily and naturally retains his own independent musical identity, although the two brothers share that essential quality of being able to communicate their all-too-easy-sounding and thoroughly enviable virtuosity with true musicality. Mark plays four different guitars and a four-course dulcimer here, and he thoughtfully provides details of these in the liner notes. His previous album Stories was what for many listeners is almost an automatic oxymoron - an album by a virtuoso guitarist that's also exceedingly listenable! And Routes is very much a "Stories part 2", in that it's another joyful, wonderfully accomplished and highly musical extravaganza of understated and unassuming dexterity. And again it mixes instrumental pieces with vocal tracks in as-near-as-dammit equal proportion; the latter include a sprinkling of blues/ragtime classics (John Hurt, Rev Gary Davis, Sonny Boy Williamson) alongside better-than-credible (= mighty fine!) renditions of Tom Paxton's little-known When You're Winning, Norman Blake's Church Street Blues and the traditional Peg'n'Awl. Two of the songs (Eyesight To The Blind and Jimmy Rodgers' That's All Right) provide an interesting slant on the blues, being both are taken from Mose Allison arrangements, and this hybrid style of performing suits Mark particularly well. The instrumental tracks include a couple of Mark's own (we could've done with more!), a couple of contrasted rearrangements of traditional tunes (a beauteous Blacksmith/Pilgrim medley and a seriously nifty set centred on Lilliburlero), an authentically old-timey dulcimer rendition of Richard Fariña's Tuileries and a delicate and truly beautiful reinterpretation of Tom Rush's celebrated Rockport Sunday theme. I also really liked Mark's stylish treatment of Road To Durham on track 2. And as well as the brand new recordings herein, Mark also exhumes "by request" Mustapha, a 1969 recording of a party-piece (which it turns out is both on technical and musical grounds perfectly respectable!) much inspired by Davy Graham's middle-eastern explorations, and played on Mark's "lovely old Chamberlain guitar". Routes is a very fine set indeed, and whether or not you're a fan of expert guitar playing per se it still deserves your attention on other grounds.
www.obm.pwp.blueyonder.co.uk/mark_biog.htm
David Kidman April 2007
---
Randy Newman - Harps And Angels (Nonesuch)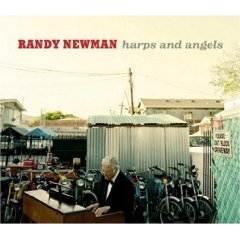 Since he last released a studio album of new material back in 1999, Newman has largely been occupied spoiling award voters for choice with his copious soundtrack contributions, most notably for Disney, to the likes of Toy Story 2, Monsters, Inc, Cars, Meet The Parents/Fokkers, and Seabiscuit. Then there's been his live work and a solo piano re-recording of old songs for The Randy Newman Songbook Volume 1. Fortunately, somewhere along the way, he found some spare moments to put together a follow up to Bad Love, both taking on its masterpiece surpassing challenge and winning and proving he's not had his eyes, ears or heart closed to what's been going on around him for the past eight years. Wry, sardonic, ironic and insightful, on both a personal and political level, Newman's always had bite to his mellow, caressing the ears and making the feet itch but also prodding the brain into life too.
Who else could conjure a song like the title track, a lazy shuffling story about having a heart attack wrapped up with laconic humour as, having been told by God (who speaks French) there's been a clerical error, he returns to life, visits old friends to pass on the message about living clean and closes with 'let's go get a drink'. Working with a band that features Mitchell Froom on keyboards, Attractions drummer Pete Thomas, jazz bassist Greg Cohen, guitarist Steve Donnelly and pedal steel player Greg Leisz along with a full orchestra, he sounds a little like Dr John. That Dixieland jazz flavour's evident on several numbers here, the club combo mood and arrangements informing the brass and brushed drums of Easy Street, Only A Girl and Potholes, a talk sing celebration of the fairer sex and a droll appreciation of the crevices down which unwanted memories can slip as you get older.
Lovers of his lush cinematic arrangements will be swooning over the romantic reflections of Losing You which at times sounds like a companion piece to You've Got A Friend In Me, and the peaceful easy feeling of Feels Like Home. Dating back to his Faust concept piece, that closing track also serves reminder that, as well as film, Newman's also composed for musical theatre, a form evoked here with the chirpily cynical encouragement to immigrants to Laugh And Be Happy, which breaks out from Mardi Gras march to Ragtime Charleston, and A Piece of The Pie, a Brechtian cabaret number (complete with Flemish/French debate) about the American economy that comes with gags about social conscience flag flyers Bono and Jackson Browne.
It's the pervasive socio-political bite, though, that makes this such a sharp piece of work. Coloured by Oriental musical phrases, Korean Parents suggests outsourcing the raising of distracted American kids to competitive driven Asians parents, a sort of role reversal The King and I. And, of course, there's A Few Words In Defence Of Our Country, the lyrics of which The New York Times ran as an opinion piece, a rolling musical mix of country, New Orleans and vaudeville that laments the decline of the American Empire and (by way of protesting too much) compares the Bush administration and its patriotic climate of fear with the Caesars, the Spanish Inquisition, Stalin, Hitler and notorious Congo invader, King Leopold.
So, life, death, social critique, political analysis and personal salvation in just 36 minutes. Can you imagine what he'd do if he had more time to spare.
www.randynewman.com
www.myspace.com/randynewman
Mike Davies August 2008
---
Various Artists - Sail Away: The Songs Of Randy Newman (Sugar Hill)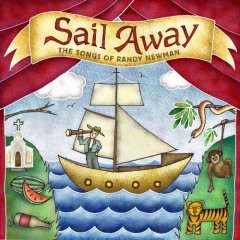 Somehow, I'd been expecting to come across a tribute album to Randy (who to many folks is literally one of the greatest American songwriters) for some time. And maybe the Sugar Hill label (and its roster) is an unexpected quarter from which such a project might originate. But on this evidence, I needn't worry, for the twelve songs covered here, the majority of them among Randy's most enduring compositions, are for the most part performed here with all due regard for the originals and in many cases eclipse them. I'll admit that over the years I've not found all of Randy's songs that I've encountered to be to my taste, and sometimes his wicked political edge, though continually relevant, has left me cold; but the best of his songs possess a poignancy (and/or contrasting sense of humour) that's rather appealing, and his even more poignant "character studies" really have few equals amongst contemporary songwriting. It's the latter category that provides the highlights on this collection, then: Allison Moorer tackles Marie here with matchless understanding and sincere beauty of tone, and Kim Richey's rendition of Texas Girl At The Funeral Of Her Father is nothing short of heartbreaking, whereas Sonny Landreth's compassionate take on Louisiana 1927 proves very fine indeed (especially with our awareness of the recent Hurricane Katrina tragedy), and at the other end of the emotional spectrum Steve Earle turns in a blinding, biting, gutsy version of Rednecks. Tim O'Brien does a neat job on the title track, and Bela Fleck frails his banjo through Burn On in a Sacramento hotel room! Joe Ely, the Del McCoury Band, Guster and Sam Bush come next down the list, but to my mind the least successful covers come from the Duhks (their Political Science is at times embarrassingly overstated) and Marc Broussard (who makes rather heavy funky weather of You Can Leave Your Hat On) - having said which, neither of those last two have ever been among my favourite Newman songs!. But hey, ten out of twelve's still a good show; and if Sail Away only spurs folks on to investigate the originals, then it's been worthwhile (even if, as ever, that should be but half the rationale for this kind of tribute release).
David Kidman, July 2006
---
Randy Newman - The Randy Newman Songbook Vol 1 (Nonesuch)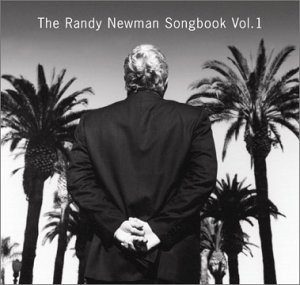 One of the greatest songwriters and composers of the past forty years, and still going strong with his recent soundtrack work for Toy Story 1 and 2, Monster's Inc and Seabiscuit, this is the first of three volumes that, for the first time, sees him revisiting his back catalogue for stripped down reinterpretations featuring just that weather beaten grumpy growl of a voice and a piano. The 18 selections here primarily look back to his material from the 60s and 70s with the biting wry humour with Rednecks, the cynical irony that hues God's Song, Sail Away's caustic reminder of America's slave trade history and Political Science's scathing attack on foreign policy, but equally underlining his way with a bittersweet love song with the melancholic I Think It's Going To Rain Today and Living Without You. It's Lonely At The Top is as sharp a portrait of the empty nature of success as you could wish for without wanting to jump from a roof but at the same time he's capable of the disarming poignant tenderness in Marie and the unbridled passion of You Can Leave Your Hat On. Change characterises the three more recent numbers, the wistful memoir of In Germany Before The War and the more pessimistic visions of the all things must crumble The Great Nations of Europe and The World's Not Fair's contrast between Marx's idealistic ideology and the self-serving cut-throat world as it is today. Some may miss the lusher arrangements of the originals, but presented naked as they are here the craftsmanship and brilliance of his wordplay is more potently obvious than ever.

Mike Davies
---
Joanna Newsom - Ys (Drag City)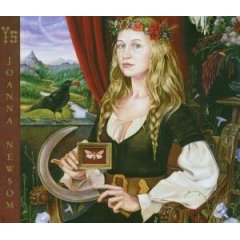 California-based singer-songwriter Joanna's official debut album The Milk-eyed Mender (2004) established her as a "sit up and take notice" talent alright, if a decidedly very strange one - and definitely an acquired taste by all accounts I've read (sad to say, I was never sent a copy). If anything, her second album, the continuingly cryptically-titled Ys, is even more of an acquired taste, although you can't deny Joanna's total individuality, a quality thrice welcome in a world stuffed full of clones and imitators, wannabees and tribute acts. First time round I honestly didn't know what to make of Joanna (and I must've heard many weird and wonderful artistes in my time!)
So let's try for some reference points, then. First up: Joanna's music is, most unusually for a singer-songwriter, harp-based rather than guitar-based. Second: she has a peculiar, I'd say unique, singing voice, one that you'd never mistake (and many of you, I suspect, might probably never want to hear again!). If you find Kate Bush or Ani Di Franco irritating and Björk hard to stomach, then Joanna's likely not for you; if on the other hand you're open-minded, receptive to unusual styles in folk, roots and world music and relish a listening challenge, then read (and listen) on. Suffice to say that Joanna's singing style includes a prominent mannerism that's maybe best described as a kind of squawking screech, which - even though it's been toned down here a bit I suspect - I still on occasion find distracting and mildly painful to listen to; some listeners will find this an insurmountable barrier to appreciation of her music on any level, which would be a pity - for Joanna has so very much to offer. Thirdly, Ys enfolds Joanna's widescreen voice within a comparably cinematic orchestral complement, a huge array of instrumentation that includes what sounds like a massive, lush string section for starters (and it's no surprise, then, to learn the album was produced by the legendary Van Dyke Parks, whose arrangements owe much to his own landmark Song Cycle and what's been termed the Brian Wilson pocket-symphony ethos). The often dense, somewhat phantasmal orchestral textures seem opaque, but close listening reveals much simple and yet painstakingly intricate detail within.
And then, every bit as significant as the elements of melody, vocal characteristics and instrumental arrangements, we come to Joanna's extraordinary lyrics. These are undoubtedly richly epic, sometimes reminiscent of Pound's Cantos in their scope and canvas, yet at the same time are possessed of a shameless poetic intimacy; during the course of a single song, Joanna's able (with an eerily painless virtuosity) to manipulate language to encompass mood-swings entirely appropriate to the shifting tenor of the text, and all expressed in truly startling imagery. Structurally, too, Joanna's songs sprawl enigmatically (as does her omnipresent rippling harp), carrying the listener along in a raging torrent of carefully considered wordage that has all the deliberation of a stream of consciousness. You might say that these songs are the sensuous American-Gothic dreams and nightmares of a grown-up spoilt child who spent her formative years steeped in wyrd Americana, bardic legend, Celtic chanson, H.P. Lovecraft, Leonard Cohen and Disney's Fantasia? Close? er, probably.
Let's try something else: like Robin Williamson, Joanna may be described as a harp-pedalling (sic) storyteller-in-song with a strange voice, but Robin Williamson she definitely ain't - for her songs are of an entirely different character albeit they share with some of Robin's the ability to soothe and disturb at one and the same time. The nigh-indescribable epic voyage of the near-17-minute Only Skin is probably the best example, moving as it does from settled contentment to deep anguish, desperation to resignation, the ebb and flow of the emotional tide more often then not confounding our expectations. As I said, extraordinary - and totally overwhelming.
I'm still struggling to come to terms with Joanna's music; there are times when I can lose myself in its intricacies like being in a substance-fuelled haze and illogically relishing every minute of it, but then there are times when I want it off the player as soon as it starts up. Its 55 minutes contain just five songs, which (superficially at least) at first might seem inauspiciously similar in tone and demeanour and at times impenetrable to a fault almost. This is no doubt because there really is so much going on in the mix, it's impossible to concentrate on it all without exercising three brains and seven senses! Ys truly is a record of distinct contradictions, in fact: simultaneously highly intriguing and infuriating, openly revelatory yet of a defiantly obstinate vision, ambitious yet highly prescribed, highly mature in expression yet also naïve with the daring and devil-may-care innocence of childhood; it inhabits a soundscape that's at once panoramic and tremendously claustrophobic, free-breathing yet stifling. Putting it in a nutshell, it's a must-hear - if only the once; in other words, you might say "no", but for me it's a resounding "ys"!
www.fromamouth.com/milkymoon
www.dragcity.com
David Kidman January 2007
---
Joanna Newsom - The Milk-Eyed Mender (Drag City)
It's been many a year since Mary O'Hara tinkled her Celtic harp into the charts, but now the instrument usually associated with Welsh music fests is back in favour courtesy of the infinitely strange Ms Newsom. A native of California (which may not come as too much of a surprise), the twentyish pixie-ish singer-songwriter most certainly sounds like no one you've ever heard before. Well, not unless you've been privy to some gig where Bjork has sung country tunes after inhaling helium. Grounded in American folk with particular leanings Appalachian, bluegrass and old blues, her high pitched childlike voice, ragged and cracking in place, is nothing if not idosyncratic, a bit like Victoria Williams possessed by faeries while there's times here when you can't avoid thinking of Melanie doing things like Animal Crackers and Christopher Robin.
It must be said that a little exposure to it goes a long way, but equally it's hard not to be beguiled by her official debut album, an extraordinary collection of articulate, literate but playful songs sporting titles like The Book of Right On, Three Little Babes, current single Sprout and the Bean and, pointing up her nursery rhyme, kindergarten shapes, the harmonium pumping Peach, Plum, Pear and the contemplative Clam, Crab, Cockle, Cowrie.
Lyrically oblique with references equally to molluscs and Camus, whalebones and balloons in her storytelling songs of life, love and spirituality, musically somersaulating between the trebly piano waltzing Inflammatory Wit, the arpeggios of Cassiopeia, the backporch folk blues of Swansea and the quiet Edward Lear pulsing shanty pop of Bridges and Balloons, it makes for intoxicating and bewitching (with an emphasis on the witchery) listening.
Mike Davies
---
Nexus - BJH: through the eyes of John Lees (Eagle Records)
Not strictly a Barclay James Harvest album - the band is in hiatus following the departure of Les Holroyd and Mel Pritchard - this 1999 offering sees founder member John Lees reunited with the bands original keyboard player, Woolly Wolstenholme, on a selection of new songs, plus some old favourites, rearranged. Craig Fletcher plays bass, and Kevin Whitehead drums.
First up is a rather jokey piece - 'Festival' describing the writers no doubt considerable experiences with festivals over the years, with added weather sound effects! Next is the lush 'The Iron Maiden', this reminds me of early BJH with a pastoral feel, enhanced by orchestral passages from Woolly's keyboards - very nice indeed.
'Brave New World' is a sad song of regret at the end of a life that changed nothing. Rather depressing, but well written. 'Hors D'oeuvre' is a short instrumental that leads into the classic 'Mocking Bird'. This version, especially in the instrumental passage, is less frenetic than previous versions, and makes a nice change. 'Sitting Upon a Shelf' is another reflective song that brings the mood down, before we go into 'Hymn' - another BJH classic that never fails to uplift. Just when we feel up again comes 'The Devils that I Keep' - this one is positively suicidal, but again is well written and performed. 'Titles', a song written using only Beatles titles follows, again this is an excellent new version of this moving song. 'Float' is one of my favourite tracks on this album, and reminds me of much of the earlier pastoral period of the band. 'Loving is Easy' another old song is given a new, radical bluesy arrangement that works well. Finally 'Star Bright' - again that trade mark orchestral sound, cut through by John's soaring guitar runs - really excellent and a new classic for all BJH fans. This in general is a very good album indeed, and I recommend it to all those who appreciate fine songs beautifully executed.
Jon Hall
---
Nice Man - Sauchiehall and Hope (a pop opera) (Shoeshine)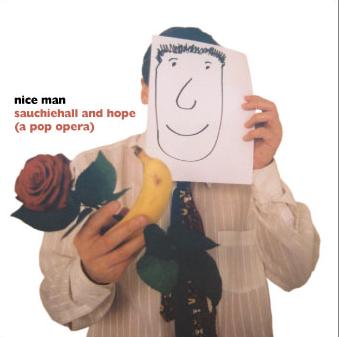 That'll be Francis Macdonald, label boss, Teenage Fanclub drummer, BMX Bandit, and now solo artist on a collection of love songs named for a Glasgow streets intersection that tell the old story of boy meets girl boy loses girl because he starts looking at other girls boy meets another girl and starts all over again. Nothing world changing, but they sparkle with his affection for power pop (Fallin In Luv, Let's Radiate Love), country (Your Hand In Mine, Girl I'm In Love With You), the Beach Boys (Watching The Band, Daydream Girls), the 60s (Heart To Break) and Jonathon Richman (Grey Hair, She's A Monkey). Not a bad combination.
Mike Davies
---
Niamh Ní Charra - Ón Dá Thaobh (From Both Sides) (Imeartas Records)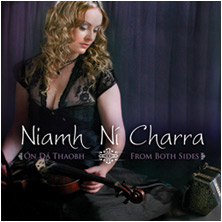 Fiddler and concertina player Niamh was fortunate to have grown up in Killarney, surrounded by a wealth of Sliabh Luachra musicians, so her successful eight-year stint as featured fiddle player in the Riverdance touring show came as no surprise. She's now returned to her native Ireland however and at last has had the opportunity to record and release her first solo CD. Its thirteen tracks enterprisingly span the gamut of traditional music, not just from Niamh's Irish heritage (and half-a-dozen tunes of her own devising too) but also from considerably further afield: there's American hornpipes, a Bill Monroe bluegrass tune, some Cape Breton reels, and even some Hungarian czardas from the repertoire of Muzsikas which are bolted infectiously onto a superb rendition of The Gravel Walks reel. And not to mention a cheery little miniature, an allegretto by Geneva-born Giulio Rigondi, who was the first to introduce the concertina to Irish audiences in the mid-19th century. There's almost a sneaking sense of trying to cast the net too wide at times, but Niamh's instinctive response to the various stylistic and technical challenges she sets herself easily overrides any potential charge of musical dilletantism. And Niamh's enterprise isn't confined to her choice of material, for her playing displays an abundance of life, light and shade alongside the power of her bow and the dexterity of her fingers. For the "both sides" of the CD's title would appear to refer to Niamh's equivalent degree of expertise on fiddle and concertina (wherein the different instrumental timbres enabling her to bring out the distinctive nuances of her talent) and on faster or slower material alike. As a fiddler, she's delightfully vigorous, with plenty of joie-de-vivre to counterpoint the often syncopated rhythmic impetus, while her concertina playing is nifty yet melodic and at the same time superbly characterised. On some tracks she moves swiftly between instruments (courtesy of the studio facility), but in all other respects the overall effect is every bit the reflection of, and as vital as, a live performance, with a commendably realistic balance from the sound-desk too. On first couple of playthroughs at any rate, I thought the disc took a few tracks to really get going, but I loved the opening set of slip jigs third time round and it rapidly became a favourite track, as (I was surprised to find) did also the ensuing air, Caoineadh Eoghain Rua, which is played as a concertina solo, and the brilliant track 8 barndance/reel set. The other slow air I really liked was An Raibh Tú Ag An gCarraig?, where guest accordionist Brendan Begley's excellent singing turns an already fine rendition into an album highlight. On most other tracks Niamh enjoys the musical companionship of a further handful of excellent players: Mike Galvin (guitars, bouzouki), Robbie Harris (percussion), Eoghan O'Neill (bass), Conor Sheil (clarinets) and Cathal Synnott (piano). This is a far more than credible offering - and overdue solo debut - from a highly talented young musician who doesn't need to show off on stage (or to worry about her hair or makeup!) in order to impress.
www.niamhnicharra.com
www.copperplateconsultants.com.com
David Kidman September 2007
---
Johnny Nicholas - Livin' With The Blues (Topcat Records)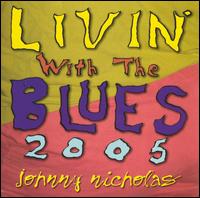 Johnny Nicholas' second release of 2005 was the original Livin' With The Blues and followed the re-release of Thrill On The Hill. This album has seven new Nicholas compositions added to five classy covers and highlights both his song writing and instrumental skills. He begins with the Cajun style Froggy Bottom, a medium paced, infectious original that would grace the start of many an album. This is followed by another of the originals, Hill Top, which is old style country mixed with a jazz edge. This instrumental throws up some excellent individual performances, none more so than Floyd Domino on piano and Ray Benson on guitar. The Roosevelt Sykes song You Can't Be Lucky All The Time is a hypnotic piano led blues that highlights Domino again and I'll Be Around, a Chicago blues, confirms the status of Floyd Domino as the star of the album so far. Johnny's voice shows a couple of cracks but this is an emotional song and re-affirms the loss of the veneer of his previous recordings. His voice certainly has matured into a top class instrument and this Howlin' Wolf song suits him to a tee. The next original, Dirty People, bounces along nicely and has a good sax solo from Greg Piccolo. Teardrops On My Windowpane is another new song and is in the classic 'Woke up this morning' vein. The fractured guitar and sleepy sax make this a classy track.
The title track is a Brownie McGhee song and has the classic McGhee sound. Harmonica instead of accordion may have been a better option although with the electrifying guitar solo he manages to make the song his own. Talking of making a song his own, Nicholas turns in a version of Need Your Love So Bad that is completely different to the well-known Fleetwood Mac track. His vocal duet with Marcia Ball is sublime. Honeydrippin' Baby is a swinging blues with added horns and the lightning fingers of Joel Guzman on accordion. Johnny goes all cowboy on us with Texas Drifter, which is surprisingly good for a genre of songs that I don't particularly like. Red Young on organ keeps up the high standard of soloists. I'm From Texas is a big band blues (Texas Swing) that produces yet another great all round performance from the band. The closing track, Down In The Alley, is a little slow for my liking (those of you that have read my reviews will know that I like an album normally to finish on a high note) and really should be in the middle of the album. It's pleasant enough and highlights Nicholas' voice again but it's nothing special although the little bit of slide guitar does lift it momentarily.
David Blue December 2006
---
Johnny Nicholas & The Texas All Stars - Big Band Bash (Topcat Records)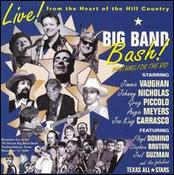 Johnny Nicholas is a big advocate of the cultural diversity in Texas and has gathered a bunch of musicians to showcase Blues, Swing, Ballads, Rock n Roll, Country and Tejano on the live album, Big Band Bash. All of the musicians on the album live within a 90 mile radius of Austin or San Antonio and have decided to get together once a year to pass the music on to the next generation. The opener, Broke Again, aptly features Johnny and is big band style rock n roll - Chuck Berry with horns and fiddles, what a combination!! Baby I'm Gone features Greg Piccolo, his tenor sax and laconic vocal and he delivers a great swing feeling. The great Jimmie Vaughan joins the band for the first blues, the gritty instrumental The Ironic Twist before Johnny Nicholas returns for Down In The Alley. This is a song for Doug Sahm and is a slow, bluesy ballad that is well delivered by Nicholas. The well known Don't Mean A Thing If It Ain't Got That Swing features John Mills and The Texas Horns and all I can say is, scorching! Mescal Road is Tex-Mex and introduces Joe King Carrasco to the audience. Unfortunately, the music is let down by the vocal which is not as strong as those that have gone before. However, it is a good fun-time song all the same. Respected guitarist Stephen Bruton lends his big reputation to This Old World Needs Love but I feel that the lyric is a little forced in places. Floyd Domino gives us the piano led instrumental All Blues and turns in an excellent performance on the keys. Johnny Nicholas is back for Good Morning Judge, no not the 10cc song, and I can't help singing I Want To Be Like You from The Jungle Book along to it. It's just got that beat as Baloo would say. Seriously, this song confirms what a strong stage presence Nicholas has.
Greg Piccolo gives us a sultry sax instrumental version of Somewhere Over The Rainbow before Joel Guzman and Sarah Fox re-introduce the Tex-Mex feel with Maybe Maybe. This has a few ropey moments but it all goes to prove that it's completely live. Augie Meyers, who played organ on Mescal Road, gets his chance to shine on I'm In Love Again. He delivers this classic song in a sleepy style, supported by strong saxophone, and pulls it off completely. Trumpeter Al Gomez features on the instrumental Can't Stop The Crying and his performance on this ballad is faultless. Johnny Nicholas makes another return for Before I Grow Old and this is slow R&B of the highest class with The All Stars showing that they are a top calibre band. Another man making a return is Greg Piccolo (great name for a sax player!) and The Hammer allows him to show all the levels to his playing - a great rock n roll instrumental. The closing track needs no introduction and it is right that Jimmie Vaughan joins Johnny Nicholas for Texas Flood. It's not Stevie Ray but if this is the first time that you've heard the song (unlikely) then you're still in for a treat. Jimmie is a good guitarist in his own rite but my favourite version will always be Stevie's.
David Blue October 2006
---
Billy Nicholls - Would You Beleve (Immediate) / Forever's No Time At All (Castle)
These two 2-disc sets, released a few months apart, together give the fullest picture ever available of this obscure artiste. In 1966, Billy, as a "starry-eyed school leaver", was hired by Andrew Oldham as a staff songwriter; at Immediate, he fell in with Steve Marriott and Ronnie Lane, who helped out on some of his recordings (Billy later returned the favour by contributing uncredited backing vocals to the Small Faces' Ogden's Nutgone Flake album). Would You Believe is the title of Billy's "great lost album", recorded in 1968 but permanently shelved due to the label's cashflow problems; it's presented here in a new deluxe expanded edition (it's around seven years now since Sequel first unveiled on CD the entire original album, together with both sides of Billy's debut single), which recycles the full album and the single together with some mono mixes, alternate and acoustic takes, and a whole extra disc of demos and out-takes from 1967 and 1968 that throw even more light on Billy's wilful musical personality. Top session musicians appeared on Billy's album, though, including Ian McLagan, Caleb Quaye, Nicky Hopkins, John Paul Jones, Kenny Jones, Joe Moretti and Big Jim Sullivan. The baroque-psych-pop arrangements are brimful of the era's breezy post-summer-of-love confidence - bright vocal harmonies, strings, twinkling celestes, tinkling harpsichords, trumpets, delicate acoustic guitars - but there are some even more delightfully eccentric touches too (like the banjo and tuba interjections on the title track, and false-fade/coda devices). Think Pet Sounds, the Association, Macarthur Park, but also significantly more inventive than other "copycat" products of the time, with a surprising amount of depth and detail. Admittedly, Billy's lyrics, replete with archetypal Chelsea whimsy, betray the peculiarly British origins of the music (though to be fair, some tracks remind me of Village-Green-period Kinks), though the overall sound world is often as much pure Californian sunshine pop harmony. It's absolutely irresistible! The bonus Snapshot disc contains many insights into the gestation and development of the LP; four of its tracks were originally written for the album, while others are little more than unfinished doodles, but all are fascinating and prove a useful adjunct to the main disc, making this new package now the definitive edition of this "lost classic".
Forever's No Time At All, named after Billy's 1972 composition, is an anthology that takes Billy's story from 1967 right up to 2004, providing an essential supplement to the above deluxe extended reissue of his magnum opus. Only the first half of disc one, in drawing on Would You Believe and Snapshot, duplicates tracks available on the aforementioned definitive reissue; thereafter it trawls a wide variety of sources in order to bring Billy's hitherto unappreciated later career into focus. Around 1972, through a common interest in the teachings of Meher Baba, Billy met and became firm friends with Pete Townshend; Billy has retained this friendship ever since, and for the past 20 years he's been employed as Musical Director on various Who-related projects. In the mid-70s, Billy had a track on Townshend's Who Came First solo album, and contributed backing vocals to the Tommy film soundtrack, and although he became a member of the Who/Faces extended "family" his own recordings never received much attention in spite of their (as we can now hear) high quality. Judging from the tracks on this anthology, Billy's neglect is all the more surprising; perhaps it's indicative that he only ever began to receive any measure of critical acclaim with a 1990 album Under The Banner, released on Phil Manzanera's label, which eschewed his trademark harmony pop for radio-friendly AOR styling. Until, that is, his 2002 single Can't Stop Loving You... which, along with his subsequent album Still Entwined (five tracks from which are included here), proved that Billy's ability to write timelessly appealing and melodic pop-rock songs remains undiminished after all this time. This is therefore a valuable anthology, and a spur to further investigation of Billy's later work.
David Kidman
---
Elizabeth Nicholson & Stringed Migration - Fly Not Yet (Waterbug)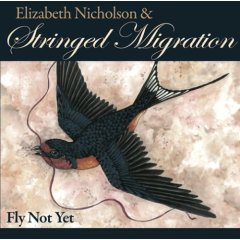 Just a couple of years ago, Portland (Oregon)-based Celtic harp specialist and singer Elizabeth gave us a lovely CD Sink Or Swim, on which she presented a persuasive collection interspersing her own takes on traditional balladry with some tunes from (or inspired by) the Celtic tradition. On just over half of that CD she was accompanied variously by the four musicians who have now come together to form the group Stringed Migration: Bob Soper (percussion, occasional fiddle and guitar), Jim Chapman (whistles, bouzouki), Eddie Parente (violin, viola and violectra) and Rob Barrick (bass - although, confusingly, Tim Renner takes bass duties instead on the majority of tracks on this, SM's debut CD). There's inevitably a little more of a bias towards tune repertoire here than on Elizabeth's solo record, with five of the ten tracks on Fly Not Yet being purely instrumental. The mix of musics is invigorating, bringing to the traditional sources via the musicians' varying backgrounds a melting-pot of more worldly influences: several Irish tunes are given a special kind of lift from elements such as spirited fiddling and harp playing and the use of djembe (not bodhrán) as rhythm-driver. There's also a Cape Breton reel, a Roumanian klezmer hora nd a Lebanese melody (which is ingeniously linked to a fine rendition of The Unquiet Grave), while a linked trio of Eddie's own compositions proves particularly nifty. The songs are strong too: Elizabeth's singing is more purposeful and displaying a keener sense of the drama than hitherto, and there seems greater dynamic contrast within her voice. Bob adds his vocal skills to two of the songs: Lord Thomas becomes a duet with Elizabeth, while on the atmospheric shape-note closer And Am I Born To Die he sounds uncannily like Tim Eriksen I thought; those two selections are definite high spots of the record. Another specially interesting choice is the title track, where Thomas Moore's words are set to a planxty by O'Carolan. With not a weak track among the ten, this is a highly listenable and most intelligent disc, with excellent (and refreshingly unostentatious) musicianship throughout.
David Kidman March 2008
---
Elizabeth Nicholson - Sink Or Swim (Own Label)
Portland-based Elizabeth has a background in both folk and classical musics, and is an accomplished exponent of the Celtic Harp who also sings (beautifully); according to her website, she's also a teacher and a strong advocate for "the use of harp music to promote health and alleviate pain". Certainly the latter features would seem to apply to this album, for its overall feel is restful yet stimulating. Here, Elizabeth performs six songs and three instrumentals. The latter comprise a slow air and a pair of jigs, all composed by Elizabeth herself but very much in the Celtic tradition, and a lively treatment of the traditional Kitty O'Shea (on which Elizabeth multitracks guitar and second harp parts). For the songs, Elizabeth draws on that same tradition for her versions of Black Is The Colour, House Carpenter and Dearest Nancy, while she uses Andrew Calhoun's expert version of the ballad of Fair Annie; the remainder are Elizabeth's own compositions. She gives the majority of the songs a broadly similar treatment, very attractive and melodious (and rather better than merely pleasant, I hasten to add!), and her singing is delicate and pure without being over-precious. Occasionally I can't help but notice a minor shortfall in dramatic contrast within Elizabeth's expressive mode, but she compensates more often than not and she also benefits from the duet vocals of Jen Bernard on two of the songs. As indeed she does from the supporting playing of Rob Barrick (electric bass and highland pipes), Bob Soper (fiddle, mandola etc), Joe Root (piano accordion), Jim Chapman (whistles, bouzouki) and Eddie Parente (electric violins), variously on six of the nine tracks. Fine though these musicians play, Elizabeth's solo unaccompanied singing of Dearest Nancy provides one of the disc's highlights, along with the deliciously appealing Appalachian-country-waltz "ode to absenteeism" of Seven Seas and the veritable mini-epic that is Fair Annie. Basically, anyone who enjoys Celtic-based music well played and sung with a degree of (though not over-much) relaxation, should appreciate Elizabeth's special interpretative qualities.
David Kidman October 2006
---
Nickel Creek - Reasons Why (The Very Best Of) (Sugar Hill)
Three albums in, and the sparky young bluegrassers have produced much amazingly good music since they started out, now attaining some of the status of a supergroup while individual members have gone on out and diversified into other projects too, with mando-virtuoso Chris Thile in particular producing some memorable solo activities. As a band, Nickel Creek have progressed manfully from a sweet-and-sure-footed eponymous debut album through an adventurous second-stab (This Side) into a fully-fledged mature outfit belying their still relatively tender years (Why Should The Fire Die?). And yes, why indeed should the fire die? ... which is what the very act of issuing a "best of" collection already is at first seeming to imply, ie that the fire will die very soon so let's cash in while we can on what Nickel Creek has achieved in such a short space. But the more pragmatic reason for this collection becomes clear when you realise that the band's decision to take a career break at the end of the year has coincided with the expiry of their recording contract with Sugar Hill. So here we get a career-so-far retrospective that does a fair job in encapsulating the band's development and strengths via the medium of a dozen choice album tracks - four from Nickel Creek, three from This Side and five from Why... (with all seven of their music videos presented on a supplementary DVD). The audio disc also appends just two live cuts, which were recorded at the Freight & Salvage back in 2000; the second of these, The Fox, is a bit of an epic, including as it does snatches of Dylan and Bill Monroe along its journey. But even for Nickel Creek fans, what are the reasons why you might be tempted to buy this release? It's not really worth the investment and heavy duplication unless you're really keen to get the two live cuts.
www.nickelcreek.com
www.myspace.com/nickelcreek
David Kidman March 2007
---
Nickel Creek - Why Should The Fire Die? (Sugar Hill)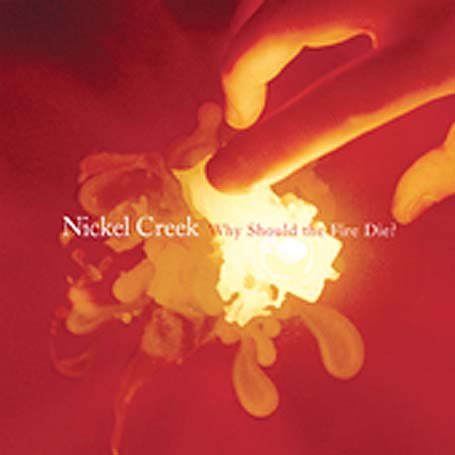 Why indeed? And the fire shows no sign of losing any heat with Nickel Creek's third CD. An already burgeoning reputation can only be enhanced as Sara and Sean Watkins and Chris Thile prod and poke their country roots, to see what else can be uncovered.
Producers Eric Valentine and Tony Berg wanted to capture the explosiveness of the band's live performance and certainly Somebody More Like You has a natural immediacy. It is a prime example of the album being left sharp and spare rather than cluttered and softened by over orchestration.
It's also a celebration of young, highly talented musicians allowing their imaginations to take flight because at times on Why Should the Fire Die? It feels as if the combination of violin, mandolin, guitar and bass was being revealed for the very first time.
But some things remain constant and it's honest passion that fuels the likes of Jealous Of The Moon and it's a respect for tradition that lies behind the vibrant Scotch & Chocolate.
Some bands use a genre or style as a flag of convenience, one that's handy to further a career. Others breathe a new life and energy into what they do, With Why Should The Fire Die? Nickel Creek has shown itself to be the future.
Michael Mee
---
Nickel Creek - Nickel Creek (Sugar Hill)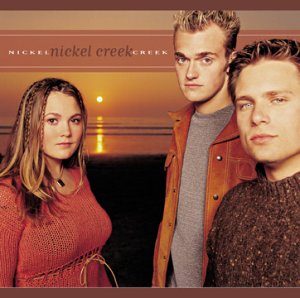 Nickel Creek appear to have grown up on stage. Although the members, Sean (24) and Sara Watson (20) plus mandolinist Chris Thile (20) seem like mere fledgelings, they have in fact been together for ten years. This reflects in their music as their tastes are broad and they enjoy rock as much as bluegrass music itself. The resultant album, produced by Alison Krauss, reflects this new generation's take on this particular musical genre. While the band display traditional musical skills of the highest order, they are never better than when they're enjoying contemporary songwriting such as the Sean Watkins/David Puckett song Reasons Why, reminding me very much of our own Equation, or the Tim O'Brien/Danny O'Keefe composition When You Come Back Down. Other clues to the band's open-minded approach are Sinead Lohan's Out Of The Woods and Robert Burns' Sweet Afron. Beautifully played, sung and produced - faultless.
cj holley
(This review first appeared in the lateGet Rhythm magazine, June 2002)
---
Nickel Creek - This side (WEA Records)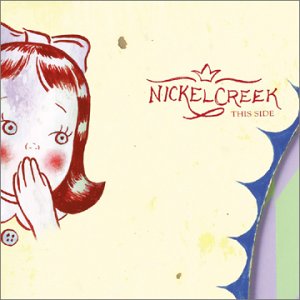 If their debut found Nickel Creek taking bluegrass to its folksy roots, This Side finds them playing with more modern flavourings. Youthgrass - that's what it's being called. Yes, a new category had to be dreamt up by the pundits to describe this bluegrass meets the modern beat outfit. Much that I love the lonesome sound of traditional bluegrass; it is a pleasure to hear Nickel Creek weld this to a modern sound. If you ask me, there's nothing wrong with pushing at the boundaries of an already great musical style.
From the opening blast of the instrumental Smoothie Song to the gentleness of Speak and its whispered background vocal, the ability of this young outfit to innovate is quite remarkable. Despite this, they haven't ditched the rootsy leanings of the first record. There are interpretations of English tradition on House Carpenter and a re-working of an old Planxty tune with Time Will Come. Spit On A Stranger has a Beatles feel in terms of the melody and the harmonies that fill out the chorus. I Should Have Known Better takes the imagination factor evenfurther with a funky feel moving into a staccato string quartet backing.
Sounds crazy, doesn't it? But, you'll be mad for it! Indeed, the presence of Alison Krauss at the production controls seems more like admiration than a major input to the record. Stand back, admire and get your ears around this one.
Steve Henderson
---
Stevie Nicks - Live in Chicago DVD (Warner Music Entertainment)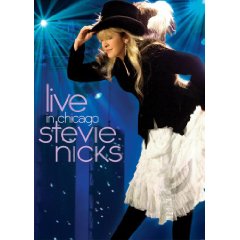 It could be argued that Stevie Nicks - and to a degree Lindsey Buckingham - provided the spark of originality that kept Fleetwood Mac 'interesting'. A point she goes some way to proving on this live DVD with a version of Dreams which completely re-invigorates the song. Without music's 'gypsy queen' the Fleetwood Mac leviathan would surely have gorged itself on a diet of hugely successful but soulless stadia gig before descending into an ever-decreasing circle of corporate, radio-friendly AOR pop/rock.
I feel on safe ground describing Nicks as one of popular music's eccentric poets, everything she touches is not only transformed into something wonderful but she does it with an elegant, innocent grace that is utterly captivating. For someone with the length of career of Nicks to be able to still enchant an audience so completely is quite remarkable. So it came as a bit of a surprise that the setting for this 2007 concert is about as 'showbusiness' and slightly uninspring as you're likely to get. However as Stevie Nicks commands centre stage, it eventually dawns that the slightly bland backdrop serves only to magnify the vivid colours of her performance.
As she launches herself into Sara and Rhiannon the stage isn't the only thing that fades away, the years quickly follow as the gypsy's soul is laid bare. The only presence worth noting is Stevie Nicks. Perhaps the most pleasing thing about the set list is that it appears to be personal, going back to pre-Mac days Sorcerer. It's a song that answers the question of just how good and vital the young Nicks and Buckingham were.
There is a pivotal point in the night's proceedings when Nicks is joined by Vanessa Carlton. The pair begin with Carlton's The One and ever-generous of spirit, Nicks is happy for her young guest to take the spotlight. The affection and respect between the two is both mutual and honest. Carlton returns for a magical version of Bonnie Raitt's The Circle Dance. It's the moment when Nicks must have felt she was looking at her younger self, both singers share the ability to wrap a song around themselves so tightly it becomes a second skin.
Stevie Nicks manages to create a sense of theatre throughout Live In Chicago, and, at opposite ends of that spectrum, are the heartfelt fragility of Landslide and a stunning cover of Led Zeppelin's Rock and Roll, together they encapsulate the magic created by one of life's true musicians. With a catalogue of highly original albums to choose from, a live performance from Stevie Nicks was always going to be a spellbinding affair, Live In Chicago didn't disappoint.
Michael Mee April 2009
---
Nico - Femme Fatale (Castle) Femme Fatale sounds like it might be a collection of early Velvets memorabilia, but in fact it's a two-disc set covering Nico's immediate post-punk comeback of the early 80s, well over a decade after she quit the VU. Having cut three obstinately unfashionable studio albums (Chelsea Girl, The Marble Index and Desertshore) during her immediate post-VU years, then came the 1974 Island release of the celebrated Rainbow Theatre concert with John Cale and Eno, shortly after which she mostly went to lay low, effectively in exile from the world, only very gradually regaining the impetus and confidence to return to the performing scene, and even then arguably mainly to feed her heroin habit. In the early years of punk/new wave, though, she became a kind of icon for the new breed, and turned up all over the place, notably at the gigs of cutting-edge acts like John Cooper Clarke and Siouxsie & The Banshees. Then in 1981 she brought out a new full-length album Drama Of Exile (originally released on the Aura label), backed by a somewhat more conventional-sounding rock band lineup than hitherto. Drama Of Exile takes up the bulk of the first CD here (hence the set's subtitle The Aura Anthology), and the original album is complemented by both sides of a 1980 single release and a series of outtakes from the sessions for the album (six alternate takes of album tracks). OK, there's an almost obligatory link to the Warhol days with a cover of Waiting For The Man, as well as a version of David Bowie's Heroes, but otherwise the material's all Nico's own, exploring the faces and places that she witnessed during her years of exile. The album was produced by Philippe Quilichini, a member of Nico's backing band; this outfit was made up of totally unheard-of musicians, but made a robust, gutsy post-punk rock sound with a slight eastern tinge that one critic even compared favourably to Television! Sadly, although the album did receive some good press amidst a general torrent of critical misunderstanding, it was not much of a commercial success, and from the middle of the decade Nico again lost confidence, returning to her self-destructive heroin habit and undergoing severe personal problems through to her death from a cerebral haemorrhage in 1988. She even went so far as to re-record Drama with the same personnel in 1983 for another label, but the second disc of this compilation instead focuses on live material recorded in August 1985 at Chelsea Town Hall, which paraded an altogether sparser, almost "return-to-baroque-folk à-la-Chelsea Girl" sound-world, imparting the steady drone of her trademark harmonium into the texture of an all-embracing set-list ranging from her all-but-forgotten 60s Immediate recordings (You Forget To Answer, Janitor Of Lunacy) to Velvets classics (All Tomorrow's Parties, Femme Fatale - the former performed unaccompanied), through curios like Tananore and the predictably intense The End on to a handful of items from the Drama album. All of which adds up to a curiously unsettling listening experience in spite of the undoubted musical virtues of much of the set (especially the live disc). The well-presented booklet neatly and exhaustively reproduces reviews, articles and other press cuttings that chronicle the final years of this legendary chanteuse in a fair-minded manner that makes for a sympathetic (if necessarily incomplete, by virtue of its focusing on those final years) memorial issue.

David Kidman
---
Ken Nicol - Initial Variations (Own Label)
On his deliberately enigmatically-titled new solo album, the signature guitarist from Steeleye and the Albion Band delivers a brilliant sequence of ten finely-etched and well-contrasted instrumental pieces, each bearing the initials of an individual who has figured significantly in Ken's life (family or friend, past or present). Unlike the ostensible Elgarian model, Ken's pieces don't incorporate or embellish a common musical theme, and thus each piece is self-contained in that respect. We're given no clues as to what the initials stand for, so – aside from one isolated piece of guesswork (that R.B. might just be Roger Bucknall at Fylde Guitars, whose name appears in the sleeve credits) - it's up to us to just sit back and enjoy each piece for what it is rather than agonise internally about whether the musical style adopted actually reflects the character of the individual depicted within! Yes, it's a CD that will be a must for guitar aficionados, but its appeal is definitely more wide-ranging; there's intelligent and beautiful music here to suit all moods and tastes. Exquisitely crafted and melodically rich; deftly and stylishly played; and of course expertly recorded. It's mostly taken at a leisurely medium pace, but each composition is equally masterful in its own way, from the episodic (genial and reflective then sturdy) acoustic-guitar tapestry C.M. and the easy-jazzy F.Y., the lyrical I.H. (redolent of an O'Carolan air) and the good-humoured banjo breakdown (P.C.) to the fluent improvisatory A.K. and the bluesier (Grahamesque) stride of E.P., the gleaming electric and resonator guitar timbres of B.H. contrasting with the deliquescent nylon-strung nuances of P.W. and the skittering fingerpicking of R.B., finishing on the gentle mandolin lyricism of P.A... Whatever, Ken's unassuming display of technique - supremely skilled, but you couldn't ever charge him of needless noodling! - allied to his finely-tuned expressive capabilities, gives this fine collection of pieces a satisfying sense of unity. A lovely record.
David Kidman June 2009
---
Miles Nielsen - Miles (own label)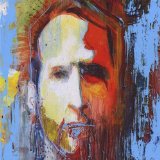 As the son of Cheap Trick guitarist Rick Nielsen, often travelling with them on tour, it's no real surprise he should follow in his father's footsteps. Nor that he should have assimilated dad's British pop influences such as the Beatles and Roy Wood. Certainly, you'll hear touches of both on the opening Festival while the acoustic Gravity Girl also leans towards the ringing guitar pop of Petty. There may be additional colours, but by and large those are the basic musical templates upon which the album's built.

Although there's various guest musicians, including Cheap Trick drummer Bun E Carlos, it's essentially a two man effort between multi-instrumentalists Nielsen and Daniel McMahon. However, while they'd clearly have liked to involve a proper orchestra rather than synths, their guitar and piano driven three minute power pop songs never feel shortchanged in terms of lush pop textures, the Beatles meets Nilsson bounce of 1938 and Don't You particular upbeat standouts while Sugaree brings more of a Band-style country blues feel to proceedings and jaunty Lucy adds pedal steel to a very early Ray Davies feel. At just over five minutes, closing track The Crown is the longest number here, its 'cosmic Americana' conjuring floaty thoughts of Brian Wilson veined with John Lennon. He's not got the most striking voice on the planet, but this is agreeable melodic sunshine.

www.myspace.com/milesnielsen
www.milesnielsen.com

Mike Davies July 2009
---
Miles Nielsen - Miles (own label)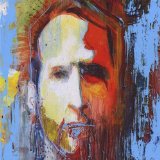 As the son of Cheap Trick guitarist Rick Nielsen, often travelling with them on tour, it's no real surprise he should follow in his father's footsteps. Nor that he should have assimilated dad's British pop influences such as the Beatles and Roy Wood. Certainly, you'll hear touches of both on the opening Festival while the acoustic Gravity Girl also leans towards the ringing guitar pop of Petty. There may be additional colours, but by and large those are the basic musical templates upon which the album's built.

Although there's various guest musicians, including Cheap Trick drummer Bun E Carlos, it's essentially a two man effort between multi-instrumentalists Nielsen and Daniel McMahon. However, while they'd clearly have liked to involve a proper orchestra rather than synths, their guitar and piano driven three minute power pop songs never feel shortchanged in terms of lush pop textures, the Beatles meets Nilsson bounce of 1938 and Don't You particular upbeat standouts while Sugaree brings more of a Band-style country blues feel to proceedings and jaunty Lucy adds pedal steel to a very early Ray Davies feel. At just over five minutes, closing track The Crown is the longest number here, its 'cosmic Americana' conjuring floaty thoughts of Brian Wilson veined with John Lennon. He's not got the most striking voice on the planet, but this is agreeable melodic sunshine.

www.myspace.com/milesnielsen
www.milesnielsen.com

Mike Davies July 2009
---
Nihil Project - Plough Plays (Barl Fire Recordings/Woven Wheat Whispers)
The latest offering from this enigmatic "open collective" focuses less on the connection between pagan roots and Celtic spirituality that marked their previous CD Samhain, and more on British folk music and folklore. Here the musicians (primarily Antonello Cresti and Andrea Gianessi) interweave their own songs and lyrics with traditional sources, yet Plough Plays, while intrinsically based on folk music, is deeply psychedelic and also incorporates electronics. Having said that, it's a fabulous collection, at times wayward to a fault but in the end incredibly stimulating and satisfying. The folkier moments are definitive wyrd-psych, with the album bookended by two versions of Unquiet Grave wherein the relating of the original tale is bedecked with everything from swooning spaceyness and ominous Roger-Waters-style chanting vocals to Moorish medievalism and 60s-style phasing effects. Twa Corbies follows on swiftly, rendered to a pounding pulse, while Weaving Wheat intriguingly mixes together lyrics from Salisbury Plain and The Jovial Lass to a mellotron-and-tabla beat. The rest of the album's material, however, consists of compositions by Antonello or Andrea themselves or collaborators Gav Dunn or Alan Davidson. Among the other British musicians roped in for the project we find Sedayne, Brian Godding (ex-Blossom Toes), The Anvil, The Kitchen Cynics, Orph and LSD from Electronic Voice Phenomena and Simon Lewis of The Phoenix Cube – a lineup which more than hints at the inventiveness and variety of sounds to be found here. There are, inevitably, some mildly tiresome passages within the atmospherics and campfire-electronic twitterings of Tissington Hall Well and Sataday People, but things get firmly back on track thereafter with The Infinite, a glorious amalgam of Interstellar Overdrive, the Third Ear Band and Sam Gopal with didg-obligato (the track's even dedicated to the memory of the TEB's Glen Sweeney), while at the other end of the sonic spectrum we find the delectable, ultra-whimsical Aloha Song, which could easily have come from a "smiley" meeting of Brian Wilson and the Incredible String Band. The Terry Riley-like instrumental Hobby Horse melds new-age and classical string playing textures and techniques with gamelan figures before shifting off into the higher reaches of the ether and fluttering back down to the ground again with an earthy peasant-dance. This latter track is arguably the closest to the Plough Plays concept of the album's title, which takes its cue from "our shared love of the informal, rough plough plays still performed in the East Midlands in January, whereby performers are drawn from the population, hidden by guises telling ancient scripts they cannot know the primitive sources of." Plough Plays is a heady, exceedingly creative album, which is at times almost too much to assimilate on even a few hearings but is totally worth your patience and persistence.
David Kidman June 2007
---
Nihil Project - Samhain (AC)
This is one of those CDs to set the cats among the proverbial pigeons, even in these ultra-broad-minded days of experimentalist fusion and anything-goes. Indeed, it may be a clever ploy to use the word Nihil in the band name, for, nihil being Latin for Nothing, it's a contradiction, a double-edge, simply because there's so much going on that in the end there's a danger that for some listeners it may all add up to a big fat vacuous zero, ie. Nothing of any significance. The band appears to consist of a fluid seven or eight personnel, and is based in Italy; their website is (even when you've worked out how to bypass the Italian-language pages!) cryptically uninformative: "Druidic Yoga is the only way to reconcile East and West; there are plenty of close connections between Taoism and Celtic cosmic philosophy. The brand new album created by the Nihil Project is a strong homage to European pagan roots and Celtic spirituality. A long trip between India and British Isles, Middle Age and postmodernism ... Pop-psych, cosmic folk, bardic songs, avantgarde all united to create a mind-blowing musical opera." Hmm, a tad pretentious you might say, even allowing for something being lost in translation! Best to let the music speak for itself then ... The first track, Astrodome Siddhi, is both typical and not - a sample-heavy electronic melange giving way to an electro-folk rendition of Byker Hill which perceptibly (and - quite probably - perceptively) transmutes via snatches of The Blacksmith into the "Earth, Water, Fire & Air" refrain from the ISB's celebrated Koeeoaddi There ... Hey, what does/should it all mean, I wonder? The second cut (title track) brings some "real" instruments (santoor, hurdy gurdy, recorder) in amongst the keyboards, sampled sitars and suchlike, in an enigmatic and challenging brew. Beauty Is Difficult (see, the band can do English when they feel like it!) brings in the "third track side one" syndrome by using almost the very Lucy In The Sky note sequence at the outset (does this mean they want their album to be compared to Sgt Pepper, I wonder?) before getting lost in a wash of pomp-newwave keyboard soundscape, André Breton readings and "synthetic string quartet" (don't ask!). On Imbolc a marimba chugs ominously away against a backdrop of Turkish clarinet arabesques, keyboard drones and impenetrable lyrics. Ragnaro(c)k, however, after a promising grunge-punk start, halfway through degenerates into a mess of farting synth noises and weird droned sampled intergalactic voices, with any subsequent lyrics seemingly conjured out of random Italian and English phrases. But there are delights aplenty elsewhere: there's some charmingly surreal nursery-rhyme chanting on & The Angels Went In Two By Two, and some atmospheric Baudelaire recitation on Radha(r), with eerie clarinet and trumpet obbligato passages (recalling the work of Sedayne perhaps). And the (official) closing track Be Here Now is a wonderful eight-minute extravaganza that starts out with a passage of freeform Third Ear Band-style jazz improv, leading into a trance-drone chant with harmonium and various effects believably integrated, then more recitation and psychedelic seagull-meanderings to take us onward on our spiritual journey; there's then a supernatural Swift As The Wind-style coda. The bonus track, which sounds like a sub-Kraftwerk/New Romantic reject, spoils things rather. All in all, another curative ovoid then, I suspect, though I'm sure glad I've heard it!
David Kidman
---
Willie Nile - The Innocent Ones (River House)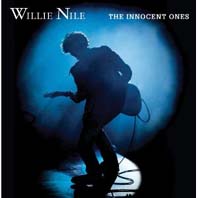 The 'Next Dylan' tag he was saddled with on the release of his debut album may have done his career no favours, but 30 years on the comparisons remain as applicable as they are deserved. With a dose of Petty, Springsteen and the Clash stirred in.
Continuing a revival that began with Beautiful Wreck of the World and has gathered strength with both Streets of New York and House Of A Thousand Guitars, his new album may see him on yet another label but the creative dynamic remains fully charged.
A tolling bell introduces the opening cut, Singin' Bell, a rousing,anthemic folk-rock guitar stormer ringing with the chimes of freedom, following on with the equally air punching One Guitar which, with its image of the a troubadour warrior, conjures the 'this machine kills fascists' legend emblazoned on Guthrie's guitar. Making it a triple opening punch, the chorus swaggering, anthemic Dylanesque title track pays uplifting tribute to the world's victims of war, neglected and ignorance.
Song For You is another lighters aloft stadium hymn for the oppressed and Topless Amateurs a Little Steven meets Joe Strummer swagger through the tawdry world of celebrity wannabes featuring the immortal if line "for a country made of cheese there's an awful lot of ham on the wall", but it's not all torch bearing and finger wagging.
Relationships that suffer from restlessness, inform both the Ramonesy Hear You Breathe and playful Clash punk pop romp Can't Stay Home while My Little Girl is pure 60s beat invasion handclappy pop that curiously reminds me of Peter & Gordon, and Sideways Beautiful a touching ugly duckling acoustic ballad. With the Hooters-like summery jangly 60s folk-pop Far Green Hills closing shop on a joyful upbeat note, Willie Nile's turned in his third 'greatest album yet' in a row.
www.willienile.com
www.myspace.com/willienile
Mike Davies October 2010
---
Willie Nile - House Of A Thousand Guitars (Blue Rose)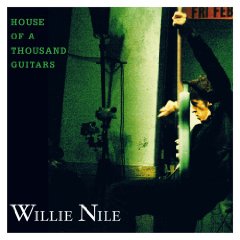 Three years and yet another label change on from comeback album Streets of New York, Robert Anthony Noonan may have just turned 61 but he sounds like the same swaggery guitar slinger who burst on to the scene back in 1980 with a self-titled folk rock album that had him hailed as McGuinn. The Ramones and Springsteen rolled into one. His fortunes have been mixed since then but his passion for music has never dimmed. It's a passion that now finds glorious expression in the album's title track opener, a Little Steven-like ringing rock n rolling celebration of all the six string warriors who've ever inspired kids to pick up a guitar, a essentially a list song with an anthemic title line chorus as he namechecks Dylan, Hendrix, Lennon, Muddy Waters and notes that "Mr John Lee Hooker's gonna kick your ass!"

The blaze continues to burn with Run, that welds pumping Ramones power pop punk and classic Petty with a crowd bouncing hook, and the southern barroom boogie of Doomsday Dance where he satirises mankind's dizzy drive towards self-destruction.

The fourth track, Love Is A Train, switches mood from rocking to ballad and backing musicians from The Worry Dolls (Andy York, Brad Albetta, Rich Pagano) to Frankie Lee, Steuart Smith, and Stewart Lerman, a line up formulation that generally holds true of the album's musical divides.

It's Smith and Lee who provide the foundations for the slower material, including the jangling dreamy la la laaing pop Her Love Falls Like Rain, the na na naaing anthemic Give Me Tomorrow and the politically themed Now That The War is Over, a song that makes its point in spite of somewhat doggerel lyrics ("now that the war is over he drinks beer by the keg, now that the war is over Bobby don't have no leg"). Their brightest moments though are the Irish folk flavoured piano simplicity of Touch Me, a touching lament for his brother, and the last hurrah of When The Last Light Goes Out On Broadway.

It's not without its faults. The remaining three Worry Dolls tracks aren't as strong as their earlier offerings, but while the garage rock stomping Magdalena is a bit of a ragged mess with its guitar solo work out, at least both Midnight Rose and the faith/doubt themed Little Light rise from slow starts to stadium arm-swaying finales. A little redecorating might have been in order, but otherwise this house is a definite des res.

www.myspace.com/indigogirlsmusic
www.willienile.com

Mike Davies July 2009
---
Willie Nile - Streets of New York (Evangeline)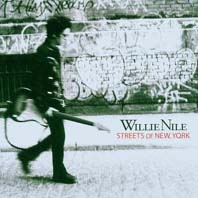 Had fate looked in a different direction back in the late 70s, it might have been Nile rather than Springsteen filling stadiums today. In 1980, Nile seemed to have a solo career set with his self-titled debut (classic tracks Vagabond Moon, She's So Cold) and Golden Down(must hear, Poor Boy) follow up, but again critical acclaim was never matched by sales and then in 1982 record label wrangles entangled him, preventing him releasing anything until 1991. Unfortunately Places I Have Never Been (which featured Richard Thompson and Roger McGuinn) suffered much the same commercial fate and, save for cult European success EP Hard Times in America, he pretty much dropped out of sight until 1999 and his self-released 'comeback' album Beautiful Wreck of the World.
And so up to today and, now signed to a sympathetic label for UK release, he resurfaces again with an ambivalent love letter to New York and what's probably his finest album yet.
Sure you can argue that he sounds a lot like Dylan on the autobiographical Back Home or throw out comparisons to Springsteen, Mellencamp, Petty, Mike Peters or, even, Del Amitri but none of that can disguise the strength of the material or the passion with which he delivers it.
Listen to Cell Phones Ringing (In the Pockets of the Dead), an accusatory number written in the wake of the Madrid train bombings or the romantic portraits carved from the Big Apple on Faded Flower of Broadway (about an 80 year old artist who sells her paintings on the street), the Celtic folk rock swayer The Day I Saw Bo Diddley in Washington Square and, his title track piano driven answer to Jungleland, and you'll see what I mean.
I'm not sure of it all, remaining to be persuaded by faux reggae When One Stands or his somewhat xeroxed Clash cover take on Police On My Back. But then I slip back into the ebullient mandolin flavoured love song Asking Annie Out, the swaggering rock n roll opening cut Welcome To My World with its visions of Busby Berkeley and the Dalai Lama spinning round his head, the janglingly irresistible Best Friends Money Can Buy, and the simple acoustic Dylanesque strum of Lonesome Dark-Eyed Beauty, and I know these streets are paved with gold.
Mike Davies, April 2006
---
The Nimmo Brothers - Live, Cottiers Theatre, Glasgow (Armadillo)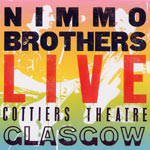 The Nimmo Brothers play their hometown on this recording of their appearance at the 1st West End Blues Festival, May 2001. They open with the self-penned She's All Mine. This is Rory Gallagher style blues rock with stinging guitars from the brothers Stevie and Alan and a driving beat from bassist Lindsay Coulson and drummer Mark Barrett. I'll Be Back Someday is a swinging blues and shows how stunning a live act these boys are. The third self-written track in a row is the slower Long Way From Everything and although they have slowed the pace down they still produce the now signature searing guitars.
The first of four covers is So Many Roads and they keep the speed down for this too. This is a true blues song and although the guitar introduction is a bit long, it is well worth the wait for the excellent vocal. It's always a risk covering a song that is instantly associated to another artist and the brothers certainly meet that risk head on with The Thrill Is Gone. They've funked it up a bit, made the guitars grittier and it works because they haven't tried to sound like B.B. King. Returning to their own songs for Flat Broke and Moving On they hit a rich vein of form. Flat Broke is a stomping blues with the excellent Fraser Spiers on harmonica and the acoustic-led Moving On is one of the highlights of the set. This has to be the vocal performance of the album.
Watch Out is a Peter Green song and they show their professionalism once again. The guitar playing is some of the best that I have heard recently and believe me, I've heard a lot! The last of the self-written songs is If I Could See Through Your Eyes and this shows their versatility with the boys turning in a power ballad with a strong finish. They finish up with the Sonny Boy Williamson/Willie Dixon song, Help Me and it's a tremendous close to an excellent set. I've only got two questions, why aren't the Nimmo Brothers household names and why has it taken so long to release this performance?
David Blue
---
The Nimmo Brothers - New Moon Over Memphis (Armadillo)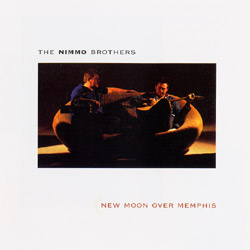 Best known as an electric blues act, following the introduction of a few acoustic moments into their live set Glaswegians Alan and Steve (both brothers and called Nimmo) have decided to unplug the amps for an album that includes stripped back reworks of past songs, new material and covers of John Hiatt's Feels Like Rain and Free number Be My Friend.You'll hear the blues in there, but guitars supported by either harmonica or sax on a couple of tracks this is really a reflective Celtic rootsy affair that really allows their voices to maximise the expression and emotion that goes into their loving and losing songs where women either walk out and leave them in pieces or smile and fill their hearts. It's not quite Blue Nile or Bathers territory, but it's very much on the same intimate, soulful map with the Sam Cooke sounding If You Need Me (Just Call My Name) and the country hued title track the notable stand-outs. I'm not acquainted with their usual approach, but on the evidence of this I'd hope they didn't decide to return to it anytime soon.
Mike Davies
---
Rosie Nimmo - Home (Kick My Heels Records)
Edinburgh-based Rosie has been singing jazz and blues for several years, mostly with the band Rosy Blue, but only comparatively recently has she felt sufficiently confident to chance airing her own songs in the public domain.
Rosie's first album of original material (which came out last year) sported a title, Lazy And Mellow, which proved a fairly apt description of her singing style: exactly as the press release claims, reminding one of qualities in the voices of Billie Holliday and Dory Previn. But I'm less influenced by those comparisons than I'm impressed with Rosie's own special alluring quality, an elegant combination of poise and depth that informs her approach to phrasing, and Home's opening track, the understated Never Go Back, perhaps best exemplifies those features. Later, the sophisticated-crooner side to Rosie's voice comes to the fore in tracks like the swooning Moonglow Music, while she also does a nice line in genial, slightly kooky pop stylings on Precious Mistakes and Timeclock.
Yet, while vocal versatility is definitely a byword for Rosie, her songwriting is also very persuasive in an understated kind of way, capably treading the fine line between reflection, personal self-examination and brooding observation. Just occasionally, as on Little Bird and Life Can Pin You To The Wall, you get the sense that Rosie doesn't quite dig deeply enough, and that she's on the very verge of coming up with a revelation; most of the time, though, her conciseness of expression is a virtue and proves more than sufficient to convey her feelings, as on the disc's sweetly anguished emotional centre, The End.
The delicate trio of songs comprising the evocative Home, the nostalgically carefree shuffling jazz of Being A Child Again (In The Snow) and the desperate Low Blue Way together form what's possibly the disc's most imaginative sequence, while at the other end of the scale, Listen To Your Own Voice couches its numbingly blatant message in a naggingly catchy melody and insistent poppish arrangement. And on the subject of arrangements, these have been masterminded by Hobotalk's Marc Pilley (who also plays guitars, drums and marimba), with further help from that band's keyboard wiz Ali Petrie, while respected fiddle player Mairi Campbell contributes meaningfully to just two of the songs, as does Emma Turley on cello.
Home is an exquisite disc, one whose songs really haunt you, grow into you almost subliminally and yet also have an immediate musical appeal.
David Kidman October 2010
---
Ninepenny Marl & Pennyroyal - Noel Nouvelet (Own Label)
The Warwickshire four-piece acappella harmony group Ninepenny Marl released their first CD (Simple Gifts) four years ago, since which time they've been in increasingly in demand at folk venues for their forthright performances of an imaginative selection of predominantly, but not exclusively traditional songs of all shapes and sizes (at any rate, songs which lend themselves to harmony treatment). And since which time too, their already impressive sense of ensemble has grown apace, particularly in that all-important live performance situation. Their debut CD was a deliberate attempt to recreate the group's live act in the studio, and it succeeded pretty well. Since recording that CD, Ninepenny Marl member Linda Dickson-Reutt has also convened (in company with fellow-singers Fiona Lindsay-Coulson and Sue Dixon), in parallel with that ensemble, a female acappella harmony trio named Pennyroyal.
So it's quite logical that for Ninepenny Marl's second CD, the two groups are heard more or less in alternation (although they occasionally combine forces). Actually, Noël Nouvelet isn't a full-scale release as such, but instead a (budget-priced) limited-edition memento disc to support the 2008 Christmas celebration activities (a live performance by the two groups on 11th December at Coventry's Nursery Tavern and their planned local tours to invited residences in Earlsdon and Radford Semele). However, such is its quality that it deserves to be more widely available, and as collections of seasonal material go it is certainly one of the most satisfying on the market and the performances are without exception suitably spirited. Several of the pieces chosen are not all that familiar (except perhaps to hardened carol specialists) - which in the field of seasonal music can only be a good thing I say!
There are some real discoveries here, including the intriguing Pennyroyal Carol (for which Linda herself has provided the melody), a rather beautiful Basque carol (The Angel Gabriel), and March Of The Kings, based on a 13th century Provençale carol and using a melody from Bizet's L'Arlésienne. (Three of the 17 pieces, including the latter-mentioned, had already been recorded by Ninepenny Marl on Simple Gifts, but these are fresh recordings made specially for this occasion.) I also particularly liked Pennyroyal's accomplished rendition of the demanding Lullay My Liking (Holst's setting of the 15th century carol) and the disc's two interestingly contrasted versions of The Cherry Tree Carol, the second of which is performed solo by Linda (accompanying herself on guitar) using Shirley Collins' wonderfully haunting melody. But it's not carols all the way: we're also treated to Des Patalong's idiomatic setting of Colin MacNaughton's merry romp Song Of The Pudding Hunters (on which he takes the lead), the rousing spiritual Rise Up Shepherd And Follow, and Graeme Miles' evocative and resonant Dark December.
Of the more familiar selections, well perhaps In Dulce Jubilo loses some of its impact through the harmonisation process, but generally it's hard to fault the groups' forthright and welcomingly uncloying interpretations. Sure, there are occasional rough edges (think Copper Family rather than Coope, Boyes & Simpson!), and one or two tempos may initially seem a tad deliberate, but these features prove no drawback in the context of the commitment of the music-making.
David Kidman December 2008
---
Ninepenny Marl - Simple Gifts (Folksound)
Ninepenny Marl is a Warwickshire four-piece acappella harmony group consisting of Barbara & Gareth Wyatt, Linda Dickson and Des Patalong, all well known in their own right on the Midlands folk scene but with a good collective reputation also for their spirited live performances of mainly traditional songs. This CD, their first, is a cordial response to repeated requests to commit part of their extensive repertoire to record – and given how extensive it is, this can only be a small selection, from which by and large they've chosen wisely. There's lusty chorus songs (Padstow Drinking Song, Carrion Crow, Dr. Mack and the infrequently-recorded Let Union Be In All Our Hearts), call-and-response songs and plenty of other songs that lend themselves to harmony ensemble treatment (Babylon Is Falling, Harvest Home, Deep Blue Sea) and arrangements of more thoughtful material (Johnny Coppin's Gurney setting Song Of Gloucestershire), sources for all of which are given due research for the booklet notes. Where strongly led, these are persuasive performances, yet perhaps just as often there's a distinct sense of slightly stilted, even sedate, efficient rather than sparkling (Let Union Be, for instance). You need to be aware that the CD was deliberately recorded in the studio as a live performance, warts and all, resisting any temptation to introduce any studio trickery. Unfortunately, that admirable mission statement has worked against them to an extent, for its rigid application seems (though I could be wrong here) to have prevented them from doing any retakes. "Rough edges", such as poor intonation or rhythmic lapses (or extraneous extra beats, as on March Of The Kings), erratic pacing, even over-enunciation (Bingo and Carrion Crow), which are allowable in a live set, will definitely grate on repeated listening. The other strange thing is that despite taking the decision to record "as live" in the studio, many of the tracks seem to lack the vital spark which characterises their live performances. And the "fun touches" the group brings to Gossip John just sound staged, rehearsed and artificial after first-hearing novelty has worn off (compare this rendition with the sturdy Noble & Cocking one on their Veteran release for an object-lesson in communicating spontaneity). And the group's sense of general good arrangement is compromised by incidences of one of the ladies singing persistently flat (as on Marching Through Georgia) and the at times curious sound balance that doesn't always bring out the ideal blend of their voices. In the end, the doughty ship has I feel been spoilt for the proverbial ha'porth of tar; this CD, for all its good intentions, doesn't do Ninepenny Marl full justice, and the group's many enthusiasts do, I believe, deserve a more durable memento than this.
David Kidman
---
Nitty Gritty Dirt Band - Speed Of Life (Sugar Hill)
  This influential combo from way back have not exactly been prolific in the recording studio, and Speed Of Life is their first offering in five years. But there's no denying the charms of their own laid-back brand of country-roots-rock, one which could be considered the heart and soul of the Americana genre, and the new set's opening track Tulsa Sounds Like Trouble To Me, provides a classic example: a drily humorous ditty punctuated with handsome, understated instrumental licks which eventually take over for the coda, one of those don't-you-wish-it'd-not-been-faded jobs. Even more satisfying, and as entirely typical of the band, is the next cut, Brand New Heartache, a wistfully good-time Jeff Hanna composition, which again features some very tasty playing.
The current lineup (Jeff Hanna, Bob Carpenter, Jimmie Fadden and John McEuen) is a consistent one, all four members being seasoned group members who exhibit an easy togetherness that would be the envy of any band in the genre; but it's easy listening without getting complacent (always a danger when the musical style is as close to the now-perceived mainstream as theirs is. Mostly it's new original material by band members, many of these very good indeed (Bob Carpenter's jangly Amazing Love and the Jimmie Fadden-Guy Clark joint composition Tryin' To Try among the most memorable); and Matraca Berg joins the band for backing vocal duties on the western-swinger Earthquake and her own Resurrection (co-penned with Alice Randall).
But the remaining covers are good too, especially the Canned Heat number Going Up The Country (which even gets a fresh lease of life courtesy of the NGDB , closer to a Mungo Jerry treatment perhaps, but good fun all the same) and the Gary Scruggs song that provides the CD's title number. John McEuen also delivers a brief but gently atmospheric banjo solo (Lost In The Pines) midway through the disc.
All in all, this is a successful next chapter in the band's distinguished 40-year career). Admittedly, in this fickle day and age, the NGDB's music might even be thought a touch too tame, but it rolls along amiably enough for most tastes and won't offend anyone's sensibilities. Whatever, though, I rather warmed to it all, and I liked the slightly ramshackle (but still tight) live-in-the-studio feel to the whole project. Surely it's impossible to find fault with anything you hear over this thoroughly companionable 45 minutes. The closing cajun-waltzer Good To Be Alive (another Matraca co-write, as it turns out) says it all really. Stay faithful, don't expect too much, and the NGDB won't let you down.
David Kidman March 2010
---
Nizlopi - Make It Happen (FDM)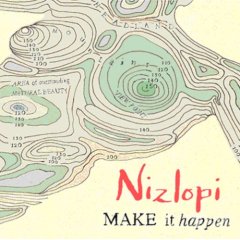 Having released the ExtraOrdinary mini-album a couple of years back, Luke Concannon and John Parker finally arrive with the full-length follow up to Half These Songs Are About You. Once again it's a folk-pop-hip hop-soul hybrid somewhere between Joni Mitchell, Van Morrison and The Streets, though, as on the opening to the gospel infused Start Beginning, a touch of Incredible String Band seems to have made its way into the mix too.
Although they remain less convincing on their white boy raps, the hip hop influenced material and Parker's human beatboxing are stronger this time around, notably so on the social protest driven I'm Alive.
Their political conscience is particularly active here with Feel Inside and, preceded by a Rant from poet Benjamin Zephaniah, the clattery England Uprise and the eco themed If You Care About It all protest driven. The latter's got a Marleyesque reggae rhythm to it and it's interesting to hear African influences also making themselves felt on Find Me and Flooded Quarry while My Last Night In Dakar contains both kora and Senegalese vocals.
When not addressing issues, the pair generally tend to be talking about matters of the heart, infusing Morrison soul into discovering or losing love numbers like Drop Your Guard, The One, Without You and the Celtic fiddled Part Of Me where they call on the likes of George Bush, Amy Winehouse, Tony Blair and Dr Dre to acknowledge their inner gay.
0They still tend to pitch the sound all at one note and the arrangements, with the double-bass, can be cluttered, but it's fair to say they've finally put the novelty tag of the JCB Song behind them to be recognised as the inventive folk-soul artists they are.
www.nizlopi.com
www.myspace.com/nizlopi
Mike Davies April 2008
---
Noah And The Whale - The First Days Of Spring (Young & Lost Club)
Anyone expecting a reprise of their Peaceful, The World Lays Me Down's debut collection of bouncy ukulele and fiddle friendly folk shanty pop are in for a bit of a surprise.

Since then, frontman Charlie Fink has clearly been feeding his misery on a diet of Bon Ivor, Lambchop and Iron & Wine albums. A muted bass drum beat opens the seven minute title track, strings and a forlorn guitar gradually layering in before, some 90 seconds later, the vocals kick in with Fink in hushed come down frame of mind.

The mood continues with Our Window as a piano picks out disconsolate notes amid the sparse arrangement, a simple strummed guitar behind Fink as he sings about it being a long time since he stared at the stars like a man who finds even breathing an exhausting effort. Born out of the crushing collapse of his relationship with former band member Laura Marling, things don't lighten up on either the Leone and Leonard shaded I Have Nothing ("I'd do anything to be at your side") or My Broken Heart ("I saw my world cave in). You can see him curled, foetus like in his bedsit, nursing his misery.

Then, sandwiched between two brief instrumentals, you get Love Of An Orchestra, a big joyous burst of choral joy and skittering rhythms in which music lifts him from the doldrums. Marginally more musically upbeat, the second half finds him trying to move on. The Stranger sees him talking about getting laid for the first time since the break-up but still comes stained with reflective regrets even as he acknowledged that "in a year, things are gonna be better." . So it is that while Blue Skies may be overcast by the opening line 'this is a song for anyone with a broken heart" (just in case you thought the album so far was full of romance's first bloom) it does signify a move towards closure ("this is the last song that I write while still in love with you ...because it's time to leave those feelings behind"). And, while it may be hard going to put things behind him, it does take a slightly more uptempo shimmering strings and tambourine shaking route through the ashes and splinters. Even the gospel choir sound like they're smiling.

Come the next track, the ruminative Slow Glass, he's almost giddy dancing around the drum pattern sibling of Joy Division's Atmosphere and quietly plangent acoustic guitars while the wounds are clearly starting to heal ("I loved you back then but I don't recognise you now"). And so the album closes with the pedal steel keening of My Door Is Always Open, delivering the "now I'm free from all your pain, for you have only let me down" kiss off, still willing to hold out an olive branch for friendship but, as it finally gathers into a brisk strum, reaching the cathartic epiphany that "my heart's not yours."

Lyrically it rarely spares the break up cliches, but it's so streaked in honest hurt and gorgeous melodies that you can't help but want to put an arm round its shoulder, take it out for a drink and introduce it to your sister's best friend.

Note: The Deluxe Edition comes with a 50 minute DVD film of the album written and directed by Fink plus live footage.

www.noahandthewhale.com
www.myspace.com/noahandthewhale

Mike Davies September 2009
---
Rab Noakes with Fraser Speirs - Lights Back On (Neon Records)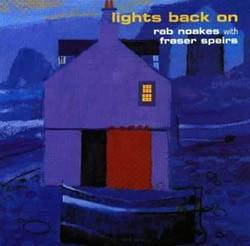 I'll tell you what, though - for an old folkie, Rab Noakes has a fine ear for a '60s r'n'b classic. Scattered among a collection of self-penned songs and covers are soul standards by the likes of Holland, Dozier and Holland; Leiber, Stoller and Spector; and Sam Cooke. And, despite their being stripped back to acoustic guitar and harmonica from their original lavish arrangements, such is the quality of the songs themselves, and the loving treatment bestowed upon them by Noakes and harp-meister Fraser Speirs, they work surprisingly well. It's fitting, however, that the album should lead in with a Noakes song.
Co-written with his wife, Stephanie Purdage, "Kill or Cure" really sets the tone for the whole album with some nimble guitar-playing from Noakes while Speirs' harmonica adds colour, interest and depth, sliding smoothly in and around the arrangement. Holland, Dozier and Holland's "A love like yours" is the first of the r'n'b standards. Probably best known through Dusty Springfield's cover of Martha Reeves and The Vandellas' original, this take is lifted by Speirs' harp which adds layers and melodies to the tune everybody knows. And his blowing lends "Devil's Haircut" a rich, thick darkness as it reverberates around Noakes' vocal while the guitar picks out Beck Hansen's insistent, riffy theme. Many's the song that's been written about one of the great folk-heroes of the Wild West, Billy the Kid. Rather than add to the number, Noakes and Spiers have raided Bob Dylan's song locker and turned in a pretty straight, but no less enjoyable for that, version of "Billy".
One of the highlights of the album is the pair's reading of Jerry Leiber, Mike Stoller and Phil Spector's "Spanish Harlem". It's a complete revelation, forcing the listener to re-evaluate the oh-so familiar song as Noakes' acoustic guitar reveals parts of the melody previously concealed. It's the same tune, obviously, but refreshingly different.
Rufus Thomas' "Walking The Dog" and Sam Cooke's "Bring It On Home" also benefit from a Noakes/Speirs makeover, accentuating the earthy, bluesy feel of each, and, if you can't imagine these old favourites working with acoustic guitar and harmonica arrangements, well, neither could I. But I'm a happy convert.
Standing up tall among these well-known songs are a clutch of Noakes' own, notably "All Gone Wrong", possessed of a memorable and eminently hummable hook, and the jaunty, upbeat "Fallen Ones". In the sleeve-note, Noakes observes: "I love the sound of good guitars and, as a songwriter, I like to try writing on a variety of instruments." With "Lights Back On", and no small help from Fraser Speirs, he's succeeded, in spades.
This is an album which will stand repeated plays - and it'll get 'em in the Hall household.
Fred Hall
Rab Noakes with Fraser Spiers - Lights Back On (Neon)
Rab has been around, writing and performing, since the '70's, but this is only his 10th album, and the first to be released on his own 'Neon' label. On it he is joined by harmonica player Fraser Spiers, adding a distinctive rootsy/blues tinge to the collection, which will be recognised and appreciated by fans of the music of Lindisfarne and Rod Clements. The tracks were recorded 'as live' over just one weekend, but fine tuned later, but this does not distract from an essentially 'as is' sounding recording - wherein lies much of it's appeal.
Most of the album is made up of Rab's self - penned songs, the highlights being 'All Gone Wrong', 'Clear Day' and 'Round and Bound'. 'Turn a Deaf Ear' (a Lindisfarne favourite) also puts in an appearance, but for me this doesn't work as well as the other songs - probably because I love the Geordie band's version so much!
Of the cover versions the stand out tracks are 'Devil's Haircut' - the Beck Hansen song, a beautiful version of 'Spanish Harlem', splendid slowed down and stripped bare takes on 'Walking the Dog' and 'Bring it on Home', but for sheer quality and emotional depth it is 'Lights', a song by Victoria Williams, that makes this album a winner.
Jon Hall
---
Danbert Nobacon - The Library Book Of The World (Bloodshot Records)
Back in the early 80s, Danbert was a founding member of everyone's favourite anarchist collective Chumbawamba, providing suitably charged vocals for Chumba's musical manifestos during the band's rock/pop-oriented fifteen years when they were right at the forefront of multinational activism (not to mention the infamous "Prescott Incident" in which Danbert played a key part!). Although that particular incarnation of Chumba is currently "resting" and Acoustic Chumba going from strength to strength, Danbert himself has been busy writing a history and current affairs book (Smart Lies, Secret Wars And Rock'n'Roll) in tandem with recording The Library Book Of The World, his first solo project in over 20 years (and even so, it's only solo in planning, for its execution involves Mekon Jon Langford and those good outlaw-country folks The Pine Valley Cosmonauts). It's a strong collection of Danbert's own compositions, which range all over the shop and in the end come across a bit like a music-hall bill, a veritable patchwork of riot-folk styles where Danbert's (latterly much-improved) voice is distinctively growly, rasping, torchy, alt-country, skewed-punk - whatever, according to the demands of the lyric. There's way too much to take in on first hearing really, but suffice it for me to say that it's all hugely entertaining and every track has some memorable element to commend it, whether it be the lyric or the arrangement or both. In channelling the revolutionary fire of a proud lineage of conscientious agitators, Danbert has described his own role here as less a songwriter than that of a "psychic medium plugged into the mainline of human history, hearing voices from present ghouls and future ghosts as well". But his craftsmanship has developed apace from the previous sloganeering invective: now Danbert uses clever and distinctly juicy wordplay to put across his caustic observations on western society and its rampantly illogical politics, and his wickedly prescient sense of humour ranges right down from the song titles to the often cheeky musical settings. Wasps In November is a Handsome Family-style commentary (but taken at twice the pace), Red Mist subverts the conventions of the spaghetti western, and as for Nixon Is My Dentist - well you know the drill! Straight Talk (Meet Frank) intermingles Yorkshire and Americana (all roads lead to Leeds!), Three Barrels Full is a throaty, jaunty parade of the world's woes, and the rousing closer Information Storm is a raucous pirate's-chorus singalong (Lazy Sunday on the high seas, anyone?). Danbert's library book is one that positively encourages theft, for it's one of those you'll want to steal from the library and neglect to return; it's so chock full of ideas, you'll want it for instant access - so don't just borrow it, buy it instead.
www.danbertnobacon.com
www.myspace.com/danbertnobacon
David Kidman March 2008
---
Will Noble & John Cocking - Yon Green Banks (Veteran)
Holme Valley dwellers Will and John have been singing together for 21 years, yet to find a recording of their art is not easy (only the long-deleted 1975 Leader LP Fine Hunting Day, so far as I know), so this CD of brand-new recordings of key songs from their repertoire is doubly welcome. It presents Will and John recorded live last November in Holmfirth and this past April in Dutton Hill, Essex, complete with reasonably enthusiastic audience participation (perhaps to convey their true effect on an audience they should instead have been recorded at Sheffield's Raise The Roof last July – but then I'm biased!). The songs chosen mostly (though not exclusively) have their origins in the Holme Valley or a nearby locality, with both traditional and "stated-composed" (eg. Merry Mountain Child, Friezland Ale). Although many of the songs come from the repertoire of the Holme Valley Beagles, only two (Old Snowball and The Echoing Horn) are true hunting songs. And as Will acknowledges in the booklet notes, a number of the songs were learnt form the singing of either Arthur Howard or Holme's Frank Hinchliffe (who's not to be confused with Lodge Moor's Frank H, who gave Will and John the version of Lancashire's A Man Like Thee which is heard here). Although quite a number of the songs on this CD will be familiar to Northern club-goers, several of these (like Young Banker) haven't been recorded all that often – so this new CD proves that yes, they do have life outside the Watersons!. Though indisputably still products of the folk process, Will and John's renditions can almost certainly be regarded as definitive source versions, inasmuch as any can. In addition to the 15 songs here, John performs a typical North Country monologue, Renshaw's Mule (complementing the selection on his well-received Veteran CD Uppards!). This is a most enjoyable CD, which conveys directly and straightforwardly the intrinsic spirit and gusto of these two fine singers, their rich, resonant tones, their lively sense of humour and their special gift of really communicating with an audience (with which not all "traditional" singers are blessed, let's be honest). I was most surprised to note that the celebrated Holmfirth Anthem was not included (especially since it gives the CD its title!), but that omission still doesn't detract from the desirability of this excellent release; song texts are available on the Veteran website, by the way.
David Kidman
---
No Blues - Ya Dunya (Rounder)
The success of the original Farewell Shalabiye project, which tentatively but fruitfully explored the connections to be found at the "crossroads where folk-blues and traditional Arabic music meet", has now rapidly spawned a sequel album, Ya Dunya, on which the three protagonists (Dutch guitarist Ad Van Meurs and vocalist/bass player Anne-Maarten Van Heuvelen, and Jerusalem-born vocalist/oud player Haytham Safia) press their musical ideas just a stage further. At least, that's the case on some of the eleven tracks: Rageen Rambling melds Arabic song with the blues standard Ramblin' On My Mind, the two-part Kim's Dream is a rippling instrumental that enchantingly blends oud traceries with newgrass dobro, and the title track and Black Cadillac both bring a kind of seductive Latin rhythm to the mix, aided by the weaving violin lines and guest vocal of Tracy Bonham (this is one of three cuts on which she appears). I also liked the catchy Arab-bluegrass of Hardened World, one of Ad's compositions, simple and affecting in the best tradition. The neat quotient of attractive, idiomatic instrumentals punctuate the songs, and don't get the chance to overstay their welcome. All well and good, in fact. But generally, my comments on Shalabiye still hold true for Ya Dunya, I'm afraid: ie., while No Blues may be laying claim to establishing the cross-breed they call Arabicana, and they are certainly expert exponents of a sub-genre which has no current champions, I feel they're not quite pushing the envelope yet - especially as this CD only just trumps the 35 minutes of Shalabiye by clocking in at a paltry 37 minutes. What we have here is great, but I feel sure they could stretch out more (perhaps try some extended improvised interplay on authentic taqsim workouts?) - I reckon listeners are ready for it!
www.watchman.nl
www.haythamsafia.com
www.roundereurope.com
David Kidman June 2007
---
No Blues - Farewell Shalabiye (Rounder)
Farewell Shalabiye is on the face of it an ambitious little project, the product of a three-day session which set out to explore the connections between the musics of folk-blues and traditional Arabic music. No Blues is the collective name for the three principal musicians involved - two Dutchmen (guitarist Ad Van Meurs and vocalist/bass player Anne-Maarten Van Heuvelen) and Jerusalem-born vocalist/oud player Haytham Safia - who are augmented by further percussion and vocals (Ankie Keultjes) from time to time. In spite of the potentially unfortunate band name, the basic premise of No Blues is certainly interesting; here it gives rise to a decently listenable album comprising mostly songs with a couple of instrumental pieces thrown in. The musicians create a believable enough "Arabicana" vibe, which is tasty, well conceived and executed and ranges through the country-folk of Columbus Stockade and the blues of Nobody's Fault But Mine to the determinedly funky groove of The Regular, stepping carefully on Wayfaring Stranger along the way. Although most of the tracks work pretty well, in the final analysis there's not a substantial lasting impression that we're listening to anything especially groundbreaking here (after all, you could justifiably say that David Lindley and his band Kaleidoscope had already mined the east-west folk-country-blues-Arabic seam thirty-odd years back, not to mention the pioneering guitar magic of Davy Graham even earlier that brought the music of the middle east to many English ears for the first time). No Blues are worth hearing, and their music is very well recorded, but the disappointing brevity of the whole album (35 minutes, if you exclude the "duplicate"/single version of the title track) just seems to signal (though I'm sure unintentionally) a puzzling shortage of material.
www.roundereurope.com
www.watchman.nl
www.haythamsafia.com
David Kidman
---
No Gray Faith: Secrets All Told... The Songs of Sandy Denny - Perfect Pitch PP007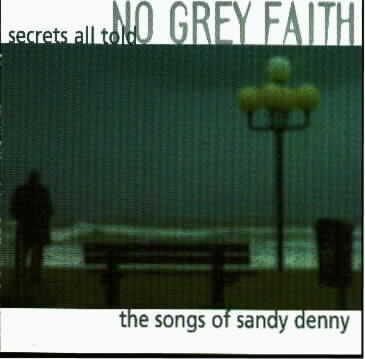 No Gray Faith are Iain Matthews (vocals, guitar), Lindsay Gilmour (vocals, pennywhistle), Jim Fogarty (guitars, mandolin, dobro, accordion, ambient loops), Walt Rich (basses); with drums, backing vocals and fiddle by various guests.
Intro: Who Knows Where The Time Goes The first bit is sung by LG, with ambient loops. Very nice version.
Rising For The Moon Very different version - 'West Coast, singer/songwriter' treatment. Works a treat.
One Way Donkey Ride Fretless bass, acoustic guitar. LG singing lead. Nice fiddle solo.
Bushes And Briars Iain lead vocal. Again very laid back, features the Dobro.
By The Time It Gets Dark Again the country/rock treatment. Vocal by LG. Very cool.
It'll Take A Long Time Whistle intro with guiter. Iain sings. Very clear and concise. Mandolin features. Nice drum sound.
Winter Winds LG vocal again. Sparse treatment - mando and guitar, very nice, with fretless bass.
Interlude Sounds like a trad. air, played on acoustic guitar.
Listen, Listen Interesting version - like 'country/swing'. LG vocal. Bops along a treat, with fiddle/mando break.
Solo Vocal by Iain. Again the west coast sound - guitar and tomtoms, mando in background. Sung with feeling - I love this version, very different from any other.
I'm A Dreamer Nice guitar intro, leading into LG vocal. Harmonies on the refrain. Electric guitar and slide in background. Very laid-back, but the emotion is there.
Autopsy Vocal by Iain. 'Cool' spring to mind again. Churning bass lines. Dark and deep. Iain's best vocal on the CD. Good acoustic guitar solos.
Reprise More ambient loops, and fretless bass.
The Music Weaver Vocal by LG - solo. Slightly bluesy. Again works a treat.
So there you are. It's only 41 minutes long, but I highly recommend this excellent collection.
Jon Hall
---
Stina Nordenstam - The World Is Saved (V2)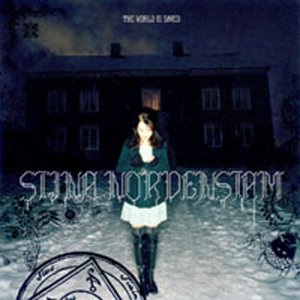 Shock news, the Swedish songstress has had the ice in her musical blood warmed up. Not that she's exactly gone hot Latin you understand, but there's a discernible heat in there amid the underplayed trip hopish sparse jazz lounge stories of disintegrating relationships and the everyday battle with life. Butterfly is pretty much rock n roll on her terms with its skittering percussion while From Cayman Islands With Love relatively explodes into a sort of glacial John Barry arrangement of brass, but otherwise it's the usual flickering ambient minimalism, strings plucked on The World Is Saved, guitar nerves frayed with Winter Killing, violins pulsing with mournful intimacy on I'm Staring Out The World. Vibraphones and woodwinds serenade early morning puddles, rainwater gorged with tears.
But while Homelessness occupies the bleak, saxophone splashed, piano hesitant Parliament Square, generally speaking, with the likes of Get On With Your Life (overcoming addiction) and even The End of a Love Affair, the album suggests a more 'upbeat' sense of being on the move rather than in frozen stasis, of being willing to engage with the world and reality. Unlike say Bjork, she's grown less experimental and, while hardly Girls Underground, this is unquestionably the most accessible album she's ever made. Well, at least as accessible as fragile glassy tundras of melancholy can sound.
Mike Davies
---
Stina Nordestan - This Is (Independiente)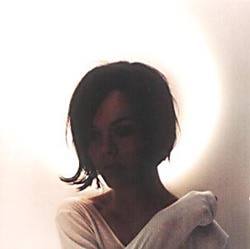 Stockholm's brittle ice queen of strung out fragility and frayed nerves is back, and while she's not exactly set the thermostat to boil there's a definite defrosting in evidence. Indeed, Circus positively basks in a heat haze as her breathy, somnambulant vocals float over a bubbling mud pool of rhythms and shimmering percussive breezes. There's even beats pulsing through the album, a major progress from previous work where even a pulse sounded clamorously intrusive amid the frozen quiet.
Everyone Else in The World opens on an indolent melodic wash over which Stina glides like a love bruised swan before Trainsurfing (one of two tracks featuring Suede's Brett Anderson) gets positively animated in its metronomic techno strides, a walking bass laying down thrums in the underlay. So Lee is a torch song lit by a cold flame, percussion clanging like jangled nerves while Stina is paradoxically laid back about the fact that "this is the song in which he leaves me." In comparative terms The Diver is practically hardcore in its opening burst of noise giving way to the treated vocals, an opium fog of damaged sexuality while elsewhere Lori Glory puts a buzzing synth pattern to bubblegum pop service. Leaving, letting go and hanging outside of a gaze form the album's staple themes and while it all gets a bit precious over even a compact 39 minutes of 11 tracks, it's nevertheless hard to resist the beguiling come down beauty of its narcotic romantic melancholia.
Mike Davies
---
Matt Norman - Eight Days Late (Wren)
Issued by the admirable Wren Music, Devon's folk and community arts development trust, this is both an artistic and highly artful release; most of its tracks are likely to appeal to many listeners though possibly in different measures or combinations according to personal taste. The disc's rather plain subtitle "English Music For Mandolin" actually hides a feast of inventive and sparkling (and tender) mando-work, the emphasis being on lyricism and melodic listenability, not scrambly note-spinning. Matt's own mandolin is augmented by Paul Wilson's guitar or mandola, filling out what could otherwise be a thin sound – except that on this excellent recording even when only a solo mandolin is playing the sound is commendably rich-toned. Although this is Matt's album by name, Paul's considerable contribution to the success of this venture should not be underestimated. The whole production is relaxed and enjoyable while full of gently challenging drama; a leisurely, welcomingly unhurried delivery for the chosen tunes turns out to be very much the norm here. The sequence ranges wide, in keeping with Matt's acknowledged influences; the opening cut is typical, with a quickstep followed by one of Matt's own tunes which derives from a "heavy" Hendrix riff! Elsewhere we get a brace of delicious hornpipes (track 4), the stately, if slightly precious pre-classicism of Harlequin Air, a neat pair of jigs (track 6) taken at a savour-friendly, leisurely, syncopated gait, and an ingenious part-bluegrassy exploration of the Bledington morris tune Young Collins. Elsewhere there's a pair of (to my mind less successful) arrangements of actual songs (One Night As I Lay On My Bed, Barbara Allen), although Matt's decidedly strange pastiche song-melody (She Wore A Bonnet) is all the more intriguing due to its irregular metre. The second set of hornpipes (track 7) doesn't seem to want to get going past its improvisatory prelude section (though when it does it's just fine!); whereas the other track sharing the quasi-Bach-Partita approach (The Green Hills Of Tyrol) manages to efface memories of that old "Scottish Soldier" pipe tune by transposing it into the minor mode and cascading its ideas almost at random. I also liked the way Matt has "messed around with" Drowsy Maggie "so that it harmonises with" The Dorset Hornpipe (!), and the fun extends through to the final track and its box-file stepdance percussion! This release is blessed with an excellent recording too, and it has given me much pleasure.
www.mattnorman.org
www.wrenmusic.co.uk
David Kidman
---
Ian North - Theory Of Your Life (EarRational Music)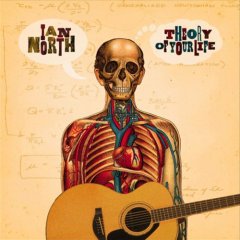 In these cynical, market-driven days it's a rare pleasure to discover a writer as skilled and deft as Ian North, it's even rarer to meet one who displays such an obvious pleasure in his craft.
Canadian- born North has conjured up 11 jewels on Theory Of Your Life, jewels that are all the more beautiful because of their simplicity. Set alongside some of the sickly-sweet warblings of today's singer songwriter's, North is not only the master of restraint, he is the epitome of less is more.
He is as restrained with the performance of his songs as he was with the writing of them. He has no need of over-production or musical support, although Jennifer Claveau who provides harmony vocals on Skates, Mighty Fall and Prediction Is Easy, is a real find, she matches North's easy intensity step for step.
And while gently rolling ballads like Skates are utterly captivating, there is an inescapably haunting confessional air to Thin Line and Leaving Buffalo that makes them much deeper than at first seems.
But the roots of Theory Of Your Life lie in the intelligence of the writing. Ian North is neither condescending nor patronising, his songs are mature and adult, beautifully constructed and wonderfully atmospheric short stories, complete in themselves. The Ballad Of Stephen Reid being just one example of narrative at its very best.
The scattergun lyrics of Mighty Fall are balanced by the warm bluesy rhythms of the title track but all the songs demand the listener's full attention and repay that attention ten-fold.
Theory Of Your Life is a comforting reassuarance that the true songwriter still flourishes.
Michael Mee, August 2006
---
North Cregg - The Roseland Barndance (Greentrax)
This Cork outfit's third album Summer At My Feet literally knocked me off those feet back in 2003, and album number four has been eagerly awaited. However, there have been some significant changes in lineup over the past three years, whereby the complement has been whittled down to a basic five-piece. Paul Meehan, Caoimhín Vallely and singer Fiona Kelleher have all departed the fold, the latter having been replaced by singer Claire Anne Lynch (who also plays fiddle), while Martin Leahy adds guitar and mandolin to his proven drumming skills and new recruit Liam Flanagan plays both fiddle and banjo. Multitasking notwithstanding, there's now a rather greater focus on elements within the texture such as Ciaran Coughlan's piano and Christy Leahy's accordion. No worries though, for the newly stripped-down band sound is still fleet-footed, richly defined and satisfyingly detailed, as can be heard straightaway on the opening set of Sliabh Luachra polkas and later on the track 4 set of jigs and the track 9 set of slides in particular. The jaunty exhilaration of the band's music-making is further exemplified by the final set Crehan's Reels and the earlier piano-led Earl Mitten's set, which steers a swinging barndance into a frenetic breakdown (courtesy of guest musicians Dirk Powell on banjo, Chris McCarthy on double-bass and Seamus Burns on spoons!). As far as songs go, the pick of the bunch of four this time is Claire-Anne's exceptional take on Anne Briggs' Go Your Way, although I also really liked her strong-yet-delicate phrasing on An Raibh Tú Ag An gCarraig and her broody, sultry Dark-Eyed Sailor. In total, well maybe The Roseland Barndance may not possess quite the immediate and constant wow factor of its predecessor on initial acquaintance, but it's still a mighty fine record taken on its own terms.
www.northcregg.com
www.greentrax.com
David Kidman October 2007
---
North Cregg - Summer At My Feet (Greentrax)
And now for something a little different - an album of Irish traditional music on a premier Scottish label! This is actually the third album from this exhilarating Cork band, but I'll be tracking down the previous two pronto if they're anything like as good as this. North Cregg began life in 1996, when session regulars guitarist John Neville and accordionist Christy Leahy joined with Armagh fiddler Caoimhín Vallely and pianist Ciarán Coughlan. Christy's brother Martin was later recruited for drumkit duties, and with the further aid of Armagh banjo player Paul Meehan they released two albums over the next four years before, in 2001, other commitments forced John to leave the group. New vocalist Fiona Kelleher joined the lineup shortly after, and her impeccable singing has since become a North Cregg trademark to supplement the typically light-footed, happy tune-sets for which the band were already highly renowned. Apparently, this latest North Cregg lineup impressed Greentrax label boss Ian Green so much when performing at a festival, that he signed them up fast, and Summer At My Feet is the resulting studio album. And it really is a triumph. The instrumental balance typically makes great play of the accordion/fiddle front line, but Paul's forceful banjo, guitar and occasional mandolin are also used to great effect while the piano tinkles and vamps away (and more!) having a grand time and Martin's drumkit gives the proceedings just the right degree of ceilidh-style bounce. The tremendous vitality even allows for a generous helping of the spirit of ragtime too (on Fred Finn's Polka). The CD also includes no less than five songs to showcase Fiona's glorious voice; straightaway her singing distinctly reminded me of Dervish's Cathy Jordan, both in tone and phrasing and in the shining, clear, bell-like quality of her delivery. Fiona is a very classy interpreter too, here on songs ranging from There Was A Maid In Her Father's Garden (a highlight in anyone's book, I reckon) and The Recruited Collier to Ger Wolfe's gorgeous Swallow Song and the unaccompanied traditional children's song Deodindí. This is a supremely entertaining CD, fair guaranteed to perk you up on a dark autumn day; now I absolutely must catch North Cregg in action!
www.northcregg.com
www.greentrax.com
David Kidman
---
North Mississippi All Stars - Electric Blue Watermelon (ATO Records)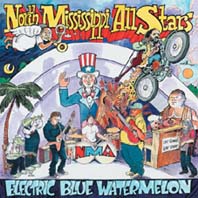 Many bands generate a sense of excitement and anticipation early on in a new release, however very, very few manage to sustain that electricity over the course of a whole album. One that does is the North Mississippi All Stars with the psychedelically titled Electric Blue Watermelon.
Although Mississippi Boll Weevil and, to a degree, No Mo are reminiscent of the kind of modern makeover of the blues advanced by the likes R L Burnside, the All Stars go a step further, No Mo is given a taste of harshness of urban life and comes back a hard edged social commentary.
However, it's not just the Boll Weevil of the opening song that 'Ain't got no natural home Lordy' the All Stars and Electric Blue Melon are musical nomads.
The band, whose name makes it sound like a travelling troupe of basketball stars, moves easily between blues, funk and the kind of earthy rock 'n' roll that for those of a certain vintage should be cherished and nurtured, Teasin Brown sees the band don the clothes of the early 70s and find them a comfortable fit.
The aforementioned Teasin' Brown, for one, begins with the kind of riff that will send 50-somethings (or those younger with exquisite taste) brought up on Free and Bad Company dewy-eyed and reaching for that Isle of Wight ticket stub.
If your only exposure to guitar-rock comes courtesy of the permed and perma-tanned or perennially sullen Beatles worshippers, then you're in for a real treat, Moonshine and Hurry Up Sunrise, the latetr replete with a superb cameo from Lucinda Williams, show that rock n roll and subtlety are not mutually exclusive and that music can still put a smile on your face.
For all its wonderful meanderings, there is something reassuring about Electric Blue Watermelon. It's not a reassurance that's borne out of safety. The All Stars are well capable of recording an album of bog standard rock and doing very well out of it. Instead the reassurance you get from the North Mississippi All Stars comes from knowing that there are still bands out there making music and enjoying the experience.
Michael Mee
---
North Mississippi Allstars - Shake Hands With Shorty (Blanco Y Negro)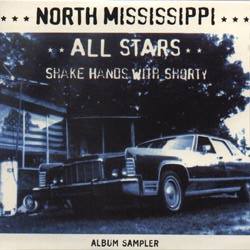 It's time to get back your southern roots (and your early vinyl). Moby's sampling it, Tarbox Ramblers are strutting it and the North Mississippi All Stars are blasting it through Europe to promote their album "Shake Hands With Shorty".
Can it be true that guitar bands are being signed by a Major (NMAS are under exclusive licence to Warner)? Naming it World Boogie ain't gonna fool anyone. This is hot, sweaty, southern blues/rock with jams to equal the length of Grateful Dead's. This is Shake Em On Down, Roll and Tumble, Crossroads-style blues riffs with gutsy stick-heavy drumming and glorious fat, funky bass lines. This is nerve-shattering slide axemanship, Duane Allman and Howlin' Wolf on speed, and it's awesome. It's also honest fare, played by guys with the blues in their bones and faithful to their North Mississippi roots.
NMAS are two slight figures; white brothers Luther (guitars) and Cody (drums) Dickinson, both in their early 20s and sons of legendary producer Jim Dickinson. On bass is black giant Chris Chew who plays cuddling it lovingly to his upper chest. The sound of this threesome is huge; traditional standards of the old bluesmen powerfully reworked and given a groove, a boogie beat, even a funky rap on one occasion. Their encore, a lengthy jamming blues medley which included old favourites Worried Life Blues and Dust My Broom and several wondrous guitar solos, ended with a surprising '21st century' washboard demonstration (you wouldn't have thought that old thing had it in it!).
Sue Cavendish
---
Norton Money - Double EP (Wohone)
Comprising a pair of ex pat San Franciscans on guitars and vocals, a Swedish bassist cum banjo player and a British drummer, the London based four piece wear their Gram, Ryan and Neil influences on their sleeve. Fortunately, they also cut the cloth to their own design, delivering an appealing dance friendly mix of country and nu-bluegrass that sparkles with west coast harmonies and tasty licks.
The follow up to their eponymous debut, half of the album was recorded live in one day at the (empty) Union Chapel and half in singer Dan Beaulaurier's flat above the Boston Arms pub. The idea was to use the two sessions to offer different feel and sentiments, the first capturing the venue's spacious atmosphere and the second, a more intimate, drumless and - given most of the songs had never been played live and some were written just prior to be laid down - explorative.
I'm not sure that comes across, although the latter numbers do sometimes sound like the band's feeling their way round somewhat half-formed material as they play, but both sets should help bolster their growing reputation. Highlights to these ears would have to include the twangy chug of 40 Days, honky tonk waltzing Just The Same, the Long Ryders-like Queen of Tunitas from the Union Chapel and the boozy sway of My Dream Home & My Dream Girl, and the trad sounding darkling folk Four Leaf Clover from the Boston EP. You get the sense they're probably a hot live proposition, but they need a little more studio polish and a firmer handed producer to really bring out their best on disc.
www.nortonmoney.com
www.myspace.com/nortonmoney
Mike Davies September 2009
---
Ruth Notman - The Life Of Lilly (Mrs. Casey Music)
Ruth's impressive and enduring debut Threads received numerous (justified) plaudits on its appearance in 2007, and its sequel is destined (I might almost say engineered) to follow a comparable, if not identical critical path. It undoubtedly has the air of picking up the threads from that debut, with a balance similarly weighted (just) in favour of traditional material but leavened with three self-penned songs and three covers.
Again it proves nigh impossible to resist the charms of Ruth's singing, which in less than two years has grown in assurance from its even then significantly mature beginnings while also largely losing or sublimating its previous (and slightly distracting) quavery mannerism. Ruth's bright, alert vocal performance is indicative of her genuine response to the material, whether enjoying the simple beauty of Lark In The Clear Air, cheekily recounting the tale of The Squire Of Tamworth, or discovering afresh the internal drama of Waters Of Tyne. Here, as on an epic theatrical treatment of The Cruel Sister (another strongly individual take), Ruth is blessed with a superbly managed instrumental backdrop characterised by the sweeping gestures of Hannah Edmonds' cello and Peter Tickell's fiddle underpinned by her own inspired piano playing. On several other songs, the musical argument is driven along compellingly by a melodeon (Saul Rose or Julian Sutton), with further key instrumental embellishments courtesy of Ich Mowatt, Brian Finnegan and Darren Fretwell.
Ruth's original compositions are both distinguished and varied, the touching biographical allegory of the disc's title track contrasting with the inspirational Holding On and the strangely ambiguous chirpiness of Here's To Belief (whose crisp pop-folk setting otherwise heralds a ready-made single). Ruth arguably saves the best till last: a heartfelt acappella rendition of Hold Back The Tide, harmonically enriched by the voices of Bella Hardy and Joe Heap.
For the most part, Ruth succeeds brilliantly in conveying the measure of her material, even if a jaunty remake of the Fairport hit Si Tu Dois Partir feels like too calculated a ploy for radio exposure and the overly-twittery rustic-Lark Rise idyll of Hedger And Ditcher is a fairly inauspicious start to the disc. As an entity, though, The Life Of Lilly is overall a more than credible second outing, providing further evidence of Ruth's stature, her exciting personality and presence.
David Kidman January 2010
---
Ruth Notman - Threads (Mrs Casey Music)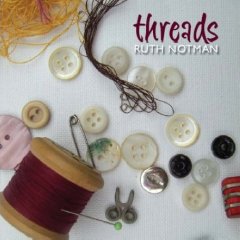 How kindly disposed you'll be towards any performer whose debut CD arrives on the mat with prominent endorsements from John Tams and Kate Rusby, will depend to some extent on how far you'd personally trust their judgement, I suspect (rather than on your like or dislike of their own music as such). But there's no denying that this 18-year-old singer and songwriter from Nottingham is a startling new talent, whatever you might think of the nature of her singing voice or her songwriting. Last year Ruth reached the finals of the BBC Radio 2 Young Folk Award, since which time she's toured the UK extensively, the folk festivals especially. Ruth's a performer who definitely makes you sit up and take notice, for she has a striking (powerfully confident) voice, commanding in its own way; note however that one or two aspects of her delivery (for instance, a kind of persistent quavery catch) may appear stylised to a fault, even mannered, and perhaps a mite irritating to some on repeated exposure. I think I needed to broach that potential listener objection at the outset, for having got it out of the way now I can honestly say that I really enjoyed this CD, both on first play and on subsequent outings. Ruth's approach to her chosen material - a mixture of traditional songs and her own compositions - is admirably individual, with an unquestionable ability to extract the emotion from a song (or, when composing her own songs, weaving the threads of their stories into her own words - hence the disc's title). She accompanies herself primarily on guitar and piano, occasionally moving over to the harp, and her playing is delicate and thoughtful but with no loss of presence. Throughout this CD, though, she also makes good use of a small complement of extra musicians - principally, Saul Rose's driving melodeon is a key element of the backing on several tracks, as are the sweeping gestures of Hannah Edmonds (cello) and Roger Wilson (fiddle), while Bella Hardy contributes some strong harmony vocals and Ich Mowatt and Joe Heap bring useful rhythmic impetus and more besides on occasion. Ruth's own arrangements of traditional material are refreshing and airy, daring to be different and in the end quite challenging (while, on comparable material, admittedly not attaining either the intense atmospherics of the Unthanks and their Winterset, who often employ a similar instrumental palette of piano, violin and cello, or the intentional radicalism of Lisa Knapp). There's an enchanting fleet-footedness to the gaily-tripping Heather Down The Moor, contrasting well with the resigned yet determined air of Fause Fause; Limbo receives an unusual but effective treatment, while - probably most successful of all - a brooding inevitability offsets the disturbing quality of Dark-Eyed Sailor; although I think Still I Love Him inhabits too much the faux-jollity mode. Ruth has a habit of bringing in some curious personal quirks of phrasing and pace from time to time (like the "interrupted-flow" device on sections of Dougie Maclean's Caledonia for instance, which takes some getting used to).Finally, Ruth's own songs (of which there are four here): these are pleasantly passionate pieces in the contemporary-folk idiom, not dissimilar to those of Ms Rusby but without the equivalent neo-trad intent; but it could be the increasing number of own-compositions placed towards the end of the disc that gives it the impression of tailing off a bit after halfway (it could also be that nobody will ever be able to put across the sublime ache of Farewell, Farewell like Sandy Denny!) - and even the bonus track is self-penned. But all in all, Ruth's a performer who's very much worth your time, and clearly is destined for greater things before too long, I'm convinced.
www.ruth-notman.com
www.myspace.com/ruthnotman1
www.mrscasey.co.uk
David Kidman December 2007
---
Notts Alliance - Faithfull Heart (RMB/Vienna Records)
Since Notts Alliance last produced a CD (2003's Nothing Spoken), the untimely death of key member Sid Long has necessarily reduced the lineup to a three-piece. All credit to the trio (Stephen Bailey, Chris Orme and Phil Hardcastle) for continuing to perform, and for steadfastly adhering to their artistic principles while so doing. First and foremost, they still only sing songs which they like (a wholly admirable policy, which more performers ought to adopt IMHO!), with the result that the selection of material is genuinely open-minded and refreshingly eclectic. Well, perhaps not quite as much so this time round, although the trio can still move convincingly between traditional song, Brecht, Kipling/Bellamy, Michael Marra and Sydney Carter. There's more traditional material on this disc than on its predecessor - just over half, to my reckoning - against which one or two of the contemporary choices can seem a mite uninvolved, even stilted (I'm thinking especially of the two Richard Thompson songs, Wall Of Death and Al Bowlly's In Heaven: both great songs, but neither of them entirely convince in an acappella setting to my mind. Additionally, these tracks, along with a few others, seem to have been recorded a touch more distantly and with less bloom on the voices.) The Notts Alliance sound still has a lot to offer however, provided you accept the inevitable limitations of an all-male ensemble which, notwithstanding the fine quality of the individual voices and their command of register and line, can initially give an impression of a certain flatness, a quality which can be accentuated by the ensemble's commendable evenness of tone and attack. It's when Notts Alliance are at their most harmonically beguiling (as on Port Mahon, The Brown And Yellow Ale and Fare Thee Well My Dearest Dear), and on the solo performances - Virginia Lags (Stephen), Tom Paget (Chris) and Hostess's Daughter (Phil) - that the highest degree of listener satisfaction is obtained. Having said that, the CD as a whole repays careful listening, for the vocal arrangements are not merely efficient and well-coordinated but also often surprisingly idiosyncratic, enough so to hold interest and jolt the listener out of his/her preconceived notions about which harmonies should work (or not!). Heard live, Notts Alliance harmonies can sometimes be quite spinechilling, but this quality doesn't necessarily wholly translate to the medium of CD; that's an observation rather than a criticism, I hasten to add... I do have one minus point to make however, which concerns the presentation: the actual tracklist is confusingly laid out on both box and booklet, so that the order/numerical sequence of songs is not readily discernible at a glance.
David Kidman October 2008
---
Nervous Norvus - Stone Age Woo (Norton Records)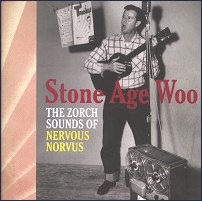 Another first for Norton on CD, this 33-track offering of previously private-pressed, demos and un-issued songs gives us an insight into the mind of Jimmy Drake a.k.a. Nervous Norvus. I was not aware of him before receiving this CD to review but I'm sure that there are some of you out there that are familiar with his work. Where to start? Transfusion is the opening track and, believe it or not, was a million-seller released in 1956 by Dot. This warning tale for speedsters sets the scene for the rest of the album and if you want to choose a genre then you can pick from country/hillbilly/psychedelic, it doesn't really matter. He delivers the song, which could be thought of in bad taste, in a deadpan, spoken way and in conjunction with DJ Red Blanchard developed the jive patois of Zorch.
When you see titles such as The Fang, Does A Chinese Chicken Have A Pigtail? and The Lean Green Vegetable Machine (From 'Tuther Side Of The Moon) then you must wonder what you have gotten yourself into. This is the world of Nervous Norvus. He was barking mad and Wild Dogs Of Kentucky is an example of why. Ape Call was the follow up to his debut and is a prehistoric love song whereas words cannot describe The Fang. This was where the public lost interest with Norvus and his record company followed suit. Bullfrog Hop introduced the world to Zorch and it could be described as a little boogie-woogie and some unintelligible babble.
There's skiffle (Does A Chinese Chicken Have A Pigtail?, Sparks #1, The Bully Bully Man), country (Little Cowboy, Stop Your Foolin', Pony Tail, The New Beat And Step) and children's songs (I Hate Bugs, I'm Waitin' Up For Santa Claus, Boris The Blue Nosed Baboon ? sung to the tune of Rudolph The Red Nosed Reindeer). In fact, there's a child-like quality to the whole album, just listen to When I Hear The Honkin' Of The Diesel Train to get a feel for it. The rest of the album flits between re-hashes of earlier tracks, straightforward love songs and really way off the wall stuff. Jimmy Drake may have been ahead of his time or he may just have landed on the wrong planet, you decide!
David Blue
---
Salim Nourallah - Constellation (Tapete)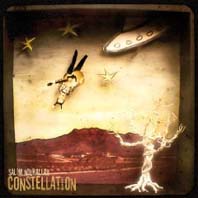 Despite a clutch of critically praised band, duo and solo albums, the Dallas based songwriter remains virtually unknown. One listen to this latest collection of woozily mellow wistful folk pop will persuade you what an injustice that is. If you're looking for a comparison point I guess the most immediate, especially in songwriting terms, would be Ray Davies. Indeed the nostalgia themed Pictures Collected not only sounds like Davies but is directly linked back to Picture Book from The Kinks' Village Green Preservation Society.
That same air of sweet introspective melancholia suffuses much of the album, finding beguiling expression in things like the very Kinks-like Western Hills ("betting that The Jam is better than The Clash"), gorgeous night skies piano ballad Endless Dream Days (where he reminds me of Richard Hawley), In The Blink Of An Eye (written for keyboard player Carter Albrecht, shot dead by his girlfriend's neighbour two years ago) and the softly shuffling Saint Georges where guitar and upright bass flesh out the otherwise spare, simple sound. In a perfect world the brushed campfire pop of The Man Who Learned To Love would be greeted with the same fervour as the latest Jack Johnson release. In the real world, few will probably ever hear it. Those that do will know their life is so much the richer.
Mike Davies April 2009
---
Nouvelle Vague - Bande A Part (Peacefrog)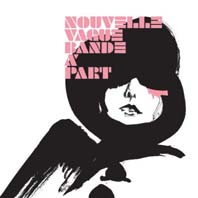 Hayseed Dixie turn heavy rock into bluegrass, and this bunch go all Antonio Carlos Jobin on nuggets from the classic electro/goth days of the 80s. A fairly fluid ensemble built around French multi-instrumentalists Marc Collin and Olivier Libaux, their eponymous debut album roped in a multicultural assortment of female vocalists to give the likes of Love Will Tear Us Apart, This Is Not A Love Song and Guns of Brixton. a bossa nova seeing to.
This time, with Gerald Toto joining Phoebe Killdeer and Melanie Pain to replace the departed Camille Dalmais they've extended their musical borders to embrace influences from Cuba and Jamaica too, smouldering their way through reimaginings of such numbers as The Killing Moon (sounding like a ghostly sea shanty), Dancing With Myself (a soft shoe shuffle), Don't Go (scratchy and bluesy) and a suitably voodoo flavoured Bela Lugosi's Dead while steel pan drums ripple through the playout of their accordion washed interpretation of Visage's Fade To Gray.
Mixing in more obscure covers like The Cramps Human Fly (imagine a late night Latin jazz disco in a graveyard), O Pamela by The Wake and The Sounds' Escape Myself with more familiar ditties such as a slinky take on Blondie's Heart of Glass and a very Afro-Carnival romp through The Buzzcocks's Ever Fallen In Love, it may be a novelty but it's a very charming and very danceable one.
Mike Davies, July 2006
---
Heather Nova - Storm (Big Cat)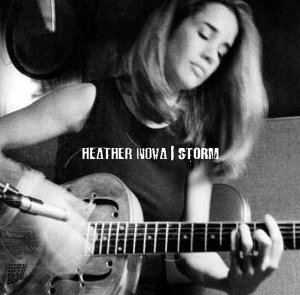 The Bermuda-born artist christened Heather Frith has been mellowing out of late. Not always in a good way either, as the commercial compromises enforced on her last album where she duetted with Bryan Adams and sometimes came on like Sheryl Crow lite showed. However, she's found herself a new label home more willing to let her carve her own path, and the result's a wonderfully stripped down affair recorded with Mercury Rev providing backing and co-producing and with the legendary Lenny Kaye providing guitar on Everytime.
The title may refer to the weather conditions during the recording, but it's a misleading description of the music which feels much more like the calm that precedes in its spare instrumentation and the atmospherics that hang around the melodies. Dividing itself between stories and textures, as evidenced in the contrast of the closing romantically resigned Fool For You and the soothing impressionistic tones of Aquamarine.
For an album concerned with temptation, desire and guilt, it's a gorgeously serene work with Nova at her most relaxed. A quick journey will take you through the classic old school torch country of Let's Not Talk About Love, You Left Me A Song's dreamily weary echoes of a huskier kd lang, the vintage Judy Collins Broadway meets folk on the emotionally tremulous Drink It In, the bluesy moods of the piano driven All I Need or the summer heat conjured by organ and her smouldering voice on One Day In June, the purity of the solo performed title track's heart yearning, and the countrified slow and easy roll of I Wanna Be Your Light.
There's not a moment here where the standard of material or performance slips below superlative and while old die-hards may miss the previous incendiary approach this is unquicvocally the best album of her career.
Mike Davies
---
Ron Noyes Band - Something Else
You don't have to listen to too much of Something Else to understand why the Ron Noyes Band garnered a Best New Artist Nomination from Jam magazine. Few albums will have come to the table so complete and downright mature this early in a band's career.
In reality there is little new about Something Else, the band walks the same road as Dave Matthews and Hootie and the Blowfish. It is full of relaxed, soulful melodies allied to rhythms that you just want to wrap yourself up in.
And although the album is not startlingly innovative, just to be mentioned in such company is praise indeed, to equal their efforts, as Something Else does, is an achievement not to de dismissed lightly or otherwise.
Something Else offers a blend of funky soul/soft rock that moves along at an easy pace with just a hint of swagger and in Ron Noyes they have a singer who was born for romance, Chainsmoke is the kind of lush sensuous ballad that will have late-night radio producers salivating and quickly altering their playlists.
It is quite clear that the band have worked long and hard to reach this point. You don't get this good or this tight by accident, or overnight. Noyes, guitarist Carleton Page, drummer Timmy Gray, Frank Rayno on bass, percussionist Lance Edwards and keyboard player Andy Young are united in common cause. There is no sense of hierarchy or jostling for the limelight, it's a band album in its purest form. The flip side of that coin is that Something Else is a 'safe' album, it ebbs and flows rather than soars to great heights or plummets to the furthest depths. But there is much to be said for knowing what you want to achieve and then achieving it, The Ron Noyes Band is completely comfortable in the skin of the songs.
If you're looking for a white-knuckle rock 'n' roll ride then Something Else will disappoint. But if it's a mature, beautifully crafted selection of love songs built around a wonderfully smoky voice then you're in luck.
Although there are few surprises along the way, the closing track One Way Ride is the exception. Essentially it's Noyes plus acoustic guitar and in that stripped down format a harsher emotion pierces through. There is something chilling about a man opening up his soul to public gaze and on One Way Ride Ron Noyes will freeze the blood in your veins. No theatre no histrionics, to listen to a simple and honest expression of feeling is still a magical moment.
Michael Mee, Editor, The Hawick News
---
---
NuBlues - Dreams of a Blues Man (Tekni Records)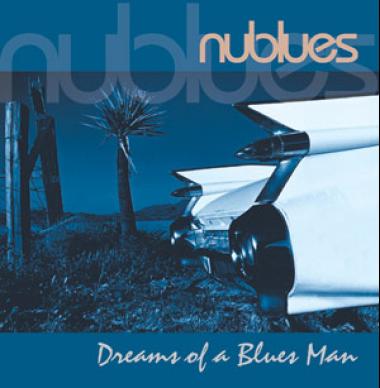 How to infuriate more than one genre of music lovers? I can feel the purists bristling already but forget them, the blues is a springboard not a straightjacket. Dreams of A Blues Man is possibly the most thrilling development since Skip McDonald became Little Axe.
From the two 'a cappella' opening bars, into a jangly steel chug joined by techno beats and scratching (Swamp Thang), you know you are in for something different. Track two, Mississippi Rising, has the rapping star of the album, 24 year old gritty blues vocalist Jay Nicholls, duelling with the howling blues harp from (guesting) Kevin Wells - more R.L. Burnside at his looping best than what you'd usually expect from Delta roots. And wow! lots of electric funky soul and big slide sounds - what a groove they've got cooking. But look for sparse beauty too - the last track, Hold Over Me, is a short Steel guitar & vocals song which leaves you spellbound long after the album has finished. And they take pleasure in the odd sweet tease: a short 78 rpm scratchy needle finale becomes the intro on (Hooker-style) Missy Dee. The album's nine tracks are the band's own compositions.
The Colchester-based NuBlues project was master-minded by Ramon Goose (drums, programming and slide guitar, who also produced and mixed the album), with heavy-on-the-groove bassist Ed Vans. Drummer Paul Francis pounds the skins in this tight production. This is blues evolution and more than a little revolution going on. Already I'm interested to hear the direction of their next album. Dreams of a Blues Man draws from a diversity of blues bases but it's the freshness of what they do with their edgy roots arrangements that shine so brightly.
NuBlues have just signed to a US label, 21st Century Blues Records, based in New Orleans. The album will be released worldwide in September 2004. It's the first UK Blues act to be signed to an American label in 20 years!
Sue Cavendish
---
Alecia Nugent - Hillbilly Goddess (Rounder)
Alecia hails neither from Nashville nor the Appalachians, but from Hickory Grove, Louisiana. Her third album is titled after a sobriquet bestowed on her by a reviewer a while back: an honorary one, probably, for (stylistically at any rate) Alecia straddles country and bluegrass very attractively. Her confident and delightfully poised singing voice enables her to make the best of either genre, and on this record she also enjoys the solid support of Americana's finest: instrumentalists including Rob Ickes, Andy Leftwich, Adam Steffey, Andy Falco and Tim Stafford, and singers including Carl Jackson, Valerie Storey and Jennifer Strickland. And with cameos from guests of the calibre of Bradley Walker (duetting on the gorgeous honky-tonker The Writing's All Over The Wall and providing backing vocal on Dyin' To Hold Her Again) and banjoist J.D. Crowe (on the cheeky title number), you just know you're in for a great ride. Aside from those two last-named cuts, my favourites here are the driving opener Wreckin' The Train, the wistful mid-tempo roller Wishin' Hard (from the prolific pen of Tim O'Brien) and the beautifully tender, delicate closing ballad Already Home. The Nugent Family Band is a charming slice of autobiography, and Alecia also turns in a touching rendition of Buddy & Julie Miller's Don't Tell Me. This is a well-sequenced set that satisfies by virtue of the strength and unifying character of Alecia's vocal presence, her emotional believability and authority.
David Kidman December 2009
---
Darrell Nulisch - Goin' Back To Dallas (Severn Records)
This album is the fruit of Darrell's long-held desire to make a straight-out blues album, and Goin' Back To Dallas is just that, no frills. Darrell clearly has gained the necessary appreciation of the "small-band ensemble sound", and textures are clear while retaining the edge of spontaneity and eager fun that working with other musicians should ideally involve. His four-piece band (guitarist Jon Moeller, keyboard man Kevin Anker, bassist Steve Gomes and drummer Robb Stupka) do the biz here alright, producing a workmanlike, honest and perfectly efficient vibe. Material from the pens of the likes of Freddie King, Sonny Boy Williamson, Jimmy Reed and Oscar Boyd is topped up with four originals co-written by Darrell with Steve, up to scratch if not standout. But overall this CD shouldn't disappoint fans of this straightforward brand of electric blues.
David Kidman October 2007
---
Lizzie Nunnery - Company Of Ghosts (Fellside) This creative young singer-songwriter and playwright released her debut recording (the EP Monkeys And Devils) back in 2006, since which time she's released a second EP (Hungry, 2008), notched up several key festival and BBC radio appearances and won an award for her play Intemperance. Now comes her debut full-length CD, a rather distinctive nu-folk-flavoured record with a definitively quirky yet sufficiently accessible character.

The listener is first mesmerised by the quality of rather vulnerable enchantment in Lizzie's fragile, attractively quaversome singing voice, which is complemented by the delicate, often weirdly toyshop nature of the accompaniment (basically ukulele and guitar, with spindly percussion details and occasional double bass, clarinet or banjo clanking away in the texture). Perhaps the closest approximate comparison (musically rather than lyrically) would be the ramshackle hobopop of Kirsty McGee, but there's also more than a touch of Kate Bush in Lizzie's resolute (yet quite natural) eccentricity. Company Of Ghosts is an intimate, confidential song-sequence which can also often be a quite eerie experience – sample its part-spoken title song, or the menacing, suffocating portrait of The Sleepers, or the insistent tattoo of England Loves A Poor Boy – and yet much of it is also strangely comforting. Lizzie's lyrics, though impressive, are of the kind you have to listen up close for, and thus they can appear cryptic and a trifle elusive at times; her melodies, however, prove surprisingly accessible.

The flimsily sensuous yet uniquely spectral atmosphere Lizzie conjures with her songwriting is accentuated by the sparse, if weird colourings of the often decidedly strangely scored backdrops, on which she's assisted by Vidar Norheim, Hugo Harrison, Sarah Lyons, Joe Keelan and Lindsay Rodden. All of which makes for a sublime and extremely spellbinding disc, and bravo to Paul Adams and Fellside for taking Lizzie on board.

David Kidman April 2010
---
Laura Nyro - The Loom's Desire (Rounder)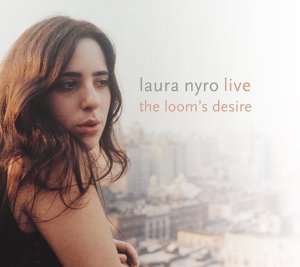 It's been slow coming but in recent years there's a long overdue rediscovery and reappraisal of the Bronx born (as Laura Nigro) singer-songwriter who died of ovarian cancer in 1997. A tribute album featuring such artists as Suzanne Vega, Phoebe Snow, Beth Nielsen Chapman and Sweet Honey In The Rock served reminder of the timeless brilliance of soul and r&b flavoured songs like Stoned Soul Picnic, And When I Die and Wedding Bell Blues and has been followed by anthologies and reissues of her own sadly neglected albums. Influenced by such diverse names as Dylan and Coltrane, Nyro easily ranks alongside Brill Building stalwarts Carole King and Ellie Greenwich but with an added sense of introspection and a voice that could switch from whisper to anguish in the beat of a shredded emotional nerve.
Taped at her traditional annual New York Christmas Eve shows of 1993 and 1994 at the Bottom Line, this double live set (which comes with insightful sleeve notes) represents the last concerts she ever played, succinctly encapsulating the passion and the playfulness of her music and performances, the New York vibe she embodied.
Ironic in retrospect, the shows marked a return to her roots, the music stripped back to the voice and the harmonies without the distractions of orchestral or band arrangements. Some feature a harmony group, evoking the street corner music upon which she was raised, others are just Nyro at her piano. Over the two discs she looks back at her career, offering up her own songs and distinctive covers. Thus Phil Spector's Oh Yeah, Maybe Baby, Smokey Robinson's Ooh Baby, Baby, Gilbert Becaud's Let It Be Me and, best known from the Mamas and Papas, Dedicated To The One I Love, set alongside self-penned nuggets ranging from the evergreen And When I Die, Save The Country, Walk The Dog and Light The Light and, of course, Wedding Bell Blues to more obscure numbers like Japanese Restaurant Song , Trees of the Ages and The Descent of Luna Rose.
Real collector's items are present in the form of Angel In The Dark and Gardenia Song, the only live recordings of two songs from her last studio album, Angel In The Dark, the former with an additional verse and the latter presented in the form it had always been played save for the day she recorded it.
An intimate collection of stories drawn from the heart of life, it's a marvellous experience to hear her again in her natural habitat, among her people. Share and discover.
Mike Davies
---
---