A to Z Album Reviews
---
---
The Fagans - Milk And Honey Land (Own Label)
This CD has been out in Australia for a little while now, but a copy only reached me towards the end of last year. The Fagans is the well-established family group based over there in their native New South Wales, comprising Margaret and Bob Fagan with daughter Kate and son James, and latterly permanently augmented by Nancy Kerr – the latter two of course being famed for their scintillating duo act here in the UK. But as you can hear on this, the Fagans' fourth group release, this is a most vibrant performing unit.
The Fagans' repertoire is a canny mix drawn from many different branches of tradition, and British and Australian sources are equally well-represented on this new disc by material both contemporary and traditional in origin. In the former case, the Fagans show ingenuity and admirable good taste in matters both of actual choice of songs and their arrangement: they're well aware of, and evidently keen to bring to a wider international audience, some classics of the UK folk club repertoire like (here) Keith Marsden's Prospect, Providence (very few of Keith's songs seem ever to receive commercial recordings, and yet this one's recently received two, the other being only last year on Bran Peters' Gritstone Serenade CD); here James leads on a spirited (if rhythmically a touch free on the verses) acappella account of this iconic song.
The Fagans also turn in a very fine acappella version of Jess Arrowsmith's recent anti-war song Pilgrimage, while Kate's own composition The Silver Shore also makes a deep impression – not just for the powerful poetry of its lyric, but also due to Kate's superb diction and delivery, for she's a very persuasive singer indeed (check out her lovely 2007 solo album Diamond Wheel some time if you possibly can). Nancy's own composition Greenswell, another album highlight, is a persuasive retelling of the age-old traditional tale of departed lovers who cross the sea to return to their lovers for one final night. The tracklist also includes a reliable account of Woody Guthrie's Pastures Of Plenty, a well-harmonised group acappella rendition of John Tams' Pulling Down Song, and Gerry O'Beirne's homage to his native Co. Clare (The Shades Of Gloria, sung by Margaret, whose voice some may find a touch warbly here). The "pure Australian" contingent comprises songs by Jack Wright, Trevor Day and John Schumann (all sung idiomatically by Bob), and John Warner's Winding Gear.
All through the disc we encounter evidence of the family's ease with each other's performing strengths and proven vocal and instrumental abilities, while always demonstrating a comfortable grasp of their chosen material: efficiency and togetherness without complacency, always a welcome combination.
David Kidman August 2011
---
Various Artists - I Am The Resurrection: A Tribute To John Fahey (Vanguard)
2006 marks the 40th anniversary of the late, and legendary, maverick guitarist John Fahey's signing to the Vanguard label, as well as the fifth anniversary of his death. This is but the first of the year's three planned tribute albums and so far the only one to have been sent me for review.
Fahey is already recognised as one of the most innovative acoustic guitarists ever, expanding the boundaries of the instrument (a humble steel-strung guitar) and its repertoire, and this tribute disc should act as a further catalyst for exploration of his recordings. Its innate eccentricities, partly conditioned by the choice of performers (mostly - appropriately enough - decidedly left-field), well reflect the wilful eccentricities of Fahey himself; his behaviour was weird to say the least...
His music was never exactly easy listening, and invariably idiosyncratic, but often it was immensely appealing and sometimes incredibly beautiful - qualities which are again matched by the tribute tracks here. Being espoused by artistes as diverse as John Renbourn and Sufjan Stevens is probably as good an indication as any of Fahey's wide-ranging influence, for his ambit was far wider, and considerably more mind-expanding, than that of the "standard" guitar admirer or player-virtuoso.
On this tribute album, the treatments of Fahey compositions range equally far and wide, from the solo guitar reinterpretation (Peter Case doing When The Catfish Is In Bloom, and extremely creatively too), to the fairly straightforward and suitably majestic (Pelt's Sunflower River Blues), the suitably quirky nu-folk (Devendra Banhart's take on Sligo River) and an "entertaining", tho' fairly cataclysmic power-thrash through Scott Joplin (album producer M. Ward's Bean Vine Blues #2).
Highlights for me were the distinctively epic (and typically episodic) Dance Of Death from Calexico, and the quite disturbing freak-surf Portland Cement Factory At Monolith from Cul De Sac. Currituck Co's extended electric medley John Hurt Shiva Shankarah is another success, and other indie-rock performers like Lee Ranaldo and Howe Gelb also emerge credibly from their encounter with Fahey, although I found the pseudo-cosy almost-pastiche of the Sufjan Stevens track a bit hard to stomach. That one aside, every other track here convinces (either immediately or after a bit of chewing-over!) in much the same knotty way that Fahey's own music does, and so represents a fitting mechanism for the Resurrection of the man's standing.
David Kidman, June 2006
---
John Fahey - Red Cross (Revenant)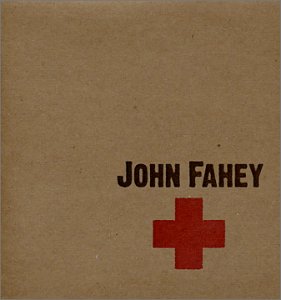 The music of this distinctly maverick guitarist has never been everybody's cup of tea, but nobody can deny his uncompromising individuality or his formidable technique. Ever since he impinged on my consciousness in the late 60s through fleeting appearances in obscure places such as John Peel's Night Ride programme, the Zabriskie Point film soundtrack and the Transatlantic label guitar sampler album, I've been fascinated with his music - a real odd mixture of minimalist country blues, ragtime, old-time and ambient soundscape, often without any obvious structure or purpose but equally often beautifully economic and perfectly formed. His penultimate album Hitomi mixed electronic treatments with acoustic and electric picking, a methodology that continues on into Red Cross. This was the very last recording John made before his untimely death in 2001, and, while it can't really be regarded as his finest hour, there's more than enough of interest within its 50-odd minutes to justify purchase. Recording quality is uneven, but John's peculiar Americana landscapes are as compelling as ever if you're already attuned to his wavelength. John comes full circle on this album, at peace with both past and present, as is demonstrated by the selection of tunes he presents. They're a typical Faheyian mixed bag, a new variation on Motherless Child sitting well alongside Irving Berlin's Remember, and perfectly complemented by John's own wonderfully titled Charley Bradley's Ten Sixty-Six Blues and the more rambling soundscape Untitled w/Rain. Perhaps there's a mite too much minimalist repetition on a couple of the tracks which at around seven minutes will outstay their welcome for some listeners, and perhaps his rendition of Gershwin's Summertime is a bit unremarkable, even uncharacteristically straight, but overall this final offering should not disappoint those who are already converted to the Fahey church.
David Kidman
---
Marty Fahey, Brendan Bulger & Kathleen Gavin - Music At The House (MATH Music)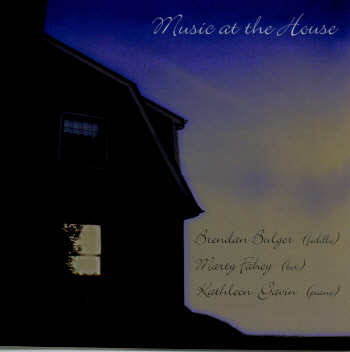 A definite case of exactly what it says on the tin - subtitled "Irish traditional music: fiddle, box, piano", and with no deviation whatsoever. Sixteen tracks, each one straightforwardly programmed and played, with a wonderfully relaxed feel that quietly proclaims the musicians' friendship and collaborative flair. A brief biographical sketch might help to place them in context; two of the three hail from the States - fiddler Brendan is Boston-born, while button-accordion player Marty was born and raised in Chicago - whereas Kathleen was born into a musical family in Co. Mayo (in addition to the piano, she plays fiddle - though not on this CD - and credits members of her family as well as pianist Eleanor Kane Neary as key influences on her playing). For his own part, Brendan specifically credits fiddlers Seamus Connolly and Larry Reynolds for his musical upbringing, while Marty admits to having derived much inspiration from box players Paddy Gavin and Paddy O'Brien. But admitting one's influences doesn't make for derivative or uninspiring playing, and the quality you'll notice first and foremost about this small ensemble is that the melodies of the chosen tunes are allowed to speak for themselves, allowed to unfold and breathe in their own natural time without needing to pander to the effect- and technique-driven, highly note-intensive predilections of too many of today's practitioners of the music. Although the ensemble tracks make up the bulk of this CD, and every single set is delightfully executed (there's infectious energy in abundance on the slip jigs at track 12 and the finale, The Yellow Tinker reel, for instance, and a wholly natural poise to the airs too), the solo items are also immensely enjoyable - I particularly liked Brendan's stomping rendition of two reels (track 8), while as a contrast to the surrounding tracks Marty showcases his lyrical expertise on piano on the air In Memory Of Coleman (which, as we learn from the excellent booklet notes, turns out to be an original transposition of a reel composed by Ed Reavy). And here's another bonus - not one of the selections outstays its welcome. Put plainly, this is a CD stuffed full of straight-down-the-line Irish traditional music played joyfully yet respectfully, and a real tonic to help you unwind at the end of an angst-ridden working day.

www.copperplatedistribution.com

David Kidman
---
Rebsie Fairholm - Seven Star Green (Sonic Spongecake)
The cryptically-titled Seven Star Green is a real sit-up-and-take-notice gem which has landed on my desk out of nowhere. This latest (second) release from somewhat reclusive English psych-folk artist Rebsie sometimes seems so wilfully weird (even mildly intimidating, especially on first acquaintance) that it might stem less from the "cornfield edge" of psych-folk that she professes to inhabit than from the alien crop circles within.
But challenge is a good thing of course. No two tracks sound alike, for Rebsie effectively raises two fingers to genres (and listener expectations); yet the album's unity is provided by Rebsie's haunting, mesmerising singing voice - ethereal and breathy but solid-textured (a hint of Hope Sandoval perhaps), at once soothing and disturbing. It's couched in compelling, and sometimes quite radical, musical settings that form a well-defined presence: a purposeful ambience that can't be tagged merely ambient. Textures (created in collaboration with Rebsie's "alchymical muse" Daniel Staniforth) are both adventurous and sophisticated, layers carefully nurtured from a slew of "synths and midi instruments", cello and assorted guitars (acoustic, classical, electric) yet neither swamping nor compromising the vocal input.
The disc's opening and closing salvos are outstanding, beginning with The Cursing Song (from the pen of R.J. Stewart), a sinister incantation set to a richly stately chordal pulse with sparky, exotic touches. This is followed by Rebsie's atmosphere-drenched, sombrely gull-bedecked rendition of Our Captain Cried (the first of the disc's six distinctively visionary interpretations of traditional songs). The closing bookend is a powerfully dark triptych: a compulsively dramatic tribal-trance take on The Bitter Withy with a spine-tinglingly eerie tintinnabulating coda, leading to the intensely fragile, emotionally charged pleading of From A Coffin (by Rebsie's songwriting friend Miriena Jayne) and closing with Lyke Wake Dirge – here a sweeping processional through the Imagined Village accompanied by distorted electronic ghosts (and a completely different treatment to the pastoral one on the recent Owl Service EP The Bitter Night, to which Rebsie contributed vocals).
Between those extremities, there's a lush Let No Man Steal Your Thyme (illustrating Rebsie's "impulsive creation of orchestrated folksong"), an exquisitely delicate guitar-and-cello-flecked Perigee Organdie (replete with hushed poetic imagery), and a flawlessly harmonised rendition (in French) of a 16th century Pavane, after which a chilling (post-holocaust?) version of Minstrel Boy brings discordant synth drones, treated vocals and dramatic percussion effects, capped by a blistering, swirling prog guitar solo (Dick Langford).
Rebsie also tosses us unsuspecting listeners a couple of serious curveballs, in the form of her own Molotov Spongecake (an ominously edgy Magazine-Eurhythmic-style confection set to a slow-chugging B52s riff) and a (priceless) breezy electropop jingle in praise (honestly!) of the Central Line penned by London-based beat poet Praveen Manghani. All in all, a proudly, determinedly wayward yet often startlingly original record: one that won't prove at all easy to ignore should it come your way.
David Kidman December 2009
---
Fairport Convention - Festival Bell (Matty Grooves Records)
Festival Bell, the latest release from virtually everyone's favourite folk-rock band, is their first studio album for four years. If you've been lucky enough to catch them live recently, or have already sampled the Off The Screen DVD, then you'll be familiar with at least two songs: Chris Leslie's iconic – and yes, I use that word advisedly! – title song (which celebrates the church bell inscribed "Fairport Convention Festival Bell" in the tower of St. Mary's Church in Cropredy), and Ric's fun-filled tongue- (and uke-) twisting extravaganza Ukulele Central. And if you've bought Ralph McTell's brilliant new album Somewhere Down The Road, then you'll know two more of Festival Bell's songs (Around The Wild Cape Horn and The London Apprentice, both I might say tailor-made for Fairport to cover, especially with Simon's charismatic vocal!).
The band also pays a timely further tribute to the memory of Sandy Denny with an affectionate, clear-sighted and refreshingly unhurried revisit of her wonderful Rising For The Moon, while they also tackle three more covers: a driven treatment of Chris While's powerful tale of Darkside Wood is a definite highlight, although both Celtic Moon (from the pen of Red Shoes' Carolyn & Mark Evans) and Reunion Hill (a Richard Shindell classic) come off well too, fitting snugly within the whole programme.
The remaining tracks include - in addition to those mentioned above - three proud new compositions by Chris Leslie, of which the stirring historical ballad of Mercy Bay (which opens the album in fine fashion) is a hard act to follow; in comparison with that bold track, both Rui's Guitar and Wouldn't Say No can't but make less of an impression.
There's also a clutch of inspired new instrumentals that prove how Fairport can, time and again, masterfully and effortlessly ring the changes on what detractors see as the tired old folk-rock clichés. Pick of these is probably Peggy's vibrant new bass tune, cast into an approved Col. Sanders mould on Albert & Ted, a tribute to the two men's fathers who were also good friends; but the (main-) brace of avowedly "piratey" tunes by Ric (Danny Jack's Chase and Danny Jack's Reward) provide typically tricksy fun interludes and a further new tune of Ric's, Johnny Ginears, dovetails neatly in and out of Ralph's jaunty apprentice-shuffle.
Chris's now-justly-celebrated title song brings up the rear and rings the album out in suitably majestic (dare I say ap-peal-ing?) fashion. OK, maybe this isn't going to turn out to be regarded as one of Fairport's finest albums (on just a few playthroughs the material still doesn't quite hang together entirely convincingly), but as with all its predecessors, just give it time!
David Kidman February 2011
---
Fairport Convention - Live At Cropredy '08 (Matty Grooves)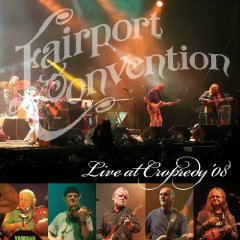 The world-famous annual Cropredy gatherings need no introduction, so this glorious 79-minute CD should need absolutely no recommendation to NetRhythms readers. It's simply a required purchase. Here's sixteen tracks culled from Fairport Convention's set on the Saturday of last year's Cropredy, then, which dwells more on the traditional/heritage side of their repertoire than the contemporary (nowt wrong wi' that!), and yes, it has to be the next best thing to being there… but then, you'd expect me to say that!… However, although there's no quibble with the band's performance all told, if I'm brutally honest I'd have to admit that the set takes a little while to get me fired up: it kicks in with Ye Mariners All and Reynard The Fox, which both seem marginally less fleet of foot and less energised than ideally, but The Eynsham Poacher picks up the pace and energy level nicely. The ensuing Babbacombe Lee sequence (efficient, but it doesn't quite engage me here) is followed by Doctor Of Physick. But the stakes are raised considerably by Reynardine – this really scores, intense and brilliantly passionate, after which Mock Morris '90 brings both ideal contrast and typical Fairport virtuosity. The set then maintains that high plateau with a suite of songs in tribute to Sandy Denny, all exceptionally well done: Vikki Clayton tackles Fotheringay, Chris While It'll Take A Long Time and, most euphorically received of all, Robert Plant comes onstage with Kristina Donaghue for The Battle Of Evermore (one of those moments!). Predictable but neatly managed (as ever) set-closer (John Gaudie/The Bowman's Retreat) is swiftly segued into their affectionate treatment of Steve Ashley's Best Wishes, which some say is in danger of turning into something of a "Ledge moment"! So – there can be no serious complaints, it'll never be anything but good to have a permanent replayable memento of Cropredy, and each year's event is bound to have its own different character – and in any case, you just know we'll always be coming back for more!
David Kidman April 2009
---
Fairport Convention - Fame And Glory (Matty Grooves)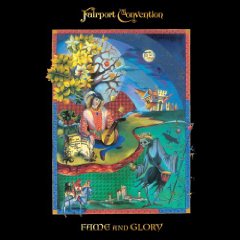 You need to know upfront that this is ain't your typical Fairport Convention album (if ever there was such a thing!). Basically, it's a fifteen-track compilation presenting the highlights of the band's various contributions (over the past 10 years or so) to a massive ongoing project, the brainchild of visionary Breton composer Alan Simon, which evokes Arthurian legends. It's interesting to learn via Fame And Glory's sleevenote that a cornerstone of Alan's own musical road to Damascus was hearing Fairport's Babbacombe Lee album in 1982. Sixteen years on, Alan completed the initial instalment of what will eventually become his Excalibur Trilogy, the first in a series of concept albums produced since that have also included Gaia and Anne De Bretagne, on many of which the members of Fairport have put their seal. Of course, the close and committed involvement of these five key men can be taken as a reliable token of the artistic worth of the project, and although the musicianship and performances are without exception first-class I'm not quite so sure about the consistency of artistic inspiration or musical invention. My view may well be coloured by the fact that Fame And Glory is but a selection of key moments from the various concept album releases, not giving any sense of unity, let alone a continuous story unfolding. It could be argued that the scope of the whole is too vast to be confined to a necessarily selective hour's worth of highlights and that you simply need to experience the entire œuvre in order to appreciate the breadth of Alan's vision, but for me the main problem with the compilation - and notwithstanding its implied general thematic unity - is its (entirely unintentional I'm sure) sense of disjointedness (which no doubt partially stems from the use of both live and studio sources for the tracks, and a certain inevitable inconsistency of ambience doesn't help). Stylistically, the compositions mostly fit within the prog-folk-rock-with-Celto-overtones bracket, and they're all very classily done too. Around a third are instrumental pieces, mostly based on dance forms (pre-classical to Celtic, with dashes of thrusting rock). The vocal items range in tone from reflective reverie to mildly epic historical narrative (though it must be said that some individual pieces seem to indulge in slightly tired prog-rock gestures or proto-Moody-Blues meanderings!). Aside from the Fairport Five, other musicians who appear at various points on this compilation include Jacqui McShee (vocal on Morgane and Sacrifice), Flook and Supertramp's John Heliwell (on Dragon Breath), James Wood (on Marie La Cordelière) and John Wetton and Martin Barre (on Lugh). A number of the individual tracks are likely to appeal less to the more traditional folkies within the Fairport fanbase than to those who more broadly appreciate the Fairporters' impressive versatility as musicians and who can most comfortably embrace the tremendous breadth of the Fairport repertoire. So Fame And Glory is a useful insight into what the boys do on their holidays, a byway to the core Fairport Convention activity and recorded output, but as with any compilation it can never be expected to tell the whole story!
David Kidman April 2009
---
Various Artists - Dave Pegg's 60th Birthday Bash (Matty Grooves)
Here's a deluxe memento of a magnificent occasion, as memorable for the "you had to be there" element as for the legions of fans the illustrious sexagenarian has accumulated during his long career on Planet Music. It was staged on the evening of 3rd November 2007at Peggy's favourite venue (Birmingham Town Hall), with long-time friends both onstage and in the audience, and this two-disc set reflects the musical proclivities and experiences of Peggy himself as well as conveying with the requisite frisson of immediacy-of-occasion exactly what it was like to be there on the night in all its musical glory and occasional frivolity.
It's even more miraculous that it all came out so well, when you realise that there was no rehearsal time on the day and access to the venue was granted late: it all went through on the proverbial wing and a prayer. All the participants gave their all, with performances that exuded affection, respect and musicianship in ideal proportions. Peggy's easygoing and fun inter-song links are included, and they're worth keeping in the sequence rather than skipping. The actual musical performances are never less than excellent, any momentary glitches or lapses (and there are very few!) easily forgiven and quickly forgotten. After the superbly witty opening number Peggy's Birthday Song, specially composed by David Hughes (the lyrics are reprinted in the case too for our edification!), and a hurdy gurdy tune played by Paul Saunders, the evening gets down to some serious nostalgia with a singalong 60s medley (arguably the most disposable item) and a nice Peggy'n'PJ duet.
Moving then through representative pieces from Peggy's apprenticeship in blues, swing-jazz and the Ian Campbell Group (Swarb and Ian reunited here for The Old Man's Song), with appearances from Steve Ashley and the current Fairport lineup, and disc one ends on two items featuring Jethro Tull. The second disc brings on Steve Tilston, Anna Ryder, Beth Nielsen Chapman, Dan Ar Braz, Ralph McTell and the storming Leslie/Leary/Sanders Feast Of Fiddles ensemble, with a hilarious bonus video track wherein ex-Uglys Steve Gibbons and Roger Hill take the stage with Peggy for The Ugly Blues. We're told there were some more items in the concert, which it was not possible to include due to technical problems – this is the only disappointment with this otherwise finely-presented and truthfully-reproduced issue.
David Kidman January 2009
---
Tony Palmer's Film of Fairport Convention & Matthews Souther Comfort - Maidstone 5th June 1970 (DVD)
This is a cracker! The only surviving footage (outside of the recent reunions, that is) of the fabulous Full House lineup of Fairport (Swarb, RT, Simon, Peggy, DM) – there's a mere twenty minutes of Fairport in toto, but what a stupendous set. It comprises three fairly breakneck instrumental medleys including the mando-extravaganza Flatback Caper (introduced by a cheeky mini-drum solo) and a full-pelt finale set which alone would break anyone's neck trying to dance to it, as well as lusty runthroughs of Sir Patrick Spens and Now Be Thankful - on all of these the band are on absolutely blistering form. Then, stuck bang in the midst of the Fairport set, there's a pair of songs from Matthews Southern Comfort - My Front Pages and (a slightly truncated version of) Southern Comfort itself - both of which showcase just how together this unit was, with superbly coordinated CSN-style vocal harmony work that puts the rough-house vocalising of their Fairport contemporaries to shame, and not to mention the supreme pedal-steel playing of veteran Gordon Huntley. It's all so musically captivating, but also exceedingly tantalising in that it begs the question of whether any more footage was shot (for all the claim that Tony just let the cameras roll, I still can't believe that these seven numbers were all that was performed on the date). Indeed, it's a wonder that the film was made at all, for its genesis (involving film star Stanley Baker, as we learn from the bonus interview on this DVD!) is distinctly bizarre. It's not like yre conventional "film of a live gig", but more of a heady snapshot in time, an aromatic portrait of part of a "family fun day" event where the "rock-band" performance is sandwiched (conveniently) in between the performing chimpanzees and army helicopters (though we're treated to a snippet featuring the latter only, you'll be pleased to note!). The "happening" was filmed with affection and a sense of relaxed, carefree enjoyment that mirrors the easy bonhomie of the performance: you're really transported back in time here, and with a beer bottle in your hand you're wandering through the crowd drinking it all in. Rather than taking the musical documentarist's usual route of chronicling the flow and detail of the actual music through the modus-operandi of focusing on and generally following the performers either via their mouths or their fretboards, here it's more ciné-verité-style, where the attention of the roving camera as often as not wanders off, past the singers' and musicians' faces into empty space, around wooded glades, out into the crowd. Showing life naturally "how it is" (as the film's director might have said at the time), there are some choice glimpses of some oh-so-70s fashions and behaviour - and there's even a spot of nappy-changing during Dirty Linen! so at times it's almost as much of a social documentary, but the half-hour of music, and the pricelessly laconic intro voiceover by John Peel, still provide the film's true raison-d'être. The sound quality is a touch raw on the Fairport set, with Swarb rather more upfront than RT, but overall it's remarkably truthfully balanced considering the circumstances. The bonus feature is a 15-minute interview with Tony Palmer which gives some insights into the making of the film. An essential little issue, for more than just the Fairport completist.
David Kidman March 2008
---
Dave Pegg - A Box Of Peggs (Matty Grooves)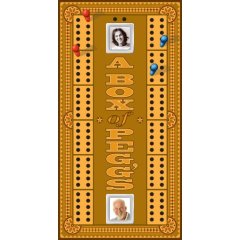 When is a Free Reed box-set not a Free Reed box-set? - When it's a Box Of Pegg's! Well you could almost get away with saying that, for basically this four-disc box-set conforms in almost every respect to the "house-style" format adopted by the ongoing series of celebratory sets issued by Free Reed, while maintaining the key selling-points and features that make those Free Reed sets so much a benchmark (and so wholly desirable!): great value (nearly 5½ hours of music), brilliant compilation and research, the inclusion of lots of rare and unreleased material alongside the "hits" and outright classics, a fine standard of remastering, and a lavish accompanying book authored by someone with in-depth knowledge and appreciation (Nigel Schofield). But whatever the marketing angle and rationale, this is definitely another box that deserves your serious attention. It's probably the first of its kind to feature a bass player (as opposed to a singer, singer-songwriter or guitarist); but in any case, Peggy didn't set out to be a bass player at all (let alone the universally highly-regarded "folk-rock-bass-players' folk-rock-bass-player"!) but he actually began his musical career as a lead guitarist. It's right and proper therefore that this set chronicles Peggy's musical activities in all their guises (ie. not only as ultra-versatile instrumentalist, composer and arranger but also as long-term co-organiser of the Cropredy Festival), as well as containing plenty of choice examples of his virtuosic bass playing - a "definitive blend of rhythm and melody" which, Simon Nicol recalls, was, at his audition for Fairport, "accompanied by the sound of jaws dropping"! (And let's not forget his superb mando-work.)
The sub-title given to each of the four discs colludes neatly with the fun theme of the overall package (which takes the form of a crib-board-style "long box"). Disc 1, subtitled Level Pegging, begins with that very track in its original Cocktail Cowboy incarnation, then proceeds on a real magical history tour with a series of tracks charting Peggy's apprenticeship in various Birmingham bands in the "Brumbeat" scene of the mid-60s (The Crawdaddies, Dave & The Emeralds, The Ugly's, The Exception), thence his stint with the Ian Campbell Folk Group (represented here, however, by the entirely untypical Private Harold Harris) and session work with jazzer Dave Peace's combo, The Leesiders, and later still his stint with Jethro Tull, his appearance on Steve Ashley's Family Album and his membership of the Dylan Project. Rather cleverly, Disc 1 is connected by the thread of Peggy's recent duo album with P.J. Wright (Galileo's Apology - from which two tracks here, and a further one on Disc 4, are sourced), a release which, as Nigel points out, provides "an interesting career overview in Peggy's (own) selections".
Disc 2, subtitled Two For His Heels, reflects the bonus-scoring nature of that cribbage term by presenting a selection of Peggy's guest appearances on records by others, ranging from Ralph McTell, Bob Fox, annA rydeR, Nick Drake and John Martyn to Marc Ellington and Beryl Marriott. On the way, some enticing obscurities are unearthed, including the 1971 Mike Heron B-side Lady Wonder and a real curiosity from actor Murray Head (A Tree), while Peggy's solo that opens Chris Leslie's morris set (taken from his Dancing Days album) is one of the man's most triumphant on record: what a display of technique. This disc concludes with a gorgeous Sandy Denny-related triptych: Sandy's own Full Moon, the 1989 Cropredy Who Knows Where The Time Goes featuring All About Eve's Julianne Regan, then Beth Nielsen Chapman's totally spellbinding rendition of Sandy's Solo taken from 2005's Cropredy. (Another performance from that year, cropping up earlier on this disc, features Richard Thompson leading the Fairport band on his then-newly-recorded Let It Blow). Most aptly, the track from Cocktail Cowboy chosen to launch Disc 2 is Peggy's delicate cover of the wonderful Steve Ashley song The Journeyman. The largest of the many "asides" to the track-notes posits that it would actually be impossible to provide a complete list of all of Peggy's sessions, and yes, the prospect is mind-boggling and more than a bit overwhelming to contemplate (tantalisingly, these notes are only able to list but a few of the obscure releases on which Peggy has played).
Disc 3, subtitled Twelve For A Double Pair, offers up from the vast corpus of recordings Peggy made while a card-carrying member of his two "principal" bands (Fairport Convention and Jethro Tull) a parade of "epics, rarities, classics and, to frame the whole thing, some related oddities". Appropriately, the disc's lead-in Cocktail Cowboy track is Peggy's cover of the then-rarely-heard Ian Anderson song Jack Frost And The Hooded Crow. Then come a series of crossover performances, including Ian A joining Fairport at Cropredy (Serenade To A Cuckoo, Hunting Girl and John Barleycorn), an unreleased 1980 take of Tull trotting through Peggy's Pub and a Broadsword And The Beast outtake. Intriguing additions to the disc include Jacqui McShee's performance of Morganne (from the epic show Excalibur – Le Concert Mythique), and a hitherto-forgotten Fairport cover of Bryn Haworth's Pick Me Up. Two highpoints of Disc 3 come with familiar Fairport material: the 1975 live rendition of Sloth, as well as unusually featuring Sandy and her piano, includes a tremendously lyrical bass solo from Peggy, whereas the rare fiddle & mandolin duet version of Flatback Caper was recorded by "Fairport lineup number 8" in 1972 (it even kicks off with a dance-band-style drum solo from Peggy's old Brummie mate Tom Farnell!). Interleaved between the notes to Disc 3 we also find five rather useful discographical supplements: Pegg/Fairport (The Island Years), studio (1980-2007), Tull Live & Compiled, Fairport Live Convention, and a Fairport "Cropredography": if nothing else, we're left marvelling at the sheer number of recordings amassed even thus far, and can salivate at what might still crawl "out of the woodworm" on a future compilation!
Disc 4, subtitled One For His Nob (referring of course to that celebrated bald pate), presents a disc-full of Pegg compositions (or arrangements), which nicely round out the portrait of this genuinely consummate artiste. These include among the five tracks from the Cocktail Cowboy album (see below), both that record's nadir and arguably its zenith – as for the latter, I've always been really touched by his Song For Sandy – as well as rare takes of three songs from Babbacombe Lee (where Peggy's undersung talent for harmony vocal is also showcased), a generous handful of typically inventive instrumental medleys from all periods of Fairport's illustrious history and four settings of traditional songs. There's also a brief first-take of Matthew, Mark, Luke And John, a previously unreleased Tull version of the Jams O'Donnells Jigs set that chronologically comes halfway between the two Fairport recorded versions, a decidedly rough honky-tonk live rendition of When First Unto This Country from the elusive 1976 six-man Fairport lineup, and a live Ian Campbell Folk Group medley that contained Peggy's "first mando experience". The final disc, and indeed the whole box, ends with an example of perfect symmetry (as it began, so to speak), with Level Pegging - arguably the definitive Peggy instrumental - but this time in the 1992 Cropredy version that first appeared on Free Reed's Cropredy Capers set.
An additional, yet skewed sense of unity is imparted to the whole box-set by the unusual gambit of including within all the tracks from Peggy's 1983 (entirely-) solo album The Cocktail Cowboy Goes It Alone (which has to date gained two rather restricted CD reissues only) - unusual in that they're not all gathered together in one place but end up scattered throughout the four discs. The album contains some marvellous things, and the whole DIY ethos is admirable, but I remember at the time being turned off by the cheesy 80s elements such as the occasional robotic vocal treatments and the disco-fied programmed percussion (handclap beats and suchlike) that permeated some tracks - some of this even sounds rather quaint nearly 25 years on, and surprisingly doesn't irritate quite so much, though even now I still can't get along with the forced chug-a-lug chumminess of the title track! The accompanying full-colour 100-page book comprises a short introduction, a valuable "life and times" overview-cum-biographical sketch, and the inevitable, exhaustive track-by-track guide and background notes, while dispersed throughout the book we find a fabulous selection of personal archive photos (many previously unseen, and all excellently-reproduced), newspaper clippings, extracts from Peggy's own diary, scrapbooks and other memorabilia, not to mention further sundry juicy tangential and/or discographical nuggets. This all adds up to another magnificent box-set in a year which has already seen the fabulous Steve Tilston box from Free Reed (to which the two sets are umbilically connected by the presence and the (purely incidental, I'm sure) duplication of the brand-new Tilston recording with Peggy of his own Here Comes The Night! There will, inevitably, still be some listeners who only know Peggy through his role as Fairport's bassist; important though that continuing commitment is, it's nowhere near the whole picture, and this set deserves to be applauded for its success in presenting Peggy's achievements fairly and encompassing all spheres of his musical activity: emphasising his versatility, his tenacity and his exceptional all-round musicianship. A fitting celebration indeed.
www.fairportconvention.com
David Kidman September 2007
---
Fairport Convention - Liege And Lief (Deluxe Edition) (Island/Universal) Barely five years on from the "definitive" Island Remaster of this seminal album (properly considered "folk-rock's defining moment"), and the record has picked up even more accolades and plaudits including being voted "most important folk record of all time" in a BBC Radio 2 listeners' poll. It was, according to Richard Thompson, "not originally designed to set the direction for the band, although it did" and that's not taking into account its influence on the attitude to indigenous folk music subsequently taken by other cultures. During last year's Cropredy Festival, a gold disc (for cumulative sales of the record) was presented to the surviving members of Fairport Convention, while the undisputed highlight of this year's Cropredy was a performance of the entire album by the original 1969 lineup (excepting Sandy Denny of course, whose place was taken by Chris While). Liege And Lief must by now have passed from legend into everybody's collection, in some form or other, and many might question the need for yet another reissue, whether deluxe or not. This new edition is a two-disc set, where the original record, which apparently has been freshly remastered, occupies the first disc. There do appear to be a few minor gains in textural clarity, especially on Come All Ye, The Deserter and the instrumental medley, though I'd bet such points will only be discernible to diehard L&L buffs.

So on to Disc 2, which contains, all conveniently collected together in one place, the remainder of the tracks recorded during the album sessions (ie the three which didn't make it to the final cut) together with five tracks recorded a month earlier for John Peel's Top Gear radio programme. The first of the above categories comprises a (perhaps mildly tentative) rendition of Sir Patrick Spens and versions of Roger McGuinn's Ballad Of Easy Rider and Richard Fariña's Quiet Joys Of Brotherhood. Although the band's impetus to "go back to the roots" on this album had come from the examples set by The Band (on Music For Big Pink) and Dylan (on his Basement Tapes bootlegs), it's significant that the two "American" tracks recorded for the album sessions were excluded from the final, finished release. For stylistic reasons of course: for musically, however, they're easily on a par with the rest of the album, and Quiet Joys contains what's arguably one of Sandy's finest recorded performances. The second category comprises radio-session tryouts of Tam Lin (which somehow seems more urgent than the album version even though it's half a minute longer!), the Jigs & Reels Medley (tempo changes slightly better managed here), Reynardine (markedly freer than the album take, and with a greater degree of instrumental embellishment) and Sir Patrick Spens (better balanced and more animated than the studio take), and a real oddity, a jokey-throwaway rendition of The Lady Is A Tramp (this has been the stuff both of Fairport legend and not a little embarrassment!). The disc concludes with a piano instrumental dash through Fly Me To The Moon, which appears to be the coda to Tramp where the tape was left to run on...

Finally, Disc 2 also includes a second (significantly longer) version of Quiet Joys, but the actual source of this isn't credited on my promo copy for some reason. All of the bonus tracks are superb in terms of sound quality, and vastly improved from the fluttery, fuzzy bootleg tapes on which we first encountered these rarities; they are valuable additions to one's understanding of Liege And Lief and the climate that produced it. And even after all this time, little of the "shock of the new" has worn off of the grooves of Liege And Lief itself: it still possesses the power to startle and delight, and it still maintains an air of ground being well and truly broken.

David Kidman August 2007
---
Fairport Convention - Live At The BBC (Island/Universal)
This is a really important release, which forms an essential adjunct or supplement to the recently-completed Island/Universal programme of early (pre-Woodworm) Fairport Convention reissues. It is, in effect, a greatly extended version of the useful Heyday compilation which a decade or two ago gave some of these performances their first official outing on record. Fairport used their BBC radio sessions in tandem with their live sets not only as a tryout arena for new material but importantly also as a vehicle for airing different aspects of their wide repertoire including many songs that would never surface on record. Such material had become the stuff of legend, existing only on bootleg discs of distinctly variable, often execrable quality and/or privately-owned reel-to-reel tape collections mouldering away in attics. Of course, some of the radio recordings have since surfaced on semi-official fan-base cassettes too, and then on official "archive" collections like the aforementioned Heyday as well as more recently the fabulous Free Reed box-sets and the Ashley Hutchings "Guv'nor" retrospectives, but sometimes (perfectly unavoidably) in comparatively indifferent transfers. In fact, until a bare few years ago, it was thought that very few of these original BBC recordings remained in the company's archive at all, but then a box was discovered there, so the opportunity was taken to make the whole collection of the surviving recordings available in a decent edition.
Here, then, Universal have proudly presented us with a truly handsome four-disc box-set housed within a hard-cover book. The set has a total playing time of quite a bit over four hours, and comprehensively contains the band's complete surviving BBC recordings from December 1967 through to August 1974, made for John Peel's Top Gear and various Stuart Henry, David Symonds and Folk On One shows; the vast majority dating from the incredibly fecund 1968-70 period when they were almost a "pet" BBC band. The remastering of these original transcription recordings is pretty good, often bordering on excellent, and only the fourth disc sees any significant lapse in sound quality, this being because all the selections have been taken directly "off-air" (being the only available option in the absence of the original transcription tapes) and some of these are actually quite poor - but even so, that's reasonable enough bearing in mind their rarity value as possibly the most acceptable of the few surviving recordings (unless some of you are resolutely harbouring better ones!). These recordings are vitally important too in that they constitute a virtual potted history of the band and its (surprisingly rapid) development from an intelligent amateur outfit performing mainly covers of American folk-pop and singer-songwriter source material (albeit unusual stuff imaginatively chosen and arranged), through the parallel strands of the various band members' developing songwriting talents and a heavy immersion in the English tradition, and then on into defining and their nascent purely English take on the folk-rock concept and their role as standard-bearers for the genre. Although the songs were consciously arranged for group performance, Fairport radio sessions were also notable for a feeling of spontaneity and sometimes unbridled fun, whereas they also stood out from many of their contemporaries in that the group members gave these sessions some especially memorable performances which really have stood the test of time. There was always a tremendous variety within the group's repertoire, and their enviable choice of vocalists was but one factor in their impressive stylistic breadth.
You really need to play the entire set through in sequence, for all I can do here is cherrypick! The sessions move effortlessly from Judy Dyble's renditions of even-then-largely unknown Joni Mitchell songs, through to very obscure Dylan numbers (Jack O' Diamonds, Lay Down Your Weary Tune) and Ian Matthews and Sandy Denny duetting on a stunning and intriguing arrangement of Leonard Cohen's Suzanne, a lovingly extended improvisation on Nottamun Town, the at-the-time-obstinately-unreleased Thompson classic Poor Will And The Jolly Hangman... there are so many delights here for the Fairport fan. (Of course, there's a tiny quota of disposable throwaways too - a ramshackle but fun Lady Is A Tramp, a mediocre unrehearsed-sounding cover of Light My Fire - but even these are worth hearing just the once!) And these "alternate takes" of Fairport could differ very significantly from the official or final recorded (LP) versions, and thus they provide much more than curiosity or incidental interest.
Finally to the accompanying booklet: this is an attractively-designed 48-page tome, although the hefty numbering hides the fact that text (and photo) content only occupies a snapshot area (in "photograph-format") as the centre portion of most of these pages. The central essay, by Kingsley Abbott, is just fine and contains virtually all of the key biographical detail you'll need (whether or not you already have any degree of knowledge of the band's early years) as well as plenty else that illuminates our understanding of the context and content of these BBC session recordings. Reproduction of photos is excellent too. All told, this is a finely presented issue, and likely to be the last word as far as this material is concerned.
David Kidman June 2007
---
Fairport Convention - Gottle O' Geer / The Bonny Bunch Of Rosed / Tipplers Tales (Island/Universal)
I think this now completes the series of Island/Universal re-releases of the original Fairport albums, with everything pre-Woodworm now available in definitive remastered and/or expanded editions. These three titles, however, quite logically left till last in the programme, have never been particularly well regarded, and even the staunchest Fairport fan would readily admit they don't necessarily represent the best in the band's illustrious canon. Having said that, none of the three (and The Bonny Bunch Of Roses in particular) actually deserve to languish in obscurity.
1976's Gottle O' Geer is undoubtedly the most strange of the three: its genesis lay in a projected Swarbrick solo album that would have arisen out of the ashes of disillusionment which scattered freely around the bones of the near-death of Fairport Convention when several key members left the band following the surprising commercial failure of the exceedingly fine Rising For The Moon album. Those left, Messrs Swarbrick, Pegg and Rowland, took themselves away to a remote studio in Cornwall, but the sessions produced only a handful of usable tracks so when they reconvened in Island Studios in London they called Simon Nicol in to engineer and had a bunch of mates (including Martin Carthy, Gallagher & Lyle, Robert Palmer, Nick Judd and Henry Lowther) round to play bits! They all had fun in experimenting with unorthodox ideas, but the result was the most un-Fairport-sounding of albums to be issued under the Fairport banner. Despite worthy moments like the Frog Up The Pump medley and Sandy's Song (aka Take Away The Load), it was an erratic collection of tracks that only intermittently sparkled. In effect it proved Fairport's swansong for the Island label, who had released their product for nine years. Gottle O' Geer is wayward, poor fry, minor Fairport (they even dropped the Convention from the band name for the release): call it what you will, but it's still worth owning a copy, if only in order to complete the portrait of a confused band in confusing times. Especially since this reissue includes a bonus track in the form of an outtake from the Hammersmith session, a Swarb/Pegg song Angles Brown which turns out to be one of the better cuts in the end.
The Bonny Bunch Of Roses came out in 1977, after Simon Nicol had been "coaxed to return to the fold" and the revitalised four-piece had obtained a new recording contract – with the then-mildly-unfashionable prog label Vertigo. The album was only modestly experimental in any way though, and happily, very much infused with the spirit of getting back to traditional sources, with Swarb's influence paramount. Several of the songs had been in the Fairport repertoire for some years but hadn't actually gotten stale: the title track is a 12-minute epic with an arrangement only partly based on that of a 1970-vintage, at-the-time-unreleased studio workout (a stunning track which resurfaced a couple of years ago on the remastered edition of Full House), while their treatment of Adieu Adieu originated from 1972. I'm not convinced by their fairly plodding version of the storming shanty General Taylor, but everything else works just fine. The album's small quotient of covers is no disgrace either: Richard Thompson's wonderful Poor Ditching Boy is as near as dammit to trad-inspired, and Ralph McTell's Run Johnny Run is a very good match for the original.
Finally we come to Tipplers Tales, Fairport's second album for Vertigo, which was recorded in 1978 before the band was dropped from the roster at their own request (famously, they were paid not to make any more albums!). It was just a "loosely-themed collection of songs about drinking" which although it ostensibly captured the band's sense of humour was also in part a going-through-the-motions affair, in which many of the tracks ran out of steam and ideas after less than two-and-a-half minutes and even the more ambitiously extended, episodic Jack O'Rion was a touch unsatisfactory, especially when compared with the more coherent Bonny Bunch. The album's probably most notable for including an early tryout of the jaunty instrumental Bankruptured (later to appear on the Expletive Delighted! album). There's a relaxed feel to the music-making, but at times that borders on the complacent (the "this is what we do and we're good at it thankyou", take-it-or-leave-it attitude taken a tad too far maybe), with the impression of having little new to say in general (the band's version of Three Drunken Maidens is distinctly routine for instance). Even by the very act of recording the album, the band seemed to be confirming that they really did feel out of step with the changing music scene (where punk was all the rage etc), so it came as little surprise when the following year (1979), Fairport decided to call it a day at Cropredy, and it was to take five years of Cropredy "reunions" to convince them to come together again as a permanent outfit.
David Kidman March 2007
---
Fairport Convention - Sense Of Occasion (Matty Grooves)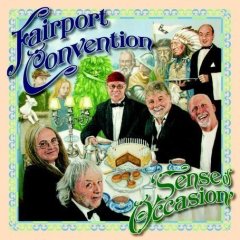 "Well, that's the first forty years out of the way. Onwards!" saith Simon Nicol, longest-serving of the original Fairporters, with characteristic mock-dismissiveness. Onwards indeed... for forty years is a momentous milestone, which the package of this anniversary offering reflects; its attractive cover portrait certainly conveys both the desired mood of jovial celebration (tho' a "tea-total" one, you'll note!) and the band's sense of history and folk culture which permeates their approach and provides a continual backdrop to their music-making.
So far so apt; but what of the music within? In so many ways it's exactly as predicted: a typically varied and eclectic collection of material, balancing forward-looking and contemporary-aware against backward-glancing to tradition and revisiting of former glories. It could easily have turned out a tired set of "so what?" tracks, but Fairport's immensely skilled at reinventing itself and ringing the changes while still retaining its believability through sheer musicality and those trusty Fairport trademarks of excellent playing and singing, fine in-house writing and a good taste in song covers. In those respects nothing would seem to have changed here, for the mix of those elements is as persuasive as ever. The new album showcases no less than five freshly-composed songs from the increasingly prolific pen of Chris Leslie; these run the gamut from the charming 6/4 lilt of Spring Song (which trips off into Princess Royal) to In Our Town, a deceptively light-textured yet bittersweet slice of social comment, and the contrasting pair Edge Of The World and South Dakota To Manchester which draw on legend and historical event respectively. The strength of the current writing is counterpointed by the album's two "revivals" of celebrated trad-arrs from the band's back-catalogue. First comes a more-than-solid Polly On The Shore with some excellent soloing and supportive rhythm section to complement Simon's strong vocal work. Second - and perhaps most surprisingly in view of the original's iconic status - placed squarely at the centre of the disc we find Tam Lin; this may employ the distinctive riff of the Liege And Lief version, but it turns out quite different in impact from the seminal Sandy/Swarb rendition due to the striking new gambit of splitting the storytelling role between Simon and Chris, each equally commanding in execution and flair (and although the key-change this necessitates rather startles at first, it's extremely well-managed on each appearance); the new version is sufficiently convincing on its own terms and never a mere excuse for an instrumental workout.
No Fairport album would be complete without its quota of fiddle-led instrumentals, so to get three of Ric's originals (two fast but not too furious and one slow and stately) is good measure indeed, and the invention never lets up, notably on the nifty Bowman's Return (which I'd term an "archertypal" - sic - Fairport romp!). It's in the nature of the six covers that the album might raise some eyebrows. All but one of these are stacked up in the second (post-TamLin) half of the disc, and the sense of unity that the clutch of Chris's compositions gives the rest of the CD is perhaps mildly compromised by the stylistic diversity of the covers. Taken individually, though, there are characterful performances of some fine songs here, notably Simon's gutsy vocal on Pete Scrowther's driving historical ballad Hawkwood's Army and the knowing, funky cynicism of PJ Wright's Galileo's Apology. And a cautiously rousing version of Love On A Farmboy's Wages proves that A Partridge can indeed be "fair game" for this band to cover (sorry!). But maybe the catchy pop mode of Glenn Tilbrook's Untouchable won't please every Fairport fan, brilliantly suited though Chris is to this idiom (as, by the way, he is also to expressing the altogether more melancholy metaphysical reflection of The Vision, a beautifully poised Bill Miller/John Flanagan composition).
Summing up, then, I consider Sense Of Occasion an album of no mean stature, although that quality perhaps doesn't readily (or completely) reveal itself on first or even second playthrough. For that reason alone, it will probably not turn out to be judged the band's finest hour, but equally it doesn't disappoint (and anyway it constitutes great value at over an hour's worth of music without a duff track). Yet for whatever reason it doesn't quite make the splash that one might expect of an anniversary party gig. That might be due to the sequencing, though I do recognise the near-impossibility of assembling a perfect listening plan out of such a diverse set-list! In that regard, Chris's wry and jauntily upbeat commentary on the passage of the years Keep On Turning The Wheel, though it verily "motors along" with some cunning and cute instrumental and stylistic references to the band's long history, and provides a logical launch-pad for any celebratory album, doesn't quite have the oomph to make an immediate impact in the pole position of lead-track. But Steve Ashley's delicate gem Best Wishes, expertly managed with a simple, sparse instrumental backing, is absolutely ideal as the band's parting-shot (you can even forgive the exuberant clownishness of the brief "extra exit" that's tacked on afterwards!).
David Kidman February 2007
---
Fairport Convention - The Wood And The Wire (Talking Elephant)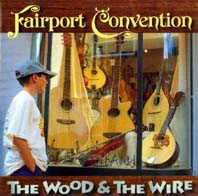 Talking Elephant continue their admirable reissue programme with the band's celebrated Y2K album on which Chris Leslie first came to prominence as a songwriting force to be reckoned with. No less than seven of the album's original 14 tracks were penned by Chris, an impressive tally by any token, and at least two of these songs (I'm thinking of Banbury Fair and The Dancer) present a "contemporary take on traditional themes" vibe that more than once reminded me of Steve Knightley's best writing. The album also marked another specific turning point in the band's history, in that shortly before its inception Gerry Conway had replaced Dave Mattacks at the percussion stool. Gerry was to give the band a solidity of a different kind as regards his use of the basic kit, and atn that time he had begun increasingly to experiment with other percussive textures, like the distinctive timbres of dumbek and hand drums, presenting what might seem familiar material with intriguing new rhythmic possibilities (for example, the Western Wind that blows straight from Morocco!). Also on the instrumental side, though I'll admit that up until this album came out I'd not really been much of a fan of Ric Sanders' smooth, slithery fiddle style, which I'd often felt suited the band's material less than that of Swarb, but by that point the band seemed to have found a way of keeping it in check and in fact Ric's own beautiful, drifting instrumental A Year And A Day had proved one of the album's highlights and still stands out today. As regards material generally, the band's choice of contemporary songs for The Wood And The Wire is every bit as inspired as ever, including Pete Scrowther's Heart Of The Song and Steve Tilston's Rocky Road. I'll admit however that I find the more-than-slightly-silly Spike-Jones demeanour of the album's obligatory trad.arr. tune-workout (The Good Fortunes) wearing thin after first play. But for the most part, at the time of its release, The Wood And The Wire had capitalised on the satisfying nature of the band's live performances of that time, and so it's mildly unfortunate that the two examples selected as bonus cuts for the present reissue of the original album don't really illustrate this. Here, a reasonable enough treatment of Now Be Thankful is preceded by a spirited (and thankfully silly-noise-less) romp through The Good Fortunes, but nevertheless I feel sure that more substantial examples from the band's 2000 tour might have been exhumed from in the vaults for this reissue. Either way though, it's still important that the original album remains available, for it showed then (and still shows now) that the trusty Fairport beast was (and still is) capable of moving on and bringing fresh insights to folk-rock as we know it.
David Kidman
---
Fairport Convention - Over The Next Hill (Matty Grooves Records)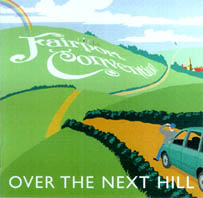 If there's one thing that can be said about Fairport Convention it is that, over the course of the band's 37-year history, they've had their ups and downs.
From the motorway crash that left drummer Martin Lamble and Jeannie Franklyn (Richard Thompson's girlfriend) dead, through financial calamity, dozens of personnel changes and the break-up of the band (before re-forming again) to the sad breakdown of bassist Dave Pegg's marriage earlier this year, it's been anything but a smooth ride for the folk-rock pioneers.
So, maybe, it was with that eventful history inmind that the band, mindful of the fact that none of us know what the future holds, called their latest album Over The Next Hill.
It's an album which will reassure Fairport's fans that the band does, indeed, have a future. Many had feared that Pegg's divorce from wife Christine, herself a major cog in the Fairport machine, could mark the beginning of the band's end. But, if Over The Next Hill is anything to go by, they'll be around to mark their 40th anniversary - and more beyond that.
Of course, it helped that old friend of the band Steve Tilston had written a song called "Over the next hill". It's the opening track of an album that's full of strong writing, the band's usual exemplary playing and some top-notch singing that sees a true coming together of the voices of Simon Nicol and Chris Leslie.
The choice of material covered across the album's 11 tracks displays a finely judged balance between in-house and bought-in songs. In addition to three from multi-instrumentalist Leslie and a couple of instrumentals from violinist Ric Sanders, Tilston contributes a couple, band friends Ben Bennion and Julie Matthews have one apiece, as does an American called Bob Dylan and, completing the set, there's the obligatory Trad Arr Fairport.
Leslie's latest additions to the Fairport canon are full of vivid imagery, imagination and clever but not over-stated arrangements. They represent what is possibly his most consistent songwriting of any time since he started to put pen to paper for Fairport.
"I'm already there" tells the tale of Banbury man George Back's Arctic adventure with Sir John Franklin in the early 19th century: "Land of great white bear across that crystal floor, like a snowflake's fall, I'm already there". For a man who lives in Oxfordshire, miles from the nearest coastline, Leslie's work has always had a strong nautical feel to it.
"Over the falls" features more water, albeit this time it's Niagara Falls, and The Great Blondin's tightrope crossing of them in 1859. Starting with Leslie's singing of the chorus, the song develops into his voice over acoustic guitar before the band swings in. Sanders provides a nice fiddle break and Gerry Conway's percussion is, as always, inventive and not quite what you'd expect. He has become a vitally integral part of the Fairport sound.
Leslie's third offering again slips back to the 19th century for its subject matter. "The fossil hunter" - set, yep, beside the sea - remembers Mary Anning of Lyme Regis who supported her family by finding and selling fossils on the beach and making important discoveries in the process. It has been a part of the band's live set for some months now and is something of a quiet grower.
Steve Tilston's work has been featured by Fairport in the past - notably "Slip-jigs and reels" and "The naked highwayman" - and he's helped out again here with two crackers. The title track's a road song, be it for a hiker or a folk-rock band and the lively tempo is driven by some nifty mandolin picking from Leslie behind Nicol's rich, warm voice.
Anybody already familiar with Tilston's work wouldn't need to see a writer's credit on "Willow Creek" to know who'd composed it. The twisting, turning wordplay, sung by Nicol and Leslie, laid over an equally sinuous melody has Tilston written all over it.
Sanders' "Canny capers" is a set of four lively fiddle-fuelled tunes which he has generously dedicated to the band's "sixth member", Rob Braviner, and which gives Pegg a chance to flex his mando muscle. "Some special place" is a lovely, beseeching refrain, which, to my heathen ears, is crying out for a suitably gentle and heartfelt lyric. The Fairport five show that they can handle the sensitive stuff with as much panache as they do the rockers.
And this album's rocker comes from another old pal of the band, Ben Bennion. "Wait for the tide to come in" chugs along at a steady canter, helped in no small way by a couple of tasty Stratocaster breaks from Nicol which show he really should strap on the electric a little more often.
Julie Matthews' "Westward" lopes along with a slight country tinge, though, in truth, it's not one of her strongest compositions. Nicol and Leslie sing some nice harmonies and the song benefits from the decoration of delicate filigree embellishments from Sanders' fiddle.
The album is nicely rounded off - or is it? - with a nod to the band's early days as they reprise their French-language version of Dylan's "If you gotta go, go now", "Si tu dois partir". It's a rollicking accordion-laden workout, with Nicol donning beret and hooped jersey for the vocal, and cements the band's link to the past with a sample of the drums of Martin Lamble from the band's original late-'60s version.
So, do the Fairports remain a force to be reckoned with? Over The Next Hill shows that they are still masters of both the mustard- and rug-cutters' crafts and, with playing and material of this quality, will continue to delight their fans all over the world for a good while yet - no matter the height or girth of the next hill.
Fred Hall
---
Fairport Convention & Friends - Cropedy Capers (Free Reed)
I was giving up hope of this set ever arriving chez-moi at all (the official press mailout had apparently been restricted to "prestige southern-based publications", for some inexplicable reason), so was pleased to "get the call" from a regional quarterly to give it a fuller and more detailed appraisal than one of those oh-so-important rags would feel inclined to devote in its measly few column inches… So here we are.
Now at the risk of sounding unduly patronising, surely none of you will be unaware of the role and stature of Cropredy, the fine festival (based in the quiet Oxfordshire village of that name) that for the past 25 years has acted as a magnet for followers of Fairport Convention, its various offshoot bands and myriad of musical mates. This celebratory four-disc box is given a timely release just when the future of the festival is deemed uncertain due to the recent divorce of Dave and Christine Pegg. Whatever the future holds, this lavish set is a handsome product that, for those who've never sampled the festival's delights, proves the best possible substitute for being there, and for those who have it's a splendid – if at times necessarily frustrating – evocation of the intrinsic vibe of the event.
Ambitiously perhaps, Cropredy Capers is billed as the "perfect souvenir" – well, for the Fairport fanatic, the perfect souvenir would most likely be a mammoth room-filling set that presented every single year complete, but taking usual practical and sensible constraints into account this joint Free Reed-Woodworm production couldn't really be bettered. I say that with due cautious qualification, for every fan will have special memories, favourite performances of individual songs, preferred lineups or permutations, whatever. But even given that there've already been several "official" issues of often quite comprehensive selections from individual Cropredys (including Woodworm's own Cropredy Box, Cropredy 2002, AT2, The Boot and The Other Boot, and the recent Quiet Joys Of Brotherhood box of the '86 & '87 Cropredys from Shakedown), as well as assorted tracks which have surfaced on other compilations like Free Reed's own earlier Fairport Unconventional and of course the same label's fully-fledged Cropredy – The Best And The Guests box), it was still a good idea to bring forth previously unreleased material for this new box (some 90% of the total 5¼ hours' playing time). So I'd better "get on with it!" and divulge some details to persuade you that this new set's worth having…
It should go without saying that there's heaps to delight in on these four themed discs: Disc 1 is (perversely?) titled Farewell, Farewell, and brings a succession of performances from both then-current and specially-reconvened lineups that are seamlessly stitched together with intros, announcements and beery banter to capture the essential spirit of Cropredy. By and large this works, though I confess to finding the "compilation track" of different versions of Million-Dollar Bash less than satisfying. Highlights of Disc 1 include an epic vintage-2000 breakneck dash through Sir B. McKenzie's that's manically driven along by duelling fiddlers Swarb and Ric, and a stirring Who Knows Where The Time Goes? led by Iain Matthews. Disc 1 also sneakily includes a bonus track – a 3-minute sound montage spanning the festival's 25 years. Onto Disc 2, Blow Again, which is subtitled "a Fairport Convention covers album", features many of the "surprise guests" for which Cropredy has become famed. The disc's first half is distinctly "trad. arr.", whereas the second half focuses on rather less expected repertoire (Day Trip To Bangor – eek!) and brings on Bob Fox, Steve Harley, Robert Plant, Joe Brown and Loudon Wainwright III among others, with it must be admitted a varying degree of artistic credibility – but then these are one-offs, and as such valuable mementos… and at least the disc ends on a high with a redeeming and classic rejuvenated 2001-vintage Now Be Thankful.
Disc 3, The Winding Road, contains songs that highlight – or are associated with – the solo careers of many Fairporters past and present in what turned out in most cases to be the only Cropredy performances of those particular songs. Rising For The Moon, exceptionally, appears twice, first in an acapella rendition by Vikki Clayton (sadly, this is curtailed after just over a minute here). Disc 4, Bruised And Beaten Songs, trots out "the top twelve most-played songs at Cropredy in their most remarkable versions" – now there's a contentious value-judgement which will set those Wadworths-fuelled punters arguing well into the night! This disc is described as a "virtually self-defining" Best of Cropredy, and so it proves, ending up with the inevitable Matty Groves, but in a rarely-heard version culled from a 1991 Banbury Mill rehearsal tape. With the possible exception of the misguided helium jape that kicks off the 1998 Royal Selection No.13, it's solid gold most of the way on this final disc, with the epic 1989 Sloth featuring Richard Thompson and Jerry Donoghue a real neck-prickler.
But as with all the previous Free Reed boxes, you get much more than the discs themselves: exemplary packaging, with an eminently readable 136-page full-colour book (written by Nigel Schofield) containing anecdotes, memoirs, factoids, full track notes and plenty of photos, as well as a slimmer (but almost equally fascinating) volume Walk Awhile (again by the indefatigable Nigel S) that's a kind of guided gazetteer outlining a series of wanderings through the streets of Cropredy. Something for everyone here too – for the "Cropredy child" (of any age really!), there's a "cut-out-and-build" model of the festival. What else could you ask for? Well I suppose a "gottle o' geer"?! … So here's a little riddle-me-ree to finish on: What do you get if you string all the fun tunes on this set together for an evening on the dance floor? Answer: A "caperceilidh" (sorry – couldn't resist!) … But hey, seriously – retailing at £45, and a snip at the price, this is a pretty essential souvenir that'll probably end up one of Free Reed's best sellers despite the admittedly ephemeral (and very occasionally distinctly off-key! But what the hell!) nature of some of the musical content. 25 years – who knows where the time goes, indeed? Dare I say the set will make a perfect Xmas present for the Fairporter in your life – particularly if (like me – boo hoo!) he/she didn't get to make it to Cropredy this year!
David Kidman
---
Fairport Convention - Fairport Convention/ What We Did On Our Holidays/ Unhalfbricking (Polydor/Island/Universal)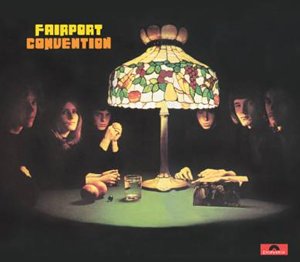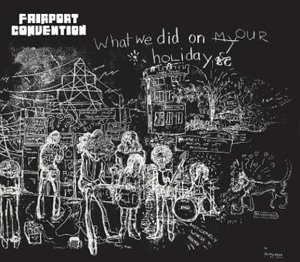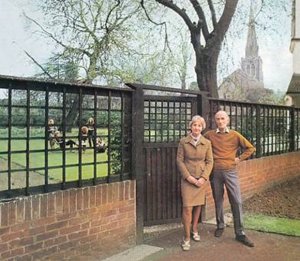 The early-Fairport reissue programme continues by plugging the gap at the very start of the band's career, bringing a veritable feast in these freshly remastered CDs, each complete with a sensible collection of bonus tracks (in keeping with the earlier reissues in the series, of Liege And Lief, Full House, Heyday and House Full). The band's eponymous début, at times stylistically a trifle wayward, nevertheless contains some intriguing pointers towards later developments, even if it only partially reflects the original line-up's musical predilections and early influences. The band's live act at that time majored on adventurous choices of covers of American singer-songwriter material, which on this first recorded effort was represented only by Joni Mitchell and Bob Dylan, the bulk of the remainder of the tracks being group members' compositions. The four bonus tracks are all covers; there's Leonard Cohen's Suzanne (an undated, rare transitional studio take, with vocal by Iain Matthews, providing an interesting contrast with the Sandy Denny version from the Heyday radio sessions), and the first single – a cover of Maxine Sullivan's If I Had A Ribbon Bow – untypical of the rest of the group's repertoire but a charming novelty on its own terms. The takes of Tim Buckley's Morning Glory and Richard Fariña's Reno, Nevada (the latter featuring a killer guitar solo), previously only available on bootlegs, come from a 1968 French TV programme. By the time of Holidays, the band had changed its lead female vocalist from Judy Dyble to Sandy Denny, ushering in its first classic period. The developing songwriting talents within the band, notably Richard Thompson, were beginning to bear serious fruit, while the Stateside influences (though still present, notably in the form of another then-rarely-heard Dylan song, I'll Keep It With Mine) were being supplanted by a growing interest in the English traditional folk repertoire (largely steered by Ashley Hutchings), and for all its transitional nature Holidays remains a satisfying album in its own right, containing as it did Sandy's exceptional Fotheringay, a fine rendition of She Moved Through The Fair and the very first appearance of the anthemic Meet On The Ledge. Bonus tracks comprise the bluesy Ledge single B-side (Throwaway Street Puzzle), an equally bluesy radio track (You're Gonna Need My Help) on which RT (unusually) plays slide guitar, and finally a rejected single cut of Some Sweet Day (which would probably more logically have been coupled with the first album on reissue since it would appear to include Judy vocal); the latter two cuts seem to be identical to those included on The Guv'nor Volume 1. And so finally to Unhalfbricking, that nascent folk-rock classic which introduced Dave Swarbrick to the group, knocking us all sideways with the unsurpassed cataclysmic 11-minute raga treatment of the traditional song A Sailor's Life that ended the album's first side and paved the way for Tam Lin and Matty Groves to come. Unhalfbricking also contained Richard's doomy Genesis Hall (a strange but effective opener), Sandy's Who Knows Where The Time Goes?, the riotous cajun single Si Tu Dois Partir and in complete contrast an epic cover of another Dylan number (Percy's Song). Bonus cuts are another pared-down Dylan cover (Dear Landlord) and Ballad Of Easy Rider, recorded at the Liege And Lief sessions but arguably sitting rather more comfortably amongst the repertoire on Unhalfbricking. You need at least the second and (seminal) third of these albums in your collection, I say, and these new handsomely-presented editions will surely prove definitive.
David Kidman
---
Fairport Convention - Liege And Lief (Island Remasters)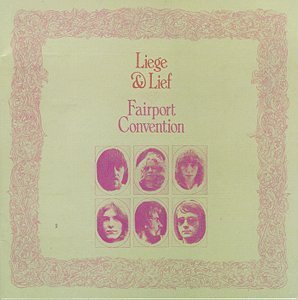 The groundbreaking early albums by that archetypal late 60s folk-rock band are at last resurfacing in carefully-presented, remastered new editions under the auspices of the Universal group. Fairport's fourth album, arguably the most influential, was recently nominated "the most important folk album of all time" by BBC Mike Harding Show listeners. And sure enough, many of its innovations resonate and permeate through folk-rock right up to the present day, while some might say that much of it has not been bettered. Its mission statement was ostensibly to create a kind of English country music, almost a kind of counterpart to the Band's Big Pink album which was influencing Fairport tremendously at the time, steeped in the indigenous culture of the land itself. And, digging deep into English traditional folk music, this is what resulted - and the rest is history of course. With that finest of Fairport lineups (Denny, Thompson, Swarbrick, Nicol, Hutchings and Mattacks - a never-to-be-repeated permutation, as it turned out), it's a classic album that you simply can't afford to be without, especially in this virtually-definitive, newly-remastered version which comes complete with two bonus tracks recorded at the same sessions. These will constitute much of the interest even for diehard Fairport fans; first there's an embryonic Sir Patrick Spens, with Sandy Denny singing, which is taken rather slower than Swarb for the later (Full House) reading, and though it lacks the bounce and spring of the latter, it still has much to commend it. (This bonus track is claimed to be unreleased, though what sounds like a very similar, likely-radio-session version of the Denny-led Spens had appeared on volume 2 of Ashley Hutchings' Guv'nor collection.) The second bonus track, a brooding 7½-minute Quiet Joys Of Brotherhood, credited as Take One, is as much a showcase for Sandy's stunning, expressive vocal powers as an exercise in restraint for the band members, bringing Richard Fariña's song to life so very atmospherically. Takes Two and Three, mere studio shavings, are appended for interest thereafter. Interestingly, Take Four, at just 6 minutes, had appeared on Hannibal's Sandy Denny compilation Who Knows Where The Time Goes? - I'm surprised that this final take, together with a cover of the Byrds' Ballad Of Easy Rider, which was also recorded at the L&L sessions, was not also included here for absolute completeness. As regards the remastering, the overall sound picture is certainly crisper than before, missing the very slight muddiness that sometimes marred even the original CD reissue; it does however retain the slightly irritatingly forwardly-placed drumkit on the instrumental medley! Even so, this is an essential reissue - now on to Unhalfbricking please…
David Kidman
---
---
Martyn Joseph, Tom Robinson & Steve Knightley - Faith, Folk And Anarchy Live (PipeRecords)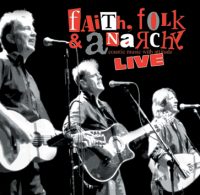 Subtitled "acoustic music with attitude", Faith, Folk & Anarchy was a special touring and recording project undertaken two and a half years ago featuring these three contrasted and highly regarded songwriters. They describe it as "an attempt to sketch 21st century landscape - of the heart, personal and political, landscape of the here and now". And although the three participants all performed together, an unusual feature of the project (at any rate compared to other songwriters' collaborations) was that for much of the time one of the three songwriters would take the lead on a song written by (or associated primarily with) another. This led to some beguiling insights and almost always interesting treatments, these often turning out revealingly different from the artists' original recorded version/s. For instance, in the Faith, Folk And Anarchy context, Steve's songs got treated quite differently from their familiar Show Of Hands clothing (for instance, I've Got Faith In You losing its original light pop feel in this new setting, which actually gained in intensity somehow through its more relaxed pace), and gaining extra resonances thereby. The musical accompaniments were, as with the earlier studio CD, in the main again sensibly restricted to acoustic guitar/s (all three participants) and bass (Tom), with occasional mandolin, cuatro or concertina from Steve or bodhrán from Martyn; these sparse yet full-toned arrangements enabled the songs' messages to be heard loud and clear free from the clutter of extraneous instrumentation. That initial (studio) Faith, Folk & Anarchy CD release presented twelve songs in all (four each by Steve and Martyn, three by Tom, and TV Smith's The Thin Green Line); this new double-disc set, recorded live at Milton Keynes in February 2002, reprised that very dozen and added nine more including some more obviously popular items such as Steve's Yeovil Town and Galway Farmer alongside Martyn's Cardiff Bay and Thunder And Rainbows, and Tom's The One and (almost inevitably perhaps) 2468 Motorway. Together with a storming bring-the-house-down version of Eric Bazilian's One Of Us (led by Martyn), Mark Glover's Swampy-trad opus Digging Down (from the familiar Show Of Hands repertoire) and as a final encore the decidedly throwaway singalong joint offering Come A Long Way. All three men were on top form at this gig, giving uniformly strong performances with heaps of conviction, and I don't think I've heard Steve in particular sing better. For me personally, the added bonus - and true revelation - has been coming to Martyn's songs and getting to know his work better through this project - he turns out to be a rather special songwriter whose work, I'm ashamed to say, I'd never got round to investigating before. But it goes without saying that the studio and live companion releases from the Faith, Folk And Anarchy project together make up an indispensable and unique record and both belong in the collection of folks with any sympathy for the music of any of the three collaborators.

www.martynjoseph.co.uk
www.tomrobinson.com
www.showofhands.co.uk
www.showofhands.co.uk/shop/page2.html

David Kidman
---
Marianne Faithfull - Easy Come Easy Go (Dramatico)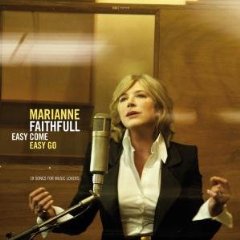 Falling firmly into the rarefied category of 'national treasure', Faithfull's one of rock's survivors, making distinctively individual albums for over 40 years. And, like fine wines, over the years she's just got, if not always better then certainly more interesting, her music drawing on a life of experience, a treasure house of myth, and a wealth of creative imagination, ambition and curiosity.
This special edition double disc of covers and collaborations may be a tad uneven and overextended, but, reunited with Strange Weather producer Hal Willner, it's certainly never boring. Musically, it traverses a wide landscape, embracing the blues, folk, country, rock and, (as you'd imagine from a teaming of Faithfull and Willner), the Weimar cabaret moods of Brect and Weill.
The material's equally diverse, featuring covers of Dolly Parton (a marvellous, brass tinged, dark, jazz shaded folkling version of Down From Dover), Brian Eno (a lovely chamber baroque string and woodwinds take on How Many Worlds with guest Teddy Thompson), Duke Ellington (a gorgeous, clarinet arranged Solitude) and Smokey Robinson (a tenor sax quarter enriched rock soul Oooh Baby Baby duetting with Antony Hegarty) and even Black Rebel Motorcycle Club (a suitably witchy Salvation).
Faithfull's voice is in fine fettle, husky, gravel smoked with unfiltered nicotine and stained with the deepest amber brandies while her choice of musicians is, inevitably faultless with names that include Marc Ribot, Barry Reynolds, Lenny Pickett, Jim White and Greg Cohen. Of her singing partners, some see her reunited with old musical flames like Nick Cave (a stand out version of The Decemberists' The Crane Wife 3) and embracing new partners such as Rufus Wainwright (Children Of Stone), Cat Marshall (Neko Case's Hold On Hold On) and Sean Lennon (a simple acoustic cover of Judee Sill's The Phoenix).
There are disappointments; the Antony duet drags, a madrigal-like approach to the trad Flandyke Shore with the McGarrigles on backing feels flat, while the duet with Jarvis Cocker on a cabaret lounge styled breathy reading of Somewhere is likely to have you reaching for the skip button.
But then there are wonderful surprises too. A plangent, folk hued rework of Morrissey's Dear God Please Help Me, a fitting relocation of Randy Newman's In Germany Before The War to the Weimar Cabaret, a slow barrelhouse bluesy slouch through the Bessie Smith title track and a stunning teaming with Keith Richards for a mournful, gospel coloured funeral march tempo version of Merle Haggard's Sing Me Back Home that should bring tears to your heart.
It's not her best album of the current millennium (that still remains Vagabond Ways), but it certainly warrants a place of honour in her personal Top 5.
The special edition also comes with a bonus DVD documentary on the making of the album.
Mike Davies March 2009
---
Marianne Faithfull - Before The Poison/Dreaming My Dreams (Naive/Castle)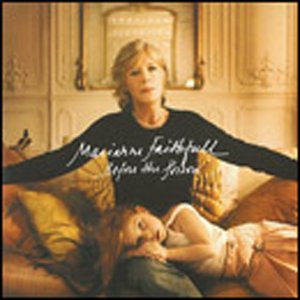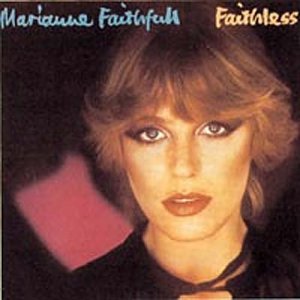 A useful then and now contrast. In addition to co-writes with Damon Albarn (Last Song) and Jon Brion (City of Quartz), Faithfull's latest outing sees her collaborating with Nick Cave and PH Harvey (who actually takes sole writing credit on three numbers), pretty natural pairings when you think about it given the general air of ravaged doom and dark beauty they share. Equally starkly intense (My Friends Have, Before The Poison) and fragile (Crazy Love, In The Factory) with both Cave and Harvey demonstrating potent European flavours to the musical settings, it seethes with a dark sexual feel, most strikingly so on the dank organ swirled swamps of the semi-spoken Vogue-recalling strobing rhythm of Desperanto.
It's a bit of a contrast to the 1976 reissue that saw her reinvent herself from folk inflected rock chick into the country-pop battered honky tonk angel with the world weary smoke-hewed croak who'd eventually release The Ballad of Lucy Jordan.
It could patently have done without the dreary version of Sweet Little Sixteen on which Faithfull sounds patently bored with the whole idea (as she does on most of the uptempo numbers with their leaden arrangements) and in retrospect it could have gone easier on the string arrangements, but pedal steel keening waltzing ballads like Fairy Tale Hero, the title track, her own Lady Madeleine (about her friend Madeleine D'Arcy whose body she found in her Maida Vale flat), and a brace of Jessi Colter covers (Looking For Blue Eyes and a shiveringly good I'm Not Lisa) easily stand the time among some of the best of her earlier work. Later repackaged and reissued as Faithless, it replaced four of the original version's tracks with new recordings that included Dylan's I'll Be Your Baby Tonight , her own snapshot of Nashville, That Was The Day, and a slowed down, bluesy country take on Honky Tonk Angels, all of which are included here as bonus cuts.
Mike Davies
---
Mary Ann Farley - My Life of Crime (Fish Records)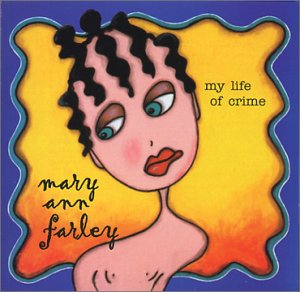 Hailing from Hoboken, New Jersey, singer-songwriter and self-taught painter (that's her work on the sleeve) Farley has been slogging around the NJ and NY circuit building a decent rep and gaining a bundle of acclaim for her live shows and debut album Daddy's Little Girl. This is her second, a pop based collection of tunes that mix up musical hooks and lyrical barbs to good effect. Her tinkling Tori-lite piano ballad cover of The Beatles' Run For Your Life indicates both where her influences come from and the interesting things she does with them. You'll probably find thoughts of Alanis bubbling up on the opening About You too, but if so it's an Alanis reared on Maria Muldaur and Carly Simon albums.
She bounces around the style shop too. Crush is a heel kicking twangy country tune (reminiscent of Blondie's One Way Or Another) into which is injected some techno loopiness, I'm Your Girl sashays with Gypsy guitar, the title track is all 60s baroque pop with its violins and cello while the gently swaying Buried harks to the folksy pop of formative Marianne Faithful and For You To Do That sounds just like something she may have unearthed on an obscure 60s album by some soul-pop girl singer forgotten in the most of time.
Confessional without feeling the need to coat the listener in glops of blood from self-opened veins, her deceptively sweet vocals (Aimee Mann's another touchstone) hide songs about romantic indecision, self-deprecation and emotional guilt, predatory, vulnerable and defensive in equal measure. If this is what a life of crime produces, then let's hope she remains a lawless heart.
Mike Davies
---
Jay Farrar - Stone, Steel and Bright Lights (Transmit Sound/Artemis)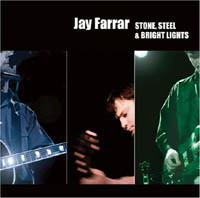 The critical knives seem to be out for the former Son Volt frontman, his solo albums getting increasingly iffy reviews and even fans suggesting he's run out of steam and ideas. Perhaps in an attempt to stem the rot he took off on a lengthy tour with rock outfit Canyon as his backing band, recording the results to produce this 19 track live album, his first in 15 years, through his own label.
There's two new numbers, the opening dusted slide guitar tickled melancholia of Doesn't Have To Be This Way and a rather bitter simple acoustic 6 String Belief but other than that its old reliables and a couple of covers. The live arrangements refuse to be in thrall to the studio originals to mixed effect, Fool King's Crown sounding frankly a noisy mess with electric guitars replacing acoustic and keyboards standing in for sitar though a keyboard reimagined Voodoo Candle sounds considerably tougher.
Elsewhere Make It All right tips his hat to the Byrds, Canyon hit a bluesy groove for Cahokian, Vitamins finds a gutsier edge to the studio version and Clear Day Thunder soars on a tribal storm.
But while Farrar's aching tenor's never dull it rarely takes wing and it does seem somewhat ironic that the album's most dynamic tracks are the covers, a fiery version of Pink Floyd's Lucifer Sam on which Canyon really let down their alt-rock hair and carry Farrar along in the flood and a predictable but nonetheless raging Like A Hurricane on which he sounds like he's channelling Young himself and you get the distinct impression that this really was a gig that took the roof off.
Mike Davies
---
Jay Farrar - Terroir Blues (Act/Resist)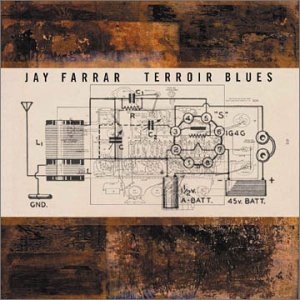 Whether the second solo album from the former Son Volt/Uncle Tupelo man actually needs the short spacey electronic instrumental interpassages he's called Space Junk I-VI is open to question, but there's no question that the songs around them are indispensable stuff.
Taking its title from the French for soil, a deeply complex term that embraces the relationship between man and nature to create so much more than just earth, it's also a nod to his St Louis home and its rich meeting of musical crossroads. Taking his touchstones from revolver and Tonight's The Night, the album blends its Americana folk with country and blues, the core line-up of pedal steel, slide guitar and piano evoking a landscape that's both bleakly harsh but soulfully warm.
The clattering blues of Fool King's Crown, one of the more politically barbed tracks, is atypical and really stands out like a sore thumb amid a mood, much inspired by his father's death, that's ruminative, restless, concerned with memory and the need to avoid repeating the mistakes of the past. Two songs make direct reference to his dad, the keening Hard Is The Fall with its line about him shaking Hank Williams' hand and the piano based Dent County where he contrasts his father's time in the Merchant Marines with the family roots in the Ozark mountains.
The stripped down, plaintive approach fills the heart too on the wistful Out On The Road its lonesome flute underscoring his words as he talks of finding your pain while the cello that colours Cahokian brings added melancholy to the song's concern with history - specifically Mississippi history - doomed to repeat itself.
In many ways an emotional concept album as Farrar looks to the past and wonders, as on No Rolling Back, what it holds for the future, it's an album that grows and lingers and seems certain to become a landmark release in his journey down the Americana road. It also comes with a handful of alternative versions, different roads taken, of four of the songs, bringing a more dirt country flavour to No Rolling Back and Hanging On Toy You, stripping the sound back even further to almost minimalist proportions on Heart On The Ground and, in a feat that seemed impossible, making Hard Is The Fall sound even more haunted and forlorn than the first time round.
Mike Davies
---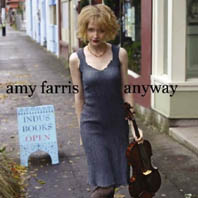 Fiddle player and former harmony provider for Kelly Willis, the Austin born Farris now steps out into her own spotlight with this Dave Alvin produced debut. She reveals a voice pitched somewhere between Dolly (especially on Heading East which sounds like a slowed down Coat of Many Colours) and Emmylou and musical styles that stretch from the Grapelli goes Western Swing of Undecided, Hard To Say's Patsy inclined jazzy sway and the title track's 60s girlpop (the closing Let Go is Dusty singing Roy Orbison!) to the old school honky tonk Pretty Dresses (one of several co-written with Alvin whose band provide the backing), a 60s psychedelic sitar pop No Exit (where she rhythms John Paul Sartre with Montmarte) and the bluesy bar lizard slouch of My Heart's Too Easy To Break.
If this diversity makes her a tad difficult to pin down stylistically, it also delivers an album of multiple colours and shades that can balance a jazz trio cover of Scott Walker's Big Louise with a twangy toe tapper take on X's Poor Girl that keeps your ears on their toes.
Mike Davies
---
Fast Lane Roogalator – Fast Lane Roogalator (Irregular)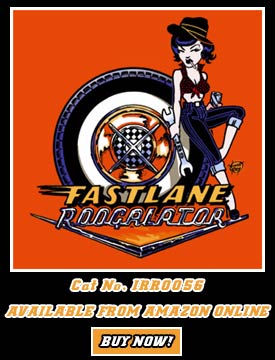 Fast Lane Roogalator were formed in the summer of 2003 by brothers Tom and Syd Spencer for a one-off tribute gig to their late father, singer/songwriter and author John B. Spencer. As a result of public demand, though, the outfit was given an open-ended extension of life and under the engineering guidance of guitar maestro Graeme Taylor went into the studio to record this, their debut eponymous album. It presents a selection of John's quirky songs given equally quirky contemporary interpretations by Tom and Syd, with the help of brother Will, John's granddaughter Steph, and various colleagues of John's including Bobby Valentino, Jamie Matthews and Michael Gregory as well as the aforementioned Graeme. All but one of the songs are John's, with minor changes to lyrics on three; the wild card is Johnny B. Better, Tom's excellent tribute to John. This really is a tribute album with extra cred, very much an extended-family affair, and the songs are characterised with joyfully accomplished musicianship and an infectious, boundless good-time energy to drive it all along in that fast lane of memory. The arrangements are imaginative and chock-full of tasty, rootsy touches from fiddles, banjos, dobro and lap steel to boost the basic guitars/bass/drums. Perhaps the level of invention tails off a bit towards the end of the album – but maybe that's because the first few tracks are so darned good! Judging from this CD alone, Fast Lane Roogalator sounds like a party that should almost never be allowed to end!
David Kidman
---
Faustus - Broken Down Gentlemen (Navigator)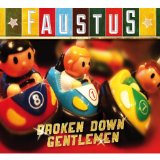 You might well be amazed that this dynamic outfit has managed to keep going while its members have all been heavily involved in other high-profile ensembles (Paul Sartin and Benji Kirkpatrick both as key members of Bellowhead, Saul Rose with Waterson: Carthy and latterly with Whapweasel). But here, after taking only a mere two-year break, the guys deliver a further inspiring and fresh collection of songs deeply rooted in the English tradition, tastefully and inspirationally arranged. But informed with an even more powerful sense of presence. So the album title is surely more than a touch tongue-in-cheek? Broken down? – no way! For there's an infectious energy here, with each song treated with a directly expressed passion that's shot through both playing and singing. The Stu Hanna production is crisp and clear, and the sound is admirably full-bodied at all times.
Faustus are thrice blessed, too, in that each of the musicians, though not primarily known as a singer, is a singer of real character in his own right, which gives the album an extra dimension of freshness and variety. Moreover, each singer proves well suited to his individual "lead" songs: in particular, Paul to Captain's Apprentice and American Stranger, Benji to I Wish, I Wish and Banks Of The Nile, and Saul to Apprentice Boy and Thrashing Machine (shame he only gets to sing those two, while Paul and Benji each take the lead on four songs). The possibilities afforded by the relatively limited instrumentation are more extensive than you might expect, and textures are constantly interesting to say the very least – and abundantly rich for the most part (The Captain's Apprentice especially so, I thought, and I Wish I Wish with its thrusting Seth-Lakeman-like charge).
And the sense of earthy conviction, a wide-eyed joy in discovery and sharing these song variants, is very strong – indeed, there's often a distinct feeling that this is almost to be treated as an object lesson in effective presentation of traditional material, eschewing any gimmicks and bringing it to you straight down the line with full force and commitment. The only aspect of this devilishly brilliant album that feels a let-down is its packaging. (It almost wins the award for the least informative accompanying booklet; why go to the expense of including a four-page insert at all, if it contains no information? OK, so the lyrics and "extended notes" are available on the band's website, but then we're left with all the hassle of having to re-format and print them out…) That unfortunate non-musical aspect notwithstanding, this album is extremely likely to turn up in the year-end best-of lists.
David Kidman March 2013
---
Faustus - Faustus (Navigator)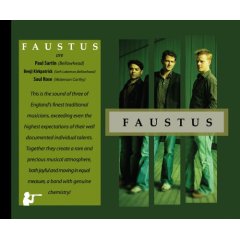 Now this is an outfit that will I'm sure live up (big time) to any media hype they get, while the act of sharing both a tour and label with BBC Folk Award winners Lau will prove more than a happy coincidence, I suspect.
This is Faustus' debut CD - but as many of you will know, this trio is a kind of transmutation of the folk-supergroup quartet Dr. Faustus, the first of whose brace of discs for Fellside (The First Cut) promised (and indeed delivered) much when it finally appeared in autumn 2003 after five years of intermittent gigging. Thankfully, it hasn't taken this medic-free three-piece incarnation quite as long to get round to releasing a debut CD - even though the individual members are heavily committed with other bands (original members Paul Sartin and Benji Kirkpatrick with Bellowhead, and new recruit Saul Rose with Waterson: Carthy). The Faustus CD does share some key attributes with its predecessor, in that it presents energetic, forthright, dramatic, keenly researched and attractively arranged performances of almost exclusively traditional English material. But here I feel the focus is even sharper, these musicians' interpersonal chemistry enabling something greater than the sum of their considerable individual talents, resulting in a complete experience of this music that is splendidly strongly characterised, brilliantly sung and played. And ingeniously arranged, with a deep respect for the material and their sources; you're unlikely to hear a more persuasive version of I Am A Brisk Lad, or for that matter virtually any of the songs on this disc.
Faustus also give us an intriguingly quirky take on The Betrayed Maiden (still haven't quite worked out the time-signature!), and create for us a sensibly abridged version of Harry Robertson's Ballina Whalers (the only non-trad song here). The latter, like several of the other songs on the disc, intersperses or incorporates a tune which genuinely enhances the listening experience (the Kirtlington morris tune within Acre Of Land is a prime example). There's also just two purely instrumental tracks: the first is a well-appointed set of satisfyingly tricky original tunes (with joint composition credits, it would seem), the second pairs the English tune Temperley Hornpipe (which here sounds more like a frantic jig!) with a quickstep from the Pyle Family Manuscript of 1822. Even though I've seen Faustus live a few times now, I'm stunned on each occasion by the natural dynamism of these three musicians: Paul's an intensely talented all-rounder with a wholly enviable equal prowess as violinist and oboist and Saul just has to be one of the country's best melodeon players, while Benji's seriously-hyper bouzouki provides both a superb bedrock and a motive force to be reckoned with. What's even more infuriating for us mere mortals is that each one of the three is a bloody good singer too (it fair makes me wonder if they really have made a pact with the devil!...)
I've remarked when seeing Faustus perform live, what a magnificently full, rich sound they make for a three-piece; and OK, so there's a modicum, and entirely reasonable, amount of double-tracking on this studio recording (that is, unless Paul's versatility now extends to playing violin and oboe simultaneously!), but my comment still stands. Nevertheless, without wishing to play down the musicians' contributions in any way, I'm also quite sure that the wonderfully upfront impact of this CD is also in no small measure due to the superbly detailed, crisp recording (full of presence) and the production by Megson's Stu Hanna, which perfectly communicates both Faustus' sheer joy in their music-making and the tremendous immediacy and cut-and-thrust of their performance itself. It's upfront and very much alive, yes, although not as overtly theatrical, larger-than-life or wilfully eclectic as Bellowhead, and retains its own special brand of integrity within its more modest and entirely believable framework.
Alright, I've one tiny technical quibble: the final note of The Betrayed Maiden (the final track) has, it seems, been "cut off in its prime", i.e. studio-clipped rather than being allowed to decay naturally (this in contrast to the end of The Hostess's Daughter, which is given an excessive amount of studio decay I feel). But this remains a really exceptional disc: a significantly exhilarating, thoroughly accessible and highly persuasive summary of all that can be, and is, still be so good (and relevant) about English traditional folk music.
David Kidman May 2008
---
Dr Faustus - Wager (Fellside Recordings)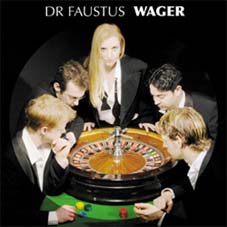 This folk supergroup's initial release The First Cut (2003) gave us a rich and often complex tapestry of sounds and original ideas, boosted by their comparatively unorthodox instrumental roster (both melodeon and concertina, several guitars, bouzouki, oboe and two fiddlers), four equally able (and equally distinctive) singers and an intelligent use of their very different qualities. Many of us forecast that the band's follow-up CD would be a stunner – and in many ways it is. It continues to provide a uniquely vibrant sound with often challenging, always stimulating arrangements that make fullest use of the supreme blend of talents with which the lineup is blessed. Its multilayered textures are a perennial joy, with constantly evolving settings that rejoice in knowingly staying one step (indeed, often more!) ahead of the routine or predictable. Few ensembles could stretch a contemporary version of The Broomfield Wager out to over eight minutes without risking the listener getting bored, but Dr Faustus keep our interest going throughout – and how! Someone said that Dr Faustus do for English music what Planxty and the Bothy Band did for Irish music – quite a claim, but I can see more than a grain of truth in it even though it doesn't tell the whole story. It's true, though, that several features of their music could certainly be heard as especially English – like the oboe's spicy combination of rusticity and classical purity, the energetic drive of the fiddle work, the vigorous panache of the squeezebox playing, the at times almost "Albion-Country" air to the ensemble sound. Unusually for these times too, Dr Faustus is an all-male quartet (the young lady keeping the group company in the cover photo is a definite red-herring!), all of whose members already have enviable pedigrees – Tim Van Eyken with Waterson: Carthy, Benji Kirkpatrick with at least three different bands, Robert Harbron currently with the English Acoustic Collective and Paul Sartin with Belshazzar's Feast and the mighty Bellowhead. One special feature of Dr Faustus that most other bands don't share is the opportunity for vocal arrangements that can be as interesting as the instrumental arrangements, and almost every one of Wager's ten tracks presents an example of this. In fact, there's so much creativity on display here that it's hard to single out individual tracks for special mention; so I expect it's a case of "faust come, faust served" here – I most liked that lengthy opener, also the band's takes on Lord Ellenwater and the Shepherds' Song and the Bed Between Friends/Two Rascals set, but ask me tomorrow and I'll probably give you a completely different choice - really, the whole CD's that good!
David Kidman
---
Dr Faustus - The First Cut (Fellside)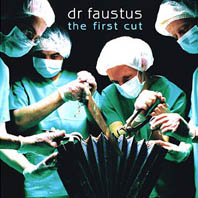 Hey, you just "goethe" hear this band! It's a kind of supergroup comprising four excellent, experienced practitioners from the English music scene (Tim Van Eyken, Robert Harbron, Paul Sartin and Benji Kirkpatrick). These musicians deliver an all-acoustic set mixing songs with a few tunes, almost exclusively English; many have their origins in versions heard on Topic's wondrous Voice Of The People set (for instance, Newry Town from the singing of Jumbo Brightwell, and Young Henry Martin from the singing of Phil Tanner). The four have played together as Dr. Faustus for around five years, but due to various other commitments have only now got round to making a record - the gestation period has paid off though, for their well-honed ensemble work is a striking hallmark of their approach. As is the intelligence and pride with which they adapt and treat their chosen material. Their strong and natural feel for blending of complementary instrumental colours (fiddle/oboe and a melodeon or English concertina in tandem with guitar or bouzouki) is bewitching too. All four take a hand at the singing, which I view as a strength (though some might feel instead that this leads to a disparity in group identity). The arrangements are interesting and often challenging, with plenty of drive and energy (if - at any rate on the faster material - not quite as full-frontally gutsy as John Spiers and Jon Boden, who seem to be setting an intimidating standard for the presentation of English repertoire at the moment). But I've no complaints with The First Cut - each and every track here is a delight; I particularly enjoyed Thresherman (taken from the singing of Harry Holman of Sussex), the ensuing instrumental set, Cambric Shirt (a riddling Scarborough Fair variant) and Salisbury Plain. Excellent recording too. So grab this disc while you can - it's a case of faust come, faust served!

www.myspace.com/faustustrio
www.fellside.com

David Kidman
---
Fearing & White - Fearing & White (Lowden Proud)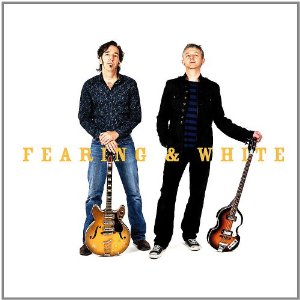 Individually Dublin raised Fearing and Belfast boy White have enjoyed solid though not spectacular careers, enjoying rather more critical acclaim than they have commercial success. Now, the former based in Canada and the latter in Australia, they've teamed up to pool their fortunes with an album of 13 co-written songs, one for every year since they met at the Winnipeg Folk Festival in 1998.
Ironically, with the logistics proving increasingly difficult, it was what was intended as a farewell concert tour of Canada that proved the catalyst for the album with audiences responding enthusiastically to the songs they'd written but never played together.
So, farewells put on hold, here are the studio results, the first release on the Calgary based label, with Fearing playing acoustic and electric guitars, White on acoustic, bass and pump organ, the pair taking turns on vibes, and Ray Farrugia on occasional percussion.
With a shared affection for the Beatles they're more Stealers Wheel than Simon & Garfunkel, and while never more than the sum of the parts, they make melodic, well crafted folk pop with Say You Will nodding towards rockabilly boogie and Under The Silver Sky getting bluesy with Fearing's resophonic guitar.
Their voices work well together and they complement each other nicely on guitar, so it's a pity that there aren't more songs as strong as the Celtic soul Let Love Be Your Direction, the CS&N influenced Mothership and the gentle strumalong of the wistfully romantic October Lies. Even so, it's pleasurable enough to hope they don't take another 13 years to make a second.
Mike Davies August 2011
---
Stephen Fearing - The Man Who Married Music (True North)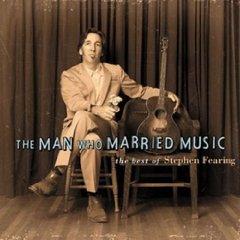 Born in Vancouver, raised in Dublin and now based back in Canada, Fearing released his debut album, Out To Sea, way back in 1988 and in 1996 became a founding member of Blackie and the Rodeo Kings. They recently released a Best Of and now Fearing follows solo suit with this career spanning collection of acoustic singer-songwriter numbers in the James Taylor/Gordon Lightfoot tradition.

Since none of his music was distributed in the UK prior to 2002's That's How I Walk, his sixth, there's at least 8 tracks here that may well be unfamiliar to newcomers. His debut's represented by two little gems, the seven minute romantic Beguiling Eyes with its hints of Clive Gregson and a Welfare Wednesday's six minutes of social observation and eroding dignity. Fearing sounds not unlike Clive Gregson, especially so on Turn Out The Light's tale of parental sexual abuse. It's the sole contribution from 991's Blue Light, an album Gregson actually produced even though it's the only track on the anthology not to receive a credit.

His third album, The Assassin's Apprentice, also receives just a single nod in the shape of the upright bass jazz hues of Expectations, though it's a certainly one of the best cuts in the set.

Industrial Lullaby's easy grooving bluesy Home opens the album with hints of Richard Thompson and is paired with the JJ Cale rolling Anything You Want, while So Many Miles contributes story song The Longest Road and the ten minute Dog On A Chain/James Medley (the latter a frisky ragtime instrumental), ample evidence that he's a captivating live performer too. That's How I Walk provides the rainy night swampy folk blues title track and the choppy rhythms of folk rock n rolling The Finest Kind (another Gregson soundalike) while his most recent studio release, Yellowjacket, serves double title track duty both with its eponymous strings soaked slow burner and (adding Harry Chapin to the comparisons), the torn affections of The Man Who Married Music itself.

By way of a bonus, there's also two new numbers, the reflectively lovely sea salt tanged The Big East West (even if it sounds a little like Don McLean's And I Love You So) and, bringing in organ and brushed percussion, the good time 40s jazz lounge sunny shuffle No Dress Rehearsal.

There's not a huge stylistic gulf between these and his first recordings, underlining the fact that Fearing has found what he's good at and has intention of trying to fix what's not broken or indulge in self-indulgent artistic experimentation. Something for which admirers old and new should be duly thankful.

Mike Davies September 2009
---
Stephen Fearing - Yellowjacket (True North Records)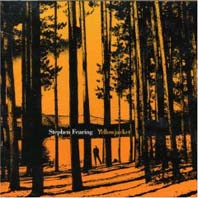 Listening to Stephen Fearing's latest release, his eighth studio CD, is a bit like greeting and old and dear friend.
Despite its intimacy there's a complete lack of awkwardness at being invited into Fearon's world, it as if being privy to these, gentle, personal stories is the most natural thing in the world.
During his 20-year-career, Canadian-born Fearing has worked with the cream of the folk/rock world, Clive Gregson produced his 1989 album Blue Line while Richard Thompson and Sarah McLachlan guested on 1994's The Assassin's Apprentice. To these names you could add artists of the calibre of Ralph McTell and Tom Paxton, Fearing displays the same pinpoint emotional and observational accuracy as all of them, what he aims at, he hits.
But there is also a cross-Atlantic hybrid feel to Yellowjacket, The Man Who Married Music has a Celtic lilt, which can be explained by Fearing spending his childhood and teenage years in Dublin. He has absorbed the romance of his adopted surroundings and has put it to devastatingly good use.
There is also another 'benign conflict' taking place on Yellowjacket, the title track begins sparse and spare, before blossoming and then retreating back into its folk shell, that style is mirrored in Love Only Knows and Like Every Other Morning while Goodnight Moon soars and flies apparently under its own steam.
Within the framework of an essentially simple musical philosophy, Yellowjacket is a constantly evolving and challenging piece of music. As a songwriter of exquisite taste and talent, Fearing has largely turned inwards, This Guitar is obviously autobiographical but while the rest stay close to their writer, it is only obvious thing about Yellowjacket.
As a singer, Fearing's easy style builds up an instant rapport and trust. The belief is absolute that he would never write just for effect and nor would he waste words, there is a clarity to Johnny's Lament that makes it both poignant and direct.
Stephen Fearing also provides his own 'musical interlude' with the whimsical, fantastical guitar piece Whoville, following which he launches into the album's 'second half' with the Tex-Mex shaded This Guitar.
On Yellowjacket Stephen fearing comes across as a man comfortable with his muse, he has good reason to be.
Michael Mee, May 2006
---
Stephen Fearing - That's How I Walk (Philo)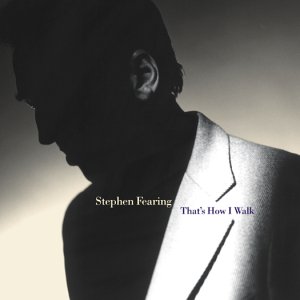 Choosing a favourite album of 2003 in February may be be considered somewhat premature but Stephen Fearing's latest release is one of those wonders which give you that deja vu tingle when something new feels like an old friend. You know you'll still be loving them next Christmas. There're old cultures and generations of poetry and folk influences in the bones of his music. There's also a nod to Richard Thompson, a little Gordon Lightfoot phrasing, a touch of James Taylor magic. Fabulous stuff.
Fearing's music hasn't been distributed in UK before, as far as I know. Now living in Toronto but Vancouver born, Fearing spent most of his boyhood in Dublin in 1961 when his parents divorced and his mother remarried. He returned to Canada in 1981 and released his debut album in 1986. That's How I walk, recorded in Toronto and Nashville, is his seventh solo release since then. His guitar playing and songs, as well as his artistic pedigree, are impeccable. A friend and working colleague of Colin (Raised By Wolves) Linden and Tom Wilson (not THAT Tom Wilson) in the Canadian supergroup Blackie & The Rodeo Kings (two albums with them), he's worked with Linden, James Keelaghan, Andy White and Bruce Cockburn on their albums. His song Beguiling Eyes was covered by Clive Gregson & Christine Collister on their Love Is A Strange Hotel. And in the quality friends department, Richard Thompson is a long-time one.
For That's How I Walk, Fearing has co-opted the talents of Linden on co-production and acoustic and electric guitars. It's guitar-rich obviously, with some resonator guitars (the up tempo I Like The Way You Said That, the long night of lost love that's That's How I Walk, the sparsely glorious traditional The Parting Glass) but there's moody trumpet and sax on the JT-feel Town Called Jesus, and shades of Nick Drake and big strings on Showbiz. It's a Celtic finale with the instrumental Meghan Hayden's (Leonard Podolak on banjo) and the Fearing/Linden acoustic duo The Parting Glass - a beautiful way to say 'Goodbye'.
So I'll raise my glass to Stephen Fearing and wish him the very best. He deserves it.
www.stephenfearing.com
www.rounder.com
Sue Cavendish
---
Philipp Fankhauser - Talk To Me (Memphis International)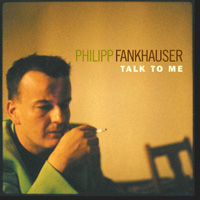 Befriended by Johnny Copeland after meeting him on tour in Europe, Swiss national Fankhauser went over to America and lived with Copeland for a while and the influence is there for all to hear. There are two Copeland covers sitting with one Solomon Burke, a Larry Addison and six Fankhauser originals on this very strong album.
Opening with the big, brassy Ain't Gonna Give It Up, Fankhauser serves up a funky blues with a jazzy guitar break and a throaty vocal. Throw in some Latin trumpet and standard rock guitar at the end and you have a smorgasbord of sounds. The first Johnny Copeland song is Cut Off My Right Arm, a soulful blues that brings both Copeland and Robert Cray to mind. Excellent sax solo and snappy guitar that is not overcomplicated. Members Only, the Larry Addison song, is a slow, piano-led track and it is a highlight even if the lyrics are a bit syrupy at times. This is very reminiscent of John Hiatt.
The title track has a raucous Elmore James style opening that leads into a swinging blues. The guitar solo is ace and the whole thing builds up into a very good song. Home Town (Thun) is an acoustic bayou-influenced effort in the style of JJ Cale and R&B gets a look in on the second Johnny Copeland song, Flyin' High (Yesterday). This swings and will get you going – simple and effective.
Welcome To The Real World is another funky blues that shows Fankhauser's social conscience and the lyrics will give you something to think about. It is funky and has great organ and sax playing. Who's Gonna Sing The Blues For You? is unusually slow but it is a very powerful piano offering plus the obligatory horns of course. The tempo is raised again for Going To Dallas, a big band swinging blues. I have to say that Fankhauser has missed his time. His style is that of days gone by although there is a contemporary streak in there as well. The final track is the Solomon Burke penned Down In The Valley which is given a funky treatment and this gives an idea of how Fankhauser sounds in the live environment and very good he sounds too.
www.memphisinternationalrecords.com
www.philippfankhauser.com
David Blue
---
Mimi & Richard Fariña – The Complete Vanguard Recordings (Vanguard)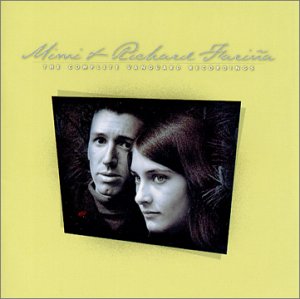 If ever a release were essential, then this one falls into that bracket. It's also as near complete as you'll ever get – unless any further tapes get discovered in the Vanguard vaults, that is.
Three years ago, Vanguard issued a single-disc "very best of Mimi and Richard" collection which was well nigh unsurpassable, but admirers of the duo's work will I'm sure want everything they recorded for the Vanguard label – which this three-disc set now presents. It contains the two original 1965 LPs Celebrations For A Grey Day and Reflections In A Crystal Wind, the posthumous 1968 retrospective album Memories, and nine tracks recorded at the 1965 Newport Folk Festival (two of these featuring guest appearances, by Peter Yarrow and Jean Ritchie respectively).
So who were the Fariñas? – well, even if you don't immediately recall their names, chances are you'll have heard one of Richard's songs – almost certainly Pack Up Your Sorrows (probably from the Judy Collins recording), maybe Reno, Nevada from Iain Matthews/early Fairport or the atmospheric Quiet Joys Of Brotherhood from Sandy Denny. Richard started out on the early 60s Greenwich Village folk circuit, became associated first with Bob Dylan and Carolyn Hester, then he teamed up with Joan Baez's sister Mimi. Following their acclaimed appearance at Newport, they recorded two albums in quick succession, only a year after which Richard was killed in a motorcycle accident (he was barely thirty).
The music itself has hardly dated, and is striking for several reasons: first, the inordinately high quality of the songwriting; second, the stunning timbre of Mimi's voice and its uncannily perfect blend with Richard's; and third, the original and distinctive combination of Appalachian dulcimer and autoharp that crops up on many of the songs and quite a few of the instrumental cuts – it might sound precious, but it's exhilarating and sparkling with a (for the time) unusual mix of Indian-style drone and old-time picking. Along with the acoustic cuts, the studio albums feature a (again, for the time) pioneering electric line-up led by Bruce Langhorne (he was involved in Dylan's own electric phase, remember).
Richard's political songs, notably House Un-American Blues Activity Dream, are very much in the "angry Dylan" (read Subterranean Homesick Blues) mode. The duo also recorded some then-less-often-heard repertoire such as the shanty Blood Red Roses; sung a-cappella, their version is virtually identical to the one I first learnt from a Matthews' Southern Comfort LP! (For the remainder of Richard's recorded legacy, you'll have to search around – though at least Birmingham Sunday's available on the Best Of Broadside set.) So grab this definitive set while you can.
David Kidman
---
The Famous Jug Band - O For Summer (Market Square)
Following on from the successful reissue of the FJB's 1969 album Sunshine Possibilities, this is a newly-recorded (Y2K) set by the original band line-up (Clive Palmer, Pete Berryman, Jill Johnson and Henry Bartlett) - quite an achievement to bring them all together too, and made all the more poignant by Henry's death last August. O For Summer is closer in feel to the FJB's second album Chameleon, despite the presence of Clive (who by then had left the group), but it exudes that characteristically relaxed and charming good-time feel from the very opener, a banjo-led chugalong featuring Clive's singing and full of the laid-back joys of summer. Thereafter, Jill and Pete more or less alternate vocal leads on virtually all the other tracks, which range from the acknowledged jugband stylings of Baby Please Come Home and the wonderfully languid, jazzy Winter Sunshine to the quirky Time And Momentum (one of several tracks to feature Jill's lovely, distinctively clear and rounded vocal tones, which, particularly when double-tracked, sound uncannily McGarrigle-like – and I've just discovered I'm not alone in that observation!).
There are two purely instrumental tracks - a typically catchy Pete Berryman guitar piece (Davy's Signal) based round a hornpipe, and Clive's banjo arrangement of the traditional Danse De Matelots (very much a contemporary counterpart to Banjoland from the first COB album!). Instrumentation is kept deliberately simple, and although Henry's driving jug playing is an integral element in the overall sound at all times, there's a delectable lightness of texture that's very refreshing. Guitars, autoharp, dobro, mandolin, banjo and bass (and other instruments including the self-evidently misspelt "timples"!) are tellingly augmented with cameo appearances from a select few other musicians, like Stu Porter's atmospheric harmonica fills (on Winter Sunshine). The recording was made down in Dorset, and is betrayed by background noise, and there's a bit of incidental distortion too at times, but that matters not in the end, for O, what a delightfully fine album this is.
David Kidman
---
Feast Of Fiddles - Still Live (Feast Of Fiddles)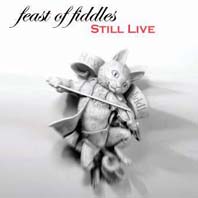 Feast Of Fiddles came together in 1995, as a one-tour-a-year-only band of friends coming together to put on a two-act show giving insights into how the fiddle has been used in all kinds of music. Feast Of Fiddles is the collective name for seven of the best fiddle players in the country (Messrs. Beer, Broughton, Cutler, Knight, Leary, Leslie and McNeill) united with a rock-based backing band, and they really do give their all in a vibrant display of virtuosity and musicianship in what can only be described as unabashed enjoyment. Still Live is the third FoF CD release, and it presents over an hour's worth of fabulous entertainment capturing all the energy, immediacy and conviviality of the live show, taken from performances on the spring 2006 tour. It gives examples of each section of the show, from stirring ensemble pieces like the fun opening sequence and the Shave The Donkey set to items which showcase an individual fiddler (this time it's Brian McNeill, Joe Broughton, Chris Leslie and Peter Knight who get to step in to the spotlight). There's an interesting departure on this CD, in that three of the selections are taken from the more intimate one-off unplugged acoustic show the band did at their home venue, Nettlebed Folk Club at the Village Hall; these include a particularly sublime Acadian Driftwood. Oh, and lest you fret that this is wall-to-wall fiddle music, over half of the tracks feature vocals somewhere along the line and there's some delicious guitar work too (notably on Autumn Leaves...). Yes, this sparkling CD proves that with canny organisation and careful preparation a large-scale lineup (a veritable big-band in folk terms!) can provide an unequalled live experience whose sense of spontaneity and abandon can effortlessly and immediately blow away any feeling of over-arrangement that a pre-gig contemplation of the lineup might bring. Here's to next year's tour!
David Kidman June 2007
---
Feist - The Reminder (Polydor)
Sometime singer with Canada's Broken Social Scene, one time guitarist with a Toronto punk outfit and touring chum of Peaches under the sobriquet Bitch Lap Lap, the past three years have seen Leslie Feist carving her own solid solo career. Having made an impressive debut with Let It Die, she returns with her second (third if you count the remix and oddments Open Season), recorded in an old Parisian manor house (complete with environment ambience) in collaboration with Chilly Gonzales and a fine coming together of old school torch, soul-jazz, indie folk and sunny dappled creek pop.
Her love of Nina Simone is to the fore on a great handclapping gospel cover of Sealion (as in See-Line Woman) but also evident in her own spiritual slow burn Honey Honey (which also turns up as a bonus live version), the snake-hipped, skittish My Moon My Man and the lazily gorgeous piano soul ballad The Limit To Your Love.
But she ranges wide too over these 13 tracks, drizzling in things like vibraphone and banjo, crooning mellow and seductive but also occasionally baring teeth to bite rather than smile. Brandy Alexander is a lovely, finger-clicking backporch soul-folk number as warm and creamy as the drink with which it shares its name and should be served with ice as you lay back on a sunny afternoon, I'm Sorry opens on an acoustic samba sway, Intuition shows off some delicate finger-picking as Feist's voice rises and falls across the simple melody line, Past In Present switches to chugging train rhythm pure pop and Southern mint juleps mode just as I Feel It All does jangling folk-pop with descending vocal scales as she sounds like a marriage of Sheryl Crow and Dory Previn.
Best of all though is the insanely infectious 1234, a simple dismissive lovers' rhyme with banjo, handclaps, doo wop backing, parping brass and rolling piano that all comes together for a euphoric, barefooted giddy dance around summer lawns. A reminder's unnecessary, one you've heard these heady joys you won't forget them.
www.listentofeist.com
www.myspace.com/feist
Mike Davies May 2007
---
Julie Félix - Bright Shadows (Remarkable Records)
This is (against my initial expectations, I have to admit) a rather special album. But it needs you to be in an equally special mood I think, in order to get the best out of its considerable charms. First, though, some background info: this disc is a CD reissue (expanded with four bonus tracks, these presumably taken from the same sessions but omitted due to restrictions of format?) of an album first released (on cassette only) in 1989, which somehow I completely missed out on at the time. The album effectively formed Julie's comeback to music-making after a near-ten-year layoff. Of course, everybody tends to remember Julie as somewhat of a 60s TV icon, from regular appearances on the Frost Report through to hosting her own eclectic show in the later years of the decade; but there's no trace of Goin' To The Zoo on Bright Shadows, which is a superb collection of mature, thoughtful, passionately concerned songs arising directly from Julie's newly-found inner strength and containing much highly evocative, dazzling and often provocative word-spinning to complement the intensity of her conviction. Here Julie's spellbinding, dark voice is used to evoke the landscape of the "dark feminine", amidst an all-enveloping backdrop of what she terms "the sounds and texture of Mother Earth". The sounds of the sea wash through, into and over a considerable proportion of the album's 70-minute span, both providing an experience you can truly soak up (sic!), and giving the album its basic connecting thread, just occasionally giving way to tinkling cowbells and a pastoral soundscape with persistent cockcrows. (I mention this in order to fair warning to those normally resistant to the potentially intrusive practice of swamping music with "atmospheric sounds" that virtually the whole disc is awash with such sounds, a feature which you may either find soothing and relaxing, or slightly distracting, or immensely irritating, depending on how the mood takes you.)
As far as Julie's own performance goes, well her singing is every bit as peerlessly lush and warm-toned as I remember it. This is particularly true on the tremendously powerful ode to love and longing for lost times The Summer For Me, whose sense of "oceanic majesty" is very captivating indeed. As too is the equally powerful spirit of genius loci which imbues the majority of the songs on this album, their writing heavily inspired by Julie's exhilarating residency in Greece "where mythology mingles with the present landscape". There's an appealing quality of intrinsic sensuality (and in the sense of fully using our senses and sensations too!) about Julie's music that extends beyond her compelling voice and the deeply-felt writing into the potent melodic content. I'm not always totally convinced by the musical arrangements (no credits given in the booklet, so I can't comment further I'm afraid), and I find some of the tinny synth tones a mite dated. But nothing can detract from the power and strength of the material. Every song really convinces, aside possibly from the rather repetitive anthem We Wish You Love (which overstays its initial welcome with a pointless, distorted reprise) and the musical setting of Moonlight (which I felt didn't quite work for me). Many of the songs here, like the poignant I Miss You, are especially memorable and had already entranced me in recent live performances, so I'm glad to finally get to hear them in the context of the original album, whose appearance on CD now is both overdue and very welcome. And there's even more good news: Julie tours again this year with the Forever Young Tour – check out
David Kidman January 2007
---
Christine Fellows - Nevertheless (Six Shooter Records)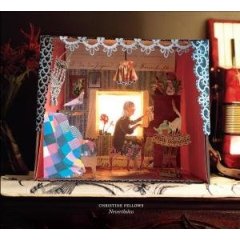 Yes - strange, decidedly oddball even, but absolutely extraordinary and very very stimulating, indeed, is this latest release from Winnipeg-based Christine. It's her fourth full-length album, and (she tells us) it takes its title from a poem by Marianne Moore, in whose life and work it's ostensibly largely anchored - the various references and inferences are explained in the booklet. And although I don't feel you need a grounding in Moore's elliptical poetry in order to appreciate the almost minimalist brilliance and intense charm of Christine's own writing, there is a definite kinship in the two writers which intrigues on more than one level. Aside from being a singer and songwriter, Christine's currently composer-in-residence at Winnipeg's Contemporary Dancers, and this balletic sensibility is clear in the instrumental opening track, Let Us Have Done With The Umbrella Of Our Contagion, an incredibly catchy melange of the Penguin Café Orchestra, Stackridge, Michael Nyman and Saint-Saëns (and what a wonderful title too - it derives from a phrase uttered by Moore's mother, apparently). There's a more sedate instrumental piece (A Pantry Ballet) later on, but otherwise it's songs all the way thereafter, and the intrinsic quirkiness of that breezy, busy opener is proudly and resplendently celebrated by Christine throughout the ensuing 13 songs, all but one of these being her own compositions. The instruments Christine herself plays are unusual for a start: ukulele and piano in the main, with occasional Casio, glockenspiel and a few oddities. Not a guitar in earshot (aside from an occasional bass), while her backing musicians score on xylophone, violin, cello, viola, banjo and mandola. Then there's Christine's singing: also strikingly individual in timbre and expressive technique, while being wide-eyed and almost innocently passionate yet refreshingly devoid of contrivance. Her songs (creations) have an appealing combination of childlike worldview and mature adult perception, and Christine conveys a bird-like precision in the formulation and articulation of her thoughts and ideas. This ornithological bent turns out to be a kind of mild preoccupation, with birds figuring large in many of the songs (eg Poor Robin, The Goddess Of Macramé, To A Prize Bird and The Parlour Rollers) and pigeons and other species even contributing their voices cacophonously to What Makes The Cherry Red. Elsewhere, the weirdness extends to some of the instrumentation: Yours, And With Ever Grateful Wonder brings back memories of Erik Satie's ballet score Parade by introducing the sound of a typewriter into the fray. There's considerable variety and inventiveness in Christine's music: the album's closer, What Are Years?, chugs away merrily with a down-home banjo undertow that recalls prime McGarrigle country, while the title track thrusts ahead like commercial pop and some other songs carry more than subliminal echoes of The Roches or mid-period Incredible String Band. With Nevertheless, Christine has conjured a seriously beautiful and immensely rewarding record - and I for one intend to get backtracking to her earlier works as a matter of urgency now.
David Kidman January 2008
---
The Fence Collective - Fence Reunited (Fence Records)
This is a strange one, a real curate's egg, good in parts and not so good in others. The Fence Collective are some of Scotland's foremost alternative folk artists and include in their ranks HMS Ginafore, James Yorkston, Down The Tiny Steps, King Creosote, UNPOC, Gummi Bako, The Pictish Trail, Lone Pigeon, On The Fly, Beth, Pip Dylan and John Bews.
Following the sombre opener, Comfort In Rum by HMS Ginafore and James Yorkston, the album produces two songs of quality in Lemonbelly (Down The Tiny Steps) and the languid Easily Led (James Yorkston, King Creosote, Down The Tiny Steps & HMS Ginafore). It is no coincidence that Down The Tiny Steps has a part in both songs as they are one of the plus's that are to be gained from the collection.
Going Down To The Water continues the downbeat feel but it is an excellent example of modern folk and is performed by The Pictish Trail, King Creosote and Down The Tiny Steps. The album is in full swing now and Unknown Yesterday by Lone Pigeon and King Creosote continues the rich vein of top class songwriting.
King Creosote and James Yorkston serve up A Friday Night In New York which manages to combine the feeling of an old sea shanty and a contemporary outlook. One of the few upbeat tracks is Pip Dylan's I Believe It's True and this is one of the highlights. HMS Ginafore's treatment of the standard Nobody Knows takes a little getting used to but persevere because it does work. The inspired pairing of Lone Pigeon and King Creosote provides another top-notch song in Musakal Lives.
I said that the album is a strange one but I have gone on to point out eight very good tracks. The others are not poor quality by any manner of means but it is a shame that not all of the artists reach the heights of Down The Tiny Steps, HMS Ginafore, Lone Pigeon, King Creosote, The Pictish Trail, James Yorkston and Pip Dylan. I believe however that the good overcomes the not so good and the album deserves to be in your collection as an example of contemporary folk.
David Blue
---
d Henry Fenton - Autumn Sweet (Laughing Outlaw Records)
This is the debut album for the Australian Fenton who is now based in the USA. Produced by Mitch Easter of REM, Pavement and Suzanne Vega fame it is a debut to be proud of. The opening track Trouble Comes is a pleasant start. Quite upbeat and is a foretaste of things to come with a good acoustic solo and Fenton's deceptive vocals. The title track is a little more rocky and shows that he is no one trick pony. Over n Over opens with some nice reverb on the guitar and is one of the many tracks on the album that lures you in and has you singing along before you know it. Sleep, like the rest of the album is a well-crafted, laid-back, easy to listen to song.
The more up-tempo I'm Not Ready For You is a burner and Lightning again showcases Fenton's voice. Love Only Lies Half Naked Next To Me has clever lyrics and I deny you not to sing along. This is one of my favourites and will be for some time, especially with its excellent guitar work. Slow Down Dixie does exactly what is says in the title. Although it is slower than the previous couple of tracks, it does not suffer from this. All that I can say about New York Song is that it is quite simply a lovely acoustic song.
Fenton seems to capture everyday events and turns them into song. He also can turn his hand to a few different styles -- Only Angels Can Fly has a country feel, The Many Faces Of Esther has a good rock riff running throughout, Sad Hotel is another excellent folk-rock song and Jericho's Horse is a great storytelling opus.
I can only hope that d Henry Fenton will build on this more than able debut and go on to even higher achievements.
David Blue
---
Fernhill - Canu Rhydd (Disgyfrith)
The title of this latest offering from the inexplicably underrated Fernhill means, literally, "free poetry", written according to the will of the poet, and unconstrained either by patronage or by the 24 accredited meters of the secret craft of bardic poetry; it therefore brings directly into our homes its creative legacy of song, which can be – and here, is – drawn from any tradition.
The sad fact is that even some who would term themselves enthusiasts of folk music have in the past found the music of Fernhill a touch austere due to its uncluttered, characteristically spare sound-world and its slightly cool demeanour, also a touch inaccessible due to the group's ready espousal of a genuinely bilingual (Welsh and English) approach to the sung texts. But those aspects of Fernhill's music are precisely what gives it its unique musical character, and are to be celebrated anew on their latest release, which, while retaining those essential features, stretches the musical envelope further with the first-time-on-record appearance of the band's latest recruit, fiddle player (and sometime vocalist) Christine Cooper.
The inventive and tremendously distinctive trumpet and flugelhorn playing of Tomos Williams of course continues to define the Fernhill sound, as ever providing an unusual jazz-tinged counterpoint to Julie Murphy's trademark wondrously crystal-pure singing voice, an instrument that's as miraculous for its latent passion as for its unbridled natural clarity of timbre and expression. Ceri Rhys Matthews' percussive yet lyrical guitar playing continues to reliably underpin the winding melodic contours of the songs.
Settings and treatments are expectedly intimate, striking in their intensity; exceptional versions of Down In Yon Forest and When I Was In My Prime (both sung in English) providing readily identifiable disc highlights – the former being additionally remarkable when it's succeeded by a brilliant edge-of-the-seat acappella rendition of Benjamin Britten's Corpus Christi Carol. On the pithy Glyn Tawe, a recitation of some poetry is woven into the fabric, to telling effect – but it's not easy to identify the authorship of this portion of the libretto even from within the relevant section of the album's lyrics presented on the band's website (the slimline CD package is, frustratingly, none too informative as regards sources).
There's also a new boisterousness to the Fernhill sound here, as demonstrated in the Breton-inspired Diddan, the skipping rhythms of Y Fwynlan O Serch (which also features a vocal duet between Julie and Ceri) and the playful, energetic interplay between Tomos and Christine on Glyn Cynon, while Ceri fetches his flute along to the party for the three-handed jig that forms an ebullient coda for Julie and Christine's plaintive harmony-rich rendition of Sydney Carter's enigmatic Like The Snow, bringing the disc to a spirited close.
So I'd entreat listeners who've hitherto resisted Fernhill's charms to give them another chance – don't be put off by the singing in Welsh, nor the jazz leanings, nor the sparse palette, for all these elements will yield considerable richnesses for those prepared to lend their ears. Canu Rhydd is a mesmerising and stimulating experience.
David Kidman October 2011
---
David Ferrard - Across The Troubled Wave (Alter Road Records)
Born and raised in Edinburgh (to a Scottish father and American mother), and still based there, David's hitherto been known largely for his songwriting, and his debut album Broken Sky concentrated almost exclusively on that aspect of his art. Across The Troubled Wave displays the other side of the coin, as it were, being an album of traditional (and traditional-style) songs given David's thoughtful and individual treatment.
During his childhood, David spent part of each summer in rural Pennsylvania, an experience which has evidently informed his approach to the tradition, for the style of his performances and arrangements – made in collaboration with bluegrass and old-time multi-instrumentalist Josh Goforth (in whose studio in the Blue Ridge Mountains, North Carolina the album was recorded) – lend a distinct old-time feel to much of the disc. Also, listening to David's attractive (if sometimes understated) singing, I was occasionally reminded of Kieron Means, or his mother Sara Grey, the latter especially in respect of a specific vocal characteristic: a sometimes quite pronounced vibrato which supplements the gentle burr of his legato lines. This is kept sensibly in check on David's very appealing unaccompanied rendition of My Dearest Dear midway through the disc, which in spite of the consistently satisfying quality of the rest of the set remains a standout track. Instrumental backings are kept simple, and authentic as they come, with David's own unfussy but effective guitar accompaniment complemented by exceedingly well-considered and wholesome fiddle, mandolin, banjo or second guitar from Josh (with occasional bass and backing vocal contributions too).
Nothing's out of place, and that very fact might just once or twice during the album raise a mild charge of tameness, but repeated listens yield subtle insights in the playing as well as in the singing, for David definitely has an innate feel for this kind of material, whether it be purely traditional or contemporary in origin. Of the latter category, the pair of songs by Dunbar's Kenny Brill (Gilmartin and SO9 Monktonhall) are outstanding, and keenly portrayed by David, while Doyle Lawson's genial gospel Calling My Children Home is given an appealing and sensitive Carter-style treatment. Highlights of the former category are a particularly fine fiddle-backed rendition of Pretty Saro and a version of The Rejected Lover (Once I Knew A Pretty Girl) which David got from the singing of Joan Baez. It's indicative too, that many of the songs incorporate the themes of emigration, love and loss, clearly ones to which David responds, and the disc's very title is taken from the lyric of Stephen Foster's Hard Times, an easy-rolling version of which closes the set stylishly.
Throughout, David's even-toned, gently expressive performances on this exploration of his transatlantic roots give us a most pleasing disc.
David Kidman August 2009
---
Ffynnon - Adar Gwylltion (Taith Records)
Three albums in, this Welsh band (whose name is pronounced "Fun-On", by the way) is still proudly flying the flag for the folk music of their very special corner of the British Isles, in spite of the setback they received with the death of a founder member, ace jazz bassist Dave Reid, just over four years ago. Having said that, their approach to the traditional music of Wales is a little unorthodox; I don't mean that they go overboard with experimentalism or fusion or whatever, but Adar Gwylltion is still a somewhat er, strange record, which doesn't quite make complete "listening" sense, I find, even after several plays - which may explain the unusually lengthy time-lapse between my receiving the disc and completing this review! That's not to deny its very many positive qualities - for in fact alongside its more than mildly challenging aspect there's some extremely satisfying music here. The first problem for the non-Welsh-speaker will naturally be the language barrier - though the album title (translated as Wild Birds) proves strangely apt as a poetic description of the music within. However, some might view the apparent impenetrability of the Welsh language as a blessing in disguise, for it enables concentration on the sound rather than the meaning of the words; tho' myself, I'd have welcomed a little more in the liner notes than just a brief, often unduly cryptic synopsis of the text... And just to confound you, a couple of songs are sung in French and a further two in English. Either way, you can't fail to respond in some way to the wonderfully clear and confident singing voice of Lynne Denman, nor to the excellent musicianship of Stacey Blythe (accordion, harp, piano and whistle - who's also a good singer by the way), Emma Trend (fiddle), Matthew Lovett (guitar, bass) and producer Dylan Fowler (guitar, drums). This is folk music with a distinct jazz flavour, but - perhaps curiously - it sounds like neither genre really. There's a spirit of innovation therein, which is hard to pin down to any one feature; at times there's a freewheeling, slightly devil-may-care feel (maybe at times a bit akin to Hoover The Dog, I thought), in the way the folk and other musical influences interact and shift during the course of a track. There's so much contrast between the individual tracks too - check out the dark yet amazingly bluesy Oer against the sparse piano-backed Llanw Chwant (the only clue to its contents is its translated title Tide Of Desire) and the bilingual "dream song" Breuddwyd, all of which are well complemented by the small handful of spirited instrumental tracks. The aspect of this disc which at times proves the hardest to come to terms with is its impression of being as a whole but a fleeting memory of a period in time, during which arcane snippets of conversation and found sounds (curlew calls, flowing streams and the like) drift in and out of the listening sequence with a peculiar and unexplained kind of logic. The more I play the disc the more I like it - although I do get the feeling that the disc's riches may never be fully revealed: a tantalising prospect...
David Kidman January 2007
---
Ffynnon - Celtic Music From Wales (Green Linnet)
Don't worry about the fact that the band's name is pronounced "fun-on" – just luxuriate in their music. Well, luxuriate's probably not quite the right word, for this trio purveys music of sparse textures that requires close listening yet is very immediate in its impact. Comprising Lynne Denman (vocals, bodhrán), Stacey Blythe (accordion, keyboard, vocals) and Dave Reid (six-string bass, keyboard, vocals), Ffynnon produce a sound that's fairly accurately described on the press release as "simultaneously ancient and contemporary, traditional and modern". Its dominant impression is one of understated yet expressive ambience, with an attractive textural sparsity rather reminiscent of early Fernhill (and that's not just because Lynne sings mostly in Welsh, nor is it me making a subliminal connection because Lynne has sung with Julie Murphy on the English Songs Of Love and Black Mountains Revisited releases!).
Not all of Ffynnon's repertoire is indigenously Welsh however – the album's 16 tracks include a version of the Northumbrian Felton Lonnin (strange though that dialect may sound after two songs sung in Welsh), an infectious Breton dancing song and a Scottish border ballad. Most of the songs are settings or arrangements by Lynne herself of existing traditional texts, which include bardic poetry and nursery rhymes as well as songs of love. A highlight for me is the unaccompanied Aros Mae (Staying), where Lynne shows her mastery of restraint in vocal decoration, after which the closing track, Galw (Calling), a somewhat curious hybrid of Welsh and English, rather leaves a taste of unfinished business.
Whatever the album's shortcomings as regards its track sequencing, though, it's indisputable that (notwithstanding its distinctive instrumental sparsity) the album's most striking component is Lynne's voice, which is pure and strong, confident, dexterous and adaptable (she copes believably with the linguistic challenges). The moods (or drama) of the songs are excitingly realised without overkill, the cool and often distinctly jazz-inflected instrumental textures (notably Dave's bass work) well complementing the vocal lines. The blend is quite mesmerising, and I'll be interested to hear what Ffynnon come up with when they come round to recording their next album.
David Kidman
---
Fiddlers' Bid - All Dressed In Yellow (Hairst Blinks Music)
After issuing three records on Scotland's premier Greentrax label, this formidable septet now takes the bold step of releasing album number four under its own steam, switching recording location (to London) and producers (to Calum Malcolm) in the process. Over the 18 years of their existence, Fiddlers' Bid have always had a mission to bring the Shetland fiddle tradition to life (and wider circulation) in vibrant virtuoso performance.
There's a life and energy about their playing that's tremendously infectious, and their music has the power to rouse those normally immune to the charms of fiddle tunes! The band includes among its ranks no fewer than four excellent fiddle players - Andrew Gifford, Chris Stout, Kevin Henderson and Maurice Henderson – who are supplemented by Catriona McKay (clarsach and piano), Fionán De Barra (guitar) and Jonathan Ritch (bass). The sound of four fiddles in unison or in joyful interplay is a wonderful thing, but the Fiddlers' Bid approach is intelligent and ensures interest and variety by skilful manipulation of the textures and there's no sense of clutter or overcrowding - so that when the full ensemble kicks in it makes a great impact.
Although the signature band sound is inevitably fiddle-rich, the fiddlers aren't selfish and regularly leave gaps in the texture for some delightful non-fiddle solo passages or fills. Catriona gets to lead on Midnight, and her deft but confident treatment of the tricky time-signature is brilliantly taken up by the fiddle section. Glancing initially at the cover listing might give rise to fears that the album, with six just tracks (all but one over five minutes in duration, and the title track finale weighing in at an epic quarter-of-an-hour!), will be heavy going – but the minutes fairly whiz by in a whirlwind of scintillating playing and brilliant tunes. Though a healthy majority of these are of traditional Shetland origin, there's a couple from Sweden and one from Estonia while Chris brings four of his own fine compositions to the mix too.
Moods range from the no-holds-barred attack and session-spirit vibe of The Fiddlers' Bid Ode To Joy set to the evocative pump-organ stylings of Astrid's Vals, while the aforementioned finale in particular wears its ambitious and unusual structure (a sequence of contrasted reels leading to a reposeful waltz and slow air) lightly in a really appealing combination of thrust and fragility. But the whole record is a dazzling and treasurable display of lovingly phrased instrumental work and keen, bright-eyed musicianship.
David Kidman November 2009
---
Fiddlers' Bid - Naked And Bare (Greentrax)
It's been a busy year for the leading exponents of the Shetland Islands' fiddle tradition! They follow up their stirring Hamnataing album with Naked And Bare, while their frontman Chris Stout has released both a solo album (First O' The Darkenin') and a duo album with Catriona McKay (Laebrack) - both of which I've already reviewed on this site. Naked And Bare is another superb advertisement for the power of the fiddle, especially in this angular yet abundantly lyrical massed-unison style beloved of those Isles. The Fiddlers' Bid lineup contains no fewer than four fiddlers (Chris, Kevin Henderson, Maurice Henderson and Andrew Gifford) backed by Catriona (piano, harp), Fionán De Barra (guitar) and Jonathan Ritch (bass). The ensemble sound is distinctive and full, with a surprisingly varied tonal palette, and a degree of neo-classical refinement complements the force and dynamism of that fiddle front-line – a refinement emphasised on occasions by Chris putting aside his fiddle for a viola. Another difference is that Catriona's harp contributions are more to the fore on this album than on its predecessors, and give the whole outing even more potential for dramatic and textural contrast within and between pieces. The material performed on this new CD is even more wide-ranging too, with a couple of Faroese tunes (as well as some from Sweden, Spain and Ireland) placed alongside the strong Shetland contingent (of both traditional and composed tunes). Tempo and gear changes are supremely well-managed, making this a thrilling and well-balanced set all told, which flows easily from your speakers and permeates your senses most seductively. All things bright and beautiful, one might say, and the ensemble's best CD yet without a doubt.
www.fiddlersbid.com
www.greentrax.com
David Kidman, July 2006
---
The Field Mouse Conspiracy - Freedom & The Dream Penguin (WMNY Recordings)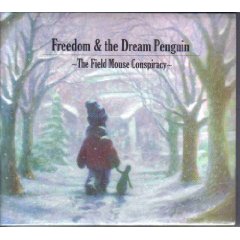 Put simply, Freedom & The Dream Penguin is a bunch of songs and tunes composed by former writer on music Colin Harper, while The Field Mouse Conspiracy is the collective (of around fifty members) assembled to make a record of them. Colin's view is that the CD's cover picture, taken from a children's book, captures the spirit of the whole thing in one simple image; and yet, it might seem to present the project as one giant concept album-cum-fable – which it ain't. But Colin's so very right in one other aspect: that the various collaborators work hard and spiritedly, like field mice going about their business "against the grinding, rusting wheels of the record industry". Aside from three selections featuring Janet Holmes, two featuring Tamalin member Tina McSherry and a few instrumental pieces, each track employs a different lead vocalist; those involved include (from the arena of folk-rock) Judy Dyble and Alison O'Donnell, and (from Celtic troubadour-land) Sarah McQuaid, Paul Casey and Brian Houston, as well as Susie Young, Helen McGurk, Conor Shields and Joe Echo. For instrumental backing, the crack team includes Henry McCullough, Liam Bradley, Brian Connor and Martin Hayes - no disappointments there. And the musical style employed ranges fairly widely, taking cues from 70s, 80s and 90s rock with folk or prog overtones and occasional other influences from further afield, but nothing outlandish. As regards Colin's songwriting, he's produced some good solid crafted work here, with the first eight and tenth tracks in particular possessing a strong thematic unity (strength-in-adversity). I need to mention that the running order of the CD approximates a "thinly-disguised trilogy", where the first section (tracks 1-8) comprises all-new (2007-08) recordings on a common theme, the second section (tracks 9-17) comprises "a kind of best-of previous Harper & Co recordings" spanning the years 1996-2007, generally with a more contemplative vibe, whereas the final four tracks are string quartet pieces (some with vocals) from 2006-2007. The presentation of the album leaves nothing to be desired, with a fabulously fulsome booklet containing copious background notes and information and full lyrics and lots of photos. Aurally too, there's a lot to take in here, perhaps over- much on one or two hearings, and I was often left feeling it best to treat the whole package (notwithstanding its practicality and convenience) as a double LP with a bonus EP when approaching the listening.
www.thefieldmouseconspiracy.com
David Kidman May 2009
---
Dave Fields -Time's A Wastin' (Fields Music Inc)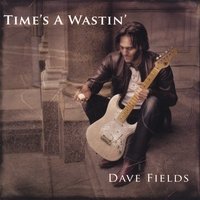 Son of the noted composer Sammy 'Forever' Fields, Dave Fields has been around the New York music scene for some time. His father was prolific in the 1950s, writing Who Wears Short Shorts, amongst others. Fields junior has followed in his fathers footsteps and has written music for the 2004 Olympics, VH-1, The Today Show and NBC Sports. Time's A Wastin' is his second album and one full of originals. The opener, Let's Get Shakin' is a high tempo rock n roll/blues crossover with a flurry of notes that has already declared his credentials. Keep It Up is a down and dirty blues with prominent harp from Rob Paprozzi. You Don't Know has a more sedate pace to it but this blues based rock has a scorching guitar solo. The upbeat blues of Don't Look At Me That Way is standard stuff and Do Me Now has some rhymes that are a bit too much for me - definitely a filler.
Rabbi Blues is musically strong and has a first for me, a Hebrew chorus - Jews Blues! He is a highly proficient guitarist so all air guitarists should be at the ready. I expected high pace, ears bleeding rock on Frenzy but all I got was a mid-paced rocker. However, he does confirm his guitar excellence. DF's Blues is a guitar instrumental. It's a jazzy blues with an easy style as he floats between a shuffle and full on blues. I'll Do You Right is a mid paced blues rock with a laconic solo and Do Do is introduced in a big band style. He brings in Paparozzi on the harp again for this and the song has it all. Just a bit more power in the vocal would have sealed it. Rockin' At The Barbeque has a staccato guitar beat and tends towards rock n roll. However, it doesn't live up to its potential despite some fretboard trickery. The Cure is the final track and is played on dobro. A solo blues with improved vocal power and extra emotion. Slide guitar is a welcome inclusion and Fields excels on all guitars. Dave Fields is not wasting his time with this album.
David Blue March 2008
---
Fieldwork - Tanks For The Memory (WildGoose)
Fieldwork is the collective name under which Mick Ryan, Pete Harris and others perform on this, the latest of Mick's "folk musicals" (of course, The Voyage, A Day's Work and A Tolpuddle Man are hard acts to follow!). Tanks tells the story of the remote and beautiful Dorset "ghost village" of Tyneham, which was deserted by the villagers "in the national interest" in 1943 under orders from the Army, on the understanding that they would be able to return after the war; the promise was broken however, and despite many years of campaigning the villagers have never been allowed to return to their homes.
The sad, wistful, almost elegiac tone pervades the musical items, which are interspersed with readings from the stage show. Ostensibly this is done "to make the album attractive and understandable to those who have not seen the show itself", and largely this is a successful gambit, and by and large the songs are left alone, though I did regret the premature fadeout of Tyneham under a spoken section. Mick's wide-ranging songwriting talents are well suited to the subject matter, and I'd be surprised if excellent songs like Time, Life, Whose Is This Land? and Peace At Last don't get to enter the repertoire with a life outside this musical; The Leaving Time, in fact, is a rewrite of a song from an earlier musical (The Voyage) that proves of equal relevance and poignancy in this new context. Mick and Pete benefit from the musical contributions of Sarah Mallinson and John, Sophie and Nicola Bond, while the various readings are done idiomatically and effectively. Yes, Tanks is a worthy addition to the Mick Ryan canon, and this CD, albeit a necessary compromise, is perhaps the most practical way of preserving the essence of the stage show and its songs.
David Kidman
---
Archie Fisher - Windward Away (Greentrax)
It seems an age since Archie released a proper album – his last studio recording being that with Garnet Rogers, 1988's Sunsets I've Galloped Into, since which time he's kept himself busy with sundry writing and presenting jobs and yes, still intermittently performing live (as evidenced by the 2004 live album Off The Map, also with Garnet).
I guess that Windward Away just about qualifies as a new studio record from Archie, although strictly speaking its 19 tracks are the product of two separate studio sessions placed side-by-side; even these aren't particularly recent (they nevertheless span some 20-odd years of his long career!). The first eleven tracks come from a recording session begun in 1998 for Red House label boss Bob Feldman, and feature for the most part just Archie and his guitar, enchantingly intimate and simply magic, on nine of Archie's own compositions and one apiece by Graeme Miles (Shepherd On The Hill) and D. MacVicar (Surge Of The Sea). Although the Graeme Miles cover is especially compelling, there are some really tender gems of writing from Archie's pen too, including the "anthem for the agnostic" Before Eternity, River And The Road, Bonnie Border Lass and Every Man's Heart (the latter memorably covered by Dan McKinnon).
The final eight tracks are sourced from a tape cheekily christened "the missing master", which was recorded (for the Blackbird label, but never issued), some time in the 1970s while Archie was touring with Liam Clancy and Tommy Makem. Here Archie was tastefully backed by a small chamber-style ensemble consisting of Allan Barty with Lucy, Francis and Christina Cowan (with Mike Whellans providing a modicum of percussion). He performs three of his own songs (The Final Trawl, Ashfields And Brine and the altogether slighter Eire Lingers – sic!), all later to be re-recorded for other projects, alongside the haunting Star Of Belle Isle and Burns' The Winter It Is Past (both given a cultured neo-baroque setting) and Gordon Bok's Cuillins Of Home (another lovely "pride of place" song), then Archie finally gets to "harmonise with himself" on the traditional Joy Of My Heart. The synth keyboard work on Silver Coin is a touch cheesy, as is the airplane effect at the close of Eire Lingers, but the rest of the tracks haven't dated at all, and they're all absolutely delightful. They make a sympathetic (and comfortingly nostalgic) companion to the preceding eleven tracks, and the sheer consistency of Archie's wonderfully warm, smooth, mellow singing is truly miraculous (it's often has been compared to a mature single malt, and for once I can wholeheartedly agree).
This is a gorgeous disc, and entirely recommendable, but even so I do wish that Archie would get around to recording some more of his recent compositions, tantalising glimpses of which surface in his still all-too-infrequent live performances.
David Kidman June 2009
---
Archie Fisher & Garnet Rogers - Off The Map (Greentrax)
Off The Map is a classic live album recorded by Archie with Garnet (younger brother of the late Stan Rogers) during the pair's summer-1985 tour of Canada and America. The album was released by Snowgoose Songs in the mid-80s, but not in Europe; now, finally, and at long last it gains its UK release (it had been newly remastered for CD for US release in 2003). And it's a really beautiful collection, with Archie giving of his very best on deeply-felt versions of songs he obviously cares a lot for. As well as displaying excellent taste in contemporary folk song (Archie's version of Dave Goulder's Long And Lonely Winter is superb for example), his innate close affinity with the Scottish tradition is there in abundance, on his arrangements of the night visiting song Laird Of Udny, The Mosstrooper's Lament, Mallie Leigh and the Fife fishermen's anthem The Boatie Rows. Archie's own finely textured singing voice and understated guitar playing are given a suitably warm and sympathetic foil by Garnet's sensitive accompaniments on fiddle and flute. These may be live recordings, but many of them can stake a claim as virtually definitive versions of the songs concerned, I'd wager. For instance, I doubt you'll ever hear Archie's own The Final Trawl done better, even by Archie himself, and his interpretation of Andy Barnes' The Last Leviathan is equally matchless and dirge-free. A very lovely album indeed, with an intense and comforting presence.
David Kidman
---
William Fitzsimmons - Gold In The Shadow (Nettwerk)
It would seem that the Pennsylvanian singer-songwriter finds healing and hope at long last on Gold In The Shadow, which follows a series of largely self-released albums which charted a more bleak and sombre path through inter- and intra-personal disaster, and were written as much for therapy as for the purpose of communication. The experience of a painful divorce in 2008 (and the subsequent cathartic release of the album The Sparrow And The Crow) seems to have been the turning point, one that enabled him to more confidently address his own maladies and uncertainties and derive from them this new-found hope.
The sheer fragility of William's singing voice is the first thing that strikes you about the performances on Gold In The Shadow (even before you sense the impact of the words); this is matched to honest, confessional lyrics that are whispered or intoned with due intimacy. I suppose more than anything else William's music recalls that of Sufjan Stevens, or Vashti Bunyan, but his musical settings are at once more lavish and more austere: their quirky variety at times belies the largely ruminative emotional content, from the gentle, if winsome (I hesitate to evoke the name of Nick Drake) rippling acoustic textures of What Hold to the punchier beat-box electropop of Psychasthenia and the luscious string arrangement of Bird Of Winter Prey. Leigh Nash duet-vocalises on two songs, including the poppy Let You Break, otherwise the disc's ten songs are inextricably stamped through with William's own solitary, and doggedly intimate, vocal personality, and once you've been charmed you won't be able to think of them as anyone else's property.
And yet the songs can be maddeningly elusive, however addictive they become – a paradox I've not yet quite been able to sort in my own mind. For William's music possesses an accessibility that's very attractive and productive if you're prepared to invest in some close-listening time outside of the rather more punishing and unforgiving drive-time environment.
David Kidman February 2011
---
Five Horse Johnson - Last Men On Earth (Small Stone)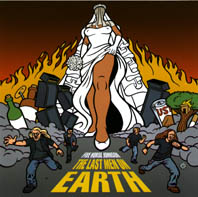 Ass-kicking, head-banging, gravel-spitting, Five Horse Johnson roar through this 10-track album of their own material, their fifth, without once touching the brakes. It's reliably consistent rock 'n' roll with a nod to the blues, for those who like their music loud, heavy with big riffs (as in Sabbath, Crowes & ZZ Top). These Southern boogie blues-rockers - are in fact from Toledo, Ohio. Eric Oblander - harmonica & vocals, Brad Coffin - guitar & vocals, Steve Smith - bass, Mike Alonso - drums have been together for six years, but it's only in the last couple that audiences in the States and Europe (where they are particularly appreciated) have caught on. It takes time to whip 'em into a frenzy when there's no major label support, but wowing them they are.

Last Men On Earth is a well-produced studio album but the feeling is of a warm-up for those rock stadium headline gigs - their destiny, I'd say!

Sue Cavendish
---
Béla Fleck & The Flecktones - Jingle All The Way (Rounder/Decca)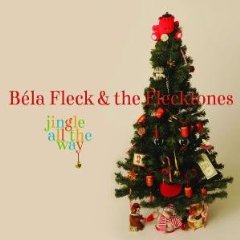 Just when you thought it no longer possible to ring the changes substantially on the musical presentation of festive tunes, along comes a splendid release that's guaranteed to sleigh you (sorry!) with its audacity and a truckload of genuine inventiveness that instantly transcends any potential accusation of wilful seasonal gimmickry. Can you imagine the hoary old Jingle Bells performed on manic banjo and klezmer mandolin with a more-than-slightly-silly wordless vocal refrain and even a touch of Tuvan throat singing? Magnifico! Our journey through the Xmas landscape then continues apace via a gorgeously moulded, lonesome and mournful minor-key Silent Night courtesy of Jeff Coffin's soprano sax (and some astounding fretwork from Victor Lemonte Wooten), a breakneck bluegrass-jazz Sleigh Ride complete with signature Fleckian killer banjo runs, and a delectably unpredictable, almost cartoonesque Twelve Days Of Christmas that skates and skitters between musical styles with Tom'n'Jerry scoring… During the course of this singularly inspired and highly original seasonal menu, and at opposite ends of the spectrum, Béla serves up a vibrant jazz-funk take on an aria from Bach's Christmas Oratorio, a furtive banjo-and-clarinet skank through Tchaikovsky's Dance Of The Sugar-Plum Fairy, and a supremely sensitive "jingle-bell-flecked" banjo-and-piano duet on Joni Mitchell's River; there's also some fine percussive bop from Future Man throughout, particularly on Linus And Lucy, and the atmospheric Eastern Europeana of Hanukkah Waltz provides a spicy new take on the klezmer tradition. And I'm not sure what Greensleeves is doing lurking within What Child Is This, but it contours surprisingly well around the principal melody – as do the myriad of tunes that intermingle in the jazz-club-style medley towards the end of the disc. Amidst the Flecktones' surfeit of true-born virtuosity, it would be unfair to single out the playing of individual musicians within the corral, but I'd still consider Edgar Meyer's guest double bass contributions worthy of special note. With its scintillating, red-hot mixture of open-hearted listener challenge, gleeful fun, and a healthy element of serious novelty that doesn't ever get the chance to wear off, Jingle All The Way captivates all the way, and definitely wins my personal award for the most enterprising seasonal record of 2008; yes, we'll certainly have ourselves a merry little Christmas with this disc!
David Kidman December 2008
---
Fleet Foxes - Fleet Foxes (Bella Union)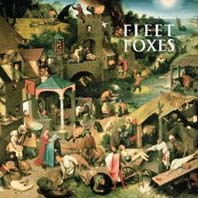 Strip Polyphonic Spree down to its essentials, soak in a brew of church music, Brian Wilson, trad British folk, backwoods Americana and the essence of Tim Buckley and you'll get a hint of what this Seattle quintet refer to their 'baroque harmonic pop jams'. They're the sound of pine angels washed in morning rain, sometimes beating wings to soaring uptempo melodies like Ragged Wood or Quiet Houses at others, as on the spooked dreamscape stillness of Meadowlarks or the leafy acoustic strummed simplicity of Tiger Mountain Peasant Song, bathing in melancholia. Interestingly, listening to both the closing stripped down Oliver James and the choral sounding Blue Ridge Mountains, you'll hear distinct Chinese and Japanese influences at work, more tea gardens than mountain cabins. It's an unlikely exotic touch that adds further lustre to this already beguiling collection.
Mike Davies June 2008
---
Fleetwood Mac - Madison Blues (Shakedown Records)
It's easy to get confused with the plethora of Mac repackages and rediscoveries that have appeared over the past few years, and the title of this new box-set doesn't really give much away. Basically, it consists of recordings – mostly live ones (though the notes unfortunately omit mention of actual dates and locations) – from the immediate post-Kiln House period of the band's history (1970-71), during which a lot happened in a short time (Peter Green having left in disillusionment the previous year, and Jeremy Spencer was to depart in February 1971). First up on the first disc here, though, are four promotional session cuts from the Christine Perfect Band, Christine's first, over-prematurely-launched and thus short-lived, post-Chicken Shack venture; and pretty good they prove, with two of Christine's own compositions leading the set and Top Topham's guitar work proving distinctive as ever. This session was a harbinger for Christine's assured future with Mac, whose ranks she joined (ostensibly to boost what they thought was a thin live sound) soon after her own band dissolved. The then-extant four-piece Mac (Danny Kirwan, Jeremy Spencer, John McVie and Mick Fleetwood) was moving fairly swiftly away from the blues-purist approach and becoming inspired more by the West Coast sound, and Christine's contribution was in time to spur a healthy interest in creating vocal harmonies (which was to re-surface triumphantly in the Rumours era, of course) and a penchant for melody that had been previously submerged in the band's work. For the time being, though, it was Jeremy's slide playing in tandem with Danny's sturdy rhythm work and pithy soloing in the wider blues-rock context that formed the main focus, while John's bass playing was really coming on in strength too. The more relaxed rollin' boogie feel of the revised treatment of Dust My Broom (disc 2) is a good example of the change that had taken place in the Mac approach, while numbers like Station Man (heard here in two different versions only a few months apart) exemplify the stylishness with which they treated their material and their growing confidence in it. The solid performances here only occasionally err on the side of pedestrian, and aside from Jeremy's wearisome Elvis pastiches on disc 2 everything here is worth hearing more than once, although the recording quality is variable. Disc 3 (the DVD in the package) is almost worth the investment on its own – an exclusive 96-minute interview with Jeremy in 2002, which reveals much about his state of mind and attitude to the music at the time; he admits that his writing was stuck in a 50s timewarp, and that he criminally underestimated his prowess on guitar. Madison Blues is an intriguing addition to the series of thoughtfully compiled releases from Shakedown.
David Kidman
---
Chris Flegg - The Sound Of Life (Own Label)
St. Albans-based Chris may not be a household name to folkies, but he's been involved in the folk scene on and off since his student days in London in the early 70s, shortly after which time he worked with many jazz lineups in the early days (including gigs with Steve Benbow and Diz Disley). Not counting an earlier retrospective collection, The Sound Of Life is Chris's third album of his own songs; it's the most focused and possibly the most consistently accessible thus far, containing arguably some of his most memorable songs to date. (Anthony John Clarke has already covered one of Chris's earlier songs, so fear not - word is getting round!...) Chris's style is deceptively easy on the ear, embracing a facility for melodic invention that at times recalls Ralph McTell, so it's no surprise that his songs concern the simpler truths arising from reflecting on real aspects of his life like the ostensibly strange things he does to remember his late wife, his memories of great evenings at London's Troubadour Club, and the dubious pleasures of daily commuting on Thameslink into London. Chris's songs are charming in nature and, though generally life-affirming, aren't complacent or smug; his observations are gentle rather than deep or cutting commentaries, but none the worse for that. There are occasions (eg There's A Sound) when the philosophical content is a tad underdeveloped, but this isn't a serious distraction and for the most part Chris's lyrics satisfy with their straightforward premises. Sure, Chris pokes genial and superficial fun at times too, but he also displays genuine affection for his subjects amidst all the whimsicality. There's also a very pleasing folk-friendliness about Chris's songs, and I can foresee The Flowers Of England, A Song For Peace and Old Ben being eagerly taken up by performers in that sphere. Chris's prowess on guitar is unquestionable, and he augments his delightful picking with some mellifluous soprano sax, while he also enlists Keith Kendrick (concertinas), Terry Ede (flute) and Rod Brown (percussion) to flesh out a couple of tracks apiece. This is an attractive and admirably modest collection, faithfully recorded.
David Kidman May 2008
---
The Mick Fleetwood Blues Band (feat Rick Vito) - Blue Again! (Hypertension)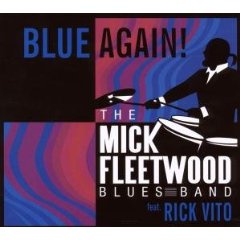 The granddaddy of British percussion is back with a band that is only half filled with ex-Fleetwood Mac stars. Fleetwood is returning to his blues roots with this series of songs and he has never sounded better. Rick Vito's Red Hot Gal opens this live album. It's a standard electric blues played by top musicians and with slide guitar to the fore. Just try and stop yourself joining in. There was always going to be a big Fleetwood Mac influence on this album and Peter Green's Looking For Somebody is given a wonderfully atmospheric treatment by Vito (another link to Fleetwood Mac, albeit a different incarnation). The energetic Fleetwood Boogie allows the pianist to let loose and another Peter Green song, Stop Messin Around has Vito carrying on his great guitar work. Rattlesnake Shake is much heavier than Green's version and although I have never heard of Vito's When I Do The Lucky Devil before, I have just stumbled across a wonderful boogie – absolute class! The inclusion of another Peter Green song, Love That Burns, continues that Fleetwood Mac link and shows that Green's songs have become standards in their own rite. Rollin Man/Bayou Queen is a great shuffling blues with little discernable seams between the songs and has Vito pinpointing the notes as he does with such aplomb. There is not a lot to be said about Black Magic Woman. The two iconic versions by Santana and Fleetwood Mac have stood as classics for years and Vito gives a more than acceptable guitar performance. I Got A Hole In My Shoe has a bayou feel and the closing track, another played by Peter Green but written by Elmore James, Shake Your Moneymaker, epitomises the drumming sound of Mick Fleetwood. It has been kept true to the original and remains a good time boogie.
There is also a four track bonus CD which includes Albatross, a difficult song to better although Vito does make a very good effort to do so. Also included are the Shadows sounding Napuli Nocturne, The Supernatural (on which Vito may even surpass Green) and La Mer D'Amour which is pleasant guitar based Hawaiian style.
There was never any way that this album was not going to link up with the early incarnations of Fleetwood Mac and I'm happy that it does. In fact, Fleetwood dedicates the album to the other original members, Peter Green, John McVie and Jeremy Spencer. British music should never be without the drums of Mick Fleetwood and the songs of Peter Green.
David Blue November 2008
---
The Mick Fleetwood Band - Something Big (Sanctuary)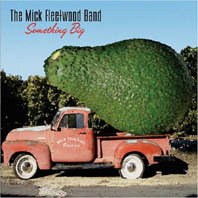 Christine's done it, Stevie did it several times and very well, Lyndsey's done it, even John did it but not so you'd really notice, Mick's done it before and now he's having another go.
Although Fleetwood Mac drummer, Mick Fleetwood is the catalyst for Something Big, the real stars of the show are writer, producer and singer Todd Smallwood and singer Lauren Evans.
Whether you could describe either as a find - Smallwood's worked with Jackson Browne, Gregg Allman, Gladys Knight and Chaka Khan and Evans is an Emmy nominated asrtist - is arguable but the contribution they make is immense.
Something Big is surprisingly good, I say surprisingly because there's always the faint (and sometimes not so faint) whiff of vanity about these things. But these songs are truthful, modest and almost humble. Instead of Fleetwood stamping Mac all over it, you can believe he's made the music he enjoys to listen to, it has a natural flow to it.
Mind you it's not without its star guests, including John McVie and Browne who appears on the cover version of his own Looking Into You, but it's the appearance of charter member Jeremy Spencer that will delight Mac fans the most.
Perhaps he reason behind the album's success is that Fleetwood takes a back seat, figuratively as well as physically, allowing Smallwood's gritty, earthy, blues tinged vocals to take center stage. In tandem with Evans' soaring accompaniment it's a heady brew.
This is an AOR album in the 'old sense', there's not really a stand out single but it is a solid body of work. Each track gently guides the listener on to its successor.
Sadly, the fact that it is a Mick Fleetwood project may well count agaginst it. Preconceived notions are hard to combat but this deserves to be judged on its merits, of which it has many.
Michael Mee
---
Gary Fletcher - The Official Gary Fletcher Bootleg Album (Hypertension)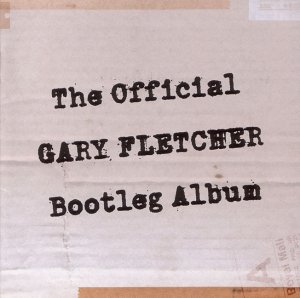 Gary Fletcher is best known as the bass player of The Blues Band but he has an extensive catalogue of other material, both on his own and with other projects. If you are expecting an album full of Blues Band style R&B then you are going to be surprised. Although there are songs here that have been recorded by The Blues Band, Fletcher has dramatically changed their style.
It opens with World Gone Crazy, a song relating to the events of September 11th and to an accident suffered by his three-year-old son some three days prior. This is part of The Blues Band repertoire but it is not blues in the normal meaning and reminds me very much of Australian wizard, Derrin Nauendorf. Fletcher has pared this down to provide a gentle acoustic start. It Takes The Blues To See is certainly less in your face than The Blues Band's version on their Stepping Out album and totally different to what I was expecting. There is a slightly oppressive feel to the lyric at the start but, as with the first track, is a wonderfully constructed song.
Gary believes that A Lie Is A Lie is somewhere between country blues, bluegrass and J.J. Cale. I believe that it is, quite simply, done in a country blues style with guitar and voice only. The Other Side Of The Street is another from The Blues Band's Stepping Out album and reminds me of Canned Heat. This is the first electric song on the album but it is still acoustic in its outlook. The hypnotic, slow electric blues of Brand New Start didn't make it onto the aforementioned Stepping Out and Fletcher feels that it was because it was a bit heavy musically and lyrically. I don't disagree with that and I do feel that it sits well with this set of songs despite it being only one of a few electric numbers.
Greenstuff is a Blues Band standard but Gary has completely re-worked this into an acoustic guitar and voice classic - the first true blues track on the album. So Lonely is not The Police's 'Sue Lawley' track (you'll have to be of a certain age to get that one) but a straightforward acoustic blues. This first appeared on The Blues Band Itchy Feet album. There is an offering of sophisticated urban blues on Help Me and there's even a little lead guitar on this electric-led effort.
Watch My Lips is another that was discarded by The Blues Band but I think that it is an undiscovered gem. The fuzzed slide guitar helps the song to strut its stuff. There's an understated vocal, much the same as the rest of the album - Gary doesn't get himself worked up. You've Got To Choose is a variation on the two-timing woman theme and the excellent organ and sampled horns by Lou Stonebridge give it a fuller sound. Stop Messing With My Life returns to the acoustic setting and portrays Gary's style to a tee. He says that he would like to hear a full electric band have a go at this and I'll be in line to hear it.
We've all had Commuter Blues and the chorus from this song will worm its way into your head and, although it isn't really blues, it leads into the bluesiest song on the album, Stepping Out On Main Street. This is another Stepping Out veteran but this version lacks the guitar chemistry of Dave Kelly and Tom McGuinness. There's another country blues with the acoustic Told No Lies. This has Steve Earle written all over it and it was the first song that Gary sang lead vocal for The Blues Band. You Are True has an excellent bass opening and is pared down R&B. This would work well with a full electric band. The final track, Take Me To The Redline, is an upbeat, jaunty finish to a total surprise of an album. Gary Fletcher surely has to be one of the finest British songwriters currently plying his trade.
David Blue
---
First Aid Kit - The Lion's Roar (Wichita)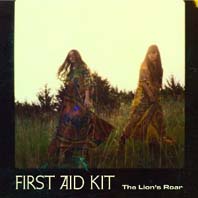 Let me start with my only complaint. The final version of the album doesn't feature Wolf with its clattering drums and visions of Buffy Sainte-Marie in her Native American tribal-folk mode. The track was included on pre-release copies but was subsequently replaced by the Everlys/Orbison influenced keening old school country This Old Routine. Each are terrific numbers and surely there was room for both?
Programming politics aside, the sophomore album by Swedish siblings Johanna and Klara Soderberg is a thing of wonder that takes the campfire blueprint of their debut with voices and harmonies that conjured the stark, natural beauty of the Appalachians so authentically you could almost smell the pine and taste the purity of the streams, and builds upon it with the addition of a full band (featuring producer Mike Mogis and his Bright Eyes colleague Nate Walcott) and orchestration to emerge like a female answer to Fleet Foxes.
0Indeed, the title track opener serves as a perfect illustration of the progression between records, beginning with simple acoustic strum and naked voice before slowly gathering in flute, marching drums, horns and piano chords to create a glorious swell over which the harmonies preside. That journey from minor to major is echoed on the slow waltzing Dance To Another Tune as harp, cello and piano are gradually joined by drums, trumpet, dulcimer and strings over which the girls weave the melancholic lyrics ("a child will die that nobody embraces") before coming to a tumultuous climax.
By and large, the girls don't spend a lot of time writing sunny love songs, hewing more to the themes of loss and loneliness that are a staple subject matter of the tradition from which they draw their influences. Even the perky Blue with its tinkling glockenspiel conceals the story of a girl whose become 'just a shallow' since the only one she'd ever loved died in a car crash while the swirling, gathering storm of To A Poet deals with the difficulty of dealing with the miles that separate.
Not that they don't seek to counter the dark with at least a striving for the positive. It's there on the flamenco flavoured I Found A Way and on the sparse New Year's Eve in the lines 'I don't know much and I'm not lying but I think you just have to keep on trying'.
It's especially true on the provocative In The Hearts Of Men, a wise beyond their years number that begins by addressing about the complexities of female psychology ("we know what we're doing, we're doing it right, they've written books on the subject. But then you may still feel surprised by your tone over the phone to your sister while waiting in line at the shopping mart") and concludes that life's too short to worry about the image you present to others, reminding that mortality will have its way so "don't regret, don't waste the time that is left, and then do it all with a goddam smile." There's also times when they just kick away the gloom and embrace joy and happiness. The marvellous pedal steel coloured Emmylou is both titular homage to the queen of country and an open hearted love song as they sing "I'll be your Emmylou, and I'll be your June, if you'll be my Gram and my Johnny, too."
And, it's impossible not to be uplifted by the sheer live for today goodtime vibe of the closing King Of The World with its handclaps, mandolin, Ring of Fire-style mariachi horns, backing vocals by the Felice brothers, a last verse appearance from Conor Oberst himself and a rousing chorus of "I'm nobody's baby, I'm everybody's girl. I'm the Queen of Nothing, I'm the King of the World" that makes you want to sing along as you run dancing into the street.
Already contender for Americana album of the year, as anyone will tell you a first-aid kit, kept within easy reach, is a necessity in every home.
Mike Davies January 2012
---
First Aid Kit - The Big Black And The Blue (Wichita)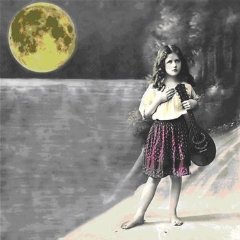 Having mesmerised with last year's Drunken Trees EP, teenage Swedish sisters Klara and Johanna Soderberg's debut album is set to enchant its way into 2010's year end best of lists. Mining dark themes of emotional repression, broken relationships and hard lives but veining typical mordant Scandinavian references to death (on the acoustic bluesy Winter Is All Over you they compare a mother's look of innocence with a stillborn baby) with life-affirming shards of light and hope, these 11 songs of alt-folk are delivered with multi-layered twin harmony vocals as pure as pine-scented, frost-hung mountain air.
Variously conjuring thoughts of Gillian Welch, Michelle Shocked, Indigo Girls and a female Fleet Foxes, the album opens with the mostly a capella In The Morning before hitting the first of several stand-outs with Hard Believer, an Appalachian tinged ballad spawned from an argument about religion and how we only get the one life.
Continuing with thigh slapping lost love shanty Sailor Song and the trad folk flavoured fingerpicked farewell Waltz For Richard, they continue to strike downbeat notes with the paradoxically jaunty Heavy Storm, a memory of growing up and yearning for days gone with a jazzy guitar arrangement from the Davy Graham textbook.
Melancholy and old before their time world weariness hang over the wistfully reflective Ghost Town with its wheezing accordion intro, spare piano notes and xylophone and Josefin spins a folk gospel hymn to friendship before A Window Opens waltzes in with a whirlygig rhythm, yodelling croons and pictures of wolves howling.
The album closes out with I Met Up With The King with its flute, fairytale narrative, stolen Gram Parsons line and unexpectedly raspy side to the vocals, and the gentle pastoral reedy lullaby of Wills Of The River which, inspired by Into The Wild, talks of life awakening from winter, of heading out with the West wind to "find myself a home" while in a hushed world the children "still sleep, silently." The journey begins, and the path ahead is one you really should travel with them.
www.thisisfirstaidkit.com
www.myspace.com.thisisfirstaidkit
Mike Davies January 2010
---
Fitkin Wall - Still Warm (GFR) This beguiling collaboration between leading British "new classical" omposer (and keyboard specialist) Graham Fitkin (whose name you may recall from the factory Classical label days) and contemporary harpist Ruth Wall starts from an interesting sonic premise, that of combining the warm, rippling sound of the harp with the colder tones of electronica - within which parameters there's quite a bit of scope for variety of texture, mood and register as well as much opportunity for creating and maintaining rhythmic interest. As is proved by the inventive fusion music, or better still "coming together", of the ten pieces on this disc, from the cinematic desert-landscape sweep of Warm Area (an intriguing combination of lush and scratchy) and the Bollywood-inflected Touching Seen and minimalist sitarscape of Close Hold through to the altogether sparser sensuality of the very much more harp-led Come Come and Powder Trap and the intricate metrical interplay of Battery People. You'll sense a large degree of sexual overtone in the above description, and indeed there's a warm glow of relaxed creative high permeating the music-making, this despite the sometimes cool texture of the synths and digitally-generated sounds and treatments that wash over and through the soundscapes. Ruth plays three different harps (Scottish lever harp, Irish wire-strung harp and the distinctively buzzing bray harp), lending even more variety to the palette created digitally by Graham's keyboards and enabling Graham's subsequent mixes and audio manipulations to enhance the musical experience even further. Aside from the rather anonymous lounge-muzak vibe of Constant Shame, Still Warm is an album of consistent beauty which will leave you feeling just that, for it's all most attractive, emanating a refreshing intimacy - although you will need to be in a receptive mood to get the most pleasure out of it (rather like sex, I suppose, to draw a rather too obvious parallel...!).

David Kidman December 2007
---
Fraser Fifield - Honest Water (Tanar)
Honest Water is the début solo CD from Salsa Celtica's highly skilled pipes/whistle/sax virtuoso (formerly with Wolfstone and Old Blind Dogs), who's been reliably dubbed "a one-man Moving Hearts". He's in constant demand for television soundtrack work too, so he's certainly being kept busy! On this album, Fraser showcases 12 of his own compositions. Some (Dark Reel, Velvet Jig) are tunes or sets firmly in the traditional mould but delivered in inventive and interest-maintaining arrangements that at times perhaps more closely resemble the sonic adventures of latterday Scottish folk-fusion specialists (early Martyn Bennett comes to mind). Others (Softly Spoken, Alone At Last) are more in the nature of mood pieces, while Psalm and Horo are two superb, if contrasted movements (inspired by Gallic religious singing and Bulgarian dance respectively) arranged from Fraser's recent suite for saxophone quintet Traditions. There's a distinct Jan Garbarek feel to the music-making at times, which is no bad thing.
Fraser also embarks on an attractive excursion into mellow jazz (Misnomer's), and Marjan's is very East-Of-Eden in its mix of Balkan and Sumerian overtones over a softly funky backdrop, while the beautifully haunting drones of Lament sound like something the Third Ear Band might well have recorded recently. Fraser plays all the instruments (those already mentioned above plus acoustic guitar, keyboards, clarinet and an array of percussion), aside from some very occasional electric guitar (Graeme Stephen) on three tracks, Malcolm Stitt (of Boys Of The Lough) also briefly guesting on one track. Listeners who've got used to an altogether harder edge with their Scottish traditional music (either in terms of insistent contemporary pulse or an overall fieriness in expression) may find Fraser's approach rather too reflective, inward and laid-back at times, but I find it has its own rewards; it's certainly cool, sophisticated and at times possibly a little underwhelming, sure (at least initially), but in the end I find it extremely captivating.
David Kidman
---
Filska - A Thousand Milesa Away (Footstompin' Records) With a name like that, you'd think Filska might be Scandinavian - but in fact they hail from Shetland. And naturally enough, given that area's strong fiddle tradition, that instrument logically provides the principal focus for the band's music. Sisters Jenna and Bethany Reid (who play fiddle/accordion and piano/fiddle respectively) are joined in the band by Gemma Wilson (fiddle) and Andrew Tulloch (guitar); vocals, where they occur, are shared between all four band members. Mark Hodgson guests on double-bass on all but three tracks, one of which (Jenna's own piece The West Shores Of Quarff) enjoys the extra tonal and textural strength of a string quartet. The three fiddle players were all at some time prizewinners at Shetland's annual Young Fiddler competition, and they've been performing as a group since 1994, although Andrew didn't join until 1998. The Filska repertoire has therefore had the chance to grow and expand by the time of recording A Thousand Miles Away, which is apparently Filska's third record (I've not heard either of the other two, sadly, so can't comment), though I get the strong feeling that it's still in the process of developing, as the CD contains a mixture of tunes and songs that doesn't always quite gel, the songs coming across rather understated and low-key in the scintillating company of the tunes. But I responded to the smooth mellifluity of the multiple-fiddle attack, and the overall sensitivity with which the individual players' contributions mesh together. And when Filska catch fire, as on the Gordon The Golfer set (track 7), the spirited set of jigs (Tom's Return, track 2) and the set of reels Lay Dee At Dee, then there's no holding them back and their sound is a vital one indeed; the sense of drive generated by the constantly changing piano/guitar rhythm section is really infectious, with (often) a creative use of counter-melody alongside the expected rhythmic input. It's a confident set.

www.footstompin.com
www.filska.co.uk

David Kidman
---
Rebekah Findlay - Northern Skies (Own Label)
Born and raised in Teesside but now based in North Yorkshire, Rebekah started out in classical music (violin) then graduated to playing with a ceilidh band in her teens. After a career break (to get a career!), she took up the guitar and songwriting, and in 2008 she won the Klondike Song Of The Year trophy with Duty Bound, a song concerning a lighthouse keeper who chooses his work over love and family life. That song is included here on Northern Skies, Rebekah's debut CD, along with a further eight of her own compositions, her atmospheric setting of Yeats' Song Of A Wandering Aengus, and especially startling, challenging, strongly individual takes on two traditional songs (The Blacksmith and Scarborough Fair) - and finally, as a rather kooky bonus, a cover of Out Come The Freaks!
Now this is a very impressive disc indeed, both as debut recordings go and as a finely judged and accurate representation of an extremely talented lass. Although Rebekah's an accomplished musician, a sensitive and lyrical (and refreshingly unflashy) practitioner, it's her distinctive singing voice that first strikes the listener: a voice of real character. Although her singing is in no way derivative, I did find that initially, in terms of attack and delivery generally, I hear traces of (in particular the huskiness of) Becky Unthank, also Kate Rusby, especially in the phrasing and elements of regional accent; but in truth Rebekah's voice immediately packs more of a direct punch than either of those: fearless and confident, with a heavy-duty authority, a sturdy power and burning intensity that perhaps on occasion borders on fierceness (having said that, she's also capable of considerable sensitivity in shading, dynamics and use of tension).
As for her writing, its range is both commendably wide-ranging and highly competent, with a feel for the poetry of everyday language and economy of expression that can be heart-stoppingly poignant (Far From Home), warm and gracefully evocative (Luskentyre By The Sea), gently reflective (Harbour Wall) or desperate and restless (Pipes And Drum). The thought-provoking keening of In Stone is a harder nut to crack at first, as it ambitiously prompts deeper resonances from its use of an authentic shanty as a prelude.
But perhaps the most compelling track - equal to the sweep-you-off-your-feet iconoclasm of her intensely original take on Scarborough Fair - is Rebekah's own I Wish, which ingeniously and tellingly incorporates the refrain from the traditional song of that name within her own tale. Although on I Wish Rebekah insists on only her own guitar for company and private consolation, on the other songs she demonstrates her acute feel for apposite textural enhancement, not only by selectively multitracking herself (on fiddle and/or accordion and extra vocal lines) but also by bringing in other talented musicians - Chris Davison (who's also responsible for the stunning studio production, by the way) on guitars and Ebow, Joolz Cavell on cajon, Iain Glover on mandolin and Ben Findlay on backing vocals - in exactly the right places, and with an admirably subtle use of effects such as reverb.
Finally, Rebekah's purely musical talents are complemented by her abilities as an artist and graphic designer: witness the supremely attractive artwork, presentation and packaging. In every respect, the seriously top-drawer quality of this self-produced release puts to shame many a major-league product - and it fair makes me wonder just how much better Rebekah can get! For great beauty and great strength go hand in hand on Rebekah's striking debut release.
David Kidman May 2010
---
Andy Findon - Tracked (Quartz) This is one of those top-flight instrumental albums that might have been made at any time in the past 20 years or so, in that it crosses the generic boundaries and presents music from a range of sources within what we'd term western culture (as opposed to world music): the worlds of classical (in its widest sense), jazz, standards, even film music. Andy's an ideal person to undertake such a project: a genuinely multi-skilled musician, he plays virtually every wind instrument you could think of - all members of the large family of saxes, flutes and clarinets, along with piccolo, recorder, ocarina, pan-pipes and even a couple of Asiatic flutes. And the CD's title refers to the fact that he's multitracked himself on every one of the 13 pieces, only resorting to engaging other musicians for instruments which he doesn't play (ie harpsichord, bass guitar, piano, trumpet, flugel horn and tabla)! Lest that sound like merely clever-clever, sterile music-making with the artificial whiff of the studio, let me assure you that is not the impression you gain from Andy's thoroughly musical approach: not only are the arrangements ingenious (as opposed to clever for the sake of it), but the playing is fresh and spontaneous and the end result is both listenable and inspiring. Andy's been involved in music for well over 30 years, and his experience shows in the thoughtfulness of his arrangements; and those with long and fond memories of the folk-rock scene will recall that Andy was a key member of the mighty Home Service band in the mid-80s, playing alongside John Tams, Bill Caddick and Howard Evans on their landmark Alright Jack album and at the Mysteries production. Since that time, Andy's become involved in almost every aspect of musical recording and performing, and he's been in great demand as session musician, and the Tracked project is, I think, the first in a series of new recording projects designed to showcase his versatility. Having said that, I don't get the feeling that it's a "showoff" vanity product in any way, since the music-making sounds so natural in spite of its conscious high degree of "arrangement". On a range of pieces by composers as diverse as Rachmaninov, Gabrieli, Samuel Barber, Debussy, Malcolm Arnold and Michael Nyman, it's inevitable that some fare better than others in their sax-rich new clothing, but I was pleasantly surprised more often than not – the transposition of the Vivaldi G-minor bassoon concerto for the baritone sax is wholly delightful for instance, as is Gershwin's atmospheric second prelude and Barber's sublime Adagio (originally for string orchestra, now festooned with a forest of flutes). The latter family-switch works less well for Bernard Herrmann's Psycho theme perhaps, but it's an interesting experiment nevertheless; Rahman's Bombay Dreams crops up unexpectedly, and Andy has gentle fun with the playful Narcissus, while there are also isolated (but believable) excursions into creole jazz and Irish traditional folk. On the disc's grand little finale, you could say that Monti's Czardas becomes a veritable flying circus of fingering! for Andy's nimble virtuosity has to be heard to be believed - and you can't accuse him of using multitracking merely as a way of getting more notes in!... One final observation: the immense variations in instrumental timbre over the course of the disc will astonish those not familiar with the range of the humble wind family of instruments, so even if you've an inbuilt aversion towards the occasional sax or flute, that shouldn't put you off investigating this most accessible and companionable disc.

David Kidman December 2007
---
W Finch/P Hartry & Friends - Asthill Grove (own label)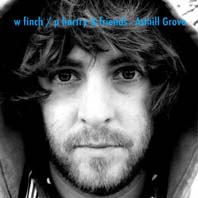 That's W as in Wes, a Coventry singer-songwriter and member of occasional Midlands combo The Dirty Band with whom he's already made one album with a new EP on the way. Taking its title from an area of his hometown, this finds him teamed with co-producer/guitarist Paul Hartry of Coventry country blues outfit The Shackletons with assorted friends contributing anything from banjo and flute to upright bass and mandolin.
Once past the tired device of surfing radio frequencies (including a snatch of Dancing Queen, but don't tell MCPS), what you get is some highly appealing laid back bucolic busker folk that can't help but have you reaching for the Bright Eyes comparisons.
Fortunately, Finch more than measures up with his dusty twang, fingerpicked guitar and songs that score high in terms of both lyric and melody. Opening number Wooden Hill is a lovely, lazy tune designed to be listened to while lying on the banks of a river on a balmy summer afternoon, the "I've got the gist of it" refrain buzzing around your head like dragonflies.
The tempo picks up on the banjo scuffling Oh My Days! where there's also perhaps a touch of the early Andy White and Nuneaton neighbours Nizlopi in the jogalong mix with breezy lyrics that rhyme 'miss you' with 'thorny issue'. Air, Land And Sea stretches the arms again, Finch's sleepy-eyed tones rolling over thoughts of Ronnie Lane's Slim Chance before continuing into the celebrate the little things themed rustic folk-blues Ain't We The Lucky Ones with its giggling steal from the chorus of Huey Lewis's The Power of Love.
They're playful again on Jack To Do which starts off as another gentle pastoral jog until following the line ' cut a long story short' the song does just that, briefly, before relaunching on a stop start train rhythm of brushed percussion, bubbling banjo, and glockenspiel.
Instrumental is just that, a folk blues guitar work out that nods to the influences of Jansch and Graham, vocals resuming on the Oberst-like Keep Fishing.
An insomnia and stagnated relationship lament that slow dances with music hall wheezing piano-accordion, The New Waltz fulfils the Dixie promise of its 'look away' line by erupting, American Trilogy style, into a full blown pastiche chorus of The Battle Hymn Of The Republic, before bringing things full circle with a world weary reprise of Wooden Hill as mandolins and accordions gather round the campfire.
If this had been written and recorded in an isolated cabin in the woods while the musicians foraged for food and grew long, straggly beards while winter held them guests rather than a studio in Coventry, Finch would be knee deep in critical acclaim. Tell you what, just pretend it was, okay.
Mike Davies March 2010
---
Fine Friday - Mowing The Machair (Footstompin' Records)
Well, this young Scottish Celtic folk trio has spent the past couple of years touring their wares fairly extensively, and all that hard graft at the stage-face has obviously paid great dividends with Mowing The Machair, their second album, which almost entirely elminates any (admittedly very occasional and only relative when directly compared) tentativeness of their first offering, Gone Dancing, which appeared in 2002. Mowing The Machair is an even more invigorating collection of songs and tunes, on which the trio move on in spades, from being dedicated and talented sessioneers and musicians' musicians to a front-rank combo with even more allround and all-embracing appeal through an even more inventive use of interplay and counterpoint in their often rhythmically challenging instrumental lines. Having said that, the relaxed demeanour of the Two Jigs set is anything but lazy, yet it's taken at a believable pace that enables us to really savour its textures, whereas the delicious sprightliness of the title set (named after an Amy Geddes tune) is a high-energy delight throughout its 4½ minutes, as is the jaunty, infectiously swinging closing set of hornpipes over a similarly brief timespan. Guitarist Kris Drever's accompaniments to the highly accomplished and persuasively accented traceries of Nuala Kennedy and Anna-Wendy Stevenson (flute/whistles and fiddle/viola respectively) are a model of solid yet fluidly expressive playing, while his vocal phrasing (notably so on The Bleacher Lass Of Kelvinhaugh, I thought) is wholly credible and attractively moulded. Of the remaining vocal tracks, I also really liked Fine Friday's treatment of Frances Fahy's The Tide Full In and their version of the Scottish Gaelic keening song Tá Sé In Am Domsa Éirí. All three musicians share a quality of quiet adventurousness in their playing that complements their youthful playfulness, full of spirit and rhythmic drive, yet at the same time each one of the trio is unafraid to pull back individually to let the others shine and theirs is a mature collective elegance that's very stimulating indeed. These qualities are mirrored in the imaginatively responsive production by Joe Rusby (Kate's little bro'), too. The album's 47 minutes are over almost before you can count to 47, and I went to hit the replay button straightaway - you're likely to do the same!
David Kidman
---
Fine Friday - Gone Dancing (Footstompin' Records)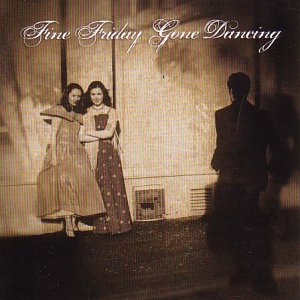 Any day of the week's fine when you play this CD, for it's an invigorating collection of songs and tunes from one of Scotland's brightest young bands. This one, a trio, grew organically out of the thriving Sandy Bell's session scene in Edinburgh, and released this debut album last year. I was unusually remiss in hoarding it for over a year before committing my thoughts to paper, for it certainly deserves a healthy press. Orcadian Guitarist Kris Drever provides a distinctive and graceful blend of light and shade to underpin the front-line contributions of Edinburgh fiddler Anna-Wendy Stevenson and flute/whistle player Nuala Kennedy from Dundalk, while vocal duties are more than capably handled by Kris with background help from Nuala. Fine Friday's interpretations of the various songs here are all full of interest, and in terms of arrangement their adoption of the "less is more" philosophy works well; the traditional Selkie is brooding and stately, whilst from the contemporary corpus Steve Tilston's Slip Jigs And Reels and Boo Hewerdine's Humming Bird emerge very credibly indeed I'd say. As for the tunes, these effortlessly mix traditional with composed (many courtesy of group members themselves), principally Scots/Irish in origin but with Scandinavian and Breton selections thrown in. It's all done with abundant skill and drive, a keen sense of humour and a youthful spring in the step that's wholly delightful. There's a wonderful rapport between the three players, imparting a matchless elegance to their interweaving instrumental lines. And by the way, let's not underestimate Ian Carr's production, equally matchless and with a fine airy quality that lets the individual lines breathe within the texture. This is a really engaging album; I can imagine no better calling-card for the three musicians involved.

David Kidman
---
Finest Kind - Good Enough For Me (Sugar Hill) I've been singing the praises of this Canadian trio for a few years now, and each time they tour the UK they seem to win a host of new fans, but still they remain the province of the cognoscenti, the connoisseurs of song, rather than achieving anything like household-name status within the folk fraternity. Perhaps it's because they can't be pigeonholed - they do so many things so damnably well for a start. And they stride boldly ahead with the all-embracing and thoroughly sensible maxim that a good song is a good song, whatever its provenance. All power to them, I say!

So, in honour of the trio's 20th anniversary (believe it!), the estimable Mick Peat has brought out a special "tour edition" compilation CD that provides the finest possible kind of shop-window for them to proudly display their multifarious wares. It assembles representative tracks from four of their five CD releases (the lion's share, six, from Heart's Delight, and four from Lost In A Song, topped up with three from Silks and Spices and one from the seasonal offering Feasts And Spirits).

Quite simply, Finest Kind - who comprise Ian Robb, Ann Downey and Shelley Posen - have got it all: all three are excellent singers, but together their grasp of harmony and counterpoint is truly second to none, whereas none of them is anything less than a highly competent instrumentalist. Shelley and Ian are both songwriters of note too, while the group members' individual and collective appreciation and understanding of idiom and heritage from all parts of the musical compass is singularly impressive.

Thus, on this collection we find a comparatively unorthodox (but totally valid) take on a Bob Dylan song (The Times They Are A-Changin') alongside an equally unexpected treatment of a song from the deepest English tradition (Banks Of The Sweet Primroses); a thoughtfully rousing account of Kipling's A Pilgrim's Way as set to music by Peter Bellamy cheekily set alongside the pop classic Will You Still Love Me Tomorrow? and the novelty number Home In Pasadena; Shelley's own powerful commentary No More Fish and his celebration of the joys of singing Fa-Sol-La; Utah Phillips' iconic Goodnight-Loving Trail; and, to round it all off perfectly, the old Marty Robbins chestnut At The End Of A Long Lonely Day. Is this all Good Enough For You? Well, it should be!

So get yourself off to one of Finest Kind's current crop of tour dates forthwith and sample the joys of their live music-making and the brilliant, warm, all-inclusive rapport they achieve with their audiences; then buy this CD, and if this process hasn't converted you to a fully-fledged card-carrying Finest Kind aficionado overnight, well. I rest my case there!

David Kidman June 2011
---
Finest Kind - For Honour & For Gain (Fallen Angle Music)
This excellent Canada-based trio (which comprises Ian Robb, Ann Downey and Shelley Posen) is preparing the ground for its next UK visit (in the spring of 2011) by releasing its fifth album in ample good time. For Honour & For Gain is a further example of everything they do so enviably well: a professionally-planned and keenly-presented hour-long menu of 18 tracks representing folk eclecticism at its best (I ought to say of the finest kind!), all couched in unstintingly superb singing (solo and ensemble alike) with plenty of close-harmonies to die for.
You can sure tell that Finest Kind have been singing together for close on 20 years, yet there's no touch of staleness or predictability about their performances; even though they feel no need to depart from their trusty brand of music-making, they never fail to delight the listener and yes, they'll still surprise even the hardened connoisseur of good songs with their fabulous choice of material.
But of course, For Honour & For Gain takes its title from the text of the comparatively well-known Claudy Banks, one of the disc's pair of Copper-Family-originated selections, which is sung here as a belated tribute to the late Bob Copper. Once again Finest Kind run the gamut from English traditional folk staples (Lowlands Low, Bay Of Biscay) to old-time (the poignant Short Life Of Trouble) and country classics (George Jones' She Thinks I Still Care, Jimmie Rodgers' Why Should I Be Lonely?), from shanties (a vibrantly syncopated quasi-calypso take on Bully In The Alley, and Howard Kaplan's little-known – but fun – hovercraft shanty From Dover To Calais) to some priceless examples of contemporary song (Utah Phillips' touching He Comes Like Rain, Carol Denney's powerful and dignified war song The Riley Boys).
As often with Finest Kind, the standout moments tend to come with the trio's exposure of largely unknown masterpieces of song. In pole position alongside the above-mentioned contemporary pieces is their strikingly poised account of the sea ballad Thomas And Nancy, one of two songs on the disc which were collected in Newfoundland as recently as 1920 by Elisabeth Bristol Greenleaf; this compelling rendition is led by Shelley's wonderfully firm bass voice, onto which are grafted some spine-chillingly adventurous harmonies from Ann and Ian. They also turn in a tremendous acappella version of Song Of The Lower Classes, which, though based on the Ernest Jones poem (as sung by Martin Carthy) has been updated with hindsight – and given a bold new tune - by Ian himself.
The trio also raises the roof with the rousing Tenting On The Old Camp Ground and the jaunty music-hall ¾ of Farm! Farm! (A.K. Dawson's good-natured dig at the turn-of-the century colonists of Saskatchewan), and there's some generous self-deprecating humour thrown in for good measure on John Barleycorn Deconstructed, where Shelley takes us through exactly what to expect in a typical Finest Kind rendition of the time-honoured folk song (or at least one of the million or so variants of it!).
The three exceptional singing voices really don't need any accompaniment - I could readily listen to several albums' worth of acappella from them – but when appropriate (on exactly half of the disc's selections) they easily take up instruments (in particular, Ian's a dab hand on the concertina), or avail themselves selectively of the talents of the disc's co-producer James Stephens (fiddle, viola, mandolin) and – on one track apiece – the specific skills of Brian Sanderson (brass), Michael Ball (fiddle), Jeff McClintock (piano) and Jody Benjamin (triangle).
But what newcomers to Finest Kind invariably find most astounding is that the trio is not only so stylistically versatile but also does everything so damnably brilliantly, and carries its audience right along with it. Simply, their seriously accomplished musicianship carries with it both the ring of authenticity and an essential, inherent spontaneity, qualities which for me guarantee For Honour & For Gain a place in the top ten of 2010's folk album releases: of that there is no doubt.
David Kidman November 2010
---
Finest Kind - Silks And Spices (Fallen Angle Music)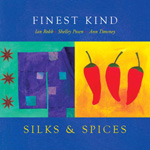 Finest Kind have been playing and singing together for over ten years, but Silks And Spices, though their third group recording, was my first encounter. And it's absolutely superb - indeed, t has given me so much continued listening pleasure over the past months that I just haven't got round to reviewing it 'cos I didn't feel I could do it justice! Oh well, here goes… The trio, who comprise founder Ian Robb (vocals, concertina), Ann Downey (vocals, banjo) and Shelley Posen (vocals, guitar), mostly sing unaccompanied - here, as on around two-thirds of this CD - although they enlist album producer James Stephens for occasional fiddle, viola or mandolin duties here. Oh, and each one of the trio's a darned fine solo/lead singer in his/her own right. The group's based over in Canada, although Ian comes originally from England and Ann from North America (only Shelley being truly Canadian), so you'd be forgiven for wondering what kind of music (and style of performance) to expect. There's a ready-made quote on the booklet, in fact: "Finest Kind's repertoire has so many sources, our musical closet so many skeletons, and our performances so many opposing elements, there's no neat summing up. 'Folk Music' serves as a point of departure, but in our case obscures as much as it explains." Perhaps this makes you none the wiser, but to my mind it conveys precisely the dilemma of pigeonholing. Yes this is a folk album, in that the intrinsic styling of the performances is primarily English folk close-harmony. Direct reference to the Copper Family is probably pertinent here since Finest Kind cover at least two Copper-bottomed traditional classics here, but therein lies the contradiction - the Coppers may sing a harmony but aren't necessarily as harmonious (in the strict sense of the word), if you hear what I mean. And I feel sure you will… The Finest Kind of harmony singing is expressive yet at the same time light-textured and yes, genuinely harmonious. It's crafted and rehearsed yet somehow spontaneous-sounding, easy on the ear with no attention-calling tricksy vocal acrobatics. Finest Kind acknowledge that there are bound to be elements of other vocal traditions (Sacred Harp, sibling country duos, barbershop, doo-wop) in their delivery, tempered no doubt by the international mix of their voices, but by and large the English traditional style serves to produce what I hear as well nigh exemplary versions of these songs. Melodies are clearly enunciated, and not allowed to get submerged by the harmonies (intelligent and listenable though these always prove), while tempos are well judged, with no hint of either the rushing or dragging that can seriously ruin so-called traditional renditions. The CD's 15 tracks run the whole gamut, from magnificently rousing hunting song (Bright Shining Morning), classic balladry (The Painful Plough, Fair Maid Walking, John Barleycorn), plaintive old-time (Blackest Crow) and ancient carol (Shepherds Arise), to Dylan (The Times They Are A-Changin') and even the Shirelles, to some sincerely heartbreaking country done in a laudably unsentimental way (Marty Robbins' At The End Of A Long, Lonely Day). Finest Kind are real professionals, accomplished performers who undoubtedly possess the knack (not as easy as it sounds!) of assembling a perfectly balanced, sensibly varied programme that cannot fail to attract and engage the listener who appreciates true quality. The Finest Kind of CD, in fact; just my kind of CD - and hey, unmissable.

David Kidman, May 2006
---
Cathy Fink & Marcy Marxer – Postcards (Community Music)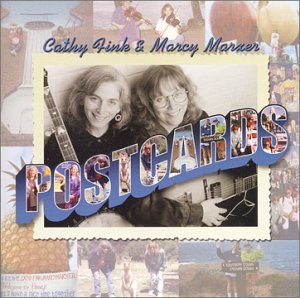 Here's another of those acts that have hitherto slipped through my net of consciousness! American folk-country duo Cathy and Marcy first met in 1980, and since then have amassed an impressive canon of 22 albums and garnered countless awards and nominations. They've been lauded for their tight harmony singing, their own songwriting and their exquisite interpretations of traditional music. So what does Postcards bring us? Well, an accomplished set for a start, comprising 12 songs (musical postcards, in fact) that cover a wide range of generic styles including new- and old-time country, contemporary and traditional folk and even swing. The duo certainly perform with an assured technique and disarming simplicity, and they approach their material with an easy and friendly familiarity that you'll quickly warm to. The slight downside is that maybe at times there's just a hint of old-fashioned over-familiarity, where the rough edges of discovery have been smoothed off, blunting the initial emotional impact of the songs, and in that respect it's possibly more beneficial to listen to the individual tracks one at a time rather than in a single 42-minute session. Although the duo enjoy a limited amount of backing from Mark Schatz (bass) and Rickie Simpkins (fiddle), it's the numbers where the duo are alone on the soundstage where their special brand of intimacy shines – like their heartfelt rendition of Survivors Of The Storm (lyrics by Tom Paxton that deal with the vulnerability of children to abuse and violence) and their versions of the Woody Guthrie/Billy Bragg discovery Birds And Ships and the traditional Long Time Travelin'. And I'd defy anyone not to find their take on the swing standard It's The Girl (made famous by the Boswell Sisters in the 40s) entirely scintillating (you can't ignore Marcie's prowess on electric guitar either!) Worth hearing, then, this duo.

David Kidman
---
Jeff Finlin - Somewhere South of Wonder (Gravity)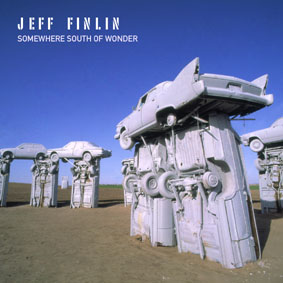 Drummer turned slide guitar twanging singer-songwriter, the Ohio born Finlin follows up Original Fin with a harder edged collection of blues n soul informed rootsy rock n roll, his dry croaked voice wearying its way through moods that range from the lazy lapping Summertime in which he sounds like Randy Newman with a tracheotomy, swamp funk opener I Am The King where Dr John meets Tony Joe White, and the rebel country rocking Goodtime and bayou bluegrass gris gris Delta Down with its distorted harmonica. Things like the Tom Waits sings Creedence Which Way? are a bit of an acquired taste, but balance that against the wonderful aching beauty of Alchemy, Sugar Blue and companion piece Sugar Blue Too on which he recalls the best of Graham Parker, and the mid 70s Dylanesque double Miracle Along The Way and title track plus, of course, his evocative narrative style that filters the ghosts of Kerouac and Carver through tales of pain, love and despair, make any temporary aural discomfort worth the while.
Mike Davies
---
Finn & The Sharks - Shark Therapy (UpSouth Recordings)
This is Finn & The Sharks 2005 release but I'm sure that the boys won't mind me saying that they've been about a bit. But when your impressive list of credits includes BB King, Dave Edmunds, Wilson Pickett, Johnny Johnson, Robert Junior Lockwood, Buddy Guy and Albert Collins then you have to have served your time. Their music is straightforward and energetic as you would expect from a rockabilly band but where they come out on top is with the quality of their playing which explains why they are so much in demand as individual musicians. They can flit between rockabilly and blues almost at will, with each song given its own stamp.
They open with Innercity Rockabilly. This is on the edge and very much in the Dave Edmunds vein. Rockabilly Roadhouse is old style rock & roll with very tight, echoed vocals giving authenticity. Scratch the surface and there's a very fine band underneath. The Sharks crank up the speed on All Alone On A Saturday Night. It could be said that this is very much like early Elvis and the band certainly have a good time on this one. Billy Roues is an excellent rock & roll guitarist. Don't Interrupt Me is blues based with Muddy Roues' wailing harmonica to the fore and Headed For A Heart Attack has us back in the Dave Edmunds style again. Lead singer Finnen keeps up his high vocal standard on Huggin' My Pillow and it is obvious how much the guys enjoy every minute of what they do. There's an amalgam of styles on Room At The Top (Of The Stairs) and it's rockier than the rest of what's already come. They've managed to keep that little edge however and it is this that sets The Sharks apart. Feeding Frenzy is just about the best name for a song by a band named The Sharks and they do go off into a frenzy on this with guitars and drums played at breakneck speed. The band sum up rockabilly in two minutes on That's Why. There's everything that you need encapsulated here. Dave Edmunds comes to mind again on Sleepy Girl but more in the style of the music rather than the vocal.
Mad Rocker has a manic vocal that's much in keeping with the songs title and Muddy Roues on harmonica cooks up a storm. The high tempo continues through Rock N Roll Baby and the blues based Pink Pegged Slacks. There's no letting up as they reach Rebel Uprising and there's no coincidence that their better songs are those that have Muddy Roues' harmonica involved. The Wheels Start Turning is contemporary rock n roll but the handclaps and cheering don't do it any favours at all. The legendary CBGB's is the setting for the live track, At The Crossroads. This is a strange one and too difficult to pigeonhole but it does have some top guitar work though. It feels as if their stamina has started to wane by the time we get to Gone Wild and this track is not really representative of the band. She Better Come Back Now is slower than most and they lose their impact on this type of song. However, the hint of menace returns on You Shake Me Little Baby and they show that they are by no means a spent force. They finish in the manner that they have become accustomed - high pace! The Buddy Holly song Down The Line is given The Sharks treatment, short and very sweet, enough said.
The band were kind enough to give me a sneak preview of their upcoming album and the four tracks give a flavour of a band that is trying to diversify whilst keeping true to its roots. There's MOR rockabilly with the rough edges rounded off on Voice In My Dreams, powerful country rock on Don't Get Me Started and slow, swinging rock n roll on Honey Hips. However, it is the fast paced rockabilly of As Soon As My Head Hit The Pillow that Finn and the Sharks are best at.
David Blue April 2006
---
Liam Finn - I'll Be Lightning (Transgressive)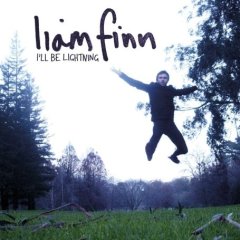 It makes you feel old when artists you went to see now have grown up kids making their own music. At 25, Finn, son of Neil, has already been fronting his own outfit in New Zealand, Betchadupa, and, along with being part of the Crowded House touring band, released this solo debut (inspired by his time living in London) back home last year.
He's very much following in dad's footsteps in taking Beatles influences (the pair actually covered Two Of Us for the I Am Sam soundtrack) and shaping them to his own form, making melodic classy pop that adopts both a loose limbed syncopated quirkiness as heard on the skittering Second Chance, the clattering rowdy Lead Balloon and This Place Is Killing Me and balances that with the dreamy loveliness of Gather To The Chapel, a Brian Wilson-like crooning Lullaby and the harmony rich piano ballad Shadow Of Your Man.
The latter richly underlines the Lennon influences at work, equally evident on the languidly atmospheric Wide Awake On The Voyage Home, and the title track's melding of I Am The Walrus and Oh My Love into something magical of its own. With the folky-pop of Wise Man easily standing alongside his father and uncle's classics, it's clear that lightning can strike at least three times in the same family.
www.liamfinn.tv
www.myspace.com/theliamfinn
Mike Davies July 2008
---
Tim Finn - Say It Is So (Hypertension)
Tim Finn is a singer-songwriter of the finest pedigree: Split Enz, Crowded House, The Hothouse Flowers and Alt (with Andy White and Liam O'Maonlai). From the Celtic collaborations of his two former incarnations, he has now translated himself physically to Nashville for a new sound and a new collection of songs - not that you'll hear anything deeply twangy in this album! Perhaps it's an Alt country Finn.
His voice has lost some of its sweetness and range along the way but this probably won't upset Finn fans who've been waiting for a new album for some time. This is a cheerful rough and ready, pop-rocker of an album with a full production feel (yes, even strings, loops, piano, pedal steel, ukulele, log drum, nose flute, variously join the acoustic and electric guitars of Finn and producer Jay Joyce). Look out for the wonderful Julie Miller who provides background vocals
Sue Cavendish
---
Finn & Haddie - Fathom This (F&H)
I'll start this review with a sweeping statement: this is one of the most enjoyable discs of acappella sea songs and shanties that I've come across in a while. Now I speak as an enthusiast of that repertoire: but that you might say is a double-edged sword, since (a) I'm bound to be biased, and yet on the other hand (b) I'm not easily satisfied and I'm likely to be more critical of any disc that lays claim to specialist status. The other point worth making is that even within the highly specialist niche-market of sea songs and shanties, Finn & Haddie may not be regarded as all that well-known a name, even in their native US. I'm sure this will be because, even though they first met and teamed up in the mid-70s, Barry Finn and Neil Downey have (due to the commitments of day-jobs etc) performed only sporadically and never recorded - up till now that is... hence the entirely justifiable description of this CD as being very eagerly-awaited within the sea-music community, where they have a significant legion of loyal fans. And importantly, too, Barry's been instrumental in bringing to that community over the past few decades a staggering amount of rare repertoire, several (but not by any means all) items from which have since become more familiar through having entered the personal repertoires of other highly-respected performers of sea-music. For instance, I first came across the capstan shanty Roller Bowler through the singing of Richard Adrianowicz and Peter Kasin, and the Saltpeter Shanty from (I think) Jim Mageean (though Pint & Dale have since recorded a version of it too), while many will have encountered both London Julie and Priest And The Nuns via the Johnson Girls. Much of the content of Fathom This emanates from the British West Indies, and Barry and Neil are quick to acknowledge the pioneering 60s collecting work of Roger D. Abrahams in this regard. There really are some extraordinary (and strangely little-known) shanties on this disc, ranging from the rapid-fire tongue-twisting patter of the double-pull halyard shanty Coal Black Rosie to the fairly obscure (Scandinavian?) pump shanty Albertina; then there's the boat-lifting shanty Georgie, Me Neck A-Broke and the seemingly music-hall-originated Hell Of A Wedding (both sung convincingly in the requisite accent by Neil) and the rousing Priest And The Nuns. The CD also contains fine renditions of Good-bye My Riley-O, (Haul On The) Bowline and Yangtse River Shanty, the lengthier ballad Schooner Industry, and some intriguing originals including the catchy Heavy Cruiser and Main Royal Yard.
As far as performance style goes, Finn & Haddie's delivery is robust, vibrant and enthusiastic, steeped in knowledge (and love) of the maritime traditions and culture. There are, I know, hardened maritime enthusiasts who tend to prefer a constantly faster-tempo, more hard-driven approach to their shanties, but listening to Finn and Haddie will yield the realisation that the generally slower paces they tend to adopt more authentically match the tempo to the required task (the shanties are, after all, work songs, and not endurance tests or showoff competition-pieces!); and in any case, the superb F&H renditions certainly pack a considerable punch, and the duo prove they can do "gutsy and lusty" with the best of 'em. Barry and Neil both have a brilliant command of phrasing, each strongly individual yet their voices blending together amazingly well (and sympathetically). They also employ harmonies on several items, and just occasionally these feel a tad overfacing, distracting even, while flattening or obscuring the melody line. Indeed, there are one or two places where the harmony lines and their contours sound, disconcertingly, a little off-key or off-kilter, as on One More Day and Feeny Brown in particular (tho' closer scrutiny shows even this impression to be rather deceptive). But this aspect need not concern us unduly, for the recording is excellent, engineer Judy Burrows achieving a totally credible balance and faithfully capturing the timbres of the individual voices, while displaying an obvious sympathy for the repertoire (while her husband Charlie Ipcar helps out and provides a chorus vocal on all but one of the tracks). A superb release: so now all we need is for Barry and Neil to be granted shore leave to come over here to promote it!
David Kidman January 2008
---
Brian Finnegan - The Ravishing Genius Of Bones (Singing Tree Music)
Armagh-born Brian's definitely one of the finest whistle players in the universe (and his flute playing leaves other musicians standing too!), and it's an indicator of the constant demand for his talents that only now does he seem to have found time to record anything like a nominally solo album to follow 1993's obscure When The Party's Over release. In the intervening years, of course, Brian's been a mainstay of the amazing Flook! band, since whose demise he's been gathering with Lau's Aidan O'Rourke and mates Ian Stephenson and Jim Goodwin in the new quartet KAN, by all accounts raising a storm with some ferocious live gigs.
And for a solo album, The Ravishing Genius Of Bones has a pretty formidable supporting cast - in excess of 25 musicians all told, although they never all appear at the same time and many are used very sparingly indeed or for judicious cameos. The disc's nine tracks contain their fair share of animated Flook-like reel- and jig- structured pieces (mostly original compositions of Brian's), replete with that signature supple and entirely nifty whistle work of course. So I don't need to comment on the unstintingly superlative technical expertise and musicianship on ready display here from Brian himself at every delicious turn of the melody or creative twist of the rhythm.
But the acute sense of creative musicianship extends straight out to the enterprising arrangements too, these being both full of interest for the listener and participants alike and intensely imaginative in their own right. And quite apart from the aforementioned carrying-on-where-Flook-left-off tracks, there are some more unexpected musical and stylistic influences at work here. A disc highlight is the intensely moving slow, dreamy Last Of The Starrs, which features a fabulous seven-piece string section, after the fading sounds of which the delightfully rippling cadences of Damien O'Kane's Seasick Dee emerge. Newgrass is strongly hinted at on Superfly and Marga's Moment (both of which feature Rex Preston on mandolin) and Leon Hunt also contributes some fine dobro to several tracks (and typically magnificent banjo on others). On Crooked Still Reel, we can marvel at Damien's astounding banjo work and a cool vocal harmony line (from the members of Crooked Still, naturally). Each track contains a generous helping of intelligent and intriguing instrumental embellishments tucked away in the arrangements – just to pick on two instances within the same set (track 4), there's some enchanting electric guitar counterpoint (Justin Adams) on Adam Sutherland's Eroticon VI, and plucky jew's harp (Lucy Wright) on Barry Kerr's Back To Belfast. Other regular guests throughout the album include Ed Boyd (guitars), James Fagan (bouzouki) and John Joe Kelly (bodhrán).
As purely instrumental albums go, this is a memorable one for sure, well balanced with abundant interest in the mellower, slower and faster items alike, and – unlike some purely instrumental albums – an eminently repeatable experience. Ravishing genius indeed - make no bones about it.
David Kidman July 2010
---
Five Furious Fish - Hook Line & Sphincter (FFFCD2)
THIS strangely named West Country band describe their music as being "a mix of cajun, zydeco, fast folk, rhythm & blues, reggae and soul". That almost sums up their noise to a tee. Almost. To fully fit the bill they should add "and perfect summer-time music."
And that really is the case. I've been listening to this album over the past couple of weeks during some of the warmest, sunniest days and it's been the ideal accompaniment. But - and here comes the clever bit - on those other days, those on which the clouds blanketed the sky and it was just a little cooler, playing HL&S gave the wonderful illusion that the sun was still shining.
And there's something here for everyone - just like it says on the can. Proceedings kick off with "Rise Up", by guitarist and vocalist Charlie Stubbings. Accordion and fiddle introduce bass and drums putting down an infectious reggae rhythm as Stubbings tells us: "Rise up, join in the dance and I think it would be hard to ignore the call in the right circumstances." "Cold Heart", written by band-founder Rob Darnell, is one of the album's peaks. Leading off with some great funky wah-wah guitar from Stubbings, the bass and drums of Daves Preston and Vaughan pick up the groove and carry it on to some nimble fiddle-playing by Simon Evans. Two minutes in, just as you're succumbing to the hypnotic rhythm, there's an unexpected change of pace as Darnell's accordion lifts the pace and his vocal advises us cold-hearted men to treat our women right.
The next track, "Cajun Moon", holds yet more surprises. For one, it's written by Thomas Dolby - more widely known as a techno-kid of the 1980s' charts. For another, it features the unmistakable electric lead guitar embellishments of Jethro Tull's wizard of the fretboard, Martin Barre. Actually, Barre's presence isn't that much of a surprise (he also crops up, acoustically, on "Fat of the Land") because the album was recorded in his Devon studio and Darnell is a some-time member of Barre's pick-up band. Each time I hear "Never Say Never" I have to look at the album's liner notes to check, just one more time, that it's not being sung by another guest. Stubbings takes lead vocal on his song and bears an uncanny aural resemblance to Ralph McTell. The feel of the song, with its gentle melody and acoustic guitar, mandolin and lovely fiddle, only helps to underline the similarity.
Darnell's squeeze-box plays a telling part in the traditional "Me and My Cousin" which scoots along at a dancetastic zydeco-fuelled lick. The whole thing is wrapped up with a dub-heavy rewrite of the first track. "Uprising" has a bottomless bass and snapping drums overlaid with guitar, accordion and fiddle, the whole resulting in another song that's guaranteed to get audiences up off their bums.
I suspect that's what I'll be doing next month when I see them play the annual Cropredy festival in Oxfordshire. And with Barre pencilled in as one Fairport's "surprise" guests, I guess there's a chance he could join his old pals on stage. Whatever, if the sun shines and a glass or two of ale is quaffed, I can't see them failing to come up with the goods. It's unlikely you'll find this CD in the shops so have a look at the website at www.fivefuriousfish.co.uk and there you can learn more about the band and order a copy. It's sunshine on a CD.
Fred Hall
---
The Flaming Lips - At War With The Mystics (Warner Brothers)
Flaming Lips singer Wayne Coyne recently compared life in the band with being a pirate, travelling the world, doing pretty much as he pleased and getting well paid for it.
That philosophy pretty much sums up the music as well, always a band that marched to the beat of its own drum, their 12th album is a description defying journey through a magical fantastical world that |Roald Dahl would struggle to accurately describe.
It was always going to be tough to follow The Soft Bulletin and Yoshimi Battles The Pink Robot. However the Lips have managed by recording an album torn from fevered imaginations. At the centre of it all lies Coyne, acting as the anchor, without him you suspect that it would all just float away. It's not only the title of My Cosmic Autumn Rebellion that evokes memories of the heyday of psychedelia, it's the belief that music is there to be pushed and tested to its absolute limit.
At War With The Mystics may not be your common or garden rock album, in fact it's likely to be the most uncommon album you'll buy this year, however for sheer freedom of expression, excitement and entertainment it'll take some beating.
Michael Mee
---
Flanders & Swann - Hat-Trick (Flanders & Swann Collectors' Edition) (EMI)
For those of a certain generation, the duo Michael Flanders and Donald Swann have become synonymous with modern-day revue and mildly irreverent cabaret; their superbly clever compositions, stuffed with fantastic wordplay, gentle but effective social comment and piquant observation, were something of a benchmark. Even if their demeanour might seem demure, and some of the individual songs (inevitably) tasteful and polite, even tame, by today's standards, their material was pretty cutting-edge for its time, and can be seen as both continuing the peculiarly English style of satirical tradition and prefiguring the 60s satire boom (some regard their songs as almost the alternative comedy of its time, pace the Goons). Listening to their performances "transports you delightfully" back in time to another era entirely, transcending superficial nostalgia, yet it's also true to say that their work has stood the test of time, and very many of their beautifully-constructed, literately-engineered fables contain innumerable grains of truth and wisdom that resonate in today's world (and survive well beyond the bounds of the occasional dated reference). The history is well documented: just over fifty years ago, Messrs. Flanders and Swann hired a small London fringe venue to present a selection of their own comic material, hitherto scattered amongst sundry revues. Incredibly, within a month, At The Drop Of A Hat, as they called the show, transferred to the West End, and then within 2 months it had been recorded for posterity by Parlophone. The LP became a steady seller, as did subsequent releases of the duo's material, and has rarely been out of the catalogue since, although it took a few years to enter the digital age! In 1991, EMI, aided by Swann and Flanders' widow, Claudia, brought out a three-disc box The Complete Flanders & Swann. This, it now turns out, was somewhat optimistically named, for over time its appearance prompted an increasing number of perfectly logical questions from fans of the duo - for instance, why did the box-set not include the original mono recordings, and were there not any out-takes? And of course, there were bound to be some private tapes lurking - which have since surfaced. So we come to this new four-disc collection, which restores to the catalogue the various missing links and proudly includes many private recordings; together with the 1991 box, it now forms what can more legitimately be regarded as The Truly Complete Flanders & Swann (well, almost!).
Disc One presents the original mono issue of At The Drop Of A Hat (including its unlabelled bonus track - a very early example of this gambit!), supplemented by two numbers recorded at the same concert which had appeared only on the American issue, and all four of the songs comprising the "sequel by public demand" EP More Out Of The Hat, finishing with an unissued studio track, Grandma (aka I'm 104 Today).
Disc Two is where the real interest begins, with a clutch of live recordings, taken from private tapes, of songs that didn't make it to the original Hat series of LPs, overtly topical songs (including a decidedly politically-incorrect update of A Transport Of Delight), and interesting alternate versions of familiar songs from The Bestiary - all with full introductions (an essential part of the duo's act) restored. There's also an example of a typical "play-in" (overture), a couple of covers of songs by the duo's friend Sydney Carter, and the delicious full version of their regular encore (a musical setting of three of the theatre's various health-and-safety notices).
Disc Three brings onto CD for the first time the much sought-after and long-deleted (formerly limited-release) collection And Then We Wrote (A Review Of Revues), a 1974 studio recording for which F&S gathered together a retrospective set of pre-Hat material from various productions. This collection is supplemented by a series of vault out-takes from 1963's At The Drop Of Another Hat release.
The fourth (bonus) disc presents a selection of private recordings, tryouts and commissions, and is a real treasure-trove. It ranges from acetates made while F&S were undergraduates at Oxford (including a 1941spoof of a wartime radio broadcast) to rehearsal tapes of songs that never made it into the finished revues and material featuring a supporting cast. Recording quality is necessarily variable, but surprisingly good for the most part considering. For F&S fans, this set will be an absolutely essential purchase - but F&S have always had a wider appeal due to their overriding charm, not to mention the deeper poignancy of their commentary on English life which is revealed on closer acquaintance to lie beneath what on the surface may be perceived as glibness. Their perceptiveness was also the stuff of legend, their gift for musical parody, while perhaps not always sharp enough to rival Gerard Hoffnung or John Amis, was nevertheless acute (their Guide To Britten is priceless, for instance). There are many incidental gems here, which demonstrate the breadth of the men's talent outside of the most well-loved bestiary items, plus the brilliance of their improvisation and the constant refinement of their material (such apparently effortless perfection was indeed hard-won!). This set provides some revelatory insights, and rounds out the picture commendably. It's a triumph, and in the end so much more than a mere anorak's adjunct to the unfortunately mis-named 1991 Complete box.
David Kidman April 2008
---
The Flatlanders - Hills And Valleys (New West )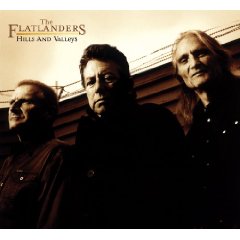 Given the 30 year gap between their debut and sophomore release, the five year wait since album number three is nothing at all. Once again it's a collaborative writing affair between the trio, Joe Ely, Jimmie Dale Gilmore and Butch Hancock, with each of them taking turns in the vocal spotlight. It's also a relaxed, almost casual affair that sounds like three guys going into the studio with a bunch of songs and nothing to prove. As such, the quality control might be less than it ought on a couple of occasions, but when it cooks, musically, vocally or lyrically, it certainly hits the spot.
Case in point, the opening Homeland Refugee on which Ely takes lead on a state of the union address about the plight of dispossessed heartland farmers and the foreclosures on the pastures of plenty. Equally striking is the twangy martial beat honky tonk of Cry For Freedom, Hancock's sterling reading of his dusty truckers hymnal Thank God For The Road and Free The Wind, a lovely Texicali hued reminder of the need for selflessness and sharing the land in which we live.
Mixing up the border cantina country romance of Wishing For A Rainbow and the accordion loping reggaefied Tex-Mex No Way I'll Never Need You with the barrelhouse boogie of Just About Time, the good time rocking The Way We Are (penned by Colin Gilmore) and the banjo plucking adaptation of Guthrie's folk spiritual 'fire next time' Sowing On The Mountain, it's the listening equivalent of pulling on an old pair of favourite socks.
Mike Davies April 2009
---
The Flatlanders - Wheels of Fortune (New West)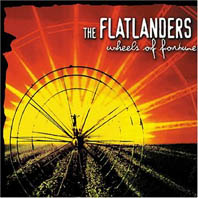 Having released a second album and played their first tour a mere three decades after their debut, Joe Ely, Jimmie Dale Gilmore and Butch Hancock have obviously got a taste for things. No sooner were they off the road than they were busy putting together this third album, laying down some 30 songs in Ely's studio from which this set of 14 finally emerged. Sharing writing duties between them on a mix of new material and songs that have been knocking around their sets for a while, it's as relaxed and effortlessly fluid as you'd expect from such seasoned performers, the feel firmly rooted in twangy old school TexMex and border country with Ely's Indian Cowboy straight out of the cantina and You've Got To Sleep Alone sounding like something Gilmore might have written for The Mavericks.

Although things get ponderous when they take a blues diversion with Midnight Train, the guys are on good vocal and guitar form, Gilmore sounding increasingly like Willie Nelson, especially on Hancock's Wheel of Fortune.

With a couple of minor hiccups it's all comfortable listening, well suited to shuffling round the barroom dance floor with a cold glass of Lone Star, but while Ely's Neon Of Nashville (with Lloyd Maines on steel), vintage Hancock tune Once Followed By The Wind and the Butch and Jimmie collaboration See The Way do stand out, the problem is that ultimately the songs don't really add up to that much. And while Deep Eddy Blues may be an amusing nod to Deep Ellum Blues, it must be said that the persistent strain of jokiness and word play that keeps cropping up on things like Eggs of Your Chickens, I'm Gonna Strangle You Shorty and Back To My Old Molehill really can get a bit wearisome.

Mike Davies
---
The Flatlanders - Now Again (New West)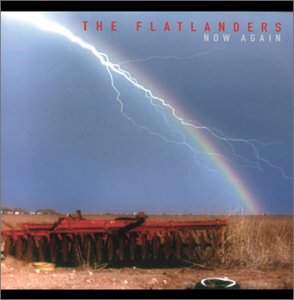 With only one previous album in 30 years, they're not exactly what you might call prolific. However, given the band comprises Lubbock alumni Jimmie Dale Gilmore, Butch Hancock and Joe Eky you can see how individual careers might have kept them preoccupied. However a reunion gig or two back in 99 and getting together to record a track for the Townes Van Zandt tribute album sparked up the urge to all get back in the studio for a belated follow-up.
Augmented by a hefty bunch of sessioneers, including Lloyd Maines providing steel on the gently swaying South Wind of Summer, as you might expect the guys take turns providing lead vocals - sometimes within the same song- combining talents to write the songs, the only solo penned efforts being Hancock's Julia and a cover of Utah Phillips Going Away. That said, individual identities are clearly stamped on several tracks; Wavin' My Heart Goodbye is unmistakably Gilmore, Down In The Light of the Melon Moon pure Ely and I'd guess that despite sounding more of a John Prine number Yesterday Was Judgement Day owes its biggest debt to Butch.
Relationships gone south, loves still burning, highways roamed, times gone by and, on the blistering Pay The Alligator, the fact that death, taxes and speeding fines are things you never escape, provide the subject matter while the music comes steeped in the trio's old school border country roots, Tex-Mex tequila shots providing several kicks along the way. Although Now It's Now Again takes things down to mid-tempo, the tunes are mostly upbeat reflecting the good times that were clearly had in the recording, an experience unqualifiedly repeated in the listening. Back in 1972 they unknowingly laid down the blueprint for what would become Austin Americana, their combined and individual influences easily traced through those that followed. It's good to know that three decades on, they still sound seminal.
Mike Davies
---
Jon Fletcher - A Month In The Summer (Swallowstail)
Jon's is one of those names that will be only peripherally familiar: he was a founder member of Epona alongside Nancy Kerr and siblings Kate and Colin (the latter now works with Van Eyken), and he's now with Magpie Lane, but as this neat little disc shows, he's become an attractive, if quietly-spoken, singer songwriter in his own right. He draws his imagery from the natural world, and he possesses a craftsman-storyteller's instinct, while allowing his intricately moulded guitar traceries to stay close to centre-stage. With the help of Kate Garrett (harmonium, flute, whistles), brother Colin (bass), Tom Hooper (drums), and melodious strings from Giles Lewin, Kathy Whitaker, Jane Griffiths and Barney Morse-Brown, Jon has created an atmospheric, if understated sound-world that's ideally evocative of what he wryly describes as "the perfect English summertime I never had either". After a rather undistinguished opening track, the disc really gets to cast its gentle spell, highlights coming with the chamber-Pentangle mode of Willow Song, the delicate poetry of Windfall, the luminous Stole The Ground and the migratory vision of Swallows (previously covered by Abbie Lathe). Perhaps the exceedingly languid, lazy Sleepy Nothing Kind Of Day is just a little too tongue-in-cheek, but on the other hand I really liked the swinging, jazzy insouciance of Hold My Breath, the wistful closer Hold Back The Tide has much of the air of Forever Changes, and Jon's treatment of The Cuckoo (the only non-original on the disc) is neatly judged. This is rather an appealing album, even if I did sometimes wonder whether the proverbial curate's egg fell out of its nest just a little too soon.
David Kidman August 2008
---
Kate Fletcher - Fruit (Own Label)
Those who remember following the fortunes of the band Epona back in the late 90s will know Kate's name; in the group setting she performed alongside Nancy Kerr, drummer Tony Lyons and her two brothers Colin and Jon, whereas on Fruit, her first recording away from Epona, she is defiantly a solo artist, affording us an intimate glimpse into her own distinctive and private creative world. Hers is an unusual and intriguing soundscape, rejoicing in a subtle and unpretentious use of a variety of instrumental colours and timbres from guitar to five- or six-stringed kantele (a Finnish instrument), oboe to Native American-style flute and mouth-bow (Kate playing everything herself with the exception of the latter instrument, which is played by its maker Corwen ap Broch). Recorded in a Dorset caravan and a Somerset barn during last winter, and with unobtrusive production by Robert Harbron, there's a homespun, primitive immediacy to the proceedings that's really attractive. Kate's liner notes are comparably quirky and conversationally informative about the actual songs too, which proves helpful. Four of the album's 14 tracks are Kate's own arrangements of material from traditional folk sources, though not all of these originate in the English tradition. The second track on the album pairs a Manx invocation for fair weather with a Norwegian maiden's lament after unfair weather, and later on the disc Kate performs a Hebridean spinning song, whereas Kate's treatment of the Cruel Sister ballad gains in enigmatic power from its stripped-down, almost oriental-sounding setting. The remainder of the songs are Kate's own original compositions, except for River Song (by Pressgang's George Whitfield), and The Broken String, a setting by Kate of words spoken by a Kalahari San Bushman on the death of his friend. Kate's songwriting is honest and succinct, understated and refreshingly non-self-indulgent, her songs ranging from the cryptically autobiographical title track (in effect, Kate's calling-card), via Close My Eyes, a slice of mixed-up late-teenage angst, to the affectionate anti-war song Lullaby. The standout tracks for me are highly contrasted: on one hand the disturbing, stark and broodingly strange Midnight, which tells of a modern-day haunting, and on the other the comforting haven of the beautiful Beyond The Silence. There are some compelling songs here, although sometimes I do find Kate's melodic inspiration seems a trifle plain for the lyrics and the occasionally wavery aspect of her singing is unwelcomely exposed on some tracks. In general though, Kate's work is quietly stunning, and even if Epona are no more (I would assume so, since Colin currently performs with Van Eyken and Jon with Magpie Lane), I do hope Kate continues to perform and record.
David Kidman July 2007
---
Matt Flinner Trio - Music Du Jour (Compass)
Matt Flinner's latest ensemble, a wonderful all-acoustic trio, can be counted on to produce fresh-minted sounds and satisfyingly inspired compositions, and their latest CD is no exception. Yet its title undersells it contents rather, for it's more a case of "music de douze jours" as it turns out – since the genesis of these twelve new tunes is a challenge thrown down over the course of three tours by mandolinist Matt to his fellow-musicians Ross Martin (guitar) and Eric Thorin (bass): "to write a new tune each day while on tour and perform it that evening"! The challenge was eagerly met, needless to say, and the resultant set of tunes (yes, four by each of the three) makes up this new record. Inevitably there are passages of mild indulgence on the part of one or other player. Sure, Eric naturally wants to show off his skills on the double bass, but at least he does it in style (check out the playful Free Circus and Stomp Hat for instance) and without unduly upstaging Matt or Ross, and the same goes for those two and it never becomes an annoying trait.
Idiom-wise, several of the pieces naturally fall into the "progressive bluegrass-cum-newgrass" territory, but even so there's considerable scope for inventive interplay of styles and colours within that milieu. Tell Me One More Time and Inferno Reel are arguably the closest to "conventionally" tricky bluegrass-soloing and technique: stimulating and scintillating showpieces with musicality bolted right into the fabric. Meager Hero is a neatly bluesy turn, Spur Of The Moment embraces a true lyricism in its lovely melody, and Atomic City proves a more ebullient showcase for Matt's own glistening skills – ebullient and expressive without needing to resort to flashy note-spinning, and I'm constantly reminded here what an extraordinarily fine musician Matt is. Intriguing dynamic shifts, telling syncopations and innovative texturings are the order of the day, and all these are brought to bear during the course of these 12 exciting pieces, with the result that it's hard to get bored with three musical voices as brilliant - and brilliantly together - as these.
David Kidman July 2009
---
Kat Flint - Dirty Birds (Albino Recordings)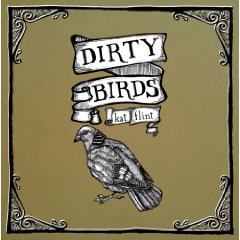 I virtually guarantee that you'll not have heard anything quite like Kat's unashamedly quirky brand of what might best be tagged alt-indie-folk... It's unusual and it's provocative (both lyrically and aurally); it's accomplished and clear-sighted, but also eccentric, unpredictable and wayward enough to be genuinely interesting and stimulating. And it's fun! But then, Kat's background itself is enough to make you sit up and beg to hear her music: "born in Barbados and raised by two scientists in the rural microcosm of north-east Scotland", Kat was a compulsive writer throughout her teens, then emerged shortly thereafter into a succession of weird occupations to fund her music habit: storytelling, statistical analysis, being buried alive on TV, sewing sock puppets and waiting tables! While Kat's music gigs have included touring with Cara Dillon, and support for Ed Harcourt. Following closely on two independently-released singles, this entirely fan-funded debut album, engineered and produced in a disintegrating living room and mixed from the back of a car, has evidently been a labour of love. This shows in the extraordinary level of detail that's crammed into the whole package, where the ingeniously busy nature of the musical soundscape, which teems with all manner of instrumental and other sounds, is mirrored by the every-which-way presentation of the song lyrics in the foldout booklet. Kat's philosophical take on the events and accidents of everyday life is open-minded and open-mouthed, refreshingly candid and humbly knowing, and the boldly experimental character of her musical settings is symptomatic of her attitude to things. Proudly strange but oddly normal textures and effects come and go alongside Kat's distinctively formed yet idiosyncratic singing and deceptively straightforward guitar work. Homespun delights such as glockenspiel, melodica, kazoo, boxes and packing cases and other random percussion take their occasional place alongside the equally occasional but orthodox timbres of cello, violin, piano, trumpet, bass and drumkit, for which Kat's enlisted the help of various musicians from cult bands Revere and It Hugs Back, Nicholas Hirst and folk-noir songstress Jess Bryant. And the album title? Well, the "dirty birds" manifest themselves in many forms, not least pigeons and prostitutes, black crows and bomber jets... To depict these images, Kat's musical adventures are sometimes off-kilter but invariably compulsive and thoroughly compelling. They embrace edgy, perversely catchy (and sometimes scratchy) reflections on romance (Anticlimax, Go Faster Stripes, Lazybones), age and experience (Candy Floss Branches), old-curiosity vignettes (Ohio) and poignantly resonant character studies (Saddest Blue Dress). Warnings from a touchingly experiential stance (Christopher, You're A Soldier Now), and some cryptic and quite desolate ponderings (Birthday, The Blinking and the sinister Shotgun Wedding) that plumb the depths of emotion in uncannily simple language and uncluttered expression. And those are just randomly selected highlights, plucked out after a few plays from an amazing disc that signals the emergence of an outstanding new talent.
David Kidman October 2008
---
Flo & Eddie - The Phlorescent Leach & Eddie / Flo & Eddie (FloEdCo)
Flo & Eddie is shorthand for the duo of Howard Kaylan and Mark Volman, who first rose to prominence as vocalists with hitmakers the Turtles in the mid-to-late 1960s, upon the breakup of which band they joined Frank Zappa's Mothers Of Invention and were known under the sobriquet of The Phlorescent Leech & Eddie. While members of the Mothers, they appeared on several albums including Chunga's Revenge and Just Another Band From LA, and figured largely in the excessively peculiar (and peculiarly excessive!) movie 200 Motels. After Frank Zappa was injured in London at a concert appearance in the early 70s, Mark and Howard continued touring (as Flo & Eddie), initially with three of the musicians from the Mothers' lineup (Jim Pons, Aynsley Dunbar and Don Preston) and Gary Rowles (from Love) on guitar. That lineup backed Mark and Howard on the first of the two albums the duo made for Warner and which are reissued here for the very first time on CD. As far as the records' purely musical content goes, well they're probably not wildly exciting (let's face it, few 1973/74 albums were!), but they do make for interesting - and often quite fun - listening. In a way, they hark back to the Turtles' Battle Of The Bands project, in that many different musical styles (within the parameters of contemporary west-coast rock-pop and good-time music, that is) were essayed – albeit with varying degrees of success in terms of staying-power. But then again, their idiom, and the prevailing mood of the time, was very much the alternation of weed-inspired creativity and equally inspired wacky-baccy silliness in often unpredictable proportions and wild swings. In a way, the first of these albums, 1972's The Phlorescent Leech & Eddie, is very typical of that uncertain mix – but then again it's chock full of good tunes and savvy of both commercial and musical kinds. Feel Older Now is a Deep Purple-like slice of proto-heavy-rock (Goodbye Surprise refers back to the burning casino gig that inspired Smoke On The Water), Who But I marries Turtles and Byrds, Really Love is delightfully Beatlesque. Two songs – There You Sit Lonely (a well-upholstered pop ballad), and the aforementioned Goodbye Surprise – are re-recordings of numbers from the Turtles' Shell Shocked swansong release. In all, The Phlorescent Leech & Eddie album fares better than its contemporary critical assessment (a wayward but ultimately forgivable collection of songs, all but one Kaylan/Volman originals). Its followup, 1974's Flo & Eddie, though shorter in playing-time, is an altogether more production-conscious and bloated affair (take a bow Bob Ezrin, Alice Cooper's producer – after all, Flo & Eddie were support for Alice's 73-74 world tour) with a larger supporting cast. The generally denser, more overblown arrangements tried, it seems, to compensate for a comparative lack of invention that necessitated the inclusion of no fewer than four covers among the ten tracks – among which, the Kinks' Days gets a quite glorious makeover, whereas not even John Sebastian guesting on vocal can redeem The Best Part Of Breaking Up from showbiz cheesiness. It's not exactly rubbish, but it relies too much on over-gesturing, as does the album as a whole (check out the blowsy opener If We Only Had The Time); even the instances of intentional comedy (like Carlos And The Bull and The Sanzini Brothers) seem too contrived this time round. But it's moments like the towering epic reminiscence Marmendy Mill that make the album worthwhile. In fact, listening to both these albums again after 30 years, they're not nearly as ephemeral as I (don't really!) remember, and there are a number of minor gems among their 23 tracks; they certainly didn't deserve to wait until now for CD reissue – so it's a case of better late than never!
David Kidman July 2008
---
Flook - Haven (Flatfish)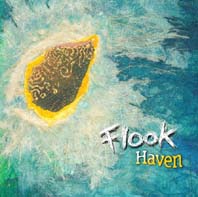 This is only Flook's third album in ten years, but you might say that each one has been worth its wait in gold! Gilt-edged flutes have always been the driving force behind Flook, and Haven doesn't let the side down in any way, but this time round there are some subtle enhancements to the overall combo sound through the deployment of a number of guest musicians: Leon Hunt (banjo), Padraig Rynne (concertina) and Catriona McKay (harp), also Ewan Vernal (bass), with Seckou Keita, Andy Davies and Mark Tucker. Haven proves a satisfying and well contrasted sequence of enticingly constructed tune-sets, replete with inventive turns of texture, phrase and tempo, on which the fresh-sounding playing of the band's ever-consistent four-piece lineup (Sarah Allen and Brian Finnegan on flutes, Ed Boyd on guitar and John Joe Kelly on bodhrán) is both organic and highly intuitive in its live feel. The wholly natural interplay between musicians (band and guests alike) is remarkable, though it's not attention-grabbing in the derogatory sense; although you can listen to the album on one level and readily tap into (and along with!) the sheer energy of the music, it's often only by closer and repeated listening that you can appreciate many of the textural and interactive subtleties that come from musicians so much at home with their music and with each other. Subtleties like the innovative juxtaposition of the contrasted playing styles of the band's two flautists - by turns lithe, jazzy and percussive - and the amazing tonal varieties conjured out of John Joe's bodhrán. The tunes Flook play on this new album are all recent compositions; many are by Flook members, naturally, though there are also some fine examples from Damien O'Kane, Colin Farrell and Aidan O'Rourke (among others), and the serene closer On One Beautiful Day comes from Esko Järvelä. Throughout the album's surprisingly skimpy 42 minutes, sophistication and exuberance are carried hand in hand, leaving you wanting more, much more.
David Kidman
---
Flook - Rubai (Flatfish)
Now this is a seriously good record. Even if you're tired of flutes and whistles. Even if you're fed up of seeing albums full of tune-sets fused together in concoctions with supposedly trendy one-word titles. Flook have always been at the forefront of the "intelligent and innovative tunesmiths" brigade, for the strength of their own trad-style compositions every bit as much as their vibrant musicianship, but this develops the winning lineup from the Flatfish album into an unbeatable team, springing some surprises along the way with the recruitment of guest musicians like Ewan Vernal (bass), Colin Farrell (fiddle), Rory McLeod (trombone) and Seckou Keita (percussive bits). That twin-flute front line (Brian Finnegan and Sarah Allen) has never sounded so good, while we mustn't for a moment underestimate the superb so-much-more-than-supporting team of that superb guitarist Ed Boyd and fluent bodhránist John Joe Kelly, who provide an unmatchable driving yet subtle rhythmic anchor to the abundant breathy (and breathless - how do they do it?!) melodic interest. The arrangements are consistently full of interest, as delightful as they are unpredictable, with world influences that convince due to the wholly natural manner in which they're incorporated (take the township/ska that heralds Granny In The Attic, the Latin vibe of Kalamantinos, or the cajun joyousness that infuses the latter half of Natterjack). And the team can handle a more sedate pace just as well as the breakneck fingering, as they prove on the deliciously phrased Glass Polska; is it mere coincidence that this is followed by a stunning transposition of piper Gordon Duncan's Pressed For Time?! This is an exceptional instrumental album that hits the replay button more than most with its irresistible combination of "music, rhythm and breath". And all housed in a nicely sturdy digipak sleeve too.
David Kidman
---
Mary Flower - Bywater Dance (Yellow Dog Records)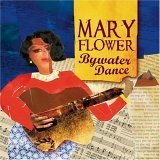 Mary Flower is one of America's finest roots musicians and this album, recorded on a visit to New Orleans and with some of the finest performers that that city has to offer, is a great introduction to her talents. The opener, Blues My Naughty Sweetie Gives To Me, is old style jazz blues in a Memphis Minnie style and she gives notice of her excellent guitar playing. Raise The Devil continues her guitar playing but this time she's on lap slide and, as I've said before, a good bottleneck blues will win me over every time. Jon Cleary gives an immaculate performance on this self-penned instrumental.
The traditional Crow Jane has genuine Southern authenticity added by Amasa Miller's accordion. New Orleans Hop Scop Blues is not the strongest track on the album but it does get going after a while and, as the title suggests, is more New Orleans style jazz/blues. Another of the self-penned songs is La Grippe which is country blues played on just guitar and upright bass. The playing is of the highest order and the whole album was recorded, mixed and mastered in one week but you can't tell from listening. The ponderous yet soothing Last Kind Word Blues is one of the best tracks on the album - just sit back and relax.
Dr. Michael White makes an appearance on Terminal Rag. It's just guitar and clarinet and it is wonderful. Brother Can You Spare A Dime is very well known and Mary gives it an old time jazz blues feel and fills it with laconic, rootsy folk guitar. Leroy Carr's Papa's On The Housetop has Henry Butler on piano but it is a bit on the safe side and not near the edge enough for me. Slow ragtime comes out on Hudson River Rag, another written by Mary. The addition of a second guitar here certainly fills the track out and the result is, technically, top class. Another well known song is Nobody's Fault But Mine and this has Henry Butler on piano again. Mary turns in a good vocal and Butler's barrelhouse boots the song up.
Main Street Blues is New Orleans blues personified. She has a quality to her voice that harks back to bygone days. Nice to hear the washboard make an appearance and the clarinet by Dr. Michael White is sublime. Henry Butler makes a further appearance on Built On The Right Ground, a classy blues with excellent slide guitar. The album finishes with the self-written Good News Waltz which has Amasa Miller returning on accordion. This gentle song conjures up many an image and I can imagine Sonny Landreth fitting into it very well.
This is Mary Flowers' first album for Yellow Dog and I'm sure it won't be the last.
www.yellowdogrecords.com
David Blue
---
John Fogerty - The Blue Ridge Rangers Rides Again (Verve Forecast)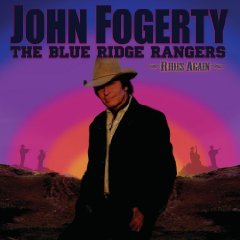 When Creedence Clearwater Revival disbanded in 1972, Fogerty's first solo outing was under the name of the Blue Ridge Rangers, a collection of country covers that yielded the hit single Jambalaya. 26 years and six albums later, he's finally released a grammatically challenged sequel.

This time round he's enlisted an array of star session musicians (most notably Buddy Miller on guitar) rather than play everything himself and there's a couple of well known friends in tow, but otherwise, with fiddles, mandolins, dobros and pedal steel rampant, the format remains the same even if the song choice net has been cast a little wider

John Prine's strip-mining protest classic Paradise sets the ball rolling in fine style as Fogerty proceeds through a collection of familiar and less well known country tunes that range from twangy Buck Owens' honky tonker Don't Care (Just As Long As You Love Me) to a growly fiddle scorching stomp through Robert Geddins' playful rockabilly shuffle Haunted House.

There are a couple of reservations. Rick Nelson's Garden Party, which welcomes Timothy Schmidt and Don Henley on vocals, is a bit of a plodder and, while it may be crank up the volume fun, his duet with Springsteen on the Everlys' When Will I Be Loved with its 'impromptu' spoken exchanges does sound like it belongs on stage as a special guest appearance number.

Elsewhere, there's the hard country rocking of Ray Price I'll Be There, Heaven's Just A Sin Away, a gently rolling stroll through John Denver's road weary Back Home Again, the bluegrass heel kicking Fallin' Fallin' Fallin' and a revival of Gary Bruce's suicide themed Moody River that's considerably funkier than Pat Boone's 60s hit cover. And, talking of squeaky clean, Fogerty also includes a bouncy version of Never Ending Song of Love (complete with Herb Pedersen yelping in the background), a song probably best 'fondly' remembered from The New Seekers but, as music buffs will know, actually written and originally recorded by Delaney and Bonnie.

However, perhaps the album's real treat is actually Fogerty covering himself, revisiting 1986's album Eye Of The Zombie. His first solo album with a backing band, it was both a critical and commercial flop that led to an 11 year recording hiatus and a refusal to play any of the material in concert for over 20 years. This year, however, he seems to have had a change of heart and, after including it on the live set list, he's now rerecorded Change In The Weather, a tremendous slice of bluesy swamp rock that is pure vintage Creedence.

Mike Davies October 2009
---
John Fogerty - Revival (Fantasy)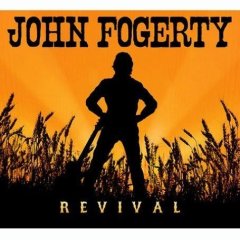 Having finally put 30 years of litigation with Fantasy behind him, as the title might suggest Fogarty's decided to party like it's 1969. This is good news for Creedence Clearwater Revival fans since, while the lyrics may have contemporary resonance, song after song this harks back to their classic sound. Appropriately enough there's actually a track called Creedence Song that has that Green River swampy sound and Fogerty singing 'you can't go wrong if you play a little bit of that Creedence song'.
Taking his own advice to heart, the rock n rolling Travelling Band belter I Can't Take It NoMore references 'another fortunate son' as, recalling how CCR protested the Vietnam war, he lays into the Bush administration's lies about the Iraq invasion. George doesn't get off lightly with just the one barb either. Long Dark Night puts the Fogerty swamp guitar blues choogling to good use to give him and his cronies another going over.
Elsewhere you'll hear potent echoes of his vintage legacy with Broken Down Cowboy leaning heavily on the melody of Have You Ever Seen The Rain, It Ain't Right revisiting the Sun rockabilly that informed the likes of Commotion and Sweet Hitch Hiker and the western themed Gunslinger hinting at the country twangs of Who'll Stop The Rain.
While firmly rooted in the era, it's not all about CCR soundalikes. The joyous idealistic opener Don't You Wish It Was True (a sort of geo-politics Wouldn't It Be Nice) is a loping Tex-Mex country tune that you might have found Hank Williams humming while River Is Waiting is a soulful spiritual with vocal trio The Waters on back-ups.
Lest you somehow don't clock this as a musical love letter to yesteryear, Summer Of Love comes date-stamped 1967 with some very specific references to Hendrix's Purple Haze and Cream's Sunshine Of Your Love with a hint of Iron Butterfly that gives Fogarty free rein to remind you why many regard him as one of the all time great guitarists.
Classic rather than blindly retro, this is the sound of Fogerty embracing the past but sounding freshly minted, and producing his best solo work since Centrefield as a result. Maybe, with old wounds healed, he'll even start playing those Creedence songs again himself.
Mike Davies October 2007
---
John Fogerty - The Long Ride Home (Fantasy Records)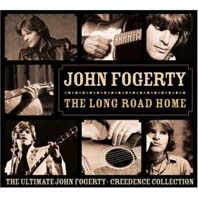 When John Fogerty, brother Tom, Stu Cook and Doug Clifford signed for the small San Francisco jazz label Fantasy, they were given the name The Golliwogs.Thankfully and understandably the swiftly changed it to Creedence Clearwater Revival and took their place at the very top of the American country rock tree.
Despite lawsuits and the usual rock 'n' roll shenanigans, John Fogerty is back at Fantasy and this CCR/solo retrospective is the result.
It's not stretching credulity too far to say that John Fogerty WAS CCR, certainly they weren't the same band after he'd left. He was the author of their classic songs and, as Born On The Bayou ably demonstrates, with a vooice that sounded as if it has been shredded by razor blades, he made them instantly recognizable.
Alongside the iconic Bad Moon Rising, Proud Mary, Who'll Stop The Rain, Have You Ever Seen The Rain and the anthemic Centrefield there are musical 'signposts' all over the album. Fortunate Son is an aggressive dissembling of the American Dream and neatly points the way to Springsteen's Born To Run, while Looking Out My Back Door nods affectionaly back to Tennessee Ernie Ford, CCR neatly bridged the gap between the 50s and the 70s.
They also dragged blues into the swamp and when it emerged it was drenched in the good honest sweat of Southern rock 'n' roll.
But this isn't just a celebration of Creedence Clerarwater Revival, after the band disintegrated, Fogerty may not have enjoyed unbridled success but his Grammy award-winning 1997 Blue Moon Swamp, showed that he was much more than a writer of catchy hooks and he was deservedly inducted into the Songwriters Hall of Fame by John Mellencamp, The Long Road Home shows just why.
Interestingly though, the Fogerty-penned Rockin' All Over The World, finds itself compared to the Status Quo cover and, I have to say, familiarity means that Rossi, Parfitt and co win hands down, still one abberation in 25 tracks isn't bad.
Michael Mee, June 2006
---
Foghorn String Band - Weiser Sunrise (Nettwerk)
Foghorn String Band hail from Portland, Oregon, and on this, their third CD, they bring their fresh, open sound and tremendous enthusiasm to bear on energetic arrangements of fourteen old-time classics and one original (Lotus Dickey's My Father Has A House). You can almost visualise the five band members (a straightforward fiddle, mandolin, banjo, guitar and string bass formation) clustered there in a convivial circle round just a couple of room mikes, so vitally live in feel is this recording and so warm and committed the performances. No frills, just good honest unpretentious direct music-making, and they're obviously enjoying every darned moment of it. Cheap and cheerful it may be in studio-cost terms, but hey it sounds just great, the band are right there with you in your front parlour. Actually, the band sound is perhaps a little unusual for a string-band in that it's often quite strong on the mandolin (played here by Caleb Klauder), an impression that persists even though for much of the time that instrument doubles Stephen Lind's fiddle melody line (and how very expertly it does so too!). The total volume level they all generate together is never overpowering, with each instrumental colour contributing just what it needs to make the requisite impact and thus requiring no fancy overdubbing. The singing on the vocal numbers is both sensibly proportioned and kept within the same aural perspective as the instruments, and any expression is naturally reined in mindful of the parameters of good-time down-home music-making. Everything is in its rightful place and the timing is impeccable, yet the Foghorns have an extra element of spontaneous combustion that keeps it all alight and the flame burnin' strong. It fair makes you glad to be alive, for there's an infectious quality of inspired wildness in the Foghorns' music that's real hard to resist; so the answer is to sit right down and play it all through again! The title, by the way, refers to the Idaho fiddle championship where the band met some years ago - I'dahave never guessed!
www.foghornstringband.com
www.nettwerk.com
David Kidman April 2007
---
Sue Foley - Queen Bee (Retroworld)
This excellent, and generous, compilation gathers together a whole host of classy recordings from Sue's five records that came out on the Texas-based blues label Antone's between 1992 and 2000, on which she demonstrates beyond the call of duty just why she's such a highly regarded female blueser, especially in the competitive guitar stakes. And yet her profile still ain't quite what it might be (we're still waiting to see the fruits of her research on the Guitar Women book project, too).
Even on her auspicious debut album Young Girl Blues, it was patently obvious that the then-24-year-old Sue was one hell of a guitarist: tough and assured, with a serious grasp of the music of her heroes that transcended imitative gesturings or nascent sympathy. And not exactly a bad singer either, if at times her tone proved a little on the sweet-toned side rather than intrinsically raunchy and soulful. But here, whether paying direct homage by retelling established blues tales (Slim Harpo's King Bee stingingly re-engineered, for instance) or kicking into creation spanking new original songs (like the mean'n'dirty Gone Blind), Sue delivered the goods in killer, raw style. If album number two (Without A Warning) was a slight disappointment, this was only in comparison with the blistering impact her debut had made, and her guitar work in particular was as peerless and vividly characterised as ever, notably on cuts like Ruby Duby Du. Sue's greater studio confidence was being displayed on successive albums, sure, but she still retained that wild and spontaneous spark even through increasingly stretching her personal musical envelope out from strict blues into country and surf-music (influences which had been percolating under earlier cuts like Cuban Getaway) and swinging Bo Diddley beats (on the seductive Howlin' For My Darlin').
After album number four (Walk In The Sun) proved Sue's most accomplished set to date – and the four original compositions included here give a good measure of its variety – she switched labels (to Shanachie) and made a couple more albums before Antone's went and put out a disc-full of unreleased tracks (Back To The Blues) which rounded out that label's portrait of this spellbinding musician nicely with some boogie, feelgood rhumba and a tasty Dylan cover (Positively 4th Street). Can't quibble with this new selection at all – and it sure would spur you to dig out the original releases (if you can find 'em).
David Kidman January 2010
---
Sue Foley - Queen Bee (Retroworld)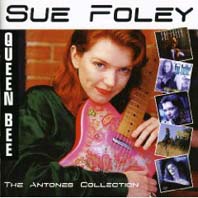 In the past 20 odd years, the Ottawa born blues guitarist and singer has recorded 11 albums, spent some 14 years on the road, shared the stage with BB King and John Lee Hooker, and picked up a Juno for Best Blues Album.

Between 1991 and 2000, she released five albums, Young Girl Blues, Without A Warning, Big City Blues, Walk In The Sun, and Back to The Blues, on Antones, and this compilation gathers together four of the best cuts from each of them.

The James Moore opener provides the title track and an instant introduction to her low slung bluesy guitar work and laid back vocal style and while she may feature covers of songs by such names as Willie Dixon, Magic Sam and Earl Hooker, the bulk of those here are all her own work, with Big City Blues and Put Your Money Where your Mouth Is ample proof that white women can write and play the blues with the best of them.

Ringing the changes too, there's a fine tropical twangy guitar sway through Ike Turner's Cuban Getaway and an equally twanged up country drawled version of Dylan's Positively 4th Street that slip down nicely. Currently signed to Ruf, her last studio set was 2007's Timebomb, a collaborative album with fellow blues women Deborah Coleman and Roxanne Potvin, so a new release is well overdue.

Mike Davies October 2009
---
Folk Implosion - The New Folk Implosion (Domino)
For something that began as a low key collaboration between a couple of mates back in 93, Lou Barlow's side project has grown to almost overshadow his Sebadoh day job. Their soundtrack for Larry Clark's Kids, spawned hit single Natural One, which in turn was followed by the solid selling eponymous debut album, Dare To Be Surprised and One Part Lullaby. Now, with cohort John Davis having stepped down, Barlow's got himself a new line-up together with guitarist Imaad Wasif joining drummer and fellow Alaska member Russell Pollard. Some may miss Davis's presence and point to the lack of tonal variety with a largely sedentary pace or to the overall mood one of bitterness and brooding.
Personally, it feels like a move for the better. The melodies tumble and prowl with bruised languor, Barlow's voice sounding folkier than ever. Fuse is like a malevolent Donovan doing a trad ballad spiked with brittle electric guitars, Pearl a wonderful waltzing gem in which Barlow croons breathily about burning down ( I think we take this metaphorically unless he's arson about) the ex girlfriend's house. A bluesy folk number, Leaving It To Me harks back to the West Coast 60s with shades of Arthur Lee, and despite the jagged sampled intro and guitar screeches that punctuate Coral, there's many an occasion when the spidery guitars and web-covered vocals locate this less in today's new folk world than in some dusty record store amid the old Transatlantic and ESP label samplers.
Mike Davies
---
Folkus Pocus - Under No Illusion (EFDSS)
Folkus Pocus is a duo comprising Caroline and Dan Hollingshurst, two young instrumentalists who met while studying music at university. Caroline has a lifelong love of folk dance music, whereas Dan's background lies in improvised jazz and classical music, and the cross-fertilisation of these approaches brings some felicitous and fresh-sounding musical adventures. It's probably a drawback (and probably not) that with their necessarily restricted palette of available timbres (fiddle, flute or recorder with just a piano for accompaniment), opportunities for experimentation without resorting to multitracking are limited. Even so, Caroline and Dan are to be congratulated for not succumbing to the temptation of over-arranging their tunes, and they coax a commendable vitality out of what they have to hand and they obviously enormously enjoy playing. It amounts to a very competent, always sparkling collection of music for dancing, and covers an admirably wide range of tunes, from traditional pieces (Morpeth Rant, April Storm) to several Playford selections (including some less usual fare), a dance by Handel, some vigorous American contradance reels to a handful of more recently penned items (even including a dash of Bert Kaempfert!) and closing with Ashokan Farewell. I do like the vibrant way the duo respond to each other's playing, especially on those tunes which set a cracking pace from the outset and particularly on the Pipe On The Hob jig-set (track 8) where you sometimes feel Dan's hand is about to run off the keyboard! But there are also times when the total effect is a tad polite, and Caroline's use of vibrato tone on some tunes (eg White Wheat) can be a mite distracting. Although the duo's performances are abundantly committed, fiery and fresh-sounding, some less-than-perfect intonation lets the side down at times. But I realise that this can be tricky music to negotiate, and Caroline and Dan are clearly under no illusion that magic tricks (especially of the musical kind) will always need more practice if they are to wholly convince, so maybe that's all they need in order to penetrate to the inner sanctum of folk's magic circle.
David Kidman August 2008
---
For Stars - It Falls Apart (Munich Records)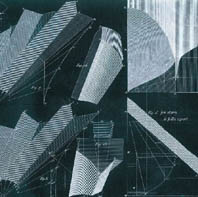 There are musicians and bands who you instinctively know would be able to turn their hand to anything they choose and make more than a decent fist of it. Listening to It Falls Apart - the fourth album from For Stars - is a bit like opening the gates to a magical world. Everything is new, everything is wondrous, bits of it are scary but the whole thing is unexplored territory waiting to be discovered.
It's perhaps fitting that Dan Paris, Mike Young, Christian Preja, Carlos Forster and Will Waghorn hail from San Francisco. It's surely the city most open to new ideas and influences, the modern day cradle of creativity and In For Stars it has great ambassadors willing and able to stretch the boundaries.
But what is It Fall Apart? Some bands lift their music out of any definable genre and this is such an album. To then claim that it 'just happened' as they do is stretching credibility a bit. If tracks like Calm Down Baby 'just happen' why isn't everyone doing it. It takes talent and a limitless imagination to produce music like this.
While there may be just a touch too much of Coldplay about I Should Have Told You, after that the band move on a couple of planets from Chris Martin and co. From the aforementioned Calm Down Baby it's a journey into space. In Carlos Forster the band have one of the great interpreters of a song. Instead of merely bringing together words and music he opens up the inner feelings of every song. However none of that would be possible without the group effort. Much of the album is so intricate that if one fails the whole house would tumble.
In fact so fragile is It Falls Apart that it appears constantly to be on the verge of imploding and at times that can stray into self indulgence, In The End is the kind of track only a band could truly love.
But it's certainly a strange and interesting experience, one that seems to come full circle. By the time you reach Lend Out Your Love the band appear to have gone back to basics and one of the tenderest love songs imaginable, rounds off an album that is curious, challenging and, in the final analysis very satisfying.
Michael Mee
---
Steve Forbert - The Place And The Time (Freeworld)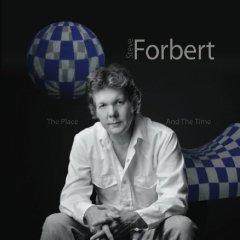 After some 30 years in the business, Forbert can make albums like these in his sleep. I should expand on that by saying as in sounding relaxed and effortless as opposed to on autopilot. Now in his 50s, this is his 13th studio outing and is pretty much everything you expect from a Steve Forbert album. Warblingly tuneful, witty, insightful, a touch melancholic, a little sly and always couched in pop folk melodies, but never quite coming up with that killer song that might return him to the brief glories of yesteryear.
It's odd to hear a Mississippi native singing about 'another Yorkshire June' and chimney tops on the typically wistful, Blackbird, but then lyrics are the man's forte and there's plenty of wry lines and images to relish here, be they Simply Must Move On's reflections on divorce, the musings on growing older of a gently tumbling Who'll Watch The Sunset, the chugging blues boogie Labor Day '08 or The Beat Of Ballyhoo's mild head bobbing celebration of the stalwart rock n roll fans in the cheap seats.
You want folk blues there's Write Me A Raincheck and The Coo Coo Bird, you want pop try Building Me A Fire or Sing It Again, My Friend. And if you want playful then there's the album's best airplay bet, Stolen Identity, an amusing accordion laced border town shanty rhythm riff on identity theft where he bemoans how, "of late there's two of me. One has tons of fun for free, with my stolen identity." Maybe so, but this is enjoyable evidence that Forbert's credit rating's still unsullied.
Mike Davies May 2009
---
Steve Forbert - Strange Names & New Sensations (429)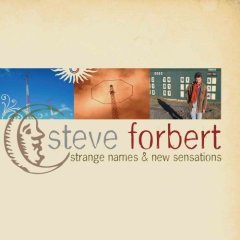 It's 28 years since Mississippi born Forbert released his sophomore album, Jackrabbit Slim featuring what would become his first and only US hit single with Romeo's Tune. Now, coming up the 30th anniversary of his debut album, the 52 year old's revisited it on the first outing for his new label.
As you might surmise, he's in something of a reflective mood, musing on middle age to the extent that the album actually opens with a song of that title while Thirty More Years tells its own story. Elsewhere, songs such as Man, I Miss That Girl, You're Meant For Me, the undulatory Something Special and My Seaside Brown-Eyed Girl are all much concerned with matters of the heart while Strange Names turns out to be a whimsical list song about how places in New Jersey all have such, er, strange names. There's even a mandolin flavoured love letter to God and nature with I Will Sing Your Praise.
As relief from such unalloyed romanticism, Simply Spalding Gray is a melancholic lament for the tragic late monologist of Swimming To Cambodia fame while, digging out the social conscience, an electric bluesy The Baghdad Dream takes a - to be honest somewhat toothless - swipe at the current situation in Iraq.
Recorded in Garry Tallent's Nashville studio, it's a gently listenable folk-rock affair and Forbert's voice is as warm as its ever been, there's even a lovely country flavoured pedal steel rippling instrumental (his first since 1980) in Around The Bend. But while even an indifferent Forbert album is worth hearing, you'd be hard pressed to persuade anyone listening to this that he was once touted as the new Dylan.
Mike Davies, Sept 2007
---
Frazey Ford - Obadiah (Nettwerk)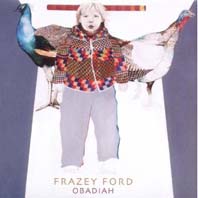 With The Be Good Tanyas still on extended hiatus, lead singer Ford releases her solo debut. Given the distinctive tremulous sultry vocals which always conjure an image of her walking barefood in some heat hung everglade, it's not going to sound too far away from the trio's sound. Indeed, that's even fellow Tanya Trish Klein contributing reverb guitar on the questioningly melancholic Lay Down With You.

What is different, however, is the inspiration taken from growing up as the daughter of 60s commune dwelling parents who fled to Canada to dodge the Vietnam draft and the influence of Ford's growing love of soul music, drawing on such influences as Willie Mitchell, Al Green, Ann Peebles, Otis Redding, and, on the warm, organ burred gospel-soul If You Gonna Go, Van Morrison.

She describes the album as being 'moved by motherhood, earth and land' with songs that treat on love, life and loss as she takes on different (though one suspects still autobiographically rooted) personas to tell her stories.

The opening Firecracker, a humid folk-blues featuring sleepy banjo, finds her a 'hard-drinking, deal making son-of-a-gun', though the tempo suggests she's sleeping off one she hung on earlier, while (joined by her own mother on harmonies) maternal baby boom generation sensibilities inform the slow ambling, bluesily reflective Lost Together and the equally languid Gospel Song (a live staple of the Tanyas set) sees her family life through a country preacher's eyes.

With much unfolding at a spare, dreamily somnabulence, it's particularly noticeable when she lifts the pacing on the likes of the Joni-ish Bird Of Paradise with its kalimbas and handclaps, a positively pop jaunty Hey Little Mama and Blue Streak Mama which mingles old school funk and new soul groove.

That said, one of the album's strongest tracks is her slow sway cover of Dylan's One More Cup Of Coffee which, with its soulful organ backed arrangement recalls not the Joan Baez version but rather one conjures a female Johnny Cash at his deepest Rick Rubin.

There's no indication why she chose the album title; maybe because of the backwoods imagery it conjures, maybe it's a reference to the Old Testament prophet who called for war against the Edomites or maybe she's just she's a fan of Monty Python's Four Yorkshiremen sketch.

Mike Davies July 2010
---
Marc Ford & The Neptune Blues Club - Marc Ford & The Neptune Blues Club (Provogue)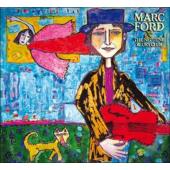 This is Former Black Crowes guitarist Ford's second album for Provogue and he has continued his growth as a songwriter and solo artist. On his last album, Weary And Wired, he was compared to guitar greats such as Clapton, Hendrix and Beck so no pressure there then! This new offering opens with Main Drain, which is an excellent way to start as it grabs the listener from the first note.
Locked Down Tight is blues based R&B and shows how good a band that Ford has pieced together. This is not the best vocally but it will get you going. Freedom Fighter is a tough, blues based, slow rocker and Ford's guitar work is just classic rock – a big stage solo. It's very atmospheric with harp from Bill Barett and organ from Mike Malone playing their parts and Ford back on form vocally. The classy Go Too Soon is old time rock n roll and Don't Get Me Killed is slowed down with a fuzzed vocal added. The latter is an earthy blues with stinging guitar and haunting harp, this time from Malone. Last Time Around Again is good old Southern rock, played well and Ford is on familiar ground here.
Spaceman is grinding, airy and grungy. It verges on prog rock and over 8 minutes of it too! Pay For My Mistakes has bluesy slide guitar and a great vocal as he ups the standard. Good harmonica from Barett. Shame On Me has a laconic vocal over a running boogie - good stuff, and Mother's Day stays with the blues theme. This is very, very good and allows Ford to show all of his skills. Smilin' is funky but weak in parts and at over 8 minutes it is a bit of a struggle. They close with Keep Holdin' On, a slow, world weary Southern rock and this is what Ford is best at.
www.myspace.com/marcfordandtheneptunebluesclub
David Blue November 2008
---
Marc Ford - Weary & Wired (Provogue Records)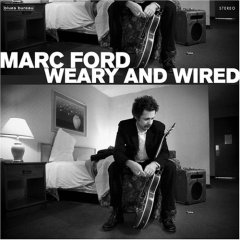 Former lead guitarist of The Black Crowes decided to record this second solo album after playing some gigs with three former bandmates from his previous band, blues rockers Burning Tree. The raucous opener, Featherweight Dreamland, is a great start to the album and is quickly followed by Don't Come Around, a blues influenced rocker with Ford's fuzzed guitar adding to the overall noise. Tom Petty influences, a theme that will resurface later, appear on It'll Be Over Soon with aggressive guitars to match. Dirty Girl follows in the same mould, good old Southern Rock with an authentic drawl. The Other Side is more of the same and long may it continue. 1000 Ways is swaggering blues rock with excellent guitar as with those that have gone before. There are some Neil Young influences on Smoke Signals and this would rival most of the great mans epics.
Greazy Chicken has a funky, sleazy beat and Ford gets into the groove. The slide guitar on this instrumental is worth a mention as are the horns. Currents is the slowest track so far and takes you away into dreamland. His voice normally takes second place to his guitar but comes to the fore here. The guitar this time has to make do with being a laconic, anthemic co-star. Just Take The Money is storming, funky rock and is followed by Medicine Time which is more of the same with a strong guitar solo. He's not just about high octane levels and Same Thing shows he can play slow songs too. This ponderous, Willie Dixon penned blues has Ford's guitar playing reaching new levels on this 8-minute epic. Bye Bye Suzy has a New Orleans vibe with superb guitar and horns on this happy instrumental. He finishes with The Big Callback, a Chuck Berry throwback and a superb way to end proceedings. There is certainly life after The Black Crowes.
David Blue June 2007
---
Julia Fordham - Concrete Love (Sanctuary)
Her first new material since 1997's East West, the British born, California based singer-songwriter continues to mature like fine port, her deep, smoky torch four octave vocals easing with sultry seductiveness over a lucky 13 collection of self-penned songs (some with Gary Clark) celebrating love and, in the case of Roadside Angel, specifically that between Minnie Ripperton and Richard Rudolph. Their Loving You is one of Fordham's favourite songs and, though no listed, you'll find her version tucked away at the end of UK bonus track Silver.
Five previous albums haven't managed to edge her into the arms of mass adulation, but, produced by Larry Klein (Mr Joni Mitchell) this should work wonders in extending her fan base among those who appreciate sophisticated, mature soulful, jazzy cool pop that sits as easily wafting through the car stereo on summery days as it does in the intimacy of loft apartment soirees over a glass of wine. Working with the cream of session musicians that include Billy Preston, Klein, Dean Parks, and backing singer Sweet Pea Atkinson, she also welcomes a couple of special duetting guests, India.Arie whose equally sensual voice entwines around the title track and Joe Henry who brings a throaty extra dimension to the gorgeous Alleluia.
It's not like she needs the help though, the undulating Italy (which is how Joni might sound if she were Marvin Gaye), the languidly rolling and tumbling Wake Up With You, the gently acoustic love neglected number Missing Man, addicted to heartache dreamy pop Butterlfly and the drop dead beautiful folksiness of Something Right (which melodically recalls I've Never Been To Me), all drip with her exquisite vocal brilliance. Concrete evidence of an exceptional talent.
Mike Davies
---
The Forresters - Skindeep (Tom Thumb Records)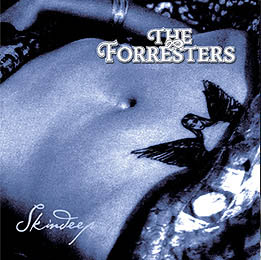 What's the first thing you think of when you play this album, the first release from a newly-formed Australian label? Apart, of course, from the fact that it sounds mightily like Tom Petty distilled through a million jangle-rock influences? That it features Anthony Bautovich, one-time luminary of near-legendary Orange Humble Band? Well, ye-e-es. But there's another thing. Not got it yet? OK, then. Here it is. Skindeep is not produced by Michael Carpenter. There, I've said it. The man who seems to behind everything that comes out of Oz - except, probably their rugby union team, and there again I might be wrong - has nothing to do with The Forresters at all. God, that makes me feel better. Now I can listen to this fine debut without prejudice. For it is a decent record, this, full of light and shade, bursting with great tunes and happy, hooky, singalong choruses - Are You Ready, Rescue Me and Missing You are stone-cold hummers. And, well produced as it is - by the selfsame Bautovich - is doesn't quite have Carpenter's signature studio sheen.
Skindeep is alternately polished and rough; indeed a couple of the tracks are greasy in a slide guitar, Stonesy sort of way. Bautovich flings power pop, sub-Byrdsian folk ragas, a touch of George Harris - The Way You Do could have been from the late Beatle's last album - and a bit of sixties easy-listening brass into the melting pot to come up with a sound that, in truth, could really be anyone. That's not to say The Forresters haven't made a good album - this is very listenable in a classic, non-threatening way - it's just that there are so many ideas flying around their identity fails to assert itself. I'm sure it will, eventually, when Bautovich decides to strip off the excess fat. Until then, Skindeep will settle nicely into anyone's record collection. Only don't expect it to change the world. Not yet, at least.
John Stacey
---
Chris Foster - Outsiders (Green Man Productions)
You may remember Chris from the 70s and 80s, as one of the most captivating of the singer-guitarists working within the tradition; at that time, his name was often spoken in the same breath as Messrs. Carthy and Jones. After a number of years away from the folk scene, Chris made a comeback in 1999 with the fine album Traces, which was taken up by Tradition Bearers and reissued in 2003, swiftly followed by a brand new release Jewels; both of these CDs were gems indeed, showing Chris to be on excellent form, an impression reinforced by a select number of live gigs around that time.
Now, after a gap of almost four years, comes this brilliant new disc, winging its way across from Iceland (where Chris now lives). It's a record that's deserving of the highest praise from end to end, and its aura of absolutely top-notch quality extends right through the musicianship, the singing and playing (not just that Chris himself but of his collaborators), to the physical presentation – a truly deluxe package comprising a sturdy digipack with excellent booklet containing full performance credits, complete texts, and thoughtful and comprehensive background notes. The presentation epitomises Chris's attitude to, and respect for, his chosen material, the notes emphasising his meticulous and carefully considered approach. He's one of those performers whose deep artistry doesn't shout or overtly demand your attention, but kindof steals up on you through attentive listening. His singing is both immediate and intimate, and conveys more passion and true understanding through its precision of diction and phrasing than many a more superficially emotive rendition, while the hallmark of his guitar work is its accomplished creation and sustaining of the ideal backdrop for the narratives, unobtrusive yet having a sense of presence that is wholly complementary.
In order to get the most out of Chris's performances, you need to treat them with the same degree of respect he himself accords to the material, and give them time to work their special magic. But having said that, Outsiders turns out to be one of those CDs where the first track is so exceptional that you think it just can't get any better: this is a brand new interpretation of Lord Bateman (oh yes!), one which Chris has intelligently pieced together from a number of sources yet which remains totally credible and harnesses considerable cumulative power (not only from the developing narrative, but also from the inexorably building instrumental arrangement which brings in three string players and a hammer dulcimer by the close). That stunning opening gambit is followed by an especially well-pointed solo rendition of Leon Rosselson's Song Of The Olive Tree, after which Chris returns to the tradition for a quite richly textured, and yet movingly understated, version of The False Bride. Contrast then comes with a spirited Suffolk-meets-Iceland set combining the fun Cod Banging (learnt from Bob Hart) with a guitar transposition of an Oscar Woods melodeon jig, here accompanied in convivial session spirit by fiddle, mandolin and kantele (the latter courtesy of Chris's partner Bára Grímsdóttir). And even Chris's ensuing take on Woody Guthrie's Deportee reveals unexpected nuances and shades of passion.
But then comes the disc's pièce-de-resistance: a magisterial unaccompanied 10½-minute rendition of one of the big Child ballads, Sir Aldingar. Now this is quite a coincidence, for after many years of complete neglect, this determinedly obscure ballad gets two "première" recordings almost simultaneously: one by Brian Peters (reviewed last issue) and this one by Chris. Although recognisably from the same source, their treatments are completely different - and each one proves independently satisfying. Chris achieves a strong sense of purpose and flow through his strong rhythmic pacing, which he adapts and transforms at crucial points in the narrative, making for an extraordinarily breathtaking, compelling performance.
Coming down from those lofty heights, and good though the remainder of the CD is, it almost seems sacrilege to listen to it in the same breath – but suffice to say that it still provides highlights, notably in a memorably ambiguous take on The Cruel Mother (built from the version by Lizzie Higgins) and, to close, Trespassers Will Be Celebrated, an uplifting song by Sheffield-based Sally Goldsmith commissioned for the 70th anniversary of the Kinder Mass Trespass.
With Outsiders, Chris (along with a neat complement of fellow-musicians including Val Regan, Trevor Lines, Laura Fiddaman and Ruth Angell who are employed sparingly but effectively) has produced an eminently satisfying CD, one which benefits from a considerable number of replays: one to cherish, without a doubt.
www.myspace.com/chrisfosterfolk
David Kidman August 2008
---
Radney Foster & The Confessions - Revival (Devil's River Records) Texas songwriter Radney's been active in both the country mainstream and indie-Americana for over 20 years, yet for some reason he's largely escaped my personal radar in spite of public chart success both in a solo performer capacity and with Bill Lloyd as the duo Foster & Lloyd. His latest solo album, Revival, takes his muscular yet melodic pop-rock take on country and layers it over a batch of new self-penned songs that signal a renewal, yes revival of his powers following a period of intense personal upheaval (involving the death of his father and being reunited with his son after a long separation).

In Radney's passionate delivery of his own lyrics, I'm most often reminded of Springsteen (no bad thing of course) with a dash of poor-man's-Neil Young perhaps – but there's usually sufficient of his own personality to carry through and avoid any charges of undue plagiarism. Radney's songs are characterised by that passion and urgency; for instance the forceful renewal of his religious belief is powerfully and genuinely conveyed on a number of the songs, particularly I Know You Can Hear Me, I Made Peace With God and Angel Flight (although the latter steers perilously close to sentimentality it must be said). He even re-named his longtime road band, who play on this recording, The Confessions… and they provide a suitably solid and rich backdrop for Radney's thoughts. And yet the bluegrassy take on the album's rocking opener A Little Revival that brings proceedings to a close is an effective gambit. The least successful tracks are those where Radney drifts further, and altogether less convincingly, from the approved country-rock idiom: the mundane R&B-inflected Trouble Tonight and the blowsy barroom-closedown-time rowdiness of Shed A Little Light should've been left on the cutting-room floor in my opinion.

In the final analysis I'd say that Radney's got proven talent alright, but despite some fine moments he needs to rein in that sentimental tendency and exercise the quality control a bit harder if he's ever going to produce a classic album; but his track record thus far would seem to indicate that there are many more folks who would disagree with me.

David Kidman April 2010
---
Ruthie Foster - The Phenomenal (Proper Records)
When you name an album 'The Phenomenal' then you'd better be able to back it up. Texan Ruthie Foster immediately dispels any doubts as she lays down her credentials on Cuz I'm Here, a sultry, soulful R&B. Heal Yourself has good vibes and more upbeat than the opener. She has a classic R&B voice (that's original R&B). Fruits Of My Labor is a Lucinda Williams song and an emotion laden ballad as you would expect. You can just drift away on the back of this. Son House's People Grinnin' In Your Face is sung a capella and the power of Gospel is stamped all over it. Up Above My Head (I Hear Music In The Air) is the third cover in a row. This time it is Sister Rosetta Tharpe and Foster gives the song a smouldering contemporary feel.
She was one of the stars of the 2007 Cambridge Folk Festival and on this evidence it's not hard to understand why. Harder Than The Fall is an uplifting spiritual and highlights Foster's songwriting talent. I don't think that the swamp noises on Beaver Creek Blues are totally necessary as this folk blues is strong enough to stand on its own. Special mention here to the drummer. Mama Said is an acoustic folk blues and Eric Bibb comes to mind as it has that gentle spiritual feel to it. Phenomenal Woman is sweet, powerful soul and Foster has maintained that voice throughout. Eric Bibb's A Friend Like You is so smooth and she continues the gentle sounds through to the end on I Don't Know What To Do With My Heart. Ruthie Foster has a voice that will take your heart and caress it and this album will be a worthy addition to any collection.
David Blue November 2008
---
Stephen Foster and Howler - Howl At The Blues (WhiteHorse Records)
"I'm Mad As Hell (And I Ain't Gonna Take It)" is an effective opener to this first Howler CD. An angry lyric that sounds as though they are having fun getting into the groove of this one, as indeed are the audience! Unobtrusively. It then goes into Mama's Goin' Dancin When The Train Come Home that manages, at moments, an Alan Toussaint-ish/Dr. John feel. Hardly surprising as these guys have between them played with a variety of good guys from JJ Cale through to Dan Penn, Greg Allman, Johnny Winter and more! Drummer Eddie Russell has been a staple on the famed Muscle Shoals music scene for years and along with bassist Larry Hartsfield they form a tight rhythm section for this laid back blues CD. Indeed Eddie has played with the Amazing Rhythm Aces too!
Their collective pedigrees are reflected on this disc. All the tracks are originals and manage to reflect the accumulative effect of their combined musical histories. The creative driving force of this outfit is Stephen Foster himself who wrote most of the material. He started his musical career on piano at an early age and then moved, inevitably, to guitar, as both a session guy, sidesman and also with his own band WhiteHorse. Then a tragic fight with a shower door put him out of action for over a year and left him with a numb left hand – far better than no left hand!. He did not give up. He sold his guitar collection and went back to his first love - keyboards! Now he has moved on again to add slide guitar to his repertoire. This CD represents his re-emergence on to the music stage. A welcome and timely return.
Cathead Blues has become a particular favourite. Hammer Blues is a goodie too with some impressive blues piano as well as some nifty guitar work and vocal from Jay Jernigan, a long time Tennessee blues man, adding to the mix and all held together by the driving rhythm section. All in all 'Howl At The Blues' is a good addition to any CD collection. This is a band I would love to see live too! Yeah!
Miranda Ward May 2007
www.myspace.com/mirandawarduk
---
Fotheringay - Fotheringay 2 (Fledg'ling)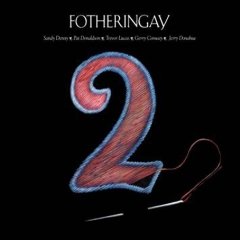 As any fule kno, back in 1970, having struck up a romance, Trevor Lucas quit Eclection and Sandy Denny left Fairport to form a new folk-rock group, named for the Scottish castle she'd sung about on What We Did On Our Holidays. Recruiting Eclection drummer Gerry Conway along with Pat Donaldson and Albert Lee from poet and the One Man Band, they set to work rehearsing. Lee's musical style proved incompatible and he was replaced by another member of his former outfit, Jerry Donahue.
With Joe Boyd behind the controls, they recorded their debut album. Although well received, there was a feeling that it didn't gel Denny's British folk passions with Lucas' country rock tastes as well as it might. That it had been recorded before they'd all had a chance to really discover each other's musical capabilities also contributed to what was an impressive but flawed album that didn't match their potential.
However, having honed their playing on the live circuit, they returned to the studio in November to start work on the follow up album. Which is when it all went horribly wrong. Taking a breather for the holidays, when they got back together in January, Denny announced that she was going to leave and go solo. Although she prevaricated over the following weeks, by now the other members had taken off in different directions, leaving the album unfinished. But not forgotten. Denny resurrected two of her songs, John The Gun (for which Donahue's father, swing bandleader Sam, had laid down a sax solo) and Late November for her solo debut while both her version of trad ballad Gyspy Davey and melancholic waltz through country classic Silver Threads And Golden Needles would turn up later. The original Fotheringay recordings of both also found their way on to the Hannibal reissue of the debut and the Denny box set.
The other tracks, though, languished unheard and would have likely stayed that way had Donahue, Conway and Donaldson not decided to finish what they started thirty six years earlier. Gathering together the best bits from the original tapes and adding new recordings, the album finally came together. At last you can now hear the studio version of Two Weeks Last Summer rather than the live one from the reissued debut, Lucas' stirring vocals on the trad Eppie Moray and Bold Jack Donahue, country rocking road song Knights of the Road (which, when Lucas joined the line-up, would subsequently re-emerge on Fairport's Rosie) and the equally country Restless (sounding like it might have come from an Iain Matthews or Richard Thompson album) and (having previously done Too Much Of Nothing), an organ backed loping cover of Dylan's I Don't Believe You.
The real collector's gem though has to be Denny's haunting take on the trad chestnut Wild Mountain Thyme with Lucas chiming in on harmonies. It's a poignant reminder of what never was and what might have been. And what, three decades later, finally confirms Fotheringay's place in the pantheon of folk rock.
Mike Davies September 2008
---
Fotheringay - Fotheringay (Fledg'ling)
Having quit Fairport Convention at the end of 1968 over a clash of musical directions (they wanted to go traditional), taking the name from one of the first songs she'd written for Fairport, Sandy Denny put together what was, essentially, the first folk supergroup.
Comprising husband to be Trevor Lucas, Jerry Donahue, Gerry Conway and Pat Donaldson with Linda Peters (eventually Thompson) on backing vocals, they broke up less than a year later as Denny opted to pursue a solo career having recorded just one album. But, out of print for far too long, it's a magnificent legacy.
The sleeve image has them decked out in a medieval meets paisley look that deftly summed up the musical approach, a fusion of English music with the Dylan-influenced American folk underground, Lucas's vocals not only clearly shaped by The Band but his self-penned The Ballad of Ned Kelly sounding suspiciously like a slowed down version of You Ain't Going Nowhere. A Big Pink barroom style cover of Dylan's own Too Much Of Nothing underlines the connection while a version of Gordon Lightfoot's The Way I Feel illustrates the attempt to inform trad folk textures with electric psychedelia. To be honest, Lucas's vocals let the side down somewhat (fairly obviously so when he duets with Denny on Richard Thompson wannabe Peace In The End), but such is the sublime quality of Sandy's performance - easily among her finest recordings - and the strength of her four songs (The Sea right up there with Who Knows Where The Time Goes) , you can easily overlook such minor distractions.
In view of Denny's decision to leave Fairport, there's a certain irony that one of the strongest numbers here is actually a traditional tune, an eight minute interpretation of the Napoleonic wars era ballad Banks of the Nile that gets a powerful second outing as one of four bonus tracks (though it must be said their Memphis Tennessee is less than essential) recorded live in Rotterdam in June 1970. And to clear up any archivist confusion, the live version of Dave Cousins Two Weeks Last Summer is previously unreleased and both the studio version of that and Gypsy Davey, recorded for the aborted second album and included on the 1989 Hannibal reissue, should appear on the forthcoming 5CD Sandy Denny box set.
Mike Davies
---
Jeffrey Foucault - Shoot The Moon Right Between The Eyes (Continental Song City)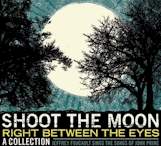 Jeffrey's latest disc is subtitled Jeffrey Foucault Sings the Songs of John Prine, and it offers seriously compelling new interpretations of 13 Prine songs. We learn that John Prine's first album had become a private religion for Jeffrey at the tender age of 17, and that he learnt to play guitar by learning Prine's songs. But from the spread of material on this collection it's evident that Prine's songs have been a constant companion and permanent inspiration for Jeffrey ever since, for only one of the choices (Hello In There) actually stems from Prine's "haystack" debut, with three from 1972's Diamonds In The Rough, two from Storm Windows and one song apiece from Common Sense, Bruised Orange, Aimless Love, Sweet Revenge, Souvenirs, The Missing Years and German Afternoons. Jeffrey mixes familiar compositions with lesser-known ones, but without exception there's a great sense of intimacy about his renditions here, a closeness, an obvious affection and empathy that really strikes home and reflects the ethos of the songs themselves.
Apparently the album was recorded in the old, wood-panelled president's office of a defunct bank in a series of late night sessions over the course of a year! Typically, Jeffrey employs sparse complements with very little instrumentation; he performs solo with his own acoustic guitar on four of the finest renditions (Unwed Fathers and One Red Rose scoring particularly in this regard), and lightly multitracked on Speed Of The Sound Of Loneliness. Elsewhere, Jeffrey duets with Eric Heywood (He Was In Heaven Before He Died) and Peter Mulvey (Mexican Home), while David Goodrich is brought in for a couple of tracks including the disc's only (to my mind) dispensable number (Daddy's Little Pumpkin), and Zak Trojano drums on a couple too. There's some beautifully delicate backing vocal work from Kris Delmhorst (Far From Me and Storm Windows) and Annelies Howell (Hello In There), then for the hidden 14th track Jeffrey turns his hand to Souvenirs' title number, co-written with Steve Goodman if I recall correctly (and here I think it's Mark Erelli backing Jeffrey). Total musical and spiritual sympathy is the watchword here, and it's impossible to feel that Jeffrey's anything but an absolute natural for covering Prine's songs. A masterly, if sensibly low-key, set.
David Kidman April 2009
---
Jeffrey Foucault - Ghost Repeater (Signature Sounds)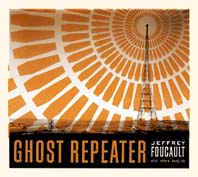 Jeffrey's third (solo) album is a fairly swift followup to 2004's fine Stripping Cane, and in some ways it can be heard as a slightly more animated continuation of that (deservedly) critically acclaimed record. Though written over the course of a year in which Jeffrey married, it still deals with the familiar Foucault themes, juxtaposing his personal narrative of hope against visionary glimpses of the wider story of our times by means of a series of typically compelling dreamscapes and travelogues.
The trademark Foucault darkly hushed guitar brushes are used to embellish his ever-literate word-pictures, but this time round Jeffrey's teamed up with blues guitarist/producer-legend Bo Ramsay (having been associated with albums by Lucinda Williams and Greg Brown among others), who's created a special ambience for Jeffrey's husky, whiskey-sodden vocals and inimitable atmospheric stylings. Bo himself, together with his core backing musicians Rick Cicalo (bass) and Steve Hayes (drums), is augmented occasionally by Dave Moore (accordion), Nate Basinger (Hammond organ) and Son Volt's Eric Heywood (pedal steel), with extra vocals by Kris Delmhorst (who's got a new album coming out soon herself). There's a powerful immediacy about both the recording itself and the songs (the album was recorded over the course of just one week last December in Iowa), and although there are several relatively uptempo cuts this time round that doesn't mean there's less intimacy or substance in the material.
I'm not entirely sold on the significance of the ghost repeater concept that provides the backdrop to Jeffrey's stories-in-song (ghost repeaters are empty radio stations that play demographically profiled playlists to wide swathes of middle America), but each of the individual songs forms a satisfying, often quite plaintive complete statement, narrative or image; there aren't any epic-length cuts here, but I was particularly taken with the evocative Tall Grass In Old Virginny, One Part Love, I Dream An Old Lover and the dusty, bluesy Wild Waste And Welter. And by the way, the new album comes with a 20-minute bonus CD which contains two glorious outtakes from the actual Ghost Repeater sessions, together with a track from the Redbird collaboration with Kris Delmhorst and Peter Mulvey and two cuts taken from the Stripping Cane album.
David Kidman
---
Jeffrey Foucault - Stripping Cane (Signature Sounds)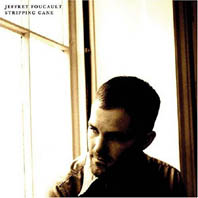 Jeffrey's exceptional 2002 debut album Miles From The Lightning was one of my highlights of that year, and has remained on my personal playlist to this day, so I was sure glad to receive its follow-up last month for review. Set to be released in a couple of weeks or so, Stripping Cane's every darned bit as fine as Miles, losing out only for non-first-timers in respect of the element of surprise which that debut brought (ie., that a previously unknown songwriter of Jeffrey's tender age can be so scarily good!). The sound of the album is unmistakably Jeffrey, with a typically rich yet sparse Goody (David Goodrich) production, but this time round Jeffrey's boosted sonically by the delicately managed presence of compadres Kris Delmhorst, Peter Mulvey, Anita Suhanin and Kevin Barry (and Goody himself) – Kris and Peter have of course been out on the road with Jeffrey during the past couple of years on the Chautauqua and Redbird tours. Jeffrey's own guitar picking once again has that softly brushed quality that's exemplary in its understatement – but hey, you'd notice it if it wasn't there! Characterised by what I noted in my previous review as the "raw, edgy power" of Jeffrey's whiskey-infused voice, Stripping Cane turns out to be another brightly immediate yet evocatively shaded tour through the curiously amorphous yet almost photographically-delineated hinterland where Greg Brown meets Townes Van Zandt and Gillian Welch meets Kelly Joe Phelps. Dealing simply with complex emotional states, Jeffrey moves wholly naturally between his authentic-sounding variants on the classic templates of Americana, from spare and timeless poetic balladry (Doubletree) to burnished road movies (Northbound 35) to country blues (Mayfly, 4&20 Blues) to the eerily bleak entreaties of the title track to old-time barroom ramblings on American mythology (Pearl Handled Pistol) and even some neo-gospel, all etched in the sharp focus we've come to expect from his choice of imagery and literate method of expression. The album's one non-original (the old Creedence number Lodi) fits in with Jeffrey's eleven songs like a true country cousin. Jeffrey's profile should increase even more with Stripping Cane, a superlative sequel to a stunning debut.

David Kidman
---
Jeffrey Foucault & Mark Erelli - Seven Curses (Continental Song City)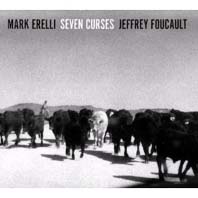 This collaboration was born out of a deep long-time friendship between these two top-class singer-songwriters and their mutual admiration for Americana murder ballads. This is a record of an intimate togetherness-session sharing songs, with just the two men, on "two nights, two chairs, a dozen stories and a handful of old guitars", matching "an elemental approach to the elemental subjects, love and death".
You could say that Jeffrey's compelling 2009 tribute to John Prine, Shoot The Moon Between The Eyes, is taken as a kind of model for this latest set in that it treads the same kind of line between respect and creative reinvention. But it must be stressed that Mark's presence adds another dimension to this creativity, which is especially potent when the two men's voices, so strikingly different in character, harmonise - as on a tremendous version of Neil Young's Powderfinger. The appearance of that song is in itself evidence of the open-minded, wide-ranging and inspirational nature of the selection of material here, which goes beyond the usual (fairly narrow) interpretation of the term murder ballad.
After a fairly predictable but nevertheless welcome choice of opener (Woody Guthrie's Philadelphia Lawyer, which receives a performance of gritty honesty from Jeffrey), we enter more contemporary territory with Mark's rocking rendition of Springsteen's Johnny 99, and the choices get even more enterprising thereafter with an achingly telling account of Paul Siebel's Louise, a poignant rendition of the stark tale of Sonora's Death Row (by Kevin "Blackie" Farrell) and a superlative account of Steve Earle's weary convict ballad Ellis Unit 1 carefully counterbalancing the more traditional-sounding Billy Gray (form the pen of Norman Blake) and Cole Durhew (by Tom House). The one song that perhaps doesn't seem to quite belong here is The First Mrs Jones, whose overly theatrical tone and spoken interlude appear at odds with the deliberately more understated passion of the rest of the songs.
The disc ends on a deliciously melancholy note with Mark's own composition Wyoming Wind, on which the subtlety of the instrumental playing comes into its own. As if we needed reminding - having encountered the picking expertise of Mark and Jeffrey throughout this album, on not just standard acoustic guitars but dashes of mandolin, ukulele and electric, tenor and slide guitars too. A really satisfying album, whose only (real small-scale) disappointment is that the Dylan song which gives the collection its title is not included (it would've made a great bonus cut!!
www.markerelli.com
www.jeffreyfoucault.com
David Kidman April 2010
---
Jeffrey Foucault - Miles From The Lightening (Acoustic Roots)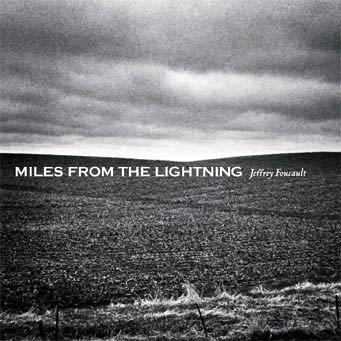 This young (26-year-old) Wisconsin singer-songwriter keeps illustrious company – he'll be sharing the stage with labelmates Peter Mulvey and Kris Delmhorst on a short UK tour ("The Chautauqua Tour") early next year, a side-by-side comparison which should prove both illuminating and rewarding.
Listening to Miles From The Lightning, I can't believe it's Jeffrey's début album, so mature does he sound, both in his writing and delivery (and it was recorded over 18 months ago, which begs the question as to how far he might have come since then!). It's a very sparse-sounding record, just Jeffrey and his guitar for the most part, with spartan but suitably telling contributions from Peter Mulvey, Mark Olson and Joe Wong. Vocally, though, there's a real richness in Jeffrey's singing that would be more than enough to compensate for any gaps in the guitar texture (not that there are any, actually!). Its very ambience, its weary bar-room melancholy and deep, rasping, soulful worldliness is distinctly reminiscent of Greg Brown, and I also hear touches of Chris Smither and Guy Clark at times in Jeffrey's vocal inflections; his voice has a raw, edgy power that's every bit as authentic and intoxicating as home-distilled whiskey,
in fact. All the album's songs (including the "hidden track") are Jeffrey's own compositions, and in their intensity of feeling and intelligent expression deal literately and poetically with the intrinsic contrasts of Americana itself, in ranging from homespun, rootsy country ballads, dark-toned story-songs and desperate, brooding love songs. I've given this admirably lengthy album quite a few plays so far, and I'm still in the process of getting the measure of Jeffrey's songwriting talent (I sure wish there'd been a lyric sheet included) - not to mention his excellent guitar work, which is never subservient but is kept in perfect equilibrium with the lyrics.
Apparently, Jeffrey's early musical revelations came with hearing Dylan's Highway 61 Revisited album at the age of 14, followed by John Prine's first album three years later and then Townes Van Zandt at age 18; the final track on this album (its title track) is dedicated to Townes and evokes what Jeffrey calls the "honest, haunting, hurtful purity of how Townes sang the blues". And in a strangely appropriate way, the titles of the insert photos seem to sum up some of the elements you can "picture" listening to Jeffrey's music – bleak landscapes; typewriter; pensive tuning; sloping brow. This is a stunning album by any standards, with songs that are pensive, thoughtful, deeply felt and directly communicative in a way that marks Jeffrey out as a writer to watch.
David Kidman
---
4Square - ChronicLes (Square Roots Music)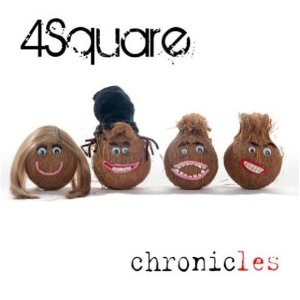 In case you hadn't heard, 4Square is an energy-fuelled Manchester-based troupe of youngsters with 20:20 vision who have already built an impressive reputation both from their onstage shenanigans and an exuberant debut CD (released last year). Now comes the followup disc. And in these days of constantly fluctuating lineups, it's refreshing to note, that of 4Square remains intact at Nicola Lyons (fiddle, clogs), Jim Molyneux (accordion, keys), James Meadows (banjo, mandola, tenor guitar) and Dan Day (percussion, piano), with all but James taking a share of vocal duties (although it's Dan who takes the principal lead here).

The eccentric typography and wilfully Barkerist déjà-vu of the album title aside, there's a feeling of the earlier record's often wayward experimentation being reined in, more tightly controlled in terms both of internal discipline and overall direction, although the band can still embrace their trademark sense of mildly manic abandon when it suits them, and their outstanding individual and collective musicianship still takes one's breath away.

It's still also the case that the most satisfying of the band's brand-new musical adventures on the latest disc take an innovative approach to instrumentation and employ unusual combinations of timbres and textures – as on Les, where mandola, electric guitar, keyboard-harpsichordery and cooing voices atmospherically light up Jim's original tune, and the (official) final set (Eejit), where AdamAnt-style chanting ushers in a virtuoso banjo reel and more. A comparable and entirely delightful swing-jazz vibe inhabits Nicola's Lugerberugi set, while the neo-programmatic reflectiveness of The Calm After The Storm (another of Jim's fine original compositions) provides a mesmerising contrast. I also liked the bonus track, a delicately poised cloggy-fiddle-box-backed rendition of Charles Kingsley's charming Young And Old paired with a Chris Wood polska.

In fact, it's the latter half of the album that works best, for on some of the earlier tracks I became mildly irritated by some of the quirkier or sillier touches on repeated play – for example, the self-conscious wackiness of Trooper Lad (surely more effective in a one-off live context) and the happy-clappy wibbly-wobbly funk that introduces Dan's tune April Snowfall. There's also a slight tendency towards a crowd-pleasing formula-fusion formatting at times, which may be as much a by-product of the tighter control as of exhaustive (and invariably well-received) live performances. Elsewhere, Dan's song Pretoria has some great ideas and sentiments, but the musical setting strikes me as a touch bland, while Nicola's decision to cover Karine Polwart's lovely Follow The Heron is a good one, but her interpretation feels less than fully formed as yet.

But we can easily make allowances for future fine-tunings, and I'm sure that 4Square possess the confidence and good sense to make these adjustments as time proceeds – they do after all still have youth very much on their side.

David Kidman July 2010
---
4Square - 20:20 Manchester (4Square Music)
4Square is a relatively new, Manchester-based (inevitably!), young fusion band, dripping with very obvious talent. Two of the band's members - accordion/keys player Jim Molyneux and percussionist Dan Day, both currently studying at Chethams School Of Music - were finalists in last year's BBC Young Musician Of The Year contest. The others have both been active members of the Stockport-based Fosbrooks Trust: fiddler/singer/clogger Nicola Lyons has played in a duo with accordionist Jamie Schofield, and banjo/mandola player James Meadows, a semi-finalist in the 2006 BBC Radio 2 Young Folk Awards, currently plays in a duo with songwriter/guitarist Jon Lacey. And the outstanding musicianship on display on their debut CD naturally reflects their pedigree, of that there is no question as one negotiates its generous 71 minutes for the first time: all members of the band perform with total assurance, abundant energy and exceeding confidence. However, the initial listening experience also generates a distinct sense of bewilderment, for there's also a slight sense that 4Square are pulling in too many different directions over the course of the disc. And yet this is countered by an equally strong sense that they're fully in control – even when things threaten to stray across the tenuously drawn line (and don't misunderstand me – eclectic is good!). For they're also unafraid to experiment, and the disc contains some decidedly strange aural escapades amongst the funkily jazzed-up reels and other tunes with at least a foothold in folk tradition. Yet even these weird excesses of youthful exuberance have their own peculiar logic and don't detract from the overall experience. At times it's rather like listening to some of those late-60s/early 70s UK underground/prog albums by obscure bands where after three or four listens you could be persuaded that a minute and a half of apparently unstructured and unrelated electronic treatment actually contours logically into a keyboard riff or guitar segment or even a song. Just over half of the tracks centre round a tune arrangement of some kind, whether fast-and-furious-and-funky or cool-and-reflective; standouts include Balls, which infectiously marries fun with showmanship and genuine creativity, and The Inconspicuous Egg, which takes a cheeky banjo tune by James as a springboard for copious, and felicitous, pass-the-riff invention. Beatrice also brings in guest brass musicians in a kind of mini-Bellowhead/BottineSouriante hoedown. There are, as you'd guess, also moments when the listener's appreciation turns to a mild case of "so what!", and perhaps the "clappy-hands-and-feet" interlude during Celerity works better on stage than on disc, but that's not a criticism in the context of what's an impressive and more-than-promising debut set. And yet it's within the vocal items that 4Square exhibit the most diversity. Jim takes the lead vocal on two of his own compositions, of which the lushly-scored Falling Wings (featuring guest string-quartet) is especially beguiling. Dan enterprisingly tackles Pete Scrowther's Lily Of Barbary (which he learnt from P.J. Wright's album, and makes his own in a fresh, driving new setting) and Bob Blinn & Jimmy Moore's I Still Can't Say Goodbye (slighter but still appealing). Nicola takes on two contrasted songs: Chris Thile's Lighthouse Tale and Richard Thompson's Farewell Farewell; the latter is a particularly brave choice, and receives a strikingly adventurous epic-episodic treatment that's both unexpected and significantly different from any you'll have heard. Yes, it can all sometimes seem a very strange disc; there really is a lot going on here: far too much to take in on just a couple of playthroughs, and although it can sometimes feel like "mix and mismatch" it's very much worth persevering.
www.myspace.com/4squaremusic
www.4squaremusic.co.uk
David Kidman April 2009
---
422 - Major Third (Fellside)
A predictably sensible two-year gap between the young quintet's second CD (New Numbers), and a further predictably excellent hour's worth of tunes from all over the world. Its eclecticism is but one of the marvels, and 422's stature as one of the most sparkling of the "young folk" ensembles on the scene is undiminished as they turn in a thoroughly enjoyable, lively, spirited dozen tune-sets, individual pieces within which are always conjoined with intelligence and insight. The performances are characterised by a dashing confidence that's never over-consuming and not once does that confidence threaten to get in the way of the accessibility or inclusiveness of their music-making. It's good to encounter an all-instrumental album that doesn't wear thin during its allotted timespan, but Major Third shares that virtue with its predecessor. The creative way in which the various instrumental permutations are managed over the course of the CD is wholly delectable, indeed also often gently challenging: the twin-fiddle front line of sisters Emily and Sophy Ball is a constant delight and an unending source of listening pleasure, as are the expert contributions of Sam Pirt (accordion) and Joey Oliver (whistles and oboe), while Ian Stephenson's bright guitar work is full of presence without ever being obtrusive in driving the music along. 422's ensemble work is enviably tight, with a grand sense of propulsion, yet never loses sight of the destination or the quieter inner strengths of the music. This brings very many inventive touches and decisions to their music-making. I've already commented (reviewing 422's previous CD) on the welcome use of the oboe to spice up textures, and here on Major Third the New New Jigs set contains a good example of this practice. And stepping down the pace mid-set is a gambit that few outfits can manage to bring off, yet 422 do stylishly on occasions like the polska following Trip To Scarborough and the intriguing Astrid's/Sounds Of The Underground set. The only aspect of 422's performance which might be seen as a mild drawback for some listeners - though in my book it's mostly a positive feature of 422's approach to their repertoire - is that their measured and mature approach to set-building doesn't readily accommodate extremes of tempo, preferring to stay within a middle-to-fast ground. But I'd not let that observation get in the way of enjoying the sprightly and engaging playing of these youngsters, who have here produced another fine CD.
www.the-422.co.uk
www.fellside.com
David Kidman
---
The Foundations - Build Me Up Buttercup: The Complete Pye Collection (Castle Music) In the late 60s, Motown had passed its golden age and many of its artists had succumbed to the ravages of trendy hippiedom and suchlike. The Foundations (an 8-piece band, a motley combination of experienced musicians, West Indian and white) came together in a harmonious racial blend to provide an antidote to the trippy excesses of flower-power age, purveying a distinctly radio-friendly kind of bubblegum-soul (some have dubbed it ersatz-Four Tops) clearly inspired by, but not seriously threatening to emulate, the classic Motown vibe of but a few years earlier. They achieved hit status with Baby Now That I've Found You and a handful of subsequent releases (notably this anthology's title cut), but for those who only heard those singles, musically they rarely seemed to venture much beyond that safe formula and the fairly predictable stylistic groove that this involved. At least this set attempts to redress the balance in the band's favour and shows them to be capable of more than just that formula, although there's still a distinct limitation to their appeal I feel. For in terms of musical adventurousness, the Foundations were probably not much to shout about, for the most part just competently-executed pop-soul with a dash of harder R&B and a more than decent line in covers of vintage soul, even though they sometimes ventured into funkier, progressive territory with a modicum of success. Happily, the band underwent only a bare minimum of personnel changes during the course of their tenancy on the pop scene (initial lead vocalist Clem Curtis being replaced by Colin Young not far into their chart career). This exhaustive three-disc collection assembles all the Pye recordings made by the band, including the hit singles with their B-sides and the complete contents of their albums, with added attractions in the form of Clem Curtis's solo recordings from the early 70s and a couple of mid-70s revival/comeback recordings (credited to The New Foundations). But if their wholly likeable brand of workmanlike, accessible and straightforward pop-soul is your bag, then this set's a good investment.

David Kidman
---
Fountains of Wayne - Out Of State Plates (Virgin)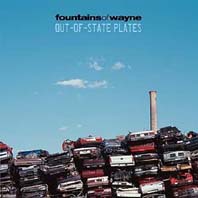 If I were booking a festival line-up then I'd be very tempted by the Fountains of Wayne. Even on CD this is a band that could energize the most lethargic crowd.

Out Of State Plates is a collection of 'non album' tracks, the 'catch all' phrase for covers, bonus tracks and the little oddities of life that don't seem to have a natural home. In the case of FOW, the covers are sometimes jaw-dropping.

I made the mistake of not looking down the track list as I listened to disc 2 so was completely unprepared for a cover of Baby One More Time, while it never quite escapes from being a 'Britney', it's an heroic effort. However the band's version of Bacharach and David's Trains and Boats and Planes is just one of the album's many magic moments.

Described at the very start as 'power pop' and 'catchy pop rock' both those phrases, while accurate enough, don't do justice to a band who can go to Liverpool and record I Want An Alien For Christmas. This is 'power pop' with a broad grin on its face.

Michael Mee
---
Four 'n' Aft - Rolling The Whole World Round (Cock Robin)
This "collection of sea songs from around the world" is the second release from this team, who to my mind are one of the finest crews on the maritime circuit. No wonder, when you realise they comprise two such accomplished duos as Teessiders Steve Dawes & Helen Pitt and Lancashire folks Loctup Together (Chris Lock and Ian Tupling): two acts who individually give great value whenever they appear on a festival bill, but when combined as a foursome they're something else! Four strong voices, each more than capable of taking (and holding) the lead, with not a weak link, and a significantly inventive approach to harmony singing which, importantly, works well - and really convinces - within the context of every strand of their chosen repertoire. This new disc includes a handful of the less "usual" shanties (Shiney-O, Roll The Woodpile Down, Bay Of Mexico, even a Breton shanty Le Capitaine De St. Malo), which are given suitably gutsy, forthright renditions that have the combined virtues of driving the task forward without rushing and making a musical impact. Chris's lead on Shallow Brown in particular is marvellous (she's just gotta be one of the most persuasive voices on the scene at the moment), and it's so good to hear a passionate - and non-dirgey - rendition of Shenandoah! Alongside the shanties, the foursome present an absolutely brilliant choice of songs. These range from A Sailor's Life to John Tams' back-to-back medley in tribute to fishermen (How High The Price), Gordon Bok's Jericho to Bob Watson's superbly evocative Mollymauk (for once given its due gravitas and pure, majestic beauty), with Ian Woods' anthemic, rousing One More Pull providing a natural finale (though here the melody line does get a bit lost in the tremendous power - and interest - of the rich harmony arrangement). I also liked Ron Baxter's Tramps, which conjures up the sounds and smells of an old tramp steamer (with the aid of a sparky shanty-like tune by Chris herself). But finest of all are the disc's two truly showstopping moments: a meltingly beautiful yet austere Ballad Of Lady Franklin, a pindrop moment of magic with some spinetingling female harmonies, and the extraordinary Ned's Lament, a real discovery culled from the repertoire of the Dutch group T' Scheepsfolk (yet written by two Canadians!) which somewhat curiously has the feel of an obscure prison work-song or Caribbean shanty. It's factors such as the vast contrast between those compelling harmonic portraits-in-sound and the serious cut-and-thrust of shanties such as Santiano which mark Four 'n' Aft out among maritime ensembles as not just immensely versatile but a really special act. I'd heartily recommend this CD, for it does them justice, sure, with a credible recording and balance, but still: don't hesitate to catch them performing live.
David Kidman February 2007
---
Here's an extremely rewarding all-instrumental CD that comes courtesy of a highly accomplished duo (comprising mandolinist Julian Gurr and guitarist Andy Stone) based in Dorset - their collective name is taken from a dance particularly associated with (albeit not exclusive to) that fair county, in fact. But I don't for a moment wish to give the impression that this is a disc stuffed with top-speed diddly-reels tossed carelessly off the frets - perish the thought! For instead this is a wholly engaging and decidedly tune-full (sic!) disc that really does possess the qualities to refresh the tired palate of the most jaded of tune-admirers. And it bears detailed (and repeated) listening too - and that's a hell of an admission coming from someone who more often prefers to listen to songs rather than tunes for pleasure! What I so like about this CD is its total unforced freshness and natural intelligence of expression, its players born with the evident desire to communicate through their fingers yet in doing so exercising a wholly admirable degree of restraint in letting the music speak for itself while retaining an appealing and deceptively self-effacing element of the musicians' personalities. The quality of thoughtful poise the duo brings to the enticing tapestry the players weave from their unique interpretations of tunes from all over the globe is almost classical, yet that arena's sometime sterility is nowhere to be found, for although their timing is precise and all internal phrasing expertly managed, there's plenty of sympathy, passion and commitment in the duo's sparkling playing, not least in their responsiveness to each other's stylings and graces. For much of the time, you're just not aware of the potential limitation of the two-piece lineup, and, although you get a definite sense of plenty going on, not a note or nuance is wasted in the arrangement or within the overall texture, which is kept beautifully clean and clear at all times. Track 4 (The Okarina/The Tattoo) is perhaps the closest the album gets to syncopated swing, but even here it never threatens to wheel out of control and as throughout the disc dynamics are kept sensibly in check. Right through, tricky time-signatures are made to sound effortless (as on the opening set which draws from the traditions of both Moldavia and Greece), yet the effect is not of a casual, devil-may-care, arrogant gloss but rather of a joyful mastery and (again) there's that overwhelming desire to communicate the pleasures of the music to the listener. It's a rare thing, a tune so deliciously played that it fair brings tears to the eyes, but track 8 (the eclectic Fleur De Mandragore set) does it for me here every time. If it's not abundantly clear by now, I absolutely loved every note of this CD, big-time, and its impact has not waned one jot since I first placed it in the car player a few weeks back. I only wish it were longer (though it's still a mere snip at just £10!).
David Kidman
---
Four Men And A Dog - Wallop The Spot (Hook)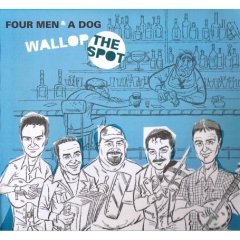 No animals were harmed in the making of this CD, honest! But the music of this combo has always hit the spot as far as I'm concerned, in spite of just a few questionable musical departures from the straight and narrow that have taxed my patience just a little over the years. With an unchanged lineup (Dónal Murphy, Gino Lupari, Gerry O'Connor, Cathal Hayden and Kevin Doherty), the quintet's latest foray, Wallop The Spot, is almost a "never been away, just picked up where they left off" artefact, in many ways. Again it more or less alternates clean, crisp and vital tune-sets with a marginally eccentric choice of vocal numbers. The tune-sets are well up to scratch, with sparkling, lively, driving playing from all concerned and a gleeful sense of ensemble enjoyment that shines through any number of changes in gear or texture and complete with percussive underpinnings that actually make musical sense. And the final set features (in response to "numerous requests over the years") the "duelling banjos" of Gerry and Cathal - brilliant! But it's from the vocal tracks that the album gets its "chalk'n'cheese" character and the band's stylistic waywardness tends to lose its way; I'm not sure whether this is a deliberate "dare to be different" gambit or a desire to parade a stylistic versatility. To be honest, it feels like some of the songs are little more than throwaways this time round, and I found it difficult to warm to the Latin rhythms of I Don't Want It and Bloomsday (both compositions involving the pen of Kevin Doherty - his third contribution, The Greengrocer's Daughter, is gentler and thoroughly charming by contrast). The good-time dance-hall swing of Low And Lonely and the zydeco-jive of Mary Anne are both well enough turned, but they don't really fit with the splendid jigs, reels and polkas and the one slower instrumental, the waltz-time Song For PJ (a Gerry O'Connor composition characterised by a lovely twin-fiddle melody line). The band's special guest musicians (who include Arty McGlynn, Ciaran Tourish, Liam Bradley and James Delaney) are used sparingly but effectively to colour the palette. It's good to have 4M&AD back, but in the end the band's stylistic inconsistency, once a proud gesture to eclecticism, now grates sometimes on repeated play, so unless you decide to play the vocal tracks in isolation (the wisest gambit I think) the skip button will I suspect get used more these days.

David Kidman December 2007
---
Joe Fournier - Dirt Road Joy Ride (Dusty Records)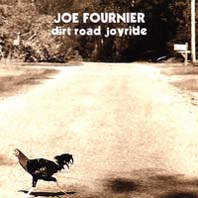 In the beginning, rock and roll was all about youthful rebellion, exuberantly upsetting its olders and betters. These days, in as far as rock and roll can be discerned in youth music, it's pretty tame stuff - fun sometimes, but not likely to set the world alight. What a joy, then, to find older guys like Joe Fournier can use rock and roll as an entirely appropriate medium for songs that, lyrically, could easily be characterised as folk. Joe writes songs that come straight from life; vignettes, sometimes, and stories with longer time frames at others, but always truthful and always with immense good humour.
Once I got to know the words (with the aid of the lyric sheet) I've listened to this album with an ear to ear grin, from beginning to end, and I just long to catch Joe at a gig sometime so I can sing along with the chorus of 'Gooned Up':
'Liquor and wine, wine and liquor/One'll get ya goin', but the other one's quicker/Yeah you end up regretting it everytime/Go-oo-oned up on liquor and wine!'.
It appears Joe's put this record togerther pretty much by himself, and, if that's true, it's an astonishing achievement; there's a lot of instrumentation in here and it sounds like a hot band having fun. The slide guitar on the Bo Diddley-ish 'Juanita Dog Walk', and again on 'Thumbful', is just ace; throughout, there's just so much energy that you could believe the whole thing was recorded live. He's been compared favourably with John Fogerty in the past but, for me, Joe Fournier's much more fun. Listening to him is like a cloud lifting, like feeling 30 years (in my case) younger, remembering how exciting rock music can be; he reminds me of all the most soulful rockers I've ever heard - Graham Parker and John Hiatt, to name two - but the way he allies his total rocking commitment to such a sense of fun is all but unique. Brilliant stuff, totally recommended, and there's the promise of a European tour this year to look forward to. Hooray!
www.myspace.com/joefournier1
cdbaby.com/cd/joefournier
John Davy February 2008
---
Joe Fournier - Three Chord MacGyver (Dusty Records)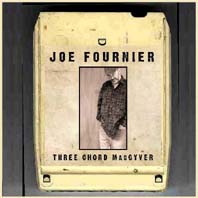 There is always a surge of excitement when you discover a CD so enjoyable, it takes root in your memory and stays there like the lodger you hope will never leave. It doesn't happen often but Joe Fournier's Three Chord MacGyver isn't just an enigmatic title, it's an irresistible collection of country music.
A major part of its instant attraction comes from its simple honesty, Fournier hasn't removed himself from his audience or hidden behind a raft of studio trickery, Three Chord MacGyver, is Fournier songs, Fournier's guitar and Fournier's voice singing tracks like Why Am I Sitting Here Sober, raw and from the heart.
It comes as a slight surprise to learn that Fournier is Canadian, with his rough-edged voice and no frills style, it would be romantic and easy to imagine him having arrived in Nashville from some backwoods, one-horse town, armed only with his songs and an overwhelming desire to sing them.
Three Chord Macgyver is also very happy and comfortable being nothing more than a good, old-fashioned country and western album. However all this homely charm can't mask how insightful a writer Joe Fournier is, 'She smelt like a brewery, made love like a tigress' (Puddle Of Love) sums up in one line the ideal woman for 99% of the male population. And when Fournier opens up his soul, as does so beautifully on Words I Should Have Said, it's done with an unbreakable backbone of dignity. Joe Fournier doesn't do outpourings of emotions, he sings simple truths.
Michael Mee
---
Joe Fournier - Whiskey Stars (Dusty)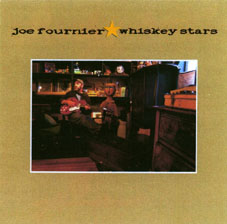 Ever since I heard Joe Fournier's first album, Raw Sugar Shed, I couldn't wait to hear the next one. Well, here it is, the dreaded second album has arrived.

Wild Side Of Life with its drunken horns is a stable start to the album but things really get going with the title track. This shows that Joe has more than jug band music in his armoury and I'm sure that it will be a part of his live show for many years to come.

The Elvis vocal at the start of Almost Got It Made gives way to a Creedence Clearwater Revival/Dr Hook thigh slapper. In fact, Creedence get a mention in the lyric. Joe hasn't given up his fractured country style and this is shown to the best on She's Gone Bad and his sense of humour is still apparent on tracks such as I Like Junk and Big Mistake.

Rock and roll (Fournier style) arrives with Deluxe Ride and this just epitomises Joe's versatility. Picture In My Mind is more rockabilly in its execution and has the now obligatory clever lyric. There are so many levels to his music - you can enjoy it for what it is or you can go looking for the hidden depths.

Darlene (Don't Wear That Dress) is a Ruby (Don't Take Your Love To Town) for the 21st century and My New Life is old country given a new twist. The very short, The Adventures Of Joe And Marie is a great little rock n roll song that I could imagine Tom Petty or Dave Edmunds singing.

His acerbic wit returns with Two Sandwiches Short and the penultimate track Ridin' Shanks Mare is a cautionary tale of what'll happen if you don't look after relationships. There's a bit of the Tom Petty in this one as well. It's weird writing about Shank's Mare because I live in the town where the Shanks factory used to be and that's where the Shank's Mare or Pony comes from. The album finishes with a slower, acoustic version of the opening track, Mild Side (Sunday Morning) - could be Joe's hangover song.

Well, the dreaded second album has done something that I thought that it couldn't do - it improved on the first and that's saying something.

www.joefournier.com
www.dustyrecords.se

David Blue
---
Steve Gillette, Anne Hills, Cindy Mangsen & Michael Smith - Fourtold (Appleseed)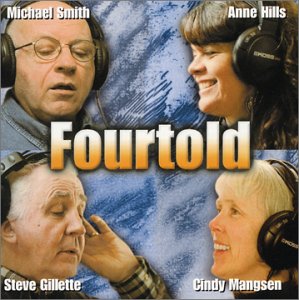 Fourtold is at one and the same time the name of a concept, a recording and touring project and a band. The four members are all well-respected folk troubadours who have pooled their talents to celebrate the beauty of four-part harmony when applied to timeless story songs from the American heritage. It's described as an old-fashioned folk record, but that doesn't mean its style is dated - rather, that its impact and values are genuine and timeless. The artists have all played and recorded together in various combinations before - for instance, Steve with Cindy, his wife; Anne in duos with Tom Paxton, or with either Michael or Cindy - but never before as a quartet. All four have an extensive performing pedigree on the Stateside folk circuit. The songs chosen for the record are virtually all original compositions, yet some of them have been mistaken for traditional - Steve Gillette's D'Arcy Farrow and Eric von Schmidt's Joshua Gone Barbados being two notable examples. Peggy Seeger's chilling litany recounting the Ballad Of Springhill is relatively well-known, but Anne Hills' equally superbly evocative Pendle Hill (written in honour of Anne's ancestor Alice Nutter who was hanged and burned for witchcraft) was completely unknown to me. The two original songs by Michael Smith (Two Men In The Building, a pertinent exploration of conspiracy theories arising from the death of JFK, and Armalee, a rewrite of a pseudo-traditional ballad by John Jacob Niles) provide further highlights, and the foursome also turn in a memorable cover of Ian Tyson's Four Rode By. The all-acoustic instrumental backings (mostly just involving sundry guitars, with occasionally a banjo, accordion, concertina, piano or bass) are a model of good taste, being both naturally dovetailed and carefully judged. The overall effect of this enjoyable and imaginative collection is (in the words of the press release) "like reading a well-chosen anthology of masterful short stories - unified by the artistry and ability of the storytellers". Folk music communicated by inspired experts, indeed. What a shame the Fourtold tour isn't scheduled to visit these shores.
David Kidman
---
Julie Fowlis - Uam (Spit & Polish/Shoeshine)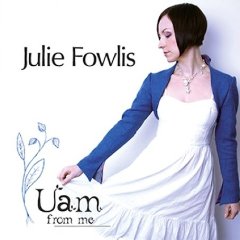 The pithy title of Julie's third album is best accurately translated "from me", and represents her own personal "here and now" in that it melds her Hebridean roots with the myriad of influences she's acquired in the past two years of touring and collaborating with other musicians. In that latter regard, and especially in comparison with Julie's second album Cuilidh, Uam feels more naturally integrated as a collaborative project, even though it's recognisably still an album focused on her wonderfully pure voice.

Julie makes full accompanimental use of her regular core backing band (consisting of her husband, Danú's Éamon Doorley, on bouzouki, with fiddler Duncan Chisholm, guitarist Tony Byrne and bodhránist Martin O'Neill), while also allowing them their collective head to play out - as on the opening waulking song M' Fhearann Saidhbhir, which is generously capped by three sprightly tunes, and the Cat And The Dog set of songs and tunes. There's also a beautiful, graceful tune (A' Chiad Cheum) that was composed by Julie and Éamon for a family wedding. The individual and ensemble playing sparkles exactly as it should with such a keenly sympathetic gathering, while Julie's own vocal performances are exactly as expected: clear and true, with plenty of entirely natural life and expressive understanding. It's interesting to hear Julie's voice in consort here too for a change: the revered Scots Gaelic singer Mary Smith appears on three tracks, duetting with Julie on a milking song and a clapping song, and further joined by the voice of Allan MacDonald on the magical closing track, a mysterious Hebridean night visiting song Hò Bha Mi, Hé Bha Mi. Julie also rings some changes by performing, in turn-bout-verse bilingual duet with Eddi Reader, a version of the Jealous Sister ballad Wind And Rain.

The latter excepted, the disc's menu again consists entirely of Gaelic songs from the Western Isles, conforming to Julie's admirable ethic, although Rugadh Mi 'Teis Meadhan Na Mara turns out to be a Gaelic version of a Breton song. The most intense rendition is that of A Mhic Dhùghaill 'ic Ruairidh, on which Julie is accompanied solely by Allan's keening pipes. The veritable host of invited friends is expanded even further at various times, by the limited presence of Phil Cunningham, Tom Doorley, Sharon Shannon, Ewen Vernal, Jerry Douglas and Michelle Fowlis, but none of these intrude on Julie's delicately balanced arrangements in the slightest. Uam is therefore another gently classy addition to Julie's already impressive catalogue.

David Kidman October 2009
---
Julie Fowlis - Cuilidh (Spit&Polish/Shoeshine)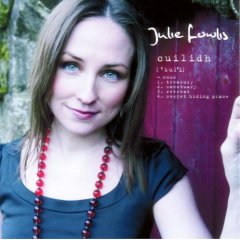 Julie, one of the most beguiling young singers around today, has achieved much in a short time; last year, she was the first Scottish Gaelic singer to win a BBC Radio 2 Horizon Folk Award, and she's been a key mover in taking Scottish Gaelic music out of the purely esoteric and specialist arena into more mainstream acceptance, not just within the folk community. Her totally natural personal charm has complemented her exceptional singing voice to cement this achievement, and her attitude to her craft is every bit as winning; she humbly considers it an honour and a privilege to be the song-carrier. Julie was quick to capitalise on the runaway success of her role within the band Dòchas by recording a solo album Mar A Tha Mo Chridhe, acclaim for which has prompted the swift recording of a followup, Cuilidh, which again concentrates exclusively on songs sung in Gaelic – but as Julie has already proved, the language does not form a barrier to appreciation in the slightest. For the new album, Julie has surrounded herself with a dream lineup of musicians including John McCusker, John Doyle, Mark Kelly, Michael McGoldrick, Iain McDonald, Capercaillie's Donald Shaw and Ewen Vernal, Danú's Eamon Doorley. Their performances are peerless and sympathetic, and their expert musicianship gleams and glistens through the gentle, sparing textures without a trace of needless studio gimmickry; everything's recorded cleanly and simply, as befits the very modest degree of ambience accorded to Julie's wonderfully clear, pure voice. And Chris Thile's luscious mandolin embellishments set the seal on Julie's fine rendition of the North Uist love song Mo Ghruagach Dhonn. Julie's own very special vocal talents here receive exactly the kind of setting in which they can shine, of that there's no doubt. Cuilidh presents an enchanting sequence of twelve tracks that come together really well; there are of course examples of those tongue-twisting songs that Julie does so well, of which the sparkling tripartite Puirt A Beul set (track 5) and the deliciously humorous strathspey-contoured Bodaich Odhar Hoghaigearraidh are highlights. Not only is she firmly in control of her voice, but her fabulous technique enables a genuine two-way responsiveness with her fellow musicians - the fast-paced opening medley Hùg Air A' Bhonaid Mhòir and the more sedate bardic song 'Ille Dhuinn, 'S Toigh Leam Thu provide good contrasting examples of this facility; the playing on the latter song is particularly beautiful. As well as the traditional or bardic songs, there's a more recent composition by Finlay Morrison on the subject of the "Raiders", men who had been promised land in return for fighting in the Great War. And midway through the disc there's also a set of jigs which serves as an instrumental interlude; here Julie picks up the whistle and fair blows away any competition! Her enthusiasm is as unstoppable as her breathing it seems - what a talent for control! My only regret is that, sublime though the instrumental work is, Julie only gets to perform one song (the admonitory lullaby Aoidh, Na Dèan Cadal Idir) unaccompanied, and for that we have to wait until the very last track of the disc. But no matter, if Julie carries on making records of the calibre of Cuilidh there'll be no stopping her!
David Kidman March 2007
---
Julie Fowlis - Mar A Tha Mo Chridhe (As My Heart Is) (Macmeanmna)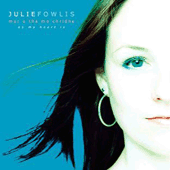 So the title's a bit of a mouthful, but trust me, it's worth getting your head round – or if you really can't manage it then at least remember the name of the artist, for you'll be hearing a lot more of her I'm sure; this unbelievably fine CD should lift Julie's profile considerably. It's Julie's debut solo record, and a captivating album of traditional Gaelic song, with three tune sets thrown in for good measure. The focus on song may come as a surprise to those in the know who'd first encountered Julie as an already accomplished instrumentalist (small pipes, oboe, whistle) a few years back (and you may recall her appearing on Brolum's debut CD 7.11). It was only on a fortuitous whim that Julie decided to enter the Pan-Celtic Sean-nós Competition in 2004; she won, and this gave her further confidence in her vocal abilities. Thus she got to sing more while performing with the band Dòchas, and a meteoric 2005 concluded with Julie being voted Gaelic Singer Of The Year at the Scots Trad Music Awards. And no wonder, for quite honestly Julie's blessed with one of the purest voices I've heard, blending delicacy and power with a really lovely tone and superb diction. The immediate impact of Mar A Tha Mo Chridhe you may think all the more amazing because of Julie's steadfast refusal to compromise - she's resisted the temptation to include any songs sung in English (which might allegedly have enhanced her "commercial appeal"), preferring instead to concentrate on Gaelic songs from her native North Uist. A wise decision in view of the complete artistic success of the result. Julie has a very winning way with phrasing, an innate gift for leading and following the natural flow of the language and the story it's telling. And the striking clarity of Julie's own vocal expression is mirrored in the clean playing she gets from her accompanying musicians in the simple and sharply defined arrangements here. Textures are light and airy, providing absolutely the right framework for Julie's wonderful singing; with musicians of the calibre of John McCusker, Kris Drever, (Danú's) Eamon Doorley, John Doyle, Iain MacDonald, Allan Henderson and Ingrid Henderson, then quality, sympathy and deftness of touch can be taken as given, yet there's also a delightful fleet-footed spontaneity in their music-making that sets the seal on an already impressive set of recordings. My personal favourites among the 12 sparkling jewels on display include a beautifully moulded rendition of Mo Bhean Chomain (on which Julie herself plays cor anglais), a vibrant piece of puirt (mouth music) and the (unaccompanied) closing track Moladh Uibhist, a paean to the island of North Uist. As I said, a stunning debut.
David Kidman
---
Allie Fox - Diving For Pearls (Vixen)
Experienced performer and singer-songwriter Allie, based in the Scottish Borders, here presents her first CD. It's been out for a couple of years now, and the intervening period hasn't seen the explosion of interest in her music that I then predicted, hence my mission to bring it to the attention of NetRhythms readers, particularly since it has definitely stood the test of time in this house and I've returned to it rather often. What are its particular attractions then? - well, put concisely, Allie's writing has a telling maturity and a sure grasp of structure, with admirably direct expression of often difficult sentiments through a simple but effective poetic language. Many songs (like Back Street Girl, The Meaning Of Love and the title track) deal with disillusionment tempered with optimism, and display sensitivity and poignancy without a trace of self-pity.
Allie has a fine vocal presence with clear diction and a purity of emotional expressiveness that evokes Sandy Denny (though not imitatively). Allie's also an extremely accomplished fingerstyle guitarist, with a light, airy touch and sensible restraint. The musical arrangements on this album are accessible and listenable, yet with a vibrant contemporary edge. A subtle freshness and tenderness in the musical settings mirrors those same qualities in the songs. The idiom is primarily melodic, mellow contemporary folk, but Moon Over The Rooftops (swamp-cajun meets Soho-blues) and Joe Louis Blues are intriguingly different. Producer Iain McKinna has brought clarity to potentially dense textures with a relaxed poise akin to that on his earlier project (Where The Mystics Swim for Mike Heron, a connection furthered by the presence of two of the same musicians - Dave Haswell on sundry percussion and John Rutherford on guitar, the latter contributing some impeccable, beautiful solo work). The melancholy I Was Wrong has border pipes (Jimi McRae) and a sympathetic, understated string arrangement by Allie's late brother Malcolm. In short, if you admire well-crafted, meaningful songs superbly performed, then dive in and treat yourself to the glistening pearls on this inordinately fine CD.
David Kidman
---
Bob Fox & Stu Luckley - Thirty Years On (Bob Fox Music)
The dynamic duo teaming of Bob and Stu was one of the wonders of the late-70s/early 80s folk circuit, for it either rekindled or revitalised many jaded folkies by bringing a vibrant, full-on, almost rockist approach to the folk scene with brilliant playing and singing and forthright all-acoustic interpretations of (for the most part) material from their native north-east. The partnership dissolved after recording just two seminal and fondly-remembered LPs (Nowt So Good'll Pass and Wish We Never Had Parted), and Bob and Stu pursued separate career-paths. There was a brief reunion for two folk festivals in 1992; then in 1998, to celebrate the 20th anniversary of the first album, they re-recorded a selection of 14 songs from the two LPs (well 13 actually, for Dollia, though a live favourite, appeared on neither!), which was released on the Fellside CD Box Of Gold. Now, after a further ten years have elapsed, comes the definitive celebration - a 32-date Nowt So Good'll Happen Again reunion tour and the release of this deluxe two-disc box-set on which the lads replicate the two original albums in their entirety in vital, state-of-the-art, freshly re-recorded performances (apart, that is, from five of the 1998 re-recordings, which recur here in remastered, brighter form). Their musicianship is undimmed, and the truly excellent recording (another Ron Angus triumph!) brings out every nuance of their playing (a salutary reminder of just how much expertise lies within those apparently effortless guitar, bass, bouzouki and dulcimer lines) and singing. And of course the set is the perfect memento of the lads' live act, which is every bit as ebullient and compelling as you remember it (if not better!), containing as it does all those Foxy favourites which have over the past three decades become repertoire standards - and many of them never better done in my opinion. Their heritage is represented by both upbeat and more pensive material, with key songs from the north-east tradition juxtaposed with modern-day classics like Graeme Miles' Shores Of Old Blighty (a definitive reading), the McGarrigles' Heart Like A Wheel and Donovan's Isle Of Islay - and the lads' perennial encore, Ruby Tuesday, tacked on in its rightful place at the end of Disc 2 (shortly after another bonus track, Bruton Town, another song which the duo performed live but had never committed to record until now). A beautifully produced and packaged set, and a veritable audio treat - this is the real deal, and "never better grew" you might say!
David Kidman November 2008
---
Bob Fox - The Blast (Topic)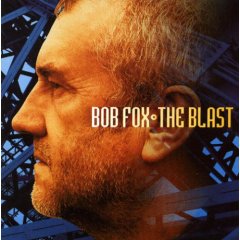 Bob being one of the country's most talented and best-loved folk artists, any new album from him is bound to be eagerly awaited, and The Blast immediately looks set to be a big seller on that premise alone (and it's already tipped for potential nomination for a BBC Radio 2 Folk Award!). It takes its title from the unearthly aspect of the beach near Bob's home town (Seaham, Co. Durham), though it could have the double-meaning of a blast of an in-yer-face performance. It may easily be regarded as both companion and sequel to Bob's last CD Borrowed Moments, in fact. There, as in the past, Bob's records, though always rife with his distinctive personality, have taken the form of collaborations with other musicians, whereas The Blast gives us 47 minutes of just Bob and his guitar. Bob's fans have long requested an album which approximates the sound of one of his live gigs, and The Blast was made with the specific aim of satisfying that demand. It provides a good opportunity to pay attention to Bob's guitar prowess (what Ralph McTell has termed "that astonishing technique") without any distraction from other instrumentation, and to Bob's exceptional way with a song. His choice of material here is exemplary, with a brilliant mix of contemporary songs from the north-east and outstandingly fresh interpretations of traditional songs. In the former category we find choice examples of the writing of Alex Glasgow (All In A Day), Ed Pickford (One Miner's Life), and, bang up to date, there's Taking On Men which Jez Lowe composed specially for the new Radio Ballad The Big Ships (this Ballad also provides the source Only Remembered, a tender performance of which closes the disc). While the latter category includes very fine performances indeed of Recruited Collier and Broomfield Wager and Still Growing.
So far, so good - this disc is clearly a winner in terms of Bob's superlative performance and excellent choice of material. But I must come to the hardest part of the review: the reservations - the first of which is something I just can't quite pinpoint. The album was recorded and produced by John Tams, and John has captured well, in admirably clean sound, the immediacy of Bob's presence and the essence of his performing style. But there's something missing - which may be due to a feeling of slightly excessive degree of separation between the voice and the guitar (on some tracks more than others, it must be admitted), which isn't entirely natural. Oh, and on three of the songs there are some artificial studio effects which seem out of keeping with Bob's stated intent; the gradually augmenting chorus vocals on A Miner's Life are a good idea that almost pays off, but I'm not so sure about the "heavenly" mini-choral backing-vocal that creeps in on Golden Vanity (a misguided theatrical gambit, methinks), and the passage of curious booming electronic reverb at the close mars an otherwise standout rendition of (Bonny Ship The) Diamond which creatively interpolates Eric Bogle's Song Of The Whale. So - almost, but I'm afraid not quite, an unqualified success.
David Kidman November 2006
---
Susie Fox - Afterwards (Own label)
This is the accomplished debut CD recording by York-based Susie, who's a welcome, and latterly increasingly frequent, visitor to folk clubs in the North and West Yorkshire areas. She's a proficient and attractive singer, accompanying herself here primarily on guitars and recorders, with occasional clarinet or bodhrán. The material she's chosen to showcase her talents here mixes traditional songs with her own compositions, the latter category including two exceptionally fine settings of poems by Emily Brontë. Susie's performing style is characterised by an ethereal gentility of tone and a cultivated, deliberate clarity of diction that - admirably - manages to avoid preciousness; I like it a lot, though it has to be said that not everyone is likely to warm to it, at any rate immediately, for, in inhabiting almost exclusively the high-register dimension of the "head voice", Susie gives a (totally erroneous) impression of lacking emotional depth. One of Susie's great loves is medieval music, which she studied at university, and this comes across in her performing and writing, noticeably in elements like the timeless ambience of modality, chord progressions and the coolly refined expressiveness of her singing. Susie's own I Watch O'er The Ocean, set to a traditional tune, is a supreme example of her feel for that idiom, and the unusual melodic twists of The Highwaywoman are equally delightful, while Let's Leave This Town, Dancing On Sinking Sand and the closing Listen To Me seem to reflect more of the contemporary folk troubadour in their attitude and overall construction. Unexpectedly too, I found listening to Susie on this CD even more involving than seeing her perform live (and I suspect this may not be especially due to her employing additional instrumentation for the recording). But even so, surely Susie's distinctive approach to song-making deserves your attention.
David Kidman
---
Michael Fracasso - Pocketful of Rain (Lone Star Records)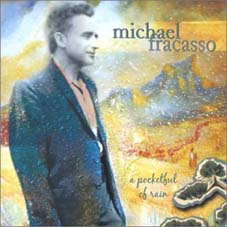 Michael Fracasso could justifiably be called Austin's best kept secret. Since moving to the Texas capital from Greenwich Village fifteen years ago he's become an intrinsic part of the mutually supportive songwriting scene alongside the likes of Slaid Cleaves, Jimmy LaFave, Patty Griffin and Eliza Gilkyson. While these artists have moved onto another level in the last five years, commercial success as yet seems to have mysteriously eluded him. His material doesn't fit into any convenient category and Michael steadfastly refuses to compromise his eclectic musical ideals. After a stripped down live album recorded in Oklahomah in 2001 with just Charlie Sexton's guitar accompaniment, Pocketful of Rain, his fifth and latest album originally released in the US last year is being revitalised to coincide with his first official UK tour which starts in Leicester on October 20th.
Born in an Ohio milltown to an Italian immigrant family, Michael's musical ambition eventually drew him after graduation in the 80's to New York where he established himself on what remained of the bohemian coffee-bar circuit alongside the likes of Suzanne Vega and The Roches. Here he made his first recordings and honed his craft as a songwriter and earned his first publishing deal. His greatest musical heroes were Buddy Holly, Roy Orbison and Gene Pitney but in 1990 he finally realised his nearest musical kin lay elsewher and headed for the Lone Star State. I first came into contact with Michael's songs in 2001 courtesy of the annual charity album released by Austin's premier radio station KGSR, a double CD compilation of the best radio sessions they'd recorded that year, many during the South by South West festival. Michael's contribution was a spine-tingling duet with Patty Griffin on his own wistful song, "1962". Two years ago Michael made a fleeting visit to London (barely a stopover between Spain and the US) during which time he played a swiftly arranged "house concert" in West London. His potent and pure 'high lonesome voice' and original country, blues and folk influenced material brought to mind Jimmie Dale Gilmore in his prime and transfixed those in attendance.
Recorded in Austin, this self-produced CD features welcome contributions from many of his local friends and peers. In addition to Eliza and Patty there are appearances by local guitar legend Mark Hallman from Gilkyson's band, Beaver Nelson and again his long time associate Charlie Sexton helps out with some of the arrangements. The songs are uniformly strong and expertly arranged with the adoption of a 'rockier' feel on many of the tracks, returning to the full band sound of the previous studio release "World In A Drop Of Water". On the jangly title track (co-written with Hallman) there are even echoes of the Byrds while the lyrics seem to bemoan his struggle for acceptance "I feel like packing my bags: Been too many days down on the drag". Meanwhil "Devil's Deal" and "Ragamuffin Blues" both illustrate to good effect his unusual but effective acoustic guitar style over a mournful country-blues, the former topped off with a glorious harmony from Patty Griffin. There's a sturdy cover of "Loretta", much more strident and less sentimental than the Townes Van Zandt's original. "Silver Spoon" dedicated to his young son Giovanni is an instant winner which defies you not to sing along and tap your toes to. Arguably the highlight on this collection though is the gorgeous, melodic ballad "Whiskey Mother" where Michael's distinctive tenor gets a chance to show it's full potential against a backdrop of accordion and cello. "Pocketful of Rain" is a strong collection and an ideal starting point for those who will be introduced to his music for the first time on this upcoming tour. Dates are in the gig guide elsewhere on the Netrhythms site.
G Evans
---
Amy Fradon - Small Town News (Leo Rising)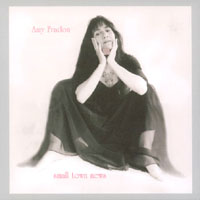 She may have recorded six album as part of Fradon and Ritter, featured on a Guthrie tribute album and released a previous live cassette and solo album, but I have to confess this is the first I've ever heard of the Connecticut singer-songwriter folkie. Obviously I've been missing big time.
There's a couple of covers, a rousing rendition of Phil Ochs's upbeat protest cry What's That I Hear? and a lovely acoustic duet with Tim Moore on the old Evs hit Let It Be Me, but otherwise this is all self or co-penned material, a collection of songs about small town characters with big world hearts and dreams that traverse folk, pop, country, bluegrass and blues, held together with Fradon's crystal pure keening voice and a solid band that includes the core roster of Moore (piano, guitar), Mark Murphy (bass,cello), and Ken McGloin (guitars) with Artie Traum putting guest banjo on the backwoods folk gospel The Burning Tree.
Drawn from life in the Catskills and travels across the small communities of America, her stories ring with honest truths and observations; her vignettes populated by the likes of Genevieve flirting with a shy guest at her Magic Moonbeam Hotel (very Sheryl Crow shuffle), Lily the crazy bag lady who steals a candy bar for her dog in Lily and Billy, a song that unfolds into a tale of child abuse, the wife beaten down by the years in Behind Closes Eyes, the prostitute Nevessa strutting her stuff to a slap blues rhythm, or Rosie in the yearning waltz title track, a singer who never made it in the city but who, every Friday night, soothes those small town weary hearts like a superstar.
Reminiscent of Dolly Parton, Silver Wings strikes a particularly poignant note, a touching but uplifting song written for the late Rick Danko.
She can swing with a jazzy vibe on Hambone or slip into a trad folk groove with something like The Flowers Still Bloom and the wistful Do You Remember Me which borrows its melody from The Water Is Wide, but she's relaxed and fluid wherever the music takes her. It's a journey I look forward to tracing back and following forward.
Mike Davies
---
Roddy Frame - Surf (Redemption)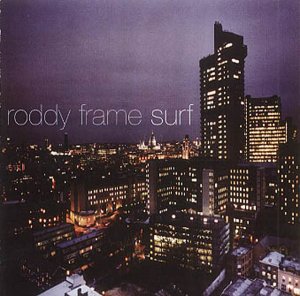 Some things just stay with you. Aztec Camera are one of them. Even 18 years after its release Knife still brings shivers to the spine listening to such classic songs as Backwards and Forwards, Birth of the True and The Back Door To Heaven. The same's true of High Land, Hard Rain, Love (with the wonderful How Men Are) and their Frestonia swansong back in 1995.
It's been four years since Frame's solo debut, The North Star, but he's thankfully back in action with a totally solo acoustic recording that is drenched in gorgeous heartfelt songs, many of which are among the finest he's ever written. Melancholic reflections of severed hearts (Over You, the utterly beguiling title track, I Can't Stand Now) come hand in hand with more emotionally bouyant optimism (Abloom, Turning The World Around, Big Ben), all redolent with the air of gazing from rooftops over evening rain washed city streets and up into cleansed night skies, stars and electric lights twinkling into your very soul. Melodies drip like curls of cream rippling into coffee shared with absent or newfound lovers, Frame's soft burr and bruise of a voice taking you away into reveries from which you never want to wake.
Mike Davies
---
David Francey - Right Of Passage (Laker Music)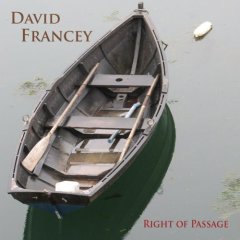 I'm tempted to just say that Right Of Passage is in every respect the ideal sequel to ex-pat Scot David's 2005 release The Waking Hour, but to leave it at that would be of no help to those who've so far missed out on David's easy charm and unassuming, down-to-earth creative talent. Good without exception though the 13 songs on this latest album are, however, none of them mark any fresh stage in terms of songwriting or performance development or any step forward artistically - which is not to deny their wholesome attractiveness and all-round excellence of course. That's why it's hard to describe the album's virtues without relying on much of the same phraseology I used last time round. Again we get 13 songs, again each one is beautifully observed, well crafted and melodically pleasing, again compellingly gently sung and tastefully accompanied: what more could one desire from a singer-songwriter indeed? For David always delivers, whether on poignant character sketches (Kansas) or meditations on current events (New Jerusalem); there are several of those songs of place that David does so well (Stone Town, A Conversation, The Gate), while Their Wedding Day is a simple and touching reflection on that of his parents and Promised Land and Under The Portland Weather are two of those songs that will stay with you for long after the final chord has faded. There's one basic difference between The Waking Hour and this new record, in respect of the supporting personnel: this time we get Geoff Somers (fiddle, mandolin), Craig Werth (guitar, bouzouki, dulcimer, shruti box), Shane Simpson (percussion) and Julia Davie (backing vocals) - arguably not as distinguished a crew as the Kane, Welch, Kaplin guys last time but the new lineup acquits itself pretty fine thankyou and I've no complaints.
David Kidman January 2008
---
David Francey - The Waking Hour (Jericho Beach/Red House)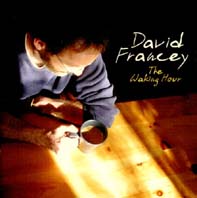 When I reviewed David's previous CD Skating Rink only last spring, my stance was that David "writes attractive and articulate yet down-to-earth songs that have already garnered him a healthy amount of praise from other highly-respected songwriters", and I find myself coming up with virtually the self-same words and phrases when encountering his new disc.
David (another of those ex-pat emigrés, born in SW Scotland but now settled in Canada) has an enviably easy style, with which he puts his unassuming creativity upfront; I was privileged to catch David in concert at a local folk club last summer, and I was impressed with the rapport he so quickly managed to establish with a "cold" audience, many of whom hadn't even heard of him before. So too, within seconds of starting this CD, a rapport with the listener is established, not least due to David's rich voice and "open-hearted" but quiet singing style that's the perfect vehicle for the pleasing melodies he conjures from the images he uses. David's songs are astute little masterpieces of observation, immediately appealing and lean and economic in expression with not a word or musical phrase wasted.
Modestly, David's winning of not one but two Juno awards hasn't changed the way he writes, and The Waking Hour is another fine set of beautifully crafted songs, 13 in all, relating in simple terms what he sees wherever he's been. His is a keenly adopted natural eyewitness role, and his acute understanding of how to convey a sense of place is central to his art, that sense of place in turn providing the springboard for the listener to meditate humbly on the thoughts and emotions which that place evokes, whether personal or more global.
The difference from album 3 (Skating Rink) is that for the new offering David's gained the instrumental assistance of Kieran Kane, Kevin Welch and Fats Kaplin, whose gentle melodic fills on guitars, fiddle, mandolin and accordion suit David's music down to the ground, making The Waking Hour very possibly David's finest album yet (and the previous three were assuredly pretty damn fine!).
Highlights of this new CD include The Fourth Of July (a sad and cutting indictment of the post-9/11 behaviour of US citizens, set to a deceptively jolly little waltz tune), Badlands (a canny comparison of personality and landscape), and Wishing Well, another potent reflection on crime and punishment. Imagery is deliberately simple, but packs a punch with its high memorability quotient and a graceful lyricality that sometimes belies depth of thought. This jewel of an album, already a hit in Canada, deserves wide acclaim over this side of the pond; David's Waking Hour has come for the UK too now, I suspect.
David Kidman
---
David Francey - Skating Rink (Laker Music)
David - originally from Ayrshire, Scotland but now living in Canada - writes attractive and articulate yet down-to-earth songs that have already garnered him a healthy amount of praise from other highly-respected songwriters (Eric Bogle, Brian McNeill, Steve Earle, Kieran Kane and notably James Keelaghan, who's recently recorded one of David's songs). In concert, he immediately creates, through his easy delivery and wry friendliness, a personal rapport with his audience, a quality that also transfers to CD from the outset in his rich voice and "open-hearted" singing style that's the perfect vehicle for the pleasing melodies he conjures from the images he uses. David's astutely-observed songs have an immediate appeal, and contain no undesirable excesses; not a word is wasted in their admirable economy of expression, and the no-nonsense musical settings (mostly involving the guitar of Dave Clarke and the mandolin of Geoff Somers, with occasional fiddle or accordion) allow the lyrics to breathe and get the balance just about right. When taken together, the beautiful simplicity of the settings and the genuine, unforced social conscience with which David presents his subject matter, can elevate outwardly mundane experiences to the level of art - nothing fancy or pretentious, just good, honest, well-crafted songwriting. David's been inspired to a large extent by his experiences in Canada, his understanding of its people, its landscape and its folk consciousness. The skating rink of the title is the focal point of the village in Quebec where he lives, and its lights tend to throw at least a small part of the outside world into sharp relief; much like David's approach to his depiction of that world, in fact. The songs on Skating Rink (David's third CD release) are thus drawn from various stages of his life, but his very method provides the artistic unity. Even the CD's inevitable 9/11 song (Grim Cathedral) proves a minor masterpiece of poetic introspection. David's music is well worth seeking out; at the risk of underselling his talent, perhaps his work can best be described as quietly impressive?
David Kidman
---
Bob Frank - The Vanguard LP And Other Rarities (Décor)
Bob's recently on the radar again, having just released a collection of murder ballads with John Murry (World Without End, reviewed here a couple of months ago). Back in 1972, this obscure Memphis-born folk troubadour was acclaimed as a gifted singer-songwriter following the release of an eponymous album on Vanguard which showcased his gritty and personal songwriting and his distinctive quivering voice; what happened thereafter is the stuff of legend - apparently there was an outspoken live appearance, following which the label dropped him and he disappeared from the scene for nigh on 30 years. Anyway, that eponymous LP is now here reissued, rescuing it from collectors' oblivion, and for many of us it represents the first ever opportunity to hear what all the fuss was about. At the time it earned critical comparisons to Ian Tyson and Gordon Lightfoot, while Bob was even tagged "a barefoot Randy Newman"; certainly there's a hint of truth in that, but Bob's sense of humour is altogether more ribald (check out ), and he doesn't really share the same degree of wistfulness in his observations, his take on life being more laconic and his keen level of social consciousness being significantly more outlaw than any of the songwriters mentioned above. Much of Bob's material is a kind of take on the talking-blues genre, but the more personal songs like are arguably even more persuasive for their vulnerability and often delicate simplicity of expression (Layin' Around, Brinkley Arkansas), as is Bob's take on the traditional Pretty Polly. Bob makes an impact with minimal accompaniment - just his guitar on many cuts, with occasional harmonica, slide, piano and bass (personnel credits not available 'cos I've not been sent any liner notes etc). This reissue is an important one, so it's rather a shame that the sound quality isn't better. I've not been able to confirm this, but it sure sounds like even those tracks forming the original Vanguard album (tracks 1 thru' 12) come from a vinyl source (this is betrayed by intermittent clicks and crackles - presumably the master tapes had gotten lost?), while the final 11 tracks are described on the label as "demos and rarities" (for Tree Publishing, and predating the album sessions) and are of similarly low-fi quality, some verging on sonic below-par. Even so, anyone inspired (like I was) by World Without End and keen to hear where Bob came from, needs to hear the music on this reissue.
David Kidman October 2007
---
Bob Frank & John Murry - World Without End (Décor)
This is an extraordinary record. It comes from a very dark place, and immerses you straightway in blackness, the blackness of the traditional murder ballad, with eerie, restrained yet full-toned, rich and doomy musical settings that drench you in atmospherics. A concept album of sorts, then - but not one of those creaky, contrived, pompously overblown efforts that give the genre a bad name; instead, Bob and John present a succession of self-penned gothic-noir tales based on true crimes and interwoven into a historical context, all-new songs that sound real old (in that respect, there's occasional shades of The Band or the Handsome Family too, in terms of sensibility). The rear cover portrait could be a still from Texas Chainsaw Massacre, portraying the duo as mad backwoods axemen, which mirrors the sinister, menacing mood of their musical portrayals where the protagonists reflect on their deeds. So why've we never heard of Bob and John? Who are these guys then? Memphis-born Bob's got a history alright, from a writing partnership with John Hiatt in the 60s through touring with Townes Van Zandt and Tim Buckley, then an ill-fated solo album in 1972, to a 2002 comeback record and subsequent work with the band American Music Club, whereas Tupelo-born John, a long-time member of The Dillingers and Lucero, has recorded a Waylon Jennings tribute album with Chuck Prophet. (Incidentally, John also happens to be William Faulkner's great-grandson: that little nugget craftily sneaks out of the biog, tying in neatly with the Faulkner quote that adorns the press handout: "The past is not dead. In fact, it's not even past..." - all highly relevant to this project of course.) World Without End is a very special project that combines the two men's original storytelling skills and austere, deep, authoritatively idiomatic singing voices, while benefiting from musical ideas from a group of friends including Brian Hendrix, David Manning and Brad Postlethwaite who together have assembled alongside the usual steel guitars, piano, banjo, fiddle, drums, bass etc a motley assortment of unusual instruments including bowed saw. The sound-world is a striking and apt counterpart to the often horrific, ghostly imagery and subject-matter: you can almost smell the burning flesh, feel the blood seeping through every crack. I do wish the booklet included the lyrics tho'... But as I said, a truly extraordinary record, as timeless as death: you just gotta hear it.
www.bobfrankandjohnmurry.com
www.myspace.com/bobfrankandjohnmurry
David Kidman June 2007
---
Jackson C. Frank - Blues Run The Game (Castle)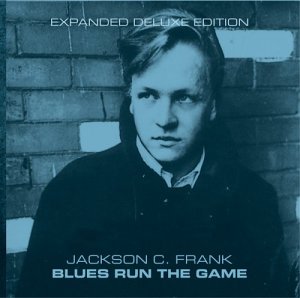 JCF is one of the most enigmatic cult figures of the 60s folk scene; his reputation has hitherto rested almost exclusively on the much-covered song Blues Run The Game. His influence on his contemporaries is not to be underestimated either - indeed, fellow American Paul Simon produced his eponymous ten-track album release (two other tracks from which, You Never Wanted Me and Milk And Honey, were eagerly taken up by his then-girlfriend Sandy Denny), on which Al Stewart made his recorded debut playing guitar. Jackson's songwriting was individual and powerful, with few if any rivals on the contemporary scene, with enduring qualities of stark simplicity and directness which shine through his recordings to this day. However, in 1966 he encountered writer's block, severe depression and illness in swift succession, only finding a belated, limited rehabilitation in the mid-90s through the efforts of a fan. In spite of a CD reissue (on Mooncrest) of his lone album, boosted by the presence of five recently-discovered 70s demos, the hoped-for revival in Jackson's fortunes never came, and he died in March 1999 aged just 55, mourned by few. A second repackage of the same material appeared on Castle around that time. So at first glance the present, third reissue might appear redundant - but in truth it's by far the most complete, and I'm sure it will prove the ultimate collection (unless the lost BBC radio session or any further tapes come to light, that is). The two discs of this "expanded deluxe edition" contain 43 tracks in all: disc one comprises the original album, both sides of the ancillary single, and all eight of the 1975 demos (including three only recently discovered), whereas disc two brings us for the first time seven songs from an acetate for a projected 1960 album together with two batches of tracks emanating from the 90s (a studio session from 1994 and some rough kitchen recordings from 1997). Admittedly, disc two is distinctly uneven in quality, both in terms of recording and performance, but it's genuinely fascinating stuff and definitely worth having, even if you already own either of the previous two CD reissues of the original album.

David Kidman
---
Alasdair Fraser & Natalie Haas - In The Moment (Culburnie)
A further album of duettin' fiddle and cello, the followup to 2004's award-winning and very aptly-titled Fire And Grace from the same team. Hearing just a few seconds of the opening Valley Of The Moon Reel (named after the American Scottish Fiddle School camp run by Alasdair) will convince you that the beaming smiles on the musicians' faces on their cover shots weren't just momentary ordered poses for the benefit of the photo session - the joy in their music-making flows from every delectable bow-stroke. The yin-yang characteristics of the duo's playing, the complementary fire and grace if you like, are also strongly apparent on that opening track, where the fierily driven tune is gracefully articulated and blends into the more reposeful cello-dominated middle-section. This practice of alternating modes of expression is mirrored in the playing techniques of the participants, with rhythmic stabs and flowing lyricism beautifully complementing each other on the tune Natalie Mariah in particular. And the intrinsic qualities of vivacious energy, musicality and classical poise I noted on the duo's earlier record are present in abundance here too. The vast majority of the album's 16 tunes are based in some measure on traditional forms, principally Scottish, and come from the ever-resourceful pen of Alasdair himself; Salamanca is a joint composition and Natalie's solo contribution is Between, a more descriptive piece that evokes a state of "transit", while Niall Kenny is responsible for Trip To Pakistan and Alasdair's son Galen has penned the tune Backseat Soccer which closes the Alien Ceilidh set (track 3). There's a limited amount of instrumental augmentation to the basic duo setup on just two of the 14 tracks: Hanneke Cassel's piano brings a degree of salon-elegance to Miss Laura Risk (one of four lovely slow pieces on the disc), while Eric Rigler plays two varieties of pipes on the disc's grand, stately march-finale (Rob Fraser's Welcome To San Francisco). My only (and very minor at that) criticism of the new disc is that when you listen to it alongside the earlier one there's not quite so much contrast in emotional temperature between individual pieces - but whenever you listen to In The Moment it's still an eminently satisfying experience in its own right. And the Culburnie website is a mine of information about the background to the composition of the tunes played, by the way.
www.culburnie.com
www.nataliehaas.com
www.alasdairfraser.com
David Kidman March 2008
---
Alasdair Fraser, Muriel Johnstone & Natalie Haas - Legacy Of The Scottish Fiddle, Volume 2 (Greentrax)
This release, which enjoys the subtitle of "tunes from the life and land of Robert Burns", presents a series of airs and dance tunes that were popular in Scotland during the latter half of the 18th century, many of which directly inspired the songs of Burns. It's not often acknowledged that he himself was a fiddler; he collected many traditional tunes and songs and submitted them for publication, and many of his poems and songs contain references to fiddle music, its players and the dance. Alasdair, a musician of considerable standing whose name will be familiar even beyond the coterie of Scottish fiddle enthusiasts, has produced for this CD arrangements which completely befit both the tunes themselves and the relevant historical period. Instrumentation is plain and simple – fiddle accompanied by piano and cello, in other words that of the classical piano-trio, a distinctive historical grouping whose archetypal ambience and overall feel lends a necessarily refined air to the proceedings. And yet every aspect of the playing exhibits a complete empathy with the music and its idiom, in fact. It may not be frenzied, but its quiet energy and subtle virtuosity has a great appeal all its own. Listeners used to modern-day Scottish traditional CDs will need to step back in time here, and understand that the music on this CD is going to be graceful rather than fiery (to paraphrase the title of Alasdair's previous CD with Natalie). No freaky fusion beats and no hell-for-leather belting session-stuff here, then – just true musicianship allied to admirably gentle, even genteel playing (I do not use those words in any pejorative sense, I hasten to add) that is totally in keeping with the spirit of the music and the age. Beautifully judged ensemble work, with almost imperceptibly moulded solo contributions, and a total delight to the ear; it can't possibly offend any listeners, whether they're folkies or not – and it's all packaged with the kind of proper attention to detail that sets the best possible example for potential crossover marketing (I'm sure the Scottish tourist-emporia would find this CD a greater incentive to relax their customers than the cheapskate Tartan 'n' Haggis drivel that pours out of their speakers). A triumph of tastefulness.
David Kidman
---
Paula Frazer & Tarnation - Now It's Time (Birdman)
The legendary Tarnation was always the brainchild of singer/songwriter Paula Frazer, even though the band itself changed from album to album (and often even between tours!). Its signature sound, christened "sombre moody western", was typified by the landmark albums Gentle Creatures and Mirador. But Paula tired of the band concept and its imposed structures, exploring a new sound in two solo albums. Recently however, Paula fell to revisiting songs she'd written during the final month of Tarnation but not managed to taste in full at the time, and felt they'd form the basis of a part-resurrection of the band (at least in name) in tandem with the lessons learnt from her solo ventures. This slightly confusing scenario forms the backdrop for Paula's new release, which brings these songs into relief with the help of a small "band" consisting only of her longtime collaborator Patrick Main (piano) and Jasmyn Wong (drums) - Paula herself plays all the other instruments used on the record! So - it's the lyrical mode of Tarnation, but set to a more lonely, more sparse soundscape, the immediacy of the songs themselves (and of course the intimate angelic beauty of Paula's voice) making up for the comparative lack of lushness in the arrangements. There are some really lovely songs here, mostly on the sorrowful theme of lost love - the pick of these being Sleeping Dreams, Pretend, August's Song and Shadows. To make these songs sound at their best, Paula's also conjured up some suitably sensitive arrangements, particularly those involving strings, which are a little reminiscent of Robert Kirby's settings on the Nick Drake albums. And there's a neat country tinge to the steel-backed I'll Never Know and a doomy echo-laden trip feel to Another Day. I do have a bit of a reservation however, in that, good though it is to hear Paula back on the scene again, there's a slight impression of insubstantiality about some of the other tracks, and I don't feel that overall this bunch of songs makes quite the impact it might; some err on the side of pleasant and beautiful but where the fragrance is not quite lasting: in other words, they grow, sure, but not enough maybe.
David Kidman March 2007
---
Paula Frazer - A Place Where I Know: 4 Track Songs 1992-2002 (Fargo)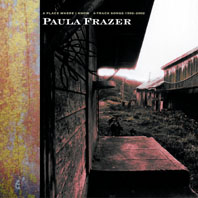 The artist formerly known as Tarnation (best known for 97's Mirador) now operates under a solo guise, but the Arkansas native's music remains in much the same groove, basically appalachian folk roots, Texas Border Americana and Southern Gothic. This collects together a decade's worth of unreleased material alongside reworks of such old Tarnation numbers as Halfway To Madness and Like A Ghost, not all of them of the greatest technical quality but bringing a certain intimacy and rawness to the stripped down mostly just voice and guitar lo-fi four track blueprints.
Although the band frequently drew comparisons to the Cowboy Junkies, there's several occasions here where Frazer strikingly recalls Joan Baez, notably so on The Only One, An Awful Shade of Blue and Like A Ghost. The sound of desert nights and dry lightning over the mesa, of deserted broken down and overgrown timber farm houses, of dry creeks and of lost souls riding the empty prairies, Frazer's voice fragile and mournful on Long Ago, yearningly serene for Taken but mostly dark and resonant, it's a truly haunted and haunting album. Her new studio set can't come soon enough.
www.paulafrazer.com
www.fargorecords.com
Mike Davies
---
Freakwater - Thinking Of You ... (Thrill Jockey)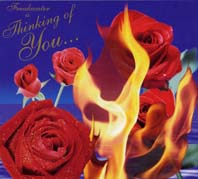 It's six long years since "neurotic alt-country" outfit Freakwater released a new album. End Time was fabulous, but it must have exhausted the band members, for both Catherine Irwin and Janet Beveridge have since taken time out to release solo albums in the intervening years (tho' sadly I've not received either for review). Now after a brief period of artistic separation they've gotten reunited, and for the album sessions have been joined by core members David Gay (bass) and Jon Spiegel (pedal steel), along with varying combinations of musicians drawn from the ranks of Thrill Jockey labelmates Califone (using Califone's producer Tim Rutili). The presence of these additional musicians has enabled Freakwater to flesh out their signature sparse sound with some unusual and tantalising sounds while retaining the magically intimate Freakwater feel; and yet, there's a new kind of dynamism to the writing and playing that can't all be attributable to the presence of those extra musos. The basic Freakwater preoccupations and sentiments are as timelessly relevant as ever (tracks like Loserville could've been cut for their last album, while Cathy Ann, a poignant song about the tragic death of one of Woody Guthrie's daughters, nearly was). The difference now is that Freakwater's strangely skewed take on Americana is taken into new territory with string arrangements (Cricket Versus Ant), rock'n'rollin' honkin' bass-clarinet (So Strange). And the Zincs' guitarist/singer Jim Elkington co-authors, and plays on, Double Clutch. But an unbridled glory of the Freakwater sound has always been the distinctive combination of those two ostensibly opposing vocal poles Catherine and Janet - sometimes uncomfortably raw, but invariably stimulating - and they're certainly in full flight on this new offering, covering all bases from the powerful pain of the aforementioned Cathy Ann to the whispersome ambiguity of Double Clutch and the unparalleled sadness and anguish of Sap (a real high watermark both musically and lyrically). That last-named opus is archetypal Freakwater with its dark distillation of traditional country music metaphors, while the very next cut, Jack The Knife, turns from its hopeful opening into another mournful exploration of the country of country, with keening musical saw reinforcing the trademark melancholy, and tracks like Jewel can't escape the feeling that even optimism is a warped commodity. The complexity of apparently simple emotions creates a compelling pull on the senses and sensibilities of the listener, just as it must have done on the writers and performers. With its unashamedly broad and adventurous new sonic palette, Thinking Of You ... becomes a double-edged phrase; it's Freakwater, Jim, but not quite as you know it - and I just lurve it.
www.freakwater.net
www.thrilljockey.com
David Kidman
---
Free - Live At The BBC (Universal)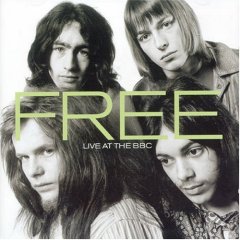 This is a real treasure trove, not just for existing Free fans but for anyone following the development of British blues into rock from the days of the blues boom onwards. It gathers together on two well-filled discs all the surviving BBC sessions and concert broadcasts made by this seminal band. Most of the recordings have not been officially released before (only a handful of tracks being previously available as bonus material on comparatively recent issues of the original Island albums); a great number of them (like the landmark December 1969 Top Gear session) haven't even appeared on bootlegs and were found within the late guitarist Paul Kossoff's personal archive. As these recordings prove beyond a shadow of doubt, Free were one of the UK's most talented blues-rock bands, adventurously taking the 12-bar template way beyond many of their contemporaries. Free's very first radio session was recorded in July 1968, barely three months after the band was formed (and, unbelievably, shortly after bassist Andy Fraser's 16th birthday!); the sole surviving number from that session, Waiting For You, is a typically hard-edged take on the heavy blues-derived sound of the time. Disc 1 moves on through the band's early days, with an obscure instrumental Sugar For Mr Morrison (from a Stuart Henry session), a superb March 1969 session including a delicately brooding Over The Green Hills and a sturdy Broad Daylight, then jumping on to December of that year. The fiercer stripped-down band sound of the Fire And Water period is covered by a Sounds Of The 70s session from June 1970, after which the more fragmentary (and, though musically less satisfying, quite fascinating) split-era SOT70s session of April 1971 provides the final segment of the first disc. Even though a few of the recordings don't quite come up to top-notch broadcast sound quality (some had to be sourced from fans' tapes, and many official recordings having been wiped over soon after transmission), what we have here is most valuable. Disc 2 is taken up with two Radio 1 Sunday Concert dates (January and July 1970), and provide evidence of the rapid musical development the band were undergoing in that hectic year before the split, buoyed by the commercial success of All Right Now. Yes, this excellent set is much more than a salutary reminder of just how extraordinarily good a band Free were before the writing was on the wall for their explosive combination of talents at the start of the 70s.
www.allrightnow.com/fws/free.htm
David Kidman December 2006
---
Freebo - Something To Believe (Poppabo)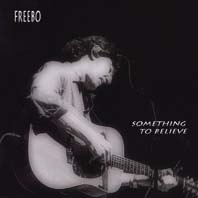 Just as I have no idea of his real name, so I have never thought of Freebo as anything other than a renowned session bassist (and tuba player), most notably for Bonnie Raitt but also working with such names as CS&N, the McGarrigles and Dr. John. However, making contact with his fourth solo album has revealed a fine folk pop and bluesy rock singer and songwriter with a mellow voice that's as warm and comforting as a favourite scarf.
He sounds a little like a cocktail of Cat Stevens and Tom Paxton and ranges fluidly across folksy ballads and funky struts. The latter's well served on the steady bluesy groove of In The Afternoon Heat, the Hammond driven gospel swinging Sometime It's For Nothin' where Albert Lee lends his electric licks, and lyrically playful blues slope My Personal GPS.
His lighthearted side's also to the fore on the Doug Sahm-like country blues rocker She Loves My Dog More Than Me where, in what may or may not be a sexual euphemism, man's best friend get the girl in the end and he's left holding the bone, while country rock holds sway too on If Not Now When with veteran sessioneer Jeff Pevlar providing guitar.
However, it's the slower, ballad numbers where the album shines brightest, at its best on the title track, a song about finding deeper meanings in life co-penned by Eric Lowen of Lowen & Navarro (Dave Navarro also supplying harmonies and the album's only cover, I Don't Beleieve In Yesterday) in response to his diagnosis with Motor Neurone Disease.
Chasing it for the honours, however, are both the uplifting Standing Ovation (where he plays tuba) about judging a life on how well it was lived and the social and economic themed When There's No Place Like Home, a poignant song drawing attention to the plight of those made homeless, abandoned and betrayed by the country for which they fought or worked.
It's only taken me 15 years to discover there's more to the man than four strings, but I'll be keeping a closer watch in future.
Mike Davies January 2012
---
Terri & Eric Freeman - We're gonna Do It Anyway (Monkside)
This husband-and-wife duo have some 30 years' experience of playing together, and they've at last been persuaded to record an album away from the context of the group within which they normally feature, Backshift, the resident band at the BBC-Folk-Award-winning Davy Lamp Folk Club in Washington, Tyne & Wear. This release celebrates just how empathically Terri and Eric work together as a duo, with an eminently assured approach to harmony singing that's a real joy to hear.
They've a strong sense of regional identity, which shines through in their canny choice of material and in their forthright, confident delivery which doesn't miss an expressive trick yet at all times forms a genuine response to the text. Their passion is real, not applied artificially for easy effect. The first thing you notice is the accomplished and mature quality of their interpretations, very strongly in evidence on the opener Four-Loom Weaver. Terri sings this beautifully, with total conviction and an aptitude born of a truly felt response to the words, accompanied by just a plain keyboard drone. As for Eric, well perhaps there's more than a touch of Vin Garbutt about his singing on some of the tracks (like the closer, Labi Siffre's Something Inside), but it comes across as natural to Eric himself, both tonally and stylistically, and not as a deliberately forced imitation. Eric's unaccompanied rendering of Davy Steele's The Collier's Way is outstanding and shot through with feeling, while Tommy Armstrong's Row Between The Cages is very well characterised.
The choice of material, though proudly majoring on indigenous writing from the north-east (as well as the Armstrong, there's Ed Pickford's Workers' Song and Johnny Handle's Guard Yer Man Well), also contains some maybe less expected selections - a very fine cover of Dylan's Masters Of War, James Keelaghan's My Skies, a couple of Mike Harding songs (King Cotton and July Wakes, the latter making a particularly effective juxtaposition with Four-Loom Weaver).
The insert notes are informative and entertaining, with perfectly proper attention to detail. The instrumental accompaniments are kept straightforward and sensibly unobtrusive - mostly just Eric's own guitar, or occasionally banjo and Terri's bodhrán, Colin Irvine's mandolin on one track, and the guitar or bass of the album's producer/engineer Ron Angus on a couple of items. This is a superlative example of a regionally produced folk album with a distinct regional identity that can, and fully deserves to, transcend the purely regional market.
David Kidman
---
Tom Freund - Collapsible Plans (Continental Song City)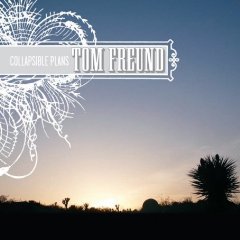 Tom's been around for nearly two decades, playing bass with the Silos, Graham Parker and Brett Sennen but only in 1998 getting his own solo career off the ground with the North American Long Weekend album.
Let it not be forgotten, however, that Tom was partly responsible for launching Ben Harper's career back in 1992 through their joint release Pleasure And Pain; the latest instance of Ben repaying that favour is by producing Tom's fourth record, Collapsible Plans, which more than any of its predecessors shows Tom to be the possessor of an unbelievably distinctive and individual singing and songwriting voice. It's easy to see why this record made several best-of-year lists for 2008, but real hard to figure why it never got brought to my attention earlier! There's a consummate ease, a totally natural creative magic at the heart of Tom's music, for while he definitely inhabits his own special artistic identity he evokes the timeless modes and sensibilities of Americana, rootsy country, folk and s/s balladry with brilliantly idiomatic touches of jazz and lounge in a concoction that never feels contrived.
Tom's trademark is complete emotional honesty, which enables him to express exactly what he wishes with a compelling economy and something so close to absolute crafted perfection that you don't feel anything is wanting. Tom engages the listener's heart and soul right from the outset on the plaintive, almost resigned title track (I could say his voice has shades of Jeff Tweedy, but that's no drawback is it?).
The considerable impact of that opener is arguably surpassed by the second track, the weirdly sensuous Comfortable In Your Arms, which typifies both the gently atmospheric nature of Tom's writing and the equally atmospheric and carefully crafted demeanour of his musical settings. These are pure genius, with all kinds of felicitous instances of musicianship coming through the mix to haunt the senses; of course Ben's own skills (as both producer and fellow-musician) contribute enormously, adding soupçons of lap steel, vibes, harmonium and mandocello, but you can't ignore the contributions of Michael Ward, Michael Jerome and the Innocent Criminals' Jason Yates. And Jackson Browne (no less) adds his unmistakable piano and vocals to Copper Moon and Why Wyoming. Fine though these songs are, the album's final four tracks are perhaps even more sublime I reckon, what a way to go out. Lyric-wise, each of the ten songs has such an impressive depth of focus that they all refuse to let go of you - well I've just spent the whole afternoon replaying the album, it's that good...
David Kidman January 2009
---
Jo Freya - Female Smuggler (No Masters Cooperative)
Jo's career has thus far embraced work with Blowzabella, Old Swan Band, Token Women, the Fraser Sisters and Pete Morton. So, one might reasonably expect her solo CD to reflect the dual-faceted nature of that CV; and sure enough, Female Smuggler presents songs of defiance and integrity alongside gleefully vigorous renditions of dance tunes. It's the songs that form the meat of the menu - although having said that, Jo's instrumental virtuosity (principally soprano sax, but tenor sax, clarinets, low whistles and keyboard also get occasional outings) is thrust fairly and squarely into the spotlight when required. Jo's uncannily seductive singing, smooth in timbre yet precise and evenly contoured, is an ideal vehicle for expressing the delicious nuances of the lyrics.
The tone and allegiance of this (mostly self-penned) collection is, unashamedly, female and distinctly right-on, and the songs are filled with the spirits of strong women like the 19th century campaigner Josephine Butler and the feisty smuggler herself. Typically, Jo's commentaries are all the more pointed for being couched in deceptively sweet-natured and catchy melodies: Roses poignantly laments domestic violence, Little 'O' concerns the pitfalls of email, and Oh America knowingly castigates the hypocrisy of its "have a nice day" culture. In fact (though not wishing to offend or make a glib generalisation) the flavour of much of this disc is kinda Lal Waterson-meets-Chumbawamba, which I guess is unsurprising given (a) that one of Jo's current projects is her Lal tribute show and (b) the key involvement of Chumba's Jude Abbott and Neil Ferguson (instrumentally, vocally and production-wise) in the album sessions.
Lal's own Marvellous Companion (here given a breezy sunshine-pop treatment) could almost be an adjunct to Jo's Lal Project album, but the spirit of Lal is arguably most noticeable on the enigmatic, shifting perspectives of Different Shades Of Meaning, while A Thief Can Too has a rather Chumba-like way of subverting double-edged clichés. Jo also ventures into the realms of folk-prog with a captivating, spookily-scored take on the ballad Young Edwin In The Lowlands Low. Instrumental backings are both imaginative and sparklingly uncluttered, dominated by unusual yet distinctive tonal colourings. The title track brings a mild touch of eastern exoticism with its use of a tamboura drone sound and tablas (Harry Hamer) with some rippling Portuguese guitar (Hélène Brunet); the latter element forms an integral part of the musical signature of several tracks, as does Jo's own fine playing. Yes, I'd say Jo has managed to smuggle a thoroughly charming, serendipitous ragbag of swag out of the studio for us here; so "Morning, sweet world, it's a beautiful day after all", for this is an absolute gem of a disc.
David Kidman October 2008
---
Jo Freya's Lal Waterson Project - Lal (No Masters Co-operative)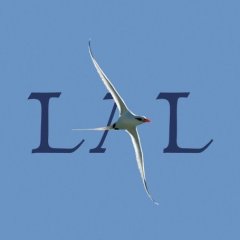 This disc is a celebration of just some of the work of the late, lamented Lal Waterson. Note the word "celebration": this is emphatically not a collection of covers strung together for commercial expediency, nor is it a tribute album in the usual (cheap) sense of the term. For there's no challenging Jo's credentials: she's a long-term fan, and remember, she'd contributed towards the final two albums Lal made with her son Oliver Knight (Jo worked on three tracks of Once In A Blue Moon and on Party Games from A Bed Of Roses, for which latter song her present project again makes use of Alice Kinloch's inspired arrangement). All of which gives Jo a healthy degree of insight into Lal's creative genius, you might argue. And like Jo, Lal had been a member of No Masters Co-operative, so it seemed entirely logical for Jo's latest project, fulfilling a long-cherished dream of making an album of Lal's songs, to involve other Co-operative members as collaborators - viz. Jim Boyes, Fi Fraser, and Jude Abbott and Neil Ferguson from Chumbawamba.

Of the fifteen songs recorded by Jo here, a dozen originally appeared on the above-mentioned pair of discs by Lal and Oliver (six apiece), and one (the powerful Song For Thirza) was premièred by her sister Norma on the Shining Bright collection a few years back; that leaves The Bird and May Butterfly, two songs hitherto unheard (unless my memory's playing naughty tricks!), to complete the set. Now, it needs to be said - though it should go without saying - that Lal's own striking (and naturally unique) renditions of any of the songs will always form the template with which any subsequent accounts will inevitably be compared. But what surprised me is how successfully Jo has captured the essence of Lal's world, homing in on Lal's innate gift for turning the world's more mundane things into something special. Jo's wonderful singing voice could never (or would wish to) replicate Lal's own extraordinary, rugged but at the same time febrile and curiously fragile delivery, and Jo's musical settings for Lal's enigmatic poetry similarly eschew Lal & Ollie's own abundantly stark backdrops. At the same time though, Jo's ensemble imaginatively produces a comparable intimacy through careful use of richly minimal resources (Jo's own instrumental skills supplemented by the aforementioned four players on sundry guitars, saxes, trumpet, bass, electric violin and clarinet, with Poozie Mary Macmaster on harps and Sex Patel Harry Hamer on cahon and tabla).

You might also say that Lal's songs have never sounded quite so tasty: her Midnight Feast is here a reggaefied stew, with delicious brass punctuations and Neil's joyous, chunky bass to the fore. Then on Wilson's Arms, Lal's original, highly conversational sung line-contours and irregular phrasing have been smoothed out for Jo's slightly more honeyed but still oh so seductive trip down memory lane. Here, as often, there's a clearer sense of the songs' structure and a sharper focus to Lal's elliptical imagery in Jo's insightful new interpretations, which, generally speaking, don't lose sight of the intrinsically lyrical quality of their observational poetry. But nobody, however insightful, could recapture the enigmatic, yearning-for-something-elusive quality of Lal's own renditions of her songs. For, according to your perspective on the songs (and especially with prior knowledge of Lal's own recordings of them), you're bound to find losses and gains in Jo's interpretations, and not necessarily in equal measure: for me, Jo's new jerky fairground-bop-pop treatment of Some Old Salty, while valid in its own right as a musical response to the song, misses the essential, somehow more jovial bonhomie-cum-nostalgia of the pub-chuckout-chorus feel and arrangement of Lal's Once In A Blue Moon version, while the anguished bluesiness of Lal's own recording of Stumbling On is absent from Jo's altogether jauntier Chumba-calypso setting. On other songs, you feel that the emotional contours of the original maps have gotten flattened with the passage of time and in the handing-down process. Either way, though, you can't deny Jo's thoughtful, affectionate and genuine response, respectful both to Lal's original artistic creations and to her memory. Jo and the ensemble will be touring the Project during 2008, by the way, prior to which the official album launch gig is at Musicport (Whitby, 21st October).

David Kidman October 2007
---
Fribo - The Ha' O' Habrahellia (Fellside)
This is a bit of a departure for the Fellside label, known primarily (albeit not exclusively) for its English folk releases. Let's leave aside for now the perhaps slightly Tolkienesque "baggage" of the group name, and concentrate on what this new multi-national trio has to offer. Which is actually some distinctly intriguing and inspiring music: it's dubbed "new music from the old north" on their press release, and that's not a bad description as it turns out. In fact, what a wonderful sound they make: though largely traditional-sounding, it's also an astute and highly unusual blend. Only a few weeks ago, Fribo appeared at the Celtic Connections Festival; I saw them in York shortly after that, and they certainly made a very strong impression with their unique combination of talents and musics. And although they're based in Edinburgh and include an element of Scottish traditional music in their mix, it's probably fair to say that Fribo's biggest influence comes from Scandinavian music. In that regard, straightaway you notice they're blessed with a striking vocalist, the young Norwegian singer Anne Sofie Linge Valdal, who sings clearly and most beautifully in the approved traditional style. The other two members of Fribo are equally splendid however: Sarah-Jane Summers (fine fiddle and hardanger fiddle player and 2003's Scottish Young Traditional Musician finalist, who's already worked with the Unusual Suspects and Malinky) and Ewan MacPherson (excellent and innovative guitarist, who's appeared on albums by Malinky, Alasdair White, Croft No 5 and The Unit). For their debut album, then, Fribo present a compelling sequence of songs with a few tunes intermingled. And although the vocal portions of the album include examples of both traditional and recently-composed Scandinavian song (some by Anne Sofie herself) and some lively and groovy Port-a-beul (mouth-music), what's most special about Fribo is the way they blend these and other ostensibly disparate sources so creatively and yet naturally. Take track 3, where Sarah-Jane has adapted part of a Norwegian melody (itself uncannily like a port-a-beul) to resemble a Scottish jig, the peculiar rhymes of its lyric being sung in a delicious, typically scattish mode. Wordless scatting occurs on several tracks in fact, even during a pair of lullabies which incorporates eerie drones both vocal and instrumental. There's some experimental use of programming and sequencing (courtesy of Fraser Fifield) which expands and enhances the acoustic textures on some tracks, but the overall sound of the album remains admirably uncluttered, pure, cool and refreshing. Programming adventures aside, there are other really inventive touches, such as Ewan's use of a bowed mandola on the Norwegian evening psalm Ned I Vester and a chiming, tolling backing for the peaceful Nu Solen Går Ned, both absolutely enchanting effects. As is the deliciously rhythmic wordplay of the children's song Hei Huskom I Hei. Two of the vocal tracks are sung not by Anne Sofie but by Ewan: his own new setting of a Runeberg text Beneath The Fir Trees (which the composer Sibelius had set) is dark and beguiling, and The Beltane is a hypnotic and enigmatic neo-Pagan offering. Among the purely instrumental tracks, The Wife She Brewed It is a vivacious adaptation by Sarah-Jane of three of her favourite pipe tunes, while on the track 7 set she plays a Hardanger halling tune in "a very Scottish style". Its potentially impenetrable, somewhat tongue-twisting title aside, Fribo's debut is full of masterly, intoxicating impressionism, a seriously rewarding and intensely original album which may well end up on my year's-best list come November.
www.fribo.co.uk
www.fellside.com
www.myspace.com/fribo
David Kidman March 2007
---
Eamon Friel - Smarter (Thran Records)
The sixth album from this likeable Derry singer-songwriter confirms his ability to produce appealing and easy-to-assimilate songs. It doesn't shock or surprise, but then again it probably doesn't disappoint those who have previously fallen under Eamon's spell. His style remains gentle and companionable, sweet and lightly mystical. Vocally he couldn't be anything else but Irish, and his delivery is attractive and easy-on-the-ear: almost to a fault.
Eamon's songs are like carefully expressed thought-streams that display both a concerned, questioning depth and an assured creativity; the best of this new batch are the chiming For All Their Talk (with its simple but imaginative arrangement) and the stirring Tell The Pipers I'll Pay. Having mentioned the arrangements, I'll give an honourable namecheck to Eamon's collaborators, without whom this disc would be much the poorer and the songs arguably less effectively expressed: the core team of Eddie O'Donnell, Marie Clarke, Liam Bradley and Ciaran O'Donnell, together with other musicians making cameo appearances on brass, fiddle, clarinet etc, do a fine job in realising Eamon's songs, while the sometime vocal contributions of Mary Dillon and Eilidh Patterson are also quite lovely.
It's a pity that the predominantly placid character of Eamon's invention doesn't tend to bring anything particularly memorable to the mix though, and in truth only two or three of the eleven tracks really stand out in any way. In complete contrast, the closer (the title song itself) is one of those oh-dear-you-had-to-be-there-in-the-studio-to-get-the-joke novelty numbers complete with swanee whistle and kazoo, painful to say the least (I'm sorry, I haven't a clue why it even made it to the final cut), and even the earlier partial excursion into Dixieland (towards the end of The Song Is Forever) doesn't really cut the mustard beyond limp pastiche. In the final analysis I think Eamon needs a more distinctive bunch of songs - but then again, he seems to be getting the cover treatment (from the likes of Sean Tyrell, the Fureys and Sean Donnelly), so he can't be doing much wrong. Maybe it's a case of me expecting too much, but I can't find an awful lot to shout about in his music at the moment; it's efficient and pleasant, but that's about it.
David Kidman April 2010
---
Eamon Friel - The Waltz Of The Years (Thran Records)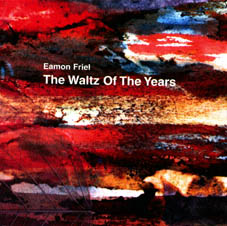 To my shame, I'd not encountered Eamon before this year, when lo and behold, the arrival of this album was hotly followed by the appearance of one of his songs (the lovely From My Window) on Bill Jones's new Two Year Winter CD. London-born Eamon moved with his parents to Derry in the 50s, and has lived there ever since. He started writing songs in the late 70s, and released his first album (Logrhythms) in 1985, eventually achieving wider recognition with his third release Word Of Spring in 2000. Eamon's songs are characterised by a lyrical warmth and gentility, to which his delicate yet assured vocal delivery (in the direct unornamented Ulster style) is perfectly matched. The album's mood is (predominantly) thoughtfully idyllic, the central theme of The Waltz Of The Years being thinking of friendships and happy times, reminding Eamon of the talented musical friends he's made over the years. Some of these make a substantial contribution to the album in fact - notably Eddie O'Donnell, who plays piano and guitar and is responsible for the musical arrangements. The best of the songs here - And October Turned To Gold, The Songthrush And The Wren, Hard Town, and especially Leaving It So - exhibit a most attractive beauty in their simple poetry. The Electric Light incorporates a delightful fast-paced instrumental peroration that sort-of-invokes the march of progress (here meaning the rural electrification programme in Ireland). I also liked the sly quiet humour of songs such as Not As We Know It, a little reminiscent of Colum Sands perhaps you might find, and the fairly riotous "Hankish" closer My Brother's Turned Into A Yank. There are other songs though, such as Time And Again and the title track, where the setting seems a mite bland for the lyrics, and these don't quite evoke the same level of response in me, though that's probably as much my own fault as any deficiency in Eamon's writing. But the insert booklet contains Eamon's own helpful background notes to the songs, so that you can get a good "friel" for what he's all about…!
David Kidman
---
The Friendly Visit - Wayfaring Stranger (Limbo Label) The Friendly Visit are - well yes, friendly faces on the Otley (West Yorkshire) folk club scene. Comprising two skilled instrumentalists who infrequently sing (Phil Snell and Keith Mandle) and a skilled singer/instrumentalist (Paul M. Wrigley), Keith's the whistle and harmonica king who also picks up melodeon from time to time, whereas Phil concentrates on guitar and either mandolin or fiddle; Paul's adept on guitar, Appalachian dulcimer and whistles. The Friendly Visit present on this CD a credible and unpretentious mixture of songs and tune-sets that display the individual members' strengths and unassuming level of virtuosity while at the same time (and without wishing to sound unkind) fairly obviously betray the trio's origins as two separate "performing acts" (the original FV duo and Paul as soloist).. The two "factions" come together well, though, and their styles are complementary for the most part. The various tune sets, which tend to alternate with the songs, are executed with flair and a keen sense of musicianship without the need to rush the notes along, which is most welcome. And I like the inventiveness with which they insert tunes into the framework of songs; the opening track intertwines Steve Tilston's Slip Jigs And Reels with The Munster Cloak, for instance, and Chilly Winds neatly caps off Whitby Lad. What I'm less happy about - and I stress this is a personal response, which you may not share - is an occasional awkwardness in the vocal phrasing, which leads to a slightly stilted air. Slip Jigs is a case in point, and Time To Ring Some Changes suffers from a slightly superficial, even jolly approach that misses the bite of the lyric, and there's a tendency to rush the words through on House Carpenter perhaps, whereas the remaining traditional material, like Wayfaring Stranger, I Loved A Lass and Lisbon, works much better I find. Summing up, there's an amiable, relaxed feel to the Friendly Visit's music-making, which is wholly accessible yet not without a deeper intelligent understanding of their chosen material, all of which makes for an attractive 47 minutes of listening - just enough not to outstay their welcome, in fact.

David Kidman
---
Friends of the Stars - Lighting & Electrical (Commercialy Inviable)
Formerly trading under the names of Buick 6 and The Toques, Birmingham UK based Anna Russell, Campbell Docherty and Craig Hamilton recorded their debut album late 2005/early 2006 but it's only now filtering into public awareness.
Featuring guest appearance from Toys Hearts' Sophia Johnson on dobro, it continues their long love affair with Americana. Opening with Russell taking lead on the slow waltzing Old Souls, it sets it stall proudly among those of Gram Parsons, Emmylou, the Dillards and Jayhawks.
So step up and sample such fine goods as the 60s sunny summer of love Dragonfly, the old fashioned country harmony lilting Feelin' Blue with its sly musical quotes, melancholic barroom swayer Nobody Out There and the backporch Handsome Family flavours of Sharpening A Blade's keen murder-minded break-up song.
They're not exclusively dedicated to music from across the water, though. Behind its banjo dappled colours, oddly titled acoustic closing track, Why Are The Movies of Jane Seymour? harks to leafy English folk with Russell conjuring the taste of wheatfields and haystacks amid hints of Cara Dillon. Then there's Monday Morning which, borrowing a melodic refrain from Softly And Tenderly Jesus Is Calling, sounds like it could as easily be a hymn from the Welsh valleys as an Appalachian lament.
There's a few rough edges around the production, but otherwise this is a rather splendid reminder that some of the best alt-country bands around are actually homegrown. These Friends are well worth making your musical buddies.
www.friendsofthestars.co.uk
Mike Davies February 2008
---
Tich Frier - Shanghaied (Celtic Music)
A significantly gifted and oft-welcomed-back performer of close on 40 years' standing, Edinburgh-born Tich (known on Scotland's folk circuit as "the wee man with the big voice") is not renowned for being a prolific recording artist, so a new album from him will always be worth waiting for. This latest offering finally appeared in 2007, but had been quite long in gestation (it was reported that Tich had to be shanghaied into the studio to make it – hence the title no doubt…!). Not only does Tich make a big sound vocally (and has an extremely persuasive way with a story), but here he's managed to clothe the songs (a singularly well-chosen mix of his own and those of other writers) in a particularly attractive garb with the assistance of a fine travelling band comprising Neil Paterson, Pete Clark, Wendy Weatherby, Mike Whellans, Stuart Duncan and Gillian Murray. Instrumentation is neatly varied: fulsome but never overblown, with effective use made of guitars, fiddle, viola, cello, Highland bagpipes, smallpipes, whistles, harmonica, piano and a little percussion. An added bonus is the album's producer Dick Gaughan helping out on guitar (and even duetting with Tich on a fabulous version of Mark Knopfler's Sailing To Philadelphia). The recording is admirably full-toned and open-textured, with plenty of room to breathe. To single out any individual tracks in this generous hour-long programme is a difficult task, but I'm unable to avoid mentioning triumphs of interpretation like Jim Malcolm's Lochanside, or the sheer passion Tich brings to Tom Russell's tale of Isaac Lewis (which if I'd not known otherwise I might've mistaken for a Stan Rogers song). Other highlights include Tich's three powerful own-compositions (Prison Walls, In Orwell Parish and the disc's title track), and the string-quartet scoring for Hard Times works really well. At the same time there's nothing routine about Tich's way with Steve Tilston's Slip Jigs And Reels or Allan Taylor's anthem Land Of The North Wind. Tich's live performances are always superbly enjoyable and involving, but this CD can (and will) be savoured again and again by the connoisseur of great songs well sung and imaginatively accompanied.
David Kidman March 2009
---
Frigg - Oasis (North Side)
This is a most invigorating offering from the celebrated septet which spans more musical bases even than the dual-nationality identity (five Finns and two Norwegians) or instrumental complement (four fiddles, mandolin/cittern, guitar, double bass) might implicate. For instance, on their opening sortie (whose title translates as Riverdance!) alone, during the space of just over three minutes Frigg move their schottische from bluegrass-style Finnish hoedown to some energetic Bottine Souriante-style brass punctuations! They tackle a Swedish polska on Hasse, complete with eastern-sounding percussion, and explore the inspiration of French Canadian music on Tepeq, then in complete contrast showcase some breathtakingly beautiful hardanger playing on the Toastmaster's March (composed by the group's fiddler Gjermund Larsen for his own wedding). At the other extreme, the madcap polska Fantomen dashes straight into your mind and explodes with verve and panache - and a dash of frenetic ragtime! Bluegrassy breakdown mode is to the fore once again on the dashing Solberg, while the disc's moment of comparative repose comes with Return From Helsinki, a melancholy and evocative little tune written by the British guitarist Ian Stephenson. Oh, and Petri Pruada brings in some Estonian bagpipes to expand the already rich musical palette, notably to point up the unusual pounding, tearing rhythms of the Mäenpään Heikin Valssi (a curiously rough-hewn waltz with jazzy syncopations), and the proud, joyful polska Toulpagorni even sports a gleeful dobro solo from Tuomas Logrén! The disc closes in style with another stunning Finnish tune, The Sorrowful March Of Hintriikki Peltoniemi, which is given a fulsome musical setting with five guest chamber-musicians augmenting the bagpipes, organ and band. This truly is a disc of multiple contrasts and many-faceted musicianship, and very impressive too. Finally, this enhanced CD also includes two videos of Frigg performing live at the Nordic Roots festival as well as further information on the band. An excellent presentation.
David Kidman January 2008
---
Bill Frisell - Disfarmer (Nonesuch)
This latest project to emanate from the lively creative mind of the award-winning guitarist is a sequence of (almost exclusively) original compositions inspired by the life and works of photographer Michael Disfarmer (born Meyers), an "outsider art figure" who between 1939 and 1945 captured the lives of the people of rural America from his studio in the small mountain town of Heber Springs, Arkansas.
Bill's intention was to "try to picture what went on in Disfarmer's mind", and although Bill's music reflects the reclusive and often eccentric nature of the man himself as perceived by those outside his world, it's also characterised by a quality of atmosphere-laden reflection, a laid-back beauty that the assured, glistening guitar technique (acoustic and electric) accentuates. This elliptical quality is further enhanced by the contributions of Bill's long-time collaborators Greg Leisz (steel guitar, mandolin), Jenny Scheinman (violin) and Viktor Krauss (bass): magical and compelling to the last, and again faithfully complementing the Disfarmer photographs themselves.
The record comprises 26 individual pieces, the majority of which are quite brief but together amounting to a 71-minute epic journey that sounds neither a moment too long nor ever unduly drawn-out. Rooted for the most part in the traditional country template, the musical idiom Bill adopts is genial small-town movietone-country-blues with dashes of old-time, rockabilly, jazz and bluegrass thrown in here and there. His inventive reinterpretations of Americana classics always have the power to surprise and delight; here we're treated to gorgeous renditions of I Can't Help It (If I'm Still In Love With You), Lovesick Blues and That's Alright Mama, while the tripartite Arkansas is loosely based on the song Arkansas Traveler.
Bill also gives the basic musical template additional listener interest by exploring texture via loops, but the technology doesn't ever get in the way of conjuring a credible soundscape that conveys the emotional truths and stark poetry – and the broken beauty – of the Disfarmer photographs, at the same time being both take-it-as-it-is evocative and unselfconsciously arty.
The most riveting piece of all is I Am Not A Farmer, which builds from a leisurely exposition of an original but timeless-sounding theme into a mildly disquieting tone-poem filled with unsuspecting discords and melodic shifts. Pieces such as Exposed lay bare the artist's tonal ambiguities, while arguably the most experimental piece is the group-composition Shutter, Dream, which takes the listener on a dreamlike journey from musical boxes and altered-states to a final repose.
Altogether, Bill's musical portrait of "the sound of (Disfarmer) looking through the lens" is a persuasive, brilliant and fascinating representation of an at times elusive talent: one that will both impress on just a casual listen and stand up to more detailed aural scrutiny.
www.billfrisell.com
www.disfarmer.com
David Kidman April 2010
---
Bill Frisell - The Best Of Bill Frisell, Volume 1: Folk Songs (Nonesuch)
The Nonesuch catalogue now boasts close on thirty records by Bill, who over the past 20 years or so has carved a name as one of the world's finest genre-defying guitarists. The label now launches a series of retrospective Frisell collections with a marvellous hour-long sequence of tracks, culled from eight different albums, which ostensibly focus on his excursions into what might very broadly be termed folk music - in Bill's case, however, this means predominantly country I'd say, with a little roots-Americana, bluegrass, blues, African and even ambient-filmic thrown in, but always viewed through Bill's highly personal lens. In fact I'd go as far as to say that the time-honoured "f"-word turns out to be almost meaningless in this context: it's all just music - top-bracket music: supremely elegant, brilliantly inventive, idiomatically played and superbly coordinated.

Most of the pieces are Bill's own compositions, the remainder either traditional (three), or affectionate yet spellbinding covers of tunes by Hank Williams, John Hiatt and A.P. Carter (Bill's beautifully relaxed six-minute improvisation on Wildwood Flower is sheer genius). If asked to pick out just three further highlights, I'd probably choose the sublime Hawaiian-tinged Slow Dance (taken from the Blues Dream album), the sweetly lyrical Mr Memory (from Nashville) and Bill's majestic, epic treatment of Shenandoah (duetting with Ry Cooder). Whether using acoustic or electric guitars or textures, every single track is shot through with that typically Frisell spaciousness (arguably most of all on the more overtly jazz-inflected outings like Ballroom and We're Not From Round Here), the wide-open character of the soundscape matching the wide-open receptiveness of the music-making. On all but three of the 15 tracks Bill draws from a number of invited guest musicians, these including Ry Cooder, Jerry Douglas, Greg Leisz, Jim Keltner and bassist Viktor Krauss (the latter appearing on just over half of the cuts). A healthy mutual respect and entirely unassuming musicianship characterise all of the recordings, with no ego-tripping, the results being invariably good-humoured, charming and wholly inspired music-making.

This collection is better than a sampler or taster, for it sounds great in its own right, with a believable sequence and a telling consistency of musical vision over a lengthy timespan (1990 through to 2002). There's three tracks from Gone Just Like A Train and Good God, Happy Man; two apiece from Ghost Town, The Willies and Nashville; and one apiece from Is That You?, Have A Little Faith and Blues Dream. I can't think of any serious omissions – and in any case the brief can be interpreted as widely as the term "folk music" itself. I do hope, however, that the advent of this series of retrospectives doesn't herald the deletion of key items from the Frisell catalogue, because surely a prime objective of such a series is to stimulate purchase of those individual albums.

David Kidman September 2009
---
Garron Frith - Garron Frith (Ravine Records)
Jesse Garron Frith is a singer-songwriter from Stalybridge (in the north-west, near Manchester), who has in recent years opened for a variety of rootsy acts ranging from Martin Stephenson and Kris Drever to Southside Johnny and Neal Casal. Here on his debut CD we get the chance to sample his soft-hued, precise acoustic music, an appealing take on Americana that's ably boosted by a warm and accommodating backdrop of guitars, mandolin, violin, Hammond organ, electric piano and gentle percussion, all very naturally and truthfully recorded. Garron lists his influences as including Bob Dylan, Ryan Adams, Elliott Smith, Neil Young and Tim Hardin, but more than anything else his overall performing style reminds me of Ray Lamontagne - which can't be a bad thing! He's already released an EP (apparently that was back in 2005), but this eponymous ten-tracker represents his first full-length record - and it's one worth your time. Not just because it features guest performances from Chuck Prophet, Grand Drive's Julian Wilson (and their former drummer Paul Wiggens) and Willard Grant Conspiracy's Josh Hillman and Dennis Cronin - and notably former WGC member Simon Alpin - but primarily because Garron's understated writing and delivery really grows on you and he has something definite to say... tho' it's not all that easy to pin down. For instance, there's delicacy and strength side by side in the contrasting standout cuts Stating My Case and Return In Kind, on both of which (as on many other tracks) Garron's own signature rhythmic acoustic guitar figures drive along the melody line without ever forcing the issue and without distracting from the subtle power of his lyrics. There are some lovely touches in the instrumentation too, such as a neat Roger McGuinn-style guitar part on Oceans Wide. I found this a very satisfying - and satisfyingly restrained - product, one which should herald some overdue recognition for Garron. And the economic digipack presentation lacks nothing in content, with full lyrics and credits.
David Kidman December 2007
---
Stephen Fretwell - Magpie (Fiction)
Scunthorpe born, Manchester based and looking a bit like Vin Garbutt with that beard and corkscrew hair, Fretwell first announced his intentions a couple of years ago with a limited edition self-help acoustic album, going on to record an EP and mini album before landing a deal with Fiction, playing support to Snow Patrol and Keane and finally releasing Magpie, his first album 'proper'.
Largely just him and an acoustic guitar, sensitively fleshed out with spare backing arrangements, this is quality singer-songwriter stuff that's seen reviews falling over themselves to throw Dylan, Drake and Damien Rice comparisons at him. They're all apt enough (though the Bobness seems largely down to some harmonica and the lyrical touches and phrasing of What's That You Say Little Girl) but Fretwell's dustily melancholic vocals are firmly his own.
He casts something of a vulnerable, melancholic figure on stage, thereby immediately capturing the eyes and hearts of the female members of the audience, but make no mistake, he's confident and assured artist. Listen to the late night jazzy moods of Play, the fractured Randy Newman romance of New York, the ruminative folk of Do You Want To Come With or the dreamy, water lapping pop that is Rose or the Spanish inflections of If You Go and you'll hear just what a craftsman he is. There's not a weak track here, but perhaps the real stand outs are the timeless love song beauty of Bad Bad Me Bad Bad You (though most obvious of the Rice comparisons) and first single, Run, a classic uplifting folk soul ballad that suggests that in years to come Fretwell may well be looked back on as Salford's very own Van Morrison.
Mike Davies
---
Frog Holler - Haywire (ZoBird Records)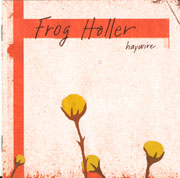 Frog Holler whetted many appetites with their 2004 mini album The High Highs And The Low Lows and it was with great anticipation that I awaited their first full release since 2003. My wait was worth it as I slipped Haywire into my CD player. They have not lost any of their melody, melancholy or their ability to provoke your thoughts. Hades is the first shot across your bows and is power Americana. Darren Schlappich's at times fractured vocal does actually give the impression of the pain of a hell on earth. The harmonies, 3 or 4 part are excellent and give pointers to what is to come. On One Last Time the band cranks up the pace a little and there are tones of country/bluegrass in this rocker. Like the rest of the album this is written by Schlappich. Pepper And Salt has the clever, deep lyrics that I have come to expect from Schlappich and this relationship song throws up lines such as "Both sides were peppered with insults but it was taken with no salt". It's not all doom and gloom and Terms And Conditions is just pure unadulterated joy. 74 is what Americana is all about and Schlappich shows how good a storyteller he is. This builds up into one of the songs of the album.
They are not just one trick ponies and the next three songs go to prove that. On Winter Blues is sleepy, dreamy modern country, the title track is gentle alt. country with the band on top form and Sight Unseen is country rock with stuttering electric guitars. Although each of these songs is country based they are all different in their execution. Ben Franklin Blues is acoustic harmony laden alt. country and is high class whereas Gwendolyn Brown is slow and moody. This shows Schlappich's dark side again and the burgeoning chorus and guitar solo are a delight. The album closes all too soon with Rat Race. There's a bit of bluegrass in this alt. country offering and the lyric "Don't take me back 'cause nothing's changed. It's just the same old rats run the same old race" will make you think. Frog Holler is the thinking man's Americana band and you better believe it.
David Blue
---
Robbie Fulks - Revenge! (Yep Roc)
Robbie's been called the archetypal Nashville antihero, and the decidedly tongue-in-cheek introductory (studio) track of this (otherwise) live double both explains the set's rationale (in true Zappa/Bonzos fashion!) and serves as appetiser for the tasty menu that follows. Thereafter it's divided cleanly and sensibly, with disc one an electric ("standing") set and disc two an acoustic ("sitting") set. Robbie always seriously satisfies, and on a variety of fronts, with good-time pop-country and witty acerbic satire pieces and authentic west-coast (You Don't Mean It) unashamedly mixed in with tear-jerkers (The Buck Starts Here), traditional ballads (In Bristol Town One Bright Day), old-school bluegrass (Bluebirds Are Singing For Me), heartfelt pastiches of gritty honky-tonk (Rock Bottom, Pop. 1; Goodbye Good-Lookin') and even a Latin-inflected hornpipe, all succeeding on their own (and Robbie's) terms. The repertoire is drawn mostly from Robbie's five Bloodshot albums: solid stuff all, with the sampler rarity Cigarette State thrown in for good measure on disc one along with a couple of other songs I don't recall hearing previously either. Like Robbie's unexpected (and unbelievable) cover of Cher's Believe near the start of disc two... Right through, Robbie proves himself a top-notch entertainer, a darn decent singer and a quite brilliant and totally professional self-accompanist, and his crack support team - whether as full-on electric incarnation or in more intimate reined-in acoustic mode - do him real proud. And Robbie's keen sense of humour is still much in evidence as a foil for his keen, and playful, musicianship (he really is underrated as a guitarist). And Kelly Hogan joins Robbie for some "stacked harmonies" on a breakneck runthrough of the Carters' classic Away On The Old Saint Sabbath to finish. No Fulks fan is likely to be disappointed with this set, and anyone hitherto unfamiliar with the man's copious talents will gladly use this issue as a primer for further investigation of his back-catalogue.
David Kidman December 2008
---
Jesse Fuller - Move On Down The Line (Fledg'ling)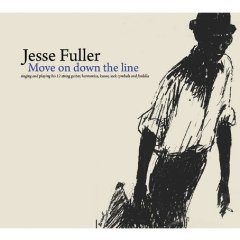 Although his most famous tune, San Francisco Bay Blues, has been covered by the likes of Clapton, Dylan, McCartney, Joplin and Jefferson Airplane, chances are Fuller's probably better known to Grateful Dead fans (who recorded several of his songs) than blues audiences. But then, born in Jonesboro, Georgia in 1896, Fuller wasn't really a blues musician. Nor was he a folkie. His music embraced elements of both along with vaudeville, country and the minstrel tradition and while he described himself as a 'folk songster' he was, essentially, and entertainer.

With work as a welder proving hard to come by after WWI, Fuller headed for Hollywood where, working a shoe shine stand he became friends with Douglas Fairbanks who set him up with a hot dog stand and bought him a Model T Ford. As well as getting him work as an extra in The Thief of Baghdad, Fairbanks would also hire him to play private parties.

In 1929, he moved to Oakland where, after trying his hand at a variety of jobs, in 1950 he decided to get into music on a professional basis. Finding it too much of a hassle to put a band together and keep them from drinking, gambling and womanising, Fuller instead decided to do it all himself, playing 12 string guitar, harmonica, sock cymbals and kazoo, and styling himself 'The Lone Cat'. He also invented the fotdella, a six string percussion bass made from a large upright wood box with six foot pedals, each connected to a padded hammer that struck the string, which he played with his shoeless right foot.

A regular performer around the Bay Area, his popularity hits its peak in the 60s with television appearances expanding his audience and the burgeoning scene of young folk singers spreading the word and covering his material, Your No Good in particular being the first track on Dylan's debut album. He also toured Europe, claiming to be a bigger draw than the Rolling Stones.

Fuller recorded for a variety of small, primarily jazz-oriented labels, but much of his output is now hard to find. So, plaudits then for this reissue, now with sleevenotes by Joe Boyd and Val Wilmer and previously unpublished photos, that, originally released by Topic in 1965, featured a six song session comprising the title track, Stealing. Ninety Nine Years And One Dark Day, Animal Fair, Sleeping In The Midnight Cold and folk-blues chestnut Stackolee alongside his 1955 World Song debut, Working On The Railroad (itself issued by Topic in 1960) containing the original San Francisco Bay Blues and the long unavailable John Henry in all its six minutes with introduction glory.

Fuller died in 1976, since when he's become something of a forgotten figure in the history of American music. With a further eight albums (not to mention reissues with previously unreleased tracks), hopefully this is just the start of an extensive reissue programme to restore him to the spotlight he deserves.

www.thebeesknees.com
www.taco.com/roots/fuller

Mike Davies July 2009
---
The Funk Brothers - Standing In The Shadows Of Motown - DVD (Momentum)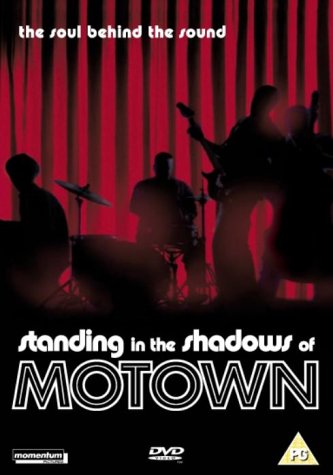 The who? - you might be forgiven for wondering… well, these legendary musicians, none of whom could be considered a household name, the crew that contributed those distinctive signature backing tracks to all those solid-gold-classic Motown sides from the early 60s right on through. The impetus for this DVD documentary came originally from the book of the same name authored by Allan Slutsky, which dealt primarily with the life and music of the crew's bassist James Jamerson (though even Allan had only intended it to be a "book of Motown bass lines"!). It was apparent that there was a hell of a story to be told outwith Allan's original brief, and so this 103-minute DVD chronicles the story of these musicians, interspersing archive footage and stills with reminiscences by the performers and brand new onstage re-enactments of some of the hit songs using contemporary vocalists but with as many of the original Funk Brothers as possible. The payoff is big, and it all makes for a genuinely thrilling ride while learning much along the way. That thunderous backbeat, those thrusting, crawling bass lines, those funky cross-configured keyboards - all guaranteed to raise the hackles on the back of your neck. It's abundantly clear that the musicians listen to each other and like each other, but even more so you get a real insight into the elements that made and defined the special Motown groove - like James's bass "could make ants dance"! Even though the world has lost key players like bassist James Jamerson, keyboard man Earl Van Dyke, guitarist Robert White, percussionist Eddie "Bongo" Brown and the two influential drummers Richard "Pistol" Allen and William "Papa Zita" Benjamin, the subs do a great job in conveying the essence of the sound. But then, as one of the fans says early on in the film, "you could've had Deputy Dawg singing on some of those records and they'd still be hits" - well maybe, but the latter-day re-creations show (perhaps unintentionally) that the original vocalists still counted for a lot. These contemporary singers don't quite all succeed (but that's only my opinion) - Ben Harper and Joan Osborne and Chaka Khan are superb, but I've never been much of a fan of Bootsy Collins, whose special brand of glitz seems misplaced in Motown. As far as the sound on this DVD goes, it's right up there with the best, though one disconcerting feature is that the music tracks (the stage performances) are recorded at a different level, such that they come up too loud compared to the commentary and narrative sections. The other main problem is that some of the songs (like Heatwave) sound as though they've been clumsily edited, with missing bars and beats. All that aside, though, this DVD will give much pleasure, and it also presents some useful bonus material including featurettes and jam sessions, video biogs and a trailer. If you ever got into Motown even in a small way, you'll love this DVD.

David Kidman
---
The Funky String Band - And You May Find Yourself... (Shoogle)
The third album from this sort-of-offshoot of Shooglenifty capitalises on the success of their second, 2005's Mongrel Unleashed, by unleashing an arguably even more mongrel menu on the listener. The FSB personnel remains constant, with guitarist Peter Daffy again joined by Shooglenifty members fiddler Angus R. Grant and mandolinist Luke Plumb, and there are contributions from Dave Boyd and fellow-Shooglers Quee MacArthur and James Mackintosh. But now there's an added strand to the instrumentation, ably provided by new recruit, pianist Jamie Jauncey (whose background encompasses running a ceilidh band, a stint of singer/songwriterdom and touring with Peter Sarstedt, as well as being a Birnam sessioneer!). The guys recorded together while Peter was over here in late 2006 for the second FSB tour. I'm amazed that it all still hangs together - but only just...! Once or twice I was reminded of the Holy Modal Rounders in respect of the sheer gleeful wilfulness of the stylistic disparity on display, but the FSB's philosophy is equally admirable and their performances and musicianship are comparable and consistent. The main shift since Mongrel is one of balance, for the new album contains more vocal tracks (here seven out of ten): these range (and what a range!) from covers of Wayfaring Stranger, Hoagy Carmichael's Stardust, Willie Nelson's Angel Flying Too Close To The Ground and the Talking Heads classic Once In A Lifetime (yes, honestly!), to a pair of originals by Peter including Vinyl Man, an affectionate homage to the non-disposable era of recording technology. The instrumental pieces are certainly appealing too: the pick of them for me is Belle Of Benbecula, a brilliant cross between Parisian café swing and "saloon music for a Scottish western", but Norman Blake's Cairo Waltz is very nicely done and the "sad-eyed" medley drips gentle poignancy. There's serious musical empathy and there's humour too in this ragbag of musics, and as on Mongrel, there's a quirky "you had to be there!" rehearsal segment (here tacked on at the end of Lifetime) which proves that a fun (as well as fun-ky) time was evidently had by all!
David Kidman May 2008
---
Martin Furey - Howl (Skitteesh)
This debut solo album from Bohinta's front man and Mouth Music collaborator at first seems too low-key for comfort, but it's worth persevering beyond the first couple of minutes of the opener Never Weep, for its mournful and unprepossessingly unfocused start heralds a more powerfully characterised 50 or so minutes. Howl's 11 tracks (all songs written by Martin himself) inhabit an unusual sound-world that's evocative and inviting, strange yet familiar, abstract yet descriptive, pure yet complex. Full of apparent contradictions, yet intelligent and highly satisfying. Textures are really intriguing, with an acute emphasis on melody and melodic line that you might not expect given Martin's pedigree. Martin's vocals display a real command of technique; they tumble through the tracks in an almost stream-of-consciousness manner, as often blending with the sometimes exotic instrumental textures as standing out in sharp relief and penetrating with their mercurial poetic insights. The musical melting-pot incorporates all manner of world influences, yet in a manner that's both mesmerising and challenging. Paint Girl has overtones of Lucy In The Sky-psychedelia filtered through a delicate oriental mirror; Strange Bird uncannily echoes the ISB's own White Bird, Cool Thief recalls Spirit Beautiful, while some other tracks bring vocal ululations more akin to Robin Williamson; the captivating melody of Falling recalls the luscious splendour of Banoffi; Aula and Speaker Of Evil both rumble along strongly, counterpointing modern beats with eastern hand percussion; but truth to tell, each track has its own ingeniously controlled yet fluid ambience, with a surprise or two round every corner. Uillean pipes, low whistles, fiddles and other acoustic instruments cut through the denser ambient sound patterns to telling effect, without a hint of artifice within the overall conception. It's worth noting too that Martin's collaborator on this record is Mouth Music's Martin Swan, who plays instruments too numerous to name including guitars utilising Mr Furey's revolutionary Varichord capo device; his contributions aren't to be underestimated. This is a brave, creative and impressively accomplished record, full of the spirit of adventure, which sustains your interest throughout and actually grows in stature on each subsequent play.
David Kidman
---
Furlined - Love Comes In Canisters (Concave Music)
Furlined is actually rather a good name for the sound of this Bristol-based band, for arguably its most defining element is the velvety, cushioning timbre of Tegan Thomas's cello, which swoons and cocoons the ringing guitar playing of the band's singer-songwriter Neil Crossley. This spare but uncannily luxuriant sound-world might at first sound at odds with Neil's distinctly wry lyrics, which focus on the quirks of British culture, but it actually makes for an intriguing counterpoint and it works really well. Neil's writing is evocative and often poignant while maintaining a grip on reality through witty observations of the absurdities and foibles of our society. (Anyone who has the nous to open an album with the lines "It took a Pink Floyd record To give your sex life A feel of the epic, A kind of crazed control" deserves to be taken seriously, I reckon!) Neil's stock-in-trade is "elevating and celebrating the ridiculousness of the everyday", where folks can (and do) get away with silly things like coining the phrase "logistics" for trucking companies (yep!) - and Neil has plenty to say, as well as possessing a fine-tuned melodic pop sensibility with which to say it convincingly and memorably. Love Comes In Canisters is an instantly likeable set, accessible and well recorded and with the scent of promise of even greater things. There's just one weird thing: vocally, Neil quite often reminds me of Morrissey (tho' that's not a problem, I hasten to add)!
www.myspace.com/furlined
David Kidman January 2008
---
Nelly Furtado - Folklore (Dreamworks)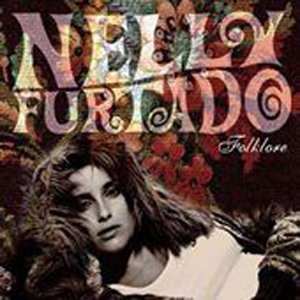 Well here's a surprise for anyone expecting Whoa, Nelly! 2, another flight for I'm Like A Bird and more breakbeats pop. "I'm not a one-trick pony" she sings on the opening, er, One-Trick Pony, the song illustrating by example by featuring the Kronos Quartet, banjo, Hawaiian guitar and dulcimer on what is, basically, a funky pop song.

She continues to spit against the marketing with Powerless (Say What You Want), her banjo plinking folk rock single, where she rails against the airbrushing of her ethnicity (she's Portuguese) in the magazines where her face is made to look whiter than it seems. As a track it points towards her more rock inclined new direction, but the album's also considerably informed by her cultural heritage, drawing on her country's folk music and its own assimilation of African slave roots.

Fresh Off The Boat may be a beats based number, but there's a strong sense of Brazil surrounding it, even more so on the moody Madonna-ish Island of Wonder where she collaborates with Brazilian vocalist Caetano Veloso and which reads like a folk poem. It's not exactly fado, but you can hear the inclinations. Clearly an artist not willing to be pigeonholed by the media or her label, it'll be interesting to watch where her career flies.

Mike Davies
---
---