---
Rebecca Zapen - Japanese Bathhouse (Bashert Records)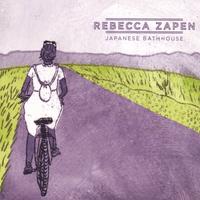 Another week, another mailing, and another obscure singer-songwriter to evaluate. But only by persisting and giving a hearing to each one do we discover the buried treasure, right? Well, this brief CD does contain some little gems alright, but not quite in the way you might imagine. Rebecca's a Florida native, but her music's determinedly off the beaten path as far as any regional or generic Americana is concerned – although there's a certain dreamy, steamy atmosphere to some of the tracks on this, her second CD. A somewhat routine-sounding strummed guitar intro and plinky-plonk waltzy accompaniment for the opening track We Didn't Bother almost made me too not bother, but that track is actually quite hypnotic once it gets going. As are around half of the other tracks, including three short but enchanting little instrumental essays (with cryptic titles) that often sound rather like Erik Satie being let loose on toyshop musical instruments - I specially liked Magnus #1 and Pizzicato #1. Of the songs, Some Things Take Time and I Am Fine are probably the pick of these (they have an aura of early Roches which I rather like). And I felt able to luxuriate in the often quite lush arrangements, the best of which cocoon multi-string textures with delicate accents from piquant glockenspiel or melodica or classical guitars. One notable comment on structure: the CD is bookended by its two longest tracks, each lasting just over five minutes, and these also turn out to be broadly the most substantial in terms of content, though there's a rather wispy quality about the whole CD that can be as infuriating as it is entracing. It's not easy to get a handle on Rebecca's songwriting, even with the lyrics in front of you in the booklet, since her songs are concerned with unusual subjects, those silly but strange little experiences and circumstances of life, yet for every relatively profound thought there's one or two almost laughably childish images to contend with. The general world that Rebecca inhabits is perhaps best characterised as a cross between gently oddball, even gawky singer-songwriter, less deep Nick Drake and (musically rather than lyrically) swingy Hawaiian or cocktail-lounge-ambient. The latter surfaces idiomatically enough on the bossa-nova of Dolores, but there are other songs which stray beyond the boundary of lounge into merely twee - for instance Smile, which probably relies on the ukulele's chirpy timbre a little overmuch for comfort - and the title track is a carefree cod-jazz-style romp. Rebecca's collaborators on the CD chip in on an impressive range of instruments from vibraphone, piano, cello, trumpet, trombone and clarinet to bass and drums. To some extent, this jury's still out on the lasting impact of Rebecca's defiantly indie-spirited, quirky and interestingly-scored songs, but on the evidence of this CD she's able to conjure some delicious moments to which I've enjoyed returning time and again.
David Kidman
---
Zegar Zivi - Zegar Zivi (Zegar Lives) (Cloud Valley)
This extraordinary disc presents some powerful performances by a group of Serbian singers who, following the war-torn 1990s, have moved back to their village of Žegar (located in the hill-country of Dalmatia, Croatia) in order to pick up the threads of their lives and their rich musical traditions. The recordings resulted from a trip made by musicologist Andrew Cronshaw to the area in May 2007 in order to experience first-hand the glorious voice of Serbian revival singer Svetlana Spajic', and the full fascinating story of that trip (and the serendipitous, if difficult circumstances under which the recordings were made) can be found in the beautifully-produced accompanying 60-page booklet, which in addition to copious notes also contains full Serbo-Croat texts and English translations and location photographs.
The music is predominantly vocal and acappella, strange and distinctively full-throated, lively and yet intense: an acquired taste perhaps, but demanding of, and well worth, your attention. It's performed by a group of just six voices (though it often sounds like more!). Some of the pieces are in the wild trilling quavering and beating-against-drone call-and-responses of the local "groktalica" style, now rare outside the Dalmatian area. This has to be heard to be believed; the delivery may sound harsh, but this is as much due to the guttural vowel-sounds of the language itself as to the tonal quality of the voices, and an inner expressiveness cannot be ruled out. Sources for the sung pieces range from a composition by the formerly-exiled Bosnian folk singer Jandrija Baljak (who leads some of the songs) to new pieces written in traditional style and even a passage of embellished goat-calling. Functionality and entertainment are equally important, therefore, and it proves seriously impossible to resist the folky charms of pieces like the wonderfully resounding, ringing "na bas" Žegar village song, or the festive song (complete with cumulative-refrain) Sinoc' Vec(e Vec(era Jedna Mlada Gospoja (Last Night The Lady Had Supper), or the short sequence of songs sung in the ululating "Golubic' voice". Indeed, there's an impressive variety in the techniques used within the vocal performances represented on this disc, while most of the pieces performed are brief, of less than three minutes' duration, and none outstay their welcome or fascination.
Although the vocal tracks take up the majority of the disc's playing-time, there are also a few short instrumental tracks played by Obrad Milic( on the diple (a trenchant single-reed wind instrument akin to a bagpipe chanter), and a spell of bell-ringing ends the disc. The music on this CD is simply captivating: at once unearthly and very much of the earth.
www.myspace.com/zegarzivi
www.cloudvalley.com
David Kidman July 2009
---
Jordan Zevon - Insides Out (New West)
I don't know exactly what I expected from son-of-Warren, but this mostly competent-but-no-more, sometimes plain dull slice of power-pop ain't it. After one playthrough of Insides Out, I found myself unable to remember any of the tracks in much detail except for Jordan's cover of dad's celebrated Studebaker (itself an Excitable Boy outtake). This one's actually pretty convincing, but then it's already been out for a while (on the slightly patchy but affectionate and generally companionable WZ tribute album Enjoy Every Sandwich), so it's hardly worth considering purchase of Insides Out on those grounds alone. A couple more plays of the rest, and there's still not much of a lasting impression from any of the songs. They're all efficiently played and arranged, and well enough harmonised (and at least he doesn't drown under a welter of synths and drum machines, sticking instead to proven guitar-based textures), but ultimately the hooks and moves are predictable and/or mundane, that's all, mostly in a Brit-power-pop kind of way. Basically, Jordan seems hung up on Brit-pop to the extent that he's let it submerge any identity of his own. So opener The Joke's On Me sounds like an outtake from an early XTC session, superficially catchy but in the end unmemorable and entirely without XTC's panache, whereas the bouncy, chirpy Just Do That smacks more of Leo Sayer, the banality of American Standard's lyric doesn't even live up to its carefully-engineered Woolworths-organ backing, and Home could be a late-period Beatles pastiche. And so it goes on. It's probably symptomatic that Jordan's lyrics are shallow and almost totally lack the sardonic bite (or even milder irony) of any of his dad's work. Only on the closing track Too Late To Be Saved do we get any sense of the personal invading his emotional landscape (the loss of both parents within a short space of time). So maybe this disc isn't an outright turkey, but equally it doesn't light my candle, sorry.
David Kidman July 2009
---
Enjoy Every Sandwich: The Songs of Warren Zevon (Artemis)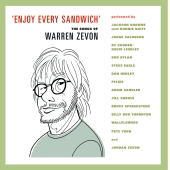 That a tribute album would happen was inevitable, the only questions were how stellar the cast of contributors would be and how stunning would be the choice of covers. Well, you might find yourself taking a deep breath of horror to learn Adam Sandler is covering Werewolves of London, but - while it's hard to contemplate him singing any other song - he's actually rather good, perfectly suited to the song's party animal rock n roll howl. And if that's an unexpected high, it just gets better; although I'm not entirely sure it was necessary to include an instrumental version of Van Dyke Parks' string arrangement of Keep Me In Your Heart right after the touching vocal rendition by Jorge Calderon and Jennifer Warnes.
There's some surprise choices among the material, Ry Cooder and David Lindley's ace TexMex romp through Monkey Wash Donkey Rinse, not a number even most Zevon freaks would probably have included on a list of his best known compositions, while if you're looking for off the wall treatments, Ain't That Pretty At All gets a good going over with the guitar distortion indie rock scourer courtesy of The Pixies.
Highlights tumble over one another; Jackson Browne and Bonnie Raitt's ringing take of Poor Poor Pitiful Me, Steve Earle's Reconsider Me, a faithful copy of Lawyers Guns and Money by The Wallflowers, Pete Yorn in fine form with Splendid Isolation, Dylan's live recording of Mutineer and the simple, uncluttered and heartrending version of Don't Let us Get Sick from Jill Sobule.
There's an added bonus too in that the album features two previously unrecorded Zevon songs; Studebaker, a loser's lament about his crap car performed by Zevon's son Jordan, and a spooked The Wind delivered in a breathy dust coated whisper by Billy Bob Thornton. At the end of the day though, I have to put your hand up and declare the heart of the album to be Springsteen's live tribute version of My Ride's Here recorded a few days after his death and complete with spoken introduction in which he declares Zevon one of the great American songwriters. As this album and Zevon's own catalogue of tales of disillusion, defeat, determination, and dignity ably testify, he's not overstating the case. Pity no one did Hasten Down The Wind though.
www.artemisrecords.com
www.warrenzevon.com
Mike Davies
---
Warren Zevon - The Wind (Artemis)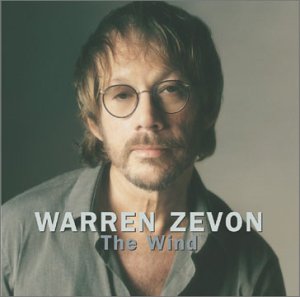 His death was inevitable but the news that Zevon finally succumbed to lung cancer on Sunday Sept 7 still numbs and saddens, all the more so in the light of the brilliance of what he knew would be his final album, one that ranks up there with his debut and Excitable Boy.
Like its predecessors with their knowing gallows humour titles Life Will Kill Ya and My Ride's Here, it deals with themes of mortality without any hint of self-pity (even the inner sleeve features a skull smoking a cigarette!) the opening My Dirty Life And Times a wry look back at reconciliation with his wild years that evocatively borrows from the Carter Family's Wildwood Flower to give it a hymnal undertone.
Likewise, covering Knockin' On Heaven's Door could have been unbearably maudlin, but Zevon steers clear on the obvious wallow to give it a resigned but defiant tone that shows him going out on his feet not his knees even if (as on Numb As A Statue) his voice may sometimes falter.
Friends have gathered round to pay their respects, ensuring he gets to participate in his own wake with the likes of Billy Bob Thornton, Emmylou Harris, Tom Petty, Dwight Yoakam, Jackson Browne, Don Henley and Springsteen all contributing backing vocals while Bruce, Ry Cooder and Joe Walsh all lend their distinctive guitar licks to various tracks.
As typical of any Zevon album, it's a mix of rowdy rockers, cracked ballads and tracks that sit in the middle ground of both. Disorder In The House rocks it up with a Chuck Berry riff and Springsteen's licks while Rub Me Raw slouches along on a dirty Chicago blues groove, Walsh pulling howls out of his slide guitar as Zevon darkly references the medication that kept him going as long as it did.
But it's the quieter, reflective numbers that cut deepest. Prison Grove a bluesy prison death song that takes on a whole different perspective as he sings of the condemned man bidding goodbye to embrace the light. The plaintive affirmation of love that is El Amor De Mi Vida. And the aching double blow to the heart of Please Stay - Emmylou's harmonies and mournful sax backing Zevon as he tears you up singing "will you stay with me to the end?" - and the final, simple acoustic Keep Me In Your Heart, a last farewell that brings his life to an end on an upbeat note of wry grace and steadfast affection rather than oppressive sadness. "Sometimes when you're doing simple things around the house, maybe you'll think of me and smile," he asks as he prepares to board that train. Always Warren, always.
Mike Davies
---
Zithersongs - Sedayne (Ploughmyth)
I'll recall to you now, if I may, the duo Venereum Arvum (whose CD Scowan Arla Grun I reviewed somewhat belatedly here a couple of months ago), by revealing that Sedayne is the name under which Sean Breadin (one half of that duo) works when performing solo. Zithersongs comprises Sean's decidedly personal take on ten traditional ballads, self-accompanied either on citera or hummel (both being types of board-zithers, the former Hungarian and the latter Swedish). Greatly informed by the discipline of storytelling, these are extended renditions (only one lasts less than six minutes!), and yet their barren and somewhat ascetic demeanour (very reminiscent of "early music") proves curiously compelling once you've got used to Sean's strongly individual (and, though strongly accented, not in the least impenetrable) singing style. (Robin Williamson may well have been a direct inspiration on Sean, methinks… and that's meant as a compliment!) As with the Scowan CD, there's an immensely attractive sense of drama and a definite seriousness of purpose in the interpretations, and Sean's scholarship is self-evident without seeming patronising to the listener. The recording itself is suitably atmospheric without being overdone, and I found that, if taken straight on its own terms rather than coming to it with expectations of modern-day tastes for easy-on-the-ear reworking of traditional material, this can all make for a very rewarding listening experience. All song texts, together with some extremely full background notes, are available on Sedayne's comprehensive and attractively-designed website. And by the way, Zithersongs comes with a bonus disc The Chapters Sessions; this consists, in Sean's own words, of "a session recorded in the attic room of The Chapters Guesthouse in Wells, Somerset earlier this year, on the morning of Sunday 8th May, in preparation for a solo storytelling gig at the Voicebox in Derby the following Wednesday". Again highly-charged in atmosphere, this bonus disc presents Sean, in consort with his citera, melodica and pocket trumpet, intoning more ballads (including alternate readings of some from Scowan and Zithersongs), as well as a folk-song medley, a version of A U Hinney Bird and a setting of part of Psalm 32. Value for money, certainly. It may all prove too much for some, but I found it hypnotic, imposing and fascinating.
David Kidman
---
Yo Zushi - Notes For Holy Larceny (Pointy)
After taking his last album's title from Robert Browning, the 26 year old UCL MA graduate again parades his cultural references, citing Orson Welles - and especially F For Fake - as a prominent influence to the images, the Fats Domino influenced New Orleans country jazz jogging Bright Lucifer named for one of his earlier plays. Reteamed with Greg Box on guitars with a variety of contributors fleshing out the sound with pedal steel, drums, sax and piano, Yoshi mentions Jimmy Rodgers, Dylan and The Pogues among the musical inspirations but those hints of Leon Redbone and Leonard Cohen remain too.
Described as a London album taking a woozy trip around Soho's drinking dens with lyrics scribbled down on napkins over copious glasses of red wine and packs of cigarettes, you can practically hear the nicotine stains and the taste the sediment on The Trees, They Grow High while New Evaristo Rant (When Fortune Turns Her Wheel) is nothing less than a boozy self-penned trad folk drinking song.
However rooted in the UK capital it may be, the music is firmly cast across the lo fi acoustic fields of Americana, from the brushed percussion and whispering waltzing lilt of the opening The Moonlight, Gold And Pale and the 50s hobo rockabilly flavours of the title track through the Rodgers-like rolling loco rhythms and pedal steel of Seven Sleepers to the early Dylan doing sea shanty feel of All Gone and a drunken piano Now, A Garland.
Steeped in a world weary bittersweet melancholy that's laced with an alcohol fumed optimism, this seems certain to gain a whole legion of new admirers and take him a step closer to those inevitable music awards that are so clearly his due.
www.yozushi.net
www.myspace.com/yozushi
Mike Davies, Sept 2007
---
Yo Zushi - Songs From A Dazzling Drift (Bison Manoeuvres)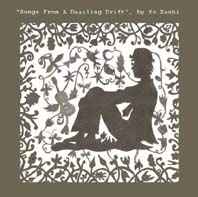 A UCL graduate currently in the process of setting up a folk-arts magazine, Zushi's second album, title taken from Robert Browning, is a light hearted lo fi acoustic collection of modern folk songs that will see him compared to Devendra Banhart, Conor Oberst and Badly Drawn Boy without the Springsteen obsessions.

Recorded with multi-instrumentalist Greg Box, there's a beguiling naive quality to his voice, skipping through the playful country of Three Sparrow Bossa and the jogalong Mary Magadelen's Barbershop Blues, a forlorn heart song that calls to mind the crooning of Leon Redbone and comes complete with faux male choir backing. Pin Brooch Cabaret is possibly just a touch too faithful a homage to Leonard Cohen (even its's a lot more optimistic than Laughing Len), but the ramshackle cowboy waltzing Don't Break The Heart That Loves You, a scuffling Questions of Travel that summons memories of The Idle Race and the surely Roy Wood influenced toyroom pop Yo Sushi's Christmas Song suggest a Mercury Music Prize nomination could one day be on the horizon.

Mike Davies, February 2006
---
ZZ Top - Mescalero (RCA)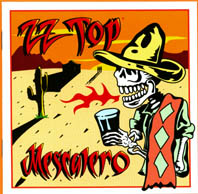 The world's best power trio are back on form with this, their 14th studio album. ZZ Top has been around forever (they have been together for 34 years) but the opening title track with Billy Gibbons' tingling guitar and Dusty Hill's grinding bass is one of the best things that they have done for some time although the overall feel of the album breathes early, classic Top. One look at the cover with its fire-breathing skeleton should give you an idea of what you are in for. They must, however, think that only true fans will buy this one as the cover has very little information on it. New buyers may decide not go to the website to find out more information on the band.

Billy Gibbons has said that the album marks a return to the bands border blues roots and there is a more than a particle of truth in that, just listen to the swamp blues of Two Ways To Play – this is as fluid as molasses. What he dos not say is that they have given their roots a distinctively fresh 21st century feeling. A Mescalero is, quite literally, a maker of mescal and there are times during this offering that you may well feel like reaching for the bottle as Gibbons, Hill and Beard assault your senses.

There are a number of styles on offer here, from the techno mariachi of Que Lastima which is sung in Spanish (as is the majority of the title track) to the zydeco swamp blues of the aforementioned Two Ways To Play and Alley Gator on which Gibbons plays an antique concertina which was given to him by Flaco Jimenez. If you then add the trademark boogie of Buck Nekkid(no explanation required) then you have the beginnings of a great album. There are some tinges of country on Goin' So Good (complete with husky vocals) and even more so on What Would You Do and there is some experimentalism on Crunchy as they continue to push back the boundaries. Gibbons, though, is a bluesman at heart and this is what you should take from this album. There's a nice touch on the sleeve where they give out the details of the Delta Blues Museum in Clarksdale, Mississippi. The underlying comic theme, which was so prevalent on many early ZZ Top albums, is still there on songs such as Me So Stupid and Punk Ass Boyfriend. I've always felt that the lyrical content of their songs has been undervalued -- it may be simple fare on occasion but at least it's down to earth and relevant.

Piece is a wall of sound which moves along brilliantly with more trademark guitar licks whereas Stackin' Paper starts off well but is one of the tracks that doesn't quite work. What It Is Kid has a contemporary feel to it and probably the best solo although there is a slight trace of 80s electronica in there – see if you can find it too, even if it's to convince me that I'm not hearing things!

There are two covers on the album, a country blues version of As Time Goes By which follows immediately after the final blood vessel bursting Liquor and what sounds like a new version of the Otis Redding & Carla Thomas hit, Tramp but these, plus another couple of tracks may just be a little unnecessary as the album could have been a lot tighter with just 12-14 tracks. This aside, what they have produced has the trademark, effortless, stinging guitar of Gibbons and the earthy vocals of both him and his bass playing sidekick Hill, the whole thing underpinned by Frank Beard's pounding drums.

If you do not own a ZZ Top album then by all means start with this one but be sure to buy some of the early ones as well to hear how far they have come.

www.zztop.com
www.rcarecords.com

David Blue
---
A
B
C
D
E
F
G
H
I
J
K
L
M
N
O
P
Q
R
S
T
U
V
W
X
Y
Z
VARIOUS