A to Z Album Reviews
---
---
I Am Your Autopilot - Robots In The Orchestra (Timbreland)
On the face of it, with respective backgrounds in Factory Records and club dancefloors, Manchester electro trio Ben Evans, Graeme Brooker and Jasper Wilkinson, seem unlikely contenders for a Netrhythms review. However, citing such influences as Eno, Laurie Anderson, Eels, Nick Drake, Brian Wilson, Purcell, Bach and 17th century French Baroque composer Francois Couperon, their debut album turns out to be an intriguing marriage of Airy electro soul, leafy S&G tinged folk (Airside could have come from Parsley, Sage etc while Traces has hints of Feeling Groovy) and shoegazing melodies with dreamy choral harmonies floating across acoustic guitars, bleeps, wibbles and synth pulses.
The flamenco handclapping Think Of The Words is frisky and the melancholic Smokescreens ripples over burbling electro notes but otherwise this is all midtempo or ballad paced, tumbling with a 60s folk bluesy cadence on We've Been Here Before, carried on pulsing synthesised strings with Timelines, breathing the pastoral breezes of Five Lanes and drifting like summer clouds through All In Our Hands.
Currently involved in collaboration with multimedia artist fredo Viola, while lazy comparisons are likely to line them up alongside the Fence Collective and other nu-folksters, they're far lovelier and more eclectic than most.
www.myspace.com/iamyourautopilot
Mike Davies August 2009
---
Janis Ian - Between The Lines/The Old Grey Whistle Test Concert DVD; Stars/Aftertones (Edsel)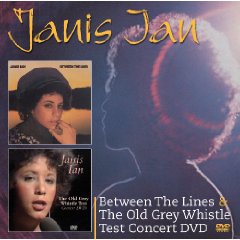 The first two releases in the label's planned welcome reissue of her Columbia catalogue come (as will the others) with bonus tracks and detailed, often candid, booklet notes by Ian alongside unseen photos from her own collection. Between The Lines was the 1975 album that reintroduced many - myself included - to the singer they'd first discovered with Society's Child but who had, over the passing years, almost vanished into obscurity. It remains, arguably, her best album, it certainly features her best known songs; the tender, heartcracked, lovelorn and ugly duckling ballads At Seventeen, In The Winter, Lover's Lullaby, When The Party's Over, Bright Lights & Promises and Between The Lines, a 2002 live version of which provides the bonus track.
The album also includes Tea & Sympathy, the song that welcomes her back into my life when I saw her on the Old Grey Whistle Test.
Excellent news than that, the second disc in the set is a full OGWT concert from 1976 that features many of the tracks from the album alongside I Would Like To Dance and Jesse. It's a wonderful, intimate performance, complemented by two further Whistle Test recordings of Dance With Me and Stars from 1974, a rather cheesily shot The Other Side Of The Sun from a 1980 Lena Zavaroni And Music and, from a 1976 Shirley Bassey show, a wistful version of At Seventeen. The notes recall how, immediately prior to that, Bassey had performed a version of Jesse featuring Ian on piano.
Though it would have made more sense to pair the albums chronologically, the second in the series features her 1974 comeback album and the 1976 follow up to Between The Lines. Often of a jazzy persuasion, the songs on the former, which she describes as her 'first grown up record' in her notes about how it came into being and got her a deal with Columbia, are probably not as well known. The title track's bittersweet reflection on fame remains a firm favourite in the canon, but it is the heartbreaking Jesse that lights up the album, taking pride of place in a list of her finest songs. Recorded in Glasgow in 1976, the stripped back, nakedly live version bonus track merely confirms what a masterpiece it is.
Following the Platinum selling, multiple Grammy nominated Between The Lines, follow up Aftertones was something of a disappointment. In the notes, Ian herself says it's seriously flawed, explaining that producer Brooks Arthur had sold the studio where the previous two had been made, that, alongside their mixer and several musicians, session leader Ron Frangipane was no longer onboard, and that performing commitments left little time for writing or recording.
Featuring I Would Like To Dance, Boy, I Really Tied One On, Love Is Blind (also the live bonus track) and, recorded with Phoebe Snow and Odetta, Hymn, it sold respectably enough and, surprisingly, made her a superstar in Asia, but it's not an album that you find yourself reaching for when you want to introduce new ears to her music.
In 1997 she would be back on form with Miracle Row while 1979's Fly Too High would contain her first and only UK Top 50 singles Fly Too High and The Other Side Of The Sun (inexplicably none of her albums have ever made the Top 40 here), but that's a story for another reissue.
www.janisian.com
www.myspace.com/wwwmyspacecomjanisian
Mike Davies February 2010
---
Janis Ian - Folk Is The New Black (Cooking Vinyl)
It's 40 years since Ian first caught the world's ears with her then highly controversial interacial love song Society's Child, fading into the wilderness as fads for precocious young folk singers passed before making a sensational comeback in the early 90s as confessional singer-songwriter with a direct line to the heart with the classic adolescent ugly duckling angst At Seventeen and a clutch of emotionally wrenching albums in the shape of Stars, Between The Lines and Aftertones and songs like Jesse and Tea and Sympathy.
She's been going strong ever since, musically expanding horizons to embrace funk, blues and jazz across her steady output of albums, the most recent being the stunning, inspirational Billie's Bones and its return to her folk roots.
She's stuck around those parts for her first all-original collection in a quarter of a century and, while things like the funky swamp grooved Danger Danger oozes an air of menace in its snapshot of American racism, also a rare example of her veining the material with humour, most notably on the title track's witty skewering of fad and fashion bandwagon jumpers.
It's not a folk album per se, and though working with just guitar, bass, brushed percussion and organ, it musically still embraces various styles and genres (Standing In The Shadows Of Love all gospel r&b, The Crocodile Song loose limbed finger clicking jazz), but it's the more hushed songs that strike with the most power. Here you'll find the social protest against America's class chasms in The Great Divide that may well have been inspired by events in New Orleans, The Last Train that talks of the Vietnam war but clearly has its sights on Iraq, My Autobiography's witty self-deprecating stab at the me-centred celebrity culture, the despairing drunk of The Drowning Man and the poignant portrait of an LA traffic victim in the moving Jackie Skates.
And, coming full circle back to her first renaissance, those early cracked broken heart songs about emotional betrayals are conjured with the aching All Those Promises sitting alongside the tenderly forgiving contemplative acceptances of Home Is The Heart and Joy. Back in black, she wears it well.
Mike Davies, April 2006
---
Janis Ian - Billie's Bones (Cooking Vinyl)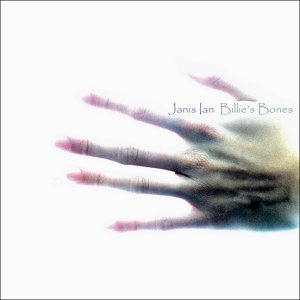 Hot on the heels of last year's live album, Ian returns with her 18th studio album, a vaguely thematic affair that is, at heart, about the inspirational. Pulling together a bunch of stray older material and new songs for what she terms a folk album, it takes its title and title track from her love of Billie Holiday and the creative honesty and endurance she represents. A relaxed collection hued with folk, country, jazz and blues it has much to do with her heroes. A deeply personal song about the new home and acceptance she found when the world turned its back, My Tennessee Hills was penned with George Jones as its guiding spirit and is performed as a duet with Dolly Parton while I Hear You Sing Again is a beyond the grave collaboration with Woody Guthrie, Ian invited by his daughter to put music to lyrics her father had written resulting in a touching tribute to parental care and love. Then there's Forever Young and Mockingbird, two further numbers influenced by her adopted state and written in the style of old English folk, the former a haunting murder ballad the latter a stark tale of abandoned love sorrow.

Tennessee's not the only geographical namecheck. Paris In Your Eyes is a dreamy swoon memoir of an old lover, wafted by a European breeze to its lightly air brushed arrangement, while moving across borders the betrayed love of the spare late night jazzy Amsterdam is an old co-write with Buddy Monlock (also covered by Joan Baez). And then there's Marching On Glasgow, Ian's first guitar instrumental, a sprightly Celtic meets ragtime inspired by the rhythms of a Scottish marching band, and, even more specific, the meditative guitar doodling Mary's Eyes, written in Dublin as homage to Mary Black but as much a tribute to the women of Ireland as anything.

Another real life touchstone's to be found in Matthew, a bluesy folk song (harking back to the musical mood of Stars and Between The Eyes) about the murder of gay teenager Matthew Shepard that addresses the whole notion of what makes us what and who we are. Apt then that the semi march tune of the questioning Dead Men Walking looks at the whole concept of what makes a hero while the quietly inspirational Save Somebody with its slow swelling guitars encourages to seize the moment and not turn away when others need help.

All of which leads to When I Lay Down, a solo piano number, save for a caress of pedal steel, that puts a haunting full stop to the album with its lyric of lies told for the sake of reassuring others and of the redemption at the end of the road.

Simple and heartfelt, it's Ian's best album since Breaking Silence and most certainly up there with her all time greats.

Mike Davies
---
Ian & Sylvia - The Complete Vanguard Studio Recordings (Vanguard)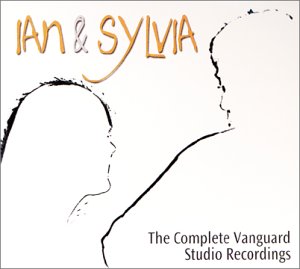 Ian and Sylvia Tyson came together almost by happy accident in Toronto in 1959 - a rancher/former rodeo-rider from British Columbia and a small-town gal from Ontario, with all of seven years in age between them – but they were to produce some enduring albums, no fewer than seven in fact, for the Vanguard label between 1963 and 1968 (before moving to MGM and, eventually, separating).
This four-disc set collects together all seven albums in their entirety, plus two tracks hitherto only available on the Best Of The Vanguard Years compilation and just one previously unreleased cut. The cross-section of musical styles they traversed during that time pretty much reflects the prolix nature and wild, almost unchecked pace of change in folk and pop music during that period; indeed, they were "the epitome of sixties coffeehouse chic" and, almost uniquely for their time, remained untainted by political concerns.
Their claim to fame rests as much on their own individual and collective songwriting skills as on their early championing of the songwriting of fellow-Canadian Gordon Lightfoot. Some of Ian's songs - eg Four Strong Winds, Some Day Soon – have (rightly) become folk classics, while Sylvia's You Were On My Mind is another strong contender in the longevity stakes. They were also among the first to record songs from Dylan's Basement Tapes (Mighty Quinn and Wheel's On Fire appeared on their 1968 Nashville album).
Their healthy willingness to mix traditional and self-penned originals in almost equal proportion on each album release, combined with a firm and believable standard of musicianship (two interweaving guitars and occasional autoharp) and an insistence on rehearsing their songs "to diamantine perfection", ensured that each new product was welcomed for its refreshing honesty and good taste. It's worth catching up on their considerable legacy by investing in this set.
David Kidman
---
if wen - Take A Look At The Sea (Folkwit)
On first acquaintance, it's easy to proclaim that fans of simple, likeable pastoral-folk whimsy of the Donovan kind will find much to enjoy in Take A Look At The Sea, the basic raw track for which was apparently recorded by singer-songwriter if wen sitting on the floor of a barn near the beach in West Cornall which provided the inspiration for this song-sequence. Add a dose of pro-mastering from Tim Dennen (who'd worked similar magic on basic tracks for Belle & Sebastian), and you'd never realise the recording's humble and primitive origins. Musically, if wen's songs inhabit the poppier side of acoustic folk: despite their subject matter (roughly speaking, the narrative of a break-up and its aftermath, set against a change in the weather, it would seem), the mood is mostly quite light-textured and wistfully romantic yet with some tougher electric moments (Give It All Away) and some sophisticated production touches, resulting in a quite sumptuous overall soundscape at times. I started off finding the writing and singing a bit underwhelming, but by around halfway through I was warming fast to if wen's delivery and his appealing (though again fairly understated) gift for melody. By the time the CD was drawing to a close (and yes, I did notice the hidden bonus track), I was all ready to hit the replay button and start the sequence over again, and the whole album certainly grew on me much over subsequent plays. Take A Look At The Sea is a quite charming and fulfilling debut release from this wilfully enigmatic (and deliberately elusive) "English folkie with a battered guitar" (as he's described on the website). Then again, careful scrutiny of the back digipack cover reveals the following credit: "if wen is gfurby", which may be our only clue...
David Kidman October 2007
---
Hamish Imlach - Cod Liver Oil And Orange Juice: The Transatlantic Anthology (Castle)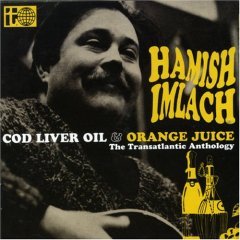 Hamish, who died in 1996 aged a mere 55, is remembered almost exclusively as a larger-than-life figure (in more senses than one - for that's the polite version!); and he was evidently not entirely unhappy with the popular caricature, as he subtitled his autobiography Reminiscences Of A Fat Folk Singer! His records also fostered the stereotype to some extent, as this new anthology demonstrates. Its two generously-filled CDs give us a selection of suitably representative cuts from the eight albums and one EP that Hamish made for the Transatlantic label between 1965 and 1973. Some have described Hamish as Connolly before Connolly, and there's more than a grain of truth in that tag, for broad, often irreverent humour is a prominent feature of many of the 52 tracks included here. There's even a touch of the Goon Show about his madcap approach to Leadbelly's Jean Harlow (Died The Other Day - Several Times)! Having said all that, Hamish was very versatile and could equally easily turn his hand (and voice) to more serious fare, as you could say that his repertoire (like his figure!) ranged abnormally widely. Infuriatingly so for those elements of the folk club audiences who liked their evening's entertainment to be predictable! The classic ballad of Johnny O' Breadislee, together with old favourites MacPherson's Farewell and The Cuckoo, are all given perfectly plausible readings, better than average in most cases, while Hamish's take on Black Is The Colour is genuinely felt and quite refreshing (it inspired Christy Moore's own) and his version of The Twa Corbies (complete with sitar accompaniment which I'd guess comes courtesy of his Glasgow Folk Club co-host Archie Fisher) is suitably sinister. Hamish also takes in Glaswegian folklore (The 37 Bus) and street songs, political commentary (notably Matt McGinn's If It Wasn't For The Unions and Hamish Henderson's Men Of Knoydart), rural blues (Blind Blake and Leadbelly), country-and-western (Streets Of Laredo/Western Cowboy) and even gentle sunshine-pop (Shel Silverstein's Bluebird). Not to mention, of course, the anthology's legendary title track, the topsy-like creation that's described in the excellent booklet note as Hamish's "de facto signature tune", (and it was banned by the BBC for alleged double-meanings!). And the inevitable presence of indigenous delights such as Coulter's Candy and The Zoological Gardens. The ragbag inconsistency of repertoire that comprises this anthology can be seen as entirely typical of Hamish, and thus includes some absolutely superb tracks like the 1972 recording of Dialogue (that's the one between the coal-owner and the pitman's wife), Ewan MacColl's Ballad Of Timothy Evans and Clive Palmer's lovely Clive's Song, alongside some distinctly lightweight throwaway ragtime-skiffle numbers like Cornflakes, Sugar, Teardrops and some half-hearted cod-country from his 1973 release Murdered Ballads. But this collection's still an embarrassment of riches and well worth purchasing, for the transference of the recordings of this natural entertainer to CD is long overdue.
www.theballadeers.com/HI_01.htm
www.sanctuaryrecordsgroup.co.uk
David Kidman, October 2006
---
The Imperial Crowns @ The Borderline, London, 1st August 2005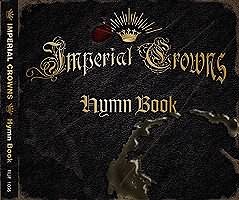 The Imperial Crowns hail from Los Angeles, California, a fact that vocalist Jimmie Wood was always happy to stress every third or fourth song. Having witnessed this mesmerising performance by the larger than life front man - who doubles on harp and guitar - with his excellent Imperial Crowns, there really is no other place they could have come from. Quite simply this gig was as good as it gets, with the Hollywood born Jimmie and his bunch of musically brilliant compatriots rocking their way through a spell binding set.
If this is the blues, it wasn't the blues as we know it. The Imperial Crowns are certainly working within the blues idiom and with a line-up that relies heavily on burst of slide guitar and generous blues harp bursts from Wood, they will always come back to their blues roots. Wood himself also preaches the blues, but then he preaches on a range of subjects raging from his own colourful life to all things carnal and of course extracts from their "Hymn Book", debut album.
That said, the band's UK debut show was more closely tied in with the recently released and aptly titled "Preachin The Blues", and a take on the blues closer to say Beefheart meets Iggy Pop than to any distant blues cousin such as Blind Lemon Jefferson.
Perhaps only the fondly remembered Red Devils could come close to the incredible energy levels of this powerhouse band. Along the way The Crowns worked up an awesome head of steam with a mix of Southern Californian funk on the hugely impressive "Lil Death" and the glorious sleaze filled "King Size Jones". Then there was also an occasional, almost poppy melodic outing such as "Simply Just A Dream" and of course a dollop of firebrand blues, as on the slide led "Preachin The Blues"
In Jimmie Wood the band have one of the most charismatic performers to hit these shores in years. He attacks the crowd from the opening number, and your eyes never leave his every moment. At the intro of a number he'd be extravagantly swaying a mike stand, while the next minute he would be crouched down teasing out a big tone from his harp. Half way through the set he dispensed with his shirt to reveal a huge Crown tattoo, and once he made the connection with the crowd there was never a moment's let up. Such was the magnitude of his performance that you almost forgot the magnificent slide guitar playing of JJ Holiday and a cutting edge rhythm section that pushed every musical moment to its relentless conclusion.
And finally of course there are the songs. Unlike a hundred SoCal bar bands, The Imperial Crowns have a truck load of original songs full of colourful narratives, all brought to life by the original Hollywood kid Jimmie Wood. For make no mistake as Jimmy continually told his flock, " We are The Imperial Crowns and we're pimping the blues." And on the evidence of this UK debut show they look set to convert many an unsuspecting music fan to their wonderful low down ways.
Pete Feenstra
www.feenstra.co.uk
[Ed: Their latest album, Preachin' The Blues (Ruf Records) 2005, and Hymn Book (Ruf Records] 2004, are available via Amazon or
www.rufrecords.de
---
George Inai - This Foolish Music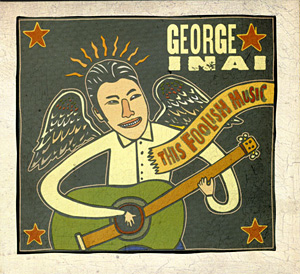 If this is what George Inai describes as 'Foolish Music' then many more musicians should be foolish, instead of the commercial knaves they so often are.
Quite where Inai and his music sit in the grand scheme of things, is a question that remains, as yet, unanswered but This Foolish Music is a wonderfully strange album that, once you've accepted its quirky uniqueness, is a real pleasure from beginning to end.
The really clever part is that Inai has woven this web of magic while staying pretty much within the tramlines of various recognizable genres. The opening track Adios couldn't be any more Mexicana if it came replete with cantina and accompaniment by a wandering Mariachi band but within that framework, and without knowing quite why or how, you're left with the distinct impression that not all is at it at first appears. You need to work out just where Inai is leading the music to fully appreciate its beauty, and that's not easy. It makes it impossible to ever be completely comfortable or at ease with the music, which has to be a major plus point.
As far as influences go This Foolish Music hints at a lot of things. A little bit of country, a smidgin of blues and a bit of rock, all make fleeting appearances in varying degrees.
One thing not in doubt is Inai's vivid imagination and the invention he visits on This Foolish Music. On Kiko and The Lavendar Man, he manages to keep the country strains recognizable but subtlely slightly subvert them to his own ideas and imaginings. Blessed by a voice that lies somewhere between Chris Isaak and Scott Walker, the theatre and emotion of it all is stunning. The suspicion from the evidence of the album's first half dozen tracks is that Inai set out with the honest intent of making a country - or at least country-influenced - album but then the switch flicked and along came Anaesthesia, a song that is indescribably strange and completely unforgettable and captivating.
Should anyone take Inai's talent and attempt to coral it into the mainstream, they would halve its effect at a stroke. This Foolish Music is a wondrous journey for which only George Inai has the map, don't think just enjoy the ride.
www.myspace.com/georgeinai
www.georgeinai.com
Michael Mee January 2008
---
In Harmony's Way - Harmony's Way (Own label)
In the spring of 2005, eighteen Bay Area singers got together to record some of their favourite chorus songs from the American and British Isles traditions as part of an ongoing project that seeks to document the rich local heritage of a cappella singing. Participants are Richard Adrianowicz, Steve Baughman, Michael and Shay Black, Susan Frank, Sylvia Herold, Lani Herrmann, Dick Holdstock & Allan Macleod, Kim Hughes, Arlene Immerman, Peter Kasin, Oak Ash & Thorn, Riggy Rackin, Ed Silberman and Pam Swan – almost none of whom will be known to UK audiences, but on the strength of this recording sure deserve to be! The philosophy behind their gathering is admirable – put simply: "There are few moments in life more worth living than those spent singing with friends and family. In our increasingly troubled world, and country, group song takes on even greater import." And a healthy enjoyment of the song and the singing comes across in spades on the ensemble passages in particular (although you may not find every individual song-leader equally effective), which make a truly glorious sound. The 22 selections on this disc contain many chorus songs (ie songs with a strong "response" element) that are well-known (to UK singaround habitués, at any rate), yet are not all that often recorded – along with a handful of unusual ones, as well as a few shanties and a couple of distinct curiosities! It's interesting to hear a "non-English" take on (to us) familiar songs such as The Farmer's Toast, Come Write Me Down, Martin Said To His Man, Bright Shining Morning and Let Union Be. I also really liked the lively Southern field-song I Say No, inspirationally led by Pam, and the well-contrasted pair of songs of Irish origin Óró Mo Bháidín (a rowing shanty from the Aran Islands) and A For Apple (The Band-Tier-O). The various shanties come off well too, especially Richard Adrianowicz's Stormalong; but listeners used to the UK shanty-crew approach may find the more measured presentation of Hob-y-Deri-Dando a bit laboured, but I can accept it as a valid alternative for concert performance (for let's face it, the song's chequered history embraces a metamorphosis from love song and drinking song to capstan shanty-cum-worksong!). The "curiosities" I referred to earlier are Jongo (allegedly sung in the language of Bong County, Liberia!) and a strange "miscegenation" (look it up!) of Clementine that (I think) mildly misfires (partly due to the choice of lead, I suspect). The Bay Area singers are a fabulous bunch, themselves blessed with a grand range of powerful voices, lusty and strong yet each and every one's a "character", a definite individual with his/her own particular (I'd use the word "peculiar", without intending any insult) singing style. One or two of them are markedly idiosyncratic though, and may take a bit of getting used to – Dick Holdstock for instance: whereas his forthright White Cockade ("like the Luton Town Girls' Choir" – not!!) is refreshing, adopting a similar approach proves too over-the-top for Benjamin Bowmaneer I feel. But most of the singers win you over right away, and the accepted practice of taking the rough with the smooth is common to any of our own established singers' clubs like Sheffield's Raise The Roof). So, all together now then: Right-folla-rolla-rolla too-ra-li-O!
www.inharmonysway.com
www.cdbaby.com
David Kidman
---
The Incredible Blues Puppies - Puppy Fat (Note Records)
The Incredible Blues Puppies are Alan Glen (vocal, guitar, harmonica), John O'Reilly (vocal, guitar), Jim Mercer (vocal, bass) and Dino Coccia (drums, percussion) and they certainly are not puppies in British blues circles. Puppy Fat provides Alan Glen another vehicle on which to showcase his not inconsiderable guitar and harmonica talents. The album starts with Another Kind Of Love, one if only four self written songs on offer. This is stylish British R&B that gives an upbeat beginning that bodes well for the rest of the set. Alan Glen is one of Britain's top harmonica players and playing of this standard will help to cement that position. Good Morning Miss Brown is a Taj Mahal song and the rhythm section of Coccia and Mercer provides a pounding beat akin to a train in full flight. The instrumental title track is another of the self-written songs and has Glen on form with his harmonica leading the way. Another original is Angle Of Dissent, written by drummer Coccia. This has a clever lyric but the style will take a little getting used to. Man Down There is a fast paced blues that has Glen playing his lungs out again and both he and John O'Reilly provide excellent guitar backing. This was written by lesser known bluesman G.L. Crockett whose main claim to fame was Think Twice Before You Go.
When you think of T-Bone Walker you think of jazzy blues and that is exactly what you get on T Bone Jumps Again. Another giant, Mississippi Fred McDowell, is covered next. His 61 Highway has a beat added by arranger Mercer and there are times when this works. Unfortunately, this is not one of those times but there is no denying the quality of the playing. The Puppies get a little frenetic on Rosco Gordon's Just A Little Bit before returning to the more sedate swing blues of Walking To My Baby. This is a Kim Wilson song and is therefore harmonica led but the guitar does get a surprising solo as well. The closing track is 7 Years Too Late and Mercer's arrangement of this Coccia song is much better. They finish in the manner that they started and give us British R&B of the highest order and with Roger Cotton guesting on Hammond they could not have gone wrong.
David Blue
---
Incredible String Band - The Incredible String Band/The 5,000 Spirits Or The Layers Of The Onion/The Hangman's Beautiful Daughter/Wee Tam & The Big Huge (Fledg'ling)




The first four Incredible String Band albums together comprise some of the most seriously crucial music to have come out of the UK folk and underground scenes of the mid-1960s. At least two of them would be in my personal Desert Island selection, with the others not far outside that hallowed pantheon. So their reappearance on CD format, most especially in splendidly fresh garb and sticking entirely faithful to the original issues, is many times to be welcomed with the most open of arms - even if you already own any of the previous CD incarnations of these wonderful albums, all of which first appeared on the prestigious Elektra label. It goes without saying that these new Fledg'ling editions will be the definitive editions, for many reasons - not the least of which is that they have been freshly remastered from the original stereo mixes (under the joint supervision of original producer Joe Boyd and engineer John Wood) and lovingly repackaged with all the elements of the original artwork, supplemented with brand new sleeve notes from Clive Palmer, Mike Heron, Robin Williamson and Joe Boyd themselves.
The WEA CD reissues of the 1990s had been taken from second-generation sources, and suffered not just from a number of bad mastering glitches but also from an often less than credible sound quality; an improved set of remasters came out on Hannibal in the States, but even these only partially captured the true nature of the music within, and subsequent advances in analogue-to-digital conversion - as reflected in these latest remasters, which also aim to retain the warmth of the vinyl originals - have at a stroke rendered all previous CD editions void. That's a massive claim, I realise, but one which I firmly believe to be 100% true. Admirers of these albums will think they know every nuance of the recordings, but speaking as a fully-paid-up member of that club I still found that listening to these latest remasters was an absolute revelation, with so many telling details being newly revealed, but also - importantly - the essence and ambience of those recordings being illuminated like never before. For these albums really were so very startling, even compared with all the amazing musical developments that were going on around them. Yet even then I was myself a touch too young (just!) and (I happily admit) too musically inexperienced to have appreciated that full impact (and all of their myriad qualities) first-hand and upon their initial release, as I only really got into the band's music properly around the time of album number five (the relatively flawed Changing Horses) – but I quickly and ultra-enthusiastically backtracked into what I'd missed, and never once looked back! For these four releases (which actually counted to five albums - Wee Tam & The Big Huge being a double) can be seen to chart the band's progress from tentative but vital sparks on the burgeoning Scottish folk club scene to a thoroughly ambitious and devil-may-care following of the eclectic muse through a kaleidoscopic and literate fusion of various folk traditions with unusual or boldly experimental colours gleaned from world music (before it was known as such or even remotely fashionable), with which special combination of influences they were to forge their own determinedly strange, strikingly individual, nay uniquely visionary music.
The ISB's eponymous 1966 debut LP can definitely be viewed as the most orthodox of the four, but even then it had its moments of strangeness and plenty of harbingers of things to come. The dynamics of its three-man lineup (Williamson, Heron and Palmer) may have been a trifle uncertain, as hindsight reveals, but in spite of some momentary incongruities and a certain primitive roughness in the recording the first ISB album presented a surprisingly coherent sequence of songs and tunes that both stands the test of time and ably showcases and defines the three individual writing talents the band at that time boasted. Outright stunners like Robin's October Song and his only slightly less magical Womankind and Good As Gone well complement the inventiveness of Mike's Maybe Someday, The Tree and When The Music Starts To Play and the delicious fun of Everything's Fine Right Now, while Clive's landmark Empty Pocket Blues never really left the band's repertoire, although in general Clive's contributions, even to this album, were relatively limited in comparison to those of Robin and Mike (the principal ISB dynamic was already well in transition from "Robin & Clive" to "Robin & Mike" by the time this LP was being recorded), and Clive departed the fold shortly after. A good half of the LP's tracks have stark voice-and-guitar backing, and there's a basic, slightly reedy tone to the vocals on several of the songs. There's also more of a traditional-folk feel to proceedings generally than on any subsequent ISB release, but the quirkiness and originality of the ISB's craft is everywhere apparent, as is the sense of enormous potential, also what is so well described by Robyn Hitchcock in his new liner note as "the greatest sense of wonder and delight at being alive", a quality which was to permeate all the ISB's subsequent albums (the superlative Wee Tam & The Big Huge set in particular).
This latest CD reissue of the first ISB LP includes not only the photos from both UK and US editions and extra archive photos, but also reproduces the original sleeve notes and sports a new liner-note-cum-memoir from Clive himself. Impressive though the ISB's debut LP was, however, it remained the province of cognoscenti for some time after its release (and if I remember rightly it was only ever available in mono in the UK until the US issue, with its completely different cover artwork, began to get imported at a much later date). Generally speaking, the sound quality on this new remaster is a distinct improvement on the previous CD editions, although there are two instances (the opening few seconds of When The Music Starts To Play and sections of Whistle Tune) where a really bad distortion has manifested itself and created a distracting buzz overlaying the tone of the solo whistle part: an uncharacteristic lapse which spoils an otherwise nigh impeccable package.
The 5,000 Spirits album was both a gigantic leap forward in consciousness and a logical artistic development from the debut record (this was now 1967, after all). As Mike's sleeve note aromatically recalls, he and Robin, ensconced in their psychedelic woodland retreat, crafted a music wherein "the dour Scottish stone of the walls was kissed by the warm winds of North Africa" (Robin having recently returned from Morocco). The now-but-a-duo's twin modes of creativity - the mystic and the playful – were both abundantly represented, as was the ongoing development of their musical experimentation, taking on an increasing range of unusual instrumental timbres, an ever-more-unorthodox approach to song structure and an increasingly poetic turn of phrase and spiritual, nay esoteric (if sometimes almost wilfully impenetrable) subject-matter. On the LP's opening song Chinese White, Mike and Robin set out their stall with the deliberately provocative, primitive scraping sound of a bowed gimbri casting a spell that descended on the orifices and never really let up until the death-throes of the truly weird vocalised cacophony that closed Gently Tender (the LP's actual final number, the hippie-satire Way Back In The 1960s, was a bit of a throwback that to this day still doesn't quite chime with the more phantasmagoric trippy ambience of most of the rest of the album). And in the midst of all the hippie-whimsy and mythological philosophising, there appeared Robin's simply unsurpassable insightful romantic ballad First Girl I Loved, just before the breezy, catchy You Know What You Could Be (which has been mysteriously mistitled You Know What I Could Be on both the outer back cover and inner sleeve tracklistings) with its joyous mandolin that fair "gurgles through the timeless glade in quartertones of lightning" (whoa, what a phrase!). The sound quality on the original LP was always distinctly piquant, with crisp, presence-full definition, but this latest digital transfer excels even that, with guitar textures that really glisten and gleam, Danny Thompson's bass so firmly integrated and the vocals sharply contoured for maximum concentrated impact. Magnificent.
Now if you thought 5,000 Spirits was weird - and it was at times! - then it quite paled into insignificance on the weirdness scale beside The Hangman's Beautiful Daughter, which in so many ways was the nightmarish counterpart to the former's dreamy fantasies (tho' 5,000 Spirits did have its darker moments in My Name Is Death and Eyes Of Fate, of course). The multi-layered textures, the increasingly daring experiments in sound and colour that featured every possible exotic idiosyncrasy (or so it seemed), the unique and bold mixing of deep myth and tradition with serious psychedelia - these aspects all reached a creative zenith on this LP, and this latest fabulous remaster brings it all to the forefront of the sonic stage in a clear separation of every telling detail that sounds not artificial or contrived but as natural as the curling contours and spicy aromas of woodsmoke from the witch's cottage. It's an overwhelming, and yes sometimes frightening, but always life-affirming experience. All human (and inhuman) life is there; and the stagey assemblage of raggedy personnel on the album's cover photo provides an uncanny metaphor for the artistic mélange-cum-menagerie to be found within. Never have the child's-eye-view and the adult-perception been more compellingly drawn alongside (and interweaved with) each other, and often even within the same song: from the wonder and magic of Koeeoaddi There and Waltz Of The New Moon, the open-eyed mysteries of A Very Cellular Song and The Water Song, the gleeful silliness of The Minotaur's Song, the pure terror of Swift As The Wind set against the glittery mystical starscape of Nightfall… every twist and turn of the music producing surprising yet logical juxtapositions and progressions of sound and thought: pure genius indeed, if at times a bewildering, hallucinogenic conundrum, but its essence is faithfully distilled on this excellent remaster.
The final instalment, the iconic double album Wee Tam & The Big Huge, signalled a certain relaxing of the duo's tastebud-muscles, a kind of bucolic step-back (or sideways) into a pastoral-mystical idyll where all was not quite what it seemed and yet everything was at one with itself (if you see what I mean). Its music was arguably a tad easier to get a handle on than much of Hangman's Beautiful Daughter, and yet at the same time even more deeply entrenched in the imponderables of history and philosophy, tenaciously grappling with the essential truths of life and nature yet embracing a peaceful, gentle acceptance of the implications of those more-than-half-remarkable questions. Solid-gold spiritual miniatures like The Yellow Snake and Air are set alongside genially sprawling epics of song like Job's Tears, Maya, The Iron Stone and Ducks On A Pond interspersed with utterly distinctive, simultaneously delightful and intense (yet also in their own way admirably succinct) creations like The Circle Is Unbroken, You Get Brighter and Puppies, all assembled together with a tiny handful of quirky squibs in what is to my mind indisputably the ISB's finest hour-and-a-half or thereabouts.
This was a time when Robin and Mike were unquestionably at the height of their powers and although reining back the exotica to some extent they were still ultra-eagerly soaking up all manner of influences from traditional Celtic outwards and increasingly into roots-Americana (through exposure to obscure LPs of that continent's old-time and indigenous musics). The ISB's affectionate and literate adoption of these musics and their partial re-creation of their various stylistic peculiarities was after all also to provide a catalyst for many listeners' own musical explorations, mine included. The gently charged atmosphere of the WTBH recordings oozes the keen, bright-eyed "glad to be alive" vibe and incandescent energy that pervaded their live shows of that period, and John and Joe with their own special engineering and production talents provided the ideal ambience and vehicle for Robin and Mike's very special artistic creations. These latest, unblemished remasters enable me to delight anew in these glorious albums, and I find myself revelling in some newly-unearthed vocal intricacies, not to mention some previously-buried, hitherto-unheard instrumental embellishments and more of those playful percussive enhancements which were a feature of the ISB's stage act around that time. In short, O what revelations these remastered tracks yield.
Should anyone consider bemoaning the lack of bonus material on these remastered discs (for that argument tends to rage around every reissue these days!): well I'd side with Joe here. I too strongly believe in the integrity of the original albums; the running order was so carefully coordinated, and introducing anything superfluous would always have the effect of diluting and/or compromising the original sequence. In any case, in the case of the ISB the extant potential bonus material (which amounts to a very small corpus indeed) has already been granted the perfect release with top-flight and suitably lavish treatment on the Chelsea Sessions and Tricks Of The Senses discs (from Unique Gravity and Hux respectively).
What matters most here is that at long last, these seminal original ISB LPs receive the reissue they so richly deserve, and Fledg'ling has proved itself the ideal label to furnish this, with its deluxe digipack presentation that preserves and largely surpasses the renowned "standards of the house". The only uncharacteristically unsatisfactory aspect about the otherwise brilliant new packaging and exhaustively complete booklet contents is (on the first LP and 5,000 Spirits) the omission-by-abridgement-cum-amalgamation of the detailed track-by-track instrumental credits that adorned both the original vinyl releases and the earlier CD editions of those albums. And at least one unfortunate glitch has crept into these credits as they appear in this "amalgamated" form: on 5,000 Spirits, "Soma sitar and tamboura" has been erroneously interpolated into Robin's rather large combined instrumental armoury (Soma was actually the pseudonym of master sitar player Nazir Jarazbhoy who guested on The Mad Hatter's Song on that LP; Robin has never played sitar or tamboura himself!). Retail prices of these discs are more than sensible, so, especially bearing in mind the superior, now virtually pristine quality of the recorded sound, you can't afford not to let the ISB guide you on your spiritual journey through life.
As Joe himself says in his new booklet-note to Wee Tam & The Big Huge: "the intelligence, humour and loving spirit of the ISB shines through the music and the songs, however and wherever they are performed". Amen to that.
David Kidman March 2010
Stop Press August 2010: The First Album has now been further re-mastered and the above-noted serious glitches have been eliminated. Now we have a thoroughly recommendable reissue of this LP.
---
Incredible String Band - Across The Airwaves (Hux Records)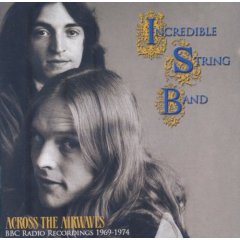 The ISB were without a shadow of doubt one of the most original of all the bands to emerge from the heady 60s underground scene, and their many BBC radio sessions were notable for showcasing tryouts either for new, non-album material or else quite radical rearrangements both of older songs and of songs destined for new album releases. Now this is where things get slightly confusing!
Across The Airwaves is a brand new two-disc collection which purports to collect together the band's BBC radio session output between 1969 and 1974... However... Let's get the record straight first: there have been two previous compilations of ISB radio session recordings: BBC Radio 1 In Concert and On Air, and Across The Airwaves completely supersedes the former yet omits four of the 1973 tracks which appeared on the latter set, while adding 13 previously unreleased recordings, most of which arguably provide the most interest to true ISB fans on both musical and artistic grounds - not to mention their definite historical value. Songs such as Robin Williamson's amazing Fine Fingered Hands (which would not have disgraced Changing Horses or I Looked Up), the charmingly yearning Won't You Come See Me, the equally charming U "reject" Long Long Road, the whimsically nostalgic 1968, the episodic and decidedly curious Likky co-composition Secret Temple - these are stuff of which legends have been made (the last-named is so rarely-heard it seems to have been transferred from a vinyl transcription-disc source). Fine Fingered Hands, along with the enchanting Ring Dance (also included on this set), would eventually grace the fine 1998 Robin Williamson solo album of that latter title, there blessed with an equally imaginative, and interestingly different, musical setting. And there are some genuinely fascinating comparisons to be made between the band's radio-session treatments of songs such as Turquoise Blue (vastly superior here to the official No Ruinous Feud album version), Beautiful Stranger and Spirit Beautiful (both of which songs finally surfaced on Mike's solo album but in vastly different arrangements in the guise of what many fans considered to be inferior renditions) and their reworkings of Everything's Fine Right Now, Log Cabin Home In The Sky and Empty Pocket Blues (to name but three instances).
The ISB are caught here in a period of wild transition from the epic musical adventures of the landmark Heron-Williamson duo lineup of Wee Tam via equally epic forays into any and every progressive-folk genre and increasingly esoteric scientologically-inspired utterances to the more unstable musical climate and uncertain rockist meanderings of the mid-70s. But there are still gems lurking within even those sets that have been available before: in particular, the In Concert programme contains within its hour-long span virtually every conceivable musical style from the genially inscrutable oriental exotica of the performance-piece Willow Pattern and the tear-stained poetic fable of Darling Belle to the folky hymnal of Bright Morning Stars and the carefree down-home country of You've Been A Friend To Me. These radio session performances are characterised by a genial looseness and chummy spontaneity which, though occasionally ramshackle and yes untidy, is (more often than not) absent from the band's later studio recordings especially. The freewheeling chameleon spirit of the mid-to-late-period ISB is well represented on the radio sessions, while the sound quality is a marked improvement on those earlier CD issues of the same; only the previously unreleased tracks are taken from off-air sources, and whilst the quality of these is distinctly variable even these are way better than merely acceptable.
Presentation is exemplary, with the attractively-designed booklet containing plenty of well-reproduced archive photos complementing Adrian Whittaker's insightful and admirably informative sleeve-notes, as well as comprehensive BBC sessionography and full lyrics to the rarities (non-album songs) performed within. The booklet also usefully republishes Mike Heron's reminiscence that formed liner notes to the original 1992 In Concert CD issue. Even though it's inevitable that it's likely to prompt perfectly reasonable requests for release of the remainder of the band's radio sessions (most of which, according to the liner note, now only exist as "rather muffled collectors' tapes"), Across The Airwaves is a thoroughly commendable release on all counts.
David Kidman June 2007
---
Incredible String Band - Tricks Of The Senses (Hux Records)
Bearing in mind the ongoing reappraisal of the music and legacy of the Incredible String Band, it's surprising that, although the band's radio sessions have been well covered (notably by Hux's excellent Across The Airwaves release), up till now there has not been any official exercise in plundering the vaults for unreleased studio recordings – for surely, we all thought, there must be some! Well, finally – and with the full cooperation of both Robin Williamson and Mike Heron – such an exercise has been undertaken, and this two-disc "alternative history" of the band is the result. Of course, with such an eclectic and wide-ranging outfit as the ISB, two discs could barely scratch the surface of their creativity, and I'd prefer to regard this set as a supplement rather than as an absolute alternative history. But then I'm a fan, and the ISB's music has always been an integral part of my life.
Compared to many other bands of the era, the ISB's studio sessions yielded very few outtakes indeed, with the first LP, Hangman's Beautiful Daughter and Changing Horses entirely bereft in that respect. So the earliest (Witchseason) studio session represented on Tricks Of The Senses is a 5000 Spirits outtake, the charming Lover Man, which at less than three minutes surely can't have merited being left off for space considerations. Placed at the very start of the first disc, though, as a kind of taster, is Relax Your Mind, a rewrite of a Leadbelly cover which was part of the then-duo's pre-second-album "dress rehearsal" tape recorded at a cottage in Balmore, just north of Glasgow, in autumn 1966. Fast-forwarding a year or so, sessions for the mighty Wee Tam & The Big Huge double album left just two items in the can: a fascinating alternate version of Robin's bardic The Iron Stone and a magnificent gospel medley that segues Robin's glorious All Too Much For Me with a pair of rousing Blind Willie Johnson numbers. This latter track so totally oozes the generous and joyous spiritual vibe of that landmark album, and it would have sat just fine in there, a perfect bookend to (say) Job's Tears or Ducks On A Pond. The next few tracks come from a radio (as opposed to recording) studio session, recorded for Bob Fass' show on New York's WBAI in May 1968, and composed entirely of then-unreleased material. There are early versions of WTBH tracks Douglas Traherne Harding and Maya (the latter weighing in at a truly magnificent sitar-soaked 13 minutes), along with the curious See All The People and one of Robin's spacey poetry excursions (The Head, which was to appear only as an illustrated insert with some editions of WTBH). The second disc contains a couple of pithy but welcome instrumentals: Penwern was an enchanting piece recorded for, but not used in, the Be Glad For The Song Has No Ending film soundtrack, while Curlew comes from the 1972 Earthspan album sessions and has a chamber-strings feel akin to Robin's contemporaneous solo album Myrrh. Also from the Earthspan sessions comes the decidedly opaque Secret Temple, a track which effectively acted as band member Likky's swansong. The remaining tracks are more of a mixed bag. There's a collage of useable extracts (six brief impressionistic pieces of varying degrees of interest) from the soundtrack of an experimental dance-mime excursion Poetry Play #1. And two tracks (El Ratto and Long Long Road) which break the mould of the rest of the collection in that they're not actual studio recordings but taken from a live Roundhouse performance of the band's "surreal parable" U (no studio recordings of these exist). The final item on this collection is the only one that's not strictly "previously unreleased"; the epic (16-minute) story-song Queen Juanita And Her Fisherman Lover was tucked away obscurely on the 1976 compilation Seasons They Change, but here it has been remastered and sounds fabulous, with all the fun of the take (during the early-1970 sessions for I Looked Up) fairly bursting out of the speakers. It's a patchy and at times quite self-indulgent piece, but individual sections have their charms…
Great care has been taken with the original tapes and studio masters, the best possible result having been obtained; and the lavish and loving treatment extends to the fine booklet too. This contains abundant indicators of the painstaking research carried out by the compilers: not only plenty of in-the-know information on the music and its provenance in the context of the band's history, but also a fascinating essay giving background explanation to some of the sound restoration and noise-reduction techniques used in the project. There's also a selection of previously unseen photos (those of the four "skating on happy-valley pond" in particular portraying the photogenic, if gawky, essence of this merry band!). The booklet also contains production credits (but not individual instrumental credits for each track, sadly), in addition to the lyrics for those songs not previously available (although those for the "extra portions" of Maya aren't included). This is a marvellous issue: in other words, another triumph for Hux – and an essential purchase both for ISB fans and those only lately discovering the band's delights alike.
David Kidman February 2009
---
The Incredible String Band - Live At The Lowry - DVD (Secret Films)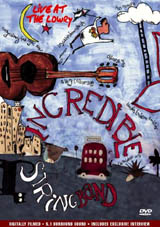 This DVD celebrates the current reincarnation of the equally celebrated ISB, a project which has so divided fans of the original incarnation - some view it as an almost unqualified return to the glory days, while others have seen it as nothing more than a cynical exercise in marketing and in essence little more than a tribute band (though they conveniently forget that two of the founder members are happily on board). Well, having followed the progress of the many and various "reunion" tours pretty avidly over the past years, I'm bound to say that the current lineup and treatment of the key repertoire, while sometimes inevitably possessing elements of the proverbial curate's egg, is actually a bit of a winner. Even if any incarnation of a band calling itself ISB without Robin Williamson is on the face of it more than a little perverse, nay illogical. Having got that little nomenclatural niggle out of my system first, then, I can concentrate on discussing the strengths and weaknesses of the current ISB as demonstrated on this DVD release.

First observation - this lineup (a four-piece: original members Mike Heron and Clive Palmer, along with long-term collaborator of recent years Lawson Dando and fresh new recruit Clare Smith alias "Fluff") actually does an admirable job in not so much re-creating as reinterpreting, not without a healthy dose of both welcome aromatic nostalgia and beautifully imaginative enterprise in almost equal measure, a virtual "best of" culled largely from the band's first five albums. I say "virtual", for although the term "best of" is used once or twice by Mike during the course of the 23-minute interview segment of the disc (recorded two hours before the gig itself), no self-respecting ISB fan could ever claim that only two of Robin W's songs would be included in any "best of the ISB", no way! Naturally, a very significant majority of Robin's songs are so utterly unique that they very probably wouldn't sound right performed by others (having said that, there've been quite a few very fine cover versions of October Song over the years, but no, you can't imagine any of the band's other vocalists ululating their way through Maya, say… can you?!). So for the current ISB, there's just Ducks On A Pond and Water Song from the vast Williamson canon - and with varying degrees of success I'll admit; for Ducks, Clive takes over the lead vocal, not unsuccessfully as it happens, though the song is truncated and the end result is mildly unconvincing, whereas Water Song is an atmospheric and semi-experimental duet between Lawson and Fluff which really triumphs in this performance. There are 19 tracks on this DVD, totalling 1¾ hours, which gives us around 40% more material than on the roughly-corresponding audio CD release Nebulous Nearnesses (out on Unique Gravity) and seems a more coordinated and better-rehearsed performance than the latter. The sound is excellent, the photography sensibly focused and the visuals convey the intimate and special atmosphere of the gig. It's well stage-managed too, with any messing-about and re-tuning kept to a bare minimum (which is remarkable considering the number of instruments used). Other incidental points of note include the apparent fashion for wearing smoking-caps (only Mike eschews the chance to sport headgear!), and the uncanny generation-game you might like to play comparing Mike and Clive (the latter coming over like a cross between E. L. Wisty and the William Hartnell version of Doctor Who!). And the interview turns out less than ideally revealing (not helped by the interviewer seeming not to know what to ask and resorting to the set-list as a prop). Alright then, back to the music if you insist! Generally speaking, the second set is more successful and musically interesting than the first. But scattered all through the gig there are some fairly spellbinding new treatments (Mike's Maker Of Islands, Clive's Empty Pocket Blues, Mike's fresh-minted, freewheeling new solo take on This Moment, the defiantly epic A Very Cellular Song).

A definite gig highlight is the seriously mystical albeit opaque Douglas Traherne Harding, where the shimmering, transcendental new instrumental coda is overwhelmingly, blindingly intense in its effect. All the band are clearly having a good time, and their commitment to the material and their public is genuine and joyously communicated - check out the delightful Cousin Caterpillar (good mandolin work from Fluff on her guitar-shaped instrument) and Chinese White (some nice lyrical violin playing here, though she really should have used the gimbri-sounding cello technique that she carries off so well on Cellular Song for this one too) for starters. The latest take on You Know What You Could Be is probably a tad thrashy, and OK, so there's a few lightweight-disposable happy-go-lucky revisits within the set, but by and large these new treatments have been undertaken with thoughtfulness and skill. You could say that Fluff's not blessed with quite as distinguished a vocal presence as her predecessors Rose and (especially) Likky, but she sings pleasantly and in tune and hey it's early days yet, while her instrumental competence is well developed and way above the merely efficient (specially like her fiddle playing); then there's Lawson, who thankfully is no longer displaying his former tendency to dominate the band texture with over-vamping and his contributions are sensitive and well judged. Mike has never been on better form, and Clive is, well, Clive - a suitably distinctive presence both instrumentally and physically. Me, I'm really looking forward to hearing this lineup develop the repertoire further and dig deeper into the rich back-catalogue with an equivalent degree of enterprise. But for the time being, this is an immensely satisfying record of a group of musicians with plenty to say - as I said at the start, no mere tribute-band but a faithful reinterpretation within the true spirit and enterprise of the original - and arguably most influential - pioneers of acoustic world-folk-fusion music.

www.incrediblestringband.com
www.secretrecordslimited.com

David Kidman
---
The indigo Girls - Staring Down The Brilliant Dream (IG Recordings/Vanguard)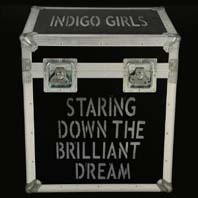 This is a live album, yes - ostensibly to celebrate the Girls' long-standing passion for live performance over (believe it!) two full decades. But it's also deliberately pointed out that it's an album of carefully-selected live performances as opposed to a straight record of one continuous live set - quite a different animal, as it turns out, although it still somehow manages to embrace the spontaneity and continuity of a typical Indigo Girls live set. And most importantly, its 31 songs encapsulate the Girls' entire emotional and musical range and prove just why they're such a draw on stage as well as key motivators in the wider life-arena.
The aim is "to capture the most memorable moments of their 2006-2009 shows", and I can't argue one iota with the success of that gambit, for playing the two discs straight through is a cathartic experience indeed - one which fair makes you want to yell out with the live crowd's full-throated enthusiasm. From the generous acoustic-strumalong-singalong vibe of Closer To Fine and the mando-charged Ozilline to the ultra-passionate Kid Fears and those more politically charged songs like Go, the intense solo performances within, and even a rollicking cover of Don't Think Twice thrown in. These are variously couched in settings that range from refreshingly bare-backed folkiness to intimate piano balladry via a handful of fuller, rockier band treatments, and there are guest vocal collaborations from Brandi Carlile and Jill Hennessey. The Girls' absolute togetherness within the climate of individuality is forever remarkable, and whatever the song or the vehicle, Emily and Amy both observe an unwavering commitment to their music and their public, as their fulsome, honest and personal booklet notes well illustrate.
Staring Down The Brilliant Dream is a beautifully packaged release that will both satisfy the hardcore IG gig-goers and fans and provide those unable to attend many of the gigs with a credible part-substitute for what they're missing out on.
David Kidman July 2010
---
Indigo Girls - Poseidon and the Bitter Bug (IG)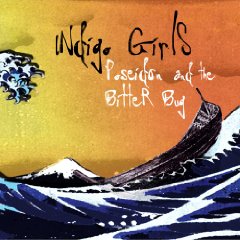 Can't decide whether you prefer Amy Ray and Emily Saliers in band mode or as an acoustic duo? Then, produced by Mitchell Froom, here's the perfect solution. The first release on their own label after having been dropped by Hollywood Records, it's a digipack double album that features all the songs in both versions so you can take you pick. And with a lyrics booklet too.

Salier's Digging For your Dreams opens the band version, a bittersweet reflection of a life lived and days passing that sets the mood for many of the songs that follow. She picks up the theme on Love of Our Lives, a mandolin strummed song about their gay marriage, while the acknowledgement of failures in I'll Change ("I've been running long before I learned to crawl") and the fisherman and harbour imagery of the vocally soaring Fleet Of Hope (from whence comes the first half of the title) both turn to wistful self-examination.

Ray too is in reflective mood, revisiting the infectiously perky Driver Education from her solo album with its memories of coming of age and rebellion and early romantic blows while, riding a REM-like electric guitar riff Ghost of the Gang is stained with death; Jimmy who 'died on his couch yesterday', weighed down by bills and a bad back, and, compounded by guilt over never having called to commiserate, the friend's nephew who committed suicide on the railway tracks.

She also contributes a brace of relationship numbers. Curiously both of them borrowing from other songs. The organ and banjo backed Second Time Around (a warning against compromise which includes the second half of the title, namechecks Loretta Lynn and includes a line about being "a god-fearing lesbian) lifts from Tangled Up In Blue while. If you can get your head round the idea, True Romantic is a virtual dead ringer for Radiohead's Creep.

She also provides the album's only political input with Sugar Tongue, a lilting folk rock number that touches on environmental destruction, colonisation, genocide and "the dirty work of battle hymns."

And you get to hear them all again on the second CD, stripped down (though the very nature of their sound means that, while less rocky, there's not a huge variation in the arrangements but there is, perhaps, a closer focus on the harmonies), albeit in a different running order.

It's difficult to call as a preference, though I do incline to the more countrified flavours of the acoustic session I'll Change and Love Of Our Lives feels a little more emotionally full, but you do get an extra track, the harmonica blowing Salty South and, in its telling of the displacement of the Seminoles, another of Ray's politically fuelled tunes.

But, whichever you end up playing the most, either way this is both quintessentially Indigo Girls and one of the best albums they've made in years.

www.myspace.com/indigogirlsmusic
www.indigogirls.com

Mike Davies June 2009
---
Indigo Girls - Despite Our Differences (Hollywood)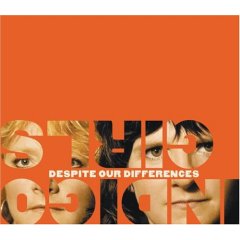 Twenty years together, for their tenth album Amy Ray and Emily Saliers have recaptured much of the energy and spark that distinguished their early albums. They've not made a bad record, but the past decade has seen them somewhat treading water, looking to get back to basics.
Now signed to a new label, they appear to have found the key they needed, the album infused with a strong pop sensibility as well as elegant melodies and their trademark intelligent lyrics about life, love and politics.
Showing off their rock muscle, Rock And Roll Heaven's Gate is a driving swagger with the sort of power chords you might expect from Pete Townsend and Pink dropping by to lend some extra vocal fire while They Won't Have Me's lament for the vanishing farmlands rumbles along with crunchy reverb rock blues guitar.
Even when they don't crank up the amps, there's still plenty of punch-powered acoustic numbers; the opening Pendulum Swingers with its attack on both religious sexual inequality and Bush's war on terror, Little Perennials' twangy, handclappy country rock about blood ties and loneliness and the urgent, angry Money Made You Mean. But, on an album that deals extensively with failed relationships, it's the slower burns and quieter tenderness that shine brightest; the shimmer of hope in I Believe In Love, the pedal steel keening old school barroom country Last Tears, Dirt And Dead Ends' spare strummed lament for a friend too proud to admit his life's gone down the toilet and get help, and the equally sparse Lucinda-like aching song of emotional salvation, Three County Highway.
It's a welcome reinvigoration and hopefully just the tip of what their rebirth has to offer.
Mike Davies February 2007
---
Indigo Girls - All That We Let In (Epic)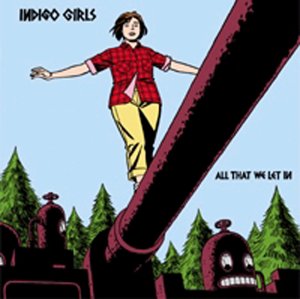 Nine albums in, Georgia folk rock duo Emily Saliers and Amy Ray are unlikely to see any massive expansion of their fanbase beyond the already loyal devotees, not even with Ray taking a few lead guitar solos for the first time or dipping into ska territory with Heartache For Everyone. Not that it should worry them much given there's a proven substantial audience out there for their political, feminist radio friendly songs of love and social responsibility.
As usual sharing the songwriting duties more or less 50:50, things kick off with Saliers' Fill It Up Again where she manages to work environmental concerns about the ozone layer into a tale of a soured relationship while finding happier notes for Free In You with its clear fresh skies feel. Fairly inevitably recent global events filter their way in; acknowledging we have responsibilities to be aware of what's going on around us on Perfect World, the title track taking its inspiration from the death of a friend to fuel a plea for universal open arms and Tether sharing the sentiment and asking whether revolutions are won with hearts or guns.
Elsewhere there's the upbeat break up song Dairy Queen, the poignant getting back in touch number Something Real, Cordova, Ray's tribute to her fellow activists in the Native American community, and the final rousingly defiant Rise Up where they hook into an Elton John piano roll and the optimistic chorus 'rise up your dead there's life in the old girl yet.' But if the album has a defining moment it's the melancholic weary beauty of Come On Home, a simple almost hymnal song of betrayal in which the beauty of their yearning Emmylou like harmonies is juxtaposed with crushing images about troubled persecution complexes and the sad realisation that maybe "everything we have adds up to nothing." As Paul McCartney once said, let them in.
Mike Davies
---
The Indigo Girls - Become You (Epic)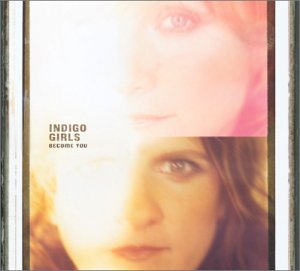 Ten years and umpteen albums down the line, the chances of Emily Saliers and Amy Ray finding crossover success in the UK is as remote as ever. They do however continue to have a solid loyal fanbase to appreciate their consistently fine vocal harmony roots-rock albums. And their latest instantly finds a place among the very best they've released. You've Got To Show has a jazzy arrangement and neon washed sax coda, but it's the closest they come to breaking from their proven formula of folksy strum on heartfelt relationship based songs or the occasional social observation (Starkville) that either kick up the tempo (Yield and the clumpy harp blowing hoe-downing bluesy Bitterroot) or massage the emotions with balladry (Deconstruction).
There's much here to relish and let seep into your veins, but perhaps the finest moments belong to the Celtic infused Our Deliverance, the gospel-soul flavoured melancholic Moment of Forgiveness, a gorgeous Collecting You that harks back to the early days of Janis Ian and Nuevas Senoritas, a dreamily evocative piece of TexMex atmospherics that easily stands comparison with Townes Van Zandt and Joe Ely's journeys south of the border.
Mike Davies
---
Indigo Moss - Indigo Moss (Butterfly Recordings)

Indigo Moss has just finished as successful support for the recent The Good, The Bad and The Queen's UK tour and this, their debut album, follows up that success. They have a myriad of influences and Start Over Again has a choral opening with banjos, harp, fiddles and guitar soon joining in. This is Appalachian meets middle England and is a good old sing-along -- great start. The follow up, Suicide Song, was never going to be a happy go lucky song but the female vocalists work well together and this black tune is firmly in the Americana mould. Dang Nabbit has blues and country influences with a venomous, acerbic lyric. They keep one foot firmly in Americana with Happy and have the knack of turning out an upbeat song with less than upbeat subject matter. By the time we reach Miss Those Eyes, the harmonica player is becoming more and more of an influence and he certainly stamps his authority all over this sparse offering. See See Rider is an often covered song and Indigo Moss has countrified it. I can't say anything against it, as they turn themselves into a modern day jug band. Ok Without You is gentle Americana and Swimming takes you away from yourself. It's very mesmerizing and is a surprise highlight. The Sweet Spirits o' Cats a Fightin' is unashamedly country influenced. Yee-ha, get them pants a swingin'. Indigo Moss invades my realm with a cover of Robert Johnson's They're Red Hot. This could have gone oh so bad and they add banjo, electric guitar and bass but it's such a great song that you can't really go wrong. They make it different yet also make it sound familiar and that's a great way to come out of a cover. Red Shoes is off-beat, quirky and old fashioned but the counterpoint young voice sets it off so well. They finish with Nature Of This Town, a Western style foot-tapper and I'm sure that I can hear a washboard in there somewhere. Indigo Moss could just well be one of the breakthrough bands this year.
David Blue March 2007
---
The Infamous Stringdusters - Things That Fly (Sugar Hill)
This is the third album release by the hot young Tennessee bluegrass sextet; I reviewed their debut CD Fork In The Road back in early 2008, but for some inexplicable reason didn't receive their eponymous second album for review, so it's harder to map their progress without that interim stepping-stone.
One thing I noticed, tho', is that original guitarist Chris Eldridge has departed the lineup at some point, having been replaced by Andy Falco (who in addition to picking guitars plays organ, and piano both electric and acoustic - not exactly orthodox instruments for a bluegrass band, but what the heck); this does make a subtle difference to the band sound, and seems to encourage them to make fuller use of studio enhancements at times too, but the most prominent element of the overall texture remains Andy Hall's flexible yet strongly-contoured dobro playing, focused alongside the impeccable musicianship of the rest of the team, Chris Pandolfi (banjo), Jeremy Garrett (fiddle), Jesse Cobb (mandolin) and Travis Book (bass).
Vocals are handled well too (between Andy, Jeremy and Travis), although the band also import Dierks Bentley (duet on a cover of Jody Stecher's wry hoedown 17 Cents), Sarah Siskind (harmony on two cuts including one she co-wrote with Travis) and Crooked Still's Aoife O'Donovan (harmony on Masquerade) to help out in that department.
The disc's 13 tracks include three instrumental cuts, two of which emerge as high points, especially the delicate Magic #9 (jointly penned by Jesse and Chris). The majority of the songs are band originals, the most unexpected of the exceptions being a rather too reverb-effects-soaked take on U2's In God's Country. Although the instrumentation is largely bluegrass-standard, and the style of picking mostly couched in that genre with distinct shades of newgrass, the vocal work is less high-and-lonesome than a hybrid of folk and country stylings - and not unattractive at that.
What I do find strange is that, with all this talent on display, the band's music doesn't leave a more lingering aftertaste. It's not that it's in any way soulless or auto-pilot, or that the songwriting is in any way below-par, but even after a few playthroughs I'm hard put to recall many of the actual songs in much detail. Having said that, individual tracks like the energetic Those Who've Gone On and the companionable It'll Be Alright make a good impression while they're playing, and the uncluttered simplicity of the arrangements is certainly attractive, but it seems to me that each song makes its mark in isolation rather than in company or cumulatively within the context of the whole album - and I can't quite fathom that.
David Kidman October 2010
---
The Infamous Stringdusters - Fork In The Road (Sugar Hill)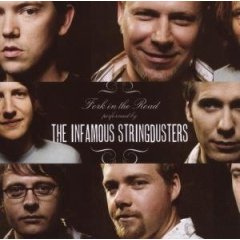 Bright young things on the bluegrass scene, this new six-piece are both hot and exciting, says the accompanying press release. Well certainly each individual musician has an impressive pedigree (already!): dobro player Andy Hall has toured and/or recorded with Earl Scruggs, Dolly Parton and Charlie Daniels, while guitarist Chris Eldridge toured with his famous father Mike in the Seldom Scene and helped Chris Thile out on his latest album. I've not got room go into the CVs of banjoist Chris Pandolfi, fiddler Jeremy Garrett, mandolinist Jesse Cobb and bassist Travis Book, but take it from me that they've all the right experience and connections. But the band is indeed more than the sum of its illustrious past and ultra-capable parts, showing plenty of taste, sensitivity and restraint alongside the really fine musicianship and ensemble tightness and some idiomatic singing that retains the old-school cred while bringing in some contemporary folk influence too. Instrumentally, they're not afraid to draw on gentler Celtic and newgrass (tho' there's not so much jazz in their palette as other bands have), but they remain true to the melodic side of the music, admirably concealing their virtuosity to a certain degree in the expression therein. Not for the Infamous Stringdusters the notespinning prove-themselves technical challenges, they're past that stage already - which can only be a good thing. And yet for all that, I found myself strangely unmoved, almost uninvolved at times, during the course of this record. And that's despite delicious cuts like Travis' cover of Benny Goodman's Poor Boy's Delight, and the attractively newgrass, pensive instrumental No Resolution (the other two all-instrumental cuts are pretty good too, with a fiddle solo on album closer Moon Man that really takes off into the stratosphere). It could be that the songs (which mostly turn out to be efficiently-crafted originals by band members) don't quite feel sufficiently strong to take a hold in the memory – I'm not altogether sure - but that's not to deny the very many positive things about this band and their music.
David Kidman January 2008
---
Invocal - Uneven Keel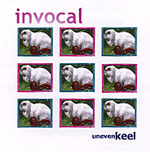 Invocal are a four-piece, all-female band from Northampton, producing an utterly unique blend of cabaret and folk. Guitars, cellos and clarinets all see plenty of action, but the main feature is their jaw-dropping three-part harmonies. They don't belt it out, or indulge in Toni Braxton-style vocal gymnastics; instead, their complex and often furiously fast arrangments are choreographed with the precision of Swiss engineering.
That sort of description makes Invocal sound like a novelty act, but the best thing about them is that there is substance behind the skill, and bandleader Rosie Swayne is one of the most distinctive songwriting voices I've heard for a long time. Her barbed comedy numbers, like 'Dear Friend' with its infectious chorus of 'I've been pretending that I like you and I don't', are beautifully judged, but she is even better when she takes a more bittersweet approach. 'Small Anxious Waltz' and 'As Life Dissolves' present an almost Ray Davies-esque take on the trials of lesbian life in small-town England. 'Floating' has the quality of a troubled dream, while the emotional impact of a song like 'Photograph' can really catch you unawares, and 'Wondergirls' is one of the most grudgingly charming love songs ever ('You are a weirdo / But I'm glad that you're my friend').
Everyone has probably had the experience of seeing a great live band, buying the CD, putting it on a couple of days later and finding that the magic has evaporated. Invocal are excellent live, but they've also managed to survive the recording process that so often exposes weak material or sloppy playing, and their 12-song album Uneven Keel really does them justice. Highly recommended.
Sam Inglis, June 2006
---
Iron and Wine - The Shepherd's Dog (Transgressive)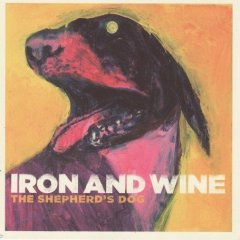 Those who caught bearded lecturer Sam Beam's Woman King mini-album with its itchy rhythms will be more prepared for this third full length outing than those only familiar with the mossy lo fi of his debut and sophomore releases. He's turned on the electricity, cranked up the percussive drive and, inviting in Calexico's Joey Burns and Lambchop steel player Paul Niehaus to lend a hand, added bulk to the musical muscle, a harder edged approach that should be even tougher in its 8 piece live incarnation.

The warm honeyed vocal burr remains the same however, coating the songs with the sort of sunshine spread that came in fuzzy coloured jars back in the West Coast days of the 60s. In fact, Pagan Angel And A Borrowed Car evokes thoughts of America (band not nation), The Devil Never Sleeps clatters and shuffles like a Deep Ellum CS&N with a boogie woogie piano while Flightless Bird, American Mouth and a puttering Lovesong of the Buzzard could easily fit between the S&G Bookends. It's gorgeous stuff that sees Beam expanding his musical palette to walk on gilded African splinters for Wolves (Song Of The Shepherd's Dog), breathe in opium blues shimmers with the otherwordly cantering Peace Beneath The City, clanking like Tom Waits hanging out with Sufjan Stevens on the Eastern bubbling House By The Sea and White Tooth Man coming straight of psychedelia San Francisco with its sitar, slide and tabla.

As evidenced by Boy With A Coin's choppy handclaps and backward guitars, he's a bit of a genius in applying musical textures but at the same time he's not afraid to just stand naked, stripped of everything but a simple acoustic guitar, keening steel and his breathy vocal on Resurrection Fern.

And, once you've bathed in the natural spas of the music, then you can turn your attention to checking out the lyrics and their poetic, poignant observations on the corporeal and the spiritual world around us, and discover there really seems no limit to the man's genius.

www.ironandwine.com
www.myspace.com/ironandwine

Mike Davies October 2007
---
Iron & Wine - Woman King (Subpop)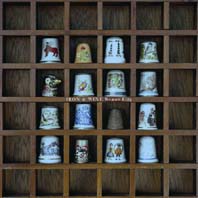 Three songs recently featured on the soundtrack to In Good Company (of which Trapeze Swinger isn't available elsewhere), amply bearded soft voiced film lecturer Sam Beam follows up 2004's Endless Numbered Days with this six track mini-album finding his Southern folk-rock in unusually virile mood with only My Lady's House and the soft strumming mossy hung Jezebel marking his intimate low register scuffed balladry. Otherwise, it's a case of positively itchy rhythms, opening with the voodoo tribal mood of Woman King as he breathes the female emancipation lyrics over a snakelike sensual groove that Dr John would admire. Another song about a woman, Gray Stables (where the horses of the righteous hang out) lollops along at a hushed whispery pace that most definitely calls to mind America's Horse With No Name in its dry desert atmospheres before giving way to the finger-picking acoustic gospel blues of Freedom Hangs Like Heaven building to a right old hand-slapping, banjo plucking revival meeting.
But nothing prepares for the closing number, Evening on the Ground (Lilith's Song) where (again evocative of America) Beam's rolling country-folk roots acoustic blues guitar licks get snapped to a clattering percussive drive and a rasp and rumbling electric guitar that adds the aggressive musical edge to go with a line where he declares "we were born to f*** each other, one way or another." A robust vintage indeed.
Mike Davies
---
Iron & Wine - Our Endless Numbered Days (Sub-Pop)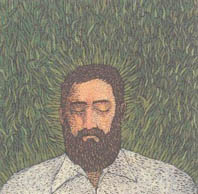 The nom de music of professor Sam Beam, somewhat at odds with his stocky, heavily bearded appearanc the soft voiced, guitar strummed and occasional banjo coloured hushed in evidence her, on Each Coming Night especially, is what you might expect had Simon & Garfunkel made spartan albums imbued with arcane Southern gothic and the atmosphere of moss hung gnarled trees. On the other hand Naked As We Came could easily be haunted by the ghost of Nick Drake.
Mortality looms large among his songs of love and loss; a farmhouse burns on Cinder and Smoke, dead white boys populate Sodom, South Georgia, Free Until They Cut Me Down is a blues from a condemned man, Naked As We Came a love song veined with thoughts of death. But, still tinged with fleeting whispers of hope. Essentially a series of snapshots from rural life seen through the eyes of a poet troubadour, Beam's musical camera provides many images to savour.
Mike Davies
---
Andy Irvine - Abocurragh (Own Label)
It's a long time (all of ten years!) since Andy last released a solo album (Way Out Yonder), and Abocurragh, while nominally a solo effort, finds Andy in the company of some top-drawer musician friends – in this instance, various permutations of former Planxty colleagues Dónal Lunny (guitar, keyboard & production) and Liam O'Flynn (uilleann pipes, tin whistle), Máirtin O'Connor (accordion), Graham Henderson (keyboards) and Liam Bradley (percussion), with occasional appearances by (inter alia) Paul Moore (double bass), Annbjørg Lien (hardanger fiddle, nyckelharpa), Mozaik colleagues Bruce Molsky and Rens Van Der Zalm (twin fiddles on a ringing take on James Magee), and Rick Epping (duelling-harmonica).
But to concentrate on Andy's own performance within this sympathetic setting, he demonstrates that sublime mastery of the art of gently coaxing each lyric intimately alive in front of your very ears, making each statement his own with a total belief in its message that traces the path of empathy beyond one's expectations; a perfect example of this ability is his fabulously perceptive (and strongly individual) interpretation of Emptyhanded, George Papavgeris's deeply felt portrait of an ex-convict outback farmer facing ruin at the mercy of the elements (this has been a much-requested number in Andy's live sets for some years now, and it's great to finally have a permanent recording of it).
This new collection presents eleven tracks in all (nine "official items" followed by two "encores"). Typically, they range from brilliantly engaging new story-songs of Andy's own composition dealing with true events (Victory At Lawrence, about the Lawrence Woollen Mills Strike of 1912), reminiscences from his own experiences (Oslo) or the exploits of little-known personalities who have a real story to tell (The Spirit Of Mother Jones) through to a small handful of renditions of traditional ballads of already-many-times-proven worth but about which Andy invariably has something new and important to say. In this latter category, The Demon Lover is a magisterial achievement, one of the most splendidly conceived of recent versions, with a moody string arrangement by violist Jacky Molard and some marvellously atmospheric, almost cinematic-scale playing from Andy's Mozaik colleague Nikola Parov. And even Willy Of Winsbury (which for many of us began its folk life when we heard the sinuously memorable melody from Andy's 1968 version with Sweeney's Men fitting Fairport's Farewell, Farewell like a glove!) emerges from Andy's latest revisit freshly minted, with some sparkling playing to counterpoint Andy's intelligent collation of the various textual elements from Child 100. The dark lilt of Three Huntsmen is no less peerless in its own way.
Recordings were made at a number of different locations, and the songs embody a variety of approaches, yet Abocurragh exhibits an unassuming unity that's both disarming and invigorating. Any fan of Andy the consummate craftsman singer-musician will experience no hint of disappointment in this latest magnificent offering, needless to say.
David Kidman February 2011
---
Andy Irvine & Paul Brady - Andy Irvine & Paul Brady (Mulligan)
As part of the Irish label's reissue programme here's the classic collection which Andy and Paul recorded (with Dónal Lunny and Kevin Burke - and Dónal producing) at Rockfield Studios back in late 1976, one which has come to be viewed as somewhat of a benchmark. The LP presents Andy and Paul on scintillating form, both instrumentally and vocally, on a selection of traditional songs that can only be considered essential, many of which have since become repertoire staples. As centrepiece of the collection (well, last track on side one!) there's Paul's glorious seven-minute version of Arthur McBride, which a large number of folk performers have since used as a template - and which has since been regarded as virtually definitive. You can almost say the same about the Paul's rendition of the tale of Mary And The Soldier, which gets an early airing here. And as an interlude amidst the traditional songs, there's Andy's own composition Autumn Gold, the final item in the quartet of songs he wrote during his crucial 1968/69 Eastern European sojourn. The instrumental selections sparkle too, and like the songs the men's performances are timeless, sounding as fresh today as 30+ years ago. This reissue retains the fine booklet notes by Frank Harte too. This is an important LP in the scheme of things, for its role in crystallising the Irish musical renaissance of the late 60s and early 70s instigated by the likes of Andy, and of course it still casts a fair shadow on subsequent approaches to the contemporary performance of Irish traditional song.
David Kidman May 2008
---
Chris Isaak - Always Got Tonight (Reprise)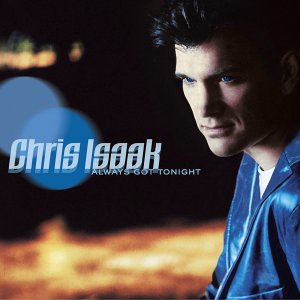 His first studio album since 1998 and a career focus on his acting (does anyone else think he looks like Kurt Russell?) finds Isaak sounding even more like the reincarnation of Roy Orbison than ever. No bad thing then, especially not when he hits the full melancholy button for Let Me Down Easy, the desert night sky brooding Life Will Go On and the emotional craving One Day.
Things go wrong though when he decides to cut loose some rock n roll, Notice The Ring throwing out some bar room r&b that might have turned up on a Bruce Willis album and the title track a messy slice of lame white boy funk that sounds like a horrible vision of Tom Petty fronting INXS.
Fortunately such slips are in the minority and a twangy choogling American Boy saves the uptempo day leaving things to play out on a higher note with Somebody To Love and the broken heart crooning ballad Nothing To Say. Not vintage then, but enough to keep the flame burning relatively bright.
Mike Davies
---
Isambarde - Living History (Whirly Whorl)
This third studio record by Coventry-based trio Isambarde is an object lesson in how to build credibly on the many virtues and positives of previous outings and learn from the comparative reservations (I can't say negatives, 'cos there weren't any!). In the latter regard, some of the self-evident and abundant energy that Chris, Emily and Jude expended on their collective rhythmic drive, what I then termed their "subliminal relentlessness" of expression, is now channelled with commendable zeal into exploring ever more inventive ways of bringing into "living" the "history" of their chosen tales. The new album also rings the changes from its predecessors in that this time virtually all of the items are traditional in origin. Combining the above aspects, Isambarde have produced a thoroughly listenable and stimulating collection marked by a constantly changing and often surprising soundscape, enthusiastically and imaginatively breathing fresh life into their sources. Of course, quite a few of the younger bands on the folk scene are proudly presenting their own take on traditional material, but in many cases their desire to reproduce in the studio a polished live act that "ticks all the boxes" takes away much of the fun and overshadows any more natural display of creativity. Not so with Isambarde, for here, although the Isambarde we know and love from their live act is instantly recognisable, with all elements present and correct and as vital as ever, the threesome has also made a conscious and deliberate attempt to make best creative capital out of the studio facilities. Of course, the "basic" Isambarde sound is in itself both admirably rich and full and a determinedly individual, slightly unorthodox blend (they're one of the few outfits to prominently feature an oboe in their complement), but they also show a considerable flair for imaginative multitracking.
Kicking off Living History, a brilliantly solid take on The Outlandish Knight strides purposefully out of the speakers with a flourish: ringing electric guitar and chunky bass augment and embellish Chris's bold lead vocal which is supported by the lasses' equally bold harmonies. Thereafter, well nigh every single track sports a different arrangement: Emily's charmingly knowing singing of the racy My Thing Is My Own is given a delicious faux-baroque setting, with harpsichord, recorders and strings, while Mary And The Soldier is ushered in with fife-and-drum tattoo and out with a springy, folk-rocky Durham Rangers. The brooding drama of Annan Water is given a stirring folk-rock build to offset its deceptively gentle start. But my favourite setting is perhaps the seriously beautiful chamber-like backing on Just As The Tide Was Flowing, centred round Chris's flowing piano with sinuous violin underpinned by sensitive bowed double-bass currents. And the darkly stately Elizabethan (Playford) melody Ladie Lie Near Me, with its gently florid flute-and-oboe duet and delicate guitar solo, forms a suitably moving postlude to both the whole album and what is arguably its key track. This is the disc's lone non-traditional song, Private Green, in which Chris chronicles, with feeling, the history of his great-grandfather, to an astute, somewhat LJE-style folk-rock backdrop that also incorporates piccolo, trombone, trumpet and flugelhorn. OK, so the trio does sub-contract the brass (and double bass and percussion) to guest musicians, but Chris, Jude and Emily play everything else (including shawm "and sundry other long-defunct tubular devices") without the aid of a safety net! As for the choice of material, any whiff of the routine that emanates from the tracklisting (it embraces several songs that have become staples of the folk revival repertoire) is soon dispelled when you realise that Isambarde have plenty to say, they say it with strength and confidence and fine musicianship, and thus the songs all emerge genuinely fresh. I wasn't entirely convinced at first by the enforced liaison between Ye Mariners All and Talcahuano Girls, but the ensuing rendition of The Maid On The Shore and the delectable oboe and violin duet on the Dusty Windowsills jig bring them round into a perfectly satisfying sequence.
As an album, Living History represents a significant development from Barnstorming; but also a lot of thought has been put into the entire package, with the "living history" concept fully taken on board in the witty and entirely apposite "almanac of ephemera" fairground-poster presentation (the clever photography's another bonus). Verily, it is indeed very much the "aural delight from Isambarde - proclaimed at the outset.
David Kidman July 2008
---
Isambarde - Barnstorming (Whirly Whorl)
This young Coventry-based band began life as a duo in 2000, but has now settled into a stable trio format; the survivor from the original duo, guitarist/bouzouki player Chris Green, having been joined since 2002 by classically-trained "pit oboist" Jude Green and "regular fixture folkie fiddler" Emily Sanders. Their slightly unusual instrumental complement has enabled them to forge a really distinctive band identity. Although their individual and collective accomplishment as musicians is never in doubt, the trio tends to specialise in high-energy treatments of songs, conveyed with an attractive rhythmic drive yet not lacking in feeling for the texts. Having said that, first impressions (most especially if you already know the songs concerned) can yield a certain feeling of subliminal relentlessness, although to be fair that in turn may well be just a misreading of the sense of creative abandon that characterises the trio's music-making; in any case, any such reservation tends soon to dissipate when you get into the groove and realise the degree of insight Isambarde bring to their interpretations. Lead vocal duties are shared between Chris and Emily, although Jude's own vocal contributions certainly aren't to be underestimated! The choice of material shows very good taste, with the majority of the songs being quality contemporary compositions in the folk or traditional idiom, from the pens of the likes of Pete Coe (Marching Through Rochester, here titled The Bold Fusilier), Richard Thompson (Farewell, Farewell), Jez Lowe (Old Bones), and (hurrah!) Pete Scrowther (Lily Of Barbary). Chris's rendition of Farewell To The Gold, though clearly conceived in the shadow of Nic Jones, is blessed with a thoughtfully dark-toned mini-string-section arrangement, while Hard Times Of Old England is cannily capped with a vigorous Kesh Jig. I'm not completely convinced by the fast tempo chosen for A Miner's Lifeguard (though it's delivered with passion enough), partly I suspect due to the all-purpose-type close similarity of its basic arrangement to at least two other songs on this CD. But just past the mid-point of the disc Isambarde still provide the necessary respite from the busier tempos with a lovely version of the gorgeous English tune The Wounded Hussar. Immediately prior to which Phil Beer guests on that aforementioned Pete Scrowther song (Phil also plays on High Germany). The album's only other guest artists are the versatile Vicki Swan and Jonny Dyer (who will soon be combining forces with Isambarde in an experimental "supergroup" at this year's Bedworth Festival - not to be missed!). Isambarde have come a long way since their avowedly tentative recorded debut The Telltale Sessions, yet they clearly still have further to go if they are to credibly retain and satisfyingly develop the niche they seem to have created for themselves within the folk scene; whatever, their infectious enthusiasm, lively sense of humour and excellent musicianship will doubtless see them through.
David Kidman Sept 2006
---
Jason Isbell - Sirens Of The Ditch (New West)
Jason was one-third of the staunch guitar frontline for Drive By Truckers till he quit the band last April, but he's not fallen out with the band, as proved by his engagement of its mighty rhythm section (Shonna Tucker and Brad Morgan) on this solo debut; other notables, eg Spooner Oldham, John Neff, Patterson Hood and his father David Hood, provide tasty cameo appearances here too. Sirens Of The Ditch is a persuasive mix of musical influences, drawing on soul, power-pop and even country-blues for its eleven hook-oriented songs – songs not without their darker import, in contrast to more typical DBT material perhaps. The musical influence and heritage of Jason's home location, Muscle Shoals, is noticeable on the more funky R&B-inflected excursions like Hurricanes And Hand Grenades, and in the tightness of the playing and engineering generally. Even so, Jason's not deserted his trademark DBT heavy-driven guitar styling, as the rocking opener Brand New Kind Of Actress and the axe-work on Try both demonstrate. Though elsewhere Jason's not averse to trying on a bit of banjoist country (The Magician), and convincingly too, the potential surprises come more with the tender, piano-led (tho' almost Guthrie-esque) Chicago Promenade and the folkier acoustic edge of In A Razor Town, beautiful creations that both enable Jason to invoke feelings of hope that the often quite brutal honesty of those darker ruminations within might not at first imply; the latter cut in particular indicates a direction that Jason might fruitfully pursue in the future, I feel. Jason's singing is heartfelt and involving throughout the disc, and this is as assured a beginning for his solo career as one could want.
David Kidman January 2008
---
I See Hawks In L.A. - Shoulda Been Gold 2001-2009 (American Beat)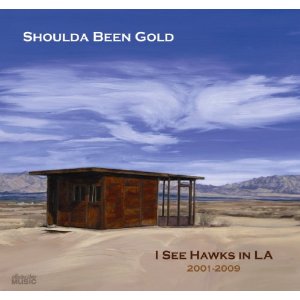 Led by singer-guitarist Rob Waller, the Texas country California four piece have been knocking around since 1999, releasing four albums without ever really troubling national awareness. This then is a best of collection of non hits (including three new recordings, three previously unissued and one live track) that, as the title suggests, they reckon should have been. It has to be said, though, that there's a gulf between that fantasy and the commercial reality that the songs are generally not equipped to cross.
They play well and write catchy melodies, there's a streak of humour (Texakanada, the previously unrecorded Sexy Vacation), social and political commentary (Wonder Valley Fight Song, Byrd From West Virginia, Raised By Hippies. Humboldt), eco idealism (I See Hawks In L.A., featured here as the spare original demo), lashings of pedal steel, good ol' boy rock n rolling, bluegrass, and honky tonk balladeering. However, while it's the sort of highway driving album that passes the miles and has you tapping the wheel but rarely makes you want to pull over and just listen. There's two stand-out exceptions, tellingly both duets with Carla Olson with Waller at his growly best. Laissez Les Bon Temps Roulet is a rolling Texicana number featuring Cajun fiddle while Bossier City is a cover of a minor David Allen Coe hit that conjures the vintage moments of Gram and Emmylou (most notably their cover of Streets Of Baltimore). A few more like this over the past decade, and a real greatest hits album wouldn't have been just wishful thinking.
www.iseehawks.com
www.myspace.com/iseehawksinla
Mike Davies March 2010
---
I See Hawks In LA - Hallowed Ground (Big Book Records)
California's celebrated country boys I See Hawks In LA were formed back in 1999, and have gained exponential numbers of fans over three successive albums with their punchy, straightahead brand of twangy west-coast country-rock (complete with exquisite three-part vocal harmonies). Hallowed Ground, their fourth record, keeps the faith with plenty of Byrdsy-Burritos-GP steel-bedecked jangle gracing typically knowing, sharp biting lyrics, but rings a few changes too. There's some serious driving guitar rockin' on Ever Since The Grid Went Down, while the more tender side of the Hawks surfaces on Highway Down and Gettin' Home Tonight, the latter title building crucially into a burnished wall of sound before smouldering into a dying ember. The closer Good And Foolish times lopes along to a tex-mex groove, while earlier on, Keep It In A Bottle brings back the Quo-style drive-time country-boogie. For me an unexpected highlight comes when the band treads boldly (and surprisingly successfully) into Tanglefoot-style skullduggery on The Salty Sea, whereas there's a real sense of history and heritage about the epic anthem Pale And Troubled Race (another album standout). This is indicative that band lyricists Rob Waller and Paul Lacques have plenty to say, especially behind the singalong façade of tunes like Environmental Children Of The Future. If I've any criticism at all of this classy hour-long set, it's that the right-on feel of the playing and writing is very occasionally compromised by isolated suspicions of posturing, self-conscious crowd-pleasing bordering on pastiche (Yolo County Airport for instance), but even so there's invariably an evident affection therein. An impressive and thoroughly likeable record which also has a deceptive degree of depth and conscience.
David Kidman June 2008
---
I See Hawks In LA - Grapevine (self produced)
There is a nagging doubt about Grapevine, the latest album from I See Hawks In LA. I'm not quite sure whether I'm being genuinely and right royally entertained by some wonderful country rock, or gently ribbed by some wonderfully ironic country rock. Whichever it is, listening to it proved to be a hugely enjoyable experience and perhaps that's the whole point.
Even the formation of the band adds to the suspicion. The gospel according to ISHILA is that brothers Paul and Anthony Marshall and Robert Rex Waller were on a hiking trip in the Mojave Desert. The three got lost and a discussion ensued about hawks being seen circling above LA, hey presto the band were formed. Even if that's not true then I want to believe it, so I will.
There is one thing about them that I will accept without question or demur and that's the label psychedelic country. If the Beatles had gone west instead of east they might just have sounded like this.
But the label not only fits perfectly the kind of bright sunny sound the band have produced, it also gives a reviewer from the cold north-east of England a warm and inviting image to hang on to.
What is also beyond question is that I See Hawks In LA have managed to inject fresh life and energy into a genre that is now firmly in the mainstream and what's more they've done it without discarding one of its traditional stengths, melody. Libre Road for one is a celebration of the worth of country music. This is not a band who indulge in change for change's sake, Grapevine displays an instinctive understanding and appreciation of the roots of the music without being slave to them.
The band will no doubt have been hit with a stream of comparisons from The Flying Burrito Brothers (they mentioned the Mojave Desert first) to The Eagles. All of them meant kindly I'm sure but none of them truly capturing the spirit of the band.
They are also musicians who obviously derive great pleasure from what they do. They revel in the rocked up Texarkanada but move easily and effortlessly into the undiluted bluegrass of The Salesman and onto the warm ballad melodies of Hitchhiker.
To hear a band so at home, not only in three distinct styles but in three distinct generations is refreshing and reaffirming.
Neither Grapevine nor I See Hawks In LA are likely to shake music to its core. But there is a real joy in listening to the wry love song Still Want You and then chancing upon the anarchic 'good ol boy' rock n roll of Wonder Valley Fight Song. And, for the sheer joy that it brings, Grapevine is an album that will never outstay its welcome.
Michael Mee
---
Island Eddy - Island Eddy (Cló Iar-Chonnachta CICD. 170)
The core of Island Eddy was formed after a gig at Kinvara Community Hall, Co Galway, by fiddler Brendan Larrissey (Gaelforce, Dolores Keane), guitarist/songwriter Jim McKee (White Hare Band, Bridgestreet) and bodhrán player Martin Gavin (Talteralla, Mary Staunton), who thereafter swiftly recruited Roscommon flute player Brian Duke (with whom Brendan had already played many a tune!) to make an irresistible foursome. The band's debut CD brings together eight sets of tunes (both original and traditional) and four songs penned by Jim. The general demeanour of Island Eddy's music-making is that of the easy, unhurried, calmly swinging session, where solid and thoroughly unassuming musicianship takes the place of frenzied seat-of-the-chair attention-grabbing note-spinning, and where the observer is invited to actively listen as well as tap feet. The opening set of jigs exemplifies the band's approach, and their trusty fiddle-and-flute combination is heard to best effect on the ensuing set of reels, where we can also enjoy the contours of Martin's gently passionate beating in sensible context. These musicians are all completely at ease and feel no need to prove themselves - that much is obvious on all of the instrumental tracks here, many of which reveal subtle delights on each successive play. Some tracks also employ guest musicians on cello, double bass and extra percussion, and the darker eddying undercurrents of counterpoint thus provided give the music-making an intriguing new complexion that you don't tend to encounter in renditions of session-tunes, even on record. I'm not so readily convinced - at first, at any rate - by the four songs, however, for Jim's very contemporary-sounding vocal style really seems to belong elsewhere; but taken on their own terms outside the framework of the rest of this album these songs really do work their own special magic (and I'll also be interested to hear Jim's forthcoming solo CD Just A Piece Of). Some Dignity Beyond The Flowers, the first of the songs, is probably the most appealing on first acquaintance, drawing on childhood memories and the strength Jim himself drew from his father; Jim's edgy singing on the tale of his neighbour Bradley is acutely passionate, while there's a persuasive yearning quality to the homesickness of The World Around. Only with the tedious and rather casual musical setting of the final song (The Bomb Went Boom) does Jim seem at odds with his own material. The disc is well presented, with some fine booklet notes and attractive photos. On the evidence of this debut, Island Eddy clearly have potential, yet it remains to be seen in what direction it will best develop.
www.islandeddy.com
www.myspace.com/islandeddy
David Kidman April 2008
---
It's Jo and Danny - Thugs Lounge (Double Snazzy)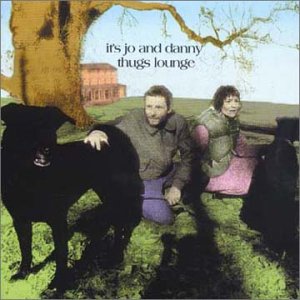 A swift follow up to last year's Lank Haired Girl To Bearded Boy finds the Brecon based husband and wife duo's home label now signed to RCA but while access to corporate budgets has helped smoothe the process, there's no dilution or homogenising of their idiosyncratic folk beats pop or Jo's clear stream rolling vocals. Bagpipes open proceedings on Trip Din, Trip Doubt from whence we're into shimmering psychedelia, blissed out beats, dreamy acoustics, offbeat blues (a very surreal Adonis and the Pig), summery grooves, strummed folksy guitars and lapping lazy melodies. Happy Street even features an answerphone message from their A&R man played over kazoos. Significantly you can hear birds trilling throughout. Kick off single Driven Away evokes thoughts of Drugstore and Spiritualised, but more markedly you may find yourself slipping into singing Brimful of Asha while the album's generally smiley vibe is given a poignant offset by Danny's gentle lament for his sister who died while they were recording the album. One to take with you when punting or picnicking among the sheaves.
Mike Davies
---
Bon Iver - For Emma, Forever Ago (4AD)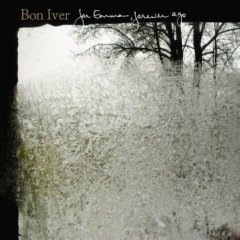 From the fulsome reviews, you'd be forgiven for thinking that this could raise the dead and create world peace. It's not that. But it is pretty special. Bon Iver is actually one Justin Vernon who, when his previous band fell part, holed up in a Wisconsin cabin four for wintry months (bon hiver is French for good winter, but you already recognised the pun) and wrote and recorded the songs here.
The setting clearly informed the mood and the ambience, the songs veined with natural imagery, Vernon crooning reflections of loneliness, isolation and of love gathered up and thrown down in a silvery falsetto against a simple strummed guitar and occasional keyboard or, at the end of The Wolves, clattering percussion. There's some additional drums on the opening Flume while For Emma features trombone and trumpet, but otherwise this is a one man affair. Even the male voice choir that opens the icily wondrous Lump Sum is a multi-tracked Vernon.
There's cracked rustic hymnal qualities to Flume and Blindsided while Creature Fear (which extends into pulsing instrumental coda Team) could have come from Brian Wilson's backwoods cousin and Skinny Love is simple strummed soul-pop that takes Neil Young down to a revival meeting. Closing up shop with muted catharsis re:stacks, "the sound of the unlocking and the lift away", it leaves you calm, serene and somehow cleansed. Maybe the next one really will raise and dead and bring world peace.
www.virb.com/boniver
www.myspace.com/boniver
Mike Davies May 2008
---
Eileen Ivers - An Nollaig (An Irish Christmas) (Compass)
OK, I spoke too soon didn't I?… Ace Irish-American fiddler Eileen now brings us a cornucopia of Christingles, all laced with her strongly individual playing. This, for many listeners just playing through the first couple of tracks, will seem like it's probably going to be the disc's saving grace, but please do give the rest of it some chance for there are some good things here and the playing throughout is just fine. The problem with the first two tracks (Hark The Herald Angels Sing and The Wexford Carol) and others later (Do You Hear What I Hear?, The Holly Tree) is most likely the choice of singers, with some mildly glutinous legato-rich vocal work (Adam Posluszny and Tommy O'Donnell respectively, I believe). And the inclusion of the dreadful Charlie Brown Christmas song Christmas Time Is Here does nothing to redeem matters towards the end of the disc, notwithstanding some tasty jazzy soloing from Eileen herself. I do, however, really love the genuine spirit of the music-making all through the disc, the feeling of vital and immediate sharing of the tradition - and the warmth of the total musical experience - whereas Eileen's lively and inspired arrangements are first-rate: for instance, Do You Hear… is set to a syncopated Catharsis-type reel, Jesu Joy Of Man's Desiring a fiery, bounding jig (though the latter is spoilt by the presence of a massed-choir). The best tracks for me are those which provide exposure for the less hackneyed material: One Night In Bethlehem (beautifully sung in both Irish and English by Susan McKeown), the Christmas Eve reels-set, a Danish winter song, the Apples In Winter jig-set and the closer, Eileen's gorgeous solo rendition of O Holy Night. Eileen's supporting cast (including James Riley, Isaac Alderson, Leo Traversa, Greg Anderson and Ben Wittman) do her proud, too.
David Kidman December 2007
---
Peter Ivers' Band - Knight Of The Blue Communion (Hux Records)
Peter Ivers - that's not an immediately recognisable name, except possibly to devotees of David Lynch's classic movie Eraserhead, within which the Lady In The Radiator crooned her way through In Heaven, a composition of Peter's (which was later immortalised by the Pixies). Of course, there was a lot more to Peter, a diminutive Bostonian of prodigious talent who achieved so much on so many fronts before his untimely death in 1983. Perhaps incredibly, Peter was first known as an unbelievably good blues harmonica player heavily inspired by Little Walter; he frequented the late-60s Boston (Mass.) rock scene and hung out with bands like Ultimate Spinach, the Far Cry and Loony Tunes. His big break came when he was signed to Epic in 1969 to make a solo record - which became Knight Of The Blue Communion, here now available for the first time legitimately on CD. He assembled a strange and (even for the time) highly unorthodox complement of musicians for the project: in addition to a notably sturdy rhythm section (bass, drums) and electric guitar, he brought in a mini-horn section that featured bassoon and oboe alongside tenor and soprano saxes. On Dark Illumination, Peter also employed electronics in the form of an "intermodulator" (a prototype synthesizer) which picked up on the signals from the other instruments and gave them a weird tone, an "electrified edge" (which you might compare with a similar effect used on the groundbreaking album by United States Of America shortly before). That instrumental mix was ahead of its time – and weird enough, especially where any given track might veer from atonal adventure and free-form jazz to a stunning guitar solo from Tony Ackerman or a fantastic soulful bluesy harmonica break, with some tracks also employing unusual time-signatures much in the manner of some of Frank Zappa's more experimental music of the time. And that's even without the album's crowning glory, the vocal contributions by chanteuse Yolande Bavan, who took equal inspiration from Billie Holiday and the improvisational note-benders of free-jazz. She could be gently acrobatic (Cat Scratch Fever) or severely disciplined and meditative (the title track), but her singing was always enticing and against all the odds she sounded fabulous with the ensemble. Basically, aside from the harmonica playing, Peter's role was as arranger and composer of all the music, with his friend Tim Mayer providing all the lyrics. Sure, it was a blatantly uncommercial record, but it deserved to be heard - yet even within the tolerant climate of 1970 it failed to sell despite some rave reviews. Sessions for a second album were begun yet have remained cloaked in obscurity, and the project was shelved; all that has survived are two sides of a 45 released in 1971, on which Yolande was replaced by another boundary-breaking singer Asha Puthli. Alternately radio-friendly and uncompromisingly obscure, these sides are included here too for completeness. This excellently-presented digipack reissue comes complete with a great 20-page booklet (featuring extensive liner notes incorporating interview material, rare photos and full lyrics) and a reproduction of the original LP sleeve. A truly fascinating one-off, and highly recommended to anyone with an open ear. Utterly intriguing.
David Kidman June 2007
---
---