A to Z Album Reviews
---
---
Jacanda - Skimming Stones (Own Label)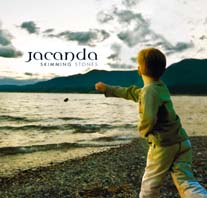 Two years on from Back to The Sky, the Bristolians are now a five piece with Kev Hawthorn (piano), James Phillips (sax), Ed Modey (percussion) and frontman guitarist-songwriter Chris Pritchett now augmented by Pritchett sibling and Kilta member Nick on bass. The new album's also less of a Chris Pritchett vehicle. He may write the songs (co-credited to the band) but Phillips and Pritchett get to take respective lead vocals on ended relationship number Shade Of An Ordinary Life and Believe, a spare acoustic guitar number about a mother worrying about her runaway son.
The Crowded House, Ezio, Gerry Rafferty and, I daresay, Latin Quarter comparisons still apply, but the arrangements, the hand percussion particular, feel much more rhythm based and sultrier this time; the opening Ashes (raging about people who insist on being very loud with their mobiles or iPods on public transport) a soaring chorus flamenco tune down its castanets clicks and Phil Beer's gypsy fiddle while greasy sax moans over piano ballad You're Gone.
Pritchett's folk roots are warmly evident too, providing the foundations behind the hand drums of This Picture and Clocks while a romantic Runaway Heart, the piano rippling You're Gone and Walls (another song about a disintegrating relationship) underline those sophisticated acoustic pop sensibilities.
However, the album's two strongest songs loosely concern children and balm of time passing; albeit from very different perspectives. The title track's a gentle reflection on boyhood 'dreaming dreams of cigarettes and girls, building castles, maybe one day shaping worlds' that shades to the older man realising his lover is all the world he needs. Then there's Shattered, a poignant and beautifully dreamy tribute to the dignity of the Amish communities in the wake of the 2006 school shootings in Pennsylvania that left five girls dead and the inevitable intrusive descent of the media into their insular lives.
They need to do some serious roadwork if the album's to reach beyond their fanbase, but for band and audiences alike the dividends should be plenty.
www.myspace.com/jacanda
www.jacandamusic.com
Mike Davies February 2009
---
Jacanda - Back to The Sky (Hillside)

A Bristolian four piece providing a vehicle for singer-songwriter Chris Pritchett, they've been not undeservedly compared to Crowded House while they also cite the likes of James Taylor, David Gray, the Eagles, CS&N and Tom McRae among influences. I'd also suggest Ezio and Gerry Rafferty's in there too. Suffice to say if any of the above tickle your aural senses, then you'll find equal listening pleasures amid the jazz coloured folk rock here, Pritchett's warm vocal style enhanced by arrangements that enfold mandolin, cello, piano, bongos and sax.
Lyrically, his songs variously address broken relationships ( Waiting Up), lost opportunities (Wheels, Treading Water), death (Outside To In), war (Roundabout, written about events in Darfur) and, just to bring some light to the melancholy, hints of hope (One Day), defiance (Woven) and a determination to rise above the disappointments and hurt (Ghost Of A Smile), and while there's nothing radio friendly enough to make them overnight discoveries, they'll never be short of a welcome around the songwriter circuit.
www.jacandamusic.com
www.chrispritchett.com
www.myspace.com/jacanda
Mike Davies March 2007
---
Jacqui McShee's Pentangle - Feoffees' Lands (GJS Records)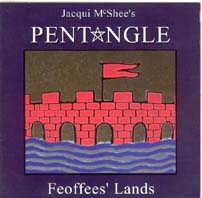 The Pentangle brand-name has always been associated with inspired, eclectic and genre-defying music-making, and its latest incarnation proves no exception. The current lineup has been around since the mid-90s, when original vocalist Jacqui McShee teamed up with drummer Gerry Conway and keyboard player Spencer Cozens. That trio was recently expanded to a five-piece with the addition of saxophone (Gary Foote) and bass guitar (Alan Thomson), and Feoffees' Lands marks their third release. Typically, they're heard to expand the envelope even further, with imaginatively jazzy treatments of four traditional folk songs (Banks Of The Nile, Two Magicians, Sovay, Broomfield Hill) sitting easily alongside five sturdy original compositions in a distinctly soulful, even jazzier mould, with one staple jazz standard (You've Changed) thrown in for good measure. Each track genuinely complements the others while setting the other tracks' individual achievements into relief, and this new album is a superb demonstration of Pentangle's masterly - and completely natural-sounding - cross-fertilisation of folk and jazz with occasionally other world-music influences from reggae to African. It all cooks juicily, and makes for an exhilarating listen - over and over! Also, there are occasions when the band selectively bring in a number of additional musicians (trumpet, trombone, flugelhorn, clarinet, kora, electric guitar) to swell out the instrumental palette, but the arrangements never swamp either the basic lineup or the impact of the material, and on numbers such as Nothing Really Changes really enhance the delicious grooves they've created. The expert, nay virtuoso instrumental playing at all times provides the perfect counterpoint and an ideal setting, for Jacqui's eminently versatile and intelligently-phrased vocal work. She's never sounded on better form, pure and superbly controlled, expressive yet attractively cool - all those qualities you remember from her early performances, yet now with that extra edge of maturity and experience that lifts this whole production into the rarefied stratosphere that tends to be reserved for great albums. Which this one surely is, believe me!

David Kidman
---
Jackpot - F+ (Surfdog)
Let's be honest, with shades of the Velvets (Black Road, Upside Down), psychedelic chugging funky blues rock (Adventures Galore), and the sonic distortions of If We Could Go Backwards not everything here is going to appeal to those who like to keep their Americana realtively pure. But, fronted by Rusty Miller, there's a wonderful narcotic weariness and sense of strung out ennui and failure to the Sacramento crew's fourth album that would make Wilco's most mournful moments seem positively happy clappy. Vaccine conjures vague thoughts of Buffalo Springfield with even more of a stoned drone vibe, Headlights is a backporch bluegrass tribal stomp, When We Get Together a voodoo Tom Waits fever, Dizzy marrying Exile On Main Street narcoticism with Giant Sand's desert night noirish guitar moans, Airplanes and Secrets a cracked throat acoustic drunken lurch around a godforsaken 3am motel room.
Gloriously worn down on the ironically titled Euphoria where Miller sounds like he's barely raising his head from the bar to sing and then hitting the evening highway for the irresistible electronica tinged melodic rolling rhythms of Windshield Wipers, it all closes with the frankly brilliant Charlie Watts Is God, a seven minute crescendo hymn to the saving grace of rock n roll that is probably what Travis would sound like if they were the Dream Syndicate playing Crazy Horse. Make that an A-
Mike Davies
---
Alan Jackson - Like Red On A Rose (Arista)
Alan Jackson is the undisputed leader of the 'big hat country' pack. It is rumoured that wherever he goes, his Stetson arrives an hour before him. But the 'biggest beast in the country jungle', has looked to pastures new for his latest album Like Red On A Rose. Teaming up with Alison Krauss was not only surprising it was inspired. The earthier more natural Krauss has motivated Jackson to look inside himself and the results are more intimate and more personal. This isn't a great country album, it's a great album full stop.
In fact on a few of the tracks, it's Jackson's instantly recognisable mahogany voice that is the only real clue as to its genre.
But it's not only the wide range of Like A Red Rose that is a joy. With Alison Krauss as producer, it would be reasonable to expect a more bluegrass, natural sound but she has guided Jackson with a light touch, a steady hand and an objective eye. Instead of 'Alan Jackson sings Alison Krauss', the pair have both ventured out of their respective comfort zones.
On Like Red On A Rose Jackson is a superb 'owner' of the tracks. As the lush ballads unfurl you begin to believe that you're in the presence of the definitive versions, the richness of the title track, the closeness of Wait A Minute will be the yardsticks by which all other versions are judged and found wanting. These are now Alan Jackson's songs, almost as if he'd written them all.
For a man who has sold 44 million albums, scored 31 no 1s and is the most nominated artists in CMA history, there's also a charming self consciousness about The Firefly's Song, Jackson is never quite comfortable with. It's as if he's not been in the position of revealing so much, for a long time. Instead of the trappings of superstardom acting as a barrier, the soul of the man beneath is revealed.
There's a classic timelessness to Like Red On A Rose. It will not suffer the vagaries of fad or fashion, the sound of a man singing what is in his heart will live forever.
Michael Mee, Editor Hawick News, November 2006
---
Alan Jackson - When Somebody Loves You (Arista)
I started off thinking that the great, sturdy real-country playing and fine sound of this release couldn't in any way redeem this new effort from country superstar Alan - it's his tenth! Probably best described as mainstream country of a reasonably predictable kind, for which there's no doubt a huge market, I thought. After all, credibility is bound to go out of the window with the opening track - well, what do you expect with a title like Meat And Potato Man?! I honestly thought this was a p***-take, it's so stuffed full of chauvinist redneck stereotype….. I'll admit things improved somewhat thereafter for three cuts, but then we get back to the parody (or do we?!) with www-dot-memory (can you resist the chorus "If you feel like love just click on me, at www-dot-memory" or lines like "No you won't have to touch me or even take my hand, Just slide your little mouse around until you see it land"?!!). And It's Alright To Be A Redneck could almost have been written by Frank Zappa - I just lurve li'l ol' throwaway lines like "the kids are gonna cry and the chicken's gonna fry"… Hell, this guy can't be serious! So in the right mood, you'll no doubt find some of this album pretty hilarious, but then Alan can turn in the tearjerkers like I Still Love You and Maybe I Should Stay Here with complete authenticity and not a trace of self-parody. And as I said, he's got some excellent musos in tow - Bruce Watkins and Brent Mason (guitars), Glenn Worf (bass), Paul Franklin (pedal steel, dobro), Stuart Duncan (fiddle), etc etc…. and the balance and production values are superb. Is the finale (Three-Minute Positive Not-too-Country Up-tempo Love Song) positively Alan's last word on the subject? - I doubt it somehow….. Darned confused or what? - I sure am, 'cos this album is a whole lot of fun!
David Kidman
---
Jefferson Starship - Jefferson's Tree of Liberty (Evangeline)
Those aware of Jefferson Starship's origins as Jefferson Airplane back in the distant days of 1965 San Francisco will be aware that founder member Paul Kanter was originally a folk singer working the clubs around the Bay Area alongside the likes of Jerry Garcia and Janis Joplin. The previous year he'd also worked as a duo with David Freiberg who would subsequently go on to become part of Quicksilver Messenger Service. A fan of The Kingston Trio, that folk influence would feed into Jefferson Airplane's debut album and would become even more evident on Surrealistic Pillow, by which time they'd been joined by Grace Slick (replacing Signe Anderson ) who herself had fronted psychedelic folk outfit The Great Society.
Listen to the band's many incarnations over the years and you'll always hear those folk roots somewhere, so it's not that much of a surprise to find, on the Starship's first album in a decade, Kanter returning to the music that shaped him.
Taking the lead male vocals, it also sees him reunited with Freiberg as a key part of the line up alongside singer Cathy Richardson, well as guest appearances by fellow Airplane members Marty Balin and Jack Casady, former Starship vocalists Darby Gould and Diana Mangano, violinist David LaFlamme from It's A Beautiful Day and, on bonus track Easter Egg (which appropriately opens with the words 'surprise surprise') even the legendary Slick herself.
Harking back to the 60s protest days (inspired by Jefferson's revolutionary spirit) and tapping into those Kingston influences, and, even more so, The Weavers, the collection mixes together old and contemporary folk classics (including the Weavers' own Kisses Sweeter Than Wine and album opener Wasn't That A Time) as well as new material from both Kantner (the largely spoken On The Threshold of Fire) and Balin (the poppy Maybe For You). On the trad list you'll find Follow The Drinking Gourd (the song after which the legendary 60s folk club was named) and the banjo led shanty Santy Anno (better known as Heave Away Santiago), Woody Guthrie provides Pastures Of Plenty while Dylan (Chimes Of freedom), Phil Ochs (solo Richardson showcase I Ain't Marchin' Anymore), Richard Thompson (Gould taking lead on a sterling Genesis Hall) and even Brendan Behan (a marvellous drone backed interpretation of The Auld Triangle) are also represented.
Kantner's love of Irish folkies from the Clancy and Dubliners to the Pogues is also well in evidence with a brogue-inflected Rising Of The Moon.
It's a tremendous set that makes it hard to play favourites, but I'd certainly have to single out Gould's haunting a capella delivery of Richard Farina's The Quiet Joys of Brotherhood and an inspired fusion of Marley's Redemption Song and Lennon's Imagine with Richardson taking lead and Kantner, Gould and Freiberg providing vocal back up.
Who'd have thought that, over 40 years after its inception, the Jefferson imprint would have released one of the top folk albums of the 21st century!
www.jeffersonstarship.com
www.myspace.com/jeffersonstreeofliberty
Mike Davies December 2008
---
Jefferson Airplane - Sweeping Up The Spotlight: Live At The Fillmore East 1969 (RCA/Sony/BMG Legacy) Here's a record of the archetypal West Coast band with its finest ever lineup (Balin, Kantner, Kaukonen, Casady, Slick and Dryden) performing a stunning set at that renowned venue: one that's never been issued before (aside from two numbers that surfaced just in time for inclusion on the expanded reissue of the band's Volunteers album a couple of years back). This set was recorded over two consecutive nights (28 and 29 November 1969), only a week or two after the release of Volunteers in fact, and featured a brace of atypical songs from that very album (Good Shepherd, Volunteers) while not forgetting the early classics (White Rabbit, Plastic Fantastic Lover, 3/5 Of A Mile In Ten Seconds, Ballad Of You And Me And Pooneil, Won't You Try/Saturday Afternoon) and airing three non-JA-album rarities (Uncle Sam Blues and Come Back Baby, both of which were later to become Hot Tuna staples, and the notorious jam-session track You Wear Your Dresses Too Short), finally closing with a ten-minute version of The Other Side Of This Life. Although the Airplane had released a superb live album (Bless Its Pointed Little Head!, itself compiled from a series of landmark Fillmore gigs the previous year) at the start of that year, this late-69 set arguably goes one better in many respects, notably the fiery, tearingly exciting quality of the performances which embody a glorious "beauty and strength in the roughness", as Jorma Kaukonen remarks in his evocative sleeve-note. This set really is totally essential: one hell of a trip - and unquestionably the Airplane in their absolute prime, caught on a high roll before the various personnel changes and assorted hassles that were to begin to disrupt the band the following year.

David Kidman August 2007
---
Jefferson Pepper- American Evolution (American Fallout)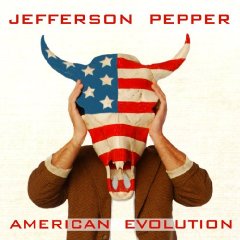 Covering 1941-1989, the second volume of Pepper's American trilogy is a slightly more uneven affair than its predecessor, the social and political points more scattershot and at times either clunkily written with lines like 'if you give me a lobotomy I'll give you a piece of my mind' from the Prine-like Good Morning Mrs Stine or, as on Crucify (what would they do if Jesus came back today), revisiting familiar song territory.
Isn't a rock n rolling Real Good Time a bit too obvious as a number about emerging from the 40s gloom into the 50s promised land with Elvis, Roy and Johnny a palliative to the 'cold war pork'?
The percentage of memorable tunes to the merely serviceable isn't as high either. Numbers like 21st rebel yell Land That I Love, Coming Down (blind pursuit of technology), Another White Line (coke addict woman induces abortion) and One Percent, a comment on the distribution of wealth spoken over swirling orchestration and beats, may have things to say, but the music doesn't persuade you to spend the time listening.
On the upside, when he hits the spot, lyrically and musically then Pepper demands the attention. The bitter storysongs are the strongest. Fiddle lined opening track On And On tells how George's dad taught him to shoot as a kid then took him to work at a slaughterhouse, and he grew up to enlist and die in WWII. Break The Chain is the story of Denny, born into a desperate cycle of poverty and alcoholism, tied to a chain that bound him to the dead end street where he grew up.
Ben is the story of a childhood friend from across the tracks who blew his brains out when he came home from the army an amputee. And, in a wry comment on America's obsession with appearances, The Ballad of Betty Wulfrum follows the 'homeliest girl in school' as she undergoes a makeover.
Best track here though is probably the most honky tonk country, a steel streaked singalong chorus Collection Of Angels about a widow and the 'smiles of plasticine' and embroidered homilies that keep her company now Clarence has gone. A few more like that on Vol 3 wouldn't go amiss.
www.americanfallout.com/jefferson_pepper
Mike Davies August 2008
---
Jeni & Billy - Longing For Heaven (Jewell Ridge Records)
Though still relatively unknown in the UK, Jeni & Billy have for the past couple of years seriously charmed the crowds at Beverley Folk Festival as well as greatly, if quietly, impressing at other important venues on the folk and bluegrass circuits, although their slightly gawky demeanour and onstage persona have at times served to mask the true, knowing nature of their musical talent.
When Jeni Hankins and Billy Kemp first met, in the spring of 2005 (while Jeni was recording at Billy's studio), it was the catalyst for a fruitful writing and performing relationship, and soon afterwards they released a six-song EP together (Sweet And Toxic). Four years on, and their latest recording is Longing For Heaven, which in turn is the followup to their 2008 release Jewell Ridge Coal (which paid homage to a forgotten Southwestern Virginia coal mining community).
Longing For Heaven embodies a more deliberately spiritual angle than Jewell Ridge Coal, although it still exemplifies the duo's specially intimate brand of storytelling in song in dealing directly with the most intimate of life's questions, the concept of home (whether that be on earth or in heaven). Jeni and Billy's gently thoughtful yet compelling presentation couldn't be simpler either: eerily effective close-harmony singing, sparsely backed by just a guitar and banjo in the very purest of Appalachian styling (with only one guest contribution, that of Shad Cobb on fiddle, on a couple of tracks).
Five of the disc's ten songs are superbly authentic-sounding own-compositions that proudly yet naturally display Jeni's acute gift for melody and to their infinite credit sit easily and comfortably within the company of the carefully arranged traditional and other older material. With Fond Affection gives us the best of both worlds, being a truly lovely re-creation of the traditional song of that name but with a new melody, additional lyrics and a particularly sad, delicate banjo lead. The heartfelt title song is based on a piece from the Sacred Harp collection, and On A Hill Lone And Grey surely stems from a deeply spiritual wellspring.
Of the originals, the Carteresque While I Stay At Home And Weep is especially fetching; other standouts where Jeni displays her keen storytelling skills are Father Will You Meet Me In Heaven (which tells of Johnny Cash's brother Jack) and The Ballad Of Sally Kincaid (the tale of a fallen woman from a mining community), whereas Cecil Roberts' Hand is a rousing paean to the UMWA president. The final track, the simple, ultra-catchy hobo song If I Ever Get Ten Dollars, departs momentarily from the Appalachian mould with its more acoustic-pop kind of setting. Oh, and the only less than entirely forgivable element of the audio content of the record – its untimely brevity, at 29 minutes – is partly compensated for by its bonus multimedia content.
But to end on a positive note: although it was actually recorded in a secluded cabin in the Carolina mountains in the dead of winter, Longing For Heaven is a wonderfully warm record, an album of companionship and quiet magic, and once under Jeni and Billy's spell you'll want to remain thus; longing for more of this heavenly kind of music in fact.
David Kidman July 2010
---
Jenifer Jackson - So High (Bar/None)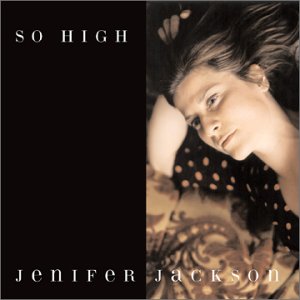 Out of New York, Jackson's a wisp of velvet voiced guitar playing songstress who to judge by this, her third album, clearly spent many months of her formative years dreaming in her bedroom to a mixed album collection of Carole King, Laura Nyro, Marvin Gaye, Astrid Gilberto and Burt Bacharach. Thus there's the folksy pop of Down So Low and the sunshine 60s We Will Be Together, a country-folk Through Leaves, 70s soul rippling through Got To Have You and The Power of Love (which manages to fuse She's Not There and You're So Vain in the opening bars) and laid back bossa nova sways for Since You've Been Away and Got To Have You.
As cool as fragrant deodorant in a sultry cityscape, ably assisted by multi-instrumentalist producer Patrick Sansone, Jackson brings a delicate sexy perspiration to the title track and the wind chiming summery float down the stream acoustic delicacy of Blue Forever Mine, while The Invitation opens on a chugging train rhythm before skipping its heels down some jazzman's boulevard, chiffon scarf fluttering in the breeze behind her.
She may flit through an assortment of easy on the ear sophisticated musical genres, but what remains consistent is the fluidity of her vocals, forming themselves to whatever shapes the music demands and the urban romance concerns of her lyrics, whether she's talking about the power of love to provide meaning, the thrill of that first encounter or the melancholy of hearts healing. She's currently without a European deal, so perhaps someone could just start whispering things like 'the next Norah Jones' and then stand back to avoid the rush.
Mike Davies
---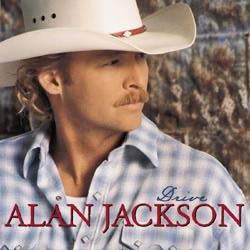 I'm no big fan of mainstream Nashville and professional stetson wearers, but despite some good ol' boy twanging rock n country roll (Work In Progress is saved by its ordinary unreconstructed guy trying to be a New Man lyrics) I'm willing to make an exception in Jackson's case. Firmly in the mould of Haggard and Jones, his baritone twang is one good reason, his ability to pin his songs with wit and emotional heart is a better one, rising above the usual maudlin sentimentality of the genre to make something like Drive, a song about learning to drive a boat as a kid, resonate with a universal truth about fathers and their kids. Ditto First Love, a song not about a girl but a 1955 car that he bought, sold and then had her returned to him years later as a Christmas gift. Like that, other songs too sound autobiographical notes as in the love letters to his family, Once In A Lifetime Love and The Sounds, while his choice of covers have that same honest 'meat and potatoes man' feel, as with the Appalachia hued A Little Bluer Than That. The centrepiece of course is the song around which the album swiftly formed. Included in both its studio form and the live version that debuted at the 35th annual CMA Awards, written the week before, Where Were You (When the World Stopped Turning) is a moving summation of a nation's feelings about the tragedy of Sept 11, the reactions to events, the lingering aftershock of sorrow, survivor guilt, fear, the desperate need to reach out to family and strangers. "I'm just a singer of simple songs, I'm not a real political man/I watch CNN but I'm not sure I can tell you the difference in Iraq and Iran," he sings. Maybe so, but he's got as keen an insight into the everyman heart as anyone in country.
Mike Davies
---
Joe Jackson Band - Live - Afterlife (Rykodisc)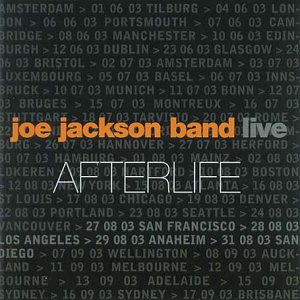 Joe Jackson, remember him? He's back, well he's not really been away but this time he's back with his original band from the late 70's/early 80's. This album is the result of four nights recording at California venues on his 104-show tour and the thirteen tracks portray a man and his band totally at ease with themselves. The songs are gleaned from his back catalogue along with a smattering of new songs from his latest studio album, Volume 4.
The familiar strains of Steppin' Out open the album but they are in an unfamiliar but excellent slower setting. This is just Joe on piano and vocal and it is just as effective as the single that came from the Night and Day album. There is massive energy coming from the stage and Awkward Age (from Volume 4), Sunday Papers (Look Sharp), Don't Wanna Be Like That (I'm The Man) and Got The Time (Look Sharp) are testament to that and it shows that the old vibe is still there along with the more sophisticated current sound. Machine gun, staccato guitars and almost punk-like energy are the trademarks of these songs.
Joe's first album, Look Sharp, is well represented and the band give fine performances of One More Time, Look Sharp and Fools In Love in addition to the already mentioned Sunday Papers and Got The Time. These older songs are given a sympathetic treatment are well received by the audience, especially on Fools In Love which has a segway into the Yardbirds' For Your Love. His voice shows no sign of decay through the years and, in fact, he considers himself to be a better singer and songwriter nowadays - no argument here. Down To London, from the Blaze Of Glory album and Love At First Light from Volume 4, are good examples of Jackson's belief in his singing voice and Sunday Papers shows his vocal dexterity.
The band get a little funky and throw in some reggae beats on Fairy Dust and Beat Crazy from Volume 4 and Beat Crazy albums respectively, Jackson turning on the angry old man routine on the former. This is a stunning live album and has a band that sounds that they have been playing together for 25 years rather than one who recorded three albums in two years and then split up for the next 23.
www.rykodisc.co.uk
www.joejackson.com
David Blue
---
Jack The Lad - Jackpot! (Market Square)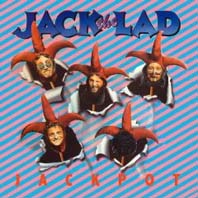 Jack The Lad, the first Lindisfarne spin-off band, variously comprised Rod Clements, Si Cowe, Ray Laidlaw and Billy Mitchell with (later) ex-Hedgehog Pie men Ian Fairbairn and Phil Murray. The unit recorded three studio albums for Charisma between 1973 and 1975 before finally signing off in 1976 with Jackpot, their swansong (on United Artists), which is here reissued for the first time on CD, topped up with seven bonus tracks (some great pre-album demos and subsequent live material) and full and entertainingly informative booklet notes. Jackpot, in all its wayward glory, conveys a happy sense of fun and spontaneous abandon, with the band's abundant verve and professionalism enabling good-time pop (You, You, You and Eight Ton Crazy), infectious folk-rock jiggery (The Tender, Steamboat Whistle Blues, Walter's Drop), AWB-inflected disco (We'll Give You The Roll) and vintage exotic flavourings (Trinidad). There's an abundance of fun and spontaneity here, even on the live cover of the old Johnny Kidd hit Hungry For Love, and the demos are great too (recorded before Si left the band, these tracks include the excellent See How They Run, which languished otherwise unrecorded for years). This expanded reissue sounds great by and large (though I suspect side one of the vinyl original was used for a master, I detect some off-centredness and mild surface distortion). But it's a veritable jackpot indeed, and thus provides an ample return on your investment.
David Kidman April 2009
---
Kate Jacobs - Home Game (Own Label)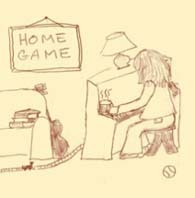 After releasing Hydrangea in 1998, Jacobs took time off to raise a couple of kids. Six years later she returned with You Call That Dark. However, anyone hoping for less of a gap before the follow up was to be disappointed. Another maternity leave sabbatical ensued, this time for seven years. But, after putting the ironing and vacuuming on hold for a while, her fifth album's finally arrived and there's obviously been a few shifts of the musical landscape in between.
Not that the last one wasn't diverse. Rural rootsy pop was the default mode with a variety of variations on the theme, but there was also a jazz ensemble klezmer number. Here there's considerably less country but a fair sprinkling of bossa nova (On My Monitor, a Suzanne Vega-ish song about a disturbing TV news byte), old school bluegrass (Jesus Has Been Drinking, an Iris DeMent flavoured lament for the town oddball turned wino), and the sort of lazy piano jazz blues Bing Crosby might have crooned (the new parent joy of All The Time In The World). On the 60s pop flavour of Make Him Smile she also cheekily borrows the distinctive chords of Dusty Springfield hit I Only Want To Be With You. Once you get over the musical surprises though, it's impossible not to fall under its spell and her sweet warbly vocals.
The opening track, Rey Ordonez, does the job of getting you sufficiently hooked to keep listening, a slowly building 60s folk-rock tune with marching drum beat and ringing guitars about being on the road in the tour van listening to a baseball game with a singalong chorus that name checks Ordonez and four other players, all of whom played for the New York Mets at some point in their career.
You might naturally think the title track's another sporting reference, but rather it's a dobro backed stargazers lullaby about maternal and domestic bliss and "finding all my answers in a teacup". The same musical and lyrical mood flows through the soft swing Sligo Lad, a playful love song that mentions both William Butler Yeats and James Joyce and contains the great line "he's like this crazy Irish weather, ever since we've been together I just never know how the wind will blow."
Not that she can't write songs about the precarious side of relationships too. With a touch of Tammy Wynette and a raunchy guitar solo, $55 Hotel is a catchy swayalong tale about a wife discovering hubbie's been cheating when she finds a weekly hotel charge on the Visa bill while the dreamy Love Comes And Goes finds her pining for those single nights of old and Good Enough, a duet with Gene Turonis in the tradition of Dolly and Porter, is about how making do can make you happy as she sings "gettin' by was never my idea of dreams come true, but gettin' by with the right guy is fine with me if he is you".
Like a good mother, she ends her stories with Time For Bed, a waltzing dobro lullaby about tucking in the kids and sitting down for a beer, a newspaper and a chat with your other half before turning in for the night's connubial contentment. Sweet dreams are made of this.
Mike Davies May 2011
---
Kate Jacobs - You Call That Dark (Bar None)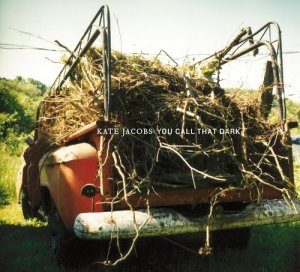 Somewhere between getting married, having two children, and growing flowers, the Hoboken based singer-songwriter's managed to put together a long awaited follow up to 1998's Hydrangea. While a childlike quality remains in her voice, where she once echoed Victoria Williams there's much more of Dolly Parton about her tone and phrasing these days, particularly evident on Lavender Line, though in terms of her short story songs another reference point would be Nanci Griffith.
Produced by guitarist Dave Schramm, it's a dusty rural album's worth of warm rootsy pop suffused with a gentle melancholia and wistfulness in its tales of ordinary lives inevitably informed by her own emotional experiences as wife and mother.
As with Hydrangea, family concerns loom large; the opening Your Big Sister a tribute to the inspiration and sacrifices of the first born, God Bless Ione a rowdily ramshackle jangling and tumbling pop song about her dad and the shrink who brought calm to his storms. But she's even more anchored to her farming heritage and the lives of those who've followed the calling and found the world leaving them behind.
Farmers and farms populate the album with stories of loss and love. Pete's Gonna Sell pretty much sums up the state of affairs as she talks of a neighbour reluctantly selling his hundred year old apple farm because his kids don't want to take it on while, again noting how many farms go down each spring, in Helen Has a House she wonders how long the frail old dear who owns it can continue to keep it going. Hardly surprising then to find Tall Buildings and its lament at the cost of development "as beauty's laid to waste.'
Elsewhere in the deceptive lullaby sounding What A World, What A God an aged Gaelic speaking farmer winds up in hospital, refusing the morphine that would ease his suffering because he thinks the nurses are asking for money and he's afraid the medical costs would be too much for his family to bear. But, on a more bittersweet upbeat note, there's the rocking If It's an Elm Tree which uses an elderly mechanic's lifetime accumulation of a junked cars in his huge field as an image of the things we hang on to that give us comfort and security, of a 'whole life lived on just one farm'.
She may 'walk in fear of certain pain' caused by the passing of time and of words left unsaid, as she sings on I Walk In Fear (which surely borrows its melodic refrain from On Top Of The World) but even though a sad note of mortality squeezes into the lyric, on the shuffling jazzily brushed Life Can Be Sweet she's equally aware of the simple joys to be found in knowing the names of the flowers and hearing the birds sing. Likewise The Silent Hills, which borrows its melody from Plaisir D'Amour, affirms the healing power of the landscape.
Topped off with a 5-piece jazz ensemble klezmer arrangement of Shakespeare's sonnet That Time of Year (itself a lament for passing years), for all the themes of loss there remains a welcomingly sense of comfort in listening to her sing, a sense of timeless wisdom mingled with the smell of woodsmoke and the sound of chidlren running through fields to dangle their toes in the creek. Even if it's only in memories.
Mike Davies
---
Kate Jacobs - Hydrangea (Small Pond/East Central One)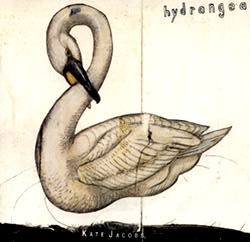 Some albums haunt you, stirring as they do memories of times past whilst giving you glimpses of something you can't quite touch. Kate Jacob's Hydrangea is one such. My glimpse was of long ago; a school choir singing All Things Bright And Beautiful with all the echoes of lost childhood that evokes . Gentle innocence and unpolished simplicity are constants throughout this collection of very personal story-songs from New Jersey Kate. Her voice is something between angel and child and it's entirely in keeping that two children's choruses are included.
Kate records with David Schramm on electric and acoustic guitars, piano, accordion, recorder, lap steel, tambourine and vocals; James MacMillan on bass guitar and vocals; Alan Bezozi on drums, percussion, birds. Other vocal contributions are made by Vicki Peterson, Susan Cowsill and children from two Hoboken schools: Mustard Seed School and Hudson School sing the two choruses These are inspired by the great Russian Anna Akhmatova's poetry, a choice which is not random synchronicity. Kate's Russian ancestry, with its passionate intensity, are all in the mix.
The Calm Comes After and What About Regret, Kate's two previous albums, will be released on East Central One early September 2000 and available on her current Tour (see our Listings).
Kate Jacobs is now on tour. Her songs, performance and the lady herself are quite beautiful in a non-traditional way. She's raven-haired, petite, seemingly fragile, and yet alone on stage accompanying herself on guitar, she has a captivating strength which means you can't look away or not listen! Kate's songs are stories/glimpses of her family's past, Eddy who went to fight in the Spanish civil way, a farmer who grew 'weed' in his hedgerow, "Never Be Afraid" (Russian immigrants arriving in America), "Honeybees" (a sweet lullaby which contains a family history of this century's wars and revolution) and more. These songs are always insightful and sung with a meet-your-eyes honesty, a rare thing, and her radiance illuminates the stage. She's very, very good. Go and see her if she's in your area in the next couple of weeks.
members.aol.com/JacobsKate
www.eastcentralone.com

Sue Cavendish
---
Chris Jagger's Atcha - Act of Faith (Blue/SPV)
Although they share a love of the blues, unlike his brother, the younger Jagger sibling (he's 59 to Mick's 63) is steeped in country flavoured r&b, New Orleans funk and the zydeco and cajun of Louisiana. All of which are present and very correct on the band's third outing, a decidedly good time collection of feet itching tunes that hits the Clifton Chenier/Johnny Allen swing on Strangelove and She's A Jewel, splashes around in the boogie swamp with Cream In My Coffee and the gris gris bones of Everybody, dances around the country rhythm n blues and accordion squeezing floor of Got Me Where You Want Me in the company of Sam Brown, and slides into the snake-eyed blues for On The Road, 15% Extra, and a slow burning moody Junkman, the latter featuring blistering laid back bluesy guitar courtesy of Dave Gilmour.
The band, made up of Slim Chance keyboard/violin veteran. Charlie Hart, brothers Malcolm and Jim Mortimore on drums and guitar, and bassist, Paul Emile are as tight as you'd expect from seasoned musos, while you might recognise the family connection duetting on DJ Blues, a tribute to such practitioners of good time blues as Elmore James, Buddy Guy and Roosevelt Sykes.
It's never going to find them playing any Super Bowls anytime soon, but if you happen to see them billed down some smoky barroom you can guarantee they'll provide a lot more satisfaction.
Mike Davies, February 2006
---
Chris Jagger - Channel Fever (Hypertension Music)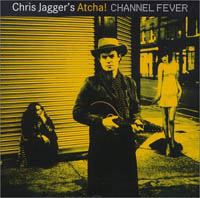 For those of you that don't know, Chris Jagger is Mick's younger brother. But, to be quite honest, there's not a lot that they have in common musically. Channel Fever is a blend of Cajun/Zydeco, Blues, Rock & Roll and Country as Jagger hedges his bets with this series of self or co-written tracks. Having said that Chris and Mick don't have much in common there are a couple of songs in the good time title track (up to the Cajun accordion at the chorus) and Baby Is Blue that do have Rolling Stones sounds to them. The latter certainly is in the Waiting For A Friend mould. Law Against It is a slowish catchy boogie on which Jagger gives us a taste of his drawl but the following, atmospheric Still Waters will have few fans. He's In A Meeting is straight up old time country whereas Funky Man is the first blues track and delivers some snappy guitar and organ as well as the first outing for the horn section. The first of my favourite tracks is Monique, which is sung in French and straight out of the Louisiana bayou. This is Cajun music played to the highest standard. The Arms Of Kari-Ann is a straightforward, medium paced country-rock effort and the tempo is raised again on the rock and roll style, Crazy. We get full-on country, fiddles and all on the foot-tapping Rodeo before moving on to the aforementioned acoustic Baby Is Blue. Back to the favourite songs with Libido Blues and Blanchishears, the former being standard rhythm & blues but with just that little something extra and the latter is just another good time, bluegrass influenced track. The best vocal on the album is saved for the final song, C.J.'s Blues. This shows off his voice majestically and may show him the future path. He is very good at the Cajun and Country offerings but surely he must devote more space to gritty blues in the future.

David Blue
---
Jah Wobble - Could Have Been A Contender (Trojan)
This is a really handsome super-bargain-price anthology that presents a pretty exhaustive (three discs, not far short of four hours' playing-time!) career-so-far overview of the often hard-to-pin-down renegade bass guitarist and songwriter. Compiled by the man himself, and most persuasively too, it reaches far beyond the public image into less frequently charted territory, probing the deepest recesses of his many and fruitful collaborative ventures and covering a truly dazzling array of ideas, sounds and idioms, each with JW's typical energy and boundless integrity. Proving, in fact, that whatever you yourself might think of the end product (and I make no apology for any of it - it's all first-rate), the guy's hertz has been in the right place all along! Audibly, that very beating heart is his immediately identifiable pulsating, lithe bass playing - hey, this man virtually reinvented the sound of the bass guitar after all! This anthology is the first-ever major retrospective set to chart the amazing 25+-year career of Jah Wobble (aka John Wardle), right from the pioneering experimental nihilistic punkery of PIL in the late 70s through his adventurous and groundbreaking forays into fusion with world-music (before the term was even invented, you might say) then his increasingly eclectic work with The Invaders Of The Heart. It also takes in a number of JW's celebrated collaborations with all manner of musical personalities from every conceivable corner of the musical globe - from Sinead O'Connor (Visions Of You) to jazz saxer Evan Parker (Passage To Hades), Natacha Atlas (Shout At The Devil) to Dubliner Ronnie Drew (narrating the work of sundry Celtic poets), Iranian singer Sussan Deyhim (Requiem III) to Chinese Ku-Cheng player Zi-Lan Liao (River Suite). In his time, JW has embraced all manner of cultural influences, from contemporary classical composers like Arvo Pärt to the poetry of William Blake, and engaged in deconstruction exercises on folksong (Blacksmith) whereby he forged his own continually evolving brand of English roots music, while also espousing DIY-ambient (with Brian Eno) and even funk-techno (with Can's Holger Czukay). Musics that make ostensibly strange bedfellows will with JW much of the time seem perfectly natural drinking companions, the outcome being music that's genuinely cutting-edge, exciting and gripping, invariably unpredictable but imaginative and worthwhile almost to a fault. Yes, JW's always been a contender in my book, and this exceptional-value three-disc set has introduced me to some wonderful and yes, inspiring and intriguing music that I'd missed first time round. There's even some stuff which never got released properly, like the ultra-commercial Josey Walsh (again featuring Sinead O'Connor). Perhaps more than any other anthology, this one's made me want to hear every one of JW's previous releases in its entirety - I'm almost scared of missing out on anything more! The anthology is very creatively segued in places, but - and this is its one mildly frustrating feature - its determinedly non-chronological format prevents the novice and the more experienced listener alike from getting much of a handle on the development of JW's multi-faceted musical personality. Having said which, it all emphasises the man's frightening consistency, which is almost as dominant as that telltale underpinning bass playing. An essential and ear-opening set.
David Kidman
---
Essie Jain - The Inbetween (Leaf)
The New York based Brit singer-songwriter's second album in a year perhaps, but this bears no sign of being a rushed job. Rather it builds on the strengths of her debut, not crossing the minimalist sparse folk line but deepening the sound and textures, making more use of its melancholic piano notes and contemplative acoustic guitar, casting a foreboding tone across proceedings that evokes Weimar cabaret on The Rights and Spanish flamenco on Not Yours but also hews to spartan English (or perhaps Welsh?) hymnal traditionalism with Weight Off Me.
She's been likened to Jane Siberry, Vashti Bunyan, and, rather predictably, Joni Mitchell, and on things like the sad waltzing Stop with its muted trumpet or the ghostly starkness of Goodbye with its frayed nerve piano chords, you can hear the links.
However, obscurists might also find themselves thinking of Krista Detor on the brass and piano loping dark-folk jazzy-blues Here We Go and the fragile spooked folk beauty of The Eavesdrop while I Ask You prompts thoughts of a female Cohen or Jeff Buckley. One of two bonus tracks on the special edition, with simple drone and double tracked vocals, I Remember It Just Like This even conjures visions of a Dagmar Krause and Marianne Faithful duetting in some ancient church.
Her tremulous alto voice perfectly fits the bleakness and wounded, disillusioned spirit of her reflective songs while the uncluttered arrangements give it the space to breathe and curl around the emotional core of their lyrics, soothing you with their intoxicating stillness while still troubling the soul with their dark shadows.
Mike Davies November 2008
---
Essie Jain - We Made This Ourselves (Leaf)
The latest addition to the hushed alt-folk singer-songwriter list, Jain's an ex-pat Londonder now based in New York, her debut album likely to be on the shopping list of those who've previously bought Vashti Bunyan, Devendra Banhart and Joanna Newsom while the spare multi-tracked vocal and mournful violin of Sailor bears the stamp of Sandy Denny.
It's all very minimalist and intimate, a melancholy piano here, meditative guitar there, muted brass putting in the occasional appearance (French horn lifting the aptly titled Haze above the clouds to take flight) and strings soothing the sometimes furrowed confessional brow as she addresses relationships wounded, splintered or healing.
Her voice is husky and dark, bending the notes around the simple rustic melodies and stripped back arrangements to reveal more colours than might be immediately apparent. The nursery waltzing Disgrace with its bluebottle harmonica, the musing piano doodles of Loaded, the quite in/out breathing rhythms to the fragile romanticism of No Mistake and her quiet, cool edge of a breakdown slow build on the back of a stabbing piano note, accordion and brushed drum through the trad styled ballad Talking all offer scintillating highlights, but there's much here to send you giddy with shivers.
Mike Davies March 2008
---
Chris James - Trick Of The Light (Self Produced )
Ask Chris James what he thinks of this, his first CD, and he'll tell you 'it 's not very good really'. So, ask yourself why would John Wood producer of many classic 60's records from Nick Drake, Fairport Convention, etc be willing to lend his technical skills to this release? Why would Rick Kemp of Steeleye Span add bass and Gavin Sutherland of The Sutherland Brothers blow some harmonica over the record? The answer is simple. Chris James is one of the most modest guys that you'll meet.
Sure, his debut includes plenty of blues material that you've heard elsewhere with Blind Willie McTell's 'Statesboro Blues, Robert Johnson's 'Come On in My Kitchen' and the closing track 'Irene Goodnight'. Yet, the latter lasts eight minutes and manages to keep you concentrated over the full length of its melancholic distraction. Not an easy task given the number of versions that you've probably heard of this song. His delivery is delightful with both great guitar work and a stylish vocal and, let's be honest, there isn't that much great acoustic blues about these days. In amongst the tracks written by Skip James (the marvellously titled 'If You Haven't Any Hay Get On Down The Road) and Steve James ('Will And Testament '), there is a solitary track by Chris called 'Life's Too Short'. It's more than a half-decent song and if he expanded on this, there is certainly room amongst Eric Bibb, Kelly Joe Phelps et al for another bluesy acoustic guitarist of note. Step up Mr Modesty. The time is right.
You can get hold of this CD (including P & P) by sending a cheque for £13, payable to 'Chris James' at 57 Scotby Road, Carlisle CA4 8BD.
Steve Henderson
---
Hannah James & Sam Sweeney - Catches And Glees (Rootbeat)
Best known as members of crack young band Kerfuffle, accordionist/singer Hannah and fiddler Sam have now teamed up as a self-contained duo outside of the band context in order to explore predominantly traditional (mostly English) folk material. Their wealth of experience of working with other musicians clearly informs their collaborative approach to the presentation of this material, while still leaving room for the generous showcasing of their individual talents.
The CD's title, however, would seem to be a bit of a misnomer at first, for the disc contains neither catches nor glees as such - although on closer scrutiny it turns out that Catches And Glees is the title of a jig from the manuscript of Somerset fiddler William Winter that forms the first part of the track 8 tune-set ! But the very sound of those two nouns paired in felicitous consort does convey the young musicians' vibrant and lively playing style, and it's hard to resist the thoroughly infectious blend of their two melody instruments on the five non-vocal selections (which range from English country dance tunes to contemporary compositions). Sam also layers in the more unusual tonal colour of the nyckelharpa on occasion, and adds an extra level of harmony on English bagpipes to great effect on Andy Letcher's waltz You Are The One. Hannah's personal treatment of the songs invariably makes them sound fresh (although hers is still very much a "young girl's voice" despite her accomplished technique, and thus not all songs will necessarily fully suit her voice at present).
The duo's musical arrangements are carefully thought-out, attractive and often very creative (check out especially Three Ravens and Gaol Song), and the sequencing is thoughtful (the Swedish polska by Viktor Gabrielsson works particularly well after Three Ravens, I thought). However, there are just a couple of moments when an over-indulgence of the imagination spoils things – as on the surfeit of production effects and gimmicks that are introduced towards the end of Ploughboy's Dream. But this is still a consistently vital set, full of youthful spirit.
David Kidman December 2009
---
Hilary James - English Sketches (Acoustics Records)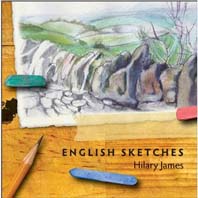 Born out of a series of concerts based on the English tradition at the Museum Of English Rural Life (MERL) in Reading, English Sketches is a whole album full of lively, inventive and charming arrangements of (mostly) English traditional song, masterminded by Hilary herself and given brilliant small-ensemble backings involving, inter alia, long-time partner Simon Mayor (on all things mando), Nick Cooper (cello), Phil Fentimen (double bass) and the two Pauls Sartin and Hutchinson (aka Belshazzar's Feast).
The repertoire covered here is a thoroughly pleasing cross-section of quintessentially English material, with especially winning treatments of Beneath The Willow Tree, the less-oft-heard ballad Young Benjie and the chiming west-country Bell Ringing Song nestling companionably alongside a gently syncopated Bold Fisherman, with the somewhat awkwardly-titled A Song & Jig For Good Measure here given three bites at the cherry with both a reprise and a bonus "full, uninterrupted version" (which is the one to play). As well as the songs of strictly traditional provenance, Hilary's wonderfully pure voice gives us disc-highlight settings (by Hilary and Simon) of poems by Hardy, Shakespeare and Housman (the latter's Bredon Hill is intriguingly dark here); there's even a set of words cobbled-cum-written by Baring-Gould no less, and an idiomatic account of a number from John Gay's The Beggar's Opera.
I'm convinced Hilary's never sounded better, and her accompanists have the full measure of the settings, if at times there's a slight suspicion of underplaying their hand in the softer, more refined edges they impart to the texts. This is a significant (and highly persuasive) addition to Hilary's existing, already impressive catalogue of song recordings; this one is I'm sure destined to satisfy repeatedly. Furthermore, the package design is adorned with Hilary's own beautifully artistic illustrations, making it even more attractive a purchase.
David Kidman October 2011
---
Keith James & Rick Foot - Lorca (Hurdy Gurdy)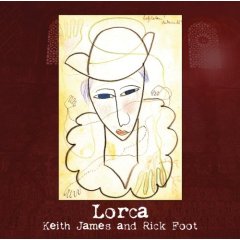 Salisbury-born and now residing in Kent, singer, guitarist, songwriter and producer Keith, who was very active on the early-80s singer-songwriter scene, is now probably better known (at least in recent years) for his project The Songs Of Nick Drake, which both succeeded in giving that artist a higher profile and enhanced Keith's own reputation as a sensitive interpreter of others' work. For this new project, Keith has teamed up with a fine double bass player, Rick Foot, to give us his take, both through a live show and this companion CD, on some of the works of Frederico Garcia Lorca, one of the 20th century's most strikingly individual and influential poets, who was murdered during the Spanish Civil War. The poems are rendered in welcomely sympathetic English translations which have been undertaken by a number of different "literary enthusiasts", so there's no problem there; and the standard of musicianship (guitar, double bass) is second to none - ditto the ancillary musical contributions from Richard Causon, Tim Edey and Martin Ditcham. But, although Keith's gently sultry singing and the style of his musical settings both fit reasonably with the more hauntingly evocative "romantic-impressionist-hangover" aspect of Lorca's writings (a mood that was quite prevalent in the 20s and 30s while Lorca was active), it can't in all honesty capture the intrinsically fiery, hothouse aura, the rough passions which are so much a feature of Lorca's world: instead of bold primary colours, Keith offers us pastel shades, only colouring part of the total picture. For instance, on Preciosa And The Wind there's no sense of that "furious wind", and none of the animal intensity of the gypsy: the overpowering sensory impact of some of the imagery is missing, and it's all curiously tame and languid. Similarly on Dawn In New York: although this is better, in that Keith varies his delivery to embrace a kind of Sprechstimme, where's the visceral impact of the "hurricane of black pigeons splashing in putrid waters"? Earlier, and despite the use of a more urgent rhythmic backdrop, The Unfaithful Wife may capture some of the eroticism but not the central fire of the forbidden flamenco, and The Feud is almost detached in its portrayal of Lorca's frightening vision. Keith's most successful in capturing the metaphysical conundrum of Floating Bridges. The final track is a version of Leonard Cohen's adaptation Take This Waltz, seductive in its own way but altogether too smoothly textured and almost matter-of-fact rather than conveying the swooning and heady atmospherics of the poem. So - whilst not denying Keith's good intentions, or the depth of his personal response to Lorca (and he's evidently soaked up the Andalusian ambience during his stay there two years ago), this particular project can only ever be considered a partial success since Keith's own personal palette just isn't able to contain all of the requisite colours that would bring Lorca's vision fully alive.
www.poemsofgarcialorca.com
www.keith-james.com
David Kidman December 2007
---
Robin James - Saint Jude (Pocket Size)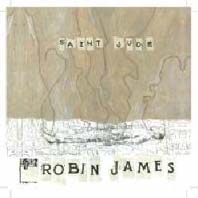 It wasn't until I saw the photo that I realised the London born singer-songwriter is actually a bloke and not a girl with a smoked larynx. Recorded live direct to tape with just voice and guitar, it has an austerity that makes Bon Iver sound like Jeff Lynne, its introspective confessionals sung like a ghost whispering a closely guarded secret. On first listen I couldn't get my head round it. But something kept bringing me back and now I find it irresistible.

Taking its title track from the patron saint of losers with a lyric that references the Beatles classic, the album puts you in mind of Nick Drake or Sufjan Stevens boiled down to their raw essence, the songs starkly beautiful, naked and exposed in their quivering forlorn emotions.

When he sings "I rest and I rhyme with these white water eyes" on haunted love song Postcard, it's almost like a spooked incantation from some midnight coven while, pulsing with a guitar heartbeat, Alive That's All's devastating prayer of thanks from the depths of despair is a Snow Patrol big chorus stadium anthem reduced to its basic atoms.

Much here stems from the experiences of living in London that led him to flee to Yorkshire (just hours after completing recording), indeed on the fingerpicked acoustic blues Going Blind he sings that the streets are killing him and he needs to go just as in Lie Down he declares himself 'under siege' and needing to find himself. It's not too surprising that on the last track, Lullaby, he psychotically croons to the baby about losing his marbles. It's the sort of song that might have even Haringey Social Services knocking on his door.

Isolation and loneliness loom large, but never to the point where it becomes too much to bear. In the Cohenesque Go To The Water he seeks consolation in the sound of the ocean (The sea is broken, she will listen") while Fahey-like blues Van Gogh finds relief in dark humour as he notes that feeling alone is no excuse for cutting off your ear.

He slips up slightly with Rag Doll Girl, fracturing the mood with its uptempo strum and forsaking the fragile intimacy for more punched up echoey vocals, however lines about the titular redeemer of messed up souls looking like an angel from a gravestone covered in moss and weeds ensures the lyrical content tone remains firmly in kilter.

I'm sure many will have the same initial response as me, but I urge them to listen again, and then again if need be. Once you surrender to his world, you'll find you won't want to leave.

www.myspace.com/songsofrobinjames

Mike Davies November 2009
---
Samuel James - For Rosa, Maeve And Noreen (NorthernBlues Music)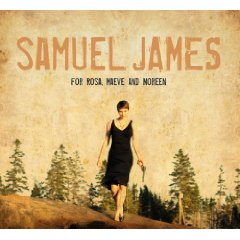 I reviewed Samuel James' first album and proclaimed it to be one of the best debuts that I have heard so when his new release fell through my letterbox I slapped it straight onto my ipod and hoped that I wouldn't be disappointed. Bigger, Blacker Ben opens up For Rosa, Maeve And Noreen and I needn't have worried. He's certainly maintained his guitar playing standard and his knack for being a sublime storyteller is still there too. Cryin' Blind shows a man out of his time yet strangely contemporary. He's not trying to be a 1930s Delta bluesman but he could fit in there very well. His laconic delivery is beautiful on this more traditional song. Joe Fletcher's Blues is slightly more up-tempo and is another gentle track. A Sugar Smallhouse Valentine continues the slightly quicker pace as James revisits a character from his first album. A good country blues. I'll Break Your Promise is intimate and if you are looking for fireworks then Samuel James is not your man. However, if finely crafted tunes and expert playing such as Rosa's Sweet Lil' Love Song is more your bag then come on down. With the correct backing I can see Samuel James doing the same for acoustic blues that Joe Bonamassa has done for the electric genre. Darlin' Maeve is again a bit more up-tempo but also goes to confirm that James doesn't really conform too often.

The prize for pun of the year has to go to I've Haddock Up To Here. This easy going country blues is played in such a way that makes you believe that you could pick up a guitar and join in. This is one of James' qualities - he makes everything sound so easy. He turns to the banjo for the rambling, stomping superb Miss Noreen. Trouble On Congress Street Rag is an instrumental that showcases his not inconsiderable finger picking talent. He varies the tempo well and the guitar is reminiscent of a train at times. John Ross Said is low key and moody, the opposite of many of the others on the album. The mood doesn't hide the consummate storytelling however. Those who bought his first album will know his propensity for a long title and The Waters Always Changing But The River… is the latest in that line. This is his strongest vocal performance so far. Wooden Tombstone will have you making sure that the pills and razor blades are out of arms reach. This is simple in its execution with only his voice and foot taps present – superb! The ambling country blues of Path Of Ashes finishes things off well. Samuel James is a unique talent and he will light up your day.

David Blue November 2009
---
Bert Jansch Conundrum - Thirteen Down (Acoustic Music)
Thirteen Down was originally released at the end of 1979, on Stefan Grossman's Kicking Mule label. It forms what turned out to be the one and only studio recording Bert was to make with his touring band Conundrum (which he had formed not long previously, after the breakup of Pentangle). The album received good reviews, and was praised at the time as one of Bert's strongest efforts to date, but it was not a commercial success (its easygoing folk-jazz-blues being out of keeping with the prevailing punk/new-wave trends, after all). Hearing it again after all this time (I could be mistaken, but I believe this is only its second appearance on CD), it doesn't seem quite as strong overall as I remembered it, and perhaps even lacks a certain unity. But it does inhabit an accommodating and relaxed vibe, one that stems much from the stylish and skilled musicianship on display in the small-ensemble backdrop courtesy of multi-instrumentalists Nigel Portman-Smith and the late Martin Jenkins, with drummer Luce Langridge in tow.
Bert himself is on excellent form both instrumentally and vocally, and the album contains a full dozen of his own new compositions together with a reworking of the traditional Sovay (revisited from early Pentangle days). Best of the self-penned batch are Ask Your Daddy, Where Did My Life Go?, Down River and the limpid (if typically intricate) instrumental Bridge, while the gently jazzier climate of Single Rose has its own quiet kind of charm and Jacqui McShee adds her own special vocal quality when she guests on just the one track (If I Had A Lover).
On this showing, it's a pity that no further studio recordings were made by the Conundrum lineup, although there's mention in the 1998 sleeve note of a BBC Live In Concert CD and an exceedingly obscure Japanese release Live At La Florêt. By the way, on the subject of sleeve notes, it's also a pity that the chance wasn't taken to correct the plethora of unfortunate typos that riddle those pages (Martin Jerkins and Jack Orrin indeed!!). But we can still welcome this album back to the catalogues to boost the Jansch discography once again (the CD's distributed in the UK by Discovery).
David Kidman July 2011
---
Sarah Jarosz - Follow Me Down (Sugar Hill)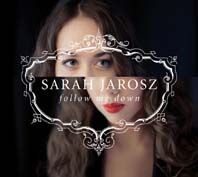 Sarah's followup to her acclaimed debut album Song Up In Her Head shows another side to her talent, being altogether less of a rootsy-bluegrass exercise and exhibiting more of an experimental nature (inspired by her recent experience of contemporary improv programmes), although retaining the sharp acoustic edge and ambience of its predecessor.
Accompanying herself this time mostly on octave mandolin, with excursions onto banjo, electric guitar and tenor guitar, Sarah builds an expansive palette for her songs with the help of a veritable Nashville dream-team of top musicians that includes Darrell Scott, Jerry Douglas, Dan Tyminski, Stuart Duncan, Viktor Krauss and Mark Schatz - with guests Punch Brothers, Seamus Egan, Edgar Meyer and Jenny Conlee-Drizos and additional string players (her young trio-mates Nathaniel Smith and Alex Hargreaves) fleshing out the sound on occasion.
The ornate nature of some of the arrangements doesn't detract from the gentle power of Sarah's lyric invention, and songs like My Muse and Run Away are very persuasive indeed, amounting to something like sheer poetry in both senses of the term. There's a rustic sensuality to her old-timey adaptation of Poe's ballad Annabelle Lee, and a mature cool to Here Nor There.
Listening to Sarah sing and play, it's real hard to believe she's barely 20 still. The album's nine songs (seven originals and two covers, including a spiritful take on Dylan's Ring Them Bells) are supplemented by a couple of contrasted instrumental cuts: Old Smitty is a fast-chugging vehicle for some virtuoso picking from Sarah and near-archetypal grass-solos from Jerry and Stuart, while the closer, Peace, is more akin to a Celtic meditation.
Follow Me Down is a fine summation of Sarah's appeal: exciting writing, singing and playing, sufficiently grounded in bluegrass tradition to satisfy the genre's fans yet also more than adventurous enough to cross over to Nickel Creek admirers and younger Americana addicts.
David Kidman June 2011
---
Doug Jay & The Blue Jays - Jackpot (Crosscut Records)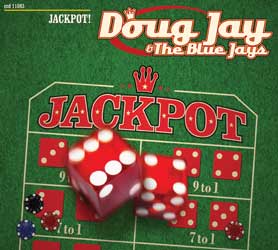 Doug Jay has been recording since the mid-1970's and his latest album for Crosscut shows no sign of him throwing in the towel just yet. He, and the Blue Jays open with In The Darkest Hour, a Chicago blues par excellence. There's a little bit of John Mayall in Doug's voice and he gives an excellent performance on harmonica. Christoph 'Jimmy' Reiter provides the powerful guitar backing. I'll Do Anything For You is classic R&B and the band move it along in great style with mesmerising guitar from Reiter. The title track is Rock & Roll with the emphasis on the Roll. It's pleasant enough but not a lot to get excited about.
The harmonica-led instrumental Giddy-Up is a well played Western blues and Real Bad Girl has a sleazy feel to it. The distorted harmonica helps the song just ooze over you and Doug turns in one of his better vocals. Ya Hoodoo Me is R&B with an authentic 50s feel with guitar and harmonica working well together. I Jump is a jump blues to rival the best and it is here that Jay comes into his own – try and stay still! When I Get Back is another that harks back to the Rock & Roll era and the introduction of saxophone from 'Sax' Gordon Beadle and Thomas Feldman compliments Jay's howling harmonica perfectly on this Floyd Dixon song.
Another cover is the classic Otis Spann song It Must Have Been The Devil and the band play it with panache. Rock & Roll is revisited on Just Say So before Otis Spann gets another airing on the mean and moody Half Ain't Been Told. Reiter has been quiet in the middle part of the album but he returns with a vengence on I Know What's Goin' On. His guitar screams on this funky blues which is underpinned with organ from Roel Spanjers. The album finishes with the 60s style instrumental Tumbleweed and the happy country blues of Each & Every Day. Doug Jay & The Blue Jays can certainly rock and roll with the best and their sorties into R&B and blues do not disgrace them either.
www.dougjay.com
www.crosscut.de
David Blue
---
The Jayhawks - Mockingbird Time (Decca)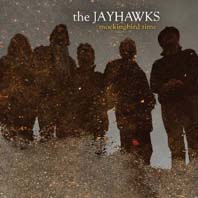 Although founder members Mark Olson and Gary Louis did some duo dates in late 2005/early 2006 and even released an acoustic album, Ready For The Flood in 2009, it's been 16 years since the influential alt-country pioneers' definitive line up of Olson, Louris, keyboard player Karen Grotberg, bassist Marc Perlman and drummer Tim O'Reagan last toured. Indeed, with Tim O'Reagan not joining the line up until after the release of the last album to feature Olson, this is actually the first time they've appeared on record together.
While the band see it as a continuing chapter than a reunion album, inevitably, anticipation has been high. Good news then that, while harking back to the high water marks of Hollywood Town Hall and Tomorrow The Green Grass, it's more about re-tilling than simply retreading old ground.
There's a more soulful feel in places, notably so on opening cut, the lush slow rolling Hide Your Colors (which also has strings and piano evocative of ELO), and the six minute slow burning groove Tiny Arrows which, in tandem with Stand Out In The Rain calls to mind the parched desert feel of CS&N and America.
The late 60s certainly provide plenty of musical touchstones and the formative influences of Buffalo Springfield, the Burritos, The Byrds and The Beatles are still in evidence; She Walks In So Many Ways a McGuinn-styled folk-rock jangle, Cinnamon Love harking to the psychedelia of Eight Miles High, the trad tinged Black-Eyed Susan conjuring early Neil Young and Guilder Annie recalling the musical landscape of Norwegian Wood while Hey Mr. Man surely owes a debt to The Magical Mystery Tour.
But if they've not strayed far from the path they originally laid down, they're walking it with a lot more assurance and are prepared to explore less familiar routes to get to their destination. Pouring Rain At Dawn may be a gloriously simple folk pop tune that might have come from an Everlys or Buddy Holly country album, but the band they were in 1995 are unlikely to have come up with something like High Water Blues, a keyboard stabbing close harmony country-rock boogie with a lengthy psychfolk acoustic guitar workout.
Perhaps inevitably, there's a prevailing theme about coming to terms with the past while looking to the future, perfectly captured on the magnificent slow gathering anthemic title track statement of intent where 'yesterday is gone like the wind' but they're still walking up that hill with a voice in their hearts.
Reminiscent of the play out to Love's You Set The Scene (though without the trumpets) as it builds to a repeated chorus crescendo of 'there's so much colour in the sky that's in your eyes, the moment that we see each other alone', this is going to have audiences waving lighters and mobiles aloft and is easily one of the best things they've ever done.
'I want to make something for you that brings you joy', they sing. Rest assured, they have.
Mike Davies July 2011
---
JBM - Not Even In July (JBM Music)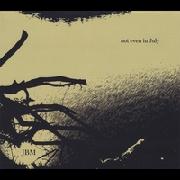 A Canadian singer-songwriter already making a name for himself on film soundtracks (he's featured as either performer or writer on Lovers In A Dangerous Time and Lasse Halstrom's Dear John), Jesse Marchant's debut album is a sparse, dust dry dose of roots Americana that variously suggests James Taylor (Cleo's Song) and Neil Young (From Me To You And You To Me) while the six minute Friends For Fireworks nods to the trip hop beats of Portishead and Red October is a moody piano based piece.
With songs about a farewell to a dying friend (July On The Sound), attempted suicide (Swallowing Daggers) and what seems like manic depression (Cleo's Song), it's not the cheeriest of listens but Marchant's baritone spins the pain with an affecting poignancy and humanity to the accompaniment of acoustic guitar, occasionally flesh with organ and strings.
The album's been likened to Bon Iver's For Emma, Forever Ago and while it's not quite as naked as that, In A Different Time's reflective shuffling hope for better times and the sadness heavy slow waltz Going Back Home with its brief Orbisonesque soaring croon, if you melted to that then you'll certainly be in puddles with this.
Mike Davies May 2009
---
Jeff & Vida - Selma Chalk (Rosebank)
Jeff & Vida is shorthand for the New Orleans-conceived (but now Nashville-based) duo Jeff Burke and Vida Wakeman, who are currently touring the UK to increasing acclaim. On Selma Chalk – which is either their fourth or fifth album release (their website lists three but confusingly not One Horse Town which I got a while back) – they're joined by their regular four-piece band (Jake Schepps on banjo, Justin Hoffenberg on fiddle, Greg Schochet on archtop guitar and bouzouki and Will Downes on bass). And what a brilliant sound they make, forthright and chunky, blasting into your ears with a real sense of purpose on the opening cut Heartache Train, that fair rushes out of the tunnel of your speakers and comes straight at you… and then you're assaulted by Vida's hard-drivin', hard-livin' vocal, tough and rootsy and real, with every bit of that authentic bluegrass twang but so much else besides.
Yeeha, you're in for something special here alright. The positive and exciting vibe continues right on thru the disc on a sequence of Vida's own compositions that owe much to bluegrass tradition but have a rougher, bluesier, one might say even more world-wise edge. The music-making is really on fire, in a way that transcends virtuosity and supplements crack picking with an intensely exciting whirlwind, a heady display of creative musicianship that appears demonically possessed. In the final analysis it's hard to classify Jeff & Vida's music; for although bluegrass is its closest tag, there's also an unassuming, full-frontal open-mindedness to their craft that allows in all manner of other feelings, not least in Vida's hard-hitting and uncompromising lyrics.
Selma Chalk is a record that will hit right home from the off and then stick with you like glue; I just can't resist lots of replays, and I'm falling behind on my deadlines again!
David Kidman September 2009
---
Jeniferever - Choose A Bright Morning (Drowned In Sound)
The floppy-haired Swedish four piece's debut is a big fjord of an album, fully of epic cinematic melodies, windswept emotions heading off into the ether and bruised whispers of voices in search of some epiphany. Being Swedish, it's also naturally fond of Americana touches, a vocal twang here, a chord sequence there. But mostly this is post-rock territory with layers of slow, pulsating atmospheric soundscapes and lo-fi folk blues that enfold themselves into songs that rarely last under six minutes and go by titles like From Across The Sea, Swimming Eyes, Winter Nights and The Sound of Beating Wings that somehow actually manage to conjure how the songs sound. If you're fond of Sigur Ros and the less drone heavy moments of Mogwai, then Opposites Attract and A Ghost In The Corner Of Your Eye will have you reaching for the oxygen tank.
Mike Davies, February 2006
---
Jenna - Brother (Hands On Music)
This charismatic North Devon songwriter (and protegée of Show Of Hands), now in her twenties (just!), has evidently thought long and hard before releasing her followup album to 2007's more-than-promising Barefoot And Eager, taking further guidance from her mentors and peers. Barefoot's telling maturity of expression is even more a feature of Brother, both in terms of her singing (which was already significantly accomplished) and her songwriting. The latter, although still very much free-spirited and fresh and largely embodying similar thematic preoccupations to before (freedom, life, love and loss), is now more deeply informed by her own personal development since that debut, especially in terms of increased life-experience.
The album is sequenced carefully and intelligently. The title track kicks it all off with a purposeful, chunky riff that at first seems over-dominant and partially obscuring the words, even more so as the song progresses, but then think about it, the four-square beat also serves to reflect the militaristic theme, directly comparing the loyalties of soldiers on the front line with their brotherly duty. The next song, Bring Me News, resonates with added poignancy in the context of Brother, while The Wreckage naturally connects by continuing the theme (sadness at the loss of someone close) and at the same time bringing in the feel of oceanic ebb-and-flow that recurs in Jenna's music as a bit of a trademark (tidemark?). This is then brilliantly evoked on the ensuing song Lundy Tide, the only song on the album for which Jenna didn't write the lyrics (they were penned by her science teacher Martyn Hocking); even so, she provided the musical setting herself out of some chords Steve Knightley had shown her a few years back!
The album itself proceeds to rise and fall with the tides of emotion, and Blinded takes Jenna into the hitherto-uncharted territory of fear, anxiety and betrayal, underpinned by a sinister heartbeat-riff, the ominous and apprehensive mood continuing into Entwined, which heralds mixed feelings at the return of the loved one from Bring Me News. Maybe the folk-stories of Fellow Traveller and Soul Sellers and the career-path dilemma of No Escape don't quite engage to the same extent, but the album picks up again for a timely revisit of Dawn Wave, the haunting and inspiring ode to freedom that Steve had originally sung on 2004's Western Approaches collaboration, and Alive is a laudable attempt to write an honest love-song.
The closing track, Keep Me From The Cold, is an intensely felt entreaty, sung acappella to a gently throbbing drone. Here, as indeed throughout the album, is persuasive evidence of Jenna's increasing vocal assurance. This is captured well by the bright and forward nature of the recording (a typically alert Knightley-Tucker production). Arguably too forward in places though, I felt, for although the musicianship of Jenna's support crew is keen (Steve and Phil guesting, with Mark Tucker and Andy Tween providing the rhythm section), there were occasions when I felt Jenna's writing demanded a more intimate, less commercial and rhythm-driven setting. Also, some production touches (like the over-much use of reverb on Keep Me From The Cold and hints of over-sibilance in the close-miking vocal compensation here and there) are a slight irritant.
But what's most important is that Jenna's developing artistic personality shines through abundantly, and the ongoing fine-tuning of her craft is clearly bringing serious dividends. Jenna says that with Brother she wanted to make an album that stayed true to the way the songs are performed live - and you can judge for yourself whether she's achieved that if you can catch her while supporting Steve Knightley on his own current solo tour, which stretches up to the end of February.
David Kidman January 2010
---
Jenna - Barefoot And Eager (Hands On Music)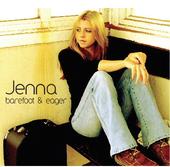 Jenna Witts is a talented young songwriter hailing from North Devon, who's fortunate to have caught the ears of Messrs Knightley and Beer and secured their services to produce and record her debut album, which even appears on their Hands On label imprint. Just a couple of years ago, she toured and recorded with Steve Knightley and Seth Lakeman on the Western Approaches project, after having co-written a song for Show Of Hands' Country Life album (Seven Days). And she's still only 18 years of age... ! Barefoot And Eager contains seven of Jenna's own compositions; these are attractive songs, almost exclusively inspired in some way by her native seascape and the influence it can exert on personal moods, feelings and life-choices (either her own, as in the title track, or those of other characters, as in Katie). Jenna has a grasp of emotions that you might not expect to find in one so young: I Was A Dreamer, for instance, reminded me a little of Sandy Denny in its maturity of expression of simple thoughts. Even so, there's still a feeling of things left unsaid, a potential untapped, which the album's frustrating total brevity (33 minutes) only accentuates. The three tracks not composed by Jenna herself don't jar, but on the other hand don't quite measure up in terms of distinctiveness of statement: although her cover of Steve's celebrated You're Mine (a song which would seem to have had a clear influence on her own songwriting) is persuasively handled and her rendition of Pink Floyd's Wish You Were Here shows understanding, her version of the traditional Flora (in Steve's arrangement) doesn't really seem to have anything fresh or radical to say. Jenna's singing voice is appealing, if not yet one of strong individuality, and her own instrumental accompaniments (guitar or piano for the most part) reasonably coordinated within the context of the lyrics, even if in the final analysis some songs seem a tad less melodically interesting. Both Steve and Phil contribute their instrumental skills towards the end product too, so quality is assured, and you can hear why they have faith in Jenna, but this album, however confident, is definitely just a first step on the road. But just one thing puzzles me: given the record's title, why in the cover and booklet photos are Jenna's feet so determinedly shod and not bare?!
www.myspace.com/jennadwitts
www.showofhands.co.uk
David Kidman June 2007
---
Shooter Jennings - Put The O Back In Country (Universal South Entertainment)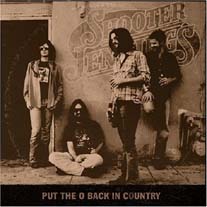 Ol' Shooter (as the great George Jones introduces him and who am I to argue) hasn't just put the 'O' back into country, he's added an 'Ah!' and the odd 'Aah' as well. From where I'm standing this is what they mean by red hot, redneck rock 'n' roll country music.

The most inconsequential fact about all this is that Shooter's full name is Waylon Albright Jennings, the son of Waylon Jennings and Jessie Colter. It's irrelevant because he may be the son of a great man but he's entirely his own musician. He's followed dad's advice: 'Don't try to be like anyone else' to the letter and that includes Waylon senior.

As he began his musical career, Shooter left Nashville to escape 'expectations' and headed for Los Angeles. There he formed a rock 'n' roll band Stargunn, a band which undoubtedly still has an influence because the title track and Steady At The Wheel blast a gaping hole through the good ol' boy thing. This is the sound of a musician who has played the Viper Room and won, and substituted on stage for Axl Rose a couple of times and lived to tell the tale. Subject of a decent country song there I think.

But the pull of country music was irresistible and when Stargunn folded, a new band, the 357's were locked in a studio for six weeks and the result, Put the O Back In Country, has also injected some fun and new life back into the music business.

Where Jennings parts company, once and for all, from the aforementioned Guns 'n' Roses front man is that Shooter's having a real good time being a musician. If he's part of any 'nu-country' wave at all, it's the tidal one that the likes of Big 'n' Rich are riding, in his hands country music's got a smile a mile wide on its face. On Busted in Baylor County, Jennings and Co are playing it for all it's worth, big voice, big guitar, huge fun.

But maybe where he does draw on his heritage, is on Sweet Savannah and The Letter, as the ballads unfold they reveal a bottomless soul, this is the sound of honest longing and a breaking heart.

Put The O Back In Country, recorded in the west, born in the south and created by a young musician with a proud past and the world in front of him.

Michael Mee
---
Michael Jerling - Crooked Path (Fool's Hill Music)
I first came across Michael's work back in the late 90s, on a Waterbug label sampler: a track from his release In Another Life, which quickly became a favourite tho' I never managed to get a copy of the album itself. Crooked Path would appear to be Illinois-born, now Saratoga-based Michael's first album of original material since 2002's Little Movies, and it shows him still to be master of an easygoing, supple, craftsmanlike and wholly accessible style of songwriting that has refused to go out of fashion during his 30+ years in the business. The same could be said for Michael's singing style: strong-voiced, committed and accommodating, one that will never disappoint a listener. This latest offering brings forth thirteen attractive, melodic and gently incisive new songs that tend to straddle the folk and acoustic-rock divides, with little touches of oldtimey country along the way. Mostly they major on keen observation of the subtler kind, with often mundane imagery used creatively at the service of the narratives. Musically too, the songs I find most interesting are Cold River (with its shuffling mandolin-and-percussion accompaniment) and the understated folky jangle of Will Love Arise, but there's an unassuming craft to all the songs that grows on subsequent listens, and several (like Chief Waukenon Motel) also have surprisingly catchy choruses. I also liked the canny and economic "walking the line" setting that Michael gives his own gentle and affectionate tribute Johnny Cash Is Gone, while the title track, a lovely yet clever solo guitar instrumental, shows Michael's a masterly musician too. Michael's regular backing band (which includes bassist Tony Markellis, Bob Warren and Michael's wife Teresina Huxtable) do sterling service as always, and one or two extra musicians add further spice to the proceedings on this appealing set.
David Kidman March 2008
---
Jewel - Perfectly Clear ( Humphead)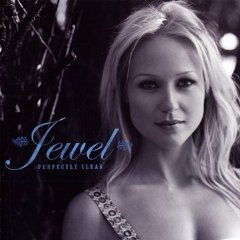 After 11 years and six albums with Atlantic, Jewel and label parted company after the relative lack of commercial success for 2006's Goodbye Alice In Wonderland. Having declared her desire to get back to her Pieces Of You roots and record a country album, she signed to Valory Records, a small independent in November 2007, releasing her label debut the following June. Topping the country charts and anchoring the Billboard Top 10, it clearly found favour with its designated audience but European fans had to wait a further year for its appearance via Wrasse's country subsidiary. By way of compensation, however, this version comes with the promo video for its opening track self-believing single, Stronger Woman.

While new material sits alongside a countrified rework of 2 Become 1, retitled Two Become One, several of the songs have been hanging around a considerable while, even dating back to when she was 18, and while they've occasionally surfaced live, none have been previously been recorded.

Suggesting she was something of a precocious songsmith back then, you'd be hard pushed to say which was the work of a teenager and which that of a woman experienced in the world. Well, maybe not Thump, Thump with its squirm inducing rhymes like 'thump, thump, let's jump.'

At this stage of the game she's probably not going to give Taylor Swift or Martina McBride many sleepless nights, but, concentrating on steel tinged ballads and mid-tempo numbers (I Do sounding a lot like Fleetwood Mac in that respect), she can hold her head high among the old school country brigade. Scoring strongly on the keening teary-eyed Anyone But You, Till It Feel Like Cheating and the yodelly Loved By You (Cowboy Waltz), after too long a time in the soft-rock pastures it's a welcome return to her original sparkle.

Mike Davies August 2009
---
Eilen Jewell - Queen Of The Minor Key (Signature Sounds)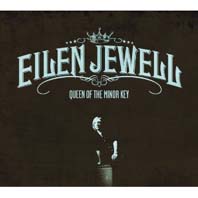 Last year she was paying tribute to Loretta Lynn with the sound of Kentucky honkytonks, this year she's prowling border town alleyways and gin joints, slipping into dubious saloon bars for a warm tequila and a hot night.
Well, at least that's the picture conjured with opening instrumental Radio City with its sleazy sax and twangy surf guitar, a mood carried through into I Remember You's 50s flavoured bluesy torch song memories of an intense but destructive past relationship and revisited on the mid-tempo Southern sass swing That's Where I'm Going and, underpinned by Jason Beek's brushed drums and Jerry Miller's 3am guitar, the Patsy Cline smoked Only One.
It's an era that feeds into other, less brooding numbers too. With their guitar licks, rhythms and David Sholl's saxes, both Warning Sign and Hooked conjure the vintage grooves of The Coasters while the bass slapping, organ gurgling Bang Bang Bang (which re-arms Cupid with a shotgun) hunkers down with the sort of rhythm n blues that would have suited Danny Glover's juke joint in Honeydripper while the frisky title track's celebration of her 'wealth of sad songs and whiskey' rides the same rockabilly train tracks as Johnny Cash, Miller shooting off the sort of licks James Burton might envy.
There is, of course, classic country and honky tonk too, dancing round the barn floor with the fiddle and pedal steel keening Reckless, duetting with Big Sandy (from the Fly-Rite Boys) on Long Road and Sante Fe's melancholic strummed lost love memories sung with a tear in her voice.
The album ends as it begins, on a surf guitar and sax instrumental note with Kalimotxo which, named for a get drunk quick concoction of red wine and cola and a title she speaks three times, is clearly her answer to Tequila. Like the drink, Jewell is an intoxicating brew, though definitely one you'll want to remember ordering in the morning.
Mike Davies July 2011
---
Eilen Jewell Presents Butcher Holler - A Tribute To Loretta Lynn (Signature Sounds)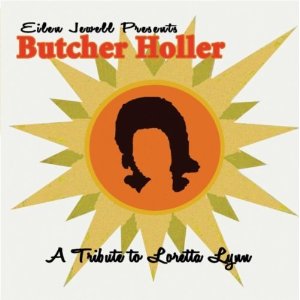 The title pretty much says everything with Butcher Holler being the Kentucky town where Lynn was raised and Jewell the acclaimed Boston singer-songwriter.
Working with a three piece band providing upright bass, drums, guitars and pedal steel, Jewell isn't here to turn things on their head so what you have are faithful recreations of Lynn's honky tonk and rockabilly originals delivered with either swing and verve or lovelorn waltzing sadness as the songs require.
Including both familiar and lesser-known songs, all the material featured was penned by Lynn, underlining her lyrical approach at a time when women country singers were supposed to just stand by their men or shed tears over their cheating. Take a listen to Fist City, Don't Come A-Drinkin' (With Lovin' On Your Mind) , the wandering hands I'm not that kinda girl themed You Wanna Give Me A Lift and the female adultery of Another Man Loved Me Last Night.
With other nuggets that include I'm A Honky Tonk Girl, This Haunted House, You Ain't Woman Enough To Take My Man and Lynn's signature You're Looking At Country, it's the next best thing to a Lynn Best Of itself.
Mike Davies September 2010
---
Jinder - I'm Alice (Folkwit Records) Former frontman of alt-rock band Candlefire, the enigmatically named Jinder "crossed over" to the roots camp a couple of years ago, issuing an acclaimed album Willow Park; now he's embarked on his second solo album, with the assistance of former Candlefire producer Stephen Darrell Smith as well as pedal steel player Melvin Duffy, Simon Crabb (Breakneck Creek) and Sam Blincoe (Black Bart). It's an accomplished set that belies Jinder's tender age (still only 25, yet with some extensive touring already under his belt), largely though not exclusively exploring the melancholy side of Americana. Highlights in this vein are the beautifully touching Vacancy Here and 1922 Blues, the aching Travellin' Song, the autobiographical Train In Your Voice and Hazel County and the storytelling mode of Cicada Café and Hill Country, while the headlong uptempo Life provides a good contrast, but I found just a few of the songs to be relative slowburners that took longer to worm their way into my consciousness. Perhaps Jinder's crashing, grindingly heavy take on In My Time Of Dying – the one non-original on the record – is at six minutes just a tad laboured and prolonged to give the effective contrast it evidently intended, although generally speaking his way with a lyric is somewhat more naturally persuasive, as the affecting poignancy of his tribute Townes' Blues proves. There's a lot of satisfying music-making and songwriting here, and I'll certainly be interested to hear Jinder's next offering.

David Kidman January 2007
---
Jinski - Hurry Home (Lucky Smile)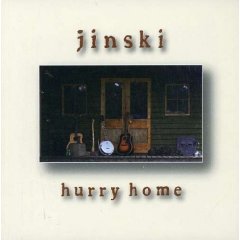 Of Polish extraction, socialist persuasion and living in Newcastle-upon-Tyne, Steve Jinski's from the busker side of the singer-songwriter school, as likely to be found playing in subways as folk clubs. Having been part of a benefit band during the 80s Miners Strike, he's also no wet behind the ears newcomer. Northern folk with a country tinge, he's reminiscent of fellow Tyneside lad Martin Stephenson, but with a deeper, darker voice that carries the emotion and conviction in his songs of the personal and political.
Basically working in tandem with guitarist Dave Kennedy, the songs are beefed up by various guest musicians providing strings, double bass and percussion with former Prefab Sprout singer Wendy Smith on backing vocals. The result's hummably easy on the ear but, with the likes of the jogalong Hand of God, the nostalgic In My Backyard and Goodbye Lucky Guy also capable of touching the heart and the mind.
He's probably unlikely to progress his core audience beyond the club circuit, but given that songs like King of the Radio, Good Morning and My Father's Hands respectively call to mind Martyn Joseph, Randy Newman and Steve Earle he's guaranteed to ensure full houses when he plays.
Mike Davies July 2008
---
Jiva - Best Friends (Own Label)
jiva is short for Jimmy and Val (get it?) Monteith-Towler; the aforementioned inseparably happy couple have been performing together as a duo since 2003, since which time they've been readily accepted into the acoustic music scene and are regular and well-loved guests at Middlesbrough's annual Nature's World folk fest. They're devoted to their art (they even got married in the Taylor Guitars factory!), which they pursue with affection and enthusiasm – and they have a deliberately well-defined personal-cum-corporate identity (and I don't just mean their purple attire).
The jiva sound is immediately recognisable: uniformly pleasant, even-toned and even-textured, with gentle and mellifluous twin-guitar accompaniment (instruments chiming in contented counterpoint) underscoring a soothing vocal line supported by equally gentle harmonies as required. Classic tried-and-tested acoustic-troubadour styling, in other words. jiva's repertoire consists of roughly half-and-half own-compositions and covers that are sensibly-chosen to suit the duo's performing style to a T. Their defining musical style is easygoing and relaxed, inhabiting an accessible contemporary-songwriter-folk-with-a-dash-of-country territory that's roughly bounded by a triangle of which the three cornerstones are Nanci Griffith, Allan Taylor and Anthony John Clarke - all of whom, coincidentally, have a song covered by jiva on this, their debut CD. (The remaining covers, Paul Siebel's Louise and C.J. Simpson's Two Old Friends, I find less distinguished.)
jiva's own songs are eminently companionable creations that derive direct inspiration from those aforementioned songwriting cornerstones (with a dash of Tom Paxton thrown into the mix perhaps), replete with pleasing choruses and writing that espouses both wistful reminiscence and sensible, positive life-philosophy. Best of these are probably Some Way Home and the closer One More Song, while the disc's title track (and natural centrepiece) is perhaps its jewel - although I do feel that, in common with one or two other songs, it would benefit from being taken a shade faster. And although Jimmy and Val both sing with clear diction, their delivery can sometimes seem a touch flat or wooden, especially in terms of phrasing, where the preservation of a smooth legato respecting the bar-lines is achieved at the cost of expressive nuance (even though their voices, while not "conventionally" forceful, are nonetheless temperamentally suited to this type of material).
jiva's admirable consistency of presentation and execution enables one to settle down into the equable mood they create with no fear of being disturbed or jolted. Almost too comfortably however, you might say: for jiva take no risks (and OK, they don't feel the need to). And yet it's also a safe bet that some listeners will become tired after half an hour of songs that share an almost identical mood and the same kind of easy, effortless medium-to-slightly-brisker-tempo, and demand more in the way of contrast. I'd stress that this observation is made more in the cold light of home listening than in live performance, where their music can certainly cast a special kind of spell. Having said that, engineer Ron Angus has unerringly succeeded in faithfully capturing jiva's musical personality for posterity, so if you've enjoyed jiva in concert, you need not hesitate in buying this disc (and it comes with an attractive booklet that contains the lyrics to their own songs).
David Kidman March 2010
---
Joan As Police Woman - To Survive (Reveal)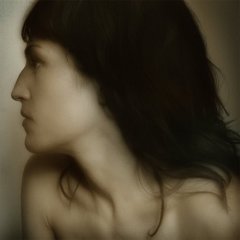 JAPW, fronted by indie-rock songstress Joan Wasser (formerly of Antony & The Johnsons and Black Beetle), made all the right hits with their debut album Real Life, an impressive set which, while proclaiming Joan as a striking and original voice on the songwriting and performing scene, I found at times mildly wayward if ultimately I've grown to love its diversity.
The character and philosophy of Joan's followup record, To Survive, embeds its most massive clue in its double-edged title: the record was conceived while Joan's mother was battling (in the end unsuccessfully) with cancer, and it's a troubled, disturbed, often rather bleak affair informed by an unbelievable sense of loss and pain and yet often dripping with understatement.
Joan's plaintive, broken-torch delivery has never sounded more totally genuine (not that it's ever been anything other), and the listener is drawn right close into her world and held captive there. At the same time emotionally charged and emotionally drained, Joan's singing here combines the heartrending vulnerability of a bruised and troubled soul with an inner strength and a tough, dusky independence of spirit; she's reaching out from the depths of her soul to anyone who might listen, yet the mood is of a more intimate confessional that's exclusive to you, her one and only listener at this point in time.
The ten new compositions making up this latest album are drenched in an at times quite claustrophobic aura, out of which somehow manage to break the qualities of love, hope and determined optimism in the face of everything. It's these paradoxes, alongside the intense quality of Joan's performance of course, that make her music so very compelling. In one respect, you might feel the tender heartbreak of To Be Lonely says it all, but listen deeper and you find it's encoded with a knowing maturity of outlook that transcends the apparent innocence of the basic, initial emotional response; like several of these songs, it inhabits an edgily laid-back, resigned yet at the same time watchful emotional world, with the updrift implying that some kind of renewal is inevitably at hand.
For none of these ostensibly desperate emotional states are as simple as they appear, and the wholly plausible and stimulating musical expression of that complexity proves another of Joan's strengths. Curiously perhaps, one of the most immediately lush-sounding of the tracks, The Start Of My Heart, is also quite numb, almost resigned in its depiction of self-examination at a time of great stress. Even the casually upbeat rhythms of Holiday signal with their fractured soundscape a jittery escape route that's distinctly uneasy and hard-won - and yes, in the end not quite convincing for the protagonist. A similarly unsettling feeling pervades Furious, for its perplexed admonitions dare not go unheeded. And I'd not imagine anyone listening to the pained, desperate, feelings-laid-bare title track and remaining unmoved.
There's a deep musical empathy between Joan and her immediate band members (the credits don't entirely clarify, but I'd presume the current lineup of JAPW to be Joan, Rainy Orteca and Ben Perowsky, although Parker Kindred seems to be a key contributor here too). David Sylvian takes a vocal role on the album opener Honor Wishes, Rufus Wainwright on the ambitious closer To America, and there's a host of other musicians supplementing the JAPW trio, yet the arrangements (courtesy of Bryce Goggin and co-produced by Joan herself) never sound crowded in the least; on the other hand, the multi-layered nature of all you hear is striking in its clarity of detail and impact.
To Survive is an exceptional (if also quite disturbing) artistic statement, one that richly deserves your persistence and repeated listens. Critical comparisons have been invoked with Laura Nyro, Billie Holiday and even late-period Joni Mitchell, but Joan's very much her own woman in every sense; and incidentally, I wonder if I'm the only person to remark on the Virginia Woolf-like demeanour of the stunning cover shot?…
David Kidman June 2008
---
Jock Tamson's Bairns - Rare (Greentrax)
One of Scotland's longest-established traditional bands, the Bairns have been quiet on the recording front since releasing their award-winning comeback album May Ye Never Lack A Scone around four years ago. And even that release filled an over-long gap of nearly 20 years between previous releases (which incorporated a lengthy spell of "temporary retirement")! So Rare is aptly named! But Rare also makes you feel they've never been away, for it's like a continuation of that 2001record in ever so many ways - great tunes and exciting arrangements of traditional songs, laced with superlative musicianship. It deserves to sell as heavily as Scone, for it again showcases the Bairns' enticing way with blending songs and tunes into a relaxed yet rewarding listening programme that's suitably varied in tone, pace and mood. They've no need to tinker with their winning lineup either – Derek Hoy, Ian Hardie and Norman Chalmers both complement and supplement with their considerable instrumental skills those of singers Rod Paterson and John Croall. Rod and John once again prove themselves fine interpreters of song, ranging from the otherwise well-travelled Fause Knicht On The Road (which, typically for the Bairns, is done in an enterprising arrangement) and a simple yet atmospheric Aye Waulkin' O to the racy tale of The Soor Milk Cairt (a composition by the Calton Barber Poet, Tom Johnston). The CD's half-dozen instrumental selections combine intelligence with fieriness and finesse in roughly equal measure; I specially liked the Da Grocer set of reels (track 7) and the unusual, gently sprightly treatment of the strathspey-reel and march combination The Mull Waltz/Castle Stalker, while the various transitions through the slightly extended track 9 set are delightfully conjoined, bringing a smile to the face afresh each time you play the track. I also loved the way the instrumental textures open out during the course of each track; it's all managed in such an appealing and easygoing way, with art concealing art amid high production values. There's nary a weak moment, and the CD's 52 minutes flies by before you know it. Whichever way you take it, Michael Marra's observation on the cover note, that "Rare is the new Cool", is canny indeed.
David Kidman
---
David Johansen & The Harry Smiths - Shaker (Chesky)
This is the second album from the former New York Dolls front man and his superb band following the critically acclaimed eponymous debut. It is much in the same vein as the first and is full of great old blues songs. Don't expect the same old standards here though. Johansen has trawled the archives studiously and come up with a collection that would be hard to match.
The album begins with Furry's Blues, which, as the title alludes, is a Furry Lewis song. Johansen's voice is gritty and well suited to this type of song. The guitar work of Brian Koonin and Larry Saltzman is excellent, though understated, as it is throughout the album along with Kermit Driscoll's bass. I'll Go With Her follows and is a good example of how a delta blues should be played – this is certainly not 21st century blues played with clinical precision.
Tommy McClennan's Deep Blue Sea is the next to get the Harry Smiths treatment. The drums are more to the fore here than on the opening tracks and Johansen's blues shouting showcases his powerful vocals. On an album that is not exactly upbeat My Morphine is about as slow a song that you could get. Johansen's drawl is perfect as he states that his morphine will be the death of him. You can really feel the pain.
Ham Hound Crave is strangely familiar. I found myself singing Motherless Child at parts. It may be that Eric Clapton has covered this as well but I don't remember having come across that. Again, Johansen's voice is stupendous – this is blues the way it should be. John Hurt's Let The Mermaids Play With Me is a strange song about death and where we might go afterwards. A happy-go-lucky tune with deep lyrics (no pun intended).
The next track, I Can't Be Satisfied is a Muddy Waters classic. The band makes a fine attempt but I feel that Johansen's voice just lets him down for the one and only occasion on the album. A return to the slow, pain-riddled style brings us to Memphis Minnie's In Love Again and introduces Johansen's harmonica for the first time.
Death Letter is about the one true standard that has been chosen. I've heard a number of versions of this song and I have to say that this is as good a version as I've ever heard. This is a highlight and worth buying the album for alone. One of the more upbeat tracks is Lightnin' Hopkins' My Grandpa Is Old Too, a slightly humorous, cautionary tale that tells the listener all about his grandpa although some grandpa's may not want to be reminded of growing old as the song constantly reminds.
The country blues Jailbird Love Song has unknown origins but that just adds to the mystique. That voice again!! This is another triumph and you even get to join in at the chorus. Charlie Patton's standard jailhouse blues High Sheriff is sung with a pain that is beyond belief and beggars the question – why hasn't Johansen been singing the blues more often?
The album finishes with a second Furry Lewis song, Kassie Jones and The Last Kind Words by Geeshie Wiley. The former rolls along with the Keith Carlock's drums sounding like a train and is another of my favourites. It mentions a natural born shaker and that is exactly what Johansen is. The latter will have you reaching for the Kleenex, as it's a real weepy. This is a fantastic end to a fantastic album. There must be more to come, maybe some original material although perhaps the appeal comes in his treatment of the old songs.
David Blue
---
Elton John - The Captain & the Kid (Mercury)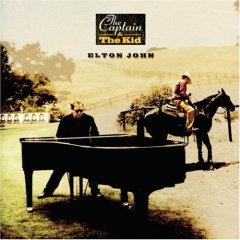 Do you remember when rock was young? Well, not young perhaps but still wet behind the ears back in 1975 when Elton John was at the peak of his powers. The previous two years had yielded Goodbye Yellow Brick Road and Caribou, and now came Captain Fantastic and the Brown Dirt Cowboy, an album forged from the experiences he and lyricist Bernie Taupin shared in their efforts to carve success out of failure. Last year, he celebrated its 30th anniversary by taking it on tour, and now he picks up the story with its official sequel. We're back in the 70s, both thematically and musically, as Elton and Bernie crack America, welcomed with open arms on the album's lead off track, the witty Postcards From Richard Nixon, song that recalls the mutual admiration society between wide-eyed Brits and a jaded USA.
Hitting the Crocodile Rock piano boogie meets Stones swagger stride, Just Like Noah's Ark parties in the flush of their success, hitting the Manhattan streets and New York's Studio 54 scene on the love letter ballad Wouldn't Have You Any Other Way (NYC). And from hereon, the album continues to chart them wrestling with having the world at their feet just as its predecessor saw them struggling with trying to get a foot in the door.
Years pass and excesses pile up, recalled in the mid-tempo Tinderbox where 'the price of fame leads to overkill' and the bluesy lollopping cabaret styled And The House Fell Down with its memories of 'three days on a diet of cocaine and wine'. Then there's the counting of the cost and losses, the arrival of Aids and the loss of friends and lovers that haunt the muscular ballad Blues Never Fade Away which also notes the death of Lennon and Elton's wonder that he managed to come out of the era relatively unscathed.
Unscathed, but not unaffected. The Bridge addresses the need to risk everything you have in order to hold on to what you've got, a simple piano and vocal ballad (well, along with an angelic choir cooing) that may or may not be an apology for some of the rubbish he turned out in the 80s. Indeed, personal loss - lovers and perhaps artistic integrity - is the subject of I Must Have Lost It On The Wind ('you couldn't tell me I was wrong, you couldn't tell me anything' he sings, ego in the corner), while the country bluesy Old 67 looks back to harder but more innocent days, although contrasting memories of freezing on Oxford Street then and sitting in the South of France now does unfortunately call to mind Monty Python's Four Yorkshiremen sketch.
The country rolling title track closes up the scrapbook, an affectionate nostalgic snapshot of his relationship with Taupin,'an urban soul in a fine silk suit, and a heart out west in a Wrangler shirt', the Rocket Man and the Brown Dirt Cowboy, that references Tumbleweed Connection and Yellow Brick Road. It's hard to avoid the deliberate irony when Elton sings 'you can't go back and if you try it fails'; having taken a journey through the past with this album, he and Bernie return to the present, not battered by failure but with a sense of survival, optimism and a reaffirmation of having done it their way.
Note: A web link offers a download bonus track, Across The River Thames, a sort of companion piece to I'm Still Standing where Elton owns up to looking a bit of a prat dressing as Donald Duck, admits to having made some 'questionable friends', and smarts over critics and tabloid inventions but notes that he's still here, still doing the only job he knows.
Mike Davies, Sept 2006
---
Elton John - Songs From The West Coast (Rocket)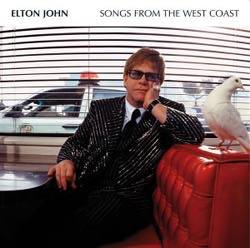 It's been four years since Elton's last studio album, decades longer since he released anything consistently worth listening to. Instead we've been subjected to occasional decent tracks amid a pile of anonymity and, much worse, the El Dorado soundtrack and, spare us the pain, Aida. However he seems to have made the Tumbleweed reconnection and, hooked up once more with his veteran drummer and guitarist Nigel Olsson and Davey Johnstone, with Paul Buckmaster in the arranger's seat, this is arguably his best work since Goodbye Yellow Brick Road. The opening Emperor's New Clothes defines the musical arena. Elton and a resonating piano doing what they do best together. The song's intro immediately makes you think of a Stephen Foster melody and while the swaggering The Wasteland may lean heavily on gospel blues there's no doubt the credit for Ryan Adams - "who inspired me to do better" - explains the album's predominantly alt-country colourings.
Elton's not sounded this passionate at his piano in a long time, the emotion pouring from the fingers into the ivory keys, swelling into the same introspective moods that characterised Your Song and Tiny Dancer. Although Dark Diamond's rhythm section chunters along at a slow lope, The Birds, which almost evokes thoughts of Little Feet in its funky boogie, is the only other real uptempo cut, leaving an air of reflection and melancholy to settle over the remaining numbers.
The melodies would, of course, be nothing without Bernie Taupin's lyrics. And he's clearly hit a purple patch. Resignation and sadness are the key notes, a sense of times and innocences lost, of self-delusions running through the likes of Dark Diamond, Look Ma, No Hands, Mansfield (a town not the actress) and, most pointedly, This Train Don't Stop There Anymore (which features one Gary Barlow on background vocals), a song at once both full of regrets and triumphant at having rediscovered the ability to feel. Without question though the album's finest moments are American Triangle and Ballad of the Boy In The Red Shoes. The former, with Rufus Wainwright harmonising, is a heartfelt and harrowing account of the homophobic murder of gay Wyoming student Matthew Shepard, while the latter chokingly unfolds the story of a man dying of AIDS and holds the Reagan adminstration's wilful blindness to the problem accountable. Who'd have thought that, at 54, Elton John could still bring tears to your eyes that weren't simply those of derision.
Mike Davies
---
John Called Mark - The Money/Songs From The Basement (Eversong)
Christian music has changed out of recognition in recent years and these two albums, spanning 5 years, from John Called Mark aka John Everson, are testament to that. The Money, from 2002, opens with Ride On Me and this is very much like Chris Rea. John Called Mark is a fine vocalist, there's some superior guitar work and this is a good middle of the road rock song. Latter Rain is not overtly Christian and could be compared to Marc Cohn if you were so inclined. This is very catchy. Holy Men is the first outright religious reference, is very powerful, especially in the chorus and makes a great power ballad. Whether you believe or not, this guy will get you going on the title track. Another great song and, added to the grand production by Jim Gaines, you won't believe that you are listening to Christian music. Unfortunately, not all tracks are up to the standard and the weak ballad Liftin' My Eyes is one of those. John Called Mark is much better when he is rocking and on Preacher Man he does just that. The rock vocals are back and the gritty delivery makes this track. There's a Springsteen quality to the vocal and song writing on The Holy One. Great guitar solo too. Shadows On The Road is an acoustic-based rocker and could easily be mistaken for bands such as Nickelback if you close your eyes. This one is a personal favourite. John Called Mark can turn his hands to a few different genres and the blues influenced rock of Back To Memphis is a showcase for guitarist Jack Holder who certainly knows his way around a fret board. Gift Of Lauren is, I assume, a song about a loved one but, no matter how heartfelt, this type of song always manages to sound sickly sweet. The penultimate track, Muddy Highway, has John Called Mark on his continuing path of rock and he pays homage to the blues although the song itself is not a blues. Finishing on He's Coming Home is a masterstroke. Verging on new country, this is John Called Mark summed up in one song.
Songs From The Basement was released in 1997 and sounds as if it could have been from last year. Opening with Run To Me, Everson's gruff vocal is the stuff of great rock music and this song would pass for non-Christian rock easily. Start Livin' is bouncy and blues based and his voice would have won me over by now on this album even if I hadn't heard The Money before -- great piano from Ernest Williamson on this one. It doesn't matter if you are into Christian music or not, LOTW is just great acoustic rock with a sing-along chorus. Just enjoy yourself.
Prodigal One has guitar from none other than the great Larry McCray and the track is sheer class. Light Your World is another of the sugary sweet songs that will appeal to song, but not me. But fear not, Larry's back on Floatin' Boogie. This is blues based, as you would expect, and has one of the best lines that I have heard for some time – "To walk on the water, you gotta get out of the boat". Carry My Load is a slow one and could have become trite but is carried by John Called Mark's voice. There's a slide guitar festival on Master Of The Sea where Billy Earl McClelland adds his not inconsiderable slide talents to the power of Larry McCray. Glory Land is a Bo Diddley style chugger up to the choral chorus and the last original track is All I Know, a rock ballad that would not be out of place on a film soundtrack. The last six tracks are slightly different edits of Run To Me, LOTW, Prodigal One, Carry My Load, Light Your World and All I Know.
These albums are a good introduction to John Called Mark and Christian rock in general.
David Blue
---
The John Doe Thing - Freedom Is (Wah!)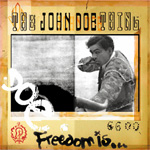 Along with Exene Cervenka, Doe used to front 80s LA punk outfit X. In fact he still does, although since they tend to limit their activities these days to just the occasional gig, he's taken to doing the solo thing, both as a character actor (getting solid reviews for Boogie Nights) and as a singer. Released in the States back in 2000 (since which he's recorded Dim Stars, Bright Sky), this was his third album, a largely acoustic collection of alt country singer-songwriter numbers with guest appearance from Cervenka on the X sounding rocking Ever After. As evident on X's More Fun In The New Worldand his and Exene's spin-off outfit The Knitters, Doe's always had a penchant for roots country, and while it may feature the occasional fuzzy amped up guitar or clattering drum, that's the general direction in which the likes of Ultimately Yrs, Catch Me, Sueltame and When No One Cares head, albeit, as he says, signposted more by Elliott Smith's alt-pop than Gram Parsons country-rock. There's a pleasingly autumnal mood (to go with the inner sleeve photos of snow-covered roads) and while Too Many Goddamn Bands might erupt in anger, Doe's mood is mostly one of thoughtful reflection. There's not a whole bunch of classic songs, but Doe's writing rarely falls shot of absorbing and that muscle in his voice is still well flexed.
Mike Davies
---
The John Henrys - White Linen (9LB Records)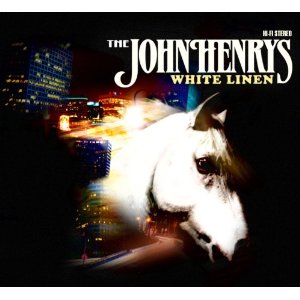 It's hard to avoid mentioning Tom Petty when reviewing the Canadian quintet's third album, especially when you hear the opening jangle of Little One and Piece Of Mind, tracks that could have been lifted from the Damn The Torpedoes sessions with Rey Sabatin's vocals shadowing Petty's phrasings.
But they've not forsaken past influences either. The organ backed title track and Dawson City (a song revisited from their debut) are straight from The Band's songbook, Cold Chill's grim contemporary rework of Banks Of The Ohio ploughs a Neil Young furrow complete with throaty guitar solo, the heart-torn Good Man nods to Costello's country stylings while the pedal steel caressed Edge Of December drinks from a bottle that blends Petty with 50% Gram.
There's a few disposable entries, Patriot Song's backwoods folksy account of a 1838 battle in Ontario between American revolutionaries and a British Infantry regiment, the twangy Stars Align which sounds like a Jason & The Scorchers filler and Hit The Floor's bourbon splashing slow boogie with its stray Lynyrd Skynyrd riff and guitar break, but otherwise this linen is well woven and crisp.
Mike Davies June 2010
---
The John Henrys - Sweet As The Grain (9LB/True North)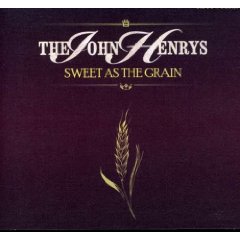 An Ottawa five piece who make no bones about their musical affection for Gram, Neil, The Band and The Eagles, this is manna from heaven for roots-Americana devotees of lap steels, songs of wine, women, cabins and canyons, and embroidered shirts. There's country twang but also some Crazy Horse guitar (even wah wah pedals on the stomping Padawadamie), a burst of hoedown thigh slapping with Ain't Gonna Drink No More, the skiffle driven rockabilly Mo More Rock n Roll, echoes of Creedence on Thought Yourself Lucky and some 60s Stones r&b with Ugly Town.
I prefer them when they're in their Parsons and Young modes on the title track (which sounds like the Long Ryders but in tune) and the six minute Lost In The Canyon respectively, with Truth Be Told (Inez) recalling the best moments of the Jayhawks, but everything here promises a bright future.
www.thejohnhenrys.com
www.myspace.com/thejohnhenrys
Mike Davies December 2008
---
Johnsmith - Gravity Of Grace (Own Label)
The quality Wisconsin songwriter's fifth album, Break Me Open, was one of the gently captivating successes of summer 2006, and number six, Gravity Of Grace, is now here to delight us. The tasty, relaxed vibe - noted on Break Me Open is again present, and John again draws on Tim O'Brien and Darrell Scott at times for their backing musicianship, but this time mostly augmenting his own softly picked acoustic with the understated yet well-defined instrumental talents of Tom Prasada-Rao (the disc's co-producer), with Radoslav Lorkovic, Jagoda, Michael Lille, Gordon MacLeod and Ray Bonneville and several backing vocalists including Jimmy LaFave and Jonathan Byrd.
This new set of John's songs again displays a strength in open-hearted sentiment, never needing to force an issue but trading sufficiently in realism to enable ready listener identification and empathy. In John's writing, there's often something of the easy melodic accessibility of the writing of James Keelaghan or David Francey, if not quite the intensity or sense of place or history. But John's gentleness of delivery can flatter to deceive, for more detailed consideration of his lyrics will reveal a consistent and reliable deeper response to the harder edges of life and love. Even so, John's finest moments come when he deliberately keeps things emotionally simple and direct, as on the folkily nostalgic reminiscence Hired Hand (some sublime mandolin fills from Tim here), the lovely self-explanatory farewell-song Safe Home, the touching tribute Father's Day and the joyful Juni Rae (celebrating an addition to John's family, I'd guess). The disc's covers are well chosen, and really strike home too: there's John Spillane's tender love ballad The Only One For Me (with duet vocal from Elisi Smith Waller) and a vibrant Celtic-hymn-like take on The Times They Are A-Changin', with a variant on Jesus On The Mainline providing the jaunty encore bonus track. Elsewhere, John rings stylistic changes on the bluegrass-cajun-tinted Scotch Pine, the funky blues of Jay Bird and the old-time gospel of Ring That Bell - invariably with considerable flair. Only the slightly bland soul groove of the title song doesn't really quite grab me: the rest of the songs here manage to charm right from first base on an album that elevates John further up your must-hear stack.
David Kidman July 2009
---
The Johnson Girls - On The Rocks (Folk Legacy)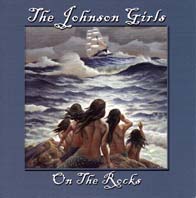 Formed seven years ago following Connecticut's famous Mystic Seaport festival, The Johnson Girls, a female a-cappella quintet, perform a hell of a repertoire of traditional and contemporary folk music embracing songs from the African-American and Irish traditions and incorporating work songs, sea chanteys, riverboat and minstrel songs and songs of fishermen and their wives. Phew!
This CD is their second, and like the first it concentrates - albeit probably less exclusively so - on chanteys and maritime songs. Material which many diehard maritime enthusiasts claim to be the exclusive preserve of the male singer - but the Johnson Girls triumphantly show this to be a fallacy and lend considerable weight to the argument that women's voices can (and increasingly do) contribute importantly to performing this repertoire. Some British crews employ just one or two female voices to good effect (and not just for harmonies), but the Johnson Girls are the only all-female crew I've come across so far, and their rivetingly forthright performances are the best possible advertisement for such a disposition. Back to repertoire, then, and for this CD, alongside selections that ought to be the bread-and-butter of shanty crews (Fire Maringo and Roll Boys Roll) – as opposed to endless renditions of The Leaving Of Liverpool, I mean! - amongst the strictly or loosely traditional pieces we get a suitably randy pumping chantey (The Priest And The Nuns), a fun broadside (Tailor In The Tea Chest), an Italian fisherman's ballad, a French-Canadian paddling song, a railroad worksong and a prisoners' treadmill song which (as the notes point out) might have been ideal aboard ship as a capstan chantey. The CD closes with an enchanting quasi-round adaptation of Mariner's Hymn, a dialogue song from the 1843 Millennial Harp collection.
Very few of the above pieces have been recorded on CD elsewhere at all, even by the specialist shanty ensembles, and this CD would recommend itself on that count alone. But the Girls' choice of contemporary compositions is enterprising too, with self-evidently maritime pieces like Jan Harman's magical Song For A Seafarer, Geordie McIntyre's White Wings and our own John Conolly's Married A Trawlerman rubbing shoulders with some decidedly non-maritime fare like Dave Webber's Working At The Coalface and Sue West's vibrant and slightly tongue-in-cheek toast Drink To The Laddies. Excellent songs all, and definitely deserving of wider currency. So, named as they are after the celebrated Menhaden net-hauling shanty, crucial to the effective performance of which is the accurate timing of interpolated bars of silence (honestly!), the Johnson Girls are indeed "mighty fine girls". Each "girl" is blessed with a commanding voice that can do either gritty or soft, forceful or gentle as required, and each can take either lead or harmony line with equal facility, though if pushed to single out I'll admit to enjoying the gutsy and full-throated lead contributions of Alison and Bonnie in particular. No sir, there's not a hint of tameness or incongruous prettification anywhere on this CD, you'll be pleased to hear, and the Girls' performances are consistently believable, displaying a musicality and a real empathy for their chosen material and a great feel for communicating it to an audience (even in the cold light of home listening, which in this repertoire is quite an achievement in itself). The booklet notes are consistently full and accurately informative. The only (and extremely minor) inconsistency is one of recording source, ie that two of the nineteen tracks were recorded live and give rise to a burst of applause; myself, I applauded many of the tracks spontaneously! A mighty, and mighty fine, CD!
David Kidman
---
Benita Johnson - You Should Know... (BJM)
Young Bristol-based singer-songwriter Benita (real name B.L. Knowles) has been described as "a force to be reckoned with" on her local gig scene, and I felt on reviewing an earlier EP of hers (Stars And Fireflies) way back in late 2006 that this was no idle claim and here indeed was an extraordinary talent. Things then went quiet, and I heard nothing until this summer when Benita contacted me to say she would be releasing a full-length CD at the end of July.
A home-made promo copy duly arrived, and percolated in and out of the play pile over the ensuing months but for various reasons never quite making it to full draft review stage - not the least because (sad to say, but it's the unfortunate truth!) disc-only, case-less promo CDs have a habit of getting misplaced - or even lost! - amidst the review-mountain. But I suspect that there was another, more deep-rooted reason - that the opening track, Free, is not a particularly strong song, a bit of a throwaway in fact, whose most notable feature, it might be argued, is Benita's ultra-confident, rather distinctive vocal work. Admittedly, the song - and its breezy, capably electric, indie-rock-styled arrangement - does get to make more of an impression when one's become more fully acquainted with the remaining nine tracks, but I remain puzzled at Benita's decision to make it the lead track for the album.
Another difficulty the reviewer faces with Benita's music is that she's very much an individual with no ready reference points as regards comparisons. Although acoustic-driven, her songs are neither folk nor pop, neither blues nor soul, and yet they can be heard to contain elements of all these and more from within the sphere of contemporary singer-songwriter music (all ten songs on this album are Benita's own compositions, since you ask).
Thus far, Benita's singing has been variously compared to Jewel, Alanis Morissette, Ani Di Franco and Dido - yet I can't hear any of those to any significant degree, and in any case Benita's expert phrasing totally lacks artifice or mannerism and her acute control of dynamics feels more natural, less contrived and less pretentious than any of those models. The complexity of emotions Benita's able to convey, even on a deceptively simple song like We're OK for instance, is quite miraculous and compels your fullest attention, even while some other part of your mind is being enchanted (distracted) by the darkly melancholy musical backdrop of cello and viola with its insistent but gentle guitar figures. The forthright sentiments of All That Glitters (the second of two songs here that date back to the Stars And Fireflies EP - the other being Free) take their cue from an ominous shuffling beat, and the song also features Benita atmospherically multitracked on backing vocals.
Love, longing, yearning, feelings tempered with realism - these are the stuff that Benita's songs are made of, and very persuasively she gets them across to the receptive listener. From the plaintive Distance to the barely controlled desperation of Any Day Now, the brooding drive of While Angels Pray and the knowing declarations of the title track to the sensuous Beautiful: whatever the emotion, Benita's lyrical vision remains compelling; and yet it proves mildly elusive in that it's not exactly easy to write about. Nevertheless, what's not elusive is that her songwriting is top-quality stuff, and it's music that you just gotta hear for yourself.
The album's production (by Dave Colebrook) is both boldly contoured in its own right and admirably sympathetic to Benita's unique vocal shadings, while the backings embrace some stunning playing (especially from Dave C and Sally Wyatt on electric guitars and Ben Waller on banjo, but that's not to ignore Nick Atkins' percussion and keyboard work either) and some lovely, subtle string arrangements involving Beth Porter on cello and Hannah Porter on viola. The settings conjured up for songs like Devotion and (especially) Any Day Now prove absolutely riveting. Now interestingly, and this even after a large number of plays, I'm still finding that the album gets better as it progresses along its 40-minute course, and by the end of track ten I'd be surprised if you're not convinced you're in the presence of an unsung genius.
www.benitajohnson.co.uk
www.myspace.com/benitajohnson
David Kidman December 2010
---
Carolyn Dawn Johnson - A Room With A View (Arista)
A new name on the block, maybe, but on the strength of this high-quality offering we'll be hearing a lot more of Carolyn. She's a Canadian-born singer-songwriter now based in Nashville and thus firmly in the New Country mould, who made her name over a year ago as the writer of Chely Wright's country hit Single White Female, having previously toured as backup singer and guitarist for her idol Martina McBride (who appears on this album, along with Kim Carnes, Matraca Berg, Marty Stuart et al… nuff said!). Carolyn's own début album is a very assured affair, showing her aptitude for placing her direct, often acutely personal lyrics in a powerful, melodic yet assertive musical setting.
While keeping well within the conventions of New Country (great production values, well-defined backbeats etc), Carolyn obviously has a good ear too, for she's not afraid of a big production, though within all that she can allow for plenty of interesting instrumental touches, as on the thrusting, pounding I Don't Want You To Go. Her chosen musicians support well and provide some great solos, but know when to pull back from the spotlight so that we can focus on Carolyn's not inconsiderable vocal talents. But you can't fail to notice her songwriting skills, for the album consists entirely of her own songs, and contains some very durable material indeed - as evident straightway on the first four tracks (the outstanding opening vignette Georgia, then the commercial catchiness of Just Another Girl, the frothy I'll Think Of You That Way and the strong riffs of Love Is Always Worth The Ache).
Even though there are several potential hit singles, there's a fair amount of sensitivity too. This is one of those few modern-day country albums that's decently accessible but also of more lasting interest, and has sustained a fair few repeated plays so far in spite of some fierce competition. This superb, gutsy and impressive release surely bodes well for Carolyn.
David Kidman
---
Larry Johnson - Two Gun Green (Armadillo Music)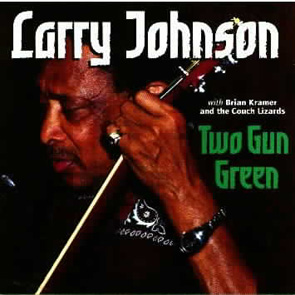 Pour yourself a cool beer, turn down the lights and slip Two Gun Green into the CD-player and you'll find yourself transported to a small club in the back streets of Georgia as the raunchy, down-home blues wash over you. And that's exactly the atmosphere Larry Johnson was trying to evoke when he went into the studio to record this slice of authentic southern states blues.
The wonder of it all, though, is that his backing band for this project is Stockholm-based Brian Kramer & The Couch Lizards and the whole was recorded live in the studio in six hours straight at The Grange in Norfolk - rapidly making a name for itself as one of this country's best small independents. It's the live feeling of this record that strikes you first, with the drums of Jim O'Leary in particular benefiting - you really do feel as if you 're in the room.
Born in Atlanta in 1938, Johnson can certainly be said to have served his blues dues, gigging for more than 40 years and having recorded his first album in 1965. The continuity in his writing, singing and playing dates back to that first album as it featured the song that gives this collection its title. Introduced with a rich, deep-brown chuckle from Johnson, the story - all Johnson's songs are his "stories" - tells of a New Orleans bar called The Bucket of Blood and a confrontation between Two Gun Green himself and Bad Man Dan. The narrative is related over a grinding rhythm, driven by the guitars of Johnson and Kramer and the harmonica of Mats Qwarfordt.
But, if the title track's neat little groove seems insistent, it pales beside the most appropriately monickered "Back to the groove", five minutes-plus of magic in which the title, or slight variations, comprise the only lyric as the band members explore the possibilities of the song's, somewhat minimal, chord progression. There's humour there, too, as Johnson, announcing that he has a plane to catch, asks Kramer, Qwarfordt and O'Leary how they'll be spending the evening, to be told by each that a woman will figure somehow. Bassist Pa Ulander, however, tells Johnson there's a great TV show on tonight - about frogs. Without missing a beat, Johnson replies: "Yeah, well, I guess frogs gotta have somebody, too!" Johnson's gospel roots show with a swift run-through of "Old time religion", and Leadbelly's "Goodnight Irene" is given a reverential reading. Elsewhere, Johnson's sandpaper vocals are applied to a selection of 12-bars, including his own "Midnight train", "Can't last very long" and "I used to be down" in which, despite the optimistic title, he does, indeed, sound very down. Throughout the album, and lending it a warming informality, spoken studio asides are included in the mix and that's truer than most in the album's last track, "Charlie Stone" in which Johnson tells his band how he came to write what was his first song before playing it solo, accompanied only by his own guitar.
If you like your blues as the blues was intended, shorn of unnecessary flash and phoney sophistication, but bristling with a gritty realism, I'd suggest you get that beer, reach for that dimmer switch and settle back with "Two Gun Green".
Fred Hall
---
Robb Johnson - Some Recent Protest Songs (Irregular)
Protest songs, rallying against the hypocrisies of the day, have always formed an important part of folk tradition; they've also been central to Robb's songwriting from the very start, and this latest offering assembles just a few of his most recent contributions to the genre, recorded while they're still fresh and hot in order to directly counter what Robb terms the "many who write in the media bleating about the absence of protest songs at the moment" … (ha!). For lo, there's still plenty of life (and teeth!) in the old dog yet!
Even when the targets include the inevitable and time-honoured ones like politics, monarchy (and why shouldn't they?), Robb's typically literate, quirkily individual songs genuinely entertain while endearing themselves at once to the right-minded listener with their memorable buzz-word chants and clingsome catch-phrasery. Robb hits the target every time, whether simply punching a fist in the air at The Cream Of The Nation's "thick, rich, white" political leadership, railing against at the sheer futility of warfare (The North-West Frontier) or inviting an altogether deeper and more considered response to all things desperately Inexcusable. We're treated along the way to another in Robb's continuing series of personal vignettes, Little Vinnie Jones, while the altogether more chilling reflection On Maiden Castle is set into relief by the mildly scurrilous acappella glee The Man Who Poked Camilla. And Deep Down Underground posits a fate worse than death for those mismanaging bankers: hey, good onya, Uncle Robb!…
Yes, there's something here for every persuasion of protester, straight from the mouth and guitar of the man whose very life-motto, indeed personal manifesto, could easily be "protest and survive".
David Kidman July 2011
---
Robb Johnson & The Irregulars - The Ghost Of Love (Irregular)
I guess it was inevitable that one day, given Robb's acute gift for social observation and astute political commentary, we'd be served up a full-blown official (as opposed to limited-edition bootleg) seasonal slice-of-life from deepest Hounslow and Feltham: this is arguably the audio equivalent of yer terrestrial TV's Westenders Xmas Special.
The Ghost Of Love is just that: a magnificent "Christmas song suite" in the form of a twelve-song-cycle that deliciously dissects life on the wrong side of the Piccadilly Line, in individual visions, slices of that life, that are all shot through with Robb's distinctive personal brand of satire, replete with caustic bite and chummy affection in almost equal measure. It tells the continuing story of Mary, unmarried mother of god (possibly); Gary, carpenter and Brentford fan; and their two children Jay and Jimmy, as they steer their perilous course through this year's Poundshop Christmas. This involves us in a generous helping of festive social criticism, with a couple of good old-fashioned relationship-ballads thrown in for good measure. Society's crisis situations are, we keep getting told in the blah humbug of the tabloids, not for life but just for Christmas – but we of course know different, as Robb's words paint the true picture.
Most of the songs are newly written for the album, but although four of them (Fairytales In Feltham, Father Christmas Down Hounslow High Street, Jubilee Gardens and The Ghost Of Love itself) have been aired before (the most recent of these on last year's Bah! Humbug Xmas CD) these re-emerge fresh into the light of the 2009 equivalent of Santa's multicultural grotto. As ever, Robb's musical settings naturally reflect our society's musical diversity, from acoustic balladry to brooding cello-backed chanson to thunderous full-ahead electro-charge street-punk à-la-Clash (Wooden Snowmen), pub-country (Magic Pockets) and feisty folk-rock (Motorcycle Diary). And Robb's merry band of Irregulars, powered by the trusty John Forrester/Charlie Waygood rhythm section, Naomy Browton (cello), Roger Watson (melodeon etc.) and Tim Walker (brassy bits), provide both heavy-duty and sublime Xmas decorations.
If I must be slightly critical, perhaps the only thing counting against the impact of this sequence of finely-observed songs is that its very unity comes at a price. For a number of the individual songs use a broadly similar melodic motif or chord-sequence; this accentuates the feeling of "variations on a theme" (and I guess, "plus ça change"), although to be fair, in the end this is to a large extent redeemed by the varied instrumentation and mood-painting. But its observations contain some of Robb's best writing to date (you could say they're priceless beyond The Big Issue or the aforementioned Poundshop), and these 45 minutes well spent in Uncle Robb's convivial company will keep you amused and make you think – and guarantee you a happy noo year!
David Kidman November 2009
---
Robb Johnson - Margaret Thatcher: My Part In Her Downfall - Deluxe (Irregular)
What a bonanza!… This brilliant-value, exhaustively voluminous four-disc box-set presents a retrospective perspective in collecting together material that, in continuing the role of folk music as a record of alternative history and a celebration of ordinary lives, provides nothing less than a musical commentary to the years of Thatcherite misrule. It also, almost incidentally, commemorates three significant anniversaries: Thatcher's accession to power (30), the miners' strike (25), and the release of Robb's Small Town World album (20).
The set's 66 tracks, most of which are previously unavailable on CD, comprise reissues of Robb's first two vinyl LPs (Skewed, Slewed, Stewed And Awkward & Small Town World) and a whole host of rare tracks from limited-edition singles and EPs, miscellaneous agitprop compilations, benefit cassettes and other special fundraising projects, together with some hitherto unreleased recordings of particular relevance. All of these are scrupulously documented in the accompanying 24-page booklet, together with much extra background information, leaving even the obsessive RJ anorak completist boggled (and I'm still a mite confused about what's been left out from the mid-80s Ministry Of Humour recordings). The sheer power and commitment of Robb's early performances leaps venomously out of the speakers in what's admittedly sometimes quite rough home-studio quality, and yet I wouldn't want to be without any of these recordings. They're serious and they're crucial.
It's great to have permanent access to all this stuff now: the original takes on those seminal anthems Rosa's Lovely Daughters and Herald Of Free Enterprise, the incredibly passionate I Close My Eyes and A Ferry Ride From Liverpool (and that's just the first disc!…). And there are so many other inspirational one-offs: far too many to mention here but each one priceless as well as timeless. Robb's people's-political commentaries are indisputably of their time and yet continually relevant, and his acute gift for expressing our own thoughts and beliefs in an accessible language has never waned – as we can hear etched all through the discs like Brighton Rock. Over the years Robb may seem to have mellowed in some respects, but he's never lost an iota of his integrity or the courage of his convictions, as this staunchly independent voice sweeps all along with it in a tide of good sense and genuinely inspirational writing. This set comes with "jam on it too", so it should easily convince the unbelievers that Robb really is one of the key political songwriters of our age.
David Kidman November 2009
---
Robb Johnson & The Irregulars - Love & Death & Politics (Irregular)
Uncle Robb's latest is a brilliantly rousing, full-on band album that stokes our fires of justified discontent and goads us out of our indigenous apathy with a glorious fresh set of intelligent and abundantly catchy singalongs-with-attitude in the best agit-punk-folk tradition, chronicling Robb's inimitable ground-level view of the condition of Albion. It kicks off with The Spirit Of 45, a distinctly urban-folk marching anthem that's struts the jump-at-the-sun chutzpah of Kirkpatrick-meets-Oysters, after which in crashes the heavy-duty punk-rock groove of Saturday Night In Albion, a craftily ambivalent ode to the noisy celebration of folky culture - and there's even some of that good ol' Speed The Plough squeezin' along in merrie-olde-Englande counterpoint behind the barrage of killer leccie guitar licks! That right-on RJ stop-the-war conscience on parade again with the plain-speaking I Am Not At War and the caustic tho' poignant real-life juxtaposition of The Prince And Pt. Gentle, also later on Two Left Feet (introduced by Roger Watson singing a variant of the WW1 song Fred Karno's Army), while the slice-of-life vignette of Little Angels employs the additional twist that the mums depicted therein are the murdered Ipswich prostitutes. And even the more predictably rant-heavy songs score with typically succinct one-liners, like The Bigger The Car (the smaller the brain), or the post-Thatcherite parallels drawn by "it's no distance at all from here to Soweto" (set to a tasty jive groove with Attila The Stockbroker guesting on township viola). It's not all angry tho', for Robb brings a special, affectionate brand of English whimsy to his bittersweet-romantic portrayal of The Great West Road. And The End Of The Miracle evokes the (pretty-vacant) ambience of the pre-punk mid-70s when the Stooges and retro-VU were the necessary prerequisite for gig excitement, where "I give 'em Love & Death & Politics whether they wanted it or not" is Robb's defiant clarion-call. The relative lack of melodic invention in some of the songs is entirely forgivable – cos they ain't that sort of song, and hey, you don't slam that charge on punk d'you?! The punchiness of the material is granted a big, bold, forward sound by engineer Ali Gavan, reflecting the abundant toughness of Robb's current crack team of Irregulars (John Forrester, Roger Watson and Charlie Waygood), who have unquestionably gone from strength to strength as a working band, for they fit round the songs like an iron glove punching its tightly clenched fist in the air. For much of the time, Roger's gutsy, sturdy (and nicely forwardly-balanced) melodeon lends the band sound a heavy folk-cred, while Robb pays homage to the spirit of punk throughout (think vintage Clash/Pistols) with some magnificent thundering thrash-guitar (courtesy of Deryck, his new pet black Telecaster!). But this is no exercise in retro, it's now – so long may Robb keep on a-rattlin' them thar cages!
David Kidman November 2008
---
Robb Johnson & The Irregulars - All That Way For This (Irregular) Hardly has Robb's storming Saturday Night At The Fire Station birthday set faded from the speakers than along proudly strides All That Way For This, where the man's inimitable credo and integrity are stamped through the dozen new (-ish) songs like a stick of Brighton Rock. This particular CD may prove Robb's most accessible set to date - not least in that the songs are so damnably catchy! And although Robb's best known for penning right-on political songs in the time-honoured protest tradition, this new set (while not neglecting the commentary) emphasises his talent as a chansonnier observing "love, bars, roads, punks" and the like through everyday language and a canny turn of cliché. Robb's exceptional gift for observation is couched in a chummy, chatty, almost confidential bedside manner that's often bordering on the conspiratorial and always thoroughly companionable. Namechecks are knowing and yet not in any way gratuitous, since they're referenced with a depth of knowledge and understanding that lesser songwriters just don't possess. And Robb's singing has never sounded better, with a myriad of key nuances and subtleties conveyed through his semi-conversational delivery that you feel is meant for you alone. Robb's Irregulars in their current incarnation (Saskia Tomkins, Roger Watson, John Forrester and Paul Midgley) make the songs even more enticing to the ear, capable of switching musical idioms with consummate ease and retaining full credibility as the ideal canvas upon which Robb can paint his piquant and persuasive portraits of places and people (and no, I'm not "taking the P"!). Moreover, the excellent recording brings out so well all the finer points of their musical expertise, on settings that take in mellow tex-mex shadings (Peanuts) to moody punk-dub (No -One Wants To Look Like You) and the reggae train-rhythm of Pink Shoes, each one lingering in your consciousness long after the CD's been taken off the player. As ever, Robb deals supremely affectionately and almighty playfully with the language and conventions of rock - Sunny Afternoon In Ilmeneau moves from a banal refrain-chant through the Louie Louie riff to a glorious violin solo, all as the backdrop to a typically catch-all vignette, whereas Carrying Your Smile could be a long-lost rock'n'roll romancer but with added poignancy (I won't spoil it for you). The deliriously cheeky rap-rant Moronland is the bridge between Ian Dury and George Papavgeris ("what d'you mean, St George was Greek?"!), while The Blue Sea Says Yes turns out to be one of Robb's more elegiac creations. It matters not that some of these songs may be familiar to RJ devotees already: The Beautiful Dark (a highlight of A Beginner's Guide I thought) is given an atmosphere-rich new treatment here, whereas stripped-down versions of Zapatista Coffee, Almost A Homecoming Queen and On Highway 5 originally formed part of the Letters From America collection (still available for download as MP3s from Robb's website, along with Carrying Your Smile). Yes, this is another priceless pan-seasonal collection from the House Of Johnson: the guy's status as a national treasure should not be underestimated - ever!

David Kidman August 2007
---
Robb Johnson - Tony Blair: My Part In His Downfall (Irregular) Back in the heady days of the early 90s, after Robb first began to achieve a profile on the contemporary singer-songwriter scene, he was chiefly regarded as a purveyor of uncompromisingly political material - intelligent agitprop, I suppose you could term it. You were never left in doubt as to the strength of Robb's conviction or the good sense and logic of his strongly-held beliefs, even there was the occasional risk that his eagerness to rush into the fray might lead to a certain soapbox-style blunt clumsiness in expression. For the past decade or so, Robb has honed his craft by exploring the possibilities of English chanson, producing a landmark series of uniformly excellent albums demonstrating that compassion and observation can coexist potently yet often subtly with wit and a political edge. But now the plain fact is that is the Blair regime has become too much to bear, with the result that the more overtly political strand in Robb's writing has had to find a renewed outlet on CD. Perhaps that's a tad misleading, for songs have been welling up all the while the increasing disillusionment with New Labour has been setting in apace, with Robb's live gigs never missing a chance to feature at least a modicum of political commentary songs (or Clash covers!). So it makes sense to collect together the fruits of Robb's latter-day political output, and this handsome double-CD package (loosely structured as one acoustic record and one electric) is the result. It contains the bulk of Robb's exclusively political songwriting output from the past eight years: 29 tracks in all, comprising demos, alternative versions, website tracks and hitherto unreleased songs and including a covers (well, more like rewrites) of London's Burning (still sung as a mark of Maximum Respect for Joe Strummer) and our beloved National Anthem… The "alternative versions" include Barricades, The Siege Of Madrid, The Coastroad and We All Said Stop The War, all later re-recorded by Robb for various CD releases, whereas Hands Off My Friends is the only one of the tracks assembled here to have been released previously (on the Article 14 benefit CD). These songs on these two CDs aren't all blunt-nosed Blair-bashing though - Robb's justifiable anger is tempered with considerable sensitivity, and he writes with compassion and insight and often a healthy degree of humour, on topics from PEL and the licensing laws (the superb Have You Got A Licence?) to a plea for decommissioning Trident, September 11th to the Jubilee, the war against Iraq and the death of Princess Di. There are some real standouts here - The Conscripts' Song, Barricades, Bedtime Stories, Three Minutes' Silence, No Statues, to mention but a few. Guilt is not merely apportioned to the named politicians, but applies on a monumental scale - and that, as we all know, is the most scary thing of all. The shifting viewpoints form song to song keep us on our proverbial toes, but at least Robb's not just whingeing for the sake of it, since any solutions aren't always that obvious to determine even when you think you have the facts at your disposal. The ghost of Robb's near-namesake Robert Johnson strides through the 12-bar Everybody's Happy Now, and the opening Not A Bad Week For The People, the closest thing to folk-rock on the set with its jaunty fiddle and melodeon backing, could almost have come from the Duncan McFarlane Band; Leon Rosselson helps out on Bury Trident. The "electric" disc sees Robb experimenting with loops and samples (encouraged no doubt by his mate Boff), but on the whole is more uneven than the "acoustic" disc, probably because it contains a small procession of alternate mixes (of Stop The War and Punk Rock Jubilee), which should however appeal to completists! (One might say there's no need to Labour the point perhaps…!) But the set's still an essential acquisition.

www.robbjohnson.co.uk
www.irregularrecords.co.uk

David Kidman
---
Robb Johnson - Clockwork Music (Irregular)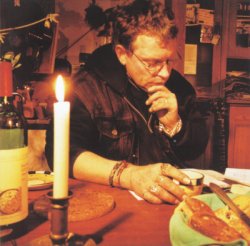 Indisputably one of the nation's finest living songwriters, the almost obscenely prolific Robb has produced another in that long line of exceptional albums of English chansons. Press releases often cite key names from the annals of songwriting past and present (in this instance, Pete Atkin & Clive James, Jake Thackray, Tom Lehrer, Bruce Cockburn), but Robb's a true individual with his own unmistakable voice, a key figure in that pantheon in his own right - and always has been. The thread linking the songs on Clockwork Music is that they were all written by Robb in, around or on the way to/from Ilmenau whilst gigging in Thuringen in February of the last three years. The other connection is that they're all stimulating and thoughtful, knowing and engaging, challenging yet musically accessible, in Robb's own inimitable way. There's passion and conscience, wit and irony, acute observation and almost throwaway commentary, all juxtaposed with consummate skill and intelligence; Robb never lets us down. Virtually every song is a highlight of sorts: the heartbreaking Over The Hills ("a postcard from Buchenwald") is the latest in a line of supremely moving testaments of man's inhumanity to fellow-man, its resigned bitterness neatly offsetting the deliberate polemic of We All Said Stop The War. Then, Lost In The Woods is a miniature masterpiece of sinister simplicity, beautifully counterpointed by the elegiac My Mother Taught Me How To Waltz. Of course, Robb's vocal delivery is matchless as ever (unlike some singer-songwriters I could mention, he really knows how to do his own songs full justice). But here on Clockwork Music (rather like on The Big Wheel, the rhythm of whose title track the present album's title track mirrors), it's the gorgeous instrumental backings - courtesy of Robb's fellow-trio-members Miranda Sykes (double-bass) and Saskia Tomkins (violin/viola/cello) - that really set the seal on the already superlative songwriting. The breadth of these young ladies' talents enables them to move from swooping, soaring melodic lines (Lucky) to proto-punk thrust (Young Man With The Girlfriend And Guitar) to insouciant jazzity (Bang!) to cod-classicism (We All Said Thankyou Very Much) at a veritable bow-stroke, and always with breathtaking sensitivity too. Every single song here is highly memorable - many of them (notably Black And White and Breakfast In Chemnitz) have become increasingly familiar from Robb's live performances over the past 18 months or so, but the new arrangements on this record are freshly minted. These songs will survive - trust me! - and they demand to be heard. Now!

David Kidman
---
"Peerie" Willie Johnson - Wllie's World (Greentrax)
Shetland musician "Peerie" Willie Johnson, who died last May at the age of 86, could never be confused with any of his namesakes; he was a truly unique man, amazingly talented as a guitarist (but he could also play half a dozen other instruments well). He modestly described his own talent as just banging on a bit of wood, yet he was much admired by Martin Taylor, whose patronage was eagerly granted to the Shetland Guitar Festival bearing Willie's name. His enduring legacy is that of having brought jazz together with traditional folk music, whereas previously the two could have been considered distinctly uneasy bedfellows. He was regarded primarily as a jazz musician, in fact. Even more amazing is that while he rarely left his native Shetland his reputation preceded him and he managed to team up with some of the country's greatest traditional musicians (Tom Anderson, Aly Bain) in the 70s and 80s, yet he never recorded a solo album. This disc can thus best be described as an archive release, one which has been lovingly produced to the highest "house standards" of the Greentrax label (complete with quality remastering and a long and insightful booklet essay by Willie's sister Evelyn Leask). The music contained on the disc itself (Willie plays on 21 tracks out of the 24 here) is superb, and it was a revelation to me, partly in how very much Willie's style has influenced folk guitarists. Although Willie admitted to being heavily influenced by jazz pianists like Errol Garner as well as guitarists Eddie Lang and Barney Kessel, it's also been commented elsewhere that Willie was one of the key musicians in bringing the jazz-based approach of syncopation and improvisation into the playing of traditional folk music, and many of the recordings assembled on this disc demonstrate that aspect perfectly. And hey, what a tremendous sense of swing to his playing! Well over half of the tracks are versions of jazz or popular standards - there are stunning solo renditions of St Louis Blues and a couple of Gershwin numbers, while Willie shows his skill as a sensitive accompanist on very fine group treatments of Nice Work If You Can Get It, The Way You Look Tonight and Night And Day, even an extended runthrough of Dizzy Gillespie's Birks Wirks, with an atmospheric rendition of the Jerome Kern number Yesterday. The latter, like many other tracks, was recorded at the Shetland home of Willie's lifelong friend Billy Kay, a fine musician in his own right, whose own parlour-piano playing also graces the soundscape on occasion. Willie's peerless folk playing is represented by gems such as Margaret's Waltz (a 1984 recording taken from Aly Bain's first solo album), a lovely duet with Debbie Scott, some tunes possibly recorded in Sandy Bell's Bar and some 1958 recordings with fiddler Willie Hunter taken from BBC Scotland's vaults. Whatever the style though, the spontaneity of the playing on these recordings (many of which were made quite informally) produced sheer magic, and this 72-minute disc forms the most fitting imaginable tribute to Willie's considerable talent.
David Kidman March 2008
---
Johnson House - Go Gently (Uglyman Music)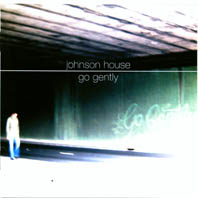 Based around the singing and songwriting talents of Chris Harland, this Leeds-based outfit have produced a creditable debut CD that at its best can recall the epic soulfulness of Springsteen, and equally often Van Morrison, at least in its primarily bittersweet ambience. In this respect, then, the press handout is pretty much accurate. The musical textures are well crafted too, and often aurally quite stunning in an unexpected way, while revealing hidden delights on subsequent plays. To cite one of the album's tracks, however, "yesterday may seem brighter than tomorrow", and there's an appealing, if pervasive spirit of melancholy amidst the general optimism of Chris's lyrics; on World Spinning Round and Waiting For Tomorrow in particular, Chris sounds uncannily like a latter-day Roy Orbison, while on Worry Loves there's an enticing pseudo-Walker Brothers soul-pop aura to the proceedings. Despite its frequently imposing approximation of a Spectoresque wall-of-sound, Go Gently is rather a stately album that actually succeeds in drawing you in gently, and in the end its sometimes understated elegance repays your careful listening more than you might initially expect. The only slight drawback is that Chris's avowedly heartfelt lyrics tend at times to get swamped by the ambitious backdrop, and as a result don't always get to make their intended impact.

David Kidman
---
Freedy Johnston - Right Between The Promises (Elektra)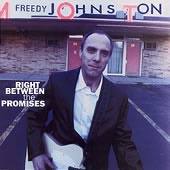 He's signed to a major label, been produced by all the hot shot producers from T-Bone Burnett to Butch Vig (of Garbage), was given a Rolling Stone Songwriter Of The Year Award and, yet, the UK seems to ignore Freedy Johnston. With an odd exception, his albums set a consistently high standard in song writing and, in an effort to catch the publics attention, each producer has added their own touch whether it be a rocking approach or a lush orchestrated backing. As with all good songwriters, the style shouldn't matter as the quality of the song should stand on its own. So, it is with 'Right Between The Promises' where all the angles are covered.
'Broken Mirror' makes an upbeat start to the album before arriving at the even more lively 'Waste Your Time' whose lyrics provide the title of the album. Freedy then opts for a cover of Edison Lighthouse's 'Love Grows'. He likes playing cover versions though they've normally only been heard at live shows or on an album which was only sold at the live shows. As we hit track four, we find a classic Freedy ballad with 'That's Alright With Me'. Then, there's Freedy alone with his guitar on 'Radio For Heartache'. 'Back To My Machine' slinks in with its funky rolling rhythm and quirky arrangement providing a bit of a surprise. So, already, we've seen him pull out all the weapons from his armoury.
Hopefully, this time, hell hit the target. However, don't hold your breath. The album is only available from the US at the moment and my impression is that their promotional budget in the UK normally doesn't stretch much beyond a round of drinks and bag of crisps. Go forth and seek this one out. Help a guy who deserves the recognition.
Steve Henderson
---
Diana Johnstone - The Troubled Heart (Pump)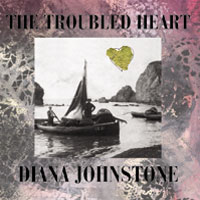 Not to be confused with the leftist political writer, this is the ex wife of long serving Elton John sideman Davey Johnstone. When they divorced in the mid 70s, she packed in her musical career (she co-wrote three songs on his solo album and sang on A Lovely Day) and moved into film and TV set design, working as set dresser on Nic Roeg's Insignificance and graduating to Art Director on productions for the Children's Film Unit.
In the late 90s, relocating to Bath she returned to making music, performing around the region and releasing debut album, Learning To Walk. Once again it highlights her clear cut vocals, laid back guitar style, poetic lyrics and melodies that brush together jazz (especially on So Sweet) and folk colours.
If I'm being perfectly honest, it leaves me a bit cold, sounding like something you could hear from a decent support act at folk clubs up and down the country. There's also a certain middle-aged warm fuzziness to songs like Beloved Child (mum bids teenage child goodbye at the station) and Tired Of The Blues (a stagnating relationship) while, among several songs dealing with emotional tugs, both So Sweet and Phone Box In The Rain involve calls from old or estranged lovers.
The arrangements and the playing are well polished (Mike Silver contributing guitar to All My Love In Vain), and, to these ears at least, undemandingly pleasant background listening. I daresay those who've seen her live will be more partisan and, I would say that the finely observed (and best) Mirrors with its urban snapshots of women and girls on the edge of nervous and social breakdown ("Ali sleeps in doorways, Leilo carries a knife, Sonja and her sisters share on small bed at night") suggests a richer seam of subject matter to pursue.
Mike Davies February 2010
---
Jude Johnstone - Quiet Girl (BoJak)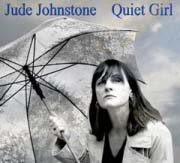 Discovered and mentored by Clarence Clemons when she was just 18, a fledgling singing career was pulled up short when she hit Los Angeles and found it in the grip of disco with little interest in someone who sang literate songs influenced by the likes of Jackson Browne and Lowell George.
Instead, Johnstone turned her hand to writing for others and, over the years has been covered by the like of Trisha Yearwood, Emmylou Harris, Stevie Nicks and Johnny Cash. In 2002, however, she decided to step back in front of the microphone herself, since when she's released four solo albums that have moved from roots country to jazz and blues.
This, her fifth, returns to her original Americana sound with knockout results, the title track, featuring David Mansfield on mandolin, already sounding like a future much covered classic. Emmylou sings back ups and I'd be very surprised if it didn't turn up on one of her own albums before long.
She's not the only name sitting in on the sessions. A lament by an adventurer who never left, strings and brass backed piano ballad On That Train sees her joined on vocals by John David Souther, Jimmy LaFave joins her on the heartfelt country, pedal steel coloured I Don't Wanna Go Home while a Clemons sax solo features on Don't Wake Me Up. That's a folk-pop number which reminds me of The Bangles, and coincidentally Vicki Peterson happens to be part of the vocal chorus alongside Rodney Crowell and Susan Cowsill on Cry For New Orleans, a moving lament for an homage to the victims of Katrina that firmly points the finger at an administration that left them to die.
There's not a weak number here, but I feel obliged to mention Josephina where her voice takes on a deeper, more gospel tone in an apology for letting down a friend, the soulful Hammond backed I Pray For Rain and, organ again showcased and offering a hint of the Little Feat influence, the hymnal 'let me in and help' themed Angel At Your Door that I'd have loved to have heard Cash get his voice around. A quiet storm indeed.
Mike Davies February 2011
---
The Johnstons - Give A Damn: The Folk-Rock Years (Castle)
The Johnstons were one of Ireland's most influential and successful folk groups; their career began in the early 60s, and survived courtesy of expanded lineups through the West-Coast-inspired folk-rock years and into the early 70s, finally calling it a day in 1973. At the start, the group's nucleus was the family folk trio comprising Adrienne, Lucy and Michael; this lineup was often compared favourably to the Seekers, though after a couple of years they were to embrace a far more enterprising choice of material culled largely from American songwriters (a penchant they shared with the nascent Fairport). Coincident with this shift in musical direction came a major lineup change, whereupon Michael left the group and was replaced by Paul Brady and Mick Moloney, both of whom brought a diversity of musical influences, from skiffle to traditional Irish folk, to the group's repertoire of largely contemporary song. They had everything going for them, as their albums showed - vibrant lead and harmony singing and an excellent standard of musicianship, allied to an innate versatility and an exciting and often innovative approach to their chosen material. This new compilation takes up the group's story at a point when they had already moved on a long way from their traditional roots. Their second album, Give A Damn, recorded in late 1968, provides the first ten tracks here, which include ambitiously arranged covers of Joni Mitchell and Leonard Cohen songs alongside early compositions by Dave Cousins and John Ledingham (who later changed his name to Jonathan Kelly…). The following year's even more experimental Bitter Green album (recorded after Lucy's return to Dublin in early 1969) and 1971's more social-commentary-centred Colours Of The Dawn are represented by five tracks apiece, while the final three cuts, all original Brady compositions, are taken from the 1972 album If I Sang My Song, recorded by Adrienne and Paul as a duo after Mick's departure. All in all, this is a very sensible compilation, showcasing the group's tastefulness, discernment and musicality; it charts what one might term the loosely folk-rock/songwriter side of the group's repertoire very well indeed, with a fine insert essay by John O'Regan. Even so, if you want a more faithfully complete perspective that also embraces the group's more traditional side, then you'll need to invest in the late-90s (near-complete) reissues of the group's first five albums, which I believe are still available on Essential/Castle/Wooded Hill.
www.sanctuaryrecordsgroup.co.uk
David Kidman
---
Aidan Jolly - State of Hysteria (Well Red)
A nasally voiced contemporary folk singer and multimedia artist with a strong socio-political conscience and reggae, blues, jazz and Asian musical influences, Jolly's material tends to focus on the struggle of communities and places but also throws in some offbeat love songs too.
His debut album System Fault featured songs about Liverpool Dockers, the BNP, sweatshop labour, the bloody history of Christian colonisation and Jeffrey Archer. Now, again featuring violinist Jila Bakhshayesh and Indian percussionist Jaydev Mistry, his follow up offers another collection of issue driven protest songs.
This time though he's in a more trad folk frame of musical mind as he addresses the manipulative control of agenda driven propaganda radio (Radio Independence), eco issues (What Makes A Place), the Iraq war from an indigenous perspective (Just Another Day In Baghdad), the de Menezes shooting and climate of fear paranoia (the spare, mournful State of Hysteria) and the homesickness of Kurdistan refugees (dirge lament The Singing Of Water), the latter two numbers both featuring Bakhshayesh on vocals.
The displacement experience also forms the backbone of Captives while Ghost Hill Farm, The Tortoise And the Hare and Swallows share a theme about the damaging impact industrial development and progress has on the rural landscape and communities. He's not got the strongest of voices, but with commitment and concern oozing from every word, the album undeniably hits home.
www.aidanjolly.com
www.myspace.com/aidanjolly
Mike Davies September 2008
---
Jones - Keepers (MeMe)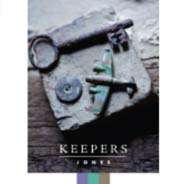 Having been e-mail trailed by a series of diary-novella missives setting the backdrop, now comes the release of Miracle Mile singer Trevor Jones' second solo album, backed, as before by MM partner Marcus Cliffe, Melvin Duffy and Lucinda Drayton.
The follow-up to last year's Hopeland, written in Portugal and, once again, Corsica, it's the fruit of another period of reflection and self-examination, this time wrestling with loss that had troubled the waters of optimism from which he'd earlier emerged, emotionally, spiritually and creatively refreshed. He says that, through writing, he once more "tempered the turbulence..simplified and learnt to be alone."
As before, here are songs intermittently punctuated by spoken poems (and one instrumental interlude) that set the thematic tone. As befits his background in teaching, he's literate and evocative in his phrase and imagery, influenced, I'd suspect, by Dylan Thomas, Philip Larkin, C S Lewis and A.E. Houseman and delivering them with a tender sadness.
Although sleeve notes mention the loss of a friend, with no lyric sheet, it's not easy to discern exactly what exactly spurred the album's journey. However, 1969's scene setting spoken (childhood?) memory, references to estrangement and distance, and the likes of the Celtic tinged Nothing Between Us But Air, the pizzicato strings backed Fatherless Son and the sick/death bed scenario of the spoken title track, might give some indication of its impulses.
Whatever the personal truths, the gentle autumnal folk-tinged songs have universal resonance, from the opening piano ballad Moondust Lullaby (which you could hear Peter Skellern singing) to the restorative love ("you're back where you belong") and blue skies of Papillon and the silver dancer he'd "watch til the morning" of the waltzing Folding Sheets.
I don't think, overall, the album has quite the same aching beauty as Hopeland, but, to pun on the title, it's certainly a keeper and I'd unhesitatingly rate the hymnal I Showed You The River ("you showed me the sea") as one of the finest things he's written, even if the piano melody does sound a tad like Candle In The Wind.
www.miraclemile.co.uk
www.myspace.com/miraclemileuk
Mike Davies September 2010
---
Jones - Hopeland (MeMe Records)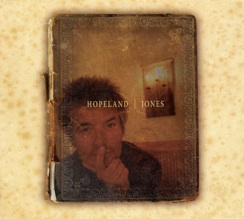 Jones is Trevor Jones, the vocal and lyrical half of Miracle Mile. 'Trevor' having been jettisoned as not being the right name for a recording artiste and to avoid confusion with a successful South African composer (though not before enjoying the benefits such confusion can bring in a South African restaurant albeit a confusion that had dissipated before the arrival of the sweet trolley!).

A debut solo set then? Well yes and yet credits junkies will note that Marcus Cliffe, the other 50% of MM, is present and correct on an array of instruments and techie duties as the album was recorded at his studio, also the venue for MM's normal output. So, it's Miracle Mile lite. Well, no, it isn't actually.

You could call it Miracle Mile rustic I guess as the normal perfections of the recording process was deliberately thrown overboard in favour of first takes and the odd mistake. Backing vocals sound like someone singing along in an adjacent room and the old upright piano sounds far too raggedy ass to feature on the duo's normal output.

And then there's the album's structure. Songs and poems by Trevor Jones the sleeve states and it is just that with each song preceded by TJ (can we compromise at that, for now?) reciting his words, words that set up and to some degree illuminate the following song. Could have been a dangerous step to take but the words are neither pretentious or pompous; they are crafted, of course, and contain lines and phrases that haunt and emotionally prod but the delivery is that of a friend with wine glass in hand. A mood that typifies the album actually and something that the lyrics recognise at one point - "drunk on cheap wine and friendship".

Well, you can take the attention to production detail away but you cannot in any way suggest that a single song here is less than gorgeous. Clearly the melodic instincts remain innate and the ability to match a tune to a set of words that are so infused with humanity is clearly and thankfully beyond reach. And however stripped down, the landscapes these guys can paint with pedal steel, weissenborn, violin and little else are impressive; full of air and space that let the listener snuggle up inside the songs. Indeed, there's a real emotional spine to this album that'll have many a damp eye by the time it's run it's course and replay has been hit.

I have no doubt that this is simply one of the very best albums of 2009 confirming the might of TJ as a writer and singer and one of the UK's (sadly) best kept secrets. And as we know secrets can be bad things so can I suggest that you buy a couple of copies, give one to a friend and let the secret out of the bag. It will be to everyone's benefit.

Steve Morris September 2009

(Ed: Steve Morris reports on this year's Fairport's Cropredy Convention: Cropredy 2009)
---
Al Jones - All My Friends Are Back Again (Castle)
One of the great English originals, this songwriter, singer and guitarist died unexpectedly just a few days ago (at the age of only 62), so it provides a timely reminder for me to wholeheartedly recommend this excellent anthology. Released last summer, but not hitherto reviewed on this site; it collects together the entire contents of the two LPs he made between 1969 and 1973, along with some rare EP and sampler-only tracks and a whole load of previously unreleased material. In the latter respect alone, this new two-disc set entirely supersedes the single-disc Mooncrest-label Alun Ashworth-Jones collection of a few years back; and moreover, it contains excellent booklet notes by David Wells and plenty of rare photos, all in the best traditions of the house.
Another bonus point is that the anthology is arranged strictly chronologically, kicking off with two prime examples of the country-blues styling of that debut EP - a Skip James cover and a witty self-penned number in the same musical idiom. It's interesting to note that his fellow-musicians on that debut included (now fRoots Editor) Ian A. Anderson… Another brief bluesy cut (from a 1972 Village Thing sampler) is followed by the whole of Al's glorious early-1969 Parlophone album, which showcased his ahead-of-its-time (and actually quite spectacular, if unassumingly so) guitar work. As well as two splendid instrumentals, the LP contained some very fine examples of contemporary singer-songwritery (the acoustic Railway Lines, the episodic impressionism of the almost Al-Stewart-like Big City, the neo-psychedelic Sarah In The Isle Of Wight and the quasi-baroque Come Join My Orchestra – the latter prominently featuring Harold McNair's flute traceries). After presenting an alternate take from the LP sessions and a pair of covers from the 1970 RCA sampler 49 Greek Street (including a brilliant It Takes A Lot To Laugh…), disc one then concludes with nine tracks (mainly covers, and ranging from Holst's Jupiter to a hilarious A Mess Of Blues and a medley of La Bamba and Twist And Shout!) recorded very much live at that venue (aka Les Cousins) for a cancelled second album (and by the way, it's worth comparing the new, improved - and folkier - take of I'd Rather Be The Devil from this set with the version on that debut EP). It's also interesting to realise that Al's predilection for resurrecting rock'n'roll songs predated the Steeleye and Bunch tryouts of similar material by a year or two.
The first half of disc two treats us to five superb tracks (all Jones originals) recorded in 1971 for a projected album on Bill Leader's label, followed by half a dozen 1972 demos of an altogether bluesier nature (including a tastefully authentic cover of Blue Suede Shoes). Then we get the whole of Al's 1973 Village Thing LP Jonesville, on which Al demonstrated both his mastery of "the two main strands of his approach, the visceral and the cerebral" and his typically playful sense of humour, along with two typically dextrous instrumentals (one of which sported the delicious title Most Chickens Are Mild And Friendly Or Would Like To Be!) and as finale, a "facetiously rocked-up" mannish version of The Wild Rover that provided healthy competition for the near-contemporary Fred Wedlock treatment on his Frolicks LP (Al's is more Muddy Waters than Chuck Berry!). Rounding off the anthology's second disc are two 1974 late-night demos recorded shortly before his deliberate 20-year-long retirement from music-making (as in performing - for he concentrated instead on developing transducer pickups). So now, I suspect, would be a good time for Weekend Beatnik to make available again Al's eventual return to recording, 1998's Swimming Pool album, perhaps with some Blues De-Luxe material that never made it to CD?
It's fair enough comment (often made) that Al's records, while always pleasing and worthwhile, never scaled any lofty peaks of wow-factor, but any fresh listen to the music on this anthology will reveal just what a talented guitarist he was if nothing else, and his songwriting can still stand very favourable comparison with his contemporaries. Taken on any level, All My Friends Are Back Again is unquestionably the definitive compendium of this generally quite underrated performer (as far as I can see, its only failing is the exclusion of three out of the five tracks on his limited-edition Saydisc debut EP); it will also serve as the definitive memorial.
www.sanctuaryrecordsgroup.co.uk
David Kidman June 2008
---
Bill Jones - Two Year Winter (Brick Wall)
With last year's Live At The Live providing a stop-gap, the erstwhile BBC Folk Awards Best Newcomer finally comes up with her much anticipated third studio album (fourth if you count the Bits & Pieces assemblage). After previously tackling Universal Soldier, Goin' Back and Kate Bush's Never Be Mine, there's no pop material this time round, the emphasis firmly on traditional and contemporary folk. There are covers though, the album opening with Eamon Friel and Dave Duggan's beautiful From My Window, a tune reminiscent of The Circle Game, while later on she features a voice and piano version of Pete Morton's Two Brothers, coincidentally the two recordings on which her voice shades towards Sandy Denny.
On her previous outings I'd felt her vocals a little too pure and lacking the edge of life experience, but that's no longer the case here. She may still bring a youthful lightness to the trad numbers The Holland Mistress or The Lover's Ghost, but you can now hear an edge to it that gives weight to the emotions of the narratives.
While she's provided the music and arrangement to regular Tom Paxton collaborator Anne Hills's words on Two Year Winter (where she evokes a young Joni Mitchell) and Lost Chances, a marvellous metaphorical tale of regret with Jones accompanied solely by mournful accordion and cello, she's also penned her own lyrics to traditional tunes for Bide on which a blacksmith quells a woman's pride, and a retelling of the Grace Darling story on, well, The Story Of Our Darling Grace.
The remaining songs are made up of an adaptation and arrangement of Robert Nunn's Sandgate Wife's Nurse Song rechristened Hey Away and the jaunty trad mating orgy in the fields recounted in The Haymakers. That breaks out into Mac's Fancy and there's a couple of other instrumental sets, Night-time Jigs and Diddling Set, to complete the line-up.
Produced by Jones herself, proving to have as fine an ear as she has a voice, working with instrumentation that includes flute, fiddle, double bass (provided by touring band member and harmony vocalist Miranda Sykes) and whistles, she casts her musical net across several genres, embracing folk-rock, a capella folk, jazz and world colours, while the flugelhorn on The Lover's Ghost may even find those of long memories thinking of Stackridge.
It's a fine coming of age for the Staffordshire born, North East bred Belinda, no longer a newcomer but well on her way to becoming one of the most stalwart of the new wave's seasoned veterans.
Mike Davies
---
The Bill Jones Band - Live At The The Live (Brick Wall Music)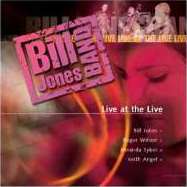 I've followed Bill's performing career with interest from pretty early on, and right from the start I - in company with other critics - was firmly convinced that she had considerable potential. She's never lacked integrity, and her freshness of approach and willingness to experiment outweighed any (at the time inevitable) awkwardnesses in presentation or deficiencies in technique. Her two solo albums to date had demonstrated a good (if not outstanding) level of instrumental prowess tempered with open-minded inventiveness while containing some really lovely individual moments and songs. It's been inevitable, then, that she be showered with folk awards, not least as a highly promising newcomer to the scene. Latterly, Bill's taken to the road with a three-piece band that has thrown her own talents and creative ideas into relief, though also incidentally exposing her own shortcomings. The band setup, comprising Roger Wilson (fiddle, guitar), Miranda Sykes (basses, harmony vocals) and Keith Angel (percussion), provides an interestingly different mix, well complementing Bill's piano, accordion and whistles. This live CD was recorded in Newcastle in December 2001, a matter of weeks after the band had been convened to go touring. Perhaps the slightly tentative feel of much of their act as represented on this CD is attributable to their being recorded for posterity before they'd had chance to develop and grow into the material. Having said that, there's a clarity of vision and commendable assurance present in the confident arrangements and delivery (and the four musicians had obviously rehearsed plenty and well in a short space of time); in the second half of the CD (concert) I noted a distinct improvement in many respects. My uneasiness lies more with some continued presentational awkwardnesses and the occasional stylistic mismatches where either Bill's voice or the treatments themselves don't suit the songs. There's the overly jolly Blackleg Miner, for instance, and Bill's cover of Goin' Back just doesn't have the necessary maturity in timbre - yet; and I'm not sure the harmony arrangement of Panchpuran improves on the starker solo original. But Bill has the knack of putting together a set that's sufficiently well-balanced to satisfy on most counts; it's just that at times her show's still just a bit too much like a very good sixth-form end-of-term concert rather than a professional folk band gig. Of course no-one can be expected to get everything right first time; Bill's got age on her side, and so there's ample time for her to make the necessary fine tunings, many of which will come with experience; meantime, you can't help but give her full marks for effort.
David Kidman
---
Bill Jones - Panchpuran (Brick Wall Music)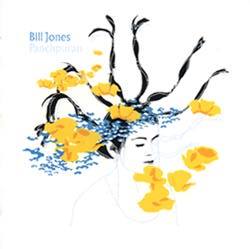 Get your orders in for this one folks!
Following up from her well recieved debut 'Turn To Me', this is Bill Jones's second offering. Once again it's a mix of traditional and self-penned songs and tunes, featuring Bill's distinctive voice and musical influences - folk, jazz, brass band and string quartet. Guest musicians include Coope Boyes and Simpson, Kellie While, and Kathryn Tickell, but this is undoubtly Bill's album.
First up is a fairly standard run through of 'William Taylor', but this is followed by a very different take on that well known ballad 'Tam Lin' - slowed down to almost a crawl, and backed by a string quartet. Yes, it works - my, does it work! Sensational. 'The Barley and the Rye' follows - nice enough, but I found the backing vocals a bit unnecessary - perhaps itwill grow on me. The title track is next - this for me is the highlight of the album - an unaccompanied song written by Bill about her family's Anglo-Indian roots and their coming to England. One to play again and again to get the full emotion of the piece.
'Silver Whistle/Low Down the Broom' is a beautiful track, with excellent cello and piano, and a well thought out combination of songs. Next up is 'Rocking the Cradle' - this is given a light hearted jazzy arangement that works well, followed by 'The Hexam Lad/Blackleg Miner' - complete with brass band. Again another winner. 'Loving Hannah' is another stunner, with superb cello by Shanti Paul Jayasinha. My second favourite track. 'Tuney Song Set' is another lighted romp, which goes into the exquisite 'Stor Mo Chroi'. The album is rounded off by the Goffin/King song 'Going Back' and Bill makes this work as well. For an 'Important Second Album', this is a triumph!
Jon Hall
---
Billy Jones - My Hometown (Black & Tan)
Arkansas born Billy Jones calls his music Bluez and he is a performer who is interested in extending 'Great Black music from the Ancient to the Future'. Nine of the ten tracks on offer are self-penned and he does encompass more than one musical genre. For example, Here With You is a slow groover to open with. Jones has a velvet voice and this tends towards Soul and modern R&B with understated guitar. Pull My 44 is a funky blues with snappy drums. It's the age old story – don't mess with my woman or I'll shoot you; fair enough! He returns to the slow soulful feel with Right Now and shows that his voice really suits more than one genre as it just oozes all over you. Crystal introduces another style and this time it's rock. The anti-drug message is well intended but the song really doesn't get going. Never Let You Go, the only song on the album not written by Jones, sees him continuing to swap genres. This is modern Soul but it's just a little samey. He stays on the Soul side for a pleasant offering, The Clown, before unleashing some Latin influences on the eponymous title track. This has the same lines as Crystal but it's Blues, it's Soul, they're all in there. You Upset My Soul is a stuttering Blues from the top drawer and The Rumour is acoustic based modern Soul. However, the latter is not one of the better tracks on the album. He closes with Bluez Comes Callin', a good finish that reminds me of Taj Mahal to a small degree. This is a curate's egg of an album, good in places, not so good in others.
David Blue April 2007
---
The Carvin Jones Band - I'm What You Need (Own Label)
Carvin Jones has been voted in the world's Top 50 guitarists in Guitarist Magazine and this album confirms that status. Jones and the band open with the eponymous title track, a rousing blues with gunslinger guitar and vocal duet with Roscoe Taylor. You Drive Me Crazy has fuzzed guitar to introduce this slow burner. Strawberry Shortcake is R&B with Steven Von Wald's saxophone introduced to good effect. Carvin shreds up the fretboard on this instrumental which also has a clever piano break from Tim Furkes. Drownin' On Dry Land is a strong Chicago blues but with an unnecessary trumpet in the background. It is too much of a conflict with Jones' guitar, which overpowers everything. Born To Win is a fast paced R&B with stinging guitar. The excellent Patrick Riley on drums keeps the whole thing together.
They stay with R&B for Havin' A Bad Day and this confirms that Jones' guitar is the star. Excellent horns on this as well. The slightly familiar instrumental, Lightning & Ice is a fast paced, shuffling blues on which Furkes gets his share of the limelight. The electrifying guitar of Jones heralds Stuck In The Mud; a familiar tale of a lost job, no money and a woman leaving. This down on my luck blues at its best. There is a little more power to Roscoe Taylor's voice on One Night Stand, an R&B/Soul crossover with Jones' guitar piercing the sky. Miss You Baby is a rolling blues with a return to his smokey voice and prominent piano from Furkes. Wanna Walk Witcha Baby is another rolling blues and they finish off with I Need Your Sweet Lovin', a slow, delta blues with a primeval feel. Simple guitar and voice is a fine way to finish. Eric Clapton thinks that Carvin Jones is the next up-and-coming blues player and I am not about to argue with him.
David Blue October 2007
---
Diana Jones - Museum of Appalachia Recordings (Proper)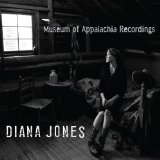 For her sixth album (not counting her collaboration with Jonathan Byrd), the Nashville based singer-songwriter took herself and her musicians (guitar, fiddle, banjo, mandolin, bass) off to Tennessee's titular museum where, in the early 19th century Peters Homestead Cabin, log fire crackling in the background, they recorded this collection old time mountain music and Southern ballads. Except, of course, they are all original numbers by Jones, an artist who seems to have a direct connection to the early years of the last century, enabling her to write songs that actually sound as though they might be part of the museum's musical archive.
Religion and hardship inevitably loom large, opening with the Carter family bible sounding O Sinner (a reference that resurfaces on the bluesy tale of an encounter with Satan) and moving on to the dust scrabble stories of a musically jaunty Drunkard's Daughter, the day of rest themed Song For A Worker, Sparrow's haunted account of abuse, murder and flight and the stark self-explanatory Orphan's Home.
Love, naturally, informs her songs too. The brooding folk ballad Ohio tells of a young man defying his parents and choosing flight to Ireland to be with his true love, the banjo driven Love O Love observing how it can bring a strong man to is knees, the mournful, scarred Gold Mine urging its relationship-battered subject to recognise the worth in herself and Tennessee a straightforward heartache waltzing reminder that 'a promise and a ring are dangerous things'.
The album ends on an a capella three part harmony note, returning to the hymnal hearth of its opening number, closing a perfect circle on a perfect album. A museum piece in the best possible sense.
Mike Davies July 2013
---
Diana Jones - High Atmosphere (Proper)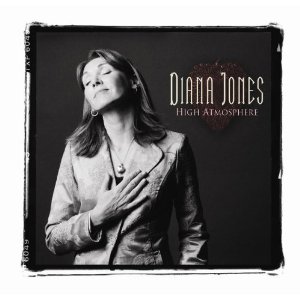 Diana is one of those singer-songwriters who possesses the gift of making a profound statement through the simplest of music and the simplest of means. In that respect she has a strong kinship with Gillian Welch I guess, but the two don't really sound that much alike. Diana's singing is straightforward, plain-folky even, but that plainness of expression hides a considerable skill in preparation - which includes the very construction of her lyrics.
These can be heard to embody a link deep back to the very tradition of the old Appalachian mountain ballads through keen metaphorical and literal storytelling that addresses the human condition directly. High Atmosphere's the third in her series of albums illustrating this, and will in time probably be considered the best (although anyone who heard 2009's Better Times Will Come will agree that record was a hard act to follow).
High Atmosphere contains a dozen songs that are the epitome of economy of expression while uniformly strong in content and impact. I Told The Man (sung from the viewpoint of a miner's wife) seems to hail from the same wellspring that sourced the Lomax prison farm recordings, whereas Poverty turns out to be a catchy singalong number that rather belies its content and My Love Is Gone is a moody Carter-like piece soaked in desperation and melancholy. The Funeral Singer is a quiet yet exquisitely personal lament about being unable to grieve properly in her own right when she's continually asked to play at the funerals of others, whereas the sweet and tearful Drug For This explores a similar theme of helplessness and the blatant questioning of I Don't Know is blessed with a beautifully autumnal string-section backdrop.
The haunting lonesome vibe that permeates Diana's writing is intimately communicated by virtue of timeless-sounding melodies utilising pared-down settings that involve a select crew of entirely simpatico musicians (who include Beau Stapleton, Aaron Embry and Mike Bub) masterminded by her co-producer Ketch Secor (of Old Crow Medicine Show fame), who also contributes fiddle, viola, banjo, guitar and harmony vocals.
There are also cameo appearances from Jim Lauderdale (vocals on three tracks), Duke Levine and David Mayfield. All of which elements go to make up a rather special album, one which reflects the special spiritual place that Diana inhabits.
David Kidman May 2011
---
Diana Jones - Better Times Will Come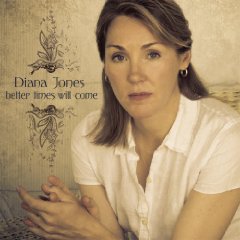 It's almost two years since I first heard her 2006 album, The Remembrance Of You, during which time her profile has risen considerably following Joan Baez's cover of Henry Russell's Last Words for her Emmy nominated Day After Tomorrow. Naturally, then, expectations are high for this follow up which features Jones' own reading of the song, inspired by a letter to his wife scratched out in coal on a torn paper bag by a victim of the 1927 Everettville, West Virginia mine explosion.
Unlike Baez's version, which sounded like a Hebrew funeral march, Jones's is rooted deeply in the beloved but wounded hills she sings of in Appalachia's love song to her adopted home. Stripped back to the bare bones of guitar and fiddle (Alicia Jo Rabins taking over from Jay Ungar), she sits you down beside the dying Russell so that you can almost taste the coal dust, before the song and the man's life ebbs away on a fading fiddle note. The song earned Jones fulsome acclaim as a major new songwriter able to get to the emotional essence in stories drawn from the lives of others and herself. No surprise then to find it's not the only diamond in this new collection to rise to the same level of excellence as things like Pony and Pretty Girl on the debut.
Co-penned with three other female writers and featuring guest vocals from Mary Gauthier, If I Had A Gun is sung in the voice of an abused wife's vengeance fantasy and could easily come from the same domestic milieu as the earlier album's Up In Smoke's account of a broken marriage.
Loss, leaving and emotional damage loom large. With a stirring old school mountain music setting that could have come from the folk songs of the Civil War, Soldier Girl (one of two to feature Nanci Griffith) finds a new recruit in the bus depot before leaving for boot camp, going to war to escape the poverty trap. Then there's the trad folk ballad sounding Evangelina, the story of a faithless lover who went to war and found a taste for drink and gambling, never returning to the lover and the child he left behind. And, on All God's Children, a deeply autobiographical tale of an adopted girl turning 18 far from home, her birth parents and 'faces that look like my own'.
Yet, for all this, as embodied in the often uptempo tunes, it's hope, optimism and transformation that are the strongest themes. The folk blues Something Crossed Over speaks of a spiritual epiphany, the simple, hymnal haunting Cracked and Broken is a celebration of survivors as, in her drawled, pure and earthy alto, she sings 'cracked and broken that's how the light shines through'. while Better Times Will Come speaks for itself and the airy barefoot on grass feel of The Day I Die finds no fear or sadness in passing over, for 'birds will sing the sun will shine'.
Even Ballad of The Poor Child, which laments a life of poverty and calls for (divine?) intervention and the 'cup of comfort' on behalf of those whose 'voices are too small', carries a prayer of salvation in its skip of a melody. An album of embracing warmth and unassuming brilliance.
www.dianajonesmusic.com
www.myspace.com/dianajonesmusic
Mike Davies February 2009
---
Diana Jones - My Remembrance of You (Newsong)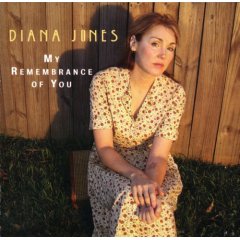 Being tagged the new Emily Dickinson must put a lot of a pressure on a girl, but Jones certainly rises to the occasion for her breakthrough third album. Adopted as an infant and raised in New York, when she was 15 she went in search of her roots. She eventually found them in Eastern Tennessee, explaining why, when her school friends were getting into Michael Jackson, she was more tuned in to Johnny Cash, Dolly Parton and Emmylou Harris. Indeed her latest album was born from grieving the death of her grandfather, Robert Lee Maranville, who had once been in a band with Chet Atkins.
As may be expected the album's steeped in the music of the Appalachians, drawing comparisons with Gillian Welch, Lucinda Williams, and Iris DeMent for her open, honest songs and strong, deep and pure voice. Taking care of guitar, with a splash of mandolin and fiddle, she's got a solid set of musicians behind her, among them Jay Ungar on fiddle and singer-songwriter Ferron who provides harmonies on the heartbreaking Pony, a 20s set story of an Indian child taken from her Dakota reservation and parents to live among whites.
A strong sense of loss, not belonging and insecurity runs through many of the songs. The bluesy tribal rhythms and slow stomping Cold Grey Ground (which could be a later years companion piece to Pony) asks to be buried back among the family hills, the trad American folk flavoured All My Money On You finds a gambler looking for the big win so he can go home again, the old-tyme country weeping title track speaks for itself, Up In Smoke waltzes through a marriage fallen apart, while, one of the saddest things you'll hear, the bluegrass dappled Pretty Girl is a bar room girl's aching wish not to be the one all the good old boys want to take home.
It's not all downbeat moods, though. Driven by Ungar's scraping fiddle, the perky Fever Moon finds her hoping to bewitch the man she's fallen for, slipping into throaty vocals folk-blues A Hold On Me is a defiant refusal to let go the earthly ties while Willow Tree is a Southern spiritual about finding grace in accepting God.
Brushed with the smell of old wood and ancient hills, warmly lit like rays of afternoon sun dancing through mountain cabin windows, and heady with the sense of deeply ingrained life, Emily Dickinson would be proud to be spoken of in such company.
www.dianajonesmusic.com
www.myspace.com/dianajonesmusic
Mike Davies July 2007
---
George Jones- The Great Lost Hits (Time Life)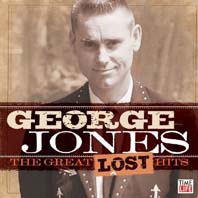 Lost is a bit of a misnomer. Perhaps mothballed might be a better tag for this double CD collection of 34 tracks from the man many regard as the greatest singer in the history of country music. Having shot to fame in 1955 with Why Baby Why and scoring his first country No 1 four years later with White Lightning, to be followed by Tender Years and She Thinks I Still Care, Jones left Starday Records and signed to Musicor in 1965. Releasing 17 albums before an acrimonious split in 1972 when he moved to Epic, although he only achieved one Country chart topper in that time, Walk Through This World With Me, several releases rate among his all time classics, among them A Good Year For The Roses, Feeling Single, Seeing Double, I'll Share My World With You and Melba Montgomery duet We Must Have Been Out Of Our Minds.
However, thanks to litigation, none of these tracks have ever been available for decades, and never on CD; until now. As such, this is like Christmas come early, not just for the legion of Jones admirers but anyone with an interest in the history of country music. Compiled from the best sound sources available, it also features the added bonus of including The Honky Tonk Downstairs, previously unreleased in the USA, the original versions of Beneath Still Waters, Where Grass Won't Grow, and Your Angel Steps Out Of Heaven and, after she left her husband to be with him, his first recording with Tammy Wynnette, uncredited on Never Grown Cold.
Mike Davies April 2010
---
Hughie Jones - Liverpool Connexions (Fellside)
Mr Jones is of course best known as former member of the hughely successful (sic) Spinners group, yet that (many would say unfortunate) fact has occasionally proved a barrier for appreciating his artistry, and it's not always readily acknowledged that his subsequent solo work has already produced two satisfying recordings for Fellside. Liverpool Connexions continues the series, and proves another eminently accessible set, on which Hughie remains loyal to his Liverpool roots by choosing from the large corpus of songs either from or directly concerning that fair port, supplementing these with a few songs which are associated with Liverpool's "twin city" New York (though I feel this is stretching the "connexion" a tad too far!). Some, like Glyn Hughes' Seth Davey, are quite well-known, and generally speaking Hughie's latest renditions do them more than adequate justice (though I always find Shep Woolley's Down By The Dockyard Wall a bit overlong, whoever sings it!). Having said that, I really do question why Hughie felt it necessary to give us yet another version of Dirty Old Town (even when he explains the over-tenuous connexion in the booklet note). - yawn! Yes, it's in Hughie's choice of less well-known songs that the bulk of the CD's interest resides; I specially liked the "professional song" from the Whall collection Unmooring (which like the Liverpool Lullaby is sung unaccompanied here), as well as Hughie's recounting of the true story of Alexander Selkirk (model for Defoe's Robinson Crusoe) and the pair of songs Hughie wrote about the strange historical figure Joseph Williamson, the self-styled King Of Edge Hill. Hughie's takes on the brace of C. Fox Smith/Alan Fitzsimmons pieces are credible enough (though I still prefer Derek Gifford's version of Shanghai Brown for its extra bite). Finally, Hughie revisits his own composition The Derbyshire (first recorded in its unfinished state on his Seascape CD, and now completed with the news of the enquiry's conclusions), and earlier in the CD performs a simple recitation reflecting the impact of Hillsborough 1989 on football fans of both sides in Liverpool. Hughie's melodious voice and guitar are accompanied variously by Brian Peters (squeezeboxes), Robin Garside (fiddle and mandolin), John "Count" McCormick (double bass), Dan Conroy (banjo), Dan Jones (keyboard) and the backing voices of Chris Lock, Linda Adams and Bob Hallard. Altogether, Liverpool Connexions maintains the standard already set over the years by Hughie, a singer whose consistent and easygoing style of presentation has stood the test of time without ever becoming dated; it won't frighten the horses or place you on the cutting edge of folk, but it's an unpretentious and likeable product that shouldn't disappoint Hughie's legion of loyal fans.
David Kidman
---
John Jones - Rising Road (Westpark)
The prospect of a solo album from the highly charismatic Voice of Oysterband is an exciting one, and Rising Road doesn't for a moment disappoint. Its seed was planted a few short years ago when John briefly toured outside of Oysterband in company with those dynamic fellows Benji Kirkpatrick and Seth Lakeman. It's probably fair to say that for those who didn't catch that tour this new album (which also features Benji and Seth among its contributors) may not deliver exactly what those listeners will expect of it, although for me its proud gestures and urgency of spirit aptly typify John's musical personality, his very soul. And as recent Oysterband albums in particular have increasingly shown, he's a very strong singer with a distinctive expressive presence (and yes, a "big" voice) that's at the same time both bold and subtle.
John also has a clear vision of where he's taking a song, as the seven trad-arr. items on Rising Road (out of its twelve tracks) especially persuasively demonstrate, and on which he evidently derives further inspiration from Al Scott's often expansive (tho' not intrusively fulsome) production. The contributions of Ian Kearey, Alan Prosser, Sophie Walsh, François Deville and the aforementioned Benji and Seth are also not to be underestimated. For there's a lot going on in the detail, whether it be in John's own expressive emphasis or the more inventive aspects of the accompanying instrumentation or the choice of basic tempo or rhythmic pulse - either can be surprising, but the effect is almost always gripping. Searching For Lambs (here a duet with Rowan Godel) is imparted with a brooding, almost sinister character, One Morning In The Spring, characterised by Seth's spectral fiddle, enjoys a different perspective in this variant, and the piano-and-dulcimer-accompanied Newlyn Town becomes a tender and poignant album closer. A relentless percussive rhythm plays an important part in John's radically different take on Polly On The Shore, which is compellingly driven along to a tough chant rather like a prison-farm worksong, as well as the shanty Fire Marengo.
One other important aspect of this album is John's renewed (rediscovered?) connection between music and landscape, not just in new self-penned originals like Walking Through Ithonside and Henry Martin but also in his fresh views on the traditional songs, which all invoke an impressively potent sense of place - and sense of drama. For Rising Road is an epic set that conjures a spacious sense of wide-screen personal vision within a closely-focused but admirably high-definition aural canvas.
www.myspace.com/JohnJonesOyster
David Kidman October 2009
---
JW Jones Blues Band - Kissing In 29 Days (Crosscut Records)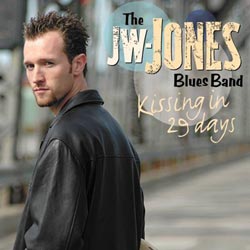 JW returns with his latest set for Crosscut and things have not gone too bad since 2004s My Kind Of Evil. He opens with the high paced eponymous title track. This is more in the Rock n Roll era than blues but JW flits between the two quite often and to great effect. His guitar was one of the driving forces on the last album and there's no sign of him letting up on this. Hey Girl keeps up the fast start to the album and again is on the Rock n Roll side of the fence, but only just. Clean guitar and saxophone are the highlights here. On All My Money, JW harks back to the golden era of the 50s and gives the song a 21st century feel. This swing blues has the classic themes of infidelity and money at its centre. I Don't Want To Hear is classy, brassy and full of soul. In addition, there's a lovely bass line from Nathan Morris and a sweet sax solo. Games has echoes of Robert Cray and has the horn section on top form whilst Parasomnia is a high octane big band blues instrumental that allows JW to be let loose on guitar.
The big band feel continues on Fly To You, which is smoothness personified. Got Me Chasin' is an electric Kansas City style blues that shows JW can turn his hand to a number of techniques. There's also some good harmonica work from Frank Seanga who also contributes sax to a number of tracks. There are some slower tracks on offer and Way Too Late is one example. This has full backing from the horns and the piano segment leading into the guitar solo is seamless. Hallelujah I Love Her So is an example of the swing blues that JW is so good at. He has to be one of the best exponents around. Pretty Little Sweet Thing heralds the return of a faster pace and this funky blues showcases a band that is on top of its form and Standing In Line is hard hitting electric blues that contains references to Elmore James' The Sky Is Falling. The blues theme of love and death helps contribute to one of the highlights of the album. The staccato guitar and drums of JW and Artie Makris gives No Love a jumpy feel and this is a blues with a twist just listen. The set is rounded off with Here She Comes, another that harks back to the 50s. It's a medium pace finish to a high class album. Very professionally produced and played by a band that knows where it wants to be and ably backed up by the excellent Wind-Chill Factor Horns.
www.jw-jones.com
www.crosscut.de
David Blue, July 2006
---
JW-Jones Blues Band - My Kind Of Evil (Crosscut Records)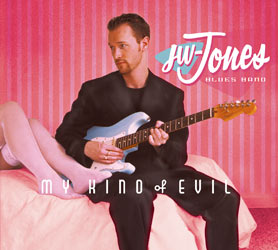 JW's third album for excellent German label Crosscut Records opens with two old style songs, the big band blues of Shake That Mess and the 60s style R&B of What You Do To Me. Both have prominent saxophone and the latter has ringing guitar. This guitar and horn sound is indicative of the JW Jones vibe. The horns are ably provided by the Wind-Chill Factor Horns and Jones is on guitar, writing 11 of the 14 songs himself or in conjunction with others.
Ain't Gonna Lie is a strange one. It doesn't really know what it is, 60s beat, R&B, rock and it doesn't do any of them. What is does have is a very good guitar solo and rhythm section but it's really out of kilter with the rest of the album. I Don't Know is the classic Willie Mabon song. Barrelhouse piano supplied by Geoff Daye is excellent and Canadian JW opens up on the guitar. Cheating Woman is a slow blues, suited to Jones' voice. Kim Wilson literally blows you away with his harmonica and this is a bonus as he's always been one of my favourite harp players. Jones' guitar playing just seems to get better as the album goes on.
Nothing On Me is a Booker T style instrumental rhythm and blues and Jones & the bands turn their hand to an urban blues on You Can't Fool Me. This is a strong song that Robert Cray would have been proud to produce, I'm sure. The up-tempo, strangely enough, Slow Down is a swinger. The slow down part being where the band pleads for JW to slow the tempo down but it's not too long before he speeds up again on this fun instrumental. Blue Monday is the Fats Domino song and it is well handled by the band, with Kim Wilson turning in a fantastic vocal.
The title track is on the rockier side of R&B but it's not one of the stronger songs and is outclassed by the slow rolling blues of You've Got Me (Where You Want Me). Code Blue returns to big band swing with the horn section on form again. Another instrumental and it's held together, as is the rest of the album, by the drumming of Bill Brennan. This shouldn't be too much of a surprise as his credits include playing with Muddy Waters and Buddy Guy and his rhythm section partner Nathan Morris is coolness personified on upright bass.
Aching Pain is a primeval blues with a distorted vocal, disjointed rhythm and strong harmonica. Just feel the pain. The closing track, Let's Have A Ball is the way an album should be finished, upbeat and a happy feeling. It's R&B swing with one final rip-snorting solo from JW. All in all, this is a very good album and is likely to make you want to search out his previous two.
www.crosscut.de
www.jw-jones.com
David Blue
---
Kacey Jones - Kacey Jones sings Mickey Newbury (IGO Records)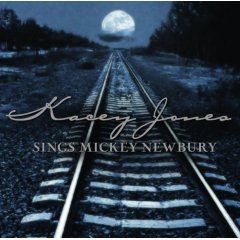 Mickey Newbury was both an inspiration and a mentor to the young Kacey Jones when they met back in 1980. With this CD she is expressing her gratitude in the way she knows best and which benefits us all.
It opens very fittingly with sound of the rain then a slow smooth orchestration before Kacey's vocal glides in. The timbre and richness of her husky low voice is superb against the strings. Song Of Sorrow is the perfect start somehow for this superb CD along with the whistling contributed by Laura Shayne Newbury. Then with nary a pause it slides effortlessly into Some Memories Are Better Left Alone and the pathos in her voice combined with her phrasing cuts right to the bone, just as the original version did.
Lie To Me Darlin' is superb as is Apples Dipped In Candy, another 'goose bumps' one. The crisp piano in counter balance to Kacey's sultry bluesy jazz vocal interspersed with the trumpet is just magnificent. The mix is superb and with a good stereo, the volume up and a glass of wine, it is not hard to feel as though one is in some basement bar in Berlin ~ and sitting surrounded by the band ~ but with plenty of space to weave effortlessly around and through them.
San Francisco Mabel Joy is quite possibly the song that those who have never experienced Mickey Newbury's awesome talent directly will recognise immediately. Kacey manages to use her voice, like a paint brush, to cover the canvas of Mickey's song that makes this so much more than just a passive listening experience. One is completely drawn in to the emotional experience to the extent that one feels one actually knows that Waycross Georgia farm boy.
In Why Have You Been Gone So Long the beat kicks up a notch with a laid back soulful groove that is mesmerising. The rhythm section are tip top on this track as they are, indeed, throughout the CD. The sequencing of the tracks is well thought out and the tracks flow, almost seamlessly, from start to end.
I have listened to Mickey's albums when down and managed to emerge, as though refreshed, through cathartic tears. Kacey has achieved this same potential here. The world would have been a far poorer place without Mickey Newbury. May this help to spread the word of his prodigious talent even farther afield. If you only knew of Kacey for her comedy CD's, then please do try this one. And lastly, Remember The Good,.~ yes indeed!
www.kaceyjonessingsmickeynewbury.com
www.kaceyjones.com
Miranda Ward April 2007
www.myspace.com/mirandawarduk
---
Kacey Jones - Every Man I love Is Either Married, Gay or Dead - Live! ( IGO Records)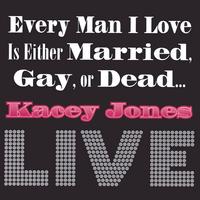 From the opening monologue, where Kacey says that she should now be known by her new Moslem name Seldom Bin Laid to the plea to toilet train men in Put The Seat Back Down, this is a bundle of laughs. Men do come in for a fair amount of criticism but it's all in good fun and shouldn't be taken too seriously. The best way that I can describe Kacey is that she's a Country Victoria Wood. Cutting humour and a genuine rapport with the audience makes Kacey Jones a force to be reckoned with. She fills the spaces between the songs with what she calls bits and sometimes these are funnier than the songs.
Her ex-husband Bubba comes in for some particular attention on the Bubba bit and 1-900-Bubba and she's not adverse to make fun of herself with stories such as the one where she says that her doctor told her that she had furniture disease – that's where your chest falls into your drawers. She can be a bit risqué but never steps over the line. Song titles such as Waitin' For The Guy To Die and I'm Down To My Christmas Underwear will give you an idea of her humour. The first is her Anna Nicole Smith song (married an old guy for money) and the other is about having no clean underwear and having to wear the novelty Christmas pants (complete with antlers!!).
There is one sombre song on the album, We're All In This Alone, and although the song is well meant and good enough in its own right, I just can't take her seriously. It would make a great, big production country song though. There are four studio tracks added as a bonus but I don't think that they add anything to the album. Of the three tracks that also have live versions I think that the live ones are better and she might have been better playing The Vasectomy Song live as well – that would definitely have got a few laughs. A mention for the cover photographer, none other than one Kris Kristofferson.
This is Kacey's first live solo album and this is her medium. Bring on some more!
www.KaceyJones.com
www.igorecords.com
David Blue
---
L.A. Jones and the Blues Messengers - Birthday Suit (Barking Blues Music)
W.C. Handy nominated, left-handed guitarist and his band are caught here on their 2001 release, Birthday Suit. It opens with She Can't Not Be Satisfied, which is a solid opener and whets the appetite for the guitar playing on the rest of the album. The only slight criticism is that the quick beat is sometimes too quick for the vocal. Got My Ax To Grind is a rocking blues with screaming guitar and begins a run of Albert Collins themes that pervade the album. The rhythmic The Blues Is Brewing moves along well and leads into the classic How Blue Can You Get?. This song, made famous by B.B. King is rarely covered - there are not enough brave players about willing to take it on! Jones shows his bravery here and he pulls it off magnificently. Although he lacks B.B.'s vocal power he does turn in an exquisite display of guitar work.
Smokin' Drinkin' Woman is R&B (and I mean real R&B) played the way it should be and features some intricate guitar playing. Harmonica backing from Magic Dave Therault is a delight. The title track is 8:42 of slow blues and it's great to hear that good old blues innuendo is still alive and kicking. Listen out for the classic line 'It's my birthday today, can I put my candle in your cake', but don't let the lyrics hide the fact that this is a very good blues with scorching guitar, excellent organ from Benny Yee and able backing from the top rhythm section Rick Reed and Hank Deluxe on bass and drums respectively.
Off The Edge Of The Earth is a swinging blues and features a great horn section with Jones on top form with more Albert Collins licks. This is a highlight as it builds to a frenzy by the end. Sophisticated organ work is the order of the day on I Got A Rap Sheet On You Baby and this track shows that Jones is not afraid to push the envelope with his guitar style even if he doesn't always pull it off. Tumblin' Tumbleweed is in the Chicago blues style and it arrives a la Hoochie Coochie Man. It is very good but not as powerful as the song that it is trying to imitate. The album closes with the low-key acoustic Little Queen Of Hearts. This is delivered in the style of Robert Johnson and LA does what Eric Clapton didn't do on his recent Johnson tribute, he sticks to guitar and vocal.
All in all this is a very good album, played by excellent musicians and I've just added another favourite left-hander to my list.
David Blue
---
Natasha Lea Jones - The Morning After (www.natashajones.org)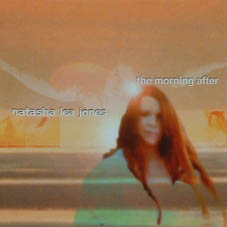 Spawned in Manchester, briefly located in Birmingham, female duo Pooka never enjoyed commercial success on the same level as their glowing reviews. An acoustic duo when singer-songwriters couldn't get arrested, they released a series of wonderful albums and singles that went studiously ignored by the world at large. Then, when the singer-songwriter bandwagon was travelling at top speed they were to be found collaborating with Orbital and Ultramarine and releasing an album with electronic artist Brian Duffy.
The band now defunct, Sharon Lewis is based in Brighton, gigging and working on a solo album while, living back home in Lancashire, Tasha has been busy putting her own project together with the help of grants from the Arts Council, the Prince's Trust and her hometown of Wigan. Bedrock tracks recorded in her bedroom on guitar and Hammond, then augmented with percussion, sometime PJ Harvey and Laika collaborator Rob Ellis producing and arranging two tracks, the album will initially only be available via her website and at gigs.
It's not a million miles away from the organic sound of Pooka, the sound still very much cobwebbed wood-sprite folk with Jones's pagan New Age whispery witchery vocals (conjure Kate Bush spliced to Bjork and soaked in drugged potcheen) often suggesting her more of a female Nick Drake than the female Coldplay comparison quoted in her biog. There's also a hint of Eastern influence creeping around the otherwordly Welsh-Irish tendrils of her melodies that give things an even more esoteric texture.
Lyrically the frequently poetic songs centre around relationships - skewed and otherwise, at times sensual at others slightly unsettling, rippling with yearning and desire, devotion and doubt. And about the need for union, to not be alone. On Hidden Treasures she sings "let me be your mirror", on Monsoon "one kiss is better than no kiss at all," and on Other Things, adapted from words by Alfredo Ricioppo, "I want to share with someone you give me no one you give me thoughts in my head instead! Yet on Many More, she warns a perhaps distant, noncommittal lover that "if someone's not enough to keep your sweet love there's many others."
Elsewhere Birthday is about the fears of growing old, pondering whether we have kids to hold on to being young, the title track details the awkwardness of waking up with the lover of the drunken night before, confused between feelings of pleasure and tongue-tied embarrassment at where impulse can lead you, while the shivering A Little Voice would seem to be about either pulling back from suicide or hanging on to life.
Together they gather into an hypnotic haze not entirely without a certain hippie vibe, like love viewed through muslin. Although first impression are that, the gutsier Many More aside, the 11 tracks tend to shade into sameness, the more you listen, the more subtleties you begin to hear in the voice and the arrangements, making this a truly beguiling grower. Hopefully this time the synchronicity is spot on.
Mike Davies
---
Nic Jones - Game Set Match (Topic)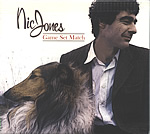 As time goes by, more and more folk musicians are recognising and acknowledging Nic as a key influence on, and inspiration for, their own performances of, and research into, the songs of the tradition. Certainly he was one if the folk revival's most creative performers, and was responsible for composing sympathetic benchmark tunes for traditional ballads, many of which, though common currency today, remain uncredited to Nic. However, with Penguin Eggs, the final album Nic was able to make before his near-fatal car accident in 1982, consistently hailed as a seminal work of the folk-revival (an assessment with which few would demur), and his earlier four albums still frustratingly unavailable on CD, interest in any releases of Nic's music is bound to be high. There have been two collections of live and previously-unrecorded material, 1998's In Search Of Nic Jones and 2001's Unearthed (both still available from Nic's own label, Mollie Music in York), which even through the murk of some less-than-perfect-quality recordings only served to enhance the man's legendary status by exhuming some truly classic performances. Game Set Match is a successor to those two releases, although this one comes from the label that brought us (and to its credit has kept available) Penguin Eggs - Topic. Under the guidance of the estimable David Suff, the vaults have been duly trawled, and the result is a goodly hour's worth of mostly pretty good quality recordings, all previously unreleased, of Nic performing live at a variety of disparate venues; surprisingly perhaps, the booklet doesn't tell us where or indeed when (the only clue is given on the back cover, which places their temporal origin merely as "from the late 70s"), and on most of the tracks any telltale audience noise or applause has been completely edited away. Nearly all of the 14 songs on this disc have appeared on Nic's previous releases, though mostly not in the same versions as here - providing for illuminating comparisons (whereas the 15th item on the disc, the brief instrumental piece Hamburger Polka, had previously appeared on the Unearthed collection). I actually prefer the more animated and spontaneous nature of many of these renditions, several of which are also more intense, darker and starker than their "official" recorded counterparts - Dives And Lazarus may be more of an acquired taste, but the versions of Bonny Light Horseman, Flanders Shore, Rufford Park Poachers, Clyde Water and the acappella Jolly Bold Robber included here are all fairly outstanding, confirming at a stroke just why Nic's held in such high regard for his innovative and artful reinterpretations of traditional song. Perhaps even more than with the two aforementioned previous archive collections, Game Set Match really gives the listener a sense of rediscovery, not only of the performances but of the songs themselves. Superb.
www.nicjones.net
www.topicrecords.co.uk
David Kidman, October 2006
---
Nic Jones - Unearthed (Mollie Music)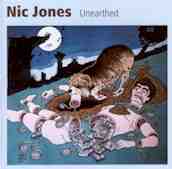 This compilation continues of the project began with the (now over two-year-old) In Search Of Nic Jones collection, which brought into the public domain many unreleased recordings. Considering the vast importance (for reasons I shouldn't need to go into - preaching to the converted and all that!) of Nic's limited official recorded output, and especially since so little of it is available on CD (to date, only the
Penguin Eggs album on Topic and one track on a Fellside compilation), In Search Of was doubly valuable, rough though some of the individual recordings thereon were.
Now comes Unearthed, which has exhumed yet more previously unreleased treasures. And it's a very fine collection indeed; many of the recordings, particularly on disc 1 of this bargain-priced set, are of significantly superior quality to those bootleg jobs on In Search Of, and Nic's performances are tremendously assured and genuinely innovative, even by his own standards - whether bringing a stunning instrumental, vocal and interpretative freshness to whatever he sang - traditional song (often supplying his own tunes too, as on the celebrated Warlike Lads Of Russia), Bob Dylan covers (a wrenchingly emotional Boots Of Spanish Leather), eminently worthy relative obscurities (Anne Lister's Icarus, Jeff Detchman's Jukebox As She Turned) or even an Ivor Cutler curiosity! At the time most of these recordings were made (predominantly in live performance), not only was Nic's guitar style fully formed yet still developing (not quite the contradiction in terms it sounds!), and his repertoire explorations were taking him into new and increasingly productive directions, but also his vocal work was especially outstanding, notably in its natural use of ornamentation and infectious responsiveness to the text.
I'm aware that many recent converts to the folkscene have been wondering what all the fuss was about, and why Nic's work is constantly cited as such a major influence; this release should provide the answers, and ought to put his name well and truly back in the frame. By the way, all revenues from the sale of this release go direct to Nic himself, which is entirely as it should be.
www.fishrecords.co.uk/nicjones.html
David Kidman
---
Norah Jones - Come Away With Me (Parlophone)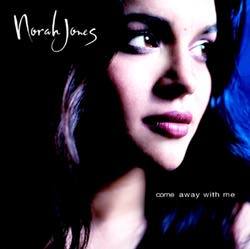 Prepare to purr. Born in Brooklyn, raised in Dallas by her mother and now based back in Brooklyn once more, the biog discreetly neglects to mention that Jones is the daughter of Ravi Shankar. Partly, I presume, because his absentee status is a source of some personal antagonisms, but partly because it may well colour expectations.
There's no ragas here. Not a sitar in sight. Singing and playing piano professional since her teens, raised on a listening diet of her mom's Bill Evans and Ray Charles albums, Jones got into jazz as a student at Booker T. Washington High School for the Performing and Visual Arts (the same one as Erykah Badu trivia fans), then majored in jazz piano at the University of North Texas for two years.
It was in New York, hanging out at places like The Living Room, that her horizons broadened and she began to work on her own material, honing her art in the Manhattan clubs. It's no surprise to note Billie Holiday and Nina Simone among her influences, what's more unexpected is to hear those pillow talk vocals wrapped around the country flavours that suffuse much of the material on her Arif Mardin produced debut album. The explanation is simple. Her gran lived in Oklahoma and all those family visits found Willie Nelson records seeping into her skin. He's a master of fusing country, blues and jazz, which - when you add Patsy Cline and Charlie Rich to the mix - goes a long way to underlining the journey that's resulted in something like her smoky piano bar version of Hank Williams' Cold Cold Heart.
Working with a basic keyboards, bass, guitar, drums format, the album also features her interpretations of Hoagy Carmichael's The Nearness Of You and (via Nina Simone's recording) J.D. Loudermilk's Turn Me On, but classic styled piano quartet numbers penned by band members bassist Lee Alexander and guitarist Jesse Harris can hold their head high among such distinguished company, most notably so the opening Don't Know Why, the tumbleweed rolling Lonestar, a gorgeous rippling country soul Seven Years and the 'summer down the creek' mood of Shoot The Moon. But it's Jones's own songs that really set the seal. The spiritual slow funeral march of The Long Day Is Over which harks back to her days singing in church, a liltingly delicate and melancholic Nightingale and the magnificent countrified slow waltz title track which really should have Willie himself beating a path to her door to beg for a duet version.
Mike Davies
---
Rickie Lee Jones - Balm In Gilead (Fantasy)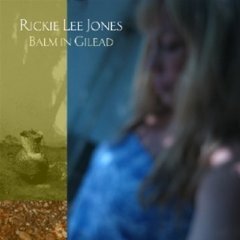 Returning with a vengeance with 2003's The Evening Of My Best Day and it's ever better 2007 follow up The Sermon On Exposition Boulevard, Jones keeps the momentum going with her 13th studio album, even if some of the songs have been works in progress for 25 years or more.

Keeping the biblical thread of the previous album's title, this one's rooted in a passage from the Book of Jeremiah about healing. It's not as heavy on the Christian imagery as Sermon, but, even if she refers to Shiva, there's no escaping the religious bedrock to the lyrics of the haunting hymnal standout On His Jeweled Floor.

But, while Rehab, a previously reported track that failed to make the cut, might have provided more evidence, it's also likely that the album was informed by Lanford Wilson's 60s play about a cafe frequented by prostitutes, thieves and addicts seeking escape from the suffering of their lives.

Certainly, while the songs may be years apart, there's a thread of hurt and vulnerability woven through the album, surfacing to stunning effect on the plaintive broken heart of the Paul Simon-like Bonfires and on the racial injustice and hard times theme of the organ backed soulful blues The Gospel of Carlos, Norman And Smith (lololo) where she smokily sings "it's a dark night to feed a stranger, when I don't have enough to feed myself.

Pain takes a break on the opening Wildgirl, a song begun in 1989 and completed for her daughter's 21st, and the closing Bayless Street, a lovely folksy number about finding rest and featuring harp guitar, violin, dobro and Ben Harper on slide. Harper's there too on Old Enough, sharing vocal duties on an old school country soul number which, while about a dying relationship, still is built on love.

Elsewhere she brings an Emmylou vibrato into play for the country Remember Me where Vic Chestnutt and Alkson Krauss add to the yearning and the blues jazz instrumental The Blue Ghazel conjures thoughts of James Brown with its sax and Joel Guzman's Hammond organ, but the gem at the album's heart turns out to be The Moon Is Gold, a sultry waltzing number which, with its upright bass and whistling, sounds like some forgotten 30s standard and turns out to have been written yonks ago by her father Richard.

Not as adventurous or as muscular as Sermon perhaps, but it holds the promise of many a pleasure evening's listening in the months ahead.

Mike Davies November 2009
---
Rickie Lee Jones - The Sermon On Exposition Boulevard (New West)
Back in 1979, the beret-wearing Jones released her self-titled debut album, had a hit with Chuck E's In Love and found herself variously hailed as the new Joni Mitchell and the female Tom Waits for her brand of beatnik jazz pop. However, despite picking up a couple of Grammy awards along the way nothing she's released since has quite matched that early success. Dropped from the Warner stable 10 years ago after a succession of indifferent releases, there looked to be a return to form back in 2003 when she signed to V2 for The Evening Of My Best Day. But nothing really transpired, so here we are, four years on with yet another new label. This time though things could shape up rather differently. For a start it's her first real rock album and it's the best thing she's recorded since Pirates. It also happens to be an album about Jesus. No, hang on, it's not some God bothering collection but rather an attempt to rescue Christ from the TV evangelists and right wing politics and set his teachings in an everyday context of spirituality and wisdom..
It all began when her friend, author Lee Cantelon, invited her to recite a passage for an audio version of The Words, his book of Christ's teachings. Jones began but felt uncomfortable with her voice. Instead she said she'd sing, improvising her own lyrics to the already recorded Velvet Underground styled drone backing track. She listened to it for 20 seconds and began with 'for a thousand years I lay upon Lake Victoria, I was winged and many-coloured and nobody knew my name.' Thus was born Nobody Knows My Name.
It's an immediately compelling start to the album (six tracks recorded in the same sessions, a further seven a year later), but what really strikes is the fact that Jones sounds uncannily like early Melanie.
It's a tremulously quivering but full-lunged comparison that applies equally to Gethsemane, her chorus soaring on loose limbed art-blues single Falling Up, the country flavoured Elvis Cadillac (the King cruising heaven with Joplin tending bar) and the spare, bluesy eight minute I Was There.
Elsewhere though the Velvets-like Circle in The Sand (originally recorded for the film Friends With Money) has her coming on like a female Lou Reed and It Hurts is a treble toned Patti Smith while devotees who year for those old Waits parallels will be beside themselves with joy on the rumbling Eastern jazz blues of Lamp Of The Body and Donkey Ride and the clanking clattering of Tried To Be A Man.
Part produced by Rob Schapf who guided The Vines and of Peter Atanosoff, scratching out dissonant desert brooding shapes on Where I Like It Best and providing the muscular guitar backbone throughout, this Sermon deserves to be heard from every radio pulpit available.
Mike Davies February 2007
---
Wizz Jones - When I Leave Berlin (Sunbeam) Another of Wizz's great lost albums finally sees the light of CD reissue courtesy of the Sunbeam label (part of the Soundlink empire). When I Leave Berlin was recorded in October 1973 on Wizz's second spell with Village Thing (the pioneering tiny independent label that had been started by Ian A. Anderson three years earlier), and originally released in 1974. In accordance with the label's philosophy, Wizz was given total freedom and artistic control, so the album was recorded simply, live on a Revox with just two condenser mics; the music's artistic quality transcends the rudimentary nature of the recording, however. As far as choice of material went, the album brought together all the strands of Wizz's musical personality, with four of his own songs (including the classic and evocative title track) and an eclectic range of honest covers (songs by Mississippi John Hurt and Jesse Winchester, Woody Guthrie's Pastures Of Plenty, Alan Hull's Winter Song and, probably the most individually moulded of all, Robin Williamson's fabulous First Girl I Loved - the latter an oft-requested item still). The album also contains a joyous runthrough of the oldtime-trad staple Cluck Old Hen, on which Wizz is joined by his newly-formed Lazy Farmer band (wife Sandy, John Bidwell and Jake Walton), who provide backing on three further tracks. Bert Jansch also drops in for the closing track, Freudian Slip, and Don Coging plays banjo on two. Wizz himself still has fond memories of this album, and no wonder, for it's nothing to be ashamed of, it hasn't dated a bit, and its relaxed, gently inspiring character sums up Wizz's appeal to this day, for Wizz has always been one of those performers who to his credit had soon recognised, and espoused, the virtue of laid-back spontaneity in music-making rather than developing technique and virtuosity for its own sake. As usual with Sunbeam releases, presentation is of a high standard, with decent liner notes; usefully too, the original album is augmented with six bonus tracks taken from a rare (German-issue-only) EP released shortly before the actual LP: recorded on an even more primitive domestic tape machine (but still in perfectly reasonable sound quality), these comprise different takes of Frankie and Winter Song, an Alan Tunbridge origjnal, a pair of blues covers and a Broonzy instrumental.

David Kidman December 2007
---
Wizz Jones - The Legendary Me (Sunbeam)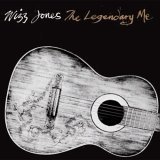 This ironically-titled and inordinately fine album by celebrated and highly influential guitarist Wizz was only his second LP release, and made its first appearance on the tiny west-country independent label Village Thing right at the end of 1970, instantly becoming a favourite of critics and broadcasters alike, as much for its superb playing as for its excellent, hauntingly original songs (mostly from the pen of Alan Tunbridge, with one of Wizz's own - If Only I'd Known - and a couple of traditionals). Its gently imposing, relaxed and in-control ambience made a virtue of simplicity, with little in the way of additional accompaniment; this allowed for maximum concentration on Wizz's nimble guitar work, which was both intricate and unfussily managed. Aside from Wizz himself, there's some delicate, sensitive and admirably undistracting accompaniment from Pete Berryman on a number of tracks, while Ralph McTell contributes electric guitar to When I Cease To Care and harmonium to Dazzling Stranger (a remake of a song from Wizz's first LP) and Reanna James plays piano on Slow Down To My Speed. The album's final track, the singalong-a-Wizz Stick A Little Label On It (a typical example of Alan's cynical humour), is a live recording of Wizz at Bristol Troubadour. Rather neatly, on this CD reissue it leads straight onto a trio of live tracks recorded in Germany only months after the album sessions: those two bedsit classics Leonard Cohen's Sisters Of Mercy and Bert Jansch's Needle Of Death frame that perennial Wizz standard Glory Of Love. It's great to have The Legendary Me back on the racks, and there's more good news in that I understand Sunbeam have plans for further Wizz Jones reissues.
www.wizzjones.com
www.sunbeamrecords.com
David Kidman, July 2006
---
---
Jont - Set It Free (Unlit)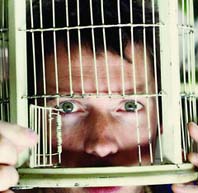 Jonathan Mark Smith Whittington, to give the London based vagabond singer-songwriter his birth name, was once a teenage slow left arm spinner for Middlesex CCC. If his aim then was as skilled as it is now, he must have taken a fair number of wickets.
He's the originator and host of the Unlit nomadic house party/gig that's been going from strength to strength since its inception four years back, becoming an online show and spawning tours playing free shows at fans' homes in the US and UK, artists having taken part include Joan As Policewoman, Lou Rhodes, and Newton Faulkner. His debut mini-album, One Long Song landed song spots on Grey's Anatomy, Without A Trace and The Wedding Crashers and his first full length offering, Supernature, earned a clutch of critical plaudits.
He returns now with his sophomore offering that at times has him sounding somewhere between Chris Rea and Damien Rice. Throwing caution to the wind, he opens with one of the album's slower, sparser numbers, picking out just a couple of piano notes for Fade Away, a weary melancholic ballad that suggests he might have a soft spot for Randy Newman. Since I'm talking ballads and Newman, I should also point you in the direction of the closing number too, Dying On The Moon, this time featuring minimal guitar and a more spoken than sung delivery.
Other slow numbers are given fuller arrangements, Good Luck In New York bookended by weeping trumpet, The Other Side a gradually swelling piano ballad about savouring life (though the line about two bunny rabbits feels a touch twee) and Hotel Telephone (one of several numbers on a theme of loneliness and needing a place to belong) rises to full orchestral and backing vocals flood.
Although Drink Up starts out like some 3am closing time thickened voice piano blues in a basement bar, it soon builds into a muscular mid-tempo and there's a definite rockier approach to the pop beat rhythms of All My Life, bluesy piano rocking Enjoy The Good Times and, arguably the album's best cut, the urgent, pulsingly uptempo Let's Roll. Personally, I prefer him in his quieter gear, but there's very little here that would have the skip finger itching.
Mike Davies June 2010
---
Fred Jordan - A Shropshire Lad (Veteran)
Fred Jordan is viewed by many as the iconic English folk singer. He first came to the attention of the then-nascent folk revival in 1952 aged 30, and subsequently entertained audiences all over the country, from his native Shropshire out increasingly to folk clubs, concert halls and festivals, for nearly half a century, virtually right up to his death in July 2002 following a bout of increased ill-health. This reasonably-priced (£16.99) double CD presents 44 tracks (127 minutes' worth) of Fred's singing, in field recordings recorded over almost 40 years between 1952 and 1991 which convey the essence of this larger-than-life character and give a very fair overview of Fred's development as a singer and song carrier, allowing the listener to concentrate on the characteristics of his interpretative style without the ancillary (albeit important!) distraction of his strong visual presence which seemed to prevent many (even within the fraternity of folk enthusiasts) from gaining or forming a realistic assessment of the qualities of his singing. Those familiar with Fred's (limited) recorded output will appreciate therefore that A Shropshire Lad is a compilation gathered together primarily in the spirit of celebration of the man's achievements rather than an attempt at a comprehensive survey (let alone a completist's dream); what we get, then, is a representative selection taken mainly from the principal officially available albums and tapes. Sound quality is mostly excellent, although the early BBC recordings are (inevitably) comparatively lacking in presence. If you're concerned with such matters as the surprisingly small proportion of Fred's recordings that are available on CD, four out of the five recordings that appear on Topic's Voice Of The People set would appear to be duplicated here (the exception, the recording of The Bonny Boy on this Veteran set, comes from the 1982 recording made for the EFDSS). Nobody could ever claim that Fred was blessed with a flawless technique or a "beautiful" singing voice; Fred was, however, undoubtedly a creative singer. His large repertoire embraced both "discovered" folk songs and popular songs, and he knew a good song when he heard it. In the words of Peta Webb, "he could take any song from any source and make it his own song, in his own style". In his introduction to the copious 64-page booklet that accompanies this set, Derek Schofield constructively observes that Fred's "occupation, his life-style and his songs were of the nineteenth century, yet his singing context became the twentieth century folk revival". Arguably more so than "obvious" features of Fred's singing (e.g. the pronounced vibrato), this apparent temporal mismatch I suspect is partly the key, or at least one of the salient factors within the reason for the polarisation of opinions of Fred as a performer and interpreter of song. Indeed, just as Peter Bellamy perceptively commented, Fred was "obviously a case of 'love him or hate him', with very little middle ground", which, let's face it, is the attitude that often greets any artist of true integrity who is blessed with an individual or distinctive performing style (embodying a genuine expressiveness) and who takes the straightforwardly professional and unselfconscious approach to his/her art. Finally, this set scores almost full marks for its presentation; the impact of the exceedingly well-researched booklet is only slightly compromised by the song texts not being included, possibly also by the lack of a complete listing of the songs in Fred's repertoire. But this set still remains an important issue.
David Kidman
---
Louise Jordan - Tempvs (Azania)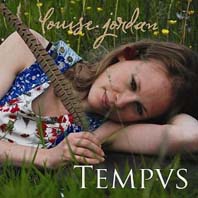 Few probably noticed when the Salisbury folkie released an EP in January last year, but the arrival of her crisply self-produced debut album should certainly have people sitting up and paying attention.
Classically trained with a choral singing background, she prefers to describe her work as acoustic music rather than folk, but, at times recalling the early recordings of Judy Collins and Joan Baez, her pure soprano and delivery (beautifully illustrated on Born To Wander) is of the classic persuasion too and as the inclusion of her interpretations of Lowlands of Holland, Salley Gardens and William Taylor show, she's clearly steeped in the tradition.
As well as talented acoustic guitarist (listen to her fingerpicking on opening number World Weary) and cellist (featured on both the former and Salley Gardens), she's also a clearly accomplished pianist and her arrangements of both William Taylor and Thomas Hardy's Without Ceremony, both set to her own melodies, are particularly striking.
She writes her own material too, the reflective self-penned numbers less traditionally inclined but still rooted in the old school of folk and, like Little Robin Redbreast inspired by running in he New Forest, drawn from her rural existence and experiences. Traversing an emotional arc from the opening track's melancholy to the serenity of Peaceful (a song that sounds to have hymnal influences) and the closing piano accompanied Omnia Tempvs Habent, her choral singing reading of 'to everything there is a season' from Ecclesiastes, it's an intoxicating listen.
With lyrics about robins in woods, she may not find favour with the audiences of Mumford, Lakeman and their like, but a younger generation looking to find their own Shirley Collins, Anne Briggs or Vikki Clayton will find bountiful rewards.
Mike Davies March 2012
---
Steve Jordan - The Trees Scarce Green (Forest Tracks)
Steve, originally a native of the remote West Country, moved to Southampton in the 70s and has since made Hampshire as his home. Becoming resident at the celebrated Fo'c'sle Folk Club, Steve has over the years carved for himself a deserved reputation as a fine and charismatic singer; I've not come across any recordings of Steve before, so was very pleased to get this one! In keeping with Steve's laudable wish to produce a CD free of studio effects and tricks, the whole CD was recorded in the little thatched room at the back of the White Lion in Wherwell (WildGoose territory!) where Steve holds his monthly "Song & Supper" nights, over two days in January 2003; the last 14 songs of the CD together form a continuous, unedited live concert-session. The full CD, presenting 20 songs within its generous 76 minutes, really gives the full measure of Steve as a "story-singer" of high renown, a performer of real "character" and straightforward honesty who, while taking the professional approach to his chosen material (he's equally fastidious whether it be classic balladry or songs from the tradition or the music-hall), is also able to effortlessly charm his audience with his performance, putting them at ease and encouraging them to laugh with him at his inimitable introductions (which, as you hear, actually prove valuable rather than irritating). The description "effortlessly charming" could also be applied to Steve's singing voice, for its distinctive tenor timbre, though outwardly quite "softly spoken", is found to contain considerable reserves of inner strength; its apparent vulnerability is appealing and is enticingly matched by his evident relish in communicating the message of the songs. Indeed, Steve's whole "act" possesses an "outside-of-time" quality that links him with more-widely-lauded source singers such as his namesake Fred and even Bob Copper (the latter is called to mind in Steve's version of the Family's Babes In The Wood, performed here with his partner-in-crime Geoff Jerram). I've already hinted at the healthy diversity of Steve's repertoire, which encompasses fine versions of traditional (Fanny Blair, Little Musgrave, The Ship In Distress) and composed songs alike. Into the latter category come less familiar (but still eminently worthwhile) songs by Keith Marsden, Graham Penny, Mike Sadler, His Worship & The Pig, Cyril Tawney; possibly the jewel in the crown here is Geoff Lawes' powerfully moving Falkland Sailor. On the majority of the "music-hall numbers", Steve's accompanied by Paul Hutchinson and Paul Sartin (as in Belshazzar's Feast), and Steve's wife (the justly respected singer Sarah Morgan) brings some sublime "choral" harmonies to his version of Rosebud In June. And another brownie point goes to Steve for being careful to properly and copiously credit his sources. What a superb CD, one which so well captures the essence of the singer and his repertoire. Only one word of caution - the individual songs within the "live session" part of the CD are banded separately from the introductions, which is useful, but you need to refer to the access cues given on the booklet rather than on the box cover…
David Kidman
---
Brian Joseph - King of Echo Park (FrogSongs)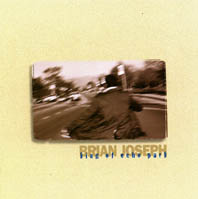 Doing ok as an actor, five years ago Joseph jacked it in to become a singer-songwriter. Well, theatre's loss is music's gain. Resembling a young Tom Waits in his goatee and pork pie hat, blessed with soulfully warm voice with just the right degree of husky catch and tremble and tagged as a folk flavoured troubadour with comparisons that range from John Prine to Paul Simon and Randy Newman, he's now up to his third album and has clearly attracted some impressive admirers with Wendy Waldman handling production duties and musicians including such session legends as Kenny Edwards, Freebo and Julie Wolf.
The Costello-ish opening track, God Save The King may reference the Union Jack but it's a clear swipe at Bush, the Iraq war and the right wing conservatives who reckon anyone who protests are just pinko troublemakers and domestic terrorists. The rest of the album though largely steers away from politics in favour of the personal with a clutch of love songs that range from the heartfelt tenderness of the finger-picked Louise and the funky futile denial What's That Sound to the down home nature of the Prine-like Cal's Chevy where an old battered car becomes a metaphor for getting through life's troubles. It's not just cars and girls that get the affection either, Walk On Alvarado is a wonderfuly sax stained late night bluesy love song to Los Angeles while the title track is a touching hymn to a child's imagination.
There's loss here too though, the images of lonely death that haunt the piano gospel tinted ballad Nobody Misses You (the most obvious Newman influenced track) and (underlining his Shakespearean background) the unexpectedly heartbreaking Cordelia.
He also has a nice line in wit and irony. The Road To Endarkenment is a bubbling tuba, spoons and ukulele arranged piece of whimsy about getting new agey trying to win the girl while the jazzy Ways of the Cool pins the image of bored youth's minor rebellions. But he can be pointedly sharp too, the gospel handclappy Hallelujah may present itself as a jokey Badlands tale of some hold-up merchant disguised as a priest but there's a subtler comment there too while the closing spare, bluesy and darkly atmospheric God Bless The Storm is a bitter tale of the desolation, death and despair wreaked by storm and flood in the name of God's 'reasons.'
The King of Echo Park may not quite be Joseph's Little Criminals or Sail Away, but you can sense that such a masterpiece is only a whisper away.
Mike Davies
---
Jerry Joseph & The Jack Mormons - Mouthful Of Copper (Terminous)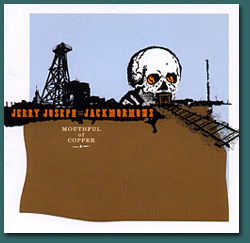 At last we have a 2-CD live album from the rockin' power-trio Jerry Joseph & The Jack Mormons, whose songs are emotionally rich with intense faith, righteous anger, sadness and a story so huge that it's tough to know where to start. God & sex, pain & passion I guess, but best to first go with the music. How it rocks! Crunchy guitar and driving rhythm section, melodic hooks, tight uptempo grooves, extended improvisations and strong ballads. Lyric are full of outrage, hurt and images so raw they're almost bleeding. Brad Rosen on drums and Junior Ruppel on bass are the hard-edged pulse to his guitar and effects. Jerry Joseph's words are sermons in song to transport you - not poems to dip into. Listen and experience them you must, coz you ain't gonna get them in the sleeve notes (or on his website - yet). Fearful and looking for something to believe in in a terrible world? Join the church of Jerry Joseph - he's a rebel and he's searching too.
Let's back up a bit and get the Jack Mormon thing out the way because I know you are curious. Tauntingly called 'Jack Mormons' are those who don't adhere to the regulations of the Mormon Church, however, JJ is American-born Lebanese Irish and raised a catholic. He's an ex-heroin addict and leader of the late (not released by Capricorn Records) reggae/rock band Little Women. The Jack Mormons were founded in 1996 and this is their second album for Terminus, the follow-up to 2002's excellent Conscious Contact.
Producer/engineer Betty Cantor-Jackson, well-known for her work with the Grateful Dead (Workingman's Dead, Live Dead and much more) and Jerry Garcia, has delivered a wonderfully exciting 'live' album. I first saw JJ at the 12-Bar, London, with his acoustic guitar and Jnr Ruppel on electric bass. Up close and personal, both were barefoot. This album has captured that same edge and sweaty honesty.
And finally the title and album cover? A toxic scene: a train track entrance to a mine via a skull with burning eye sockets. I haven't reconciled the iconography yet, so I'll have to come back to you on that after I've listened to the album again and again ...
Sue Cavendish
---
Jerry Joseph & The Jackmormons - Conscious Contact (Terminus)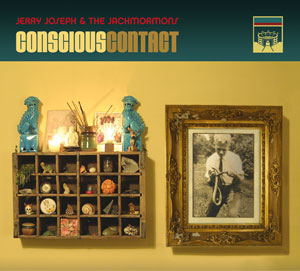 Jerry Joseph & The Jackmormons - you're not going to forget that name. Jerry J has his own instantly recognisable sound - a voice full of passion - really great songs that are no-frills ballads with a country edge or gutsy guitar/rhythm section, jam-band rockers - those uncompromisingly honest lyrics oozing pain, sex and redemption. Altogether catchy and hummable, yet this is not commercially driven tosh.
Raw and a bit scary, Joseph is a poet and a preacher. He looks you in the eye and you know he's been to hell and fought his way back. He's tough, but these songs give you a glimpse of the stitches where they sewed him up and the places where he still bleeds.
The Jackmormons are a three-piece band based in Portland, fronted by singer-songwriter Jerry Joseph and they deserve to be hugely successful. Maybe this album will do it. They have a punishing touring schedule across the states of America, occasionally dropping in on London where I saw them play the 12-Bar - Jerry wild, wonderful and barefoot - and so compelling I've bought everything he's ever recorded, but this is his best. I love this album. It's a little like Elvis Costello meets a pared-down Bob Seger and records 'live' in the studio?
Produced by Dave Schools (a bass player with great ears!), Conscious Contact was recorded in Athens, Georgia with guests including Chuck Leavell on piano and organ, Vic Chesnutt on backing vocals, Randall Bramblett on organ and Wurlitzer, John Keane and John Neff on pedal steel.
Sue Cavendish
Grab his Goodlandia if it comes within your grasp. Essential stuff - a band 'live' and really enjoying the occasion.
---
Martyn Joseph - Songs For The Coming Home (Pipe) RECORD OF THE MONTH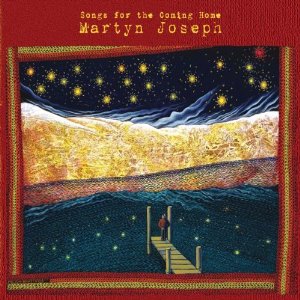 Eighteen albums into any artist's career and you might not be surprised to hear the occasional hint of complacency, a lack of the passion that sparked their early work, a falling off of lyrical or musical quality, maybe even a feeling that recording a new album has become just a necessary part of the process. That's certainly not the case with Joseph who, in addition to his own studio output, has also released four collaborative albums and eight live collections, not to mention fan club only recordings. His latest is among his very best, which, given the high standard he's maintained over the years, says much.

As ever the personal mingles with the political as he addresses relationships, religion, regret and redemption on songs such as the step-too-far themed Crossing The Line, Beyond Us with its aurora borealis intro, echoes of Yeats' The Second Coming and barbs about mankind's self-destructiveness ("we still, repeatedly shell the perfect ripened vineyard and scorch the olive tree"), and Not A Good Time For God which addresses how religious belief has been corrupted ("men with bombs adore him") for political agendas.

However, textured with field recordings, cello, violin and double bass, the album is probably at its strongest when he deals with its central thread about the need for healing, of the need to find our 'home' in a spiritual and emotional rather than a physical sense.

As such the most affecting numbers are the quieter, reflective ones: Let Yourself's stand firm call for self-realisation; the world weary Welsh-hymnal like Whoever It Was (a rework of 2003's Whoever It Was That Brought Me Here); Archive's six minute wonderment of the simple purity of the natural world, the letters home lyrics written by a friend during a cross Canada road trip; and, above all, the sparse, piano accompanied and semi-spoken Clara from which the album's title comes.

A true story about the healing power of love and music, it recounts how a young man, driven to suicide by feelings of rejection, recalls a melody from his childhood that makes him change his mind. Years later he meets an old woman and realises she was the young nanny employed by his parents, who sang him the song that saved his life.

Carole King wrote 'you've got a friend;', and it's a sentiment Joseph reiterates, wearily acknowledging that, as his lyrics have it "everyday sees someone falling from grace" but holding to the hope that, as he sings on There's Still A Lot Of Love Round Here, "at the end of that rope....there's a lot of good folk still pulling for you".

Very much an album about refusing to succumb to the dark and reaching out for the light, it's no accident that the most musically upbeat number is Feel Like This. You may wear a 'counterfeit smile' to hide how you feel, you may think 'the darkness owns you', but, if the world is oppressive we need solutions not submissions. Or as the album's best line puts it, "the house is dark so let's find a window." The lights are on, someone's home.

Mike Davies November 2012
---
Martyn Joseph - Under Lemonade Skies (Pipe)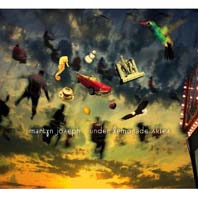 In his regular fanclub magazine, The Passport Queue, Joseph says he feels that perhaps this, rather than Being There, is the album he should have made as his Epic Records debut back in 1991. Given that contained Please Sir, Working Mother and I Will Be Waiting, I can't imagine many wishing history was rewritten, but I understand what he's getting at. He talks about it as an upbeat album, about singing in a lower key to rely on feel rather than power, about playing more guitar solos to reflect the nature of the live shows. But he also admits that he couldn't have written many of the songs here back then because he hadn't experienced the journey from which they are shaped.
Working as a trio with Andy Coughlan on bass and Mason Neely on drums (as well as producing six of the 10 tracks), it's a superbly crafted work in which the performance and the arrangements (often with lush strings) serve the emotions of the song rather than draw attention to themselves.
Perhaps reflecting the passing of the Bush era and the dawn of Obama's America, perhaps down to turning 50 (there's several references to mortality), but he notes that the 'political noise' of past albums is muted here, the focus more on hope and kinship, of finding, as he puts it on the opening Always Will Be, 'a little empathy' in the company of strangers.
The politics aren't totally silent. Lonely Like America, the album's originally planned title, is a terrific number about 'the land of less and more" that uses the vastness as a image of emotional emptiness while the lyrics reference the New Depression, the ongoing military operations with the flag 'draped around the brave' representing the 'stars and stripes of deep dismay'. Likewise, So Many Lies, a number that musically hints at 50s doo wop, talks of 'fundamental thuggery', yet, emblematic of the hope and affirmation that veins the album's themes of love, loss and reflection, it ends noting that 'there'll always be snowmen and bright angels in boots to kiss the world beautiful.' Or, as he puts it in the title of another song, to a stripped back arrangement of acoustic guitar and strings, with daughter Harriet on violin, There's Always Maybe.
That light flickers too on the songs about love, faith, endurance and devotion (be it secular or spiritual); You're The Moment ("the footsteps I must follow in this broken promised land'), No Peace ('there's no peace, but I'm closest when I'm with you'), the bluesy six minutes of On My Way ('you can't kill love, not even with hate') and Seahorse ('I will carry for you the seeds of all your dreaming') with its minimal piano note backing.
As far as I can recall, while he may perform them live, Joseph's never actually recorded a cover version for any of his albums; until now. A longtime Springsteen admirer, he's included a faithful (albeit slower, more wearied) version of One Step Up, ironically the most downbeat song here.
But it ties perfectly with the album's finest offering, the closing Brothers In Exile. Co-written by Stewart Henderson and a thematic companion piece to Springsteen's own Brothers Under The Bridge, it's a folk hymn to the bond formed by common trials and experience and unquestionably one of the best things he's ever recorded. Joseph talks of being on a journey, of new directions and thoughts. It's one that will be well worth sharing.
www.martynjoseph.com
www.myspace.com/martynjoseph
Mike Davies October 2010
---
Martyn Joseph - Evolved (Pipe)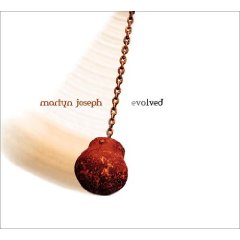 First Loudon Wainwright III did it, now the man who's been dubbed the Welsh Springsteen has gone back and revisited some of his early songs in the light of the years and experiences since their inception, taking 15 numbers and stripping them back to acoustic guitar and occasional harmonica to reflect how they live and breathe in today's performances.
Indeed, as illustrated by Kiss The World Beautiful, it's the nearest 'studio' album to come close to the power of his live shows and the heartfelt passion as he digs into the core of the songs' stories and themes.
Packaged in a card slip case with individual art card lyrics, here are vulnerable self-examinations of faith and doubt like Turn Me Tender and Weight Of The World, laments for lost innocence such as Arizona Dreams, the deeply felt compassion and social commentary of Working Mother and This Being Woman and the political clenched fists and charged anger the fuel The Good In Me Is Dead and Dic Penderyn.
Given a fiery folk ballad intensity, the latter's one of five of the Welsh-centric songs revisited here and, like the Aberfan disaster Sing To My Soul, the broken redundant miners of Please Sir and the dignity and defiance infusing Proud Valley Boy's memory of Paul Robeson's inspirational visit, is hewn from the coal face heritage of his native land.
The fifth from his dragon's den, the chokingly tender and achingly sad father and son Cardiff Bay brings to a fitting close an album of songs that once were children and have grown to be men.
Mike Davies October 2008
---
Martyn Joseph - Vegas (Pipe Records)
The "Welsh Springsteen", now on his 29th album, shows no diminution of songwriting powers, and the record embraces all the usual MJ trademarks, containing plenty of typically engaging vocal work and powerful lyrical and melodic import. As usual, Martyn delivers his thoughts to you with that special "look you direct in the ear" stance, involving you right from the first phrase and keeping you hooked. Also as usual, Martin's preoccupations veer from the personal to the political with total conviction and facility. But this is not a mere "as usual" album, as there seem to be an added frisson to the words and images this time round, an intensity and unity that comes as much from the quality of the songs as from the real immediate one-take feel of the performances and recording. The title track motors on in with a striking little vignette that may seem a tad brash but whose observations are quintessential MJ: it's a tribute to Elvis, but not quite as you know it, Jim! Following which, every last track is strong, from the intimate declaration of Kindness to the poignant apocalyptic desolation of The Fading Of Light, the almost too unreasoned romantic beauty of Invisible Angel to the bold, triumphant Things That We Have Carried Here. There's also two fine examples of MJ in vintage anthemic mode: the angry, brutal Nobody Loves You Anymore (where Martyn plays a mean electric guitar) and the positive, thrusting charge of I Have Come To Sing. Other standouts include Weight Of The World, one of four co-writes with Stewart Henderson, which conveys brooding desperation to an edgy twang setting, and the gentle reassurance of Nobody Gets Everything. Not only is Martyn on a creative high with this collection, supplying some tremendously potent imagery and very fine singing, but the work of his supporting musicians (Phil Beer, Miranda Sykes, Nigel Hopkins, Ryan Aston and especially the sax playing of Mike Haughton) is second-to-none in both sensitivity and appositeness. By fourth playthrough, I'm finding myself almost convinced that Vegas is Martyn's best album yet (an observation tempered by the sad but necessary admission that I've still not heard quite all of the previous 28!). And don't forget, Martyn's touring the UK for five weeks starting from later this month.
David Kidman October 2007
---
Martyn Joseph - Deep Blue (Pipe)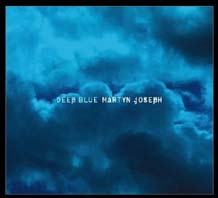 A year down the line from hisfine covers collection Under The Covers, the Cardiff singer-songwriter 's now follows up 2003's Whoever It Was That Brought Me Here Will Have To Take Me Home with a brand new album of self-penned material.

It's a given, of course, that anything he does is going to be rewarding, intelligent quality music informed by deeply felt emotions, sensitive insights, concerned social conscience and humanistic compassion, but this is also one of the best things he's done.

Beefed up with a more fuller production than usual with Nigel Hopkins' keyboards adding extra depth and several cuts adopting a solid band sound, it strikes powerfully in its response to the current world climate ongoing legacy of Messrs Bush and Blair.

The simple acoustic guitar picked How Did We End Up Here is forthrightly specific in referencing prisoner abuse, rigged elections and the economic agenda behind American foreign policy while his potent cover of Larry Norman's harmonica blowing Dylanesque Six Sixty Six sees the sign of apocalypse among those doing the devil's work. However, while the jangling acoustic Yet Still This Will Not Be (echoes here of fellow Welshman Mike Peters) talks of 'nurturing child soldiers with the munitions from our factories' and political self-interest, Joseph also sees hope that the 'kingdom of the fool' will eventually fall as the 'broken-hearted' are elevated to caretakers of the world.

Mortality strikes in This Fragile World's note on a boy drowned while, ever the questioning Christian, his recurring themes of doubt, faith and a reason to believe in a better dawn inform the hushed Turn Me Tender and the opening slow waltzing Some Of Us, a litany of human hopes, dreams, sufferings and fears trembling in the anticipation of eventual grace.

There's more than usual religious imagery to the lyrics this time with specific references to Judas, Jesus, Satan, the Psalms and, of course God, but never to extent of Bible bashing if you don't subscribe to the same beliefs so that, for example, the wonderful swelling Coldplayish I Can't Breath (revisited in acoustic form for the closing track) and the Van Morrison soulfulness of I Would Never Do Anything In This World To Hurt You are as easily read as secular love songs as they are about adoration, doubt and spiritual failings.

Only one track doesn't seem to quite fit into the album's scheme of things, but no one would surelyw ish away the strummed Proud Valley Boy's angrier return to Please Sir's lament for the destruction of the Welsh mining industry. Adopting the voice of 'Evan Merthyr born', he sings of retraining schemes, discarded dreams, backbones bent and the 'legions of the coal dust brow' now just 'photographs in fancy bars' while recalling egendary singer and civil rights champion Paul Robeson who, equating their struggle with that of the American Negro, paid tribute to them in his 1940 film The Proud Valley. He lit a fire in the soul of Wales; with album's like this Joseph continues to ensure the flame still burns.

Mike Davies
---
Martyn Joseph - Run To Cover (Pipe)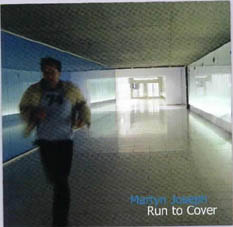 Having already released his first studio album of new material in four years, in response to fan demand Joseph's been back in his attic to put together a collection of cover versions he's been performing live over the years, along with a few others that have meant something to him and which he's always wanted to get his teeth into.
Wholly acoustic with Nigel Hopkins providing keyboards and programming and featuring drums and bass on just one track (Harry Chapin's bitter Peyton Place style tale of hypocrisy and unwitting incestuous desire, The Mayor of Candor Lied), it's as potent and pointed a choice as you might imagine, underlining Joseph's own humanistic, social and political affinities.
It opens with a passionate Chimes of Freedom (a popular Welsh choice also covered in janglingly fine form by The Alarm), setting a tone of protest that runs through several of the choices; Bruce Cockburn's Call It Democracy, Springsteen's The Ghost of Tom Joad, Larry Norman's The Great American Novel (previously recorded for a ltd edition EP), and, closer to home, Max Boyce's haunting lament Rhondda Grey.
Both Norman and Springsteen turn up again, the former on the forlorn, keyboard accompanied Pardon Me and the latter on a stirringly stripped down version of Thunder Road that bitingly exposes the defiance and anger at an American home and foreign policy that remains as relevant now as when it was written. Other songwriter luminaries represented here include Sting (Why Should I Cry For You?), U2 (getting to the very heart of Stuck In A Moment) and, closing the album on an optimistic note with Anthem, Leonard Cohen.
He reaches back into the obscurity of the distant past with Clive Westlake and David Most's How The Web Was Woven, a simple profession of love originally recorded by Jackie Lomax, while the remaining cover is of Eric Bazilian's One Of Us, a hit for Joan Osborne but now given Joseph's own distinctive note of spiritual questioning.
An album for the fans perhaps, but yet another persuasive reason to become a convert if you ask me.
Mike Davies
---
Martyn Joseph - Whoever It Was That Brought Me Here Will Have To Take Me Home (Pipe)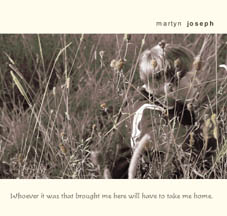 Although there's been live albums available through the fan club, this is Joseph's first fully commercially available album in four years. Recorded as live with just Martyn and acoustic guitar (illuminating the obvious but largely unremarked Ralph McTell comparisons), the other instruments (cello, fiddle, piano, backing vocals) layered in later, although Wake Me Up is a rallying cry against encroaching apathy, for the most part it puts politics on the back burner in favour of a more reflective, intimate songs about 'knowing' and 'acceptance' as epitomised on Every Little Sign (he nicely sings the last word as sigh...n) about a drifting relationship in need of reawakening.
A list song, the opening Love Is is about, well love actually, but while that emotion may inform the album it's not the lynchpin of the material. Co-written with Stewart Henderson, This Being Woman is a wonderful celebration of the strength, dignity and grace of older women (the album's answer to Calendar Girls if you like), Strange Kind of Friend is really about Joseph's attraction to rain (you'll recall one album where you could hear the drops pattering on the window of the home studio) while Walk Down The Mountain stems from the true story of Beck Wethers who, left for dead on Everest in 96, woke from his coma and walked back down to survival, here presented as a metaphor for taking life in our hands and getting on with it. Just Like The Man Said is a lighthearted tribute piece to some of his favourite writers, nicking lines and phrases from the likes of U2, Springsteen and Woody to echo their sentiments for hope in a world where truth comes way down on the spiritual agenda.
Whether its walking down the mountain with head held high or being stuck in a car on a highway of tears, journeys and mysteries abound; on Be Bo Norman's Where The Angels Sleep it's about rediscovering a sense of self-grace and the ability to be open to others while on the slowly swelling title hymnal (Welsh Chapel version) track it's a simple surrender to the question rather than struggling to find the answers in a time when anxiety is at the gates and excess fills the shop windows. Let it travel with you.
Mike Davies
---
Martyn Joseph - The Great American Novel (A Startled Chameleon)

Martyn Joseph offers five compelling pieces of evidence on this EP why folk music with a raging conscience will survive the vagaries of fashion. All five songs in different ways show why the singer songwriter is a beast to be cherished.
You could hire the remaining members of Led Zeppelin to provide a backing track to the title track and not drown out the song's message. It is as much an indictment of society – not just America's – as a Harper Lee novel, Joseph's insight is as incisive as The Great American Novel that gives it its name. Like all great music it as much prophetic as historic.
In between it and another cover, this time a searing live version of Tom Robinson's War Baby - the story of a doomed relationship and a metaphor for much more - lie a trio of originals. The Good In Me Is Dead highlights the consequences of an imprefect world. Arizona Dreams is the 60s protest song brought into a new century and Swansea is a poignant love letter to life, to fully appreciate the song insert your own life.
In five songs Joseph has re-affirmed the bond between musician and listener, Martyn Joseph is a man you can trust and there aren't too many you can say that of these days.
Michael Mee
---
Ruarri Joseph - Shoulder To The Wheel (Pip)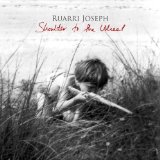 Having walked out on his major label deal following the release of debut album Tales Of Grime And Grit, the Newquay based Scot formed his own label to release the follow-up, Both Sides of the Coin. Two years on, he's back with album number three, another collection of acoustic Americana shaded folk-pop that channels Dylan, Cohen, and McTell influences with a voice that malts together elements of Newton Faulkner, Martyn Joseph, Richard Digance and Martin Stephenson.
Opening with the fingerpicking, strings-graced love song Nervous Grin sets the album's mellow and reflective mood, quickly reinforced by the equally romance-themed An Orchard For An Apple, the jazzy tinges of Severed Dreams and the liltingly lovely six minute country-folk slow waltzer Fool Of Us All.
The tempo picks up for blues-folk shuffle Keep On Strolling with its throaty fuzzed guitar break and, illustrating his eclectic musical knowledge, the train rhythm chug, talk-sing Rich Folks Hoax, a cover of Michigan blues folk musician Sixto Diaz Rodriguez.
Joseph is good at arrangement, bringing rich and emotional colours with simple marriages of strings, percussion and guitar, as evidenced here on the powerful Glance Across The Street and the banjo featured For The Love Of Grace, but, as demonstrated by As Always and defiant album closer The Faithless Few, he's at his best just strumming the strings, blowing a harmonica and letting the words flow.
www.ruarrijoseph.co.uk
www.myspace.com/ruarrijoseph
Mike Davies November 2010
---
Joy Kills Sorrow - Darkness Sure Becomes This City (Signature Sounds)
From a more than cursory glance at the lineup and instrumental complement, the five-piece Boston outfit Joy Kills Sorrow would appear to be a bluegrass-type string band with Tanyas tendencies: they sport a female lead vocalist, able instrumental support from banjo, mandolin, guitar and bass and two better-than-competent harmony vocalists.
But the music they play is quite some distance removed from true oldtime string band music: instead it consists entirely of contemporary compositions, the bulk of which are self-penned by band members. This would be fine if the material were more distinguished, but sad to say the most engaging tracks on this disc are two of the covers: We Will Have Our Day (by Dave Keenan and Nova) and New Shoes (by Foghorn String Band's Caleb Klauder). While there's nothing actually wrong with the performances of any of the other songs, the whole record is characterised by a strangely reserved demeanour that goes beyond acceptable understatement into unmemorability - it's as if the band aren't fully into their own music (which is doubly strange), and they don't seem inclined to come alive much outside of the occasional instrumental passage, although their playing is accomplished and unfailingly eloquent. It could also be that principal singer Emma Beaton doesn't have a sufficiently strong or distinctive voice to carry the material onto the requisite expressive plane; certainly the lasting impression is one of comparative uninvolvement, of subdued or resigned emotion (one wonders whether a more charismatic singer would make more of the songs). At the same time, I can't pinpoint any specific fault with the material beyond that slightly lukewarm quality overall.
The band do indulge in a bit of tentatively tipsy joy-killing-sorrow letting-loose on the final cut, You Make Me Feel Drunk, but by that time it's almost too late to redeem matters. I suppose you could sum it up with the headline blandness kills promise - shame.
David Kidman June 2010
---
Jugopunch - Where Are We Now? (Punch Music)
No idea why, but I'd not come across Jugopunch before, so when I discovered that Where Are We Now? is their seventh CD I was distinctly feeling I'd missed out somewhat. The band, a five-piece, have been together for just six years; based in Newcastle under Lyme (Staffordshire), they're big at festivals both here and abroad – so why haven't I seen 'em then?! (OK, put it down to one of life's mysteries!). Jugopunch seem to be well regarded for their erm, punchy, full-on mix of rootsy Irish and early Pogues/Levellers/OysterAcoustic dash (though without the political edge of the latter two). Unusually for the band, this new CD showcases their original compositions at the expense of traditional material (there's just one of the latter here, MTA). Many of the songs are performed in a similar fashion – not entirely a bad thing, as it goes. Like the opener, Cold, which is strident, fiery and upfront, much in the time-honoured twin traditions of the Clancy Brothers and the Pogues, and very much banjo- or guitar-led with occasional harmonica, whistle or melodica to flesh out the sound. Later on, Lower Than The Lowest even makes inroads into Americana-style, even bluesier territory, and not unsuccessfully too, although not all of their stylistic diversions emerge as well from the experience (Sweet Nancy Rose is a sub-Mungo-Jerry,jugband thrash, for instance). But let's be honest - the majority of this offering probably does encapsulate "where they are now", ie at worst "likeable rogue" and at best "pretty fine fellow", generally fun to be around both in regard to musical character and musical interest, and with plenty of energy there's no denying.
David Kidman
---
Jukes - We Might Disappear (Triumphant Sound)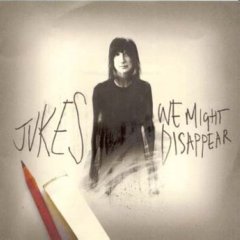 As evidenced by Beth Gibbons, a background in beats, dance and trip-hop is no barrier to making a folk album. Case in point fellow Bristolean Tammy Payne who got her first deal as a soul singer and whose CV includes collaborations with Smith And Mighty and, indeed, Portishead. This is her second album under her nom de music (her debut being released by Twisted Nerve) and bears witness to such cited influences as Nick Drake, Syd Barrett, the Velvets and, on Something Important and Born In The Sea, Ennio Morricone had he composed lounge mood soundtracks for 50s noir movies.
Although MotherSister takes her into PJ Harvey blues fields (she also worked with John Parish) and The Stupidest Things is a taut nerve slice of psychfolk, for the most part her introspective reveries of love and loss are all very pastoral and slightly fuzzed around the edges. Headed up by the fragile acoustic storytelling of Pears and Milk, which wraps reverb guitars around some strong Leonard Cohen influences, with further standouts in the narcotic haze of I Love The Snow's dank leafy ambience and the Pooka-like hushed Spiderwick colours on Lose A Day, it might not move too far beyond its secure borders but it still casts a hypnotic spell.
www.myspace.com/jukesuk
Mike Davies February 2008
---
Gary Jules - Trading Snakeoil for Wolftickets (Sanctuary)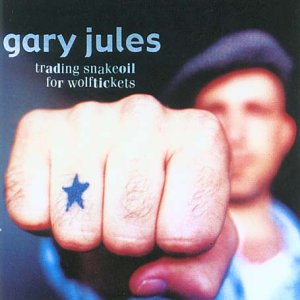 There was, of course, every danger that unlikely Christmas No 1 piano ballad Mad World would turn out to be the only trick in the thirtysomething LA singer-songwriter's bag. However, while there's nothing else on the album that sounds remotely similar it is very good, assuming you happen to be fond of gentle Simon & Garfunkel, James Taylor, Elliot Smith or Cat Stevens acoustic folksy pop. Originally released on his own label a couple of years back to overwhelming apathy, it's been given a new lease of life and considerably more exposure in the wake of the Donnie Darko rework of the Tear For Fears number. It's reflective, forlorn stuff inspired by life and characters in his neighbourhood and given to lines like 'there's no poetry between us said the paper to the pen'as he works his way through songs like the simple back porch hymn banjo flavoured Lucky, the 60s Greenwich village coffee shop feel of Broke Window and the early Dylanish Umbilical Town and the Jerry Jeff Walker inclined wistful lost dreamers snapshots that are Barstool and The Princess of Hollywood Way. It's probably likely that, like Shawn Mullins, he'll go down as a one hit wonder as far as the mass audience is concerned, but there's a career worth following here for those prepared to listen.

Mike Davies
---
Richard Julian - Smash Palace/Good Life (Blackbird/My Good Man)
The Delaware born singer-songwriter has established himself a comfortable niche on the New York scene, custom built for the coffee and cellar bar circuit where people are there to listen to the words rather than talk over them. But despite fulsome praise from such fellow practitioners as Randy Newman, Jill Sobule and Marshall Crenshaw, comparisons to the likes of Paul Simon and Beck (though you may find Tom Waits, Harry Nillsson and Bruce Cockburn more to the point), and a recent tour with Norah Jones he remains pretty much a close kept secret as far as the rest of the world's concerned. A literate storyteller for whom songwriting is a craft not an occupation, who observes and comments with a painter's eye and a filmmaker's vision, he writes urban songs about real people who inhabit real life in the real world.
Smash Palace was his sophomore release, his second and last for the Sire distributed Blackbird label, an eclectic collection that skips from funky r&b (Big Big World, Pussycat, Boca Raton) and rattling beat pop (the Springsteen-ish The Second Smallest State) to wistful balladry (As If), mutant clattering blues (The Restless Sea) and rootsy acoustic numbers like the John Prine flavoured John And Florine and the strum n slap Roman Polanski, a song about the director in exile sung from his perspective.
Julian's big on creating characters to tell you their own stories rather than simply singing about them, whether that's a damning portrait of a disintegrating society or a decaying love affair.
Good Life is his new, independent album, and while the Latin rhythmed title track comes with a bonus full on produced night club mix with trumpet, percussion and background chorus of revellers (Norah J among them), it's a sparer, more acoustic work (though you do get a dishwashing solo), sounding at times (especially on the opening Please Rene, Not Now) like a wearier, huskier, less adenoidal Steve Forbert. But stripping back the arrangements merely serves to place further emphasis on the songs themselves and the piercing and evocative quality of the words and images, enfolded in wit, irony and compassion.
The New York state of mind vignettes are just as compelling as before; The Wrong Bus a sharp swipe at a bigoted cabbie, Your Friend John a vitriolic spoken bitch by a wife about her husband's buddy's tramp girlfriend, the two day one night stand with a stranger in Full Moon Face, Ragged Point's snapshot of a car wreck that serves as metaphor for taking life as it comes, One Slip Away and So Damn Beautiful regrets at letting the most important parts in it slip out of reach. Everything's Cool is even an ode to air-conditioning that serves as a nostalgic washed browns memoir of a more innocent era in the American Dream.
It's a pity that no lyric sheet's included, but when that's the worst criticism you can level at the album, he's obviously doing something right. And he almost got to second base with Jill Sobule too, told you he's a smooth talking devil.
Mike Davies
---
Barb Jungr - The Men I Love: The New American Songbook (Naim)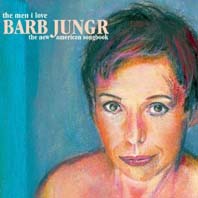 An acclaimed song stylist incorporating jazz and blues who's been compared to Nina Simone, Edith Piaf and Peggy Lee, Rochdale born Jungr's been one of the foremost names on the cabaret circuit since the mid-70s, interpreting the work of a variety of writers in her own distinctive, European influenced fashion.
Drawn from her live show, working with pianist and composer Simon Wallace this collection sees her addressing material from a diverse collection of American male songwriters. Having previously recorded an album of Dylan material, it's no surprise to find him revisited here with a jazzy swing through You Ain't Going Nowhere. Likewise, the inclusion of Cohen (Night Comes On), Simon (My Little Town), Webb (Wichita Lineman) and Springsteen (a violin and woodwind haunted The River), none of them sounding as if they would be out of place delivered at a dramatic peak in some Broadway musical drama.
Neil Diamond gets two numbers here. A six minute I'm A Believer is recast like a wistfully reflective Randy Newman ballad while a faithful big ballad version of Red Red Wine is preceded by a snatch of Can't Get Used To Losing You. The song fusion is less successful when she twins a Carole King styled interpretation of This Old Heart Of Mine with a slightly pedestrian Love Hurts and an urgent jittery 'rock' piano reinterpretation of Johnny Johnson & The Bandwagon hit, Breaking Down The Walls Of Heartache, doesn't quite come off though I suspect it works better in a live context.
But these minor blip are more than compensated for by a poignant piano and strings ballad Everything I Own that mines every drop of regret and an inspired serene arrangement of Once In A Lifetime that opens with flute and piano on hints of William Walton. It's a lovely album and much more than the background listening such projects can tend to be. Someone send Rod Stewart a copy.
www.myspace.com/barbjungrchanson
Mike Davies March 2010
---
The Junipers - Cut Your Key (San Remo)
The West Midands based label's second signing after Scott Matthews, while the album features contributions from guitarist Pete Gough and drummer Sam Martin, The Junipers are essentially Leicester duo Joe Wiltshire, who writes, plays the instruments and sings, and Marc Johnson, who takes lead vocals on eight of the 15 tracks (of which two are brief instrumentals).
This, their debut album, is packed with rather lovely soft psychedelic folk-pop like the summery lolloping Fly The Yellow Kite, the Sgt Pepper influences evident on Gordie Can't Swim and Mortimer and, for real psych-pop devotees, the spangly joys of Mark (Teenage Opera) Wirtz, Terry Melcher and Curt Boettcher to be heard buzzing around Song That Fades Away, Callooh Callay and the psychedelia carousel ride of Little May Rose.
Elsewhere, Already Home shows a jangly jogging country element, Sheena is pure CS&N West Coast shimmering pop while the title track is S&G folkie and Sunnydown Ave suggests a lost collaboration between Brian Wilson and McCartney. They're definitely a gin and tonic.
www.thejunipers.com
www.myspace.com/thejunipers
Mike Davies August 2008
---
Damien Jurado - Where Shall You Take Me? (Secretly Canadian)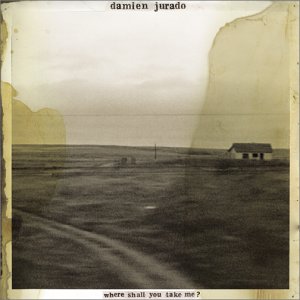 I'll come straight to the point. This is a beautiful album, one that should be cherished by anyone who likes music with heart and integrity. His fifth full-length album, this is a lovely collection of (mainly) ballads about Middle America, territory occupied for some time by the likes of Springsteen and Mellencamp. Durado's 'band' of Eric Fisher (guitar/keyboards), Andy Myers (percussion) and Josh Golden (bass) has created a mostly acoustic set of songs that often barely raise themselves from the horizontal. Now and again the likes of Rosie Thomas help out on vocals and there is the odd additional piano or violin to add discreet texture, but Where Shall You Take Me? Is a slow-burning, gentle affair that looks at Middle America's quirks and characters with songs that seem to gain inspiration from deep south spirituals and early American folk. Many have described how Jurado occupies the same intellectual space as the likes of Ron Sexsmith or the late, great Phil Ochs, which might be true, but in many of these songs I sense a touch of Neil Young's eerie melancholy; a loneliness that is accentuated by the spartan arrangements. Damien Jurado is taking us on a journey into the past; a past that he knows well. I am interested to see where he will go in future.

www.secretlycanadian.com
www.damienjurado.com

John Stacey
---
---