Yes, I know NetRhythms usually draws the line at pop, but here we do believe in covering reissues of classic albums, especially when they're done as well as this one. But the original album was arguably one of the classiest pop records ever made anyway, so a deluxe edition complete with bonus tracks in the shape of rarities will always have been on the cards and eagerly awaited by fans. In this instance, the standard album, as released in 1976, contained three top-drawer smash hits (Dancing Queen, Knowing Me Knowing You and Money Money Money) alongside a further seven potential hit singles. Arrival was the group's fourth LP, and represented the zenith of Abba's artistry and production expertise, and hey, let's not knock Abba for their commercial success, for their music was well-crafted in the extreme and has proved endurable in the tradition of the very best pop. The bonus tracks on this deluxe edition comprise both sides of the roughly contemporaneous hit single Fernando, together with two further versions of that same A-side (one by Frida solo, in Swedish, and one in Spanish), and Spanish-language versions of the first two hits mentioned above; all worth having. The second disc in this deluxe edition is even more valuable, for it takes the form of an outstanding DVD containing nothing but items previously unreleased on DVD. Pride of place goes to the legendary 1976 TV special Abba-dabba-doo!, but the majority of the rest of the menu is almost as enticing: the feature on Abba In London (November 1976), some rarely-seen footage from the Dancing Queen recording session, sundry clips from West German and Swedish TV, the TOTP Fernando video, two TV commercials promoting the album and finally (the least interesting item, admittedly) a worldwide picture-gallery of Abba-related record sleeves. This deluxe edition is an object lesson in repackaging, one might say, and a welcome addition to the fan's collection.
Pete's a singer and songwriter who's well regarded over in the wild hinterlands of Saddleworth (right on the Lancs-Yorks Pennine cusp), where he has a very healthy following indeed; it was at the celebrated Saddleworth Folk Festival a few years back when I first saw Pete perform, and I was won over by his quiet yet beautifully judged singing and playing style and his simple yet deeply felt songs, matched by an equally quiet assurance and modesty, almost a deep-seated reticence to admit to his talent. For such can it be with some of the folk scene's finest performers. For his first CD, a well-chosen set of mostly original songs with three choice covers, Pete had engaged Ken Nicol as producer and co-participant, which made for a fine combination of like-minded talents. But for his second, Against The Wall, Pete finally gets to fully realise his dream "to have the best musicians I could find take part in the recording sessions", so in addition to re-engaging Ken, Pete has been able to recruit Joe Broughton, Maartin Allcock, Clive Leyland, Neil Marshall and Paloma Trigas. The result is a very likeable record indeed, which Pete half-jokingly says is "best listened to in a horizontal position". (Hmm - whatever…!) There are three covers this time round (Jimmy McCarthy's oblique No Frontiers being definitely the best-known), besides which the CD's replete with accessible and satisfying songs of Pete's own making, characterised by genuinely positive thinking and a realistic yet in the end optimistic outlook. The beautiful Lancashire Rose and the forthright The Innocent One are but two of the standout compositions here, and we learn that a further two (Another Evening In and Almost A Year) have already been recorded by fellow singer-songwriter Anthony John Clarke, whose pivotal role in encouraging and inspiring Pete does not go unrecognised. Production-wise, Ken's own role has proved equally pivotal, for his arrangements are very classy indeed, with nicely-choreographed bursts of electric guitar embellishing the basic acoustic guitar/s-piano-occasional violin-percussion texture to just the right extent. (Pete has repaid the compliment by recording one song each by Ken and AJC here.) I would describe this CD as "nice", but using that word not in the least pejoratively, for the whole album has an air of easy – but evidently not easily-won – accomplishment, I thought much in the same unassuming way as some early Ralph McTell, and Pete's songwriting is definitely worth your getting to know.
The Cardigans taking another sabbatical after the release of Super Extra Gravity, Nina Persson has revived her side project with hubbie Nathan Larsson, roped in Joan As Policewoman and former Pumpkins guitarist James Iha as guests, and recorded a second solo album. It opens with the tinkly out of tune piano of The Crowning, a waltzing madrigal like number that sounds a lot like Eddi Reader and Persson sings about going to "party like its 1599".
The musical references are a little less dated though, again variously highlighting her love of the 60s (Here Are Many Wild Animals channels the Shangri-Las, Love Has Left The Room could be an old Cilla ballad) and the fragile tinkling pop of Sparklehorse (Bear On The Beach) to engaging effect.
Build for swaying on the spot, Stronger Than Jesus is classy brass splashed pop full of sunbeams and smiles and, for all the darker clouds of the lyrics, that's the prevalent musical mood. Radio friendly with dreamy class, it works its way through Nikolai Dunger duet Golden Teeth and Silver Medals, the quietly building sparkle of Chinatown, sad waltzer I Signed The Line Of Separation, Dusty-ish strings swathed chamber pop It's Not Easy To Be Human to the closing desert night skies atmosphere of The Weed Had Got There First. And a finer row of tents you'd be hard pushed to find.
A solo album by Nina Persson, lead singer of The Cardigans, is not perhaps something you'd expect to find among these reviews. But, produced by Sparklehorse supremo Mark Linkous, this is a gorgeous, roots-infused shimmer of a record. It opens with the dreamy Frequent Flyer, a melancholic song about the inability to make commitment, lap steel and wurlitzer guiding it towards its exquisite ache and surely a place among the classics. I Can Buy You bumps up the country flavours, its string arrangements pointing thoughts more in the direction of Jimmy Webb and Glen Campbell than Handsome Family.
And so the tone's set. There's variations and deviations. The Julie London-esque drug is the love torchy Such A Bad Comedown with its crunchy metronome beats, the claustrophobic narcotic rock swagger of Hard As Stone with its blaring sax and Plastic Ono sensibility, a fever-sweat bluesy The Same Old Song with its rotting sweetness chorus, and, at the most extreme, The Oddness Of The Lord which tunnels up from a cavern of pulsing, stroboscopic techno like the psalm of some subterranean church. Mostly though it curls and caresses, seeping into the sadness of the heart with its constant themes of defiant losers and lovers on the margins (Song For The Leftovers), striking its finest notes on The Bluest Eyes In Texas from the soundtrack of Oscar winner Boys Don't Cry, a wonderful cover of Paul Westerberg's Rock 'n' Roll Ghost and, had they got the scheduling right, what could have been the real long hot summer hit, Algebra.
Australian Achison releases his second UK album. It seems to me that Australia is currently producing a conveyor belt of excellent musicians and Geoff Achison is firmly on that belt.
Achison quotes Jorma Kaukonen as his mentor and he plays a fingerpicking extravaganza by way of a tribute to him on Jorma's Ranch. This is one of two self-written songs on the album and stands up well against the covers. The other, Each Long Day follows the upbeat Can't Get You Off My Mind and features the strings from the Sydney Opera Orchestra. The complete album was recorded in two days but sounds as if it was months in production. It is a professional, proficient and practised album worthy of any collection.
I'm slowly learning to like the follow-up a little more, though have yet to apply for membership to the choir singing their praises like the second coming. There's no emotional through line this time, just a collection of finely crafted, generally melodic songs informed by roots and indie-rock influences, close harmonies and frequent flurries of noise.
Recorded, as is the current mode, in an isolated cabin, there's a sense of self-containment and a feel of being slightly off kilter, something compounded by the way, as on the opening Cobbled From Dust, feedback squalls and squiggles intrude into the homespun acoustic mood and soaring vocals. Listen to the title track where itchy percussion and agitated guitar strums provide a nervy, neurotic backdrop to the dreamy vocals.
The band clearly enjoy seesawing the musical spectrum, one moment conjuring some 60s acid trip movie epiphany in the desert scene with the tribal drumming and swathes of chiming psychedelic guitar of I Made The Law then paring it all back to the old school folksy Slippery When Wet with its simple fingerpicked guitar, fiddle and plaintive emotions.
I prefer them at their more direct with something like the skipping close harmony folk pop of Restoration (where touches of CS&N influences peek through) or the lovely simple aching bruised heart ballad On The Line rather than, say, Bobcat Gold Wraith, which, with its brass flourishes, clopping percussion and distorted guitars, is exuberant but feels like it's trying too hard to cram in as many tropes as possible.
Although often lyrically resonant (Kindling To Cremation is a thoughtful ponder on existence), to these ears they're an easier band to appreciate than love. Ticking the currently cool indie-Americana boxes, I can understand why they're so feted and this may yet grow on me more, but for now I'm not wholly convinced they have a mighty oak in them.
I was favourably impressed by this bright Newcastle duo's first CD Welcome To... (2005), which concentrated on studio recordings of ten original songs penned jointly by Andy and Cath Higgins themselves. In contrast, The Oban Sessions is an attempt to present the duo's live sound and represent more accurately the balance of material featured in their live sets. This time, therefore, just four of the album's eleven tracks are original compositions: uniformly attractive, accessible and with a natural lyrical flow that carries the listener along. Just occasionally I feel the accompanimental chordings are "over-strummy", but the melodies are invariably interesting and Cath's voice carries the argument with assurance. The remaining seven tracks comprise cover versions, of a reasonably wide repertoire that spans Steve Earle, Neil Young, Dougie MacLean, Steve Knightley, Bob Dylan, Gallagher & Lyle, Lennon & McCartney and Elvis Presley... (the latter's an instrumental version of Heartbreak Hotel capped by Sean Keane's adaptation of Cliffs Of Moher, while Neil Young's Don't Let It Bring You Down is combined with what sounds like a Scottish strathspey). Not as inconsistent as it might sound, this selection works well here when replicating the context of a typical Acoustica club set - you wouldn't walk out of the gig disappointed! The duo's renditions reflect their love of the material, and mostly fall into the "straightforward, confident, pleasing and highly competent" category though without necessarily having anything radical or new to say about the songs (I must emphasise that in my opinion this is a plus rather than a minus in an age where so many folk-club cover versions are just pale and uninvolving workthroughs by artists who perform songs because they feel they should rather than because they really respond to them). The one inconsistency of The Oban Sessions is that, for all the duo's deliberate aim to stay close to their live sound, there's a modicum of multitracking and producer Tony Patterson is co-opted to play "additional instruments" here and there - albeit fairly unobtrusively. And I must admit the track sequence doesn't entirely convince me. But on a purely musical basis, the album does its job admirably in showcasing Acoustica as a persuasive live act.
Rather perversely perhaps, this début album from British songwriter and music maker Keith is released on a US label! It's a strange little album (if far too short at just 28 minutes), which has a gawky and understated charm that I find very appealing. Keith, although a new name to me, has been making music for half a decade or so; his band Zuno Men crafted angular experimental pop in the late 90s, releasing two albums and a number of singles, but Keith went solo and released his own first single in 2001. For Sunshine Loft, Keith's intention was to record his songs in a rough, down-at-home style, a kind of experiment in purity; thus it was recorded live in a loft with just one stereo microphone. Keith was accompanied by a handful of mates - a drummer, bass player and a multi-instrumentalist - and the result is quite intoxicating in its own peculiar way. The gauche, wilful weirdness of Keith's songs and delivery contains elements that can sometimes and variously recall Robyn Hitchcock, Syd Barrett, Andy Partridge, Ray Davies, even Jonathan Richman or maybe Beck in his acoustic mode, but instrumentally the ethos is more DIY-punk with distinctly off-the-wall touches like musical saw and over-amplified glockenspiel. Songs like Deserve It and Open My Eyes even have the feel of packing-case rockabilly or rough-hewn Hank Williams tryouts, whereas Drift comes over more like a lean 'n' hungry Britpop equivalent of a garage-punk demo and Murmur reminds me of a kind of hybrid of Autumn Almanac and Lazy Sunday. Then there's the backward-tape trickery of the oblique final track… So the verdict? I'm really glad to have heard this album, and I like it a lot, though I realise it may not be everyone's poison; for me it deserves a place on the shelf alongside those other celebrated maverick talents; in other words, file under "most promising" and see what happens next time round .
When Adams made his solo debut with Heartbreaker after the demise of Whiskeytown and then followed it with Gold, he was hailed as the new Messiah of Americana. However, in the ten years since Gold he's managed to piss away his reputation and pretty much most of his fanbase It's not all his fault. He's had several run ins with various record labels who've deemed the albums he turned in unreleasable. You'll recall the deal he had to strike with Lost Highway, giving them Rock N Roll in exchange for them agreeing to release the rejected Love Is Hell. Even then they insisted on doing it as two EPs. Of course, when both received positive reviews they had no problem swallowing their pride and sticking it back out as a complete album.
However, much of his fall from grace has been down to his sheer bloodymindedness in terms of the music he makes, not to mention a lengthy relationship with coke, heroin and booze. His releases with The Cardinals put him back on the right path but even then he'd still be erratic, posting rap and metal tracks on line and even the most dedicated fan might have wished he'd had a record company to block the release of Orion's sprawling indulgences in sci fi metal after The Cardinals dissolved under a cloud at the end of 2009.
Diagnosed with Ménière's disease, a treatable but incurable inflammation of the inner ear, Adams walked away from the music industry when The Cardinals split, moved to LA, cleaned up his act and married Mandy Moore.
Then gradually he started to ease his way back. Sure with black metal at first, but he also released III/IV, outtake material recorded with The Cardinals back in 2006, and started writing the sort of stuff he was doing back in the early days. And album's worth completed, he then heard a copy of Laura Marling's I Speak Because I Can, and immediately scrapped what he'd done and started over. Finally, however, he's arrived at his 13th studio album and it's easily the best thing he's done since those first two albums.
Opening with shades of Dylan (and perhaps a little Prince) on the slow burn weary Dirty Rain with Benmont Tench providing soulful organ and Norah Jones on piano, his nasal twang slides into the waltzing title track, another relationship up in flames number, driven by his strumming and back beat drumming before the more serene contentment of Come Home, Greg Leisz's pedal steel and harmonies of Moore and Jones adding extra warmth.
Three songs in and he's not been this consistent in years. Baring soul and emotions with songs of self-reflection (the bluesy Invisible Riverside with its electric wah wah guitar), and love hoped for (anthemic country rock ballad Do I Wait) or enduring (Chains Of Love's catchy alt country pop hinting at Fleetwood Mac), he's on a roll.
'Am I really who I was?' he asks on the Nebraska -era Springsteen-like melody of Lucky Now. The answer, musically, is yes thankfully, just mellow and at peace with himself, ready to admit he needed a helping hand on the dreamy Kindness, a moving hymnal Save Me with string quartet and Jones and Neal Casal on harmonies, and, finding eloquence in the inarticulate voice of the heart, album closer I Love You But I Don't Know What To Say, a simple declaration of love for his wife that, musically and thematically, is his Till I Gain Control Again.
Adams has said of the album's title that it was inspired by the idea of the phoenix, of someone not destroyed by change. The album is solid proof that what does not destroy you does indeed make you stronger.
While ever prolific, churning out albums by the truckload or making mountains of stuff available for download, his myriad of influences and styles has meant Adams hasn't always been consistent in the quality stakes. This though, finding his sober and again working with The Cardinals as his backing band, is arguably his best and most sustained work since Gold, drawing primarily on The Grateful Dead and Neil Young as blueprints for his melancholic Americana.
Indeed, the opening Goodnight Rose sounds like a Jerry Garcia sitting in on Only Love Can Break Your Heart while Two, on which Sheryl Crow croons backing vocals and pedal steel weeps, is the sort of resigned mournful love song you might have expected to find Young stopping shows with on his recent acoustic tours.
There's a fair amount of wistful aching ballads here, from the old fashioned Gram-like honky tonk waltzing Tears Of Gold with his slightly off beat drum patterns to the wonderfully wearied harmonica introed confessional of I Taught Myself How to Grow Old (or, as some might have it, I Taught Myself To Play Old Man) and the gently tumbling acoustic cascading Off Broadway where he adopts the falsetto of A Man Needs A Maid.
But he's not neglected his inner stadium rocker either, cranking it up with the swaggering chime and, is that tubular bells, of Halloween Head which, playful devil, heads into the e-bowed guitar solo with Adams announcing, er, 'guitar solo', while Two Hearts was clearly built with images of cruising open roads with the hood down.
There's a variety of Adams voices on display too, the gentle folk singer of Oh My God, Whatever, Etc, the husky bar hound of The Sun Also Sets, the sweet burr adopted on the unadorned These Girls where, in a pithy childhood image, he talks of burning matchbox cars in the back yard, and, of the banjo plucking bluegrass Pearls On A String, the moonshine swilling, straw-chewing back porch good old boy. And, the good news is that, having emerged from the fog of booze and drugs that once threatened to make Adams another rock n roll casualty, all of them sound like a man who's reassessed, taking control of and is now living his life with the confidence that he has nothing to prove.
Working without the Cardinals this time round, he's in decidedly less of a country mood than Jacksonville City Heights, opting instead for a spare bluesy approach to nine songs that address issues of regret, confession, redemption and personal resurrection. Reminiscent of Canned Heat, the opening Twenty Nine announces the thematic and musical agenda with a chugging train rhythm boogie riding the rails of slide guitar as Adams's adopts high pitched vocals to unfurl an autobiographical tale of living in New York, "loaded on ephedrine looking for downers and coke". He strips things down to acoustic blues for Strawberry Wine, a downbeat eight minute number about not succumbing to stasis and forgetting to 'let the daylight in before you get old'. The contemplative mood's maintained on the late night piano and brushed percussion jazzy torch of Nightbirds with its infestation of inner demons and the spare piano ballad Blue Sky Blues where, evocative of Randy Newman, he begins to strive to 'let go of the pain'.
Storytelling (and a brief reprise of country stroll) arrives with Carolina Rain's tale of unfulfilled loves, loss, and murder while Starlite Diner feels infused with the spirit of Thornton Wilder. While somewhat of a tonal sore thumb with its amped up Spaghetti Western stylings and resonating guitar, The Sadness still warrants its place on the album for providing what can only be described as Orbison Gothic. Apparently about a friend's miscarriage but equally read as a desolate sad song of lost love, Elizabeth You Were Born To Play That Part is an achingly lovely piano ballad blues that calls to mind the cracked emotions of Mark Eitzel while the closing Voices is a frankly somewhat surreal drugs delirium song of pulling back from death with images of whispering willows turning into fanged statues. A farewell to his 20s and their often self-destructive wildness, it bodes thrillingly well for Adams's next decade.
Without doubt Ryan Adams has been one of the most challenging, enigmatic and best Americana artists of the last few years.
As he builds up an impressive catalogue of work, he is placing himself alongside the greats of the genre, he must surely soon be bracketed with the likes of Neil Young.
Perhaps the challenges he sets are why he is, depending on your point of view, frustrating, a genius or a bit of both. Like Young there is not a typical Adams album and on Jacksonville City Nights there is not a typical Adams song, if such a creature ever existed.
The album opens with A Kiss Before I Go, which is Adams paying due homage to the tortured country souls of the past.
But he is very much his own man and The End acts as bridge between Adams and Van Zandt, once that bridge is crossed it is all about the talent of Ryan Adams.
While he is a prolific artist, the core quality of the songs rarely dips. However on the hymn-like Dear John he achieves much, much more. With Norah Jones joining him, the song reaches heights of emotion that both could only have dreamt would happen.
Jacksonville City Nights will surely enhance further an already stellar reputation but Ryans Adams is also to be celebrated for time and again providing moments of pure magic. His cover of Always On My Mind is one such and it's only available on the UK release.
Quite how Adams manages to have a life outside the studio is a source of constant amazement given the torrent of recordings he's been producing since breaking the work rate barrier of Heartbreakers. There's even rumours that he's putting together a 5 disc box set of unreleased post Gold material. The 19 tracks gathered over the course of these two albums are, as you'll undoubtedly be aware, the ones his label (cast here as the stroppy killjoy) refused to release as his planned third album, allegedly because it wasn't sufficiently upbeat, prompting Adams to go off in a sulk and bash out Rock n Roll.
The fact that they've now emerged, not via some artistic rescue mission by a more sensitive label but through his current recording home, makes you wonder just how much credence to give the original story, but whatever the ins and outs the fact is they're finally out there. Certainly not brimming with sunshine of Rock n Roll was Adams showing off his 80s record collection here he's steeped his heartbreak in the soul of Lennon, Thom Yorke and Otis Redding.
Part 1's the more countrified of the pair, low key lo fi noodling melancholia scuffed with the smell of rain washed streets that moves from Political Scientist's attack on emotional pollution through the frozen lives and relationships of Afraid Not Scared, This House Is Not For Sale, The Shadowlands and, yes, taken at a more ringing guitar pace, Love Is Hell. A regular feature of his live set, his version of Wonderwall finally makes it to disc, albeit with a spooked arrangement and depressive sheen the Gallaghers surely never envisioned. There's been sniffy carping about him wallowing in broken heart gloom, but it's hard to agree when you're presented with something as impressive as World War 24 and the aching piano ballad Avalanche. To be honest I'd take that laceration over the closing skip-heel Paul Simonesque jollity (as jolly as a song about helping a recovering walking car wreck can be) of Halloween anyday.
Pt 2 doesn't get much cheerier, though My Blue Manhattan does dress up the twilight urban melancholy in lovely string section colours. Please Do Not Let Me Go welcomes a yearning pedal steel to the party as Adams adopts a Loudon Wainwright at his self-immolating best phrasing while I See Monsters couches neurosis in a voice as sweet as Nilsson, Dylan's summoned up for English Girls Approximately on which Marianne Faithfull provides backing as he gives the finger to Beth Orton for dumping him while that's surely the ghost of Lennon sitting in his cracked bluesy throat on the slow swaying R&B Chelsea Nights.
Ignore the gainsayers, this is marvellous stuff that again confirms Adams as both a profilic talent and one of the finest contemporary chroniclers of the human heart. Not, of course that he can't screw up from time to time and it must be said that the addition of the squalling distortion of F*** The Universe and scuzziness of Twice As Bad As Love as bonus tracks on the International edition of Pt 2 definitely an incentive to seek out an American import in the hope they're not included.
It is, he says, his 80s rock album, which probably accounts for the T Rex Get it On guitar chugs on Shallow, the Simple Minds stadium ringing of So Alive, the choppy Rick Springfieldisms of Wish You Were Here and the general mix of Guns n Roses and Alice Cooper most everywhere else. "It's all a bunch of shit" he sings, adding that it's all totally f***ed up'. Anyone expecting Gold 2 might well agree having been greeted by its heavy metal power pop boogie and hairband anthems, but once you get over the initial shock this, while no masterpiece, isn't actually bad.
Burning Photographs rolls and tumbles on a catchy melody line as he bemoans being bored with his girlfriend, Note To Self:Don't Die is a Lennonesque blues nailed to an Aerosmith sweat riff, Anybody Want To Take Me Home is perfectly fine jangly pop that could have dined out at The Breakfast Club, Do Miss America is Tom Petty at his best while Drugs slopes off into psychedelia and Hypnotixed fixes up a date with Lou Reed and the Jesus & Mary Chain. And, just to show what a perverse bugger he is, the title track itself is a spare ballad with just Adams and a skeletal piano. Probably not a favourite on the Lost Highway board room juke-box, but as strops go it's a very listenable tantrum.
Adams obviously doesn't like to sit round twiddling his thumbs. Not the official studio follow up to Gold, this is actually a gathering together five sessions worth of demos laid down between Dec 2000 and Oct 2001, each session yielding an album's worth of material with this basically a harvesting of the best.
As you might expect, it's a musically diverse collection that reflects his determination to keep ringing the changes. Thus the dreamy summery pop of Nuclear and Tennessee Sucks, acoustic lullaby Tomorrow and the edge of the ocean hushed wash of Jesus (Don't Touch My Baby), contrasting with the more Tom Pettyyish chugger Starting To Hurt and the frankly highly disposable Replacements-esque Gimme A Sign from the two Nashville sessions recorded during his band's garage alter-ego period as the Pinkhearts. Then there's the rootsy 48 Hours songs from Hollywood that saw Adams aiming for a John Wesley Harding/Workingman's Dead flavour and which have produced the Byrdsian country folk-rock of the gorgeous Hallelujah, a twangy Chin Up, Cheer Up which sounds like Dylan singing Steve Goodman, and the quiet Springsteen-like Desire with its organ, acoustic guitar and aching harmonica.
If Adams ever finds a true and steady girlfriend then the music world is going to be short one hell of a singer-songwriter. His bitter solo debut, Heartbreaker, documented his emotional tearing apart and now the swift follow up sees him chasing down another likely bruising but so caught up with the exhilaration of falling in love he's prepared to 'burn up hard and bright' as he sings on the Dylan-referencing Firecracker. "I'm giving myself a chance to look at everything around me and not just be the victim," he says of the album's more upbeat mood. It's a quest that takes him from the opening New York New York (a punched up bundle of exploding energy) in which those Loudon Wainwright III comparisons come tumbling out to the closing weary piano accompanied stroll through LA for Goodnight Hollywood Boulevard, a song that clearly illustrates why Elton John finds the man so impressive.
Moving beyond his Gram Parsons box set, there's journeys through the rest of his record collection too Answering Bell (featuring Adam Durwitz) is Van Morrison, Rescue Blues slaps Let It Bleed on the turntable and taps the same vein for the gospel building epic You're Nobody Girl that also mixes it up with Bob and The Band. The mournful side of Neil Young gets his turn with When The Stars Go Blue (and isn't the Big O in there too?) and Harder Now That's It Over, a wryly painted tale of the police breaking up a barroom spat between feuding lovers.
But if he wears his heroes on his sleeve, he still cuts his material from his own forlorn romantic cloth, his yearning voice and gorgeous melodies turning the hurt and longing into regenerating beauty. Less successful on the messy Street Walkin Blues, a ragged Enemy Fire (moving his Young at heart from Tonight's The Night to Re-Act-Or) and the choppy Whoisms of Only Gonna Make Me Love You More, but when he gets into his plaintive ballad strides, such as the love in rust of La Cienega Just Smiled or the sparse mournful piano ache that is Sylvia Plath's sad wish of a wildly romantic love affair, then Gold is on lustrous mettle indeed.
C.C. Adcock is undoubtedly one of those brilliant talents that seem to just happen along once a generation. They change the way we think and look at what they do and, when they are done, move on. The fingerprints of Lafayette Marquis will be left all over popular music from now on.
If the definition of originality is 'impossible to categorize' then Adcock more than matches the criteria.
It is only when you learn that he left his native Louisiana for the neon lights of LA's sunset Strip, that you can start to make any sense of this hybrid. Lafayette Marquis combines the lush, humid and sweaty blues of his native Louisiana and the garish, harsh and unforgiving rhythms of the city. Stealin All Day hits you with the same piledriver force that announced the arrival of Prince's Sign O The Times, it's a song that's full of foreboding and malevolent rhythms.
But, having tasted city life, including a stint as backing guitarist for the great Bo Diddley, Adcock returned to Louisiana and reabsorbed the steamier but no less potent feel of Louisiana. The clash of these opposing cultures, most notably on Runaway Life, makes Lafayette Marquis both country cousin and city slicker.
But the album is centred on the vision of C C Adcock not merely geography. It allows him to absorb environment and then return it as something uniquely his own.
Lafayette Marquis is a continually restless album, even the oozing, swampy blues of All 4 The Betta never stands still and, like most of the album, it never quite finds a constant groove, the slightly off-kilter feel gives the album a definite edge.
Adcock obviously decided early on that he wasn't about to give the listener an easy ride with this. Slangshotz N Boom-R-Angz illustrates perfectly the dark and brooding undercurrent that runs through it all.
Then again who wants easy when you've got the magnificent C C Adcock.
I have to admit to a soft spot for King Sunny Ade. He was the first artist I heard that might be categorised as 'world music'. In the late 70s, Island Records had had a huge success with Bob Marley bringing reggae music to a worldwide audience. They decided that King Sunny Ade's Ju Ju Music from Nigeria could make a similar swoop across the music scene in the early 80's. It never quite worked out but, in hindsight, it can be seen as the first attempt to popularise a local African music in the UK and elsewhere. The legacy left us was a series of a lbums containing some classic moments from this musical genre.
Those good folks at Wrasse Records have sensibly pulled together this collection with the assistance of King Sunny Ade himself. As I sat listening to King Of JuJu, happy memories of musical investigations at a friends flat in Bristol came flooding back. The guitar work from those first releases, JuJu Music and Synchro System in particular, parallel dub reggae with its plentiful use of effects and production techniques.
Unlike dub, which can sound heavy in mood, these early records have a lighter feel which is less frantic than the Zimbabwean or Soukous guitarists but is equally airy. Interestingly, there is a parallel between the careers of King Sunny Ade and Carlos Santana with its sometimes magnificent, sometimes uncomfortable compromise of originality and commerciality. Indeed, it is a cover of Santana's Gringo performed with Manu Dibango which highlights how this can become a problem. The net result is a historical artefact of 75 minutes length that is a fair summation of a career with trailblazing early tracks and some occasional later moments where the commercial pull affected the quality of the music.
Originally recorded in 1986, this is the first time that this album has been available on CD and it comes with five bonus tracks, four of which were previously unreleased. Hasil Adkins is described as ?the world's greatest one man band? and that this album sees him ?at his noggin loppin, tube steak munchin' shoot 'em up most wild ass best?. Even if that does not prepare you for what you are about to hear then maybe some of the titles will. Just try Punchy Wunchy Wickey Wackey Woo, Do The Scalp and Chicken Flop and maybe you'll be just starting to get what Hasil Adkins is all about.
The aforementioned Chicken Flop opens the mayhem and in amongst the manic psychobilly there is some structure, believe me. The title track is rock and roll gone mad, this guy is way out there. He sticks to the rockabilly theme on Big Red Satellite and he plays this as straight as he can and, as with the other tracks, it is just guitar, vocal and drums. Pond Fork River is Jerry Lee Lewis taken to the next level of insanity before Hasil drops in a slow one! Still Missing You is that slow one and this fractured country song shows that he can play it relatively seriously if he wants to.
It's a return to the high octane levels for Punchy Wunchy Wickey Wackey Woo and confirms that Adkins is a whirlwind that enters your life, messes with your mind and then leaves. Foggy Mountain Top is country, has yodelling and continues in that relentless pace that you may now have become accustomed to. This just gets faster and faster as the song goes on. There's more country music on I Don't Want Nobody and he's come onto a game with the last few tracks. Unfortunately, this is very short. There's more high pace guitar on She'll See Me Again and the slower country vocal laid over it is very effective.
Matchbox is rock and roll/rockabilly and he still manages to get a few screams in there. There are more hollers and breakneck thrashing of guitar on Do The Scalp, but little else. More rockabilly on Haunted House and this is probably the most conformist song on offer. I don't know how his guitar stands up to the punishment as he launches into Wild Wild Friday Night but it gets some respite on the standard country offering Turning Off A Memory and this song suits his voice perfectly. Ellen Marie is incomparable rock and roll but Don't Start Cryin' Now sees him playing it pretty straight.
Only the second slow song, Midnight Moan is as close to a ballad as you're going to get from Hasil Adkins. Two diverse songs to finish, the quirky rockabilly of Everybody Loves Somebody and the almost blues of California Blues/ T For Texas. The latter of these throws up some yodelling in a country blues style before speeding up towards the end - the man just can help himself. You will either love Hasil Adkins or hate him, I shall say no more!
Here's a disc from an unjustly maligned branch of folk culture – sea songs and shanties – which purports to cater for the true maritime enthusiast. Richard Adrianowicz is a regular shanty-singer at San Francisco's Hyde Street Pier (part of the SF Maritime National Historical Park), who acknowledges as inspiration and influence both Stan Hugill and Jon Bartlett. For around 15 years Richard was part of (largely a-cappella) trio Out Of The Rain, but latterly he's concentrated more on nautical music, and Time Ashore Is Over, on which he's accompanied by a chorus drawn from a pool of ten Bay Area shanty singers, is the resultant CD. Two-thirds of the album comprises shanties: probably the most familiar is Away Susanna! (the "shanghai" version of New York Girls, which enjoys lively accompaniment from Peter Kasin's fiddle), whereas the rest is an enterprising selection of mostly halyard and capstan shanties, including several new to me; these are trawled from various sources ranging from Hugill (Heave Away Cheerily-O) and Carpenter (Ilo Man) to the West Indies (Roll Boys Roll). The insert note avers that the performances were recorded live and "not overly arranged", and they sound all the better for that; they do indeed "preserve the spontaneity and edge that … work songs should have", retaining an essential rhythmic impetus, yet also exercising a certain restraint and keeping a sensible perspective in the delivery, so one can easily forgive the occasional raggedness or lapse in intonation. A moment of repose comes with the beautiful, if brief Morning Shanty (composed by Sharyn Dimmick in 1986), which is led by Suzanne from OOTR; both Marla and Suzanne join in with Richard on the two Humber (John Conolly) classics Grimsby Lads and Time Ashore Is Over (the latter more credibly phrased than the former I feel), and the collection is completed by three sea songs, which Richard sings unaccompanied. This release is indeed one for the maritime connoisseur, and any shanty singer worth his salt (!) will, like me, relish the chance to get to grips with those less familiar examples recorded here.
There's a definite West Coast feel about this Welsh quintet, who produce a sound that takes you back to those hippy drippy days of Flowers In Your Hair and Burt Bacharach and suchlike - it's all about the Richard Griffiths' earnest vocals and the at-timesfrenetic backing that reprises the kind of Mjo dancing hedonism of a vanished era, filtered through - naturally enough - modern technology and 21sy century pop sensibilities. By that I mean they take the best bits from the past, scuzz them up a bit and give birth to a slightly skewed 'perfect world' pop music, all plangent chord sequences, traces of French horn for that heartstrings tugging moment, ladled with more than a decent helping of Prefab Sprout, whether they realise that or not. When it works, it's sublime - Rollerskates In The Park is lovely; when it doesn't - the faux country ballad Bee-stung sounds like a parody (perhaps it is, who knows?) - it's time to hit the skip button. But, on repeated listening, My Lost City becomes quite an enchanting little album. Almost gossamer-like in places; in others it has a nursery-rhyme like innocence., like in Gonna Stay Together.
If you manage to find a copy going cheap in a second hand record store, dig deep. It's worth a fiver of anyone's money. And I'm sure Dockrad Records, created by two Bank of Wales clerks David Lloyd and Phil Mytton who wanted to do more with their lives and established Dockrad as a means of giving unsigned/unknown Welsh aritsts a platform, will be very happy.
Ten Thousand of whatever currency seems a low value to put on this release, the third album from this uncompromising Canadian four-piece. If you got to hear their Fighting And Onions album last year, you'll know what to expect, and its definitive sound is pretty much unaltered, even tho' they've changed percussionists in the meantime (Jason Woolley's been replaced by Peter Balkwill). That means primitive Delta blues forced into an unholy marriage with gutbucket old-time mountain music, with layers of primordial worksong and gospel showing through the cracks. Right from the opening Go Back Home, the Agnostics crank up that there aural sandpaper as they were born to, with wiry, gawky, clunking banjos and clattery percussion surrounding the upfront chain-gang vocals on the following track The Boig. Mean'n'dirty lowdown blues is the nature of the game on Dumb It Down, with growling trombone adding weight to the grinding slide work and thudding bass on Taking It Out. On the proto-weather-chant of Rainstorms In My Knees, a primitive drumbeat provides the rumblin' rollin' thunder. You Got It Wrong takes the pell-mell Hayseed Dixie punk thrash at approved tempo but tones it down to a finer-graded breakdown, with more delicate detail in the picking, scraping and banging. Some cuts are almost more Beefheart than Beefheart, with that aspect of the band's sound arguably even more strongly in focus than on albums one and two - Never Be Dead and Life Is Long could almost have found a home on Mirror Man for instance. In addition to the original compositions, The Agnostics tackle three covers: Sleepy John Estes' Stop That Thing and Son House's Empire State Express come off best, while Dewey Balfa's La Valse De Balfa doesn't quite get into the basic Cajun root. But the album's still a roaring success - for, supremely raw and in-yer-face, this is music that takes no prisoners (and if it did, they'd be out there workin' in that there gang!).
So it's not a choir, and they don't do gospel ... now you just expected that, right? ... Instead, the AMGC's a cranky, uncompromising four-piece outfit from Canada who are steeped in the ethos of no-frills primitive Delta blues. Their music's raw and twisted, often raucous (think Tarbox Ramblers with rather rougher edges maybe), sandpaper-abrasive like proto-early-Beefheart but a stage further back in the timeline and without quite the same psychedelic gloss to their weirdness. AMGC music's from a more outfacing byway of hardcore gutbucket moonshine territory, with edgy, warped overtones of bold, unadulterated mountain music. Which is probably why the opening cut on Fighting And Onions (which turns out to be the band's second album) is a pithy 38 seconds' worth of scrawny solo lonesome fiddling that serves as the instrumental counterpart to the closing vocal version of the number, Stay Here For Awhile. Track 2, Buried Them In Water, is a breakneck Hayseed-Dixie-style punk bluegrass tryout, then it's down to the mean 'n' dirty blues for a pacey, shitkickin' rendition of Skip James' Special Rider complete with unorthodox primeval percussion kit and hard-ringin' guitar. The Depression-era austerity of the mutant-skiffle-meets-Tom-Waits vibe pervades a few other cuts too, and it's probably the most distinctive feature of the AMGC's music: often bruised and bloody, but as perversely attractive and refreshing as a blow to the skull might be! The band (Judd Palmer, Bob Keelaghan, Jay Woolley and Vlad Sobolewski) obviously feel all their sources real deep, and keep the faith with serious reverence – and so who cares if a few notes go astray in the fray?! With all the eccentric energy of pure old-time religion, the Agnostics' world is one where Delta slide collides head-on with weird Doc Boggs banjo tunings punctuated by clangy, clanky percussion and slap-bass. Son House's Preaching Blues is given a gloriously thrashy roadkill runthrough with severely skewed soloing, while the Rev Gary Davis chestnut Death Don't Have No Mercy broods awkwardly darkly with all the portentousness of true backwoods gothic, and Come Along With Me serves up a native chant round the campfire of ancestral memory. The basic, minimal-overdub, defiant heavy-lo-fi feel of the recording - made in winter of 2005 during a harsh cold snap – is another contributory factor in the compelling nature of the record. I love it to bits, man.
Built around acoustic guitars and mandolin, the now five piece English country folk outfit play good time, close harmony strummed alt country folk with influences drawing on the Flying Burrito Brothers, Iain Matthews, The Byrds, Gram Parsons and McGuiness Flint. Having released their debut five years ago, followed by second EP No King, jangling Americana single Lucy and last year's five track KMVT, an album was long overdue. That it arrives on their the own label rather than on Navigator, which released the last EP (and the Australia only compilation Wits End), suggests there may have been a few problems. It is, after all, not usual for your debut album to be a live one but it might get round legal obstacles regarding the songs.
Whatever the reason, suffice to say they give a good account of themselves and there's no problems with the sound or production. Most of the previously released numbers are in the set list, including Lucy, Wish You, Lightnin'Bug (sounding more like The Hooters than the Everlys live), the homegrown folk rock colours of Call A Waiter and Docker's Hands, the CS&N feeling Wish You, and, from the debut, Like Roses, Run Me Down, Joanna and the handclapping, foot stomping Rosebud.
There's also five previously unreleased numbers, the jaunty roots rocking She's Wearing Red, Million Reasons, crowd clapper Woman's Arms, the equally uptempo Rosalie and live favourite acoustic strummer road song Wagon Wheel with an a capella intro that shows their superb harmonies to great effect. As I say, live albums are not customary debuts, but this is a terrific calling card that leaves you in no doubt as to their top notch abilities as a performing outfit or that they shaping up to become this country's finest purveyors of Americana folk rock.
Here's some good old-fashioned prog-rock with a distinct leaning towards electric folk. It's sturdy stuff, exciting and full of passion in the time-honoured manner of the genre. Bearing in mind Ahab's lineup (female vocal backed by violin, electric/acoustic guitars, bass, drums), you might feel that early Blue Horses would be a useful musical reference point, but actually I find Ahab's sound (specially in terms of instrumental blend) is probably more reminiscent of early-70s legends High Tide. In fact, for much of the time Ahab sound rather like they could be a lost band from that era, newly rediscovered (and I mean that as a compliment not a criticism). Ahab hail from the Lake District (well, Cumbria if you insist!), and their present incarnation came about nearly two years ago, although their members all have masses of experience in a range of diverse musical disciplines from playing support for big names in the folk world through to punk and rock bands, choreography and traditional singing.
The group compositions mostly come to the fore on the second half of the CD, prior to which we get four tracks that are the band's original prog-folk-rock arrangements of traditional folk repertoire (or at least that's what the credits claim - it's unfortunate that, in a rare lapse, Andy Barnes' song The Last Leviathan, here retitled Lament For The Leviathan, is miscredited as trad.). By and large these are enterprising and work well, particularly the intriguing take on The Gardener and the extended workout that segues Bonny Ship The Diamond into Last Leviathan. The playing has a strong sense of togetherness that's mirrored by the strength of Jane Barrett's strident vocal work, which at times displays definite tinges of both Siouxsie Sioux and Grace Slick; and the band's arrangements have an innate sense of drama that recalls acts like Principal Edwards Magic Theatre. Guitarist Dave Livingstone takes over the lead vocal for the album's centrepiece Ahab, one of the strongest cuts, which incidentally features variety in texture with the involvement of a guest harpist (Mary Lawson). In keeping with the band's prog-sensibilities, several of the tracks extend over an honourable mini-epic span, but none outstay their welcome.
Maybe there are a couple of less successful moments: first, the violin line on Hope And Vanity sounds somewhat unsure and even detuned, and secondly, there are times when the overall sound balance isn't quite ideal, and doesn't quite bloom with the body and texture that befits a full six-piece, but those are minor points really and shouldn't put anyone off investigating Ahab's music. And I'm being a bit picky perhaps, but hey, the snatch of birdsong introducing She's Like The Swallow is decidedly non-hirundine! But it's back to the positives with a vengeance for the final track (Heaven's Cloths) which is an emotion-charged setting of W.B. Yeats' poem He Wishes For The Cloths Of Heaven – though after this (rather pointlessly and inexplicably) you then need to sit through (or fast-forward through) over 12 minutes of silence before discovering the "hidden track" (a brief soundscape comprising chiming clock, country ambience and electronica). So, those minor irritations (indulgences?) aside, this is an extremely impressive CD, which I've enjoyed a hell of a lot. And by the way, the artwork's stylish, simple yet striking. Ahab's obviously a great act live, too, and they evidently had a whale of a time making this CD (sorry! – I'd better not blubber on any more.… )!
Label mates to fellow Norwegians St Thomas and comprising songwriter-singer Patrick Lundberg, theology student bassist Bosse Litzheim and singer Mona Mørk (headmistress to an island school of 8), this is the Bergen trio's debut for the label after two previous albums and the first to get an official UK distribution.
Imagine a hushed alt-country equivalent of The Kings of Convenience after immersing themselves in Cowboy Junkies albums, then dress them in minimalist and miserabilists clothes with barely there percussion, funereal keyboards, tentative introspective guitars and the occasional accordion colouring and you get a reasonable idea of what's in store. Lyrically nothing makes much sense, the opening Mountains and Castles murmuring on about Robin Hood, scary little rooms, and comedians, Elvis talking of Cinderella and cockpits flying away and Different Strauss with its complaining albatross and sneeze rhyming with knees is about as intelligible as it gets. It could get you some strange looks singing along, but it doesn't make these or other tracks like Hopscotch and Revolution Gray any the less beguilingly hypnotic or melodically entrancing.
Those looking for a lifeline of comprehension will be pleased to learn they also do a wonderful ramshackle cover of 40s song Where Is Your Heart, aka the Theme From Moulin Rouge, its gorgeous accordion intro conjuring the cobbled streets of Paris, the Eiffel tower and Maurice Chevalier at some corner cafe before Mona steps in to the waltz and the instrumentation whippoorwills away in the background. Quite possibly as mad as a hatter, but lovely with it.
Released a few months back, this is the first of this year's timely followups to last year's Unsuitable For Heavy Goods Vehicles album. It finds Jon keeping textures generally sparse, but expanding the musical envelope a little more by allowing further contributions from members of his band The Shelleys. The basic hallmarks of Jon's music remain, however: an impassioned delivery of his literate lyrics, allied to precise yet relaxed textures which are ideal for putting across his thoughtful musings. Again, the understated accomplishment of the production itself imparts a friendly homespun feel to the record, which it's hard to resist, but there has to be more than that to engage and maintain our interest, and luckily Jon's songs contain plenty of intimate observations that repay your close attention. In terms of sentiment, the tracks of a simpler nature, like Girl On The Swing, make their impact by virtue of a comparably plain, unwhimsical turn of phrase. And there's a gentle euphoria about Jon's emotional responses that's both immediate and refreshingly unaffected, especially when he's reflecting on places whose special character he's experienced (eg Ar Lan Y Môr). As far as musical reference points are concerned, this time round I couldn't help being reminded more of Peter Hammill at times - tho' the presence of Shelleys member Gerry The Flute (on clarinet and saxes as well) on tracks like So Sweet, So Young probably has something to do with evoking that comparison.
There's actually some rather fine instrumental work throughout, which Jon uses to best advantage to enhance his lyrics, as well as some attractive supporting vocal work from Nicola Canale. Vocally, Jon communicates his vision persuasively, although there are moments where I find some over-accenting of vocal nuances slightly mannered and in the end just a little distracting (eg Back To You). But in the final analysis, it's the "poetic and prophetic" solitude of Jon's writing that involves you and wins you over. It's good to find lyrics to one song (Southern Wind) reprinted on the single sheet of paper enclosed within the minimal cardboard sleeve, but this is only a start - Jon's writing deserves more, and thus a vehicle for closer scrutiny.
Alabama Slim (from Alabama, surprisingly) and his contemporary, Mississippian Little Freddie King are two of the biggest names in blues (in the case of Slim this is quite literal as he is almost 7 feet tall) and when they get together, people take notice. Both lost all of their possessions during Hurricane Katrina and had to flee to Dallas, Texas. Their trials and tribulations have manifested themselves on The Mighty Flood. The eponymous title track opens proceedings and is a graphic description of the New Orleans flood via a Chicago blues. Please Leave My Money Alone is a slow, rhythmic blues but they return to the Chicago fold for Crack Alley. This has the first introduction of Slewfoot's harmonica and although the song is pretty standard stuff, it is very earthy. The pace on Way Down In The Bottom is still quite sedate and this is a slow heartbeat of a song. I Got The Blues lifts the pace a little. It's a tale of lose job, lose woman, get the blues with reverb guitar for the soundtrack. I love the way that they get maximum returns for the economy of effort. Going Upstairs keeps up the pace and even increases it by a bit - simply another tale of broken relationships.
The dulcet tone of Slim's spoken lyric on Mr Charlie makes for a great tale and there are more of those dulcet tones on Coming Home. John Lee Hooker influences can be heard throughout the album but none more than on this with just guitar and voice. This is music made up of the most base of elements. His voice has more of a strained quality on Waiting On You and again there is nothing too fancy - they just get on with the job. The two guitars are independent but they are together at the same time. They swap vocalists with great aplomb and King takes over for Lord, I'm Good For Something, which heralds the return of the harp and has a drumbeat for about only the second time so far. This organic Gospel is top drawer. King keeps the vocal for I Don't Know What To Do and it is all over the place, even with drums again, but does come together in the end. The main point to push here is the passion of the artists and it is this passion that conquers all, especially in the vocal. They reprise the title track as an acoustic blues to finish with and have the harmonica wailing for New Orleans and the same deep vocal as the opener.
Yes, this is the very same Damon Albarn of Britpop fame, whose latest musical venture is an Afro-pastoral folk opera on the subject of a 16th century mathematician and polymath. Obscure or wot?… well, to be fair, no less obscure (I guess) than some of the prog-folk outpourings of the early 70s, and certainly no less eclectic in musical terms. In theory, listeners have broader minds these days, with folk music paralleling exposure to world and classical musics on Radio 3 as a matter of course (effectively what's been going on in my own listening habits for the past 40-odd years). So it won't be regarded as hors-de-concours to review it.
And it turns out a significantly liberating experience for both the performer and his audience. Even if its opening track (The Golden Dawn) tries one's patience just a bit with a surfeit of dawn-chorus birdsong and rich, portentous organ chords, the rest of the work (which plays continuously) contains some magical and quite riveting musical moments and sequences. The cast-list assembled by Damon for this extravaganza includes six vocal soloists including a counter-tenor and operatic bass, a16-piece choir (Palace Voices) and the BBC Philharmonic Orchestra, with a small complement of individual musicians playing guitar, viol, theorbo, kora (Madou Diabate), drums, and various wind instruments including whistles.
This panoply and diversity is reflected in the twisting, turning, episodic yet connected nature of the musical argument, which veers unpredictably yet in the end weirdly logically, around all kinds of musical and philosophical byways in its journey through the life of Queen Elizabeth I's intriguing alchemist-cum-advisor. Individual tracks (I'd call them arias or interludes) may take on the character of dark-folk song (Apple Carts), mystical prayer (O Spirit Animators), Wagnerian portraiture (A Man Of England), Elizabethan polyphony (Tree Of Life and Coronation), plainchant (A Prayer); Edward Kelley delivers what sounds like a courtly song eerily transplanted into our time (rather like Britten's church parables in effect), and is followed by Preparation, a primitive percussion groove which melds Third Ear Band with hypnotic but minimalist tribal drumming, and 9 Point Star, whose whispered invocation features a rare (for this work) appearance of electric guitar.
The Marvellous Dream has something of the aura of out-of-time indie, cautiously bringing what might be a Joy Division riff with handclaps to the party, whereas Temptation Comes In The Afternoon has something of the madcap effrontery of early Peter Maxwell Davies and Watching The Fire That Waltzed Away embodies a cyclic Nymanesque riff and florid vocal gestures. Cathedrals brings a point of stillness to its plaintive, troubadour-ISB-style musical landscape. The Moon Exalted is possibly the most hybrid of all Damon's adventures, turning from spare modal lament to lusher balladry and rippling Malian-inflected art-song in the space of five minutes.
Taken on its own terms, Dr. Dee proves an enigmatic, and yes ambitious, but ultimately likeable and curiously satisfying work; Atom Heart Mother or Anthems In Eden it ain't – but it has elements of the bravery of premise and execution of both of those Harvest masterworks. And it contains some compelling imagery in pieces like The Dancing King and The Marvellous Dream. The whole work ends where it began, in a welter of birdsong: universal peace of a kind. Forthcoming staged performances of Dr. Dee will happen at English National Opera at the London Coliseum in late June and early July.
Forged in the cauldron of gospel, Deep South Americana, and techno dance, the fairly fluid eight piece don't play by the usual rules, so you'd not expect them to turn out the standard best of compilation. So what they've done is pick 11 of their favourites songs, strip out the techno beats and re-record them as acoustic country blues versions that put the emphasis on the fiddles, harp and slide guitars. Not that it make a huge amount of difference to their Sopranos theme Woke Up This Morning, but now things like U Don't Dance To Tekno Anymore and Let The Caged Bird Sing let their Dr John and Hank Williams influences shine through while the sparser takes throw their tales of urban paranoia, corporate and multi-national corruption, anarchy, mental breakdown, and ghetto tragedy into starker relief.
I'm not sure about their galloping bluegrassed rework of Speed of the Sound Of Loneliness, but the swamp fever Too Sick To Pray and the now far more apparent pastiches of Tom Waits and Randy Newman on Bullet Proof and the fabulous Disneyland Is Burning make this far more than just some unplugged exercise. Oh and no, there wasn't a Vol 1.
(Ed: A reader has emailed to say, "The review of Alabama 3's Last Train To Mashville Vol. II states that there were no Vol. I. This is erroneous, but the release was only sold at gigs.". It's now available from the A3 website shop.
We've been getting spoilt these past few years for quality seasonal discs, especially those from the Albion franchise. This year's Albion Christmas Band offering doesn't radically depart from the winning formula in that it once again presents an eclectic choice of songs and carols, contemporary and traditional, interspersed with the occasional instrumental tune-set and a sprinkling of suitable seasonal readings from Ashley Hutchings himself. But thankfully the emphasis remains on the lesser-known repertoire, and sentimentality is entirely eschewed.
For this year's Albion Christmas Band incarnation, the lineup, under Ashley's expert direction, comprises Kellie While, Simon Nicol and Simon Care: small enough to be intimate and varied enough to be interesting. Performances are refreshing, clear-sighted and unpretentious, with no gimmicks or undue lashings of overdubbing; just a genuine spirit of gentle celebration and relaxed, easy musicianship. The music moves unapologetically from the secular to the sacred and back again, and the whole sequence is rewarding; while even if one might feel like skipping over the various readings on subsequent hearings they're sufficiently brief not to intrude if left to play through.
Especially delightful moments come with Kellie's honest treatment of Christmas Is Now Drawing Near At Hand, learnt from the singing of Lal Waterson; her multitracked vocal harmonies on the opening acappella Christ Was Born In Bethlehem and Emily Smith's sublime Winter Song; a sprightly tripping rendition of the Sans Day Carol (one of a handful of tracks to benefit from some animated melodeon and guitar interplay); Ashley's sombre, wonderfully atmospheric Burn, Logs, Burn; and the tracks toward the end of the disc which feature Will Pound guesting on harmonica (notably an Americana-cum-country-style rendition of the Good Shepherd Carol). OK, you might feel that Kellie probably doesn't quite have the right type of voice for At The Christmas Ball, but she does her best and the tenderly underplayed guitar accompaniment enhances the song's naïve charm.
Actually, there's not a weak link in this pleasing seasonal sequence, and the disc will make an ideal and welcoming Christmas present for the long-term Albion fan and recent convert alike - or better still, treat yourself to the extra indulgence of a ticket to go see the band on tour between 9th and 23rd December
What a treat! A first-time release (I believe) for a recording of a show from the band's 1986 Christmas tour (but we're not told the location). The lineup of Ashley Hutchings, Cathy Lesurf, Phil Beer, Martin Bell and Trevor Foster was on really good form, performing a broad cross-section of seasonal items (that included just the one carol, a wassail, some spoken-word and a whole sleigh-load of other unexpected delights, and with not a Santa in earshot). Everyone having fun, no undue sloppy sentiment, and a great atmosphere to the gig.
John Tams put in a spirited guest appearance on this particular date of the tour, and among other things treated the enthusiastic festive assemblage to a laconic comic monologue and a rendition of Ivor Novello's Let The Great Big World Keep Turning (the latter as part of the show's central First World War Medley). Highlights of the 47-minute set include some very fine ensemble singing on the acappella items Worcester and While Shepherds Watched and Cathy's renditions of the Somerset Wassail and JT's Snow Falls, Martin's instrumental Falling Star, and the bouncy rock'n'roll of Chuck Berry's Run Rudolph Run. Only the brief and irritating (and unfunny) interruptus of Histriomastix spoils the proceedings; the remainder will withstand your "wrapped" attention with repeat plays in and out of season, so is worth adding to your personal archive.
This is a straight reissue of a curio that first appeared on the FOAD label back in the autumn of 2002, to which Talking Elephant have now presumably acquired the licence. Albion Morris was a side formed back in 1972, in effect as a splinter group from Chingford Morris whose members believed the future of morris dance lay in the fusion of traditional morris with the "electric muse" of Ashley Hutchings and Morris On (on which album they'd guested). Albion Morris took its particular brand of entertainment onto the stages of folk and other festivals, special events and suchlike, becoming somewhat of an ambassador for morris; it also became an integral part of concerts performed by the Albion Country Band, Fairport Convention and Steeleye Span in the 70s, reaching a kind of zenith of press coverage and curious press acceptance with a late-night appearance at 1974's Sidmouth Folk Festival.
This CD brings together a worthy gallery of fine musicians to mark the troupe's 30th anniversary: Philip Pickett, John Watcham, Graeme Taylor, Ian Cutler, Tom Leary, Guido M. Rincón and Home Service stalwarts Jon Davie and Michael Gregory. A number of dancers are also to be heard on some tracks of this recording, but probably what the whole exercise emphasises more than anything else is just how far the skill of morris accompaniment has come in the years since Morris On, and how listenable in its own right the music can be in the right hands. And with not a melodeon in earshot! Tunes played generally originate in the province of morris addicts, although the familiar Princess Royal gets a look in as does British Grenadiers; arrangements are fluid and imaginative, although Graeme Taylor's talent for record production gets the better of the detail on occasion, one or two of the individual instruments are less than duly prominent in the mix at times, and Guido's bouzouki lends a subliminal harpsichord-like courtliness to some of the dances. Still, it's certainly good to have this commemorative set available more widely now.
The 1977 set – featuring the groundbreaking, classic Tams/Taylor/Pickett/Bullock/Sanders/Gregory/Mattacks team, will for many be the finest segment of the disc, and it contains a brilliant Gresford Disaster (complete with extended swirling Sanders solo) amongst the assorted instrumental medieval-folk-morris shenanigans we expect from this lineup.
The 1981 tracks, finding Messrs Tams, Taylor, Pickett and Gregory joined by Bill Caddick, Howard Evans and Brian Protheroe, form arguably the most diverse repertoire, with Caddick's Don't Be An Outlaw, Tams' Snow Falls and the Moody-Sankey rouser Dare To Be A Daniel complementing the medievalism and a fine introductory medley of Lemady, Arise And Pick A Posy and Down The Road.
Finally, the 1982 tracks, which present a nicely balanced, efficiently managed, quite dance-oriented sequence courtesy of an almost completely different personnel, feature Jean-Pierre Rasle, Simon Nicol, Dave Whetstone and John Maxwell, with Cathy Lesurf providing the female vocal contingent. The material from 1982 appeals less to me I must admit (although Ashley's cheery knees-up ode to football, The Greatest Show On Earth, gets a suitably vigorous airing here…). All told, this isn't quite as bitty a disc as might be imagined, and although a bit of a letdown in terms of documentation it sounds just fine musically.
Natural And Wild forms a close parallel with the official studio album of the time, The Wild Side Of Town, in containing much the same material; but for this new release compiler Mark Hutchinson has mixed-and-matched some nicely judged segments from what would appear to be a direct recording of the aforementioned concert (with the introductions and links left in) interspersed with some studio recordings that I didn't recognise (alternate takes? Well, the packaging coyly blankets everything under one phrase "recordings made in 1987, which isn't much help).
What matters most, perhaps, is that Natural And Wild forms a coherent sequence in its own right, and there are several individual items that really don't deserve to be squirreled away in the vaults. A gently emotive take on Ashley's delicate Woodlands Of England, two finely wrought instrumentals from Phil, the moody, thought-provoking Tomorrow's Too Late, the lovely, wistful Laura's Song (another Candleford adjunct), and perhaps best of all Cathy's acappella performance of her own composition My Beautiful Bomb Pit. And not forgetting the rousing quotient of the show: Cathy's gorgeous Harvest Anthem and the majestic brass-bedecked finale of Coming In On A Wing And A Prayer.
The opening salvo of Merry Sherwood Rangers and Time To Ring Some Changes shows they mean business, and the energy level never really lets up, even on the smoochy I Only Wanna Dance With You and the Drowned Lover song interlude. As well as all the fun of the ceilidh, there's some incidental extra fun in the guise of guest caller Sid Kipper, who brings more than a touch of Trunch to the proceedings on the Dashing White Privates (Irish Washerwoman) dance.
For most of the disc, Simon's effervescent melodeon is necessarily the dominant element, but it's spiced up with some inventive work from sax, flute, electric guitar, mandolin and bass and even a couple of neat piano solos for good measure, while the two closing tracks are particularly rocky (pity Marling Jig is faded tho'). Rockin' Barn Dance is a lively and invigorating set, though its dozen tracks are by their very nature and purpose more of a disposable nature than the weightier material that graces Natural And Wild. And it's probably more for Albion completists, as the various instructions and interruptions to the music will inevitably not bear frequent repetition.
But it's still good to have all these new discs, presenting as they do further pieces of the complex jigsaw that is the continuing tale of the Albion Band.
The ACB's 2006 offering (Winter Songs) turned out to be an unexpectedly refreshing (if belated) seasonal offering that I've actually felt like returning to since - which is not automatically the case with such discs. Snow On Snow continues in the same vein as its predecessor, with a further piquant and ingeniously sequenced selection of season-related pieces both vocal and instrumental performed by the good Mr. Hutchings and his merry crew (Kellie While, Simon Care and Simon Nicol, with guests Guy Fletcher, David Tobin and Mark Hutchinson). After the rousing opener (an excellent morrisy calling-on rendition of Seven Joys Of Mary), and a well-sung The Month Of January from Kellie, there's a seasonal border morris medley preceded by one of Ashley's well-chosen readings, then a fine version of Clive Gregson's Comfort And Joy. This is followed by a sequence concentrating on the meteorological aspect of the season, beginning with evocations of a frozen Thames courtesy of Virginia Woolf and the bouncy early-music of Humours Upon The Ice. Later on, James Taylor's Frozen Man and Dave Goulder's January Man are both given a suitably fresh wintry coat. I also really enjoyed the ACB's takes on the Adderbury Wassail and Cherry Tree Carol (the latter quite different from the one familiar to me), while the morris-style It Came Upon A Midnight Clear is a welcome change from the sickly and/or lugubrious norm. Other admirably judged readings of poetry by Auden, Norman Nicholson, Gerard Manley Hopkins and Norman McCaig dovetail perfectly with the musical items, which include Kellie's reliable take on In The Bleak Mid-Winter (furnishing the disc with its inevitable title song). All adding up to a tasteful, typically well-coordinated and satisfying companion to Winter Songs, an ideal - and heartwarming - stocking-filler for the folkie who appreciates the Tyger burning brightly in his or her Yuletide fireplace.
Pete Alderton is the son of an American G.I., born in the UK and living in Germany so it is not so surprising that he has a diverse musical outlook. Living On Love begins with It Seems Strange, a short explanation of the blues, before Alderton launches into Evil Was Her Name which is a classy, jazzy blues. Song For David is a strange one. No, it's not about me, it's for David Blaine. It's hard to categorise but anyone who gets Blaine into a song deserves a listen. Have The Roses Gone Dry and I'm Sad are sentimental ballads and little more and the title track is acoustic, like most of the others, but not very inspiring. Jesus In A Bottle is one of the best tracks on the album and could easily be a big end rock song or, as it is here, an acoustic burner. A Fool For Her Body (skit) is a short spoken interlude that leads into Witching Hour but it's of no real purpose and the aforesaid Witching Hour has the welcoming introduction of harmonica but is standard fare nonetheless.
Pete turns the Whitesnake song, Give Me All Your Love into an acoustic effort but doesn't really do the song any favours. He then launches off into another of his skits, this time I Still Remember. This is his ramblings on his love of the blues beat and gives us an insight into the man. A Taste Of The Blues is a tenuous link to the blues and, although it is well executed, is nothing to get too excited about. The album is taking a bit of a downturn by this time and the acoustic AOR of Baby I Love You and the tedious The Loved do little to halt the slide. Evil Was Her Name (Full Edit) shows itself to be one of the albums highlights and could have been further enhanced by a screaming guitar solo – it was just crying out for one but Pete played it safe and remained too laid back. It's hard to get the balance between sentiment and over-sentiment and Passing Ships confirms that Pete Alderton hasn't really managed to nail it on this album. He finishes with some more musings on The End Of The Day - we're all living on love, apparently!
Popularly credited as the only person to have been covered by The Stones, Beatles, Dylan and Presley, despite a warm voice strikingly reminiscent of Sam Cooke the Alabama-born Alexander never enjoyed the same acclaim as a soul singer as he did a songwriter. Or at least not until 1993 when, after having giving up music in 1980 in disillusionment to drive a bus and work a centre for disadvantaged kids in Cleveland, he was persuaded to record again and released Lonely Just Like Me on Nonesuch with Ben Vaughn behind the controls and featuring musicians who'd played on his albums in the 60s and 70s.
Featuring reworks of classic nuggets Go Home Girl (famously covered by Ry Cooder on Bop Til You Drop), Every Day I Have To Cry (did you know the pre-fame Bee Gees did this), Johnny Heartbreak (recorded by an unknown Otis Redding) and In The Middle of It All alongside new material such as the country-soul If It's Really Got To Be This Way and forgotten demos like Genie In The Jug and the TexMex flavoured title track which could easily have been a hit for The Drifters.
The album was greeted with the acclaim he'd been long overdue, but then fate played a cruel hand and he died of a heart attack just days after its release. With no artist to promote it, the album kind of faded away, so plaudits to Hacktone for rescuing it from the dusty shelves and reissuing it in an extended version. Along with the original album, the package now features four live radio recordings from the 1993 NPR Fresh Air broadcast during his promo tour, interview bites interspersed between four songs, including a version of the Stones hit You Better Move On, a 1991 live at the Bottom Line recording of the classic Anna (as covered by The Beatles) and four never before heard demos of Genie In The Jug, Lonely Just Like Me, Johnny Heartbreak and his own splendid cover of Neil Diamond's Solitary Man, captured in a Cleveland hotel room. With both the original and new liner notes, a tribute by Vaughn, photos and even a copy of the funeral service and obituary, it's the final chapter of a story that fully deserves the retelling.
Big on slide guitar and steeped in a sense of tradition, the mood is generally overcast with rainlashed songs with inclement images of storms and grey skies about (literally and metaphorically) drowning men (Carry Me Home), searching for a sense of home (Bridge Of Kings), mutually destructive relationships (Let Me Die), the sense of being lost in the world (Nowhere To Go) and trying to shed the chains that hold you down (Early Rise).
A slightly better acoustic blues guitar picker and storyteller than he is a singer perhaps, but if this is your sort of musical weather then the forecast is good.
You know how it is, you turn on the radio, you surf the stations and suddenly you hear something that stops you dead in your tracks. But you have no idea who it is or what it's called. Case in point here. I was driving home in Birmingham one evening and flicking through the dial trying to find something worth listening to. I found I'd tuned in to local Muslim radio station Unity FM and was listening to a voice that sounded like a cross between Cat Stevens and Art Garfunkel singing a lovely lullaby that, I guessed, was called Songs of Innocence, a song of hope and promise to a sleeping child, of peace in the Prophet, with rippling hand percussion and a melodic chant chorus.
Utterly enchanted, I tracked it down and bought the album, discovering Talib was born in London, grew up in Manchester where he trained with the Manchester Boy's Choir and, after 10 years in South Africa, now lives in Birmingham where he works as a psychiatrist and spiritual teacher. An author of three books on Islamic spirituality and ethics, a poet and performer of inshad (Islamic religious singing), in 2004 he was encouraged to compile a collection of English-language spiritual songs, the result being this album. The opening Salat al-Badriyya is traditional Arabic, the rest (save for one lyric) being either newly composed by Talib or reworked from words and melodies he'd written in the mid 90s. Naturally, they concern love of Allah, the teachings of the Prophet and religious poetry but are also imbued with a spirituality and a sense of grief and hope that is universal. Whatever your faith, the cascading melody and double tracked harmonies of Beloved Nabi, Allahu's tribal rhythm and infectious chorus, and the sentiments of Together's wish for peace for our children are wonderful listening.
The fourth album from the Birmingham, born Anglo-Indian songstress takes her further down the path of folk enlightenment, building on the Renaissance flavours of last year's Rocking Horse for a headily intoxicating collection that (taking metamorphosis as the operating musical principle) combines new material with acoustic reworks of tracks from both the previous album and her solo debut.
Again Waltz With Bashir composer Max Richter handles production, though his time round his keyboard input has been nixed in favour of a simple acoustic instrumentation of guitar, cello, violin and flute behind Ali's breathy, sprite-like voice.
Recorded in the space of one day to capture the 'natural transition of songs in the spirit and harmony of their live performance', it's a delicate, pastoral affair full of woody colours and the air of jasmine perfumed afternoons.
Wings In Motion is revisited from Tigermouth, transformed from its original dream pop state into a lazy, heat shimmering folk tune that would not have sounded out of place on Donovan's A Gift From A Flower To A Garden, while Rocking Horse is represented by gorgeous airy reworks of Urique, One Day At A Time, September Sky, A Storm in a Teacup (sounding here like a gentle folk lullaby) and, the breathily pulsing Rocking Horse itself with its Eastern fibres rewoven as skittering medieval threads.
One of the new songs, borne on the wings of Jane South's flute, the album's title track is a suitably gossamer flutter inherent with melancholic themes of transformation and images of secret riverbank trysts while both Throw It To The Dogs and the sleepily closing instrumental Before The Kiss keep the Pre-Raph mood billowing like limpid streamers. The remaining tracks is her sensual reading of Willow's Song from the soundtrack of 1973 cult The Wicker Man, a hypnotic reminder of the pagan spirit that swirls through her work.
Well, here's a surprising change of direction for the 34 year old Anglo-Indian Brummie. Originally sex kitten singer with trip hop outfit Sneaker Pimps, after they parted company her solo debut Tigermouth traded in electronica shaded summery r&b pop and dance beats, at times sounding like a cross between Toyah and Primal Scream. Then came Psychic Cat's spooked chill out electronica, sassy pop and brooding Nine Inch Nails style rock.
This time though, she'd discovered her inner folk sprite and come over all Goldfrapp and Joanna Newsom with almost Renaissance classical colours (The Savages), pulsing Eastern notes (the title track), and soft breath, perfumed air, whispered vocals.
The songs variously inspired and conceived during a journey across the Mexican canyons and California wilderness, sleeping under the stars around campfires, they've taken flesh as, to quote Ali, 'dark modern nursery rhymes ...odes to the magic of nature and dreams'.
Arranged using leafy acoustic guitar, flute, cor anglais, violins, banjo (rippling like pure streams through Heaven's Door), and organ, the mood is languidly dreamy and gossamer like with a childlike sense of wonderment bubbling out of Dancing Bears or tapping cosmic tranquillity on the ambient One Day At A Time or The Kiss.
There's times when, music and sensibilities call to mind the hippie naive-folk of Sally Oldfield as much as Nick Drake's English pastoral folk or the eccentricity of Kate Bush while What To Do takes her barefoot down byways decked in garlands of chamber music and jazz and The Kiss is surely destined to become mood music for Glastonbury's myriad crystals and tarot stores.
Like a surfeit of incense, it can get a little too heady in one sitting (especially with several tracks nudging six minutes) with Ali's soothing voice in danger of inducing trance rather than just calm, but it's a tremendous musical self-reinvention and a major contribution to the avant-folk scene.
It makes a change to find a girl band who want to be The Bangles rather than either the next Spice Girls or some variation of Destiny's Child. Stand up then and be counted Dubliner Audrey Nugent, Glasgow's Amy Lindop and, no really, Charity Hair (she's from Florida so I guess she's got an excuse), a trio who made Vogue before they made the charts and can already count festival slots with Alanis, Dylan and Neil. You might suspect a whiff of hype, marketing a glamorous trio for whom guitars are just six string jewellery, but there's musical credibility anchoring them behind which the fact they look pretty damn good and wear low cut/raised high dresses that expose cleavage and legs is a bonus not the prime selling point.
All Blacked Up is one of the country's premier ceilidh bands, with over 20 years' experience of playing at most of the main folk festivals and ceilidh clubs in England. Theirs is a particularly distinctive sound, and their ranks include original members melodeonists Lisa McDermott and Baz Parkes and sax supremo Alistair Gillies, with the estimable Bill Caddick recently added on sundry guitars and vocals, all bolstered by a sturdy rhythm section (Ray Archer and Nick Beck). What an interesting and satisfyingly full sound they make too, with the traditional ceilidh-band squeezery (and harmonica, recorders and whistles) spicily supplemented by more jazzy saxophonics and from time to time some not-so-subtle R&B-type inflections. Their stock-in-trade inevitably contains some of the well-worn ceilidh favourites such as Off To California, Pepper In The Brandy and Scan Tester's, but for every well-known tune there's likely to be appended a delightful new composition by the likes of Messrs Gillies or McDermott. Another feature new to this latest incarnation of All Blacked Up is the Caddick-steered pairings of Soldier's Joy with Over The Hills And Far Away and Tufty Swift's Gaspe Reel with Rambling Soldier ("shame to waste such vocal talent"!), while the slide-geetar-led Homecroft marks a departure from the accepted ceilidh-band norm. A further refreshing feature of the ABU sound is the spruceness of the rhythms, always great fun and decidedly non-lumpy - and there's even an almost Cajun feel to the Oxbol Polka, despite its Danish origin! The provenance of the various tunes is discussed entertainingly in the liner notes (mostly the work of caller Baz, we're told). By the way, those allergic to "twangling instruments" need have no fears, for although some guitars (and a hammered dulcimer!) were used in the making of this record, none were harmed in any way and the disc shouldn't damage delicate sensibilities: the "tempestuous" (in the Shakespearean sense) title of this disc is definitely tongue-in-cheek!
All Jigged Out is possibly what you'd first imagine a listener to feel after playing through this exhilarating hour-long parade of instrumental dexterity - though I wouldn't want to "wish hill" of anyone in the process (pardon the unnecessary aitch!), for it's not in any sense an ordeal! The tight, often purposefully funky jazz vibe that AJO instigate and propagate gives them a fairly unique sound, one for which the concepts of crossover and fusion might well have been invented. The AJO history is impressive too: founder members Philippe Barnes (flute) and Ben Lee (violin) reached the finals of the Young Folk Awards in 1999 as teenagers (and came second!), since when they've amassed a diverse array of credentials for their individual CVs, while the AJO band made a big impression at last year's Sidmouth Folk Week. Philippe has toured with the Irish Folk Ballet Company, Candela and Licence To Ceilidh, as well as releasing a duo CD with another fellow-AJO-member, pianist Tom Phelan; while Ben, an RCM graduate, has (already!) worked with all manner of acts from the Arctic Monkeys to the Jazz Heritage Orchestra. Drummer Ollie Boorman completes the main lineup, with Dan Dotor and André Fry sharing out the bass duties here on the album sessions. The musicians take responsibility for their own creativity, with highly intelligent and innovative arrangements of traditional tunes (on less than half of the tracks) seamlessly integrated into and alongside original compositions by (mostly) Philippe and/or Ben. These demonstrate a stunning level of assuredness and breadth of musical scope, with a concomitant blend of improvisatory fluidity and high-level structuredness that inevitably stems directly from their jazz experiences and leanings - not many ensembles manage to bring this kind of stuff off, but AJO sure do - and take it further than most in the process! All the musicians involved play with a startling degree of accomplishment that (despite the fact that the pieces are all very consciously arranged) is not in any sense auto-pilot. Instead, their playing (solo and ensemble work alike) has a vital edge and drive, and proves to be more musically aware than the average note-spinners of the session world or the more strictly folky players might wish to embrace in their experimenting. Ben's playing in particular is extraordinary, also quite unconventional even in jazz or folk terms, transcending the usual sonic boundaries or stylings of those genres: he switches between "normal" acoustic and electric instruments with enviable facility, and once or twice I had to check to make sure it wasn't actually a keening electric guitar I was hearing! On a couple of other tracks, Gerard Mapstone and Robin Jones appear as guest guitarists (classical and electric respectively, while Philippe himself contributes a rather fine uncredited acoustic guitar part to Vauxhall Lasses. There are so many great ideas here (for instance I'd defy anyone to recognise Blow The Wind Southerly in this new guise!) that every track's a gem in its own right - and that idea-rich quality extends to the often cheeky track-naming. The sparkling encore, a bonus live track, is a show-stopping triptych of reels (Mitton's Set) that even takes in some boogie-woogie along the way. Though textures are busy, the whole is admirably crisply recorded, perfectly reflecting what I might call the musicians' exemplary instrumental diction in phrasing, and the recording has a superb presence too. Very satisfying indeed.
For a start, Johnson's pure but earthy vocals combine traditional leanings with a contemporary sensibility, so that you're as likely to hear Jacqui McShee and Sally Oldfield notes as Denny, Eliza Carthy or Rusby. The playing too is strong, exemplified by violinist Gethin Webster's short intro instrumental Kuebiko (a Japanese scarecrow deity) and the textures he brings to Manipulative Perspectives, Adrian Holden's intricate guitar work and Phil Daniel's smouldering ethnic hand drum percussion showcase on The Neverending.
The material stands tall too, with the bruised heart emotions of Self Pity, the heady musical interplay on Clear Your Conscience and the wounded Numb all highlights.
If there's a reservation it's that sometimes the percussion overwhelms the more delicate aspects, but there's no reason to think this isn't about to see their gig diary and order books about to become increasingly full.
This is a wholly refreshing, expectedly eclectic new offering from the man with the extra "A", a veritable "cook's tour" through the world of roots musics that's destined to end up on everyone's A-list playlist (at least, that's my own "serving suggestion"!). Over a stunning 30-year career so far, Maart's been in the lineup of countless folk and folk-rock bands (Fairport to Tull to Waz!) and played alongside more musicians than you could probably name - and that's not even mentioning his session work! So you wouldn't expect a solo album of Maart's to be anything other than supremely creative, stylistically wide-ranging and betraying a healthy mix of influences and inspirations. And so it proves, for over the course of nigh on 50 minutes Maart romps effortlessly through folk-roots, taking in storming Roumanian folk-dance tunes (Murfatlar), a driving hard-rock anthem (Everything Changes, with a suitably gutsy, strident lead vocal from Gilly Darbey), a fine, laid-back rendition of Brooks Williams' We Will Dance Someday (if ever one was made for Fairport to cover too!), a gentle, Satie-esque waltz (Armelle) and an evocation of an Austrian mountain view via techno-electropop with more than a dash of 10cc (Hafelakar). There's also several solid and inventive excursions into rocked-up arrangements of tunes (the pick of which are probably the kickass Tull-like New Breton, the grandly moody triumvirate of Hornpipes, and the Breathnach Reels set with its exhilarating key-change and Chris Parkinson's dynamic accordion playing).
Maart's gathered himself a grand little crew of musos altogether, but special mention must go to Paul Burgess and John Coghlan for some mighty drumming, and Chris Leslie for assorted violineries. And happily, we're not shortchanged on a large helping of Maart's own expertise on every stringed instrument imaginable, while even better, we also get to hear him singing two of his own compositions (the thoughtful and tenderly personal And There You Are and the lovely, simple Lullabye which forms an ideal album-finisher). But much as I heartily enjoy, nay adore, the jolly folk-rock japery of a hectic headlong rush through a set of Kerry polkas and all the tremendous instrumental shenanigans elsewhere on this disc, guess what's fast becoming my favourite track? A deeply affectionate re-creation of the eerie early King Crimson classic Moonchild, that's what! But hey, let's not quibble with the squiggle - this is all in all the best and most consistent set yet from Mr Allcook the Master Chef and ultra-talented musician, and what's more it should also appeal to a very wide spectrum of musical palates.
OX15 is the postal code of the adopted home of the Manchester-born Maartin Allcock whose fine musicianship has seen him accepted in the "Folk-Rock Belt," as that area of north Oxfordshire is known by those in the know.
The album opens with a finely bowed refrain from Chris Leslie's violin which is quickly joined by Allcock's piano, Simon Mayor's mandolin and then Allcock's muscular guitar. Called Daichovo Chara it is the first track on this, Allcock's second solo album, and the first of several instrumentals. From that fiddle intro, the track builds and builds - helped in no small part by the uillean pipes of Troy Donockley and Gerry Conway's always impressive drumming - producing a memorable melody.
Second track in starts with some fierce guitar riffing and, in addition to Allcock's first vocal of the album - one of only two - Whenever we see the dark features the oh so distinctive flute of Ian Anderson. While this is ostensibly a solo album, Allcock is joined throughout by a handful of muso pals, past band-mates and even, on one track, the wife on vocals. Anderson was Allcock's boss during the time he spent touring the world as Jethro Tull's keyboard player and both Leslie and Conway are current members of Fairport Convention, a band with which Allcock spent ten fruitful years.
In the sleeve-notes, Allcock states: "OX15 is a great place to live. We've been here for 12 years now and it really is home." This album, made with obvious love, skill and no small degree of fun, seems to reflect his fondness for an area the only drawback of which is the fact "it's a long way from the sea . . ."
I'm not sure what Allen studied in Liverpool, but if there was a course on 60s and 70s American folk rock then he was probably its keenest student. Judging by Dead Man's Suit, Friends and New Years Eve, Dylan was clearly high on the set texts, the first nodding to All Along The Watchtower and the others brazen revisitings of Forever Young and Girl From The North Country respectively.
Then there's young Rod Stewart for In Your Light (the song itself channelling The Band) and the bluesily soulful Happy Now (with added hammond organ and Dave Gilmour guitar), a touch of the Byrds for Down By The River while Bad Penny manages to evoke both Stealer's Wheel and Creedence. Showing his musical education embraced other eras too, Take Me To Heart does credible Billy Joel piano balladry and Young Man Blues surely nods to mid period solo Macca himself.
All of which, you'll have surmised, means this is decidedly derivative. However, that doesn't necessarily mean you should dismiss it out of hand. Allen has a kind of James Morrison quality to his voice which, along with a similarly unshaven tousled image, should sew up the impressionable young women market, and, while they may have obvious musical forbears, his songs and melodies are undeiably memorable, the country flecked Lay Your Burden Down firm evidence of genuine writing talent. This album probably won't do a Blunt, but, if he can leave his record collection at home next time he's in the studio, it could prove the first step of a solid career.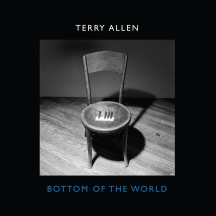 It's been 14 years since the Texas singer-songwriter last released a new studio album, during which time he's been busily involved with his painting, sculpturing and theatrical work. However, listening to that dusty Guy Clark-like drawl and hearing his often enigmatic lyrics, it's like he's never been away. Indeed, the album opens with a firm reminder of his past, once again (as he has done for all his albums) reworking a track off his 1975 debut, Juarez, here a more reflective version of emotional field trip Four Corners with Lloyd Maines providing the weeping pedal steel.
It's not the only revisited number, the second track, Queenie's Song, a Clark co-write about burying his pet dog after it was shot by some 's.o.b.' who 'must have got a gun for Christmas' originally appeared on Clark's 2002 album, The Dark. Likewise. with son Bukka on yearning accordion, the lovely Angels In The Wind is a honky tonk waltzer (with an oblique Ernest Tubb reference) that dates back to 1994 as part of Allen's theatrical production Chippy: Diary Of A West Texas Hooker and appeared on the 'soundtrack' album the following year.
All previously unreleased, the other songs (some new, some from other plays) offer a varied selection of themes and stories. Hold On To The House was the subtitle of his 2004 audio-visual work Dugout II, part of a love story set in 1950s America that he calls an "investigation into the end of the world, how memory blows up and changes everything", which makes a lot more sense when you hear him singing lyrics about making a stand in various rooms.
Introed by pedal steel, Do They Dream Of Hell In Heaven (from 2006's Antonin Artaud-themed Ghost Ship Rodez) is a wry reflection on rewards and regrets that's worthy (and reminiscent) of John Prine, the part-spoken Emergency Human Blood Courier with its repeated keyboard pulse unfolds a noirish tale on the Mexican border inspired by ten years of murders in Ciudad Juárez while, another moodily sparse spoken track drawing on real events, The Gift harrowingly addresses the tragic suicide of Mark Madoff, son of the Ponzi fraudster.
Elsewhere, the title track's a playful list of places he may visit (but never does) that manages to slip in an Ava Gardner name check and, a meditation on cinema as escapism, Wake Of The Red Witch, which also mentions The Robe, The Searchers and The Sands of Iwo Jima, recalls his childhood big screen hero, adding extra poignancy to the refrain 'John Wayne's dead.
The album closes with Sidekick Anthem and Covenant, two simple, sweet and tender melody-sharing love songs for his wife and collaborator of 52 years, actress, poet, playwright Jo Harvey Allen that leave you with a warm, fuzzy glow. 38 years on from that first album, while he may have been born in Kansas, this serves a timely reminder that Allen remains arguably the finest Texas troubadour of outlaw country.
Mike Davies April 2013
---
Terry Allen - Pedal Steal (Sugar Hill)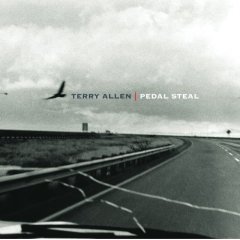 Here's a straight reissue of the Texas visionary maverick's 1985 magnum opus, a commission for the Margaret Jenkins Dance Company in San Francisco. It's an oddball experimental piece that's less a sequence of songs than - in Terry's own words - one "song", one track 35:44 long, for which he hopes that "the listener can sit down and listen. Flat out. That's how it's meant to be heard".
It's an extraordinary, if elliptical achievement, a kind of loose stream-of-consciousness narrative which takes the form of a continuous doomy Southern-Gothic tale of love, sex and death on the road, a story loosely based on an actual steel-guitar player (one of the first to use the instrument for rock'n'roll) who wandered Texas and New Mexico in the late-60s/early 70s. It conjures up a powerful atmosphere through simple devices, from the gentle ubiquity of chirping crickets to the lazy tuning of guitar strings and the fizz of the highway. A heady trip, set to a stunning and intensely logical parade of musical references and excerpts which easily incorporate passages of country hobo balladry, mariachi brass, Native American chant, heavy fuzz-sodden guitar and cascading drums, radical jazzy horn work and characteristically plaintive pedal-steel, with interpolated beat poetry and B-movie-style dialogue as well as short sections of straight screenplay narrative. And with musicians like Lloyd, Donnie and Kenny Maines, Butch Hancock, Richard Bowden and Bobby Keyes on board, Terry's Panhandle Mystery Band is no casual pickup ensemble.
Sure, there are times when it can all seem a mildly uncompromising listen, but keep at it, for it's one of those strikingly individual creations that deserves your attention and thanks to this fine new reissue it can at last be accessed properly and repeatedly and evaluated as the richly imaginative work it is.
www.terryallen.com
www.sugarhillrecords.com
David Kidman, July 2006
---
Terry Allen - The Silent Majority (Sugar Hill)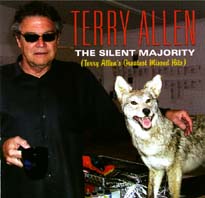 Sugar Hill's Terry Allen reissue programme continues with this weird and wonderful collection. Subtitled "Terry Allen's Greatest Missed Hits", it gathers together, with a perhaps unexpected degree of unity, what the insert note terms "out-takes, in-takes, mis-takes, work tapes, added-tos, taken froms, omissions and foreign materials"! Recorded variously during the decade between 1983 and 1992, in locations ranging from Texas to India, The Silent Majority's colourful patchwork of music, every bit as much as any of his other releases, embodies Terry's all-embracing philosophy as an artist in dedicating his muse to multidisciplinary creative pursuits, in other words as he says: "we have at least five senses that are all operating at once. Why not use them?"… It's correct that Terry's "modes of expression are only limited by his boundless imagination", and, as Terry's long-time collaborator Lloyd Maines realised early on when embarking on his 28-year musical adventure with Terry, "in art, there are no rules". And so there's some superb music here, where even the ostensibly more throwaway cuts like Advice To Children and High Horse Momma turn out to be laconic little gems of observation that you just can't (or won't want to) ignore. Big Ol' White Boys and a version of New Delhi Freight Train (remember the Little Feat version?) are just two of half-a-dozen choice cuts recorded in Madras that call to mind the scenario and potential vibe of the Dead jamming with Indian musicians, whereas some more orthodox jamming occurs on the 1988 Rollback outtake Three Finger Blues. There's also a bumptious mardi-gras-flavoured piece from David Byrne's True Stories movie (Cocktail Desperado). In truth, Terry's songs might all be termed "musical movies" depicting hitch-hikers getting misrouted into the strange wild badlands where country meets eastern and getting completely lost in many points in between. Terry's one of the great originals and if anyone ever deserved the epithet "compleat artist", then that's Terry. Back to Lloyd Maines: "Honesty, integrity and compassion are what he's all about. You can see it in his art and hear it in his music." And good on Sugar Hill for doing Terry full justice with this well-presented series of reissues.

David Kidman

Terry Allen - Juarez (Sugar Hill)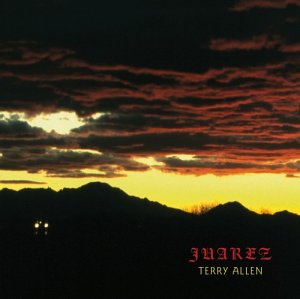 Originally released back in 1975, Allen's first album was actually put together as part of an art installation. Already a noted artist, he'd been invited to Chicago to do some lithographs. The printer had heard some of the songs and wanted to release then on record. So Allen did a series of prints using images from the story and recorded the album at 9am in the morning in San Francisco with his cousin, the road manager for Jefferson Airplane. A limited edition box set of album and 50 prints was pressed up along with 1000 ordinary LPs. It served to launch Allen on what would later be called the Americana circuit and would prove to be an ongoing project, subsequently developed into a radio show (Return To Juarez) which in turn he and David Byrne turned into a full-scale stage musical. He's even added two new tracks, the TexMex accordion jaunty list song El Camino and a more funereal fiddle scraped instrumental of the same name for this reissue.
A tale of sex, drink, obsession and murder, it involves a Mexican prostitute, a Texan sailor on shore leave, a Juarez born Pachuco (a flashy young Mexican-American) and his rock writer girlfriend, two couples on separate journeys to Cortez, Colorado where one pair murders the other before fleeing to Juarez.
If Brecht and Weill had been Texans, this is what they might have written, its journey from a seedy Tijuana bar, through East Los Angeles to a Colorado trailer park and a Mexican cantina serving as metaphor for the album's themes of the volatile nature of Mexican/American border relationships and the legacy of colonialism.
Recorded with just the bare bones of a guitar, piano and Allen's throaty growl and spoken links it's aged well, sounding even more cinematic these days (though perhaps now more for a Tarantino or Rodriguez than the Mallick or Hopper that was likely part of the original influences), Allen introing the suite with Texican Badman before providing a prologue that introduces the characters and brief synopsis. A story of dislocation and disappointment, it's rich in images and imagery as it unfolds the backdrop history of colonisation on the Neil Young-like Cortez Sail and paints pictures of the barroom losers sucking a Dos Equis in the Border Palace and the doomed anti-heroes breaking loose out of Dogwood.
Whisky breath raw folk country it breaks out into boogie blues with Writing On Rocks Across The USA and the biting There Oughta Be A Law Against Sunny Southern California before giving way to the bruised and leathered romance of What Of Alicia and Honeymoon in Cortez in the eventual run up the cornered god forsaken motel room suicidal despair of La Despedida. Ultimately both tantalisingly ambiguous and squalidly specific, heading into the realms of mysticism as the Pachuco character and his girlfriend merge into symbolic figures, the stark poetry of the music and the lyrics make this an enduringly potent work in the canon of contemporary American mythology.
Mike Davies
---
Terry Allen - Amerasia (Sugar Hill)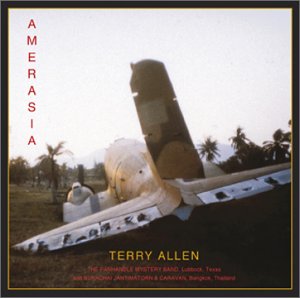 Sugar Hill continue their admirable programme of reissues of early and long-unavailable albums by that maverick Texan Terry Allen with this real curio, aptly described in David Byrne's brand new insert note as "an odd record, and a good one". Recorded in 1984/85 by Terry with his Panhandle Mystery Band (Lloyd, Kenny and Donnie Maines with Richard Bowden and Mark Murray), it purports to be a film soundtrack for a film that is no longer available. Terry actually visited South-East Asia to make the record, and some tracks were recorded in Bangkok with Thai (Laotian) musicians. For these cuts, Terry drew in part on on indigenous Thai musical tradition, but the juxtapositions are less false than you might imagine and the end product is an intriguing if uneasy blend of deep west and deep east, even though it doesn't quite transcend movie soundtrack functionality in its musical substance. The remainder of the cuts are songs which give Terry's personal response to the blowback from decades of the US presence in South-East Asia and the repercussions of globalisation, whereby both the Asian psyche and that of the Americans were irrevocably changed thereafter. Terry ends the soundtrack on a note of hope, Let Freedom Ring (a version of My Country 'Tis Of Thee with interpolated Thai lyrics). Amerasia may not be an absolutely essential record within the Terry Allen canon I suppose, but it's of interest nevertheless and worth acquiring before it disappears from the catalogues again. (Now Sugar Hill, let's have Juares please!)
David Kidman
---
Tony Allen - Home Cooking (Wrasse Records)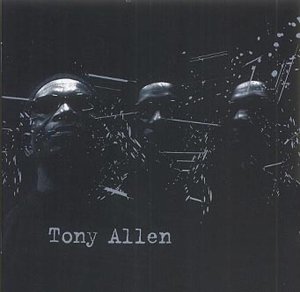 Though many soul and dance DJs have been picking up on Fela Kuti over the past few years, the smart ones know that the Afrobeat style was made by Tony Allen's idiosyncratic drumming style. Indeed, it still peppered the solo releases from Allen immediately after the demise of Fela Kuti. However, Home Cooking finds him pushing the boundaries of the style much further. The opening track has Ty from Ninja Tune providing a rap over the fat and funky rhythm. Yes, Damon Albarn is there, too. Though the contribution of the latter isn't obvious, it shows the extent to which Allen has opened up to other influences. The Home Cooking title track is an Afrobeat appreciation of culinary delight with a slice of soul. Indeed, this typifies the 'what goes around, comes around' feel to the record. Just as Tony Allen has influenced the soul scene, the latter is now being absorbed back into his music. Woman To Man takes on some scratching and checks Anita Baker's Rapture as it piles up the evidence of Allen's widening influences. Calling takes it down in a way that reminds you of Bobby Womack with a nod to George Clinton in its funky rhythm. But it's not all crossover, there's some African beats in 'Don't Fight' which remind you of those Fela Kuti days and 'Crazy Afrobeat' is just what it says. Who says that fusing musical styles doesn't work?
Steve Henderson
---
Amy Allison - Sheffield Streets (Urban Myth)
So named because she was married to a guy from the city and lived there for two years, the ringingly melodic title track (which sound a little like a countrier, uptempo You Raise Me Up with Northern brass) drifts back to memories of those days, the moors, the mills and, as she reels of a list street names, writing a song on a pub beer mat.
A lovely welcome to the latest offering from the daughter of jazz legend Mose, it also finds her highly distinctive adenoidal voice (sort of Emmylou on helium) sounding more readily accessible rather than something with which you have to come to terms before listening to the songs.
Once won over to her individual tones, she's impossible to resist as, produced by former Lone Justice drummer Don Heffington, she steers her album through old timey country, blues, jazz, and classic pop on songs that treat on love and rejection. On The Needle Skips, a song that sounds like it was meant to be heard on a crackling 30s steam radio, she compares the impermanence of love with a vinyl disc that's "only sweet as long as it's playing", while the dreamy 50s flavoured Calla Lilly metaphorically reassures a broken heart that "in the springtime you'll be born anew".
It's only three tracks in and already making claim for a space on the year end best ofs. And it just gets better. The gently swaying Anywhere You Are harks back to the days of big band crooners, Come, Sweet Evening soothes you into twilight time on lullabying wings and Dream World waltzes on softly whispered percussion (and Van Dyke Parks on accordion) through faded old dancehalls.
She's no stranger to the honky tonks, either. The dark veined bittersweet Mardi Gras Moon finds her reaching for her sleeping pills after being romanced and jilted in New Orleans while, sounding like a lost George Jones classic, I Wrote A Song About You has her crying in her beer as she laments writing a self-fulfilling prophecy about getting dumped.
She also revisits her back pages for three songs from two now out of print albums. From Old Dreams, recorded in 1998 when she was in Parlor Dreams, Why Must It Be? now comes complete with Spector sax and a melodic nod to the Crystals while that classic girl group 60s pop (with added twangy guitar) is also lovingly recalled on Hate At First Sight from her 1996 solo debut, The Maudlin Years. From that too comes Everybody Ought To Know's tale of a not so secret illicit romance, reborn as a honky tonker duet with Dave Alvin.
He's not the only celebrity guest. Slipping into noir jazz cellar blues, her cover of her father's Monsters of the Id not only has dad doing piano duties but long time admirer Elvis Costello sharing vocals. It's the only niggle with the album, not because it isn't any good (it's wonderful) but because, as the fifth track in, the mood sits uneasily with the songs around it and might have been better served as a final bonus cut. Now, perhaps someone could slip Richard Hawley a copy so they can swap Sheffield place names and think about maybe sharing a studio.
www.amyallisonmusic.com
www.myspace.com/amyallisonmusic
Mike Davies October 2009
---
Amy Allison - Everything and Nothing Too (Shoeshine)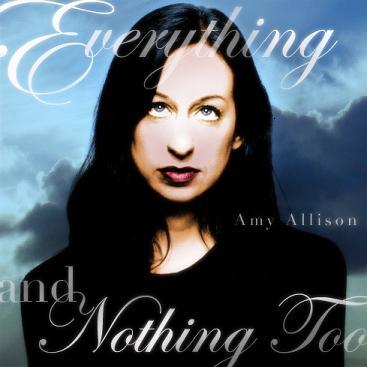 The daughter of jazz legend Mose Allison is a living definition of the term 'an acquired taste'. Imagine Natalie Merchant with a bad head cold and you're vaguely close to the sound of her adenoidal nasal vocals while others have compared it to a duck call or Sonny Boy Williamson playing English horn. But if you can acclimatise to that, the rewards are bountiful. There is, inevitably, a jazz element present, most evident on the liltingly waltzing old style standard feel of Just Give Me 'Moonlight In Vermont', but declaring such influences as Loretta Lynn, Billie Holiday, Elvis Costello and Morissey (the album includes a splendid jangling cover of Everyday is Like Sunday) the overall impression is more one of country and pop, with a dash of Celtic folk for good measure.
As such, Troubled Boy meets midway between 10,000 Maniacs and Kirsty McColl while both Turn Out The Lights and Rose Red are wonderful numbers that bear the twangy stamp of vintage Emmylou. And if Cyndi Lauper had ever decided to get into Celtic folk power pop then the result might have sounded not unlike Out Of Sight, Out of Mind. Lyrically, she's not the most cheery of folk with songs of broken or ill judged love affairs and generally nebulous sadness, but the songs themselves are so upbeat she wears misery with a smile and a spring. "I'm down on my luck but that's okay" she warbles on the gorgeous 50s country meets show tune Heart Of London, pretty much summing up her take on the world. From the bossa nova rhythms of Don't Go To Sleep and the jangly folk pop Don't You Know Anything to the closing front porch vibe of her cover of dad's Yes, on which he plays piano and harmonises, there's not a weak track here, but arguably the best of the bunch has to be Her Hair Was Red, a simple, harp rippling Celtic infused hymn to her grandmother that will simply make you melt. And you know what, by the time I'd played it all twice, that voice sounded like the most perfect thing in the world.
Mike Davies
---
Bernard Allison - Kentucky Fried Blues (Ruf Records)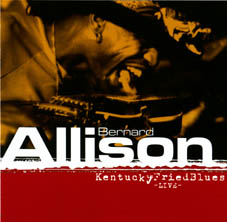 This is a live recording from the W.C. Handy Festival in Kentucky 1999 and shows Allison at his best. He matches his father, Luther, for stagecraft and excitement. The opening instrumental 'Buzz Me' is a good example of his stinging guitar work and he follows it up with the in your face 'Going Down'. Allison and the band are on top form here and they keep up the pace with 'Bad Love', which is the first of three songs by his late father. The other two are 'Life Is A Bitch' and 'Midnight Creeper'. The former is a funk-fest and the horns are given their place in the spotlight. 'Midnight Creeper' on the other hand is a bit of a departure from the norm. It is laid back and soulful - a complete change from the straight on electrified and charged blues of 'Going Down'.
The Buddy Guy penned ' Leave My Girl Alone' and 'Good Time Woman' by John Winter brings the album to a close. Allison rips it up on the guitar for an eighteen- minute dedication to Albert King and Stevie Ray Vaughan on 'Leave My Girl Alone' and brings out the bottleneck for a storming finale.
I'm sure that Luther is looking down on his boy and he has, at 37, a long career ahead of him. Bernard Allison is one of a new batch of blues performers and has the talent to take the blues forward in the 21st century. I wish him well.
David Blue
---
Luther Allison - Songs From The Road (Ruf Records)
It's hard to believe that Luther Allison died over 12 years ago as I remember reviewing him just around the day he died. This latest set, recorded for Canadian Television just 4 days before he had to cancel his tour in 1997 and never to return to the stage again, runs for 90 minutes on CD and 56 minutes on DVD.
Cancel My Check has a long guitar intro that sets the scene. Luther then adds his dulcet tones to his outstanding guitar for a storming start to this CD & DVD set. Living In The House Of The Blues is a standard electric blues performed by an above standard musician. What Have I Done Wrong (an often asked question) has Luther funking it up a little and he plays with such energy and Will It Ever Change has some superb guitar work as he sets the fret board on fire.
You Can, You Can is a swinging blues whereas There Comes A Time has a bit of audience interaction as Luther virtually talks his way through the song. The latter adds some funky keyboards and a bit of swing. Allison's guitar always reminds me of BB King and sometimes even his voice does too. He even makes his guitar talk towards the end. (Watching You) Cherry Red Wine is a big, powerful instrumental that shows Allison at his best. Low Down & Dirty, written by his son, Bernard, is energetic and adds to a great build up to the end of the album It Hurts Me Too is a famous old song and Allison treats it well and he finishes with the funky and gritty Serious, keeping it short, unlike most of the others.
David Blue January 2010
---
Luther Allison - Underground (Ruf)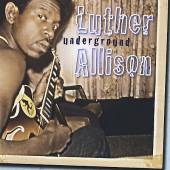 Luther Allison needs no introduction to blues aficionados but for those not acquainted with his work can be assured that they are listening to one of the modern blues greats who, unfortunately is no longer with us.
Lost recordings released for the first time - a statement that always makes the music world sit up and listen and in the case of Luther Allison it is well justified. However, the claim that this set is making its debut is far from clear. These songs were allegedly sitting in Luther's home for approaching 50 years before his son, Bernard, discovered them. They were originally thought to have been recorded in 1958 (according to Bobby Rush) but recent findings show the sessions are most likely not to have been before 1967/68. Putting all of that aside, it is good to hear any early Luther Allison material. The opener, Hide Away, is a vibrant, raw R&B instrumental and is followed by the often recorded Don't Start Me Talking, which shows the beginnings of his strong vocal and guitar work. Drivin' Wheel features slide guitar and has a very contemporary sound, leading into Cut You Loose before he unleashes Easy Baby. This confirms that he was mature before his time and although the voice was still a little raw it isn't much of a problem. You're Gonna Miss Me is, quite simply, a highlight. Take My Love is a strong R&B boogie and BB King's (I think) Rock Me Baby is a slow electric blues with excellent slide guitar. BB King songs need a strong vocal and Luther delivers with interest.
It's only half an hour long, and may not be what it claims on the cover, but it is an important release nonetheless.
David Blue January 2008
---
Luther Allison & Friends - Pay It Forward (Ruf Records)
A collection of recordings from 1984-1994 during Luther Allison's stay in France and released five years after his death to celebrate what would have been his 63rd birthday.
The album opens with the reggae tinged I Wanna Be With You – an excellent diversion for Luther. He then returns to all-out blues with Still Got The Blues (not the Gary Moore classic) on which he shares vocal and guitar duties with James Solberg.
Dock Of The Bay is maybe not the kind of song that you'd expect to find on a blues album, but hey this is Luther Allison. This was one of his encore pieces from the 80s and, with the backing of the Muscle Shoals Rhythm Section, is pulled off and was obviously a crowd pleaser.
Just As I Am is a spiritual ballad – the kind that BB King excels at. This shows that Luther could do it too. The vocals are shared on this one with the gritty Marla Glen. Solberg and Allison provide some excellent guitar work here.
We get some delta blues thrown in with 'Nobody But You, on which Luther has the considerable help of Patrick Verbeke. There seems to be a Greek influence to Perfume & Grime but this soon gives way to the screaming guitar of Allison and Otis Grand. The Horns Of Holland provide the backing for Cherry Red Wine, which was a Handy Award winner. This is Luther Allison at his best and is the highlight of the album. His guitar work here is second to none.
Luther's son Bernard wrote the next track, Idols In Mind and both he and Luther get with the funk on this one. The Muddy Waters classic Hoochie Coochie Man is the next to get the Allison treatment and Luther has Ken Lending beside him on guitar.
Slipping Away and the final album track Love Is Free are ballads with, on the former, powerful vocals from Luther and Joanna Connor and the latter showing Luther at home with any pace of song. This leads into a bonus jam with Friend 'N Fellow and it is a fitting finale to an album that shows how much friendship meant to Luther Allison. Ruf Records have come up with a fitting tribute to a great artist.
David Blue
---
Gregg Allman - Low Country Blues (Decca/Rounder)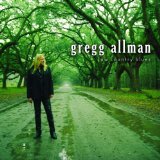 Founding member of the legendary Allman Brothers Band, cornerstones of 70s Americana-rock, Gregg Allman survived the death of brother Duane and launched himself into a prolific solo career for many years, releasing the hitherto-latest of the series of albums Searching For Simplicity back in 1997. After which, Gregg had felt little impetus to return to the recording studio since the death in 2002 of Tom Dowd, his regular producer; that is until meeting with T-Bone Burnett last year, following which the recording of this new album with T-Bone and his band was a swift development. Though scheduled for release in 2010, the album's been shelved until now due to Gregg undergoing liver transplant surgery back in June. The healing process now virtually over, Gregg's eagerness to get back on the road and tour the new material is palpable, signalled by the sheer tensile strength of this vital new record.
All T-Bone's trademarks are present in this production, but at the same time it's so recognisably a Gregg Allman masterwork, right from the opening bars of Floating Bridge (spectral rockabilly set in a layered T-Bone soundscape) but more especially on cuts like Little By Little, whose keyboard-led bluesy groove and reverb-laden vocal is capped off with some signature guitar licks, and the spare, aching twelve-bar of Devil Got My Woman. It's back to jagged bluesy rockabilly for I Can't Be Satisfied, after which, midway through the disc, the soul element comes to the fore on the sequence that starts with Blind Man and builds through Just Another Rider to climax with the Fats Domino-like R&B-cum-doowop vibe of Please Accept My Love. The tempo then stays slow-burn and soulful for the rest of the record, with the exception of the plaintive I Believe I'll Go Back Home and the opaque train rhythm of the closer Rolling Stone. Celebrating the conjoining of two kindred musical spirits, this eminently self-assured offering is a tasty record allright.
David Kidman January 2011
---
The Allman Brothers Band - One Way Out: Live At The Beacon Theatre (Sanctuary)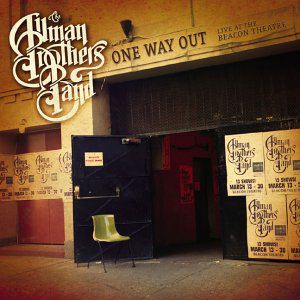 With the legendary Live At The Fillmore album back in the racks, freshly remastered and reconfigured (and with the surround sound mix waiting in the wings for SACD release), here comes the 2004 Allmans with yet another live double. Question is, what the hell have they done in the intervening thirty three years? Well in factual terms, rather a lot. They've issued twenty four studio albums and untold live sets; seen a legendary lead player - Brother Duane - killed in a motorcycle wreck, lost a bass player in the same way (spookily on exactly the same spot) and parted company with the band's other long term guitarist allegedly over pharmaceutical differences. In musical terms nothing's changed. Butch Trucks and Jaimoe - now strengthened by Marc Quinones percussion - continue the double drum foundation whilst Warren Haynes, who might indeed be classed as a veteran these days, and young - he wasn't born when the band was recording the Fillmore album! - Derek Trucks continue the twin guitar jams that hallmark the Allmans work. So, the sensible money's on me now declaring this release to be the work of jaded, dated, irrelevant old men (barring young Trucks, of course). Well pass the cash right now because it is really rather invigorating. Sure Haynes and Trucks lack the subtlety and nuance of Duane Allman and Richard Betts, but face it how many men have ever strapped on a Les Paul and equalled Duane Allman? What they offer is attack, passion, feel and a virtuosity that was seemingly outlawed way back when. It's good to hear this band stretch out on simple blues themes like Good Morning Little Schoolgirl and Worried Down With The Blues whilst offering a Phylosanned kick in the but to warhorses like Midnight Rider, Wasted Words and Whippin' Post. If you have to make a choice you'd be better off with the revitalised Fillmore album. However if you're in a post pub pint by your side Amazon binge add One Way Out to the basket. It'll be the one thing you don't regret in the morning.

Steve Morris
---
Devon Allman - Turquoise (Ruf)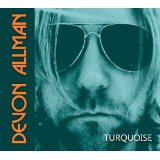 As the son of Gregg, although he never capitalised on the family name it was almost a given that Allman would follow the Southern jam rock path, which indeed he did, forming Honeytribe in 1999 and making several appearances with his father's band. However, it would seem he's had a musical make over and, in his own words (on Turn Off The World) decided to 'wash off some of that rock n roll".
So, with Jim Gaines in the producer's chair, his solo debut is very much steeped in country and country-soul, at times suggesting the influence of Cyril Neville with whom he's toured as part of Royal Southern Brotherhood. It opens with two up-tempo tracks, a ringing Southern country rock When I Left Home that looks back over 20 years on the road and features Luther Dickinson on slide, and Don't Set Me Free, an organ and guitar driven number evocative of Petty & The Heartbreakers. To which end, it's no huge surprise when two tracks later, you find yourself presented with a cover of Stop Draggin' My Heart Around featuring Samantha Fish sharing lead vocals.
With the exception of There's No Time, a decidedly Allmanesque groove co-penned with newcomer Tyler Stokes that encompasses African and Latin flourishes, the other tracks all take the pace down to a slow soulful or bluesy groove with an air of reflection informing the likes of Time Machine, Strategy, life on the road number Homesick and his domestic trilogy of Into The Darkness, Key Lime Pie and the acoustic guitar instrumental Yadira's Lullaby variously written for and about his girlfriend and their son.
A warm, relaxing and at times honeyed album, it may be a different shade of blue but the Allman colours still shine with real lustre.
Mike Davies February 2013
---
Devon Allman's Honeytribe - Torch (Provogue)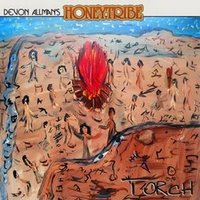 Son of Gregg Allman, Devon & Honeytribe, hopes to carry the family name on to new heights with this, his debut album for the excellent blues/rock label, Provogue. Torch has eleven originals from Allman and they open with the eponymous title track which is blistering funky rock. Allman's deep vocal tones are intoxicating and he follows in the family tradition for classy guitar playing. This is a classic rock album opening track. The instrumental Mahalo has shades of 70s style San Francisco rock. If you like your guitar rock then you are going to fall for this so get your wah wah out! You wouldn't normally expect to find a Bob Marley track on an out and out rock album but Allman's treatment of No Woman, No Cry is sheer class! It's hard to take such an iconic song and not do damage but you will love this. When I Call Home is an altogether slower pace and this easy rocker is so slick. Perfect World is a big blasting grungy blues that announces a new star to the firmament. Mercy Mercy has Joe Bonamassa on lead guitar and he burns up the frets. This is stunning as Bonamassa brings a different flavour to the Honeytribe of George Potsos on bass, Mark Oyarzabal on drums and Jack Kirkner on keyboards. Something I Know is slow, stadium rock and Heaven Has No Mercy is a Southern style rocker with acoustic slide from Pedro Arevalo. The up-tempo Why You Wanna Bring Me Down is a rocking blues and the second instrumental, 511 Texas Avenue, shows Allman's fantastic technique on acoustic guitar. They close with Nothing To Be Sad About, an uplifting, good time blues where the title says far more than I can. This is one of the albums of the year.
David Blue August 2007
---
Jim Almand - Power Of The Spoken Word (Zuzax Trax)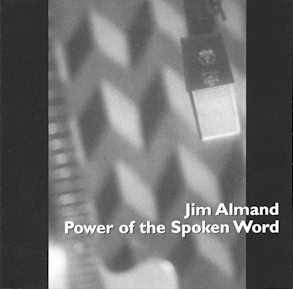 Open the CD box and you will find Jim Almand staring at you like some kind of pirate complete with eye-patch. Memphis-born Almand is not what he appears though. You could be excused that you are in for some John Campbell blues or some Dr. Hook & The Medicine Show country-rock but you would be mistaken.
The opening track, Roll The Dice, is an open topped car, long road cruising track. This is the start of a journey - an eleven track, wholly self-written jewel that reminds me of days gone by. Most of the songs have a live feel - this is down to Almand trying to get as many first takes on the album. I've never been to America but I imagine that this is the kind of quality music that you can hear all over in small, intimate venues. The second track Lilly And The Bone is a classic tale in the vein of John Mellencamp. For The Longest Time and Without You are not to be confused with other, more famous songs of the same name.
Almand is a storyteller to the end as epitomised by the tale of Jeffrey. This, along with the simple, folksy Shalako and Gypsy Eyes with its faraway sound, are among the highlights. You could lose yourself quite easily in these songs. The traditional style folk/country offering Up On The High Road is as upbeat as things get on this laid-back album and the title track is a strange folk-blues. I love the titles of Bums At Sunset, inspired by a Thomas Wolfe short story and Lilly And The Bone.
Although melancholy in places, this album still manages to somehow lift the spirits.
David Blue
---
Altan with the RTE Concert Orchestra - 25th Anniversary Celebration (Compass)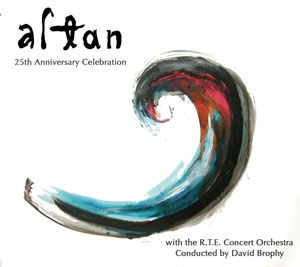 Irish traditional music with an orchestra in tow? Well the benchmark was set by Seán Ó Riada of course, notably on his soundtrack work, and subsequent essays in this vein by the Chieftains especially have survived remarkably well. But all too often where an orchestra has become involved in crossover collaboration with "real" folk musicians the result has been a layering of schmaltzy lushness and a thickening of textures that totally obscures the drive and gusto of the traditional music it purports to celebrate.
But to be fair, the raison-d'être of this commemorative effort is perfectly valid and the results could have been far worse artistically - in terms of offending the sensibilities of traditionalists. It's been five years since Altan's last studio album (Local Ground), and it was time for a new release certainly, and marking the 25th anniversary of Altan as a performing unit is as good an excuse as any for celebration. To be honest, the playing on this ambitious new studio set (which presents reworkings of tunes and songs drawn from seven of the band's ten studio albums) is fittingly superb, faultless as befits an occasion, everyone on their best behaviour but still with enough spark to indicate that the band still loves playing and continues to respond to the tradition. It's impossible to tire of the music, in other words. And of course Mairéad Ní Mhaonaigh sings as purely and peerlessly captivatingly as ever, while none of her fellow-musicians make any concession to accessibility or sentimentality just because they have a full orchestra behind them.
To arranger Fiachra Trench's credit, the orchestral settings don't always swamp the band with unnecessary thickness, and some of the faster tunes like Tilly Finn's Reel and The Humours Of Westport come off surprisingly well (it's a bit like coming to terms with Dvor(ák's or Brahms' arrangements of folk dances, I guess). But the glutinousness quotient does tend to intrude on several of the songs and slower items, particularly the bland and over-twinkly scoring adopted for I Wish My Love Was A Red Red Rose and Soilse Na Nollag (the disc's only item not sourced from an Altan album tracklist but instead from a Celtic Christmas sampler).
Having said that, there are times when the orchestral counterpoint is given a more creative part to play, as on Gleanntáin Ghlas Ghaoth Dobhair. Additionally, A Tune For Frankie (which Mairéad wrote shortly after the untimely death of Altan co-founder Frankie Kennedy) is given a magisterial, rich and suitably uncloying performance here, Dónal Agus Mórag has probably never sounded finer, and the flute line in The Sunset is refreshingly unobscured by over-orchestration. And Altan trademarks such as those glorious twin-fiddle lines (Mairéad and Ciaran) are still very much present and correct even with the more grandiose gestures being conducted on the stage behind. Occasional orchestral embellishment ain't always a bad thing, and as occasions go, this one is warm, welcoming and sustainable.
David Kidman April 2010
---
Altan - Local Ground (Vertical)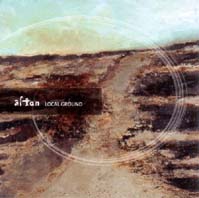 Donegal's finest, Altan, here reach the milestone of album number ten with a further switch of label (Virgin to Vertical - will they move to Warner next time I wonder?). This outfit never disappoints, although one or two of their previous album releases have somewhat deceptively presented an air of occasional insubstantiality through their enviably light and airy textures and relaxed attitude. If anything, Local Ground is even more relaxed in demeanour, although I don't intend that as a criticism in any way for it's a joy from start to finish, with the band clearly doing what they enjoy best and feel most comfortable with – on their "local ground", indeed. The equitable and well-balanced tracklist consists of six songs (three are sung in Gaelic, three in English) and seven instrumental sets/pieces, each one delivered with all the characteristic flair and innate finesse we've come to expect from Altan. The first track, Éirigh's Cuir Ort Do Chuid Éadaigh (Arise Now And Dress Yourself) is a strong choice for opener, with some felicitous instrumentation including a guest cameo from Donal Lunny (guitar), but is spoilt by being faded out at just over three minutes (this unfortunate and pointless engineering decision is taken on the song Amhrán Pheadair Bhreathnaigh later on the disc too). Then the tunes begin in earnest with a sparkling set of reels, given a tad extra body by a keyboard part (courtesy of Graham Henderson), followed by an unusual jig (Is The Big Man Within?), the stateliness of whose melody line is accentuated by the guest musicianship of Carlos Nuñez on whistles and gaita (Galician bagpipes); this is the first of two tracks on which he appears, the other being the delectable jig-and-slipjig set The Silver Slipper). Mairéad's version of Adieu Sweet Lovely Nancy, learned from Julie Henigan, is a welcome change from the version normally sung, both in terms of melody and text, and the arrangement employed is delicate and unobtrusive. I also liked her take on The Wind And The Rain, but found As I Roved Out a little ordinary by comparison. Another album highlight comes in the track 5 set which melds together three tunes in different time signatures (the first two of which come from the Donegal fiddling tradition), and features some beautifully sprung rhythms (especially from Dermot Byrne's accordion). Talking of rhythms, the spirited twin-fiddle front-line attack from Ciaran Tourish and Mairéad Ní Mhaonaigh is rightly to the forefront on The Humours Of Castlefin, another indigenous Donegal reel. Altan's guitarist Dáithí Sproule composed the quirky tune The Roseville, a rather attractive piece again in an unorthodox time-signature which refuses to get the band wrongfooted, such is their easy virtuosity - but I wish it had been combined with another tune for its 2½ minutes are over almost before you can say Minnesota! It's good to hear Jim Higgins guesting on bodhrán on a few selections, and Ciaran Curran's sprightly mandolin playing, an unbridled joy, is prominent on the jig Sport and a couple of the earlier tune-sets. Then, as if we're tired out from all that exertion, Mairéad soothes us with a beautiful old lullaby to round off the album. Fleet-footed and fresh-sounding as always, this latest offering from Altan, though breaking no new ground, delivers all the expected goods and therefore will not disappoint.
David Kidman
---
Altan - The Blue Idol (Virgin)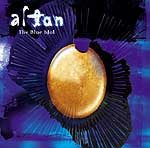 This extraordinarily fine album, Altan's ninth if I count aright, presents us with the band's most well-formed compromise to date, yet without sacrificing any of their innate professionalism or intense musicality. Why a compromise? Well, since moving to the Virgin label Altan have shifted the musical focus of their recorded work onto the softer-focus presentation of songs rather than the rawer instrumental shennanigans typical of their native Donegal. Nothing wrong with that as a sales strategy, but some of the listeners familiar with Altan's earlier albums have felt a mite shortchanged of late. No worries as far as I'm concerned though; the major-label polish is certainly still as much in evidence on The Blue Idol as on Another Sky, but I feel that rather more of the band's live fieriness has been brought into the instrumental sets on this latest offering. The musicians' relaxed virtuosity is specially winning on cuts like the title set, the pair of highlands and the Trip To Cullenstown reels, for example, and the twin fiddle work is outstanding (take another bow, Ciaran and Mairéad!), as is Dermot Byrne's prowess on the humble button accordion. But here it's probably the songs (six out of the album's thirteen tracks) that will make the most impact, as their greater overall delicacy dovetails with some bold and interesting instrumental and interpretative touches. The opening Daily Growing begins to an understated keyboard figure that could only be Donal Lunny (and so it proves…). Donal's the first of rather a large number of guests who drop in on Altan for the album; the roll-call includes Paul Brady (duet vocal on that opener), Dolly Parton (duet vocal on The Pretty Young Girl - as a return favour for Altan's appearance on her own Little Sparrow album, no doubt), and Mairéad ní Mhaonaigh's sister Anna (superb vocal on one of the album's two Gaelic-language cuts, Cuach Mo Lon Dubh Bu, which also features some pushy, jazzy sax work from Richie Buckley). Guest instrumentalists include young Belfast flute player Harry Bradley(bringing that instrument back to the band's mix at long last), master uilleann piper Liam O'Flynn (great work on the Roaring Water jig) and bodhránist Jim Higgins. Only very occasionally do you feel that the guests are in danger of outnumbering the band, and this detracts not a whit from the dominant impression that Altan are indeed still at what the marketing bods insist on calling "the cutting edge of Celtic music".
David Kidman
---
Alva - The Bells Of Paradise (Beautiful Jo)
Essex duo Alva's previous release Love Burns In Me was one of the most captivating of 2003, and made great capital out of combining English and French sources, songs and tunes, in spare, uncluttered and uncomplicated settings. The Bells Of Paradise, however, rings the changes (sorry - couldn't resist!) by concentrating exclusively on British-originated repertoire, 10 of the 14 tracks being creditably simple settings of actual folk songs; several of these (like The Lark In The Morning and The Golden Glove) were collected by Vaughan Williams in Essex almost exactly a hundred years before the recording sessions for this CD took place. As before, Vivien Ellis sings with er, bell-like purity and exemplary clarity, while Giles Lewin's instrumental accompaniments (fiddle) are a model of refinement. Having said that, Vivien's hurdy-gurdy is used to good effect to provide a drone accompaniment for the title track. Since the duo approach folksong via their chosen metier (early music - for they're both members of the Dufay Collective), this clean-ness and refinement isn't surprising - in fact, you might anticipate a somewhat rarefied, even academic or studied ambience to their music-making; but what might seem surprising is how much emotion they manage to coax from the texts. Vivien's fine unaccompanied rendition of Bushes And Briars is a case in point, both flawless in execution and deeply felt, and Long Lankin gains much from Giles's atmospheric prelude, which is overlaid with a short spoken introduction taken from Scottish versions of the ballad. I also liked the duo's thoughtful "composite" version of A Blacksmith Courted Me, and their duet rendition of Higher Germanie. Aside from the songs, there's a set of hornpipes, one of which comes from John Clare's manuscripts, as does The Nightingale, a short tune played by Giles on flute. The remaining non-song tracks, however, are vocal rather than instrumental: both are more forthright and gutsy in character than the songs: one's a sequence of vibrant street cries, the other's an American shape-note hymn (Pilgrim) which uses a melody that's unmistakably related to versions of several English folksongs collected by Vaughan Williams (hence the connection). On Pilgrim, Alva's two voices are joined by Mick Verrier. The CD closes with a lullaby (Hush, Little Babbie), delicately sung over pizzicato fiddle; this piece comes from the singing of Kerry traveller Winifred Ryan, and forms a fitting and magical end to an equally magical release.
David Kidman
---
Alva - Love Burns In me (Beautiful Jo)

This album inhabits the fruitful hinterland where traditional folk meets early music. Pure and unadulterated, the only sounds being those of the singing of Vivien Ellis and the fiddle of Giles Lewin. Spare and lean the textures may be, but there's no shortage of richness, sensuality or emotional power in Vivien's haunting renditions of folk material of varied provenance (British and French). Both Vivien and Giles currently perform with the acclaimed early music group The Dufay Collective; Vivien's also a member of the ensemble Sinfonye, while Giles has also worked with After Hours and Maddy Prior's Carnival Band.
The two musicians work very much hand in glove, and Giles's musical response to Vivien's singing is impressive and immensely intuitive, equally so on the modern or medieval fiddle. The duo originally called themselves Alba, after the medieval ancestor of the "dawn song", wherein lovers who meet secretly at night must inevitably part at sunrise; the album includes two examples of this genre: I Love My Love (set to the melody normally associated with Blackwaterside, which the duo learnt from Mick Sands), and the 13th century Sanc Fui Belha (from Southern France, and sung in Occitan, the language of the troubadours).
It's surely a tribute to the duo's artistry that never do their performances sound preciously arty or selfconscious, and their ten-minute version of Fair Annie is so beguiling that it's almost over before you realise it. Choice of repertoire is enterprising too, for they comfortably tackle the Shetland ballad King Orfeo alongside a pairing of Lovely Joan and a French pastourelle. I also particularly enjoyed the invigorating short set comprising no less than three versions of The Cuckoo's Nest: the Irish fiddle tune followed by a Lowland Scots variant of the song and concluding with an intriguing Gaelic mouth-music vocalisation. Two brief but telling instrumental selections complete this mesmeric and captivating release.
David Kidman
---
Dave Alvin - Eleven Eleven (Yep Roc)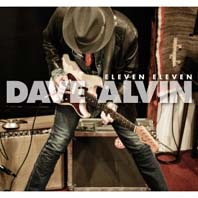 Respected by his peers, looked up to by young guns and a pioneer in his field, despite a dedicated fan base for whom he can rightfully do no wrong and winning a Grammy for his 2000 covers album of traditional folk tunes, he's never had the mainstream success of contemporaries in the same line of Americana rock n roll.
Thankfully, while much in demand as songwriter, session guitarist and producer, he's still found the time and the finance to keep releasing quality solo albums. Anchored by the gritty, blues feel of numbers like Harlan County Line and the sleazy Dirty Nightgown, this, his 11th, has been his most successful to date, reaching #31 on the Billboard Independent Album charts.
It's also the first in 24 years for which he tore up the rule book. Songs were written on the road and recorded in breaks between tours, he reunited with pianist Gene Taylor with whom he last recorded on the final Blasters album 26 years ago and, for the first time ever, duets with brother and Blasters singer Phil. It's a pity, though, that the lyrically whimsical bog standard blues What's Up With Your Brother? didn't make the occasion more of an event worth the 31 year wait.
The duet does, however, tie in with the album's pervading connection to the past and the shadow of mortality. The self-descriptive Johnny Ace Is Dead travels back to Houston, Texas, Christmas 1954 as, driven along by a propulsive rhythm and choppy guitar, he recounts the charismatic r&b singer's accidental death when, looking to impress the girls. he cockily put a gun to his head and pulled the trigger, name checking Big Mama Thornton among the witnesses and record boss Don Robey's plans to cash in on the tragedy.
Death stalks other tracks, too. Delivered in Kristofferson talk-sing manner, country ballad Black Rose Of Texas recalls the long distance phone call informing him of the suicide of troubled violinist/singer-songwriter Amy Farris from his Guilty Women band while the bluesy roots rock Murrietta's Dead tells the story of an impoverished California farmer turned bounty hunter inspired by the real life hunt for Mexican folk hero/outlaw Joaquin Murrietta.
History (and political comment) is also at the heart of talking honky tonk piano blues Gary, Indiana 1959 which harks back to the famous steelworkers strike as, 50 years on, a former worker contrasts solidarity then with contemporary industrial decline, corporate tyranny and every man for himself mentality.
Looking back isn't always so dark. Joined by Christy McWilson from Guilty Women and evoking the duets of John Stewart and Buffy Ford, lovely folk ballad Manzanita warmly recalls a youthful romance to keening steel accompaniment and strummed acoustic.
But it's a rare upbeat moment and if nobody actually dies in No Worries Mija, a gentle border ballad with fingerpicked acoustic and accordion, you can't help but suspect the fate of the illegal Mexican immigrant promising his wife that all will be well won't end happily.
A Bo Diddley rhythm rocker about a former boxer fallen on hard times, no one dies in Run Conejo Run either, but there is a metaphorical journey through the dark night to the rising sun and it's hard to not to read in references to his friend, musician (and former boxing champ) Chris Gaffney who died of cancer in early 2008.
However, after all this loss, the album ends on a note of hope. The last time they recorded together, Two Lucky Bums is a duet with Gaffney which, accompanied by harmonica and much in the Hope and Crosby soft shoe shuffle style of the 40s Road To... movies, is all about taking life as it comes. And, by its very existence, proof that death doesn't have to be the end.
Mike Davies July 2011
---
Dave Alvin And The Guilty Women - Same (Yep Roc Records)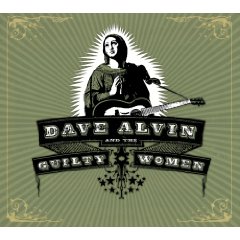 Last year's three-day Hardly Strictly Bluegrass Festival, the eighth such event, took place at the Speedway Meadow in Golden Gate Park, San Francisco. The bill on Saturday 4th October included the debut performance by Dave Alvin And The Guilty Women. Eight women – acknowledged masters of their chosen instrument(s), who hail from a wide range of musical genres - took the stage that day, namely Cindy Cashdollar (steel guitar, lap steel), Nina Gerber (electric guitar), Laurie Lewis (violin, mandolin, harmony vocals), Christy McWilson (lead and harmony vocals), Sarah Brown (bass), Amy Farris (violin, viola, harmony vocals), Lisa Pankratz (drums, percussion) and Suzy Thompson (accordion). Unrehearsed, ten songs later the players and audience knew they had just experienced something quite special.

Alvin and seven of the aforementioned pickers cut this twelve song set at Asleep At The Wheel founder Ray Benson's Bismeaux Studio in Austin last December, plus there are guest appearances by Thompson and Marcia Ball (piano). Half the songs are Alvin originals; there's a trio penned by band members topped off by the same number of covers. From his days with The Blasters, their Golden Gate set ended with Alvin's Marie Marie. Featuring the twin fiddles of Lewis and Farris the song gets this album off to a great start.

Alvin also penned the ensuing numbers California's Burning and Downey Girl, the former references the drought ridden state's summer wildfires, while – without naming her - the girl is Karen Carpenter who lived in the Los Angeles County town where Alvin and his older brother Phil grew up. At the dawn of the new millennium McWilson, vocalist in Seattle's The Picketts, cut a couple of tasty Alvin produced solo albums for Hightone Records and she takes the lead on Weight Of The World (from Y2K's The Lucky One), and, later, on the achingly beautiful but sad lament Potter's Field – both of which she wrote. Prominently featuring solos by Cashdollar, Farris and Gerber, in the boogie woogie paced Boss Of The Blues Alvin recalls, as a teen, meeting one of his favourite musicians Big Joe Turner. In the process of relating Turner's musical history, Alvin's lyric name checks T-Bone Walker and Duke Ellington.

Alvin and Farris share the writing credit on the ballad Anyway (the title of her rather fine Alvin produced debut album), while Anna Egge and Jimmie Dale Gilmore penned River Under The Road with Sarah Brown. Gerber toured for over a decade as support guitarist for the late Kate Wolf (d. 1986) and from that folksinger's vast song catalogue Dave and the girls cover These Times We're Living In. Alvin's beloved mother, Nana, and some guitar toting music legend by the surname of Hendrix are the principal players in Nana And Jimi. Completing this collection is an almost seven minute long rendition of Tim Hardin's classic Don't Make Promises on which he's joined vocally by Christy, and the pair also team up on the closing Que Sera, Sera (Whatever Will Be, Will Be) the 1956 # 2 transatlantic hit for Doris Day.

The song arrangements here are transcendent; the support and solo contributions by the Guilty Women are sublime. At over fifty minutes duration Dave Alvin And The Guilty Women's marriage of folk, country, blues and rock 'n' roll and beyond, is a shoe-in for one of 2009's Albums Of The Year. Score 10 out of 10

Arthur Wood, Kerrville Kronikles May 2009
---
Dave Alvin - West of the West (Yep Roc)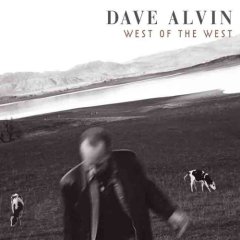 Taking time out from his own, widely acclaimed, songwriting, the sometime Blasters singer/guitarist once again has put together a collection of covers, a follow up to his Grammy winning Public Domain. Where that explored traditional folk, this pays tribute to his fellow Californian songsmiths, pulling together well known names like Jerry Garcia/Robert Hunter (Loser), Merle Haggard (Kerne River) and, inevitably, Brian Wilson (Surfer) with more obscure or overlooked talents such as Richard Berry (the bluesy country I Am Bewildered) and Jim Ringer (Tramps and Hawkers).
Opening with a slowed down, more reflective version of John Stewart's California Bloodlines, sounding in warm, brown relaxed vocal mood Alvin's treatments are affectionate but never so over reverential they feel obliged to stick to the original blueprints. Thus Tom Waits' Blind Love becomes a slouching late night ballad and John Fogerty's Don't Look Now a bluesy barrelhouse boogie while Jackson Brown's Redneck Friend turns into a swampy workout.
But it's the lower profile names that provide the choicest moments. The Texicali chugging Between The Tracks, is a revisit to an early 90s collaboration between Alvin and Tom Russell and while it was Russell who's probably best known for his recording of gunfighter ballad Sonora's Death Row, here Alvin pays due credit to the writer, Kevin 'Blackie' Farrell while his duet with Christy McWilson on Kate Wolf's poignant Here In California rivals his David Lynch and doo wop approach to Surfer Girl as the album highlight. A bit of a California sunshine treat all round.
Mike Davies, July 2006
---
Dave Alvin - Ashgrove (Yep Roc)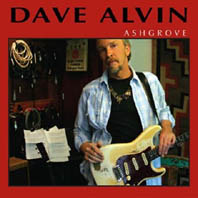 If you're torn between the electric rock n roll Alvin played with The Blasters and the his dusty roots country acoustic work of solo albums like King of California, this offers a useful compromise.
Named for the blues club he frequented in his underage youth and which provided his formative influences in the shape of such artists as Muddy Waters, Lightnin' Hopkins, and Taj Mahal, the opening six minute title track slow boogie offers a gruff drawled reflection on his roots, where life's taken him and a desire to get back to the blues where he belongs. Certainly that barroom blues spirit inhabits a moody Black Sky, the slow swagger Out Of Control, a gutsy slow burn Black Haired Girl and, evocative of Johnny Cash in his bluesier moods, the swampy Sinful Daughter.
Personally I prefer Alvin's folkier side, and there's plenty of solid material here to satisfy those of similar preferences. Rio Grande is a country tinged road song number with an upbeat train rolling rhythm that wouldn't sound out of place on a Butch Hancock or a mid period John Stewart album while the closing Somewhere In Time is a delicate acoustic six minute reverie of roads travelled and faces seen.
But these aren't the best the album has to offer. That honour goes to the triple whammy of the elegiac The Man in the Bed, a profoundly affecting story of a life recalled in the crippled, ailing twilight years, the similarly mortality themed Everett Ruess, a John Stewart-like storysong about a restless spirit's life-enriching journey across the west narrated from beyond an unmarked grave, and, perhaps best of all, Nine Volt Heart, a plaintively moving nostalgic evocation of the sepia hued magic of the early transistor radios and the worlds, romances and lullabies of the heart-transforming music that came crackling through its speakers. Much like Alvin's own really.
Mike Davies
---
Alyth - People Like Me (ANE Records)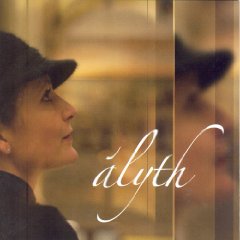 Aka Alyth McCormack, from the Isle Of Lewis, who released her lovely, if underappreciated album An Iomall (The Edge) on Vertical back in 2000, since when I suspect she's been deliberating exactly where to focus her considerable vocal talent. My suspicions are confirmed by the ever-so-slightly schizophrenic nature of her new album, People Like Me. Just under half of the tracks are traditional songs sung in Gaelic, but that's not necessarily where the dividing line runs: it's more in the nature of the musical arrangements. The 13 tracks mostly draw on the same basic complement of excellent, tried and trusted musicians (Jonny Hardie, Brian Mcalpine, Aidan O'Rourke, Fraser Fifield and Ewen Vernal, with Gerard Peregrine, Donald Hay and Noel Eccles), the exception being Mo Ghol Òigfhear A Chuil Duinn which Alyth sings unaccompanied - and bewitchingly too. For her beautiful voice is unscathed, and on great form throughout the album: of that you need not worry. No, it's more the softer-focus "Celtic-wash" shimmering of the settings on the opening Nuair Bha Mi Òg and the otherwise successful Boo Hewerdine cover (A Smuggler's Prayer), and the more overly pop-friendly, slightly-bland-if-gently-tasteful setting of the title track (penned by Del Amitri's Justin Currie), which causes me more than a little concern that the pop world is beckoning rather too forcefully for Alyth. Singing in English doesn't seem to be a contributory factor, since two of the album's standout tracks come into that category (a tremulously expressive I Wonder What's Keeping My True Love Tonight, and Jim Malcolm's Neptune - the latter probably the finest cover of that song I've heard). Alyth's cover of David McDade's The Beautiful Lie (once notably recorded by Dolly Parton) is an unexpected choice perhaps, but believably rendered. And elsewhere, Alyth's command of the traditional puirt model is as impressive as ever on The Vices Set. I absolutely love Alyth's singing, and I'd not dispute that she's given us another delightful record (notwithstanding its poppier concessions); but once again I do feel that she's compromised the value of the album to the listener by not including the song texts (or at the very least summary translations) within the package.
David Kidman February 2009
---
The Amazing Mr. Smith - Serious Stuff (Own Label)
Amazing indeed. Mr. Smith is a permanent fixture on the folk club and festival circuit, who makes his reputation (and more besides!) with a zany act that features - amongst other things - wacky instruments and wacky uses for conventional ones. But this new CD, a sequel to 1999's No Messing About, acknowledges that the bulk of his visual humour doesn't translate too well to the medium, and thus chooses to focus on the man's not inconsiderable guitar-playing talent. He displays a gently virtuoso technique that is brought into service on his own relaxed acoustic arrangements (some of them very inventive indeed) of all manner of tunes from traditional folk (The Cutty Wren) to jazz standards (I'm Beginning To See The Light, Lullaby Of Birdland), classical (Dvoøák's Largo, Elgar's Nimrod), pop songs (the Beach Boys' God Only Knows, with the harmony parts supplied by multiple guitars!), Sousa's Liberty Bell march, and a generous helping of Mr. Smith's own fine compositions. Lest you think this is just an album full of tedious twiddling and meaningless if clever notespinning, let me dispel that immediately, for it's an eminently musical experience, with a distinctly low "so what? quotient" and worth close listens. If you know Nimrod, for instance, you'd wonder how it could sound suitably majestic when played on a mere guitar, but by jingo, it does! Yes, this is serious stuff, but enjoyable and stimulating too, you'll find (the fun comes after ...! - no, actually the fun begins when you try to weed out the correct running order from the tracklisting on the box back!)
www.the-amazing-mr-smith.co.uk
David Kidman
---
American Gun - The Means and the Machine ( Diamond D Records)
It's difficult to know exactly where to start describing American Gun's second album, The Means and the Machine. So, as the world's most famous singing nun advised, let's start at the very beginning.
The rootsy, brooding, acoustic bluegrass folk of the opening track Drunk Girls, only sets the tone for what follows, in the sense that it's a wonderful collision of styles . In fact no track is closely related to the one that went before or the one that follows. However, they do share one vital thing in common, they all work beautifully.
Whatever it is, Drunk Girls is a hell of a way to announce your arrival. The song has a slightly anarchic, almost Pogue-like edge to it, it may be folk and superficially it may sound like a straightforward listen but even with all its simple bareness, there is an underlying tartness that suggests all is not as at first seems. What follows Drunk Girls ranges from the out and out rock n roll of Fight Song, which bursts forth like a thunderstorm borne on wave after wave of guitar riff and voice to the mellower country rock of Horses with all its rustic charm.
However, nothing on The Means and the Machine is half-hearted and when the band commits to Horses it does so as fully as it does to anything more 'theatrical'. There is an overriding atmosphere about The Means and the Machine that suggests the band may have had as much fun making the album as you will have listening to it.
There is an unbridled freedom about Neil Young Mood (a bit of a contradiction I know) but you can never be quite sure who is in control, song or band. And as for Fast One the impression is that it wasn't the hardest thing in the world for the band to turn up for work that day. But in amongst all this rock 'n' roll/country maelstrom American Gun has planted a few surprises.
Nature vs. Man is a clever, intelligent thought-provoker - once you're past the slightly obvious title, it's a real gem and it's not alone, Girl Done Gone has an honest blues fire burning in its belly while the restrained impact of This Old Town is testament to the talents of singer songwriters Todd Mathis and Donald Merckle.
What American Gun has done so well with The Means and the Machine is show just how 'complete' the band is. Whether it's the simplicity of First Impression or the chaotic crescendo and equally chaotic climax of Jesus Gave Us Rock 'n' Roll, American Gun is not only full of surprises but meets the challenges it sets itself, head on. But the 'jewel in the crown' of The Means and the Machine is undoubtedly the stunning Moonshine, which by construction is a good old-fashioned story ballad but also reveals American Gun as a band capable of mining the very depths of the soul of a song.
Michael Mee June 2008
---
American Gun - Dark Southern Hearts (stepoutofthelinemusic)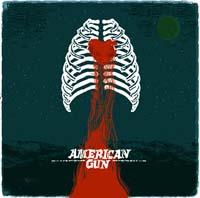 When the first flush of youth for punk faded, and it had to grow up and learn how to play, it spawned a new wave of energetic rock 'n' roll. The bands that survived and prospered, took the spirit of punk and put it to work to revitalise music. At its best it was a thrilling ride, at its best it sounded like American Gun's debut album Dark Southern Hearts.
The band claims to have drawn influences from country, folk and blues and in a sense Dark Southern Hearts backs up that claim. Heart Locket for one, is a country rock song, but there's country rock and there's American Gun's version. What the bald claim doesn't fully explain is that the band has taken the genres out into the backyard, kicked them around in the dust until they're good and dirty, then shot a bolt of lightning through them. The songs of Todd Mathis and Donald Merckle are fresh and exciting. But that excitement is not just down to the headlong rush of Picture and American Gun which get the album off to rip-snorting start. It's as much about the layers that build and build Little Sister into a beautifully faceted song. The songwriting talents available to American Gun, rather like very early REM, opens many roads to it.
But it's the attitude that fuels Tears that will drive the band on. What could have easily been a well written, good rock song is toyed and played with, the band, even on its debut, is not prepared to settle for mediocre formula, Tears represents a desire to twist and turn the music to see what lies beneath the obvious. Whether it's the towering riffs that cast a long shadow over Someone To Blame, the bleakness of the warning implicit in Scent Of Alcohol or the sheer joy of playing that shines through on Sound Of Blue, American Gun has taken a firm grip on the anarchy of punk and harnessed it to the disciplines of rock n roll. As Dark Southern Hearts begins to kick open doors, it may just become unstoppable.
Michael Mee, Editor Hawick News, October 2006
---
American Music Club - The Golden Age (Cooking Vinyl)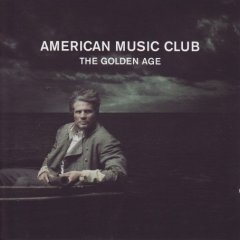 Close your eyes. Now, imagine this setting. An old, run down but elegantly lightly faded hotel in a forgotten town on the fringes of the desert. Somewhere the lost souls come to sit on cracked leather stools at the dimly lit bar, drowning their ghosts in memories of better bourbons. One by one, they drift into the ballroom.
The paint, its colours worn away by too much time and too much cigarette smoke, is flaking and you could swear there's almost a yellowed hue to the air, curling around the glitterball as it spins lost universes upon the dimly lit walls and a dancefloor stained with the hurt of too many lonely shoes. Listen to the music, aching, stargazing, wistful, spinning songs of betrayed hearts, broken souls in sad, shuffling waltzes. Now look, see the band. It's the American Music Club.
That's certainly the mood conjured by this melancholic but mellow impressionistic follow up to comeback album Love Songs For Patriots, returnees Mark Eitzel and long serving guitarist Vudi now augmented by bassist Sean Hoffman and drummer Steve Didelot. As you'd expect, the songs aren't hymns to happiness and there's a fair share of them of soaked in Eitzel's familiar depressive pessimism as he sings about a place "where you can't find a face without a trace of despair or a shroud" (the desert rocking Decibels And The Little Pills) or a gun going off that "paints her face all red" (The Dance). But just like The John Berchman Victory Choir who "always stink of sweat and last night's beer" but still make sweet music, there seem to be an least tarnished silver lining to the clouds.
"I was born with no love for anything" he sings on the drunkard's waltz On My Way with its gathering feedback storm, but he's still driving home, "finally about to see what's right before my eyes." And, on the tourists slouch through the New York dives of Windows of the World, a reference to the World Trade Centre bar, even "the end of the world is so beautiful".
Maybe Eitzel's really singing about himself and his reputation for misery on the boozy carnival waltzing I Know That's Not Really You when he talks of using a fistful of ashes "to halloween your face".
Listen to the compassionate, poetic portrait of faded but unbowed dreams in The Grand Duchess Of San Francisco or the late night up on the rooftops city love song that is All The Lost Souls Welcome You To San Francisco. Are those tunes written looking down into the gutter or up into the skies?
On the opening All My Love with its brushed snare, sad acoustic guitar and breathy vocals, he even goes so far as to pledge his heart, declaring "I'll be the match that holds your fire" while The Stars soothes and growls like a Bukowski short story where the salvation angel and the broken soul share an epiphany through the night that may only last until morning but leaves a smile for the whole day. It's piss and honey, but have you ever heard anything quite as swooningly, sadly romantic?
"I know your world is full of people who have nothing to give" murmurs the Brill Building sway of Who You Are, before declaring "all I can give you is one of my stupid songs." Sometimes the smallest gifts are the most precious. Back at the ballroom, cigarettes dying between their fingers, the band are still playing. Take your partner's waist, this is one dance you don't want to sit out.
www.american-music-club.com
www.myspace.com/americanmusicclub
Mike Davies January 2008
---
Muireann Nic Amhlaoibh - Daybreak (Fainne An Lae) (Compass)
On young Irish band Danú's latest two CDs (The Road Less Travelled and When All Is Said And Done), I was much taken by Muireann's enchanting singing on a healthy range of songs both traditional and contemporary and sung both in English and Gaelic. I'd remarked on her gently rich timbre, her wonderful fluency of line and her excellent diction, and on the innate sparkle in her voice. Great news, then, that we're now being treated to a whole album showcasing her vocal talents (and her prowess on flute and whistle, incidentally, on a couple of tracks). On this solo effort, Muireann is on mesmerising form; she gives us beautiful renditions of seven traditional songs - including three in Gaelic, of which the pick is probably the delightful An Spealadóir - and three contemporary compositions (two by Gerry O'Beirne and one by Richard Thompson & Tim Finn, the less-frequently-heard Persuasion). Among the traditional selections is a rendition of Banks Of The Nile which, though eloquent and beautifully sung, some may find is taken a little too breezily, whereas on the other hand her treatment of The Emigrant's Farewell is quite special, showing off the range of her voice to really good extent, accompanied only by a soft drone. Elsewhere, Muireann is helped out by a generous selection of musicians comprising Danú colleagues Oisín McAuley (fiddle) and Éamon Doorley (bouzouki), as well as guitarists Gerry O'Beirne, John Doyle, Tony Byrne and Shane McGowan, bodhránist Billy Mag Fhloinn, as well as the gorgeous Julie Fowlis providing backing vocals on two tracks). Adopting a gambit familiar to album compilers, Muireann ends the album with The Parting Glass, but hers is a captivating and heartfelt rendition given extra impact by the fine, wistful fiddle playing and gentle guitar decorations. All things considered, Muireann has really triumphed with this self-produced debut solo recording, which easily and comfortably stands comparison with the best of its kind on offer today.
David Kidman, July 2006
---
Among The Oak & Ash - Among The Oak & Ash (Verve Forecast)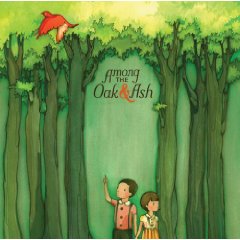 Despite having released a combined total of 16 albums during the past 20 years, you've likely not heard of either Josh Joplin or Garrison Starr in their solo careers, but, recorded over six days, this debut joint endeavour will certainly make their names ring loudly in folk revival circles and beyond.
With Joplin handling piano and autoharp, the pair of them sharing duties on vocals, guitar, harmonica and xylophone, and guest musos providing drums, dobor, pedal steel, banjo, bass and dulcimer, it's a collection of ten reworked traditional songs and two originals, topped off with a seemingly unlikely but perfectly dovetailed cover version.
They take the trad path first with Hiram Hubbard setting the ball rolling with rumbling pulsing percussion backing and stabs of guitar as the pair harmonise in classic folk singer fashion on the American south tale of the arrest and execution of the innocent title character. Given an indie rock arrangement, the much covered Peggy-O gets a new lease of life with a rolling Velvets-like beat and a delivery that suggests an Appalchian answer to White Stripes.
Originally a gospel field song, Angel Gabriel is recast with echoes of early REM in its strummed guitar and banjo colourings, then comes the sea shantyish Shady Grove, a song that is itself based on Mattie Groves and, even more of a folk staple, a paddled drum beat and simple guitar gentle sway through The Water Is Wide with Starr taking solo vocal.
Joplin takes over lead for The Housewife's Lament, an old Gaelic tune that here rolls along with a marching melody heavily reminiscent of John Prine's Paradise, before delivering an acapella Pretty Saro.
A dark tinged 18th Century lullaby, All The Pretty Little Horses strums along nicely before a twangy electric guitar solo arrives to evoke the song's reputed origins as a slave's lament for her dead child. The penultimate trad tune is a mere 51 seconds of Come All You Young & Tender Ladies with Starr, backed by a reverb bassline, delivering a warning about losing your virtue too.
The tenth and final number from the archives tips the hat to John Lomax with the pair duetting on unrequited love lament Look Down That Lonesome Road. It's sandwiched between the two self-penned tunes. Joplin provides the first with Joseph Hillstrom 1879-1915, another history of Swedish born labour activist Joe Hill delivered in a classic Kingston Trio/Guthrie manner, while, inspired by grief and loss, the co-written High, Low & Wide is an acoustic mid-tempo melancholic reflection on mortality.
Then, tagged on as a bonus treat, comes Bigmouth Strikes Again which, and I say this as a compliment, sounds like early REM covering The Smiths, a version both faithful in style and spirit but also casting a light on the folk influences that form part of Morrissey's musical fabric.
Although the pair continue with their own careers and Starr's recently formed a band with former Toad The Wet Sprocket singer Glen Philips, she says they're "definitely looking at this as something that has a future to it," says Starr. You and me both.
www.amongtheoakandash.com
www.myspace.com/amongtheoakandash
Mike Davies February 2010
---
Jon Amor - Brave As You Are (Manhaton)
Songwriter Jon Amor has been performing his own material with bass player Mat Beable and guitarist Mark Evans since 2000, releasing his eponymous debut album in 2001 and a followup (Even After That) just a year later. The three gave a thrilling live show at Glastonbury last year, while now, eager to satisfy his ever-expanding fan-base, Jon tours this 4-track EP of new songs. It's reasonably exciting stuff, mostly acoustic-based rock with a strong kick, yet managing to remain accessible. You Should Be Alone reminded me of Nick Harper, while the title track came over like a more melodic version of late Led Zepp. Jon's music is really convincing at the time you're listening to it, yet unaccountably doesn't always leave quite the lasting impression you might expect from a lad with two successful albums under his belt.
David Kidman
---
Tori Amos - Night Of Hunters (Deutsche Grammaphon)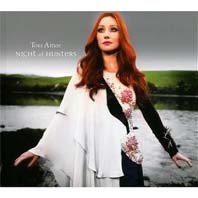 I've followed and written about Amos' albums ever since her Little Earthquakes debut, exploring and trying to decipher the lyrics and their meanings. However, as she herself furnished 1300 words to explain each track on her website, I'm not going to attempt to even try and précis that into a review.
Suffice to say her 12th studio album is a song cycle in which, over the course of 14 numbers set over one night, she plays a woman 'in the dying embers of a relationship' who examines her life and emotions, travels 3000 years into Ireland's past to see a previous incarnation of the relationship and goes through a peyote ritual which, says Amos, leads her to renew herself and accept all those, ex lover included, who have played a part in her life. Among dualistic themes explored is the dichotomy of the hunter and the hunted that exists within each person, illustrated by her 10 year old daughter, Natashya Hawley, singing the role of a shape shifter named Annabelle who turns up as both fox and goose. Her niece, Kelsey Dobyns, also appears as the Fire Muse goddess who helps her recapture her inner strength. See, that was easy.
Commissioned by the iconic German classical label, the music draws on 400 years of European classical music, most significantly that of Bach, Schubert, Chopin, Stravinsky, and Satie, and is an entirely acoustic project, featuring strings by the Apollon Musagete quartet and woodwinds, including Andreas Ottensamer on clarinet and Peter Whelan on bassoon, and Amos on her Bösendorfer piano. No guitars, no percussion. Not one for playing in the car or at dinner parties, lasting some 70 minutes it does, as you might expect, demand undivided attention. But it offers plenty of rewards. From the opening dramatic intensity of Shattering Sea through to the peaceful calm of Carry, Amos is on magnificent form, both vocally and musically as she sweeps through changing moods, tempos and emotional states. Edgy and foreboding on Battle of Trees, quietly hymnal for the lovely Your Ghost, Seven Sisters a magical instrumental interplay between clarinet and piano, and Star Whisperer a near 10 minute epic of which almost half features an intense instrumental section. And, as Hawley's confident performance on the melancholic and melodic Job's Coffin shows, it clearly runs in the family.
I'm sure there are some who would like her to make an album of catchy pop songs with crowd friendly choruses, but breaking Billboard records by simultaneously debuting in the Top 10 of the Classical (at #1), Alternative and Rock charts, as this so forcefully demonstrates, she was put on earth for far greater things than that.
Mike Davies October 2011
---
Tori Amos - Midwinter Graces (Island)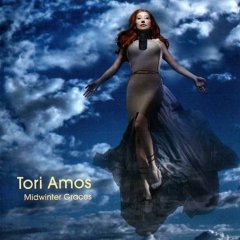 Her second album of the year, this finds the Methodist minister's daughter revisiting the carols she grew up on her in her father's church, giving them her own spin and adding her own inventions to the hymnbook. Preferring to call it a winter solstice rather than a Christmas album, she researched the origins of the material featured, going back to and deconstructing the roots of familiar carols to escape the familiar cheesy Hallmark connotations. It's an eclectic selection with carols from Europe dating back to the 8th century sitting alongside contemporary American contributions as well as five original numbers that pay respectful homage to the spirit of the tradition.

Focusing on a theme of light and rebirth, it's littered with any number of images of illumination while the title itself alludes to the symbolic goddesses of mythology. She opens the set with What Child/Nowell, a song celebrating Christ's birth and, in her use of The First Nowell, cleverly bring etymology to bear in the word's various derivations meaning birth and light. She's clearly put plenty of thought into this.

Star Of Wonder draws upon the chorus of We Three Kings, musically referencing the Eastern origins of the regal visitors with tabla and strings, while the recurring references to light and fire flicker to life again with Candle:Coventry Carol which, a duet with her niece, features an arrangement of lute and recorder to recall the 16th century origins of this account of Herod's slaughter.

She stays in traditional mood for a wonderful earthy setting of Emmanuel that, with her own renewal themed verses interpolated, does indeed make you rejoice, and Holly, Ivy and Rose, an entwining of English carol and the German Lo, How A Rose E'er Blooming around pizzicato strings and piano and featuring a lovely vocal cameo from daughter Natashya. Travelling from Germany to France, you get Jeanette, Isabella, the story of two milkmaids visiting the baby Jesus while Harps Of Gold takes you firmly into the modern day as she sings In Excelsis Deo to a backing of synthesised bells, organ and electric guitar.

While perhaps unlikely to find their way into carollers songbooks, the self-penned numbers find her at the peak of her powers. A Silent Night With You is a soaring romantic song about sharing the season with the one you love, Snow Angel a lovely piano ballad sung from the perspective of a child's sense of wonder. If Winter's Carol sees her delivering an authentic sounding pastiche of a traditional carol, Pink And Glitter swings the mood into the brass and ballroom big band 50s for a jazzy torch songs where she purrs slinkily about marshmallow snow.

Our New Year, a typically Amos midtempo piano ballad and nostalgic salute to absent and departed friends that, sees the album out in fine style and positively makes you want to rush out and stock up on mulled wine and stick cloves into apples and oranges. Ringing with tidings of comfort and joy, there's nothing bleak about this Midwinter.

Mike Davies November 2009
---
Tori Amos - Abnormally Attracted To Sin (Island)
One of the recurring critical jabs levelled at Amos' tenth album is that, with 18 tracks and a running time of over 75 minutes, there's too much of it. This must seem a rather bewildering complaint if you're a fan where more is far more favourable to less. It might have some justification were the album to feature a surfeit of fillers or if the standard was below par, but the fact is that this is every bit as potent as her previous two studio releases, 2005's The Beekeeper and the commercially unsuccessful American Doll Posse. But then, they too fell foul of carping and the end of her UK record label deal.

Again, this finds her in heady theatrical mode (the title's lifted from Guys & Dolls and the special edition comes with a DVD of arty 'visualettes', montages from the American Doll Posse tour that in turn spurred the new songs) as she explores notion of religious truths, the relationships between women, power, sex, society and sin and, as she puts it, how woman are controlled by "the threat of despair". You should know by now, you don't get lightweight froth or easily interpreted lyrics here.

Opening on the slouching moody electronica and steady drumbeat of Give with its vampiric imagery and Amos giving a prowling Eartha Kitt gone tribal vocal, it shifts into the familiar sensual swooping Toryisms of Welcome To England before Strong Black Vine hits brooding stormclouds with its jabbing dark strings, heavy Zep-like drums, dense textures and much vocal sibilance as it wrestles with images of oil and arms. Not exactly perky pop, but it welds itself equally into the consciousness before Flavour brings the first of the calmer washes as she muses on how planet's religious rifts and divisions.

The rich diversity of these opening cuts is reflected throughout; from the nervy tensions of Curtain Call's ageing neurosis, Not Dying Today's dance itch percussive rhythms and the production number feel of Mary Jane and the lovely strings adorned piano ballad show tune Maybe California to the endearingly folksy march 500 Miles and the swirlingly hypnotic title track to the cosmic floating Starling. Reaching a crescendo in Lady in Blue, it builds slowly from lullaby waltzing to an explosive finale of darkling synth clouds and piano rainstorms before the bonus Oscar's Theme strips everything down to just solo piano and bass that perfectly mirrors the serenity and innocence of its images of autumn and childhood. Too much? The sin would be in the omission.

www.everythingtori.com
www.myspace.com/toriamos

Mike Davies June 2009
---
Tori Amos -The Original Bootlegs (Epic)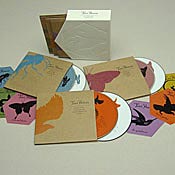 Typical you wait for ages for an official Tori Amos bootleg and then six of them come along at once. Available as a both box set and, allegedly individual discs (though I've yet to find any on line as commercial releases), this set of six double discs was recorded during the 2005 Original Sinsuality world tour and each contains the full concert from, respectively, Boston, Chicago, Los Angeles, Denver, Manchester and London.
Naturally there is a core set of songs (though being Amos, the performance versions vary from venue to venue) with The Beekeeper and Original Sinsuality constants and Yes, Anastasia, Little Amsterdam, Jamaica Inn, Barons of Suburbia and Father Lucifer regular inclusions, tough not necessarily in the same slots at different shows.
She also slips in long time favourites as the mood takes her, so that LA are treated to a stunning reading of Silent All These Years, Hammersmith is the only one to be regaled by The Power of Orange Knickers and, clearly mixing things up and treeating the crowd that night, Manchester provides the only outings for Leather, Liquid Diamonds, Horses, Strange and Suede.
The extra bonus, of course, are the cover versions she drops into each set. Naturally Manchester gets Don't Look Back in Anger, a bizarre contrast to the first half closer that is Rodgers and Hammerstein's My Favourite Things while in Denver she confesses to 'wanting the hair' before launching into Flock Of Seagulls I Ran, going from the ridiculous to the sublime with Cohen's Suzanne. In London, it's George Michael's turn with a six minute Father Figure swiftly followed by a moody, slowed down weary cover of Like A Prayer, while the second disc trawls in an almost unrecognisable treatment of Rattlesnakes.
Over in Denver she's in folksy mood, dipping in to Jim Croce's Operator and a faithful reading of Joni's The Circle Game while, appropriately enough, after ribbing someone in the audience who can't find their seat, she tackles Bon Jovi's Livin' On A Prayer making it sound like a Nick Cave death ballad and Jules Shear's sadly little known All Through The Night. And, for Boston, the night belongs to her scorching performance of Angie and, proving she knows good camp bombast when she hears it, Jim Steinman's Total Eclipse of the Heart.
Probably not something you'll sit down and play back to back, but as a reminder that, away from the studio trickeries that sometimes creep in, Amos remains a stunningly electrifying and intimate live performer, there are hours of pleasure here.
Mike Davies, February 2006
---
Merrie Amsterburg - Clementine & Other Stories (QDivision)
A Michigan raised, Boston based singer-songwriter with two previous albums to her name, this third offering sees her moving into covers territory with her interpretations of folk chestnuts from the American history songbook with stories by and about soldiers, slaves, immigrants and native born.
As you'll note from the ticking beats of Black Is The Color of My True Love's Hair and the strident electric guitar of a musically moody Clementine she's not exactly a purist traditional but, with the songs set in a minor key and caressed by her smooth brown voice she does give them lives away from the usual more reverential treatments.
She may put an electronic sheen over Shenandoah, bring a swamp blues groove to Wayfaring Stranger, and turn the brightly upbeat When Johnny Comes Marching Home into a whispered lo fi lullaby with brushed percussion and doodling organ, but it's not just being wilfully askew from expectation.
The arrangements find new shadings and emotional corners in things like Down In The Valley and the vocally double tracked leafy folk lament interpretation of Johnny Has Gone For A Soldier and the melancholic banjo dappled All The Pretty Horses while her plaintive sweetness adds extra sadness to cowboy death song Streets of Laredo. A fine example of how the folk tradition remains an organic living entity.
Mike Davies, July 2006
---
Eric Andersen - Waves (Appleseed)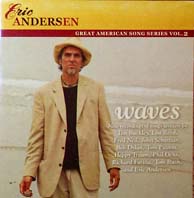 Veteran singer/songwriter Eric turns his hand once again to an album full of cover versions in volume 2 of his Great American Song Series. It's another eclectic and wide-ranging selection, with familiar and unfamiliar and unexpected material all represented. Eric's trademark dark-toned delivery suits most of his chosen songs down to the ground, and if there are any tracks that don't work for me, well it's the songs themselves that don't connect rather than Eric's treatment I'm sure. Whatever, Eric always succeeds in capturing the essence of the creator of each song without trying to upstage or imitate him - a laudable intention that so many artists may share yet few manage to achieve. Here, Eric is welcoming back to our consciousness some songs which he believes deserve to be regarded as deeply ingrained in our culture yet which may have fallen into neglect over the years for one reason or another. In many cases, Eric's interpretations embody an extra layer of authenticity simply because he knew the writers at first hand and was a good friend. Folks like Phil Ochs, Fred Neil, Richard Fariña for instance. Eric also brings an emotionally trembling tenderness to the old Velvets number Pale Blue Eyes, an intimate, casual informality to John Sebastian's Coconut Grove, and a wistful and timeless vibe to Tom Paxton's oft-hackneyed Rambling Boy. Right through, Eric shows a keen response to the songs and their zeitgeist. It helps too that he's surrounded himself with a classy backing band (Pete Kennedy, Robert Aaron, Eddy Jo & Willie Martinez), although he also brings in Happy Traum and his banjo for Happy's own Golden Bird, and a whole slew of vocalists (including Judy Collins and Arlo Guthrie) drop in to augment Eric on the closing cut Thirsty Boots, recorded live (this track has been licensed from a 2003 Wildflower Records release). The latter is one of three of Eric's own compositions included on Waves, of which the pick for me is definitely the quasi-title-track Hymn Of Waves (which reminds me somewhat of Tom Pacheco's writing - compliment intended!). If this CD helps to raise the profile of just any one of the songwriters represented, and the listener is spurred on to investigate his work further, then Eric will be well pleased. I for one am glad that unlike many of the best songwriters, Eric's "sticking around for the long haul" and continuing to give us recordings of this level of sincerity and significance.
David Kidman
---
Matt Andersen - Coal Mining Blues (Busted Flat Records)
Matt's name wasn't familiar to me, so I was unsure what to expect from first acquaintance – but just a half-minute into this CD and I was convinced I'd known his music for years somehow. His delivery for a start – a tender, naturally soulful voice of telling maturity that wraps snugly around – and is wrapped around by – his own expert guitar playing (acoustic or electric, he's great on both). His songs (those on this particular disc, at any rate) have the hallmark of classic 60s soul, blues and R&B, a feature emphasised by the equally classic mould of the supremely tasty musical backdrops he and album co-producer Colin Linden have arranged, which involve organ, piano, saxes and a tight, solid-state rhythm section. It's as authentic as they come, and yet Matt hails from Canada (New Brunswick)!
For some unfathomable reason, Matt's able to get right inside of the idiom through his original songs (all but two of this disc's dozen tracks), which are a model of true sensitivity. They deal mostly with relationships: not specifically with coal mining as it turns out, although the CD's title song is the exception, being an intensely touching exploration of the personal heroism of the coal miner himself. Surprisingly perhaps, the overall mood of the album is quite upbeat, for Matt's a survivor and he thoughtfully wants to honestly share his experiences for our good.
Again despite the album title, this isn't a blues album in any conventional sense, for it's never that weary, downtrodden, woman-driving-man-mad syndrome but rather more of a positive celebration of what a relationship can achieve, an unpretentious and affectionate statement of a man's emotional needs and responses that when all's said and done is perfectly reasonable and as undemanding as it is natural in any good relationship. Harsh aspects of life are tempered with an unusual (for blues) degree of lyricism, and that tenderness I noted in Matt's delivery comes from a true understanding of the working of relationships. Songs like Make You Stay, Baby I'll Be and She Comes Down say so much in so little space, and take all the time they need to get right to the heart of things, yet simply and with no messing.
No doubt much of the album's classic and timeless roots-soul feel is down to it being recorded in Levon Helm's studio in Woodstock, NY, with a crack team of musicians that really know the part – notably keyboard players John Sheard and John Whynot (Lucinda sideman) and sax player Jim Horn – and the presence of Amy Helm (from Ollabelle) on backing vocals and an appearance from The Band's Garth Hudson (accordion on Home Sweet Home). The tracks more or less alternate between gutsy and fresh-minted uptempo outings and keenly felt, if sometimes longish soul ballads, with occasional sidetracks into folksiness (the guitar- and mando-backed Willie's Diamond Joe) and gospel. It's a compelling set, and its 53 generous minutes pass swiftly – quite simply because the listener can't fail to get involved due to the believable nature of the lyrics and the overriding (yet entirely rightly so) presence of Matt's extraordinary singing. A real discovery, and a very fine set indeed.
David Kidman August 2012
---
Matt Andersen - Second Time Around (Own Label)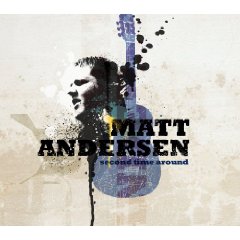 New Brunswick's Matt Andersen is quite a larger-than-life talent, and he proved a significant hit when he toured the UK last year in tandem with two other Canadian acts, Dave Gunning and Jessica Rhaye. And on the evidence of this particular disc, I feel Matt's blessed with an altogether more distinctive musical personality than either of those two performers.
His stock-in-trade is a sprightly hybrid of gruff R&B and rootsy, bluesy rock, shot through with deep soul and letting through ample compassion where appropriate. Matt's voice is one to die for, passionate and idiomatic with just enough fervent rawness to vouch his identity with the songs. Here, they're all Matt's own compositions, aside from two rather fine covers (Bill Withers' Ain't No Sunshine and Steve Earle's My Old Friend The Blues), but it turns out that the whole album consists of songs Matt's recorded before and has wanted to revisit for some years. He's clearly having a ball doing this (as we can hear on the seven-minute bonus-track instrumental workout), and every single one's a winner in its own mould, whether it involves frenetic, nifty slide work (Tell Me), country comfort (When My Angel Gets The Blues), rockin' boogie (Just Don't Call Me Your Friend) or playing it gently tender (Lay Down With Me).
Matt's backing crew (Brian Bourne on bass and Keith Mullins on drums) prove supremely tight, a brilliant foil for Matt's own excellently judged guitar work: they make a tremendously full sound out of this necessarily economical lineup, and to have guitarist Scott Macmillan guesting (duellin'- acoustic mode) on the medium-slow-drag Have I Got The Blues is the only luxury augmentation Matt allows himself on the whole album. I'm having a hard time finding any fault with any of these performances, in fact, for this is a very tasty set all told.
David Kidman December 2008
---
Matt Andersen - Something In Between (Own Label)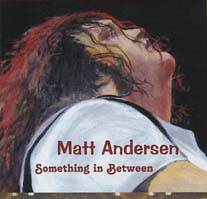 This is Matt Andersen's first full length album recorded in the UK and he has used Eric Clapton's post-Cream band (Norman Barrett on guitar, Dave Markee on bass, Henry Spinetti on drums and Dan Cutrona on keyboards) to do so. The big Canadian is also a prolific tourer and has shared a stage with Little Feat and Randy Bachman to name but two.
Come By is unashamedly country but with a little Gospel thrown in. The eponymous title track continues with the country theme, acoustically this time and with a characteristically strong vocal. Working Man Blues is back to electric and is a storming blues. There is nothing flamboyant here but it is full of innuendo such as "I'll be your mechanic, I'll make your motor run". He's swapping electric with acoustic with aplomb and So Gone Now is the real Matt Andersen. Solemn voice and a touching song shows that simple is often best. Stay With Me is not The Faces classic but a country rock effort that is not unpleasant. Better Man Blues is a smooth rolling blues that drips off the tongue and produces some of the strongest guitar work so far.
Lonesome Road sounds like it should be a country song and you won't be disappointed. It is fast paced and extremely good. John Fogerty's Wrote A Song For Everyone is folk rock that verges on country and manages to sound like The Band at their height. Broken Man is so heart aching and shows what a consummate songwriter Andersen is. It is just him and his guitar and this is him in his element. Tell Me is country boogie, good time music with a big guitar sound. How I Wish is very, very good country and Baby Come Back Home is a jazzy blues with smooth guitar lines. Bold And Beaten is from the album taster and has that smoky tone to his voice when he needs it. He adds strings to make a great gentle folk/country crossover and an excellent finish to an excellent album.
David Blue September 2008
---
Matt Andersen - Solo At Sessions (Own Label)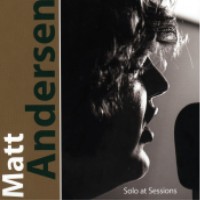 Canadian Andersen is a five year veteran in the music business and this comes across in his latest album, Solo At Sessions. He has an acoustic start with Leavin' Blues and it highlights his silky voice and 12 string guitar. It's a straightforward swinging blues. The Bill Withers classic, Ain't No Sunshine is given a good treatment. Andersen's voice is well suited to the song and he is an excellent live performer. He produces some frenetic guitar on this superb version. When My Angel Gets The Blues is a return to the 12 string guitar is more nu-country than blues. He is a particularly good singer, much like his Australian contemporary, Derrin Nauendorf. He introduces dobro for I Play The Fool For You nod produces a rousing blues despite the lack of urgency. The reaction of the crowd tells its own story.
He turns in an acceptable country blues on One Size Never Fits before returning to his 12 string for the shuffling blues of Rollin' Home, complete with fingers of steel. Have You Got The Blues underlines his love of the 12 string and he produces some lovely Gordon Giltrap-esque fills. If I Can't Have You is folksy but very good, nonetheless. He shows that he can crank up the speed on the breakneck blues of Tell Me. He must have worn out his slide on this and his picking technique is outstanding. He throws in a bit of Deliverance and Smoke On The Water for good measure. He finishes with one of my favourite songs, The Proclaimers' My Old Friend The Blues. Steve Earle does a great version of this and although Andersens' version is not as grungy, it is excellent in its own rite.
www.myspace.com/mattandersenmusic
www.stubbyfingers.com
David Blue September 2007
---
Alistair Anderson - Steel Skies (Topic)
When this record first appeared, in 1982, the idea of taking the spirit and vitality of the folk tradition into the ambit of a classically structured suite had hitherto mainly been the province of tread-lightly art-music and precious pastiche on one hand and rough-hewn and unoriginal paraphrase on the other. As master of the English concertina and Northumbrian small pipes, High Level Ranter Alistair was exactly the kind of musician to bring a new vision to the prospect; here he'd produced an ambitious, and magnificent, nine-movement suite of tunes which were freshly composed but which had their roots deep in the country's traditional music.
Unbelievably, perhaps, it was Alistair's first attempt at an extended composition. In it he combined the overwhelming vibrancy inherent in that music with the subtleties of phrasing, ornamentation and dynamics (and discipline) of the practising musician in both fields, deliberately engaging key musicians steeped in the tradition (fiddlers Tony Corcoran and Chuck Fleming, flute/whistle player Martin Dunn and mandolinist Robin Dunn) to help him breathe life into, then transform through their playing, his original melodies in a genuinely organic form of musical progress that owes more to the informal session than to any kind of formal musical development or accepted procedure. In adopting this approach, Alistair was also deliberately mirroring the specifically Northumbrian tradition of playing harmony lines (or "seconds") to some of the tunes. And so everything you hear sounds entirely right and natural, both in conception and execution (and flow).
The Steel Skies suite was a technical and artistic triumph that was both way ahead of its time and (inevitably) rather underappreciated in some quarters of the folk scene at the time of its appearance (although to be fair, it sold out its first two live performances). But the timely (nay overdue) CD reissue of this beautifully played and recorded work shows with the benefit of hindsight exactly why it now demands to be regarded as nothing less than a massively important, unreservedly visionary musical statement that has since sent its ripples outward right across the folk establishment, not least in the rejuvenation of the north-east's folk heritage and the concomitant setting-up, and ongoing runaway success, of Folkworks and its Newcastle University folk music degree course.
David Kidman December 2010
---
Alistair Anderson - Islands (White Meadow)
Alistair's unquestionably one of the most influential (and yet undersung) figures in the music scene of the north-east, especially that of Northumbria. While over the past 30-odd years he's been feted as one of the most skilled exponents of the English concertina, period (and on the way enabling it to reach repertoire it was never expected to reach!), and no less of a virtuoso on the Northumbrian smallpipes, he's also built himself an enviable reputation as a composer of innumerable excellent new tunes in the tradition and an indefatigable researcher into old tunes. And more recently, Alistair's been instrumental in helping to launch the Folkworks organisation (whose partnership with Newcastle University in turn facilitated its own degree course in traditional folk music). This latter activity has left him less time for performing and recording, sadly, so it's a particular cause for rejoicing that he's now got round to releasing a new CD. (On which his playing's even better than I remember it, incidentally!)
Right from the outset, you can't escape the abundantly joyous swing in Alistair's playing, and his brilliantly precise and superbly nifty fingerwork - features that hook the ear at once and keep it totally engrossed through all the twists and turns of the melody line. And that applies whether it's a sprightly reel or jig or a heavily syncopated jazz riff or an atmospheric slow air. During the course of the new album, Alistair revisits (in fresh arrangements) a few of his earlier compositions (including The Franklin River Reel from his landmark Steel Skies suite), and to telling effect. In fact, the vast majority of the pieces Alistair performs on this disc are self-penned, all but one of the remainder being canny arrangements of traditional pieces. All the arrangements are by Alistair himself in tandem with one other individual from the panoply of musicians lending his or her talent to the recorded performance on this disc.
The only item performed entirely solo by Alistair is Empty Spaces, his affectionate tribute to the three Northumbrian musicians who most influenced him over the span of a quarter of a century. Two-thirds of the remaining 12 tracks take the form of an inspired duet. Three of these are with a top-flight guitarist - either Martin Simpson (on the Quebec-inspired Waltz Montmagny and the gloriously evocative Winter Sunlight) or Ian Stephenson (on the jaunty track 7 hornpipe set) - whereas on the other five Alistair is partnered with inventive young flddler Emma Reid, and the potent immediacy and intensity of thee tracks ensures their status as disc highlights. The remaining four tracks are by comparison rather more thickly-scored, and employ Alistair's band members (fiddlers Sophy Ball and Shona Mooney, cellist Rachael McShane, clarsach player Rachel Newton and whistle/oboe player Joey Oliver). These include two tunes written for a Bath Festival jazz project and another commissioned by a NCC poetry festival; some have a slightly chamber-classical feel to their execution, but the sublime jewel in the crown here is the splendid 23-minute programmatic suite depicting the many moods of The Farne Islands, which in abbreviated form proudly supplies the title for the disc itself.
This is a simply wonderful record, one that richly deserves the widest possible circulation: especially, I might say, among those who believe themselves immune to the charms of purely instrumental albums, for which Alistair's artistry makes a tremendously persuasive case.
David Kidman August 2009
---
Ian A. Anderson - Time Is Ripe (Weekend Beatnik)
Immediately after his 1969 debut LP Stereo Death Breakdown (recently blessed with a welcome reissue on Fledg'ling), this country-blues singer/guitarist did the done thing of the time and rejected purist roots music almost completely for a three-year blip, an artistic detour during which he effectively sold his soul to what might now be best termed psych-folk or acid-folk, writing and performing his own addled and suitably enigmatic songs on arcane sci-fi, fantasy and suchlike themes alongside a number of inventive and quite intricate self-composed "heavy acoustic" guitar instrumentals.
He released three whole albums' worth of this material on the determinedly independent, now-cult alt-folk label Village Thing (which was the brainchild of Ian himself and fellow-musician and Bristol Troubadour manager John Turner): three albums which he has equally determinedly refused to allow anyone to re-issue (disowning the records entirely due more to a combination of personal sensitivity than an assessment of their artistic merit). That is, up until now, when Village Thing's 40th anniversary is upon us and thus, hmm, you might say that time is ripe, not least because there's been a resurgence of interest in alt-folk and its history, and the original vinyl LPs command worse than ridiculous prices on eBay; Ian has had a change of heart, on the strict condition that he is able to take care of the reissue process himself.
The resultant compilation presents 17 tracks culled from those three albums, all splendidly remastered using modern digital technology, together with three previously-unreleased "trials" (an early duet version of Edges, a late version of the ever-topical A Sign Of The Times and to finish with, the old folk-blues standard Baby Let Me Dance With You, recorded with Maggie Holland on bass just pre-Hot-Vultures, which sort-of-rekindled in Ian his roots interests). Although the music on these three LPs was very much of its time, its embarrassment quotient is pretty low, except maybe in the relatively impenetrable nature of some of the lyrics.
The three LPs each displayed a distinctive musical character: Royal York Crescent showcased Ian's imaginative interplay with fellow-guitarist Ian Hunt (with whom he appeared at the first Glastonbury Festival), whereas A Vulture Is Not A Bird You Can Trust veers more in the direction of folk-rock on occasion and Singer Sleeps On As Blaze Rages contains perhaps the strangest of Ian's musical experiments including a very odd but must-hear cover of Paint It, Black that brings a 12-string Greek-jugband vibe to the old Stones classic.
On a purely musical level, there's nothing to be ashamed of: quite a number of the tracks (notably Marie Celeste On Down, Silent Night No 2, Number 61 and Time Is Ripe itself) are distinctly reminiscent of Michael Chapman (no bad thing), while others recall Tyrannosaurus Rex (Please Readjust Your Time, The Maker) or even Dr Strangely Strange (The Man In The High Castle, Shirley Temple Meets Hawkwind) or the ISB (Hero).
There are some real gems here, and while some of Ian's vocal work seems a touch laboured it still remains the right side of respectable and his guitar playing is always abundantly impressive. I'd even go as far as to request a second volume that collects together the remaining tracks from the three LPs. For it's hard to see quite why Ian should've hitherto been so resistant to reissuing these tracks, except on the grounds of exaggerated personal sensitivity (which, let's face it, any performer worth his/her salt will encounter when revisiting early work, and is thus entirely understandable). Indeed, some of the archive photos contained within the informative package are likely to be of higher embarrassment value for Ian than the music within!
David Kidman March 2010
---
Ian Anderson's (froots) Country Blues Band - Stereo Death Breakdown (Fledg'ling)
There should be no cause for embarrassment with the present expanded reissue of this album recorded by (now-fRoots-editor) Ian back in 1968, for it's a vibrant, well-played and well-recorded set of country-blues numbers performed with all the spirit of the musicians who inspired him (Charley Patton, Robert Johnson, Big Joe Williams etc). At that time, running alongside the more widely-prominent electric blues boom there was a resurgence of interest in reinterpreting 20s and 30s acoustic country-blues; its musicians were championed by DJs John Peel, Mike Raven and Alexis Korner, and a keen teenage Ian Anderson who founded the UK's first specialist country-blues club in Bristol, a venture which spawned the seminal Matchbox compilation album Blues Like Showers Of Rain. Ian's own LP was recorded in tandem with harmonica player Chris Turner and bassist Bob Rowe (and further augmented on some cuts by pianist Bob Hall and three members of Panama Limited Jug Band). It followed two EPs out onto the racks, and although intended for release on Island, was instead issued on Liberty (to avoid Island having to explain which IA was which!). The master tapes were thought to be irretrievably lost, but all credit to Fledg'ling for unearthing them in the vaults, together with two extra tracks from contemporary sessions which are appended for this splendid reissue. Today Stereo Death Breakdown (what a great title by the way!) can be heard as something of a template, also a precursor to a whole generation of reinterpretation of this particular strand of our musical heritage - and it stands up extraordinarily well too. The LP's dozen tracks (eight covers and four originals – spot the difference!) are infused with as much of the authentic feel of the masters of country-blues and jugband music that Ian and his collaborators could muster as enthusiastic and inspired pretenders. Even though Ian's own decidedly clean, precise picking and idiomatic slide work are necessarily dominant features, the finely-judged contributions of his fellow-musicians should not be underplayed either, and the vibe of the whole set is both supremely entertaining and genially compelling, from the opening rousing clarion-call to Get In That Swing through the washboardy fun of Crazy Fool Mumble (which had graced the label's Son Of Gutbucket sampler) to the insistent repeated notes of Baby Bye You Bye. And as a further bonus, the guest vocal from "Harmonica Annie" Matthews on New Lonesome Day is also pretty inspirational. Fledg'ling's attractive digipack includes a memoir by Ian himself, and the package is definitely worthy of the album's status as a long-lost British blues collectors' piece-cum-classic.
David Kidman June 2009
---
Ian Anderson (tull) - Ian Anderson Plays The Orchestral Jethro Tull (ZYX Music)
Well it's not a very promising title! It really does conjure up dire memories of those soupy easy-listening renditions of Beatles tunes that gave muzak a bad name in the 60s and 70s, but actually this double-disc set really ain't so bad after all. It's Ian singing and playing flute, backed by assorted members of the Frankfurt Neue Philharmonie Orchestra, on a series of pieces either directly drawn from, or associated with, the Tull songbook, but all sensibly sparingly scored and not in the slightest saddled with sickly or overblown full-orchestral settings. So the title of this set is a bit misleading then! Ian says, "having played on many a Tull record with various members of the symphony orchestra since the 1968 recording of A Christmas Song, it was just a matter of time before I had to ... join with a bigger ensemble in live concert". The two concerts finally took place in 2002, and they form the basis of this set of recordings. They may not eclipse the original Tull group versions, but such pieces as Life's A Long Song demonstrate that there's definitely room for alternative readings of the songs. Admittedly the actual choice of material isn't always ideally inspired, and some of the Tull classics I might have expected to hear (like Reason For Waiting) are inexplicably absent from the set-list, but the featured soloists are clearly well versed in Tulliana and make a fine stab at it all, both jointly and severally. Ian's jolly showmanlike introductions are retained too, and give a definite flavour of occasion to the proceedings. Just one puzzling thing: the press release mentions a DVD, but the package I received for review contains just the two CDs and booklet - pity!
David Kidman
---
Laurie Anderson - Live In New York (Nonesuch)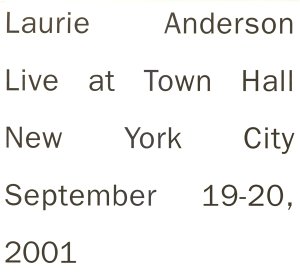 A two CD set recorded last September, this was the first tour Anderson had ever taken with a band. Originally intended to promote Life On A String, what emerged from the rehearsals was a rare look back over her career, isolating individual songs from their original multi-media settings and given analog makeovers for rare concert performances with Anderson on violin, keyboards and effects and her three musicians supply bass, drums and additional keyboards. Thus you get Let X=X, Sweaters, Strange Angels and, Love Among The Sailors alongside the new material and off the wall, witty and incisively observed monologues (the male spider's new mating strategies for survival in Animals for example), slipping in more seamlessly than she anticipated and highlighting the fact that she's a songwriter par excellence and a performer of more emotional resonance than you might expect. No more so than on a sublime version of the immortal O Superman, written in 1980 during the Iran-Contra affair but which, in a week after 9/11 the lines "here comes the planes. They're American planes. Made in America" bring her themes of loss, technology, death, betrayal shiveringly into contemporary relief.
www.nonesuch.com
www.laurieanderson.com
Mike Davies
---
Paul Anderson - Home And Beauty (Greentrax) Virtuoso fiddler Paul, like Hector MacAndrew, can trace his teaching lineage directly to Niel Gow through his tutor Douglas Lawrence, and his principal musical interest has always been the solo performance and composition of fiddle music in the Scottish traditional style – although his activities and involvements have tended to range further afield into the classical and popular-classical repertoires, country-and-western and even prog-rock, and he's probably best known to our readers for his stint with Shetland folk-rockers Rock Salt And Nails.

Paul's won most of the fiddle championships in Scotland over the years, toured extensively and recorded seven solo albums already – and he's still only in his early 30s! But he evidently feels that, with the publication of his new book of traditional tunes (The Lochnagar Collection), the time is now also right to release a retrospective compilation of his very own favourites from his own recordings, and Home And Beauty is just that. It draws mainly from those solo albums (originally released between 1993 and 2004), and spans the widest possible musical spectrum – certainly much wider than the average devotee of Scottish traditional fiddle music is necessarily able to cope with, I suspect.

For alongside the strictly traditional fiddle-and-piano renditions of the likes of Niel Gow (The Stool Of Repentance), Nathaniel Gow (Loch Earn) and Scott Skinner (the lyrical Ossian and the jaunty Duke Of Fife), we find a healthy representative selection of Paul's own compositions (including The Bloody Field Of Culloden and a delectable pair of waltzes) and parlour-style renditions of Brahms and Mendelssohn pieces (though the latter, which is listed as Fingal's Cave, doesn't square with my memory of the famous overture). Interspersed amidst these, however, we discover other facets of Paul's talent which, though hitherto unknown to traditional music enthusiasts, are no less valid achievements: his work with Aberdonian rock band Pallas (on the seven-minute epic Ghost Dancers) and his stormingly vigorous yet spellbindingly dextrous rendition of the bluegrass chestnut Orange Blossom Special. These departures aside, we also incidentally encounter the late Jim Reid on fine vocal form on The Black Velvet Band and By The Mountain Streams, whereas I also especially enjoyed Paul's stunningly atmospheric solo performance of MacCrimmon's Lament and the pair of selections where Paul's accompanied by guitarist Tony McManus.

Musicians with whom Paul interacts during the course of this compilation include pianists George Donald, Dennis Morrison and Margaret Smith, multi-instrumentalist Ali Napier and bass player Brian Cruickshank. It's almost too diverse a collection, and not every listener will like every track. One or two of the tracks also seem a touch over-arranged, but generally speaking the simplicity of the remaining settings is well in tune with the ideal of showcasing Paul's special fiddle playing. It would have been nice to learn more about the provenance of the various tracks (ie which original albums have been sourced for which tracks) – we don't normally find this kind of detailed information lacking in a release from Greentrax.

David Kidman April 2010
---
Theresa Andersson - Shine (Basin Street Records)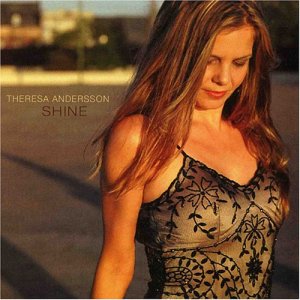 Theresa Andersson has three obvious attributes, she has a great voice, she writes great songs and she's gorgeous. Note the order in which I wrote those because she should be recognised for the first two before she is for the third. This is her debut for Basin Street and they must be straining at the leash for more.
The album opens with Connected and the drums demand your immediate attention. There's a little Shania Twain going on in here, a bit country and a bit rock in parts. Throw in some strings (she plays violin as well) and you have the aggressive Andersson sound. Lie To Me follows in that vein with in your face attitudes allied to a country vibe. I'm On My Way is the sort of song that the Corrs would sing. You may see that as a plus or a minus but what this does offer is another great performance from Theresa's backing band with the Neville Brothers drummer, Willie Green, sitting in.
Shine has a funky bass intro and confirms Andersson's undoubted songwriting talent. She puts a lot of faith into her songwriting and it's not misplaced. As I said before, she should be recognised for her talent before her looks and she herself says that's she's not concerned with trying to be pretty or perfect. The first slow track on the album is the acoustic based It's Gonna Be Okay. This is a great sing-a-long song and is only one of three not to have any input from Andersson. The addition of Jon Cleary on keyboards is inspired.
Her choice of musicians is one reason for buying this album, Willie Green's thumping drums on Good Girl being a great example. A rockier effort, this would not disgrace the charts -- now there's a statement considering what a mess the charts are in. What I mean is that this is good enough to get into the charts, no matter what the standard is. Don't Disturb is another country/Corrs style song until the chorus where she invites you to get naked - steady!!
There is only one word for False Alarm - mesmerising. Make It Pop has those Willie Green drums again and is out and out rock. Break Up is one of the most country sounding tracks on offer with Theresa's violin in full hillbilly mode. It still ventures into other genres though with Cleary's Farfisa and Wurlitzer giving it a fuller sound. This track epitomises her love for her work.
Closing an album is a difficult job, do you go slowly or to you thrash it out to the end? Andersson has chosen to go slow with What You Give and produces a voice that sounds like Bjork in parts. There is a bonus track here, the wonderful Lorraine's Song. This is one of my favourites and having Sonny Landreth on dobro and guitar is the biggest bonus of all. This is a slice of classic Americana and shows the true variety and depth of Theresa Andersson's talent.
www.theresaandersson.com
www.basinstreetrecords.com
David Blue
---
Ben Andrews - Gallows Pole (Powerhouse Records)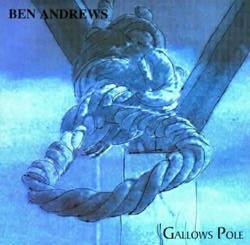 This is traditional blues (mostly folk, with a touch of urban) played with deep affection, wonderful assurance (and at times storming intensity) and sung with the most deliciously warm and husky voice since the days bluesmen pickled their vocal cords in whiskey and tobacco.
Ben Andrews 'live' in the studio has all the energy and spontaneity of a real performance with the tape left running. Opening with CC Rider and journeying through blues standards from the masters, (How Many More Years, One Kind Favour, Stagolee, Cocaine and more, plus one self-penned track, Butterfly), the album builds to a wonderful crescendo with John Lee Hooker's 'Mad With You Baby' (a blues jam JLH would be proud of), to the last track, the eponymous 'Gallows Pole'. Commencing with moody string tapping and bending, Andrews takes you on an emotionally-charged eleven minute journey of raw and ravaged, gale force ten, acoustic blues.
Andrews on six and twelve string guitars, with and without a band, is a blues tour de force. I was warned Gallows Pole would blow my socks off. I'll pass that warning on!
Sue Cavendish
---
Harvey Andrews - I'm Resigning From Today: The Transatlantic Anthology (Transatlantic) This double-disc anthology contains the veteran Birmingham singer-songwriter (and former schoolteacher)'s entire output for the Transatlantic label (most of it making its first appearance on CD). That means the five tracks from the label's 1965 folk sampler Second Wave and the Carthy-backed 1966 EP A Most Peculiar Man, then (after a eight-year gap during which Harvey recorded elsewhere, first for Decca and then Cube) the two well-regarded mid-70s LPs (Fantasies From A Corner and Someday) in their entirety, along with one alternate track and three previously unreleased studio outtakes from 1975/6. It's really good to have all this material together in one package for easy appraisal and with typically excellent background notes, although it must be said that some of the songs don't really cut it today. Harvey himself views some of the 1965 work as juvenilia, and I'd respectfully tend to agree with him (Kids' Colour Bar and Ice Cream Man in particular verge on being embarrassing); but there was a quantum leap in Harvey's songwriting by the time of the EP sessions and Death Come Easy and Harvest Of Hate, by which time Harvey was sharpening his political conscience so that by the early 70s and songs like Sandy and The Soldier he was at the top of his game, where he's remained ever since. It must be said that some of the musical settings on these 70s recordings now feel decidedly dated (keyboards being more obtrusive than guitars to my mind), but the scope of Harvey's writing and the range of subjects he could tackle with total credibility is quite astonishing. The Harvey Andrews devotee will certainly welcome this anthology with open arms, while those of us who came to his music later will appreciate the chance to catch up: all we need now is to "plug the gap" with reissues of the Faces And Places and Friends Of Mine albums (Writer Of Songs, thankfully, is currently still available from Harvey's website).

David Kidman August 2007
---
Harvey Andrews - Somewhere In The Stars (Haska)
While some singers find their voices diminishing in depth and power as they grow older, others become somehow richer and more resonant, the emotion thickening with the years. Andrews falls comfortably into the latter category, the warmth, the passion, the humour and, when it strikes, the anger all keenly felt.
Fairly inevitably, after some 40 years in the business, the album bears evidence of the reflectiveness and yearning that comes with age not to mention a certain irritation with the modern world as, for example, his music hall style ditty about the mobile phone and the way it has rendered it nigh impossible to have the day to ourselves.
Wit strikes the cheek with a sharp tongue too on Fruit And Veg, a Grapelli nodding hot club plea for vegetarianism in which he sings "you ain't born till you've tried some home fried quorn." Likewise humour nibbles on the similarly jazzy guitar The House of Your Dreams with its observations on the joys of buying a house and the gulf between reality and estate agent descriptions.
But he's at his best when most poignant and fired up. Take the songs concerning the autumn years. On The Last Train a face glimpsed out of the carriage window prompts regrets of a life never followed while Old Face ripples with the longing memories of a world of yesterdays swirling behind the eyes that stare back from the mirror. Bridged by recollections of childhood, it's a theme picked upon the album's only cover, David Mallett's self-explanatory titled You Can't Go Home Again. But there's defiance as well as resignation here. A powerful live favourite, the unaccompanied You Knew We Were Coming is a potent demand to whatever government of the day it may be to give the senior citizens, the 'glad to be grey', the right to the care and comfort in their old age that there has been 40 years of neglected planning to put into place.
Elsewhere, defiant determination not to go quietly, to see sunsets never seen, is here on Long Long Time, the melancholic Sons and Daughters is an empty nesters song that mixes sadness with hope for their better tomorrow (it's image of emigration to Australia echoing that of Golden Pennies, a by request re-recording of his theme song to the 80s TV series), Somewhere In The Stars clutches at dreams of that better tomorrow, the buildings without bars, that remains still just out of reach, the piano backed Found and Loved is another aching tale of love lost and the hope of eventual emotional salvation. La Jeusseliniere is a waltzing love song to the French farm where he's tutored at the annual music school, while the dramatic Impressions is inspired by the true story of how, when Camille Pissaro and Monet fled in the face of the German invasion, some 1460 Pissaro paintings were destroyed, and The Role You Choose notes how we consign ourselves to lesser lives by the images by which we define ourselves.
Admirably truculent, self-confessedly grumpy but still a humanist, romantic and battered optimist not yet ready to settle for the twilight of cocoa and slippers, Andrews once again confirms his position in the premiere league of veteran English singer-songwriters whose work continues to turns his audience's eyes upon themselves and the world in which they live.
Mike Davies
---
Harvey Andrews - The Margarita Collection (Hypertension)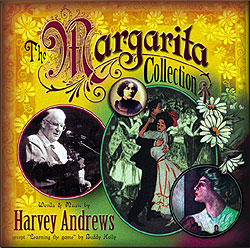 Although if you count yourself any sort of self-respecting folkie and admirer of British singer-songwriters you'll already have Harv's Margarit and PG albums, this new compilation provides the best of both in one handy package, reissued here with a new annotated lyrics booklet in which he provides a thumbnail sketch of the song's background. They're a mix of the poignant, the personal and the political, ranging as they do from Yesterday's Bread (an indictment of the way we neglect our old folk inspired by a story of a shop selling stale loaves to pensioners) and Cheeky Young Lad (a lament for society's decline) to Long Ago, Far Away (a memoir of his first love) and Margarita, a moving tale of his aunt Annie who having gone blind was unaware that the photo of her fiancé, killed in the Great War, had faded in its frame.
Dear Miss Allyson is a gentle love song to a screen pin-up and one of three numbers about his own heroes, The Songs That Harry Wrote being a nod of the inspiration hat to the late great Harry Chapin (Lot 204 a perfect example of the way Harvey emulates that storytelling style) while Please Don't Get On The Plane refers to the crash that killed Buddy Holly. Which neatly brings mention of the bonus track, Harvey's version of Buddy's Learning The Game, originally released as a single back in 1973.
One day there'll be a full career retrospective, but for now this is a highly replayable snapshot of part of it.
Mike Davies
---
Harvey Andrews - The Gift (Hypertension)
It's hard to believe that it's already been 12 years since Birmingham born former teacher turned singer-songwriter Harv played his 25th anniversary tour, but here he is 37 years after his first public appearance at Ian Campbell's Jug O'Punch and a career that's taken him to virtually every folk club that is or ever was and seen him tour with Focus, become the first person to cover a Paul Simon song, pen a couple of Brum themed musicals, write the definitive musical tributes to Tony Hancock and Phil Ochs, release a catalogue of wonderful albums full of insightful, often moving songs that are still played today and even get himself banned by the BBC in the 70s for his song Soldier. As anyone who's seen him play live, he's also a marvellous raconteur with a bookful and more of stories about his times on the road. Appropriate then that, at 57 his latest, heavily autobiographical album should find him in reflective mood about who he's known and what he's seen in the changing world of folk music.
Opening number Spinning Concertinas sets the affectionate mood with a loving tribute to concertina maker Hamish Bayne (who naturally plays on it) and his clothes-making wife Freda, a simple but beguiling homage to all the craftsmen of the world whose love is clearly evident in their work and the joy it brings others. And in essence that's what Andrews is also about. Listen to If It Wasn't For The Song, the story of how he got into folk music after hearing "songs to make you dance and sing, songs to make you sigh, songs to make you laugh or bring a tear to your eye" while 1964 recalls his own early days, wondering if he'd get it right or wing it, aspiring to be the next Hoyt Oxton and sing Tom Paxton (the song's full of references to his songs and deliberately musically evokes Last Thing On My Mind) and resolving to avoid the seductive lure of the era's drug culture. He was lucky as well as talented, but as the title track melancholically relates, not all those wannabe Alex Campbells found the gift of an audience in their search for success, their guitars left to gather dust in their cases. Such passion inevitably finds him lamenting a certain loss of innocence in the genre and its practitioners and promotors over the years as commerce sometimes takes precedence over the purity of the art. But his jibes are witty, never cruel. That perfect Folk Club In The Sky is a satirical swipe at those club owners, singers and audiences who are never satisfied (and come on, we've all met them and not just in folk circles) while Pigeon-Holed ("it's too Daniel O'Donnell for me") succinctly relates a tale of selling out your credibility for the sake of a bigger fee just as Give A Damn pursues a similar theme in the story of a lapsed socialist who bought into the Thatcher dreams and lost their own.
There's no acrimony in these songs. But there is perhaps a sadness that today all too often we overlook the heart of the songwriter's music in our concern for the clothes it wears. It's a music that Andrews has lived and loved, that has fuelled his ambitions, his affections, his anger and his art. He sometimes asks whether what he does still has a place, whether an old songwriter with a voice and (sometimes) a guitar can still reach out and touch. But he already knows the answer. Anon pays tribute to those names long forgotten, bones buried under unmarked stones but whose tunes and rhymes about 'life in our day' may temporarily vanish but are always found again when another generation discovers those 'songs to make you laugh or bring a tear to your eye.'
In the last track, Fading Voices, he remembers his contemporaries, some who blazed bright, some who 'watched their spotlight die'. Yes it's a reverie veined with nostalgia, yes it's tinged with sadness. And yes, like all of us who have more years behind than in front, there's a certain rose-tinted conservative (with a small c) feeling in the album that then was a better, simpler and purer time than now. But it's not the work of some folkie Victor Meldrew. It's the voice of an old campaigner whose ideals still burn bright, who remembers fondly those who sang with him at the barricades but who also has faith there are new voices with new tales to tell who will carry forward the still burning torches and proud banners. And that's a gift worth saluting.
Mike Davies
---
Nels Andrews - Scrimshaw (Own Label)
Although singer-songwriter Nels originally hails from Albuquerque (New Mexico), you couldn't really say he's been "in plain sight" of my radar before, even though Bob Harris made his debut Sunday Shoes his Album Of The Year in 2005 and his second album Off Track Betting achieved plenty of high-profile reviews when it appeared back in 2008. It certainly impressed me with its lyrically evocative quality and a production that made lush soundscapes out of sparse bedrocks.
In that connection, it's good to note that for Scrimshaw, his third album, Nels has again engaged Todd Sickafoose for production duties, while his small touring band (Jonathan Goldberger and Brandon Seabrook), together with drummers Ben Perowsky and Andrew Borger, also play an integral part in the often surprisingly delicate soundscape, along with more occasional appearances from Adam Levy, Rich Hinman, Savannah Jo Lack, Nuala Kennedy (among others). Nels' voice is soft, warm and inviting, its gentle drawl bringing you into his confidences and not releasing you until the song fades. The small-scale stories Nels relates on Scrimshaw have been culled from a time off the road, daytimes working in New York (to which location he's lately relocated), which is why I was at first a touch confused by the disc's chosen title (a word meaning the craft of carving art or writing stories on whale-bone or whale-ivory), cos this would imply a kind of maritime/marine theme to its contents.
No, it's less literal than that, more that the disc's nine original compositions (original, that is, apart from a neat setting of W.B. Yeats' poem Three Hermits) may be said to evoke distant places; in fact, I discovered, the songs were written while Nels was looking out in the evening over the Brooklyn shipyards. It's also good – albeit in a purely sonic sense – to notice that the sea is reflected in the shimmering, shifting nature of the conjured soundscapes. Ethereal textures, glistening and ever-changing timbres and strange and imaginative elements move to and fro within and outwith speaker-space to serve the imagery Nels presents, especially inventively perhaps on Lost Year, Starboard and Flotsam (where the metaphors are at their strongest). Nels may however be saving the best till last, for the closing track Wisteria is an affectionate little masterpiece imagining a kind of loving relationship between the brownstone and the wisteria vine, flowering then eventually choked (capped by a coda of swooning stringscape before fading into silence).
Scrimshaw is a delightfully balanced, mysteriously beautiful experience that begs repeated play and yields continuous satisfaction; the only thing missing is a lyric sheet, and you can easily find that on Nels' website.
David Kidman August 2012
---
Nels Andrews - Off Track Betting (Reveal)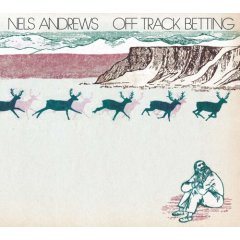 "Sunday Shoes", Nels' album from 2004, was an absolute standout and at long last we have a follow-up album to enjoy. The "El Paso Eyepatch" band that made that album are no more; Nels is now settled in Brooklyn and the new album is recorded with a large-ish band of players under the production of Todd Sickafoose. For all the new circumstances, the sound is not radically different - low-key and atmospheric, with Nels' vocals well to the fore; the extensive use of piano is probably the biggest change, and that fits very nicely into the songs. I do have a quibble, though, with some of the "atmospherics" - electronic trills, brushed cymbals, single bars of picked banjo and a "wine glass orchestra" - that frequently irritate, getting in the way of the structure of the song. Sometimes these things work: "Sunday Shoes", re-worked completely from the radio recording of 2004, has an eerie backdrop of sounds behind the building urgency of the music, and the tension rises like floodwaters behind a dam, never quite reaching breaking point.
It's Nels' voice that makes his music so captivating, though. Seemingly effortless and unaffected, his singing is matter-of-fact, warm, thoughtful, affectionate, gruff - all of these things at the same time sometimes. Though his songs tend to sound downbeat, they are in fact full of a love for life, an appreciation of the small things in life that hit home. They're also beautifully constructed and I expect the man's a perfectionist: just nine songs here, and two of those are, to my knowledge, several years old, ("Three Days" appeared as "Warm Rain" previously). Still, I reckon the quality control is a good thing - there's more than enough albums padded out to over 60 minutes with second-rate material. There's three quiet, contemplative, songs here that are quite beautiful; they offer the promise of many years to come of first-rate songwriting from this man. Having seen him perform - just himself and his guitar - inside the last twelve months, I can also promise you that he is a most impressive performer, with a quiet way of absolutely nailing your attention.
www.myspace.com/nelsandrews
John Davy February 2008
---
Nels Andrews - Sunday Shoes (Little Kiss)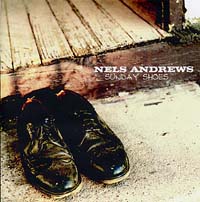 I was warned that this was a good album, what I wasn't told was just how good. Quite simply Sunday Shoes is the meanest, moodiest and darkest album you're likely to come across this year. It's also a dead cert for the top ten album list for 2004 of anyone lucky enough to hear it.
It's perhaps understandable that the music is so rugged when you read that Andrews has worked on the docks in Alaska and tree-planted in south Dakota. Now living in Alberquerque, New Mexico he has drawn those tough experiences together under one roof. He has also joined Lucinda Williams, Steve Earle and Lyle Lovett in being crowned the 'NewFolk' winner at Kerriville Folk Festival. He is in good company, then again so are they.
When, on Central Ave. Romance he sings that 'It's cold out here and no-one's got a light' not only can you hear the ice on his breath you also know that he's talking about something infinitely more sinister than a weather report. Penetrating the inky blackness of the song is a towering guitar riff which rides to the rescue like a musical Seventh Cavalry. And when he warns 'You best be going fore I read you my mind' on Broken Conversation you realize that it's very good advice that you won't be able to follow. This is music it's impossible to tear yourself away from.
On Sunday Shoes Andrews lifts up the rock on which Ryan Adams and Jesse Malin are sitting and has a look at what's crawling underneath.
Along with the malevolent guitar-driven melodies Nels Andrews has used a poet's eye to write lyrics that act as words of mass destruction. Lilli Marlene is just one example among many of him revealing a devastated life, while Petal To A Bee and Jesse's Mom are songs with their guts hanging out. Raymond Chandler is well namechecked on Petal To A Bee but even his fevered imagination couldn't mine the depths that Nels Andrews reaches. Sunday Shoes is what rock n roll was invented for, it stops you in your tracks and permanently alters your perspective.
Be warned, if you're sitting down with a bottle of something chilled with a relaxing evening in mind then this is not the soundtrack you're looking for. It will disturb and delight you but it will not sink quietly into the background.
In his endeavours Andrews is joined by Michelle Collins, Chris Kitchen, Jeffrey Richards, Heath Dauberman, colourfully called 'The El Paso Eyepatch'. Good name for a band that plays on an album that is beyond the reach of the law.
Michael Mee
---
Christi Andropolis - Rust And Holler (Furrow Records)
American songwriter, singer and fiddler Christi, thus far best known as one third of the charismatic group Rubus, has finally unleashed her determinedly solo venture, on which she brings her own defiant take on a widely varying corpus of material that includes delta blues, Appalachian traditional songs and her own original, earthy compositions.
The album's title is well chosen for its indicative blend of folk traditions; Christi's approach is genuinely transatlantic, combining the influence of her American roots (she hails from New York State, but is largely inspired by the music of the southern States) with a flair for English and Scottish fiddle and effortlessly blending the traditional with the contemporary in a significantly original way. Christi's attractively idiomatic and expressively soulful singing voice enjoys a creative backdrop that confidently steers from one or two musicians to a full complement of six or seven players.
On one hand there's a sparse, glowing bluesiness on the smouldering Another Way Down, which one could almost imagine cropping up on Led Zepp 3) and an even more atmospheric sparseness on the organ-backed Winter Soldier (inspired by the Iraq Veterans Against The War website), where almost unbearably subtle acoustica evoke the so-delicately-poised emotional climate Christi is portraying (a touch reminiscent of Tom Waits' Day After Tomorrow perhaps); on the other hand, there's Christi's belting, and almost indecently funky, hard-driven treatments of the traditional Marrowbones and Cambric Shirt, a sultry workhouse/prison-holler rendition of The Dead Horse (complete with wailing bluesy harmonica courtesy of Dave Hart) and a restrained, though almost Joplinesque take on the chain-gang song Sink 'Em Low.
Good Morning Mr Hughes, one of Christi's own songs, is one of those enigmatic songs that draws its inspiration from what might be termed the psych-folk tradition of cryptic songs with a contemporary twist (I detect a possible Emily Portman influence at work here too), while The Hawthorn Tree capitalises on its spectral banjo (Dan Walsh) and some eerie fiddle counterpoint and vocal harmonies. Some of the more elaborate instrumental scorings involve contributions from Randy Andropolis (organ), Sean Taylor (bass) and Will Schrimshaw (drums).
The CD also contains three lightly inventive instrumental tracks: Rhymes And Reasons is a sweetly jaunty Irish-flavoured fiddle-jig built around a rippling piano riff and delicate guitar (David Newey), and Haunting Hounds uses a gently motoric repeated figure, while Lapwing propels its airy but insistent Bulgarian-tinged rhythms from harmonica into fiddle traceries. Rust And Holler has been a long time coming, but has also definitely been worth the wait; it's a triumph, a bold and confident record that shows Christi unafraid to experiment and equally fearless when it comes to employing her influences to dramatic effect. My only criticism is with the near-illegibility of the credits on the single-sheet insert: I suspect there were some pre-production difficulties…
David Kidman October 2011
---
Angel Band - Bless My Sole (Appleseed)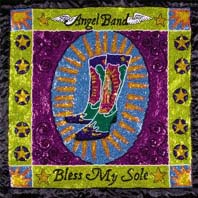 Angel Band's 2008 album (With Roots And Wings) was one of my favourites of that year, although it contained a small proportion of less than distinguished material. Its followup, Bless My Sole, is, however, a very much more consistent set.
Since 2008 there's been a fairly major lineup change too, with Aly Paige replacing Jen Schonwald in the core vocal trio. I've not been able to find out much about Aly, but on this showing she's a superbly versatile singer with a strong vocal character and very capable range, and she fits in totally with Kathleen (Weber) and Nancy (Josephson). For the nub of the Angel Band sound is still those glorious vocal harmonies, with fluent and easy trading of lead and harmony roles by all three ladies. Even so, the power and strength of their crack backing band (Marc Moss, Bob Taylor and Christine Lenee) is not to be underestimated - and little wonder when on this record its ranks also embrace the brilliance of David Bromberg (Nancy's husband), fiddler Nate Grower, accordionist Bukka Allen and guitarist/pedal steel supremo Lloyd Maines (who's also produced the album, with typical insight and clarity of expression).
Like its predecessor, Bless My Sole consists almost exclusively of original compositions, but this time round all the lyrics are by Nancy herself (with music by Marc in all but two cases), the songs running a healthy gamut from soulful Americana to rootsy-folk-country-rock through gospel, cajun and mex to indie-country, each example making best capital out of a canny pick of lead singer out of the three (tho' Aly gets the lion's share by a small margin). What all the songs have in common is a solid acoustic base, well balanced to an excellent rhythm backing that's not over-driven or over-prominent, and a keen sense of structure that unerringly supports the song's message.
The anthemic opener Hope Is On The Way is a good start - were it not for its rather upbeat sentiment this one could pass for a Richard Thompson opus, its melody line being curiously reminiscent of When I Get To The Border! The delicious Feat-style lope of Same Boat ushers in the first of several songs that reflect Nancy's empathy for flood- and hurricane-devastated victims (New Orleans and Haiti), the theme continuing on the breezy (companionably McGarrigle-esque) mando, accordion, triangle acoustica of Didn't See It Coming (When The Levee Broke). There's a more heavy-duty setting for the examination of pretension King Of Nothing and the languid lope of Long Gone Got Away Lucky, where the as-live tightness of the ensemble is miraculous. (I Feel) Lucky is one of those chirpy, cheeky Dixie-Chick-style ripostes that might be destined for the country charts, while the contrasting moody tex-mex ballad Boots Of Guadelupé (with music by Laurie Lewis) is more than the sexy shoe-fetish it at first seems. There's also more than meets the ear in the ugly and quite sinister industrial-percussion clank of Black Tar Sway (you can really feel you're treading that broken glass under your feet!).
Almost certainly the disc's standout cut, though, is the drop-dead-gorgeous Fly Away Home, with its lovely acappella intro, keening lyric and gently pervasive fiddle drone set into relief by some absolutely spine-tingling harmonies. Sheer genius of production, execution and restraint. The album's closing triple-whammy is a power-gospel sequence culminating in the stirring Bless My Soul (with not a footwear reference in earshot!), whose final build to a majestic, lusher arrangement almost cries out for a Hey-Jude-style coda. There's a real knock-you-dead impact when full power is invoked and all three voices conjoin in outright, forthright chorus (as on the last section of Go Ahead And Go). And indeed on the album's lone cover, a full-throated, marvellously gutsy rendition of the underrated Beatles B-side Don't Let Me Down.
So much more artistically consistent than its predecessor (which itself was no major disappointment), Bless My Sole is a triumphant return to the recording stage for Angel Band.
David Kidman August 2010
---
Angel Band - With Roots And Wings (Appleseed)
Angel Band comprises three ladies (Nancy Josephson, Jen Schonwald and Kathleen Weber) who are blessed with great individual voices that also happen to blend in gorgeous harmony. You might remember Nancy from years back where she did stints with the Buffalo Gals, Arlo Guthrie, Peter Rowan and Fiddle Fever - and with her husband, the legendary David Bromberg; you could say she's making a kind of comeback here. Jen and Kathleen can probably both be termed veterans of the Philadelphia folk scene: Jen being best known as part of the band Full Frontal Folk, whereas Kathleen's performed with Los Manatees and Steven Kelly. Each of the ladies has a big voice - big in character, power and stature - and their tight harmonic togetherness is genuinely exciting in its thrusting passion and scale. They're backed on this, their second CD together (and first for Appleseed), by their crack band Chum, led by Mr Bromberg no less, with the album's producer Lloyd Maines helping out on pedal steel, and a handful of other musicians too including Richard Crooks and Bukka Allen. The songs mostly inhabit a time-honoured and solid country-folky-bluegrass mode, with gospel as a very strong sideline. All of these (bar the one cover) are high-class originals, all but a couple penned by Nancy with a handful co-written with the band's mandolinist Bobby Tangrea, a songwriter of distinction in his own right (tho' curiously his two compositions here seem among the album's few weaker cuts). The album starts real strongly, with the enigmatic acappella of Hey Papa Legba giving way to a killer mardigras-cum-cajun track I'll Sing This Song For You. Other highlights occur early on too: the deep brooding Drown In The Fountain Of Good and the plaintive Cold Lonesome Down In Blackbird Creek. But then the CD takes a bit of a lull with the two Tangrea songs - decent, sure, but (I feel) less distinguished than what's gone before. Then things crank back up a notch with the playful, sexy I'm Coming Home To You and settle down again into spiritual mode for Do Not Stand At My Grave And Weep, another of those songs which (like We Are Shepherds later on the disc) sounds darned familiar (and comforting with it). Patron Saint Of Opportunity recalls the McGarrigles, and the disc's closer Jump Back In The Ditch is literally clap-happy. Which only leaves the cover: this is a respectable enough rendition of Chip Taylor's Angel Of The Morning, but this song also appeared on Angel Band's 2006 album so I'm a bit puzzled at the need for revisiting it here because ("angel" theme aside) it doesn't really fit with the rest of the material here. The best of this CD contains some of the best music I've heard this year, which makes its small quotient of less inspiring moments harder to fathom - but everything's relative ain't it?
David Kidman June 2008
---
Angel Brothers - Angel Brothers (Navigator)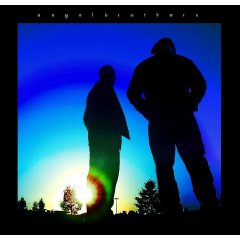 Dave and Keith Angel have over the past few years established themselves as one of the most innovative acts on the world music/roots circuit, now consolidating that hard-won reputation with an unpretentiously eponymous new CD that, while in many respects following on where Forbidden Fruit left off, was, I learn, directly inspired by the recent death of their father Ivor, a real lover of life and a constant source of encouragement.

The brothers' unique sound marries their love of composers Lalo Schifrin, Ennio Morricone and David Axelrod with Latin, Indian and African percussion, acoustic and electric guitars, Hammond organ, piano and English folk fiddle. (Eclectic or wot?!... ) Fittingly, they themselves describe their latest aural feast as "a soundtrack to a film of your imagination", and certainly its cinematic propensities, inclinations and ambience are both immediately apparent and expressively ear-catching. The brothers' now-trademark adventurous globally-influenced crossover-roots grooves are much in evidence, but the difference this time is an increased prominence given to soulful vocal-based textures on much of the material, these involving either Bombay-born female vocalist Sandhya Sanjana or the brothers' long-time associate Mick Humphrey. These contributions add a constantly delightful new dimension to the brothers' good-naturedly cosmopolitan musical adventures, whether on the chillout cine-pop of Ghosts, the easy-lounge vibe of Shifting Sands or the more overt exoticism of Django's Caravan. Dave and Keith augment their own consummate instrumental and arranging skills, guitars and percussion with funky and intelligent bass lines from Jim Lockey and Andy Seward and a return cameo from celebrated Magazine keyboardist Dave Formula. The brothers also call on English fiddlers Becki Driscoll and Nick Wyke, who turn in some fine solo passagework on the thigh-slapping Butlin's Lederhosen Fancy and the genially folky-funk Empty Chair as well as being responsible for some commanding string arrangements, notably on the opener Tongues Of Fire (which shape-shifts most persuasively over the course of its seven-minute span from a gentle Latin lilt into a deliciously syncopated, relaxed reggae reel) and the more animated Goldbricking.

Every track brings fresh surprises to captivate the ear: perhaps most intriguing of all is the slinky Stepping On Shadows, where a compulsive fandango meets twang guitar with Eastern promise, while the spirit of Classical Gas meets 70s film scores on Same Sky, Different Planet. The whole record should be listened to on good-quality headphones in order to experience the full multiplex sonic effect, for it glistens with accomplishment and thoroughly (and unassumingly) captivates with its appealing and thoroughly natural eclecticism.

David Kidman July 2009
---
Tara Angell - Come Down (Rykodisc)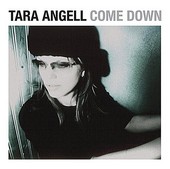 Produced by Joseph Arthur, the New York singer-songwriter's debut comes with an endorsement from Lucinda Williams and comparisons that have embraced not only her, but PJ Harvey and Marianne Faithfull. I'm not sure I'd sing her praises quite that high, but, crossing the borders between moody indie and gothic Americana it's a hugely impressive first statement even if it does, at times, sound like Arthur recorded her in an empty room at the end of a long hallway.
Citing such diverse influences as Flannery O'Connor and Creedence Clearwater Revival (and I'd suspect Sympathy For The Devil era Stones for Hollow Hope), she gets suitably swampy and literate as she takes the confessional route through heartbreak and defiance, self-assertiveness and moments of vulnerability. Love and loneliness find exquisite expression in the stripped down simplicity of When You Find Me, etching a nicotine stained mood that goes a long way to explaining why Daniel Lanois was so impressed.
Other unarguable highlights would have to include the wounded and desolate The World Will Match Your Pain, a funereally stark The Big One, the lacerating blues from hell Silver Lining where she sounds like a soul in torment in a way that makes you want to burn every Bible you can get your hands on, and the slow swaying defiance of a near hymnal Bitch Please. It's not the 21st century's answer to Broken English as some have suggested, but the more you listen and let it soak into the skin the more you're convinced that she's capable of eventually producing precisely that.
Mike Davies
---
Anonymous 4, with Mike Marshall & Darol Anger - Gloryland (Harmonia Mundi)
Anonymous 4 is a female vocal quartet comprising Marsha Genensky, Susan Hellauer, Jacqueline Horner and Johanna Maria Rose, who are well respected individually as performers in the classical and early music fields as well as for their eclectic outlook and willingness to sing all types of music. The foursome made a pilgrimage to the roots of Anglo-American vocal music with their CD American Angels, which presented gospel songs, psalms and shape-note hymns from the various American traditions. For Gloryland, its sequel, they're joined by the perennially versatile Darol Anger (violin, mandolin) and Mike Marshall (guitar, mandolin, mandocello), who are both very much at home in a number of musical genres although Darol is best known for his work with bluegrassers. Darol and Mike appear on just under half of the selections, also contributing two versions of Wayfaring Stranger and an instrumental rendition of An Address For All. So let's get the potential caveat out of the way first: this disc won't entirely satisfy the purists, for although the ladies make an entirely pleasing and highly musical sound at all times, you can't escape the fact that theirs are classically-trained voices, which means that the innate quality and timbre of those voices doesn't always lend itself to communicating the deeper, more rough-hewn nature of the material in the same way as an authentic old-time performer or source singer (or even folk artiste) would. Having said that, the ladies of Anonymous 4 both individually and collectively make a very good job of it, and they show themselves well able to incorporate genuine features of the desired style or genre for the relevant pieces within the context of the selection. Wayfaring Stranger, though not quite as rugged as a folk-singer's performance, still retains something of the essential high lonesome quality, as does You Fair And Pretty Ladies; while the various "revival songs" from the Sacred Harp collection are expertly well-turned representations, suitably vigorous and highly enjoyable (provided you take them on their own terms). The arrangement employed for Merrick is both intelligent and satisfying, with some enjoyably jazzy swinging instrumental work that works unexpectedly well. It's on just a small handful of the gospel songs that I feel the ladies' cultured delivery and (necessary) degree of vocal "arrangement" renders the material a tad too genteel, even prim and proper, and arguably more suitable for the parlour or the art-music-room (Never Grow Old is one such example); or else their refinement leads to the adoption of a tempo that borders on the soporific (as in Pleading Saviour). Anonymous 4 have a clear empathy for the material and respect their sources, having done their preliminary research carefully and thoroughly; where they're heard to strike a credible balance between vocal accomplishment and direct, untrammelled communication of the texts or sentiments, then they're onto a winner (if at times a more refined one than the aforementioned purists might at first accept). For my own part, I got an immense amount of pleasure out of this CD, which comes with the exceptionally high classical-industry standard of presentation (full texts and notes, in three languages, within a handsome 60+-page booklet bound into the package... the only thing missing is the identification of individual soloists on each piece.
David Kidman October 2007
---
Darol Anger's Republic Of Strings - Generation Nation (Compass)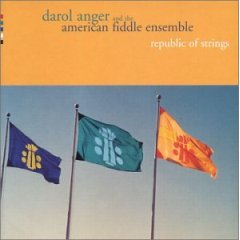 Careful scrutiny of the band name gives a good clue to what to expect from this brilliant release from ace fiddle player Darol: fully together, inspirational playing from a group of seasoned musicians and lots of stringed instrument textures. That includes fiddles and mandos from Darol, five-string fiddle (Brittany Haas), guitars (the mighty Scott Nygaard), cello (Rushad Eggleston) and basses. All inhabiting a gorgeous, highly creative territory, the land where bluegrass meets newgrass, jazz, country, classical and many folk musics. Generation Nation is the ensemble's second album under this aegis (I didn't get the first, but it got quite a bit of acclaim), and it includes plenty of really satisfying playing to get your mind into, normally channelled into and through some brilliantly loose, slightly extended instrumental workouts that inventively rearrange tunes from all over the musical globe. Where else might you hear a distinctly funky rendition of Ornette Coleman's Ramblin' taking partners with a traditional old-time fiddle tune (Yellow Barber), whirling across that dance floor like nobody's business?! There's also a scintillating composition of Scott's (When You Go) that explores a range of time signatures from the starting point of an Eastern European-sounding waltz, complemented later on the disc by a magically relaxed version of a tune from the repertoire of the Anglo-Swedish band Swåp (The Seagull), while the niftier side of the picking, bowing and scraping is represented by the oldtimey classic Lady Hamilton. There's one live cut too, a nicely stretched-out arrangement of the Yellowjackets' Rain Dance which builds up a fine head of steam after a deceptively languorous opening; and the final track (The Tan Hut) is a quirky little group improvisation (Shostakovich meets almost Mongolian reggae!) on a travellin' motif. As well as the eight purely instrumental cuts, this great-value (70-minute) disc also includes four songs. These are worth the admission price alone, with Chris Webster turning in a truly sublime version of Aretha's Chain Of Fools, while Anonymous 4's Marsha Genensky's take on the traditional Father Adieu is one of the best versions I know. There's also a creepy original by Rushad (In The Basement) that's sung well by Aoife O'Donovan (of Crooked Still and Wayfaring Strangers), while the old Buffalo Springfield number Bluebird is tackled with all due spirit by Terry Pinkham (though her voice is probably a shade too pop-inflected for the song). This is a very fine disc indeed, one of the best to come out of the Compass stable of late in my opinion.
www.darolanger.com/republicofstrings
David Kidman January 2007
---
Angil - Teaser For: Matter (Megaphone)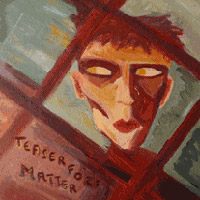 If you've ever wondered what Al Stewart might sound like were they fronting Broadcast playing Yo La Tengo songs then Frenchman Mickael Mottet may be the answer. Touted in the press blurb as a cocktail of the 60s Canterbury Scene of Robert Wyatt and Soft Machine, the Americana of Smog, Radiohead and hip hop, it's certainly an intriguing listen that keeps revealing little nuances with each play. The man himself also declares it a tribute to Lisa Germano's 1994 album Excerpts From A Love Circus, apparently a seminal influence on his own along with John Cage, Low, Ornette Coleman and Miles Davis. You begin to get the textural picture.
The opening track, No More Guitars (but there are) sets out the experimental stall with its blend of dreamy cobwebby folk, beats, jazz sax and explosive sonic storm climax before moving on to Beginning Of The Fall where those Soft Machine meets Syd Barrett bubbles rise and then giving way to Along The Way To Be Happy, Darlene Said which (apparently a tribute to Darlene Love) calls to mind a wasted young Bowie strumming into the early hours of Hunky Dory.
There's a certain Gallic glacial quality to it all, even when he fires things up for She Said 'What You Doing' He Said 'I Am Leaving' and the jagged Matching Mole jazz Sons of Benedict which samples a James Dean speech from East of Eden but perversely it's precisely this sense of casual detachment that helps the album burrow under the skin.
Some of it, like the aimlessly nostalgic strummer An Old Acquaintance, a doodling Momus-like Soulshop and a droning Miss Wonderland prove hard going but on the whole, when greeted by the ambitious sonic whorl of Dolaytrim and a lovely stripped down pulsing cover of Kim Deal's Invisible Man, you have to admit it's worth the rewards are worth the effort. But, don't get excited by the apparent inclusion of a hidden track, sit though several minutes of silence and all you get is the sound of rain and what seems to be a cat mewing. Ah, the French.
Mike Davies
---
The Animals - Let It Rock (Charly)
The Yardbirds - Five Live Yardbirds (Charly)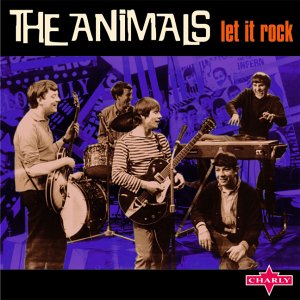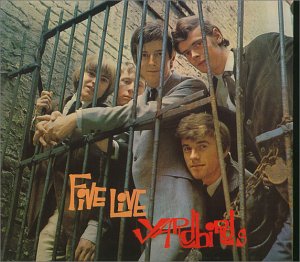 Imagine a time when bands roamed the earth in Transit vans, sharing the space with their gear and perhaps a driver. Road crew would have been the ultimate luxury though as no one had invented mixers and PA systems as we know them there would have been nothing for them to do! Yes it was basic, raw and exciting but there was a live music scene that existed independently of the whims of the record business. Bands could, and did, build followings from live work and could fill clubs to the rafters without the slightest whiff of a hit record or, in many cases, a deal.
The Animals and Yardbirds were two such, though in fairness Five Live Yardbirds was a major label release that followed a couple of near hit 45s. That said back in '64 even a deal with the mighty EMI wouldn't ameliorate the band in a van indignities of working musicians. And they were working musicians; The Yardbirds captured her on fire at London's original Marquee Club knew how to fire an audience with a stripped down R&B that The White Stripes would envy. It's amazing hearing Eric Clapton rip into this classic material with a gusto that long ago diluted; back then he was a man on a mission playing blues as religion. The rest of the band are no slouches either, pushing him to play out of his skin.
Meanwhile The Animals were kings of Newcastle Upon Tyne's Club A Gogo (I still have my membership card to what, for me, was a doorway to another world) where they dispensed pharmaceutical strength R&B with an intensity that modern day retro rockers would be afraid of. They were a band that locked into an almighty groove that the great Eric Burdon (still an underrated R&B vocalist, in my opinion) surfed with aplomb. Let It Rock catches them live in '63 taped (bootlegged you might argue) by Yardbirds manager Giorgio Gomelsky, a uniquely influential figure in UK music, before they landed a deal or released anything more than a demo. Both albums are amended reissues. The Yardbirds adds 10 tracks that didn't make the original cut whilst The Animals adds what was once a separate album; eleven tracks that find the quintet backing visiting blues giant Sonny Boy Williamson at the A Gogo. It's a fascinating document of cross generational influences - Sonny Boy was in his seventies by then - and proof that nothing is new and that the current hot shot is merely the present baton holder.
With that in mind you should seek out these albums, not as historical curios but as important links in a vital chain.
Steve Morris
---
Keren Ann - Keren Ann (EMI)
Unlike 2004 predecessor, Nolita, with its cosmopolitan mix of French and English, the Israel born New Yorker's fifth album returns to the English only format of Not Going Anywhere. But whatever language she chooses, she still manages to make Nico sound like speed metal. This shouldn't necessarily be taken as a bad thing, certainly not on something like the narcotic fuzz of It's All A Lie or the very Velvets-like Lay Your Head down with its Lou Reed style semi-spoken delivery, handclaps and circling guitar riff. And while In Your Back sways sleepily to heavy lidded vocals, Where No Endings End mixes together flute, piano, string and spaghetti western guitar to sound like a hybrid of Francois Hardy and Julee Cruise and the ethereal piano and trumped hued Liberty tinkles like Norah Jones' musical box, it's not all such delicate crooning. It Ain't No Crime veers into Tom Waits territory circa swordfishtrombones with slouching distorted guitars, the mostly instrumental Caspia tinkers with scuffed dirty beats and sonic flatulence while Between The Flatland and the Caspian Sea elaborately pulls together moody organ, shards of free form piano and brooding electronic washes while she blends Leonard Cohen and the Ancient Mariner for some otherword sea shanty. Deceptively layered and quietly intoxicating.
Mike Davies June 2007
---
Michelle Anthony - Stand Fall Repeat (Burn And Shiver)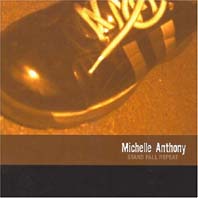 Somewhere between Sheryl Crow and Chrissie Hynde with a hint of Margo Timmins on the spare opening Mourning Song, the Kansas City singer-songwriter debut album sees her slotting comfortably in a bluesy alt-country niche, sometimes striking out in twangy soul rock directions. Produced by former Wilco member Jay Bennett, it's a bit harsh at times but rather that than smoothing out matters and draining the life and guts out of things like the swaggering Don't Deny and Analog Feeling or blunting the emotional edges of piano ballad Radio Waves.
There's not enough stand-out songs to start getting too excited and talking in next Lucinda Williams terms, but on the evidence of Mourning Song, the country rock n rolling Ellouise kicking up dustclouds and Ivy Rider's easy rolling mid-tempo ballad she'll be worth checking back on in a couple of albums time to see how things are progressing.
Mike Davies, February 2006
---
Anouschka - My Kind Of Heartbreak (Anoushka Pearlman)
Swedish born Anouschka Pearlman had a globetrotting childhood that took her to England, Germany, Thailand and the United States and this has given her a broad outlook on her music. She has fronted one of Sweden's first all-girl groups, graduated from Berklee College of Music and worked as a music teacher with children from the ghetto areas of Boston. After returning to Stockholm from Los Angeles she found it difficult to come to terms with the difference in attitudes and My Kind Of Heartbreak was the result. The album opens with the harmless pop of Rainy Night In Chelsea. Her voice is certainly unique and may take a little getting used to. Venice Beach has a virtually spoken vocal and is a scathing indictment on the fame and fortune lifestyle there -- this is a good song and well sung. Good Girl Gone Wild highlights her lack of vocal range although the song is jazzy, bluesy and has a little country feel in there as well. She is trying to show her experience of trying to fit into small town expectations on this one. Man Like You is another with a blues feel to it and is a story of rampant love. It's energetic and drummer, James Bradley Jr, comes out with some credit. The vocal lets it down though. She shows that she has the skill to write a good song and this is perhaps where her future lies as House Of My Father shows. The chorus on this tale of distanced family relationships is excellent although some of the lyric content is a bit dodgy. She finds her voice at last on Beautiful But Damned and this earthy blues may well be another indication for future direction.
The eponymous title track is an average piano ballad which has a country tinged emotional vocal and there's a slight reggae beat going on in Gonna Get Over You. However, she doesn't really manage to pull the latter off. Buried Alive is night club fare and Is This What Love Feels Like drifts off into the Jazz field. Her voice goes again on the Country tinged My Loyal Heart. Let's See This Through is poor and, although it does improve slightly at the chorus, it just does not work on so many levels. The closing track, When R U Coming Round? has a 70s sit-com theme tune feel to it and is a lusty tale. As debuts go, there is room for improvement and there is only so far that the low budget excuse will go. The fractured vocals do work sometimes, the songwriting craft is there as are the live performances and if Anouschka gets enough airtime then perhaps she might just carve out a small niche for herself.
David Blue April 2007
---
Any Trouble - Life In Reverse (Stiff)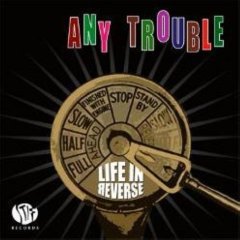 As noted by my NR colleague David Kidman in his review of the reissued Where Are All The Nice Girls?, hindsight now justly regards the Crewe quartet as one of the most underrated bands of the early pos punk 80s, purveyors of quality classic melodic pop that somehow never managed to translate critical praise into commercial sales. It's also true to say that they still holw claim to the definitive cover version of Richard Thompson's The Dimming Of The Day.
The band split in 1984, Clive Gregson going on to become a solo artist and then a duo with Christine Collister, releasing a string of outstanding albums that confirmed his standing as one of the country's best guitar players and songwriters. Today, working solo again, he's based in Nashville, a regular member of Nanci Griffith's Blue Moon Orchestra, frequent touring visitor to the UK and in demand session player.
A year or so back, while playing UK dates, he confirmed rumours that he and the AT guys were getting back together to see how it felt to play as a band again after all this time. Obviously it felt good, and, having previewed a couple of songs on a recent solo tour, the result is this comeback album, reuniting Gregson with co-founder guitarist Chris Parks, drummer Martin Hughes (who'd replaced Mel Harley by the second album) and, stepping into Phil Barnes's shoes, Plainsong bassist Mark Griffith. Back on their original label, they've even recruited debut album producer John Wood to do the honours again Although Gregson's time in Nashville is evidenced by country flavours to several of the numbers (most notably Better, About To Fall and the honky tonk piano on Angel In Disguise), there's been no radical overhaul of the old Any Trouble folksy pop sound. Indeed, this could have been languishing in the vaults for the past 20 years.
Which isn't to say it sounds tired or dated by any means, there's the same freshness and sense of fun in playing together you might find in a band that's only just formed. Except, of course, the playing is as fluid and relaxed as years of experience can bring. The opening bouncy beat single That Sound pretty much sets the pattern for what follows with a set of singalong songs that glow with a lived in feeling and that ordinary bloke and ordinary relationships sensibilities that Gregson brings to his writing. The Man I Used To Be hints at his affection for Northern Soul, Wanderlust, Reverse and the bittersweet Ruby Red are prime examples of his tumbling melody lines while Tremolo carries a trace of chugging 60s pop ska, the organ driving I Want You (or yer, as he sings) recalls the Dylan era that the song suggests while, arguably the album's stand out track, Peyton's Place is a vintage example of Gregson's word play and bruised but optimistic Northern romanticism.
It's not going to suddenly accord them the success and sales they never achieved first time round, and I think they themselves would be very surprised if it did; but, likely to settle in nicely on Radio 2 and the world's easy listening stations, it is going to bring a big smile to the faces of their long time admirers and anyone who appreciates finely crafted grown up pop music. And, ultimately, I guess that's all they really wanted to do.
www.anytrouble.co.uk
www.myspace.com/anytrouble
Mike Davies September 2007
---
Any Trouble - Where Are All The Nice Girls? (Stiff) For those not already aware of the fact, Any Trouble was the unfairly-underappreciated band in which Clive Gregson cut his musical teeth before embarking first on a solo career then duo work with Christine Collister. One of the finest items in the early Stiff catalogue finally gets a proper CD release worthy of its musical importance. It's an expanded edition that includes, as well as the entire original ten-track LP, the two extra tracks (Growing Up and No Idea) which appeared on both the US vinyl edition and the limited-release UK cassette version, and both sides of the Pennine-label single Yesterday's Love. (All that's missing is the remaining seven takes from the initial Pennine sessions, but I'm not sure whether these ever survived…) So the key question is: does the music on this disc stand up to the acid test after more than a quarter of a century? - and the answer is a resounding yes. I remember many folks thinking at the time, at any rate on first acquaintance, that Any Trouble were a bit of an anachronism back in 1980, an ersatz-Costello throwback even. Certainly there were shades of Costello in the phrasing that Clive Gregson adopted (but without ever embracing quite the same degree of mannerism), and in the "hardened-love-song" stance of much of his writing. Even the snappy, edgy pop-savvy musical settings, of that debut single and especially songs like Second Choice and (Get You Off) The Hook, couldn't entirely escape comparison with EC, but closer listening invariably revealed these aspects to be superficial resemblances rather than lazily derivative tributes (let alone rip-offs), and in truth there's probably as much of a Richard Thompson influence in the lead guitar work (if not also in some aspects of Clive's songwriting at the time), albeit this may be all the more obvious with hindsight (check out Turning Up The Heat and Foolish Pride for example). What is definitely very much apparent at this temporal remove, however, is the catchy, powerful original-that-sounds-classic feel of all the material on the band's debut LP; songs like The Hurt came straight out of the devastating side of rock'n'roll and seemed to bypass punk and proceed straight to go without landing in jail along the way. The more measured pace and controlled anger in perception of songs like Girls Are Always Right strongly prefigured Clive's later solo material. Why on earth the band didn't achieve more commercial success with their brilliant, crammed-full-of-hooks debut album is beyond me - except maybe that in 1980 they were mildly out of phase with the time, neither sufficiently hard-core in punk terms nor sufficiently new-wave - although they (percipiently) drew on the best of both sub-genres – and almost too intelligent for the pub-rock that spawned them. I reckon that with Any Trouble having recently re-formed and a new album (Life In Reverse) due out very shortly, time is ripe for reappraisal of their early recordings, an opportunity afforded by this well-presented expanded reissue. So now I'm hoping that a similarly expanded edition of album number two (Wheels In Motion) may follow. www.anytrouble.co.uk

David Kidman August 2007
---
James Apollo - Good Grief (Aquarium)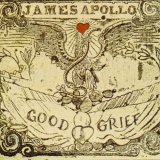 Arkansas born, mid-West raised and something of a globe trotter, Apollo has the dust of the trail in his mouth and music on songs that Steinbeck might have penned had he been given to guitars rather than novels. But he also coats both with a gentle sweetness that tends to make him sound like the middle ground between Jack Johnston (Dead Men Weight More Than Broken Hearts), Calexico (Mercenary Tango) and Tom Waits (Three Birds). While he may have wanderlust, he's musically rooted in the bluesy folk country of America's backroads, an influence to which he pays homage in the desert clanking All The Pretty, a trad, perhaps negro spiritual, tune that also figures in the Calexico songbook.

As Libertyville demonstrates, he's not blind to a poppy melody while both Neko and Spring Storm know how to shuffle their way round a Mexican cantina dance floor but it's the moodier, more broody material that gives the album its most constant identity, the build up of The Alamo from drifting tumbleweed to brush storms, the after hours and empty glass lurches of Loneliness and the ruminative brushed drums Americana of the title track that in another life might have been Richie Valens fronting Giant Sand. Mourning becomes him.

Mike Davies, May 2006
---
Appendix Out - The Rye Bears A Poison/ Daylight Saving/ The Night Is Advancing (Drag City)
Only recently I reviewed Alasdair Roberts' very latest solo album No Earthly Man on these pages, and its release followed closely on the timely reissue late last year of the three albums which Alasdair released under the name of Appendix Out between 1997 and 2001 - the last of the three appearing more or less concurrently with his first nominal solo CD The Crook Of My Arm (recorded for the even more obscure Secretly Canadian label). There, that's the basic biog over, so now to concentrate on the music. Well, it's got a lot of features in common with Alasdair's later solo releases, as you might expect, but the instrumental backdrops are at times even more experimental, especially on The Night Is Advancing. Starting with The Rye Bears A Poison, though, this is a stark, dark-textured, doomy set consisting of songs written 'partly in rural Perthshire and partly in Glasgow and for the most part in the dark half of the year'! Alasdair's musical compadres for the album were drawn from the friends he'd made when moving to Glasgow in late 1995 - they're identified somewhat cryptically only by the abbreviated monikers of Louise D, David E and Eva P.; they provide sympathetic noises on generally quiet-toned instruments like bass, 12-string and slide guitars, autoharp, cello, mandolin and violin with some keyboards and percussion to fill out the texture sparingly at times. The ten compositions I'd presume to be all Alasdair's own, though many have the demeanour (if not always quite the stature) of traditional balladry. It's an attractive set (in the way that gloom can be attractive!), and if not always massively varied in tone and timbre it has a sombre delicacy that's you'll find very appealing if you appreciate early Incredible String Band for instance. The second Appendix Out album, Daylight Saving, was recorded in Glasgow in 1999, with almost completely different personnel (Tom Crossley, Gareth Eggie, Dave Elcock and Kate Wright), and presented with pretty minimal supporting information (no instrumental credits, albeit all the lyrics were included in the skimpy booklet this time round. Even so, Daylight Saving has a similar feel to its predecessor (springing from the same basic compositional well, as it were), yet could be considered its 'brighter, marginally cheerier brother'. I like both albums a lot, and would certainly consider them as companion pieces. I also really like Alasdair's rather individual singing style, a kind of worldly keening that has a decorative poise yet a sense of wildness and unpredictability that (if pushed for a reference point) I can only compare with Robin Williamson. Finally, the third (and last) Appendix Out album, 2001's The Night Is Advancing, not only built on the approaches consolidated on the first two albums but also extended their instrumental armoury somewhat while embracing additional production values which to a certain extent diluted (by obscuring) the more traditional atmosphere of those earlier albums. Even so, the presence of both Tom and Gareth (who'd first appeared on Daylight Saving), and Dave Elcock on chorus vocals, enabled both consistency and continuity with Alasdair's earlier work; it's a musically satisfying, if unduly cryptic offering (there's absolutely no content to the booklet, so we learn nothing about the songs whatsoever). In summary, then, all three Appendix Out CDs exert a fascination that's hard to define (though believe me I've tried), and all three are worth your attention, especially if you've responded at all to Alasdair's subsequent solo CDs; the Appendix Out CDs may not be as unwaveringly traditionally-infused as Alasdair's later work, but their mildly radical sonic and lyrical experiments still cry out to be heard (in their own subtle and understated way). I still wish that the lyrics could have been included in the reissue packages though - what a missed opportunity.
www.dragcity.com
www.alasdairroberts.com
David Kidman
---
Nancy Apple - Shoulda Lied About That (Ringo Records)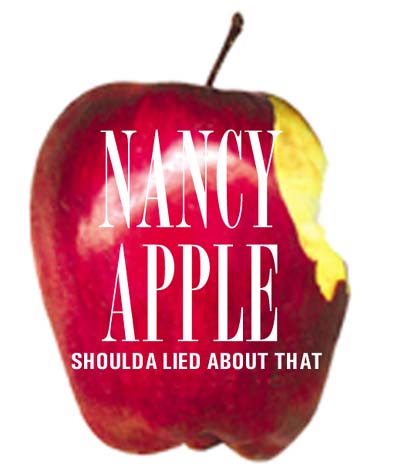 Nancy Apple, aka The Cadillac Cowgirl, may hail from Memphis, where she's garnered countless award nominations, but her music is steeped in Nashville twang and authentic Americana roots. Her website biog terms it 'genuine y'alterna-honk that is outside the lines and far from ordinary', which is quite a tag to live up to - but I think on the whole Nancy does manage it. Her history's fun too - started out playing drums in punk and garage bands such as the Hellcats, with a stint drumming for blues legend Willie Cobbs, then in the late 80s started writing songs and playing guitar. Her own career as a frontperson began with two 90s albums with her Back Door Men, all the while she was getting in demand as a backing vocalist for folks like Mark Lindsey, Reba Russell, Jay Harrison Ruffins and Todd Snider. Her solo album Outside The Lines (2000) was critically acclaimed for its authentic and fun combination of classic honky country, ballads and cheatin' songs, and Shoulda Lied About That sure seems more of the same. It's an entertaining ride through the well-travelled landscapes of honky-tonk, rock'n'roll and rockabilly, sung and played with a real-deal sense of just how it all should be done. Nothin' fancy or pretentious, nothin' deep, just good-time rootsy country, refreshingly eclectic and no-holds-barred. Nancy's backing crew consists of Jay Harrington (electric guitar), Ronnie Vandiver (bass) and James Cunningham (drums), and Reba Russell repays her earlier compliment by coming in on backing vocals on several cuts. Most all of the material is Nancy's own, and she shows a cute ability to "take an idea and run with it" and write simply and accessibility in different styles without compromising her individuality or descending into pastiche (just!). The tracks which make the biggest impression, though, are the sparse Hard Luck 'n' Old Dogs (with its shades of Mary Gauthier), the restive Angel Fire (Nancy's homage to 'chilling out in New Mexico'), the hard-hitting Same Old Thing and the insidiously catchy sup-it-and-see hangover-time Fruit Of The Vine (also available in a 'party mix' right at the end of the disc). (Oh and hey, I can't resist this awful riddle: 'Why is Nancy's album out on the Ringo label? - 'Cos she's a Starr'!') This is a good album for getting' that country party goin', but it's also a good listen if you're in on your own.
David Kidman
---
Applecraft - The Happiest Man Alive (Ochre)

Gentle, uplifting, visionary, chaotic, brain-numbing, mad as a spanner - welcome to the world of Applecraft. This is what so-called psychedelic music is all about - Syd Barrett where are you? Listening to this, Applecraft's second album, is like being locked up in a padded cell with someone who can mimic the voices of a thousand rock stars. One minute he's Peter Gabriel, the next he's a Happy Monday; the next he's a mad musical professor. The core of Applecraft are Don Mandarin and Mike Mooney, who have seen service with Lupine Howl, Spritualized and Julian Cope. That's reflected in the crazy, spacey, daft-as-a-brush approach to music making. There are just no borders. Jack Me is all whistling and clattering and descends into chaos; Anny could be Genesis, circa Nursery Crime; Asthma begins with a cacophony of percussion and disembodied voices to become...well, mad. One thing about Applecraft - lovely name for a band, by the way - is that they are not afraid to throw anything into the mix. So the songs veer from 2000-era modernism to sixties-era drone rock with the odd moment of pure, pristine beauty shining through, beacon-like. The Happiest Men Alive? They obviously are.

John Stacey
---
April Maybe May - April Maybe May (Crash)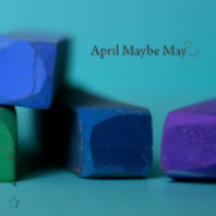 Released digitally as a limited edition a year ago, its download success now sees the debut album by Barrow in Furness duo Rosie Hillman and Matt Kassell getting full distribution. It's pleasant, soft summery stuff, at times (and especially on An Open Book) reminiscent of early Everything But The Girl, without the soul but with a feathery dusting of folk and light jazz.
Hillman has a soft, shimmering voice that conjures images of leafy vales and free flying balloons, investing a summer evening melancholy in numbers such as Back To Me and Seasalt. The perkier shuffle of the banjo rippled Home finds the pair harmonising nicely, although the guitar's a little to high in the mix to let the vocals fully shine through, but The Girl Next Door explains why Kassell doesn't take lead more often.
There's an element of Sade cool coating the Latin flavours of Smile with its sultry percussion and the piano led six minute closer Tracing Trees calls to mind the reverie side of Sandy Denny. A little twee perhaps with no numbers that really leap out and grab you, but it's undeniably pleasant listening when you just want to chill out although the otherwise lovely For The Weekend and Lost are both forceful arguments for calling a moratorium on glockenspiel solos trying to sound like wind chimes in the garden.
Mike Davies May 2010
---
Rani Arbo & Daisy Mayhem - Big Old Life (Signature Sounds)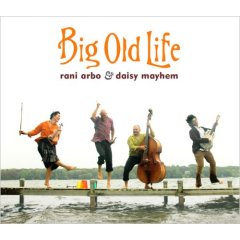 A couple of years ago, fiddler Rani returned to band-making and got together with her husband (and percussionist extraordinaire) Scott, ex-Salamander Crossing bassist Andrew Kinsey and guitarist Anand Kyak, to form Daisy Mayhem, an outfit whose every gig would be a veritable "folk-roots-groove party". The resulting albums, Cocktail Swing and Gamblin' Eden, were an exuberant and gleefully adventurous mix that refused to be pinned down and (notably on the latter) ran the rootsy gamut from funky bluegrass to western-swing, contemporary protest to deep traditional, moody balladry to mardi-gras. Big Old Life provides a second bite at this large ripe cherry, and it tastes every bit as delicious. Opening in sanctified gospel mode with a distinct Zydecajun twist (Joy Comes Back), the record moves on fast through the lazy barroom honky-tonk of the title cut, the Celtic bluegrass of Red Haired Boy, the jive of What's That, and Rani's own delicate, observational Roses (which along with her starkly, intensely beautiful Hole In Heaven provides a close-run tie for the award of album highlight), all rounded off with the anthemic Shine On. Best of the rest include a plaintive, poised cover of Jim McGuinness' Thief, a gutsy swingin' take on the traditional Oil In My Vessel (an exceptional vocal lead here by Rani) and a curious "let's do it differently!", jumpy rendition of Dylan's Farewell Angelina that defies description - it really throws you off kilter the first time you hear it, but I think it comes through in the end. Andrew's own Mother Of Our Dreams is a tense, quietly brooding, almost David Crosbyesque composition of real distinction. Oh yes, and there's also Leonard Cohen's Heart With No Companion, which is treated to a sensitive reading over a gently shuffling oldtime banjo-and-fiddle backing, making it feel rather like an original mountain classic or even a lost Carter Family number - a wonderful treatment, and one of the CD's standout cuts without a doubt. Like its predecessor, Big Old Life is stuffed full of abundantly fine solo and harmony singing and superb musicianship: a masterpiece of jubilantly right-on music-making from four folks who obviously really get off on getting it on together. The disc's blessed with an exceptional clear, crisp and full-toned recording (tho' this time round it's the band themselves along with Chris Rival who take the credit for "keepin' it real"!), and - again like its predecessor - it's likely to be displacing many of the more urgent review discs from the player for some time to come!

David Kidman December 2007
---
Rani Arbo & Daisy Mayhem - Gambling Eden (Signature Sounds)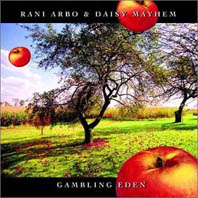 Daisy Mayhem is the latest band to be fronted by fiddler Rani Arbo, who cut her musical teeth in the 90s as a key member of "neo-oldtimey" outfit Salamander Crossing; it comprises bassist Andrew Kinsey (also ex-Salamander Crossing), guitarist Anand Kyak and Rani's husband Scott Kessel at the helm of a weird and wonderful conglomerate percussion kit he calls "Drumship Enterprise"! What a distinctive sound these four musicians make too…

Gambling Eden is a swiftly-conceived sequel to their delicious opus Cocktail Swing, and brings us an equally delicious yet vastly different cocktail. Masterminded by Dirk Powell, no less (who also guests on various instruments, as is his wont), this new project is probably one of the juiciest albums I've heard in a while, a veritable "folk-roots-groove party for the new millennium", in which heaps of adventurous fun is had on a disparate catalogue of songs, around half of which are traditional in origin. Stewball opens the menu with a jumpy Meters/Little Feat-style funky rhythm overlaying the storytelling, followed in complete contrast by Rani's own sublimely poignant composition Finland, softly yet potently driven by percussion, guitar and fiddle, and two contrasting, mesmerisingly moody items - the existential ballad Closer (from the pens of John McGann and Chris Moore) and the almost ritualistic O Death.

There's a vibrant shuffling New Orleans mardi-gras treatment for the Georgian Sea Islands calling-song Turtle Dove, and a suitably gutsy take on Fiddlin' John Carson's protest song The Farmer Is The Man, then it's back to relaxed western-swing for Rani's Little Sparrow and funky bluegrass picking for Red Rocking Chair, supplemented by the driving Cooderesque gospel of Anand's own Road To Heaven. The album's rounded off with an achingly lovely, delicately judged take on the late Dave Carter's Farewell To Saint Dolores.

Now the band's individual contributions are all worthy of note and give the ensemble work a real distinction in its uniquely rich sonic signature, but I must single out Rani's own superbly versatile vocalising (crooning, soaring, hollering, often all within the compass of one song) and glorious tone, not to mention her charismatic fiddle playing. The exceptional dynamic presence and detailed clarity of the actual recording also belongs firmly in the award-winning category, to my mind. And hey, I really must apologise for the lateness of this review - I've been enjoying the album so much this past year that I'd just not gotten round to setting my thoughts down. You'll appreciate the difficulty I had when you learn that even Dirk "can't describe this music any more easily than (he) can corner a cougar."! Right on!

David Kidman
---
Rani Arbo & Daisy Mayhem – Cocktail Swing (Signature Sounds)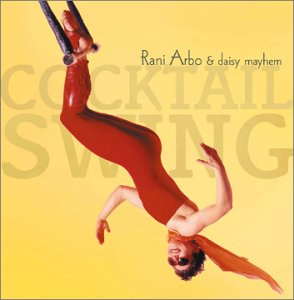 Mayhem's not the right word here, for this is a neat and pithy little set of smooth, well-controlled western swing mixed in a cocktail lounge. The lovely Rani Arbo may be familiar to some of you as fiddler and vocalist with that adventurous 90s acoustic bluegrass outfit Salamander Crossing, now sadly disbanded. Rani's addiction to the swing fiddle style, combined with fellow Salamanderite Andrew Kinsey's infatuation – nay, obsession! – with the ukulele, formed the catalyst for them getting together early last year with sundry old friends to record a dozen numbers from Andrew's battered and over-travelled tape of "promising uke tunes". They let themselves loose (though actually with an admirably tight rein, and complete with a suitably "enterprising" drumship percussion kit!) on a clump of jazz, jugband, blues and swing standards ranging from the title track (a composition by the obscure but wonderfully named guitarist Sarane Ferret) to material associated with Louis Armstrong, Anne Murray, Lefty Frisell, George Jones and Fats Waller, the whole collection topped and tailed with some more contemporary pieces from Guy Clark and Robert Crumb. The recording process sounds like it was a whole heap of fun, and the whole band are well inside the idiom so it all comes across as totally natural and unforced music-making rather than mere pastiche. The band's sense of pace is faultless without being clinical, and they excel equally on timelessly moody, smoochy pieces like That's All, supremely eccentric cabaret jazz that's worthy of Tom Waits (Comes Love), the steamy swamp-jazz of I Get The Blues When It Rains, and deliciously faster-paced swingers like I Do My Cryin' At Night. This album's only fault is its unaccountable brevity – only 35 minutes – shame! – but what there is, well, I sure love it to bits!
David Kidman
---
Dan Arborise - Around In Circles (Just Music)
This is the debut CD by an ultra-nomadic young singer-songwriter who three years ago finally settled in Devon, since when he's created quite a buzz at festivals such as Green Man. His trademarks are a warm, tender vocal style and intricate, often spacey acoustic guitar work. Dan's music is very obviously much inspired by Nick Drake, whose influence he cheerfully admits, but there's more to Dan than just a haunting, rippling mood of introspection; his writing is intimate and personal but at the same time involving and interesting, thoroughly amenable and with no hint of navel-gazing. As a guitarist, Dan's been tagged as a John Martyn for the 21st century, but I detect a slight African influence sometimes too in the hypnotic nature of his note-patterns, and there's always more to his picking than you might at first think, while he can make quite a full sound with those basic, simple means. I can appreciate the Nick Drake comparison, especially in the tone and enunciation of Dan's delivery on songs like What We Know About Love and Why Can You Not See, but Let Me Be reminded me as much of Gerry Rafferty, To The Sea of John Martyn, and I caught echoes of Jeff Buckley too on other occasions. But it's the total effect of Dan's music that's so mesmeric, the whole picture: quietly lush and rather romantic, yet spare and delicately organised. Subtle instrumental enhancements courtesy of Dan's producer/label-mate Jon Hopkins and colleagues are like gentle brush-strokes of icing, adding a piquant minimalist sheen to the ambient melodic cake baked by Dan's music. Very sensitive and beautiful, although at times some may find it almost too much so; but I find it easy to get immersed and captivated. Dan's got a new album in the offing too (Of Tide And Trail), so I'll be listening out for that.
David Kidman January 2009
---
NQ Arbuckle - XOK (Six Shooter)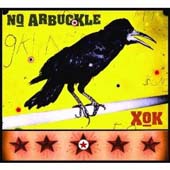 The second album passed me by, but, produced by Veal's Luke Doucet, here's the third from Toronto songwriter Neville Quinlan and his band, still cracked of voice, still trading in throaty Americana and still exploring Canada's darker backroads.
Things open on a slightly unsettling note with My Baby where, to a doo wop backing, the gruff voiced narrator enumerates just what his girl will put up with from him, and wondering what's wrong with her for doing it. Thankfully, nothing else has quite the same psychotic undertone, but even so it's probably not something to send you off to bed feeling safe and warm.
Delivered to mid-tempo guitar chugging country rock, the muscularly building emotion leaking title track, Marco Polo's slow rolling resignation. Huntsville Affair's countrified REM smalltown ache and the splinters and shards of a cracked relationship that pierce the slow, spare bluesy Spooking The Rocking Horse all speak of gravel scarred hearts. And while the woozy barroom and banjo sway of I Liked You Right From The Start or uptempo shuffling road song Postcard From Princess find flashes of tenderness, it's no surprise that the uncertain vagaries of romance send him to the bottle with a bluegrass rocking Don't Remember Me.
To contrast the extremes of the album's musical moods, then set the stripped back lo fi acoustic Mincing Words (more driven to drink by trouble in a skirt musings) against Ontario, Michigan which opens on a slow rumble before building to a raging guitar storm and a piano fade against indistinct chatter.
Given there's a distinct feel of the wheatfields and tarmac poet to Arbuckle's writing, it's no surprise when you learn he's become an admirer of the late Alden Nowlan, one of Canada's leading contemporary poets. To which end, the album's only 'cover' is the stirring Part Of A Poem By Alden Nowlan Called Ypres:1915. Or, to be exact, the last two verses of its heroic/anti-heroic account of the battle where Nowland writes of the stubborn courage of the Canadian troops who held the line against the German gas attack. You can sense Arbuckle's born to the breed.
Mike Davies September 2008
---
Arcade Fire - Neon Bible (Sonovox)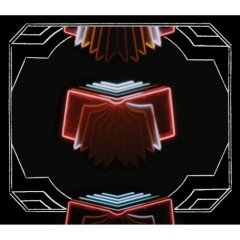 The name alone invites thoughts of vaultingly big, guitar drenched rock n roll majesty charging over the sonic horizon waving banners of the apocalypse to the accompaniment of a battalion of orchestras. And, as it happens, the Canadian outfit's second album pretty much lives up to such expectations. Steeped in gloom of the deepest black and words hewn from visions of dread and despair, yet clothed in musical robes of soaring anthemics, complete with mighty swelling church organs, massive choruses, waves of strings and legions of harp and horns as Win Butler's voice quivers in a mix of transcendent ecstasy and trembling awe, this is bombast writ so large it makes Bono seem like Nick Drake.
Opening with the goth notes of a spooked piano Black Mirror where Echo and the Bunnymen mate with Television, it delivers the first of its knockout punches with the single Keep The Car running, a krautrock train rhythm married to a Springsteen swagger, breathing over the tick tocking title track before launching into the cathedral-like chords of Intervention, a religion baiting track ("working for the Church while your life falls apart") custom build to be played at maximum volume with every window in the house open.
Things don't let up; Black Wave all jittery synthpop and kiddie chorus sounding like John Foxx era Ultravox in a Grimm nightmare, Ocean Of Noise a breathy bubbling soundtrack to spidery paranoia clinging to the shadows, The Well and the Lighthouse transforming into Roy Orbison fronting a diabolic musical box Velvet Underground. Then comes (Antichrist Television Blues), where Springsteen turns his blue collar to the storm for a folkabilly guitar shuffle, referencing the evergreen Mockingbird as its working man narrator worries over earning enough to feed the family, questioning faith in God and government as he sings "I don't wanna work in a building downtown, no I don't wanna see when the planes hit the ground.... I'm a God-fearing man, but I just gotta know if it's part of your plan to seat my daughter there by your right hand."
Bruce is there again on the downcast, hope battered Windowsill gradually transforming to become U2 before the song ends on its repeated chorus line. And. just so you don't miss Butler's point that we're "living in an age that calls darkness light", the closing My Body Is a Cage begins as a stripped down acoustic gospel blues, building into a crescendo of Church organ while he desperately laments 'set my spirit free'.
Which would be enough to send you hiding in the cellar with a packet of razor blades, were it not for the fact the album also features a re-recording of No Cars Go, their electro-Echo vision of escape to a place "between the click of the light and the start of the dream." a new world of shimmering Talking Heads soul rock where spiritual malaise is washed clean in a polyphonic flame of rebirth. And you thought this was just a rock n roll record.
www.arcadefire.com
www.myspace.com/arcadefireofficial
www.neonbible.com
Mike Davies March 2007
---
Dave Arcari - Got Me Electric (Buzz Records)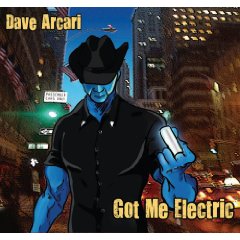 Got Me Electric is Dave Arcari's fifth album and features nine originals along with four covers. He has sprung a couple of surprises and plays acoustic and Telecaster guitars as well as his beloved National. The eponymous title track heralds the return of the wild man but there is only so much that you can do as a solo artist. However, he may garner more recognition on the back of what Seasick Steve has managed to achieve. Whatever happens, you know what you are going to get from Mr Arcari. Nobody's Fool is engaging and You Oughta Know is a great re-working of an old song. I may have been premature in stating that the wild man is back as it seems that he may have mellowed a tad on No Easy Way and he has rounded things out a little more. Close To The Edge is out of Radiotones back catalogue and Arcari often successfully raids his old songs from time to time for a bit of re-jigging. Another success, although there will be those that say he leaves himself open to accusations of a lack of new material. The one thing that is constant is that he always keeps his Scots accent. One More Heartbreak dispels all thoughts of mellowing as he really goes for the throat. This is classic Arcari and a great version of the Frankie Miller song.
Blind Willie Johnson's Soul Of A Man is a country influenced blues and Arcari keeps it simple. It is Robert Burns' 250th anniversary this year and Arcari has chosen to include Parcel Of Rogues. There will be purists jumping from roofs but I'm sure that the bard would have loved to hear his words interpreted in this way and given the full Arcari treatment. Hear Me Coming is back to the blues but I feel that this would benefit from a full backing band. Homesick And Blue is electric and a little on the rockabilly side whereas Journeytime Is Over is archetypal Arcari if there is one, although not in the blues shouting area. There is a certain formula to our Mr Arcari and the man is not for turning. Robert Johnson's Walkin' Blues is electric and grungy, revamped and how!! Just wait for it and all of a sudden you'll be in the middle of a riot. This is him at his snarling best. He closes with Bound To Ride, another revamped Radiotones song but this time he has managed to create a wall of sound just from one man and his guitar. This is a remarkable album in more than one way!
David Blue March 2009
---
Dave Arcari - Come With Me (Buzz Records)
This is Radiotones' frontman Arcari's first solo outing and, whilst there are many lamenting the lack of new Radiotones material, Dave does transfer the ethos of the band into his solo performance. He opens with Red Letter Blues and delivers in his own inimitable, unpretentious style. Arcari is known for his lightning guitar delivery and gruff vocal and I have to ask the question, is it possible for him to be any gruffer than he is here? He attacks his guitar with vigour and confirms his status as the gaffer of alt.blues. Another Chance is a Radiotones favourite and carries over well from the full band format. However, I have to say that I prefer the original group version. He plunders the Radiotones back catalogue on a number of occasions and Bring My Baby Back is one that does really well in the solo form. Dave's guitar playing has tightened up and he's sounding better than ever. He is, however, still an acquired taste. He continues to raid his back catalogue to great effect with Troubled Mind. He's at his growling best here for this walking pace offering but the less dedicated may lose patience with it though. The sedate pace continues with the eponymous title track that harks back to primeval delta, old man on the porch kind of blues but I'm not suggesting that Mr Arcari is old, not by any means! Dreamt I Was 100 is a folk blues with a good story. It is contained, restrained and one of the highlights of the album.
The old Mississippi John Hurt classic, Stagolee, gets the Arcari treatment and, although I have heard many versions of this song, I am always surprised at how many different interpretations that are produced. This is as good as any that I have heard as Dave turns to standard acoustic guitar and shows that he can remove the aggression from his voice when he wishes to. He's starting to play in more recognised blues formats now and the first of two Willie Johnson songs Nobody's Fault But Mine is another strong performance. I have to admit that Going To See The King, the second Willie Johnson song, is one of my favourite songs, especially when covered by Radiotones. Dave's solo version is very good but again I prefer the full band as it just gives it a different dimension. Arcari returns to the 'in your face' style for Gravel Road but he's still holding back a little and only starts to really rip it up again on Cool Friend Blues where he shows that he's an artist that does not try to hide. She's Gone is another Radiotones favourite. This is Scottish blues, par excellence and the solo version is great. I've heard Devil Got My Woman live (as I have with most of the others) and it should be one of the things to do before you die. The recorded version does not do it enough justice, good though it is. Dave finishes with Project Blues and, like the rest, this is short and to the point. Is this what the Delta blues players of yore would be playing if they had their time now? Probably!!
This is music as it should be, every now and then - raw and naked.
www.davearcari.com
www.thebuzzgroup.co.uk
David Blue March 2007
---
The Arlenes - Big Steve talks to Don Blandford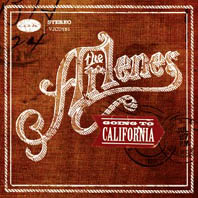 Country roads really can take you home! After seeking refuge in sunny California The Arlenes make a most welcome return to Britain this month. Beginning a ten date tour at Norwich Arts Centre (April 7th) Arlenes fella Big Steve puts off the packing to chat with NetRhythms.

Country music is cool these days. What's happening?

I lived in Camden for 17 years, I lived in squats with punk bands, in housing co-ops with famous singers, and rock musicians, I was certainly not deemed cool to be playing my country rock ramblings. But I always said I'll just keep on trucking until it becomes cool, and it did. About 5 years ago the Alt. Country thing was happening and the Arlenes just happened to be at the top of the tree in London so we got a lot of attention. Since moving to California I've realised that country music still isn't cool. Don't get me wrong I love Columbia Nashville sound, Bluegrass, old timey and Alt. country. Alt. Country allows singers to write pop songs, with darker subject matter, and use the great players, harmonies and country sounds, that sound so formulaic in the Stetson wearing variety of music. There are some great songwriters out there

How was it for you in Austin at the South by South West festival?

We did our last album 'Going To California' in Austin, Texas. I always knew it was a great music town. In fact great Austin musicians like John Dee Graham and the Gourds played on the album. Still, nothing prepared me for the complete mayhem of SXSW. Over 1200 bands playing over a 5 day period in various venues dotted around the town. A lot of labels, agents, PR, radio, and venues are represented, all going to shows and having meetings, usually mixed in with drinking large quantities of beer. We managed to get us a big US agent from Sunset Blvd in LA.

What can we expect from you on this tour?

We're bringing the US band that played in Texas, bringing long standing Arlenes guitarist Al Christie over from Geneva. We'll play songs from the last 3 Arlenes albums, and a couple of well chosen covers that we've just recently recorded in California, which have given us a lot of media attention in the US

Due to childcare commitments Stephanie can't join you on this tour but you've recruited The Low Country vocalist Emily Barker. How did Emily get involved?

I've known Emily for a while. She'd come to our Sunday shows in Camden. I was always impressed by her singing and quality of song-writing. Yeah, the tour was booked with Stephanie eight months pregnant and we thought we'd cope on the road with two kids, late nights, hotels a nanny and a band. How crazy is that?!

So why did you change your plans?

It became obvious after the first few weeks of baby Violet being born that it was going to send me straight to the loony bin to look after my family and a band on tour. Maybe with a large record company advance it would've been possible!

Do you enjoy the ex-pat life in California?

I don't miss the weather or looking for good, cheap food but I do miss the wasted hours with friends sitting in bars talking nonsense…although I've met a crowd of a similar ilk. There's no public transport there but summer is great for cycling. I miss pub international football games. I missed England winning the rugby world cup and Norwich going into the Premiership…but looks like I'm back to see them relegated!

Where do you get the inspiration for your music?

From life...the past,mad two years! Dreams gone down the toilet, new band, divorce, death, getting to grips with a new country, new child, insanity and hard work in astronomically high temperatures...

Who are your musical heroes?

I got to see a hero or two at SXSW, in Austin, Texas this year. Tony Joe White, Mavis Staples, Elvis Costello, Roky Erikson to name but a few, but I've always been a Neil Young, Gene Clark, Allman Brothers, Howlin' Wolf kind of guy.

Which song you wished you'd written?

Lady Grinning Soul - David Bowie "Aladdin Sane"

How would you describe your own music?

I write pop songs but I love the harmony, melody and musicianship of country rock. So I try and meld the lot. Charlie Rich, "the most Beautiful Girl in the World" had a huge impact on a young 8 year old boy at Butlins '72.

Are you happy with the reviews of Going To California?

It was pretty scary going to Austin to do the record and play with a load of great US musicians. Al Christie, the original Arlenes guitarist, and producer Mike Stewart were the only ones who had an inkling as to what I had in mind. All music was arranged and written out in Nashville notation. I gave the papers to everyone in the rehearsal studio, told them the feel I wanted, and off we went. I knew early on that it was sounding great, and was pretty confident that it would be good. It's still nerve-racking waiting for critics, to write about you, and I've been really encouraged by the reaction. Americana UK said we had set the near gold star standard for modern Americana.

What does success mean to you?

Putting a finished song in the file.

Finally, with an election looming...if The Arlenes ruled the world what would you do?

Tax angry and unpleasant people heavily, and give the money to mums, so they could nurture their kids and stop them from having to hold down a job.
---
The Arlenes - Going To California (Loose)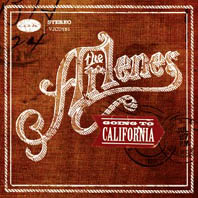 It was the middle of 2003 when Steve and Stephanie Arlene packed their bags and the baby, bid farewell to Camden and made the move to her native California. As you might guess the album, recorded in Austin, details the mixed emotions of the relocation with all the uprooting, goodbyes and turmoil it ensued.
With accordion, lap and pedal steel, fiddle and trumpet serving the arrangements, the songs are both reflective and optimistic, treating on love, marriage, parenthood, showing nervous hesitation about unknown futures and settling some old scores.
Though no remove from excellent debut Stuck On You, their Americana sound seems to have been given an added fillip from being recorded under Western skies, opening in ringing 'mama I'm coming home' form with Smallville 336 and proceeding to make its diverse rootsy way through keening border country (What Am I Waiting For?), back porch bluegrass (Baby Brother, Travelling Song), Latin moodiness (What's My Name?), Eagles-like country rock (Love Her Like A Demon), plangent Byrdsian echoes (the title track), piano bar blues (Tempted) and chugging Johnny Cash blues (6 Junkie £'s).
A steady growing keeper rather than love at first hearing, it amply justifies their reputation a s one of the UK's finest Americana outfits and it'll be interesting to see what homesickness and their observations of living in contemporary America bring for the third album.
Mike Davies
---
The Arlenes - Stuck On Love (Vinyl Junkie)
There's not too much open prairie around Gospel Oak, NW5 but husband and wife team Steve and Stephanie obviously see desert stars out of their bedroom window. He's stands 6ft 6ins in his South London boots, she's from Washington and grew up in the Deep South. Both of them have had a lifelong attraction to country music, as much Tammy as Emmylou, as much Johnny as Gram.
Three years back they poured their mutual loves, his guitar and their mutual vocal talents into an EP that earned glowing praise and reinforced the evidence available from other such UK acts as The Rockingbirds, Los Pistoleros, The Good Sons and, for those of long memories, Starry Eyed and Laughing, that you don't have to walk out of your back porch into a Texas backlot to play authentic honky tonk alt-country.
Encouraged, they set about putting together a whole album's worth that, with an assist from some rather accomplished backing musicians, shows off his Parsons-flavoured sweet ache of a voice and her high lonesome melancholy and ringing harmonies. Melodies chug and roll, guitars ring and chime through a bunch of cracking heart sad love songs about yearning and losing, among them a winsome Lonely Won't Leave Me Alone co-penned with Whiskeytown's Mike Daly, the haunting I Just Smoulder and the closing bluesy Everybody's Mind Gets Broke Sometimes, the brass buttons spirit of GP and Gram and Emmylou glowing bright throughout. There's no songs about truck stops or swimming in the creek, but there is Springboard, which extols the joys of finding romance at Gospel Oak lido. Close your eyes, dive in and it could be Tennessee.
Mike Davies
---
Joan Armatrading - Live At The Royal Albert Hall (Hypertension)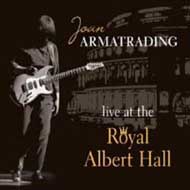 She's only ever had three UK hit singles and it's 18 years since she last had an album in the Top 40, but she's never lost critical respect (she was awarded a MBE in 2001) and, while they may not have been commercial successes, both 2007's Grammy nominated Into The Blues and this year's This Charming Life showed an artist whose creative fires remain undiminished. She has, just to reinforce the point, never recorded a cover version in her life.
As those with long memories will know, in the early days Armatrading had something of a difficulty with live performances on account of her shyness, often making JJ Cale look like an extrovert. Over the years she's become more assured, but what has never been lacking is her vocal power or the dexterity of her guitar work. Both are in evidence across the 21 songs featured here, a double CD set recorded in April that offers a mix of old favourites (although nothing from the albums released 1985-2003) and material from her most recent, four from Into The Blues (a nine minute Something's Gotta Blow included) and seven, including the superb Cry, off This Charming Life.
It's also a good balance between torchy soulful ballads like Love And Affection and uptempo crowd rousing material such as Two Tears. It's also testament to her increased confidence in handling an audience that she can sandwich the tender, hushed Willow between Me, Myself I and Drop The Pilot without losing momentum or atmosphere.
The set also comes with a DVD of the concert, this time from Denver. As you'll see, she still basically just stands there and sings, but the presence is electrifying, not least when she shows off her blues guitar skills. And you get to admire that James Brown pudding bowl haircut too.
Mike Davies October 2010
---
Joan Armatrading - This Charming Life (Hypertension)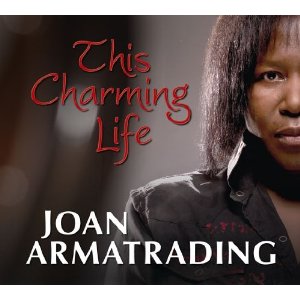 Three years on from her Grammy nominated Into The Blues with its return to her formative musical roots, Joan's now colouring that influence with the sort of rock edged pop melodies that characterised the likes of Me Myself I and Drop The Pilot. Self-producing and playing everything except drums, it's a muscular affair that sees her ripping out some hefty blues guitar on things like Heading Back To New York City, People Who Win and Best Dress On but also finding a place for the tumbling anthemic melody line of the title track.
Introduced on a synth riff that continues to provide a backing pulse, Love Love Love filters jazzy soul into the blues boogie bedrock as she sings about past relationship naivete while the mid-tempo Two Tears has a familiar metronomic chug that erupts into characteristic Armatrading descending melody line and buzzing guitar and Virtual Reality, a complaint about the distancing nature technology has on relationships, recalls her knack of a catchy tumbling chorus.
Lyrically, it's not the strongest work she's ever produced, sometimes sounding untypically clumsy as she looks to highlight honest emotion over clever wordplay, and some of the songs on the latter half of the album don't have the distinctiveness to bring you back for repeat plays. However, when she winds things up with the gospel tinged Cry, singing "nothing you can do is ever gonna hurt like this" as she of recounts a lover's betrayal, you forget the rather tinny drum sound and are reminded of the vintage days of Show Some Emotion. This album isn't in the same class, but there's times when it sails close.
Mike Davies March 2010
---
Joan Armatrading - Into The Blues (Hypertension)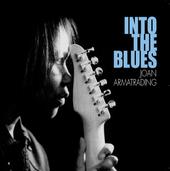 Her first new album since 2003's Lovers Speak, despite what the title might suggest this isn't yet another collection of blues covers. Rather, it's self-penned numbers inspired by and based on the genre with Joan getting into the groove with blues guitar (as well as playing everything except the drums) and clearly enjoying herself. Indeed, on Play The Blues she even sings 'baby when you sing the blues I'd take all my clothes off for you."
You might not want to go that far, but it might be worth chucking odd hat in the air to celebrate the fact this is very much vintage Armatrading, getting off to a good start with A Woman In Love, a chugging bluesy riff that suddenly spirals into a typical emotive Armatrading soaring chorus. She says she's a big fan of Muddy Waters, and goes on to demonstrate the fact with the delta blues choodling Liza, My Baby's Gone and the title track where she even gives him and Mannish Boy a namecheck.
Elsewhere Secular Songs is a lazy drifting number dappled with Mississippi gospel, Baby Blue Eyes is a love song set to a flurry of acoustic blues guitar, Deep Down clatters in the swamp boogie, There Ain't A Girl Alive (Who Likes To look In The Mirror Like You Do) is a driving slice of slide guitar blues boogie that sounds not unlike Patti Smith doing Gloria while Mama Papa finds her in smouldering acoustic Southern folk blues fingerpicking on a specifically autobiographical song that refers to her move with her parents from St Kitts to Birmingham, '7 people in one room, no heat, one wage.'
It may not appeal to those who prefer her more polished sound, but while not perhaps in quite the same league as Show Some Emotion, To The Limit or Me Myself I this return to her roots is something her true fans should readily applaud.
www.joanarmatrading.com
www.myspace.com/joanarmatradingmusic
Mike Davies April 2007
---
Paul Armfield - Blood, Fish And Bone (Artfullsounds)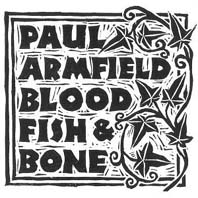 Paul's a gentle-giant of a songwriter based on the Isle Of Wight; his day-job, that of running a bookshop, spills over into his own writing by dint of its intimate literacy. Blood Fish And Bone turns out to be his second album release; the first, Songs Without Words, came out back in 2004 (but escaped my radar entirely I'm afraid), and featured string arrangements by Tindersticks' Dickon Hinchliffe. This new record, however, is more sparsely scored, with Paul's own guitar and double bass supplemented – and then less than persistently for the most part – by distinctly selective aural embellishments from Rupert Brown (organ, drums etc), J.C. Grimshaw (slide guitar, mandolin, whistle, harmonica), Adam Kirk (guitar, piano) and Rachel Gardner (flute).
The intimacy of the songs themselves is mirrored both in these admirably sparing settings and in the up-close-miked recording itself – which emanates from an intense four-day session in an all-valve studio (you can directly experience the ambience and Paul's honesty of approach). Paul's delivery is earnest and almost unexceptionally low-key in nature, his voice often barely rising above a confidential whisper, except on the occasional chorus passage (eg Run, Missing The Last Boat Home). But it's nevertheless strangely compelling, and exerts a considerable pull on the emotions after a while - don't be fooled by first impressions of insubstantiality - and songs like Away display a plaintive vulnerability that's actually not without a peculiar attraction all its own.
Paul explains the album's catch-all title thus: Blood represents passion and life, Fish the sea and his sense of place, and Bone is our mortality; for lyric-wise, Paul uses these concepts as thoughtful metaphors for things that are dear to him, and his specific concerns gravitate around the loose themes of growth and the passage of time, from conception (Only One) and youth (Dance Of The Young Lovers) and age (the chanson-like When I'm Old) to death (What Every Mother Fears, What Would Susan Do?); questioning philosophy plays a key part too (Who Do They Think They Are?, which features a jarring electric guitar part). His songs are masterly creations, containing some persuasive and memorable imagery - in that regard he can sometimes resemble Leonard Cohen, but without the notoriously gloom-filled and depressive demeanour that's (often unfairly) associated with the latter.
Keep an open mind when you approach this record, and then persist, and you'll find the rewards are definitely there for the taking.
David Kidman June 2010
---
Frankie Armstrong - Encouragement (Fellside)
Frankie Armstrong, with the penetrating quality of her voice matching that of her expressive insights, has been a thoroughly welcome part of this country's folk scene for quite a number of years, and her interpretive powers have always been used to best effect in communicating the relevance of the songs to the times in which they are being performed. Her latest CD, Encouragement, is no exception, being a typically time-spanning collection of songs ancient and modern that entirely reflects Frankie's approach and predilections. The majority of its tracks are brand new recordings, several of which revisit to great effect key songs which have long been associated with her. Highlights for me are John Pole's uncompromising Anti Carol (for long one of her showpieces, but it never fails to rouse the blood), and her latest takes on The Demon Lover, Fair Annie and Effects Of Love (all accompanied by the eerie, spare crwth playing of Bob Evans), also her poignant, wistful acappella rendition of Polly Garter's Song (from Under Milk Wood). I also really liked how Frankie contours Mike Westbrook's setting of William Blake (Holy Thursday) and Parting, written by Brian Pearson and inspired by Tam Lin. Appropriately, then, Frankie's landmark, utterly magisterial, benchmark rendition of Tam Lin (culled from Fellside's earlier Ballads compilation) makes a reappearance on this new disc: you simply can't imagine this reading ever being surpassed, even by Frankie herself! The second non-new recording here is Frankie's finely-turned performance of Leon Rosselson's cheeky fable The Poet, The Wife And The Monkey (taken from the Fuse compilation And They All Sing Rosselsongs). On a few of the freshly recorded items, the piano playing of Anthony Ingle lends a hint of chamber or cabaret to the proceedings, which I find suits some songs more than others. But Frankie's way with the texts is always, always extraordinary: percipient and responsive to the minutest degree yet without seeming contrived. True passion is the word that comes most readily to mind to describe Frankie's singing, for she is driven by an absolute commitment to the songs that's manifest in every note, every nuance of her performance. This overriding conviction can equally easily bring with it an in-yer-face ferocity of attack or a measured restraint, even a hushed gentleness - whatever the text demands, in fact, and Frankie is a guide supreme in these matters. Repertoire is always a matter of personal taste; and me, I just don't take to the Mark Bunyan chanson Madeleine, but Frankie evidently relishes it and plays it to the hilt. You may not like everything you hear, but you can be 100% confident that Frankie has got it exactly right, for she is unequivocally (pardon the pun!) one of the most exceptional singers to grace the planet IMHO.
David Kidman October 2008
---
Frankie Armstrong, Sarah Harman & Shanee Taylor - Darkest Before The Dawn (Harbourtown)
Three ladies of integrity from the folk world serve up a veritable epicure's delight of (mostly) earnest yet accommodating songs, each of which has a political point of some kind to make. In the wrong hands, such a brief would be a recipe for worthy but overbearing tedium, but in these hands the CD proves anything but. And when the songs come from the pens of such writers as Leon Rosselson, Pete Seeger, Colum Sands and Mary Lichtfield, no worries need be voiced since quality is guaranteed. Not to mention the songs written by the ladies themselves - three by Sarah, two by Shanee and one by Frankie (to words by William Blake taken from his Auguries Of Innocence). The latter (The Soldier Armed With Sword And Gun), though not easy listening, is particularly inspiring, and benefits from some interesting and unusual harmonies. Equally effective in its own way is Sarah's War Of The Poor, which alternates a repeated mantra-like quotation from Sir Peter Ustinov with a calmer, purposeful litany. Leon Rosselson's creative setting of James Oppenheim's poem Bread And Roses is performed with real commitment. On Judy Small's There's Life In The Old Girl Yet, however, the ladies are more obviously having fun - here, it sounds almost like a casual post-feminist joke has somehow gotten set to a lost Keith Marsden tune! Making up the total are a potent Corsican liberation song and a strident, passionate cry of rebellion sourced from the militant women rice-weeders of the Po Valley in northern Italy. Not all of the treatments convince me though, even in context - for instance, Ron Kavana's Reconciliation seems perhaps a little stagey, and just occasionally elsewhere the presentation and delivery make for a certain over-theatricality, as on Sandra Kerr's fable The Bible According To Eve, where a kind of "worthy but slightly outmoded" feel normally associated with agitprop performance-art creeps into the proceedings. By the way, aside from Shanee's intriguing Threshold (sung solo to a tanpura drone), all of the songs are sung acappella, but this is a positive rather than a negative, for so compelling are the performances that not once do you feel the need for an accompanying instrument.
David Kidman
---
Billy Boy Arnold, John Primer, Billy Branch & Lurrie Bell - Chicago Blues: A Living History (Raisin Music)
The four key artists credited above are in effect the principal inheritors of the Chicago Blues tradition: the bridge between the originators of the genre (many of whom, interestingly, came not from Chicago but from Mississippi!) and today's practitioners. Billy Boy Arnold's own special claim to fame, it might be said, was with penning I Wish You Would, which in the version by the Yardbirds kick-started, nay catapulted, the British blues boom of the mid-60s.
On this lavishly presented double-disc (21-track, 74-minute) set they celebrate and pay tribute to the evolution of that particular genre from the start of the 1940s through to the present day, from the primitive to the electrically-influenced. Here we experience contemporary recreations of titles made famous by those termed the "sound innovators" of the Chicago Blues: the likes of Sonny Boy Williamson (both #1 and 2), Tampa Red, Memphis Slim, Howlin' Wolf, Elmore James, Otis Rush, James Cotton, Junior Wells and Buddy Guy – and naturally, two tracks representing Muddy Waters (even though these aren't quite the ones most obviously associated with Morganfield). Particular successes include Arnold's take on Big Bill Broonzy's Night Watchman Blues, a driving delivery of Big Maceo's prime boogie-woogie Chicago Breakdown (courtesy of Johnny Iguana), Primer's heavy-duty Jimmy Reed cover Can't Stand To See You Go, Billy Flynn's lively wah-wah take on Earl Hooker's instrumental Hooking It, Carlos Johnson's excellent guitar work on John Lee Hooker's The Healer, and Branch's spirited cover of Little Walter's Hate To See You Go.
The slip-case's accompanying 24-page booklet presents much useful biographical information and gives a reasoned perspective on the music included on (and excluded from) this project – for inevitably, it seizes the moment made possible by the availability of these particular artists and pays current tribute to the history-makers "in a musical voyage through the evolving Chicago sound" rather than attempting to provide a comprehensive history of the Chicago Blues as such. But in all honesty you can't go wrong here, with all the contributions reeking of both absolute authenticity and respect (and not a trace of the unwelcome and sterile tribute-band, for, happily, no attempt is made to "ape" the original artists). It was an evident labour of love for all involved, and it comes excellently recorded too. The whole Living History Band will be touring their tribute during the summer months.
www.chicagobluesalivinghistory.com
David Kidman July 2009
---
Army Of Briars - Army Of Briars (Discus)
Army Of Briars is a group in the "tradition" of maverick British experimental, or wyrd-, folk; it's a given, therefore, that the music it produces will be genuinely avant-garde, both strange and wonderful, more than a little challenging yet intensely rewarding – so don't expect an easy ride.
Sheffield-based Tim and Julie Cole have worked as a duo on the folk scene for many years (yet have only just released their first CD, Sea Longing); for some time been they've been interested in the work of their good friend, local electronic-experimental composer and wind musician Martin Archer; around four years ago, a meeting between Martin and poet/musician Keith Jafrate produced the catalyst for a collaborative project between the four. Keith presented the group with a coherent cycle of poems, set to some highly personal imagery, which could be set to music by Tim to arrangements involving himself and Martin, and sung by Julie. And all these (what might seem disparate) elements come together in a unified whole on this album, which appeared back in 2007 but has only just come my way.
It's a very special record, with a (quite literally) unique musical character that, while audibly referencing the traditions of maverick folk, is very – very – different to anything else you'll have heard, that I guarantee. The undisputed natural focus of Army Of Briars' music is Julie's magnificent voice, stunningly pure and possessing the ability to unerringly pierce through any texture you could throw its way. Think Jacqui McShee especially, possibly also Judy Dyble, a vocal apparatus that's to-the-manner-born rather than mannered or in any way precious, and armed with a fabulous facility and flexibility, able to cope with all manner of weird and unpredictable melody lines and shifts but also sing straight as a dye, with a vocal control that fair leaves the listener speechless and always seriously enraptured.
The musical backdrop consists of delicately contoured and gently forthright guitar lines, embellished and cocooned by dark woodwinds, spectral reeds and "classic" (mellotron, Fender Rhodes and Hammond) keyboard textures with more than a hint of creative electronica. The latter element betrays a distinct influence from pioneers such as Faust and early-Stockhausen, while some of the sound-world can recall late-60s bands as diverse as King Crimson, Soft Machine, Gong/Steve Hillage, early Family, Henry Cow and White Noise, even at times recalling the adventures of Mike Oldfield), while the folkier side of Army Of Briars' invention takes its cue from the mildly-extended song forms and poetic excursions of the Incredible String Band, some of the more obscure work of Pentangle, Comus or Principal Edwards, and looking further ahead, Sharron Kraus, Mary Hampton, Emily Portman (and perhaps even some recent nu-folk acts such as The Memory Band and artists from the Rif Mountain stable) - but Army Of Briars can be seen as more radical, by a long way, than the majority of these latter-day exponents of experimental, wyrd- and acid-folk.
It's the special combination of the haunting and ear-catching quality of Julie's keening voice, the piquant imagery of Keith's poetry and the warm, enveloping character of Martin's arrangements with their supremely inventive, ever-morphing textures that, though primarily composed, seem at times almost to respond organically to the texts as they're being sung – although the effect is far from episodic.
Take the first song in the sequence, To Fall, a kind of elemental hymnal (at first recalling Mike Heron's sublime Air, later the dreamy ambience of Ummagumma-era Pink Floyd) which is underpinned by an itchy, restless percussive motif – and all in the space of just under two-and-a-half minutes. The gently enigmatic Four Riddles (possibly the song most akin to traditional folk in pure sound terms too) is followed by the eerie, spacey-doomy invocation of Mist On The Barrows, while the cautiously jazzy portrait of The Deep Park functions as an introit for the multi-dimensional economy of scale that is A Lesson. The chilling Who But I Ate The Fruit Of Your Lips brings the aura of a scaled-down Trembling Bells (or Owl Service), while I Travelled North To Hide perhaps most closely approximates one of the epic ISB journey-songs (though in the space of just four minutes) and On Nine Barrow Down (sung by Tim) is a potent vision with a slight gospel feel and festooned with an echoey brass quintet and strange shifting perspectives. Where The Blue Goes Dark And Birdless radiates an aura of desperate beauty, and the cycle then closes in the confident mystic glow of Gatherer Of Excited Moons.
The accompanying booklet, by the way, is a work of art, with simple but effective illustrations by Julie's daughter Helen and full texts of the poems. Yes, Army Of Briars can be taken as a thorny proposition (literally!) – but do stick with it, for (trust me!) the rewards are immense.
David Kidman February 2011
---
Mac Arnold & Plate Full O' Blues - Nothin' To Prove (Plantation #1 Productions)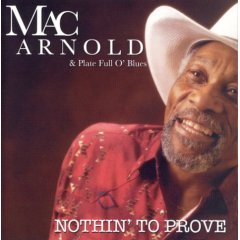 Mac Arnold was the bass player for Muddy Waters and recorded with Otis Spann and John Lee Hooker. He's right, he has nothing to prove but has time lessened his talent? Blues For You is a solid opener that gives a good indication of what's to come both vocally and on guitar. The very strong eponymous title track is a slow Chicago blues that has snarling harmonica and howling guitar. Austin Brashier's guitar has a fine tone and is excellent on Call Mac Arnold, in particular. In addition, Arnold's voice has that earthy quality to it. I Don't Know has another strong vocal performance although the song is not as strong as those that have gone before. Having said that, it does stand up to scrutiny and Rudy 'Blue Shoes' Wyatt on the piano takes all the plaudits. It's back to the bare bones of voice, piano and harp for the very slow (Get On) Back To The Country. The slow pace is the perfect foil for Hightower's wailing harmonica.
Ghetto Blue sees a welcome return to Brashier's stinging guitar and has a familiar theme of a deprived childhood. Arnold sings of AC Reed, Muddy Waters, Tyrone Davies and Buddy Guy in Chicago life can't have that bad, after all. Going Back Home swings ok but it's not the best on the album although the guitar and harmonica interlude lifts it. Arnold shows that he can grind it out with the best of them on The Truth and Brashier's axe is on top form as ever. He provides some more classic Chicago blues on She's So Mean To Me. This is 9 minutes of sheer class and everything shines on this track. Arnold finishes up with a live version of (Get On) Back To The Country. This has slide guitar from Hightower added this time and suggests that Mac Arnold is a very large live performer and is the real deal.
As the title says, he really has got nothing to prove.
David Blue, July 2006
---
Tim Arnold - Another World (We7/Ta Music)
Remember 90s Britpop band Jocasta? Well I'll admit, neither did I… but Tim was their front-man, since when he's been active variously as producer, arranger and composer. He's also released several solo albums as a singer and songwriter, including 2006's Secrets Of Soho which provided a very English raconteur's take on London's underworld. Album number eight, Another World, is quite different: Tim himself describes it as the album he always wanted to make, particularly in his role as a string arranger – and certainly that is the dominant trait and the aspect that strikes the ear right from the outset. It's like listening to one of Michael Nyman's chamber operas, so keen is the skill with which Tim manipulates and drives the sounds of his intriguing instrumental palette (predominantly violin, viola and cello, with the occasional exotic touch such as a Colombian harp on the title track). These boldly lush textures perfectly mirror Tim's resonant reminiscences of lost love and poignant insights into life and human behaviour, and ideally complement the tone of Tim's singing and gentle guitar accompaniment. There's a touch of theatrical cabaret, a kinda Jeff Buckley-meets-Rufus Wainwright vibe about songs like Close Enough, and a distinct late-Beatles feel to the closer Feeling The Change Inside, but for the most part Tim's stock-in-trade is a classic, accessibly crafted song-world: deeply melodic, softly pained, bittersweet and aromatic.
David Kidman January 2009
---
Wendy Arrowsmith - Seeds Of Fools (Own Label)
In the two years since releasing her debut CD (Now Then?), the multi-talented Glasgow-born, North-Yorkshire-based Wendy has become a very familiar (if close on ubiquitous – tho' I do mean that in a nice way!) face at folk clubs and festivals around the region and beyond, either as a solo performer or as one-quarter-part of the band Blind Summat!. She's also scored a richly-deserved hat-trick in winning songwriting competitions: at Saltburn (2007), Scarborough (Seafest 2008) and Ryedale (2009). The Visiter appeared on Now Then?, while the latter two are proudly included on this latest CD.
Right at the outset, I'd say that Seeds Of Fools definitely fulfils, and exceeds, the promise Wendy had already showed in spades on Now Then? It's not quite perfect – but what it does so very well is present all the various facets of her musical personality in sensible proportion, in a sympathetic and largely very believable recording which enables her enviably many talents to be heard to really good advantage. It's also an extremely well balanced collection, showcasing seven of her own compositions (that's half of the 14 tracks) alongside one exceptional contemporary cover, an attractive and atmospheric setting of Lady Nairne's Land O' The Leal (1798), and five well-contrasted traditional songs, at least two of which prove to be especially brave interpretations of classics of the repertoire.
The whole disc is impressive, but the first four tracks make an especially strong impact. The disc leads off with what can only be described as a stunning interpretation of The Blacksmith (adapted from an arrangement by Kim Guy from Cornwall) that eclipses virtually any other version I know. Wendy's special achievement here is to lay bare the singer's intensely fragile, volatile emotional state, creating an intriguing internal dialogue (one key moment of realisation is especially tellingly dramatised); this is achieved by thoroughly rethinking the song in terms of expressive response and then creatively reflecting this in the musical accompaniment, which marries an unsettling interruption to the metricality of the accepted bar-lines to a singularly queasy swoon of weaving fiddle and cello while the guitar part almost numbedly tries to keep things calm and controlled. After the emotional turmoil of The Blacksmith, we're treated to Sleep Well 'Til Morning, Wendy's 2008 competition winner, which could easily be taken for a traditional fisherman's lullaby from the Western Isles, on which Wendy's own multitracked voice is boosted with some sensitive and delicate harmonies from The Young 'Uns. Then comes the first of two highly individual responses to modern-day war crises: Holy Ground, a cracking song by Missouri songwriter Steve Bailey, beautifully sung by Wendy and embellished with the sweetly intricate guitar of Chris Davison. This is followed by a compelling drone-based arrangement of Cruel Mother (featuring Blind Summat!'s Becks and Joolz), and Wendy's catchy and stirring anthem The Ribbon.
Following which (space considerations preclude discussion of each and every track!) we're treated to spirited, full-sounding takes on The Gypsy Laddie and Twa Recruiting Sergeants (where Wendy's Scots lineage surfaces authentically!), and the lovely Counting The Dolphins (Wendy's experience of motherhood evidently informs such songs written to be sung to children), one of a clutch of Wendy's own songs which rounds off the disc in quite intimate fashion. Gaza To Argyll strikes home most poignantly (if a little too consciously recalling From Clare To Here perhaps), and the closing Hearth Song makes a real virtue out of its simplicity of sentiment and arrangement; with the disc's title song, however, although it's built around a great central concept, its theme then feels insufficiently developed to fulfil its initial promise. Performance-wise, it's hard not to remark on just how good a singer Wendy is, her voice displaying tremendous presence and her singing having also developed increased assurance (especially in the handling of contours and dynamics) since Now Then? (itself a not unimpressive demonstration of her vocal versatility): even a mild imperiousness, or the occasional trace of self-conscious articulation (the tarrily legato approach to John Anderson, for instance) doesn't spoil the ship.
Instrumentally, Wendy's very capable too (although she's the first to over-modestly undersell her accomplishments, which here embrace guitar, banjola, mandolin, whistles, accordion and bodhrán!) – she plays to genuinely enhance the musical landscape rather than call attention to skilful note-spinning. As regards the recording, I could criticise a few matters of internal balance – e.g. Marjorie Paterson's fabulous cello playing is unduly recessed, too far in the background, and Wendy's own guitar sounds over-forward at times (heavy and clangorous on The Ribbon), as are Joolz's congas on Cruel Mother maybe – but these are minor details that should not seriously mar your enjoyment of this well-rounded, truthful (and well-packaged and appealingly designed) portrait of Wendy's artistry.
David Kidman August 2009
---
Wendy Arrowsmith - Now Then? (Arrowsmith Music) Born and raised in the suburbs of Glasgow, Wendy's since settled in North Yorkshire, and she's quickly making a name for herself around those parts with her well-characterised singing and some impressive self-penned songs. Wendy won the Keith Marsden Songwriting Competition at this year's Saltburn Folk Festival with The Visitor, which recounts the tale of the famous 1881 sea rescue off Robin Hood's Bay, and it's fitting that this song should headline Wendy's debut CD, a satisfying disc which also presents four more of her own compositions alongside her own attractive and well-sung arrangements of other (mostly traditional and/or Scottish) material. The latter category ranges from the beautiful Loch Tay Boat Song, the yearning Smile In Your Sleep (aka Hush, Hush) and the sweetness of The Rowan Tree to the ebullience of Fish Guttin' Lassie. Aside from The Visitor, the best of Wendy's own writing included here are probably her simple but poignant anti-war song To Be A Soldier and Skipio, a powerful (if quite lengthy) tribute to a male slave, "a man who may (or may not) be an ancestor" (of Wendy's). Wendy's a really good singer, with a confident and mature delivery and a keen sense of expressive import. She accompanies herself on guitar on all but two of the disc's 13 tracks, with occasional extra embellishment on whistle or mandolin; She Moved Through The Fair is skilfully backed by the uilleann pipes of Liam Haicead, whereas the lovely lullaby Dream Angus is performed unaccompanied (albeit multitracked). Liam also appears on The Great Silkie, while Jon Bunce adds his fiddle traceries to Skipio and lustily mirrors the defiance of MacPherson's Farewell, and Wendy's husband Paul plays banjo on two tracks; aside from the above instances, and stirring backing vocals on The Visitor provided by Paul and the album's producer Rod Baxter, no other extra musicians are employed, and nor would they be necessary - for the disc is a refreshingly direct and admirably simply recorded demonstration both of Wendy's musical and songwriting talents and her winning personality.

David Kidman October 2007
---
Ben Arthur - Edible Darling (Bardic)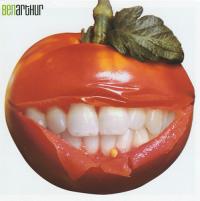 Not sure if he's named after the Scottish mountain they called The Cobbler, seeing as how he's from Virginia and all, but as newly emerging singer-songwriters go Arthur clearly worth scaling to get a view from the top. One of the first signings to the new label, his album's a blend of pop, country (Keep Me Around even has bluegrass banjo), wistful ballads, and FM rock with lyrics that are as darkly witty as they are thoughtful, the title track about a mate who rears pigs for food. It could probably do without the turntable scratchings on the opening Mary Anne, but behind the frills lies a solid collection of memorable melodies with a 60s heart and a propensity for nagging hooks, as much in tune with Lennon (Bloomed) as it is with the current wave of names like John Mayer.
He can rock it up for a Stonesy strut on Sight of Your Tears, turn in a softly burred touch of the Paul Westerbergs with Broken-Hearted Smile or just shred you apart with the simple acoustics of Jesus, but whichever approach he chooses he's clearly a name to keep an eye on.
Mike Davies
---
Dave Arthur - Return Journey (WildGoose Studios)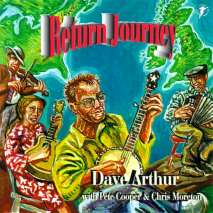 The return journey invoked by the CD's title is principally that between the British Isles and America (in respect of the material to be found on this CD – basically, oldtime ballads and tunes). Well travelled much of the material undoubtedly is – mirroring Dave, in fact (no insult intended!)! Always espousing a deep interest in the songs and customs of these isles, Dave started out in a much admired duo with his ex-wife Toni; they were part of the "second wave" of revivalists in the days immediately prior to the birth of electric folk, a style which they eschewed embracing, remaining acoustic, continuing singing and collecting and ending up writing, researching and presenting for radio, TV and theatre. Dave was then on the editorial board of the Folk Music Journal and edited the EFDSS magazine, later becoming involved in the oral history movement and latterly finding fresh acclaim as a storyteller. At the same time he's "kept his hand in" on the American oldtime circuit, performing with the Rufus Crisp Experience among others. Return Journey sees Dave teamed with a brace of UK oldtime specialists – fiddle player Pete Cooper and veteran guitarist Chris Moreton – for a well-balanced collection of songs and tunes from varying sources. Even in these days of heady eclecticism, few albums are likely to include morris tunes such as Shepherd's Hey alongside songs from the repertoires of Joe Heaney and Jeff Davis, Scottish pipe marches transposed for banjo, fiddle or guitar alongside classic ballads such as Little Margaret; but Return Journey does, and very stylishly too. Driving enthusiasm allied to the musicality born of experience are the hallmarks of this collection. Fair enough, maybe one or two of the vocal contributions could do with being just a little more robust at times, but this isn't a serious drawback to this attractive CD, Dave's welcome return to the recording scene, and the instrumental performances are more than idiomatic as compensation. The booklet notes (Dave's own) are pretty fine too, by the way, even though you might disagree with the occasional comment he makes!

David Kidman
---
Joseph Arthur - Redemption's Son (Realworld)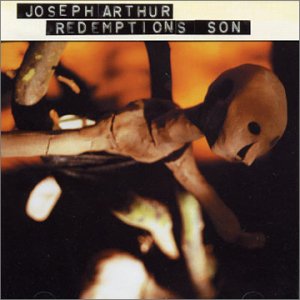 Three albums in, the American singer-songwriter, poet and occasional artist remains something of a critics favourite rather than someone record store scan rely on to boost annual turnover. His cult following won't be disappointed though and label boss Peter Gabriel can rest content than his aesthetic tastes won't be called into question.
He has a soft burr of a falsetto (Honey And The Moon even evoking Donovan), well set off by the warmly frazzled arrangements that dominate his cocktail of folk, rock and world beats. Although Hendrix influences can be traced through the psychedelic clouds of Nation of Slaves and the instrumental guitar passage of the achingly melancholic Blue Lips (one of several tracks that treat on death, the title track mentioning a 'suicide' in a county jail), In The Night is a defiantly chirpy pop rhythm and both Evidence and Buy A Bag chug along on funky world beats, his preferred mood is subdued, one that best suits his recurring themes of dislocation and loss, physical, emotional and spiritual.
Thoughtful, well crafted lyrics that resonate with personal involvement repay repeated listening, drawing more out of such numbers as the gently swaying You Could Be In Jail, You've Been Loved's response to wallowing in self-pity and the sweetly acoustic but deceptively bitter You Are The Dark's snapshot of a soured relationship. There's some over indulgence - the near ten minute woolly Termite Song comes to mind- but faced with such disarming moments as a Lennonesque September Baby and the simple acoustic soulful Favourite Girl with its chiming guitar, cello, and dark humour ("I've been so happy being unhappy with you"), your listening life is likely to be better with than without this in the CD rack.
Mike Davies
---
Alastair Artingstall - Four Lawn Hope (Initial Laughter)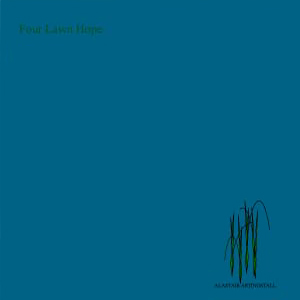 Born in Birmingham, but now based in London, Artingstall paid his dues in recording and rehearsal studios before landing the job as keyboard player for The Fat Lady Sings. When that came to an end, he twiddled knobs and tour managed for the likes of Ash and Wannadies before releasing debut album Poet, Servant, Clown or Queen. Then he spent three years as tour engineer for Keane but now resurfaces with self-financed album number two which, says the blurb, might be described as Noel Coward playing bluegrass.
If that means, attractively reedy of voice, he brings a distinct Englishness to folksy, occasionally country flavoured acoustic songs about the road, wanderlust, and love found, lost, uncertain, and reaffirmed then you'd have to agree. Especially with inner sleeve photos of him posing in an overgrown English country garden sporting cravat and with a tea pot in clear view.
He cites a love Alison Krauss and Mindy Smith, and there's certainly bluegrass and mountain music colours to songs like Probably Be Here, Harvest Love World At Your Feet and Travelling Song. But you'll also hear shades of Simon and Garfunkel, Stephen Duffy, the young Harvey Andrews (especially on Our You And Me Song) and perhaps even Gallagher & Lyle.
With Edwina Hayes (of Hummingbird) adding backing vocals, there's some lovely stuff here. If It's True and Beautiful You Are personal favourites (though the latter could have done with some honeyed Northern brass), but pretty much everything slips down easy, his beguiling way with lyrics and nature imagery perfectly suiting the album's late summer ambience. Serve with iced lemon tea, cucumber sandwiches and riverside picnics, and enjoy.
www.alastairartingstall.com
www.myspace.com/alastairartingstall
Mike Davies April 2007
---
Artisan - Artisan Live! (Bedspring)
This supreme acappella team should need no introduction! Artisan, the dynamic trio of Jacey & Brian Bedford and Hilary Spencer, first started singing together in 1984, initially for fun - but they're still together over twenty years later. Well only just - for Artisan as a performing unit will be no more, their final concert due to take place in Penistone, South Yorkshire, only a few miles from their Birdsedge home, on 20th November; definitely a case of quitting while they're ahead! Unbelievably (in view of their incredible success as a live act and the fantastic rapport they've always achieved with their audiences), they've never released a live album, so here at the eleventh hour comes this wonderful 67-minute set (but why does the blurb state 72 minutes? - spooky!!), which consists of a transfer of the bulk of an 85-minute live-to-air radio broadcast from WFMT Radio, Chicago back in March 2002. Anyone who has at any time considered Artisan the epitome of soulless perfection will take comfort from this release, for it's truly a "warts-and-all" set, living dangerously with a one-take performance. Sure, the usual Artisan trademark of careful preparation and rehearsal is present and correct throughout, but even in the obviously scripted intros there's plenty of spontaneity and the trio's sense of fun comes across in spades. As it does in their singing, naturally. Excellent solo singing, fabulous harmonies, solid ensemble work, great technique, serious accomplishment at the service of 15 superbly crafted songs (all Brian's own compositions, running the emotional gamut from What's The Use Of Wings?, I'll Sail No More and White Horses to NIMBY, Mabel and Go With A Smile On My Face - which of course they do, and so will you!). Artisan Live! is both the ultimate memento of this class act and the ultimate primer for those who've not previously been tempted to purchase an Artisan CD but have harboured a secret admiration for the trio's craft. We can all be thankful that Artisan's members aren't retiring from performance - watch out for Jacey and Brian with Pint & Dale in the upcoming Brian Bedford Band, and Hilary solo or with guitarist Grant Baynham in the duo Quicksilver.
David Kidman
---
Steve Ashley - Time And Tide (Topic)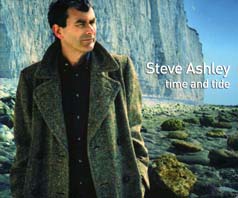 Steve Ashley's latest album is at once a modern-day masterpiece and a masterly throwback both to his earlier glories and the English traditions with which it resonates. On Time And Tide, an entirely logical sequel to 2001's Everyday Lives that's self-evidently cut from the same cloth, Steve again engages with our sensibilities by taking us on a thought-provoking journey through the realities of life today in this country of ours. With a true understanding of human nature and how the processes of history and change affect both our present existence and the all-pervading spirit of place, Steve's songs represent an urgent clarion call to us to wake up before it's too late. Demonstrating his deep regard for nature and sharing our concern for a healthy quality of life, Steve here directly and unashamedly examines thorny issues such as global warming and climate change (Land's End, The Drowning Cell), and the continuing threat from Trident missiles (Ships Of Shame, a powerful song already familiar from its timely appearance on Steve's recent live concert album). Then Steve presents some songs which deal in some way with the disappearance of our natural habitat and native species (eg. Friend Of The Rivers, The Birds Of The Country). These wistful and beautifully poetic laments for principles and practices fast vanishing are expressed with a unique literacy and intelligence, intermingling traditional imagery with knowing contemporary namechecks and references. A Time-Honoured Way, a reflection on the ageing process, might be seen as a companion piece to Once In A While, whereas The Refugees is a bleak meditation that simply points the universal finger. Nonetheless, and in spite of the foregoing pessimism, Time And Tide ends on a persuasively optimistic note with the steadfast, resolute credo of A Better Day and the comforting benediction Best Wishes (with which Fairport Convention had memorably closed their 40th anniversary CD a few months back). Musical settings are welcomingly uncluttered, both believable and complementary: some revisit the atmosphere of Steve's early triumphs, blessed with string sextet accompaniment in a signature Robert Kirby arrangement, whereas others engage (inter alia) Messrs Cadbury, Nicol, Pegg and Leslie in various, telling combinations. A uniformly excellent collection, thankyou Steve.
David Kidman June 2007
---
Steve Ashley - Live In Concert (Dusk Fire) This seminal folk-rock singer-songwriter has enjoyed a well-deserved renaissance of late, with a career-anthology The Test Of Time and subsequently expanded reissues of his albums Stroll On and Speedy Return all available on Market Square; then, in March 2006, almost five years on from his exceptionally fine "studio comeback" album Everyday Lives (Topic), Steve celebrated his 60th birthday with a three-hour celebration concert in Cheltenham's Bacon Theatre, onto the stage of which to which he invited a large selection of some of folk-rock's finest talents (all of whom he'd worked with at some time in the past) to help him bring to fresh life some of the very finest compositions from his illustrious catalogue of original songs. I'll get my carp over at the outset: this CD presents just 59 minutes' worth of music from the concert (15 out of the 24 songs performed - the remainder, apparently, were denied posterity by virtue of a computer glitch, the liner note explains). But what we do have here is brilliant, and the recording certainly conveys the relevant sense of occasion while being musically very satisfying. What could so easily have been a smug, cosy canter through a parade of "greatest hits" is instead a vital and affectionate set of performances that, while bound by the unified thread of Steve's own inimitable voice, revisits the material in such a way that timely reappraisal becomes de-rigeur. After all, it's easy to forget just how many excellent songs Steve has written over the past close-on-40-years! And of such an impressive emotional range too, from tremendous poetical delicacy through to perky, quirky, peculiarly English social observation and more complex creations of philosophical or political import. For this special live show Steve performs at his very best, being in completely relaxed and at-ease mode, and treats us to fabulous new takes on many of my personal favourite Ashley creations: None Can Tell, Springsong, Once In A While, Feeling Lazy, Well Well Well, Say Goodbye and that quintessential seasonal song The Spirit Of Christmas, to name but a few. While a further highlight comes in the shape of a superb recent song Ships Of Shame, a stirring and powerful condemnation of this nation's continuation of the Trident nuclear submarine programme, which perhaps fittingly is performed here by Steve solo with guitar. I've already mentioned Steve's choice of accompanying musicians, high quality to the last man and utilising unerringly apt scorings for each and every song, from the nascent group sounds of Tinderbox and Ragged Robin through the chummily Albionesque Family Album work to the horny riffing of the Demo Tapes songs. The roll-call includes sundry Fairporters past and present (Pegg, Nicol, Leslie, Allcock), as well as Phil Beer, Martin Brinsford, Al Fenn, Dik Cadbury, Paul Downes... I could go on... Most glorious of all, though, are the handful of songs featuring newly-minted chamber-orchestral arrangements by Robert Kirby, who conducts a specially-convened six-piece string section drawn from the ranks of the Cheltenham Chamber Orchestra. All told, and blessed with an exemplary recording, this CD (though mildly frustrating in its very incompleteness) is an invaluable record, since the actual event was by all accounts one of those "really really wish I'd been there" gigs that will live for ever and a day in the memories of those fortunate enough to have attended. Not least because (far from wheeling out onto the stage a tired, spent force for the sake of mere nostalgia) the occasion truly celebrates the past and ongoing achievements of one of this country's finest singer-songwriters.

David Kidman December 2006
---
Steve Ashley - Speedy Return (Market Square)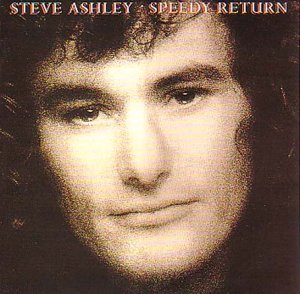 It's good to see that Market Square is honouring its commitment to reissue the back catalogue of this underrated British singer-songwriter. After releasing the exhaustive anthology The Test Of Time, the label brought out a new expanded edition of Steve's award-winning 1974 début Stroll On which sounded great alongside his recent comeback album Everyday Lives (on Topic). Now it's the turn of the follow-up Speedy Return, first issued on the Gull label back in 1975. Like Stroll On, it featured backing from the famous Fairport rhythm section, as well as Lea Nicholson (though not the rest of Stroll On's extra folk-rock luminaries). In addition, Steve's Ragged Robin cohort Richard Byers played crucial mandolin and lead guitar parts, and Robert Kirby provided distinctive orchestral arrangements on a few tracks. Although Speedy Return used a similar complement of musicians to Stroll On, the overall sound and feel of the album is more contemporary. But, most importantly, the quality of the songs remains high, even if there perhaps isn't the quotient of outright classics that Stroll On contained. Steve's particular gift was - and still is - to convey a potent sense of continuity between the tradition and the present-day. This he achieves partly by using traditional-sounding modality in his melodies or evoking (or invoking) imagery of or from the tradition. Choice tracks from Speedy Return continue Steve's thematic preoccupations of observing English life through supremely poetic lyrics - First Thing and None Can Tell are good examples of his craft, his juxtaposition of the poetic and the personal, while songs like Good Enemies and Well Well Well are both bitter-sweet and double-edged in their import. Old John England is Steve's tribute to Cecil Sharp's collecting of The Seeds Of Love from a man called John England, intriguingly set to an estampie dance tune. Even the boozy bonhomie of Duke Of Cambridge (so aptly described by Karl Dallas in his new liner note as "Hogarthian") doesn't strike a false note at this temporal remove. But it's The Well At The World's End that perhaps best sums up Steve's unshakeable belief in the survival of the tradition - "if the singer and the song are past and gone you'll never need to fear, for we'll drink from the well at the world's end, we'll be brothers, we'll be friends… and we'll never part again".
David Kidman
---
The Ashtray Hearts - Old Numbers (Free Election)
Formed in 2000 this is the Ashtray Hearts debut album from May 2002. It opens with the short but stunning 'Amusement Park' and runs on to my favourite track 'Disaster' which is as perfect a song as I've ever heard.
'The One You're Closest To' has classic subject matter and is well tackled. The country-based 'Still Shaking' takes things to a different level and we're treated to a drumbeat and U2 style guitars on 'Queen South'. They show their dark side with 'Anyone's Guess' and I don't know if 'Bryn Mawr' is Welsh or not.
'Trestle' continues the downbeat feel on the album, as is 'Watching Me Try'. Vocalist Dan Richmond's voice is so suited to these types of song and it is highlighted again on 'Southern Wedding' and another of my favourites 'Spain' with its clever twist.
As debut albums go this is one of the best that I have heard and I look forward to more.
David Blue
---
Gwyn Ashton - Prohibition (Riverside Records)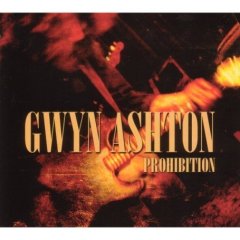 Australian guitarist Ashton has toured extensively throughout Europe, the USA and Australia with the likes of Johnny Winter, BB King, Jeff Healey and Pat Travers. With that in his locker I looked forward to a treat with his new album, Prohibition. The opener, Get Up, Get Over It is blues rock with AC/DC style phrasing -- not too flamboyant but great slide at the end. Good start. Ashton adds a bit of funk for Come On/Don't Walk, Run! but he firmly remains on the rock side of the blues and confirms his standing as one of the worlds up and coming guitarists. There's a Jimi Hendrix style fuzzed solo but the addition of Don't Walk, Run seems a bit superfluous despite being fine in its own rite. Back To You is back to AC/DC again, albeit with more sedate vocals but with solid guitar throughout. Castaway is a venture into acoustic land so get your lighters out! There's a big, electrified solo as you would expect so, few surprises but a top performance. Secret Agent shows that Rory Gallagher lives on – top tune, enough said? Ain't My Style continues the Gallagher theme and is a rolling blues to drift away on. The title track is a shuffling guitar and harmonica blues with distorted vocal. The addition of Liz McLaughlin on backing vocals is a welcome distraction and the whole feel is that of a slowed down Bo Diddley (sorry to hear about his recent stroke).
The Road Is My Religion casts Ashton as the latest in a long line of musical storytellers. This is a highlight where he shows his class in archetypal AOR style. Former Alex Harvey rhythm section, Ted McKenna on drums and Chris Glen on bass herald the arrival of Ashton's slicing guitar on Ball And Chain, a pounding blues to get the blood coursing through your veins. This is classic power trio fare with Glen and McKenna providing the perfect backdrop to Ashton on guitar, as they do throughout. Are You Lonely is a storming R&B with fuzzed solo. Guitar Town is not the Steve Earle song but is a funky blues where Ashton lets his guitar loose - superb. Rest In Paradise (For Stevie) is dedicated to Stevie Ray Vaughan and is a low key finish but is, as you would expect, a festival of guitar. There are two bonus tracks, Judgement Day which is a great blues of acoustic slide and basic backing and Shake It On Down where I knew he would not let me down and comes up with a rocking finish after all.
www.gwynashton.com
www.riversiderecords.com
David Blue June 2007
---
Roger Askew - Big Fire (Sho-de-Bop Recordings)
Though better known for his production and support work for artists such as Christy Moore, Eleanor Shanley and Brian Kennedy, Roger released a well-received album of his own songs Scarab Moon around three years ago. Big Fire is its followup, and presents another collection of workmanlike (if not always especially distinctive) writing, for the most part couched loosely in the Van Morrison-soulful-pop mould (actually, the very tone and delivery of Roger's gruff, throaty singing voice tends to accentuate that impression and provide that reference point) but with a more acoustic base. Roger's backing crew is accomplished and colourful - Ollie Blanchflower (bassist and co-producer) gives his signature classiness to the project, while musicians Henry Lowther, Ben Tyzack (slide guitarist from Spikedrivers), Alan Dunn and Claire Lindley all give exemplary service with some really good playing and Peter Baron provides a solid and intuitive drum sound to bind it all together. Maybe my favourite track is the somewhat Knopfleresque ballad On A Night Like This, but there's a number of other tracks that also deserve wider currency (eg After The Harvest, 21st Century Blues and Into The Flame) and stick in the memory. It's a shame that the remainder of the songs don't quite grow on me to the same extent, even after a few plays - well, perhaps it's my fault for having a taste for something a touch less safe and more musically challenging, and some of you will doubtless find this release a more consistently satisfying product. Production values are high though, and both musical arrangements and sound quality are exceptionally good.
David Kidman
---
The Askew Sisters & Craig Morgan Robson - The Axford Five (WildGoose Studios)
This disc is a celebration of the songs of five women singers, together known as the Axford Five, who lived in rural Hampshire in the first decade of the 20th century. Sarah Goodyear, then in her early 70s, was arguably the major figure among the group, not least for her key role in hosting meetings of singers, at her own house, for the song collector George Gardiner. The other four singers encompassed a wide range of ages and experiences: Charlotte Hall was only a year or so younger than Sarah, with Marty Munday and Elizabeth Randall both in their 50s and Emma Jane Hopkins not yet 30.
The songs they sang, of which 15 representative examples appear on the disc, included regional variants of songs popular all over the country, and their subject-matter and tone was as richly varied as no doubt the singing styles of the individual singers was. In taking the decision to pursue the project (the suggestion for which came from Bob Askew, as did the painstaking research) and make a CD celebrating the repertoire of these singers, WildGoose has, entirely typically, chosen the performers with care, and although we can only speculate on how closely matched the vocal characteristics of the present individual singers might be to the Axford Five members (I invite no ageist parallels!), these recorded performances do feel right.
The selection of songs would seem to have been made on the basis of providing a well-balanced and contrasted programme for listening rather than an even-handed representation of the repertoire of the individual singers (Sarah was the source for five, Marty four, Emma Jane three, Charlotte two and Elizabeth just one). Similarly too with the disc's apportionment between the individual lead singers of CMR and Hazel Askew (Emily just provides some harmonies), whereby Hazel takes four solo leads and Carolyn, Moira and Sarah two apiece, while CMR together perform three, Sarah and Hazel duet on Tarry Trousers and all four in consort take on the opening Gypsy Laddie. Such bald statistics are no reflection on the enjoyability of the disc, of course, and the fact that two-thirds of the songs employ some measure of instrumental accompaniment (primarily fiddle with melodeon, one with harp and three using fiddle alone) forms absolutely no deterrent to our enjoyment.
Moving on to the songs themselves, many of them will be pretty familiar text-wise, but it's good to get the chance to hear and appreciate these different variants, whether sung solo or in creatively harmonised arrangements. The proverbial fresh coat of paint is applied to repertoire staples like Sweet Lovely Joan, Beautiful Nancy, An Old Man Came Courting Me, Bold William Taylor and The Lowlands Of Holland. Interestingly, one or two of the songs aren't quite what you'd expect: for instance, Down The Lane is an adaptation of the song better known as The Holmfirth Anthem or Through The Groves, whereas Abroad As I Was Walking turns out to be a very different song indeed (which Gardiner himself actually lists as Down By The Riverside…).
Particular successes within the solo category are Carolyn's delightful He Was Under My Window, Moira's fine take on the Long Lankie ballad, Hazel's well-observed murder story Down In Fleet Street and Sarah's tale of A Famous Farmer, while the whole ensemble clearly relishes the bawdy tale of The Trooper's Horse. This is an enthusiastically performed, honestly conceived and highly enjoyable collection.
David Kidman September 2009
---
The Askew Sisters - All In A Garden Green (WildGoose Studios)
After winning the New Roots competition back in 2005, young Emily and Hazel released a "taster" EP (Six By Two), impressing with their upfront, though always respectful take on the English tradition. Since then, they've been dubbed "the sisters of stomp" (and even been tagged a "female Spiers and Boden"!), no doubt principally due to the infectious pumping energy that characterises their performance. Although there's a certain attractive journalistic convenience to that epithet, and sure, their basic instrumental combination (fiddle and melodeon) provides a ready-made direct comparison, but it's just as well that the sisters' own personal musicality and dynamism proves strongly individual. Indeed, you might well find the invigorating nature of their music all the more surprising bearing in mind that both sisters are classically trained (flute, piano, cello, recorder), so playing for dance sides has evidently fostered their vigorous, lively, rhythmically conscious style. The breezy robustness of their musicianship is demonstrated in the joyous way the two parts switch around, colluding and colliding during the course of a tune-set, adeptly maintaining listener interest while keeping feet tapping. But the sisters' proven instrumental skills are only half of the story, being thrown into relief by Hazel's bold, assured, abundantly confident singing voice, which appears on all but three of the disc's fourteen tracks, which represent a well-chosen selection of traditional material, generally in interesting versions. This includes a stirring reworking of High Germany, an urgently driven A Noble Riddle Wisely Expounded, a plaintive Bedlam City (shame this is only a fragment), a sensitive Fare Thee Well My Dearest Dear, and a delightful traditional Northumbrian lullaby (that's the bonus track). Only The Lover's Ghost is sung unaccompanied - it's a wise choice, even if Hazel's interpretation may currently lack the full gravitas that a deeper understanding will in time bring. Aside from a slight tendency to over-aspirate at times, and an element of forcing the humour on Three Drunken Maidens, Hazel can't do wrong, while Emily's selective use of vocal harmonies is effective. Though the sisters demonstrate their awareness of contemporary styles of playing traditional material, they put their own stamp on everything they do, even if there's a feeling that they're not yet fully pushing the envelope: give 'em time!
David Kidman October 2007
---
Gary & Vera Aspey - ... Travelled The Road ... (GVC)
Gary and Vera have been "travelling the road" professionally on the folk circuit for over 30 years now; during their heyday (late-70s to 80s) they recorded five duo LPs (for the Topic and Dingles labels) which although persuasive demonstrations of their expertise have never been reissued on CD (and more's the pity!) - with the notable exception of one obscure Japanese issue, I've just learnt... Gary and Vera's lively, and above all entertaining, act has inspired countless club performers ever since, yet their influence passes largely unremarked and unacknowledged. High time, then, for them to stage a comeback of sorts, to remind us just what we've been missing (though I'd emphasise they've not actually been away, just keeping a low profile since, dare I say it, their brand of folk has I fear become a little unfashionable in this global-trend-conscious age). Lancashire and proud of it (and still living in Gary's home town of Leigh), Gary and Vera specialise in lusty, forthright renditions of songs largely (though not exclusively) from that county's tradition (whether "genuinely" trad or recently-composed), topped up with a few of their own compositions which fit snugly therein and espouse their life-philosophy and keen interest in the disappearing heritage. Into this latter category come the affectionate Man On The Road, the philosophical I'm Glad I Was Born Over Here and a contemporary update What Was The Price Of Coal (which they'd originally recorded on their Seeing Double LP), also a song in tribute to Fred Dibnah (which rather overstays its welcome); whereas Wasting Time is a bit of a throwback, redolent of one of those 70s folk-pop creations that might once have been earmarked for the charts, slightly dated in style now even though its sentiments remain relevant and erm, timeless. The non-originals include Mike Harding's insidiously catchy Waiting For Me Pay Day, Jack Lee's delectable paean to the "magical healing properties" of Dog Fat (where Gary's unbridled delight in mouthing the wordy patter comes close to tripping him up!), and Larry Kaplan's Song For Bowdoin, so there's both fun and reflection in good proportion. Enjoyment and commitment shine through in Gary and Vera's singing, the nature and spirit of which can be best summed up in their singalong version of Stuart Marson's wonderful Over The Lancashire Hills and a delicious rendition of They Don't Do It Now, Gary and Vera's long-awaited recording of which so readily typifies the Aspey sound. To be fair, their uncompromising, if slightly abrasive (very much in the shut up you buggers and listen! fashion) delivery may not be to everyone's taste in this day and age, but then why should they change what they do well just to fit today's fads and fashions?! There's also a couple of instrumental tracks, including an aural portrait of the Spinning Jenny. To support the duo's admirably characterful (and already, one might say, industrial-strength!) vocals, Vera's own instrumental skills (on her celebrated bass piano accordion, treble concertina and guitar) are augmented with those of producer Dave Howard (mandolin, guitar, bass, tenor banjo), as well as those of Stu Williams (guitar), Jackie Burke (violin), Suzannah Blackwell (keyboard) and Helen Howard (bodhrán). Welcome back Gary and Vera - let's hope this CD gets you some bookings, for I'm sure there are still plenty of clubs where your special brand of folk (and distinctive personalities) will make a welcome change from the anonymous-strummer brigade.
David Kidman
---
Mary Asquith - Closing Time (Mother Earth)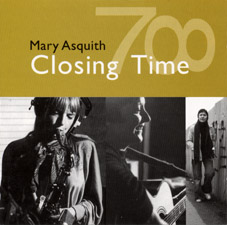 Mary was an active figure on the late-70s folk-club scene, around her home city of Manchester in particular, though she finally gave up performing altogether in the early 80s. This reissue of her fondly-regarded 1978 album is bound to be very eagerly sought-after by those who remember her; sadly I don't, but I sure wish I did. Closing Time is much more than a snapshot - a living artefact that stands the test of time really well, and highlights just what a talent Mary was. Her singing voice is really distinctive - husky and heartfelt, with just a touch of gravel that complements her impressive range; with her mellifluous and full guitar style, the combination must indeed have been an irresistible one in live performance. Six out of the nine songs here are Mary's own compositions, and fine these are too, characterised by thoughts and ideas that are well-focussed and clearly and directly expressed. The bluesier examples (like the snappily-titled When Marilyn Monroe Died Blues) are perfectly idiomatic yet retain that sharply observant edge, while there's no lack of feeling in the more reflective title track either. Elsewhere, Mary's Dylan cover (Just Like Tom Thumb's Blues) is given a passionate reading, further enhanced by some tremendously responsive sax playing courtesy of Barbara Thompson. What a shame there were no further contemporaneous tracks or session outtakes available that could have boosted the playing time above the mediocre 35 minutes that's a rather typical length for an LP of that vintage; but this really is one "straight" reissue worth its price tag.
David Kidman
---
Ass Ponys - Some Stupid With A Flare Gun - Checkered Past
Oooh! Powerful indie Americana, full of ass-kicking pop-rockers, reined-in aggression, and songs of moody mysteries and haunting nightmares just around the corner. All this is belted at you or heart-brokenly delivered by appropriately-named lead singer Chuck Cleaver. For someone who eats meat on the bone and likes it cooked rare, Ass Ponys menu should satisfy. But don't let the more sensitive listener be deterred from trying this one. Its raw and rustic edge is deceptive.
There's melody in the songwriting and maturity and breadth in the band's collective performance, the latter not surprising as this is Ass Ponys' fourth album, two of which were for A&M. What is surprising is that after their 1996 album, The Known Universe, A&M dumped them. It is to label Checkered Past's credit that they know a good thing when they hear it. Now would someone please wave a magic wand over our radio stations; there is intelligent pop music waiting to be played and I for one will add Ass Ponys to my personal Playlist.
Sue Cavendish
---
Rocky Athas Group featuring Larry Samford - Voodoo Moon (Armadillo)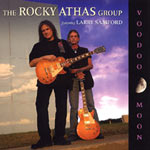 Opening with the CCR sound-alike Road Fever, Athas sets out his stall. His guitar has lost none of its sting since the last album, Miracle, and vocalist Larry Samford makes another welcome appearance. The Tommy Dorsey song, Muddy Water Blues shows where Athas excels. This bouncy blues has it all - flowing vocals and a barrage of guitar. Last Of The Blues is very much like Gary Moore at his best and Tearin' Me Up is a sophisticated contemporary blues with a good bass line from Guthrie Kennard and stunning guitar from Rocky.
There's some good old time boogie on Back On The Road and Samford manages a bit of grit in his vocal. The song features a little barrelhouse piano from Ruf Rufner and the obligatory top notch guitar. Voodoo Moon is a straightforward blues-rock song but Sleep shows another side to the band. This is a pleasant acoustic sidetrack and very much welcomed. He's back to full flow on Nobody, a blues-rock extravaganza to match the best. I'm In Love Again is acoustic blues-rock that is superbly played and Samford provides a sleepy, laid back vocal that is one of his best on the album.
The guitars are cranked up again for Ain't No Doubt, another CCR sound-alike with more stunning lead guitar. The penultimate track, Preacher, is acoustic class and is slow and moody. The album finishes with Rocky and the boys turning in a boogie on Stop, Drop And Roll. This is just good time music that you can just let go to. I've run out of superlatives so I'll just say that this is will be an excellent addition to anyone's blues-rock library.
www.bluearmadillo.com
www.rockyathas.com
David Blue
---
Athena - Breathe With Me (Embraceable)
Brought up in both England and Greece, Athena Andreadis appeared out of nowhere early last year, with a home-produced EP (Snapshot) consisting entirely of intimate, confessional self-penned songs couched in equally intimate, laid-back acoustic settings. She quickly ditched the surname from her publicity, and went on tour here, receiving great acclaim for her seductive and unassumingly colourful performances of these and other songs sung in both languages. Now, at long last, Athena has followed that EP with a full-length record, presenting a dozen new songs either written entirely on her own or jointly with another writer, and backed by her now-regular small crew (Werner Kristiansen, Tom Mason and Ben Bryant) with a few extra musicians on occasion. Her appeal is difficult to pin down though, partly because her musical mode is not easily classifiable; it contains elements of jazz, pop, folk, chanson and world-soul styling, yet belongs exclusively to none of them. Her songs deal with extreme emotions yet are not histrionic; they're dramatic yet not overwhelming; they're sensitive yet not intrusively so. And for all that Athena's pained delivery appeals, well there's something curiously offhand at times, cool, even (paradoxically) bordering on the uninvolving. The album's successes are genuinely moving creations, however: I particularly responded to the cracked, tremulous jazz-acoustica of All I See Is You, the barely-controlled swooping emotional rollercoaster voyage of Wooden Horse and the altogether more delicate, folky Green Eyes, which, hearing it blind, you might well believe a Karine Polwart composition. Running To You establishes and maintains an exotic momentum with often disquieting inevitability, while the more coquettish Pretty Things also works its catchy charms, though it's more derivatively torchy than the rest perhaps. The final song, the desolate, sparse piano-backed ballad Breathe Again, is very compelling, albeit claustrophobic, almost gasping for air in contrary motion to the word of its exhortation. Although many of the individual songs grow on repeated plays, there's still an undefinable sense of not quite being satisfied with some of them, while on the other hand the sense of unrelieved soul-baring can get a trifle wearing at times. Depends what mood you're in I suppose.
David Kidman March 2007
---
Pete Atkin & Clive James - Beware Of The Beautiful Stranger; Driving Through Mythical America; A King At Nightfall/The Road of Silk; Secret Dreamer/Live Libel (Edsel)




With a highly distinctive, precisely enunciated - and very English - voice (reminiscent of Noel Harrison), Atkin was the leading light of the Cambridge scene during the late 60s and early 70s. A student of Classics and English at St John's College, his role as musical director of the Cambridge Footlights revues brought him into contact with James, forming a partnership of the latter's intellectual lyrical wit and Atkins' sharp musical acumen (encompassing rock and Tin Pan Alley as much as folk) that would produce six albums between 1970 and 1975 and songs that bear comparison with the best of Ray Davies.
Critically well received and popular on the college circuit, songs exploring the life of a machine tool shop worker, referencing Rilke and translating Apollinaire were, however, a little too refined for mainstream popular success at a time when glam was in the ascendant and none of the albums sold particularly well. Indeed, Val Doonican's cover of The Flowers And The Wine from Driving Through Mythical America, apparently brought in more royalties than the entire six albums combined.
Both Atkins and James went on to more successful solo careers as BBC producer and TV presenter respectively, but it's high time these albums were accorded the respect they deserve. Reissued with bonus tracks and sleeve notes and song by song commentaries by both Atkin and James, some material is a little dated in places and the contract filling Live Libel (a humorous pastiche of such artists as Marc Bolan, Kris Kristofferson, Steeleye Span and Leonard Cohen) is really now just a curio piece, but there are real joys here awaiting rediscover by old and new audiences alike.
Rather than wade through everything, I'd just point you in the direction of The Master Of The Revels, Girl On A Train and the title track from Beautiful Stranger, Thief In The Night, The Pearl Driller (sampled by electro-dance crew Lemon Jelly on Nice Weather For Ducks) and the title track off Mythical America, All The Dead Were Strangers and The Wristwatch For A Drummer from A King At Nightfall, the Road of Silk's title track, Wall of Death and Shadow And The Widower and, from Secret Drinker, I See The Joker and Time And Time Again. Dip in and you may find yourself beguiled.
www.peteatkin.com
www.clivejames.com
Mike Davies May 2009
---
Pete Atkin - Midnight Voices (Hillside)
Although Pete Atkin has always been a singer-songwriter in his own right, it's his songwriting partnership with Clive James that provided for many music fans some of the most era-defining creations of the early 1970s, although the series of LPs on which the songs were recorded for posterity didn't really reach beyond cult status. I tend to persist in believing the reason for this was twofold: that they were simply too classy for many listeners, as well as being couched in a musical idiom that arguably owed more to Tin Pan Alley, jazz and chanson (and the worlds of Jake Thackray, Tom Lehrer and Flanders & Swann) than any of the rock, pop or folk musics fashionable at the time (this was no doubt down to Pete and Clive having first teamed up at Cambridge Uni on the Footlights Revues). Clive's laconic, literate, poetic observational lyrics, with often more than a touch of waspish satire, are still much celebrated today by cognoscenti (and most recently the songwriter George Papavgeris has cited Atkin and James as a major inspiration). Happily, they've never really gone away, and Midnight Voices (title taken both from the lyric of Payday Evening and from fans/frequenters of Pete's website forum) is a set of new recordings by Pete of 15 of the 1970s songs: not a "best of" in any sense, but certainly containing many of the team's key collaborations. I need only mention a few titles: Beware Of The Beautiful Stranger, The Hypertension Kid, Between Us There Is Nothing, Touch Has A Memory, Thirty Year Man... yes, these are works of genius - no other way to describe them, so I won't waste words! The catalyst for Pete to re-record them was when he hooked up with pianist Simon Wallace for a concert in Bristol last year; as soon as they started working together, Pete realised he was getting a new perspective on the songs, and they decided to record what they were doing. These new recordings, then, are neither an attempt to reproduce nor replace the 70s originals; and unsurprisingly, Pete's approach to quite a few of them has changed a bit over the years (a shift in tempo here, a change in rhythm there, etc). The instrumentation used on this latest disc (it's primarily the standard jazz piano-trio lineup augmenting Pete's acoustic guitar, with occasional saxes, clarinet, electric guitar and, on Thief In The Night, shakuhachi) is welcomingly restrained and the supporting musicianship wholly sympathetic and as fresh as Pete's own performances (anything but tired retreads). So this new CD is self-recommending, both to Pete's existing fanbase and to those coming new to his music who have been wondering what all the fuss was about and deciding where to start in their exploration. The disc's subtitle (The Clive James-Pete Atkin Songbook Volume 1) implies there will be (at least) a Volume 2... great, I can't wait!
David Kidman June 2008
---
Natacha Atlas - Mishmaoul (Mantra)
This abundantly creative multicultural diva was, with the Transglobal Underground collective, right at the forefront of the experimental fusion in the 1990s of Arabic and North African musical styles with western electronic beats, producing a unique dance music hybrid; since that time, she's released a series of albums that have tested the waters further, often producing daringly ambitious music but sometimes producing infuriatingly muddled and unfocused work that has proved itself unable to transcend the status of novelty. Natacha's distinctly mixed ancestry, embodying also a genuinely global lifestyle from formative years right through to the present day, has guaranteed exposure to, and influence from, a myriad of different cultures, which provide a melting-pot to be stirred and shaken with vivacity in her own music. On Mishmaoul, it mostly succeeds in coming together in a credible fusion, while each of the ten individual tracks embarks on a new and exciting sonic adventure. Here, Natacha has in a way come full circle from her first solo release Diaspora, in that Mishmaoul reunites her with former TGU collaborators Tom Whelan and Nick Page (aka Count Dubulah); it has also enabled her to produce an album of satisfyingly diverse unity that moves quite naturally between drum'n'bass, belly-dance disco, rap and poetry, a touch of Bollywood, exotic shimmering keyboard-soaked Latin rhythms and slinky Arabic modes, often to a hypnotic backdrop of swirling, cooing strings (courtesy of the Golden Sound Studio Orchestra Of Cairo). It makes for a classy and intoxicating set, which amply repays repeated listens in a way that not all such fusion experiments (even those from Natacha herself) necessarily do. Some tracks feature Natacha's vocal in consort with that of Princess Julianna, while the supporting cast of musicians is always impressive and well controlled, featuring her husband, Syrian qanun master Abdullah Chhadeh, alongside Gamal El Kordi, Neil Sparkes and Dubulah himself. Contrastingly, the final track, Yariet, leaves Natacha (and what a voice!) accompanied only by Marc Congleton's guitar for an entrancing 3½ minutes. This sensuous and mature new collection is fast becoming my favourite Natacha Atlas album.
David Kidman, July 2006
---
At The Racket - Mirth-Making Heroes (Racket)
This, the second album from At The Racket, continues in much the same vein as the first, spotlighting the band's affectionate and highly spirited recreation of Irish-American dance music and song from that between-the-wars period where swing was king. At The Racket readily admit that their main inspiration has been the recordings of the legendary Flanagan Brothers from Co. Waterford which appeared in the 30s, though they present no mere pastiche, and they make for elegant yet foot-tapping listening. Swooning saxophone, pumping piano and bantering banjo are the main features of the instrumentation, as befits the soundworld being evoked, and this unusual and very particular blend conveys so well that sense of gaiety and abandon that characterised the era; it's old-fashioned, sure, but in a most positive way, suffused with the atmosphere of the scratchy old 78s from which the music was learned. Not every track incorporates ATR's trademark sweeping, jaunty brassy swagger however; the Turkey In The Straw medley starts altogether mellower, with fiddle and guitar more to the fore, but the vitality is still there in spades and it proves more durable listening than the high-octane exploits of so many of the bright young tune merchants we hear nowadays. As well as the sets of polkas, reels and jigs, there's a military two-step (Dancing Dustman) and three delicious songs (more please!), on which vocal duties are beautifully executed (two by Brid and one by Seamus) in the approved manner. The only relative miscalculations, I feel, are the use of an electronic keyboard fill on three of the sets (Miko's especially), which (though tastefully enough managed) rather compromise the otherwise scrupulous period authenticity. But a lovely album nevertheless, and a refreshingly stylish change from the "usual" presentations of Irish music.
David Kidman
---
Atomic Rooster - Atomic Ro-O-oster/ Death Walks Behind You (Castle) Atomic Rooster were without doubt one of the UK's foremost prog-rock outfits, but within their five-year (1970-74) and five-album career (not counting the products of various short-lived revamps into the 1980s) the band had an alarming turnover in membership, the only common factor being founder member and keyboardist Vincent Crane. Vince's distinctive style provides the signature, as it had done with The Crazy World Of Arthur Brown, of which he had been a key (sorry!) member along with drummer Carl Palmer. The original Atomic Rooster lineup was a three-piece, with Vince and Carl supplemented by bassist Nick Graham (who also contributed flute and vocals). It recorded just the one album, Atomic Ro-o-oster, which has hitherto only been available on CD in its "US version" (of which more in a moment). This new Castle CD restores the UK version of the album, original running order and all, and presents the unique sound of the short-lived three-piece in remastered glory. As prog albums of the time go, it stands up really well, with its mix of funky keyboard panache (which Vince intended as a kind of Jimmy Smith-meets Stevie Wonder experiment), energetic prog drumming, muscular flute and interesting musical settings (albeit sometimes beset with Purple-style riffing, never becoming over-repetitive tho') with a general lack of pretensiousness in spite of some remarkably "down" lyrics (Vince being a lifelong manic depressive). The latest CD reissue also includes as a sizeable bonus the US versions of the three tracks, for which extra guitar parts had been added following the induction into the group of guitarist/vocalist John Cann shortly after the original album sessions had been completed and Nick had departed. The first-album reissue is completed by two BBC session tracks from May 1970 on which John appears, previewing and providing the bridge to the second Atomic Rooster album, Death Walks Behind You. For this album, the confident Paul Hammond had replaced Carl Palmer at the drumkit (eventually, after a three-month tryout with a then-inexperienced Ric Parnell), and overall the band sound was arguably a mite more accessible to the prevailing musical tastes of the early 70s. Certainly the presence of John's guitar made for a less esoteric and more conventionally "hard-rock" sound and blend, although the hard edges of Vince's approach, his organ and piano stylings and his cataclysmic use of those bass pedals, all took no prisoners and musically there was little concession to obvious commercialism apart from the crossover accessibility of the single Tomorrow Night (which coincidentally achieved an almost identical chart ranking with the album itself). So Vince's playing may not have embodied the more obviously "heavy virtuoso" qualities of Keith Emerson (who was perceived as Vince's only "rival" in the field at the time) but he was every bit Keith's equal in the sense of being a flamboyant personality (cutting a dashing figure as a caped wizard!) and some would say he possessed more pure all-round musicality than Keith. This new CD reissue of Death Walks Behind You is boosted by six bonus tracks: there's the non-album B-side of Tomorrow Night, and two versions of that elusive second (non-album) single The Devil's Answer (one being an early demo without the familiar brass arrangement), then an extended version of Tomorrow Night done for a John Peel radio session, which is followed by two more BBC session cuts. Shame there wasn't room for the other non-album B-side (The Rock), though. Finally, the two CDs come complete with clear and detailed booklet notes by Colin Harper. Looking forward to the remaining three Atomic Rooster reissues from Castle in due course…

David Kidman
---
Audrey Auld - Texas (Reckless Records)
Well, well. Was I missing something when Audrey Auld's earlier albums passed me by as so much Nashville filler music, recorded on the back porches of Sydney? And am I mis-remembering, or did she once declare that she had no need to go to America to record? Whatever, here she is in Texas recording with Gabe Rhodes, son of Kimmie, at his home studio, and she's produced a solid album with some really good songs. The theme running through the songs is the celebration of those people who've meant much to her - husband, father and brother, and musical heroes Woody Guthrie, Billie Joe Shaver and Harlan Howard. The one song that is not her own is a Mary Gauthier composition, "Karla Faye", about Karla Faye Tucker who was electrocuted for murder in the 1990s and was the subject of a substantial public campaign for clemency that was denied. Lyrically, she's still quite prone to fairly banal platitudes, but then there's not too many writers of Lucinda Williams' ability to get under the skin; she does, however, have the knack of writing a song that feels like it's been around forever, and "Woody" is a great example of that. Taking the notion that the spirit of Woody Guthrie invests her own guitar, and referring to his famous guitar sticker that declared "This machine kills fascists", Audrey brings us a sweet song in the Guthrie style that declares in it's turn:
"This machine heals wounds
This machine ends wars
This machine is the voice that demands to be heard ".
Two swing songs, "Ball and Chain" and "One Eye", are further evidence of this ability to make you search your mental back catalogue for where on earth you might have heard that melody before; I only wish the musical brakes hadn't been on quite so hard, especially with "One Eye" which doesn't quite have the joie-de-vivre it should have. Otherwise, she's certainly taken on board the styles and sounds of newer country heroes like Mary Gauthier and Lucinda Williams. Maybe too much at times because I find it difficult to decide what Audrey Auld Mezera sounds like, so much does she ape the singing style of her heroes. I could be wrong, but she sounds most natural and unforced on "Woody" and the opening track "Love you like the earth", and though she's not the most fantastically distinctive singer I'd rather hear her own voice than be trying to work out who she's sounding like now. The production throughout is warm and clear, maybe a bit heavy on the atmospherics at times, as on "Song for Harlan", but really, a pleasure to listen to. I believe Audrey will be in the UK later this year and this bunch of songs will make it well worth turning up to see her.
John Davey
---
Audrey Auld - Losing Faith (Reckless Records)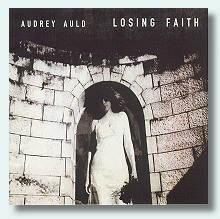 Audrey Auld is part of the Country Music circuit in Australia that spawned Kasey Chambers. The latter providing some harmony vocals for 'Losing Faith', Audrey's second solo record. Yet, judging by the guests on this record, her reputation is spreading well beyond the Antipodes. There are duets on here with Americans Kieran Kane and Mary Gauthier, as well as the Canadian, Fred Eaglesmith. All of who have found a welcome on the Australian live circuit.
Opening with the title track, there's a neat lyrical twist with her loss of faith in a boyfriend gaining religious proportions. Naturally, the well-trodden Country path of sorrow features strongly on the record. Lost loves, misbehaving boyfriends, cabin fever, hard drinking, etc. Audrey is well schooled in Country and can play swing, 'Doin' Well', or a bluesier style, 'Trashin' Da Blues'. When joined by Fred on 'B-Grade Affair', we get typical Eaglesmith tongue in cheek on an excellent song though the harmonising sounds like either they weren't in the same room, or, it was a quick first take which adds up to some disappointment on my behalf.
'Ain't No Joy' with Mary Gauthier perfectly fits Mary's low down muse. Despite both these songs fitting the style of her companion, they are from the pen of Auld and they demonstrate her strong song writing skills. The closing track, 'Harmony' is a Kieran Kane song that the two deliver with perfection. For me, this and the wonderfully self-depreciating 'Next Big Nothing' are the highpoints on an album of emotional lows and musical highs.
Steve Henderson
---
Cliff Aungier - The Lady From Baltimore (Castle)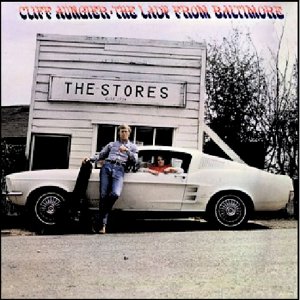 Once guitarist in Long John Baldry's band and latterly co-instigator (with Gerry Lockran) of the Half Moon (Putney) as a premier music venue, singer-songwriter Cliff (whose death was announced a week or so ago, incidentally) made the obscure Lady From Baltimore album in 1969 for the Pye label. Taking its lead from the celebrated Tim Hardin song, it presented a wayward, curious and in the end rather uneven hybrid of musical styles that crossed the genres from country to pop via blues and folk. The overall impression - which may sound unfair but isn't meant to be - is less that of a confident singer, accomplished folk-blues guitarist and seasoned club performer branching out on a long-awaited solo album than of a performer whose presence is almost incidental to the whims of a market or a producer. Even so, eight of its 13 tracks turned out to be Cliff's own compositions, including two neat guitar instrumentals, the bluegrassy Beet Routes and the Davy Grahamesque Bluesleeves. Two Bee Gees numbers, two by Dylan and the aforementioned Tim Hardin make up the rest. Cliff's cover of Words has an attractive neo-classical feel, while his own Back On The Road benefits from some Rockford-Files-style pounding timps in a punchy pop-orchestral arrangement. Turn-of-the-decade orchestral arrangements figure heavily on a number of tracks, with varying success it must be admitted, and much now seems inextricably dated, but the best-sounding tracks, like Wild About My Loving, inhabit more of a credibly authentic country-blues idiom, in which Cliff seems to have felt more at home. The original album is supplemented for this reissue by the addition of the 45 A-side Good, Good, released in 1970 as a followup to the album, but even so the whole release barely makes it to 38 minutes' playing-time, which makes it less good value overall than it might appear.
David Kidman
---
John Austin - Busted At The Pearly Gates (Austin Echo Music)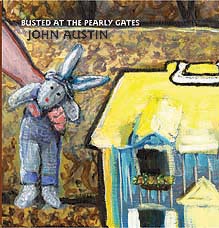 One of the rewarding things about writing for Netrhythms is receiving an album out of the blue by someone you've never heard of because the artist has seen and appreciates the site. Austin's a case in point. I'd reviewed an album by a friend of his, prompting Austin to send a copy of this, his sixth album.
Beginning his career busking on the Chicago subways back in 88 before moving on to the coffee house circuit, Austin got his break when he won a songwriters competition and came to the attention of the late Mark Heard who produced his debut album, The Embarrassing Young, for release in 92. In the decade that followed Austin gradually built himself a cult reputation, earning plaudits for his ensuing albums, the 1997 Byzantium in particular, got his elbow broken by a Chicago street gang, toured as opener for Bill Malonee's Vigilantes of Love and married singer Erin Echo.
This 20 track collection was released Stateside in 2002 and generally greeted as his best set yet. I'm in no position to compare, but coming to it with no musical backstory so to speak, it's an undeniably impressive and confident work that embraces folk pop, blues and, on the guitarslinging Face To Face, good old American rock.
I've seen him compared to Bono, which isn't a reference I'd immediately make but his phrasing and vocals on Yellow Moon does call to mind Steve Forbert, the haunting Moment of Silence seems to have a touch of Loudon Wainwright's more serious side and both the opening Roll The Stone Away shuffle and the carnival mood of Misery Loves Company surely suggest he's got a copy of Graceland in his collection.
However, Austin's in no need of comparison points to sell himself. He's possessed of a quietly yearning, slightly sanded voice that can soar from a gentle breath to a flying falsetto as the song requires, no better displayed than on the stadium rock ballad Moonflowers with its paean to the night.
As the pedal steel coloured Your Generation (why does youth feel the need to tear down the achievements of its predecessors) and the wonderfully uplifting Cool Morning (now maybe there's the Bono?) ably demonstrate, he's well adept at crafting an infectious yet intelligent pop song. Those who favour rootsier flavours should treat their musical taste buds to the backporch Doug Kershaw of Good Money, a whimsical blues stomping Little Lost Gumdrop (with a cute nod to the old doo wop hit Lollipop), the swampy I Don't Know You, and the closing double acoustic folk whammy of East Virginia Blue and Old Perfume (which sounds like it was recorded live), two poignantly reflective and melancholic songs about not letting our time pass without taking the time to seize those moments and free the bottled emotions we inevitably come to regret as we count the years and loves we've lost and find all we're left holding is cold cold dirt. If he carries on making albums like this, he's assured of not only a place on St Peter's guest list but a pass to the VIP enclosure too.
Mike Davies
---
Michael Lee Austin - Labor Pains (Alive Records)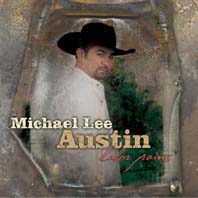 While Michael Lee Austin may be treading a country path already well trod. The wit and general good humour in his debut album means that Labor Pains remains a pleasure from start to finish.
Lee Austin (I do hope that it is his real name) has built the album on a solid bedrock of tradition. This is country and western before the rock 'n' roll boys got their grubby paws on it. A fact that, somewhat ironically, makes it a refreshing change.
On listening to Labor Pains it's not surprising to learn that Lee Austin has come through the ranks of singing country covers in bar bands. On Whole Lotta You, his complete understanding of what makes a country song work has been honed to a fine edge in that hardest of finishing schools. Lee Austin isn't searching for a niche, he's discovered one all for himself, he belongs fairly and squarely in the old school.
Labor Pains is a pleasing mix of the pacy, the melodic and the ballad. His wit provides the album's hook with the line 'Don't tell me about the Labor Pains, show me the baby'.
But it's the lush richness and textures of his voice that will carry Michael Lee Austin through and beyond this accomplished debut. It cushions Cold Window Pane and flourishes on the heartfelt She Might Be Leaving Me For Good and the whimsical Fiddle In The Middle.
However, Michael Lee Austin as a singer truly comes of age with the anthemic Next To The Man Upstairs, the song's deeply personal nature could easily see it fall over into the mawkish and saccharine, making it an uncomfortable listen. Lee Austin's obvious sincerity makes it a powerful signature song.
Michael Mee
---
C.R. Avery - Magic Hour Sailor Songs (Bongo Beat)
This is an extraordinary, and indescribable, record that's come out of nowhere and is set to haunt my consciousness for a very long time to come. It's a remarkable tour de force that starts with a hefty sensory overload, a track that's almost sure to be too much to take in - at least on one listen... the tale of The Boxer Who Just Returned From London is punched out at you (literally, through an edgy self-made beat-box rhythm) with all manner of musical references snucking in there, from hip-hop to Paul Simon; it's a defiant and utterly individual statement, the mark of a true iconoclast, an artist who feels no need to compromise, so you have to take him on his own terms or not at all.
To be fair, this opening track (together with its infinitely more delicate flipside, the beautiful hymnal string-quartet-bedecked closer The Ballad Of Charlie Parker and Patsy Cline) is a musical collaboration between C.R. and Matt Rogers; even so, it's fairly typical of the imaginative leaps that C.R. asks the listener to embrace. But whatever, you mustn't be turned off by this in-yer-face display of maverick creativity. Magic Hour Sailor Songs contains a veritable myriad of genre-busting musical delights, all coated with the authentic grime of street-gospel: from the juggernaut-propelled Americana of Slave Lake Blues, the harmonica-fuelled Hell Of A Hotel Of Harm and the gruelling slow-burn build of Planet Boiler Room, to the sleazy gumbo swamp-grind-shuffle of Down At The Café, the sputtering freewheeling invention of Birdcage, the more gently, compellingly erotic Black Bible Night.
C.R.'s lyrics tend to arise out of his slam-poetry pieces, and the often mercilessly visceral style of his delivery is born of the demands of that genre's audience. It's a shame that the words to the album's ten songs aren't printed in the booklet (instead, this contains some of the man's poetry), for I suspect they would bear closer scrutiny. Just like the poetic canvases of Ginsberg, whose New Stanzas For Amazing Grace forms the album's only non-original. And it will come as no surprise to learn of Tom Waits' oft-voiced deep admiration for C.R.'s talents. In the words of the musical ornithologist, C.R.'s a cultural magpie who's impossible to pigeon-hole! The world needs more like him...
www.cravery.com
www.myspace.com/cravery
David Kidman May 2008
---
The Avett Brothers - I And Love And You (American)
Rick Rubin works his less is more magic again. Not, this time, re-igniting the spark of veterans like Cash and Diamond, but taking a relatively unknown act beyond their limited fanbase and into the wider mainstream.
Along with bassist Bob Crawford, North Carolina brothers Scott and Seth have been making music for the past nine years, releasing five independent albums and two EPs which, along with a reputation for a rowdy, energetic stage show, earned their rock edged brand of folk, country and bluegrass a loyal but limited following. Then along came Rubin who signed them to his label and produced the ensuing album.
Sharing drawled vocal duties and with Rubin ditching Scott's familiar banjo in favour of piano and fleshing out the sound with organ, tuba, strings and harmonium, the brothers make attractive, often affectingly sentimental music with an Appalachian backwoods flavour.
With its simple piano and strings arrangement, the opening title track, a country boy's heartfelt plea to find his place and love in the big city he now calls home, sets a standard that rarely slips over the course of the 13 tracks as the songs explore the tug of the heart. Banjo making a rare appearance, January Wedding's an equally simple love song about a country girl who not only knows the names of all the birds and the trees in which they sing.
There's some uptempo bouncers; Kick Drum Heart sounds like something Ben Folds might have recorded, It Goes On And On recalls the trio's Beatles affections, the playful lyric-tumbling surfpop Slight Figure of Speech nods to their punkgrass live shows and Tin Man is a jaunty slice of alt-country.
But it's the piano ballads that dominate and show them at their strongest, both as vocalists and writers. The swaying, organ backed Head Full of Doubt, Road Full of Promise with its mid-section hints of The Band and lines about being who you want to be is up there with the album's best moments alongside the raspy harmonies of the country rock groove Ten Thousand Words, Ill With Want's gospel hued attack on greed and the piano and acoustic guitar driven Laundry Room, a runaway lovers romance that climaxes with a banjo and fiddle knees up.
Incomplete and Insecure closes the album in a self-defeatist mood as they sing "I haven't finished a thing since I started my life, I don't feel much like starting now." And who said American's had no sense of irony.
Mike Davies April 2010
---
Kevin Ayers - Songs For Insane Times: An Anthology 1969-1980 (Harvest)
The period covered by this four-disc anthology is one that most fans of this eccentric singer and songwriter regard as containing his finest hours. Myself, I tend to view his immediate post-Soft Machine phase, when he joined the nascent Harvest label roster, as his most white-heat-creative, as well as his most musically satisfying, if at times wilfully individual.
The first of Kevin's Harvest albums, Joy Of A Toy, came out right at the end of the 60s, and is well represented on this anthology by six tracks which range from the genially pastoral and disarmingly charming (Town Feeling) to weirdly haunting balladry (Lady Rachel) and the mischievously playful and discordant (Stop That Train) – often both during the course of a single song! Its sequel, Shooting At The Moon (which was incidentally notable for bringing the very young and precocious Mike Oldfield to everyone's attention), vacillated between those extremes, showcasing some spikily cute chansons as well as going more than a little overboard in the direction of the more radcal and challenging avant-garde art-rock then coming into vogue; the LP is quite fairly allocated five tracks. Between these we find a pair of singles, including the infamous (and happy-clappy!) Religious Experience, which featured Syd Barrett, and two studio outtake rarities, Soon Soon Soon and Gemini Child. Kevin's next LP, Whatevershebringswesing, I've always regarded as his artistic zenith – albeit a lugubrious and melancholy one in the main – and it's healthily represented on the second disc of this anthology. However, it was one of the album's perhaps less typical tracks, the rather camply amusing Stranger In Blue Suede Shoes, which provided the template for the overtly wine-fuelled songs on Bananamour, and Kevin's writing became more self-conscious and whimsical during that phase, spawning also a series of catchy, commercial singles (Caribbean Moon and The Up Song are included here) yet arguably losing a measure of its original charm in the process. A label switch to Island produced the ambitious and more experimental Confessions Of Dr. Dream LP, one section of that side-long suite being included here along with tracks from the other side of the LP including an extended revisit of the old Softs classic Why Are We Sleeping? retitled for the occasion. After sweeping up both sides of the winsome After The Show single, the anthology now jumps ahead to Kevin's final album for Island, 1975's patchy Sweet Deceiver, which yields its best four tracks.
The celebrated live set June 1, 1974, on which Kevin was joined by John Cale, Brian Eno and Nico, is conspicuous by its absence here, but some compensation is at hand in the form of Disc 4, which presents a previously unreleased live concert recorded at the Queen Elizabeth Hall in May 1973, and this is certainly a bonus although the honky take on We Did It Again is intermittently tiresome and the encore lacklustre. The anthology concludes with a ten-track retrospective look at the three LPs Kevin made after returning to Harvest in 1976 (Yes We Have No Mananas, Rainbow Takeaway and That's What You Get, Babe). There's nothing outstanding here, although the extended tracks Blue, Beware Of The Dog II and A View From The Mountain are worth hearing again.
In all, as anthologies go, this is a more than respectable effort on EMI's part, although it does rather fall between the stools of a typical selection, a not-quite-the-best-of, and yet more comprehensive than a mere introduction to Kevin's genius could hope to be: so stretching out over four discs doesn't prove too much in the circumstances, I guess.
David Kidman December 2008
---
---