A to Z Album Reviews
---
---
Various Artists - Chris Gaffney: Man Of Somebody's Dreams (Yep Roc Records)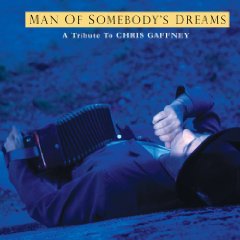 The sub-title of this eighteen-song recording is A Tribute To Chris Gaffney. In April 2008, Southern California based Gaffney succumbed to liver cancer. In a recording career spanning a quarter of a century, Chris released half-a-dozen solo recordings, four more with The Hacienda Brother (his 21st century duo with The Paladins' Dave Gonzalez), and in recent years was a fixture in Dave Alvin's touring band, The Guilty Men. Not only did Alvin lose his accordion player, he lost his best friend. It was decided to rest the Guilty Men followed Gaffney's demise. Alvin's performance with the all-star Guilty Women at last year's 8th Hardly Strictly Bluegrass Festival in San Francisco, was followed by the recent release of their self-titled debut studio album ... and, concurrently, this collection.

As Executive Producer, Alvin helmed this tribute project bringing together a stunning array of folk, country, soul and roots rock musicians. Drawing material from all stages of Gaffney's career, Joe Ely opens with a fuel-injected rendition of Lift You Leg. Aged seventeen, Gaffney was an L.A. Golden Gloves boxing champion, and his love of the sport is reflected in If Daddy Don't Sing Danny Boy (c/o Tom Russell) and The Gardens (c/o Freddy Fender & The Texas Tornados). Dave Gonzalez contributes the Tex-Mex flavoured Tired Of Being Me, while Dave's buddy, fellow vintage car fanatic and Muscle Shoals music legend Dan Penn, producer of The Hacienda Brothers debut album, reprises from that 2005 release the love song I'm So Proud.

Yep Roc artists contributing to Man Of Somebody's Dreams include Peter Case (his own career currently on hold following emergency heart surgery back in January, he performs the bar band musician's anthem Six Night A Week), Jim Lauderdale (is joined by Ollabelle on the country waltz Glass Houses), The Iguanas, John Doe (delivers a mighty fine, laid back rendition of the wiser after the event themed Quiet Desperation), Big Sandy w/ Los Straitjackets and, finally, Robbie Fulks.

Waltz paced, Los Lobos' tackle the album title track the sad tale of a lonely old man who once loved two women and eventually broke both their hearts. 1968 is one of two songs on this disc co-written by Alvin/Gaffney. Performed here by Alejandro Escovedo, it recalls two buddies who left for Vietnam and the one who came back. The lead guitarist is Stephen Bruton who passed during early May, following a battle with throat cancer. Gaffney's Artesia, set in Southern California circa the 1960's, recalls the period when developers bought dairy farms and orange groves and replaced them with homes, shopping malls, factories and freeways. Alvin's rendition c/w spoken introduction displays sensitivity and knowing familiarity. Recorded a few weeks before he passed - his voice already sounding ravaged - Gaffney closes the album with the poignantly titled Guitars Of My Dead Friends penned by Stanley Wykoff/Michael Berberet.

Each year another legion of tribute projects surface, this one however celebrates the life and lyrically thoughtful music of Chris Gaffney a man who laboured at his craft through good and bad times. Score 8 out of 10

www.myspace.com/manofsomebodysdreams

Arthur Wood, Kerrville Kronikles, May 2009
---
Eric Gales - The Story Of My Life (Provogue)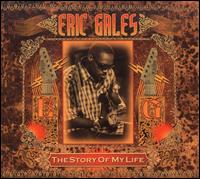 One of five brothers, Eric Gales is from a musical family and released his first album at the age of 16. Six albums later he gives us The Story Of My Life but it is strange that such a relatively young man has chosen to release this title - much the same as people writing autobiographies in their early years. He has many heavyweight fans such as Carlos Santana, Mick Jagger, Keith Richards, BB King & Eric Clapton and those names alone should tell you of the talent that Eric Gales has.
The follow up to the critically acclaimed The Psychedelic Underground opens with Save Yourself, which is a high impact opener and he has lost none of his power since his last album. His guitar pyrotechnics are just a joy to behold. I Ain't No Shrink is a funky and slinky blues with the notes just dripping off his guitar. The eponymous title track is a churning blues, plain and simple. Layin' Down The Blues is sophisticated and Gales has class stamped all over him. The Sound Of Electric Guitar is a festival in your ears so get your fuzz pedals and wah-wah's out and join in. Gales mimics Jimi Hendrix at the start of Red, White & Blues. He then goes acoustic and turns the whole thing into an 8 and a half minute stadium rocker with a massive electric solo at the end. It has got it all! Very Educated has staccato guitar over a heavy blues rock. It is a fervent attack with a flurry of notes. Cut And Run is a fast paced rocker with searing guitar that must have him in the forefront of the genre now. Borderline Personality is another strong rocker with obligatory raging solo and You Ain't The Boss Of Me is a slow Chicago blues that confirms his ability to swap genres at will. These tracks contribute to a very strong finish. Bringin' The Hammer Down is the last official track of the album. It is a pounding blues rock with guitar wizardry a plenty. There are two bonus tracks. The first is You Don't Move Me with its funked up bass from Jeremy Colson and Steve Evans' drums beating the rhythm. Gales tries to keep a lid on things but he just can't help himself. The second bonus track is Gypsy, a mid-paced soft rocker with the trademark guitar flurries.
Eric Gales is knocking very hard on the door of the top guitarists club.
www.provogue.com
www.myspace.com/ericgales
David Blue September 2008
(Ed: For the fact collectors - Eric Gales is a lefthander who plays his Fender Strat strung for the right-hand. From a picture I've seen he plays slide from above with a plastic water bottle! His elder brothers Eugene and Manuel (Little Jimmie King) who played with him in the Left Hand Band are also lefties! What are the odds on that?)
---
Eric Gales - The Psychedelic Underground (Provogue Records)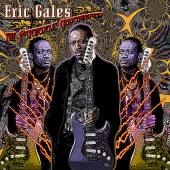 Dutch based Provogue Records are slowly building up an impressive roster of blues guitarists and Eric Gales is one of a number of high class axe men currently on offer. The Psychedelic Underground is the follow up to his critically acclaimed Crystal Vision and places him firmly in the higher strata of modern bluesmen. Eric has been gradually gathering a reputation since being voted as Guitar World's Best New Talent in 1991 and fans include Carlos Santana, Keith Richards, B.B. King and Eric Clapton. The Psychedelic Underground opens with Wake Up Call and I dare you to sleep through this wall of sound as Eric scorches his guitar. He keeps up the aural assault on Rumble. He plays guitar left hand, upside down and is the frontman of a trio so comparisons to Jimi Hendrix obviously come to mind. There are no arguments from me on that count, anyone for a rumble? Day Of Reckoning is a funky blues with a barnstorming solo and I've Got Something On You has as powerful an opening as I've ever heard. This is churning guitar rock with another of the now obligatory top-notch solos. Dark Corners Of My Mind is a contemporary, slick blues and Pretty Lie returns to the raucous blues rock side of the tracks.
The title track is played in classic Hendrix style and confirms Gales' place in my current top 10 blues guitarists. Eric continues in the blues rock field with Circling The Drain and this rolling blues has wailing, fuzzed guitar breaks that will have you yelling for more. He does not just stay with the blues as shown by Honey In The Comb, a rock song with a bit of soul thrown in a la Kravitz. Someday is a bouncing blues that is simple and straightforward. It has all the usual guitar wizardry and Thomas Pidgen on drums and Steve Evans on bass are the solid rock for Gales to build on. Cross The Line is archetypal blues rock with guitar and pounding rhythm section to match. He closes out with Someone Else's problem which surprisingly has a slight country feel to it but his classic styling leaves us with a stylish, solid finish.
There are a number of excellent blues guitarists out there and I've just found another one.
www.ericgales.net
www.mascot-provogue.com
David Blue March 2007
---
The Galipaygos - The Demise Of Gary Lip-Gloss (Own Label)
This is one of those discs of which I didn't immediately have high hopes, with its knowingly jokey title (and a cover shot to match) and laid-back opening track that just sort of ends after less than three minutes, but the weird thing is, its very chumminess insinuated itself into my head much thereafter and by around the time the next track was underway I was finding myself really getting into the band's bright-eyed and bushy-tailed, if quirky, take on alt-Americana.
The Galipaygos are an Inverness-based six-piece, formed in 2003 by Andrew Still, Steve Sinclair and Kevin McKenzie. The band's instrumental complement gives a clue as to the appealingly unusual (for Americana, that is) nature of their music: the genre staples of acoustic and electric guitars, banjo and dobro are augmented by bass and drumkit and at times the distinctive timbres of swirling Hammond organ, churning saxes and blazing trumpet. I find the band's attitude to their music defiantly endearing, refreshing, with the everyday experience as often as not raised to a level of art beyond any apparent pretension yet entirely without patronising their captive audience.
Their songs - all bar one penned by Andrew - are on deeper acquaintance more laden with hooks than they first appear to be. There's an unassuming, natural, eager onward propulsion and drive to their songs, a feelgood charm that rather reminds me of the Durbervilles with pop overtones. This abundant charm transcends the superficial mundanity of the lyrics you hear, which concern themselves for the most part with relatively ordinary matters. The best of the songs turn out memorable on several counts: Pickin' Fishes is a cheery Creedence-style acoustic hoedown that you can't fail to clap along to, The Hands uses a breezy jazz-inflected swagger to tell the tale of a felon on the run, the chirpy momentum of Happiness Starts Now expresses the sheer abandon of the early euphoria of a new relationship, and Man About The House is a cheeky homespun ode to the charms of backporch DIY. A definite standout is Shift Patterns: sublime, crafted perfection in a three-minute slice of uptempo wistfulness that recalls vintage Lindisfarne with a cool muted trumpet part. Here, and on the superficially more simplistic lyrics like Goodbye City and Good Luck, Bad Luck, there's a really attractive lightness of touch and texture appended to an earnestness of purpose, a combination that recalls Chumbawamba but without the caustic political edge of the latter. Oh For A Rail's enigmatic nature is belied by the thrust and directness of the backing, whereas The Answer's Always Yes makes a deal encased in grimy rock'n'roll and Don't Start A Band perhaps shouldn't be taken quite at face value.
Elsewhere there's the odd song that seems to go astray, a trail that leads nowhere and stops before it says anything much, but for the most part the Galipaygos have developed their craft well and achieve much from simple, pithy observations and skilful use of instrumental resources. Just occasionally though, I feel that the band's desire to fill each available channel of a track with detail gets the better of them - as in Captain, where a surfeit of sea-sounds washes over and soaks through a really attractive guest fiddle contribution. The Demise Of Gary Lip-Gloss, I've discovered, is already the band's third outing on CD, and on this evidence I'm very much tempted to check out their back-pages asap.
David Kidman March 2008
---
This band from Inverness haven't been together too long but have now produced a second cd with a sound of their own that is already distinctive - a combination of Andrew Still's light, earnest singing and a band playing in an Americana style. Twangy electric guitar and strummed acoustic is augmented by banjo and mandolin but also frequently by Hammond Organ swirls that I, for one, can rarely resist. The whole is driven along by an insistent drumming style that sometimes contrasts nicely with the gentle, homely nature of the lyric. "Write about what you know" is taken to heart by these guys, and the songs are, almost naively, directly about their lives and the lives of their friends and contemporaries. One of several songs re-recorded from the first cd, "The Band That Had No Songs", relates the tale of their coming together and getting a support slot to Ox, the Vancouver band, before they'd got any material to play.
What they already do well is to write songs with hooks that aren't obvious but that have a slow-burning persistence. It doesn't always come off but the best of these songs - "Sweetheart Smile" and "Two Mouths To Feed" for my money - have a bit of that magic that makes you start rooting for a band. I hesitate to compare them to Aberfeldy because they're not so wilfully offbeat, but they do have a similar sort of charm that leaves you with a happy smile on your face. Probably not at the top of their game yet, then, but it's going to be fun listening to them as they get there.
John Davey
---
Rory Gallagher - Wheels Within Wheels (Capo 703)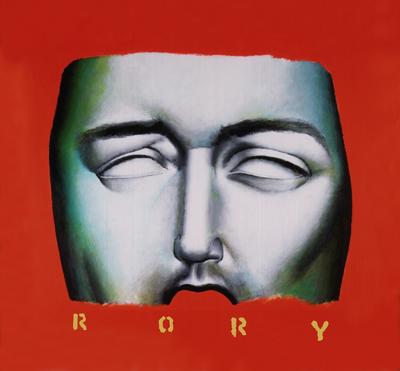 It had long been Rory Gallagher's intention to record an acoustic, folk-based album. Sadly, he died before he could realise his dream but, after much painstaking research, Donal Gallagher has pulled together a bunch of lost and/or long-forgotten tracks that will ensure his brother's music continues to live.
And what a treasure trove Wheels Within Wheels proves to be; across its 14 tracks we hear Rory Gallagher trading licks with the likes of Martin Carthy, Bert Jansch, Lonnie Donergan and The Dubliners, among others, on material spanning 20 years, from 1974 to the year before his untimely passing.
Strangely, one of the brightest gems among the sparklers on offer here is Flight to paradise, on which Gallagher duels with flamenco guitarist Juan Martin. Recorded in London in 1984 as part of a tour featuring, in addition to Gallagher and Martin, Richard Thompson and David Lindley, it shows the Irishman keeping pace with a master of a genre with which he was surely on no more than nodding terms.
Another example of Gallagher's consummate skill and flexibility is evidenced by the most recent track, recorded at the 1994 Montreux Jazz Festival. Already onstage and expecting to be joined by Bob Dylan, Gallagher is more than a little surprised when banjo-picker supreme Bela Fleck strolls on instead. Unfazed, Gallagher gets the measure of Fleck, with whom he'd never played, with a swift Amazing Grace before the pair, helped by harmonica-player Mark Feltham, spark off each other on Walkin' blues and Blue moon of Kentucky. She moved thro' the fair/Ann cran ull sees Gallagher paired with Bert Jansch for some sublimely sensitive interplay, while Bratacha dubha unites him with Martin Carthy, Chris Newman and harpist Maire Ni Charthasaigh for a lovely Irish/Elizabethan instrumental piece.
Things, as might be expected, get a little more boisterous when The Dubliners join yer man for a run-through of his Barley & grape rag with Gallagher swapping vocal lines with Ronnie Drew and instrumental licks with the fiddle of John Sheahan. The traditional The cuckoo is given a sprightly work-out as Gallagher sits down with Belgian guitarist Roland van Campenhout and the pair get to display some deft fingerwork. Gallagher's famed battered Strat is removed from its case for Lonesome highway, a lovely piece of soft rock on which its owner is backed by his band of the time - 1975 - Lou Martin on keys, bassist Gerry McAvoy and drummer Rod De'Ath.
That band's, and subsequent line-ups', live shows usually featured a section during which Gallagher would show off his prowess on acoustic guitar. This set brings back memories of those shows and also takes us to places we'd probably not realised Gallagher had visited. The recording quality may be a little variable over the course of the album but Wheels Within Wheels is a must-have collection for fans of the much-missed boy from Cork.
Fred Hall
---
Lennie Gallant - Live (Revenant)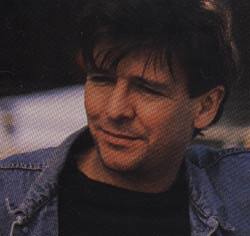 This is the fifth album from Lennie Gallant who's one very special singer-songwriter and performer. That he comes from Canada with it's rich songwriting tradition (Neil Young, Joni Mitchell, Leonard Cohen, Gordon Lightfoot etc), tells you something even before you hear him, and there are real echoes of Lightfoot in his performance. Gallant encourages the audience, "put your hands together", and it's impossible to resist joining in his appealing brand of up tempo harmonious folk rock. Assured acoustic strummery and fingerstyle guitar, ever present soaring fiddle from Chris Church, funky percussion (including some highly proficient bodhran playing from Gallant) and bass, drive his songs along. These songs come from a folk perspective and there's a wealth of memorable song-stories, some in French with a Cajun feel; of disasters, journeys, people and places. His voice is as warm and brave as his lyrics. Who says you can't write a great folk song these days?
A live album gives the listener a taste of the live experience, which in Gallants's case is exceptional. This album, recorded at three concerts in November 1999, is not just a 'best of'. There are five new songs, not previously recorded on his earlier albums, plus others from past albums; Breakwater, Believing in Better, The Open Window and Lifeline. Gallant has just played the Pontardawe Festival in Wales and now returns to his busy Canadian tour schedule but, when he returns, go see him. He knows how to entertain and he deserves a wide audience. In the meantime, check out his music.
Sue Cavendish
---
Annie Gallup - Little Five Points/Hat Check Girl - Road To Red Point (Waterbug)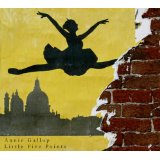 Self-described as conversations in a quiet room, accompanied by musical partner Peter Gallway on guitar, bass and keyboards, Gallup's latest solo album is a hushed, intimate affair, Gallup often talk-singing the lyrics over a stripped back bluesy background of guitar and the occasional lap steel or ukulele.
Opening number Lester William Polfuss, 1915-2009 simply relates the story of guitar legend Les Paul, the rhythmic bubbling Girl In The Ruins laces intimations of mortality with memories of a summer of love cross Europe journey and a girl brushing her hair in the Coliseum and with spoken verses and sung hymnal chorus The Story Of My Life reflects on the effect of metaphors in the art of songwriting.
With other numbers telling of Adam's insecurities, the pain of fleeting or absent lovers, a gathering of poets (or would be poets) in her titular home town, and dreams, these are far more poems than songs (and as such it's a pity there's no lyric sheet), a Cohen influence leaking into several. They reward most when listened to in the solitude of such quiet rooms she speaks of as you immerse yourself in the language and the emotion of her beguiling imagery and reflections.
Although still just the two of them, the album under their duo name is more musically fleshed out, still drawing on the blues but in a wider traditional American folk setting while both take turns singing. Again written in a remote quiet and windy setting, inspired by having seen a collection of depression-era photographs at the Santa Barbara Museum of Art, the dust-limned co-penned songs are more about story telling.
And heavy with the weight of reflection, memories and loss, what fine stories they are: Up In The Country a haunting portrait of hard work on the land and the loneliness at the end of the day Scarlett observing how economic hard times can break a marriage with Under Those Trees offering almost a polar opposite, Texas Burning a haunted narrated snapshot of the fires that threatened the state, the throaty southern blues title track a salute to a father's supportive love and Cape Rouge a thank you to a former lover who kept the narrator on track with the closing duet Far Distant Shore a moving assurance of an eternal peace for the broken and forgiven.
In the same way as the paintings of Wyeth, the music of Joplin and the writings of McCarthy, these albums resonate with the soul of America's backroads, dust scrabble lives and the endurance to find a better tomorrow. They deserve to be cherished.
www.anniegallup.com
www.hatcheckgirl.net
Mike Davies December 2012
---
Annie Gallup - Weather (Waterbug)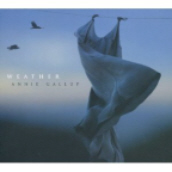 One half of Hat Check Girl with Peter Gallway, the Santa Barbara based singer-songwriter has also had a flourishing solo career since the early 90s. Citing Alice Munro, Grace Paley, and Margaret Atwood among her influences, it's no surprise to hear a love of words sharing a partnership with her affection for country blues. She taught herself to play guitar from records by Mississippi John Hurt, Doc Watson and Dave Van Ronk, but her latest album sees her put that aside to focus entirely on her voice, the song-poems accompanied instead by a classical string quartet.
The result is sort of baroque chamber folk, the strings underscoring the emotions in songs variously fuelled -either directly or obliquely - by the economic collapse, the war in Iraq, the Kent State shootings of 68, loss of friends to cancer, her relocation from Ann Arbor, a variety of global natural disasters and the events of 9-11.
The album opens with Bird, a vignette about a woman sleeping in her lover's bed unaware that her own home is burning down, painting - presumably allegorical - images of a twisted mess of wire and tin that once held a canary and of her mother's ashes going up in flames. It's a disarmingly poignant number that puts me in mind of Janis Ian singing I Think It's Gonna Rain Today.
Sixty Eight, with its pizzicato strings and hushed, urgent spoken delivery, is a more obvious narrative, as is the moving closing number, Ground Zero, Written In Chalk with its impressionistic image of streets littered with ash, plaster, paper and "hundreds of high heeled shoes", as it charts the emotional fall-out of the tragedy in terms of a single relationship's arc from the desperate need to talk to and reassure each other to an eventual drifting apart.
Evocative of a warmer Laurie Anderson, Unmapped World paints a portrait of the detritus of war, adopting the swords into ploughshares imagery as she says "everywhere I find guns and guns. I stack them like firewood; I drive the long barrelled ones into the ground for a picket fence. They have a sort of beauty now that makes no sense, and nothing to shoot."
Backwoods folk bubbles up like a spring through the plucked violin strings of My War, Blacktop Boardwalk tumbles along with the feel of Southern kids skipping song, though I suspect few would reference the old blues legend of selling your soul at the crossroads.
A recurring theme is of relationships that could not be. On Late, a wholly spoken piece, more short story than poem, she notes how 'some stories end in the middle' as she relates the unconsummated feelings of two people not free to pursue the attraction. Regrets hints at a similar scenario while, possibly the most touching number here, the melancholic and personal All Night Rain sketches a night of illicit passion that she has to end in the morning, closing with "are you there beside the one who still wants you....and do you think -- thank God that Annie turned me down?"
The musical format is unusual, but listen to these songs and it's hard to imagine hearing them as effectively in any other context. The forecast is good.
Mike Davies December 2010
---
Annie Gallup - Half My Crime (Waterbug)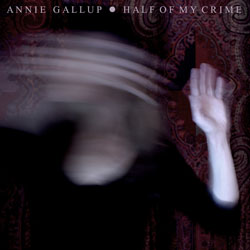 In my review of Annie's previous album, Pearl Street, barely a year ago, I described her as an unashamedly quirky "spoke-folk" singer-songwriter-cum-beat-poetess, a tag which the unbridled intimacy of Half Of My Crime reinforces. This latest set from Annie shows no letup in her artistic endeavours, and no letup in quality either, for it turns out to be a fabulous, and wholly riveting, collection of challenging new creations (I'd not wish to devalue them by terming them merely "songs") indeed.
The main difference from Annie's previous releases is that this time round the CD's 14 pieces are performed as live-in-the-studio duets with three other musician friends who just happen to be bass players; Sean Kelly, Michael Visceglia and Don Porterfield, with their genuinely collaborative playing, provide some often quite unusual timbres to augment Annie's acoustic or electric guitar and voice, employing basses of the fretless, electric and standard upright variety, or even processing (synthesising) the instrument's sounds (as on the weirdly evocative I Rode The Train).
Each and every song has a strikingly individual character, which on occasion is defined nearly as much by the distinctive timbral quality of the accompaniment as by the song's subject-matter or mood. The level of intimacy that arises directly from Annie's delivery, though, is outstanding - you really do feel like she's sharing her secrets personally with you, and you alone. Her writing is still abundantly imaginative, with a playful and inventive sense of wordplay, a real love of language that's as natural a means of expression for her as singing itself. Already after only a few playthroughs, this ambitiously stripped-down new collection feels like Annie's strongest work to date.
The potent stream-of-consciousness of her characters, and their true-to-life tales of lost love, have never been more vividly conveyed. Standout cuts include the delicate reassurance of Enough, the simple anti-war song Field Of Flowers, the eerie, sensual road-movie Away From The Lights, the deceptive crooning of Almost Forgive, the jaunty onomatopaeic patter of Fourteen Days Of Rain. This fine album also contains two priceless beat-style concoctions - a fingersnappin', prizefightin' jazzy rap for The Contender and a streetwise resigned shrug for Sugar - and a satisfying batch of contrasted storyteller's character vignettes Nineteen-Seventeen, Three Brothers, Avalon and Third Person. And by the way, Annie's own elusive, flyaway cover design perfectly complements the music within.
Finally, after the desperate longing reflection of Free has died away, I'm left in a kind of awed silence at Annie's all-embracing artistry, and I just have to go back and re-live the whole 50-minute experience. An extraordinary achievement, and destined for the status of one of my albums-of-the-year-so-far.
David Kidman
---
Gamble Brothers Band - Back To The Bottom (Archer Records)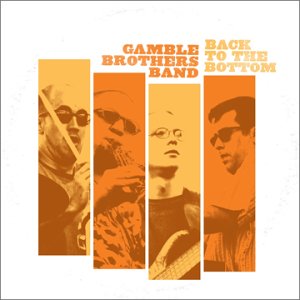 I've got to stop trying to pigeonhole every CD that comes my way and The Gamble Brothers may well be the band to make me do just that. They're blues, they're soul, they're funk and they're even a little bit of reggae. They were the winners of the Independent Musicians World Series last year, beating off over 1,000 challengers. The opening track on this, their second album, Record Store has instant appeal and it's not hard to see why this was selected as a single. It's a slick, sophisticated and extremely well played killer of a track with Hammond played by Al Gamble to the fore. The title track is soulful and funky whereas the Gary Wright cover (one of only two on the album), Love Is Alive is given the Gamble Brothers treatment, complete with rampant horns. Al Gamble takes on the vocal duties for the band and his soulful voice will be a trademark for the band in the years to come.
Share has a little bit of a ska feel to it and like all of the other songs is well constructed and executed. Tiki Bar is a funky soul track in the vein of Steely Dan at their best as is Come On Sam. The Gamble Brothers are predominately a keyboards and horns band but Will Lowrimore on bass and Chad Gamble on drums and percussion have a significant part to play in the bands sound. The now familiar saxophone of Art Edmaiston leads into One Stone, which, rather strangely, reminds me of The Spin Doctors for some reason - don't ask me why, perhaps it's Al Gamble's vocal inflections. Escape Alley is, like most of the tracks, one that will get into your brain with its Crusaders-like riffs. This is one of two instrumentals and I can see where the Booker T comparisons that they have drawn come from.
Old New One has a fantastic chorus with the brothers harmonising to great effect and Land Of Soul has a jazz base with a groove to slip your backbone to. One of my favourite Randy Newman tracks, Little Criminals, is turned completely on its head and, in my opinion, very well done. The closing song, Caddilactopus is a strange one to finish with. It has a downbeat, avant-garde start (perhaps the most downbeat part of the whole album) and goes into an eight minute Hammond and tenor sax instrumental. This is the only down side to the album and it's a shame that they chose to end with this considering the impact that they made with the opening track. I suppose that it's a little churlish of me to have a go at this final track but it does slightly spoil, what for me was, an excellent album. Having said that, The Gamble Brothers are a highly professional, slick outfit, I'm now a fan and this is just the starting point.
www.archer-records.com
www.gamblebrothersband.com
David Blue
---
Gandalf Murphy and the Slambovian Circus of Dreams - The Great Unravel (High Noon)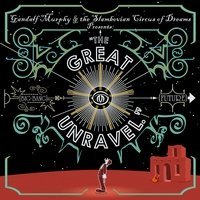 It took three years for the last album, Flapjacks In The Sky, to find it was into UK record stores. They've shaved that down to two for the follow up, an album recorded, produced, mastered and even designed using an Apple Mac.
The references to The Byrds, The Grateful Dead, and Dylan are present again, the latter's spirit shining through Picture while, sipping from the same genre well, Celtic flavoured love song Tink (I Know It's You) - which features uillean pipemaker Seth Gallagher - and Everyone Has A Broken Heart both tip the hat to Neil Young.
Cat Stevens rears his head as a new influence on Light A Way, but they're also spreading their psychedelic wings a little more with the title track sounding like a surfer version of the Electric Prunes mingled with early Pink Floyd. Their influence is also evident on Summer's Day and the psychfolk Bobby's Kinda Dumb while Clear Channel jiggles eastern mystic colours. Don't let the name fool you into thinking they're some kind of novelty act, whether your tastes are for Gram or Jefferson Airplane, you'll find something to love under this big top. Their latest album, The Great Slambovians, is due for US release this July, so if they can shrink the Atlantic crossing delay a little more, a review should hopefully appear here around October 2011!
www.slambovia.com
www.myspace.com/gandalfmurphyandtheslamboviancircusofdreams
Mike Davies June 2010
---
Gandalf Murphy & The Slambovian Circus Of Dreams - The Great Unravel (High Noon Records)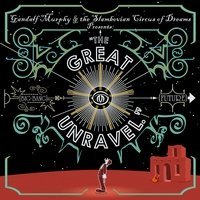 This "ultimate DIY band", formed in New York's Sleepy Hollow in the late 90s, has since become somewhat of a cult, their music being variously described as a kind of "punk-classical hillbilly-floyd" brand of folk-rock. An ugly, cumbersome but curiously accurate tag as it turns out, but one that didn't necessarily endear them to me at first when my task was to review their double-disc offering Flapjacks From The Sky, critically-acclaimed predecessor of The Great Unravel. I didn't quite "get it" then, but have since come to appreciate its unpredictability, enjoying the more wilful of its meanderings and its winsome, strangely attractive songwriting. Perhaps this shift is due to my prolonged exposure to The Great Unravel, which presents a dozen new (and wholly accessible) original songs by frontman Joziah Longo which unashamedly (tho' sensibly) run the gamut of styles from Celtic-tinged prog to feelgood folk-rock, with momentary excursions into west-coast psych (Picture), singalong country-rock (Everyone Has A Broken Heart), Cat-Stevens-era philosophy (Light A Way) and smart-ass punk (Bobby's Kinda Dumb) along the way. Summer's Day is a perfect encapsulation of early Rick-Wright-mode Pink Floyd, while the ensuing number (the title track) even relies heavily on a Lucifer Sam riff, but there's lots more to Gandalf's Circus than that superficial - and wholly unfair - impression of pastiche-Floyd might initially give the listener. Joziah's love-song to fellow band-member Tink (Lloyd) is both epic, economic and genuinely touching, while the eastern-inflected excursion into fuller-blown mysticana (Clear Channel) is similarly believably executed. These guys mean business, and treat their influences and sources with affection and respect. The band's instrumental complement is an ingenious and satisfying conglomeration of standard folk-rock sounds, more traditional folk instrumentation (acoustic guitar, accordion) and occasional more unusual textures like cello, theremin and glockenspiel. The Great Unravel has no seriously low spots (though I warmed less to the opening and closing numbers, which pander to more conventional rock tastes), but importantly there's no excess fat or undue sprawling, and even the little uncredited bonus track (a kind of electric Japanese mantra in the Spirit Beautiful mode) has its own oddball appeal. I like this band and their music a lot, and I'm only sorry it's taken me more than a few months - and two albums - to finally succumb to their charms.

David Kidman May 2009
---
Gandalf Murphy and the Slambovian Circus of Dreams - Flapjacks From The Sky (High Noon)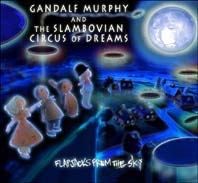 Released back in 2004 but only now making its way to the UK, as you might possibly expect from the name and title there's a little of the bohemian hippie about this lot and their double disc. Fronted by Joziah Longo and featuring Tink Lloyd (accordion,cello), Sharkey McEwen (guitars, mandolin) and drummer Tony Zuzulo, they came together in New York some 9 years ago, their music being tagged as Hillbilly-Floyd, surreal Americana and pretty much anything between. Indeed, listen to Gonna Get Up and you may even find yourself thinking of Lennon.
Mostly though, they tread a roots-country, sometimes (as on I Wish) bluegrass splashed Americana path that lines them comfortably alongside such names as The Byrds, The Grateful Dead, Dylan and, in their bluesier moments (Bike, Glide), Lynyrd Skynyrd, a perfect stoner festival outfit. Spread across twenty tracks there's inevitably a little fat that could have been trimmed, but for the most part, whether giving it the country-rock drive of In Her Own World, the acoustic delicacy of Baby Jane, the lysergic country Kristofferson meets Gram anthemics of Sunday In The Rain or the country soul Call To The Mystic, there's more than enough here to warrant exploration.
Mike Davies May 2007
---
Vin Garbutt - Persona ... Grata (Home Roots Music)
Here's the long-awaited album of new material from folk scene stalwart Vin, who, as you may know, has just recovered from major heart surgery and has emerged performing as strongly as ever. It's the true followup to the well-regarded Word Of Mouth, and contains 11 tracks (10 songs and a tune-set), almost all of which will already be very familiar to his fans from live performance. Yet I experienced not a shred of over-familiarity when playing the CD; it was more like welcoming old friends. All but three of the tracks have been recorded live, just Vin and his guitar (and Emma's backing vocal on one track); the remainder are blessed with spare yet beautifully sympathetic backing involving just the fiddle of Stewart Hardy and the fretless bass of Sean Taylor. I loved the way the sheer intensity of Vin's performance and the excellent recording allowed me to catch every single nuance of his vocal delivery on all of these sincerely heart-felt (pun probably not intended!) renditions - not to mention the finer details of the filigree guitar work, an aspect of Vin's art that can so easily be unappreciated, overshadowed in a live setting by the man's larger-than-life persona (there's that word again!). Persona... Grata presents a canny mix of thoughtfully-chosen covers (many gleaned through Vin's travels around the country's folk clubs) and VG originals. Perhaps even cannier is Vin's decision to lead the CD off with his currently-most-requested song, the tearjerker Morning Informs, which so very movingly depicts the plight of a broken family - and then to follow with Bryn Phillips' equally moving story of a redundant coalminer Silver And Gold, and Dave Wilson's poignant Falklands-inspired lament Storm Around Tumbledown. The mood's then lightened with Vin' spicy setting of Edgar A. Guest's poem It Couldn't Be Done (and yes, of course it could!) before returning to reflection for George Papavgeris's delicately expressive Flowers And The Guns. A brace of Vin's own whistle tunes (breath-takingly performed as ever!) forms the CD's centrepiece, after which (with one exception) the compositional mantle falls squarely on Vin's own shoulders with some of his finest offerings that deal so compassionately with "difficult" subjects, including For An Explanation and Punjabi Girl and finishing on the touching "can't wait to get home" song The Kilburn Horse. One of the principal strengths of Vin's writing is that he keeps us firmly in touch with his Teesside roots, yet visits even his most "local" themes with a powerful sense of universality and genuine humanitarian concern. In every respect, Persona… Grata just has to be Vin's best yet. We're so glad to have you back, Vin – and may you henceforth enjoy the very best of health!
David Kidman
---
Vin Garbutt - The Vin Garbutt Songbook Vol 1 (Home Roots Music)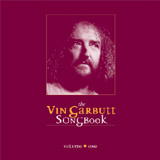 A veteran on the folk scene, like kindred spirits Eric Bogle and Dick Gaughan the corkscrew-haired, strangle-voiced Teesside singer-songwriter and self-confessed malcontent's spent some 30 years singing songs about injustice, ecology, social concerns and personal passions. This 17 track compilation, released to tie in with the actual songbook, trawls those three decades to include material from previous vinyl or cassette albums, many long unavailable, including his The Valley of Trees debut, as well as nine tracks re-recorded live or in the studio.
With subjects that range from Teesside's industrial decline, traffic pollution, Thatcherism, and conflicts in Northern Ireland and East Timor, to Tunisian beggars, Spina Bifida, infertility and the exploitation of Filipino maids you don't get much insight into the comedic side of his stage act, but the likes of Lynda, When The Tide Turns and El Salvador are ample, moving evidence of his deeply felt beliefs and crusading conscience. And if you buy the songbook as well you get a fiver knocked off the CD into the bargain.
Mike Davies
---
Jerry Garcia & David Grisman - Grateful Dawg (Acoustic Disc)
Billed as "the original motion picture soundtrack", yet this excellent release is so much more than that, and definitely not just another of those amorphous and tediously-compiled beasts. It's an exhaustive (75-minute) exploration, nay compendium, which exemplifies the supreme instrumental virtuosity and astonishing breadth of musical interest and accomplishment in music-making achieved by these two men. Its genesis comes from David's own suggestion that the hours of video footage of the two of them in performance shot by his daughter Gillian (a film-maker by trade) be edited to form a kind of homage to this landmark musical collaboration. This CD in fact forms the latest in the label's series of albums charting the nature of their partnership. Like the film, it's more in the nature of what Gillian calls "a homemade patchwork quilt"; informal, casual and spontaneous in nature (mirroring the two musicians it celebrates), it gives us not only music from live performances (primarily two California concerts), studio and home-style jam sessions by Jerry and David, but also sets the unique phenomenon of "Dawg Music" in context with a small number of original recordings of other practitioners of the art who have influenced or inspired them - Bill Monroe (represented here by Wayfaring Stranger) and Ewan MacColl (whose rendition of Off To Sea Once More forms an instructive preface to the duo's own version). There's also a slice of vintage Old And In The Way (the super-grass combo featuring Peter Rowan). For those not in the know, I suppose you could best term "Dawg Music" a strangely addictive and fulfilling, special kind of acoustic jazz, and the Acoustic Disc label (started by Grisman) has in its catalogue plenty of typical examples should you wish to listen further. The title track - given in both live and studio formats - is the best possible example of this sub-genre, but equally Dawg's Waltz and the expansive 16-minute workout Arabia both prove that the musical agenda mostly extends deeper than, and way beyond, pure note-spinning showmanship. So this soundtrack also ranges over down-home old-time (Sweet Sunny South, with the pair on non-duellin' banjos!, and the fun Jenny Jenkins) to a bluesy, soulful rendition of a B.B. King number (The Thrill Is Gone) and a choice Dead cover (Friend Of The Devil). This CD is an absolutely essential acquisition for anyone appreciating the finer points of Americana and acoustic music both traditional and contemporary, where it all connects.
David Kidman
---
Jon Garcia - Jon Garcia (own label)
Fed up of that old verse -chorus, verse-chorus, middle eight, verse - chorus to fade shebang? Then Jon Garcia's the man for you. Coming to the UK soon with his band, Jon announces himself with this independantly produced cd that is generous in the extreme with its big arrangements and overflowing profusion of musical ideas: probably about half a dozen separate ideas per song, and there's fourteen songs. Most of these songs clock in at around four to five minutes, pretty short by prog rock standards, but the feeling that these are "pieces", rather than songs, changing dramatically in mood as they take you on a ride through some mixed terrain, put me very much in mind of British bands of the early to mid seventies. There's too much variation to make any direct comparison but anywhere in the area of The Enid, Camel or even Be-Bop Deluxe, might give you an idea - not that any of these bands make his list of influences on his myspace site (myspace.com/jongarciaportland), so maybe it's just me. Oh, and there's quite a bit of soul in his vocal stylings, and a smidgeon of jazz in the arrangements at times. When he contains his inventiveness and gives the song a focus, something quite beautiful emerges, as on "Life's String Symphony"; in isolation these songs are memorable and moving, but in the context of the album as a whole, they're a little lost. Pulling off the trick of successfully dealing with both sides of your muse is not easy, at least not in terms of keeping your audience with you. I guess being able to download single tracks on to your MP3 keeps everybody happy. How his more complex arrangements will translate with a touring four-piece band I'm not sure, but I would expect a fair bit of fierce intensity interspersed with oases of calm: could be interesting.
www.myspace.com/jongarciaportland
John Davy September 2007
---
The Garifuna Women's Project - Umalali (Cumbancha)
This project was produced by Ivan Duran, who had masterminded last year's award-winning Andy Palacio (Wátina) album. Like that record, Umalali also features music from the hitherto largely unheard Garifuna community in central America, but this time the focus is on the community's exceptional female voices – three generations of them, no less. These were recorded by Duran in a variety of natural settings (kitchens, living rooms, beaches, temples); his plan was to move the music forward and at the same time preserve the traditions by blending these basic recordings from the tradition with contemporary flavours, "in order to capture the soul and spirit of Garifuna women in a way that would translate to the wider world". On paper, this might appear an unacceptable dilution of the sources, but in practice the sources emerge undiminished and reinvigorated (although I suspect that the intense power of the originals would, in some cases at least, be just as great without that enhancement). The main mode of vocal expression is call-and-response, and the songs recorded here (all compositions by the women themselves, incidentally) deal with the everyday issues important to them: love, life, family, death, natural calamity, and so forth. The instrumental backings are sensibly sparse, using various guitars (acoustic, twang electric), organ, sax, bass and percussion to give an indication of Garifuna's contemporary context in the global picture both musically and general-culture-wise. It's a knowing and compelling worldview, which repays open-eared listening and readily casts preconceptions aside. And as I said, the voices themselves are fantastic.
David Kidman July 2008
---
Larry Garner - Embarrassment To The Blues? (Ruf Records)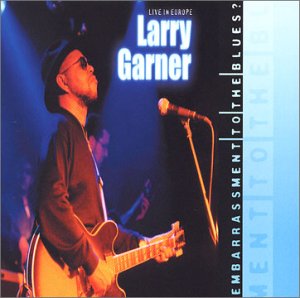 Larry Garner has been nominated twice for the coveted W.C. Handy award and brings his version of the blues to Europe on this live album.
He is an accomplished guitarist and can turn his hand to many styles. Although the whole album is written by Garner, the opening track, Dreaming Again, is very Van Morrison and the following track Had To Quit Drinking could quite easily have been written by Albert Collins. Garner is like Ry Cooder in that he can fall in and out of the blues almost at will.
Garner is a storyteller and poet and he breaks into "Larryisms" on a couple of occasions. These are stories that lead into songs and are as entertaining as the songs themselves.
There are some epics on the album, namely
Blues Ain't Nothing, Keep On Playing The Blues and Born To Sang The Blues at 12, 11 and 10 minutes respectively. Born To Sang The Blues is an excellent example of Garners storytelling and blues traditionalists will be happy with this and Blues Ain't Nothing. The soulful Somebody brings some crowd participation and Larry gets into a groove with Where The Blues Turn Back and Keep On Playing The Blues.
Larry Garner is certainly not an embarrassment to the blues and on the contrary this album is evidence that he is a fine ambassador.
www.larrygarner.com
www.rufrecords.de
David Blue
---
Seán Garvey - The Bonny Bunch Of Roses (Harry Stottle Records)
Kerry-born Seán moved to Dublin in the 1970s, and became a member of the Pavees group with the Keenan family; he won the All-Ireland Fleadh Cheoil sean-nós competition in 1982. More recently he's taken up assignments as Singer In Residence and ethnomusicologist for the Uíbh Ráthach Gaeltacht of South Kerry, and last year he won the TG4 Traditional Singer Of The Year award.
The Bonny Bunch Of Roses, which I discover is Seán's second CD, has been out since 2003, but has only just come my way for review. It sure is worth the wait however, for it's brilliant, and without a word of a lie it's one of the best CDs I've heard from an Irishman for some time (and there've been some good ones of late). It's one of those albums that, in covering many bases, is thus likely to catch the casual listener unawares. Taken as a whole, the album has an impressive palindrome-like symmetry, whereby the "bookending" tracks (1 and 12) are neat little guitar instrumentals (one self-composed and one by O'Carolan), the next-in (2 and 11) are persuasive covers of decidedly non-trad-Irish songs, tracks 3 and 10 are "big ballads", tracks 4 and 9 are instrumental tune-sets (lively, raggedy-but-fun session-style interludes where Seán sits in on flute)... you get the drift.
This is one of those records in which you can really luxuriate without a trace of guilt. Firstly, Seán is blessed with an extraordinary singing voice: rich and deep, deceptively mighty, with a degree of resonance that I can only describe as gritty, and an ideal sense of natural ornamentation. His is an enthralling and intense voice, with all the declamatory certainty of the truest sean-nós, whereby its expressive qualities are held within the melody rather than overlaid as distracting decoration or mannerism. This applies whether Seán's singing in English or Irish (and translations are provided!): his renditions of Éamon Mhágáine, The Weary Gallows, Sliabh Na mBan and The Bonny Bunch Of Roses are not only exemplary but also absolutely superb, strongly individual yet definitive. The first-named is sung unaccompanied, allowing the gorgeous nuances of Seán's voice to be heard in all their tonal glory and his intuitive sense of flow to be fully appreciated. In the case of The Bonny Bunch Of Roses, Seán modestly admits in his liner note to have carried out extensive research on the song's evolution (yet that liner-note tells us more than that of virtually any other recording! - typically, Seán's notes for all the songs are copiously-researched and highly literate); it's the only non-studio recording on the album, and such is the frisson it generates that it's no wonder it gave its title to the whole disc. Where Seán accompanies himself on guitar, that accompaniment is genuinely unobtrusive yet possessed of a power and character all its own. Unexpectedly perhaps, Seán's version of Cyril Tawney's Ballad Of Sammy's Bar turns out to be one of the finest on record, acutely lonesome and with a brilliantly evocative harmonica backing from Mick Kinsella. Seán's setting of Henry Lawson's bush ballad Andy's Gone With Cattle is similarly masterly and atmospheric, while his treatment of When My Blue Moon Turns To Gold Again is affecting and refreshingly unsentimentalised. Other musicians appearing on the disc are Eoghan and Seán Óg Garvey, Liam Lewis and Josephine Marsh, but Seán's forceful yet curiously unassuming personality dominates in the nicest possible way. This disc is a real treasure - no exaggeration.
David Kidman 2007
---
The Gaslight Anthem - The '59 Sound (Side One Dummy)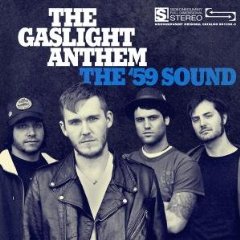 Hailing from New Brunswick, and led by singer Brian Fallon, the four piece clearly have a big thing for fellow New Jersey boy Bruce Springsteen. Living up to their name, the album's bursting with swelling anthemic songs about blue collar American life but given a swaggering punkish energy in the manner of Hold Steady.
Surging out of the traps with the paradoxical reflective sadness and bursting optimism that is Great Expectations, it shoots straight to the heart of everyman life with its soaring dreams, blunted hopes, desperate romances and the nuts and bolts of love, family, work, life and shouting at the moon.
Death's there on the title track as, riffs sparking, Fallon sings about car crashes and how 'young boys, young girls ain't supposed to die on a Saturday night, while cars, girls and highways stand tall for Old White Lincoln, the bittersweet wistful acoustic Here's Looking At You Kid and triumphant closer The Backseat, songs that could easily have slipped between the covers of Born to Run. They even sing about meeting your girl and washing away your sins on the towering Meet Me By The River's Edge.
But its not mere slavish imitation, the band have their own heart and power to their nostalgia and retro imagery, making strong use of filmic references (a mention of Audrey Hepburn, a punchy number called Film Noir add to the tally), they have a song called Miles Davis & The Cool that warrants classic status, on High Lonesome Fallon sings about wishing he looked like Elvis while The Patient Ferris Wheel will have you wheeling round in circles punching the air. If The Boss' latest has left you a little underwhelmed and pining for those glory days of cars, girls and midnight confessions, then this is just what the doctor ordered.
Mike Davies February 2009
---
The Gathering - The Gathering: Legends of Folk-Rock (Hypertension)
That there qualifying phrase is inserted into the disc's title presumably to distinguish it from the wonderful old-timey touring package that did the rounds a year or two back. For it's a different beast entirely. I was expecting something more special from this particular Gathering, on which a stellar crew of members and ex-members of legendary folk-rock bands (Steeleye, Lindisfarne, Fairport, Tull and Magna Carta) make music together. The roll-call, while impressive, is hardly the Ashley Hutchings All-Stars, or even French-Frith-Kaiser-Thompson for that matter, for a start. Here instead it's Rick Kemp, Ray Jackson, Jerry Donahue, Doug Morter and Clive Bunker, with Kristina Donahue adding some vocal lustre on some tracks. There can be no contesting the pedigree of these musicians, of course; and together they celebrate their shared musical heritage of folk-rock, blues and country – well, I wonder if celebrate is the right word, for they look distinctly dour and gloomy on the booklet photo!… They perform a perfectly respectable, I might say workmanlike, set that takes three decent-enough covers of classic folk-rock songs (Hull, Kemp, Thompson) and pads them out with nine originals by band members that range from bluesy rock to bluegrassy country. Taking the covers first: Fire On The Line chugs along nicely enough, with some spruce'n'nifty mandolin (cheers Ray), then Lady Eleanor is revived with due spirit, whereas For Shame Of Doing Wrong, inevitably suffers by comparison with Linda's version although Kristina makes a reasonable fist of the task. The originals don't contain anything approaching those covers in terms of memorability, although it's not exactly that they're not worth hearing again (if you see what I mean). Best of the bunch are probably Rick's Deep In The Darkest Night, Ray's distinctly Lindisfarne-y, good-time King's Cross Blues and Doug's soulful I Don't Want (shades of B.B. King, I thought), but as a set the whole album is distinctly underwhelming. Where's the spark, I kept asking myself. The disc's routine and ordinary for much of its 56-minute span, if I must be honest, with some excellent musical skills seriously under-utilised. Jerry's superlative guitar playing surfaces only occasionally for instance (there's a neat solo or two, on Brampton To Roadhead and Deep In The Darkest Night, and an instrumental Rocking The Dog, but that's about it). If you caught this crew live recently, you might've been just about satisfied for much of the duration of the gig, but even as a gig-purchase this set hardly justifies the epithet "legendary".
David Kidman April 2009
---
Dick Gaughan - Live! At The Trades Club (Greentrax)
A very straightforward release, in that the title says it all – even that exclamation mark… The Trades Club is in Hebden Bridge, West Yorkshire: it's one of those staunch venues where the attendees' political persuasion is taken as given and where "working class art and politics are inseparable". Dick's always guaranteed a healthily rapturous welcome here, as he makes the final stopover on the last night of his tour each November/December before returning north across the border to Scotland. But there's no smug "don't care/get away with any old performance, they'll applaud anyway" feel about his gigs there-– exactly the opposite, as it turns out, as you'll hear on this totally energised live set recorded at this, one of Dick's very favourite venues, just last December. In terms of material, OK there's nothing new in this hour-long sequence of virtually everything the man does best - but it's not a greatest hits selection by any means and there's still at least another hour's worth of prime Gaughan material that could easily have been chosen for inclusion, as any fan could give you a list almost without blinking. Still, when there's such blistering brilliance here no-one can have any complaints. The man's performance of Brian McNeill's No Gods is one of the wonders of our age - snarling and ferocious, with every last spat-out syllable meant from the very heart and soul, an unrivalled rendition that will never fail to move, raise the dead, and always, repeat always, stops me in my tracks and has me violently punching the air. The tumbling guitar torrents that punctuate Si Kahn's What You Do With What You've Got, a perennially meaningful interpretation if ever there was one. This contrasting with the uncommon sensitivity with which Dick treats Burns' Now Westlin Winds, and for that matter his own fierily wistful Outlaws And Dreamers. While no Gaughan gig would be complete without a couple of virtuoso tune-sets where not a fingerstroke falls by the wayside, or a suitably stirring rendition of his anthem Both Sides The Tweed as finale. And so it proves here. But then again, Dick sings everything in the set with every last ounce of political and emotional conviction he can muster - and more besides, it soon becomes abundantly clear. I can never tire of hearing Dick on such splendid form as he plainly is here. Getting withdrawal symptoms between Gaughan gigs? You need this CD!
David Kidman July 2008
---
Dick Gaughan - Lucky For Some (Greentrax)
I'm a long-term admirer of Mr Gaughan's artistry, and any album the man makes will immediately guarantee a priority play on my machine. But first acquaintance with the opening brace of tracks on his latest CD has left me wondering whether I've suddenly grown jaundiced, grumpy old ears. And indeed, the overall impression is that, sad to say, Lucky For Some feels an uneven offering, with a number of quite disappointing features alongside some predictedly stupendous cuts. Dealing with those first, there's the brooding traditional-style murder ballad Anna Mae from the pen of Jim Page (for some time a highlight of Dick's live sets, at long last given a suitably passionate studio recording), and a pin-drop rendition of Bleacher Lassie o' Kelvinhaugh on which Dick's a paragon of sensitivity, contrasting with the more typical snarling delivery of The Devil And Pastor Jack. It's no coincidence that these three tracks rely on the bare minimum of accompaniment, since my reservations regarding the album as a whole tend primarily (albeit not exclusively) to centre on an occasional tendency to over-production. However, on the moody (if a tad opaquely "orchestrated") instrumental Dancing With Eagles, we can at least still experience Dick's blistering guitar skills undiminished; it's on the anthemic Come Gie's A Sang that the fulsome arrangement proves most distracting, precisely because its quasi-orchestral pomp actually sounds artificially-generated. Comparative restraint, and the presence of "real" musicians (Mary MacMaster on clarsach, Brian McNeill on fiddle) redeems some tracks (the menacing Different Drum for instance, which also uses backing vocals from Ian McCalman and Stephen Quigg). The closing track, We Got The Rock'n'Roll, is a commendably realistic reminiscence of "life on the road" (Five Hand Reel?) days, dedicated to the late Bobby Eaglesham, yet its fond ambience is compromised by the cheesy effect of a drum machine and weedy synth. Together with further synthesised orchestration, that ubiquitous mechanised beat causes similar distraction on the playout of an otherwise fine performance of the tale of The Hunter Dunne. But returning to the opening impressions, the ultra-disillusioned tone of the first track Whatever Happened is so determinedly downbeat that I'm left with an impression almost of Dick going through the motions with self-parody, a suspicion that even his committed vocal performance can't quite banish (though I'll admit that there've been times since that first play when I've almost been convinced - so maybe...). And the title track's an uncharacteristically anonymous uptempo trucking-opus that's done no favours by being saddled with an understrength guitar sound, sweet-toned vocal chorus and hey, there's that darned drum machine again! So, a decidedly mixed CD, although it still contains sufficient excellent music to justify purchase.
David Kidman, June 2006
---
Dick Gaughan & Allan Tayler - Both Sides Of The Tweed Tour - Lochside Theatre, Castle Douglas, 15th February 2003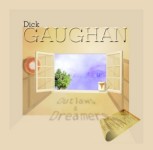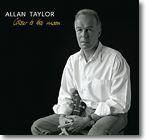 Here's two of Britain's finest and most distinctive songwriters, both currently celebrating 35 years on the road. And what better way to do so than to team up for a short tour and raise the profile, presenting a programme of 18 songs that Allan introduced as "songs about the folk who'd affected us and our times on the road"? On the face of it though, even those already familiar with the work of the two artists concerned might feel that putting these two on stage together wouldn't work, since their individual styles couldn't be more different - you'd think! But then, remember that Dick thought highly enough of Allan's Land Of The North Wind to record it on his Sail On album (and latterly, even dubbing it one of his favourite songs)…
Whatever, no fears of mismatch or incongruity here, for the two performers made a great team from the outset, their guitar styles proving interestingly complementary - Allan's mellifluous, finely-judged deftness an ideal foil for Dick's fiery, often breathtakingly unpredictable scattergun approach mixing intricacy with percussive stabbing - and, with an admirably clear balance achieved by the sound desk, you couldn't go wrong. The format for the evening was that each half opened with two songs performed by Dick and Allan together (one associated with each), followed by a set of two songs performed solo by each in turn, then to finish the two came together again for a couple more songs. This worked well, and each gave a properly representative (yet not predictably so!) demonstration of his own special gifts as both singer/interpreter and songwriter. Allan's solo spots concentrated on his own compositions - old favourites Win Or Lose and Roll On The Day were well complemented by two brand new songs, of which Pearls And Wine was particularly touching.
Then, in keeping with his own acknowledged areas of expertise (ie, every bit as much an outstanding interpreter of others' songs as a skilled writer and performer of his own), Dick included both covers and traditional material - Erin Go Bhragh, Si Kahn's What You Do With What You've Got - alongside his own outstanding Childhood's End, written some ten years ago yet still so relevant today, so simple and economical in expression yet so undeniably effective. On the "duo" renditions, the two performers often took alternate verses, losing absolutely nothing in continuity of argument in the process; moreover, Dick's trademark combination of visceral force and classic restraint proved every bit as compelling when matched with Allan's more even (yet every bit as subtly and expertly judged) delivery. It was apparent too that those members of the audience unfamiliar with Allan's work were quickly converted through the canny choice of songs - accessible yet not lacking in emotional depth or impact, like The Traveller and Gently Does It; then It's Good To See You (which is frequently used as an opener) proved the perfect way to leave the stage at the end of the evening.
The whole gig benefitted from a tremendous intimate atmosphere (notwithstanding the quite upfront nature of the sound in the theatre), and encompassed some really magic moments when there was a little more than just a hint of folks joining in with the singing; the combined gentle power of Allan and Dick on Ron Kavana's universally poignant Reconciliation midway through the first half was probably the evening's highlight for me. All in all, this was an absolutely superb evening, with both performers on their very best form; well worth the effort in travelling the extra mileage to the gig.
www.dickalba.demon.co.uk
www.allantaylor.com
David Kidman
---
Dick Gaughan - Prentice Piece (Greentrax)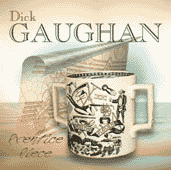 Subtitled "a compilation from the first three decades", this two-disc set seems to go against Dick's own predilections - he's known for rarely listening to things he's recorded in the past, getting most of his pleasure out of the recording process itself. But finally last year Dick succumbed to repeated requests from fans for a compilation of his favourite tracks from his own output, mindful of the undisputed fact that some of his recordings have been unavailable for a long time. So this collection's 21 tracks, showing extraordinary artistic consistency, span the decades in 107 well-chosen minutes, from 1975's brief but telling Auchengeich Disaster (from the long-deleted Bonnie Pit Laddie album) and his version of The Cruel Brother (from the early Greentrax release Sandy Bell's Ceilidh) through to 2001's Outlaws And Dreamers release. On the way, there's a welcome airing for Dick's defiantly individual version of The Wind That Shakes The Barley (from the hard-to-get 1997 album Spirit Of Ireland), also the evocative Lassie, Lie Near Me (taken from an obscure 1981 German release), and choice selections from both those classic early albums Gaughan and Handful Of Earth and the more recent achievements Sail On and Redwood Cathedral (Dick's interpretation of October Song from the latter being to my mind one of the most intriguing and rewarding of all recorded versions of this Robin Williamson masterpiece, whilst his seriously epic treatment of Hamish Henderson's Farewell To Sicily from the former has no serious rivals in my book). And no Gaughan collection could be complete without including a Brian McNeill composition (here, Muir And The Master Builder) and at least one of Dick's own (here, Why Old Men Cry). But to those listeners new to Dick's music, the most striking thing that emerges from listening to this compilation is likely to be Dick's total commitment to his chosen material, his unbridled passion and musicality, such a powerful combination that encompasses both the traditional and contemporary/political modes of the song repertoire in equal measure. Concentrating on Dick's solo activities as this set does, his seminal and influential work with Five Hand Reel isn't represented, but you can't have everything, and what we do have here is at once a superlative primer and a sincere tribute to one of the land's premier folk artistes.
David Kidman
---
Dick Gaughan - Outlaws and Dreamers (Greentrax)
From the sleeve notes: The best way I can describe what this album is about is to quote Yip Harburg, "I am one of the last of a small tribe of troubadours who still believe that life is a beautiful and exciting journey with a purpose and grace which are well worth singing about." Dick adds, "My intention was to try to see if I could create a 'live' album in the studio and it was done within a savage deadline - 40 hours to record, mix and master rather than my usual 6 weeks and, except for a bit of Brian McNeill playing on two tracks, is entirely solo acoustic voice and guitar."
This to put it quite simply as a fantastic album. Dick's voice has never sounded more strong, and indeed angry on some of the tracks. But there is a tenderness there as well especially on 'John Harrison's Hands' (for me the stand out track, about the man who built the first clock at sea to enable sailors to find longitude, but only got the credit late in his life) , and 'What You Do With What You've Got' a song about overcoming the stigma of disability. 'The Yew Tree' is an epic concerning Scottish history, 'Florence in Florence' is a cracking instrumental, 'Dowie Dens of Yarrow' is stark and powerful - sung with just a keyboard drone - works a treat. The Woody Guthrie song 'Tom Joad' sees Dick putting on a slight US accent - but it sounds fine. The title track is Dick's own song about 'Those who know the meaning of making songs out of their dreams' - it's beautiful. A great version of the Phil Ochs song 'When I'm Gone' is next. 'Tom Paine's Bones, 'Strong Women Rule Us All' inspired by the legend of Flora MacDonald, and finally 'Wild Roses' by Kimmie Rhodes round off this exceptional and moving album.
Jon Hall
---
Mary Gauthier - The Foundling (Proper)
Though already an acclaimed Americana singer-songwriter with five superb albums to her credit, Mary has raised the stakes even higher with her latest project, which has now, after two full years of writing and recording, finally reached fruition. Mary is herself a foundling, born to an unwed mother and adopted shortly thereafter; crucially, at age 45, she searched for, found and was denied a meeting with, her birth mother, and decided to undertake an exploration through song of her experience and search for meaning and identity. With the aid of Cowboy Junkies' Michael Timmins, she was able to create a musical landscape for these new songs which captured the nuances of her narrative - along with key contributions from (among others) Margo Timmins, Garth Hudson, Tania Elizabeth, Josh Finlayson, Ray Ferrugia, Jessie O'Brien, Jaro Czerwinec and Ed Romanoff.
The act of finding her mother was the catalyst for the discovery of her planned song-cycle's emotional kernel, together with an explanation for the "orphan feeling" that has always permeated her writing. Mary's deep immersion in her own lyrics has gripped me from the very first time I heard her, and if anything that involvement is even deeper on this most personal of musical creations. Right from the opening bars of the title song, the listener is plunged right into the core of her experience - almost uncomfortably so. The pain in her voice is tangible.
The album's ten individual songs then carry us on an intense journey of discovery as Mary casts aside her origins and forces out the courage to drive off in search of the unpalatable truths of meaning and identity. These are faced most painfully on the traumatic Mama Here, Mama Gone and later Blood Is Blood, the lyric of which is matched by its searing, grinding backdrop, and then even music fails to assuage Mary at the moment she finally gets to imagining a conversation with her birth mother in the mostly spoken March 11, 1962.
Later, when by absolute coincidence Mary passed by the very orphanage where she'd spent her first year and dropped in, an experience which not only produced the song The Orphan King but also galvanised her with the necessary determination to see her quest - and this project - through to the end. An end by which Mary manages to achieve a state of sanguine and reflective, conscious above all that coming to terms with her history leaves her current emotional state good, at peace and grateful for each borrowed day, as the album's epilogue-cum-coda concludes. Such intensely personal albums as this are rarely so heartbreakingly inclusive or directly inspiring.
David Kidman May 2010
---
Mary Gauthier - Genesis (The Early Years) (Proper)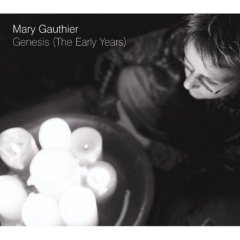 If you've not already got copies of Gauthier's first three albums, then you'll be finding them harder to track down. Seems they're no longer going to be available, hence this compilation which gathers the best under one CD roof. There's only two taken from debut album Dixie Chicken, the Prine-like Goddamn HIV and the bluegrassing Ways of the World, though you do get a previously unissued live version of I Don't Know Nothing about Love.
However, it was Drag Queens And Limousines and Filth And Fire that really produced the best of her early work with their tales of actors, barflies, writers, drunks, junkies, down and outs, suicides, poets and nuns.
Thus here's the Kristofferson like Long Way To Fall, Burnin' Sugar Cane's snapshot of her birthplace that evokes the first Band album, Karla Faye's story of heroin junkie murderer Karla Faye Tucker, the sinners seeking absolution at the Camelot Motel, Our Lady Of The Shooting Stars desperate hope for salvation, the matter of fact autobiographical I Drink and Christmas In Paradise's poignant tale of the homeless Davey stealing a tree to bring a little cheer to the wreckage of his life. A previously unavailable live version of I An't Go No Home, provides the second bonus. In an ideal world you'd already have the complete albums, but for latecomers this is a perfect place to start playing catch up.
Mike Davies June 2008
---
Mary Gauthier - Between Daylight and Dark (Lost Highway)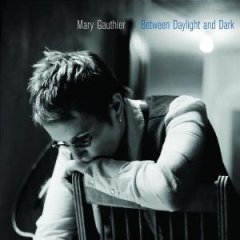 Recorded live and produced with an eye to more acoustic rootsy moods by Joe Henry, the Louisiana singer-songwriter's piercingly imtimate fifth album is a quietly world-weary affair about letting go of the past and finding the strength to endure the present and embrace the future, a hard won wisdom born of both bitter and tender experiences.
But unlike much of her past work, here the light shines through the cracks. Last of the Hobo Kings she may mourn the death of a legend and an era, but endings have beginnings too. On the title track her words brush across the nerve endings as she sings of putting aside broken hearts, putting your hands in your pockets and heading off into the distance, trying to get through the long night.
Even on Can't Find The Way (with Van Dyke Parks providing piano), an aching story of the Hurricane Katrina aftermath and the need to find your way home, she talks of the determination not to be beaten down by the odds. And at the end of the bruised relationship on Before You Leave, she sings of seeing the light return to her lover's eyes as the chains fall away.
On the pedal steel keening I Ain't Leaving, where she sounds almost like a female Guy Clark, she's defiantly standing her ground and looking firmly in the face of adversity and demons while Same Road sees her reach out to a friend falling into the darkness she's once suffered but finding the courage not to be dragged back down too.
She's not afraid to expose her vulnerability either, the rippling acoustic Please finding her on the road, yearning to be back with her lover. And in Soft Place To Land she talks of balancing safety with desire, ready for the risks of falling into the eyes of strangers but wary that the landing can be painful.
Elsewhere less obviously autobiographical numbers trace the paths between despair and devotion, from the suicide at the end of her tether on Snakebit to Thanksgiving's dust coated story of the families that return year after year for prison visits. It may just be one of the finest, most moving songs she's ever written. Some may lament the absence of the bluesy energy that informed parts of previous albums, but, aided by a fluid and sympathetic band and guest contributions from Loudon Wainwright and Van Dyke Park, Henry's approach beautifully complements the soulfulness and hushed humanity of Gauthier's hushed voice and deeply affecting images.
www.marygauthier.com
www.myspace.com/marygauthier
Mike Davies October 2007
---
Mary Gauthier - Mercy Now (Lost Highway Records)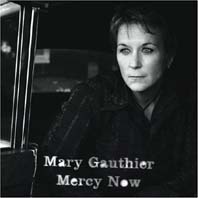 Though oft compared to Lucinda Williams, Louisiana born Gauthier (pronounced Go-Shay) more accurately sounds like a female version of John Prine or Kris Kristofferson, spinning her half-spoken, half-sung world weary compassion stained country noir tales of lives that 'dangle 'tween hell and hallowed ground', of losers, barflies, junkies, down and outs, bruised lovers and, inevitably, herself.
Now in her forties, she didn't start writing until she was 35 by which time she'd survived a dirt stained world of life battering experiences, filtering them back out through her albums Dixie Kitchen, Drag Queens In Limousines and Filth & Fire. She returns now, debuting on her new label home with her fourth and best, where the opening slow desert blues Falling Out of Love with its lonesome guitar and harmonica adds thoughts of Daniel Lanois, Mark Eitzel and Tom Waits to the gold standard reference points.
It starts in stunning form and just gets better, slipping into the title track, a plea for 'the hand of grace' to end the suffering of family, church and, in a rare pointed political comment, a country where 'people in power ... do anything to keep their crown'.
Bundled together mid-way, the album strikes another rare note in featuring both collaborations and covers. The former's repped by the jaunty but bitter travelling song Prayer Without Words with its desperate need to find roots and peace, the Prine-like bittersweet inherited traits of I Drink (originally featured on Drag Queens) and the spare broken relationship loneliness of Empty Spaces while the latter sees her slow waltzing her weary way through Harlan Howard's She's A Rhymer with producer Gulf Morlix on harmony and Fred Eaglesmith's enigmatic burned and bruised lament Your Sister Cried.
Elsewhere Gauthier casts her cinematic storytellers eye on New Orleans Mardi Gras and its celebratory approach to death with a sultry funky Wheel Inside The Wheel where 'Marie Laveau promenades with Oscar Wilde and big funky Stella Twirls her little red umbrella' while she closes up the album on the hole inside the heart missing you honky tonk waltzer Drop In The Bucket and, to strike a defiant, I will survive note, the Dylanish, growling electric guitar and organ swirling It Ain't the Wind, It's the Rain where, weather-beaten by life she declares 'when the storm clouds are building, when the deluge takes aim I know what's coming, I know the rain.' Get yourself drenched.
Mike Davies
---
Mary Gauthier - Mercy Now (Lost Highway Records)
If you're looking for a musician with some 'baggage' to inspire her art, look no further. Experiences like spending her 18th birthday in jail have helped shape Mary Gauthier and her music. As you'd imagine, her music is imbued with sadness and bitterness in pretty much equal measure. Her lyrics tell of physical abuse, drug problems, poverty...the whole shooting match.
By my reckoning, this is her fourth album. Though the nature of the subject matter hasn't changed much over those albums, the music now takes on more of a band feel to it as well as some added production sophistication. The dragging blues beat of 'Falling Out Of Love' along with its wailing backing vocals could equally well be a soundtrack to a Tolkein epic - the more evil parts, of course. 'Mercy Now', the title track, returns to a simpler acoustic style requesting mercy for us all but in particular for the family that she fled. The lyrical content needs no musical sophistication and the strong tune sits happily enough with some strings behind it. We have the rather wonderful Gurf Morlix to thank for this sensitive approach to the production controls.
Indeed, his presence and the expanding array of musicians is probably what caused Mary to re-visit 'I Drink' though, to be frank, I thought her earlier version was fine. Like some of her earlier material, titles such as 'Your Sister Cried' tell you that the pain in these songs is stark and straight from the heart. Yet, the closing 'It Ain't The Wind, It's The Rain' reveals that Mary is now providing a more developed imagery - try 'When the wild winds let up, when the violence wanes, you'll think of me, then, when you're watching it rain'. So, another fine record with some real standout tracks and signs of a developing style - you can't argue with that.
Steve Henderson
---
Mary Gauthier - Filth & Fire (Munich)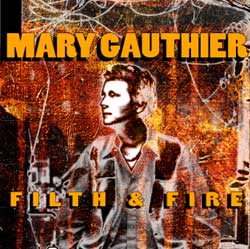 Leaving Louisiana in the broad daylight (and the stolen family car) at 15, spending her 16th and 18th birthdays in detox and jail respectively, then studying philosophy and opening an award-winning Boston restaurant before turning to music, Gauthier (pronounced Go-Shay) has been around and seen a load. It's a life that informs her self-style country noir songs that draw on her own experiences and characters observed, the actors, barflies, writers, drunks, junkies, down and outs, suicides, poets and nuns who populate the stories that made up her last album, Drag Queens In Limousines, and now its successor Fire and Filth..
Coming across like a female Kris Kristofferson (notably so on Long Way To Fall) and John Prine, though Burnin' Sugar Cane, a snapshot of her birthplace, could have come from the first Band album, there's turbulence here, but there's also humanity as her smoke stained drawl spins wry stories laced with empathy and affection for the rejects and misfits balancing between the edge and the verge, dealing with the hands they've been given, walking through the fire alone in the hope of emerging burned but perhaps with their fear, their wounds, also cauterised.
On Drag Queens memorable encounters included heroin junkie murderer Karla Faye Tucker, executed in Texas in 98, and a young kid playing at home alone with his toy train. Here among her simple, acoustic songs we meet the "cheaters, outlaws and fallen angels" who seek to hide from their sins and find absolution in each other's arms at Camelot Motel, the girl On The Ledge torn between putting an end to her desperate life or clutching at one last thread of faith, the homeless Davey stealing a tree to spend Christmas In Paradise with a little dignity and human warmth under the Cow Key Bridge, and in For Rose, the unspecified narrator drifting directionless from one life wreckage to the next.
While you're unlikely to emerge at the end of the album filled with sunny optimism about the bright side of life, her songs will burnish you with a humble there but for the grace of god awareness of the fragile nature of being human. Quite essential.
Mike Davies
---
Mary Gauthier - Drag Queens in Limousines (Munich Records)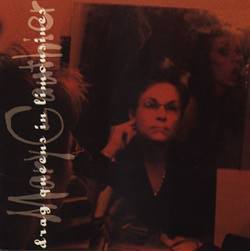 With a title like 'Drag Queens in Limousines', who could resist a listen to the new album from Mary Gauthier? More pleasing still is the news that this is not a case of great title but shame about the music. The title track opens the record and sets the tone of the rest of the album with characters reminiscent of a walk on the wild side with Tom Waits and music with that sad feel that Country at its best achieves. The approach of Gauthier (pronounced Go-Shay) is more personal than the more observational style of Tom Waits. This leaves you, the listener, more attached to the record and counteracts what can be a rather one paced musical style. The personal style comes from the fact that she 'stumbled through her early years' and the characters that feature in the songs are her friends. Guys whose view of life is 'fish swim, birds fly, lovers leap. I drink', 'Karla Faye' about the fated life of someone who went the way of death row, etc. Yet, it's not all colour and characters. Sometimes, she relies on simple poetry in tracks such as 'Different Kind of Gone'. This is definitely a good find. If you like sad and lonesome, get this record.
Steve Henderson
---
Frankie Gavin, Rick Epping & Tim Edey - Jiggin' The Blues (G2/Greentrax)
Three musicians with impeccable credentials have got together to play the music they evidently love to bits - that's where this review might end, and that tag alone might well convince you that the CD is worth buying. But I'm duty bound to tell you some more about it..... You might first consider this an unusual release to come from a label primarily associated with the cream of Scottish traditional and contemporary folk music - true, but when the quality's as good as this there need be not a murmur of dissent, for the three men surely do both themselves and the label proud. Frankie is quite simply regarded as one of Ireland's finest fiddlers, while harmonica virtuoso Rick has feet both in the bluegrass and Irish traditional camps, here playing concertina and jaw-harp; Tim Edey provides a wide range of emotional support (sensitive to pyrotechnic) on guitar (with some keyboard work too). Quite what circumstances brought these three together we aren't told, but I'm rather glad they did collaborate for this record. It's basically a twist on its title, whereby a selection of mainly Irish traditional tunes are infused with bluesy inflections and rhythms (except for the opening track, Baby Please Don't Go, where that blues standard is to all intents and purposes "jigged up" by being imaginatively linked with the hornpipe Pol Ha'penny). The playing throughout the album is uniformly scintillating, distinctly feelgood and often very breathtaking indeed - I specially enjoyed the Frank Quinn's Reels set (how Rick keeps such control over that twangin' jaw-harp is a miracle!), and the swing-infused set of hornpipes forming track 4 (Kitty's Wedding & Plains Of Boyle), while there's contrast in the form of some beautiful slower pieces (Cill Cais, Ge Do Theid Mi Do M'Leabiadh and Eagle's Whistle). Unfortunately (and most unusually for Greentrax), there are no liner-notes to the tunes themselves, not all of which are well-known by any means - this presentation aspect is the only blemish on a musically most appealing release. Then again, all credit is due to Greentrax for licensing the recording for wider circulation through their G2 imprint.
David Kidman April 2008
---
Amy Geddes & Sandy Wright - Little Bird (Phat Controller)
I rather like this one. Edinburgh-born fiddler Amy has been a stalwart of that city's session scene for some years, but has more recently achieved fame as a composer (tunes on albums by Catriona MacDonald and Fine Friday) and teacher too. Edinburgh-born guitarist Sandy also sings and writes his own songs, while he's in great demand as a session musician, having also appeared on the CD Birlin' Fiddles and in projects by Simon Thoumire. Amy and Sandy first teamed up for their album Over The Sky To See (great title!), and this proved the beginning of a charismatic musical partnership, which on the evidence of album number two, Little Bird, is gathering strength. There's a tensile quality and forward drive in the two musicians' playing that's very refreshing after some of the cool, over-controlled offerings we hear nowadays, and this is carried through onto all of the instrumental tracks here (seven out of 12). Sandy's playing is both elegant and inventive, with a spring in its step that ideally matches the high level of forward momentum that Amy brings to her fiddling; to be fair, I do hear occasional lapses in intonation, but the spirit's always there in abundance and it's hard not to be captivated and drawn along by this sprightly duo. For instance, Amy and Sandy open this album judiciously with "some of the oldest and finest", three session tunes which are played up to the hilt (as if they needed to justify that tag! ha!). The cracking strathspey The Laird O' Drumblair is also accorded a stirring performance, as is the pipe retreat march Far O'er Struay (the latter by Amy in solo mode), and the duo make a good fist of conveying the exhilarating breathlessness of the Gaelic mouth music on the Puirt set. Sandy's "jazz tutorial" Sogarth Castle provides an attractively poised, languid contrast, although The Weasel (a set comprising a brace of Amy's own compositions) doesn't quite catch fire in comparison for some reason, even if the guest banjo contribution of "Desirée Parvenu" (hey, this has gotta be a pseudonym for Amy herself?) on the second of the tunes goes some way to compensate. It's the vocal tracks that are likely to divide listeners, I feel, for in one respect they almost make too much of a contrast with the tunes. First up, there's the Burns song John Anderson My Jo, which is given a cool jazzy backing that at times rather seems to conflict with Amy's singing style, which is a pity. The remaining four songs are all Sandy's own compositions, and a mixed bunch: The Silver Geese is a beautiful poetic song set to a quasi-oriental melody, while the quirkier Little Bird (which could also be said to be orientally-inflected) is one of two that (unusually) features a trombone in its backing. There's Na Snaw is dubbed a "kind of unplanned tribute to Mick Marra", and I can see why. In all, I'm not quite convinced that James' singing voice is strong enough to carry the songs, although they do need a delicate touch to bring off, while on the other hand Cannonball suffers from its engineering, being given a deliberately "boxy" (20s) sound to the voice. Whatever my reservations though, there's still plenty on this disc to maintain interest, and I'd be interested to hear how the duo progresses in future years.
David Kidman December 2007
---
Ron Geesin - Biting The Hand (Hux Records) This guy is, in the words of Bob Harris, a total individualist. An adventurer, a pioneer, and one for whom the tag of truly maverick one-off might specially have been coined. Any possible description of his music - or rather, performance mode - is both irrelevant and superfluous, nay mightily unnecessary. None of which helps in the slightest for anyone wishing to ascertain whether they might like (is that even the right word?) his work. Cast any preconceptions aside, then! For many of us, our first encounter with the iconoclastic Ron would have been on the revolutionary John Peel Night Ride programmes in the late 60s, as an especially strange figure performing, amidst a legendary cornucopia of wonderful underground, folk and nascent prog and BBC archive goodies, a series of largely untitled (or else evocatively surreally titled) "numbers" of his own devising which knew absolutely no boundaries in terms of genre, form, construction or content. Manic rampages on the grand piano or dizzying displays of virtuosity on a succession of banjos, madcap improvisations on strange instruments like customised petrol cans, curious and highly declamatory poetry, bizarre neo-Goonish vocalising... even I, with my determinedly catholic musical proclivities, really didn't know what on earth to make of Ron Geesin - all I knew was that I found his contributions utterly compelling and, though often ostensibly quite offputting, oddly likeable. Rather like being voluntarily locked into a room at a private party at the home of an artistic eccentric.

I felt sure, too, that I would one day return to his work for reassessment... There was of course his co-writing and arranging credit for the title track of Pink Floyd's landmark (if mildly flawed) Atom Heart Mother album, and his collaboration with Roger Waters on the sampled soundscape soundtrack for the film The Body, but after those projects and a couple of early 70s radio appearances I'd heard nothing of Ron - although he's continued to plough his uncompromising furrow for the past 30 years and is working on new projects to this day. Ron himself has compiled, remastered and provided extensive liner notes and recollections for this handsome double CD set: it collects together his BBC radio session recordings from 1968 through to 1975 (the vast majority of which have never been released before now), alongside the classic triptych of tracks from the rare 1969 BBC Records release John Peel Presents Top Gear. Incredibly, some of these, including Ron's radio debut, originated on Wally Whyton's Country Meets Folk show! These sessions unashamedly embrace all the above-mentioned strands of his artistic personality, from amazing neo-Cagean piano interludes and a full-tilt banjo race through Rule Britannia, to poetic hysteria and Milliganesque musings (I Wonder Why), and extraordinary experimental collages such as the Stockhausen-inspired A Cymbal And Much Electronics and the gobbledy Mr Tape Machine, Speak With Your Heads, which, though clearly emanating from the same stable as the Floydian Ummagumma embarrassment Several Species Of Small Furry Animals..., exhibits a bewildering logic all its own.

Perhaps the most archetypal Geesin comes on No. 8 Scalpel Incision Foxtrot (which has already appeared on the 1994 Cherry Red Geesin compilation Hystery) - cataclysmic, totally off-the-wall, unforgettable, but brilliantly inventive, bringing the studio house down around our ears in a way that only vintage Goon Shows could have done. I might say that if you respond to oddball talents like Ivor Cutler and Frank Zappa, you're likely to find plenty to admire and stimulate in these two discs of Ron at his outlandish, avant-garde best. A wondrous feast - and after close on two hours eagerly feasting, I was hungry for more - much more!... As Ron himself iRONically (pun thoroughly intended!) posits: "Nobody will ever know what Geesin is, but this collection offers you, and me, a chance of finding out." Another tremendous release from the honourable Hux label.

David Kidman December 2008
---
Anne Louise Genest - Trouble (Caribou)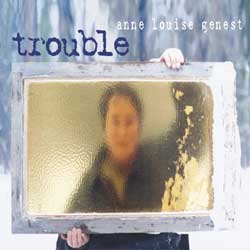 Born in Toronto, Anne Louise relocated to Whitehorse, Yukon some twelve years ago. Anne Louise was one-time winner of the songwriting competition at the Alaska Bald Eagle Music Festival, which isn't surprising, for her writing displays an evocatively rootsy lyrical sensibility that's very much allied to the old-time branch of country. Indeed, several times on first playthrough I was reminded of latter-day Emmylou, but in overall feel rather than in any specifically derivative sense. Anne Louise's songs are honest and immediate; they comprise reflections on life, death, love, the usual things, though with an intimate, relaxed and totally natural expression that makes for a charming and hauntingly refreshing listening experience. Perhaps in the final analysis her music isn't as immediately compelling as that of fellow-Yukonite Kim Barlow, and I don't find her full and resonant vocal style quite as individual or striking, but she still emerges very well from comparison with the myriad of other US-based singer-songwriters. Her musical settings are imaginative, with effective use of dobro, harmonium, deeply twangy guitars, percussion and other unusual colourings from a small ensemble that includes Nathan Tinkham, Roly Mitton, Lonnie Powell and Annie Avery. Together with Kim's own album (Gingerbread), Anne Louise's Trouble is a distinguished product, and convincing proof that the Yukon Territory is home to some pretty impressive musical talent.
David Kidman
---
Lisa Gerrard - Lisa Gerrard (4AD)
You might not immediately recognise the name, but it's a reasonable bet that most filmgoers will have heard her work at sometime or another. As co-composer of the score for Gladiator alongside Hans Zimmer, Gerrard notched up 10 award nominations, including a Golden Globes win. She also received Golden Globe nominations for Ali and The Insider and won four international awards for Whale Rider. In addition, she has either scored or contributed film music to Heat, Mission Impossible 2, Constantine, Black Hawk Down, Collateral. King Arthur and Layer Cake while her TV credits embrace CSI and West Wing.
But she is singer as well as composer. Born in Melbourne, Australia, the young Gerrard apparently used to stand on her fence and sing to God. Appropriate enough really since she has the voice of an angel. As a teenager she expanded her audience, performing in local pubs and clubs before meeting Brendan Perry in the early 80s. Quitting his band The Marching Girls, Perry then formed Dead Can Dance, inviting Gerrard to join on percussion and some singing.
Relocating to London, they secured a deal with the fledgling 4AD, a home to artists with musical visions that saw beyond the mundane. Beginning with their self-titled debut in 1984, over the next eleven years they would release nine albums, each one exploring a rich and ever expanding musical canvas with Gerrard's otherworldly voice soaring through influences that embraced folk, medieval chants, baroque classicism, Celtic atmospheres, electronics, world music and New Age ambience.
In 1995, however, it became clear that it was time to spread her own wings, making her solo debut with The Mirror Pool, accompanied by the Victoria Philharmonic on songs that dealt with the separation from Perry, the death of her brother and the birth of her daughter. Not only did it mark her solo recording career, it also began her long association with film, Michael Mann making effective use of several tracks in Heat. He continued to champion her work, not only using two numbers from her second album, Duality, a collaboration with Pieter Bourke, for The Insider, but commissioning them to create new music for the film.
Following on from her work for Gladiator, in 2004 Gerrard released her third album, this time working with Irish composer Patrick Cassidy to create the hauntingly mournful Immortal Memory while last year saw her fourth, and for many finest, work with The Silver Tree.
Curiously, although she personally selected and sequenced the 15 tracks on this career spanning compilation, there's nothing from her two most recent solo albums and only one track each (Sacrifice, Swans) from the others. Inevitably, with music from Gladiator taking up three tracks, not all nine DCD releases are represented here.
There's nothing from either The Serpent's Egg or Spleen And Ideal, but there's individual cuts from Spirit Chaser and Aion plus two tracks apiece from Into The Labyrinth (Ariadne, Yulunga) and Within The Realm of A Dying Swan (Persephone, The Host of Seraphim). A pity though that, by way of underlining the musical range, room couldn't have been found for their version of The Wind That Shakes The Barley.
However, with music from Ali and Whale Rider completing the line up it remains an intoxicating, haunting and indeed often spiritually incandescent introduction to and celebration of one of the most individual and gifted musicians of the last twenty years.
Mike Davies February 2007
---
Romney Getty - Fill In Your Gray (Augustus Records)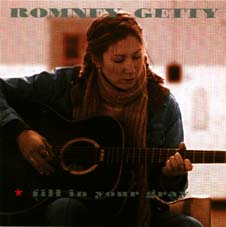 I'm sure that a few years ago the army had a recruiting slogan that ran along the lines of 'if it's in you, we'll find it', they wouldn't have to look too far to discover the blues in Canadian Romney Getty, they're right in your face. In fact, she's got so much they've got to go somewhere or she'd explode.
From the opening moments of the opening track, Roll On, think Bonnie Raitt meets Janis Joplin and then duck because the sparks fly.
Romney Getty's version of the country blues is the sweaty, sensual kind, Cryin The Blues comes with its own thunderstorm, it's hot, heavy and about to burst, she has a voice so humid that it makes the back of your shirt go sticky.
It was advisable to check that all the songs were Romney Getty originals because Someone To Somebody has the scars of a lifetime's pain on its back, it's as much a psychotherapy session as a song.
And, although as a raw gravelled-voice blues singer she is a real find, it would be wrong to think of her as a one-trick pony, there is a deep and subtle pathos to Leave Tomorrow. Helped in no small manner by a guitar part that is direct and played with purpose. I can think of at least one of her compatriots who would benefit from listening to how a ballad really should be done.
It's impossible to deny that part of the attraction of Fill In Your Gray is that she's sounds so damn sexy, this is an album that generates its own sensual heat. That will carry you a long way but Romney Getty has the added attarction that she's a gritty, down to earth. honest to goodness blues woman. She doesn't carry on the legacy, she enhances it.
Michael Mee
---
The Get-Rites - Tin Rood Sky (Magnolia Recording Company)
The Get-Rites are a band with conviction. And courage. The key's in their press release: "there are lost souls to be saved". A mission, their mission. Their sound is authentic backwoods Americana, with gruff, gravelly vocal, twangy lead guitar and whining pedal steel, and their key groove is a straight-down-the-line lazy-midtempo slow-burn that makes all the right noises. Put this CD on in the car, or in the background while you're cookin' maybe, and you'll find it a pleasing enough drive thru' tried-and-trusted territory, but sit and give it a more intense listen or deeper scrutiny and you'll be less satisfied, for especially after you've digested the first couple of tracks you're likely to find they've run out of fresh ideas and they've correspondingly less to offer. And on an album that lasts 54 minutes that's not necessarily a good thing. The band's lyrics start to get overly repetitive and preachy (cue that thar mission statement!) and one or two tracks (eg the seven-minuter God Is Not Dead, drenched with irrelevant sampled birdsong) even verge on unlistenable. Many of the later songs on the album adopt a similar stance to each other, with a rather samey instrumental arrangement and basic tempo and almost identical chord progressions, which doesn't exactly mitigate the gospel-bashing God-fearing sloganeering of the lyrics. Don't get me wrong - I love good gospel music, but here with the Get-Rites they don't, and the operative word is Rite (ie repetitious, often ritualistic and sometimes meaningless ceremonial). Take around four or five tracks off this album, those with the most variety in accompaniment and tempo (say Gypsy Russian Rose, Devil's Backyard, Broad Way, Salvation), put them out as an EP, and you'll have the essence of the Get-Rites without the padding maybe, and an altogether more satisfying record.
David Kidman November 2008
---
Jennifer Getz - Makin' History (Self-produced)
Now here's a record that makes an impact right from the opening chords. Jennifer's voice glides effortlessly yet strongly over some melodically impressive material, all self-penned, to a backdrop of glittering guitars both electric and acoustic, some piano keyboards and sparkling rhythm track. This alt-country-roots-rock sound-world is reminiscent of any number of latterday s/s efforts from Kasey Chambers on down, but there's something else in the mix that makes you sit up and take notice, I can't quite put my finger on it. So it feels churlish to have to resort to quoting the press handout and even mention that the record is "an homage to a dog, but definitely not a dog of a disc". In fact, although Bonus Track #11, written literally at the eleventh hour before mastering, is a deliberate tribute, the whole CD's every bit as much of an homage, or memorial, to its producer John Herron, a respected musician and composer, who by a cruel twist of fate was struck by a car on his way to the studio to finish the final session for the album (he spent seven months in a coma before passing on). The production work in itself is very much state-of-the-art, with a believable presence and upfront personal signature that proves just right for Jennifer's songs, which convey a telling combination of forthrightness and melancholy reflection, emotions expressed with a fearless and confident honesty that comes over as completely natural. It's quite an achievement, too, that the backing band, which comprises noted musos Gregg Sutton (bass), Rick Schlosser and Zeke Zinngiebel, sounds larger than it is without getting out of control or overblown in any way. I've got one little complaint tho' - the scrawly writing on the booklet pages ain't very readable against the photo backgrounds, so it's real hard to get the lyrics.
David Kidman
---
Ghost Bees - Tasseomancy (Youth Club Records)
"Last evening I fell for a vampire..." - and you yourself are every bit as likely to fall for Ghost Bees' unique brand of spooky-folk when you're sucked in by that opening gambit, compellingly vocalised in eerily shifting girl-sibling harmony after a minor-key prelude of gently plucked rhythmic mandolin, guitar, droning viola, glissando violin and t(w)inkling glockenspiel, the imagery dancing into your ears in queasily appealing waltz-time. It's a strange but aggressively beautiful, and often melancholy, sound-world (reminiscent of the weirder experiments of the ISB, Fit & Limo or Kate Bush), which spills over into, nay fairly characterises, the rest of this teasingly brief (35-minute) yet highly treasurable disc from "twin telepaths" Romy and Sari Lightman who hail from Halifax, Nova Scotia. The seven songs making up their debut offering are as tales told by a two-headed balladeer, replete with distinctly whimsical, occasionally overwrought but intensely evocative language, recounting or reflecting on matters of fantasy and ancestral nostalgia. Literacy is a byword: and yes, I had to look up the esoteric album title too! - it denotes the practice of tea-leaf reading! Indeed, the art of divination will, I suspect, also stand you in good stead with the duo's chimerical lyrics, which address the bleak and frightening in our lives (for instance, the experience of birth in Sinai, infanticide in the malevolent Goethe-gothic of Erlking and the terror of the Pol Pot regime in Tear Tassle Ogre Heart).Sometimes enigmatic, but invariably enthralling listening; I'm still not sure what it all adds up to, even after several plays, but I'm downright enchanted and sufficiently intrigued to persist and listen again - and closely. I'm sure Ghost Bees have chosen their name carefully, for their music creates somewhat of a spectral buzz for sure - an insistent thrumming ambience that just won't go away: and genuinely scary!
David Kidman May 2008
---
Imagine The Velvet Underground strained through the Tindersticks with 16 Horsepower's dark visions and you'll come so way to getting a handle on this self-styled chamber-folk music NYC quartet fronted by Dusty Wright and featuring the haunting contributions of cellist Matt Groeke. Cinematic Americana with the projector stuck on noir, you'll be reaching for the Nick Cave meets Johnny Cash references listening to the spooked desert moods of folk ballad Tempest where Wright's coal throated voice is complemented by the siren background vocals of Laura Fay Lewis while Intimidation lopes along on a devil stalking the prairie note that makes the Walkabouts sound positively like Steps.
It's not all heavy musical gloom, Masquerade sways to a hypnotic tribal African hand drum percussion and cello that curiously evokes thoughts of Men Without Hats fronted by Gordon Lightfoot, Harder To Understand drives along a similar heated David Byrne highway on squealing beat tyres, Lost Again is gorgeous arpeggio tinkling folk song and Awaken a lowing Eastern flavoured snake-charmer. Ironically though, the stand-out is their cover of Eno's Baby's On Fire twangily done as if it had been designed for the Talking Heads. At the risk of being stoned to death for the pun, GIANTfingers deserve a really big hand.
Mike Davies
---
Giant Sand @ The Talk Of The Town, Tuesday 2nd May 2000
I'll start at the end. No encore. "OK, we have copies of our official bootleg in a suitcase. Just put £10 in the case and take one." Band exits and a thronging audience does just that. Suitcase, heaps of money, empty stage. This is a most hands-off merchandising experience from a laid-back band who give the impression that a lot of magic mushrooms have been eaten along the way in Tucson, Arizona.
The music? It was heard through a haze of serious drinking. White tablecloths at the Talk of the Town with waiter service and a two-hour delay before Giant Sand could start (the musical 'Cats' next door had to finish first) fuelled a hot evening! From the opening bars, it cleansed the jaded musical palette. Loud, quirky and inventive alt.rock/country/blues. Hand-held tape samples into the microphone. Guitars, keyboards, bass, drums, special effects. Instrument swapping, strange chords, tempo changes, and through it all there was Howe Gelb, sounding more than a little like Lou Reed, with his surreal stream-of-consciousness poetry.
Get the new Giant Sand CD 'Chore of Enchantment' (Loose Records), one of this year's essentials. Whilst you are about it, check out late band member, Gelb's good friend and collaborator, and National Steel blues guitar master, Rainer Ptacek. Rainer died of a brain tumour in 1997, the year his musician friends, Gelb, Robert Plant, Jimmy Page, Emmylou Harris and Jonathan Richman released a benefit album 'The Inner Flame' (Atlantic), recorded whilst he was still alive and able to participate. Rainer's wonderful instrumental album 'Nocturnes' is available from Glitterhouse who are now releasing his back catalogue, since deleted by Demon, and the posthumous release 'Alpaca Lips' - quote 'Blues, folk and ambient improvisation: Son House meets David Byrne at the crossroads'. You are in for a real treat.
www.giantsand.com
www.glitterhouse.com
Sue Cavendish
---
Gwenan Gibbard - Sidan Glas (Sain)
This charismatic Welsh harpist and singer triumphs on the finely-tuned followup to her acclaimed 2006 debut album Y Gwenith Gwynnaf. Gwenan's limpid harpistry, though immaculately judged and executed, also exhibits a really delightful rhythmic flair, while the gently robust tonal quality and ever-attractive character of her singing voice precisely complements her playing. She can move from playful (songs of failed courtship) to floridly lyrical (the poetic narrative Gwenno Tir Mawn) with consummate ease, and her inherently musical way with a song's individual melodic and expressive contours is most persuasive, notably on the charming Trafaeliais Y Byd. Instrumentally, Gwenan scores especially on the beautiful air Yr Hafren and the ensuing fleet-footed set of jigs, which provide a telling contrast. Throughout Sidan Glas (Blue Silk), Gwenan again enjoys the collaborative input of kindred spirit Maartin Allcock and a select few other musicians. This is a refreshing and wholly stylish collection of songs and tunes mostly drawn directly from Welsh tradition, and its abundant charms lift it out of the oft-perceived-esoteric niche market of the indigenous Welsh culture.
David Kidman January 2010
---
Beth Gibbons & Rustin' Man - Out Of Season (Go Beat)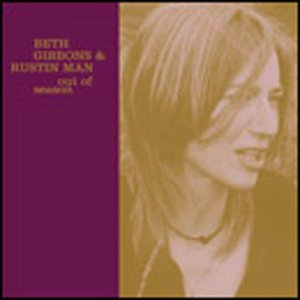 Portishead remain silent, but Gibbons hasn't been sitting round on her hands. This sees her collaborating with long time friend and former Talk Talk/L'Orang man Paul Webb for an album that melds the comedown moodiness of both bands but without any beats and a more delicate, soul-folk ambience. Recording with proper instruments affords a far more organic feel to the music, a sense that here are actual emotions to be twisted and chewed over as Gibbons' expressive voice moves between deep torch song soul and ghostly folk. The latter's well in evidence on the opening Mysteries, a delicate hymnal of the heart, the sombre piano driven Show in which she sounds like a more intense Janis Ian, Sand River's autumnal decay (nature images figure large throughout, informing themes of mortality and the shifting of well, seasons) and Spyder where echoes of Leonard Cohen's melancholic splintered melodies ripple through Webb's guitar. Drake rather inveitably summons the ghost of Nick but with its mournful harmonica turns out to be in more of leafy jazz musical frame of mind that more accurately harks to the 40s colours of Billie Holiday that inform Gibbons' soul influences. You'll hear Nina Simone in there too, though the bluesy Romance is pure Eartha Kitt down to the adenoidal kittenish sleaze.
Tom The Model comes with big brass and orchestral flourishes and an unmistakable hint of the early big Italian-drama soul of Dusty Springfield mixed into the surging swells, but it's the downbeat and hushed sadness that gives this project its beguiling magic, working its spell to consummate effect on the lengthy Holiday-ish Funny Time Of Year with only the sonic experimentation of Rustin'Man itself, one of the first tracks to emerge from the collaboration, with Gibbons' voice treated through a vocoder, spoiling the overall reverie.
Mike Davies
---
Steve Gibbons - The Dylan Project (Woodworm)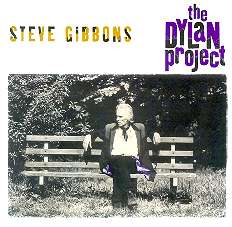 For some reason this 1998 album appeared on my desk a few weeks ago. I don't know why but I'm glad that it did. Dylan enthusiasts will probably disagree with me but apart from the opening, self-penned Colours To The Mast this collection seems to be a selection of some well-known Dylan songs and some lesser known. The lesser-known songs may just, of course, be an indication of my poor education - I've never been a fan of Dylan himself but I do admire him as a songwriter where he is almost unsurpassed.

As cover versions go this selection is very good. However, I don't know whether it is to be taken as just that or has Steve Gibbons turned into a Dylan tribute act. If it is the latter then he certainly has Dylan's vocal inflection off pat although the total sound (harmonica included) could be construed as too clinical and not as rough as the Dylan originals.

The songs, such as the classic Highway 61 Revisited, It Takes A Lot To Laugh, It Takes A Train To Cry and I Want You are complemented by When The Ship Comes In and Down Along The Cove to provide an album of surprising quality. Gibbons is ably backed in this endeavour by British music luminaries Simon Nicol, PJ Wright and Dave Pegg with special mention to the rocking slide of Wright on the aforementioned Highway 61 Revisited.

It may have taken some time to come to my attention but this will be on my CD player more often than some others.

David Blue
---
Otis Gibbs - Joe Hill's Ashes (Wanamaker) May 24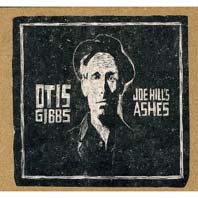 Although the Indiana songwriter's last album, Grandpa Walked A Picket Line, was his sixth, it was the first to bring a wider recognition for his dusty roots country folk. He returns to build on that new awareness with another set of songs that hew to the troubadour tradition of Guthrie, Dylan, Seeger and Elliott and embrace similar social concerns but also address more personal issues about holding on to idealism in the world in which we live.
Sounding like a gravellier Steve Earle, the opening title track references the legendary miner's organiser, but is much more about justice miscarriage and how today's economic and social pressures have made people more rather than less inclined to speak their mind.
Then comes Where Only The Graves Are Real, a lament for the loss of true friends and a castigation of the fake ones who inhabit the music business and cling to those who have the whiff of fame and success. A similar theme informs Something More, a musing on friends who have passed away while the worst of the world never fade, each death making it harder to maintain faith in hope. No doubt that's a feeling that fuels both Cross Country, a sprightly old school fiddle tune about getting away from the rat race of mainstreet, and the strings accompanied My New Mind's where, despondent in a motel room, he sings about escaping from who he is, searching for a new self that can dream once again.
Cynicism is put on the back burner though with When I Was Young, a song inspired by a conversation where everyone recalled their life's perfect moment. For Gibbs it was listening to his mother sing as he lay in her arms, feeling her voice resonate in her chest.
From the deeply personal the album shifts to Twelve Men Dead In Sago, a border country waltzing tale of a mining disaster that throws Tom Russell into the comparison bag but the album's standout has to be loping swampy blues The Town That Killed Kennedy which, Gibbs sounding like Tom Waits with laryngitis, isn't actually about Dallas but rather about the hell of riding the Greyhound because "you're too broke to fly", seeing the ugly, broken America pass by outside the windows and your soul gathering rust with every mile. If such travels spawn albums like this, just hope he can never afford a railcard.
www.otisgibbs.com
www.myspace.com/otisgibbs
Mike Davies May 2010
---
Otis Gibbs - Grandpa Walked A Picket Line (Wanamaker)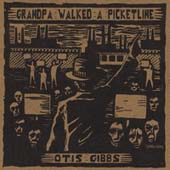 Part Steve Earle (Caroline), part Johnny Cash (Damn Me), Gibbs hails from Wanamaker, Indiana and has spent the last decade and a half playing everywhere from Texas to the Czech Republic singing songs about the marginalised, the disaffected, the manipulators, the dreamers, the broken and those who take a stand for their beliefs. Musically, armed with a well strummed guitar and that gravelly deep voice, his feet are firmly planted in American roots country and, for what would appear to be his sixth album, he's got some hefty company helping out in the studio with Don Dixon on bass, Al Perkins on pedal steel, Will Rugby on drums and Chris Stamey handling production duties. He's also got a stalwart supporter in Billy Bragg, who's invited him to open for his UK tour this November/December.
The album title comes from Everyday People, a gutsy growled tribute to an earlier generation who were prepared to stand up and say no to make the future better for this children while the opening Caroline spins the story of a woman who, abandoned by her mother, married too young and unwisely and is now trapped in an abusive relationship, fearing her kids will repeat the same cycle.
At the heart of the album are two tracks that display a healthy cynicism about those who do the Lord's work. The bluesy, harp blowing Cash-chugging Preacher Steve tells of a smooth tongued snakeoil bible thumper with one hand on the good book and 'the other in your purse' while Damn Me deals with the emotional, psychological and spiritual scars left on those "raised in their factories and force through their churches and their schools' by those 'cowards and prophets' seeking to control the minds of the young.
Other highlights would have to include the weary musician's life on the road captured on Beto Junction, the compassion and understanding for life's down and outs Sometimes Angels, and the waltzing Louvins-like Bury Me On A Rainy Day, but everything here are potent arguments for a much wider awareness of his work.
www.otisgibbs.com
www.myspace.com/otisgibbs
Mike Davies October 2008
---
The Gibson Brothers - Ring The Bell (Compass)
Ring The Bell marks a label change for the Brothers (after a series of four albums for Sugar Hill), but that aside it's business as usual for Leigh and Eric Gibson, I'm pleased to report, on a batch of a dozen fine songs, just over half of which are compositions involving one or other or both of them. These tend to have that fresh-minted-but-comfortably-familiar feel about them: that air of the classic bluegrass song that you honestly think you've always known! Like the simple What Can I Do? and the nostalgic Farm Of Yesterday, the wistful Forever Has No End, the chugging That's What I Get For Lovin' You. Straightahead and supremely classy. And as for the covers, well what is it about Tom Petty lately? - for this is the second record from the latest Compass release sheets to include a bluegrass treatment of a Tom Petty song: here it's Angel Dream.
Elsewhere, too, Leigh and Eric show commendable taste for unearthing and performing quality material that may have fallen by the wayside for no apparent reason: there's a brace of Joe Newberry songs (Jericho and I Know Whose Tears), and the sturdy gospel-infused title cut (a memorable Chet O'Keeffe number). The Brothers enjoy their fuller band sound throughout this new record, but it's never over-done or unduly cluttered, with clear, crisp textures and sensibly-judged, fully supportive accompaniments from trusty compadres Mike Barber (upright bass), Clayton Campbell (fiddles), Joe Walsh (mandolin) and Mike Witcher (resonator guitar) - most of whom have been on board with Leigh and Eric for more than a couple of years now, and who know just how to place their talents at the service of the songs and their message.
Joyful yet impeccable playing, superb singing and great harmonies, classy and uplifting songs – just like bluegrass was meant to sound – but these guys are something special even amongst a crowd of roughly comparable sibling-type acts. So if you haven't got around to discovering Leigh and Eric, now's the time to catch up, before they release yet another album!
David Kidman July 2009
---
The Gibson Brothers - Iron And Diamonds (Sugar Hill)
David Kidman Leigh and Eric Gibson's 2004 set Long Way Back Home was a winning set that demonstrated the virtues of the guys' special brand of what might be termed progressive bluegrass, and Iron And Diamonds builds on that success with a further dozen songs - but this time round the balance is more heavily weighted in favour of covers, a decision which makes the set slightly less compelling as an overall proposition. They kick off with one of the these, a spirited take on Tom Petty's Cabin Down Below; then later on there's Steve Earle's The Other Side Of Town (done as nifty honky-tonk), alongside items penned by Roger Miller & Faron Young (A World Full Of Love), Julie Miller (Somewhere Trouble Don't Go) and Bill Carlisle (Gone Home). They've got a persuasive way with these covers alright; but, good though these are, it's still the brothers' own compositions that prove their forte. This time the (seven) originals are all credited as joint compositions, but songs like One Step Closer To The Grave and Bloom Off The Rose are absolute classic bluegrass by anyone's standards, firmly in the stepped-up Louvin Brothers mould but with even greater chops - boosted no doubt by their backing crew (Mike Barber on upright bass, Clayton Campbell on fiddle, Rick Hayes on mandolin and Junior Barber on resonator and Weissenborn guitars). As for the rest, well part of the chord progression and melody of Angry Man can't entirely avoid comparison with something in the recesses of my mind (Going Back To Harlan perhaps?). And then again, Lonely Me, Lonely You is very like a long-lost Everly Brothers number, and tho' the Gibsons' vocal compass isn't quite as markedly individual as their role-models their arrangement and harmonies are dead-ringer-accurate. If I sound slightly disappointed by this new set, then it's only relative, 'cos its predecessor was so darned fine. Tho' at well under 40 minutes it's somewhat short measure, Iron And Diamonds still contains enough of the latter to satisfy.
David Kidman February 2009
---
The Gibson Brothers - Red Letter Day (Sugar Hill)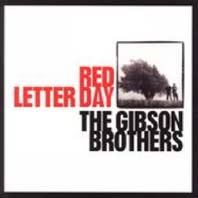 Barely a year has elapsed since I pronounced the Gibsons' Long Way Back Home album a long way in front of the pack of new bluegrass/country albums in the racks, and here's another fresh set from the boys already! Fortunately, Leigh and Eric both share a real enthusiasm for recording, and Red Letter Day was recorded amicably and productively during a period of relative transition for the brothers (their band having undergone a change of mandolinist from Marc MacGlashan to Rick Hayes, also adding fiddle player Clayton Campbell to the lineup in the process), by tapping into Nashville's reliable pool of crack sidemen including Ronnie McCoury and Jason Carter. Everything just clicks into place, yet without that hint of auto-pilot that you find in some Nashville records. Red Letter Day brings together what's arguably even more eclectic a selection of cuts than its predecessors, once again matching the brothers' excellent songwriting with their ever-astute song-collecting skills. Casting their net far and wide, they cover with equal integrity material as diverse as Fred Moore's What A Ways We've Come (a superb contemporary song very much in the accepted tradition), the traditional Prisoner's Song (given an unusually energetic treatment) and Twenty-One Years, alongside Ray Charles' I Got A Woman and Bobby Womack's It's All Over Now. But the cream of the crop comes with the original compositions, notably Eric's glorious "sad old-time" opus We Won't Dance Again (featuring a fine harmony vocal from Andrea Zonn) and Leigh's chucklesome tale of Sam Smith (get the breweries onto that one!). Red Letter Day is that rare beast among bluegrass albums, one of a satisfying length (50 minutes), a welcome antidote to the over-before-you-know-it short-measure of the 35-minuters or less that we're accustomed to these days. If you're in the mood for some bona-fide contemporary bluegrass with plenty of spirit and you're also up for discovering some classy new material, then the seriously talented Gibson Brothers will fit the bill in every way you could possibly imagine.
David Kidman
---
Mat Gibson - Forest Fire (Clubhouse)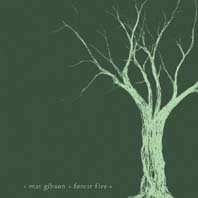 On his last day in Quebec before returning home to the UK after two years in Canada, the city was engulfed in the smoke of forest fires to the north. Seeing the wild nature he'd come to love going up in flames inspired him to write the songs for this starkly acoustic album's themes of transience, displacement, and self-questioning.
The slow waltzing title track's lines about climbing above the apocalyptic haze in an old jet plane come across as a bit arch, but the image of having your tracks erased in the fire's wake affords a powerful metaphor for mortality. It goes without saying that Yonder Burning Trees, its mood much akin to Who Knows Where The Time Goes, stems from the same experience as he sings about grabbing the keys and cutting all ties to outrace...what, your past, your fate?
Moving beyond the fires, other songs sustain his imagery and thematic connections. Set to water rippling guitar notes evocative of Donovan's Flower To A Garden era, the ironic Jonah references the Bible story as he sings about digging your own grave and needing to reach out for help while Iceberg has a plane in the hurricane season with nowhere left to land and, sung over a mournful strum, The Last Songbird is a post-apocalyptic love song with "a landscape stripped of everything".
And the whole thing is topped and tailed with the weary Americana of the fatalistic Lord Only Knows ("for all we've fought, can't change a damn thing") with its realisation that our time is short, and, fleshed with electric guitar and drums, the Ryan Adams-like Where Demons Go, a final eco-cautionary warning that we're slipping fast and we only get one chance to make it right. I could do without the echoey reverb on the vocals which dilute the emotiveness, but otherwise this is a scorcher.
Mike Davies September 2011
---
Melissa Gibson - In Your Corner (Java Joe's Records)
Connecticut-born singer-songwriter Melissa relocated to Nashville some ten years ago, and has so far produced several albums of her own material, number four of which is In Your Corner. It's a pleasing collection of generally optimistic songs, much in the Mary Chapin Carpenter mould but with not quite the same degree of emotional depth, possibly because, as she readily admits, she's "less concerned with the melancholies of life and more concerned with getting beyond them". You notice straight away that Melissa has a warm, attractive singing voice, of that there's no doubt, and it soothes the ears. Also, Melissa certainly has the knack for writing a good radio-friendly melody, of which there are a dozen examples on this CD; she also has the benefit of a talented backing crew and a clear, bright recording. Taken on its own, each individual song is a pleasant experience, and gently uplifting without pushing any boundaries or issuing any musical challenges - easy-going listening much in the manner of Melissa's influences John Denver, James Taylor et al., and nothing wrong with that. The drawback with so consistent an approach and world-view, though, is that while never for a moment do you doubt the genuineness of Melissa's uniformly positive stance, her lyrics portray her as almost too good to be true, expounding her simple and life-affirming philosophies that always, always (trust me!) work out. Life never plays it this safe now does it? - or is it just that Melissa's been lucky? Either way, she seems all too easily to rise above the darker side to be entirely convincing.
David Kidman April 2007
---
Susan Gibson - Chin Up (FortheRecords)
Susan Gibson's 'Chin Up' is packed full of good songs. Hardly surprising when you consider that she wrote one of the biggest selling songs in country music history with The Dixie Chicks' 'Wide Open Spaces'. This, her first solo record following her involvement with The Groobees, opens with the sprightly, fiddle driven swing of 'Anything To Keep From Crying'.
The pace drops with 'Christmas In Houston' where you sense her feel for a melody and some intriguing lyrics. 'Trophy Girl' has a more obvious biting lyric about a boyfriend's view of his lady friend. Yet, again, the latter displays another strong tune and hook whilst, on 'One Roller Skate', there is sadness for a missing lover with its 'as useless as one roller skate' tale. A lyric that is typical of her clever skills in this area.
The backing is mainly driven by the fiddle of Eleanor Whitmore along with the dobro, mandolin and pedal steel of Jeff Plankenhorn. Occasionally, as on 'Clumsy Hands' and 'Sourpuss', you'll find a more rock based bass/drums sound. So, other than that, there's quite a rootsy feel to the record that is typified by the closing title track with its simple banjo based backing to an almost spoken delivery. It delightfully pokes fun at her inability to pass the Presidential fitness test at school. Hey, who cares? She passes my test.
Steve Henderson
---
Steve Gifford - Ungodly Hours (Own Label)
Steve's a well-regarded singer-songwriter on the London music scene, based in the land of the proverbial concrete cows (Milton Keynes); his stock-in-trade is what I described in my review of his earlier album Boy On A Beach as down-to-earth, modestly heartfelt yet clear-sighted writing couched in a fairly simple acoustic-driven setting. I was admittedly a touch underwhelmed by Boy On A Beach, finding it altogether too even-toned in places.
But to a large extent Steve seems to have taken note of these points for his fourth album, and he's made a more conscious effort to vary the tone and texture of his compositions, especially in terms of the more considered nature of the melodic input on this new set. And the guitar work is more crisply defined, ringing out attractively through the textures with just the right amount of intricacy to maintain a lively interest.
The observational focus on each individual song is arguably sharper now too, and thus more impressive. And although there's still a feeling that some songs remain slightly elusive in the context of making a lasting impact, giving the album extra plays definitely reaps greater rewards once again.
Steve employs a fuller backing this time too, with a larger corpus of musicians to draw from – although the core lineup is The What Allan Band (Ian Catchpole, Simon Ambrose and George Horler), we also find Steve bringing in half-a-dozen more instrumentalists, a couple of extra backing vocalists, and even a gospel choir on one track. Vocally, Steve's as confident as ever, perhaps more so, and especially convincing on the more introspective songs like Take This Love, where his attractive way of phrasing the melodic lines recalls that of Gerry Rafferty.
The disc's opener Molly In The Garden has a kind of easy-rolling Eagles feel to it, which the more reflective nature of the lyric partially counters, especially in the altered-tempo interruptions. Interestingly, Steve's very introspection can also embrace and project a quality of immediacy that other songwriters don't quite manage to achieve (Song For Elle is a standout in this regard, helped along by its relatively uncluttered arrangement with its distinctive and clearly defined colourings). Call Of Duty builds well from a tentative reggae-styled opening into a powerful roots-gospel groove.
Elsewhere, Steve gives us a classy British spin on the open-hearted roots-rock template, exemplified by the honest stylings of (say) Tom Petty, but makes it his own and his sound is less easy to define. I'm not entirely sure that Steve's new-found penchant for fuller textures always works at the service of the songs, and there are times where I feel Steve's desire to pump up the energy level and vary the musical settings by way of extra augmentation gets in the way of direct expression of his lyrics, but all this is only relative. And I did feel that after the title track the quality of invention tailed off just for a while – though he certainly redeems himself with Blue and Not In My Name.
But cutting to the chase, taken as a whole and as a considered artistic statement, Ungodly Hour is actually very good indeed: an intelligent, appealing and stimulating collection that's blessed with an admirably clear and fresh recording full of believable presence and energy.
www.myspace.com/stevegiffordmusic
David Kidman February 2010
---
Steve Gifford - Boy On A Beach (Own Label) Milton-Keynes-based Steve was a familiar name on the 1980s London music scene, after which he took a sabbatical to raise a family, finally returning in 2002 with a well-received singer-songwriter album Cut And Run, the success of which he followed up with 2005's Building Bridges. Both of these albums characterised Steve's modestly heartfelt yet clear-sighted writing and performance style, which encapsulates life's experiences in honest and straightforward language and backed by unaffectedly simple acoustic-driven instrumentation. Boy On A Beach is album number three, and comes after three years of growing recognition including headline shows at London's Borderline and key dates supporting Shawn Colvin. It unashamedly continues this approach, this time adding a slightly more laid-back west-coast-cum-country styling to the musical settings, which despite the fairly regular presence of softly whining pedal steel (courtesy of Kevin Bartholomew) often also exhibit something of the folk-pop demeanour of mid-70s Cat Stevens or mid-period Lindisfarne. In the main, Steve's songs are calm, contented and wistfully reflective, in character gently crafted, pleasing and accessible, in a plain and low-key way befitting his quite unassuming (though agreeably confident) profile. The downside of this - and I gotta be honest here - is that there sometimes seems a certain lack of depth to Steve's musings, an impression perhaps generated by the even-toned and consistent nature of the musical settings. There's not a lot of variety in mood and expression over the album's 59 minutes, and I also feel the whole exercise could do with a little more dynamism in places in order to lift Steve's music above the genially creative and into the more powerful and self-eminent bracket of contemporary songwriter-performers. It's easy enough to make a connection with Steve's world, but not so easy to remain fully engaged. The disc does contain its most distinctive material at the beginning and towards the end, and aside from the upbeat, eastern-inflected Alcatraz (with its S.F. Sorrow riff) and the atmospheric bonus cuts James & Lilley and Monsoon Lady, I find Lost and No More Running are otherwise perhaps the album's most distinctive tracks (and yet even these two seem to come to an end before their thought processes have quite run their course).

www.stevegifford.co.uk
www.myspace.com/stevegiffordmusic

David Kidman December 2008
---
Hector Gilchrist - Ingleneuk (WildGoose Studios) This is a genuinely pleasing disc which will satisfy those who appreciate the gentler kind of expression and traditional values simply conveyed. It's an undemanding listen in that it doesn't plumb any intense emotional depths: however, that is not to underestimate its unassuming appeal. Hector is a warm-hearted, warm-voiced performer of long standing, and both of his previous excursions onto disc for WildGoose were conducted as one half of the duo Selkie (in company with Liz Thomson). His style is soft-hued, sensitive and unhurried, mildly contoured, even a tad undersold perhaps (at least in terms of earthy passion), but always very equable and pleasant, and it's hard to find fault with his approach or his delivery. The CD title Ingleneuk, though taken from the name of Hector's boyhood home in Ayrshire, also most aptly characterises the cosy fireside ambience, glow and intimacy of his performances of these 14 thoughtfully-chosen songs. These embrace a pair of well-loved Jim Reid settings of Violet Jacob poems (Norland Wind and Halloween) and some contemporary classics like Jim Malcolm's Lochanside and Stan Rogers' Lock-keeper, with the surprising inclusion of a couple of Janis Ian songs. In addition, Hector's own dialect composition Lallans Love keeps the old Ayrshire tongue alive, while the ebullient Corn Rigs is a worthy supplement to Hector's earlier CD of Burns songs (The Lea Rig). I didn't always find Hector's at times rather understated manner entirely convincing in terms of the song he's performing: for example, Davy Steele's Last Trip Home is taken quite briskly, almost too matter-of-factly (or at any rate it feels too easygoing), while Hector's takes on Bogie's Bonnie Belle and Valley Of Strathmore don't seem to significantly stand out from any number of other versions of these well-worn songs. What does give this CD something more of an edge, though, is the instrumental arrangements, which have been carried out with an abundance of taste and skilled professionalism by Vicki Swan and Jonny Dyer, who also play on the majority of the tracks: Vicki plays small pipes, double bass and flute, Johnny Dyer guitar, piano accordion and piano. Hector also enjoys the benefit of more occasional, though neat and stylish, contributions from Steve Poole (guitar on two tracks) and Paul Sartin (fiddle on one track and some gorgeous oboe traceries on Lockkeeper). Not a disc to set the world alight, then – but that's not its intention, and thus no adverse criticism should be read into my commentary.

David Kidman October 2007
---
Gilded Palace Of Sin - You Break Our Hearts, We'll Tear Yours Out (Central Control International)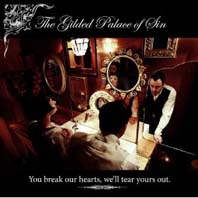 Despite their name, you won't find anything along the lines of Gram Parsons and the Flying Burrito Brothers on the Manchester trio's debut album. Rather, mentored, mixed and released by former Bad seeds Barry Adamson, this is firmly lodged in the widescreen desert of gothic Americana, steeped in noir shrouded songs of ruin, regret, and redemption and etched on instruments that include musical saw, glockenspiel, haw harp and wash board.

Instant comparisons will naturally mention Nick Cave, but you'll also detect the influences of Tom Waits, 16 Horsepower, Howe Gelb, and Johnny Cash in there on songs that brood, throb, lacerate and generally gather the scarred darkness around them.

The five minute, nearly entirely instrumental, For When We Forget pulls back the curtains conjuring night winds whipping around hell blasted prairies before Pete Phythian, Vini Taylor and Michelle Lock introduce Rosa Salvaje, mandolin and electronic buzz backgrounding its romantic outlaw yearning for a better place to be.

Then up steps Mean Old Jack on a clanging, loose-limbed loping rhythm for a Cave-like rockabilly blues stomping tale of a guy with sixteen children and fourteen wives, of "connubial bliss turned to bloody knives" and of grisly secrets in the basement.

They're in equally gritty and gravelly hellish mood for Rubbing Up where Phythian declares "the river Jordan is too wide" to cross with his heavy burden, an industrial psych-blues clanking Vony & The Lynths, the bone crushing relentlessness of the Nautilus with myth and menace images of returning from war and "encounters with creatures unknown to solid ground" to unleash tomorrow's drink fuelled monsters of post traumatic stress.

The ghost of Jim Morrison on a peyote trip possesses the Godless near seven minute There Is No Evil, There Is No Good but, just as you're in danger of being crushed under the weight of such intensity they slip into a softer musical moods for Bones Of The Saints and Wedding Rice. However, with lines like 'let's strap on a bomb and blow ourselves to heaven" and "I saw you desecrating bones, destroying home after happy home", there's little relief from the tide of nihilism that flows throughout.

They do, however, leave you with a glimmer of light and salvation on the jaw harp, emotionally vast warped rugged cross of the final track where, while the weather may be lousy, the neighbours obnoxious with vicious dogs and the city smells bad enough to make you wretch, Phythian finds a rare note of comfort and tenderness to say this is Home Because You're Here.

Probably not a band you'd book to play a christening party, but anytime you find yourself stranded in some twisted, bleak nightmare of loathing, pessimism and revulsion about the world, then you'll want this on your iPod.

www.myspace.com/thegildedpalaceofsin

Mike Davies December 2009
---
Eliza Gilkyson - Roses At The End Of Time (Red House)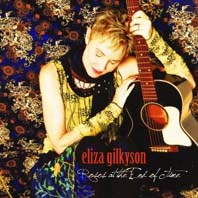 I have a lot of time for Gilkyson, so I was surprised that it took time to get into her latest album. Until I stopped expecting it to carry the same jazz, blues and Memphis soul colours of its predecessor and accept the return to simple hushed folksy moods and the feel of sitting out staring up at clear starry skies that's embodied in the opening Blue Moon Night. Once I retuned into that musical wavelength, then it seeped easily into the soul with its customary mix of the reflective personal and the politically observational.
Taking the former first, Belle of the Ball is undoubtedly closest to her heart, a spare and appropriately haunted sounding number that collects fragmented memories of her late mother. 'I wanted to follow you, you said not yet, not yet', she sings with cracked emotion. Interestingly, the dream comes while in a hotel room, and life on the road plays its part on other relationship songs here. Namechecking Townes Van Zandt, who passed that way before, Midnight On Raton with its chiming acoustic guitar finds her in a motel, wanting to 'ride this road forever' but 'dying to go home', while in the uptempo rocking Looking For A Place she heads for shows by car or plane and steps on stage in front of her audience but is really 'just looking for a place where I can fall apart.'
Home looms large, whether it's the sanctuary at the end of a tour or, as on the yearning Once I Had A Home's reflection on the dispossessed of the Middle East, something at one specific and universal. Likewise, sharing thematic and political kinship with Guthrie's Deportee, part sung in Spanish the border waltzing Vayan al Norte springs from the lives of illegal immigrants who risk everything to go 'from the barbed wire de La Frontera, from the frying pan into the fire.'
Interestingly, the album's only cover, brother Tony's Appalachian banjo and fiddle textured Death In Arkansas, where she's joined by John Gorka and Lucy Kaplansky, is also a reflection from beyond the grave on how the old place has changed, red dirt tracks now quilten patches of concrete, houses become shopping malls.
From the changes wrought on the old hometown, it's an almost logical progression to apocalyptic visions. They're musically playful on 2153 which, with burping tuba, dobro and national steel, sticks it to the self-satisfied religious fundamentalists who 'went for the literal translation...misconstrued the truth to justify their deeds' and wound up waiting for their God in vain when the whole world went to blazes.
Adopting a similar prophetic vision, but through a decidely different musical prism, Slouching Towards Bethlehem borrows the line from Yeats' The Second Coming and places it in the middle of a Beale Street gospel blues complete with testifying trombone as she envisions the beast 'draggin' all the poor folks under...comin' in the name of high finance, corporations, religion and violence.'
And yet, for all the changes, the loss and the self-interest, on the lovely acoustic title track where her son and producer, Cisco Ryan, plays cajon, she offers affirmation that when the reckoning comes, it's love that endures and redeems; 'one rose for every dream you dared, one for every wrong repaired, for all that bound your heart to mine, roses at the end of time.'
I'll take a dozen, please.
www..elizagilkyson.com
www.myspace.com/elizagilkyson
Mike Davies June 2011
---
Eliza Gilkyson - Beautiful World (Red House)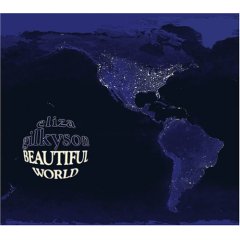 Her first new studio release in three years, opening track Emerald Street finds Gilkyson in sunkissed upbeat mood, warm brass adding Memphis soul while she whistles and sings how the little birdies go 'tweet tweet tweet' all because she's in love. She doesn't even care that the 'whole world's goin up in smoke'. Except, it soon becomes clear she does.
This may be a musically bright affair, rocking it up on Dream Lover or pouring soulful organ across The Party's Over, but her politically hued songs are barbed with a sobering awareness that, as on the aforementioned lament for contemporary America ("the house is a shambles, broken glass in the streets guttering candles, blood on the sheets"), we've been living it up like there's no tomorrow and now there very may well not be. We are, as she puts it on the gutsy touch country Runway Train, racing into the wreck.
The bluesy, moody electric piano based title track celebrates what it says but notes how 'billions of years come down to a point in time, setting the stage for the folly of man' and on 40s jazzy waltzer closing cut Unsustainable, backed by pedal steel courtesy of the marvellously names Cindy Cashdollar, she could well be talking about the gods deciding to 'tear it down and start all over'.
And if it's not eco themes then, on Dream Lover, it's daddy's little telling how she became an on line porno queen or, on the smoke curling soulful Rare Bird with its echoes of both Janis Ian and Ben E King, the loneliness of celebrity where everyone wants a piece of you.
But, she remains an optimist. The rippling country folk Wildewood Spring with its fiddle and cittern, talks of the urban survivors seeing revival in a new baptism and finds hope in romantic love. It's there on the jangling Clever Disguise where Baez and Emmylou join spirits, and it's there on the tender He Waits For Me.
And, above all, that flicker of optimism is there on the album's finest track, the softly Prine-like, whispery sung The Great Correction that sees judgement coming as she talks about suffering "at the hands of our American dreams" and how "we'll all be burnin in the same big sun". But it also sees that "the future waits on the horizon line for our daughters and our sons" and that if " the light burns brightest in the darkest times" then (echoing the theme to Unsustainable) perhaps "the end could be the start of something new" if love and compassion can squeeze us through the eye of the needle. Hopefully, there'll be singers and songwriters like Gilkyson to celebrate the new world as well as mourn the passing of the old.
www.elizagilkyson.com
www.myspace.com/elizagilkyson
Mike Davies June 2008
---
Eliza Gilkyson - Paradise Hotel (Red House Records)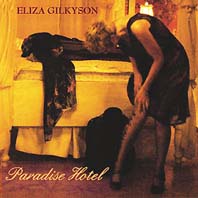 Two years ago, Land of Milk and Honey saw Gilkyson getting political with songs that left you in no doubt about her feelings in regard to the Iraq war and the Bush administration while also, on tracks like Tender Mercies and Ballad of Yvonne Johnson, showing a deep humanity and compassion for the suffering of those brought down by circumstance and life.
If anything, the fire burns stronger here.
With a chorus line that includes Shawn Colvin, Slaid Cleaves and Ray Wylie Hubbard, Man Of God is a bluesy account of the 'cowboy' who 'came from out of the west with his snakeskin boots and his bulletproof vest, gang of goons and his big war chest....startin' up wars in the name of God's song gonna blow us all the way to kingdom come.' But, it's not just Bush that's the song's target, it's all the hypocrites within the moral majority whose professed religious beliefs sit uncomfortably with their actions.
It's the most direct track on the album, but throughout, making potent use of images of storms and seas, she paints a portrait of a world labouring under dark clouds as human souls struggle to find the light and faith to carry on. Fitting then that she chooses to cover Is It Like Today, World Party's questioning, troubled meditation on the cyclical nature of history. Requiem, where she's accompanied by daughter Delia Castillo, is a powerfully moving tribute to the victims of the tsunami, the opening pedal steel driven Borderline (where her voice soars like a cracked angel) and the bluegrassy Think About You ache to take a chance on love, while the title track offers a bittersweet hymn of uncertain hope that trails away with her humming the melody to A Whiter Shade of Pale.
Elswhere, the bluesy folk Jedediah with its pump organ textures is a remarkable number that draws on letters written by her ancestral grandfather, Brigadier General Jedediah Huntington, who fought alongside George Washington in the War of Independence, Bellarosa is a romantic border ballad sung in Spanish, and the honky tonk, fiddle waltzing Calm Before The Storm, where Colvin again provides harmonies, is a gorgeous song of fortitude in the face of the gathering darkness. It's a note she returns to on the closing, banjo dappled, When You Walk On, a song about finding peace in the life beyond, away from the world's fears and tempests. Unless you're George Bush, of course.
Mike Davies, May 2006
---
Eliza Gilkyson - Land of Milk and Honey (Red House)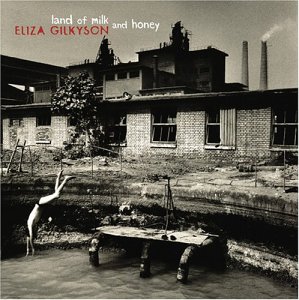 Billy Bragg's not the only one unearthing previously unrecorded Woody Guthrie songs. Written somewhere between 1951-53, Peace Song was lost until it surfaced in a Guthrie songbook in 1963, And there it remained until Gilkyson found it in an out of print edition loaned by Guthrie's daughter during the tribute tour to her father.
With Patty Griffin, Mary Chapin Carpenter and Iris DeMent (and where's her overdue new album!) Lending a vocal hand, it finally makes it to disc as the final track here, its simple "bugle call of peace" a fitting conclusion to a folk rootsy album of pointedly political material that perfectly catches the zeitgeist, directed, as she notes, "at a generation that won't stand idly by its vision of improving the quality of life on earth seems ever clouded by a dust-storm of politics, power, greed and global unrest."
With collaborators that include Stephen Bruton, Slaid Cleaves, Rich Brotherton, her son Cisco Ryder, Gilkyson leaves you in no doubt where she's coming from with a sleeve photo that turns God Bless America poster into God Bless The World, and an opening track, Hiway 9, that sounds a wake up call about the oil agenda behind the Iraq war and the way all of America's implicated in the policies of the White House.
There's no chest beating protest bombast here though; Gilkyson imbues everything with the female perspective, veining the political with the personal. Thus, the title track is a simple Shaker style hymn, building from voice and piano to choir as she laments the foolishness of mortals while inspired by a photograph of a young boy diving into a smelting plant waste pool near the Kosova/Albania border, Tender Mercies is a poignant account of a female suicide bomber married to a mother's prayer for her children and Ballad of Yvonne Johnson (co-written with the song's subject) is the prison confession and plea for forgiveness of a Native American who committed murder to protect her children from the sex abuse she's herseld suffered.
It's not all such downbeat or harrowing stuff. Not Lonely is a statement of self, Wonderland a jaunty celebration of physical attraction and even Separation embraces the fall if it means feeling the flame. Elsewhere Dark Side of Town, co-penned with sister Nancy, pays homage to the lust for life of their late singer-songwriter father Terry (he wrote Memories Are Made of This as well as The Bare Necessities) whose own skippy folk gospel Runnin' Away is also included here. It may not be her best album (Lost and Found still occupies the high ground of her career to date), but it's almost certainly her most resonant.
Mike Davies
---
Eliza Gilkyson - Lost and Found (Red House)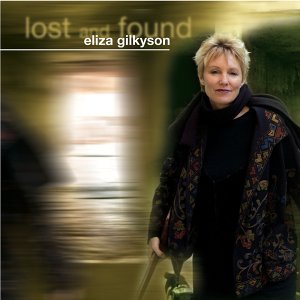 Daughter of legendary American songwriter Terry Gilkyson (Memories Are Made Of This) and sister of Tony from 80s US punk crew X, steeped in folk-roots Eliza's been making her own name for two decades, her reputation and profile steadily rising since the release of 1987's breakthough third album Pilgrims.
With a voice both aching and intimate, clear and dusky, her tenth (eleventh if you include her More Than A Song collaboration with Iain Matthews and Ad Vanderveen) album is veined - as the title hints - with songs - Welcome Back especially - about making it through the dark times charted on her previous critically acclaimed Hard Times In Babylon which emotionally documented the death of her father and the collapse of a relationship.
Although there's tracks that hark to darker areas - Angel & Delilah with its line "there's three of us at the wheel, me, you and your death wish", and He'll Miss This Train (written by her brother) about a guy clearly not bound for glory - it's mostly populated by the lovers and emotional saviours of such songs as Heart Of A Man and Richmond Boy. Low slung bluesy with Mama's Got A Boyfriend, tangy with the smell of mountain woodsmoke on Fall Into The Night, and open hearted and redemptive on Riverside with its melodium and pump organ, it's heart-filling stuff.
Mike Davies [Ed. See also More Than A Song - the trio Iain Matthews, Eliza Gilkyson and Ad Vanderveen and wonderful album of the same name]
---
Vince Gill - These Days (MCA)
Gill redefines the word prolific with this 4CD box set of no less than 43 all new recordings, written or co-written by Gill and divided into four individual collections; rock (Workin' On A Big Chill), romance (The Reason Why), vintage honky-tonk (Some Things Never Get Old), and acoustic (Little Brother). Inevitably there's cross pollination here, tracks on the honky tonk set being equally at home among those filed under romance, but essentially you get the basic idea.
It would be madness to try and comment on everything here, so take this as a rough guide through some tempting highlights. Workin' On A Big Chill heads out on the title track swamp groove and keeps up the loose limbed Nashville rock vibe throughout, hitting high spots with Gretchen Peters providing harmonies for Cowboy Up, Rodney Crowell joining in for the Chuck Berry boogie Nothin' For A Broken Heart, the easy brassy souled lope of Smilin' Song's duet with Michael McDonald and teaming with Bekka Bramlett for the mid-tempo The Rhythm of the Pourin' Rain.
Over on to the ballads set and there's a whole extra bunch of special guests, among them LeAnn Rimes (What You Don't Say), Bonnie Raitt (outstanding slow march The Rock Of Your Love), Trisha Yearwood (The Memory of You), Sheryl Crow (What You Give Away), Amy Grant (bringing her Christian country to Tell Me One More Time About Jesus) and, adding a jazz piano lounge vibe, Diana Krall with Faint of Heart, a song that sounds like it could have come from a classic Sinatra album.
If that album reps the set's lush treatment, This New Heartache pulls things back to the old tyme fiddle and steel honky tonk of Ray Price and Hank Williams, This New Heartache even namedropping classics like I Fall To Pieces, Crazy Arms and Lovesick Blues. There's many who'll regard this as the box set's centrepiece, and given tracks like The Only Love, the Everly's sounding Sweet Little Corrina (featuring Don Everly as it happens), the Texicali flavoured Some Things Never Get Old's duet with Emmylou, an Ernest Tubb leg slapping Western swing Don't Pretend With Me and the waltzing I Can't Let Go where Allison Krauss and Dan Tyminski join with the sobbing into the beer, it's difficult to argue otherwise.
Which leaves acoustic, and frequently bluegrassed fourth disc, opening with a fine flurry on the banjo romping All Prayed Up which could have stepped out of the Oh Brother soundtrack, leading on to gems like the Del McCoury Band collaboration Cold Grey Light Of Dawn, fiddle scraping backporch get together Sweet Augusta Darlin', the moody Molly Brown with its tale of racial violence, and gentle cowboy tune Little Brother. The set winds up with Almost Home, a poignant bittersweet questioning song about fathers and sons featuring spoken passages by Guy Clark.
With not a single filler among the material on offer, it's a remarkable testament to Gill's vocal warmth, his luminous gift as a songwriter and the way he's assimilated the many influences to which decades of country music has given birth, and proved a master of them all.
Mike Davies November 2006
---
Jane Gillman - List of Wishes (High Road Records)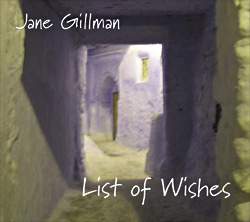 A nice album, this, the very model of a well-crafted country pop record in the general area of Mary Chapin Carpenter, with several nods in a slightly folkier direction. "My Impatient Heart", for example, had me double checking that it wasn't actually an Eleanor McEvoy song. Ten songs, then, that deal with emotional complexities - entangled love lives, dreams of escape from the muddied burdens of real life - in simple, clear imagery. There is nothing complex or obtuse to have you scratching your head, but short, two-line images that stick in the mind and give you something to daydream over. Jane's singing is lovely, unforced and with a natural purity. It's not the strongest of voices, though, and this possibly dictates the low key production: lots of lovely detail in there, especially from the pedal steel, but nothing is forced to the front so that her singing can remain paramount. Everything is put to the service of the song's mood, and it's all the better for that. These songs are eminently coverable - as some of her songs have been covered in the past - and more than once I can hear the big production number that could make a country chart hit out of "Waiting for Elena", for example. I like her simple, straightforward, style, however, and the deceptive simplicity of "Dream and Drive", where acoustic guitar, pedal steel and bass combine to echo the simple clarity of the lyrical idea, is the epitome of why this record is an all-round success.
John Davy April 2007
---
The Wronglers With Jimmie Dale Gilmore - Heirloom Music (Neanderthal)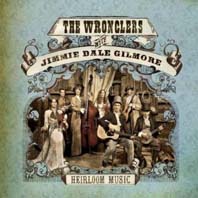 Gilmore, he of a nasal voice that sounds like his adenoids are being strained through gauze, you'll know of, but you may be less familiar with the six piece San Francisco outfit whose line up includes upright bass, banjo and two fiddles and who specialise in old time and bluegrass. Meeting at the Hardly Strictly Bluegrass Festival, they bonded over shared musical interests and, given Gilmore had been looking to make an album of early twentieth century country music, a collaboration seem natural.
The result's a 14 track collection of songs they refer to a national treasures. There's no fuss and no frills, just an honest celebration of the country's roots music heritage played and sung much as they might have been back when the songs were freshly minted.
Prominently featuring Warren Hellman's banjo, they open with Time Changes Everything, a song written by Tommy Duncan, founder member of the Texas Playboys, and close with the Harry McClintock penned Depression era fantasy, Big Rock Candy Mountain.
Between times, bluegrass masters Flatt and Scruggs, the Delmore brothers and Bill Monroe are served up with If I Should Wander Back, Brown's Ferry Blues and the perhaps inevitable Uncle Pen. Monroe's repertoire's also raided for Footprints In The Snow, written by Rupert Jones.
Other well worn evergreens include a fiddling friendly Columbus Stockade Blues, In The Pines, Doc Watson's Way Downtown, Charlie Poole's Leavin' Home and our old friend Trad's Deep Ellum Blues. Naturally it wouldn't be the celebration it is without something from the Carter family, here represented by both bluegrass tune Foggy Mountain Top and the yearning classic I'm Thinking Tonight Of My Blue Eyes. In a way that actually turns up twice, the melody also serving as the coathanger for the lyrics of Johnny Bond's I Wonder Where You Are Tonight.
All of these have, of course, long been preserved for the nation, but it's nice to hear them taken out of mothballs and given an airing for younger ears by such a consummate bunch of musicians.
www.facebook.com/thewronglers
www.thewronglers.com/ecard
www.jimmiegilmore.com/music
Mike Davies August 2011
---
Katriona Gilmore & Jamie Roberts - The Innocent Left (Navigator)
An increased profile occasioned by supporting Fairport Convention a couple of tours back has given this already-confident partnership an extra injection of confidence, resulting in an even bolder demeanour to that difficult third album. Of course, both are way past the stage of needing to draw attention to their (by now many-times-proven) instrumental, vocal and songwriting chops, not to mention the advances they've made in terms of studio adaptability and stage presence.
So it's probably no surprise to find them imparting their latest batch of self-penned creations with a rounded production (courtesy of Julian Simmons) that incorporates a generally fuller sound. This is due largely to the deployment of a well-defined rhythm section (Ben Nicholls' double bass and Tom Chapman's drums and percussion) on the majority of tracks. Jamie's jaw-dropping guitar adventures and Katriona's fiery fiddle work remain in firm focus (notably on the instrumental Seven Left For Dead), but in the main these elements just occur as natural signatures within the overall considered texture of the arrangements. There's also a pronounced newgrass/country feel to tracks like the gorgeous, lilting Silver Screen, the instrumental Over Snake Pass, and Shuffle And Deal (the latter prominently featuring the guest presence of much-admired duo Larkin Poe, aka Rebecca and Megan Lovell).
As regards subject-matter for the songs, the duo's individual predilections are well represented. Several songs take the form of life-stories or portraits (Doctor James, Louis Was A Boxer and, best of all, Letters, which was inspired by Katriona's great-grandmother's attempts to communicate with her Danish homeland during World War 2), while Jamie's memorable The Stealing Arm is a catchy thief's-tale (one that could well have graced a Seth Lakeman album) and Scarecrow a worthy addition to the corpus of sympathetic folk compositions conjured from this iconic character. The album's measure is completed by a feisty original take on the traditional False Knight.
This accessible collection should readily enable the duo to build on their already well-established fan-base, even if it most unavoidably begs the question of where to next.
David Kidman October 2012
---
Katriona Gilmore & Jamie Roberts - Up From The Deep (GR! Records)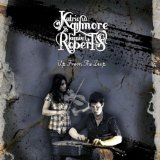 2010 has been a real landmark year for Katriona and Jamie, with their nomination for the BBC Radio 2 Horizon Award and their first nationwide headline tour as a duo in their own right expertly fielding the ripples cast by last year's impressive debut CD Shadows And Half Light. Now, hot on the heels of the news that they've been invited to support Fairport Convention on their upcoming winter tour, comes the release of that all-important album number two.

We're told that in recording this new offering a conscious decision was made to strip the sound down to essentials – but although the textures are certainly clean, the distinctive combined sound this duo makes still possesses an innate richness stemming from each musician's strongly individual technique (Katriona's fiery, dynamic fiddle, viola and mandolin, Jamie's intricate, delicately percussive lap-tapping guitar).

The quality of intense assurance in their vocal and instrumental delivery and all-round musicianship is also due in part to their ability to naturally assimilate a wide array of musical inspirations, now audibly extended to more prominently embrace influences from bluegrass and traditional folk, twin poles of the musical spectrum which prove surprisingly complementary (the cryptic traditional song Nothing At All features a seriously beautiful guest pedal steel part, courtesy of P.J. Wright no less, and Katriona's brilliantly idiomatic (right down to the chorus rhyme!) original Off To California secures a coup with guest banjo from Cia Cherryholmes).

The duo's tremendous inborn assurance extends through to their songwriting, which encompasses the tough Seth-Lakeman-style folk commentary of Jamie's All I've Known, Katriona's eerily elusive but catchy tale of Fleetwood Fair, Jamie's tender narrative The Bookseller's Story (based on the epitaph of an 18th century Sheffield man) and Katriona's wry-but-verité account of life on the road (No Rest For The Wicked). And the duo's thoughtful account of the traditional Shepherd And His Fife is spellbinding, tellingly combined with a variant of Shepherd's Hey. There are further examples of creative juxtapositions of songs and tunes elsewhere on the album, as well as three vibrant instrumental sets ranging from Punch And Chase, which rather intriguingly seems to marry Leo Kottke with Playford, to the delicious Transatlantic-Session-style Tennessee Green).

Having finally emerged "up from the deep!, out of the shadows of other bands, Katriona and Jamie should now be able to keep out of the half-light and move into the dazzle of full limelight.

David Kidman October 2010
---
Thea Gilmore - Regardless (Fullfill)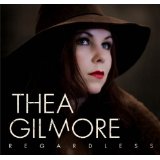 Making her recording debut in November 1998, Gilmore has now released 14 albums (15 if you count the Reel And Folk Association one where she shared vocals with Kellie While), but it's been three years since her last collection of wholly self-penned material. However, this long awaited offering may come as something of a surprise to fans anticipating something along the familiar lines of Avalanche, Liejacker, or Murphy's Heart.
She's used them before, but the album marks the first time that strings have been employed so extensively, bringing a lusher and, especially on This Is How You Find The Way (a lovely song with its images of angels in the abbreviations), a sometimes more orchestral, cinematic feel. Additionally, while profession and personal partner Nigel Stonier again oversaw production, the album, recorded in different studios, also features behind the desk collaborations with Seadna MacPhail (who's worked with Elbow) and The Suppliers, a trio of London based Danish producers, one of whom is Dyre Gormsen, who's engineered, among others, Jamie Cullum, Train and Ron Sexsmith.
She's also thrown some unusual musical shapes, such as the beats, Oriental colours and accordion solo of her staccato rhythm spiky ode to England, Spit And Shine, the tumbling title number with a click track like sound, and the shimmering Eastern percussion behind the snake-charmer staccato urgency to the verses of call-to-arms ('you'll wish we'd stayed singing when we lift our voice to shout') Something To Sing About.
None of this, of course, takes away from her essential sound and whether it's the jangling we're not gonna take it folk-rock of Start As You Mean To Go On, the pure-voiced Baez echoes behind the slow-building life-affirming parent to child anthem This Road or the lovely, violins-kissed, folk-rooted ballad I Will Not Disappoint You, there's no mistaking who you're listening to.
But, maybe because she became a mother for the second time ('I've got these two good reasons here why I can't get it wrong', she sings at one point) and the enforced hiatus gave her chance to re-examine her music, while no less sharply observant or emotionally direct there's a calmer, more mature and (particularly on the Cohen-esque Let It Be Known) reflective feel to things, though fans of her earlier work may feel it comes at the cost of the bite that informed things like We Built A Monster and God's Got Nothing On You. But then they should listen a little closer to the barbed social comment lyrics of Punctuation with its clever imagery and reminder that 'the real power's in parentheses.'
Incredibly, given her following, critical acclaim and consistency of high quality work, she's still yet to have a Top 40 album, hopefully this will finally bring her the wider recognition she deserves. But if not, you can be sure she'll continue to make great music, regardless.
Mike Davies May 2013
---
Thea Gilmore & Sandy Denny - Don't Stop Singing (Mighty Village/Island)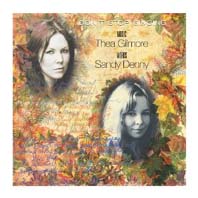 When Sandy Denny died, not only did she leave behind hours of unreleased material, live recordings, demos and alternate versions, but also many unscored lyrics. Over the years, the audio archive has now been pretty much exhausted, but, in the keeping of her widower, Trevor Lucas, the lyrics remained unseen and virtually forgotten.
Even when he too died, in 1989, and Denny's estate passed to his third wife, Elizabeth, they remained untouched. Then, four years ago, during one of the regular overhauls and reissues of Denny's recordings, she and Island Records decided the time was right for them to be set to music.
Initially, the idea was to farm them out to several female singer-songwriters and pull the various interpretations together on an album. One of those invited to participate was Thea Gilmore. Which is where kismet stepped in.
Gilmore, of course, has a long connection with Fairport Convention, her career having been kickstarted while working as an intern at Woodworm Studios, she grew up listening to their and Denny's music and over the years critics have also drawn vocal and stylistic comparisons between her and Sandy. So it was that she sent off a recording of the song she'd chosen only to then be asked to take on the whole project.
With husband/producer Nigel Stonier helping out with piano chords, she set to crafting the melodies and arrangements suggested by the words, the musicians joined by Bellowhead's Benji Kirkpatrick and, on accordion and concertina, his father John who, of course, played on Denny's self-titled sophomore solo album.
With Gilmore having provided all but one of the titles, the original lyrics are listed in the booklet by song number. Since the secret infidelity themed Pain In My Heart ("puts a strain on the part I've been playing so well for so long"), arrangement and melody echoing vintage Janis Ian, combines lines from both songs eleven and eighteen, two differing versions of the same lyric, and the album has 10 tracks, I'm assuming there are other unused lyrics and these are the ones Gilmore felt most lent themselves to the task (she's changed a few words and added a couple of verses), but either way this unique posthumous collaboration is a credit to both artists.
Handwritten or typed in notebooks and on scraps of paper, there's no dates to the lyrics but many likely stem from shortly before her death in 1978 when she was battling a collapsing marriage, substance abuse, and increasing self-doubt. Much of the themes and imagery arise from the conflicts between the domestic and the requirements of a musician's life while others trace yearnings, regrets and insecurities.
The jaunty title track (one of two on which Kelly While adds backing vocals), for example, has her left alone while her partner's away (a homely touch, she mention the clanging central heating), turning to singing to keep her spirits up, resisting the temptation to give him a call. Conversely, a kindred homesick spirit to Paul Simon's Homeward Bound, London's ringing folk rock has her off on tour, easing the loneliness of another identikit hotel room in another identikit city by ringing her lover back home.
Separation anxiety and a restless inability to settle make for an uneasy cocktail, all the more so for an artist prone to depression and self-doubt. Both tumble together on Long Time Gone where, with Gilmore conjuring Baez in her melody, Denny writes "I'm in such a terrible state, and my city's just like me. I can't afford to live in this place and I can't afford to leave", going on to address her dislike of the promotional rounds, travelling the world in a blur ("everywhere goes by so fast I don't know what I've seen") as "they push me around on a wild goose chase."
Separation is also at the heart of the album's two most traditional folk styled lyrics. With a gently circling guitar pattern and dappled percussion and Gilmore's voice like a mountain stream running over stones, Sailor has a maiden asking her lover to take her with him (in his heart) as he leaves for war, Thea changing the profession in the final refrain for the resonatingly timely 'oh soldier lad come home to me.'
Likewise on Song #4 (just for confusion's sake that's Song Fourteen in the notes), a warmly aching lament arranged for piano and cello, the narrator spends the night staring at the hills over which her lover went the day before, waiting for the dawn and wondering 'will he ever come home again to me'.
Reading as though perhaps inspired by statues in a museum ("beauties of stone, they've no need to breathe air") and an accompanying talk, Frozen Time with its descending icy piano scales and mournful violins almost feels like a panic attack ("don't tell me this is home, don't distress me, I can't even see a face I know....But there's something holding me I can't go, so you must take me away....nobody's listening what chance is there?"), slipping into thoughts of mortality and
'what is fair in love?'
Acknowledging herself to be 'in a terrible state', mentioning sleeping pills and wine and almost pleading 'get me out my mind, I don't want to think," I have no idea how long before her death the lines were written, but the poignancy of "I've got a lot of things to do and a lot of time ahead.... if I don't make it before I die I just aint gonna die" is heartbreaking.
Even when she seems to find peace, the dark clouds still gather in. The opening track, the wonderful, lushly orchestrated Glistening Bay with its hammered dulcimer, is an almost Wordsworthian reverie of reaching a hill top and seeing the lights of the city far below. Yet even in this serene epiphany, the song ends "I thought of home the whole night long and where the time has gone. Sadness it was all I had."
Gilmore says that, while broadly aware of Denny's problems, she didn't want to delve deeper and for it to seem she had some sort of fixation with Sandy's state of mind. Even so, she admits the project brought a growing sense of identification. Which is perhaps why on Goodnight, with its world weary resignation and dreamy chorus, when Denny writes "I'd rather trade my heart for yours then I would feel no pain but I'm afraid to start a war within myself again, so I feel the cold and see my feet are bare", compassion prompted Thea to add a second, more optimistic verse:
Now the day's surrendered to a winters night, But no matter how it ended we won't lose the light, 'cos for every shadow singing telling me to run I have you my brave companion and the morning sun.
And surely that is why, a new mother herself, she chooses to end the album with Georgia, adding her own verse to Denny's loving poem for her baby daughter (giving the lie to contemporary suggestions that she had little concern for her), its lullaby arrangement and undulating rhythm subtly entwining reference to Hoagy Carmichael's classic, which Denny herself covered. Sung with a shared maternal tenderness, it's a beautiful way to bring down the curtain. Not a year old when Sandy died, now 34 Georgia's never spoken publicly about her mother. If she hears this, perhaps it may help heal some of the scars.
Anyone could have turned Sandy Denny's lyrics into songs. But, an unpaid labour of love, only Thea Gilmore could have made this album.
www.theagilmore.net
www.sandydenny.co.uk
Mike Davies November 2011
---
Thea Gilmore - John Wesley Harding (Fulfill)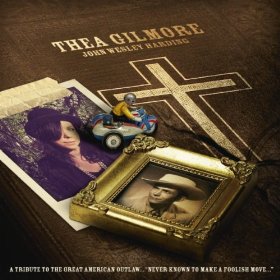 If you're even vaguely interested in contemporary music, you'll know that Bob Dylan is 70 on May 24. To celebrate, there's been magazine features, radio and TV documentaries, concerts and tribute albums arriving almost daily.
A passionate fan, Gilmore was part of the Celtic Connections Forever Young concert in January, singing Lay Down Your Weary Tune and Masters of War. That, however, clearly wasn't enough. So, having previously recorded I Dreamed I Saw St Augustine for an Uncut magazine Dylan CD for which she'd received glowing praise, not least from one Bruce Springsteen, nine years later she decided to go the whole hog and cover the entire album, one she describes as "his most sustained, satisfying record."
Now, it's not the first time a single album has been covered in its entirety in the original track sequence, but to the best of my knowledge it's never been done before by a single artist. So, world first, Dylan, 70th anniversary, seminal album,, no pressure there then.
Reuniting, after six years. with guitarist Robbie McIntosh and drummer Paul Beavis, with whom she'd recorded Augustine, and with Nigel Stonier handling bass and production, they went into the studio on Feb 7 and, dispensing with rehearsals, emerged on Feb 15 with the other 11 numbers.
It's good to find that she wasn't in thrall to the original when it came to interpreting the songs. She remains faithful to the spirit, but these are her versions no Dylan's. Taken at a slower pace, the title track has much more of a narrative feel, As I Went Out One Morning retains the trad folk core but overlays it with moody electric guitar while All Along The Watchtower has much more of Horse With No Name tempo with McIntosh's guitar echoing the howling wind.
Taking its cue from the original, The Wicked Messenger really rips it up with an urgent driving pace and some skin blistering guitar, its cranked up rock swagger also providing the template for Drifter's Escape with the sort of ringing guitar folk rock dynamic you might expect of McGuinn or Springsteen. It's a hell of an improvement.
But while these may be toughened up, neither they nor anything here goes radically against the grain of the original; Dear Landlord rehoused as piano gospel blues, I Am A Lonesome Hobo employing ghostly banjo to set the song in an appropriate hillbilly landscape and, just as Bob did, Down Along The Cove letting its hair down and partying, albeit with some rather more fluid guitar licks.
Having performed it in her live shows for a while, I Pity The Poor Immigrant sounds the most relaxed and, given their mutual admiration society, it's not too surprising to hear it sound a lot like Joan Baez who, of course, has done her own fair share of Dylan covers. Which just leaves Gilmore to close up show with a schuck n shrug rhythm I'll Be Your Baby Tonight featuring tremolo twangy guitar solo and a vocal steeped in seduction and whisky.
Apparently Springsteen reckoned her version of St Augustine was one of the best Dylan covers he'd ever heard. Well, Bruce here's a dozen of them.
Mike Davies May 2011
---
Thea Gilmore - Murphy's Heart (Fulfill)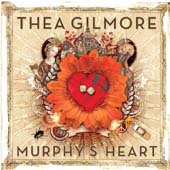 For years now, I've been hailing each new studio album as her best yet and bemoaning the fact that she still remains unknown to the mainstream record buying public. Now, I have to admit this, her tenth, took longer than usual to fuse itself with my musical nerves and I'm not totally persuaded that, as an album, the songs are quite as consistently strong as on, say, Liejacker or Avalanche.
But, I should qualify that by saying there's many an internationally famed artist whose best work falls short of Gilmore's reject pile. What's never in question is the quality of the performance and, yet again, I find myself saying that, on those terms, this her most assured work to date, the sound of an artist utterly at one with her voice and herself.
It's a bluesier and - it must be said - more sultry affair than usual, opening with the snaky folk-blues sass of This Town with its ticking hollow percussion, brass stings and lyrics and delivery that make you suspect she's been digging around the Eartha Kitt collection.
Introducing Latin rhythms into the mix, the itchily rhythmic God's Got Nothing On You is a barbed rhyming couplet put down of the self-regarding arrogance that doesn't forget to include a catchy chorus line. The same sing-along sensibility informs the Nigel Stonier co-penned You're The Radio where love's seen as complementary images ("I'm the sleeper, you're the dream" etc). Equally likely to whip things up live is the surf guitar twanging country-blues funk of Teach Me To Be Bad where horns drive along her desire to let loose her inner wild child.
She's talked about stepping out of her musical box and there's certainly a more cosmopolitan mood here. There's more Latin with the clicking bossa nova backing of the closing motherhood-themed Wondrous Thing with its muted trumpet, Not Alone turns to flamenco for a suitably steamed tale of an illicit (and possibly haunted) passion with lines about 'sweaty white skin and the smell of perfume".
Elsewhere, the tinkling, lilting sway of Due South harks to her Irish roots while a clanking, politically cut Love Is The Greatest Instrument hovers around a fusion of swampy blues and gypsy campfire.
There are, naturally, a choice selection of her world-weary, soul-folk infusions, the first arriving with the hushed, acoustic puttering Automatic Blue which retires to a "little bar where they make Bloody Marys strong" to reflect nostalgically on life, loss and love that can never be. Perhaps in acknowledgement that he's a fan, there's also a line here about humming a Springsteen tune.
When her pure voice soars, it's striking how she's increasingly starting to resemble Baez. Her influence is also clearly photosynthesised into numbers like Coffee And Roses, the border mood of Mexico (another parenthood number) and How The Love Gets In, a lovely, gospel-inflected piano ballad about glimpses of fulfilment, though the title line surely owes a debt to Leonard Cohen's Anthem.
"I'm the weather that just broke", she sings on You're The Radio. Consider this album your Indian Summer.
PS: On her web page she talks about Jazz Hands, a "pure sex thing" she says just had to go on the album. It didn't, but, a breezy sexy jazz clatter, you can hear it at www.we7.com/#/song/Thea-Gilmore/Jazz-Hands and download from Amazon
www.theagilmore.net
www.myspace.com/theagilmore
Mike Davies September 2010
---
Thea Gilmore - Strange Communion (FullFill)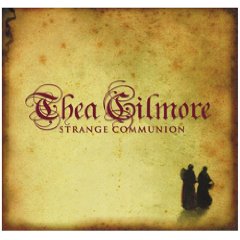 Jona Lewie, The Sound Of Music, party hats, drunk relations telling dirty jokes, yes, as the playfully sceptical That'll Be Christmas puts it, complete with George Harrison homage slide solo, it's the season of faith, hope and gluttony.
As you might expect from one of the country's most gifted, articulate. literate and intelligent songwriters, Gilmore's debut contribution to the seasonal album genre is a cut above the usual. For a start there's not a traditional carol, faithful, reworked or otherwise, in sight. Rather the album opens with Sol Invictus, a self-penned invocation to the pagan sun god (okay, there are echoes of O Come Emmanuel to the melody) summoned by the Romans every December 25, delivered unaccompanied by Gilmore and the Sense Of Sound Choir, its 'rise up, rise up chorus' is surely destined to be heard as dawn rises over Stonehenge on the Solstice.
Spiritual and cynical, joyful and melancholic in equal measure, the songs reflect on the ancient and modern, teasing over the season's contradictions while celebrating its heartfelt institutions.
Dating back to 2004, there's no mistaking the personal input on a track called Thea Gilmore's Windwinter Toast, a gently tumbling acoustic 'hymn to you all' that reflects on 'a crazy year' and 'all the damage done" with a vow to "make next year a better one". With voices swelling in the background, you could picture her singing this from the choir stalls of a small country church.
A funky bass driven groove and prowling electric fiddle taking up the baton from a strummed guitar medieval mood intro, Cold Coming, inspired by T S Eliot's iconic Journey Of The Magi, gives rise to the album's title and offers both a religious and, in the line about 'the ringing of the till', a secular commercialised take on the nativity.
There are three other Gilmore originals here, all sterling additions to her already glittering catalogue. The tumbling wistful, Baez-like Drunken Angel, a reflection, as she says in her song notes, on "more childish times", trying to make sense of an increasingly complicated life and the realisation that sometimes you simply have to go with your heart, it features a soaring chorus that makes the hairs on the back of your neck tingle.
Acoustic guitar building to embrace strings and piano, the bending notes tinged with frosty rime and cold breath on winter breeze, December In New York is a magical folk-hewn snapshot that was actually written nine years ago, before she'd ever been there. And, finally, preceded by Book Of Christmas, a spoken extract about the shifting nature of the season from Louis MacNiece's 1938 poem Autumn Journal, tinged with hints of Appalachia, plucked out on melodica and featuring recorder solo, Old December is a road song about coming home after 'long months of the wheel and the microphone", her celebration of hope, community and love.
There's also two obscure but perfectly appropriate non originals. Previously covered by Nilsson and Galaxie 500, Listen, The Snow Is Falling is a dreamily beautiful Yoko Ono song, full of childlike wonder, and, with chiming bells in the background, Gilmore sings it in a hushed whisper faithful to the originally version as the B side to Happy Xmas (War Is Over).
The second is a different beast altogether. First heard by producer and partner Nigel Stonier 15 years earlier, The St Stephen's Day Murders was co-written by Elvis Costello and Paddy Moloney and only available on The Chieftains' live album The Bells of Dublin Christmas.
A rowdy black humoured celebration of the drunken chaos of Christmas family gatherings, it's a deliberate musical pastiche of Fairytale of New York, suitably revived now with special guest Mark Radcliffe playing Shane to Thea's Kirsty and Stonier and violinist Fluff giving it the full Celtic banjos and whistles. If I may just paraphrase a line from Old December, "whoever you praise, raise a glass to Thea's days, and sing sing."
www.theagilmore.net
www.myspace.com/theagilmore
Mike Davies November 2009
---
Thea Gilmore - Recorded Delivery (Fullfill)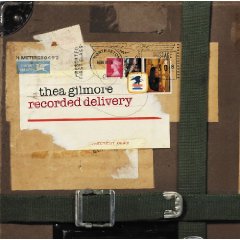 If the glowing acclaim for Liejacker didn't translate into a UK Top 40 album, it's hard to think what Gilmore has to do to make the crossover from cult following into mainstream success. Live albums being, traditionally, souvenirs for the faithful, this (her first) obviously isn't going to break through the resistance barrier, but it will certainly have the fans ecstatic and, hopefully, convert the odd curious soul too.

The album's actually a game of two halves. The first is acoustic, taken from a series of 2008 shows with just Gilmore, 'Fluff' on fiddle and producer/husband Nigel Stonier on guitar and keyboards. Superbly recorded with crystal clarity - and welcome between song chat that illuminates her personality - it's both a useful snapshot of her songwriting career and another indication of how she's vocally maturing into this country's Joan Baez. Certainly, there's an influence there, after all the pair have worked together and Baez recorded a cover of The Lower Road (which Gilmore reprises her to superb hymnal effect, actually improving on the original), but it's more than that as she grows into the achingly soulful and life seasoned voice so hauntingly heard on the appropriately titled opener, Old Soul.

Leonard Cohen is, of course, another influence and you can hear his spirit informing Have You Heard and Concrete, the latter one of two new songs showcased here, while a handclapping a capella rendition of the civil rights song If You Miss Me At The Back Of The Bus shows she knows her Seeger and Guthrie too.

Aside from live favourites Icarus Wind and the jaunty Rosie, the acoustic set also showcases, You And Frank Sinatra, a new, wistfully sad song of lost love, memories and continuing hurt written by Stonier. It's a tremendous number and it'll be interesting to hear how it evolves in the studio. The electric set dates back to various 2006 shows as a five piece and is, by nature of the beast, less intimate in its feel and a little less polished in terms of sound, but no less effective for all that. With the exception of a trad folk flavoured My Own Private Riot from Lipstick Conspiracies, it's also more musically dynamic and muscular with the emphasis on uptempo material, including the biting bluesy Everybody's Numb, a rockabilly romp through This Girl Is Taking Bets, the oldest song included on the album, sea shanty crowd stomper When I Get Back to Shore, and her (inexplicably) sole hit single Juliet, before taking the mood back to wistfully stately Baez notes for her To Ramona-like encore closer Inverigo, still one of the best songs she's ever written. As live album titles go, this isn't exactly going to win any prizes for originality, but what lies within is just another example of what a criminally undervalued artist Gilmore truly is.

www.theagilmore.net
www.myspace.com/theagilmore

Mike Davies June 2009
---
Thea Gilmore - Liejacker (Fullfill)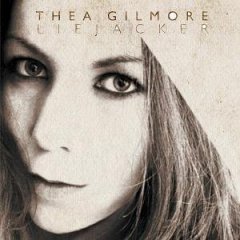 With a string of critically acclaimed literate, intelligent, melodic and passionately delivered albums under her belt, it's hard to understand why Gilmore's still not the international star her talent warrants. However, it's hard to see how even the most cloth-eared Katie Melua devotee could fail to be blown away by what may well be her career masterpiece. Which, given the quality of its pred0ecessor, Harpo's Ghost, is saying something.
Having recently entered the realms of motherhood, the album's steeped in a new, deeper maturity, rich in dark emotions and headily textured melodies and arrangements. A fine grained blend of social comment and refletive emotion, she herself has called it 'the lovechild of whisky and heartache', and her most personal album yet. It's intoxicating stuff, both deceptively beguiling and subtly insidious. Dave McCabe from the Zutons lends his vocals to the wonderfully wearied, malt and woodsmoke folk of opening track Old Soul, but then Black Letter heads away from what might be seen as typical Gilmore into more Zep blues-folk smouldering, a crooning chorus framed by nerve-scratching strings scraped edginess that echo the experience of depression from which it and much of the album was forged.
It's a mood to which she returns in a lower register for the spare, percussive rumbling Roll On and its turmoil of love, rejection and resentment while, making use of cutlery, grill pan and chimney hood, The Wrong Side is a clattery burlesque carnival of souls parade down the slopes of self-loathing that surely tips the nod to Tom Waits at his most carny.
Elsewhere, her roots are teased out to understated but seductive effect. A duet with Erin McKeown. the seven minute Cohenesque Dance In New York is a pizzicato slow waltzing of defiance and the refusal to be constrained by compromises imposed by others, And You Shall Know No Other God But Me a folk spiritual about shaking off dependencies delivered in fever-sick hushed and husked voice accompanied by a simple, repetitive spooked dobro phrase.
If the jaunty Rosie contemplates packing bags and running away, leaving behind hairbrush, red shoes and 'a little boy who looks like you', the album's prevailing note is one of survival and catharsis. It may be, as the rolling acoustic blues says, a Slow Journey but both the strummed Breathe with its gathering melodic force and the mandolin led revivalist folk gospel jugband When I Get Back To Shore have faith that the end is within grasp. She even bursts into a laugh mid way through the latter.
There are times when Gilmore's now well seasoned voice conjures thoughts of Joan Baez, so it seems fitting that the legend herself duets on the closing (save for the bonus folksy cover of You Spin Me Right Round) diamond, The Lower Road which, with fiddle by Steve Wickham from the Waterboys, brings together the personal and political in images of conflict both on foreign shores and deep within, and the faith in endurance. A song that could have come from Baez's own treasure trove, it sends a shiver down the spine. But then, that's something Thea's been doing since she first started singing.
www.theagilmore.net
www.myspace.com/theagilmore
Mike Davies June 2008
---
Thea Gilmore - Harpo's Ghost (Sanctuary)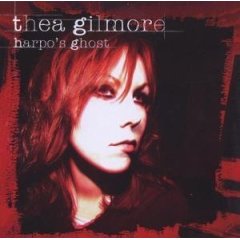 By rights her last album, Avalanche, should have finally catapulted Gilmore to the sort of success currently enjoyed by K.T. Tunstall. And yet, five albums in, she remains critically acclaimed but commercially overlooked, a situation which, judging by response at the time of writing (one week in the lower Top 75 on release, then nothing), seems sadly unlikely to change with her sixth and most assured release yet.
A tougher sounding album than its predecessors but also less techno-laced than Avalanche, it takes its title from the professionally mute but musically expressive Marx brother who provides a metaphor for Gilmore's decision to be more personally upfront and direct this time around. Case in point is Contessa, a tumblingly melodic folk-rock strum (with Kathyrn Williams on backing vocals) she refers to as the album's keystone, with the titular character the devil on the shoulder of "a scared little kid with a head full of hormones and holes".
Quite how much autobiographical content informs barbed relationship themed numbers like the moodily haunting The Gambler ("lay your head upon my chest, the odds are slim but isn't that the test") and the country-soulful Call Me Your Darling (very Lucinda meets Springsteen) or the confessional Janis Ian like pulsing Going Down ("can't wash the smell off my skin for days, the sex, the blood, the alley way"), but she insists that Cheap Trick's nervy rock tale of a wild child's bad sexual encounter is pure storytelling.
Much, one would assume, like The List, another smouldering tale of crashed butterflies going down and, a recurring Gilmore image, the loss of holiness. Elsewhere the bluesily syncopated rhythms of Everybody's Numb sees her delivering a customary rant at the music biz ("you're squeezing hands and squeezing hits as good as anyone") and celebrity culture while We Built A Monster, one of two co-writes with Mike Scott, is a scathing attack on corporate imperialism.
However, the album's unequivocally finest moments come with its gentlest songs; the slow ticking folksily melancholic Red White and Black's lament for misplaced patriotism and (hidden bonus aside), the album's closer, the spare, cello backed mournful and world weary Slow Journey No 2, a song that shows just how much Gilmore's voice has matured over the years, sounding here not unlike Joan Baez.
Unless Radio 2 really get behind her with the sort of support she deserves, perhaps, like Carina Round, it's time Gilmore looked to America where assured success would perhaps finally then be reflected with long overdue breakout awareness back home.
www.theagilmore.com
www.myspace.com/theagilmore
Mike Davies, Sept 2006
---
Thea Gilmore - Avalanche (Hungry Dog)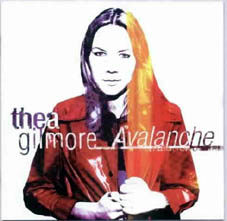 Oh come on there, get a grip. Four critically acclaimed albums in, the brilliant Fever Beats single, stunning contributions to Springsteen and Dylan tributes and her drop dead version of Warm And Tender Love as part of the Reel & Soul Association, and Gilmore's still not a force of musical global domination - what's wrong with you! Unequivocally among the very best singer-songwriters to have emerged from these isles in the past ten years, Gilmore's been content to work at her own pace, refusing to get into the album tour treadmill and gradually building the word of mouth with collection after collection of great folk-rock hued songs and biting lyrics.
The buzz is that this, her fifth album, could be the one to finally climb through the crack into wider awareness. I'm not yet convinced it's her best set - Rules for Jokers still takes some beating - but with lyrics as full of piss and vinegar as they are stars and roses, it's certainly her most technically accomplished and underlines her growing confidence in exploring the possibilities of the studio. Some may feel she's perhaps become a bit too seduced by the sirens of techno atmospherics, though the counter argument would be that something like Apparition #13 is a bold incursion into similar territory to Suzanne Vega's Blood Makes Noise while Eight Months pulses with a narcotic trip-folk ambience in the mode of Beth Gibbons' recent Out Of Season project with Rustin' Man.
Theramin whipporing in the background, Rags and Bones opens proceedings in sultry snaky rhythmic fashion, a Latin hue to the percussion, the dry, tinder crackling mood conjuring images of sways around evening gypsy fires as she sings of vapours rising between the seedling and the vines. The mood's extended into the paranoia glances of Have You Heard, Robbie McIntosh's guitar catching fire behind a slow march beat while the title track finds her in heavy-lidded, whispery vocal form over an impressionistic prickly tune of gathering electronic clouds and minimal guitar that briefly opens out into a musical box tinkle that adds a sense of sinister sweetness.
Sensuality oozes out of many a seam, Razor Valentine a strung out bluesy torch song that sounds like its emerging from some 40s crystal set compete with radio crackle and a love affair with Billie Holiday while Pirate Moon is the sound of twilight shadows rippling across yearning hearts. It's not all so eased back. Her Dylan influences are hale and hearty on the Radio 2 listed acoustic guitar single Juliet (which for no particular reason reminds me of I'll Keep It With Mine) and the stabbing drive of Mainstream, a biting attack on music and market forces, selling out rather than riding the lightning (complete with a savage image of angels in the abattoir) as McIntosh deals out Knopfleresque National Steel licks. Heads Will Roll stokes the rock fire further with an attack on complacency that packs a blistering sense of Richard Thompson into its two and a half minutes.
Thoughts of Fairport inevitably summon the Sandy Denny ghosts that often haunt Gilmore's work, here dressing the swelling pledge of endurance that is God Knows in veils of heaven as it builds to a hymnal climax. But the best she saves until last and The Cracks, a quietly reflective acoustic song of hope rising from the ashes, coloured with cello and cymbal, Gilmore's beautifully dusted, emotionally yearning vocals among the finest she's committed to record and spellbindingly evocative of a young Joan Baez. The avalanche is coming, you'd be wise not to get out of the way.
Note: Devotees new and old should be aware that Juliet comes as two different CD singles each featuring two acoustic tracks not available on the album, Hooligansville a particularly essential addition to the completist's collection.
Mike Davies
---
Thea Gilmore - Songs From The Gutter (Shameless/Flying Sparks)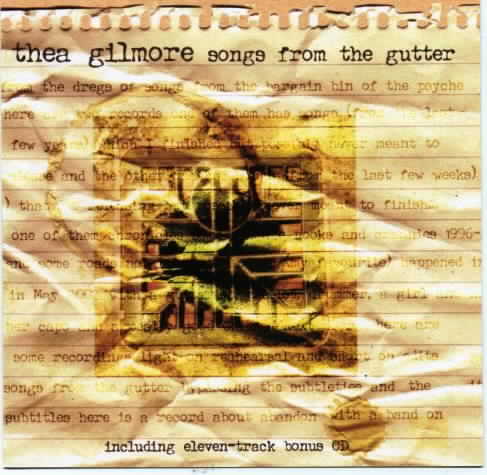 So, imagine this. Your artist has been asked to do a track for an Uncut magazine Dylan tribute CD. She's got a band together and booked a studio in Manchester for the day so she can lay down a version of I Dreamed I Saw St Augustine. The phone rings and she says she needs a bit more time. You're a bit distracted with another project so you say, sure no problem. The end of the week comes and your artist returns not with just the Dylan number but a whole album's worth of material. Not having worked with a band before it seems things were going it seemed a shame to stop. Ah, you think. Well you were planning a new album, just not this one. So you let a few people hear it and the feedback is great. Well, the obvious thing to do is clear the table of any previous plans and start again. But there's no point releasing it just yet because it's approaching Christmas and it's all Greatest Hits packages and superstars. So you make it available via the internet only for the time being and think about possibly putting it out in the new year.
That'll be Songs From The Gutter then.
Recorded with Robbie McIntosh, Paul Beavis, and Nigel Stonier with Rod Clements dropping in for a couple of tracks, thing kick off with Down To Nowhere, a smokey loping number that puts you in mind of the sort of scuffed beats Suzanne Vega used for Tom's Diner with lyrics like 'all you people heading somewhere Well you don't know what you're missing Cos theres nothing like the freedom Of a place where no one listens' that make it sound like a drop out's anti-city anthem. Things then rock up in a Richard Thompson stylee with When Did You Get So Safe, a biting attack on 'mavericks in mercedez benz', musician sell-outs 'pumping designer noise.' Given such an aggressive streak you might then expect Tear It All Down to maintain the venom, but instead it turns out to be a tumbling folksy melody set to a disarming 'you and me against, if not the world then at least this little town' love song which, along with other musical imagery, includes the wonderfully evocative line "I'll learn your body like a nursery rhyme in braille.'
Featuring an almost industrial clanking backing, The Dirt Is Your Lover Now is one of her finest, sparest vocals yet, conjuring the blues ghost of Billie Holiday on what sounds like a bitter weary farewell to a dead (physically or emotionally) ex lover. Her Dennyesque St Augustine, the album's midwife, is up next, followed by Lip Reading, a bit of a rock swagger with a phased guitars break and Gilmore back in pissed off mood about the herd mentality and the halfwits that in charge. Then, for me, the album's best cut, Heart String Blues, an early Dylan-like lyric, a circling guitar ringing folk-rock tune and a real punch the sky sense of emotional defiance.
Mud On My Shoes is a simple stomp blues number, almost jug band in places, sung with a bourbon smile and complete with a Gilmore laugh midway. The blues are present again on the whispery Water To Sky, veined with gospel and a subdued acoustic guitar, a spidery little number that seems to refer to a drowning, possibly suicide, but is probably a lot deeper than that. Listen carefully at the end and you'll hear studio chatter, a reminder that the tracks were recorded pretty much as live. Which leaves And We'll Dance, a gentle, folky slow waltz love song, Gilmore in heady voice and a calming evening sky note of peace after an album otherwise largely characterised by turbulence.
For an album that was never meant to exist it's another sterling reinforcement of Gilmore's talent as writer and performer; as Bukowski might have noted there is beauty in the gutter where the view is of the stars.
But that's not all. Those who get in early will find it comes as a ltd edition double CD of rarities and unreleased material, 11 tracks recorded 96-01, four taken from the ltd edition As If EP with one, Maybe, the B side of her Instead Of The Saints single, veering between the urgent rocking Hydrogen and Brittle Dreams, a choppy guitar bluesy Red Farm, the acoustic wistful folksiness of Beelzebub and the jazzy folk Lavender Cowgirl.
Mike Davies
---
Thea Gilmore - Rules For Jokers (Flying Sparks)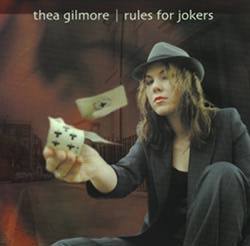 We don't have that many world-class female acts in English non-Mainstream music, capable of crossing over to the charts, to the USA or even the general consciousness of the great listening public. Kate Rusby has done it. Kathryn Williams has just been signed to Warner's East West (David Gray's label) and maybe twenty-one year old Thea Gilmore, through that indie label of excellent taste, Flying Sparks (Dolly Vardon, Gordon Haskell spring to mind), will be the next one.
Thea's third full-length, September-released album is another assured collection of strong songs. She can rock you and she can slow the pace and twist you around her little finger. She scores over her contemporaries with her sharp wit and a refreshing sense of fun, and her voice, warm and mature beyond her years, makes for enjoyable listening.
Thea plays acoustic and electric guitars, piano, kalimba, cimbala, and mbira. Robbie McIntosh adds electric guitar and acoustic slide. David Coulter features on saw, tenor banjo, q-cord, slide didgeridoo, jaw harp and accordion! The production is polished yet simple - Nigel Stonier again, who also plays acoustic and electric guitars, bass, piano, organ and harmonica. Thea blurs the boundaries of folk/pop/rock to deliver the best of all of them. File under 'good music'.
Sue Cavendish
---
Playing By Her Own Rules: Mike Davies meets the independently minded Thea Gilmore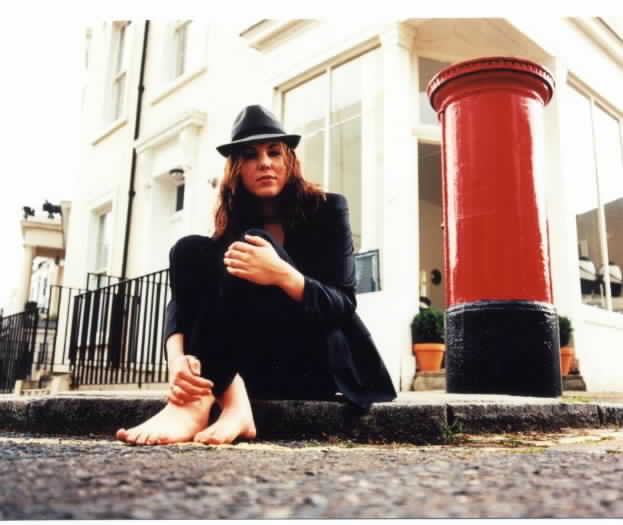 Okay, let's not beat about the bush, as far as singer-songwriters go there isn't a woman in the UK to touch Thea Gilmore. Still just 21, she's got three albums, two EPs and a stand alone single under her belt and there's not an ounce of filler on them. She's appeared on Later with Jools Holland, has been championed by Radio 2 and was nominated for 2 Brits awards in 2000. Not bad considering that five years ago she was making tea on work experience at Fairport Convention's recording studio in Banbury.
It was here that she met her regular producer and guitarist Nigel Stonier. During free time they'd sing together and talk about music, and aware that Gilmore was already a dab hand at stories and poetry, he suggested she might have a go at writing a song. Two days later she'd written her first. Within two years she'd released her first single, Instead of the Saints, on the tiny Beautiful Jo label and had a debut album, Burning Dorothy (a Wizard Of Oz reference, she hates that own back yard mentality) ready to be snapped up. The world beckoned. "As a starry-eyed kid I thought how great it was going to be and that I'd get a major label deal," she says in that well spoken slightly rural Oxfordshire accent. "Then I realised these people don't know what they're doing. There was a lot of interest but they all wanted to change me. They wanted to tell me what I could and couldn't write about and that I had to tour for six months. There was nothing conducive to artistic potential and I didn't want to be styled and sculpted, so my manager and I set up our own label. It was that easy and that quick." Released in 1999, she confesses the critical response caught her completely my surprise. "I'd just got back from a sparsely populated gig in Reading and was feeling down and there was Mojo on the doorstep and there was this huge review. It was like 'oh my God!' I thought I might get a couple of lines somewhere, I never expected anything like that."
And through the follow up Lipstick Conspiracies, the As If EP and the current Rules For Jokers, the critical adulation has continued to grow. And with it the inevitable comparisons; Joni Mitchell, Dylan, Costello, Ani DiFranco, Beth Orton, even Shania Twain. And, naturally for any female singer-songwriter with the slightest hint of confessional autobiography, Alanis Morissette.
Although she regards such categorisations as lazy, she'll happily go along with most, feeling honoured to be mentioned alongside names she regards as the cream of songwriters, artists whose music regularly filled the Gilmore household. "Even though I was born in 1979, when everyone else was into A Ha and New Kids On The Block I was into Dylan with my knackered copy of Bringing It All Back Home. So I guess I am a product of that, but it's the woman thing that gets me most - comparing me to Alanis Morissette because I happen to be young and have breasts!"
Reading her lyrics and talking to her, you get the impression that Gilmore isn't one who suffers fools readily. She knows herself and her own mind. But then growing up with Sixties radicals Irish parents with a penchant for 'weird' names (her sister's called Freyja) in a no-shop hamlet (population 200, only the one kid) outside Banbury will either make you a withdrawn emotional wreck or put steel in your spine and attitude. "School was," she chooses her words, "interesting. I never didn't get on with it but I did have a bit of a hard time because I was very much the outsider. But I liked it that way, being the solitary figure that people didn't quite know where I was coming from. I'm still that kind of person. I suppose it did kind of define the way I see things but being left alone with your thoughts was definitely the right recipe to become a songwriter. I also had a lot of adult company to broaden my perspective."
That and a voracious literary appetite for writers such as Kerouac, Ginsberg, Primo Levi and Tom Robbins fuelled Gilmore's early muse, producing her prize winning short stories and poems. Poetry remains a passion - witness the spoken Don't Set Foot Over The Railway Track on the As If EP and talk of a couple appearing on her next album - but the combination of Stonier's suggestions and her parents split turned her craft towards songwriting.
"I was still 16 when that happened and that affects your life. I suppose writing was a sort of solace from the ---- ups, that I was hiding in the songs a bit. It's easy to use songs to say something to someone that you can't do physically, so in a way I use them to protect myself from having to do that, yet at other times I'm saying 'here, this is what I think.'" Like the sleeve photo of her in loose grey striped suit, currently auburnish hair tumbling from beneath a trilby, there's definite attitude there. Whether it's acerbic attacks on consumerism, lovers' betrayals, emotional power politics, disintegrating society or the current album's twin assaults on the shallow jaded music business that are Benzedrine and Saviours And All or something as edgily vulnerable and disarming as the haunting and enigmatically '"specific" Holding Your Hand ("my version of Waiting For My Man - a love song in some strange, twisted way"), you're in no doubt that Gilmore isn't writing what she does simply because the words sound good. Her songs are a product of who she is.
"There's a bit of me as a fiction writer in there - like Seen It All Before - but most of it is autobiographical in one way or another. I think I'm about 20% the product of my parents and my environment, but I left home when I was sixteen and I made my own way. And although you don't realise the implications until you look back later, I went through life experiences far more than a kid of my age does or should. The songs are a bit more aggressive than I am in real life, which is probably quite healthy. I quite like the idea that when people meet me they think I'm going to tear their hair out. I'm not that nasty, though I can be and there are things I do have a screw you attitude towards. I don't trust easily at all, people have to earn it."
She likes to keep people on their toes. Which is why Rules For Jokers took a swerve away from the indie rock sound of its predecessor into a stripped down acoustic approach that quietly seethes rather than screams in the street and employs such exotic instruments as kalimba, thumb piano, didgeridoo and cimbala ("we stumbled into a world music instruments shop in Brighton and basically thought they sounded great and bought them") while the new non album single, the infectiously catchy Fever Beats, is back to full blooded roots-rock band. She jokingly says the next album could be another acoustic set or it could be a dance record. At least I think she's joking.
Sufficiently well grounded not to let the torrent of acclaim go to her head, she says good reviews can be more damaging than bad ones because while nice to have your ego stroked there's the temptation to apply what's said to your work and in the process lose what they liked because you end up writing for somebody else rather than yourself. And although she's just given in to pressure and made her first video (or more accurately anti-video), you suspect she's more prepared to compromise the level of her success than her independence.
"I've worked so hard to get the control I have that I'm not intending to lose it that easily. We're a small team of four and what's hard is trying to fit everything in. I've been offered contracts by three major labels but I've said no. That won't necessarily always be the case but I would need to ensure I retain the amount of control I have now and I don't think a label exists that would allow me to say exactly what and how I want to do things and still fund me. I'd like to go to America but it takes a long time to crack that and you can't do it without a major label and to get signed to one of them you have to live there too. And while I'd like to play some small gigs over there, I'm not prepared to do that. I'm quite happy trundling a round this country, just piling into a car and going to do a gig. The audiences have been growing since Radio 2 got on board and it's great that people come to actually listen.
It floors me a bit because there's all this noise and then I walk on stage and it's like a church. I feel privileged to be in front of people who want to listen to what I'm saying." Believe me, the privilege is all ours.
---
Richard Gilpin - Loose Ends (Own Label)
Belfast-born, Co. Donegal-based songwriter Richard's been active on the music scene since the late 80s with Lisburn-based band Admiral Speers, although he's been writing songs since the age of twelve! More recently he's supported Sean Keane, Niamh Parsons and Gene Clark on European tours, recorded an album with Portstewart band Greengrass, and, in 2004, performed with his band at BBC Music Live festival in Belfast and England's Greenbelt Arts Festival. Loose Ends is his third album, and stylistically follows a similarly disparate path from acoustic rock through gospel, modern country and folk-influenced anthems without diverging much from the mainstream in any of these idioms. Why tamper with a winning formula? - for this eclectic diversity had characterised Richard's two previous CDs (Beautiful Mistake and 33), and they were both well received and gained much airplay... but it's due to that very diversity that Loose Ends feels at times like a collection of just that, which is a pity for it contains some fine writing and some equally fine playing. As far as technical considerations go, Loose Ends is, like its predecessors, a most accomplished production, professional to the last detail with solid musicianship and great presentation (attractive booklet with full lyrics); it was recorded in Terry McGinty's studio in Co Donegal, and featured among the supporting cast are a host of Ireland's top musicians including Cathal Hayden (fiddle), John "Doc" Doherty (guitar), Peter Wilson aka Duke Special (piano), Donna Harkin (accordion) and Brendan Emmet (mandolin). Richard's a proficient songwriter, of that there's no doubt, and yet (for me, I'd stress) not all of his songs make the impact they perhaps should, for reasons I'm still wrestling with. I think, after careful consideration of all three of his albums - of which in this respect Loose Ends is quite typical – that the problem lies, in some cases at least, with the musical settings, which sometimes seem almost deliberately over-radio-friendly. Some features are obtrusive, such as the blowsy gospel-style choir (there presumably to emphasise the anthemic element) or a soulful-rock-style cloth à-la Van Morrison draped (however gingerly) over the often quite delicate word-content, making the songs seem more mundane than they really are. And the opener Soul Searching is a vapid reggae-inflected number that does nobody any favours and is thankfully not typical of the rest of the CD. I don't think it's just personal taste that has me preferring the folkier-sounding tracks, or those with a stronger narrative element; even Richard seems more comfortable with those somehow. The historical Ballad Of Francis And The Sultan, the stirring New Republic, the spiritually inspiring sweep of The Healing Pool, the plaintive and movingly simple pleading of Because You Can: these are standouts, against which the comparative triteness of Oscar Romero and the aforementioned Soul Searching stands out in the wrong way. I've held back on finishing this review because I wasn't sure how exactly to communicate my reactions in the most positive fashion, for I'm still not completely sold on Richard's music. For I believed - and still do - that Richard's songwriting and recording has much to commend it; I just also believe - and still do - that he may need at times to find a simpler, sparer (and arguably more immediate) medium in order to put across his thoughts and stories more effectively.
David Kidman June 2007
---
Gordon Giltrap - Captured From A Point In Time (Hypertension)
Gordon's regarded by guitar aficionados as simply one of the finest guitarists around, though his name is rarely spoken by the general folk fan. But he's been making his own supremely uplifting brand of fluidly-conceived and executed music since 1968, ploughing his own furrow and satisfying audiences royally wherever he's played. He hasn't changed his basic style much, but that doesn't mean his technique has stagnated: far from it, for his developing personal accomplishments have never been solely dictated by advances in technology and he wears his intense virtuosity very lightly indeed: a more unassuming musician you're unlikely to encounter, in fact. The Guitar Maestros DVD which Sound Techniques brought out earlier this year (also reviewed on this site) provided an illuminating insight into Gordon's playing and honed in on his easygoing and friendly, sharing personality. Although his compositions are tautly constructed, Gordon's belief in the immediacy of the moment of live performance is paramount, as the 16 tracks here, selected from several UK concerts - Captured From A Point In Time, indeed - abundantly demonstrate (and there's a bonus studio track too, The Dodo's Dream, which incorporates layerings from the piece of kit known as the Boss Loop Station). Perhaps unusually for an all-instrumental solo-guitar-album, this release makes for not merely pleasant but constantly interesting listening, highlighting Gordon's imaginative use of various effects both manually dextrous and specifically technical. Gordon's trademark is that he manages to coax a gorgeous ringing tone from his strings, while his complete mastery of so many picking styles will always mightily impress, and the set-list ranges from the breathtaking Pete Townshend-influenced showstopper Lucifer's Cage (still as stunning) through the excitingly busy TV theme piece Heartsong to the gentler pre-classical feel of Pedrolino. And Gordon's total immersion in his chosen vocation hasn't meant that he's unable to communicate this passion to his listeners, either with his actual playing or in his sincere, affectionate and informative notes, which give details of the tunings as well as the panoply of different guitars Gordon uses (though unfortunately due to a printing or editing error the notes for tracks 12 to 14 are entirely missing from the booklet). This album is, like a Giltrap concert, packed with utterly charming and accessible music, an eminently attractive listening experience but also a veritable guitarist's dream: it's your choice - sit and marvel open-mouthed at the man's fabulous musicality, or at the sheer number of notes he manages to cram in (!), or just relax and enjoy. Either way you'll not be disappointed by the musical content of this disc - although the audience approbation is all but inaudible until the very end.
www.giltrap.co.uk
David Kidman August 2007
---
Guitar Maestros DVD (Series 1): No. 8: Gordon Giltrap (Sound Techniques)
Following swiftly on from the Martin Carthy issue, this is one I've been eagerly anticipating. Gordon's another of those unsung heroes of the guitar, a consummate maestro who's refreshing in his altogether unassuming expertise. This latest title in the marvellous ongoing Guitar Maestros series follows roughly the same format as the previous seven: the Main Feature, lasting a little over an hour, consists of an interview incorporating live-in-the-studio performances of eight pieces, and it's followed by nine additional tracks and a twelve-minute bonus feature in which Gordon demonstrates the use of technology to enhance his playing. It's worth mentioning the latter aspect of Gordon's art at the outset, for it's one that despite best intentions is sometimes misconstrued; Gordon's view is that while acoustic music is essentially honest music, the organic nature of his compositions does in fact lend itself to the occasional use of creative technological enhancement to keep the music (and the performer!) fresh. While some guitarists may hide behind technology to mask their own inadequacies in technique, Gordon emphasises the selective nature of his own use of its possibilities; the bonus feature, Dodo's Dream, is a very persuasive demonstration of this indeed.
Elsewhere, the focus is firmly on direct hands-on-frets-and-strings, on a selection of pieces on which Gordon shows himself to be master of virtually any musical style (even though he modestly considers himself to be a living embodiment of the guiding principle of exploiting one's own limitations!). From the folk-style fingerwork of Maddie Goes West, the medievalism of Lord's Seat (much admired by Ritchie Blackmore) and the delicate 'harping' technique of Nursery Chimes to the devilish intricacy of Lucifer's Cage and the exciting, dashing, breakneck breezy percussiveness of Gordon's erstwhile 'hit single' Heartsong, this is an enchanting and stimulating set. From the very start, we get to appreciate the benefits of Gordon's unique right-hand technique (sometimes described as crab-like), whereby, using the little finger in tandem with the plectrum, he's able to integrate a harmony line into his playing. Other hallmarks of Gordon's technique are the gentle ringing tone and the delicate resonances he conjures from creative use of harmonics. When asked whether he practises (!), Gordon replies (with a typical combination of honesty and playful delight in sharing a confidence) that the best form of practice is the act of composition, the challenge of coming up with a melodic idea and then trying to play it! All of the pieces Gordon plays during the course of this DVD are his own compositions, primarily in the earcatching but tricky soundscape vein (sometimes, fairly reasonably, compared to Mike Oldfield - another former singer-songwriter who forsook singing for playing).
In communicating the music to us, Gordon treats us to a guided tour of his various guitars, relating the origin of each one and explaining any modifications which he's needed to make to the instruments themselves (after all, Gordon says, the instruments are organic, living objects). This aspect of the interview segment will surely be guitarists' heaven, with the Fylde Signature model (immortalised by Mark Radcliffe in his novel Northern Sky) possibly the pride of Gordon's collection but others (from the humble car boot sale, baby and tiny models to the more showy but intensely practical double-necked John Bailey) proving of much fascination to him too. And what a fantastic sound Gordon coaxes from the strings: often technically complex in execution, sure, but always highly musical and invariably intriguing and immensely appealing to listen to. Gordon is a true visionary of the guitar, and this DVD will prove a revelation to the viewer I'm sure; perhaps more so than some earlier issues in the series which dealt with more widely celebrated performers, it's as much a taster that will introduce Gordon's virtuosity and versatility to folks to whom he's (still) but a name, as a glorious set of intimate performances. It really does do Gordon's talents justice.
The camerawork is ideally executed, allowing close observation of plenty of all-important detail yet never becoming tedious or obscuring the wider picture of the rich musical canvas. The interview itself is well carried out, Trevor Dann knowing exactly when to pursue a line of enquiry further and when it has briefly and sensibly run its course. The sound quality is excellent, naturally, and the various access points and menus are simply and intelligently managed.
www.giltrap.co.uk
www.soundtechniques.co.uk
David Kidman April 2007
---
Gordon Giltrap & Martin Taylor - Giltrap and Taylor (P3 Music)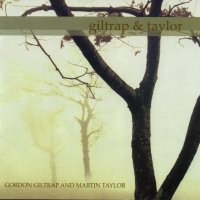 Both guitarists are so well known and respected in their own genres of folk and jazz guitar - the adjectives world-class and legendary spring instantly to mind - that there's no point taking the first paragraph to tell you all about them. But I will talk about the album and it's history!
From Giltrap's website: "Whilst touring in 1989, Gordon happened to be playing in Martin's home town. They met up after the concert, chatted generally and agreed to keep in touch. The following year Martin did get in touch suggesting the possibility of them playing together. Gordon's initial reaction was one of apprehension having never worked with a jazz musician let alone one of Martin's calibre. Eventually they did meet up and proved the point that, given the right choice of material and the desire to make it work, a collaboration of this kind can work. 'A Matter of Time' was released to coincide with their tour in the autumn of 1991".
This album of original compositions from both musicians has been digitally remastered and is re-released now with four bonus 'live' tracks. It's as smoothly polished as instrumental guitar music can be and yet retain it breathtaking freshness. The collaboration works exceedingly well. At times it's impossible to believe it's not an orchestra but just the two of them - guitar synthesizer and bass lines give it breadth and depth. And then there's the perfection in the detail: playing, phrasing and improvisation ...
Giltrap & Taylor is a Classic. This is true artistry for all those who love and play acoustic guitar - and for the latter, the tunings are given in the sleeve notes for each track! You know you'll want it - Oh yes you will! - go on, go on, go on!
www.martintaylor.com
www.giltrap.co.uk
Sue Cavendish
---
Joe Giltrap - Distant Memories (New Sound)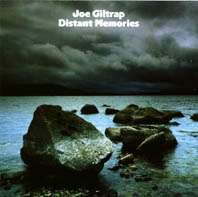 The ambience of distant memory is potent right from the outset on this release; the (singular) title track, in simultaneously evoking both modern-day Irish balladry and classic Americana, can be seen as a mirror of Joe's own personal lifetime achievements. Track 2, a sensitive new rendition of the Carter Family classic (You've Been A) Friend To Me, brings this combination of inspirations full circle in uniting country and Irish sources and performing traditions. Again mirroring Joe's enviable position as performer, troubadour and music venue proprietor all at once (in the latter guise Joe was "mine host" at the famed North London roots venues The Weavers and The Sir George Robey). Right from his stint with Irish Mist through to his half-dozen or so earlier solo albums (notably 1998's The Soldier's Tree), Joe's own music has always been highly regarded (it's been described as "the thinking man's Celtic and country"), and his warmly passionate vocal work draws you in immediately on this new release. It contains no fewer than ten fine new songs (half co-authored with the estimable Pat Tynan) alongside two covers and a few traditional adaptations. Joe's delivery on the John Kelly Trilogy (concerning the father of Australia's notorious Ned Kelly), especially the opening Cosa Bana, has the same compelling quality of whispersome understatement that you find in the singing of Christy Moore, while the instrumental backings (which, as on The Soldier's Tree, comes courtesy of fine folk like Joe's long-term collaborators Billy Thompson and Michael O'Rourke) are rich and accomplished yet always sensibly proportioned. At the midway-point of the set there's an interlude - a neat little spaghetti-western-Irish instrumental portrait (Mist On The Valley) featuring the glorious twangsome guitar of Wes McGhee. The album's only (minor) distraction is an occasional over-use of reverb on Joe's vocal. Whatever, this is a well-crafted and seriously magical product.
David Kidman
---
Girls, Guns and Glory - Sweet Nothings (Lonesome Day)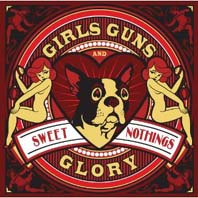 There's nothing about the Boston based four piece that makes them unique, they don't look to rewrite the country rock rule book, they're not offering innovation or anything you haven't heard, sometimes better, often worse, before. What they do is play honest, no frills twangy roots rock with punched up guitars, weeping steel, and instantly catchy melodies with frontman Ward Hayden's tenor vocal warbling in the tradition of Orbison and Isaak.
Sometimes their country hangs out with rock n roll and rockabilly (Sweet Nothings, Nighttime, Root Cellar, Snake Skin Belt), at others it either hunches over a saloon barstool, nursing a beer and a heartache (Last Night I Dreamed, Universe Began) or kicks up the dust with ringing alt country stompers like Not A Girl Left In The World and the slow burning fuse of Baby's Got A Dream.
A colourless duet with Sarah Borges on 1,000 Times, lets it down midway, both otherwise this is an album that might not make any best of lists but will always be reliably listenable.
Mike Davies September 2011
---
Girlyman - Everything's Easy (Girlyman)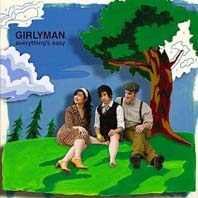 Formed in Brooklyn back in 2001, the trio of Doris Muramatsu, Tylan Greenstein and Nate Borofsky have been likened to a cocktail of Paul Simon, The Indigo Girls and Peter, Paul and Mary. It's a hard label to live up to and, to be honest, they don't quite consistently warrant such high comparisons. However, playing close harmony West Coast folk-pop influenced by such 60s legends as the Mamas and Papas, they do make a very attractive sound while infusing songs such as the Watergate era referencing childhood memories of Easy Bake Ovens and the bitter broken dreams of Somewhere Different Now with darker streaks.
Many of the songs deal with the trials and tribulations of dented romances and bruised relationships and all three have the sort of catch to their voice that carries you up in the emotional moment, at their very best on the hauntingly beautiful House Song with its doumbek, mandolin and bouzoki and (to show the circles in which they move) backing from Lucy Wainwright Roche.
Other highlights would have to be the liltingly gentle Trees Still Bend and the three part a capella Up To the Sea with melody courtesy of Beethoven, and there's enough here to suggest that they have a classic in them in the not too distant future.
Mike Davies March 2010
---
GiveWay - Lost In The Song (Greentrax)
For the four Johnson sisters, album number three has taken a little under three years to consummate, but in the intervening time there's been an impressive step-up in the maturity stakes, especially in terms of the vocals. However – and this may prove its Achilles heel for some listeners – there's been a corresponding move away from the more traditional folk-tune ambience of their 2003 debut Full Steam Ahead and their toe-dipping ventures into song on their second album (Inspired) towards an altogether more song-biased menu and a consciously pop-folk sound, the latter aspect being arguably a mixed blessing. The cover photo, of the lasses clad in best frocks stepping out across an Edinburgh cobbled street, spells "Scottish version of the Corrs" above anything else, and this is at once a fair and unfair comment. Fair in the sense of accurate, for certainly there's a similarly summery vibe to GiveWay's music-making that's acceptably accessible, allied to a sibling coordination of parts and lines. The inevitable concomitant is that (says he cautiously) some of GiveWay's songs (however winningly sung by Kirsty) do seem a touch on the slight side. However, their music for the most part manages to transcend the expected "folk-lite" charge, due partly to the inherent fire and sparkiness in the girls' playing and singing and partly to Phil Cunningham's cleanly-contoured and perceptive production.
The tracks that work best are those which retain enough of a traditional base amongst the folk-rock gestures – the instrumental sets, in particular Lofty's and Flipperfoot The Mugger (the latter one of several of Fiona's own tunes scattered throughout the disc). Then among the songs, I especially liked the appealingly rugged lilt of The Poaching Song (by Willie MacKenzie) and the title track, a radio-friendly folk-ballad by Eric Angus Whyte; on the other hand, I found GiveWay's treatment of The Water Is Wide unadventurous by comparison and too soft-edged, and their slightly country-tinged rendition of Vivien Scotson's This One's On You significantly underselling the lyric's defiance. The arrangements are mostly creative without being gimmicky, although there are still isolated moments when I feel they're striving for effect just a little too much. The funky Beginning Set (logically placed near the end of the CD!) is more in line with expectations from GiveWay's previous recordings, and it's bound to be (if it's not already!) a live favourite. This time, principal rhythmic drive is courtesy of Amy's drumkit, with help from guest Ross Hamilton's bass (and electric) guitar. Occasional thicker texturings are provided by a guest three-piece string section, and Phil C's trademark whistle makes a couple of appearances.
Generally speaking, GiveWay's latest is an engaging product, but I'd advise treading cautiously, for I'm not entirely convinced that the sisters' most viable artistic option lies with too readily embracing this more overtly commercial approach and sound.
David Kidman July 2009
---
Give Way - Inspired (Greentrax)
The four Johnson sisters return uncannily swiftly back to the studio after the success of their debut offering Full Steam Ahead, producing a followup CD that marks every inch the anticipated gain in maturity, while retaining that appealing youthful exuberance I'd noted on that debut. The principal difference on the new CD is the introduction of a couple of songs (one traditional, one contemporary) into the former 100%-tunes mix; Kirsty is now singing lead, and on this evidence (Are You Sleeping Maggie? especially) she's a very strong contender indeed and I really do hope we'll get to hear even more of her voice on the band's third album... Another pleasing development is the toning-down of the keyboard ubiquity that I'd felt spoiled Full Steam Ahead for me; the piano contributions on Inspired are anything but heavy-handed, and often rather delightful. The whole balance of the band sound has shifted a little in fact, and they now sound more like a contemporary Scottish band with roots deep in the tradition, as opposed to an all-purpose folk-tune outfit of no specific regional persuasion. I still feel that some of the percussion shadings are a little overdone, but that could be an over-reaction on my part. Each of the lasses play superbly throughout, whether or not you take their tender ages (maximum 19!) into account; Fiona's fiddle playing seems to have carved an even fierier notch for itself, as her contributions to the Shake A Leg and Pipe Slang sets in particular demonstrate - but in singling the fiddle out I wouldn't for a second undersell the commitment or growing expertise of the other three sisters. They've some imaginative ideas too, as the uniquely funky combination of electric guitar and bagpipes (the latter courtesy of guest Gareth Gardner) on track 9 proves. And once again, producer Phil Cunningham shows he can get the best out of the lasses. My only reservation this time is with the slight (if inescapable) "playing to the gallery" feeling that I get at key moments of startling gear-change (as at the frenzied gallop into Frank's Reel on the track 3 set) and some tryout-folk-rock-level drumming on a couple of the sets, elements which serve to make the progressions seem just that bit contrived. But when they get the changes right, as on their "air & strathspey" treatment of the Sandy Brechin tune Roddy's Last Trip for instance, the result is scintillating. And even the slightly "heavy-prog-by-numbers" feel of the closing set Rockin' just comes across as a bit of fun. Generally, the sense of momentous development from album number one to album two is praiseworthy, both tangible and highly credible, and I look forward to album number 3 with more impatience than I did to album two.
David Kidman, June 2006
---
Paddy Glackin - Glackin (Gael Linn)
One of the most mouth-watering of the latest tranche of reissues to come from the prestigious Gael Linn label is this 1977 solo album by founding member of Seachtar (the group that was later to become the Bothy Band), ace fiddler Paddy Glackin. It's been one of the label's most-requested candidates-for-reissue, and just one even cursory listen will tell you why at once, for it truly deserves the epithet "essential", in the "if you need just one album of classic traditional Irish fiddle playing in your collection…" category. Though born and raised in Clontarf village, Paddy's style of playing comes very audibly from his father Tom, steeped in the Donegal fiddle tradition, with further influence taken from itinerant Donegal fiddler John Doherty. Since making this album, Paddy has worked willingly in contexts other than what one might term authentic traditional music (session musician for Van Morrison and Kate Bush among others), but Glackin demonstrates that his art is most manifestly that of a solo player. It's best, then, that the vast majority of the tracks on Glackin are unaccompanied fiddle solos of one kind or another, with occasional excursions onto the viola (track 13, the luxurious-toned Julia Delaney's Reel/Mother's Delight set, is a model of sensitivity allied to rhythmic impetus). Whether essaying jigs, reels or more unorthodox pieces, Paddy really bows up a storm; his energy is breathtaking, his sense of rhythm and pacing unyielding but perfectly relaxed, his approach to variation inventive at all times and in all manner of moods. Of the handful of non-solo tracks, three are arranged by Micheál Ó Súilleabháin, who plays along with a continuo part on harpsichord (shades of the Ó Riáda, yet by the late 70s seeming distinctly old-fashioned in this context, albeit thankfully not as prissy!); on the glorious Pinch Of Snuff/Wild Irishman set (track 12) Paddy duets with his brother Seamus, and on The Gravel Walks reel (track 15) the pair are joined by second brother Kevin and father Tom, giving us a real powerhouse virtuoso display of effective octave-doubling (great though the rest of the album is, I'd have loved even more of those multi-fiddle extravaganzas – were there not any extra tracks lurking in the Gael Linn vaults, I wonder??!). Presentation-wise, it's a real shame that Gael Linn could not have taken the opportunity afforded by this reissue to incorporate into the skimpy booklet the personnel credits track-by-track, for without access to the information given on the press release I'd not have been aware of the identities of the additional fiddlers (and the Gaelic-only note on the back cover strangely omits mention of Kevin altogether).
David Kidman
---
Texas Gladden - Ballad Legacy (Rounder)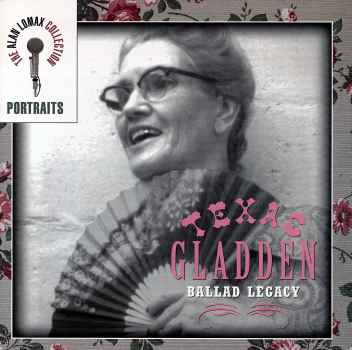 One of the finest releases in the extensive Alan Lomax Collection thus far, this album gathers together on a single disc 37 tracks recorded in 1941 and 1946 by the highly-rated Virginia singer Texas Gladden (born 1895). Hitherto known from just a few tracks on assorted anthologies, this full-length album of mostly previously unreleased material at last presents us with a long overdue chance to properly assess her stature. And extremely impressive she proves too; quite simply, an outstandingly fine singer and interpreter, notably of traditional ballads (on which this collection necessarily focuses). Her versions of these ballads were used as source material by many of the singers from the American revival ranging from Tom Paley to Joan Baez. But despite Texas' limited opportunities for public performance, her interpretations were always fully informed and properly considered, and the interview extracts included on this release provide a fascinating insight into her approach.
Her performances are imposing, feisty and fiery; quite stark, yet full of warmth and understanding, and these nuances shine through the often rather indifferent recording quality. Her singing style is quite plain and unadorned, though she makes extremely effective (albeit wholly subconscious, judging from her comments when interviewed) use of grace notes. Texas sings unaccompanied for the most part, but on a handful of tracks she's backed by her slightly younger brother Hobart Smith on banjo, fiddle or guitar (check out his amazing Blue Ridge Legacy release too). The performances are uniformly fascinating and deeply satisfying, and it's impossible to select highlights. In short, this is an essential release for anyone seriously interested in the ballad tradition and its place in the music of the Appalachians, and comes with great notes by John Cohen – an excellent presentation.
David Kidman
---
Andrea Glass - Stood Under Stars (Life and Living)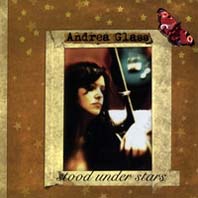 'Americana with a bit of Bolton rain thrown in' runs the tag line on the blurb introducing the world to something of a fairy tale story. Getting her first guitar when she was eight, Glass spent her teenage years learning to play songs by names like Creedence, Gram Parsons and Dylan but never put much stock in her own abilities.
Cut to last year when, now living and teaching in London, she decided to post some of her songs on MySpace. Next thing you know Kevin Montgomery's in touch inviting her over to Nashville. So, last July, she quit her job, home and London and set off for America with her red Gibson J 200 where, with Montgomery assuming production duties, she found herself sharing studio space with the likes of Al Perkins, guitarist Shawn Byrne and bassist Danny White recording what turns out to be one of the finest debut albums of the year.
Happily Glass doesn't adopt some warbling twang to try convince you she was raised in the MidWest rather than Yorkshire, instead that native accent is appealingly evident, just a county away from sounding a bit like Kate Rusby fronting the Broken Family Band. The album plays its most immediate card first with We Could Be Over, a jangly folk-pop number with banjo and Hammond that, with lines like "I'm sleeping in the shadow of your cold shoulder", should have every female country act on the block lining up to cover it.
But there's plenty more here to go around with her songs of bruised love and yearning hearts; the Gretchen Peters tinged Don't Burn Down The House, a high lonesome North Wind with its shuffling brushed percussion, pedal steel and twangy acoustic guitar sounding like a meeting between Lucinda and Linda Thompson while On My Mind takes a train rhythm ride down Americana's blue jean lost highways.
Montogomery's production is spot on and the band are as relaxed as only musicians this tight can be, but it's Glass' voice and songs with their poetic weather-drawn imagery that are the album's true lustre. It's rare to find a new name emerging so fully formed, but with numbers like the moody slow waltzed Hurricane's tale of a stagnant relationship, a keening Going Nowhere, the jogging bluegrass The Price, a Shawn Colvin like Always and the throaty country rock rumble Out Of Here Glass sounds like she's been around for ages. She's going to be too.
www.myspace.com/andreaglassmusic
Mike Davies February 2008
---
Howard Glazer & The El 34s - Brown Paper Bag (Random Chance)
The sleeve of Brown Paper Bag professes that Howard Glazer was influenced by Johnny Winter, Muddy Waters and Kim Simmonds and this 13 track album of original blues rock includes elements from all three. The El 34s are a classic power trio consisting of Glazer on electric guitar, acoustic resonator guitar and vocals, Bob Godwin on bass and Charles Stuart on drums. They open with the eponymous title track which has a great introduction with strong guitar from Glazer. His vocal delivery is interesting to say the least. It does get a bit laboured at points but gets better with repeated listening, can't fault the guitar though. Cold, Sad And Lonely is a slow blues burner and his vocal is almost snarled at the listener. I don't know who he has styled himself on but it is vaguely familiar. Steamrollin' Baby is played on acoustic resonator and is very proficient, if unspectacular but the deft, Chicago style guitar work on Going To Chicago makes it a highlight although the female backing vocal only highlights Glazer's limitations. Having said that, Sad Situation, a slow, classy blues actually has Howard's best vocal so far. The acoustic Radioactive Woman tells of Glazer's past employment in a power plant and that's why he wrote the song. However, this is hardly a radioactive performance.
Backing vocals help out the Louisiana swamp inspired stomper, Don't You Love Me No More and they're off into Delta blues on Full Moon Blues where the painfully slow style suits his voice better. This steel guitar song is one of the best on the album. Another different style is the jazz blues of Mean Hearted Woman. Again, he turns in an excellent introduction and the vocal is passable but like most of the songs it is carried by his guitar playing. You could quite easily have been listening to Jimi Hendrix on the introduction to The Dogs They Bark At Midnight and it just gets better – a highlight. One criticism I have is that sometimes Howard tries to get too many words in and Smokin' And Drinkin' is a case in point. Still can't fault the guitar though. There's another slow, moody blues on Start Again and I'm getting more used to his voice. This is definitely his type of song and there's more than a passing nod to John Lee Hooker here. The final track, Freedom, is a strange guitar instrumental and it's not really necessary.
A bit of a mixed bag but the trio are very tight, Glazer is an excellent guitarist and there are some good songs in there.
David Blue April 2006
---
The Glencraig Scottish Dance Band - The Ceilidh / The Reel Party (Greentrax) This premier Scottish dance band is one of the few within that field that specialises in playing for all types of Scottish social dancing, a versatility which is reflected in the appearance in quick succession of two complementary yet quite different CDs, the first in a projected series of four each defining a particular individual style of Scottish dance music. The first, subtitled The Ceilidh: Are Ye Dancin'?, is a relaxed sequence of 17 sets that conveys the exact sense of informal enjoyment of the dance activity that is the true Scottish Ceilidh experience. The Glencraig outfit was formed back in 1983, and has gone on from humble beginnings to become one of Scotland's most popular dance bands, having taken part in many broadcasts for the weekly dance-addict's fix, Robbie Shepherd's Take The Floor programme on BBC Radio Scotland. Theirs is a straight-down-the-line approach to the music, a simple two-accordions/fiddle/piano/double bass/drums lineup with no trendy gimmicks and no alien instrumentation, and fully resisting any attempts at modernisation or global fusion. Dance music played completely authentically: great to listen to and set the feet tapping, no further comment necessary. The second CD, subtitled The Reel Party: Are Ye Askin'?, is an ideal companion to the first disc, being a sequence of 15 tracks of music for Reeling which capture the mood and feeling of the traditional Reel Party activity. This means a healthy mix of marches, barn dances, two-steps and waltzes alongside the inevitable reels, and like the first disc demonstrates the band's leader Nicol McLaren's gift for arranging and selecting tunes that sit (or should I say dance!) well together and prove entirely fit for purpose. Talking of which, the presentation of these discs is exemplary, with full dance instructions given in the booklets, so if you're a Scottish dance music enthusiast you can't put a step wrong with these fine discs which are crammed full of sparkling, fresh, fleet-footed playing; if anything, the playing on the second disc is even more immediate than the first, with the bonus of a couple of more extended sets (Eightsome Reel, Glasgow Highlanders) to get immersed in. This is Scottish dance music and proud of it!

David Kidman October 2007
---
The Gliders - Clear Blue Skies (Shaker Records)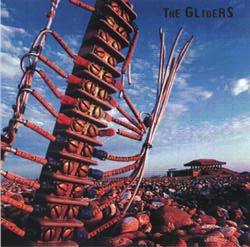 The Gliders play earthy, acoustic pop rhythm and blues - the sort that makes you want to stomp your feet and slide your hips. Theirs is all original material, written by Sean Lyons (twelve string guitar) and Andy Taylor (lead vocals and harmonica), who started to write together after discovering a mutual love of Leadbelly and swamp music. Third member Morris Windsor plays hard-hitting drums and percussion, standing up 'live', with minimal kit almost to rival that of Tom McCrum of Tandy. Less can be more and Windsor is right there giving a distinctive beat - and singing backing vocals. It's a disconcertingly big sound from a no-nonsense small band which translates perfectly to the stage.
B.J. Cole helps out on pedal steel on a couple of album tracks but their definitive sound is provided by Lyons' acoustic swampy riffs and Taylor's blues harmonica. 'Live' Taylor's vocals are a fiery, shout-out growling howl. On the album, they are more subtly bluesy and he uses a trick to distort his voice through the harmonica mike on a couple of tracks. And then there are ballads where he taps a more melodious and bittersweet vein. Overall the album's a gem - to play again and again. In these days of desperately average music 'Clear Blue Skies' sparkles with real talent and integrity.
These guys have quite a pedigree. Taylor was lead vocalist with the Jazz Devils; Lyons has played with George Clinton, Robyn Hitchcock and Brian Kennedy; Windsor is a founder member of The Soft Boys and the Egyptians. The album's opening track, Snakes and Ladders, has been used in 'Lock Stock and 4 Stolen Hooves' and will be released on the film's compilation album.
Sue Cavendish
---
Kieran Goss - I'll Be Seeing You (Cog Communications)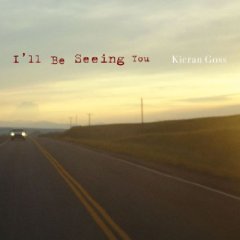 For two decades, Goss has been building a reputation as one of Ireland's best country exports who, while he might not be at home among the hard living, hard country outlaws and hellslingers his warm melodic style will always find a welcome among those who like their country at the softer end of the spectrum.
Listening to the dappled rhythms of the nostalgic One Boy's Treasure, a song he co-wrote with Beth Nielsen Chapman, or the Irish misted Make The Morning Shine it's hard not to find yourself comparing him to Don Williams, an artist with whom he toured a few years back. He has that same laid back sleepy-eyed style and gently rolling way with a melody, but you'll likely also hear shades of Rodney Crowell, James Taylor, and Townes Van Zandt in and among a set of gently strummed tunes that may, on The One That Got Away and the breezily romantic The Reason Why, break into a shuffle but certainly never break into a sweat.
The loss of mother and sister-in-law to cancer and the diagnosis of his wife's breast cancer during the album's making inevitably lends the air of reflection and contemplation that blows through such heartfelt numbers as I'll Be Seeing You (where Ann Kinsella and Kimmie Rhodes provide backing vocals), Into Your Arms (very Willie Nelson) and No Good Without You. However, while sadness hovers, the album's also sprinkled with quiet joys and celebrations of love and life, as on the jaunty jogging Let Me Take You Home Tonight (which sounds like a slowed down Elvis number) and the Rhodes co-penned Line Of Innocence. Nothing to make the earth move perhaps, but it might just cause a few tremors among those with whom it will strike a chord.
www.kierangoss.com
www.myspace.com/kierangoss
Mike Davies February 2010
---
Dave Goulder - The Golden Days Of Steam (Fellside)
Everyone knows Dave as writer of that exceptional opus The January Man, but he's written many many more fine songs, and it's always good to encounter a selection on CD. This well-filled new disc is a compilation bringing together all (I think!) of Dave's railway-related songs, as previously issued on two separate LPs recorded 17 years apart.
A vital thing to note is that these songs are authentically driven, in that they're clearly written by someone with both a practical working knowledge of railways (and the railway industry) and a genuine affection for railways and everything they represent, their role in society and their importance and relevance to humankind. Dave spent much of his early working life on the railways, as station porter then engine cleaner and fireman, leaving service in 1961 before the Beeching axe started to fall only a couple of years later.
Dave's bleak view of the future of the railways was powerfully conveyed in the songs written for Requiem For Steam, the classic 1971 LP which (reproduced in its entirety) forms the bonus section of this new CD. These include laments for specific railways (Shut-down Of The Pinxton Line), reminiscences of the harshness of life as a railwayman (The Money Doesn't Go Very Far), narratives based on real events (Pinwherry Dip, Turntable Song) and actual memories (The Day We Run Away) and an ode to the Black Five engine, all balanced by the music-hall humour of Father Doesn't Fancy Work At All and the joke-tale (cod-shanty) Ivor The Driver. Dave and his guitar are accompanied at strategic points by Martin Carthy, Brian Cooper, Trevor Crozier and (spoons virtuoso) Maddy Prior, and this is a fine set that richly deserves this belated CD release.
The second of the two original LPs, 1988's The Man Who Put The Engine In The Chip Shop, is placed first on this latest reissue; its material was written at a time when the railway scene had changed, with the advent of steam preservation societies and the like, and this mood of cautious optimism informs at least some of the material, albeit tempered with both a keen (and unsentimental) nostalgia and genuine heartfelt regret. Dave tellingly celebrates the great days of steam on The Settle & Carlisle and Race To The North, atmospherically depicts the bitter winter of 1947 on Snow Train, and examines the plight of the railwaymen who didn't survive the Beeching-era changes in The Dinosaur The Railway Left Behind. In this latter connection, Dave displays his admiration of the art of fellow-songwriter Cyril Tawney by including Cyril's masterly, elegiac In The Sidings Now; and it's indicative of its supreme quality that the only other non-Goulder composition chosen for this LP is Stanley Accrington's tender, poignant Last Train. There's a touch of Jake Thackray about some of Dave's songs too, I feel (that's meant as a compliment), both in the slightly laconic manner of expression and the keen observation (as in vignettes like Station People), also in the rippling guitar backings. On the 1988 LP, the songs are interspersed with "actuality" sound recordings (mostly engines in action, and some railway environments) - steamy encounters of the closest kind, one might say!
This handsome reissue, presented and remastered to Fellside's usual high standards, furnishes an ideal opportunity to catch up, both on the music as a social document and on some seriously good songwriting. For it's not only the railway enthusiast who will be chuffed at seeing this release in the racks.
David Kidman July 2009
---
Tim Goulding - Midnight Fry (Sweet Ticket)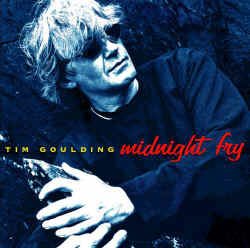 Hey, remember Dr. Strangely Strange? That "oddly normal" bunch of progressive folksters from the late 60s who recorded a couple of albums, vanished off to remote parts (Tim himself became a painter) then (sort of) re-formed in recent years, with a well-received 1997 comeback album Alternative Medicine. Well, the good Doctor's vocalist/whistler/keyboardist here serves up a veritable feast of a solo album (the title aptly heralds a session musician's culinary delight). Assisted by an army of collaborators - including Jimmy Bergin, Mary Greene, Barnes Goulding, the remaining Strangelies, others too numerous to even hint at - and a multitude of samples from anywhichwhere, this is a really scintillating mix of all manner of folk and world influences that makes the tag "an Irish Peter Gabriel" seem merely a limp soundbite. Celtic folk meets trip hop, jazz, dance, ska, dub, lazy blues…. Heard it all before? Well you ain't. Maybe it's not pumping beats as fierce as Martyn Bennett, but there's the same cutting-edge thoughtful wildness about much of the music here, despite some particularly cool (and controlled) vocal work. The sense of place (in this case the remote Beara peninsula in West Cork) evoked by the distinctive aural atmosphere of the oft-remixed recording is quite tangible, particularly on cuts like Eagle Hill and Piece Of Cod (an unrecorded Strangelies song which yea, certainly passeth all understanding!), while Tim's deep respect for both traditional acoustic music and the digital revolution is well conveyed. Riding High may initially sound like Donovan covering Christy Moore, but its apparent simplicity is deceptive; the wistful Father's Song proves more direct in its simple and universal appeal. Tim's whistle playing adds something really special to the aforementioned Cod and brightens the otherwise relatively orthodox reggae groove of The Miracle, while the cheesy 80s pop-synth bounce of the "bonus track" Toast Your Own transmutes quite effortlessly into Bollywood klutz before slinking away. Full of incidental delights, this album blends thoughtful subtlety with invigorating and inventive spontaneity, and it's definitely one to grow into.
David Kidman
---
Gloria - Living For Me (Own Label)
Here's a very fine singer-songwriter with a strikingly individual writing talent, who also happens to be a nimble yet forthright guitar player (always a welcome bonus in the s/s arena) and an appealingly capable singer who betrays proven experience on the folk circuit. Gloria also has an open-minded approach to arrangement, with electric as well as acoustic guitar textures and subtle keyboard and programming effects which for the most part genuinely enhance the basic s/s template without being over-obtrusive.
Perhaps inevitably, being based in Yorkshire means that Gloria writes some songs inspired by that region's locations and key experiences and memories there; Leeds Brig poetically and creatively utilises the image of crossing the river (Aire) as a metaphor for a more personal journey towards self-realisation, and the title track knowingly namechecks several now-long-defunct Leeds (folk) clubs. Moving further afield geographically for subject matter finds Gloria in Manchester's Village (Canal Street), while Gloria's penchant for unearthing fascinating biographies of total unknowns is evident on The Disappearance Of Arthur Cravan (I won't spoil the surprise). Alongside these demonstrations of Gloria's innate concern for others is displayed a more personal slant in the writing of songs like Wheels Within Wheels and Being Here, which express simply and powerfully the revelations of self-discovery and the resultant optimism.
The disc is completed with a few covers – of a sort… An intriguingly "foxy" version of the perennially intriguing ballad of Reynardine, some truly lovely settings (also by Gloria) of two Shakespeare sonnets and four Japanese poems, and – very probably most compelling of all – Burns' A Man's A Man, sung (as Gloria's own note succinctly and tellingly puts it) "with electric guitar, some emotion, and a faint hint of irony". This special interpretation really needs to be heard – as does the whole CD – and no irony is intended when I say that on this disc the quality is no less than "Gloria in excelsis".
www.myspace.com/gloriajeffries
David Kidman February 2010
---
G. Love - The Hustle (Bushfire Records)
It was a moment of déjà vu when I saw this G Love release appear over the horizon. Back in the mid 90's, I drooled over a self-titled 'G. Love and Special Sauce' release which had a bluesy rap style which just somehow struck a chord. It obviously had the same effect on others as this style now gets called the Hip Hop Blues.
Don't ask me what happened in the meantime..maybe, it was a major label 'shadow' that hid him...but it's great to pick up this new release. 'Booty Call' immediately throws me back with its extraordinary funky rap. And, yes, it's rather a saucy lyric but G. Love has grown up some and, as he says, he sings about the world as it is and not how he wants it to be. Ah, those shackles of maturity have appeared. Mind you, they don't hold the boy back; no sir.
Tracks like 'Give It To You' drag in reggae influences whilst the title track stays true to his earlier bluesy style. As the funky 'Front Porch Lounger' slides along, you hear the kids shouting in the background as he sings about lemonade drinking and blows the harmonica. Just how laid back can this get? Well, the brushes flitting across the drums on 'Love For Me' just piles on that chilled out summer feel. This reaches its high point with 'Stone Me' where you'll be sliding off your seat before drifting away to the French rap on 'Two birds'. But don't think that this is soporific stuff. It's laid back in that J.J. Cale way but with enough up tempo funk to keep your feet shuffling on tracks like 'Don't Drop It'. Anyone out there wishing summer was here could do worse than starting with 'The Hustle'.
Steve Henderson
---
Ben Glover - Before The Birds (Own Label)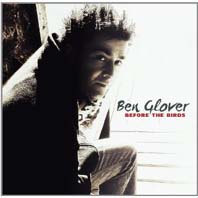 The Co Antrim songwriter's third album in as many years, like its predecessors it was recorded in Nashville and, like his sophomore release, finds Neilson Hubbard taking care of production duties as well as providing bass, piano, acoustic guitar and four co-writes. Having previously notched up comparisons to Earle, Forbert, Springsteen, Morrison and Gray, while faint traces remain here and there (along with a vague hint of Dylan) this time round he's very much his own voice.
Indeed two of the songs contain specific lines about following your own instincts. On the hushed and dusty slow sway Americana of Trick Of The Light he sings "there's no path to follow, we make our own road" while To Believe, a gently jogging folky number with muted gospel organ backing on the chorus, offers "loosen up your golden chain, follow where your road will lead."
The song itself is about relationships and how sometimes you can only hold on by letting go. And, just as he sings "and while you wander should you wonder just exactly what you need and your heart tells you it's me I hope you find a reason to believe, bring it back to me" so many of the songs here are about building solid relationships, the difficulties of making them work and of the distances that often open up even when the bonds remain connected.
On the jangling mid-tempo You Are The Same As The Tide, one of the many highlights, his lover's "rushing in and pulling away always out when I'm standing on the beach" while the opening line of the chords tumbling Any Other Way declares "you and me we're like a hammer and nail I guess we go together" as he again sings about being there when his lover's done 'flyin 'round'.
Accompanied by a melancholic plucked banjo, the slowly gathering Lockdown will strike a note with anyone who's found it impossible to break through another's self-defensive walls and of the hurt silence can cause. It's a song Tom Petty would have been proud to write.
Sketching pictures, Glover's lyrics are economical and direct, yet emotionally poetic. It's testament to his writing skills and the conviction of his heart that he can write something called Song Of A Caged Bird Singing with a line about a broken wing and soar above the inherent cliches.
Much of the album plays out with simple acoustic melodies, gathering the sadness around the guitar strings and Glover's whispery vocals, the songs suffused with longing, whether it be for home (the dreamy Almost Home with its keening pedal steel) or for contact and communication, beautifully captured in the soulful, flugelhorn-kissed At The Car Park where two souls and the whole word sit lonely in the dark.
Ultimately, though, he's a hopeful romantic. Backed by a Memphis soul late night Hammond organ, on the slow waltzing retro groove Sweet On You, co-written with backing singer Kaci Bolls, he whispers "I think of forever when I think of us.. Stay sweet on me, whatever you do, I'll always want to stay sweet on you."
Take a listen, because this is a musical love affair you'll want to be in for the long haul.
Mike Davies May 2011
---
Ben Glover - Through The Noise, Through The Night (Mr Jones)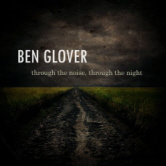 Two years ago, trhe Co Antrim singer-songwriter made his debut with The Week The Clock's Changed. Reviewing here, I likened him to Steve Earle, Ryan Adams and Springsteen but also noted how one of the tracks reminded me of Steve Forbert.
It's Forbert who, in terms of phrasing, vocal kinship and easy rolling melodies, is the strongest comparison on this, Glover's sophomore release. Again recorded in Nashville, this time produced by Neilson Hubbard, it may not have the heavy hitter guests (Gill, Lauderdale, Miller) of its predecessor but the musicians are first class and among the co-writers you'll find the name of one Mary Gauthier. Their joint effort, the gently humming Full Moon Child, gets the album off to a glittering start, Glover's dusty voice in fine yearning fettle as he spins the bittersweet story of a part time motel weekend bartender with 'the same last name as a well known whisky', living on cheap cigarettes and unfulfilled dreams.
A classic in the making, it's worth the price alone, but that's just a taster of what lies ahead. One of the more Forbert-like numbers, Monument Green reveals Glover's keen ear for a catchy pop melody, Where The Lines Are (from whence the title comes) is a fine example of shuffling Celtic Americana that will again draw David Gray references just as Let It Do What It Does reveals a streak of Van.
If there's a flaw it's that, after the fourth track, I Am, You Are, an anthemic piano ballad waiting for the right stadium, the material's less immediate and more moody. However, that's not to criticise the quality of numbers like the Mike Scott-styled big music of Grounded, wry love song The Hat or First Chance For Second Lies, a track that wouldn't sound out of place on a best of Fleetwood Mac.
Besides which, the album ends on as a high a note as it began with Too Late To Leave Her Alone, a seven minute slow waltzer unfolding to guitar, piano and strings backing that evokes star flickering desert night skies and carries you away like a passing comet. The man deserves to be huge. Consider it your duty to help him on the way.
www.benglover.co.uk
www.myspace.com/benglovermusic
Mike Davies May 2010
---
Ben Glover & The Earls - The Weeks The Clocks Changed (Mr Jones)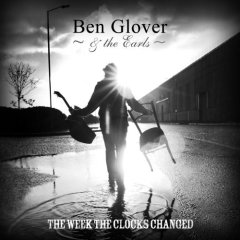 Another Irish singer-songwriter looking to make a name, Glover hails from County Antrim and apparently spent quite a while listening to Tom Waits and Dylan. Indeed, the opening track of hos debut album is actually titled No Direction Home. However, he sounds much more like he could be a new Ryan Adams or Steve Earle, which is perhaps why his backing band's called The Earls. Recorded in Nashville with legendary producer JD Foster, there's a definite Americana feel to his Celtic soul and he's got some heavyweight names chipping, not least Al Perkins, Vince Gill, Jim Lauderdale and Buddy Miller. You can understad why they'd want to be involved.
Glover's got a distinctive dusty twang to the throat and he writes strong, melodic songs about love and taking chances veined with memorable, poetic images, certainly ones likely to spent some profitable time doing the rounds of Nashville's own recording stars.
Both the slow acoustic Atlantic Eyes and, reprised from his debut EP, storysong The Ballad of Carla Boone hint at Springsteen and are among the stand out cuts, but there's little here that doesn't measure up. The jauntily upbeat Things Haven't Started Happening Yet harks to early Steve Forbert, Daybreaker has a similar wearied quality to David Gray back when he was interesting, while Strong Enough For This could stand alongside the Jayhawks, Melodies Of Midnight hints at the early country explorations of the Stones and Tennessee Take Me has that early Earle glow.
But for all the comparisons, Glover emerges as his own voice, and with the likes of the soulful Mercury Is Falling and the organ backed Midnight Scarlett where he conjures a singing Second Street siren who 'rattles choirs of angels', it's one you'll be wanting to hear more from.
www.benglover.co.uk
www.myspace.com/benglovermusic
Mike Davies June 2008
---
Gnidrolog - In Search Of Harry's Toenail/ Lady Lake (BGO)
With a band name like that and a title like that, this could only be classic 70s prog - and so it proves. But don't laugh - for this band was in my opinion one of the finest unsung outfits that ever roamed the genre, albeit consigned to the shameful toenail-clipping status of honorary also-rans. Gnidrolog (a near-anagram of the surname of co-founders - twins Colin and Stewart Goldring) forged a distinctive style almost all their own between 1969 and 1972, when their first LP In Search Of Harry's Toenail was released by the decidedly non-prog label RCA. Without being specially derivative, the Gnidrolog sound contained elements of King Crimson (without Crimso's harsh beauty-vs-brutal terror dichotomy), Gentle Giant, Brick-vintage Jethro Tull, VDGG (if not quite so lyrically despairing), and on that debut LP there were even passages of mystical medieval recorder à-la Blondel and driving Quo-style boogie! Add into the mix a penchant for inventive gear-changes and sensible (if still sudden) mood swings, and a refreshing complete eschewing of farting synths and other keyboards and other intrusive gimmicks beloved of some bands of the day such as swamping sound-effects. With an initial lineup completed by bassist Peter Cowling and drummer Nigel Pegrum (who was later to join Steeleye Span, of course), Gnidrolog had a persuasive complement of instrumental skills on which to draw - even without the keyboards that seemingly were de-rigeur for a 70s prog outfit! Their first LP was a darned fine product, and contained music of lasting impact, plenty of dynamic contrast and some markedly interesting arrangements, even if at times the lyric content didn't quite measure up to the standard of, say, a Hammill. By the time of Lady Lake, the band had expanded to bring in sax/flute virtuoso John Earle, whose presence made the band sound if anything even more VDGG-like at times - although, as any even cursory listen to the album will reveal, Gnidrolog possessed an individuality of vision that was in its own way every bit as compelling, if necessarily altogether less dark-toned. The band's increasing stylistic maturity had by then also brought a new sense of economy of expression to the more "epic" tracks (though they hadn't exactly been slouches in this regard on their debut, where any excesses were better controlled than those of many more experienced prog bands). Sadly, however, the album was another commercial failure, and neither history nor the otherwise excellent booklet-notes reveal what exactly happened to force the band to call it a day (presumably some time in the mid-70s). But whatever, it's so good to have this "lost" chapter of British prog restored to the catalogue on CD, and the fresh ears of today will be able to revel in the glorious sound of Gnidrolog without a snigger.
David Kidman
---
The Go-Betweens - Bright Yellow, Bright Orange (Circus)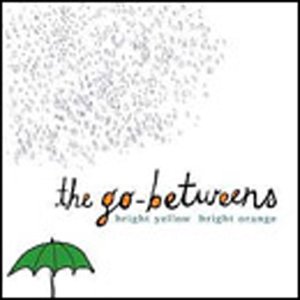 Having resurrected the band after a 12 year gap with 2000's The Friends Of Rachel Worth, Grant McLennan and Robert Forster continue the comeback with a second post reunion collection of reflective doomed romanticism, here as often evocative of Crowded House (Mrs Morgan) - who must surely owe them a debt of influence - as the Velvets (Caroline and I, on which Forster compares his life with Princess Caroline of Monaco) and Dylan (Too Much Of One Thing).
Not all of it's immediate, Old Mexico takes a few listens to get inside, but their combination of bruised by life vocals (at the album's aching best on Crooked Lines), modern day folk ballads (the baroque In Her Diary, a sort of latter day Eleanor Rigby) and jangling guitars (tumbling in glorious rush through album highpoint Poison In The Walls) is ample reason to celebrate their decision to give it another shot.
Mike Davies
---
David Gogo - Different Views (Cordova Bay Records)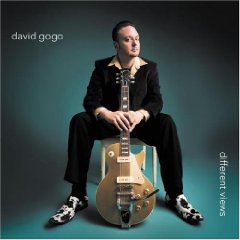 Canadian singer/guitarist David Gogo has released nine albums prior to Different Views but this is his first in three years. Too Late To Stop Now is a high energy rocker with Gogo excelling on slide guitar. There are blues and Cajun influences all over this. Don't Bring Me Down is a Goffin & King song, but not that you'd recognise it after the David Gogo treatment. This rocked up R&B is excellent. There's a big vocal performance on Lies and the overall feel of the album so far, is that it is earthier than his last. Erase Any Trace is an acoustic led blues rock that is very classy and Gogo returns to slide guitar with panache. I'll Get Over It has a big, big production and Gold is pure West Coast acoustic rock - excellent from the first note.

Where The Devil Won't Go has echoes of John Lee Hooker and it's a big, ballsy blues. There is a real maturity to Gogo's songwriting and this is personified by Gunslinger, which is a bouncy soulful example. The following track, Relax, is an instruction, so do as the title says and just enjoy some beautiful sounds. Over And Over is a strolling, swinging blues with soaring guitar - a classy track. He's building up to a strong end to the album and Since You're Gone is a beefy R&B. He follows it up with I'll Do It Myself and this all out rocker is the perfect way to round things off.

David Blue October 2009
---
David Gogo - Skeleton Key (Cordova Bay)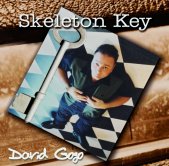 Skeleton Key is David Gogo's fifth album for Cordova Bay Records. It is the follow up to the acclaimed Halfway To Memphis and is a mixture of covers and original material. The album kicks off in rocking style with the self-penned (Just Ask) Jesse James and then leaps into a thundering version of Albert Collins' Backstroke.
Gogo's songwriting talent is to the fore in the ballad I Can Still Hear You Crying and this is one of the highlights for me. Stay Away From My Home allows him to cut loose with his excellent guitar playing while the title track shows his soulful side.
Another of the covers, Otis Spann's Walkin ' is given a treatment by Gogo's drummer and the Paul Butterfield classic Reap What You Sow is tastefully dealt with. The tempo is raised again with Gogo's Things Are About To Change, a B.B. King style shuffler with tremendous guitar work.
There is still place for four other covers and Willie Dixon's It Don't Make Sense (That You Can't Make Peace) is next up. Gogo turns this into an eight-minute epic with searing guitar in the forefront. Stevie Wonder's Signed, Sealed, Delivered is a much slowed down version from the original and may disappoint Motown enthusiasts.
The next track is a strange choice in that it is a cover of Depeche Mode's Personal Jesus. If anything, Gogo rocks the song up from the original and, in my opinion, just about gets away with it. The final original song Belgian Moon has the best riff of the album and again showcases his fantastic guitar playing. The last track of the album is Curtis Mayfield's Fool For You and takes us back to soul, albeit the rockier side, and has a dreamy fade-out.
I think that the original songs on the album are better than the covers and that Gogo has a good voice, an excellent songwriting talent and a brilliant guitar style.
www.davidgogo.org
www.cordovabay.com
David Blue
---
Beck Goldsmith - Purely Second Guesses (Elk Road Records)
Us hapless writers spend a disproportionate amount of time trying to get hold of albums we really need to review (and failing, due to the arcane practices of promoters who insist on maintaining a restricted mailout list of the "big name" publications), while many of the albums we small fry get sent instead are unsolicited try-ons from anxious agents and promoters. With the best will in the world, Beck Goldsmith's CD falls squarely into the latter category. It purports to draw its greatest influences from contemporary folk and acoustic rock; Beck's a young Nottinghamshire singer-songwriter who's influenced by the likes of Jackson Browne, Van Morrison, Carole King, Joni Mitchell (she says)... OK, so the songs grow on you quite a bit, but taken together they're a bit of a one-track journey of reflection that goes nowhere in particular. Beck's blessed with a good voice, although her delivery is a bit much of a muchness in that it doesn't really depart from a "received" styling, though at least this is not necessarily that of her role-models (though the angular melody of Something Else is almost more Joni than Joni!). Beck plays most of the instruments herself (acoustic guitar, keyboards, violin, mandolin), with some gentle help from mates playing bass, electric guitar, drums etc on around half of the songs and cello, viola, harp and flute on a further couple. It's all pleasant enough, if a touch winsome in impact; the less ambitious arrangements come off best, for the tracks early on that feature keyboard embellishment tend to sound over-sickly and production gimmicks such as scratchiness on Didn't You Say seem misplaced. The most successful song in terms of arrangement is probably the thoughtful, chamber-textured Make Believe. In general, the latter half of the album comes off best. But in the end, although the mood of relaxed enchantment which Beck obviously intends to conjure isn't quite as compelling as it might be; this CD is a pleasing enough way of spending 36 minutes yet it doesn't leave much of an impression - the most frustrating thing is that you feel it could be much more. Purely second-guessing what folks may like to hear merely by virtue of having good taste in your influences and inspirations - that may not be Beck's best way forward, I suspect, although I certainly wouldn't dismiss her out of hand and it will be interesting to hear what she delivers next time round.
David Kidman
---
Goldspot - Tally Of The Yes Men (Fontana)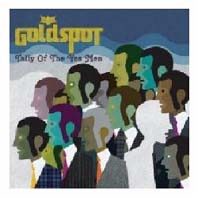 Fronted by a tenor voiced chap going simply by the name of Siddhartha who sounds like a melting pop of Thom Yorke, Roddy Frame, Michael Stipe and Morrissey and whose influences embrace Indian playback singers, REM, the Cure, Roy Orbison and the Smiths, the L.A. outfit have fast earned themselves a place on the ones to watch list.
Their debut album shimmers with an inspired melodic marriage of Bollywood and classic Western pop, rich in chiming guitars, tumbling chords and Asian undercurrents as the songs, co-penned by Sid and Egyptian drummer Ramy Antoun, sway and soothe their way into you musical bloodstream. Listen to the walking bassline, the laid back vocals, the surges of Indian film music strings and even a xylophone on the immensely lovely Rewind, the tabla patterns rippling behind Cusp which recalls the dreamiest pop of Robert Smith, or the languid campfire with orchestra sensibilities of The Guard, as if Jack Johnson was hanging out with Kishore Kumar.
You'll also likely hear The Smiths mixing it up with Joy Division on It's Getting Old, find yourself breaking into step along with the walking bassline and sweet-throated joyfulness of Time Bomb and find thoughts turning to a world wearied Orbison fronting Travis on So Fast. And how about the laid back marching band groove of The Feel Good Program Of the Year where Rufus Wainwright visits his Beatles collection.
Certainly, they wear their influences on their sleeves (the ridiculously catchy Friday is basically The Cure's Friday I'm In Love revisited), but they blend them like a fine masala so that the individual spices combine into something distinctly individual with Siddartha's wistful, melancholic lyrics gently tickling the bruise at the centre of your heart. Make a space in your year's most cherished albums, now.
PS: The UK version of the album supposedly (though it was curiously absent from my copy) also includes their cover of Modest Mouse's Float On as featured on The OC.
www.goldspot.net
www.myspace.com/goldspot
Mike Davies July 2007
---
Holly Golightly - My First Holly Golightly Album (Damaged Goods)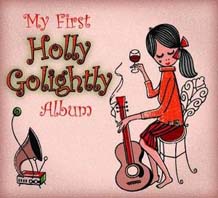 If you sit through Jim Jarmusch's somewhat overrated film Broken Flowers, you may well find yourself roused from nodding off through Bill Murray's minimalist performance by the reedy voiced Ms Golightly (her real name, apparently) singing her version of The Kinks' Tell Me Now So I Know and thinking it's one of the best thing about the film. It may also spur you to discover more about the woman in question. Good news then that, while not actually including the track from the film (it's on the Decca soundtrack CD or her own Slowly But Surely), this compilation provides a 17 strong snapshot culled from her 13 solo albums, six of the numbers re-recorded for the occasion.
So, who is she and what does she do? Well, she used to be in Thee Headcoatees, the all girl garage band Thee Headcoats splinter outfit, then she made her solo debut in 1995 and has been pursuing her electric blues, folk rock, and r&b ever since, becoming big mates with The White Stripes along the way and duetting with them on It's True That We Love One Another on Elephant. So much for the brief resume, now you should get down to the business of actually hearing what she sounds like. To which end I'd point you in the direction of the acoustic blues Black Night, the organ driven soul blues Wherever You Were from her debut, Nancy Sinatra-ish retro hep cat pop You Ain't No Big Thing, her self-penned country blues Walk A Mile and the barrelhousing An Eye For An Empty Heart and her new psychedelic folk blues recording of folk chestnut Sally Go Round The Roses.
After listening to these and the others, while this may be your first Holly Golightly album, it most certainly won't be your last.
Mike Davies
---
Gonstermachers - The Gonstermachers (Own Label)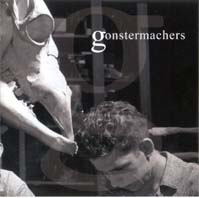 Let's get the name thing out of the way first. Gonstermachers take their name for a derivation from the Yiddish Gantseh Macher, which means 'big shot'. One listen to this album justifies the name. The Syracuse-based quartet open with The Night Sam Cooke Died, which is sombre and uber-slow yet there are so many things going on. It's spiritual and fits together very well. They are more upbeat on My Sister She's Not A Dollar. One of only three songs on the album not written by the band, this has strong rhythms and a laconic vocal with an interesting drum segment just beyond halfway. Danse Le Macher is a funky blues with excellent harp. The band all gets to go through their paces but they are not a conventional band by any manner of means. A list of their instruments is testament to that! Gonstermachers have the ability to surprise you at every turn. The song builds up to a peak at the end. The pace remains on the fast side on Cool Down Here and Curtis Waterman on harmonica is a star – his tonguing is extraordinary. This is a growling success and fun time music. Left Handed Man has a primeval feel with its evocative, fuzzed vocal but should be classed as modern day Delta blues.
Lowdown On The Blowdown is a fast paced harmonica and guitar blues. It's a great base to work from and I'm sure that this will be a great club favourite. The second of Les Danse's is Danse Les Negres. This is more humorous and is solidly played. Saint Sebastian has a slow, funereal feel as well as a slight tip of the hat to Johnny Cash. The funky flute and drum make for a fine addition to a fine album. Title of the year, so far, has to go to Gasstationchickendinnerromance, a virtually spoken blues with Waterman the star of the show yet again. They close with an oldie, Saint James Infirmary, and it's even slower than most of the more well known versions. Curtis Waterhouse gets top marks again and I'm left to wonder how he manages to reach some of those notes as the song reaches a fantastic crescendo. Leo Candrall, Hymie Witthoft and Richard Curry make up the quartet and are equally adept at bending their instruments to achieve some extraordinary sounds. The whole album reeks of small town America, as imagined by this small town Scotsman.
Blues fans beware, Gonstermachers have arrived!
www.gonstermachers.com
www.myspace.com/gonstermachers
David Blue March 2007
---
José González - In Our Nature (Peacefrog)
This Swedish-based Argentinian singer-songwriter is an enigmatic talent, one of whom I hadn't at first expected great things after only obtaining one brief moment of exposure to his debut CD Veneer around three years ago. I found his insistent and idiosyncratic acoustic guitar strumming strangely involving, but filed his name away under "investigate further as and when the chance affords itself". And, one token appearance on the Jools Holland show notwithstanding, that chance didn't arrive until now, with the belated arrival in my mailbag of José's second album, In Our Nature. But I'm glad it has now come my way, and that I can give José's music an extended listen at long last. From what I recall of Veneer, the newer album doesn't seem much different in overall sound, with just José and his trickling guitar strums forming the soundscape for the majority of the time (a smidgen of percussion and some backing vocals flesh things out a bit at times, as does a synth on The Nest, but that's all). The inevitable Nick Drake comparisons will be made with the overall rippling sparseness of the music, but the songs themselves - all bar one José's own compositions - don't bear that comparison as readily I find. Each song tends to be based around a hypnotic, mantra-like figure, yet the words often seem to have been developed almost independently of the rhythmic impetus. Sure, there are traces of flamenco, as in Killing For Love, but José's general style, though clearly modelled on the Spanish/classical mode, probably owes as much to the Nick Harper school in terms of its softly relentless impact. The latter quality can distract from the inherent compassion in his lyrics - for without the necessary melodic focus these can seem a trifle obtuse, and careful listening is required in order to make the most of them. And it does take a few plays to start to separate individual tracks from one another to any great degree: a feature which will be a drawback to those seeking instant gratification, who may well find José's cover of the Massive Attack song Teardrop the most compelling item here. But, like many artists, José has much to offer the patient listener, once over those slightly underwhelming first impressions.
David Kidman August 2008
---
Memo Gonzalez & The Bluescasters - Dynomite (Crosscut Records)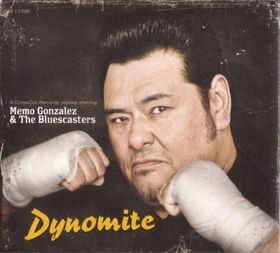 Texas born frontman Gonzalez and his multi-national Bluescasters have been performing their brand of blues, swing, rock, soul and funk to audiences throughout Europe and the USA for a few years now and they have transferred that craft onto their latest album for Crosscut. Bad Luck is a slightly low key opening, not normal Bluescasters fare but well played nonetheless. However, Dynomite Nitro has the big R&B sounds that the band have become renowned for and One Day, One Kiss, One Night is a pounding Dave Edmunds style rock n roll. Please Come Home is a slow, swinging blues with strong guitar work from Kai Strauss and highlights Gonzalez's presence. Strange Kind Of Feeling is bouncy R&B from a tight band held together by the rhythm section of Erkan Ozedemir on bass and Henk Punter's drums. Slip Away has a big vocal performance and is a soulful R&B.
The Freddie King song Double Eyed Whammy stays in the R&B field that they are comfortable in and Strauss'jagged guitar is a near match for the great man's. Mary Lynn is an electric blues with a country feel and What's In A Name is eight and a half minutes of superb harmonica blues -- a highlight! Gonzalez's voice is on the mark and the harp is of classic proportions with Strauss beefing things up on guitar. D Jump is a harmonica led jump blues and is good party stuff. Lonely Boy is a swinging, electric blues and Fat Boy is a big finish. This instrumental has both guitar and drums to the fore. The only question unanswered is that of whether it is an homage to the Fat Boy Stratocaster. An excellent follow up to Live In The UK.
David Blue February 2009
---
Good Lovelies - Let The Rain Fall (Own Label)
The Good Lovelies are a distinctly charming folk-Americana trio (Caroline Brooks, Kerri Ough and Sue Passmore) who hail from Canada, at whose Folk Music Awards they won the New Emerging Artist title back in 2009, the year they released their second full-length album, a collection of holiday favourites Under The Mistletoe (sadly, not received for review here). Let The Rain Fall is another spirited set that exudes gay abandon and thoughtful poignancy in almost equal measure. In that regard, I guess the Good Lovelies' music might just be described as schizophrenic - but in a thoroughly nice way!
All but one of the album's 13 songs are democratic band compositions, and they tackle subjects ranging from true love (Best I Know, Kingston) to urban foibles (Backyard), and more often than not both knowingly optimistic and with a cheeky sense of humour built in. Around half of them are infectiously upbeat, couched in a sassy, uptempo swing-cum-western-with-a-touch-of-bluegrass-or-boogiewoogie mode, whereas the rest, in contrast, are delicate, sublimely wistful, beautifully sweet creations, more leisurely in execution maybe but not the chalk-and-cheese mismatch with the other tracks that they might first appear.
And the common factor to every track is those delicious Good Lovelies trademark three-part harmonies, honed to a fine art but maintaining a keen feel of spontaneity that chimes in with the fun the gals are so obviously having. Tracks like Made For Rain, Kiss Me In The Kitchen and Lonesome Hearts have a sparky, chirpy Andrews Sisters demeanour (think also Rani Arbo's Daisy Mayhem combo, or at times even Hot Club Of Cowtown). Oh What A Thing is a catchy handclapped square-dance complete with slapped bass, and Home, by contrast, is a ruminative slow-drag waltz with a neat part for electric geetar.
There's an appealing Roches-like tenderness to Every Little Thing and Best I Know (love those glistening antiphonal lap steels!), while elsewhere Old Highway calls to mind the Wailin' Jennys and Mrs T gives shades of the McGarrigles perhaps (and not just cos it's partly sung in French!). The gals swop instruments around (guitars, banjos, violin etc) like there's no tomorrow (well there ain't, after all!), and they have the added benefit of extra accompaniment from a handful of gifted musicians (Les Cooper, Adam King, Christine Bougie, Robbie Grunwald and Marc Rogers) as and when necessary.
Yep, these good gals are lovelies alright; they sure captivate, soothe and beguile the soul in the sunniest of ways and this 42 minutes spent in their company is guaranteed to raise your spirits of the rainiest of days. Hopefully some of us will be able to catch them on tour in the UK in May.
David Kidman March 2011
---
Goodman County - Dead-Ends and Transits (Plow Handle)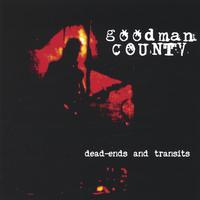 There's nothing quite like the sound of band in full flow and enjoying itself. Unless of course it's a Mississippi country rock band in full flow and enjoying itself and Goodman County certainly do 'Good ol Miss' proud.
There's also a touch of arrogance about Cody Cox, David O'Gwynn, Ryan Baucum and Micah Helmintoller that ignites a spark in Dead-Ends and Transits. It's not the overbearing, bombastic kind of showbusiness arrogance, it's more an unshakable and justified belief in a collective ability to make great rock 'n' roll.
It allows the band to establish its credentials as an Americana band worthy of mention with the greats of the genre, with the roistering Crown Of Tin, the slightly Fleetwood Mac-ish, I Make Bad Decisions, Right Mama and the wonderfully austere ballads Cathedral Streets and How To Forgive but once they've done that, then it seems it's time to move on.
And how Goodman County moves on, Anarchy in the Southern States picks up the cudgel laid down by the Sex Pistols and beats the banal and the mundane to death with it. It is as deafening an answer to corporate rock in the USA as Sweet Home Alabama was to Neil Young's Southern Man.
In fact, it appears that it heralds the band's first mistake on Dead-Ends and Transits. Placing Anarchy In The Southern States in the middle will surely cast everything that follows in the shadow of a rock 'n' roll hurricane.
But, as you arrive breathless at Drugstore Wine which follows it, you find everything you could ask for, expect and ever want from a song freeze framed. It is a broken, bleeding track which twists your guts into knots. As an anthem for lost souls it would grace the aforementioned Neil Young's very best work. It is the unforgettable moment on a memorable album.
However, even the brightest gem usually contains a flaw or two and Dead-Ends and Transits' arrives late with Lonely Boy. The song's intentions are good but its slightly overblown and fragmented nature leaves it feeling a little contrived, something which is completely at odds with rest of the music.
While much of Dead-Ends and Transits gives the impression that Goodman County are intent on cutting a swathe through Southern rock and having fun whilst doing it, Slow Descent Into Sound comes from the heart of a band whose intentions and ambitions go deeper than merely seeking out the next good time. This is a marvellous introduction to Goodman County but there is much, much more to come.
Michael Mee
---
Paul Goodwin - Scars (BFF)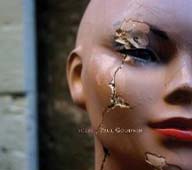 A leading light on the Cambridge scene, Ilford ex pat Goodwin's 14 track debut album will go down nicely with those appreciate finely written simple acoustic guitar folk music of the early Al Stewart and Nick Drake variety. Written over the course of eight years from 1999 to 2007, you have to conclude that he doesn't have a great deal of luck with women since most of them seem to be about getting the elbow, being churned up over past lovers, and brittle relationships coming apart. Even when, as on the deftly fingerpicked So Finally A Love Song, things seem to be going well he can't help feeling he's trying too hard. And, if shatters of the heart weren't enough to pile on the pessimism and gloom, In Sure And Certain Hope has him singing about a particularly depressing funeral.
Musically the predominant stylistic template is illustrated by such bare boned numbers as Radio Silence, One Off, Edinburgh, Phosphorous Burn and the cello laced Sleep Tonight, all of which seem designed to be played in the disconsolate wee hours at the end of bedsit parties as the ash trays overflow and everyone's feeling introspective.
There are, though, some swerves. The trad tinged shantyish Losing Out To Bullethead flexes muscles with drums, bass and accordion, the chugging rhythm 60 Miles With A Slow Puncture harks to the pop punk folk of formative Billy Bragg, while Borderline's bitter tale of rows and recriminations (All the way home you were screaming "I'm not the one who's in the wrong".) builds to a real storm of distorted guitar noise.
The violin backed Watertight with its air of 60s college folk (Stewart, Atkin, Harper) and looking through the windows on rainy Sunday afternoons is the album high point, but everything here marks Goodwin out as a name deserving to be pulling in the crowds in clubs across the land.
Mike Davies February 2009
---
Gemma Garmeson - Stalking Four Dummies (A to B)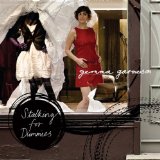 Moving down from Liverpool, she's been around the London acoustic scene for the past three years, building a following for her sweetly sung folksy songs. With a semi-spoken delivery, the music hall whimsy of the melodies and wry stories of shoes, spoons and the quirks of life and love, she's patently influenced by anti-folk and Juno star Kimya Dawson, vocally mingled with a dash of Lily Allen.

Like Dawson, her musically simple and unadorned songs may sound like fripperies and, indeed, the likes of Shut Up And Kiss Me (what it says), the vaudeville-like Flip Flop (about being caught in the rain, her shoes going slip slosh and falling for the chap who shared his umbrella), A To B (a love song to the record making process to the tune of Them Bones), Who's The Daddy? (falling for a single father) and let me be your rebound new single Mavis all have a childlike quality.

But listen deeper and behind the playfulness you'll hear serious thoughts ticking. With its roughed up punky guitar and horror story lyric Skin deals with the way society's body image affects women, I Don't Want To Be Your Number 2 has a real sense of emotional insecurity, the title track addresses the issue with deceptive wit, and Happy Fathers Day peels back the personal as she exposes the hurt and confusion of being abandoned by her father as a child as she sings 'I'm your big secret, are you tired of keeping me.' There is, perhaps, a surfeit of the frothy stuff, but there's something about the smile in the voice that makes her hard to resist.

Mike Davies June 2009
---
Kevin Gordon - Gloryland (Crow)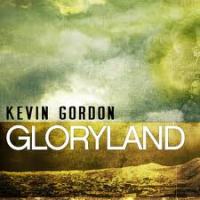 Sometimes an artist can release numerous albums and still remain below your radar. Gordon's a case in point. This is his fourth, his first in seven years, but until now my only brush with him was a duet on one of Kate Campbell's early releases. I've clearly been missing out.
He's steeped in the sort of southern soul and blues that, as exemplified by the title track with its roll call of desperate TV evangelists, politicians and suicide bombers, will attract fans of Little Feat and Tony Joe White alike. His voice also occasionally recalls Guy Clarke, as on Pecolia's Star, a dusty Americana duet with Sarah Siskind about the late Mississippi folk artist and quilt maker Pecolia Warner. Like Clarke too, he's fond of narratives and characters, an approach evident on Southern funky boogie of Bus To Shreveport (where his delivery's surely Elvis influenced) and its childhood memory of going to a ZZ Top gig and the run in with a bunch of Latinos and the world weary Trying To Get To Memphis in which the narrator talks of a guy coming to his door begging for a hand out.
Most of all though it's illustrated by the 10 minute plus Colfax/Step In Time, another Guy Clarke comparison and (reputedly autobiographical) childhood coming of age story about playing trumpet in a junior high school marching band with an African-American teacher and their brush with Ku Klux Klan, a description rich number that, pinned by a steady drum beat, banjo and soulful organ, namechecking fellow students like Danny Amos who locked himself in the music room, blasting Ted Nugent over the speakers, as it builds to a triumphant gospel choir finale.
With other numbers that include the suburban paranoia slow blues rock Black Dog, Side Of The Road's ominous tour that takes in a burned down Southern church, Baghdad and Basra and the defiantly upbeat Buddy Hollyish guitar ringing rocking closer The One I Love, if he's as new a name to you as he was to me then I wouldn't waste any more time in making the acquaintance.
Mike Davies March 2012
---
John Gorka - Writing In The Margins (Red House)
This is John's tenth album release in all, and his fifth for Red House. It brings a further collection of his contemporary acoustic "expressions of everyday life" that won't disappoint his legions of admirers. Even so, I'd be lying if I said I thought it as memorable a set as some of his earlier albums: some of the songs do take a while to make their mark, and a few have resolutely refused to make an impression after several plays. I'll also readily admit I've never been a full card-carrying member of John's fan base, and don't own all of his previous albums, and that I've often found other folks' covers of John's songs more satisfying than his own original versions. The presence among the guests on Writing In The Margins of fellow singer-songwriters Nanci Griffith, Lucy Kaplansky and Alice Peacock (on backing vocals) is probably as indicative as anything of this, although John's own performance is as appealing as ever, with that characteristic smooth baritone delivery well to the fore as usual and the soft acoustic-driven small-band settings are in the main unobtrusive and attractive in the time-honoured way. This new album breaks with tradition, however, in containing a couple of covers, of which that of Stan Rogers' The Lock-keeper is particularly persuasive although that of Townes Van Zandt's Snow Don't Fall is well-considered too. And among John's own new compositions, the pick for me are the double-edged love song Satellites, the more philosophical Chance Of Rain, the social commentary of Road Of Good Intentions (which rather harks back to John's earlier style), and the reflective title track which takes the form of a letter from a soldier to his love back home. But some of the other songs don't quite connect for me, and the lack of liner notes by way of explanation (for all but one of the songs) doesn't help (still, at least the words are provided in the booklet). And I feel that I Miss Everyone seems to verge perilously close to flippant parody, especially considering its country-styled arrangement. The recording is as tastefully and subtly managed as the backings.
David Kidman August 2008
---
John Gorka - The Company You Keep (Red House)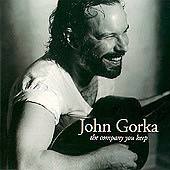 Occasionally when listening to a series of songs, a portrait of the performer emerges despite the guises he or she might adopt. So it is with 'The Company You Keep', a work of simplicity & understated grace through which the genial personality, intellectual outlook & infectious, irreverent humour of John Gorka are clearly apparent. As a songwriter Gorka is comfortable with his abilities, confidently fashioning uncomplicated, profound imagery & varying themes from first person character studies to self-scrutiny & heart on sleeve declarations on the importance of family & humanity. His unpretentious wordplay is often startlingly effective as in hometown reminiscence & declamation of contemporary mores "Oh Abraham" (addressed to Lincoln):
"Work is not the same as before
More software hands in the hardware store"
Varying shades of humour are evident from the sublime & absurd imagined reminiscences of "Wisheries"
"I formed my own Government
I cast pearls before the parliament
Got some girls for the ex-President
No not him, another one"
to the black, frankly hilarious "Hank Senior Moment" & "People My Age". Arrangements are often full but always sensibly based around Gorka's adroit fingerpicking & expressive voice, usually described aptly as a rich baritone. The core band of Rich Dworsky (keyboards), Andy Stochansky (drums), Dick Freymuth electric guitar), Gordy Johnson (upright bass) & Michael Manring (fretless bass) are joined by a number Gorka's star pals including Mary Chapin Carpenter, Ani DiFranco & Lucy Kaplansky. These three provide harmony vocals which strongly underpin Gorka's because of his lower pitch. The sound is open, live, even ebulliently joyful in places.
Gorka co-produces with Rob Genadek & Andy Stochansky. As might be expected from one who has written on recording, production is crystal clear & quietly adventurous as illustrated in the playout of "What was That" as the listener drifts through layers of instrumentation. A final mention must go "When You Walk In", an exemplary piece of direct songwriting on the break up of a friend's relationship:
"He wants to be your friend
But you can't be his
Tell him to go to hell
You already did"
Here Gorka is joined by John Jennings on second guitar & Chapin Carpenter on harmony vocals for a performance of sensitivity & high emotional impact. This track alone is worth the price of the CD.
James Hibbins
---
Ellen Gozion - Awake, Awake (Own Label)
Pittsburgh-based Ellen is a stalwart of the folk-music community there, yet she modestly describes herself as a pianist rather than a singer! Nevertheless, she really delivers - and honourably so - in the vocal department on Awake, Awake, which turns out to be her debut release. Here, acknowledging direct inspiration from seventh-generation ballad singer Sheila Kay Adams, Ellen presents credible, and refreshingly different, versions of 22 traditional pieces (mostly songs), with help from various other musicians (fiddle, banjo, guitar, oboe etc.) on just under two-thirds of these. The diversity of approach Ellen adopts over the course of the album actually proves quite invigorating, even if it makes for an uneven and only partly satisfying listening sequence due to quirks in the running order (like having three of the four instrumental tracks clustered together near the end of the CD, and the unaccompanied tracks mostly occurring near the start). Most of the instrumental tracks come across more as Percy Grainger-salon-style arrangements than the lustier folk workouts you might expect from a pianist in a "rowdy contra-dance band" - no bad thing, actually, but for the songs the individual treatments are more considered. These visit the provinces of the backwoods Appalachian, the refined art-song and the renaissance-baroque, and one even has just a primitive drone backing. This defiant stylistic eclecticism makes for some pleasant surprises, but while often making a virtue out of unpredictability that very quality can equally often be somewhat disconcerting too - for just when you think you might've got Ellen sussed, she moves the goalposts and comes up with something so completely different that were it not for her distinctive singing voice you could be forgiven for thinking you'd switched CDs. Ellen bestows an ambitious, ornamentally arranged Lied-like treatment to the two longest tracks, Fair Annie and Poor Wayfaring Stranger, and a distinctly Schubertian piano part to One Morning In May, with the luxuriously dark swooning tones of a viola-da-gamba to the fore on The Maid Of Islington and When Will Ye Gang Awa'?. The CD ends with a pleasing, if brief romp through My Love Is In America, a refined hoedown on which the plangent tones of the oboe trade phrases with a scrawny fiddle. In the end, though, it's Ellen's haunting singing voice that gives the most impressive (and, in view of her own self-analysis, perhaps all the more unexpected) quality of unity to the CD.
David Kidman
---
The G.P.s - Saturday Rolling Around (Talking Elephant)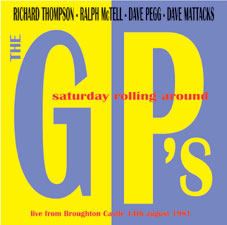 Another appearance on CD for this cult curio, first released on Woodworm and subsequently reissued on HTD, now on its third incarnation and topped up with two bonus tracks (see below). For those not already familiar with the G.P.s, they were an extremely short-lived band which - for one reason or another - survived all of six gigs! They comprised Richard Thompson and Ralph McTell with the sterling Fairport rhythm section of Dave Pegg and Dave Mattacks. The original release of this album contained 15 tracks taken from (presumed to be the entire contents of) a set recorded "on a Revox from the mixing desk one balmy August night in 1981 at Broughton Castle, Oxfordshire". It's a ragbag set alright, the Thompson-penned title cut (first aired on the Richard'n'Linda Sunnyvista album a year or so earlier) followed by a virtually non-stop parade of covers, with a couple of McTell originals (Zimmerman Blues and Love Grows) early on in the set, Guthrie's Pretty Boy Floyd, two Hank Williams (I'm So Lonesome I Could Cry, Honky Tonk Blues) interspersed with other "country-and-western-type things" (Buck Owens' Together Again) and some transformed-Motown workouts (Don't Do It and a passionate I'm The One You Need), with the occasional rock'n'roll number (Great Balls Of Fire, Cut Across Shorty) tossed almost casually into the fray à-la-Bunch. Never less than credible, some very good indeed, but all capturing a band who, for all they might've been hastily convened, sure were on fire on that night. Each and every track is also notable for the immensely fiery, often mind-bending axe-wielding by RT (I defy you not to want to replay Steel Guitar Rag immediately it finishes!), and RT's vocal work is also outstanding (his rendition of Dylan's Going, Going, Gone fairly blisters along like a moody Shoot Out The Lights outtake). Now for the $64000 question, then: well, the original album was described by Dave Pegg on the liner note as "our only surviving audio memory of this little band's activities", but here we find appended to those 15 tracks a further two, bonus cuts - on the subject of whose provenance the booklet remains strangely silent. These turn out to be covers of Save The Last Dance For Me and High School Confidential; on the first of these, Ralph seems to have a fit of giggles during the doowop passages, and the second is another "Jerry Lee Thompson" outing but with slightly flakier sound-quality than the rest of the set. Additionally, both bonus cuts feature a mystery fiddle player.
David Kidman December 2006
---
Annie Grace - Take Me Out Drinking Tonight (Greentrax)
Annie's name is always associated with Iron Horse, the band she's fronted for ages as vocalist. Take Me Out Drinking Tonight is an invitation you can't refuse, for here she steps out proudly on her own and proves she's a match for all-comers on a set of interesting, often jazzy treatments of mostly quite familiar material. She may not have the most strongly characterised or stirringly expressive voice on the scene, but hers is an attractively mature - and superbly flexible - voice that stands comparison with the likes of Niamh Parsons, and is easy to warm to. Here she surrounds herself with a few select musicians, who are used as a small-scale backing band in various permutations on just over half of the tracks. Mere mention of their names (Aly Macrae, Davy Cattenach, Aaron Jones and Gavin Marwick) gives an idea of the calibre of the musicianship on display, and their playing perfectly complements Annie's vocal delicacy. Perhaps the most refreshing aspect of this album, though, is Annie's stance on her chosen material; admirably, she's not afraid to try something different on Jock O' Hazeldean, Trees They Do Grow High and Bonny At Morn, and by and large her risks pay off with considerable dividend, although some may find her jazz-tinted inflections inappropriate for the gravitas of the texts (Jock's a borderline case here I think). On the contemporary front, Annie does a fine job with Jim Mulhern's Magdalen Laundry (even if she doesn't go for the obvious emotional approach here), Cheryl Wheeler's insouciant Summerfly really swings, and the album's title track (courtesy of Michael Marra of course) shuffles across the dance floor rather neatly, while Annie closes the album with a brace of contrasted songs by Andrew Finlayson. Not all of the material's quite to my personal taste, but what Annie does with it is very credible, and this album should please a wide cross-section of listeners with its first-class performances and recording.
David Kidman
---
Sarah Grace - On The Fence (own label)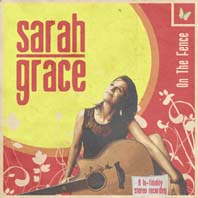 Funded by a £15000 prize from a public vote unsigned artist competition run by Slicethepie.com, Grace's debut release sounds more often like the work of a Southern country-soul veteran than the first album by someone hailing from the south Manchester suburbs.

With diverse influences that range from Eva Cassidy and Jack Johnson to BB King and jazz star Liane Carrol (as well as, I suspect, Thea Gilmore), sometimes seductive, sometimes jubilant, her voice slides comfortably into the soul-blues-country vernacular on the slinky swaggering chops of Come Fly, the loose limbed r&b flavoured country How Many Times, Break's lazy summer creek dipping Southern blues, and the slide guitar and harmonica whisky bar belter Give It To Me.

Elsewhere, the jangly country-pop tinged Come On Over demonstrates a firm understanding of stadium power ballad dynamics, Sing Me On My Way turns on the late evening wine and fireside Norah Jones, Sinking catches the New York rooftops soul pop vibe with an assurance that should cause KT Tunstall sleepless nights and, with its slow burning build to swelling brass, piano and organ, Cry Me To Sleep is the stuff of which Radio 2 favourites and packed house careers are made. Time to come down from the fence, the pastures of plenty are hers for the taking.

www.myspace.com/sarahgraceband

Mike Davies August 2009
---
Grace Notes - Northern Tide (Fellside)
Grace Notes comprises three wonderful singers (Maggie Boyle, Lynda Hardcastle and Helen Hockenhull), who are blessed with voices which are so very different in character yet so highly complementary. Harmony heaven, with an ever-fabulous choice of songs embellished selectively with keyboard and/or flute (and sometimes - though not on this CD - a smidgen of bodhrán). So any CD they produce is bound to be special... Northern Tide, Grace Notes' fourth recording, has taken its time in appearing, but as ever the ladies have sensibly waited until the material has been successfully embedded in their repertoire before committing it to CD. It's not an easy task conveying the true essence of Grace Notes in the cold light of a studio production, but Paul Adams has managed to do so once again with sympathy and feeling, and what could in lesser hands easily have been turned into a one-dimensional aural plane has a three-dimensional depth and bloom in sufficient proportion to give a credible representation of the intimate experience of Grace Notes live - always a seriously sublime one. And not just because I could probably listen to any one of these three fine singers all night in a solo capacity (and Maggie's would definitely be one of my desert-island voices!), but together they weave so compelling a magic. For each of the three has always had an ear for a great song, and it helps enormously that they share and complement each other's good taste. Putting it bluntly, then, and hopefully without underselling: Northern Tide is one of those "more of the same, doing what they do best" type of releases that can't disappoint - predictable in the nicest possible sense, yet all the time filled with the excitement of new discoveries. Northern Tide could be described as an enchanting maidens' voyage through some beautiful, if relatively uncharted, waters of song. And although the sea makes for a convenient linking device (I was tempted to say that for a good half of the album it flows through the grooves!), Grace Notes aren't "tide" to that theme, for they include at least three contrasted traditional-sourced songs with no nautical content as well as embracing the magical Utopian depths of Mike Silver's The Power (a rare co-write with Ewen Carruthers), Richard Thompson's Hard Cash obscurity Mrs Rita and Nick Burbridge's heartfelt tribute to the feisty spirit of revolutionary politics in the form of Rosa. The whole CD glides effortlessly through a well-planned sequence that more or less alternates acappella with accompanied items: a singularly well-balanced menu that finds room for fun amongst the forlorn with the sweet delights of Charlie Poole's "airship" song, the "ancient joke" of The Old Man Of Lee and the quirky observational humour of Loudon Wainwright's White Winos: and of course, one of the glories of Grace Notes is that their handling of both the lighter and the more thoughtful material can be equally persuasive. Having said that, for me the highlights of this new CD just happen to fall within the latter category: the disc's centrepiece is a spellbinding interpretation of the traditional song Rue (which Lynda first heard in the singing of Doreen Leighter and later Maureen Jelks), while Maggie leads Grace Notes in a superb rendition of Tom Waits' neo-trad The Briar And The Rose that creditably complements the fine recent versions by Niamh Parsons and Cloudstreet. Two of this country's illustrious (if still criminally underrated) songwriting Steves get some welcome airtime here too: Mr Tilston with a truly beguiling three-part rendition of his sensuous genius-loci invocation of The Dewy Ones, and Mr Ashley with a touching and sincere performance of his abundantly beautiful Best Wishes. And the disc closes with a masterstroke, a conflation of two songs (a favourite Grace Notes gambit, that!), where Maggie's heart-stopping rendition of the exceptional Linda Kelly song that gives the CD its title is harnessed to the hoary old Mingulay Boat Song - and, surprise surprise, it works. I'm pleased too, that Grace Notes have resisted the temptation to over-arrange this finale, instead leaving the accompaniment as a straightforward piano line (the overbearing glossy synth drone of yore now a mere subliminal haze on the horizon). Now I've always harboured a bit of a reservation about the use of keyboards in folk repertoire, in that they can occasionally bring an undesired air of mannered or overly-cultured art-song to an interpretation; it's symptomatic of Grace Notes' artistry that it just ain't an issue here - I suspect partly because their particular approach to vocal styling and their specific choice of contemporary folk material is well suited to this, and then not least because the accompaniment is always genuinely at the service of the song rather than providing an all-purpose "nice chords for their own sake" wash. Even if you're prejudiced against (a) female voices, (b) contemporary songs and/or (c) albums where there's not a single guitar within earshot, Grace Notes are likely to be your one exception to that rule; I can't put it plainer - they really are that special.
David Kidman January 2008
---
Martin & Shan Graebe - Dusty Diamonds (WildGoose Studios)
Martin and Shan's second joint CD predominantly features songs from the collection of Sabine Baring-Gould, with a few also collected by Cecil Sharp: many are either unfamiliar gems and/or being recorded for the first time (hence the "dusty diamonds" of the disc's title), whereas others are variants of songs that are quite well-known. Martin's recognized as the leading researcher and expert on the work of Baring-Gould, so any recorded venture in which he is involved is bound both to generate interest and bear the imprimatur of authoritativeness – and so it proves here, although there's none of the dustiness of dry academe either in the nature of his performances or in his generous booklet notes. From the two "parallel strands" of song-source mentioned above, the first category provides treasures like Adam The Poacher, A Frigate Well Manned and (especially) The Complaining Maid (a triumph of solo singing for Shan), none of which I'd come across before. The breadth of style and subject-matter is interesting too: for instance, I was intrigued to encounter the simple and charming, if mildly morbid My Coffin Shall Be Black and the stirring socialist anthem Come All You Worthy Christians – both highly memorable and deserving to be better known. In the second above-mentioned category, arguably the most successful is American Stranger, where the chosen pace and setting both allow the flowing, unusual melody line and the intertwining vocal harmonies to breathe; I also liked the minor-mode variant of The Lark In The Morn. The "variants" category also produces some of the disc's least successful moments, where the settings appear almost too jaunty or briskly-paced. Henry Martin seems to lack both tension and gravitas, being rather too lightweight in tone and tempo to do any more than skim the surface of the ballad. Down In The Coal Mine, though an improvement on the popular singalong Geoghegan-derived version beloved of Ian Campbell fans, still seems to miss out on something within the text. The Setting Of The Sun, on the other hand, is an interesting variant of Molly Bawn, but although Martin paces it well, he doesn't quite have the firmness of tone over the whole of its compass to do it fullest justice. Finally, there is a third category of song on this disc: Martin also inserts into the programme just two of his own compositions, and while these are perfectly good songs per se it's a matter of mild debate perhaps as to whether they really fit here (I'd still like to have a whole new disc of Martin's songs some day), though I appreciate the kind-of-connection that's Martin's capable way with traditional forms, where he's clearly under the influence of the songs he's so ably researched. As for the performances, I really like the way Shan's voice fits so well with Martin's, and each is a thoroughly pleasing solo singer. Martin's forte seems to be on the snappier-delivered items, and his own songs tend also to reflect this penchant. Only four of the disc's 14 tracks are done acappella; the remainder are accorded reliable, spirited and full-toned accompaniment from the twin fiddles of Nick Wyke and Becki Driscoll and/or the sturdy concertina (and occasional vocal) of Keith Kendrick; there's extra chorus vocals courtesy of Sylvia Needham and Doug Bailey. All of which adds up to an endearing and satisfying disc that, complete with typically engaging artwork, proves a worthy successor to Parallel Strands.
David Kidman February 2009
---
Martin Graebe & Shan Cowan - Parallel Strands (Wild Goose Studios)
This CD proves a not entirely unexpected delight, but not exactly in the way I'd expected! It's one of those typically intelligently planned WildGoose products whose title is very carefully chosen to reflect the contents through multiple layers of meaning. In this case, the provisional ?Two Faces Of Martin Graebe? title was jettisoned in favour of ?parallel strands?, which refers initially to the two major influences on the singing of the two featured performers - i.e. Martin's own songs, and songs from the collection of the pioneering Victorian song-collector Sabine Baring-Gould ? but, as the front cover design cunningly demonstrates, many other strands and connections are woven into the aural tapestry to connect past and present, contemporary performance and composition with tradition. And often virtually seamlessly too.
Martin's probably best known as a writer of songs in traditional style, though many folks know his songs without realising their composed origin. Martyn Wyndham-Read has already, and memorably, recorded the brilliantly potent From Severn, By The Somme (perhaps the jewel in Mr. Graebe's richly adorned crown), but Jack-in-the-Green, Honiton Lace and November Drinking Song are but three of his other compositions which have gained wider currency. On Parallel Strands, the first-named pair of these are revisited from Martin's earlier (1975) Folktrax cassette (along with Peter's Private Army), and these, together with a further three fine compositions, make up Martin's self-penned contingent among the CD's 16 tracks. As a singer, Martin has an interesting voice, pleasing to listen to yet also intense in its own quiet, thoughtfully expressive way. Martin's ?other face? is as the leading researcher, writer and expert on the work of Baring-Gould; since 1992, Martin, and more recently Shan too) has been working on indexing and transcribing the original Fair Copy and rough manuscripts of the 202 songs in the Collection (currently housed in Plymouth Library), and this activity has resulted in a number of songs being recorded for the first time since their original collection, several of which crop up on this new CD. These include some unusual versions of well-known ballads (Tyburn Hill's an intriguing take on Jack Hall, and Jacky My Son is a pre-Sharp collection of Lord Randal) and a more fragmentary version (Maiden Under Willow) of the song which Mary Humphreys recorded for her Sharp Practice CD as Pride Of The Season. It's not always clear from the booklet notes as to the origins of the tunes used, however.
As for Shan, her involvement in the Baring-Gould collection has extended lately to an exploration of songs sung to Baring-Gould by women; on this disc, her own singing is confident, and characterful, personable and harmonious. I'm glad, too, that she also gets a lovely solo song on this disc (the all-too-brief The Maid And Her Swain). But in fact, the individual voices of Martin and Shan go together most persuasively, and it's a pity there aren't more acappella tracks on this CD. I understand that the original intention was to include more unaccompanied items, but a number of musician friends were so keen to help, and their contributions so well-judged? well you know how it is! For how can you resist ?musician friends? like Keith Kendrick (anglo and English concertinas), Paul Burgess (fiddle), Paul Wilson (accordion, percussion) and Jeff Gillett (guitar, mandola)?! - inevitably, their various contributions are vital and enriching, and they're augmented even further on the wonderfully er, rousing Cornish carol Rouse, Rouse by oboe, tuba and four-piece vocal chorus. Just once or twice I felt the instrumental accompaniment (though admittedly limited in terms of scoring) a little too fulsome and even slightly twee in impact, as on the quite jaunty I Had Two Ships, but for the most part I found the backings genuinely enhancing and relatively unobtrusive - even if I felt that on one or two songs (eg Laying My Life On The Line) no backing of any kind was strictly necessary.
Altogether, the 16 tracks comprising this collection of songs both old and new sit most comfortably together and complement each other winningly; it's abundantly clear that Martin really has the gift for composing ?in the tradition?. A hint of slight preciousness is perhaps not entirely avoidable on lighter material such as Martin's fox-hunting saga Sly Reynard, but here the fun doesn't wear as thin as quickly as it might in lesser hands (read voices!). My main (again in context slight) reservation about some of the material on this disc is that the principle of ?composing in the tradition? seems to been extended a tad too far when some of the tunes Martin uses audibly bear uncanny, and not entirely fortuitous, resemblance to those ?accepted? on, or commonly associated with, other songs in the folk corpus (in this respect, Peter's Private Army carries overtones of Blackleg Miner, Maiden Under Willow of ?that? Cornish bellringing song - you know the one I'm sure! - and Honiton Lace resonances of a number of different songs from Month Of January out). But all in all, this is a disc replete with accessible performances of often stimulating material that transcends mere academic interest, and whereby good songs and good company provide much that is abundantly charming alongside a modicum of deeper, more thought-provoking moments.
David Kidman
---
The Gourds - Noble Creatures (Yep Roc)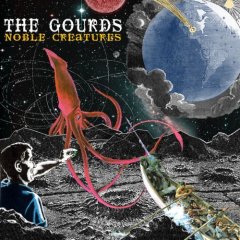 This proud swamp-redneck combo deliver their ninth album with a bit of a fanfare, but those expecting a further helping of their furious, wild postmodernist rootsy country will probably be checking out the label to see whether they're listening to the right CD. For, a very few cuts aside, this is a move away from the guts and into altogether mellower territory. The best of the new songs, Steeple Full Of Swallows and Promenade, have a soulful Kevin Russell vocal line that you could say resembles Rick Danko or Stevie Winwood, while the bouncy Kicks In The Sun benefits from a 60s-style organ hook. Last Letter has a catchy kind of mournfulness that's quite attractive, while Moon Gone Down and How Can U Shine are both refreshingly different again, the former bringing the funky bluegrass kick to southern boogie and the latter using horns to season the pot. The closer Spivey is grittily bluesy, with some neat harmonica fills, and Red Letter Day is an appealing slice of cash-style rockabilly with tongue in cheek. There's a couple of more typical Cajun/zydeco stompers in the form of All In The Pack and Cranky Mulatto, but these feel like makeweights, and several of the remaining cuts feel - well, ordinary, which is a shame. There's nothing radically wrong with the music, and anyone coming to The Gourds fresh won't be overly disappointed, but it's not quite The Gourds as we know/knew them. The band don't seem quite sure in which direction they're heading with this new album, so I'm prepared to lay this aside as a slightly confused entry in the logbook and wait around for album number ten.
David Kidman December 2007
---
Gov't Mule -The Deep End Vols I & II (Evangeline)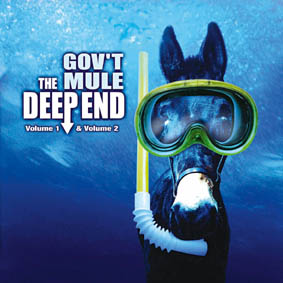 A double disc three hour set, this was put together as a tribute to the jamming trio's late bassist Allen Woody. And a remarkable piece of work it is too, their brand of Southern blues rock (see Lynyrd Skynyrd, Hendrix, Allmans for reference) graced with an incredible array of stylistically diverse celebrity guest bassists, among the Dead's Phil Lesh, Chris Squire, Jack Bruce, Bootsy Collins, Roger Glover, Jack Casady, Chili Pepper Flea and, in one of his last recordings, the late John Entwhistle. As if that weren't enough, guitarist/singer Warren Hayes and drummer Matt Abts are also joined on various tracks by, among others, Little Milton, Gregg Allman, Chuck Leavell, and Randall Bramblett contributing assorted vocals, guitars or keyboards. With the notable exceptions of the trad Catfish Blues and a blistering slow burning country blues cover of John Fogerty's Effigy, the material's almost all penned or co-penned by Haynes, so if you've latched on to the band before there'll be no surprises to what you get. Namely, women and sex of various shades of good and bad with the occasional homage to good ole Southern raising as on Greasy Granny's Gopher Gravy. It's pure old school stuff lyrically and musically, but that doesn't stop it being played with the sort of passion and fire that makes you want to turn it up loud, grab the nearest bottle of Jack and boogie round your most convenient barroom. Tremendous.
Mike Davies
---
Davy Graham - A Scholar And A Gentleman: The Best Of Davy Graham (Decca/Universal)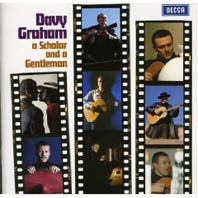 This is another of those instances where the unfortunate reviewer is reduced to receiving the bare music only, on a pair of "white-label" cdrs. It would appear that little expense has been spared with the finished product, in which a high-quality booklet (with essay by David Suff, no less) accompanying this double-disc retrospective/commemorative anthology issued to celebrate the magisterial achievements - and enormous influence - of this ultra-innovative guitar player over a span of more than 45 years until his death in 2008. Everybody knows Davy's name, of course, and his status is unchallenged; but on the evidence of the music compiled on these two discs alone (which only spans his early records - i.e. the EPs for Pye and Topic and the groundbreaking Decca LPs - and thus takes us up to 1970 only), there might at least be less of a chance of the fresh listener underestimating the sheer breadth of his artistry.
Even on his very first recordings, Davy was pushing the envelope significantly outside of the finger-style guitar pieces with which he initially made his name, and the iconic Angi - here granted pride of place at the very head of this anthology - was certainly a more than impressive embarkation point for Davy's voyages through the musics of the world. Thereafter, his progress was wild and wayward, frenetic and dramatic, far-reaching and defiantly counter to prevailing trends. Thus, in the beginning his recordings veered - often quite bewilderingly - between exploratory, and remarkably inventive, treatments of jazz pieces by the likes of Adderley, Blakey, Brubeck, Monk and Mingus, to workmanlike blues covers redeemed only by the stunning picking (for to be fair, Davy was never much of a singer) and iconoclastic, ear-bending conglomerations of eastern, eastern European and middle-eastern musics (Maajaan, Rif Mountain and the seminal raga take on She Moved Through The Fair, here given in two extraordinary recordings barely four years apart). Quite literally Folk, Blues And Beyond, and/or All Points In Between - and then some... Not to mention Davy's virtual invention of the folk-baroque guitar style, along with those (at the time) weird and innovative tunings like DADGAD.
All of those aspects of Davy's maverick talent are represented well on this anthology, as are the fascinating byways and side-projects like those seminal mid-60s LPs with Shirley Collins (the ethereal Reynardine and Nottamun Town are to be found on the first disc of this set). Following successful excursions into small-group performance with bass and drums (notably on 1966's Midnight Man album), and a brilliant summation-cum-apotheosis of every conceivable style on 1969's Large As Life And Twice As Natural LP (from which four breathtaking tracks are sourced for this set) and its even more diverse sequel Hat (which contained a throwaway Beatles cover, the fierce and furious Bulgarian Dance, a deft transcription of a Purcell hornpipe and the Faheyesque adventure Stan's Guitar), Davy bravely branched out onto electric guitar on the Holly Kaleidoscope and Godington Boundry albums, and by coincidence at roughly the same time was to begin his descent into heroin-hell and life as a virtual recluse. So it's perhaps fitting that this retrospective comes to a halt at 1970's Godington Boundary, so that we can celebrate his finest years, and marvel at the scale of his inspiration to almost every aspiring guitarist under the sun. Davy Graham - true pioneer, true visionary and truly unrivalled instrumentalist, of whom almost no finer memorial could be encapsulated within two discs.
David Kidman January 2010
---
Davy Graham - Midnight Man/Large As Life And Twice As Natural (Fledg'ling)
Fledg'ling continue their programme of high-quality reissues of the 60s Decca output of this legendary, and intensely innovative, musician with these two, from 1966 and 1968 respectively. Midnight Man, available here for the first time on CD, was the followup release to the landmark Folk, Blues And Beyond, and once again presented a virtual alternation of vocal and instrumental tracks (albeit with more emphasis on the former), accompanied by bass and drumkit. Overall the LP leant more towards R&B than its illustrious predecessor, and it deliberately formed a kind of homage to some of Davy's musical heroes. The vocal tracks were drawn not only from the blues tradition (Stormy Monday, Lost Lover Blues, etc) but also from rock'n'roll (Money Honey), with further intriguing choices such as Oscar Brown Jr's Rags And Old Iron thrown in for good measure. Of course, as was usual with Davy, the vocal tracks contain the occasional miscalculation - a stilted, routine cover of the Beatles' I'm Looking Through You, for instance - but this set's worth getting just for wonderful treatments like Davy's fresh modal arrangement of Blind Willie Johnson's Fire In My Soul. The instrumentals include Lalo Schifrin's The Fakir (indisputably the album's standout track), Junior Mance's Jubilation and Herbie Hancock's Watermelon Man. Altogether, the album's title is pretty apt - it's ideal after-hours listening.
For Large As Life..., on the other hand, the two-years-on followup to Midnight Man, sees Davy returning to the more obviously category-defying, eclectic side of his repertoire, with a particularly adventurous treatment of Joni Mitchell's Both Sides Now and a neat jazzy take on the folk ballad Bruton Town nestling alongside the more usual blues material (covers of songs by Leadbelly and Fred McDowell). It really is an outstanding collection, showing just how much ground Davy had covered since Angi and, incidentally, just how much the scene had changed over the intervening short few years (and how the new eclecticism was so much more accepted in the freer climate of '68). The storming instrumental cuts, all Davy's own compositions, include two extended, and contrasted, eastern-inspired pieces (Sunshine Raga and Blue Raga), the Northern-Moroccan-influenced Jenra and the finger-burning Basie-homage Tristano. Davy's breathtaking musicianship is complemented here by his ideal choice of backing musicians (Danny Thompson, Jon Hiseman, Harold McNair and Dick Heckstall-Smith), and where these chaps are involved the arrangements are both enterprising and highly satisfying. Davy's constant thirst for new musical directions in which to thrust the humble western guitar has been likened, in Ray Horrocks' perceptive original sleeve-notes (reproduced faithfully here) to "Doctor Bannister running his four-minute mile and then going off in search of another distance"! Which leads me naturally onto my conclusion, that Fledg'ling have done their customary excellent job on these reissues, with typically careful remastering complementing the high standard of presentation with all elements of the original artwork restored and several previously unpublished photographs included in the booklets. Take it from me - you need these albums!
David Kidman
---
Davy Graham - Folk, Blues And Beyond/ Hat (Fledg'ling)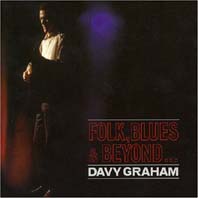 Few would argue against master guitar player Davy Graham's status as one of the most influential guitarists of the folk revival, if not the most influential. Now, the estimable Fledg'ling label is planning to issue a series of repackaged editions of several of Davy Graham's LPs. Some of these have been available for a while on CD (in the particular case of Folk Blues And Beyond, latterly on the Topic label), but these new editions not only score in being superbly packaged (slip-cases too) but also in that they come complete with insightful and respectful new booklet notes by Ken Hunt in addition to reproducing the original albums' sleeve essays. Additionally, some will be expanded and feature bonus tracks, and Folk, Blues And Beyond is both a good example of this format and an excellent place to start - well, I'd argue the only place to sensibly start out on your exploration of Davy Graham's music.
Davy has always admitted freely (and modestly) that his playing style was "exotic". He didn't exactly coin the word "eclectic", but it might just as well have been tailor-made for him; he used and combined different musical flavours, genres and styles - as the label says, from folk, blues and beyond ("beyond" meaning indigenous music from almost literally anywhere in the world, culled from his exhaustive travels abroad) as well as from classical music and jazz. Anything and everything was grist to his mill, and the term "music" embraced the lot, approached in a healthily broad-minded fashion; Davy soaked up fresh musical ideas like the proverbial sponge.
The sixteen tracks that made up the original 1963 LP range from blues (including compositions by Broonzy, Leadbelly and Blind Willie Johnson) through songs by Bob Dylan and Cyril Tawney, some traditional English folk songs, jazz (Timmins, Mingus) and a stunning guitar re-creation of a tune he'd found in Tangier (Maajan) as a centrepiece. Here, the bonus tracks give us the three Graham cuts from the 1961 EP (3/4 A.D.) which he'd recorded with Alexis Korner (including Davy's "signature tune" Angi, the classic "tune-gone-wrong in the great tradition of new-tunes-found"), as well as the complementary She Moved Through The Fair and Mustapha (Davy's side of the From A London Hootenanny EP).
These final two pieces are further absolutely seminal examples of Davy's groundbreaking fusion music; Fair is Davy's mind-blowing exploration of the folksong through his discovery of the modal DADGAD tuning. Although the vast majority of the LP tracks feature Davy's vocals, it's the guitar playing, inevitably, that makes the big impression, the copious outpouring of amazing ideas and tremendous, breathtaking technique. The same can still be said of his work of around six years later, as evidenced on the 1969 LP Hat, here given a straightforward reissue (I believe this is its first appearance on CD, though) with no bonus material.
It's a typically wide-ranging collection, wherein folk songs rub shoulders with contemporary songs (Beatles, Dylan, Paul Simon), a few blues standards, a complex rhythmic Art Blakey number, a Purcell hornpipe, a Bulgarian dance, and highly ingenious little pieces by two hitherto-mostly-unheard modern composers (Stan Watson and Oliver Hunt). By 1969 of course, Davy's earlier work had become the stuff of legend, and he'd influenced every important guitarist on the scene, not just in folk (the likes of Bert Jansch, John Renbourn, Martin Carthy and Ralph McTell) but in rock too (Jimmy Page most especially). Of these two reissued albums, although Hat is a pretty fine (albeit brief) collection, Folk Blues And Beyond is definitely the indispensable one, a must-have for any self-respecting collector, not just for students of fantastic guitar playing.
David Kidman
---
James Graham - Siubhal (Footstompin' Records)
On the face of it, this might seem a daunting bit of listening in prospect ? 53 minutes of songs, all sung in Gaelic. And in commercial/marketing terms it might be viewed as quite a big risk in terms of potentially alienating even genuine lovers of traditional music for whom any song in another language is a step too far and a distinct barrier to appreciation. But don't let yourself be frightened off, for this turns out to be a really enchanting CD musically, which is enhanced even so by a clarity of purpose evident in all aspects of the presentation that should be held up as a shining example for others to follow. James is a truly amazing young singer from Assynt (one of the finest and most scenic parts of north-west Scotland) who has taken the Scottish traditional music scene by storm over the past year; a RSAMD graduate, James easily won the BBC Radio Scotland Young Traditional Musician award in 2004. His vocal skills are tremendous and unusually multi-faceted, for not only has he a stunning voice with impressively rounded timbre and perfect diction, but his control of phrasing and dynamics are absolutely unerring and his sense of timing is nothing short of immaculate. And most impressive of all perhaps is the fact that the latter characteristic applies equally whether James is singing slow airs and love songs, like the tenderly phrased Maol Donn and the fine cover of Capercaillie's Delirium (Breisleach), or delivering in the puirt style some altogether lighter material like waulking songs, songs intended for dancing (like the Gogan strathspey) or charming, humorous items like A'Bhriogais Uallach which concerns a ?fantastic pair of breeks?!. James's remarkable clarity of expression enables the listener to easily follow the texts with the aid of the excellent booklet (which prints lyrics both in the original Gaelic and in English translation). This is another very positive and encouraging element in James's presentation of the 14 lovely songs on this CD; he evidently cares much about the songs, is eager to communicate them directly and unpretentiously yet is concerned that we the listeners get the maximum out of the experience. One of the many high points of this CD for me is the beautiful hymn from the Carmina Gadelica collection Sorchar Nan Reul, where James is skilfully accompanied by the clarsach (here played by the composer of that song's musical setting, Phamie Gow) and cello (Christine Hanson), and benefits considerably also from the duet vocal of Mary Anne Kennedy. This song is cleverly contrasted in both pace and mood with a rousing tribute to the great 17th century Highland warrior Alasdair Mhic Cholla Ghasda, sung acappella by James and other singers to the regular beating of a drum, which is then followed by the characteristic bardic song Allt An t-Siùcair. I also loved the effortless elegance of the My Big Black Cow set (track 2) and James's finely moulded rendition of the 1776 pibroch Cumha Alasdair Dhuinn. James cleverly and tastefully varies the ever-classy accompaniments throughout, from solo guitar (Kris Drever) or piano (James Ross) to slightly busier textures of classical purity (Dónal Brown on flute or whistle, Andrew MacPherson on percussion and Chaz Stewart on guitars all contribute meaningfully to the overall unfussy yet highly accomplished ambience of the recording. A positively captivating, and far from purely esoteric, CD.
David Kidman
---
Grand Drive - See The Morning In (Gravity)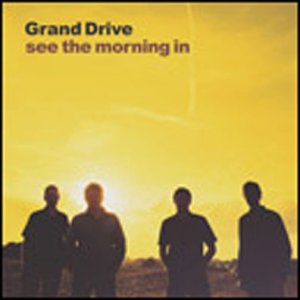 Making the move into the major leagues after two albums on Loose, Australian born harmonising Wilson brothers Julian and Danny stake their claim to the British Americana crown with a new album that filters the yearning country through their old school soul influences. I'm not convinced about the funky Needle In The Groove, but elsewhere as they put the emphasis on melancholic melodies that evoke thoughts of Gram, the Byrds, the Sutherland brothers and the Everlys things truly sparkle with the air of greatness.
Whether on uptempo numbers such as A Little Like You, The Last Train To Heaven and Life Is A Car or more balladeering songs like Firefly, Nobody Would Ever Dream and You and I, the songs lean towards the reflective with themes of regret, searching for dreams out of reach or quiet acceptance. A gently aching reminiscence of childhood and times changed Track 40 (which surely borrows elements of its chorus line melody from Poncho & Lefty) and the simple love song Hey Little shine strongest in the morning light, but throughout their dawn comes up with a bright radiance.
Mike Davies
---
Jon Dee Graham - Full (Blue Rose)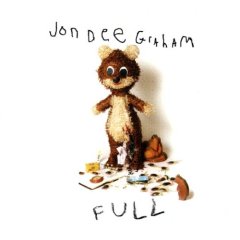 Former singer with The True Believers, the Texan born Graham has had a rough time of it of late, what with being dumped by his former label and having his son diagnosed with Legg-Perthes bone disease only for their health insurance company to go bust. This and an audit by the IRS.
Understandable then that his new album visits a fair few dark places with Graham, whose gravelly voice often sounds like Tom Waits after a week on a whiskey and nicotine bender, mining the weight of sorrow, despair and self-laceration while searching for hope and redemption.
Dressed up in ringing guitars, solid rhythms and several flourishes of his TexMex upbringing, this is meant to be played loud in either smoky bars or while driving desert highways. The sound of songs like the chiming cascading melody of Jubilee, the janglingly upbeat Something Wonderful and the optimistic strokes of Amsterdam ('how can it not be all right?') are balanced by the quieter, more reflective offerings; the plaintive apology O Dearest One, ruminative death song Swept Away, the tick tocking bluesy Rosewood's self-criticism ('you're beautiful and I ain't no damn good') and the bone weary Beloved Garden, a powerful Catholic hued song about the Fall from Paradise that hangs heavy with personal resonances.
I doubt sales will help smooth over any IRS difficulties, but making the record must surely have done much to calm Graham's spiritual troubled waters. Listening to it may do the same for yours.
Mike Davies, July 2006
---
Jon Dee Graham - Hooray For The Moon (New West)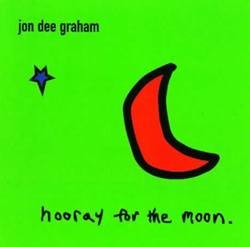 Former member of the much underrated True Believers, part of John Doe's band, lead guitar on Calvin Russell's Dream of The Dog album and touring sideman to Kelly Willis, Graham's already earned himself one songwriter of the year gong and this, his third solo album, suggests it probably won't be the last. A good old Texas guitarslinger boy with a gravelly voice and an arm ready to ring plangent chords from his trusty six string, there's a hint of A breathier throatier John Mellencamp to the vocals on the opening One Moment and inspired The Restraining Order Song while, as Sue Cavendish notes in her review, he's got a less steel wool scoured Tom Waits touch here and there, notably so on I Go Too and the swampy scuzzy chugging Way Down In The Hole.
A penchant for the Tex Mex blues is well evident on Volver (a drunken lurch of a number sung in Spanish, like The Mavericks after too many tequilas and the feedback echoing Waiting For A Sign but he's at his best when things are chiming out in rootsy rock fashion or on the clutch of evocative ballads (Something Moves, with Mike Campbell on pump organ, The Huisache tree and Tamale House #1) that cast his emotional shadows into dynamic relief. Live in hope he gets round to packing the flightcase sometime soon, but in the meanwhile let this moon shed its light over your CD player.
Mike Davies
---
The Grascals - The Famous Lefty Flynn's (Rounder)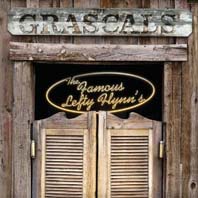 This is the fourth album by The Grascals, one of America's most respected and celebrated bluegrass bands. They're blessed with three really good lead singers (Terry Eldridge, Jamie Johnson and Terry Smith), which not only helps to spread the load and adds variety to the mix but also enables them to hand-pick songs which they know will suit the band members' individual delivery and approaches. Best here are probably Satan And Grandma, Out Comes The Sun and the plaintive Give Me Jesus, but the rest aren't far behind, altho' I'd question their decision to lead the album off with a cover of Last Train To Clarksville, which just has a bit too much of the been done before feel to it. The instrumental work is very fine tho', with the unhurried, intelligent soloing on Blue Rock Slide in particular demanding swift replay. And by the way, outstanding banjo player Kristin Scott Benson is the band's newest recruit, bringing the body count up to six now. One final selling point: the album's penultimate track (a tight performance of the straightahead honkytonker I'm Blue, I'm Lonesome) finds the band joined by Hank Williams Jr..
David Kidman April 2010
---
Aonghas Grant - The Hills Of Glengarry (Shoogle)
"Left-handed fiddler" Aonghas Grant (father of Shooglenifty's own fiddle player Angus R. Grant) has a career spanning more than six decades, being four-times fiddle champion at the Royal National Mod during the 1960s and 70s and a key member of the Roshven Ceilidh Band for many years, but now concentrating mostly on tuition work. To date Aonghas's only full-length solo record has been the renowned Angus Grant Highland Fiddle LP, recorded just thirty years ago in 1977; so this new recording, funded by the Scottish Arts Council, is doubly welcome. Aonghas comes from a long line of fiddlers, pipers, singers and bards, but had no formal lessons, so if you're looking for entirely flawless, note-perfect technique you need to put your ears elsewhere. But there's a deep passion, fiery intensity and commitment inherent in Aonghas's playing which is real hard to resist, as the whole of this CD demonstrates; Aonghas's musical personality is necessarily dominant, but he's also sympathetically accompanied by various permutations of a select group of musicians comprising Ross Martin (guitar), Christine Hanson (cello), Paul Connolly (concertina) and his son Angus. The Hills Of Glengarry is named after Aonghas's own composition inspired by an area close to his family home (Glen Moriston), and a tune book The Glengarry Collection is due to be published later this year. This disc contains Aonghas's strongly individual renditions of tunes ranging from Gaelic airs to pipe tunes, pieces by Neil Gow and Angus Mackay, and Scottish and Irish reels. And there's a small piece of background discourse on In Dispraise Of Whisky (for Aonghas is a bit of a raconteur too!). I particularly liked the gleeful spirit Aonghas brings to the Neil Gow's Farewell To Whisky set (track 10), and his skirling duet work with son Angus on tracks such as the extended Shieling Song/Captain Campbell set (an album highlight for me) is sheer magic. Aside from a couple of hastily-ended conclusions to individual tracks, the rough immediacy of the playing and recording is priceless, and this is a very attractive release that deserves currency outside of the purely fiddle-connoisseur market.
David Kidman March 2008
---
Eilidh Grant - Masks And Smiles (EAG Productions)
To a considerable extent, it's easy to understand, when listening to the thoroughly pleasing music on this disc, just why those who've already heard Glasgow-born Eilidh sing rate her so highly. Not forgetting, too, that she won the Danny Kyle Award at 2004's Celtic Connections. She has a stunning voice, of that there's no doubt – impressive in its range and control, with just enough of a trace of her Scottish accent to give it an extra edge when needed.
Several times during the disc, the tonal quality of Eilidh's voice reminded me potently of Anna McGarrigle, notably in that telling combination of warmth and sweetness – an effect that's accentuated on the occasions when Eilidh doubletracks her own voice to provide a harmony line. And, though not yet out of her twenties, Eilidh nevertheless displays a maturity of phrasing and response that signals a young lady who knows exactly where she's taking a song. Which is why I was mildly surprised to find that Masks And Smiles is Eilidh's debut recording, though she herself views it as the culmination of ten years' preparation.
And yet it seems that Eilidh's talent for singing folk music was only discovered as recently as 2002, when she impressed an Aberdonian audience (not an easy task!) with her rendition of Joni Mitchell's A Case Of You: a trick she repeats here as third track in. This is certainly an assured reading of the song, and yes, impressive when taken in isolation. In fact, I felt much the same way initially about Eilidh's personal accounts of other favourite songs here, where her likeable tone, clear diction and dedicated response are all important features in respect of directly communicating with her audience.
And another key factor in the rather winning nature of the final product is the insistence on extremely high production values; through the good offices of Angus Lyon, Eilidh has secured instrumental backings replete with excellent musicianship and intelligent arrangements. The playing, courtesy of Angus himself (piano, accordion, Rhodes), Adam Bulley (guitar, mandolin), Duncan Lyall (double bass), Maya Burman-Roy (cello), Ruaridh Campbell (violin, viola) and Martin O'Neill (bodhrán), is both cultured and well-coordinated, with just the right amount of inner detail to gently enhance the register and timbre of Eilidh's voice. It's possible that the overall backdrop may be just a little smooth and companionable for some tastes, at times erring on the side of pleasant and thus lacking a certain edge, but generally speaking the material chosen suits this approach well and both over-lushness and blandness are easily avoided.
For me, the songs where Eilidh scores highest interpretatively are her brother Stephen's tenderly, poignant By Your Side, her cousin Michael Miller's composition The Lovers, Gretchen Peters' delicately comforting When You Are Old, and Burns' The Lea Rig. I'm not convinced by the breezy swinging Latin setting adopted for Eilidh's own song Nothing To You, however, nor the jazzy demeanour of the title song – for neither seem to do the lyrics justice. And another source of relative, and minor dissatisfaction, is that while Eilidh's own takes on outright classics like Kate McGarrigle's Mendocino and Richard Thompson's Dimming Of The Day are very fine, they don't have the sheer well-up tear-inducing impact of the best versions: in those cases it feels as though Eilidh's interpretations have reached a certain stage and have stopped "growing", simply because she really is unable to develop them further emotionally at this time. And the same applies to A Case For You – but then I've not been present to witness Eilidh's development as a singer since 2002, so my comment may seem a touch unfair. Also, notwithstanding Eilidh's Glasgow origins, I still can't escape the feeling that her display of affectionate nostalgia on Billy Connolly's I Wish I Was In Glasgow doesn't quite ring true (one can't exactly imagine Eilidh hanging out with "some good old rough companions" for instance"!). On the other hand, Eilidh emerges more credibly from her decision to cover Ian Bruce's Gone For The Day.
Overall, I can judge this disc a success, not least in that it heralds the arrival of a talented singer whose next moves will be eagerly anticipated; it's sure to be keenly embraced, too, by all those seeking a memento of Eilidh's special stage presence.
David Kidman January 2010
---
James Grant - Strange Flowers (Vertical)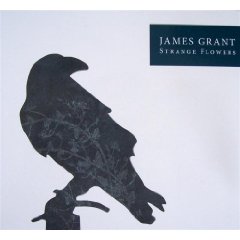 It's been near five years since the former Love and Money man's last solo album, Holy Love, so this is an overdue but most welcome return, especially since it finds him in decidedly upbeat mood and employing far bigger arrangements with copious swathes of strings.

With guests that include Monica Queen and Karen Matheson on backing vocals and the latter's fellow Capercallians Donald Shaw, Ewen Vernal and Che Beresford providing keyboards and rhythm section, it's superbly played and textured with the reference points once more embracing Scott Walker, Morrison, Jackie Leven, and John Martyn.

But then Can't Beat The Music (about Satan being the first solo artist, apparently) revisits the funky colours of his old band with added hints of the 70s psychedelic soul of Mayfield and the Temptations, the title track's dark but playful tale of vampires that 'bloom in the darkness' filters a jazz vibe, Is This The Kiss the theme to a lost Bond movie, and Darkstar positively snakes the hips to a swampy gospel blues.

However, it's the rich peaty loam of Celtic folk soul that remains its strongest suit, whether he's applying it to the sweeping strings and Walkerisms of the joyful city from the rooftops vibe of This Could Be The Day, Lake Louise's rollingly melodic romantic reverie, the gospel Van-groove of The Hallowing Touch or the trad folk flavours swirling through the closing time slow sway beer and fags lament Scarecrow Song.

The killer cut though is the nine minute My Father's Coat, a moody, harmonica-haunted, lyrically poetic blues about the memories and self-examinations stirred when Grant buys his dad's old mohair after seeing it in the local market, climaxed with a near three minute electric guitar workout that would do Neil Young proud. Prize blooms, indeed.

www.james-grant.com
www.myspace.com/jamesgrant99

Mike Davies May 2009
---
James Grant - Holy Love (Vertical)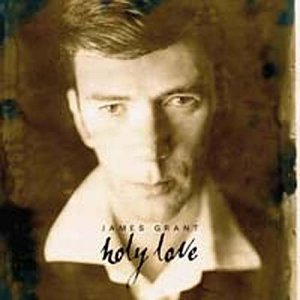 Back to his own material after the last album's interpretations of poetry by such names as Blake, WH Auden, and Rimbaud, the former Love and Money singer is so steeped in Celtic soul he makes Van Morrison sound like Gareth Gates. Others have cited Scott Walker, but a more appropriate reference point would be Jackie Leven, not only are their voices close but both see the spiritual within mortal love and the determination to survive life's vicissitudes.
It's a theme announced by the seven minute opener title track where, starting off sounding a lot like Leonard Cohen, he sings "this world is lit by the epiphany of a kiss" against a simple arrangement of guitar, piano and double bass, and picked up again on Randy Newmanesque piano and banjo (?) ballad Give The Poppy To The People.
There's a wry balance that acknowledges love and life have their downs as well as ups, the optimistic sunrise shimmer of The Streets You Walk Everyday (set to just acoustic guitar and the wonderful Monica Queen's divine harmonies) contrasted with Before She Shot The Arrow where, to the accompaniment of Jerry Douglas's dobro, the singer prays to a saviour 'who was never there' and realises love can come to an end. Dandelion Clock too serves as a potent image of transience, as well putting a clever spin on the line 'blow me away'.
There's playfulness here on the cautionary lovers warning of Monica with its tumbling guitar figures but while the starkly banjo backed Mary Magdalene offers the hope of repentance it's the darker numbers that have the strongest pull; I'll Comb The Tangle From Your Hair as the singer tells of being hopelessly infatuated with the old woman in widow weeds he sees in church, the bitter resignation of The Soft Option where going along with "all life's rites and rules", sedated by Prozac and Playstations, is easier for disaffected youth than railing against the dimming of the world's spiritual light. In artistic terms at least, Catholic guilt clearly still has a few things in its favour.
Mike Davies
---
James Grant - I Shot The Albatross (Vertical)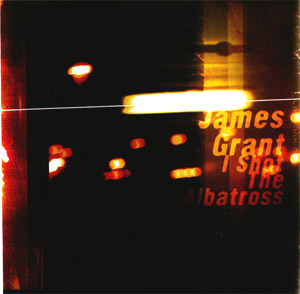 A departure for the farmer Love and Money frontman in that rather than his own material, this features arrangements of poetry from the likes of William Blake, ee cummings, WH Auden, Emily Dickinson and Rimbaud.
Such projects run the danger of being either archly pretentious or unlistenably crass, but Grant pulls it off with aplomb, bringing his soul and Celtic musical sensibilities to bear to sympathetic, intoxicating effect, never cowed by the stature of the words but never intent on beating them out of shape either. The voice sounds increasingly akin to equally underrated countryman Jackie Leven, imbuing the material with the sort of emotional depth and resonance it deserves. Ironically Grant's isn't the first voice you hear but that of ex Thrum songstress Monica Queen lending her weary melancholic tones to a dark alt-country reading of Helen Adam's A Tale Best Forgotten and, later, to the uplifting jangling take on cummings' anyone lived in a pretty how town. She's not the only guest. Charles Bukowski gets to lend his voice to his own The Tragedy of the Leaves, reading against Grant's spare acoustic guitar and film-noir strings. There's also a sample from Lee Dorsey's Everything I Do Gohn Be Funky bringing an unlikely but effective dimension to Blake's Long John Brown and Little Mary Bell.
Elsewhere Grant surrounds himself with piano, dobro and guitar to read Dickinson's Wild Nights, enlists Freddie Hubbard's recording of Red Clay with Herbie Hancock to give a suitably urban claustrophobia mood to Rimbaud's The Triumph of Hunger and introduces a neat touch of bouzouki into Auden's Lady Weeping At The Crossroads. Edwin Muir's apocalyptic The Horses, read in hushed tones, strikes a chilling contemporary note, underscoring Grant's intention to bring alive the resonances, concerns and human passions embodies in the poems he has chosen. That it happens to stand up as bloody good album too is even more of a recommendation.
Mike Davies
---
Jenn Grant - Echoes (Six Shooter)
Nova Scotia songwriter Jenn Grant recently toured the UK briefly in tandem with The Barenaked Ladies' Kevin Hearn, and here releases her second solo album. Her music has been described as a mixture of Feist and Sarah Harmer, and certainly there's more than a grain of accuracy therein, especially the former-named, but there's also a distinct touch of Suzzy Roche (and even Ani DiFranco maybe) about Jenn's singing that can make her songs sound more disturbing (or disturbed) than they're probably meant to be (on the coda to Sailing By Silverships, Jenn even wails like Kate Bush). Although there's a calm strength about Jenn's delivery, her fractured mental state, caused by a disintegrating relationship, is conveyed by the more mannered and often unpredictable nature of her vocalising, while the honest melancholy of her lyrics is mirrored in the often curiously-textured musical settings. The intimate and mysterious chamber-music of Where Are You Now finds Jenn at her most compelling. I also found a kind of sinister weirdness in songs like I Was Your Woman and (I've Got) The Two Of You that's accentuated by the use of things like bass clarinet registers and clanking glockenspiel as key elements in the texture. The analogue intimacy is reflected in the recording's idiosyncrasies, in fact, and in producer Jonathan Goldsmith's companionable piano vamping. With its wilful, almost casual air of gentle experimentation, this bunch of songs is elusive and sometimes, it feels, deliberately enigmatic almost to a fault; and yet the album demands swift initial replay if only to try and make more sense of where Jenn's at. Finally, the shimmering toyshop swirl of the album's lone cover, Neil Young's Only Love Can Break Your Heart unexpectedly maintains the spell of Jenn's own compositions. Even so, you need to "keep your hair high" when getting to know this album over time, and let Jenn's songs work their dark, introspective magic.
David Kidman April 2009
---
Jenn Grant - Orchestra For The Moon (Six Shooter)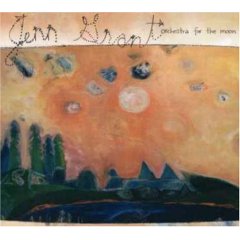 Canadian folk-pop with shades of Fleetwood Mac, some dusky Dusty hints, a touch of a folksier Natalie Merchant, music box carouselling and a bit of reggae lurch, the Halifax singer-songwriter certainly knows how to concoct an evocative album. Produced by and featuring assorted members of the Heavy Blinkers. there's an air of the boho about several of the tracks. The likes of Unique New York, Dreamer, In A Brown House (where she duets with Ron Sexsmith), the harp twinkling Rainy Day and Blue Skies with its string quartet are all surely custom built to be played in loft apartments as sun streaks through the skylight.
She gets into soulful swing on Don't Worry Baby, her upclose breathy vocals backed by a jaunty organ groove, sounds a lot like she's channelling Randy Newman on I Think It's Going to Rain Today on Sound Of Success while with the oddly titled Britt n Kip and its even odder time signature suggesting a meeting between Victoria Williams and Amy Winehouse. It does, perhaps, at times sound a little distanced from the material. but there's no denying it curls around you like dust captured on sunlight.
Mike Davies May 2008
---
Grantura - In Dreams And Other Stories (Ruffa Lane)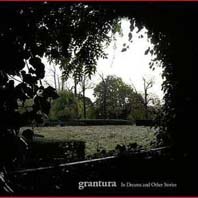 The PR blurb suggested that if you were into Fleet Foxes then this album from the South London based (but Linconshire rooted) sextet would also ring your bell. Truth to tell, it's not the most immediate comparison point. Rather think the Byrds, Burritos, CSN&Y and that whole 60s West Coast sound filtered through a British sensibility.
So, the new Teenage Fanclub, then. Which, if you check the guide book, you'll know means breezy country pop melodies, close harmonies, jangly guitars and lots of musical sunshine. Grantura check all those boxes with glowing confidence, lacing the songs with copious rural imagery and talk of oceans, crops, the passing of the seasons, and the like.
But there's a darkness woven here too. In the clattering banjo and nervy percussion of In Dreams, the bucolic folk and rowdy rock Land Of the Big Skies with its doom laden dichotomy of life in the country and the city, in the despair and loss of faith that veins the acoustic Hymn For A Drunk, a song that suggests Ralph McTell, Woody Guthrie and ISB albums may be in their collection too.
With its rowdy guitar breaks, Lazarus shows they can rock out (in a 60s stylee, obviously) while Down From The Mountain illuminates their folk-psychedelia side and Holly is pure Sweethearts of the Rodeo with a twist of early Richard Thompson, which, if you add everything up, seems persuasive reason enough to share a pillow. PS: If you're wondering, the band name comes from the classic British TVR sports car of the late 50s.
Mike Davies August 2008
---
Grateful Dead - Postcards Of The Hanging: The Songs Of Bob Dylan (Grateful Dead / Arista)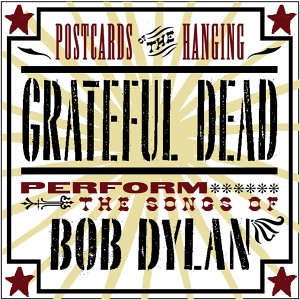 Everybody's doin' it; from The Byrds and Baez to, for all I know, James Last and Herb Alpert's Tijuana Brass. Collections of Dylan covers seem to be a record company banker second only to the Lennon And McCartney variation. You know, if all else fails scour the artist's catalogue for all the Dylan songs they might have cut, be it live, b-side or filler, and repackage. On one hand it's product and on the other the fact that your act has selected to interpret (the use of that word alone ups the artistic ante) rock's best known bard confers a certain gravitas.
So it's odd to see a band like the Dead, an organisation seemingly so in control of its own destiny, falling for the cliché. Except of course, being the Dead, it's too easy a conclusion to jump to. That the album title is taken from Desolation Row rather than say, Blowin' In The Wind, clearly sets their course. And a song selection that finds When I Paint My Masterpiece, Stuck Inside Of Mobile, Ballad Of A Thin Man and the aforementioned Desolation Row nestling up against the better known She Belongs To Me, All Along The Watchtower, Just Like Tom Thumb's Blues and It's All Over Now Baby Blue is a clear indicator that the band know their Dylan. Further, this being a collection of live cuts spanning 1973 to 1990 rather than a studio project, confirms that Bob's songs were a staple part of the band's musical consciousness and no commercial whim.
But whatever the genesis of the album, it's what's in the grooves that counts. And that's rather good.Indeed the more you play the disc the better it gets, the more natural the easy flow seems. It's probably not unreasonable to presume that these songs were included in the Dead's live sets because they represented common musical ground to band members and were, therefore, ideal vehicles for jamming and loose head arrangements.There's certainly a sense of that; vocals are at times awkwardly pitched, harmonies a little off and lyrics forgotten or changed.
However the instrumental bed is wonderful and at times magical, touching on the transcendent moments that define the Grateful Dead. Listen to Jerry Garcia's filigree embroidering of She Belongs To Me, the wonderful loose groove of Maggie's Farm, the fresh breath infused into All Along The Watchtower and it all falls into place.
Throughout, one thing is clear, that whilst the Dead's reputation as a jamming band might rest on their piloting long musical explorations on the back of many a weary tune, here the song remains central, served with great respect by all concerned. Curiously the one point when this edict falters is when Dylan himself joins the line-up for Man Of Peace. Whether it's a case of two mighty reputations spooking one another just a lacklustre performance is debatable, though it's clear that the very union that conceived this set fails to create the magic the union promises.
Steve Morris
---
Stan Graham - Along The Way (Magpie Music)
York's Black Swan Folk Club is fortunate to have Stan as a songwriter-in-residence; his songs are guaranteed to warm the hearts and minds of club audiences, though their accommodating melodies, his easygoing, relaxed delivery and even-tempered demeanour often belie the deeply thoughtful nature of his lyrics. Along The Way, Stan's third release in CD format, is a mature set containing several truly lasting songs of which any singer-songwriter would be immensely proud - notwithstanding the fact that it sounds great too (as Stan readily acknowledges, thanks to the work of production team Tommy Roseburgh and Stevie Lawrence at Big Sky Studios and the exceptional musicians under their guidance), with a gently fulsome ensemble blend, mellow yet richly detailed. Stan's gift for melody clearly derives much of its inspiration from "veteran" songwriters like Mike Silver, and he's collaborated with Mike on the powerful Rolling River Farm, one of the disc's standout tracks. Other highlights - songs which make a very strong first impression and then stay haunting you (you could say) "forever and a day" - are All The Young Soldiers, Forgotten Fields, Whitby Harbour and Doors Ever Open, but in truth virtually every song here is a gem, even if one or two (Easy Street, Somewhere In America) seem comparatively un-Grahamesque (I do stress the word "comparatively" here), and on reflection perhaps the tempos chosen for two or three of the songs are just a little brisk, but these are minor considerations where I find I'm affected more when in some frames of mind than in others. Stan's recorded four of the disc's dozen selections previously, on cassette, but in every respect these latest renditions are infinitely superior, not the least in terms of their fabulous new instrumental clothing. There are so many wonderful and wholly satisfying details within the production that I could probably fill a whole page just to detail them: I'm still discovering fresh delights after half-a-dozen plays! Stan's endearing personality as songwriter and singer, and his humanity, glows through every moment of this disc, and his honest and unpretentious modesty permeates the booklet-notes. Very nice!
David Kidman November 2007
---
Richard Grainger - War Horse (Klondike)
At long last, a new CD from one of the north-east's best-loved performers. It's been a few years, but of course Richard's not been idle - he's been masterminding and participating in special projects galore, and organising festivals... But he's also been writing some new songs (hurrah!), of which we're treated to a selection here: just five out of the dozen on the disc, in fact, a low count which may come as a bit of a surprise. These are very typical Richard in style and subject-matter, but all are strong compositions that deserve wider currency. Land And Sea, a powerful commentary on conservation, is probably the pick of the bunch, while the epic tale of The Whaleboat Essex, we learn, was the original inspiration for Herman Melville's Moby Dick, and Haulin' The Nets is a spirited celebration of the "old-timers" still making a living in the old way (though there's an inescapable air of Rapper T' Bank in the melody of the chorus, I feel!). The Bold Trincomalee pays lusty homage to a former battleship, while John The Miller tells of a local character from Richard's "home-patch", a farmer at Middleton Grange near Hartlepool. As for the non-original songs, Richard gives us a significantly fine rendition of Wade Hemsworth's evocative The Wild Goose, also tackling Sydney Carter's elusive Like The Snow. The latter is one of five tracks which are sung acappella; these also include a version of Brigg Fair (set to an intriguingly different tune that Richard himself composed in the 70s). Richard seems to have returned to his folk club roots to some extent here, also revisiting Rocking The Cradle and Scarborough Fair, of both of which he turns in straightforward, committed performances. Finally, Richard covers Dylan's Dark Eyes - and least successfully, I feel, for I'm not convinced that this song quite suits Richard's style of vocal delivery. War Horse is very much an as-live, no-frills home-recording, just Richard, his voice and guitar, captured with honest immediacy, and just what you'd expect from the man - and there are some fine new songs here, all the lyrics of which are printed in the booklet. All those positive qualities notwithstanding, however, in the end I do still feel a tad cheated, shortchanged at getting only five new songs this time round and a playing-time of only 45 minutes for the whole disc.
David Kidman February 2008
---
Richard Grainger et al. - Eye Of The Wind (Klondike)
Not to be confused with the EP of the same title that came out a few years back, this is a full-length CD presentation of the folk opera which has proved central to this noted Teesside musician's output over the past few years and has evolved through time on its journey 'twixt stage, radio and back to stage again. Richard's original song of the same name, an epic creation chronicling the story of (Captain) James Cook of Cleveland, was first performed in 1995, and in the complete opera (and as recorded here) it is used as a linking ballad that moves the listener between scenes and adding detail to the story. The production also incorporates further musical material including other compositions of Richard's (songs - Come Along By, The Endeavour Shanty, and a handful of poems), Ron Angel's James Cook Of Cleveland and some Grainger adaptations of traditional pieces. Ancillary artistes (John, Joy and Olivia Rennie, the Endeavour Shantymen, Ron Angel and Cris Yelland) provide the necessary authentic counterpoint to Richard's own performances. Yes, in the end this hour-long CD does succeed in capturing the flavour of the stage production, but it's a shame that it couldn't have amounted to a fuller recording, with more complete versions of all the songs instead of the brief snatches (ship's rations?!) we get in several instances. And it's also a pity that the opera itself doesn't have at least some of its key sections banded individually (one single 53-minute track is rather unhelpful for quick reference). Also, it seems illogical and perverse to place the opera's Overture (in a "reduced", keyboard incarnation) right at the end of the CD! The CD's accompanying booklet looks good and does a grand job though, presenting the text of the narration (given by Sir David Attenborough on the disc itself), the Captain's Log and key song lyrics. This is an attractive issue, and a credible memento of what many regard as Richard's magnum opus. (A donation will be made to the Captain Cook Trust from the sale of this CD.)
David Kidman
---
Richard Grainger - on Heather And Clarty Moor (Klondike)
This lovely CD came out well over a year ago, but only after seeing Teesside songwriter Richard's appearance on the Dales Diary TV programme this summer did I actually learn of its existence (such is the unnecessarily laid-back nature of Richard's publicity machine!). Any new record from Richard is to be welcomed, and this collection is no exception, as it contains some especially memorable songs enchantingly performed. And once again, it's a triumph for Richard's inbuilt canniness in wrapping songs around a theme: On Heather And Clarty Moor presents an engaging sequence of 14 tracks (11 songs and three instrumental pieces) which potently and affectionately evoke the very spirit of the North York Moors, an area of outstanding natural beauty rich in folklore which is often overlooked or under-represented in folksong collecting and/or writing (being overshadowed by the Yorkshire Dales on one side and the industrial north-east on the other).
Richard, who spent his formative years in the area (he's recently returned to live in Commondale), has over the past thirty years considerably enriched the region's folk heritage by writing songs inspired by its social, industrial and environmental history; this CD contains eight good examples, along with fine arrangements by Richard of two contrasted traditional songs (the fun call-and-response tale of Willy Went To Westerdale and the infrequently-heard Cleveland dialect version of the Lyke-Wake Dirge) and finally a revisit of his arrangement of Graeme Miles' Foxhunting Song. Richard's original songs come from various phases of his songwriting career, and include new recordings of some he's issued before but mostly on long-deleted LPs (Teesside And Yorkshire, The Ghost Of Old Solem, Darklands) as well as some excellent newer songs (the beautiful Mary Of The Dale, Cleveland Home, The Last Coble Fisherman and The Iron Miner's Testimonial).
All of these come in sparkling new studio performances, for which Richard's engaged as backing singers the redoubtable crew of John Rennie, Steve Dawes, Helen Pitt, Flossie, Ron Angel, Andy Monaghan and the young Racheal Thompson, and a roster of musicians including the aforementioned, Joy Rennie and Moira Clarke. The last of Richard's own-compositions here is the superb anthem Come Along By, for which Richard has merely imported the recording first heard on his 6-year-old Town In Time CD - a shame, for although it benefits from mighty Wilson Family harmonies and twin-fiddle backing, it has an unfortunate premature fade and an ambience at odds with the rest of this collection that betrays its provenance. The instrumental tracks are lively renditions of dance tunes: the best of these being the sword dance Lass O' Dalogill, which could well have been (but wasn't!) recorded at one of the famous Stockton folk club "knurdle"-sessions! Richard's songs give a penetrating insight into how life used to be, and his heart clearly still "beats within the traditions of this region". This CD is a grand advertisement for NYM National Park tourism too, with stunning photography and paintings reproduced within the booklet (albeit in rather minuscule size).
David Kidman
---
Gramercy Arms - Gramercy Arms (Reveal)
Gramercy Arms is a collective of New York-based musicians comprising members of Joan As Police Woman, Guided By Voices, Luna and the Dambuilders; here on their debut release, we get a concise 30 minutes' worth of summery power-pop comprising ten compositions by the Dambuilders' Dave Derby performed by Dave with Kevin March, Sean Eden, Hilken Mancini and JAPW's Rainy Orteca. The idiom is west-coast pop, but with east coast sensibilities, and it all breezes along with brio and panache. There are guest backing vocals form a host of others, including Sarah Silverman, Joan Wasser and Matthew Caws, and Lloyd Cole plays keyboards and Chris Brokaw slide guitar on one track apiece. Performances are suitably committed and the half-hour passes very amicably, but I feel the collective needs a musical voice that's more distinctive overall, and there's a sneaking suspicion also that a little more substance in the writing might not go amiss.
David Kidman June 2008
---
Tracy Grammer - Flower of Avalon (Signature Sounds)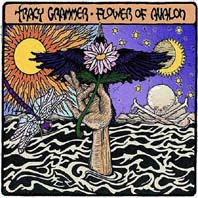 2001 saw the release of Dave Carter & Tracy Grammer's stunning 'Drum Hat Buddha' which was, and still is one the best albums we've ever carried. Sadly Dave died in 2002 and in addition to the legacy of the three excellent duo albums he also left a number of unrecorded songs.

'Flower of Avalon' (named after a song he wrote as a gift for Tracy) features 9 of these previously unrecorded pieces and one reworked traditional song, and with Tracy taking on the roles of singer, instrumentalist and co-producer these are as close to the original and intended sound as possible.

The songs cover an array of subjects that range from contemporary social commentary in 'Hey Ho', dark murders in 'Preston Miller', right through to mythical balladry in 'Mother, I Climbed'; and as you'd expect from the pen of Carter many of these songs are allegorical and littered with reference points from fables, folk-tales and real life.

While Tracy provides violin, guitar and banjo to the disc, it's her vocals that really stand out here – her voice is warm and full of feeling and she's the prefect channel for these songs and she conveys the stories and rich imagery effortlessly.

Other musicians featured on the disc include John Jennings (who also co-produced the album), Mary Chapin Carpenter, Lorne Entress and Jim Henry, and the backing includes guitars, dobro, banjo and piano that creates a sound that's close to the sound of the Dave & Tracy discs without being an exact copy. There are a number of superb songs here, notably 'Mother, I Climbed' an epic acoustic ballad with great vocal support from Carpenter, 'Gypsy Rose' is instantly memorable with superb melodies and strong vocals, and 'Laughlin Boy' is engaging story and a stirring bluegrass/Celtic romp.

'Flower of Avalon' is everything you could wish it to be – it's full of stunning Dave Carter songs beautifully performed by Tracy, and while it's not a Dave & Tracy album, it's as close as we're going to see, and hopefully this marks the start of a successful solo career for Tracy.

www.tracygrammer.com
www.fishrecords.co.uk

Neil Pearson, March 2005

Available from Fish Records, suppliers of singer/songwriter, folk & acoustic music, based in Shrewsbury, England
---
Gravenhurst - Black Holes In The Sand (Warp)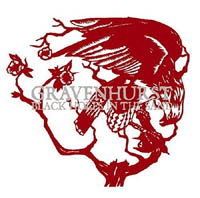 A six track mini album but clocking in at over thirty minutes, this muted but atmospheric collection tracks through Nick Talbot's earthily folk influences and canvas of lyrical dread (images of death loom large) to haunting effect, a perfect if somewhat troubling soundtrack to slopping into night's darker dreams. The title track's essentially a two parter, the small hours dark folk vocals and pulsing beat and strummed guitars giving way to a wheezing, cobwebbed instrumental as pump organ rises to dominate the foggy swirl.
He makes effective use of unsettling backgrounds and unexpected directions too, effectively demonstrated by the single droning note that underpins the acoustic troubadour woodland dews of the trad sounding Flowers In Her Hair, the fuzzy minimalist sonics that bloom within the eerie Still Water and the ghostly electronic thrum that is the closing Flashlight Seasons, their previous album's missing instrumental title track from. Striking too is his cover of Husker Du's surgingly dramatic Diane, here its tale of rape and murder stripped back down to rural wickerish menace.
www.silentagerecords.co.uk/gravenhurst
Mike Davies
---
David Gray - Shine:The Best of the Early Years (Hut)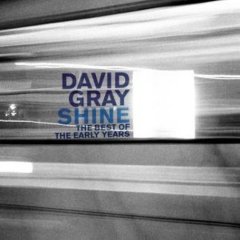 Although The Lost Songs album surfaced a few years back, it's taken a surprisingly long time for the albums Gray released prior to the breakthrough White Ladder to get repackaged in order to cash in on his current international success. However, EMI have finally ventured into the vaults and dug up the tapes to put together this compilation of tracks culled from 1993 debut A Century Ends, 1994 follow up Flesh and his final release for the label, 1996's wishfully titled Sell, Sell, Sell.
Unlike many artists' formative work, there's nothing here to embarrass, indeed, devoid of the studio polish of recent albums and with his distinctive warble more strikingly prominent, several of the songs and recordings in the collection stand head and shoulders above his current output. Case in point the now live standard Shine, a heated Late Night Radio and the striking Van Morrison-esque folk-blues Coming Down and A Century Ends.
Although devotees might lament the absence of Gutters Full of Rain and Magdalena, over the course of 15 tracks it's hard to fault the album's subtitle, embracing as it does debut single Bird Without Wings, the splendid Debauchery where he comes on like an Irish Jacques Brel, the wistful emotional angst of Lullaby and, back in Van mood (even referencing Here Comes The Night) the mandolin flecked love song The Light.
Given how few copies the original albums shifted, this is a perfect chance for latecomers to catch up on an illustrious back catalogue and see what all those early converts were waxing lyrical about.
www.davidgray.com
www.myspace.com/therealdavidgray
Mike Davies March 2007
---
Davy Graham - The Guitar Player (Castle)
It's no exaggeration to say that eclectic and unorthodox cult acoustic guitarist Davy can be said to have single-handedly invented the concept of the folk guitar instrumental, at least here in Britain. He's always been the stuff of legend, and has been acknowledged as a true original and a major influence on guitarists from Bert Jansch, John Renbourn and Wizz Jones (principally in the folk/blues ambit) on down the decades. Everyone in the 60s was playing (or attempting!!!) his celebrated calling card, his own composition Anji! This expanded reissue of Davy's (1962-recorded) début LP includes the whole of the original 1963 Pye/Golden Guinea release plus eight bonus tracks taken from more recent Rollercoaster label issues. The main offering embraces all the stylistic quirks of Davy's repertoire and thus ranges far and wide from tunes by Sonny Rollins (Don't Stop The Carnival) and Dave Brubeck (Take Five) through jazz, blues, gospel and movie music (an almost unrecognisable but wholly musical and brilliantly-fingered triple-time treatment of Exodus). Davy's spectacular technique is the focus, and instrumental backings are kept admirably simple and unobtrusive (just bass and drums). Given that the vast majority of 1962/63 albums sound inordinately dated today, The Guitar Player still has an unbelievably fresh feel - forty years on! Moving on to the bonus tracks, these begin with three choice cuts from the After Hours live collection, including a typically stunning 1967-vintage She Moved Thru' The Bizarre/Blue Raga, a 7-minute-plus rendition of his showpiece east-west hybrid that was to have such a far-reaching impact on the late-60s folk adventure. The final five bonus tracks are taken from the early 70s All That Moody album sessions. The icing on the cake of this reissue is the excellent 8-page booklet essay by Colin Harper that puts Davy's career and achievements into perspective most superbly.
David Kidman
---
Jules Gray - Jules Gray (Oporto)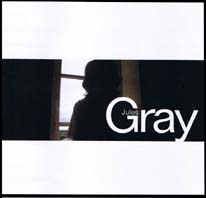 Every town and city has their undiscovered stars, musicians who, for lack of the breaks, the right exposure or just the simple perversity of the business, have never succeeded in finding the recognition or audience they deserve beyond their small circle of fans. Gray is one of Birmingham's.
Formerly songwriter and singer for local outfits Onionhead (the nearest thing the city ever came to its own REM), Tenderloin and Parachute, he's been pursuing a solo career for the past few years. This, his debut album actually appeared back in 2004, but it's indicative of the low key nature of his profile that I've only just chanced upon it. However, as he's selling copies through the website and has recently been gigging again, it's worth bringing to your attention.
Relaxed of style and with a warm, lilting Celtic burr of a voice that will inevitably draw references to Stipe, Morrison, and Mike Scott, he trades in folksy Americana, trembling vocal inflections complemented by acoustic guitar, haunting fiddle and yearning harmonica. Save for a fine, empty desert cover of Neil Young's Southern Pacific, everything is self-penned, a collection of wistful, quality, dust-sheened songs of lost directions, bruised hearts and emotional yearning that under the skin to seek out the fibres of your soul.
He lets himself down with the jaunty but unmemorable Connemara where he inexplicably adopts an ill-suited Gibb-like falsetto, but otherwise this is faultless stuff. Opening with the achingly dreamy Buffalo Tom inclined Everything You Know Is Wrong, it proceeds through such stand-out numbers as the jangling crystal guitar waters of Overflow, poignant slow swayer One Way Traffic, the big music and Crazy Horse guitar of I Won't Count On It and Built To Last, a Celtic saloon bar mist reverie of hope where his quivering tone calls to mind a miraculous fusion of Jackson Browne, Jackie Leven and Damien Rice.
The tour de force, though, is A Farewell To Sorrows, a ten minute early Dylan meets The Waterboys epic about the empty panaceas of drugs and religions in healing broken souls. It opens relating a woman sadly shedding a dysfunctional relationship, shifting perspective midway to find empathy for the guy, sunk into suicidal depression before closing up reflecting on the narrator's own need to shake of a reliance on 'strong medicine' but still seeking dependence in another's love. Do the world a favour, and help discover this neglected talent.
Mike Davies May 2007
---
Great Lakes - Diamond Times (Track & Field)
From the same Athens scene as Apples In Stereo, the Elephant 6 Collective and Neutral Milk Hotel and founded on the songs of vocalist Ben Crum and co-founder Dan Donahue, this is upbeat psychedelic indie pop with jangly guitars, chirpy bounce along melodies and strong hints of their southern country raising, even skirting hints of bluegrass with The Moon and the Lunatics and Night Hearts. Crum sounds a bit Richman-like on Shaky Faith, Farther's a big stomping stride along number, Hot Cosmos is Beach Boys glam rock with sax from down the honky tonk saloon and steel guitar pops up all over the place. Not quite Americana, but the likes of Precious And Reckless and the Gram-like ballad Eagle And Swan are close enough to earn temporary membership.
www.shadybard.co.uk
www.myspace.com/greatlakesband
Mike Davies May 2007
---
Great Lake Swimmers - Lost Channels (Netweerk)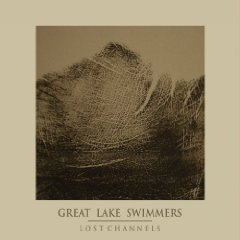 Named for Canada's answer to the Bermuda Triangle where the album was recorded, the Canadian outfit's follow up to Ongaria still mines their folk-country sensibilities and Neil Young comparisons, but with the guitars adopting a more Byrdsian ring and the melodies more outgoing. there's a far more muscular musical feel.

The kettle drum splendid She Comes To Me In A Dream, mandolin jangling Palmistry, country-folk shuffling Pulling On A Line and the rousing acoustic strum of Still all add vintage REM flavours to the mix but there's also plenty here for admirers of the band's slower and darker shades.

On the acoustic rumbling percussion shimmer of Everything Is Moving So Fast singer Tony Dekker conjures that Young ache while New Light gently drifts into everglades folk backwaters on a raft of banjo and cello. Employing Toronto's CN tower - no longer the world's tallest freestanding building - as a metaphor for feeling lost, on Concrete Heart's hushed whispering slow dance he once again demonstrates the hymnal quality of his voice, and the contemplative eddy of River's Edge that makes Fleet Foxes and Bon Iver sound like thrash bands.

While those are (deservedly) basking in the glow of both critical and commercial acclaim, the Swimmers remain largely undiscovered treasures, revered by a loyal but small fan base. It's about time they did a Michael Phelps.

www.greatlakeswimmers.com
www.myspace.com/greatlakeswimmers

Mike Davies May 2009
---
Great Lake Swimmers - Ongiara (Nettwerk)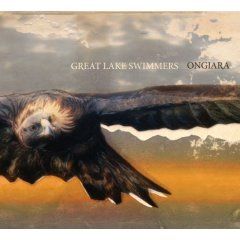 Their first since relocating from Fargo finds songwriter Tony Dekker and his Canadian cohorts in pretty much the same state of musical mind as their previous two outings with their folk-country sensibilities, simple acoustic arrangements and songs - such as the bluegrass opener Your Rocky Spine, Put There By The Land and the cycle of life Changing Colours - informed by the country's landscapes and (as exemplified by I Became Awake) a quest for spiritual awakening. On the fragile, almost hymnal There Is A light they even take in quiet protest.
Taking its title from the name of the boat they took out of Toronto to start recording the album, it again conjures thoughts of Neil Young and Iron And Wine, simultaneously on the lovely aching Backstage With The Modern Dancers and Where In The World Are You Now.
In relative terms the ripples over the water gets a bit frisky on an almost bluesy I Am Part Of A Large Family, but otherwise this is as soothingly meditative and reflective as you've come to expect, balm for troubled hearts and firefly evenings.
www.greatlakeswimmers.com
www.myspace.com/greatlakeswimmers
Mike Davies April 2007
---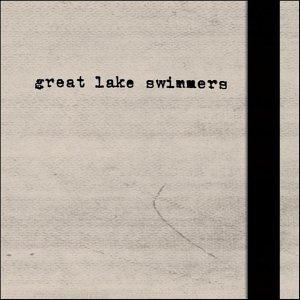 A vehicle for Toronto-based singer-songwriter Tony Dekker, this debut album was apparently recorded in the grain silo of an abandoned farm, providing the echoing distance of the sound and reflecting Dekker's rural sensibilities. Predominantly ghostly voice and acoustic guitar with the occasional shades of piano, drums, lap steel, and accordion, not to forget the background crickets, it lays it tales of worn down hearts and lovers' aches out against empty landscapes with a bare bones approach that, while compared to My Morning Jacket and Red House Painters, more often calls to mind fellow countryman Neil Young, especially on the such numbers as The Man With No Skin and Merge, A Vessel, A Harbour.
It's not the most uplifting of albums as Dekker pours out loneliness, desolation and desair on the deceptively buoyant I Will Never See The Sun, talks of numbing up on Moving, Shaking, of being a stranger in the city on This Is Not Like Home and, on the closing eponymous track, takes swimming as an existential metaphor for life as he relates a moment of panic as the currents seeks to pull him down and he has to fight to escape the desperate sense of solitude in which he's drowning. Well worth dipping into.
Mike Davies
---
Kate Green - An Unkindness Of Ravens (Own Label)

The way I see it, the big unkindness about this album is that it's probably destined not to get heard widely – but if I had anything to do with it, well it would be nominated for a Folk Award. For it really is that good - trust me! First the history then: Kate, based in Sheffield, originally recorded this album back in 1994, backed by fellow members of the Taproot String Band (Raymond Greenoaken, Mike Coleman and Patrick Walker) and Steáfán Hannigan. It was released on cassette only, and in that incarnation has been one of my most treasured possessions for the past decade. And twelve years on, in this freshly remastered CD edition, it sounds every bit as fabulous, and sonically very impressive indeed.

But what is obvious right from the outset is that Kate was (and still is, by the way) an exceptionally fine singer, one of the finest I know (and I've heard some brilliant singers). No surprise, then, to learn that she was awarded the Singer Of The Year trophy at 1991's National Folk Festival. For she's blessed with an exquisite, gorgeously full and rounded tone, equally sonorous in higher and lower registers alike (and through the difficult crossover point too!) - an enviable quality that's shared by remarkably few singers. Kate has a wholly natural grasp of line and pacing, and an unassumingly expert technique with tremendous control of dynamics and decoration. She knows intuitively when to ornament expressively and when to sing the line straight, and "goes for it" afresh each time without ever a hint of "party-piece" mannerism that characterises a lesser singer. Kate's response to each chosen song is one born of really inhabiting, living and breathing the tale it's telling; she clearly has a deep and healthy respect for the tradition and her sources, but is not afraid to present her own take on things, which she does extremely persuasively and with supreme conviction.

On this set, Kate tackles two of the "big ballads", delivering a spellbinding rendition of The Cruel Mother and a well nigh unsurpassable unaccompanied version of Reynardine (which I now come to realise has exerted a strong influence on my own interpretation - by osmosis?!). The unyielding inspiration Kate has derived from the Incredible String Band, and Robin Williamson in particular, comes to the fore in her covers of The Circle Is Unbroken and By Weary Well. As well as demonstrating her aptitude for the modes of traditional song, Kate also shows considerable flair for bluesier or gospel inflections, as on Leadbelly's Titanic and Clive Palmer's Empty Pocket Blues, and - best of all - turns in a spine-chilling rendition of Lazarus (the prison work-gang song collected by Alan Lomax) on which her technique is at its most formidable. Elsewhere plenty of contrast is provided by fine versions of the desolate I Am Stretched On Your Grave and the well-worn revival standard She Moved Through The Fair, with the wicked humour of Mike Waterson's A Stitch In Time also deliciously conveyed; finally, Kate gets to rest her voice (though not her compositional skills!) on the "wee tune" Jack Hare. Here, as throughout, instrumental work from Kate's "band" is well-conceived, both sympathetic and perfectly in balance with Kate's voice – and entirely believably recorded too. I'll say no more in a bid to convince you – this disc really is stunning.

So what became of all that talent? Well, as far as Kate herself is concerned, since An Unkindness Of Ravens there'd been an unduly lengthy period of non-performing due to a combination of heavy career and family commitments and ill-health, but the good news is that more recently Kate's been out singing again (with Patrick Walker), and lately recording again (with daughter Ellie, for Clive Palmer's forthcoming new CD). I can't wait to hear the results!

www.myspace.com/kategreenmusic

David Kidman November 2006
---
Marianne Green - Dear Irish Boy (Glas Records)
This is a little gem of an independent release that's sneaked out over the past few months and has proved a thoroughly charming and lasting listening experience ever since I managed to acquire a copy. But Marianne's will be a new name to the vast majority of readers, I'm sure. She's a captivating singer (and, we learn, a professional step-dancer and dance teacher); she has a pronounced Northern Irish accent, and yet it turns out she grew up in Denmark, the child of an Italian mother and a half-Danish, half-English father.
I'm not sure whether she's currently based in Northern Ireland, but Dear Irish Boy, her debut full-length CD (an EP was released back in 2004), was recorded at Colum Sands' Spring Records studio in Rostrevor, Co. Down, and produced by Andy Irvine - whose aural presence extends way beyond that of backroom boy (for he's Marianne's principal accompanist, playing bouzouki, mandolin, mandola, bass-bouzouki and harmonica).
And yet it's Marianne's own singing that remains in firmest focus, lilting enchantingly above the constancy and strength of Andy's distinctively deft, imaginative and entirely responsive playing. The spirit of the music-making is refreshingly informal and unpretentious, and there's evidently a very keen bond between the singer and her accompanist. In terms of character, Marianne's is a light-textured voice, pure and delicate (perhaps the closest reference points in terms of timbre being Cara Dillon or Altan's Mairéad Ní Mhaonaigh); she displays a telling maturity, seemingly effortless poise and total confidence of line. Her lyrical, intimate delivery is exceedingly beguiling, and is a good indication of the intuitive manner in which she relates to the song texts, whether they be familiar (Bonny Portmore, The Doffin Mistress, The Banks Of The Bann) or not (Carrickmannon Lake, The Wreck Of The Newcastle Fishermen), while she's equally persuasive whether singing in English (the majority) or Irish (just two of the dozen tracks).
All credit to Colum's engineering skills here too, for the recorded sound is at once totally clean and detailed and believable, with just the right degree of bloom to avoid disturbing the intrinsically minimal, pared-down nature of the arrangements. Although Andy takes the lion's share of instrumental duties, Gerry O'Connor plays violin on Carrickmannon Lake and Colum himself adds some concertina or double bass on a couple of songs. Andy's parts tend involve a degree of multitracking, but this is unobtrusively and sympathetically managed, as are the very modest enhancements to Marianne's voice (in the form of vocal chordings or harmonies for effect, as on the title track and the delightful You Make Me Fly). The latter-mentioned is one of a pair of lovely little self-penned songs tucked in amongst what's basically a traditional collection; Cian's Song, written by the album's executive producer Martin O'Hare, is the third odd-one-out in that respect, but this is also a considerable success in Marianne's hands.
I do, however, miss the chance to learn something of the songs' origins, since there are no notes with the otherwise attractive and admirably economical and eco-friendly package (or indeed on Marianne's website). But, that one matter of presentation aside, this beautiful record proves beyond all doubt that the quality of restraint in performance, both in expression and setting, is one of the most treasurable virtues any artist can possess.
David Kidman October 2010
---
The Martin Green Machine - First Sighting (Navigator)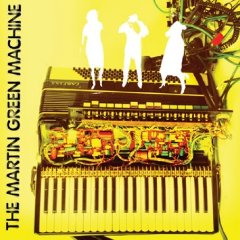 It's a lot like your first sighting of a strange and bewildering continent or unearthly alien landscape, this, and rather like a powerful hangover with its constantly shifting, heaving, perspectives weaving seemingly illogically through your brain. There's far too much going on to take in at one or even a half-dozen hearings, so you need to allow time for this weird sonic collage to work its magic.
The Green Machine itself started life as Lau's wild-man-accordionist Martin Green's commission piece for last year's Celtic Connections' New Voices series, but since then it's become a formidable and show-stopping gigging entity in its own right. The first thing to note is that this is galaxies away from being a solo accordion project, for its distinctive tones don't figure especially in the mix; the closest we get initially is the ceilidh sample loops that permeate the first half of Repetition (before the texture disintegrates into a Zappaesque "jazz noise here"), and some lyrical solo work introducing 23A, the mighty beast taking much more of a backseat on the bus thereafter and leaving the steering to the mutant brass, prog guitars and cataclysmic time-signatures. For the Green Machine brings in to Martin's creative ambit an eclectic array of talents from England and Scotland including the awesome Tom Cook (aka Manni - guitars, electronics, sound manipulation wiz), the mini-brass-section of Rick Taylor (trombone), Fergus Kerr (French horn) and Andy McKreel (tuba), and the seriously masterly rhythm section of Barnaby Stradling and Alyn Cosker. And not to mention key parts played by two equally gorgeous (yet highly contrasted) vocalists (Inge Thomson from Karine Polwart's band, and Edinburgh jazz singer Sophie Bancroft). Wordless breathy vocals enhance the intergalactic-space-jazz vibe of the early part of Horse, while Inge's delicate solo brushstrokes on Quayle Paint are sheer magic and Shudder (which features the magnificent Sophie) well lives up to its name with its queasy brass dialogues and cautious plodding momentum. Can't Use A Map swaggers rather noisily across different musical landscapes, whereas the six-minute Rory presents an adventurous and atmospheric conflagration of a poem by Shetland's George P.S. Peterson with samples of Rory Macleod, and Moff Skellington allows his own reading of his poem The Disappearing Platelayer to become the focus of the final track on the disc. Martin's accordion gets its chance to elbow its way in again on the beefy brass and Latino street-jibes of Give Up The Body (but let's face it, that movie can always use a re-run!) and again on PSP, which mixes big-gesture fuzz-toned funky ad-music with Anna Massie's banjo.
The Green Machine is a real hotbed of creativity, and has here produced some very original, seriously intriguing and fulfilling music, an inventive, cutting-edge melange of avant-garde, jazz, folk, funk, drum'n'bass and Canterbury-style prog-rock… and you owe it to yourself to listen long and hard to its often fractured, disturbed and welcomingly challenging grooves.
www.navigatorrecords.co.uk
www.themartingreenmachine.com
www.myspace.com/martingreen
David Kidman February 2009
---
Pat Green - Lucky Ones (Republic/Universal)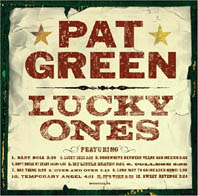 The follow up to major label debut Wave On Wave, the Texan guitar slinger Green's seventh album continues his upward trajectory among blue collar country circles. Slightly more polished these days, the label obviously looking to expand his crossover potential among Brooks & Dunn listeners, but thankfully not sucked into the depersonalising stetsons and rhinestone black hole of interchangeable twangy Nashville faces, Green keeps the radio and line dance friendly choruses coming while packing the lyrical meat into his verses.
You could probably live without College, a spangled bluegrass tune with factory line guitar licks and a line about those best days of your life, but elsewhere Baby Doll's swaggering Earle-inclined tale of a faded party girl, the Neil Young goes Peckinpah of Sweet Revenge, Temporary Angel's wry love song and the battered hearts and stubborn pride of Don't Break My Heart Again will provide regular repeat visits.
Mike Davies
---
Pat Green - Wave On Wave (Republic)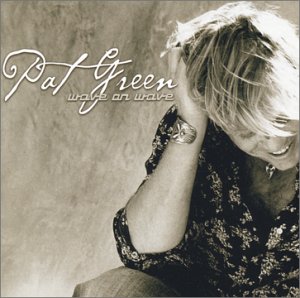 Texan guitar slinger Green has been compared to John Mellencamp, but his rebel twang is probably more akin to Steve Earle, Guy Clark, and Robert Earl Keen with a blue collar nod in the direction of Springsteen. He's not well known outside of his home state, but having shifted some 300,000 albums prior to his major label deal it's pretty clear that he's something of a Lone Star household name. That should spread considerably into the wider world with this, his sixth album, the hit title track (which turns up in two tempo versions) already having made major inroads into the line dance circuit. Don't let that put you off, Green may have a think for infectious melodies and chorus hooks but he's no rhinestoner, keeping it real and honest as he sings his upbeat songs of wrong roads, right directions and redemption through love.
Guy Like Me sets the ringing guitar tone with its Bud and blue jeans swagger as Green proceeds to work his way through a bunch of earthy Americana, accompanied by fiddles, dobro, banjo and the occasional Wurlitzer, the dust coating his voice, the whiskey swilling it around the mouth. Rousing and plangent on Wrapped and All The Good Things Fade Away, more reflective for the Beatlesy Sing 'til I Stop Crying, Eden's Gate and the acoustic Clark-like talk sing If I Was The Devil on which he partners up with Ray Wylie Hubbard. Hubbard's in there too on the playful bluesy chugger Elvis, a life in Graceland tale that may not be the album's best cut but with Willie Nelson, Ray Benson and Trish Murphy also trading vocals, is most definitely the one they had the most fun with in the studio.
Mike Davies
---
Peter Green - In The Skies/ Little Dreamer/ Whatcha Gonna Do?/ White Sky/ Kolors (Sanctuary)
Congratulations to Sanctuary for disinterring, and reissuing in their customary splendid style, these "lost" - and rather underrated - albums from Peter's first "quiet comeback" period, recorded for the little-known PVK label; all five of them, which have been unavailable on CD in this country for many years, have now reappeared on Sanctuary over the past few months. In terms of musical idiom, it's perhaps fair to say that some of them are less strict blues, as they veer experimentally at times somewhat more into soulful or funk-influenced heavy rock territory. But whatever your taste, and perhaps against expectations of the time, there's still some much-better-than-reasonable guitar playing from Peter on these albums, and it's clear that despite the partial change of musical direction Peter was far from being a spent force. In fact, when he re-emerged from reclusion and mental breakdown in 1978/79, In The Skies was a ready album-charter and, as Peter's low-profile comeback gambit, marked a strong return to form with a quietly impressive set, with gently cooking backings (utilising the skills of guest musicians that included Snowy White and Peter Bardens) that provided an ideal musical backdrop and sensibly-managed textures that gave his trademark guitar plenty of room to breathe. Standout cuts include the generously expansive Mac-era slow-12-bar number A Fool No More and Seven Stars with its inspired guitar work. Little Dreamer, the 1980 follow-up to In The Skies, was on the whole marginally less satisfying. This may be due to the strength of the material, for unlike In The Skies, its songs were largely written not by Peter himself but by his brother Michael. Or it may be due to the workmanlike radio-friendly funk-rock vibe of some of its tracks, where even the presence of Dave Mattacks' guest drumming and Ronnie Johnson's rhythm guitar couldn't entirely redeem matters although there were plenty of tasty interpolated guitar solo licks to compensate. However, there was a certain degree of interest in the autobiographical tenor of some of the lyrics and in Peter's keen interpretation of them, while the languid, extended title track is a sparkling reminder of glory days from the gentler side of Mac.
For the next album, Whatcha Gonna Do?, although recognisably a product of the same songwriter and sporting an identical basic rhythm section team, Peter broadened the stylistic ambit into jazz-funk, rock-steady and rock-balladry, with his solos tailored to these inflections surprisingly well; there's a new lushness to the production too, with string arrangements on many cuts and a soaring sax part (on Promised Land) among other interesting features. Peter's vocal versatility was also creditably showcased on this album. And by the way, this Sanctuary reissue comes with two bonus tracks hitherto available only on the latter-day Blue Guitar compilation. Here, too, the fourth PVK album, White Sky, includes bonus tracks, this time a hefty six in number which comprise outtakes from the album sessions. The album itself continued the trend of using brother Michael's songwriting skills, and Peter's vocal adaptability was still in evidence, and although to be honest not all of the material is particularly strong the album is still worth a listen and Peter's guitar work is still not entirely disappointing as it retains more than just occasional traces of past glories. Kolors was less a brand new album than a collection of unreleased outtakes from the latter three albums, and this reissue presents the tracks in a (chronologically) resequenced form together with a handful of bonus tracks taken from album sessions (some of which had previously been available on obscure compilations), and the rare 1979 single, Apostle. Why some of these cuts never made it onto the final albums is a mystery when they're of the calibre of treasures like the Joe Meek/spaghetti-western instrumental Bandit. Anyway, we can now be thankful that they're here in all their remastered glory, for listening with hindsight to these early-80s albums we can hear that not only do they provide a sort of trailer for the man's late-90s Splinter Group forays, but they also (in spite of their occasional limitations) provide some definitively classy listening - it would be a shame if they remained in neglect for another 20 years.
David Kidman
---
Peter Green Splinter Group - Reaching The Cold 100 (Eagle)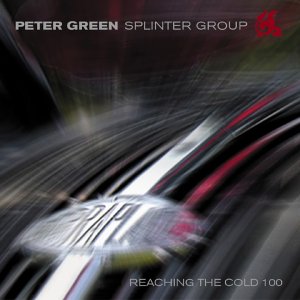 Peter Green and the Splinter Group go from strength to strength and this album of original material is proof of that. Green's voice is an octave lower than it was in his heyday and it has a husky quality that sits with the new material very well. This is immediately obvious on the opening track Nothings Gonna Change where it mixes well with Roger Cotton's Hammond organ.
On Look Out we are treated to a piece of trademark guitar from Green much akin to the style of Robert Cray whereas Cool Down allows Pete Stroud to drive the band forward with some thumping bass.
Dangerous Man is one of my favourites. This is vintage Green and includes some excellent harmonica work for good measure. A bit of a pattern has begun to come out - Hammond, harp and husky. This continues on Needs Must, which chugs along good style and on Must Be A Fool, which has some screaming guitar and great work on the wah-wah.
Don't Walk Away is a blues ballad but has the added attraction of stunning guitar from Green that is probably as good as his work from the 60s. Another of my favourites is Legal Fee Blues but I'm a sucker for slide guitar so it would be anyway. Nigel Watson, who shares the vocals and guitar work with Green, takes the lead vocal on this witty attack on the legal profession.
The only down side for me is Spiritual Thief. Don't ask me why, it just doesn't do anything for me. Mind you, it will probably be my favourite track from the album in 6 months time. Smile has a familiar, laid-back theme about it and Nice Girl is another that just chugs along with Larry Tolfree's drums adding great drive.
Somebody Cares rounds the album off and Nigel again takes the lead vocal. This could be another Need Your Love So Bad and that's no faint praise. The proof, of course, will be in the pudding and this set of songs can only add to the live reputation that the Splinter Group has been building over the past couple of years. By the way, if you are wondering what the title means I'll tell you. It comes from Robert Johnson's Terraplane Blues and refers to the first time when someone, in a Hudson Terraplane with its V-8 engine, reached the mark of 100 miles per hour.
www.eagle-rock.com
www.petergreen-splintergroup.co.uk
David Blue
---
Jackie Greene - Giving Up The Ghost (Freeworld)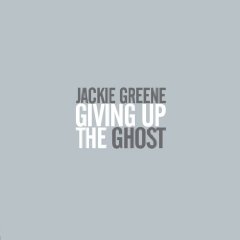 Apparently this is the fifth album from the 27 yr old Canadian singer-songwriter, so you'd have thought that by now he might have grown past his influences to establish a distinctive personal sound. However, while never less than listenable and with a couple of genuine highlights, it's hard not to find yourself thinking of other, better, names such as Ryan Adams and Mick Jagger when you hear I Don't Live In A Dream or the Southern infused r&b country swagger of Like A Ball & Chain and the decidedly Stonesy blues Don't Let the Devil Take Your Mind.
He's enlisted some stalwart backing musicians to bolster the sound, among them the Dead's Phil Lesh, Costello sideman Pete Thomas and Dave Hidalgo from Los Lobos, the latter's accordion injecting some party blues into Another Love Gone Bad. But, at the end of the day, while the bluesy, organ backed Jaggeresque sleaze-prowl Animal and the rootsy keening country soul Prayer for Spanish Harlem slip down easy, nothing leaves the sort of savouring after taste to make for repeated listens. And, on top of which, what would have been the album's best number, the slurring twangy Spanish stroll of Uphill Mountain, is spoiled by what sounds like a demented kazoo player crashing the recording session.
www.jackie-greene.com
www.myspace.com/jackiegreene
Mike Davies April 2009
---
The Green House Band - Mirage (Market Square)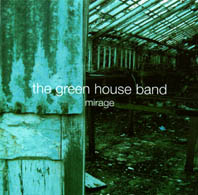 An old folk fogies supergroup that brings together Graeme Taylor (Gryphon, Albion Band), theatrical arranger Neil McArthur (Harvey and the Wallbangers), Dave Berry (John Kirkpatrick Band) and Michael Gregory (Fuchsia, Albion Band) with somewhat less long in the tooth actress/singer Madeleine Worrall for an album of traditional songs and covers of material by Renbourn and Jansch.
Taking their reference points from 70s prog folk interpreters Trees and obscure Irish outfit Mellow Candle and colouring their arrangements with the jazz flavours essayed by Pentangle they work their way through such folk standards as Blackwater Side, Reynardine, Flash Company and Geordie alongside things such as the Jansch title track (a well blues rocked version), Renbourn's The Nine Maidens and Dick Gaughan's arrangement of The Snows on which they're joined by the late Tim Rose.
I'm not sure there's any particular point to it and Worrall's clear voice tends to be a touch colourless and too precise to invest any real warmth in the material, but it's still a classy debut statement of intent for an outfit probably much more likely to make their best impact on stage.
Mike Davies
---
The Green House Band - Mirage (Market Square)
If I'm totally honest, initial impressions of this "essay in pastoral English folk" were not entirely favourable, but by midway through track 2 I'll admit I was getting hooked by this ensemble's classy take on traditional song and respect for their mentors. By the end of the CD, I was still not entirely won over, for reasons I'll come to shortly, but Mirage proves a totally honourable exercise in invoking and re-creating the spirit of the pioneering interpreters in this field (for which read primarily John Renbourn and Bert Jansch). I don't mean for a moment to give the impression that the Green House Band are ever a copycat Pentangle, but there are moments when they come perilously close, when their superlative musicianship and self-evident integrity save the day. So who are these fine musicians then? Well, for a start there's ace guitarist Graeme Taylor, who started his career over thirty years ago as a wunderkid with medieval-folksters Gryphon and later contributed enormously to what was definitely the Best Ever lineup of the Albion Band in the late 70s. Along with percussionist Michael Gregory as it happens, who's also in the Green House ranks. Instrumentally the Green House roster is completed by bassist Dave Berry (who'd worked with both Graeme and Michael in the John Kirkpatrick Band) and guitarist/pianist/arranger Neil McArthur. The resultant mix, then, produces a palette that is for the most part admirably restrained, cool but with subtle fire in the playing, especially when Graeme interjects some typically burnished, well-controlled electric guitar, while the characteristic "busyness" of Michael's percussive style is reined in to service the settings and never obtrusive. The overall "group sound" as often recalls Trees (cult turn-of-the-70s pastel-folkrock outfit) as Pentangle and the acoustic-electric juxtapositions are equally effective. But either group comparison brings into focus what I see as the Green House Band's Achilles heel – vocalist Madeleine Worrall is not exactly a match for Jacqui McShee (or Celia Humphries come to that), I'm afraid. In many respects she does a commendable enough job, and her heart's in the right place, while the whole group context in which she's placed is so convincing for the most part that you can forgive… But – Madeleine's principally an actress (albeit a musically-trained one) and this much is betrayed by her slightly forced accent and obvious use of technique (I don't mean to be unkind, but the impression is often given that any expressiveness is limited to a warbling decoration); also, Madeleine doesn't always seem to have the measure of the texts, and thus her interpretations are only intermittently successful. Having said all that, I still find that most of the twelve tracks on this album bear repeated listening – the instrumental work is uniformly excellent, and the ensemble has an acute ear for felicities of texture even notwithstanding the occasional inescapable sense of "heard this all before" where the actual arrangements have been directly inspired by Pentangle. Highlights for me were the 8-minute instrumental medley, the Green House version of Archie Fisher's Lindsay, and The Snows (They Melt The Soonest) (with Tim Rose guesting on duet vocal). And the rippling art-song-meets-Kate-Bush treatment of Annabel Lee is attractive in its own sweet way (like The Snows, this also features the guest violin of Richard Friedman). I'd like to end this review by reiterating that I've enjoyed revisiting this release despite its shortcomings – much in the same way that I enjoy revisiting performances of Schubert Lieder that don't quite hit the mark in all respects. Mirage has much to recommend it, especially if like me you feel that the shortcomings are largely transcended by the integrity of the project.
David Kidman
---
The Greencards - Weather and Water (Dualtone)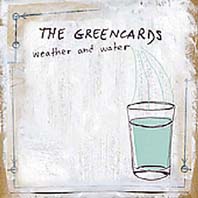 It's almost impossible to avoid getting caught up in the intricate web of country music spun by The Greencards. The warmth and gentleness of it all envelops you until there is nothing but you and it.
The name of the band comes about because neither Carol Young, Kym Warner nor Eamonn McLoughlin are American - Warner and Young are Australian, whilst McLaughlin is British. All three pitched up to Austin, Texas, started working with other musicians, realized a shared love of good country music and hey presto, The Greencards were born.
That influence from other cultures has given this most traditional of American music genres, a definite edge.
The Ghost Of Who We Were and Time have the kind of aching naivety that is the hallmark of the likes of Alison Krauss and Union Station. The simplicity is sustained by a belief that if it's good enough what else do you need. But there's at least two tracks which highlight the band's eagerness to put their own stamp on Weather and Water. The instrumental Home and the Ballad Of Kitty Brown, owe as much allegiance to traditional British folk music as they do to the Appalachian mountains.
But neither areThe Greencards a band to be bowed or constrained by convention and tradition, the bouzouki takes a slightly exotic bow on Like A Melody and it is here that you get a real feel for the pure musicianship of the band. The sheer playing ability of each means that there is a fight to be recognised.
Although they may at first glance seem strange bedfellows, The Greencards have made a perfect match of passion and precision. The three of them clearly care desperately about how the music is constructed, the cover of Patty Griffin's What You Are is a delicately intricate mosaic, built around Carol Young's voice. But that attention to detail doesn't come at the expense of, or sterilise, the intensity of feeling that each song generates. Perhaps inevitably, in the future, The Greencards will find it difficult to match the simple pleasure that The House On Vine Street brings. The demands of the 'business' will surely dull the sheer joy of playing Don't Wait Forever and Bordered On A Breakdown, but for now just sit back and savour a band who enjoy making music for its own sake.
Michael Mee
---
Green Peppers - Adventures In The Slipstream (Neon Tetra)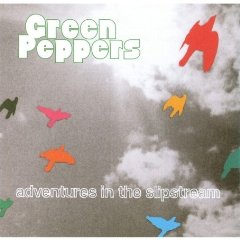 Formerly guitarist with Soup Dragons and Superstar, Jim McCulloch now ploughs a solo furrow with his gentle Scottish folk-pop and 60s psychedelic flavoured songs. For his third album he invited four female singers to add vocals to the tracks, best known among them being Emma Pollock from The Delgados. Given McCulloch's own somewhat colourless reedy voice, their presence lifts the numbers on which they take the lead while those on which he's more prominent, such as The Liars and Golden Geese tend to feel pleasant but insubstantial.
Pollock's the fore on the opening The Shell Song, a lovely example of woozy summery 60s pop while Sandra Belda brings a jazzy air to the Bacharach styled Summer Was His Name, Anna Sheard adds a touch of early Joni to the folky The Apple Sun and the lilting strum of In Time, and Melanie Whittle of the Hermit Crabs floats on gossamer wings across Angel, Angel.
It's soothing stuff, well arranged and washed with their rays of afternoon sun over rippling meadows of corn, but it does all tend to rather melt away leaving you half caught memories rather than songs still fluttering round the head when you wake.
www.greenpeppers.info
www.myspace.com/jimmculloch
Mike Davies August 2008
---
Pete Greenwood - Sirens (Heavenly)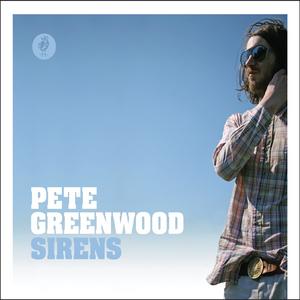 Guitarist with British country-rockers Loose Salute, Greenwood's solo album is of a slightly more 60s folk bent, blending his Gram Parsons and Nick Drake influences with a splash of early Dylan.
That said shaded in quiet melancholy, the songs tend to more conjure leafy English glades than the prairies or backwoods, though Negotiations And Last Words does tread the same dusty roads as vintage Tom Rush, Eric Andersen and Jackson C Frank. As further underlined by two brief instrumentals, A and B, he's a pretty handy troubadour guitar picker too with Davy Graham John Fahey, and Jansch obvious touchstones.
Several of the songs were written as part of his music degree at Goldsmith's where he took a songwriting class under Pete Astor, former frontman with The Weather Prophets. From this came Any Given Day, an acoustic folk blues about a poor boy, a stranger and a crush and the rhythmically urgent, demon fiddle stroked Bats Over Barstow, apparently an attempt to condense Hunter S Thompson's Fear And Loathing In Las Vegas into three minutes.
Greenwood earned a First, and, clearly having taken to this songwriting storytelling lark, proceeded to scribble further tales of London taxi drivers, Victorian gin, and the quest for a decent pair of shoes. With the likes of the dreamy pedal steel yearning Sirens, Heavy Eva, I Used To Be In A Band, For a Girl Like Mine and the fleet footed train track scampering Penny Dreadful, he should graduate with honours in this year's folk album best of lists too.
www.myspace.com/petergreenwood
Mike Davies August 2008
---
Clive Gregson - This Is Now (Gregsongs)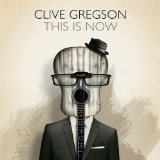 Although many of the songs hew to his familiar tales of lost loves, missed chances, and wry regrets, Gregson's self-released new album is anything but musically downbeat, leaving you with a skip in the step even if you do have a stone in your heart. Not that opening number My Kind Of Girl is wallowing in anything like misery as, to a northern soul beat and stabbing brass he paints a loving portrait of the perfect catch who 'smokes like a chimney, swears like a trooper, drinks like a fish'. Well, he does come from Up North.
He has the same romantic spring in his step on the laid-back, country-toned Same Way Too while the lovers in the jangly Supposed To Do (a song The Searchers night have once recorded) are 'joined at the hip' and the gently rolling Sooner Or Later has him optimistic that one day the girl he loves will reach out her hand to him too.
Of course, it's not all hearts and flowers: mid-tempo strum You Slipped Away pretty much speaks for itself while the couple in Lovers, with its descending piano notes and lazy rolling rhythm, aren't any longer.
Still, if romance can be fickle, as Flat Top observes, there's nothing to rival the relationship with a good guitar, one that lasts 'longer than lovers, best friends and wives.' As a celebration of real music, it makes a playful companion piece to Download, the subject matter of which you can probably guess, the celebration of life's 'perfect inconsistency' echoed in the country-rocking title track's message about accepting what you've ended up with, whatever your dreams may have been.
Looking back is also a keynote to Kitty's bittersweet affectionate memories of the hometown 'eternal adolescent' and loss of innocence in the big city while images of being away from or returning home loom large on the slow waltzing There, Haarlam (shades of Steve Goodman?), and the shimmering road song Such A Long Way From Home.
Asked about commercial success 14 years ago, Gregson said "I'm realistic to know that I work in a part of the business which is incredibly minority, but I don't see music as competitive sport. It's just something I play and enjoy and see as a sharing of emotions." He may never furnish his study with platinum discs, but twelve albums in that open and honest attitude continues to serve him and his audience well. This Is Now That's What I Call Music.
Note:The download version has five bonus tracks, among them the wistful They All Had Their Chance, one of the finest songs he's written.
Mike Davies May 2013
---
Clive Gregson - Bittersweet (Fulfill)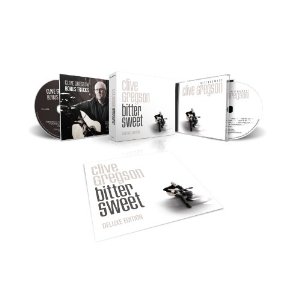 Although there was the Any Trouble reunion album in 2007 and he's played on various albums, its been a long seven years since the last new solo material of Long Story Short. That's rectified now with album of 13 songs which play summer to the last album's autumnal feel. However, while the title track, Julianne and the Northern soul influenced Sunny Left Town visits memories of old sweethearts, it's a less reflective and more open-armed embrace of love and the world out there, captured on numbers like the breezy sun-kissed Come Around, brisk country rockabilly shuffle Till You Get Home and the twangy tumble of The Door Is Open.

Sounding even more relaxed than last time around, Gregson voice and consummate guitar work dances lightly around melodies which may have been written in America but which carry the scent of new mown English country gardens and, on Daisy Chain especially, the rhythms of babbling brooks while That's The Thing About Love is meant to be listened to while lying back in a meadow gazing up at the clouds and the lovely foxtrot Without You, with its brushed drums and Bert Weedon guitar, surely designed for 40s twilight ballrooms.

Indeed, the album's nostalgia is very much of a musical kind, One For The Trees harking to Bobby Darin-like 50s swing pop with its jazzy piano break, Back Where I Belong the easy rolling 70s country-folk of Don Williams and, the stand out Start Again a cocktail of the Everlys and Roy Orbison. He may never have a single in the charts or headline arenas, but if a comfortable pair of favourite jeans could make music, they'd sound like Clive Gregson.

Note: The signed deluxe box edition box also includes poster and six bonus tracks.

Mike Davies May 2011
---
Clive Gregson - The Best Of Clive Gregson (Gregsongs)
Manchester-born, Nashville-based Clive's one of the most highly respected guys in the biz: not content with being one of the country's finest singer-songwriters, he's also no mean musician (guitarist and keyboardist) and a hell of a skilled producer. His career to date spans close on three decades, from founding the cult band Any Trouble at the back end of the 1970s, through five classic (and supremely classy) albums in partnership with Christine Collister, a stint with the Richard Thompson Band and work with Eddi Reader and Boo Hewerdine, then on to a series of fine solo albums of his own. Clive's songwriting is very special indeed, characterised by its brilliantly crafted quality, that winning combination of keen lyrical dexterity, witty wordsmithery, sensitivity to the human condition and an exceptional gift for melody. He has an inbuilt feel for exactly what makes the perfect song, for every one of his creations expresses exactly what it needs to simply, directly and with the minimum of fuss, making its point with both an enviable economy and a complete accessibility of musical and verbal idiom. Each song is a polished jewel of observation, with emotionally expressive statement that ranges from the bittersweet to the wistful, the caustic to the melancholy. And although Clive's a proven master of recording technology, such is his natural musicality that his albums never sound artificially produced.
This latest collection, Clive's first solo compilation, is great as a sampler-cum-primer for those unlucky enough to have missed out thus far on his talent: its 73 minutes present a lovingly sequenced parade of true hit material, each one of whose 18 abundantly catchy songs most writers would've given their eye-teeth to have written. The disc's title is no misnomer, and although each Gregsong fan might feel aggrieved at the omission of a personal favourite or two, there's not a song here that doesn't qualify as among his best – the problem is that he's written so many that could equally rate!… The actual selection was made by Clive himself, however, and the constraint of non-availability of several key albums (those to which Clive doesn't own the rights) actually proves a bonus rather than a drawback, since this has enabled Clive to include never-before-heard demo versions of songs from those albums (this gambit will make the disc an essential acquisition for those who already own all of Clive's back-catalogue, of course!). The original I Love This Town album provides the source for the song of that name, in addition to Tattoo and Jericho Junction, while others originate from Strange Persuasions (Jewel In Your Crown, Home Is Where The Heart Is) and People And Places (Feathers). And at the end of it all, There Comes A Time is the natural choice for the collection's final track, being a song Clive often closes his live shows with. Perhaps I'd have substituted the slightly shambolic drum-machine-and-keyboard-based demo of Touch And Go (purely on the grounds of personal preference), but I can't honestly quibble with any other tough choices Clive has had to make in producing this expert compilation. As a bonus, the collection sports informative, detailed and genuinely thoughtful notes by Clive himself – for this is no cash-in-repackage exercise. So don't hesitate; treat yourself to a copy of this ideally rounded demonstration of Clive's versatility and musicianship.
David Kidman March 2009
---
Clive Gregson & Christine Collister - Mischief (Gott Discs)
This album, first released on Topic's Special Delivery label in 1987, was the "difficult" studio followup to the duo's legendary Home And Away live set. For the album sessions, Clive and Christine augmented their basic two-voices-plus-guitar blueprint with other musicians: Howard Lees on second guitar, Rory McFarlane (of the Richard Thompson Band of the time) on bass and Any Trouble's Martin Hughes on drums. And to brilliant effect too, with the album characterised by the guys' solid-state yet wholly relaxed playing. Lyrically and musically speaking, Mischief was also an exceptionally strong collection of Gregsongs, on which Christine in particular excelled vocally: her powerful solo singing on I Specialise, We're Not Over Yet and I Will Be There in particular remains unsurpassed, while her gift for harmony singing has rarely sounded more persuasive than on cuts such as No Word Of A Lie and Not A Day Passes. It sounds clichéd, but I'd almost forgotten how darned good an album Mischief was, and it's great to have a timely reminder in the shape of this Gott Discs reissue, which constitutes the latest in the projected complete series of expanded editions. It's well up to the Gott house standard, coming complete with illuminating new notes on the songs by Clive himself and no less than four bonus tracks, three of which turn out to be previously-unreleased-in-the UK cuts (I Wonder What Went Wrong, Everybody Cheats On You, This Tender Trap) that were recorded at a later date as B-sides for the 12" single release of the album's lone cover, Bobby Bland's I Wouldn't Treat A Dog (which itself comes in both versions here). The only significant omission from this excellently packaged reissue is the lyrics from the original album booklet. Even so, do grab this reissue while you can - for Mischief is a classic album that deserves to be in your collection.
www.clivegregson.com
www.christinecollister.com
David Kidman March 2008
---
Clive Gregson & Christine Collister - The Best Of (Gott)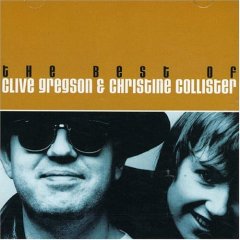 This compilation rather worryingly makes you wonder if the plan to reissue all the original albums has been derailed since it doesn't seem to make much sense to release something which contains five of the tracks included on the duo's debut Home And Away, reissued just a couple of months earlier. Still, while devotees might want to hang on and see if Mischief, A Change in The Weather, A Strange Hotel and The Last Word do surface, newcomers could usefully use this as a taster of what's in store.
The sophomore album provides four choice picks with I Specialise, the raunchy blues I Wouldn't Treat A Dog, Wash Me Away and, one of their all time classics, We're Not Over Yet. From album number three you get domestic violence wrencher This Is The Deal, Tryin' To Get To You, (Don't Step In) My Blue Suede Shoes and, another of those bruised heart gems, How Weak I Am. Only Love Is A Strange Hotel surfaces from the covers collection follow up (which includes fine versions of How Men Are and For a Dancer), leaving their bleak final album together to yield the juddery I Shake, Could This Be The One? and Here I Go Again.
Arguably, it's the first two albums that contain the best of their time together, but there are gems shining on all, waiting to be rediscovered and reassessed. For now, buy this for a friend who's never heard of them and make a point of sitting in while they listen just to remind yourself of how good they were. Then you might want to start a campaign to get Gregson's pre G&C solo debut, the inexpressibly wonderful Strange Persuasions, out on remastered CD too, rather than forking out up to £40 for a used copy on Amazon.
www.clivegregson.com
www.christinecollister.com
Mike Davies November 2006
---
Clive Gregson & Christine Collister - Home and Away (Gott)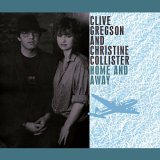 For those dwindling few of us who, in late 1984, remained steadfast Any Trouble fans, the gloomy news of their demise was to be leavened with the glow from a new dawn two years later with the release of this, the debut album from the band's former singer and his new singing partner.
A cottage industry production, recorded to 4 track on a Portastudio over a series of gigs or in Clive's living room during February and March of that year, it arrived on the folk roots like a breath of fresh air. It confirmed what we already knew, that Gregson was one of the country's best songwriters and a pretty damn good singer too, but it also announced the arrival of a stunning new voice in Christine Collister.
Opening with the world weary romanticism of Clive's It's All Just Talk, the 15 selections embrace both self-penned material and covers, the latter including Clive's fine interpretation of Keith Hancock's anti-drugs nugget Chasing The Dragon, a version of I'm Blowing Away that puts even Bonnie Raitt's in the shade, and Collister's scorching folk-blues reading of I Heard It Through The Grapevine.
It's testament to the originals, that, some 20 years later, audiences for Gregson's solo shows still call out to hear Northern Soul, Home Is Where The Heart Is and the heartbreaking Touch and Go, not just for nostalgia but because they are enduring true classics that would grace anyone's set list. Remastered and with new sleeve notes by Clive, its warts and all simplicity and emotional honesty make it sound as fresh and as affecting today as when it first appeared.
www.clivegregson.com
www.christinecollister.com
Mike Davies, July 2006
---
Clive Gregson - Long Story Short (Fellside)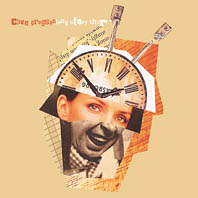 A couple of years ago Gregson was talking about plans to record a vaguely concept album about life up North. That's yet to materialise, but he returns now with arguably his warmest, most poignantly intimate album to date. A perfect working model of his live show, is a simple voice and acoustic guitar affair, gently rippling with reflective, wistful and nostalgic songs about first loves, found loves, lost loves and loves that never were.
Beyond question the best thing he's done since his solo debut Strange Persuasions, there's no musical frills, just plain, folksily autumnal melodies from a sweetly tuned melancholic guitar, but Gregson's never sounded as relaxed and comfortable in his soul as he does on the opening Cornerstone, a touching affirmation of a life changing love that is coloured with the smells of rural English countrysides.
Reminiscences of childhood tumble through the lazily rolling Over The Garden Wall as he recalls those first stirrings of the heart on seeing some ponytailed local lass. Too shy at ten, he didn't get the girl and there's several songs here to suggest he remained fairly unlucky in love, regrets whimiscally veining the stalled relationship of the hymnal sounding I Never Learned A Thing About You (on which he swaps guitar for piano), memories rubbing salt into the wounds on Ghosts, self-recrimination staining My Bitter Half and the lost opportunities of the wonderfully titled (though credit for that goes to Iain Matthews) Joan of Arkansas.
And yet,while Paper Dolls does take a snide swipe at the aristocracy, there's no bitterness anywhere here. Quiet acceptance that life isn't always going to have the trains running on time and the bed will always have someone to warm it is there on the intricately picked My Other Life, while Wintertime, I Remember You, Your Love and the mildly bluesy All My Stories are variously celebrate the certainty of present love and the bittersweet joys of those that passed. The backporch strumming of Jenny even paints a blissful - if perhaps wistfully imagined - picture of true romance, growing old together and kids running round your legs.
The album's final two tracks, the banjo plucked backwoods folk-roots Goldfish Bowl and the soothing Cool Rain find him considering his life, dreaming of escaping from swimming round in circles but finally acknowledging that "if I had my chance I'd do it all again" with the calm reassurance of a man who's put his demons to spiritual rest.
Mike Davies
---
Clive Gregson - Comfort and Joy (Fellside)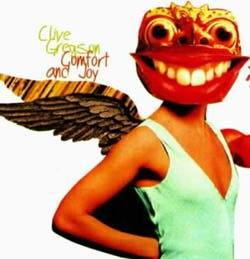 You don't spend years as one of the regular side-men of the man regarded by many as this country's greatest living songwriter and guitarist without learning a trick or two. Through his long liaison with Richard Thompson, Clive Gregson is pretty much guaranteed a fair few sales of his latest solo outing. That's not to say, however, that he's taking a free ride on the coat-tails of his old boss. Far from it; Comfort and Joy is the latest chapter in a career atha increasingly sees him proving his worth as a songwriter and musician of standing.
And it's a solo album in every sense of the word; the talented Mr G wrote and sang all the songs, he played every instrument and he recorded and produced it all at his own studio in Nashville, the city he now calls home, although the booklet photo shows him sat at some piece of high-tech studio kit wearing a Manchester United shirt - a souvenir of his first love and reminder of his roots.
But to the music - cynics might say that it's simplicity itself, with the facilities offered by modern studio equipment, to record layers of voices and instruments over each other to produce a cohesive whole, but, without a mastery of the instruments involved, without good songs to start with and without an ear for what's on the money and what's artistically bankrupt, no studio trickery will produce a healthy bank statement. So, Gregson serves us a dozen songs each of which is possessed of a memorable hook and a hummable melody.
"Frances O'Connor" gets things off to a lively start as it proceeds along at an easy lope, telling us how the lovely Frances is a "a hell of a girl, a princess in paisley and precious in pearls". Gregson, it seems, heard the name years ago and so liked the sound of it he stored it in his cerebral book of songs to write. He subsequently learnt of the actress with the same name and has said she's welcome to the song if she wants it. "Fingerless Gloves" is the observations of successful musician, thankful he's risen above the plight of the humble busker, playing out in the cold and having to wear the digitless trappings of the title. The country influences of his adopted home make their presence felt on a couple of tracks, most notably "White Suit of Notes" which marries sprightly banjo-picking to a mournful harmonica and some tasteful steel guitar. And the pros and cons of dating a "Catholic Girl" are mulled over with the keenly noticed: "She'll think nothing of raving through Saturday night, long as she can still make Sunday Mass".
This may not be an album to set the world - or the charts - alight but it is, nonetheless, a fine example of the love, skill and variety that Gregson continues to put into his craft.
Fred Hall
Clive Gregson - Comfort and Joy (Fellside)
Manchester born, Stateside based, and generally accepted as a guitarist to rival Richard Thompson the former Any Trouble frontman and sometime Boo Hewerdine collaborator is an underrated talent but, again evident on this totally one-man show, suffers from the fact his songs are never quite as good when he's happy as when he's miserable. And hoping the world never finds the antidote to love doesn't leave you quite the same emotional wreck as a tale of child abuse or heartbreak.
That said, sadness still haunts several of the tracks. Fingerless Gloves is a musician's there but for the grace of god snapshot of a busker, String of Pearls concerns having relationships with people a sandwich short of a picnic. White Suit of Notes is lament for travelling singers with Hank Williams as the reference point. and the title track's a poignant vignette of a lonely aged widow sometimes wishing she'd never wake up. Otherwise love dominates; captured at first bloom (Riding On A Bus), celebrating wild angels (Catholic Girls) and coy virgins (Frances O'Connor) or pledging devotion (If I Was Your Lover). There's even a cod trad courting number in Peggy Peggy-O. With Celtic colourings shading many of the numbers, it's a warm, upbeat and generally satisfying rootsy collection but there are those of us who wish he'd at least once pay a return visit to desolation row.
Mike Davies
---
Clive Gregson & the Black Art of Songwriting - A NetRhythms Micro Interview.
Clive Gregson's new release "Comfort & Joy" is another entirely self written, played & recorded collection. Gregson demonstrates an understated flair for arrangements with a light touch, knowing references to classic pop hooks & considerable instrumental prowess but it is the sheer quality of the songs which drive this album.
As on Dylan's "Blood on the Tracks" the writing is deceptively simple without ostentatious lyrics or incongruous musical changes. Despite references from English folk to Buddy Holly, these 12 songs form such well crafted wholes that it's difficult to deconstruct them to determine what makes them work; they just do.
NetRhythms tied down Gregson for a few 'virtual minutes' to expound on the art of songwriting.
See also Fred Hall's full NetRhythms review of Comfort & Joy & Clive's blow by blow account of the songs at http://www.clivegregson.com.

Q: The songs on Comfort & Joy have been well road tested - do they change much between creation & recording?
A: As far as the basic song goes, not really. Once a song is written, I try it out onstage and try to gauge the response. If a song isn't really working after 2/3 outings, I usually shelve it. If a song stays in the show, I might tweek a word or chord here and there. That's about the extent of it.
Q: Like your previous album you've played all the instruments yourself. What dictates the arrangements?
A: I don't really have a budget to make albums, so basically if I can't play it and don't have it to hand, I do without it! Luckily, I've managed to put together a halfway decent studio over the years and can play a fair number of instruments so that's not particularly a bind. The starting point for the "arrangements" is the live version. I bosh down a guitar and vocal and then add parts to that. Although it's only me playing, I like the albums to sound like "real" people playing "real" instruments. Organic! I just try to support the songs in a simple, unobtrusive way.
Q:Do you have a specific approach to songwriting? Is there a usual starting point or do they just "arrive"?
A: I really believe that there are no rules when it comes to songwriting. The writer just has to like the end result. Sometimes I start with a title, sometimes a chord sequence. Sometimes it's just a snatch of tune, sometimes I have the whole lyric. Every now and again, one drops out of the air fully formed! Those are my favourites. No work involved!
I think the trick is to just be open and receptive to ideas, however they come. I try and write something every day. Lots of it remains unfinished or gets tossed. They don't all have to be great or even good! They are just part of the ongoing process. I typically find that I need to write at least thirty songs to get a dozen for a record. You should hear some of the rejects! Real howlers...
Q: How do you feel about Comfort & Joy with the benefit of hindsight?
A: I really like it. There's very little about it that I would change if I had the chance. That's usually a good sign. I mostly like my records these days. I'm very fortunate: I can pretty much do what I please, secure in the knowledge that only six people are ever going to hear it!
Q. What can we expect to hear next from you?
A: I'm working on a bunch of songs about the North of England: about growing up in Manchester and about how I view England generally now I live in the USA. I've been playing a few of them live recently and people seem to like them which is great. Watch this space!
James Hibbins
October 2001
---
Charlotte Greig - At Llangennith [Harmonium Music]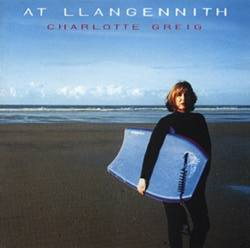 I remember reviewing Charlotte Greig's last record, 'Down In The Valley', and coming up with phrases like 'quirky' and 'love or loathe'. All of this being down to the dominance of her harmonium on the record. Not a problem for me though some would run for cover as I said at the time. With 'At Llangennith', we find Charlotte less harmonium fixated but still maintaining a style which is rather mesmeric. Using a variety of keyboard, she has put together this self-produced record with Julian Hayman who provides the guitar and bass. Again, most of the songs are self compositions though there is a 'trad. arr.' with 'The Snows' and the closing track 'Leave It Blue' ends with a sample of local traditional singer, Phil Tanner, singing 'The Gower Reel'. So, in a composition sense, much the same format as before has been followed. Musically, an echoing vocal with a very laidback and gentle feel means that the album comes across as suited to that 'morning after' feeling. Like Beth Orton meets the British Folk scene. True, it can wash across you and not touch you if you're in a more lively mood but on a lazy Sunday afternoon, such as the time of writing this review, it sound just right.
Steve Henderson
---
Sonya Greta - Vigilante Arcade (Sonya Greta)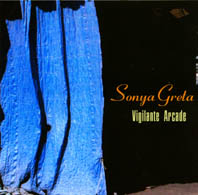 The world seems full of unknown artists releasing little heralded albums on small obscure indepedent labels, most never destined to find an audience beyond a circle of admirers as wide as their battered tour van can take them. California singer-songwriter Greta stands a good chance of widening her personal circle with this debut release, a guitar/piano based folk and blues coloured collection of stories steeped in the downsides of life but with a glimmer of hope on the horizon. With a sensuous voice of dark mahogany she assembles her styles from a tapestry of folk and blues, branching into jazz textures with Holding On or the title track's rocked country chugging train rhythms. The obligatory Joni references rear their head with Breakpoint, but the likes of the ethereal I Don't See You, Woodswoman's leafy folk and the swayingly dreamy, cello accompanied Direction generally anchor her influences in the familiarity of the late 60s/early 70s coffee houses and student cellars, the voice conjuring familiar (Bonnie Koloc, Joan Baez, a deeper Janis Ian, but never pinpointingly specific references. The production can be a little muddy at times, but the quality of the performance and the material rings through, no better than on the hauntingly sombre suicide narrative Ode to Mrs. Pontellier where dissonant chords and Greta's weighed down delivery (resonant of but sounding nothing like Bobbie Gentry) add to the evocative pall of sadness.
Mike Davies
---
JJ Grey & Mofro - Georgia Warhorse (Alligator Records)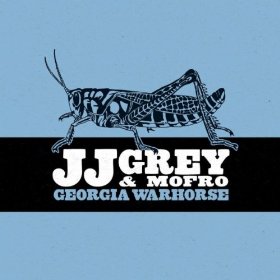 Georgia Warhorse is JJ Grey's fifth album and each has been full of original songs. He fits in those albums between his exhausting touring regime and the two pronged attack is bringing him to the notice of more and more people each year. Diyo Dayo is a throbbing grungy opener with baleful harmonica from Grey. King Hummingbird is a classy acoustic rock ballad with Grey's mournful vocal. The horns make The Sweetest Thing into a cool R&B and the addition of Toots Hibbert on vocals is a master stroke as the band powers it out. All has strident drumming from Anthony Cole as the band stays in the R&B field. This is in your face, big time. The eponymous title track is about a kind of grasshopper, I believe, and JJ says that they are tough like an old Tonka toy and so at ease with the world - just like him, really. No matter what it's about, this slow grinding blues has lung bursting harp to match the best and Grey also chips in with a lazy solo on slide.
Gotta Know is another rock ballad. This has a gritty vocal but there are many levels to his voice. The introduction of organ half way through gives it a Gospel feel. Another level is added with the horn section as the whole thing builds up towards the finish. Hide & Seek is vibrant and acoustic led. Andrew Trube, on bass, delivers the power this time but there's an unexpected, slightly strange keyboard solo as well. Having said that, it does cut through the song pretty well. Co-written with Chuck Prophet and Angelo Petraglia (Kings of Leon), Beautiful World has relaxing acoustic tones and leans towards Country. Slow, Hot & Sweaty, you don't get sweaty in a title very often, is funky and the kind of song that you'd expect from someone like Prince or Sly Stone - surprising. The Hottest Spot In Hell is a pounding R&B which showcases his deep baritone voice. The rhythm section excels and the horns (Art Edmaiston on trumpet and Dennis Marion on trumpet) make for a tight unit. He finishes off with Lullaby but, although hypnotic, this blues flecked offering won't send you to sleep as the drummer and guest slide guitarist, Derek Trucks, are let loose.
David Blue November 2010
---
Sara Grey - Sandy Boys (Fellside)
Any new record from the unforgettable Sara will always be a cause for celebration, and Sandy Boys is even more so. Not least in that (like its 2005 predecessor A Long Way From Home) it also involves the exceptional musicianship of her son Kieron Means – and the abundantly sensitive fiddle playing of their young colleague Ben Paley. Both of whom, incidentally, often join Sara on bookings these days. This particular performing partnership of mother and son is something really special, and the intimate quality of Paul Adams' recording brings out the intense close-knit-ness of that relationship, not just in its ideal "home kitchen" feel. The key achievement of both performances and recording is that while it's all superbly intimate, it's not in any way exclusive or excluding to the listener.
Sara herself is on especially compelling vocal form on this occasion. And Sara's pre-eminence as a foremost practitioner of the old-time style (whether singing or frailing the good ol' banjo) is assured; this new disc furnishes us with a further 15 prime examples of her artistry. Some I'm surprised to find she hasn't recorded before, while many others will be new even to hardened devotees of old-time. Naturally, Sara's core repertoire is songs and ballads which originated in the British Isles and relocated in the USA, and her enterprise in seeking out fresh sources and variants ensures constant interest for both performer and listener. So this disc contains a liberal helping of expertly managed ballads in interesting or unusual variants (including the broadside The Cruel Lowland Maid and a particularly driven, sinister modal Young Hunting). Here we also encounter a beautifully-paced treatment of Old Paint, a tender rendition of Utah Phillips' Goodnight-Loving Trail, and a hauntingly spare voices-and-fiddle rendition of Joe Newberry's Resurrection Day. Another major revelation is the unexpectedly bluesy version of the Scottish "parlour ballad" Black Is The Colour, which turns out to have been sourced by Sara from North Carolina singer Deli Norton. The menu is completed by further delicious discoveries like the Georgian Sea Islands call-and-response song Sheep, Sheep Don't You Know The Road, while the disc closes with the June Apple-Shady Grove conglomeration Train On The Island fading on down the track into the distance.
Earlier, the three musicians give gentle relaxed rip on the disc's lone instrumental cut, the all-too-aptly titled Fine Times At Our House. Fine Times indeed, for this kind of playing and singing just brings a lump to the throat every time. Sandy Boys is simply a gorgeous and treasurable release: a veritable oasis, a haven for the weary soul. And with typically fulsome booklet notes too.
David Kidman September 2009
---
Sara Grey - A Long Way From Home (Fellside)
Despite its being entitled A Long Way From Home, in a sense this album represents a homecoming for Sara in that she's now returned to Fellside - with whose expert recording team she regards as a kind of spiritual home it seems, and for whom she recorded two highly-regarded albums (with Ellie Ellis, if memory serves me correctly) back in the 1980s - to record a brand new solo album as a direct follow-on from her wonderful contributions to the Song Links 2 project. Although this charming new disc is easily appreciated on its own terms, it can just as easily be seen as a perfect companion piece to her son Kieron Means' latest excellent release (Far As My Eyes Can See, also for Fellside, and reviewed here last autumn), which it complements most delightfully. One small instance aside (a chorus vocal from Linda Adams on one track), A Long Way From Home utilises identical personnel (just Sara and Kieron, with occasional contributions from fiddler Ben Paley), the difference inevitably being the shift of emphasis as regards lead vocalist, firmly onto the lovely Sara herself - and of course I wouldn't expect it any other way (it is her album, after all!). Now there can be no argument that Sara is now, and has been for some years, one of the premier exponents of old-time singing and playing; the marvel is that she's always coming up with refreshingly different material drawn up out of the seemingly bottomless well of traditional song, many examples of which emanate from the field of Sara's "specialist subject" of song migration. Traditional, for Sara, can embrace on one hand "straight" balladry from the pages of Child (albeit in fascinatingly different variants from those we're used to, like the South Carolina version of Barbara Allen which Sara learned from Jerry Epstein). On the other, there's the "tradition" of the music-hall, whence comes the delicious parody tale of The Prodigal Son, which Sara tackles with evident relish. And the rural oral tradition, as exemplified by selections like Sweet Sunny South (here presented in the gloriously "somewhat crooked", modal version that Sara got from Wally Macnow) and the "hard-edged mountain song" Old Smokey (from the singing of Roscoe Holcomb). The album also includes two brief instrumental tracks (hey, why not more?). Sara's booklet notes are the epitome of careful, loving research and presentation, comprehensively informing us of her sources yet saying much in little space. Now this is curious but, beautifully managed though all the traditional-sourced songs are (and yes, these form the lion's share of the CD), two of the cuts I most enjoyed were her superbly-paced versions of J.B. Lenoir's Down In Mississippi (a duet with Kieron) and Hank Williams' I'm So Lonesome I Could Cry (where Sara and Kieron are joined by Ben's keening fiddle). Sara also turns in a standout rendition of Stephen Foster's Nellie Was A Lady, evidently responding very deeply to its sympathetic portrait of the non-caricature side of minstrelsy. But whatever she chooses to sing, what makes Sara so compelling a performer is that she so naturally manages the tricky feat of drawing you in with her insight, empathy and compassion while maintaining a sensible storyteller's distance from the texts. Her performing style, whether singing unaccompanied or frailin' that good ol' five-string banjo, I find immensely endearing. I acknowledge that there are some listeners who can only take her trademark vibrato in small doses, and to those folks I'll address my observation that on this new album that feature might only really be considered in any way an intrusion or mannerism - and even then only slight - on some of the unaccompanied cuts like Barbara Allen and Derry Dens Of Arrow; and by the way, I reckon these two particular selections should really have been "separated" within the running order rather than one following straight after the other with barely a pause). With A Long Way From Home, Sara has produced an outstanding album of authentic old-time music that puts most if not all of the competition in the shade, and it's destined for my albums-of-the-year list already (heck, it's only January!).
David Kidman
---
Patty Griffin - Children Running Through (ATO)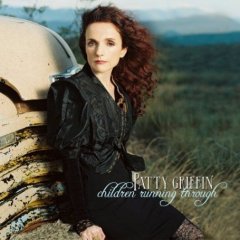 Still better known as a songwriter than an artist in her own right, this may be the one to break down the barriers of perception if only because Griffin, who co-produced with Mike McCarthy, seems to have made a conscious effort to go for the heart rather than the intellect. I have to admit I'm personally not that taken with the bluesier, gutsier numbers; the five minute Stay On The Ride, a talking soul funk blues with belching sax, sashaying attitude and smouldering guitars where she dips into a touch of Aretha and Carla Thomas, and the driving, feedback distorting rockabilly Getting Ready with its kiss off to a relationship that's run its course. They're delivered with fire and drive, but I much prefer her in quieter, more reflective mood, of which there are, thankfully, many sterling examples on songs that work as sketches rather than full blown narratives.
Sandwiching Stay On The Ride is the two minute brushed percussion and upright bass of the opening You'll Remember where Griffin dips into Patsy Cline torch territory, and Trapeze, a duet with Emmylou Harris that weaves a haunting metaphor for striving to rise above heartbreak.
Two further aching ballads follow. Piano tinkling over Burgundy Shoes, she paints a memory of childhood, of boarding the bus to Bangor (nothing to do with Fiddler's Dram!), mom singing Michelle as the sun shines. More than a lyric, this a poem. Then Heavenly Day, a gentle gospel celebrating a moment free from cares and fears, building to the sort of soaring finale you could hear Whitney warbling.
It's uptempo again then for No Bad News, an acoustic guitar jangling along to what sounds a lot like a riposte to George W as she suggests he give up burning down the world to compensate for his own inferiority and let everyone else live in peace. Amiable enough, but something of a throwaway all the same.
The rest of the album is musically and emotionally hushed, moving from the simple purity of the tick tocking lullaby Railroad Wings where it seems you can run but you can't always escape the emptiness, to the piano led gospel of Up To The Mountain, a homage to Martin Luther King previously covered by Solomon Burke. Griffin wisely doesn't go for the big lung testifying, and the result is all the more hymnal.
One of the standouts, I Don't Ever Give Up is, as you might imagine, a song of resolution and determination to rise above on which she evokes nothing less than a country Sandy Denny on an arrangement that would have done the Walker Brothers proud.
Time passing occupies thoughts on the spare piano ballad Someone Else's Tomorrow, a weary skeletal folk blues that calls to mind early Janis Ian as she sings of grey churchyard winter mornings and banishing ghosts and memories. Which, staying in the same season, brings things to close on Crying Over, a simple old school country lament, a bittersweet plea to find the love that will 'light up that fire' and save her from the cold and the sorrows, striking a shivering note in the line 'millions of eyes and none of them friends'.
"Some people wanna know what it feels like to fly, they gather the courage and they give it a try," she sings on Trapeze. Griffin has wings and loneliness has rarely sounded so comforting.
www.pattygriffin.com
www.myspace.com/pattygriffin
Mike Davies February 2007
---
Patty Griffin - Impossible Dream (Proper)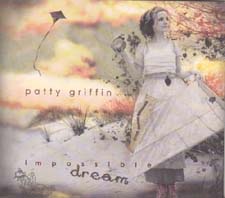 Although it doesn't appear on the track list, the song that gives the album it's title appears between Top Of the World and Rowing Song, only it's sung by Griffin's parents. The song from Man Of La Mancha sums it all up because on Impossible Dream, she goes where the brave dare not follow but her journey is a personal one.
Blessed with one of the sharpest and edgiest voices in popular music, when she launches into Top Of The World you imagine she's being heard in the four corners. Griffin moves between the blues of Love Throw Us A Line, the country of Cold As It Gets and the deep, dark gospel of Standing with the ease of an experienced smuggler, crossing a deserted border, on a moonless night. She is aided by the company of fellow travellers, Emmylou Harris and Buddy and Julie Miller who with producer Craig Ross also worked with Griffin on 1000 Kisses.
Paradoxically, with a voice as good as Griffin's what she says takes on an added importance and it's only when you lift the surface of Impossible Dream that the full strength of Patty Griffin shines through. She writes songs about things that matter, not only to Griffin herself but to us all, love, life and our fellow man all come under her withering gaze. Truth #2 for one is a deafening voice warning of the dangers of censorship (something her friends the Dixie Chicks have some experience of). Truth #2 is one of three bonus tracks on the CD recorded live in Nashville.
Had Patty Griffin been happy with being a conventional country singer, she'd have been a great one. That she pours her heart, soul and mind into her music makes her an important one as well.
Michael Mee
---
Patty Griffin - Impossible Dream (Proper)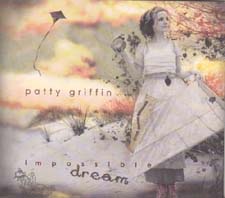 Patty's previous album 1000 Kisses impressed me greatly, more so with time, and I had no reason to expect different of Impossible Dream; curiously enough, even after four or five plays I still find myself skipping one or two tracks even though the album's highs are well up to the standard set by 1000 Kisses. My initial lukewarm response could be due to the idiom Patty revisits for a small part of the album, that of the black gospel music that was one of her formative inspirations yet one in which she doesn't always quite convince I feel. The opening cut, Love Throw A Line, is untypical of the rest of the album in this respect, starting proceedings off all too weakly with a straightforward uptempo gospel-style workout that just comes across as rather anonymous. But pleasingly, things do improve considerably thereafter, on the emotional Cold As It Gets and the soulful-country of Standing (where the gospel influences are much better integrated), the gloriously textured Useless Desires, the limpid, restrained Top Of The World, the uptodate Americana feel of Florida and the gorgeous piano-backed Mother Of God. On many of those tracks, Patty uses some of the same musicians who made 1000 Kisses so special, and there's backing vocals courtesy of Emmylou Harris, Buddy and Julie Miller and the album's producer Craig Ross. (Emmylou also appears on the bonus section of the CD, three damn fine, spirited and energetic live cuts recorded at the celebrated Ryman Auditorium in Nashville, including a version of the spikyTruth #2 which became such a cause célèbre for the Dixie Chicks.) The title track, by the way, is a brief rendition of the famous Man Of La Mancha song by Patty's parents (it's tucked in at the start of track 7). Finally but importantly, as far as her songwriting goes, Patty's come up with a great new set of songs that are often surprisingly hard-hitting (but it's such a pity that the skimpy bald promo copy of the CD supplied precludes a more informed reference to any lyric sheet or performer credits.)
David Kidman
---
Patty Griffin - 1000 Kisses (Sanctuary)
Given that the Maine born singer-sonwgriter's recorded five albums, two of which remain unissued (her debut got rejected and the label issued the demos instead as Living With Ghosts while A&M are petulantly still sitting on Flaming Red follow-up, Silver Bell), it's surprising to discover that this sparsely recorded acoustic (accordion, cello, mandolin, brushed drums augmenting the guitar) gem is the first to get an official UK release.
Surprising because her nasal twang conjures thoughts of both Emmylou and Lucinda Williams, she plays a mean guitar and writes striking straight from her heart Americana songs that variously cover wistful heartbreak (Rain), longing (the don't hurt me prayer of Be Careful), bereavement (The Long Ride Home story of a funeral with Emmylou on backing, the widow's lament Making Pies), characters with mental problems (the jaunty Chief and the emotionally soaring Nobody's Crying) and uncut romance (her rich, warm-throated cover of the Spanish sung standard title track Mil Besos and the Patsy Cline torchiness of Tomorrow Night).
With a voice that's veined with aching melancholy, the bittersweet sadness of embracing love but seeing its end already written, she's well equipped to tackle Springsteen's Stolen Car, delivering a version that matches the original note for emotional note. In a year that's already produced an impossible number of classic Americana albums, this makes a strong challenge to be placed at the very top of the pile.
Mike Davies
---
Patty Griffin - Flaming Red (A&M)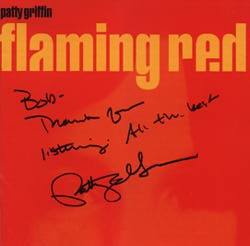 ANYBODY coming to this album off the back of Griffin's debut, "Living with Ghosts", is in for something of a shock - to say the least. The warning's there in the title, of course - anything called "Flaming Red" is unlikely to be as simple as ". . . Ghosts" was, featuring, as it did, only her voice and guitar, albeit in a full-on kinda way.
Griffin's Titian locks exert themselves straight off with the manic thrash of the title track. There're no punches pulled here, lyrically or instrumentally, and it leaves the listener wondering just how this came out of a Hans Christian Andersen tale but, on reflection, The Red Shoes is quite a gory fable in its own right.
Things calm a little for "One Big Love" in which Griffin's slinky, sensual vocals come to the fore on the heels of a deliciously strummed acoustic guitar intro. Anybody familiar with Emmy Lou Harris' tremendous "Red Dirt Girl" album from late last year will already know this track. The fact that it was the only "outside" song to make it on to that fine collection gives a pointer as to the esteem in which Griffin's held among those who know. And it can be no coincidence that she was special guest on Harris' November UK tour.
"Flaming Red" and "Red Dirt Girl" have more in the common than the "R" word. They share an ambience on certain tracks while others here have a feel of Sheryl Crow about them. "Tony" tells the sad tale of a young homosexual who, like the small-town girl of Harris' title track, can perceive of only misery before him and sees shooting himself as the only way out. "Change" is a bit of a rocker; built on a solid drum foundation with some tasty lead guitar, it gives Griffin a chance to stretch her vocal chords with some lovely phrasing. Something to Crow about. Standout track, for these ears, is another rocker, "Wiggly Fingers". It's a glorious noise, chock-full of big, crashing, angular guitars and, again, some sticky-tape tight drums. And the lyric concerns the sort of individual pastime we don't write about in polite company! The (comparatively) clean pop lines of "Blue Sky" follow and Griffin again lets her voice fly above some stirring riffing. Griffin/riffing - it's all in the gee. The tempo's taken down several miles per hour for the balladic "Big Daddy" and that sets the tone for the final three or four tracks which find Griffin in a more contemplative mood - not dissimilar to the feel of "Living With Ghosts". Originally released in the States in 1998, "Flaming Red" has only recently been unleashed here. I came to it knowing not what to expect and each spin reveals something new. The breadth of the songwriting guarantees there's something for everyone and Griffin's singing never fails to impress. Her next album, "Silver Bell", is due to be released later this year and, if she has kept up the momentum of "Flaming Red", I reckon it'll be a contender of the title of album of the year. At least among those who know.
Fred Hall
---
Sid Griffin - Shelter From The Storm: Bob Dylan's Rolling Thunder Years (Book) (Jawbone Press)
In two stages (autumn 1975 and spring 1976), Bob Dylan led a travelling retinue of musicians around America on what became known as the Rolling Thunder tour. Very much along for the ride, in addition to Joan Baez, were such luminaries as Roger McGuinn, Ramblin' Jack Elliott, T-Bone Burnett, Allen Ginsberg, Kinky Friedman, Sam Sheppard, David Blue, Mick Ronson and a host of other musicians, friends, family and sundry hangers-on. Quite a circus, in fact! – and one whose picaresque adventures featured in the sprawling film Renaldo And Clara, a TV concert special and the live album Hard Rain. As if that were not enough, Dylan released the brilliant studio album Desire at the end of 1975, right in between the two stages of the tour.
Sid's book ably documents what was for Dylan a period of intense creativity and possibly equally intense personal drama, through compelling narrative, insightful critical and musical analysis and highlights of a series of interviews with several of the show's participants. All told, this has been a much-maligned phase of Dylan's career, although one of which even his staunchest detractors may have revised their opinion upwards slightly when the Live 1975 issue in the official Bootleg Series appeared a few years ago – so this wild and idealistic phase probably needs all the good press it can get.
And there's no denying that Sid brings to this book an equivalent degree of understanding to that which he displayed on his earlier Dylan-themed book Million Dollar Bash (which dealt with the iconic Basement Tapes recordings). But he's up against a large amount of competition – there are already numerous other books dealing with specific facets of that period of Dylan's career; and what he's produced in the main falls squarely into the category of superior coordinated, informed analytical overview. I found the Roger McGuinn's Rolling Thunder Bus Tape chapter a touch vapid, but easily skipped through, whereas the only section of the book which I'd consider non-essential (other than as an Appendix, perhaps) is the rather lengthy "Four-Hour Dream" chapter, a flight of fantasy which outlines the desirable (for the author) editing that would ideally improve the final cut of the film into an "apparently implausible compromise". OK, it's like a dream-interlude in the otherwise admirably concise scenario of the remainder of the narrative, and thus I guess can be forgiven.
All in all, I'd say that Sid's account of the Rolling Thunder years is very likely as persuasive and straightforwardly argued a summary of this phase of Dylan's career as you're likely to get.
David Kidman December 2010
---
Sid Griffin - As Certain As Sunrise (Prima)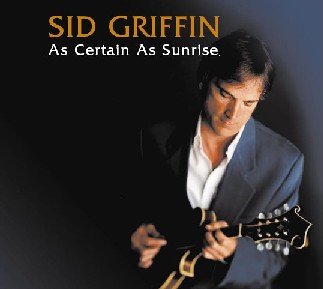 Only his second solo album in over eight years, while a banjo occasionally plinks the former Long Ryder and current leader of the Coal Porters steers largely away from the latter outfit's acoustic bluegrass. Indeed, it's his affection for the 60s that seem to bubble up most on this often revealing glimpse into his personal life.
His cover of the Flaming Groovies' You Tore Me Down actually sounds like something from the Peter & Gordon catalogue, the spirit of Glen Campbell's work with Jimmy Webb informs Alibi Bye and the light jazzy Bluebird whereas the gentle Latin flavours of Evidence with its acoustic Spanish guitar calls to mind a cocktail of Jose Feliciano, Bacharach and the Brill Building.
Elsewhere old school shuffling folk pop scuffs its shoes through Wearing Out My Welcome With The Blues, Everly country is revisited of Faithless Disciple while Greenwich Village coffee houses flavour the memories of Tell Me You Still Sing where he recalls a guy from the old school days band that's lost his guitar and found God.
Keeping tabs on the era, he's even covered the TexMex pop swaying Just Let Her Go a hitherto unreleased song by the late Doug Sahm, featuring Ian McLagan on keyboards. He also digs back into protest folk to revisit I Come And Stand At Every Door, the haunting poem about Hiroshima written by Turkish poet and set to music by, among others, Pete Seeger and The Byrds. Unfortunately, having it spoken in Japanese while he sings in the background was probably a better idea in theory than it is in practice.
That small blip aside, this is unquestionably Griffin's best work to date, even managing to avoid maudlin sentimentality in the bittersweet poignancy of a parent's love and hopes for the future Written Upon The Birth Of My Daughter. That song also provides a perfect thematic bookend to the album's best cut, the opening The Last Kentucky Waltz's story about a couple desperately praying for a child that will keep them together. It's a bright new dawn.
Mike Davies
---
Sid Griffin & The Bluegrass Boys @ The 12-Bar Club, Thursday 4th May 2000
Guitarist Sid Griffin hails from Kentucky but lives in UK, plays with his band The Coal Porters and reviews for Q Magazine. Now what do you do when your Ma and Pa in their '80s from Kentucky plan a London visit? You pick up a mandolin and with a scratch band of friends (banjo, Dobro, bass and guitar) plan a surprise Bluegrass gig. To help the process Sid had been on a mandolin course a couple of weeks beforehand. To make sure they were word-perfect, he blu-tacked pages of lyrics from the 12-Bar balcony. Pa had left his brand new hearing-aid in Kentucky but Ma was consulted about the sound levels one song into the set. "Too loud, too much Dobro, the sparks will set the place on fire!" Sid dutifully got the sound man to fix it and Ma approved! Things like this happen at the 12-Bar!
Sue Cavendish
---
Bryony Griffith & Will Hampson - Lady Diamond (Selwyn Music)
It's incredible when you realise it, but Bryony and Will have been close musical associates for nigh on 18 years, ever since they began working together in the ceilidh band Bedlam, their paths subsequently coinciding at various points including session work with Bellowhead and the Kate Rusby Band and latterly a lengthy (ongoing) joint stint with the mighty Demon Barbers; and yet this is their first CD release as official duo partners. Their energetic and thoroughly complementary musicianship is apparent immediately you place this disc in the player, with Bryony's distinctive singing and swinging, swaying fiddle work and Will's lively and presence-filled melodeon playing proving ideal musical bedfellows. On this record, they've chosen to showcase their talents to best advantage by aiming to approximate as closely as possible a live performance – which means no overdubs or guest artists – and good for them, for the result is full of the desired immediacy, transparently truthful and musically satisfying.
Bryony's playing has an attractive tone and appealing character, while Will's melodeon work often exhibits the unusual virtues of unobtrusiveness and sensitivity alongside its keen rhythmic drive and expressive élan. There really can be no criticism of either performer's technique, and the tune-sets are both well-upholstered and listener-friendly. But Bryony's vocal style is consistent almost to a fault – and that is where a casual listener's reservation may lie, for her delivery, although admirably distinctive, tends to employ much the same kind of phrasing (with a slightly predictable pattern whereby many individual words are sung as two run-together notes) whatever the song or its emotional import, this particular expressive device becoming a bit of a mannerism by the time you're only a few tracks into the album. I've heard Bryony's voice likened to Fay Hield and Eliza Carthy, and I can hear elements of both singers, especially on items like The Heysham Peace-Egging Song, but this is no bad thing!
And the consistency of Bryony's singing voice provides a constant focus to enable a greater variety of timbre and dynamics the two players are able to coax from their instruments, while their intuitive rapport always impresses. Also, there's a complete change of climate just after halfway through the disc when Bryony moves across to the piano to accompany herself on a passionate interpretation of The Constant Lovers.
Interpretation-wise, I've no quarrel with Bryony, and she seems to have the measure of her material generally, although one or two of the ballads sound a touch chirpy (notably the title track, which after all is a murder ballad…). The sources from which the duo have derived their own performing versions of the various songs and tunes are – laudably – duly credited in the booklet notes, but I did find myself wanting to check some of the texts on occasions where Bryony's diction was a touch imprecise. Nevertheless, this is overall a pleasing and assured recorded debut for Bryony and Will outside of a full band setting.
David Kidman August 2011
---
Nanci Griffith - Intersection (Proper)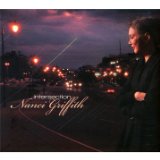 Coming twenty albums into her career, Intersection is being promoted as Nanci's most personal album yet, an exposed examination of what's been a particularly difficult period in her life, involving much turmoil and various bust-ups.
This all fairly explodes on track 5, Hell No (I'm Not Alright), the catchy, if frenzied delivery and pounding Buddy Holly-style setting of which rather belies her anger. Several of the album's subsequent tracks share a similarly deceptively pop-lite vibe, which may or may not work to Nanci's advantage here, I'm really not sure.
For Intersection sees Nanci at a kind of musical - and literal - crossroads, an uneasy paradox of a kind, where the contemplative, tender-yet-defiant songs like If I Could Only Fly that form the emotional core of the record are almost subsumed by the album's altogether pithier, more uptempo outings like Bad Seed and the yearningly wistful Just Another Morning Here. On Never Going Back, a composition by Mark Seliger, Nanci voices her feelings on leaving her native Texas some years earlier, whereas Davey's Last Picture is a character study much in the mould of Nanci's more familiar vignettes and the reflective opener Bethlehem Steel concerns the closing of a mill in the very town where Robert De Niro filmed The Deer Hunter.
The album closes on a more optimistic note: Come On Up Mississippi manages to both rally and rouse, followed by the bluegrassy, banjo-ridden High On A Mountain Top. This breezy number only adds to the unease with which Nanci straddles the contradictions of that metaphorical and literal intersection here. The musical backdrop, too, is unusual in Nanci's output in that it imports the skilled jangle of Peter and Maura Kennedy, a sonic signature which is key to these very contradictions.
If you take this album on a cursory listen, you may hear much of it as unduly chirpy, so you need to take in the lyrics almost on a separate plane to get the most out of them. It's curious that even after a few playthroughs, overall, and musically speaking, Intersection still doesn't seem to be a wholly consistent set, but nevertheless I feel sure you'll find it hard to resist Nanci's charm as she guides you eloquently and honestly through her recent experiences.
David Kidman March 2012
---
Nanci Griffith - The Loving Kind (Decca Rounder)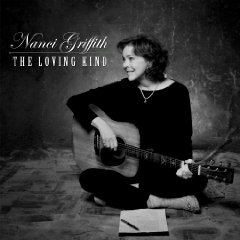 On the sleeve notes, Griffith confesses that, in recent years, she'd "lost something in my heart for writing songs". The good news then is that she's written or co-written 9 of the 13 tracks here, an album which, after the underperforming jazz and torch flirtations of Hearts And Minds and Ruby's Torch, sees her return to the 'folkabilly' sound of her formative years, working with musicians that include producers/co-writers Pat McInerney on drums and Thomm Jutz on guitar.

As such she's also partly refocused her attention on topical and social issues, opening with the Louvins-like title track which pays tribute to Mildred and Richard Loving, a Virginian couple who "changed the heart of a nation" when they defied the miscegenation laws ban on interracial marriage back in the late 60s. It's a little lyrically clumsy, but Griffith socks it across in that keening voice.

Elsewhere John Prine and Todd Snider join her for Not Innocent Enough's powerful death penalty protest inspired by the case of Philip Workman, executed for the murder of a Memphis police officer despite new evidence proving his innocence, while Across America is a jangling folk rock celebration of the post Obama rebirth of positivity among the nation's working men and women.

Indeed, American Presidents loom large. LBJ is referenced in Cotton's hymn to America's backbone while a disappointingly plodding Still Life (co-penned with Ricky Ross, presumably of Deacon Blue) is a thinly veiled swipe at George W. They're not the only real life figures to provide material for the songs. She pays tribute to Townes Van Zandt on Up Against The Rain while the gently circling Sing and wistful ballad Things I Don't Need are clearly autobiographical.

Dee Moeller provides three of the non originals. Party Girl's fairly forgettable but Money Changes Everything is a catchy rhythmic hula sway even if the lyrics are decidedly cliched while old school honky tonk Tequila After Midnight sounds like vintage Gram and Emmylou number. Booze pours too on the fourth cover and final cut, a beers and tears waltzer from the pen of Edwina Hayes and Griffith's sometime Blue Moon Orchestra guitarist Clive Gregson.

A flawed return to form perhaps, but a welcome sign that the old juices still run in her veins.

Mike Davies July 2009
---
Nanci Griffith - Ruby's Torch (Rounder)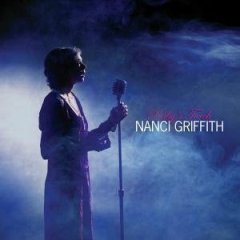 This new release, an entire record of intimate torch songs, is a "dream come true" for Nanci herself; it's also something that her listeners have been asking her to do for many years, apparently. And this lushly-scored 11-song collection admittedly embraces a more eclectic array of compositions than the term "torch song" normally conjures up, including no fewer than three by Tom Waits. On the way through its 42-minute timespan, Nanci revisits (=reinvents) two of her own compositions, Brave Companion Of The Road (which she first covered on 1989's Storms album) and Late Night Grande Hotel (from the 1991 album of the same name), casting a fascinating new light on them certainly but not necessarily one which I'd listen to all that often (and I'll admit the originals aren't among my favourite Nanci tracks anyway!). And some of the other songs Nanci's chosen, like the opener When I Dream, just don't do much for me personally, although Nanci makes a reasonable enough job of them. But I can't argue with Nanci's commitment, nor her ability to create something personal and special of her own out of another person's anguish - which is what she's doing here. The problem for me is that what should be a virtue of this set, the strongly unified approach in terms of the piano-plus-lush-orchestra arrangement given to virtually every one of the songs, ends up working against its impact as (notwithstanding telling individual details of instrumentation) it gets to sound rather all-purpose glossy-mellow and a tad anonymous, with the result that a whole album full of this is too much. If I listen to tracks in isolation, especially fine songs I already know and admire like Jimmy Webb's If These Walls Could Speak and Dónal Long's Never Be The Sun, I can appreciate Nanci's interpretative artistry and grace so much the better. There's quality here alright, but it tends to get lost in the mix and thus takes a bit of finding at times.
David Kidman
---
Nanci Griffith - Hearts In Mind (Universal)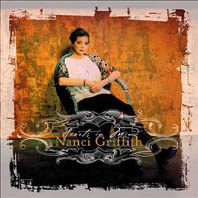 Given recent events, it's was perhaps inevitable that Griffith's latest album is not only informed by images of war and loss but that the music itself harks back to simpler, more innocent folksy times of back porches and family Bibles. Indeed, the album actually opens with A Simple Life where she sings "I want a simple life/Like my mother/One true love for my older years/I don't want your war/To take my children/I want a simple life…while I'm here."
Although on the face of it Julie Gold's Mountain of Sorrow sounds like a tale of lost love with its line 'you were here, now you're gone' and talk of the singer 'changing right before your eyes', it's actually her response to 9/11 and the changes it wrought. There's no direct reference to the Iraq conflict, but it's not hard to see what's on her mind with gently lapping storysong Heart of Indochine as the narrator revisits the losses and the bodies washed ashore during both the French and American conflicts in Vietnam. She stays there too for Old Hanoi, lamenting the loss of its old innocence and simplicity with the bustle of Westernised progress.
War and the changes it brings figure in Before too, recalling 'Manhattan in a time before this war' and days when 'we weren't afraid to fail in love and we all believed in the dream'.
The most specific though is the closing reflective piano ballad Big Blue Ball of War, her voice cracked with emotion as she notes how, beginning in 1914, for 'almost a century, the blood has flowed/We've killed our men of peace around this ball/And refused to hear their ghosts'. Perhaps, she wonders, it's time to let 'the women teach the song'. Clearly she's forgotten the lesson of Margaret Thatcher.
It's not just military conflict that shades the album with the sadness of loss. Le Ann Etheridge's gloomily pensive Back When Ted Loved Sylvia recalls the doomed happiness of Ted Hughes and Sylvia Plath while the jaunty bluegrass banjo flavoured Last Train Home references Glen Campbell and Charlie Rich in its playful tale of the emotional consequences of missing the last train home to your girl while 'your ex-friend Charlie' didn't.
In a world of false friends, betrayals and cynicism, Clive Gregson's wittily sardonic I Love This Town, a duet here with (it must be said a rather weedy) Jimmy Buffet, fits right in. Gregson, incidentally, also plays guitar on the album, having been inducted into the Blue Moon Orchestra for the recordings and tour.
Thankfully, it's not all so downbeat. Love is, of course, the hope and salvation. 'If not for love where would you be?' runs the line in her cover of Tom Kimmel and Jennifer Kimball's 1994 penned Angels, a song they describe as being about experiencing the divine in mortal love. Ron Davies's gently hymnal Rise To The Occasion, where Lloyd Green provides steel guitar and Mac MacAnally duets, affirms that it's better to have loved and lost in order to have seen the view from higher ground. And while Love Conquers All pretty much speaks for itself, the pairing of a Muslim girl and an uptight Irish Catholic boy clearly strikes a very resonant note.
But perhaps a the most poignant is also the most personal, Beautiful a love letter to her 82 year old stepfather rippled with images of him playing piano in Woody Hermann's band and the wedding to her mother; a salient reminder that even in troubled times the heart always has room for the lonely child and the warmth of compassion, affection and understanding. Rather lovely.
Mike Davies
---
Nanci Griffith - The Complete MCA Studio Recordings (MCA Nashville)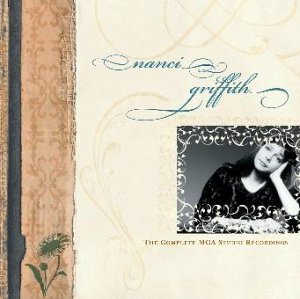 A useful and convenient two-disc compendium which assembles together every track from the four rather short studio albums that Nanci cut for MCA between 1987 and 1991 (Lone Star State Of Mind, Little Love Affairs, Storms and Late Night Grande Hotel). These represented her major label debut, coming as they did after the increasing success being gained for her three albums for Philo/Rounder which culminated in 1986's Last Of The True Believers. On Lone Star State Of Mind, Nanci embraced the values and visions of contemporary country with style and substance to her songwriting, and contained some of her most enduring early songs (Trouble In The Fields has always been a personal highlight for me) as well as her earliest recording of Julie Gold's From A Distance, which was to become a kind of signature tune for Nanci. On this album Nanci also benefitted from the backing musicianship of an impressive assortment of respected players including Bela Fleck and Mark O'Connor. Little Love Affairs continued the sure formula of mixing well-chosen covers with high-quality originals, with an even more stellar backing cast. For Storms, however, Nanci gravitated towards a more pop-oriented sound, working with producer Glyn Johns in Los Angeles, though she rekindled her energy to give some of her most vital vocal performances on this set. Late Night Grande Hotel took the sophistication one stage further, with often lush arrangements and smooth orchestrations that for some fans proved too much of a departure yet heard again after all this time they retain an affecting bittersweet quality that at times proves most haunting and peculiarly well suited to much of the writing. This compendium also includes two outtakes from the latter album's sessions (Tumble And Fall and Stand Your Ground) and the cover of Elvis Presley's twee hit Wooden Heart which originally appeared on a promo disc for the Storms album. As completeness goes, the set does what it says on the tin, literally speaking. What it does not include, however, is the rather excellent live album One Fair Summer Evening (which Nanci released between Little Love Affairs and Storms), which I do hope is to follow in the reissue programme.

David Kidman
---
Nanci Griffith - Winter Marquee (Rounder)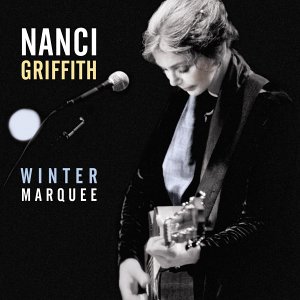 Like many of her contemporaries, Griffith has departed major label living for a home on more sympathetic shores, reuniting here with the label on which she last appeared back in 1986. Recorded in Knoxville, May 2002 during the Clock Without Hands tour with her long time backing band The Blue Moon Orchestra, this finds all concerned at the peak of their powers, the songs stripped of unnecessary studio frills and polish to let the emotions at their heart ring through.
It's also a useful snapshot of her journey across the years, the 14 tracks ranging from the early days of the crystal stream purity There's A Light Beyond These Woods (Mary Margaret) through songs like The Flyer and Listen To The Radio to the more recent Traveling Through This Part Of You (written for the her ex husband and his fellow Vietnam veterans) and the all new Texicali foot stomping Last Train Home.
One of Griffith's strengths has always been in the choice of material she chooses to cover to complement her own songs and the live album is no different, opening with a wistful version of John Prine's Speed At The Sound of Loneliness, proceeding through Dylan's Boots Of Spanish Leather and closing with a rousing twang tup on Townes Van Zandt's White Freight Liner with show guests Tom Russell and Andrew Hardin letting rip. Inbetween are two songs that particularly stand out. Goodnight New York is a 1993 song from Julie Gold, writer of Griffith's signature tune From A Distance, a new addition to the her repertoire and performed here with special guest Emmylou Harris. Obviously steeped in a new poignancy following the events of 9/11, you can hear the emotion crack as they sing, the tragedy given a personal note by the liner note that dedicates the album to her producer Bill Weens who was on the second plane to hit the World Trade Centre.
The second of the two is What's That I Hear, the Phil Ochs simple song of freedom that was the theme tune for 'Guitar Lessons With Miss Laura', the Saturday morning Public Television series from which Griffith learned to play. It was the joy of playing it live with Russell and Hardin that prompted Griffith to start recording the shows, resulting in this wonderful album and, for those who want more, an accompanying DVD that includes five extra songs.
Mike Davies
---
Nanci Griffith - Clock Without Hands (Elektra)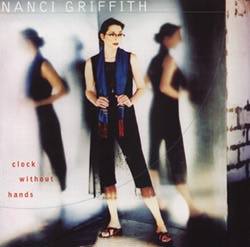 It has oft been noted that even a stopped clock is right twice a day - so where does that leave a clock without hands? Well, it's either never right or never wrong. And I think that just about sums up la Griffith's timepiece. While never being wrong - there's not a bad track among the 14 on offer - it's never really on the money, either.
Put the album on and the title track starts up and the sweetness of the Griffith's pipes and professionalism of her band, The Blue Moon Orchestra, assert themselves immediately. Unfortunately, unless you're paying particular care, it's all too easy for the attention to wander and, before you know it, the 49 minutes of the album have slipped by without really registering very much at all. Taken individually, it's hard to fault any of the songs but they just don't grab you by the collar and demand to be listened to. There are a couple of uptempo rockers that do go some way to kicking up a little dust - "Lost Him In The Sun" and "Pearl's Eye View" - but, for the most part, things proceed at an easy, some might say lethargic, pace. Several of the songs reflect, and were inspired by, Griffith's involvement in the Campaign for a Landmine-Free World while, on others, she sings of a desire for awakenings, the strength to move on and the courage to live in the moment and to embrace what life brings.
She wrote, or co-wrote, most of the songs but a couple of the more notable exceptions are Paul Carrack's soulful "Where Would I Be" - featuring Clive Gregson on guitar - and the previously mentioned "Lost Him In The Sun" by John Stewart, who also penned "The Ghost Inside Of Me" and "Armstrong". The final track is another cover: "In The Wee Small Hours" is most closely linked with Frank Sinatra and Griffith included it here because it was her mother's favourite song. Heavy on the saccharine-sweet strings, to these ears the word Mantovani springs to mind. Griffith, of course, has been in enough studios over a long enough period of time to know how to turn in a polished performance, and I'm sure her many long-term fans will love this, but I'm afraid a line in the title track neatly encapsulates this album for me: "I am a clock without hands, I'm just tickin' and that's all."
This clock ticks along quite nicely but, somehow, it misses the big chimes at the top of the hour.
Fred Hall
---
Carol Grimes - Mother (Irregular/CG)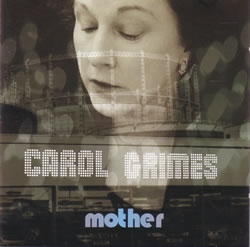 This is a seriously fine comeback album that really Delivers! (Pun intended - remember Carol's feisty contributions to the 70s blues-soul scene with Babylon and Delivery?) Long overdue as far as Carol's many fans are concerned, Mother absolutely screams quality - though sometimes with a whisper! It was released quite a few months ago now, and met with more than a modicum of critical acclaim, mostly on the jazz circuit, yet for some reason it hadn't surfaced from my backlog of review albums until comparatively recently. And it's another one that I'm sorry to have not picked up earlier, for it's a real cracker that I've been playing a lot. Carol's a true "vocalist's vocalist", and sensuous to the last in the Billie Holiday tradition (the only contemporary comparison I dare invoke in that field is Helen Watson); she gives her all in seasoned interpretative flair, authoritatively personalising each and every song in a sequence of twelve drawn from a variety of musical sources that range from Tom Waits (New Coat Of Paint), Ron Sexsmith (Gold In Them Hills), Randy Newman (Better Than Dead) and Shane McGowan (USA) to John Lennon (the title track). Carol also comes up trumps early on in the CD with one of the best versions I know of Sandy Denny's Who Knows Where The Time Goes? (and I've heard a good few in my time ...!) – set to a mysterious, magical, languid chamber-jazz-tinged groove. And Carol's version of Joni Mitchell's Two Grey Rooms turns out to be pretty amazing too. Whether in a jazzy-blues or folk-chanson setting, Carol's diction and phrasing are exemplary, demonstrating her aptitude for astringent humour one minute (Scars) and intimate confessional the next (Nick Cave's Into My Arms), and equally adept whether grittily belting or confidentially, seductively cooing. Not only is Carol herself in excellent vocal form throughout, but she's supported by some perennially classy sidemen including Greg Wain (guitars), Elton Dean (saxes), Steve Watts (double bass), Stan Adler (cello), Annie Whitehead (trombone) and Harry Beckett (trumpet), while the album's producer/arranger Ian Shaw contributes organ and piano. Ian's co-written one track (Moira) with Carol herself, while Carol's other composition sets the ruminative beat-bop poetry of Blues For Louis to a fascinating and ever-changing soundscape. Mother is altogether a really special, stunning and invigorating set, both faultlessly tasty and tasty to a fault.
David Kidman
---
Jed Grimes - Head On (Blue Guitar Records)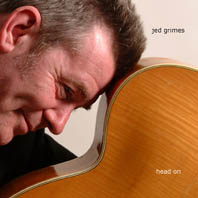 Jed's considerable skills as a guitarist and producer/arranger came to the fore on The Hush's recent debut album Dark To The Sky, and he builds on this accomplishment with a stupendous solo album that's every bit its equal. Although he utilises other Hush members (Garry Lindsey, Neil Harland, Graham Wood and Paul Smith) at times to expand the musical palette, the textures are beautifully uncluttered and the production is a model of clarity whether two instruments or five are involved. Saxes soar, guitars twang or clank or delicately twist and turn, rhythms dance, and what's more, you can hear every strand. There's a maturity and sophistication about the whole affair, yet it's not complacent or sterile, for innovation and adventurousness are never lurking far away. Jed's skill at arranging often familiar material in new and stylish ways is never in doubt, and you need listen no further than the pair of opening tracks (Fair And Tender Ladies and A Soldier's Life) for the proof. I've lived with this CD for a month or two now, and every time I return to it I'm delighted anew by the constantly changing, ever alert and bright-eyed instrumental textures, with acoustic and electric elements deliciously counterpointed. And stylistically of course, Jed's at home with all manner of musical influences, which he integrates into these textures to positively serve the songs. A captivating reggae lilt is wholly appropriate for Jed's version of the Tyneside capstan shanty Tally-I-O The Grinder. Jed then brings attractive and distinctly jazzy touches to the vibrant instrumental set mixing Eastern European and jig rhythms (track 4) and (more unsettlingly perhaps) to Sydney Carter's Crow On The Cradle. And Jed's use of syncopation is always canny and creative (take a listen to Jug Of This for instance). But his arrangements aren't short on atmosphere either - witness the brooding start to the jig set (track 8) and the concluding, cinematic instrumental Across The Water. No safe options are taken, and as a result there really isn't a remotely dull moment during the course of this album's 47 minutes; it's all over much too soon. Do I really need to entice you further by mentioning the superbly characterised fiddle playing of Stewart Hardy (especially on The Maid On The Shore), or the guest appearances by members of young Borders award-winners Tarras? Nay - for surely you're convinced already! So head on down and get a copy of this excellent release!

David Kidman
---
Tim Grimm - The Back Fields (Wind River)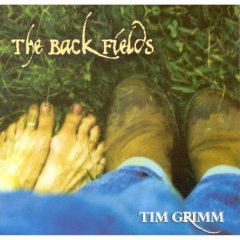 Tim's a journeyman singer-songwriter from southern Indiana who's recently returned to farm there after spending several successful years as an actor in LA. His music is reminiscent of the landscape of his native state, and his writing simple and straightforward in the manner of the best true Americana. Tim has a charming and unassuming, warm and intimate way of putting his worldview and stories across that's been compared - rightly in my view - to that of Guy Clark. Tim's clear-sighted philosophy reminds us of the authenticity of rural life and its consonance with the cycle of the seasons, reaffirming our faith in these traditional values and making such elements timeless in the manner of the best country writing. And when Tim considers love and romance, his stance is equally clear-sighted, as on the beautifully expressed Lost And Found. And the largely understated rootsy accompaniments help it all along nicely - guests include Krista Detor, Jason Wilber, Chris Walz. Dave Wierhake and Jan Lucas ... the latter lady shares the compositional credit for five out of the twelve songs here, whereas Tim wrote all the other songs single-handed apart from a better-than-reasonable cover of Dylan's Girl From The North Country (by the way, cute touch to follow that cut with My Turn, a song namechecking boots of Spanish leather in the first verse!). Musically, aside from the funkier Dr-John-like growl of Everybody's Gone Crazy and the electric trad-gospel balladry of Celia Rose, Tim sticks to the tried and tested gentle acoustic roots-troubadour styling of the title track - and with considerable success. There are some outstandingly memorable songs here in fact - Rescue The Ghosts, The People's Highway and the title track, to mention but three - which have both the feel of familiarity and of true originals. The whole disc, though immensely likeable in the listener-friendly and unchallenging sense, is actually a distinctly tasty offering full of genial magic, that reveals its special qualities quite gradually at first, and yet it's one to which I've returned more often than I first expected.
David Kidman Sept 2006
---
JC & Angelina Grimshaw - Broken Hearted Blues (Village Bike)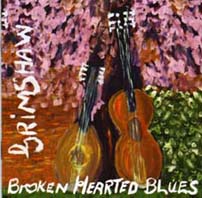 Based on the Isle of Wight, the Grimshaw siblings, offspring of poet-songwriter John Rufus, have been making music for over a decade, together, individually, as part of the Cajun five piece Dance Preachers. Drawing on a shared love of acoustic American folk blues, Hawaiian music, gospel, Hot Club jazz and the legendary Bessie Smith, this is a splendid, simple 16 track collection of mostly self-penned songs about loving, leaving, living and dancing fool moonshiners.
As a rule of thumb, whoever wrote the song takes lead vocals although several numbers bring both together for some splendid duetting. He's a smoky voice reminiscent of Guy Clark, she's more inclined to the Bessie influences and while both display dazzlingly nimble fretwork, it's JC's bottleneck and lap slide that unstraps your jaw and has it sagging to the floor. That he also turns his hand to mandolin, ukulele and harmonica is further evidence of almost indecent musical talent.
Agilely flitting from the unadorned title track, the mountain music stylings of Ache For You and the bluegrassed Mountain Hollering to the goodtiming Hurry Home Blues, Fallen Down's backporch Louvin croonin', a harmonica stomping Old Jack Lightning and the lazy Smith infused 20s vaudeville blues of Advertise Your Love, the pair make it all seem so effortless. Soaking up its charms isn't hard work either.
Mike Davies January 2007
---
J.C. Grimshaw - Love Song Walking (Village Bike Records)
This CD is billed as a solo album by JC, though equally often you'll find JC and his sister Angelina performing together (they've worked as a duo professionally for ten years, and also perform as part of the five-piece Dance Preachers, whose other members contribute to the album too). Don't worry about working all this out, just sit back and enjoy this 56 minutes of mostly light-textured acoustic-based roots-country with more than a dash of blues and mex leanings thrown in. After JC's previous offerings had concentrated on more upbeat material, Love Song Walking is a collection of more contemplative ballads concerning the poet's life, past and present. Running the gamut from dispassionately evaluating the lottery of love (Game Of Attractions and Blossom Street) and espousing caution before moving the relationship forward (Taking It Slow), then drinking in the moment (Table Bouquets), then going all the way to sinking disappointments and troubles in the bottle (SOS) - all the phases are there, and expressed in songwriting that tells it like it is. Some of it's a bit like Dylan's Blood On The Tracks without the vitriol, certainly pretty observant but in the end not cutting quite as deep. JC's vocal style, reminiscent of Mark Knopfler more than anything else, is attractive and easy to listen to, the playing is of a high standard, and the arrangements are quite a notch above merely accomplished and pleasing, if without achieving that final level of memorability that would lift the album out of the "also-ran" category. Each song has its own flavour, sounds just fine while it's playing and holds your attention impressively then and there, but it's just the more lasting impression that's lacking somehow, even after several playthroughs. That sounds like damning with faint praise, but it's not meant that way at all, for something has made me keep returning to the album over the past weeks, quite a bit in fact… so I think there's probably more to JC than meets even this pair of ears so far…
David Kidman
---
Grinderman - Grinderman (Mute)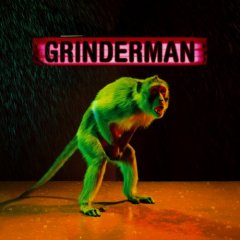 Anything Nick Cave does is going to be worth a listen but be warned there's a few things here likely to scare the horses. A side project with fellow Bad Seeds Warren Ellis, Martyn Casey and Jim Sclavunos and recorded in one week, it's an exercise in literary dirty blues with more sexual intensity than a randy stallion in heat. With the guitar effects pedal pushed to the floor, Cave adopting his darkest, sleaziest snakeoil salesman voice and squalls of throbbing bass, it's a molten set of blues that sprays the band's influences across the wall like a drunk on a Friday night bender. On the opening Get It On, Cave marries his best Jim Morrison spoken declamatory form to a dumb Stooges blistering riff before adopting a demented preacher delivery to the album's ode to not getting any, No Pussy Blues, where not even the charms of Eliot or Yeats can inspire lust. No surprise the feedback sounds like 100 years of sexual frustration letting off steam.
By now you should have the gist of the album's mood, a primal swamp of libido and poisoned blood stalked by feral grindhouse workers. Electric Alice and Grinderman are a perfect evocation of what the Velvet Underground might have been like had the Lizard King been their singer though oddly Depth Charge Ethel conjures more the spectre of an unholy hybrid of The Stooges and T-Rex.
The predatory laid back groove of the talk-sing contemptuous alpha male peacock Go Tell The Women and the slouching Leonard Cohen as stalker blues (I Don't Need You To) Set Me Free lets you take a breather but then it's straight back into the rock n roll fray for Honey Bee, the churning When My Love Comes Down apparently recorded with someone's surfing radio static wavebands in the background and the closing Hendrix voodoo of Love Bomb.
Hardcore Cave then, but listen carefully and you'll hear a definite strain of playful humour churning away in the lyrics, a tongue in cheek subversion of the blues that, when he declares, 'I've been listening to the radio... I've been listening to Garden Question Time... I can't even grow a dandylion' suggests they might not be taking it quite as seriously as the critics have.
www.nickcaveandthebadseeds.com
www.myspace.com/grinderman
Mike Davies March 2007
---
Israel Nash Gripka - New York Town (Continental Song City)
Sounding more like a firm of solicitors, his name isn't exactly one that trips off the tongue or conjures any sort of mythic quality, but the Midwest born, NYC based singer songwriter's debut album should still have plenty of people talking. Other than a note that he's done his time fronting various bands, there's almost no background information but listening to his voice and music you can pretty much guess his most potent influences include Gram Parsons (Confess), Ryan Adams (Let It Go), Richard Thompson (Evening) and John Fogerty (Pray For Rain).

His tough edged cracked vocals have a lived in warm gruffness while observational character led lyrics tell stories of the American Dream gone sour (Evening), the difficulties of making a living or forging relationship in an unforgiving city (Pray For Rain, Confess) and the incompatibility of booze and affairs of the heart (Let Me Down, Pink Long-Stem Roses), all of which add up to a classic case of blue collar Americana with tunes to match. There's been many a similar troubadour who's arrived on wings of promise only to vanish from sight. On this evidence, Gripka won't be one of them.

www.myspace.com/israelgripka
www.israelgripka.com

Mike Davies July 2009
---
Groanbox - Guts, Lungs & Bones (Groanbox)

Having been impressed last year by the Canadian-American trio's first venture into a real recording studio and instrumentation that included a banjo made from a gourd and a Yew log drum I was keen to hear where they took their junkyard roots clatter next.
Geographically, the answer was Scotland. With accordionist Michael Ward-Bergeman spending August in Edinburgh playing at the festival, they rented a cottage at the bottom of a hill in the middle of nowhere where, once again, they recorded everything live.
Musically, they've not strayed too far from the last outing, still stewing together blues, American folk, world music, and bluegrass strained through the sieve of New Orleans and Africa alike. Just that this time, they've turned up the heat and the noise a little more, and sucked deep their cultural influences.
A Cajun squeezebox wheezing, harmonica blowing Po' Boy gets the ball rolling down Bourbon Street, Bunco Artist pulls back on the throttle for deep voiced acoustic plantation blues before the album's only instrumental, the hypnotic Moroccan vibe of Tamazight, named after the unofficial Berber language of Central Morocco.
Their musical map is richly drawn. Sung in Spanish and with a Cuban rhythm, Cimarrón tells of Louisiana slaves who fled their masters into the plantations, Death Don't Have No Mercy soaks the trad gospel number in the blues and a west African groove, Candlelight Lounge (inspired by a fight over crack and whores outside the New Orleans club) gives it some gris gris jerky funk and Running Down The Tiger is, as they succinctly put it, 'a sort of Pentecostal, tent revivalist harmonica jam.
They spin good stories too. With its circling guitar line, bizarre vocal wow wowing and lurching accordion sounding like something Zappa might have written if he'd got into world music blues, Erol The Turk apparently stems from some ceramic shop owner in Turkey who told Cory Seznec he lived in Mississippi in the 50s, dated a soul sister and was regularly urged to give some sass down the juke joints while the percussive bone dry Hell Roaring Creek allegedly recalls drummer Paul Clifford's time in the 80s prospecting in the Kootaneys of British Columbia. Curiously it's not a period that crops up on his biog.
The album title might not be attractive, but it pretty well captures the music the guys make, and I for one hope to be hearing a lot more of it.
Mike Davies October 2011
---
Groanbox - Livingston Sessions (Groanbox)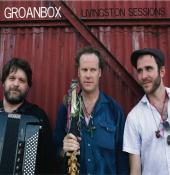 Comprising Canadian Paul Clifford on vocals and percussion, French/American Cory Seznec on guitar, banjo and vocals, and American accordionist Michael Ward-Bergeman, this marks the first time the trio have actually utilised a proper studio, their three previous albums being recorded in an old hospital theatre, a barn and an abandoned office.
I have no idea what they sounded like, but, recorded live, this is certainly a treat for roots ears. Employing an eclectic set of instruments that gourd banjo, calabash, keys, tin cans and a rudimentary drum hewn from a Yew log, they explore a wide ranging tapestry of world music, channeling them into a meld of dusty folk blues stomp and raw spirituals.
The accordion wheezing Muddy Shoals suggests Tom Waits' junkyard clank filtered through a 30s acoustic blues prism, the instrumental Tuvan Voodoo features mournful harmonica, throat singing and the hollowy echoes of the gourd banjo to conjure some moss hung backwoods cabin get together and Sugar On My Pencil is raggy jazz blues while Oyster Lease is a clanking avant jazz bluegrass instrumental, Must Be Time travels into Cajun territory and the spare field song gospel blues I Was Born gathers atmosphere with its use of African Blackwood Colonial fife, an instrument much heard during the days of the Civil War.
Drawing on the influence of traditional blues music, they mix old time bluegrassy instrumentals (Kathleen) with ragtime picking (Etude Sur Les Quais) and even some snakey mojo storytelling (Snapper), a highly individual, musically eccentric but thoroughly absorbing listen.
Mike Davies April 2010
---
Groanbox Boys - Gran Bwa (Groanbox Records)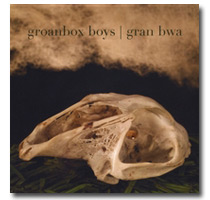 Last year, the celebrated Groanbox Boys' second album, Fences Come Down, both introduced to the UK and consolidated their notably eclectic maverick sound (as originally bestowed on the wider world via their Smokestack Trilogy debut a couple of years back). They've now seemingly blossomed into a touring and recording threesome on a permanent basis, with original members Michael Ward-Bergeman and Cory Seznec indelibly and inspiringly augmented by Paul Clifford and his amazing suitcase-full of percussive oddities. Their live performances have invariably gone down a storm, and so they'll be a good bet for sellout status when they return to these shores in June and July to promote this new CD, which is now well ensconced in the player and on its third enchanted playthrough already.

Its title (a corruption of "grand bois, French for "great wood") refers to the Haitian voudou god of the deep forest, protector of wild animals and herbal lore and the gateway between the spirit world and the real world - whose presence broods over the disc's fourteen tracks and seeps into their very titles (and your consciousness). These labels reflect the strictly bizarre moments experienced by the trio on the road (many of the songs were written under a tree in Edinburgh towards the end of their lengthy British tour last year, and the album was recorded there shortly afterwards). Even when compared to Fences, this new disc proves an even more heady experience, an hallucinogenic magic-mushroom parade of musical images and strange textures that wave wildly in the winds across the crop fields and deserts of Americana and Africana, shaped by the archaic landscapes of old-time backwoods gothic and embracing scenarios like where Harry Partch comes across Brett Marvin's zob-stick in a junkyard and beats the hell out of Tom Waits in some primordial folk ritual.

The end product is often improvisatory in feel, less arranged than organically grown and nurtured over the space of a few minutes, the song's tale left to unfold intuitively via the contributions of the musicians. With the sounds of a modified accordion, fretless pumpkin-gourd banjo, harmonica, guitar and sundry obscure percussive artefacts, the Groanbox Boys conjure a vital and significantly individual brand of conceptual weirdness that makes perverse sense, from the creepin' woozy bluesy Beneath A Dark Veil Of Needles to the Bo-Diddley-meets-Beefheart shamanistic hambone old-time of Deer Bone In The Mansion, the psychedelic "organic percussion" clanking of Pigman's Dog to the threatening, devilish Bogeyman, the true-blue-grass mould of Rabbit On A Hill and the Cajun-punk-riff-laden Shards Of The Journey (Talisman) to the eerie incantation of Dam Door and the deliriously swaying Parisian-café-meets-African-mojo beats of Where Are You Now? and Mountains Are Creeping (Yew). Eccentric, weird, brilliant, and certainly their best batch yet. The only thing I just can't cope with is the virtually unreadable grey-on-black colour-scheme adopted for the credits.

www.groanboxboys.com
www.myspace.com/thegroanboxboys

David Kidman June 2009
---
The Groanbox Boys - Fences Come Down (Groanbox Boys Records)

The Maryland-based Groanbox Boys are Michael Ward-Bergeman and Cory Seznec, two polyglot musicians of considerable talent and world-roaming experience who take a healthy and original stance on the reinterpretation of American and European folk styles within the context of the roots of American music in hillbilly, early blues and ragtime while also referencing the sounds of gypsy music.
They note that both Django Reinhardt and Woody Guthrie spent the 1930s and 1940s wandering widely, playing their music and singing their freedom songs. Sounds intriguing, right? And so it proves. Rippling breakdown-banjo and Cossack accordion combine to overwhelm the senses on the exuberant opening cut, for instance, while later tracks breeze along on a current of banjo and harmonica or utilise antique instruments exhibiting a raw vitality that's really infectious. In the spirit of the hobos that frequented the railroad camps of early-20th-century America, the duo search out forgotten instruments that were once the hobos' mainstays, like the Freedom Boot (a walking-stick-cum-rattle), producing an authentic old-time resonating sound all their own.
Some tracks exhibit the eccentricity of pure Beefheart (The Spiders And The Stones), others are reminiscent of the Holy Modal Rounders or even the Handsome Family, even the Crooked Jades, but for most of the time the Groanbox Boys really don't sound like anyone else. All the music is self-penned, with the exception of the traditional Little Sadie; and each individual song (or instrumental) has a pronounced character all its own. Perhaps those proverbial fences don't entirely come down, but the Boys' sheer exuberance - not to mention the fascinating and enthralling sounds they conjure from the simplest of means - wins me over completely.
David Kidman September 2008
---
Micky Groome - Yo! (Leg Room Records)
Remember the 70s and unpretentious, good-time, roots pub-rock bands like Chilli Will & the Red Hot Peppers, Nick Lowe, Dr. Feelgood, Graham Parker & The Rumour, Dave Edmunds and Ducks De Luxe? Micky Groome is the ex-bass player from Ducks De Luxe (he sang lead vocal on their 'I Fought The Law' single), and he's now released his own album - a rock'n'roll and country-rocker collection of twelve songs on new label Leg Room Records.
Micky Groome's pedigree includes band membership of Adrian Baker's Gidea Park (an involvement in surfing music!), the Nashville Teens and Mud. But it was during his time with Ducks De Luxe and a jam session in Amsterdam, with Flying Burrito Brothers' pedal steel guitarist Sneaky Pete and ex-Byrd Gene Clarke, that gave Micky a great taste for American Country music. From the memory-sticky opening track 'I Got My Work Cut Out', Burritos/Byrds influences linger through the album, making the some of the hook-laden songs seem warmly familiar! Lyrics from a working musician's viewpoint such as 'It's A Fine Hobby (but you'll never make a living)'and the personal 'Make Some Sense', bring a wry smile of déjà-vu.
The CD cover pictures Micky playing a Rickenbacker electric 6-string. He's also credited with acoustic guitar, bass, keyboards and programming. Lyricist Roger Knott is credited with additional keyboards and programming and contributes guitar on Watermelon Moon, but there's tasty guitar work thoughout the album.
I like this album very much. For me, the songs work best when backing vocals contribute sweet harmonies. Altogether, it's polished production, and a refreshing slice of rocking Americana from the UK - which you can also hear 'live' in the pubs in the delta of north-east London and bordering counties.
Sue Cavendish
---
Dave Gross - Take The Gamble (Swingnation Records) 22 year old Gross is already a master of the guitar and his talent was noticed by the legendary Duke Robillard who has produced Take The Gamble and guests on three of the tracks. Clarence 'Gatemouth' Brown's She Walks Right In is played in a Big Band style and is an upbeat swing blues to open with. He follows that with Mess On My Plate, a slow swinger and I'm Leavin' Baby, which is a slinky blues with equally slinky guitar. I'm So Hungry Blues is slow and deliberate and full of innuendo. Swinging On All Six is jazz/blues and there is a good interaction between Gross' guitar and Doug 'Mr Low' James' saxophone. Dona Oxford on piano also gets in on the act on this fast paced swinger. Walkin' In A Daze, written by 'Hot Lips' Page, is on the jazz side of the blues again but not too inspired.

That's All You Get has a snappy Albert Collins style guitar and he must certainly be an influence - smooth. You Ain't Playin' Me No More is a barroom blues with slinky guitar and assertive vocal but I Know Your Wig Is Gone (strange title) is another unremarkable jazzy blues, despite having been written by T-Bone Walker. After Your Gone is another jazz offering and although very professional, it is not inspiring. Great guitar though. Movin' On Down The Line is a contemporary blues and there is no disputing his prowess on guitar. Once I Had A Girl is old style Country played quickly with adventurous guitar. He closes with Make Things Right, a slow sultry blues. This makes for a very good ending and carries his now trademark vibrato and exceptionally strong guitar.

David Blue September 2007
---
Stefan Grossman - Those Pleasant Days (Sanctuary Midline)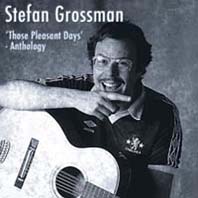 Everyone's heard of Stefan, I'll bet, yet most of us know him primarily as a guitar maestro who learned from the great bluesmen, and/or as a tutor par excellence and celebrated author of many guitar instruction manuals. So much of the music contained on this new compilation is likely to come as a surprise.
Let me explain: this mid-priced two-disc collection is subtitled "The Transatlantic Anthology", a phrase which is both entirely accurate and ever-so-slightly misleading. Entirely accurate in that it consists exclusively of material taken from the eight albums (albeit not all of them!) that Stefan recorded for the label between 1970 and 1976 (Stefan's two previous albums, both dating from 1969, haven't yet been reissued on CD). But misleading in that it presents Stefan more as a singer and songwriter than as the master-guitarist we all know and revere (and unless I'm very much mistaken, it includes very little from his landmark all-instrumental album Yazoo Basin Boogie - though its expanded CD incarnation is said to be still available on the Shanachie label).
Having said that, Stefan's signature tasteful and often stunningly virtuoso picking is well in evidence on virtually every track, so you won't feel shortchanged - it's just that the emphasis, at any rate on Disc One, is on Stefan's songs as opposed to his instrumental skills. The songs are very much in the early-70s s/s template, and embrace different types of musical setting with ease and good taste, from Chapmanesque bluesy musings (Orphan Sunday) to rolling country (A Pretty Little Tune) to NRPS-style slide-soaked roots-country-rock (Blues Jumped The Rabbit) to autumnal orchestral-backed writing (Man's Confidence) to songs of deep social conscience (Song For A Brother) to a slice of sunshine-baroque-pop (My Travelling Song). On some of the earlier tracks there's a tendency to "arrange by numbers" perhaps, with an ubiquitous conga player prominent in the mix, but there's generally enough variety to keep one's interest nevertheless. Particularly impressive are the tracks from the stylistically wayward yet ultimately enormously satisfying Ragtime Cowboy Jew double-album, which feature members of Fotheringay, Linda Thompson, Peter Bardens and Bernie Holland ... All you hear, in fact, goes to illustrate our tendency to underestimate Stefan's own songwriting prowess at the expense of his admittedly supreme musicianship.
Disc Two starts out much in the approved raggy-blues vein with an individual take on I'm So Glad, then a series of quirky original instrumental pieces, some (like Rollin' And Tumblin') blessed with a modicum of backing, before embarking on a cascade of no less than nine tracks from the superb Hot Dogs release of 1972. Stefan's final releases for Transatlantic were issued in parallel with those on his own Kicking Mule label, and I think it's fair to say that many listeners will, like me, not have heard (let alone owned) all the original albums. The sequence on this anthology does, however, over the course of its 44 tracks, present us with a bewildering amount of material covering quite a spectrum of music and approaches. So in this respect it's a bit of a shame that the otherwise wonderfully informative booklet doesn't delineate for our benefit which album each individual track is actually taken, as the aforementioned stylistic diversity makes it very difficult to gain much of a true sense of chronological perspective or artistic development from the tracks as they are assembled on the discs. Stefan's innovations, not only in terms of actual guitar playing technique but also in terms of imaginative acoustic-based musical arrangement, can be seen with hindsight to have influenced all manner of performers from Ry Cooder on down (and for the first time I'd namecheck Steve Tilston on such cuts as Those Lazy Blues) - and this compilation, which totally supersedes Castle's own 1996 "best of" disc, provides a salutary reminder of Stefan's staggering achievements in just the first few years of his long and illustrious career.
David Kidman
www.amazon.co.uk - nice price
---
Grupo Fantasma - Sonidos Gold (Me & My Other Records)
Surprise hits at this year's Cambridge Folk Festival makes the bold ten-piece ensemble Grupo Fantasma at the very least prime candidates for a review of their definitive new album Sonidos Gold. Grupo Fantasma are known as "the funkiest, finest and hard-working Latin orchestra to come out of the US in the last decade", and I'd not question that for a minute judging by this highly animated and splendidly coordinated record. Although their massive, fulsome sound has roots in the traditions of cumbia, salsa and funk, there's also hints of psychedelia and of the progressive sounds of Manu Chao, while acutely-observed comparisons with the 1960s Fania All-Stars sound have also been made. Whatever, there's an awful lot going on in and around these 12 tracks: the opening salvo El Sabio Soy Yo hits you between the ears with an organic assault on the head, hands and feet, with a busy, pulsating and constantly shifting sonic panorama, and the ride doesn't let up for the next 53 minutes. I'm not always terribly enamoured with a lot of Latin-derived music, but I really did respond to this band, with its often bewilderingly diverse array of influences - and it can't be entirely because their music deafened me into submission! Virtually every track is enticingly different too: Arroz Con Frijoles blends some thoroughly exhilarating rhythms and blazing brass with shrill whistles, while Bacalao Con Fan could have come from an unholy marriage of Santana, Caravan and Chicago; Cumbia De Los Pajaritos luxuriates in a roomy reggae vibe, and the occasionally cacophonous Naci De La seems to veer between Afro-psych and Buena Vista. While the steamy Perso Fra I Mesquites brings shades of tex-mex and tango to its shadow-lit texture (and a somewhat abrupt end to the disc). Yes, there's a gloriously cinematic (proudly widescreen) ambience to Grupo Fantasma, which I find tremendously invigorating, and this CD's epic gestures demand, and thrive on, repeated playing - and loud. For it's a defiantly Big sound, and all so very alive!
David Kidman August 2008
---
Gryphon - About as Curious as it Can Be (Hux)
From the notes: 'This CD features two previously unreleased BBC concerts, recorded in 1974 & 1975. The booklet includes many rare photographs...and liner notes by Graeme Taylor.'
And what a fine record of a fine band it is! The material comes mainly from the 'Midnight Mushrumps' and 'Raindance' albums, with a couple of previously unrecorded tune sets that begin and end the album. These are 'Renaissance Dance Medley' and 'Jigs'. Any fans of Capt Pugwash will recognise the latter! In between is a fine version of the full 'Midnight Mushrumps' suite, a storming 'Ethelion', with fantastic percussion (my favourite Gryphon track), 'Wallbanger', and 'The Last Flash of Gaberdine Tailor' rock along nicely and 'Le Cambrioleur Est Dans Le Mouchoir' is played for laughs and highlights Taylor's guitar, but 'Ein Klein Heldenleben' is a masterpiece. Richard Harvey (and the rest of the band) are quite brilliant on this. All in all a teriffic CD - indeed a classic.
Jon Hall
---
Bridget Guest & Roy Wilcock - Universal Chorus (Kitchen Table Music)
The latest release from folksters Bridget and Roy is a kind of concept album in that it comprises 13 songs inspired by the Quaker Tapestry, a community embroidery made over 15 years by 4,000 people from 15 countries and an extraordinary achievement. And so is this album, for it consists entirely of original self-penned songs, eight by Bridget alone and five by Bridget and Roy together. Each song takes its direct cue from an individual panel of the tapestry, and these are reproduced in the beautifully produced booklet that accompanies the CD. As for the songs themselves, well the mood is predominantly gentle and positive and the effect is genuinely life-affirming, even when dealing in a heartfelt way with painful experiences (as in The Farthest Shore, written from the point of view of a male convict aboard a hulk prison ship awaiting transportation, the deep gospel Lady Moses, a slave's paean to Harriet Tubman, and Freedom Lullaby, where a female slave prepares to bid farewell to her son). The CD ends restfully with the universal chorus of birdsong at the close of a linked mini-suite of three songs evoking and celebrating the tranquillity of the national nature reserve at Gait Barrows in South Cumbria. Roy and Bridget provide universally pleasing and accessible musical settings for their songs, and their beauty is enhanced by the supporting playing of Stewart Hardy (fiddle, viola), Bill Jones (piano, flute, whistle) and Howard Lees (guitar, mandolin, bass), also on one track the distinctive backing vocals of Mundy-Turner and Jacey & Brian Bedford, the latter worthy gentleman being responsible for the album's production. No gimmicks, no trendy breakbeats, just plenty of softly reliable singing and subtle musicianship on a bunch of really attractive songs that deserve wider currency outside the immediate context of the tapestry project - I can already imagine Chris While & Julie Matthews covering Rolling All At Sea, for instance.
David Kidman
---
GU4 - Lean On One Another (Own Label)
GU4 (pronounced "guffaw") are – no, not a comedy group, but a quartet of excellent singers from the Leicestershire folk scene, notably the Grand Union Folk Club at Barrow on Soar. Comprising Pete Burnham, Miggy Campbell, Karen Harris and Bill Wilkes, GU4 got together in 2006 through friendship and a shared passion for traditional-style folk music and acappella harmony singing. Although, admirably, they regard singing as essentially a "live" activity, the production of a CD has proved both inevitable and welcome, and the material thereon has been extremely well chosen to reflect the singers' tastes, abilities and personalities - a combination which is less often observed on a recording than you might expect or like! GU4's passionate, completely involved and involving style of performance lends itself well to genuinely intelligent, adventurous and well-thought-through harmonic progressions, and the foursome's unerring sense of internal balance invariably enables individual lines and strands to be followed and savoured without losing (aural) sight of the melody: a keenly judged and sympathetic recording clearly helps in this regard. Four voices need not overwhelm the listener by producing a shattering wall of sound and, although there's a touch of the Swan Arcade in GU4, that observation applies more to their direct passion than any sheer volume of their performance. The thoughtful essence of GU4's approach is well conveyed, with contrasts in dynamics and texture or register being well focussed and blended and the character of each individual voice well highlighted and utilised to best effect within the framework and context of the songs. Unlike surprisingly many other acappella ensembles, GU4 really are blessed with four very distinctive singers with a full and impressive total range of registers, and a very impressive command of different kinds of song. In particular, I'd single out Karen's sublimely pure, solid tone and supremely confident sense of direction (exemplified in her classic treatment of Bushes And Briars), and Bill's massive, rich and idiomatic bass (leading off a cracking Roll Down To Rio) – but Pete and Miggy are no less accomplished, whether essaying lyrical or pensive songs like Richard Grainger's Evergreen and Miggy's own brilliant childhood memoir-cum-inspirational philosophical treatise Sussex, or tripping deceptively lightly through high-speed fun ditties like Benny Graham's Have A Game For The Crack. GU4 can be just as persuasive on emotionally charged songs like Peter Bellamy's Transports classic The Leaves In The Woodland as on a full-pelt-ahead hunting song (of which there are two fine examples here). Only The White Cockade feels a touch deliberate. Completing the set are two gleefully roguish songs from the pen of the group's friend George Thomas, contrasting with beautiful renditions of Life Of A Man and Rani Arbo's Tennyson setting Crossing The Bar; the disc closes, most fittingly, with the group's farewell song Say No Goodbyes, another from Miggy's keen pen. Only very occasionally, on one or two (certainly not all) of the more full-bodied selections, there's a very minor loss of total unbridled presence, but that's a price you pay on a recorded artefact and for the most part the recording (masterminded by Roger Wilson) has definitely triumphed in communicating the very special nature (and oomph) of the ensemble's individual and combined voices and their musicality and 150% commitment. Magnificent voices, inspirational singing, excellent and canny choice of material. This is everything that acappella should be. Absolutely superb.
David Kidman May 2009
---
Larry Guild - Mule Shoes And Medicine Bags (Raven Feather Records)
Larry's a Scottish songwriter who I'd not previously heard, yet who's already highly regarded by many in this country and the States, and on the evidence of this, his debut CD, I can certainly see why. But the first thing that caught my attention was not Larry's voice, but instead the fretboard-scraping-noise of the finger-action when sliding up or down to notes, which I found intermittently distracting throughout the disc but especially intrusive on the first two tracks (unfortunate in creating that all-important first impression, perhaps). But more importantly, let's concentrate on the positives – for there are many. Larry's songs have a really attractive "contemporary-troubadour" feel to them that's often somewhat reminiscent of (though admittedly not specially imitative of) his stated inspirations Eric Taylor, John Prine, Townes Van Zandt, Cat Stevens, Nanci Griffith et al. The principal angle of Larry's writing is personal albeit not necessarily entirely autobiographical, though his songs are always eminently accessible, whatever the mood under examination. Some are a tad cryptic, like the love song Nobody Paints The Raven, but Larry always retains the essential quality of approachability. Other distinct hallmarks of Larry's style are a precise (though not clinical) playing attitude (mostly in the fingerpicked mode) and a very attractive singing voice with comparably clean articulation, a slight Scottish burr being all that betrays his origin. He's blessed with an excellent recording too (he achieves a wonderfully warm and resonant sound to both guitar and voice, which helps, with an overall ambience much in the "bare bones and barbed wire" mould (Larry apologises for the rawness of this, saying he couldn't afford to expand the sound, but I like it as it is and it's got an intimate quality all its own). The final track, As The Crow Flies, is a "first delve into alternative tunings" instrumental piece, and an appealing and accomplished one at that. I'm looking forward to Larry's next offering already.
David Kidman
---
Guillemots - Through The Window Pane (Polydor)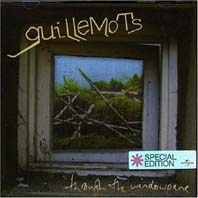 Things seem to have exploded for the Birmingham/Scottish/Brazilian/Canadian four piece named for a burrowing, crab-eating sea bird. Having released a handful of critically well received singles and built a glowing reputation on the live circuit, in short succession they've scored their first hit with the summery splendour of Made Up Love Song # 43 and seen their debut album lodge itself in the Top 20 and earn a Mercury Music Prize nomination; one of the few to actually warrant it.
One of the most eclectic and exciting acts to have emerged in the past year, the album's testament to their colourful tapestry of sound, one moment sounding like ELO with Trains To Brazil the next all lushly ambient with the synth washes of come down chill out folk ballad goes Brill Building Little Bear. Then they dive into the magnificent 11 minute epic Sao Paulo with its ambitious kaleidoscope of musical textures (Elton Johnisms included) sweeping away into a vast widescreen kitchen sink presentation before a Latin American fiesta section and an 1812 crescendo (and music box fade out) that bears testament to frontman/keyboard player/songsmith Fyfe Dangerfield's classical training. And that's not just bombastic pretension. As 20 year old Fyfe Antony Dangerfield Hutchins he wrote a choral piece, O Emmanuel, that was included on a collection of Christmas music alongside work by Britten and Tavener.
The album is a wonderful musical panorama, at once organic and electronic as it pursues its running motif of travel through the carnivalesque Through The Window Pane's world music flavours, the swooping celebratory electropop Annie, Let's Not Wait with its Latin American beats and the gorgeous pastures of romance on Redwings. Aside from a tenderly fragile yet joyous voice that sounds though he's been possessed by the soul of Jeff Buckley, Dangerfield (and to no lesser extent band cohorts Greig Stewart, MC Lord Magrao and Aristazabel Hawkes) has an expansive musical vision that touches upon genius and madness, producing tracks like A Samba In The Snowy Rain and the six minutes of dreamy, ethereal melancholy that is If The World Ends which are etched with an impossible beauty rarely heard since the vintage days of Scott Walker, Bacharach, Brel and Jimmy Webb.
Wisely keeping their more experimental moments to B sides in favour of the album's classic timeless orchestral pop notes to be found on We're Here and Through The Window Pane, they've created an album that casts a light of such exuberant optimism as to illuminate the darkest corners of the modern world and find 'majesty in a burnt out caravan', persuading you that life may just be worth it after all.
Mike Davies, July 2006
---
Andy Gunn - Flip Flop Kinetics (Self-Produced)
Young Scots guitar wizard Andy Gunn's latest album is the cumulative product of having played with and supported some of the greats. Just take in this list - Albert Collins, Pops Staples, The Sensational Alex Harvey Band, Gary Moore, Martin Stephenson, Errol Linton and Buddy Guy.
Previously signed to Pointblank he has decided to release this album through his website and opens with Angel In The Morning. This country rock warm-up is the first of many styles on offer and tips more than a nod to The Eagles and Dire Straits. Singing My Song takes us into more heavier rock fields with its Cream influenced blues and its fuzzed vocal chorus is an interesting one. The styles just keep coming and he opens Holdin' The Storm with a Latin tinge and his Santana-esque fills are thrilling.
Mermaid floats all over you and it is very hippy folk-rock in its delivery. There's some Jimi Hendrix string bending on Spellbound and there's some excellent slide guitar on this blues-rock stormer. Kissing My Blues Goodbye is an Albert Collins Texas style blues with funky drums and bass provided by Mattie Foulds and Tristan Turner respectively. This will be a great live song.
Gunn slows things down for Believin' Against The Tide, very much sung with soul and not too little Stephen Bishop influenced and with great guitar work. Sahara Dreams starts like a Western theme and then drifts off into a fast rumba beat. There's some more country rock on 1000 Mile Journey and this shows that he has a natural voice - not put on in any way and that's a pleasure to hear nowadays. The album finishes with When You Smile, a gentle acoustic song and a fun way to end. Hints of Van Morrison, Stephen Bishop (again) but I got a bit worried when he started to talk about making love to his washing machine!!
David Blue
---
Dave Gunning - Two-Bit World (Festival Distribution)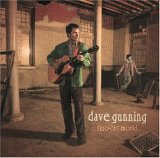 Recipient of many awards in the States, and winner of Folk Recording Of The Year at the 2005 East Coast Music Awards, Nova Scotia-born Dave's a familiar figure in festivals on the other side of the pond, but he's yet to make a mark over here in the UK. That may come as a bit of a surprise on hearing Two-Bit World (which I'm led to believe is his fourth release), for it's an accomplished, well-crafted and endearing set of songs sensitively telling fascinating and gently enthralling stories of intriguing characters from his hometown, historical events and personalities, both urban and rural myths, as well as examining relationships and changes to the world and its affairs with a very real humility and refreshingly direct honesty. Songs like Prince Of Pictou, Grey, Let Him Be and Saltwater Hearts may linger longest in the memory, sure, but in truth there's not a single weak track here. Dave's singing voice is that of the intimate confessional troubadour, resonant and captivating and very easy to warm to, while his writing style has been compared to Ron Hynes and Lennie Gallant. As well as his own songs, Dave tackles a couple of traditional ones, Broom O' The Cowdenknowes (in a kind-of-Tim O'Brien-bluegrassy mould) and Pills Of White Mercury (much in the driven manner of William Pint or James Keelaghan), and brings an even more dramatic folk-rock arrangement to Long Black Veil. The supporting crew does Dave proud, with (amongst others) dobro from Daniel Maillet, fiddle and mandolin from Ray Legere, bass and much more from Jamie Gatti, drums from Kris Macfarlane and some nice harmony vocals from Cindy Church, while Gordie Sampson and Charlie A'Court also guest and production's by Jamie Robinson. All in all, I rather liked this one, and I do hope we'll get to see Dave touring the UK before not too long.
David Kidman August 2006
---
Arlo Guthrie - Live In Sydney (Rising Son Records).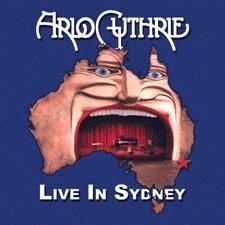 Being the son of the legendary Woody Guthrie is a great start in life but it is a tremendous act to match. Arlo has had many successes in his own rite and Live In Sydney is great testament to his wit, charm and great musicianship. This is his first solo release in 10 years and contains some old favourites as well as some brand new songs. He opens with an old one, Chilling Of The Evening and, as an aside, the sleeve notes give a commentary of everything said on the disc. This is the first time that I have seen this and it is a welcome addition. His vocal on this is very reminiscent of his contemporary Bob Dylan and the song is of the type that laid the foundations for the country/ folk rock of the 1970s and 80s. He follows this up with one of his father's songs, Oklahoma Hills, a real slice of Americana that would get any audience going. Arlo goes off into one of his tales next. In this one he tells us about the first time that he played in front of people when he was thirteen years of age and of his father's friend, Cisco Houston. He then goes on to play the old standard, St. James Infirmary for Cisco. He doesn't play this as a blues but rather a medium paced New Orleans jazz with some lovely acoustic guitar work.
There's another witty monologue about Bob Dylan before the next song, surprisingly enough a Bob Dylan song, When The Ship Comes In. This is a Dylan song sung in a Dylan style. It's not his most well-known song but it is still a classic and Arlo serves up a good version. Next up is his own Motorcycle Song - An Education and he says that he can hardly believe that this song ever came to anything. He tells a story in the middle of the song about how he wrote it and he has the audience in stitches. There's a great story to introduce Portland Town by Derroll Adams, a late friend of Woody's. During this, Arlo tells of when Derroll was dying he decided honour him by doing a project called Banjoman with Donovan and Hans Thessink. Derroll was going downhill fast and Arlo asked who he wanted to be on the album. Derroll's response was "Get Dolly" but neither he nor Arlo knew Dolly Parton. The way that Arlo explains how he wrote to her is very amusing and the song that follows is as powerful a piece of anti-war American folk as I've heard.
Byrds Of Paradise is yet another of his monologues and leads into Haleiwa Farewell (Haleiwa Blues), a tranquil acoustic instrumental. The longest tale on the first CD of this 2 disc pack is Technology - LA Story. He has such a way with the crowd, a genuinely gentle man. Unfortunately, this story is followed by the weakest track on the first disc, Coming In TO Los Angeles. Although it is faster paced and Gordon Titcomb on pedal steel guitar and Arlo's son Abe on keyboards are given their chance to shine, the song doesn't really do anything.
Disc two opens with the traditional Green Green Rocky Road. This is classic Americana and Arlo's velvet voice enables an excellent performance. Premium folk comes in the shape of Darkest Hour, a self-penned Dylanesque effort that is just perfect. The powerful Last To Leave is another of Arlo's songs and leads into a story about Steve Goodman, the author of City Of New Orleans which has to be one of the most famous songs ever. This wonderful legacy of a song is Americana personified and has that feel good factor that you need every now and then. Arlo's brushes with the famous is highlighted in A Poster With Janis Joplin where he reminisces about Janis and Ramblin' Jack Elliott. It's really a precursor to Kris Kristofferson's Me and Bobby McGee which is country of the highest pedigree. A new song, My Old Friend follows. This is performed in a Randy Newman style but possibly not up to his usual standards even though it's pleasant enough. This Land Is Your Land needs no introduction and he goes off on one again in the middle and explains that he has too stop when he gets a thought or else he'll never remember it. He comes back for Remembering Alice, a jocular version of Alice's Restaurant where he tells about times when he forgets the lyrics. The final song is Highway In The Wind, a song of a certain period that shows his songs deserve more credit than they probably got and where Arlo comes out with more Dylanesque vocals that some may think unnecessary. This is my first brush with Arlo Guthrie but I feel that I've known him all of my life.
David Blue
---
Sarah Lee Guthrie & Johnny Irion - Bright Examples (Ninth Street Opus)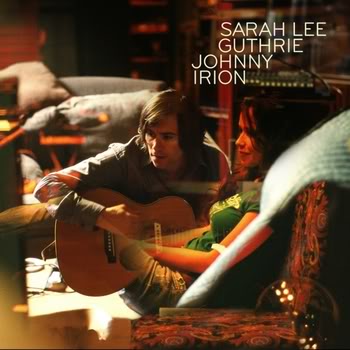 Returning for a second album, Woody's granddaughter and her husband (John Steinbeck's grandnephew) have recruited an impressive collection of friends to help out, among them Andy Cabic (who jointly produced with Thom Monahan), Otto Hauser and Daniel Hindman of Vetiver, Neal Casal, and Gary Louris and Mark Olson from The Jayhawks.
It would be easy to be overshadowed in such company, but Guthrie has certainly inherited both her father and granddad's vocal talents (though she thankfully sound a lot smoother) and while her other half tends to remain in the background on harmonies, he provides plenty of complementary colour as well as accomplished guitar. He also writes all bar two of the songs.
As evidenced by the dreamy arrangements of Ahead Of Myself and First Snow, late night slow dancer Company I'm Keeping and the late 60s pop stomp Speed Of Light, they're moving beyond country-rock, embracing bluesy and soul flavours with Seven Sisters while Dupon Circle introduces a drum machine like rhythm for a touch of ballroom waltzing.
Not that they've totally forsaken their roots and Americana genes are to the fore on the front porch harmonies of Never Far From My Heart, the laid back sunny country pop Target On Your Heart with its pedal steel flourishes, a twangy Hurry Up And Wait and the Neil Young balladry echoes of the title track, carried along by lap steel and organ. It's a grower rather than an instant hit, but patience is well rewarded.
Mike Davies September 2011
---
Sarah Lee Guthrie & Family - Go Waggaloo (Smithsonian Folkways)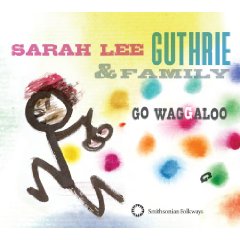 Now here's an odd one. Sarah Lee is the daughter of Arlo and, by extension, the grand daughter of Woody. Family consists of husband Johnny Irion (formerly of Dillon Fence), with whom she records and tours as a duo, their two young daughters Olivia and Sophia, her dad, sister, assorted nephews and nieces and, extending the circle to embrace friends too, Pete Seeger and his grandson Tao.

It's an album for kids. Indeed, Sarah Lee's little girl voice makes her sound like one herself while Don't I Fit In My Daddy's Shoes and Take Me To Show-and-Tell where each inspired by something her children said. But it's childlike rather than childish.

No Playschool nonsense here, there's a dreamy little bedtime lullaby called Brush Your Teeth Blues # 57 version that would fit happily on any grown up collection of songs while If Mama Had Four Hands is a rowdy handclapper folk gospel blues that could as easily appear in a Po' Girls set as in a nursery schoolroom.

Pete Seeger plays banjo on the old singalong chestnut She'll Be Comin' Round The Mountain and, you'll remember that he has a fair few children's songs to his credit. As indeed did Woody Guthrie, a painting by whom provides the cover art. And that's not the late folk legend's only contribution. The album also features three hitherto unrecorded songs from the archives now set to music by his granddaughter.

The simple shuffling make up your own verses singalong Bright Clear Day was written from a song made up by second wife Marjorie for their daughter Cathy while, jazzy piano and drums blues storysong Fox And The Goose (where Sarah Lee sounds a little like Bobbie Gentry) was a Guthrie rewrite of an old folk song.

Following news that the BBC recently rewrote Humpty Dumpty with a happy ending for the health and safety brigade, the fate of the animals in question serves reminder that old children's songs often had dark sides to them that reflected the harsher realities of life.

This album's title track, the third of the Woody lyrics, is a perfect example. A folk rap with a beat box rhythm, the 'hey hey go waggaloo' response follows call lines about the depression where 'mama died of natural causes', 'papa died of money losses' and 'I grew up in raggy tatters... slept in car seats on the street.' To the best of my knowledge, none of the Guthrie brood have been left traumatised by singing along.

Mike Davies October 2009
---
Sarah Lee Guthrie and Johnny Irion - Exploration (New West)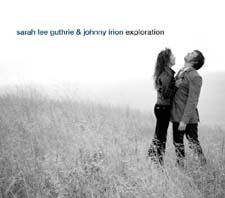 Sarah Lee Guthrie's father is Arlo and her grandfather is the legendary Woody. It's best to get these things out of the way early on because nowhere on Exploration do Sarah Lee, or her husband Johnny Irion, rely on illustrious parentage or reflected family glory.
Exploration is a brilliant album solely because of the talents of its creators.
To its credit the music on Exploration would fit in to just about any decade of the last century and more than hold its own. In Lieu Of Flowers is one of those simple, rustic songs that harks back to the day before country music's business boom, it's from an era when the music still belonged to the people who made it, as a contrast the title track is almost Beatles-esque in construction.
All but one of the songs are written by Guthrie, Irion or a combination of the two, the only cover is a superb version of Pete Seeger's Dr King. It is testament to the writing ability of the pair that the album is seamless in quality, no mean feat when set alongside one of music's true greats.
Above all Exploration is a warm and inviting album, Kindness and Swing Of Things are songs you can put your faith in. In the hands of the likes of Willie Nelson Kindness would be labelled an instant classic, here the verdict is no different.
To finish the album with thoroughly enjoyable bluegrass banjos that accompany Gotta Prove, is the sure sign that this was as enjoyable to make as it is to listen to.
Michael Mee
---
Woody Guthrie - The Live Wire: Woody Guthrie In Performance 1949 (Rounder)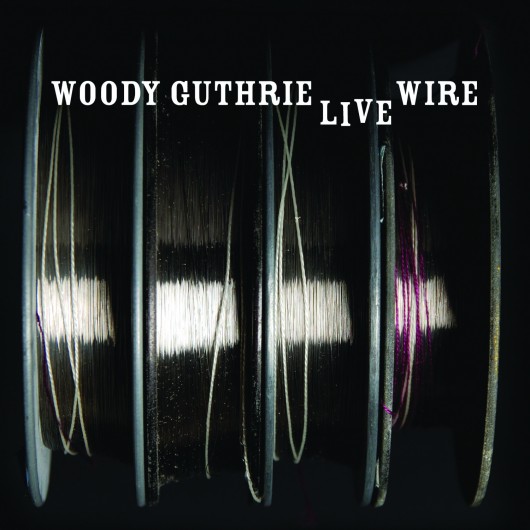 This set, representing Woody Guthrie's only known live recording, was first publicly issued, in a package with a book, around three or four years back. It received the 2008 Grammy Award for Best Historical Recording, and is now re-issued on CD, the disc (by the miracles of advanced technology) now including a PDF of that original book, which takes the form of a transcript of the entire performance (inevitably, in order to highlight Woody's musical performance, some of the spoken-word material has been edited from the audio part of the disc - but it still stretches out to a generous 74 minutes' playing time and preserves the original chronology of the event).
The liner notes give a good appreciation of the circumstances in which the direct-to-wire recording was made, and explain just why such live performances by folk musicians were rarely recorded or documented before the late 1950s, despite the growing interest on the part of progressive-minded urban audiences. This 1949 recording, made at Fuld Hall, a local community centre in Newark, NJ, gives us direct access to Guthrie's spontaneous and idiosyncratic performance style, showing his ability to connect utterly naturally with an audience on an intense, almost personal level (the aim of any folk music performer, after all), providing a window into the direction that American folk music would later take in the Dylan/Ochs era.
We can appreciate through this extraordinarily well-remastered recording that Guthrie's life embodies "the folk process", and through the initial quasi-interview segment with an audience member just how his travels enabled him to connect with America and the struggles of its people. Fascinating - and that's just while he's tuning his old Gibson, before he sings a note! The actual concert is a heady trip through his repertoire, including Black Diamond, Tom Joad, Pastures Of Plenty, Grand Coulee Dam and many more, favourites and less well-known pieces besides; only Talking Dust Bowl Blues suffers from truncation (maybe the wire ran out or broke, the compilers surmise).
Throughout the songs themselves, we're constantly made aware of Guthrie's clear intent to draw in and encourage his listeners to delve deeply into the narratives and perceived truths he is singing about, while all at once being entertaining - meaning wry, sarcastic, tragic and funny, just like life and living itself.
This is quite simply a revelation: a landmark recording, of immense historical and musical significance, which should be in the collection of any serious folk historian.
David Kidman May 2011
---
Woody Guthrie My Dusty Road (Rounder)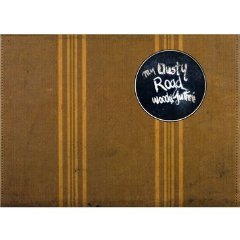 Hey now, do we really need yet another Woody Guthrie collection, you'll be asking... Well, this 54-tracker might be worth you ditching almost all the others you own; for a start, it certainly boasts a sound quality that's significantly superior to virtually any previous collection, and another bonus is that it even contains eight previously unreleased cuts (and I bet you thought everything had already been exhumed!).

The four-disc-set's packaging is unusually lavish too, albeit in a slightly gimmicky sort of way I guess – but it's impressively well done: the discs are placed within individual retro-cardboard sleeves and set inside a replica mini-suitcase (yes, honestly). Also enclosed within are some ephemera (reproduction postcards) and best of all a 64-page book containing better-than-decent track notes, some great photos and two essays: an historical overview and an account of the provenance of the recordings themselves and their painstaking and technically challenging restoration. The latter informs us that these are taken directly from the (fairly recently rediscovered, in a Brooklyn basement!) actual metalwork masters of the Stinson label - and thus assuring them of their status as the seminal takes they're here revealed to be, and fine performances indeed (which was not at all apparent either when they first appeared on shellac or subsequently in notoriously poor-quality LP transfers and inferior pressings). They all emanate from a series of sessions involving Guthrie, Cisco Houston and Sonny Terry, which took place in April 1944 at Asch Records' studios in New York City.

To clarify things: the six dates produced around 250 tracks in total, of which half were commandeered by Asch for his early Folkways releases (and reissued by that label a few years ago); and although even these sounded really good, the remastering on this latest collection turns out fresher still. The tonal quality and reproduction is remarkably faithful and one might say that the end result is very much the next best thing to being right there in the room at the time.

Content-wise, the set's four discs are individually themed, and sensibly too, while together forming a truthful portrait of Woody's art in presenting the music of the dust-bowl balladeer as a kind of cultural bridge between Steinbeckian Depression and the bum-beat era of Kerouac. Disc One - Woody's "Greatest" Hits (not entirely accurate as a title, but close, and probably the best given the extent of the available recordings from the Stinson source) - contains definitive staples such as Pretty Boy Floyd, Grand Coulee Dam and This Land Is Your Land. Disc Two - Woody's Roots - is a reflection of the south-western roots musics in which Woody was steeped. He picked songs and tunes up from family and friends, records and the radio, travelling medicine shows and touring country bands, and (as is apparent listening to the other discs in tandem) all these were to inform his own songs. This disc includes examples from the rich store of traditional folk balladry (Stackolee, John Henry, Stewball, The Buffalo Skinners, Gypsy Davy), songs from the repertoire of the Carter Family (Little Darling Pal Of Mine, Worried Man Blues), some gospel (Will You Miss Me When I'm Gone) and even a song culled from his fiddling uncle Jeff (Hard, Ain't It Hard). Disc Three - Woody The Agitator - has on its sleeve that celebrated pic with Woody sporting the This Machine Kills Fascists legend emblazoned on his guitar, and thus concentrates on the self-penned political songs, all-embracing and powerful creations that range from Tear The Fascists Down and The Ludlow Massacre to the war-effort parody Yanks Go Marching In and the two-part Harriet Tubman's Ballad.

Finally to Disc Four - Woody, Cisco & Sonny - the product of one particular 1944 studio session. It's characterised by some especially exuberant impromptu jam session playing, and showcases the talents of Woody's sidemen almost as much as his own (in itself underrated) guitar (and mandolin and fiddle) picking. Cisco and Woody when in duet mode really cook, while Sonny's blazing harmonica sounds in fine fettle chuffing through the tracks, but reaches a zenith on the breathtakingly virtuoso Sonny's Flight, with Woody's supporting guitar a model of restraint. Repertoire encompasses breakdowns, rags and square dances, as well as arrangements of spirituals, string band standards and sentimental ballads and the defiant Ain't Nobody's Business.

A wonderfully rounded portrait, then: if not the complete story, then its compensation is the magnificently open sound quality that enables you to appreciate the detail and the artistry that much better and get closer to an understanding of just how much Woody's personal stylings and writings were to influence and inspire so many performers in the folk, roots and country arena - this reverberating right through to today's upcoming artists. I reckon that if you supplement this new collection with the aforementioned Folkways issue of the Asch Recordings you won't need much else for an essential Guthrie library.

David Kidman December 2009
---
The Guthries - Off Windmill (Hay Sale)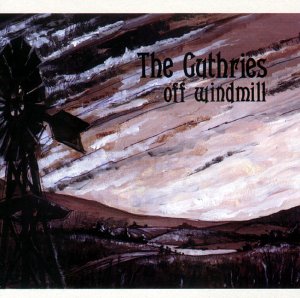 From the heart of so much great music Halifax, Nova Scotia come The Guthries who are Matt Mays, Gabriel and Ruth Minnikin, Brian and Dale Murray and Serge Samson. To get a feel of the band try and listen to Wednesday Night and if you don't fall immediately in love with them then I'll cry - earthy vocals from Ruth and a brilliant trumpet bread that veers into mariachi country from Andy Gallant. Gorgeous.
www.haysalerecords.com
www.myspace.com/theguthries
Graham Radley
---
The Andy Guttridge Band @ Netherseale Sports Club, Derbyshire - 27th April 2001
It was a Friday evening in the picturesque Derbyshire village of Netherseale and the second public performance of the Andy Guttridge Band. The venue was full of enthusiastic locals despite them not having heard of the band before. A lively crowd, clearly out to enjoy themselves. They were not to be disappointed!
Andy Guttridge and Martin Green have been honing their performing skills as a duo for about three years. Andy's crystal-clear voice and Martin's virtuoso acoustic guitar playing have earned them much praise. The list of luminaries appearing on Andy's two fine albums 'Amongst Friends' and 'Twice In A Blue Moon' speaks for itself: Tom Leary, Kevin Dempsey, Ric Sanders, Chris Leslie, P.J. Wright, Maartin Allcock, to name but a few.
In September 2000 Andy and Martin appeared as guests on the annual outing of the Phil Beer Band. The opportunity to impress the PB Band's discerning audiences was not lost.
Two years ago bass player Roger Inniss found himself jamming with Andy and Martin. Roger, without doubt one of the country's leading bass players, has a list of session credits as long as your arm and a permanent place in both the Steve Gibbons and the Elkie Brookes bands. Soon after, Roger started gigging with the duo whenever his busy schedule allowed. As well as providing some startingly good bass lines Roger's professional approach sharpened up the act. They were on their way.
Then along came the charity compilation album "Heart Of England". Andy was invited to contribute a track, he called on Martin, Roger and Banbury drummer Toby Bennett. The four piece Andy Guttridge Band was born and found itself on a CD featuring among others, Richard Thompson, Fairport Convention, Show Of Hands and Ralph McTell - what's more, they led the field by contributing two tracks 'Perfect Bliss' and 'You Walk With Me'. The album is still selling consistently and has to date raised over £10,000 pounds for the Teenage Cancer Trust.
Back to Netherseale, and from Martin's sublime intro to "Homeless" it is obvious to the audience that this is a class act. Andy's rapport with the crowd developed quickly and his vocal power was demonstrated early in the set with the timeless 'Black Shepherd'. Then it was time for some newer material, 'Save Me', the superb 'Gone For Gold' and the previously mentioned 'Perfect Bliss'.
By now the band was firing on all cylinders. Martin's guitar work was in turn impressively lightning fast and wonderfully delicate, Andy was singing superbly. Roger switched between his two six-string basses giving us the full range of styles, slapping on the fretted instrument, seductively sliding onto the notes with the glorious sounding fretless. Toby's more than competent druming spurred them on to new heights. The audience was witnessing something very special here: never have I seen these individual musicians play better, rarely had I witnessed a tighter performance from any band, let alone one on only its second gig. The Andy Guttridge band had arrived in style.
Then the pace slowed for Andy's fine interpretation of the Ewan MacColl standard 'The First Time Ever I Saw Your Face' with subtle accompaniment from Martin's guitar and Roger and Toby's tasteful bass and percussion. The gentle groove of 'The Why', with the audience in fine voice during the chorus, was followed by a tour-de-force version of Don McClean's 'General Store'. Then it was Andy's own 'The Garden', reminding us that we don't actually own anything - we just borrow it from our children. The pre-encore closer was a storming version of the Dylan classic 'All Along The Watchtower'. Andy stepped back during the extended instrumental section leaving Roger to exchange increasingly inspired licks with Martin. By now, both were cooking; as someone said afterwards: "they were doing things I didn't think were possible with an acoustic guitar and a bass".
There was no way they would be allowed to leave without an encore; 'Friends' it was, perfectly appropriate from a band that had just made a whole lot of new ones. Still the crowd demanded more; they were rewarded with an awesome version of Seal's 'Crazy' with Andy giving his all on vocals and rendering a third encore impossible.
And then it was over - a fantastic performance. Make no mistake, this is a band with a future. Andy's recent compositions stand alongside those of any contemporary songwriter you care to mention and the blend of original material and covers makes for a varied and balanced set. The stagecraft is there in abundance and the standard of musicianship second to none. The good folk of Netherseale went home extremely happy that night; catch the Andy Guttridge Band when you can and you will too.
Richard Barnes
---
Buddy Guy - Sweet Tea (Silvertone 2001)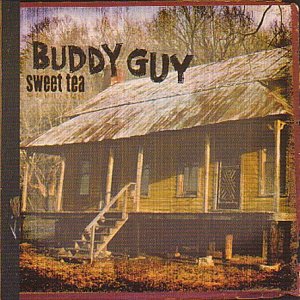 Of all the albums I have in my collection, this one that stands out as perhaps my favourite blues recording. It vies for top spot with Albert King and SRV's "In Session" (reviewed elsewhere on NetRhythms) though the two are totally different in style and character. "In session" is based around the familiar 12 bar blues, albeit featuring some of the best of the genre I have ever heard. Sweet Tea, on the other hand, couldn't be more different. It blows that tradition clean out of the water. This is the album that the phrase deep, down and dirty was invented for.
What Buddy has done, is to strip and disassemble the music down to its most basic ingredients in order to recapture the fundamental spirit underlying black music. The result is an album that taps down to the primordial blues core in us all. Sweet Tea actively engages you, taking you over, body and soul before lifting you to another dimension.
It is raw, uncompromising, distorted and totally over the top, yet somehow it hangs together, capturing the very essence of what blues is really about. It is often said that the blues is the Devil's music and if it's true, then ol' Lucifer can have my soul for nothing. I may end up in hell for saying it but all of my friends will be there and we'll have a ball listening to Sweet Tea in the elevator on the way down. Forget the overproduced albums of the 80's and 90's; this is the real thing.
"I Done Got Old" written by Junior Kimbrough, kicks the album off in a melancholy mood with Buddy reflecting on reaching the milestone of 65. Quiet, soulful and moving it may be, but when he says he "can't do the things I used to do", don't you believe it. From the moment "Baby Please Don't Leave Me" is counted in, the whole ambience changes from one man and his guitar to a dark and menacing electric blues with a bassline so powerful, intense and utterly dirty, my first reaction was check my lovely new speakers for damage.
Although the 12 bar song structure forms the basis for many of the tracks in the album, these tunes come across as anything but "standard". The rough, crude sound found on "Tramp" and "She's Got the Devil In Her" for instance, takes them far beyond what you may come to expect from mere mortals. However, for me, the best tracks are those offering freedom from the constraints of the I, VI, V progression giving a guitarist of Buddy's stature the flexibility to take the tunes beyond mere melody.
The best example is his interpretation of another Junior Kimbrough's track "I gotta Try You Girl", which epitomises not only the dark and demonic feel of the music but positively crackles with sweaty sexual energy. It not so much fades in, but emerges half formed from a primeval swamp, like a B movie horror monster crawling towards you. It holds you transfixed, unable to turn away from the sound that engulfs you. This is an unstoppable guitar mantra that throbs and pulsates over the course of the next 12 minutes, evolving into set of blues riffs that envelop and overwhelm the listener with the sheer power and majesty of the music.
Buddy Guy won a Grammy for this album, and I can't say I'm surprised. What he has done is produce the single most wonderful blues album of all time…probably. If Carlsberg made blues albums, this is it.
Andy Pearson
---
Buddy Guy - Blues Singer (Silvertone, July 7, 2003)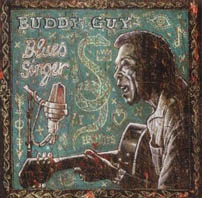 This may seem an odd start to an album review, but bear with me, it's worth it. To folks of a certain age, the concept of the Condor Moment has a special meaning. Following on from the series of adverts for pipe tobacco in the 70's, the phrase "Ahh, Condor" evokes images of a moment of sublime satisfaction after a stressful, turbulent day. It's an image I like. They may be quite rare, but when they happen, there's no mistaking them.
My favourite one occurred while I was sitting in a hotel room on Newbury St in Boston one October. We were sitting there enjoying a glass of wine after a hard day's sight seeing when the sound of a solo saxophone drifted through the open window over the sounds of the people in the street below. "Ahh, Condor".
The reason I mention this is that I recently had another. It was a typical English summer's day. After 2 days of blazing sunshine, it was hot, humid and muggy. The sky was darkening with storm clouds and I was lounging in my flat, sweating and praying for rain. I was listening to Buddy Guy's Grammy winning album Blues Singer when it arrived. A flash of lightening, a roll of thunder and the first splatter of giant raindrops on the balcony coincided with the opening bars of track 2, a fantastic acoustic version of the John Lee Hooker classic Crawlin' King Snake. Close your eyes and there you are. Sat in a rockin' chair and the veranda of your wooden shack in Mississippi, whittling on a piece of wood and enjoying the cool relief as the storm sweeps by. "Ahh Condor".
The longer the rain went on, the more I enjoyed the music. The whole album is a totally acoustic diversion from the raw, heavy, electric sound heard on his 2001 offering Sweet Tea (if you haven't got it, buy it. It's brilliant). But don't think for one minute that the man is mellowing in his old age. OK, so the soaring, strangled, distorted solos from Sweet Tea are missing, but this ain't no gentle MTV unplugged meandering. This is real blues, played by a master guitarist with a cutting edge that only comes with age and experience. It is seriously good.
Switching from his trademark Polkadot Strat (copies retailing at $799 on Buddy's website, incidentally), to a more traditional guitar alters the mood of his music considerably. This album moves him from a Chicago blues sound (with which Buddy is synonymous) to the more relaxed style of the delta, but it's a delta style packed with power and passion which belie the simplified instrumentation.
Of course, stripped of amplification and special effects, lesser musicians may struggle. But when you have some of the world's greatest talent like Eric Clapton and BB King plucking the strings, then the lack of distraction allows the skill and dexterity of these superb guitarists to stand out. And the motivation for this acoustic offering? On the inside of the back cover is a simple dedication. To the memory of John Lee Hooker. Nuff said.
Andy Pearson
---
Rahel Guzelian - City Light (Guzelian)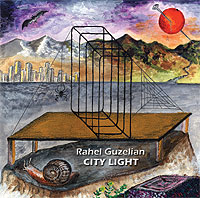 Although of Armenian-English parentage and brought up in the Lake District, Bradford-based songwriter and singer Rahel has become a loyal and welcome presence on the Yorkshire acoustic scene, developing her craft over the past few years performing at a wide variety of engagements in the immediate locality, from folk club gigs and writers' circles to charity or political benefits and community events. This range of commitments reflects her own passionate and deeply felt concerns; she writes when she feels she has something to say, about the things that have affected her life - and likewise the lives of many other people - i.e. peace, perseverance, disability, parenthood, relationships, the environment. That perfectly sincere but ultimately rather heady combination of topics might seem a recipe for the worst kind of cringe-making, navel-gazing songwriting, but not in Rahel's case, for the best of her lyrics purvey a quite potent combination of innocence and experience that beguiles and compels, much in the fashion of the more celebrated examples of the early-to-mid-60s protest-song genre which arguably (albeit probably entirely subconsciously) form much of her inspiration. There's the superb cautionary eco-ballad Take Me To The Beach, a child-friendly rumination on the horrors of Sellafield, which contrasts somewhat with the more flippant (ostensibly Stanley Accrington-style) Don't Feed The Birds. The unusually-structured, almost anti-nostalgic Tree Song; the oblique, cryptic Wednesday (a mid-week metaphor for the portion of her lifetime spent bringing up four children); the bluesy, jauntily apocalyptic Remains; the limpid yet deceptive poetic beauty concealing everyday life terrors of Icy Water, the toughness and freedom of the title track; the lovely, admirably unsentimental portrait of Rahel's sister Ani (who died, tragically, at the age of 28) in A Rainbow Is Here - all these are highly memorable creations with simple yet powerful imagery largely devoid of songwriting cliché. In fact, almost all of the 15 songs here have considerable merit. As a singer, Rahel's delivery is considered and pleasant, though not without minor deficiencies - as she'd be the first to admit. Similarly, she would describe her own guitar playing as fairly rudimentary but perfectly adequate to the task, and she's (quite rightly) content to leave it understated, relying instead on a small number of supporting musicians for the more intricate musical embroiderings. That means telling contributions from Chris Parkinson, also Rahel's partner Tony Charnock (who provides some particularly fine guitar and violin embellishments), Lucy Best-Shaw (flute), and Kwame D's Jeff Willacy (percussion), with Susie Phillips on occasional backing vocals. All of these elements allow for maximum concentration on Rahel's lyrics as the principal focus of this attractive and pleasing CD. The only track that jars for me is A Piece Of Your Peace - though the actual sentiments are wholly sound and I can't knock Rahel's laudable motivation or depth of conviction, I've always remained resolutely impervious to the alleged charms of kids' choruses on record! Back to the positives though - living locally, I've been fortunate to hear Rahel perform her songs on a fairly regular basis over the past five years, and I think she's probably succeeded in selecting the best of her songwriting for inclusion on this, her début CD. And in securing the services of Alistair Russell to produce it, ensuring that her talents are heard at their best in a sympathetic setting. And by the way, the fine presentation (complete with artwork that's largely Rahel's own) makes the entire product very appealing indeed..
David Kidman
---
Peer Gynt - Fairytale (Ruf Records)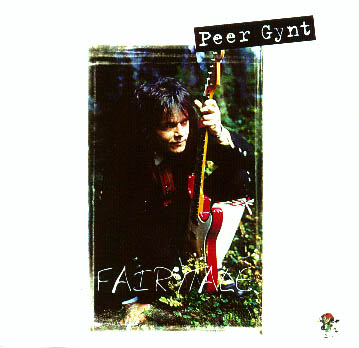 Resplendent in what looks like Norwegian national dress, Peer Gynt looks out at you from the album cover like some kind of forest elf. Ignore the sleeve imagery and what you find is a Scandinavian bluesman par excellence. But, to think of him as a bluesman solely would be a mistake. He uses Norwegian folk tales as the basis for his songs and blends them with the blues to produce some high-quality music.
Freddies Shuffle is a fine blues instrumental and gives an indication of Gynt's prowess on the guitar while Summer Tale takes him in the direction of Big Country and Barclay James Harvest. Sixties R&B meets contemporary guitar on the thumping Please, Please Babe before returning to Big Country guitars for the Bo Diddley style Homegrown Juice. Drummer B.P. Hovick slams into the skins for To Be Your Man ably backed by bassist Lars Fish. This track provides some of the best guitar work on the album. The pace is slowed down for Sams Café, a standard AOR ballad but picks up again for the funky Good Lord. The trio are back to breakneck speed for the fantastic instrumental Hallingcaster before moving on to a slow burning blues, I Can Tell, that Gary Moore would be proud of.
For me, the highlight of the album comes at track 11. This is Livin' The Life Ain't Easy and the power will just blow you away. His folk tinged, blues-rock guitar style comes into its own here. The acoustic contribution, The Hunt, seems a bit out of place on this album but this may be Gynt going back to his folk roots and, after all, it is played wonderfully. The title track is left to last and brings the album to a rocking conclusion. Peer Gynt may take a bit of getting used to but give the album a few listens and I'm sure that the 'King Of Mountain Blues' (as he is known in his homeland) will grow on you.
David Blue
---
---