A to Z Album and Gig Reviews
---
---
UK States - Psychogeography (Hit Back)
It took longer to work out how to pronounce the album's title than it did to decide how good it is, which is very good.
Mind you I'm no further forward in deciding just what kind of album Psychogeography is and that's just one of the many plus points.
It sounds like its one of those home-grown affairs that really is home-grown. It's not that it's a rough and ready recording. It's more that it sounds completely natural It would be wonderful to think that neither Toby Carter or Christian Lewcock - UK States - had really thought any of the music through to its conclusion and were just playing it this way because it felt right.
Whatever the process, Psychogeography comes together in wonderfully warm, intense waves of emotion. There's also a closeness, Psychogeography is the kind of album only good friends could make, Carter and Lewcock don't compete for space on any of the tracks. Lyrically it's a voyage of adventure, the suspicion lingers that only Lewcock and carter will really know the tracks' true meanings. Melodically it raises the bar on minimalism with only the odd contribution from Jolyon Gray adding anything remotely like a flourish.
Psychogeography is one of those intelligently intricate albums that suck you in. It's an album that will never be completely unravelled; intriguing, challenging and utterly captivating Pyschogeography is an album you'll find impossible to ignore without really knowing why.
www.myspace.com/ukstates
www.ukstates.com
Michael Mee November 2007
---
The Ukulele Orchestra Of Great Britain - Fidicula Inter Angelos: Christmas With The Ukulele Orchestra Of Great Britain (UOGB)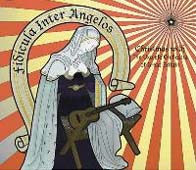 This was the first of the year's Christmas albums to arrive in my mailbag - and so far it's proved the most durable, with some tracks that it's impossible to resist returning to, even in moments when the last thing I'm feeling is festively-inclined!
The Ukers' brilliant musicianship and delectable sense of humour have got to be lots to do with it, of course - but as with virtually everything the ensemble has recorded so far, there's much more expertise beneath the surface than their detractors will give them credit for. These detractors will wince (pies) at the prospect of spending ye festive season (or should I rename it Yuketide?!) in the company of the Orchestra plucking and strumming their merry way through a dozen Christmas turkeys that we all know and (very probably) hate with a vengeance.
But fear ye not - for mighty dread hath no place here; this is a cheerful and companionable selection, where the various items are treated with real imagination, and sufficient respect, to obviate at a stroke any charge of peddling cheap'n'tawdry Xmas Tat. The repertoire bravely (and typically) intersperses tradition-rich (pagan and Christian) canticles with tradition-imposed seasonal fare from popular (and pop) culture. Over half of the disc's selections are vocal numbers, the inevitable drawback of which can be that while you're paying due attention to the often quirky vocal line and the lyrics your focus is diverted away from, or else masks, the dexterity and instrumental expertise that's so much more than just a backing-track. Sometimes this doesn't matter unduly, for the Orchestra's inspired down-tempo doowop-style take on Slade's chummy Merry Xmas Everybody works fine on that level, and the live recording of a deliciously reworked Christmas Song (the Bing Crosby one, not the Jethro Tull) is masterly piece of creative transposition in its own right, while the Down In The Forest canticle has something for everyone in its sprightly chiming arrangement.
Although the standard of the uke playing is consistently high (predictably so, almost!), there are still plenty of pleasingly inventive touches to take us by surprise (like the intriguing imitation of sleigh bells by means of an unorthodox playing method), there are some moments that do nothing for me - I never did like White Christmas, or indeed Elvis's Blue Christmas, and not even the Orchestra can redeem these from turgidity. And the delights of the Orchestra's jaunty Winter Wonderland are (momentarily) mildly compromised, perhaps, by the audience laughing at the multifarious visual antics.
However, Wassail (aka Here We Come A-Wassailing) is beautifully arranged and coordinated on every level; the minstrelsy of On Christmas Night is attractive, and the Christmas Rose waltz is similarly charming (and quite chirpy), while a welcomingly fleet-footed, syncopated trot through Jingle Bells and a bluegrassy breakdown setting for Wenceslas close the disc with real panache.
By the way, the Latin subtitle is, apparently, best translated as something like "tiny lyres among the angels", ostensibly reflecting the heavenly impact of the humble ukulele in proud consort. The disc embodies only one touch of bah! humbug for me: I feel the guys could've been less parsimonious with the playing-time by including on the disc at least some of the performances from the earlier (Never Mind The Reindeer) sessions, those of seasonal songs that don't appear here - now that would really have made a bumper stocking-filler.
David Kidman November 2010
---
The Ukulele Orchestra of Great Britain - The Secret Of Life (LongMan)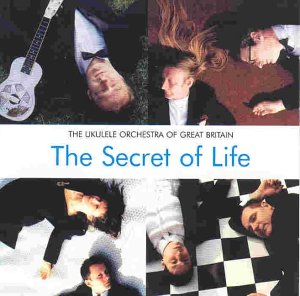 I confess I'm a bit of a sucker for strange, unorthodox, maverick, or at the very least mildly unusual musical offerings. The mere name of this band begs a myriad of questions - are they for real? are they really what they say they are? can there really be such a thing as a ukulele orchestra? It all sounds just that bit too silly to be true… but it is! And they go out on tour too! I must have had my head buried in the sand, because I wasn't aware the UOGB had already appeared on Radio 4 and national TV, nor had I realised they'd gigged at prestige venues like the Royal Festival Hall and Hyde Park… So - when this seven-piece ensemble (each member a fully-fledged uke player) makes an album, is the novelty value of their live show able to translate and produce something worthwhile in listening terms? The answer is yes and no (take your pick, as they say!). Of course, it's good that the Ukes don't exactly take themselves too seriously, delighting in playing around with the music, but as often as not this leads to an ephemerality in the impact, or else a peculiar misconception of the essence or nature of the song chosen. Sure, that's the nature of life, the secret of life itself, one might argue. Whatever, the ensemble tackles a thundering variety of material, playing delightful games of musical "what if?" with their "ukenique" arrangements of pop classics (the Shadows' Wonderful Land, Otis Redding's Hard To Handle, Jim Webb's Macarthur Park) through to doo-wop (OnlyYou) and weirdly hip fodder (Miss Dy-na-mi-tee, Le Freak) and finally to unforgettable pseudo-obscenity (Je T'Aime… Moi Non Plus). Most of these aren't the quasi-Goonish pastiches you might expect, but intelligent re-interpretations. Le Freak is a particular success, with a glorious cascading vocal crescendo to match the funky ukes. However, Macarthur Park does miss the surreal import of the original, and Wonderful Land probably fails through trying too hard to sound like a fairyland version of the Tornados, ending up weak and watery but winsome. Je T'Aime… , though ostensibly hilarious, turns out sub-Pythonesque, with at times laughably bad enunciation and at least two blatant mispronunciations. The lone concession to what one might readily consider the established repertoire of the uke is a glasnost rendition of the Formby classic Leaning On A Lamp-post (the Ukes' treatment is refreshingly different, a distinctly Cossack-balalaika-orchestra-style rendering that really should've been retitled Lenin On A Lamp-post, methinks - and I said that well before reading the sleeve notes!). The final four tracks are compositions by UOGB members in the/an appropriate style (from Monteverdi antiphonal to hammy theatricals), but these seem less successful than the preceding covers. Oh and before I forget, the Ukes also sing on most tracks; sometimes a mite exaggeratedly, it must be admitted, but mostly a pretty good cabaret is had by all. The actual playing (not all ukes by the way, there's a bass in there too) is tenderly thought-out rather than an all-out onslaught of relentless plinkety-plonk. All the musicians play expertly, with a combination of almost mathematical precision and commendable restraint (in the spirit of Eukelid, might I say!?). There really is a breath of fresh air blowing through this decidedly oddball eclecticism, wherein the UKOGB take on (and emerge largely victorious from) an array of what might be termed fairly insubstantial fare from all over the archives of pop culture, a lucky dip that relies as much on hapless serendipity as musical taste (or relative lack of it!). Anarchy In The Ukulele? Certainly; it's turned out nice again, so let George do it!

David Kidman
---
Uiscedwr - Fish Cat Door (Yukka Records)
After making a major splash on the scene in 2002 winning the BBC Young Folk Award, then embarking on a series of tremendously exciting live gigs and releasing two groundbreaking albums (Everywhere and Circle), tragedy struck when the band's fiddle player Anna Esslemont was diagnosed with a rare auto-immune disease, anaplastic anaemia. A long period of illness and inactivity followed, but with a happy ending: one successful bone marrow transplant later, and a lengthy period of recovery, and Uiscedwr was back in action last year, touring both its own new four-piece lineup and a newly convened Big Band (!) and subsequently recording their third album prior to embarking on a further hefty tour schedule this summer. The new lineup sees the two founder members (Anna and iconic high-energy percussionist Cormac Rigby) joined by new guitarist James Hickman and former Poozie/Swåp accordionist Karen Tweed, providing an even more stimulating and fresh-sounding mix of sounds that in terms of sheer energy alone never lets up, whether on the more refined of the (largely somehow dance-based) tune-sets or accompanying vocal items (which this time include a couple of Anna's own honest songs). Fish Cat Door (a clever quasi-mnemonic for pronouncing the band's name) emphatically and triumphantly returns us to the archetypal Uiscedwr mix of absolutely brilliant technical expertise and unassumingly canny musicianship in unfailingly intelligent arrangements of tunes and songs embracing a variety of musics and influences from world rhythms, modern pop, Irish trad and even bluegrass (the latter, Germs - to all intents and purposes a breakneck breakdown-style Jolly Beggarman – comes courtesy of James, a supremely dextrous musician who proves in every respect a worthy successor to Kevin Dempsey). Perhaps surprisingly considering the importance to the overall Uiscedwr sound of the core duo partnership of Anna and Cormac, the standout album track ESP (how aptly named!) is their first recorded excursion into strict duo territory, truly "exposing the heart of Uiscedwr"; elsewhere they're content to act as a fulcrum for the rhythmic and melodic adventures of Karen and James albeit demonstrating their keen gifts for fluidity and weaving improvisation within the challenging and ever-fluctuating pulses and frameworks of the music. In addition to the compositional skills of Anna and Cormac, the instrumental tracks also feature some of Karen's pieces, most notably a bodhrán-crunching new rendition of The Unstep (a seriously funky reel dating from her days with the Kathryn Tickell Band), and the contrasting Joshua's Lullaby/Seven Letters pairing. The four songs kick off with two by Anna (Prescription Junkie self-deprecatingly recounts some key practical difficulties associated with her illness, while Tip Tap Baby lets rip on a tale of a dancer who "can move but can't groove"). These are complemented towards the end of the disc by Katie Bennett's beautiful End Of The Day and Jim Malcolm's perennially-relevant, thought-provoking Neptune. Can the sparky Uiscedwr, here enshrined at the top of their game, really get any better? Now there's a challenge!
David Kidman May 2009
---
Uiscedwr - Circle (Yukka)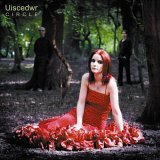 This vibrant folk trio burst onto the scene in 2003, releasing an astounding debut album Everywhere shortly after winning the BBC Young Folk Award that year, following which came a major change and a catastrophe. First, original guitarist Ben Hellings departed, to be replaced by the amazing Kevin Dempsey (veteran of countless folk sessions and erstwhile member of Whippersnapper with Dave Swarbrick). Second, the trio's violin player and principal singer, Anna Esslemont, had to take more than a year out to due to the sudden onset of a major illness – from which thankfully she's now recovered and is performing stronger than ever. (And on the evidence of the trio's showstopping sets at Saddleworth Festival last weekend I'd concur with that!) So, how could Uiscedwr possibly follow such a mighty debut album? – with an even more impressive second, that's how, and Circle is unquestionably that. The new album's twelve tracks present four songs and eight tune-concoctions (I'd hesitate to call them mere "sets"!). Funky acoustic Celtic-world-folk is a clumsy tag, but it comes closest to approaching an accurate description of Uiscedwr's music at this point in time. Moving on from the ostensibly more classically-poised approach of Everywhere, the new tunes appealingly and artfully mix original compositions with ones from traditional sources, with adventurous jazzy syncopations and a sparkling stridency; key components of the trio sound being the joyful and relaxed high-energy violin-guitar interplay and the fiery bodhrán playing of Cormac Rigby which does so much more than mark time or carry the basic pulse. Cormac's quite simply the most extraordinary of the many enterprising and musicianly bodhránists on the scene today (don't just rely on his own little solo extravaganza Tree!). Anna's breathtaking scat-vocal contributions to The Beast and Flea Circus provide a couple more of those jaw-dropping moments, although neither can one resist the sheer vigour of her violin playing, whatever the pace of the material. As a general comment, I like the way Uiscedwr daringly vary the measure and impact of any given set through constantly refreshening tempo, metre and texture so that interest is never in danger of flagging (check out Not The Hurricane for a good example of this). Last but definitely not least, Kevin's guitar work is a model of fine taste and expert musicianship, with a great line in delicacy too (check out Ceol Aine, one of Cormac's compositions, which also utilises a neat string arrangement by Joe Broughton). The songs (two penned by Anna and one jointly by Anna and Kevin) have a distinct contemporary edge in terms of their philosophical content; whereas Kevin's solo contribution, The Music Bringer, is a deceptively gentle John-Martyn-like musing of real character. For me, although the album maintains a consistently high standard throughout, its centre triptych forms a particularly magnificent sequence, though I also really liked Anna's tender love song America which at its track 3 placing demanded a swift repeat before moving on to the spicy Escobar set. Album producer Joe Broughton's guest (mandolin)contribution on the disc's abundantly frenetic finale sets the seal on a pretty dynamic CD that does Uiscedwr far better than adequate recorded justice yet can only ever be a taster for their stupendous live presence.
David Kidman
---
Uiscedwr - Everywhere (Yukka Records)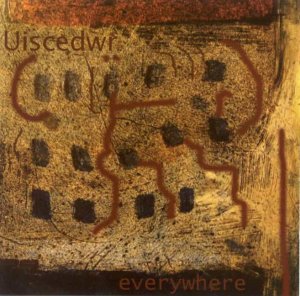 Uiscedwr were the 2002 BBC Young Folk Award winners, and before you ask – it's pronounced "ish-ka-dooer", and means "water"… That might well be taken as denoting fluid-sounding music that's a bit elusive, running away through your fingers and refusing to stay quite where it's put. Fair comment, you might think on hearing the opening Feathers set - first impression is of a free-spirited classically-trained fiddle player (Anna Esslemont) really letting her hair down at a session, being shadowed by a puckish bodhrán player (Cormac Byrne) and gently driving guitarist (Ben Hellings) who come to match her whims and fancies with the tune very closely indeed, whether in terms of mood or tempo as the tune itself transmutes and changes. Then, just three tracks in, we're into a classy contemporary song, the darkly lyrical Mr And Mrs, jointly composed by Anna and Ben, which weaves a magical vocal line around a delicate, slightly jazzy guitar figure, all of which is set off really tastefully with some deft brushed drumming. Uiscedwr certainly make a virtue of versatility, and the rest of the album presents a similar range of activities, with two further songs and half-a-dozen instrumental sets. The former may not quite eclipse Mr And Mrs, but La Peri (another joint Anna-Ben composition, ut rather different) and Sandra Kerr's No Going Back certainly provide the necessary respite from the instrumental shenanigans (although it would have been better to have distributed the songs more evenly through the course of the CD rather than grouping four instrumental tracks together after the mid-point of the disc). But I find Anna an impressive singer, and I'd like to hear more of her on the trio's second CD please!… Back on the instrumentals, though, these aren't exclusively arrangements of traditional tunes – for instance the title track does indeed range everywhere, in a manner of speaking, since it moves rather intriguingly from a beautifully evocative mood picture through "a tune from the Shirley Valentine film score" onto a whirling Yiddish tune. Set In The Woods even startles with a brief passage where Ben brings out the wah-wah pedal, while Mind The Gap combines one of Hoover The Dog fiddler John Hymas's notoriously slippery time-signatures with a tune of Anna's and a more conventional Irish reel done suitably unconventionally. Lastly, I must loudly praise the album's excellent production, by Joe (son of Steve) Rusby, at their Pure Studios. And by the way, Uiscedwr are very exciting indeed live, so go catch them asap!
David Kidman
---
The Uncle Devil Show - A Terrible Beauty (P3)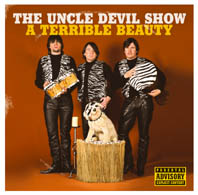 Hang on, you may say to yourself, but that bloke Jason Barr sounds just like Justin Currie from Del Amitri. Er, that's because he is. And Langton Herring is really fellow Scottish singer-songwriter Kevin McDermott and Terrence is Simple Minds drummer Jim McDermott. Which begs the question as to why, if they go to all the trouble of releasing their collaboration side project under pseudonyms complete with backstory biogs do they then instantly put their hands up and reveal their true identities? Maybe they were worried nobody would pay it any attention if they were thought to be some obscure new trio. Maybe they just fancied having a go at doing a Dukes of Stratosphere, the alias under which XTC released some rather fine psychedelic albums. Certainly there's a large swathe of Beatlesy psychedelia running through this not entirely serious set of songs about over-inflated rock star egos (Bimbo In The Limo), dumping girlfriends who don't share a love of Gilbert O'Sullivan (er, Gilbert O'Sullivan), being a transvestite (Plus Ça Change) and like how we're all living under one umbrella (Strange Umbrella).

It's a bizarre collection (though musically it tends to spin on a sort of folky Lennon & McCartney axis with added Jeff Lynne) and at times it all sounds too much like the sort of wind up that sounded like a good idea down the pub. But you have to admit that the likes of She Cuts Her Own Fringe's romantic celebration of individual eccentricity, the three part harmonies put to the service of Sidelong Glances Of A Pigeon Kicker which is, in effect a 60s pop variation of Poisoning Pigeon's In The Park, and the Hollies sounding When Raymond Comes Around's tale of plotting to murder some smiling hardman with a rent book racket. Pity they have to sink their radio potential by dropping in a couple of Anglo Saxon expletives. But behind the larking about there's real music happening here and, for all the whimsicality of making references to Michael Barrymore's swimming pool, in I Had A Drink About You Last Night's sense of helplessness in the face of someone's death there's piercing emotion too. More pathos than pathetic.

Mike Davies
---
Uncle Earl - Waterloo, Tennessee (Rounder)
Hot on the heels of their first few UK gigs (including an appearance on the Bob Harris Country programme), the five "avuncular" ladies (Abigail, Rayna, Kristin, KC and Mary) now release their second album, awaited in some quarters with barely concealed impatience. It's another memorable set of timeless oldtime, Americana from the roots up yet with the resonance of contemporary relevance. Interspersing plaintive, pensive ballads with yee-ha stringband tunes and rowdy jugband-blues. The former two categories (and most especially the first) provide the best moments here, without a doubt: the tender The Birds Were Singing Of You, the closing I May Never and My Little Carpenter are definite highlights. The ladies' vocal work on this new album is exceptional, and even better than on She Waits For Night; the sense of desolation and heartbreak on My Epitaph is particularly well conveyed, and the strident social-harp-style delivery of the brief Buonaparte is spinechilling (the following, linked song is a masterstroke too). The Last Goodbye is another compelling track, a brand new composition by their friend, King Wilkie's Ted Pitney, that has a tremendous, timeless feel (and features guest drummer Gillian Welch!). The purely instrumental tracks, though fewer in number, still strike home in time-honoured no-nonsense fashion: the raw goodtime holler of Streak O' Lean, Streak O' Fat is pretty infectious and there's some spirited steppin'-out cloggin' on Sisters Of The Road too. Elsewhere, the album also contains a couple of departures from what you might call the Uncle Earl norm: the slightly gospelly acappella Easy In The Early, with its primitive handclapped accompaniment, and Wallflower, a Dylan cover with a difference that's a swinging excursion into fast-cajun-waltz territory. The album's been produced by John Paul Jones by the way, and it sounds great, with loads of presence: closeup and intimate for the ballads and suitably rough-shod downhome for the more raucous outings. Waterloo, Tennessee is not only a whole lot of fun for the participants and listeners alike, but it's destined to prove another lasting contribution to your contemporary oldtime collection.
www.uncleearl.net
www.myspace.com/uncleearl
David Kidman March 2007
---
Uncle Earl - She Waits For Night (Rounder)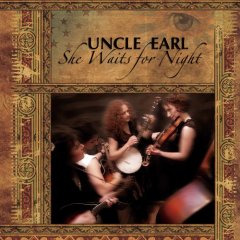 They've been called "old-time for our times", this all-gEarl string band - which is a pretty accurate tag as it happens. There's a raw edge, and edginess, to the playing and singing here, even tho' it's evidently the product of proper rehearsal and togetherness between the band members. Abigail Washburn (banjo), Rayna Gellert (fiddle), Kristin Andreassen and K.C. Groves (both guitar, mandolin) here turn in thoroughly spirited, energetic and committed performances of 14 contrasted pieces ranging from high-driving yee-hah renditions of solid-gold old-timey fare like Walkin' In My Sleep, Ida Red and Sugar Babe, traditional folky ballads (Willie Taylor), to instrumentals both sparky (Old Bunch Of Keys, featuring a neat bit of footsome steppin'-out from Kristin, and Booth Shot Lincoln) and plush (Sullivan's Hollow, with the album's producer Dirk Powell guesting on accordion). But there's a fair share of melancholy and beautiful numbers too, like Pale Moon, Take These Chains, There Is A Time and Sleepy Desert, and these turn out to be the bedrock most-memorable parts of the CD (and that's not to knock the rest, even so). The production's great - really immediate, and you get a tremendous feel of the foursome all huddled together round one mic pourin' out their voices acappella on the seductive gospelly Divine for instance. All four ladies are strong and individual singers, yet they blend together amazingly well too. This is a fabulous debut, and I really do hope to hear lots more of Uncle Earl - not to mention catch them live pronto (I gather they'll be over in the UK at the end of January 2007 for Celtic Connections and a few more dates).
David Kidman
---
Uncle Tupelo - Anodyne (Rhino)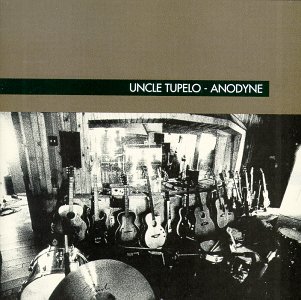 Originally released in 1993, this fourth album was to be the swansong of the band who had birthed alt-country (or No Depression as it was originally called after their debut album) and whose members would go on to form Wilco (Jeff Tweedy), and Son Volt (Jay Farrar). It distilled their mix of punk and country into its purest form, scuzzing and screaming with Chickamauga then harking back to the golden days of Sweethearts of the Rodeo with New Madrid. Aside from the opportunity to reappraise the likes of Acuff-Rose, Slate, Steal The Crumbs and Fifteen Keys with their mix of hymns to music's healing powers and bleak visions of America, this reissue comes with five bonus cuts.
There's three previously unissued recordings, the rock n rip it up Stay True, a weary lo fi Wherever and a fairly predicable cover of Are You Sure Hank Done It This Way? plus two live numbers from the 1994 promo The Long Cut, a rousing Truck Drivin' Man with fiddle blazing and a very Creedence work out of Dale Hawkins' Suzy Q. I'm not sure the extra material warrants repurchase if you've already got the original album, but if you missed out at the time or are just working your way into alt-country's back pages, it should be an essential part of the collection.
Mike Davies
---
Underground Ballroom - Contradictions (Underground Ballroom)
Lancaster based Underground Ballroom are a four piece band that blend blues, funk, jazz and rock to produce a sound rarely heard these days. The opening track, Drawing The Line has a contemporary feel with blues influences. Main songwriter, Mike Atherton takes care of the vocals and his delivery on this sets the tone for the rest of the album. Big Road is an often covered song but Underground Ballroom has turned it into a funky blues with Jake Jackson excelling on keyboards and the staccato delivery is used to great effect. It's back to the self-written songs with Devil My Deceiver, a classy, urban soft rocker that is blues influenced sophistication. The boys show their background on I've Got To Use You which I can only describe as Prog Rock meets the blues and this theme continues with Here, Looking In Your Eyes. This 8-minute epic harks back to the halcyon days of the genre. The title track is funky and Love Lies Bleeding follows on very well to give an uplifting finish to a more than competent album. Jake Jackson excels again and Atherton pours his heart into it. Underground Ballroom delivers contemporary, urban blues that we will all want to hear more of.
David Blue February 2007
---
The Undertones - The Undertones/ Hypnotised (Expanded Editions) (Salvo/Union Square) Following a few months after the release of the definitive anthology (already reviewed here), Salvo are now undertaking an equally definitive, even more exhaustive programme of expanded-reissue editions of all the original Undertones albums. We can therefore chart the progress of Derry's finest in style at last!

Beginning, logically enough, with "the band who were never going to make an LP" 's eponymous debut album, which delivered 14 swift and almost insultingly simple songs (well, at least one was but a mere squib) in a barrage of lively youthful energy, canniness behind the cheeky grins, and an obviously near-white-heat London studio session. These songs were with hindsight unquestionably of "album track" status for the most part, although the band wasn't all that worried about delineating "singles material" to issue separately as such. An earlier studio mix of True Confessions had already surfaced on the B-side of the seminal Teenage Kicks, but the only other album tracks to be issued as single fodder were the overtly catchy Jimmy Jimmy and the breezy retro of Here Comes The Summer. Having said that, the quality of the songs was sufficient to ensure better than moderate album sales. This new expanded edition of Undertones tops out with no fewer than 17 bonus tracks, plus the video of Teenage Kicks as a further bonus feature. The bonus audio tracks give us all the non-album singles plus B-sides, and finally four John Peel radio session tracks vintage May 1979 that didn't appear on the aforementioned Anthology.

The Undertones' second album, Hypnotised, didn't quite carry on where the first album left off, but it was an at times defiantly quirky mix of material marrying the full-on punk thrust of the first album and early singles with their own often strange and wilful take on some of the more experimental structural and musical aspects of 60s pop. Unusual gambits, switching time-signatures, unorthodox fades, boogie bits, Glitteresque stomps, even Buzzcocks-style riffery (I heard some Family in there too): all was grist to the Undertones' mill – and almost all of it worked, often against the odds. There was even a slow-tempo song (The Way Girls Talk) in there! The set was a tad wayward, and betrayed the work of several different writers, but it still hung strangely well together. Still harder to believe, then, that the band had, we learn, ran out of songs halfway through the recording process!

The bonus tracks, just five in number on this occasion, comprise three non-album B-sides – one of which, Hard Luck (Again), is a pretty unimaginative rehash of an album track, but what the hell! – and three tracks from a November 1980 John Peel radio session that straddle the gap onto awkward album number three, The Positive Touch (again, the latter three don't appear on the Anthology). The expanded edition of Hypnotised concludes with the video for My Perfect Cousin.

For both expanded reissues, the booklet notes take the form of chummy and sometimes revealing memoirs from bass player Michael Bradley, and there are plenty of nostalgia-inducing photos and memorabilia clips therein too. Happy happy happy! Excellent stuff!

David Kidman July 2009
---
The Undertones - An Anthology (Salvo)
The band that were responsible for John Peel's "favourite record of all time" (Teenage Kicks, a slice of never-bettered pop perfection) are now celebrated in real style by the release of this pretty comprehensive two-disc anthology package. The first disc is a 75-minute, 29-track retrospective that presents virtually all the band's best recordings – well, at any rate the big hits and some key album tracks and single-only cuts. But while the sequencing doesn't quite work and there are a couple of puzzling omissions (notably Get Over You), it does at least include the original single-B-side version of True Confessions (vastly superior to the electropop-styled album remake) which got missed off the CD reissue of the first album itself… Even so, there's still a few throwaway numbers included on this first disc, which prove that Derry's finest were human after all! No, the real interest of this anthology comes with disc 2, which gives us, in the space of 69 fairly uniformly glorious minutes, no fewer than 27 previously unreleased live tracks, demos, rehearsals and rough mixes. These kick off with a superb trio of demos from mid-1979 including My Perfect Cousin: all faster, punkier and more spontaneous than the final recorded studio versions. After that, there's a version of the silly Mars Bars complete with an appealing blooper, and two sandpaper-abrasive 1978 demos (taken from a bootleg source) which include the unreleased thrash Do The Fast (a song which never made it onto official release). The first clutch of demos from that same year also appear (it's amazing that Stiff and numerous other record companies originally passed up on these), as well as a rampant, energy-full late-78 Lyceum performance of Get Over You. The band's later, more experimental phase is documented on a charmingly "horny" live runthrough of It's Going To Happen (dig that antiphonal brass section!) and a wonderful Beefheart-slide-infused Positive Touch, then from the following year (1982) a more stripped-down tryout of Bittersweet and an intriguing, if strangely flawed, early Sin Of Pride demo of Luxury, rather more Euro-electro in tone than the final album version. And a gutsy self-produced demo of The Love Parade which I too definitely prefer to the over-arranged finished record. Add to these further examples of the band's new-found sixties sensibility on a Pet-Sounds-style instrumental version of You (Stand So Close), an unreleased film-song demo (Party, Party) and the cover version of the Blues Magoos' Cher O Bowlies that the band used to encore with on their final shows in summer 1983, and you have a more complete perspective on the band's later history than the official releases might otherwise give. A fascinating and worthwhile anthology.
David Kidman November 2008
---
Ungagged - Where The River Meets The Sea (Longman Records )
For many years the town of Shoreham-by-Sea in sunny West Sussex has been famous for being the birthplace of Leo Sayer. But for the last few years another local lad, guitarist and producer Richard Durrant, has slowly been making headways in the music industry.
Durrant, who has toured with Sky, has worked with the likes of Herbie Flowers and Sam Brown, and produced the Ukulele Orchestra of Great Britain's last CD, which has received airplay on Radio 2. Now he has teamed up with local songwriter Mark Allen and keyboard player Tom Arnold and formed a new band, Ungagged.
Their debut CD, Where The River Meets The Sea, is a masterclass in how to write grown-up songs about grown-up things. Tracks like Find A New Dream and If You Trip have a definite Jackson Browne vibe with tight harmony vocals, slide guitars, mandolins and witty lyrics. Tom's gorgeous Hammond Organ dominates Pull Away and Might Be The Reason. Both songs have got airplay written all over them, with infectious choruses that will stay in your head for days.
Mark's lyrics recall folk like Richard Thompson, Deacon Blue and John Hiatt, with every day stories of love, loss and redemption. Slower numbers like The Offering and I'll See You have the kind of burning intensity that most songwriters, not to mention record labels, are rapidly becoming afraid of. The harmony singing between Mark, Richard and Tom is incredible and a real treat to listen to. On some songs they sound like Crosby, Stills and Nash and others they remind you of Beach Boys (but then Tom is a member of the Brighton Beach Boys).
The group will be at the Crawley Folk Festival in July, before appearing at the Brighton Komedia on July 21.
Jamie Hailstone, June 2006
---
The Unit - Playing Giants (Phat Controller)
The label name might well give you a smidgen of what to expect from this record: cutting-edge Scottish music with its roots in tradition – for it's the brainchild of Peatbog Faeries supremo Iain Copeland. The Unit is one of the increasing number of young Scottish bands who are quietly redefining the parameters of traditional-based music through improvisation and group interaction; it's a trio comprising Galloway fiddle player Amy Geddes, multi-string-instrumentalist Ewan MacPherson (Malinky, Fribo) and percussionist Paul Jennings (Croft No. Five). Their music takes on the character of anything from danceable and quite unfettered to more pensive world-influenced vibes, yet always without any sense of undue contrivance. After a spicy jew's-harp-led opener Balcony, the album settles into a more relaxed groove for The Studio Cat before treating us to a pair of eastern-inflected tracks: Pashtu, which develops into a virtuoso percussive workout, makes for especially invigorating listening, while the Unit's arrangement of the Bulgarian Pirinsko Horo is skilfully managed. Caitlin provides the album's most reflective moment, while I also loved the deliciously boozy swaggering slouch of the Pished Polkas set that almost refuses to lurch away! It's not quite wall-to-wall instrumentals though - there are two songs, both compositions of Ewan's: especially appealing is the title track, which has much of the feel of a Karine Polwart original (yes that's meant as a complimentary comparison - though I admit this impression might well be at least partly due to Amy's charming singing!). It's a feature of The Unit's style that their coolly inventive arrangements major on a keen interest in the intricacy of the rhythmic interplay, yet they're not overly "busy" and the various elements are kept masterfully in check by the musicianship of the players, however much is going on within the texture. Also, it's indicative of the skill of the band that although the melody lines are carried only by stringed instruments (mandolin, fiddle etc) the sound never seems deficient in any way. Though self-evidently studio-based in this instance, The Unit give us some vital and passionate music-making here, and I strongly get the feeling that their live gigs (if they can find the time!) would turn out to be rather special.
www.phatcontroller.co.uk
www.myspace.com/wearetheunit
David Kidman March 2007
---
The Unthanks - Here's The Tender Coming (EMI)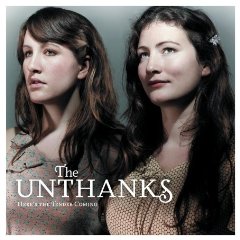 Following an album like The Bairns was never going to be easy. The Bairns was bleak, stark, beautiful. While acknowledging and incorporating tradition, it also represented left-field approaches and aspects of folk, being challenging, daring and uncompromising in virtually every regard... and by its very nature and scope almost entirely resisted further purely progressive artistic development, for it seemed to push that particular envelope as far as it possibly could. And so what if it alienated some sections of the folk world (albeit impressing in less expected quarters of the wider music scene).

So on to that tremendously difficult followup album, which manages to pull off the impossible trick of ringing manifold changes while preserving the unique musical identity of what (for convenience only!) I'll term "the Unthank brand-name", continuing to draw heavily on the sisters' North-Eastern heritage as well as contemporary writers from both within and outwith the folk world, yet retaining the rabble-rousing cutting edge of risk-taking and maintaining total artistic integrity at all times. The first of those changes - a new band-name - may seem cosmetic: for Rachel Unthank and The Winterset now read The Unthanks, a name which better reflects the equal contributions of sisters Rachel and Becky, but which also hides a major lineup change whereby pianist Stef Conner departs (to finish her PhD) and into the performing fray steps Adrian McNally (from the very start a vital backroom creative and guiding force to the sisters, their record producer and arranger and now Rachel's husband and a fully on-stage participatory presence) together with his childhood mate Chris Price (who variously plays guitar, bass, ukulele, dulcitone and marimba). Happily, continuity is provided with Niopha Keegan still on violin and wonderful backing vocals (with some accordion and mandolin too).

The specifically musical changes are inevitably in part a direct result of the input of Adrian and Chris and partly due to a period of close and intense self-scrutiny (by the whole team) and rethink with regard to their ongoing musical strategy. Here's The Tender Coming may not be as sparse and downbeat as its predecessors, The Bairns in particular, but it can still at times be a resolutely tough nut to crack, and thus demands your close attention and repeated plays in order for its individual, very special qualities to sink in. Its pervasive mood of warmly melancholy reflection gives rise to a different kind of radical in the uniformly intelligent (and arguably more sophisticated) musical arrangements - a quality which some may find harder to get the measure of, although in its own way it's no less intense and certainly no less unorthodox or chance-taking. In other words, the new album's at the same time both very recognisably Unthanks and refreshingly different.

The opening track, Because He Was A Bonny Lad, typifies the Unthanks' considered and respectful yet unashamedly adventurous presentation of their material, whereby the first sounds you hear - the charming and deceptive simplicity of the sisters' unaccompanied voices - naturally integrate into a texture of layered chiming with autoharp and syncopated Smiley-Smile vocal harmonies. This bright and bonny opener is contrasted with the stark minor-key Teesside atmospherics of the key Graeme Miles opus Sad February, on which Rachel and Becky's precisely realised portrayal of the melancholy lyric is married to an unsettling, hesitant ticking, clicking foot-percussion motif later offset as the track builds by whirling string arpeggios and strangely glowing jazzy chordings courtesy of a semi-resident brass section (Graham Hardy, Simon Tarrant and Chris Hibbard) who make a significant contribution to several tracks. Not least on what very probably counts as the album's standout emotional highlight: the sisters' powerfully felt rendition of Ewan MacColl's toweringly beautiful tribute to his mother Nobody Knew She Was There, which also boasts some magnificently lustrous string playing from six members of the Northern Sinfonia (who'd also appeared on The Barins). Other guest musicians dropping in include cellist Jo Silverston, also Julian Sutton, Adam Sinclair and Neil Harland.

I know there are always those who can't cope with the basic tonal and expressive qualities of the sisters' singing, and (undeservedly, in my opinion) some listeners persist in regarding their dulcet tones as unacceptably childlike, even twee (berating them for treating the traditional ditties Where've Yer Bin Dick and Not Much Luck In Our House as nobbut sing-song playground chants); but it's precisely that (sometimes admittedly uneasy) combination of eternal youth and hard-won maturity that gives their vocal delivery its unique edge, and I always find it amazing how well these two such intrinsically different voices can work together. I've commented before on how stunningly mature Rachel's singing is, and this latest album confirms that in spades. While I'd suggest that anyone who charges Becky with unduly childlike delivery should listen to her incredibly mesmerising, heartfelt interpretation of Lal Waterson's richly poetic At First She Starts (and what a gorgeous string backing on this song too). Becky also characterises an attractively floaty take on Anne Briggs' Living By The Water, providing the disc with a genial mid-album siesta. And the sisters' haunting and keenly-realised interpretation of the ballad of Annachie Gordon is a swirling drama-charged epic set to a queasily sweet-toned rippling gamelan backdrop.

Hammering motoric Nyman/Reich keyboard figures and Soft Machine-timesignatures impregnate and introduce Adrian's own intriguing composition Lucky Gilchrist (a celebration of the life of a close friend of Rachel's who died last year), whose more lavish string-and-brass-flecked production and slightly poppish ambience at first sounds a tad out of kilter with the rest of the disc but really grows after a couple of plays. Similarly, the sisters' driving Eleanor Rigby-style take on The Testimony Of Patience Kershaw might initially seem distractingly mobile, but it proves not to be at odds with the text after all. On the other hand, I'm still not quite convinced by the jazzy swagger of Flowers Of The Town, which seems too casual for the depth of the sentiment being conveyed. And is the title track not just a touch too tinklingly sweet and tender perhaps (tho' I do love Niopha Keegan's keening fiddle line)? The encore bonus track, a Scots-turned-Geordie incarnation of Betsy Bell, is a suitably playful all-hands-to-the-pumps knees-up ensemble parlour-party-piece that proves the team still has a copious sense of fun, but I think you need to be in the mood for it even if you regard it as light relief.

It's a plain and undisputable fact that The Unthanks possess a distinctive and uniquely beguiling trademark sound, and that (whatever your personal tastes) their utterly fearless and unfailingly creative approach to their enterprisingly chosen material should earn them equally unfailing respect. For me, in Here's The Tender Coming the team has produced another genuinely thrilling milestone in the interpretation of songs from the traditions ancient and modern: it's a stunning achievement, and one which cannot fail to rank as one of the landmark records of 2009.

David Kidman September 2009
---
Rachel Unthank & The Winterset - The Bairns (EMI)
There's a faintly formal, prim, winsome and even slightly demure demeanour to Rachel and her Winterset lasses on the consciously-posed, partially sepia-tinted photo that graces the back cover of the CD's box: yet all connotations of a homely parlour tableau are dispelled at once by the brooding depression of much of the actual music on this disc, which positively aches with a degree of harsh personal experience (or so acute an understanding of it) that you'd not expect to encounter in lasses so young. But look a little closer, and that cover shot does in fact belie the superficial cosiness of the physical setting: the faces are almost entirely devoid of expression, numbed from the pain and desperation of waiting (perhaps in vain) for their loved ones to return (from the war, the sea, the land, wherever). For it's the expression of their inner psyche that can only be achieved through the medium of song, and this is the aural counterpart to that picture, the pent-up emotion within that forms the other side of that coin.
So much for analysing the strong visual impact of the packaging: even more vitally, the music contained on the disc itself possesses an overpoweringly haunted atmosphere. There's a chilling intimacy, one that's eerie and distinctly unnerving; the listener really feels he/she is communing with the characters who inhabit the songs, via the "medium" of the singer/s, and all their intrinsic charm can't hide the latent menace. And it's a stark and intense record: the musical settings are spare, but, although utilising comparatively few instruments (predominantly piano, with some fiddle on a few songs, cello on two, and isolated appearances of melodeon, double bass, ukulele and a string quartet) somehow there's an uncanny richness of texture and a very real bloom to the excellently-recorded sound that serves to throw the specific dramatic nuances of the singing voices into potent relief.
The first RUTW album, Cruel Sister, appeared two years ago, and was (probably more than any other "folk" album, even Jim Moray's!) a serious talking-point both within and outwith the folk fraternity, sharply dividing opinions and sparking considerable debate - since many people just didn't "get" where it was coming from. The record was characterised by brave coups-de-théâtre, some of which may have erred just a little on the side of artifice, but there was absolutely no doubting the true depth and total genuineness of the sisters' response to the songs (whether taken from traditional or contemporary sources). The Bairns sees Rachel, Becky and Belinda in equally uncompromising form, not only singing and playing even more brilliantly and confidently and surviving a lineup change (the departure of Jackie Oates and the arrival of new recruit Niopha Keegan part-way through the album's studio gestation), but they've clearly learned from the experience of (and critical reactions to) that debut, and The Bairns is a more accomplished, intelligently considered work that's less concerned with "making an impression by daring to be different" than presenting a strikingly mature interpretation of the material that retains both the trademark RUTW fearlessness and their wholly intuitive response to the texts and yet also succeeds in making a valid and coherent artistic statement. Such a degree of expressive response might in lesser hands be termed histrionic, even stage-managed, but here it sounds entirely natural and of the moment on each successive play, with often complex emotional states unerringly conveyed. This time too, the sisters have wisely chosen (almost exclusively) songs that present the realities of the woman's perspective, for which they are naturally best qualified. Most importantly then (and this is the leap you need to make along with them), RUTW are saying that theirs, while indubitably their own, is but one way of interpreting the songs, one which is not to be regarded as the definitive one or one that excludes any other interpretive possibilities.
As if by way of direct illustration, bookending the disc we find highly contrasted interpretations of two traditional Tyneside songs. First, Felton Lonnin, like the album as a whole in fact, which is both moving and significantly scary. This is presented rather like an operatic scena or aria, with an overwhelming sense of dramatic landscape, personal anguish and loss conveyed not only through Rachel's tender and vulnerable singing voice with its terrific sense of inner strength (superbly expressive but entirely unsentimental), but also through the various illustrative instrumental effects (the ominous piano chordings, the queasy undercurrent of the string section depicting the lass's all-consuming emotional state, the nagging feet pacing to and fro across the floor of that drawing-room as she waits...). The disc closes with a fairly experimental treatment of a Newcastle Lullaby, where a sung round is enfolded in a hypnotic aural tapestry weaved from minimalist-style looping textures (which, though mildly disturbing, may eventually send you off to sleep). But the disc's outstanding interpretations of traditional song aren't confined to the bookends: Rachel's rendition of I Wish turns out to be another dramatic highlight, tellingly paced and intensely felt, with confidential whispers from another dimension expressing regret and longing, further heightened by some unsettling and idiosyncratic piano interjections that echo the lass's precarious, if ambivalent state of mind. Time here to single out Belinda O'Hooley's fantastic, spine-chilling, strikingly individual playing (not just here but throughout the disc), which also contains elements of contemporary classical and cabaret alongside occasional jazz inflections. Rachel's not the only star of the outfit as far as singing is concerned, either: all four lasses are damned fine singers and fashion some superlative harmony work to grace even the simplest of songs here. But Becky deserves a special medal, for her singing in particular has come on apace since Cruel Sister: she has a real gift for getting to the expressive heart of a song that now rivals her elder sister's. Becky's take on Blue Bleezin' Blind Drunk is stunning, the rasping earthy weariness of her voice bringing the telling of her cautionary tale on to a cathartic moment of sheer frustration and explosive violence. Becky also excels on My Donald, which has been honed through successive riveting live performances and developed from its original pithy structure into a veritable set-piece, a mini-cantata arrangement; she so powerfully captures both the pain and the wistfulness of the woman left on shore. The glory of this, and many of RUTW's interpretations, is that even though after one hearing you may know what's coming, so to speak, there's still a frisson that comes from the immediacy of the experience time and time again.
As you'll probably gather by now, the disc's running order has been extremely carefully and intelligently managed too. What you might call its contemporary contingent largely occupies its midway section: at the heart of this is Becky's inspired rendition of Robert Wyatt's sweeping Sea Song, at once comforting, desolate and unsettling in its existential melancholy, with clogged feet tapping out the rhythmic ebb and flow of the waves). Surrounding Sea Song there's a pair of Belinda's own compositions: the affirming, defiantly pop-inflected Blackbird and the exceptional, and altogether more harrowing, Whitethorn (whose compelling, ageless feel put me much in mind of the writing of Lal Waterson). The remaining contemporary piece gives welcome profile to the fine Northumbrian songwriter Terry Conway and his proud, spine-tinglingly rousing anthem Fareweel Regality, which boasts a magnificent (if decidedly A-level!) chorus. One further rather effective structural device is the punctuation of the disc by four "Lulls": these are not exactly lullabies, but rather, moments of a kind of repose, lulls in the proceedings, and although the first of these paves the way for the disc's closer, the rest are mere snatches, performed with the ambient backdrop of evening birdsong etc.
So you'll see from the above that I consider The Bairns pretty much a landmark release, and very possibly justifying the extravagant claim made for it, that of "folk album of the year". It's a quietly devastating towering achievement in anyone's book, whether or not you necessarily "get" where the lasses are at; whatever, it demands your respect for its enterprise. It's fair to point out that The Bairns doesn't give the full RUTW experience, for which you'd have to catch them live (they're touring during September and October). With the exception of the aforementioned Blackbird and the effervescent Blue's Gaen Oot O' The Fashion set, the album's a downbeat, albeit deeply thoughtful, musical experience which amply repays full concentration and comes without the unavoidable (though immensely entertaining) distraction of the "putting on a show" element of the lasses' stage act, their ebullient personalities and slightly silly stage presence and banter (please forgive me if I invoke a comparison with Last Night's Fun in this regard!). This disc goes well above any call of duty to the folk music of the north-east, for RUTW surely care enormously for, and greatly respect, their folk heritage, and have an unflinching faith in the power of the song and its imaginative communication. And it's indicative that to aid them in their mission, the sisters are doubly fortunate in having as their producer/manager Adrian McNally, who clearly has the exact measure of the lasses' interpretive flair and sensibilities and the ability to keenly translate this empathy to the final product. Yes, this disc is very, very special indeed.
www.rachelunthank.com
www.myspace.com/rachelunthank
David Kidman August 2007
---
Rachel Unthank & the Winterset - Cruel Sister (RabbleRouser)
Coming from a family steeped in the folk tradition of the north-east, young Rachel and sister Becky finally emerged from the shadows of their dad (George, of the Keelers) into the harsh light of touring a couple of years ago, and wowed festivalgoers with their amazingly accomplished singing and their often original takes on a wide range of material either taken directly from or directly inspired by the tradition. A Special Commendation at Celtic Connections this year is swiftly followed by their first album release, which should make the folk world sit up and pay attention. (But don't let the "band" name make you think Rachel's the original "cruel sister" elbowing Becky out - it's just a convenient way of embracing extra personnel in a more fluid lineup and "giving Becky a back seat while at Uni"!). So does the album deliver? Emphatically yes, not least in its simultaneous looking back to and drawing on tradition, and taking it forward in imaginative and often innovative treatments of songs, while also embracing some of the best of contemporary folk writing. Which means Dave Goulder, Cyril Tawney and Matt McGinn, but also Nick Drake - and why not? for the sisters will, and do, tackle any song for which they have a strong feeling, and tackle it with an uncompromising sense of purpose and a strong individuality. The pretty striking quality of their singing voices isn't ever in doubt, and while there may be other young female voices on the scene who can claim greater technical proficiency, Rachel and Becky more than make up for that with the enormous conviction inherent in their performances which, allied to their willingness to take risks with the material, in the expressive sense especially, generates an immensely engaging (if on occasion ever so slightly unnerving) performance.
It's an awkward balancing act (which I'm all too aware of myself!) whereby a singer feels confident enough in the articulation of his/her personal response to, and interpretation of, the text to take significant expressive risks in the vocalisation yet has to be mindful of the need to reach - and convince - the audience with that performance. The biggest danger then is that any attempt at recording will enshrine in aspic, as it were, just one possibly quirky and definitely individual (in the sense that interpretatively at least it's very much of that moment, and thus a one-off) performance, which may just be a little too maverick, or on-the-edge, for genuinely pleasurable repeated listening. Having thought long and hard about this, I think that's the case with some of the tracks on this album, for better or for worse - Rachel's unaccompanied Fair Flower Of Northumberland is an obvious example, with modulations and accent stresses that can seem mannered (though inconsistently so). Having listened to this album around half a dozen times now, and seen the sisters live, I'm still not quite convinced by a few of their choices and/or treatments, but having said that, when they strike gold the result is electrifying, and often in the most unexpected of contexts. January Man, Alex Glasgow's Twenty Long Weeks, River Man and the shanty John Dead all fall into that category for me, and Rachel's ambitious extended treatment of the title song is intriguingly managed too, whereas I'm still not sure about Rap Her T' Bank and On A Monday Morning in particular (there's no reason why a young lady shouldn't sing these songs, but these renditions don't quite ring true - yet - however well they're sung).
Before I finish, I must praise the remarkably assured contributions of fellow-Wintersetters Belinda O'Hooley (piano) and Jackie Oates (5-string viola), both of whom also have very good singing voices! And on a mere handful of tracks, there's ancillary but excellent instrumental work from Chris Sherburn, Julian Sutton, David Kosky and Mike Hockenhull (not all at once tho'!). Oh, and midway through there's a vigorous al-fresco rendition of the Greatham Calling-On Song which features a cast of several too numerous to list… (but it doesn't quite fit with the rest of the album). So, for whatever reasons, I bet this fine yet challenging CD will court mild controversy in folk circles and be a talking-point for at least the rest of 2005!
David Kidman
---
The Upper Room - Other People's Problems (Columbia)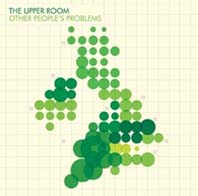 If you've heard the single Black and White, and been sent spinning round the room with its ridiculously catchy chorus and chiming guitar pop, then here's a whole album's worth of similarly inclined jangly English folksy power pop. Sometimes (as with Leave Me Alone and Once For Me) it may evoke Morrissey's phrasings and sometimes (Kill, Kill, Kill and Radio) summon thoughts of Dream Academy and their Life In A Northern Town, but listening to the simple catchy hummable tunes and suburban skies flavours of things like All Over This Town, Your Body and Combination the words Lightning Seeds soar to the top of the comparisons chart. There's a couple of tracks that don't quite work and feel a bit like album padding, but for the most this is the one you want to bang on the stereo to dispel those grey rain clouds hovering over your summer afternoons. Go on, make other people's problems your own.

Mike Davies, May 2006
---
The Urban Folk Quartet - The Urban Folk Quartet (Fellside)
Don't be fooled by the unprepossessing, strait-laced-sounding name – this music is hot, energetic and highly tasty! Unbelievably, the UFQ as a performing ensemble was launched barely a year ago, but it seems to have fast found its feet – even though at times it doesn't seem to know on which of the world's many dance floors they're to be stepping out!
For in its ranks we encounter that eternally puckish, irrepressible fiddler-extraordinaire Joe Broughton conjoining in glorious synchronicity with three of the most experienced and in-demand young people working in today's vital folk-world-fusion scene: fellow-fiddler Paloma Trigás, oud-obsessed string-plucker/strummer Frank Moon (who just happens to be a pal of Joe's from his Birmingham Conservatoire days) and ace percussionist Tom Chapman. Together they conjure up an mercurial, ever-inventive, joyously restless, often bewilderingly frantic sequence of original compositions which jump gleefully off the diving-board of traditional folk dance forms into a veritable Seven Seas (and more) of musical adventures that playfully and entirely unashamedly embrace Latin, North African, Eastern European, Pan-Celtic and Middle-Eastern grooves and much else besides.
If on paper that all sounds a touch on the side of been-there done-that know-it-all and so what, then I assure you it's not. Just sample track 2, The Stony Steps Set, as a starter: the super-brilliant funky percussion work will stun your feet into submission even before Joe's phantasmagorical fiddle kicks in (and what a kick!). The equally funky treatment of the traditional Wedding Dress even brings in some well-upholstered vocal harmonies as a refrain, showing there's no shortage of all-round talent in the band, while their versatility extends beyond the fast-and-furious to a deliberate and carefully expressive slackening of pace on the more reflective Suspiro Del Moro. After which, the joyous rhythmical restlessness of tracks like 35 and the "herbs against racism" number Perejil Reel proves even more infectious and rewarding (if not always kind to the feet!).
Throughout, the UFQ unashamedly draw their key inspiration from traditional folk dance musics, sure, but dance forms and rhythms are used as the initial springboard for all manner of abundantly playful adventures and musical discoveries. They never settle on one style or influence for long, but at the same time they don't wear out your nerve endings by keeping you guessing for too long where they're heading – although the final destination usually comes as a welcome development if not exactly a surprise. Yes, the UFQ's music is sometimes exhilarating to a fault, but always great fun, for there's a generous sprinkling of humour that balances the sparkling élan of the quartet's musicianship.
David Kidman August 2010
---
Matt Urmy - Sweet Lonesome (Own Label)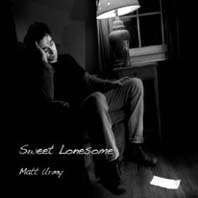 Poet and singer-songwrirter, the New York born, Tennessee raised Urmy sings with a dusky rasp that sounds like he was fed whiskey at his mother's breast and drops into spoken narrative in the manner of a throatier Chip Taylor. As you might imagine, he knows his way around words and phrases, conjuring images about failing relationships that strike chords in the heart.
He plays dirty organ backed blues, prowling through the loose limbed funky Stone In The River, I Need A Healer and Don't Mind The Chains with its Waitsian snake-charmer growl but you'll also find him twanging gospel on the thick-throated Bring It Back, chanelling Guy Clarke for Helpless Fool, cruising through jazz-blues alleys for She Said I'm A Hotel and finding barroom romance on The Old Photograph where he could easily pass for Tom Russell after a weekend smoking marathon.
There's two attention grabbing facts about the album. One is that the organ and electric guitar Band-style country blues title track was co-written by and features Mary Gauthier, the other is that it was the first CD to be recorded at Owen Bradley's Quonset Hut studios, the birthplace of Ring Of Fire, Crazy and King of the Road, in 28 years. But the truth is, Urmy and his music are headline news in their own right.
Mike Davies December 2010
---