Articles
---
---
NETRHYTHMS FOLK AWARDS 2009
JOHN McCUSKER * HEIDI TALBOT * BOO HEWERDINE * TOM ROSE


NetRhythms is rejoicing in the new generation of folk musicians and singers with a bunch of albums and tours currently on our Listings. We can't remember when the scene was so vital and live performances so enriched by young talent. Sometimes it all comes together - with certain movers and shakers lighting the blue touch paper, so to speak.

John McCusker for his talent in bringing so many wonderful projects together
(Under One Sky; Drever, McCusker, Woomble)
Heidi Talbot for one of the loveliest albums to be released this past year (In Love + Light)
Boo Hewerdine for releasing his best work to date (with Toy Boxes 1& 2 and a new album promised shortly)
Tom Rose of Navigator Records for signing them and releasing their music.

It may be premature to talk about a Best Gig of the year but surely Friday 13th February at the Union Chapel, London, with Kris Drever, John McCusker, Roddy Woomble, Heidi Talbot, Boo Hewerdine,
(and Andy Cutting) will be hard to beat.

Go to the new on-line Navigator Records Store
www.navigator-store.com
---
THE 12-BAR CLUB IS STILL IN BUSINESS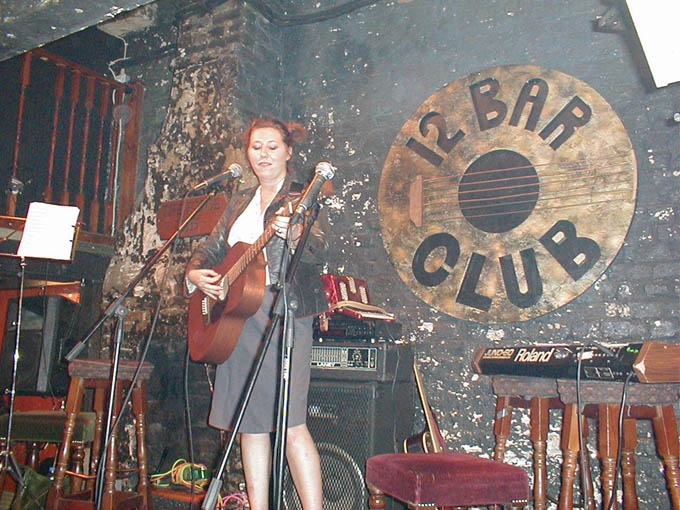 Martha Wainwright (daughter of Loudon, sister of Rufus) soundchecks at the 12-Bar in 2002
Andy Lowe of the 12-Bar brings us up to date mid-September 2005
"It's been a bumpy ride recently, and we are now under new management, or rather old management, as Carlo Mattiucci, who was general manager for some time two or three years ago, is now back, and holds the lease of the club. We will pretty much be continuing the booking policies of the last few years (though I'm sure there will be fine tuning). Also note that the Club's phone numbers have also been changed to Office: 020 7240 2120 - Advance bookings: 020 7240 2622
"The club is open in the evenings as usual, and the cafe is open in the daytime. My apologies for any scares and inconvenience, but as I'm sure you can imagine, many things were beyond our control.
"Please spread the good news, as many "strange rumours" have been running around everywhere. No thanks to Time Out news and features department for running an "obituary" of the club, even though I had telephoned them to explain the situation, and absolutely no thanks to whoever it was at Sony/BMG who decided to circulate an e-mail stating that the club had closed and would never re-open! I trust you will be able to come along and prove our continuing existence for yourself soon."
For dates and information visit
www.12barclub.com
12 Bar Club, Denmark Street, London WC2H 8NL , The nearest tube is Tottenham Court Road Station
The music venue opens: Monday - Thursday 7:30pm - 1am, Friday - Saturday 7:30pm - 3am (may close earlier), Sunday - 7pm 12.30pm
Sue Cavendish
---
THE PUTUMAYO TALE: PUTUMAYO WORLD MUSIC
PUTUMAYO PRESENTS: MUSIC FOR KIDS












As NetRhythms readers must be aware by now, every now and then I feel compelled to sing the praises of Putumayo and their wonderful 'world atlas' collections of music. They entrance me and oblige me to stop and buy!

The latest from Putumayo Kids Presents is Animal Playground: Playful Tracks From Around The World. Who can resist a menagerie of songs that includes Wee Hairy Beasties' Animal Crackers, Don Spencer's good advice (Don't Step On A Snake), Phil Melancon's rather unlikely If A Dinosaur Was My Frield, The Be Good Tanyas's absolutely beautiful The Littlest Birds and Ladysmith Black Mambazo's Mbube - which some of us will know as The Lion Sleeps Tonight (Wimoweh).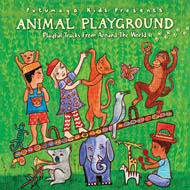 Not only do Putumayo CDs sing to me to buy them for myself, I've found too that the gift of a Putumayo CD is the perfect solution for any occasion where children are involved. And parents love them ... New baby? - Asian Dreamland; folk loving family with small children? - Folk Playground; Children's parties and wet afternoons? - Sing Along with Putumayo (traditional songs sung by the likes of Arlo Guthrie, Rufus Thomas, Taj Mahal, Eric Bibb and more, with lyrics provided in English). A history & geography lesson together? What could be more colourful than New Orleans and its musical heritage? - New Orleans Playground.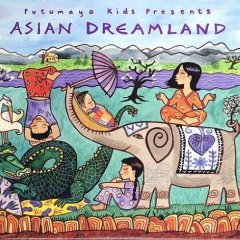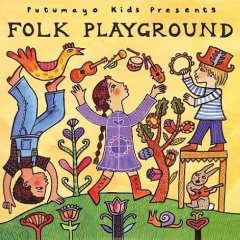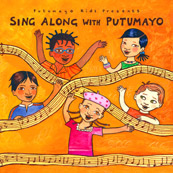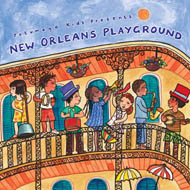 The Putumayo Kids series took off in 1998. After receiving hundreds of cards and letters from parents and teachers telling them how much children love dancing, singing, and listening to Putumayo CDs, Putumayo released the first Kid's collection: World Playground - A Musical Adventure for Kids. The CD takes children and parents on a musical journey to faraway places where they can be introduced to other people and places around the world. A trip to the World Playground makes exploring other cultures a fun adventure for music fans of all ages.
A decade after World Playground was released the Kids collection now runs to a dozen albums.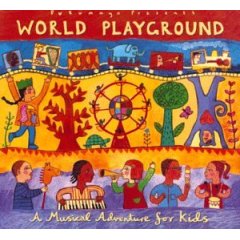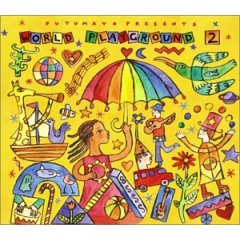 Across the entire collection there is the stylistic unity of the delightful cover artwork by Nicola Heindl - in themselves cheerful enough to bring sunshine into the bleakest of days. Each album has notes on the stories behind the songs but don't expect an in-depth venture into the songwriting of different cultures and genres - they are friendly guides and essential stepping-off points for futher exploration. Ask me which is my favourite and I'd have to say, "all of them!"


Sue Cavendish - editor NetRhythms.com
---
Steve Morris talks to Putumayo World Music's Founder, Dan Storper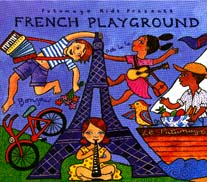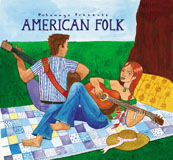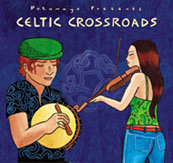 (three of the latest releases from Putumayo's extensive catalogue)
It's late July. I'm sitting in Wolverhampton, buzzing with anticipation of a six week USA road trip. The last thing I want to do is make work for myself as I'm leaving in a mere couple of days. However, the chance to have a chat to Dan Storper (and hang the problems of subsequent transcription and writing) is too tempting to pass on.
For one thing Dan and I have, years ago, already made fleet, though enjoyable, journalistic acquaintance; for a second he is the CEO of Putamayo Records and, as any discerning music fan knows, even in these days of characterless CD and download, there are some labels that have charisma. Putumayo is one of those. Consequently still seated in Wolverhampton - and still buzzing - I'm on the phone to Mr. Storper who is seated in (pre Katrina) New Orleans. We exchange pleasantries that reveal a gracious man, although that geniality is tinged with the air of a man with many things on his desk more important than shooting the breeze.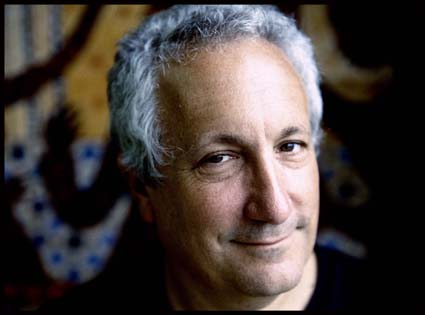 (Dan Storper, Founder and CEO of Putumayo. Photograph by M. Corbijn)
To business and I ask him why he started the label. And here a brief description might be in order. Putumayo specialises in World Music from every corner of the globe, releasing intelligently compiled collections that focus either on a specific country or region or a genre or artist. The releases are always beautifully packaged and well annotated providing for newcomer or devotee something more fulfilling than most labels offer.
"As a kid I really loved music and was motivated by a range of music from Motown to singer - songwriters like James Taylor and Van Morrison. And then over the years in travelling round the world for my import business which was what started this off in terms of being interested in world music I ended up opening a Latin American store in New York in 1975; a little hole in the wall 20 square metres on the upper east side. I used to bring back albums that I would find in the Andes and Bolivia that I would play in the shop to create an environment. I'd mix these records with the James Taylor and Van Morrison and others but over the years as the number of stores grew I lost track of the music. Then in 1991 I was on my way back from a trip to Indonesia when I stopped off to visit friends in San Francisco. I was going to an exhibit in Golden Gate Park and on my way I chanced upon an amazing African group called Kotoja and was amazed at how they'd brought together a large audience of all ages and ethnicities all dancing together and having a great time.
I went back to New York and went into one of the stores and they were playing thrash metal; I got cross and told them that with our appealing range of crafts and clothing from around the world we needed a musical environment that fits. I started looking for world music CDs to play and went to the usual stores, HMV and Tower and was struck by how hard it was to figure out what to buy because, this was back in '91, they didn't have listening stations and the staff didn't know the music so I started buying CDs based on their covers! Eventually I started subscribing to the right magazines and meeting people that knew the music and I began educating myself about the music until I got hooked on it."
It was at this point that the nascent label began life.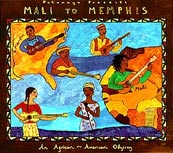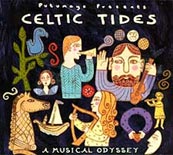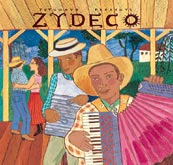 (Inspired packaging: Nicola Heindl's work is used as a thematic link on album sleeves)
"I worked with a company that made four hour tapes for in store play; they cleared all the publishing rights and such and we put together compilations from my collection. These tapes were circulated to the stores and almost immediately we had a response. I had store managers calling to tell me that every new song was bringing customers to the counter asking for information and wanting to know where they could buy a copy. What's more, I was told that the staff were in the best moods they'd ever been in at work!"
It was about this time that Dan Storper met Richard Foos head of Rhino Records who, like Dan (and Anita Roddick of the Body Shop and Ben & Jerry of Cherry Garcia fame) was a member of the Social Venture group. Storper and Foos soon made deal to issue four compilations with Dan supplying content and artwork whilst Rhino did the music biz legalities and got the discs to traditional record retailers. Dan, meanwhile, in a possible first, took on the task of selling the discs to non-traditional outlets; book stores clothing stores etc. Perhaps predictably, the sales and response from the non-traditional stores was hugely successful whereas the record business found it very tough to make inroads. Rhino passed on future ventures and Storper took on the business dealing with distribution through his new, non-traditional network.
"We then built up distribution through international distributors and US distributors to get our catalogue into record stores. So we've built a business that combines putting these thematic compilations together that we hope appeal to music lovers and world music lovers and people who aren't too familiar with the music."
I suggest that one of Putumayo's most appealing features is the lack of preaching; albums seem to be compiled and annotated for enjoyment and whilst there is plenty of info to help you along new musical paths, there is a distinct lack of preaching and educating. You know, the sort of thing that seems vital to jazzers and classicists who seem determined to make their music somehow better than the rest.
"I appreciate you saying that. Someone made a comment to us that Putumayo CDs are like a musical experience and we want people to be introduced in a positive way to the music of other cultures and through that, hopefully, they'll get interested in the artists and cultures. Ultimately our goal is to let people see that there is extraordinary culture in places around the world that really struggle with a lot of negatives whether it's war, poverty or illness. We do want people to learn which is why we have extensive liner notes so you can find out about the artist, the music or the culture but it's not intended to be a complete education."
Music aside, one of the most notable things about the label's releases is the artwork. Stylistically there is a unity and whether the content is from Mali, Brazil, France or wherever, you know the album belongs to the Putumayo family.
"It wasn't a plan per se, it was more that the artist Nicola Heindl, a London woman, is a friend of the woman who used to do the displays in our stores. We were actually looking for two things at the time, someone to do a Christmas ad and someone to do the artwork on the first two Putumayo CDs. I had bought one of Nicola's greetings cards when I was in London in '90 or '91 and it was pinned to my bulletin board. Our mutual friend walked past and said 'you know I'm friends with the woman who did that card she's coming over to New York in a couple of days would you like to met her?'."
They met and Nicola did the ads and the two sleeves. Taken with the results and fearful of coming up with a new concept for each release Storper came up with the notion of using Nicola's work as a thematic link.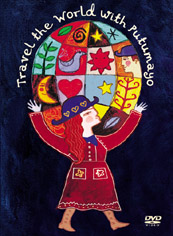 (Travel the World with Putumayo. The DVD is a visual celebration of world music and culture featuring videos and concert footage)
"You know there are probably people who don't know the name Putumayo but can recognise her artwork."
One of Dan Storper's most illuminating revelations is that both he and A&R boss Jason Edgar spend and enormous amount of time travelling. Not for them some armchair catalogue purchase of rights to make up compilations - "We're looking for things outside the mainstream, not the homogenised pop it's easy to find" - but time spent in the countries to be compiled getting a feel for the music. Ultimately it's Dan who does the final compilation and sequencing, making the discs feel like an entity rather than a grab bag of cuts from all over the place.
"One of the best compliments I've had from the musicians", he says, "is that the albums sound like they were recorded at one time rather than compiled from music recorded over the years."
He further explains that in his opinion what holds the collections together is an aesthetic based around his taste; the music has to have a melodic sensibility and be well recorded. He also admits that Putumayo do a lot of editing (with the artists' approval, of course); "there are a lot of OK six minute songs that are great 3 minute songs!"
Talk turns to the future and I ask if there's anything that Putumayo intend to do that they have, as yet, not done.
"Yeah, areas in which I think we're weakest and in which we've done the least are Eastern Europe, Australia, Argentina, Canada, Eastern Asia. But you know in some areas you really have to go there because the music just doesn't make it to the west."
That said, an Eastern Asian lounge CD is scheduled and I guess it won't be that long before the other musical frontiers are breached. And when they are it'll be compiled by Dan, illustrated by Nicola and released on Putumayo.
Steve Morris, Roots & Branches, September 2005
www.roots-and-branches.com
Putumayo World Music Sales
www.putumayo.com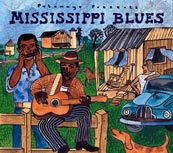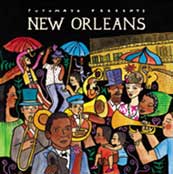 In light of the devastation caused by Hurricane Katrina, Putumayo World Music is donating all proceeds from its critically acclaimed albums New Orleans and Mississippi Blues through the end of the year to relief efforts in the area.
Listen to A New Orleans Tribute! A one hour special broadcast of the Putumayo World Music Hour. Hosted by Putumayo founder and New Orleans resident Dan Storper, this special broadcast honors the rich musical heritage of the region, featuring New Orleans artists like Dr. John and Kermit Ruffins as well as blues legends from Mississippi. Putumayo Europe Starts Monthly Event Series! Sept. 30

---
GAIL COMFORT - UK RESIDENT, CANADIAN DJ & PRESENTER OF THE COMFORT ZONE FOR SPYDA RADIO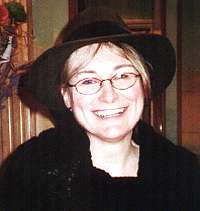 Gail comes from the prairies of Canada - Winnipeg, Manitoba to be exact - and moved to London on a whim in 1997.

I've always loved country music and was lucky enough to stumble upon CMR (Country Music Radio for Europe), a satellite station broadcasting throughout the UK and Europe. I talked them into letting me listen and learn and pretty soon I was the "girl" on the morning show: reading the weather, answering the phone and chatting away. After a few months I began producing and presenting "Women in Country", going out live once a week. Unfortunately, due to financial difficulties, CMR died in the summer of 1999. I feel lucky to have been a part of it. The music was great and I made some excellent friends. I learned lots and my musical tastes broadened extensively.

Shortly thereafter, in the fall of 1999, Spydaradio sprang into being on the Internet. Ten individuals, with differing musical tastes and personalities, came together to present music shows that reflect the best of under-the-radar music. Spydaradio has been going strong for over five years. I'm the "country" girl at the station, producing and presenting "The Comfort Zone" - 3 hours of the best country music around.

I play all kinds of country music - I don't believe in pigeon-holing music - but, of course, coming from Canada, I have a special affinity for Canadiana. My current pet project is putting together an internet network of all-Canadian music based here in the UK. It's still in the planning stages but getting closer to reality every day.

Knowing Gail and respecting her enormous love and enthusiasm for the music, she's bound to make it happen. Hear her honey tones and wonderful choice of music on SpydaRadio. Just click on

Sue Cavendish
---
Cropredy Festival, August 7, 8 and 9, 2003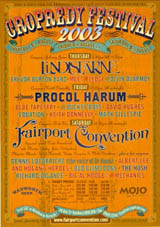 Well, to use a hackneyed tabloid headline: "Phew, what a scorcher". For those that were there, the 2003 model of Fairport Convention's annual festival will be remembered mainly for the weather - it was the sunniest and hottest Cropredy for many a year.
But this year's gathering will also remember it for the quality of music on offer. Before things kicked off late on Thursday afternoon, there had been much debate as to whether the booked bands and artists would be able to pass muster - particularly after last year's strong line-up to mark the host band's 35th anniversary. By midnight on Saturday, however, as the last notes of Fairport Convention's signature song "Meet on the ledge" drifted away on the warm night air, most were agreed that festivalmeister Dave Pegg had, once again, pulled the rabbit from the hat.
The honour of opening the event fell to local band Colvin Quarmby. It was a good choice as their set of original songs was warmly received by a good-sized crowd. Next up were Meet on the Ledge, definitely not a tribute band, despite taking their name from Richard Thompson's anthemic song. The five-piece turned in a powerful mix of originals and covers, including a tremendous reading of Peter Knight's "The song will remain". The importance of the gig to the band was summed up by guitarist Allen Maslen's comment: "We've played in venues smaller than this stage!"
Some stomping, pub-rock and blues, featuring a muscular version of Warren Zevon's "Werewolves of London", from The Trevor Burton Band provided the final warm-up for first-night headliners Lindisfarne. The Geordies' mix of classic and new songs laced with regular lashings of self-deprecating humour soon had the crowd on their side. Starting with "Fog on the Tyne", the two-hour set included a wonderful "Winter song", an atmospheric "Lady Eleanor" and, a personal favourite from the current line-up, "Unmarked car". It was a happy first-night crowd that returned to their tents.
Friday dawned bright and sunny and the temperature soon climbed to regulo seven. Opening act of the day was The Mark Gillespie Band; despite hailing from Manchester, this was Gillespie's first gig in his homeland and his warm, rough-hewn voice, good songs and tight band makes him a dead cert for future success. The madcap, 100mph humour of Keith Donnelly followed and, within a minute or so of his taking the stage, he'd leapt from the front of it and was chasing three blokes, who'd had the temerity to walk away from the stage, across the music field. If any, other than that fleeing trio, failed to be won over by this amiably gifted nutter, they would definitely have succumbed by the end when, swapping T-shirt for leather jerkin and cap, he performed a hilarious pastiche of "YMCA" called "Folk festival".
Young folk-rockers Equation filled a pleasant enough hour before the dry delivery, insightful lyrics and dextrous guitarring of David Hughes took over.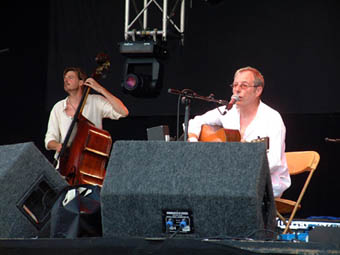 The son of Essex was backed variously by Martin Brunsden, on double-bass and bowed saw, percussionist Gerry Conway, the slide guitar of PJ Wright and an ultra-talented girlie backing vocal quartet of Chris While, Helen Watson, Jacqui McShee and Julie Matthews.
[Ed. The annals of folk festival history are enriched by the story of that bag on stage between the monitors. Full story on David Hughes' website]
The Bucket Boys. Never heard of 'em? Neither had I, but I'm a convert. They were, quite simply, the revelation of the festival. Based in the West Country, they comprise two former members of Quiver, an ex-Charlie & The Wideboys and a drummer who's played with everybody. They gave the crowd a set of what they describe as rural swing and R'n'Beebop. Rarely have I seen a band having, and giving, so much fun. Their version of "Drinking wine spo-dee-o-dee" alone was worth the price of admission and they received possibly the most enthusiastic encore call of the day.
Any band playing the popular songs of two of the 20th century's greatest female singer/songwriters - Joni Mitchell and Carole King - is guaranteed to be a hit in front of any festival audience. When those songs are performed by Blue Tapestry, comprising Chris While, Julie Matthews, Pete Zorn, Neil Marshall and Maartin Allcock - each a Cropredy veteran - they cannot fail. They promised much and they delivered, in spades. To be honest, any band would have had difficulty following the reaction Blue Tapestry generated. That's not to say, though, that Friday headliners Procol Harum took the stage with any lack of confidence. Far from it, they went about their job with complete professionalism, creating faithful replicas of all the old hits - "A salty dog", "Homburg", "Conquistador" and, of course, "A whiter shade of pale"- and doing justice to songs from their recently released "The Well's On Fire" album. But it was, perhaps, all a little too earnest and, maybe, a band with a slightly lighter touch might have best suited the occasion.
If anything, Saturday was even brighter and hotter than Friday and Richard Digance, on stage at the crack of noon, took advantage of the crowd's laid-back, heat-wearied demeanour to do what he does best - stirring memories of days gone by and reducing his audience to tears. He opened last year's Saturday, too, with a similar reaction - the job could be his for life.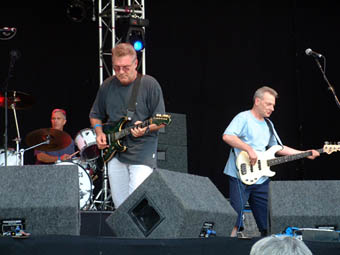 I first encountered The Mechanics - nothing to do with Mike Rutherford - fully 30 years ago when they played the old Radio 1 Saturday-evening "In Concert" show and they was fab. They rarely venture east across the Cornish county line and I was beginning to think I'd never get to see them live. Then, bless 'im, Dave Pegg books them for Cropredy and my wait is over. Was I disappointed? Was I heck! Fantastic blues-rock band and, if ever you're on holiday down Cornwall way and you see them booked for a village hall or pub back room, go see them. Al Hodge will make you believe guitar gods still stalk the Earth.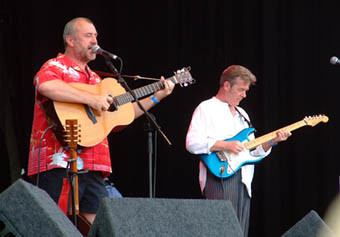 Another bunch of Geordies were next on the menu. The Hush, fronted by Bob Fox and Jed Grimes, performed a set based principally on their debut album, "Dark to the Sky" and Fox solo material. Their songs of the north-east gave proceedings a more noticeably folky feel to the afternoon. Scotland's Old Blind Dogs - who are none of those things - kept the traditional buzz going and, despite the wilting heat, soon had the enthusiastic crowd of stage-front jiggers doing their best to work off the festival-gained excess poundage.
Years on the scene playing with anybody who's anybody does lend a fella a certain cachet and Albert Lee has a huge cache of cachet.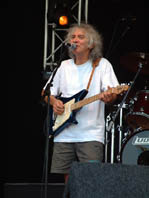 Backed by Hogan's Heroes, a band brimming with almost equal experience, he kept the Cropredy crowd completely enthralled. All that experience means Hogan's Heroes are anything but a one-trick pony and the keys of Pete Wingfield and pedal steel of Gerry Hogan lifted some of the lead instrument responsibility from Lee's fretboard. A set of standards was topped by what is probably Lee's best-known song, "Country boy" which saw all five band members shine. He may have been up on that stage with only his acoustic guitar for company, but former Dr Hook & The Medicine Show front man, Dennis Locorriere, had to be a strong contender for the title of loudest act of the weekend. His booking was probably one of those that initially raised the most eyebrows, but with songs from his recent solo album and a sprinkling of Dr Hook hits notably "Sylvia's mother" and "Freakin' at the Freakers' Ball" - he had the crowd happily and lustily singing along. I suspect he'll be gracing the Cropredy stage again.
Of course, the main purpose of that stage is for host band Fairport Convention to return to their spiritual home and to play for their core of loyal fans. As ever, they turned in a marathon three-hour-plus set with songs spanning the years from the band's late-'60s birth. As ever, the Fairport crown was studded with the gems of special guest appearances, chief of which this year was what was described as The Dave Swarbrick Philharmonic when the veteran fiddle-player ran through a selection of songs from his new album backed by guitar, bass and a quartet of further violinists comprising Fairport's Chris Leslie and Ric Sanders and husband and wife team Mike and Meg Burnham.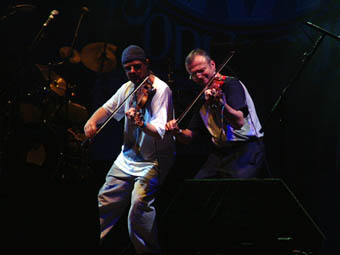 Other guests included Steve Gibbons, Chris While, her daughter Kellie and a young trumpet player, introduced only as Edmund. The band had heard him playing along to them from the audience at the previous week's Cambridge Folk Festival and were so impressed they invited him to play with them, on stage, at their own "do". His playing seamlessly fitted into and, indeed, enhanced the previously mentioned festival closer, "Meet on the ledge".
And so another Cropredy ended. Against the odds, an eclectic collection of bands, in conjunction with the very best of Oxfordshire weather, had proved Fairport's Dave Pegg, yet again, to be an astute judge of what constitutes a good festival line-up and maintained that special Cropredy atmosphere that you'll find nowhere else. Well done, Peggy.
Fred Hall
---
Cropredy 2002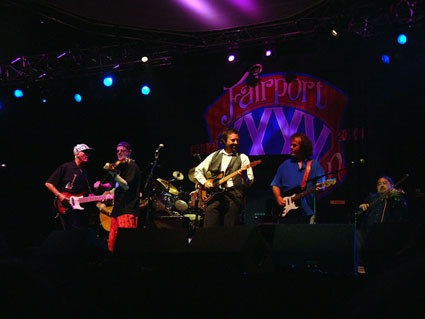 The hours of enduring persistent rain and unseasonably low temperatures were at last given reason. There, right before our eyes up on the Cropredy stage, was the closest we'll ever get to the early, groundbreaking Fairport Convention line-ups. Stage right, the only member of the original formation still wearing the Fairport colours, Simon Nicol; beside him, master guitarist and songwriter, Richard Thompson; next across, Iain Matthews; then, the mastermind behind so much good music spanning five decades, Ashley Hutchings; and then the band's original female vocalist, Judy Dyble. Sitting at the back, in place of the departed Martin Lamble, was current Fairport drummer Gerry Conway. Over the course of a couple of hours on the festival's Friday (middle) night those musicians, along with others who joined and/or replaced them to represent the progressing stages of the band's 35-year history, wove musical magic.
I can't claim to have been in the audience at any of those gigs in the late '60s or '70s but I have the records and I've read the books and, boy, was I looking forward to seeing the Early Fairport. Obviously, modern technology gave the band a much better live sound in 2002 than back then, but the spirit of those pioneering youngsters was alive on that stage. The songs they chose to perform are too many to note here but stand-outs were "Time will show the wiser", "It takes a lot to laugh, it takes a train to cry", "Nottamun town", a mighty "Tam Lin" (featuring the wonderful Vikki Clayton), "Sir Patrick Spens", the near-legendary Dave Swarbrick fiddling mightily from his wheelchair on "The lark in the morning" and an appropriately concluding "Who knows where the time goes?"
For me, however, the song of the night wasn't a Fairport song at all. Hutchings' Wings tells the story of the band's formative years and influences and its great riff and intelligent lyrics were attacked with particular relish. The story was continued - in much more pleasant weather conditions - on the following, Saturday, evening, when the unfolding story was brought up to date. But, despite tremendous readings of Sloth (will we ever hear that again?), Doctor of Physick, Chris Leslie taking the vocal on Swarb's Rosie, John the Gun, Ralph McTell singing his own Red and gold, an awesome Red tide with Maartin Allcock chunking out some big electric lead guitar and lots more landmark pieces from the Fairport songbook, it didn't have quite the same zing of the previous evening's fare.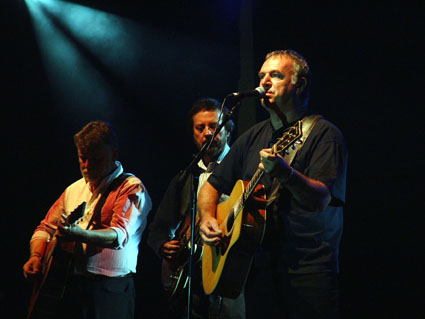 As ever, the band's set finished with the ever-young Matty Groves, preceded by a beautiful acoustic guitar introduction from Nicol, and the weekend's proceedings were wound up with - what else? - the encore of Meet on the ledge. There's not a moment in music quite like 20,000 people singing a song that means so much to band and audience alike. Simply nothing could follow that.
But, what of that which had preceded that grand finale? This year's Cropredy has been described, by more than a few, as one of the best - and with good reason. Local band Freeway Jam got things off to a lively start on the Thursday and they were followed by The Joyce Gang. I'm afraid their set didn't really work for me until, that is, old friend of the band Phil Beer (coming to the festival straight from the wedding of Show of Hands pal, Steve Knightley) joined them for the final two songs and filled out the sound with scorching lead guitar and fiddle. The Dubliners followed and used their 40 years' experience to lift the crowd and warm them for first-night closers e2K who did a great job in helping said crowd ignore the rain.
Star of Friday's pre-Early Fairport show was the incomparable Richard Thompson who, with the help of Danny Thompson on upright bass, was simply breath-taking. Why this man isn't filling stadiums across the world on the strength of his own name is, surely, one of life's great mysteries. He can even make Britney's Oops, I did it again sound like a classic. Mundy-Turner, the day's opening act, are standing on the threshold of a bright future indeed. Cath Mundy's voice allied to Jay Turner's muscular but sensitive guitar-playing and a collection of insightful songs won't fail to win them new friends wherever they play.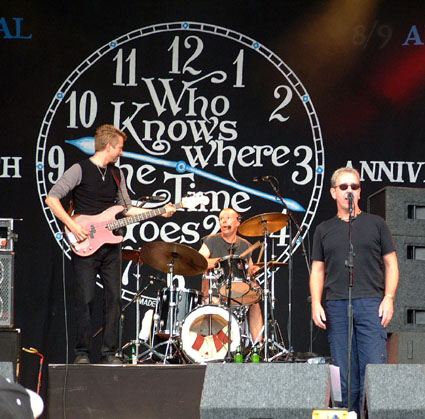 The day's strong line-up was enhanced by the presence of Oysterband who turned in a stirring set that was powerful enough to drive away the clouds and force the sun out to see what all the fuss was about. Their appearance at Cropredy was long overdue, the delay being attributed to a long-standing coolness, to be diplomatic, between themselves and the Fairports. If the invitation, and acceptance thereof, to play at Cropredy formed the foundation stone of a bridge being built, the presence of the host band's Ric Sanders joining them for a few numbers were the first steps across that bridge. The journey was completed when the Oysters' vocalist John Jones appeared with Fairport and multitudinous friends onstage for the closing Meet on the ledge.
The unenviable task of opening on the last day fell to Richard Digance, a gig made all the more difficult by the fact he'd not appeared before a live audience for about three years. No matter, his easy charm and ability to pluck on the memory strings of his audience had the crowd eating out of his hand long before the end of his over-too-soon 40-minute set. Little Johnny England followed, straight from Sidmouth the previous evening, and their confident attack, with a front line offence of fiddle, melodeon and fiery electric guitar, had the stage-front assemblage baying for more.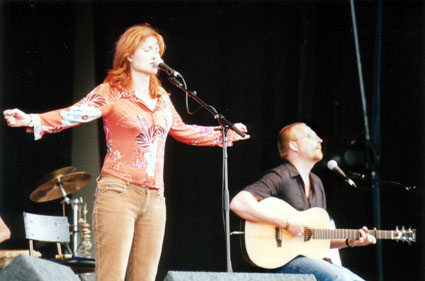 The day continued with an eclectic mix of the easy sounds of Eddi Reader, with the assistance of Boo Hewerdine and Colin Reid; the no-holds-barred rock of the Deborah Bonham Band; and the jazzy-bluegrass expertise of The Alison Browne Quartet.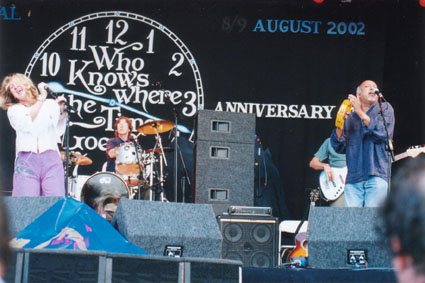 So, was it a good Cropredy? Well, it had truly outstanding music, really good food and drink, more-than-passable loos and the brilliant atmosphere that makes it the friendliest festival in the calendar. You bet it was a good Cropredy.
More pix from Fred's Cropredy collection from the last three years can be viewed at www.photobox.co.uk/fredney17@btinternet.com
Fred Hall
---
AcoustiCity Opening Night April 27th 2002
The Headgate Theatre is Colchester's newest home for amateur theatre and music. The AcoustiCity Music Club is a new venture showcasing the best in local and national songwriters and acoustic musicians. The theatre is fairly compact and seats around a hundred or so and the night was sold out in advance. This, the first AcoustiCity night, had three bands on the bill.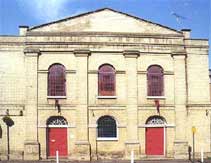 The evening opened with Rachael Swindlehurst and Steve Jones. Rachael and Steve play in London band Jilt, and they treated the audience to acoustic versions of a selection of their songs. Most were performed with just guitar and vocals and Rachael's powerful and emotional voice filled the venue, counter pointing the softness and delicacy of Steve's guitar playing. For a few songs Darren Tansley joined them, adding a layer of keyboards to the songs. Towards the end of the set, they played a version of REM's Losing My Religion, and Rachael wrung every ounce of emotion out of it leaving most of the audience stunned that such a fantastic voice could come from such a tiny girl.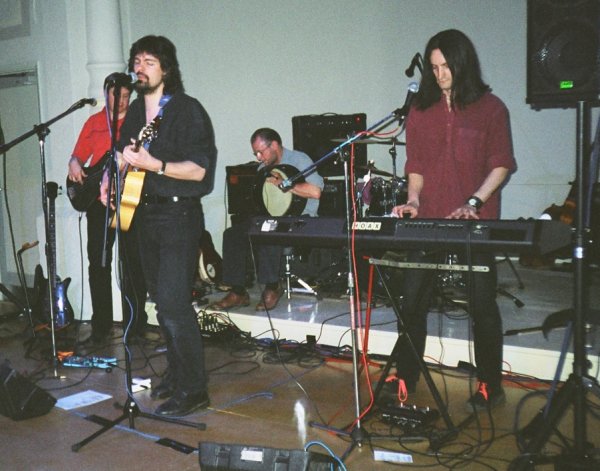 Next on were local four piece, Pavlov's Cat. They played a selection of self-penned and traditional acoustic songs. James the songwriter and guitar player and Darren, the keyboard player, exchanged friendly jibes as James changed his tunings between songs. The songs themselves are good, melodic modern folk songs. The rhythm section of bass and bodhran give a good solid foundation for the music and layered voices to play over.
Silverleaf, who are described as a Newbury based Anglo-Scottish jangling acoustic pop/rock band, headlined the evening. Its been a long time since I've seen a band who looked like they enjoyed playing this much. Wob, the singer and guitarist bounced around the stage with a huge grin across his face, and there were some great feature vocals from bass player Matt. The band also includes fellow ex Blyth Power guitar player John so they have quite a pedigree. Their set was great and it was a shame that the venue was all seated, as it would've been great to be able to dance along to their songs.
James and Darren from Pavlov's are the organisers of AcoustiCity, and were understandably apprehensive of how the evening would go. I don't think they could have wished for a better start to the venture, and I hope the rest of the evenings go as well.
Gary Nicklin
Gary Nicklin is a writer with stories published on various internet sites. A selection of his writing can be found on www.authorsden.com/garynicklin.
---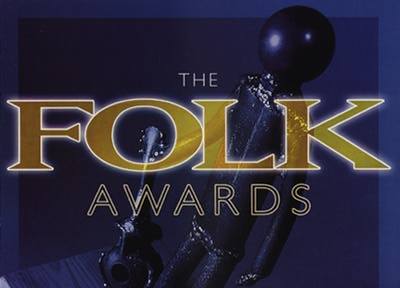 The winners of the awards are:
Folk Singer of The Year: Norma Waterson - award presented by Willy Russell.
Yorkshire's unequivocal queen of British folk, Norma spent three decades performing with her revered traditional singing family - The Watersons. Norma's first solo album "Norma Waterson" was shortlisted for a Mercury Music Prize in 1996.
Best Group: Danu - award presented by Mary Black.
Danu are a seven-piece group from Waterford who mix Irish language material with English ballads and modern songs. Their debut album "Think Before You Think" (Shanachie) has been widely acclaimed.
Best Album: Unity by John Tams - award presented by Sue Johnston.
Born in Derbyshire, John Tams has worked at the cutting edge of folk music for two decades. Described by Mojo magazine as 'one of the unsung gods of folk music', "Unity" is John's first solo album. John also has a career in theatre and tv, and starred for five years in the TV drama Sharpe.
Best Original Song: Harry Stone by John Tams - award presented by Martin Carthy.
A track from Tams' album of the year - "Unity", Harry Stone is a vivid, if melancholy, narrative depicting the decline of the mining industry through one man's story.
Horizon Award: Bill Jones - award presented by Rt Hon Chris Smith MP.
One of the folk scene's exciting new talents Bill (short for Belinda) self-financed her first album "Turn To Me" which has turned into a folk best-seller. Originally from Staffs, she now lives in the North East. Bill is a classically trained pianist who studied at London's City University. The drama of traditional ballads lured her into folk and she made her folk club debut less than two years ago.
Best Instrumentalist: Michael McGoldrick - award presented by Kate Rusby.
Described by Irish Music magazine as "one of the hottest properties around" Michael McGoldrick is a flute player extraordinaire whose new album "Fused" features contributions from some of the leading lights in Celtic music. Inspired by his Irish parents and encouraged by the thriving traditional music scene in his home town of Manchester, Mike has been playing flutes and whistles virtually since birth.
Best Live Act: Vin Garbutt - award presented by Barbara Dickson.
A Teessider of Irish background, Vin is an international folk hero with a big stage presence. Vin has recorded albums but his extraordinary voice, lyrical whistle playing and boisterous guitar work - not to mention his surreal sense of humour and unusual haircuts - make his live work his forte.
Folk Club Award: The Davy Lamp, Washington Tyne & Wear - award presented by Roy Bailey MBE.
The Davy Lamp club has been voted for by artists who consider it the best folk club in Britain.
Radio 2 Lifetime Achievement Award: Bert Jansch - award presented by Johnny Marr.
The 57-year-old Glaswegian is the guitarist's guitarist and has been a quiet but massively influential figure since he first erupted on the London singer songwriter scene with a borrowed guitar in the Sixties. Jansch has had a profound influence of the folk scene's leading figures and continues to be revered by modern icons like The Smiths' Johnny Marr and Suede's Bernard Butler.
Radio 2 Roots Award: Taj Mahal - award presented by Bob Harris.
Taj Mahal is a world class champion of eclecticism. His career has featured side trips into Chicago blues, Memphis soul, and country blues and his musical palate is spiced with a myriad of global influences including West African, Caribbean, cajun and Latin sounds. His recording career started in the Sixties with Rising Sons, a group he formed with Ry Cooder, and is still going strong - his 1999 album "Kulanjan", a collaboration with West African kora virtuoso Toumani Diabate, was voted fROOTS album of the year.
Good Tradition Award: Bob Copper - award presented by Billy Bragg and Shirley Collins.
The greatly loved patriarch of English traditional music's greatest singing family, Bob Copper, can still occasionally be prevailed upon to perform at the age of 86. The Copper family's contribution to folk music has been so huge it's impossible to quantify. The Coppers come from Rottingdean in Sussex and are one of the few remaining examples of an ongoing English folk tradition, performing rural working class songs that have been in his family for two centuries.
---
Joe Boyd, head of Palm's Hannibal Records label, departs after 20+ years.
After 20+ years of running Hannibal Records, Joe Boyd leaves Palm. Joe started Hannibal in 1980. After a brief period as part of Blackwell's Island organization, Hannibal ran as an independent label until 1991, when it was sold to Rykodisc. Joe served on the board of Rykodisc and continued to run the label from Ryko's London office.
Joe then introduced Palm founder, Chris Blackwell to Rykodisc in 1997 and Palm subsequently purchased Rykodisc in August of 1998. Joe moved to New York to run the Hannibal label from Palm's headquarters.
During Hannibal's 20 years, it has become known as a reflection of Joe's taste and interests. Successful releases over the years have included "Shoot Out The Lights" Richard & Linda Thompson, "Amarcord Nino Rota", the Songhai 1 & 2 projects/ Ketama & Toumani Diabate, "Talking Timbuctu" Ali Farka Toure & Ry Cooder (ex-Europe), Jesus Alemany's "Cubanismo", "The McGarrigle Hour", "Kulanjan" Taj Mahal & Toumani Diabate, Virginia Rodrigues' two albums and the most recent release, "Music Typewriter" Moreno Veloso. Hannibal has recently enjoyed great success with the re-issues of the Nick Drake catalogue. (Joe originally produced Nick Drake for Island in the 1960s).
"My career as a record producer really began with the support I got from Chris Blackwell in the 1960's. And Hannibal wouldn't have existed without his support and belief. I have learned a lot from Chris over the years and I wish him and Palm all the best for the future", said Boyd.
"Joe Boyd is one of the people I most respect and love in this business and I have known him for over the last 30+ years. He is a complete and real maverick in this business who is passionate about his artists and projects, and I am truly sorry that we were unable to find a way to continue working together," said Blackwell.
Joe Boyd will continue working in the music business and plans to write a book. Look out for a 'Son of Hannibal' label!
---
UK music continues to implode. US sales collapsed by 20 percent last year, and our stake in the world record market has shrunk in 15 years from 15 percent to under 1.5 percent.
In other words we are now irrelevant outside our own little world.
Worse still, the narrow, poor, white, manufactured pap, winge rock and Bromley dance, all of which dies at Dover or Heathrow before it even leaves these shores, is turning off a whole generation of 16 to 22 year olds, the most creative, challenging and artistic of whom hear and see nothing on air to make them consider music as a relevant vehicle to put across their ideas.
The only national forum on which such inspirational and international music can grow, and the place which claims to target exactly that age group, is BBC Radio 1. A brilliant opportunity, you would think. Public Service broadcasting at it's best.
But instead of a platform for vibrant multicultural and diverse creativity, what have we got? Pete tong, Judge Jules and Steve Lamacq playing their own records from their own labels; record pluggers paid thousands of pounds every week to ensure that certain records get play on the supposedly unbiased Radio 1.
And if you can't afford a plugger [i.e. if you are not a major record label] what then? Your disc stands virtually no chance of any plays at all, and as for heavy rotation. Forget it.
Mind you, if you're pally with the right guy or girl at the right production company, or if you come from Bromley, or you're a US hip hop or R and B act whom some pasty faced English DJ wants to hang with then you're fine.
In response, major labels:
1. Pay pluggers a fortune
2. Spend more on one party for one visiting US R'n'B singer than they do on All UK roots music in the whole year
3. Sign up Woolworth friendly pre teen pop, crap two step and house, no reggae, no British R and B or Hip Hop, no jungle, in fact no Asian musicians other than as tokenisn, no drum and bass, no arty cutting edge, no young country, etc etc.
The BBC say they have had 'no complaints', and that they are quite happy to allow DJ's to play their own stuff without telling the listener, and that these DJ's are irreplaceable.
I now have 245 letters from music people in three weeks - complaints about bias, plugging, favouritism, racism, bribery, rotten music on the air, no chance for good new music. Are they all lying? Are they all kidding themselves? Are they all full of sour grapes because THEY aren't getting the plays?
Hardly. Many of these letters come from heavyweight, successful and influential men and women in the industry. But even they are nervous about coming out.
So I'm sticking my head up above the parapet and boy they're shooting at me. Am I likely to get a job working for a UK company? Are Radio 1 likely to play MY tracks? Do I care?
NO. No. NO.
One day soon, and perhaps with help from someone reading this, I will put enough hard evidence before The Department of Culture Media and Sport and Mr Equal Opportunities Greg Dyke to finally open the can of worms that the BBC are trying so hard to keep firmly shut.
If you would like government and Greg Dyke to put an end for ever to pluggers, preference, playlists and DJ's with interests in the records they play then please send your vote to me. If you know something then tell me.
Your name will not be made public without your consent, and it will definitely not be passed to the BBC
Robin Millar
E-mail: changeradio1@badbob.dircon.co.uk.

---
We are posting this as we thought it might be of interest. We are not aware of Andy Parfitt having committed any wrong doing personally. Please don't send your rants back to us (unless you really want to!) - send them to the address within the mailer.
Subject: Radio 1
IF YOU CARE ABOUT THE FUTURE OF BRITISH MUSIC PLEASE TAKE A FEW MINUTES TO READ THE FOLLOWING.
Extract from letter sent by producer Robin Millar to Andy Parfitt, Controller of BBC Radio 1
To: Mr Andrew Parfitt
BBC Radio 1
Dear Mr. Parfitt
Re: Bias in Radio 1 Playlisting
"The question concerned Pete Tong and Trevor Nelson playing product in which they had a financialinterest concealed from the listeners. The question further asked why record companies are prepared to pay many thousands of pounds a week to external record pluggers for successful A or B listing on Radio 1 if the station is genuinely impartial.
It is the view of producers and artists that things have gone from bad to worse since then and that you (Radio 1) are presiding over a system of favouritism, undisclosed financial interests and far too much influence and control exercised by your station over record companies. There is ample evidence to support the view that your employees regularly dictate the choice of single and particularly expressedly require remixes for radio plays.
Apart from the fact that this is wholly disreputable, all music makers are deeply concerned that your position is adversely affecting the creative side of the industry and forcing companies and artists to bend to your beck and call, which is utterly unacceptable.
Listeners, contrary to what you told me over the phone, tune to the BBC in the expectation of hearing music played on its merits, and the enthusiasm of the jockey to be genuine with no hidden vested interests.
I wish to assist in ending completely the reign of all jockeys and other staff members who have undisclosed conflicts of interests, and completely ending the insider record plugging system in which literally millions of pounds per annum are paid to outside businesses purely on the basis that they can achieve Radio 1 plays."
Only a strong united voice can change this system and open up Radio 1 as an honest, balanced station reflecting all new music from all genres and all ethnic backgrounds.
If you would like Government and those who run the BBC to bring about change at Radio 1 please add your vote to our petition by replying to this
E-mail: changeradio1@badbob.dircon.co.uk.

Please also send on this mail to musicians, music business friends and music fans and ask them for their support by e-mailing us at: changeradio1@badbob.dircon.co.uk.
IMPORTANT!!!
For your vote to count you must send your reply with this original e-mail attached. Your name will not be passed on to the BBC, nor will it be posted publicly anywhere.
---
In The City 2000, Wednesday 27 September 2000
Bob Brimson visits Manchester's annual music industry conference, In The City 2000, and personally finds truth in the adage, its grim up north.
In the shrine to executive largesse that is Manchester's Midland Crowne Plaza Hotel we find the boys from London on an expenses paid jolly. Three days of talks, networking, leaflets and excess, sandwiched between trying to check out as many of the next big things performing in a satellite system of tiny venues as possible. This adds up to the annual In The City music industry event. But hear ye verily, because this is the rub.
Fact One: it is clear that the formation mutual backslapping/stabbing (delete as applicable, and depending on who is talking to who) convention happening daily in the hotel lobby is seriously short of any heavyweight A&R from London, let alone the USA. There are, of course, some, although these swing wildly between the thorough and decent, and the inept and egotistical.
Fact Two: the venues for the new bands performing are woefully inadequate. Focused around Manchester's trendy new Deansgate area, with its futuristic bars and New Labour chic there is one glaring problem. Although nice to have a drink in these bars are totally unsuitable for a decent gig. Call me old fashioned, but I don't think its too much to ask for an actual stage for the band to play on, rather than the corner of a bar where up to 15 people can gather before it feels like a particularly busy tube carriage in rush hour. Rumours abound of A&R personnel simply not bothering with the gigs, or better still giving up entirely and going home. Also, more than a few potentially good bands seem to have simply buckled under the sheer weight of organisational inadequacy on display. So we have a situation where an expense account orgy continues, while the actual bands who will, in the fullness of time, pay the wages of these fatcats, cant perform and so choose not to put up with it. Business as usual for many, of course, a normal day at the office you might say, but not for this bunny. I can't wait to get out of here. If you are in a band and didn't get a coveted slot my advice to you would be to go down the pub, buy yourself a good drink, and toast your fortunes for the future, because it appears that nobody here will do it for you.
Perhaps we should stop buggering about and bring this event to a decent city with a few decent venues. In a word, London. Maybe then the Americans, who are used to events which have a semblance of organisation about them, and like to watch bands perform in a space befitting them (i.e. not squashed behind the empties at the end of a bar) will not complain of visiting amateur hour with the limeys.
It's not been all bad, however. The talks have been good, as is often the case. John Kennedy managed to raise more than a few laughs in his increasingly successful quest to protect record labels from the spectre that is the Internet. Introduced by part-time game show-host and web-scammer Anthony Wilson, the talk underlined that what we are really dealing with here is a load of people who seem to be making it up as they go along, and held together mainly by their lawyers. Joe Boyd was also rumoured to have given a masterful performance worthy of his A&R pedigree, and the regular Managers Talk, imaginatively titled No No, Not Fuck Me, Fuck You - The Vulnerability of the Modern Manager was supposed to have been a right laugh. As ever the Tip sheet and Fly had really gone to town, and made an effort to show how things can and should be done, but they should really have an event worthy of such dedication.
Apart from that its all just a bit poncey. Maybe not the ideal language to use in what is laughably referred to as an industry, but fitting nonetheless. I dont want to be overly negative in this report, and hope that the criticisms are taken on board, but hey, excuse me for caring.
---
BEFORE THE GIG, be honest - does your T....

A) Fit well (+5 points)
B) Fit where it touches (-1)
C) Make you look like you're having a fit (-10)
How many holes does it have?

A) Four (the usual minimum for body, head and arms) (+5)
B) More than four (-1 per hole)
C) Less than four (-5)
What colour is it?

A) Jet black/snow white (+5)
B) Washed-out gray (+1)
C) Day-Glo orange or lime (-3)
Is the design...

A) Complex and impressive (+5)
B) Complex and depressive (+1)
C) Hand-drawn in crayon (-5)
How can you explain that mysterious stain?

A) Mud from the original Woodstock, man! (+20)
B) The bodily fluids of a wild groupie, man! (+15)
C) The bodily fluids of a wild roadie, man... (-15)
What's the slogan?

A) "Fairport Convention Don't Know Who You Are, Either!" (+25)
B) Frankie Says Relax (+1)
C) I'm with stupid (-15)
AT THE GIG - Stand in the bar. How many shirts like yours can you see?

A) Only that cool and wise looking dude surrounded by admirers has another(+15)
B) It's everywhere, like a Boy Scout uniform at a jamboree (-5)
C) Only that weird and smelly dude surrounded by security has another (-15)
Does the shirt have tour dates on the back?

A) Yes (+5)
B) No (-5)
C) Yes, including the one for this gig (-10)
Does the shirt predominantly bear the name of the band you've come to see tonight?

A) No (+5)
B) Yes (-5)
C) Sure, I just bought it from the merchandise stall and I'm wearing it over my jumper (-15)
How did you acquire the shirt?

A) It was given to me by Jimi, man! (+50)
B) I bought it at a gig years ago, dude (+5)
C) My auntie knitted it (-25)
If the t-shirt is not in honour of a band, what is it?

A) A hand-printed, cosmic design from a Himalayan monastery (+10)
B) A free promotional item advertising a "cool" product such as booze, fags or sports cars (+2)
C) You got it from your boss, and the slogan reads: "Hi, my name's Bubba. I'm happy to help!" (-15)
Is it signed?

A) Yes, by the band! (+20)
B) Yes, by the support band (+5)
C) Yes, by the band's merchandising salesman (-5)
Does the shirt have a "designer" label rather than a band logo?

A) No (+5)
B) Yes (-5)
C) Does "Manchester United" count? (-50)
DURING THE GIG - What happens to the shirt as you frug-out to the groovy toons, man?

A) It looks great! Wow, a secret design only visible in ultraviolet light!!! (+5)
B) It starts to shrink (-2)
C) It starts to stink (-15)
Does it gather any new mysterious stains?

A) Yeah, the lead singer throws his tumbler full of neat 'Jack' out into the audience, I get a mouthful and the rest goes over the shirt! (+15)
B) Yeah, the drummer tosses his sticks out into the audience, one hits me and the blood from wound goes over the shirt! (+5)
C) Yeah, the baboon with the skinhead, the Doc Marten boots and the Bri-nylon bomber jacket with "security" written on the back is violently sick down it (-25)
AFTER THE GIG - What happens?

A) You are invited backstage, where the shirt is rolled up and used in a game of naked volleyball by gorgeous, gregarious, giggling groupies! (+20)
B) You sneak backstage, where the shirt is spotted by the band's manager who asks "Is that a knock off?" (-10)
C) You are dragged backstage, and the security baboon beats seven bells out of you for "looking at me funny when I was sick" (-20)
You arrive home and examine the shirt. Do you...

A) Refuse to have it washed because the smell of pachouli oil, illicit drugs and "free love" will be a souvenir of the best night of your life! Instead you frame the shirt and sell it to the Hard Rock Cafe (+40)
B) Sling it in the washing machine (0)
C) Refuse to have it washed because the smell of pachouli oil, illicit drugs and free love will be a souvenir of the best night of your life! However, your partner slings it in the washing machine while you are on the phone to the Hard Rock Cafe (-40)
HOW DID YOU SCORE?:

200 or more: Wow, that's one cool shirt! It should hang in the Rock 'n' Roll Hall Of Fame. Are you worthy?
150 to199: Great shirt, dude. Wear it with pride.
100 to 149: A classic that's wearing better than you are.
50 to 99: A good all round shirt that's starting to show its age. Still good, but wear with caution.
0 to 49: Wear only at Monster Truck rallies, WWF wrestling matches and to embarrass your 9-year-old daughter as you accompany her to her first boy band gig.
-50 to -1: Fit only for cleaning the car - as the rag.
-51 and below: See your Yellow Pages under "Nuclear Waste Containment Sites".
* Copyright The Widdster. No responsibility will be accepted for arrests by the fashion police of anyone foolish enough to take this guide seriously. Copied from the Fairport Convention List
---
SXSW 2003 - by Bob Paterson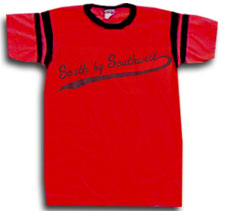 My in-flight entertainment on my way over to America consisted of Elton John's Greatest Hits 1970-2002. Whilst this was very refreshing to hear it was also sad to reflect that my passing comment at the end of my report last year was that I hoped to spend more time hanging out with Austin regular Gus Dudgeon this year. Regrettably this was not to be the case as he and his wife were killed in a car crash in July. I guess this trip was for him and those friends of mine who were unable to come over due to concerns about a pending war. I had early on decided that this year was going to be a holiday and not a work trip.

Monday 10th March 2003
After a very needed break with my cousins in San Diego, I landed in Austin, Texas on Monday afternoon. The Continental Club was not open so my first Shiner Bock was consumed at Guero's on South Congress. It wasn't long before my Austin buddies Tom Ovans and Lou Ann Bardash joined me. After listening to his excellent new album "Tombstone Boys, Graveyard Girls" (his 9th and in my overtly humble opinion his best to date) we dined at Polvo's: Chicken Fajitas, Frozen Margaritas (Ritas) and the service of the beautiful Mimi. Some things are constant with my trips to Austin. Good food, drink and company are always in abundance.
It was good to get here earlier this year and to soak up Austin and all it has to offer outside of SXSW before all my commadres were to join me. It was hot and it was worthwhile chilling out in the heat before the running around started.

Tuesday 11th March 2003
Jack Ingram was the first live act I saw. Waterloo Records on Tuesday afternoon was the venue. He played tracks from a new EP whilst I was spent a small fortune on my CD 'wish list'. Whatever people say CDs are always cheaper here and the chances of finding old titles are higher. I've always liked Jack's music and style (a little too blue collar at times - but that's OK) and feel that he's had some bad luck in the past. What with Rising Tide going under the current before a release of a new record and a recent bust up with Sony. It was in Waterloo Records I bumped into fellow SpydaRadio DJ Karen Miller and Edinburgh promoter David Mouat.
Maybe it's familiarity breeding contentment but I'm very happy returning to old haunts and chatting away with the locals about the state of play and Opal Divine's Freehouse has always provided a venue for this. They like my English accent there and sell a variety of English bitters to make me feel at home. I recall having a beer there with Mike Chapman on the day the venue opened exactly three years ago. We may even have been the first! On more than one occasion I was postulating as to what kind of music Austinites Stevie Ray Vaughan and Janis Joplin would be making today had they both stayed alive. I think it was the beer talking personally.
It wasn't until 8 o'clock I met with my room mate this year, Harry 'Felix' Farmer. It was his first year last year and with his new job at CODA he was a man on a mission. He knew the lay of the land within which to operate and he did it well. We met outside Stubb's BBQ to attend The Swollen Circus which in previous years had always been held at The Hole In The Wall up near the University of Texas. Sadly it closed last year. Steve Wynn & The Miracle 3 was certainly the highlight of the night playing tracks from one of my favourite albums of the year so far 'Static Transmission'. Sure enough a lot of my UK buddies were there too: Barry 'Borderline' Everitt, Nick 'Bucketfull of Brains' West, Paddy Forwood, Lee Conlon, as well as SXSW regular Edgar Heckmann (from Steve Wynn's label Blue Rose) and Austin dweller and pal Bonnie Spanogle. "We have arrived!" I thought. Most of these guys flew in today and were dead on their feet - but I was feeling groovy.

Wednesday 12th March 2003
Wednesday was the official start of the meat market that is SXSW - now in its 16th year. I bought myself a wristband because I didn't have the luxury of acquiring a laminate. This gave me more excuse to treat this like a holiday (not that I am looking for excuses to have a good time in Austin). You are simply spoilt for choice for great music and it is impossible NOT to have a great time. It's like my first days at university. Your social life is handed to you on a plate. Austin during SXSW (and presumable outside of it too) it's like a smorgasbord of brilliant music. If you don't like music you aren't welcome here! With my $115 wristband - I wanted to get my money's worth!
I learnt very quickly that you can't do this on an empty stomach (or even a near empty stomach). Star Seeds Café up from our hotel proved to be an excellent new venue for breakfasts. Well worth the long walk (the first of many). Also a great chance to plot the day ahead with Farmer!
Beaver Nelson was rather fantastic (as always) in the afternoon at Opal Divine's. He really is very good live with Scrappy Jud Newcomb on guitar playing some good songs noticeably 'Company of Kings' from 'The Last Hurrah!' and 'Clean It Up' from last years' 'Legends of the Super Heroes'. His voice is quite rough - not as sharp as Richard Butlers (Psychedelic Furs and Love Spit Love) but certainly has hints of Dylan there. The Loose Diamonds were on afterwards and they were pretty good too. Always fun to bump into 'Mad Country' Joe and 'Rock'n'Roll' Barber Terry (first of a zillion occasions) with their mates Dave and Rick and also Keith and Mickey from Farnham. James Windsor from Nottingham was also here and this year he brought a whole entourage of music fans from his 'Cosmic American' night at The Maze - including Pete, Pete, David, David and Ian. Good lads. I bumped into James et al about 50 times during the preceding days. We obviously have the same impeccable taste in music!
Next was a refreshing session of margaritas at The Driskill Hotel where recently engaged Rob Challice and Sarah Wells were staying. To complete the party was Barry and Harry.
Next up, Canada's finest Corb Lund Band. I booked some shows for these guys towards the end of last year and think that they are so authentic in their sound and style. It's unique and infectious. Corb is a super nice guy too, so it was good to kick start the evening this way at BD Riley's. I didn't move far from here when I bumped into Jesse Sykes, Phil Wandscher and their French label Fargo - Michel and Clement. The memories and reflections of these 5 mad days gain more clarity in the days and weeks that follow and also when people ask you about your experiences in Austin, new things rise to the surface. I do get very busy and lazy in Austin sometimes at the same time. Laughing and drinking with these guys put me in a very soporific mood and it took some effort to drag me down to La Zona Rosa where I saw a very mediocre and lackluster Reckless Kelly. I had high expectations of these guys. Bob Harris has always championed this band and had he been here in the US I'm sure he'd be here with me. I did bump into fellow East Anglians Dave and Sue Williams with their daughters Nicola and Paula though, who seemed to be enjoying the band. I was fairly drunk by this stage and the next venue was bed.

Thursday 13th March 2003
Thursday morning kicked off with a long walk to the Austin Motel down South Congress and back again. This is a well-burnt route. I lost count as to how may times I have completed this. I had the first of a very few meetings down there and had promised to do a piece live on Mean Country about what I had seen and what I had planned to see. So - true to my word - Neil 'Nobber' O'Brien took my call on air (1.30pm my time, 7.30pm UK time). Neil had just played Grand Drive and had cued up Kathleen Edwards. We gassed about how great this place is, knowing full well that Neil would've loved to have been here with me. I really hope that we can do some live broadcasting for Mean Country out here next year. That would just be the best thing. We would be in my true element.
I spent a very brief time at this years' New West Party for no other reason that I had to be somewhere at 3pm. I didn't have any idea of who was playing this year. I think the guys at New West were trying to keep it a closely guarded secret. This party is always over subscribed and it pays to get here early. I did get to see the tail end of Vic Chesnutt's show (who has finally signed a deal with the label) and also saw the excellent Tim Easton play with his band. I've been playing his new record 'Break Your Mother's Heart' a lot on my radio shows on Mean Country and SpydaRadio and it was good to catch it live. I, however, missed the chance to see - wait for it - John Hiatt & The Goners. John's next record is being released in the US on New West. You can't catch everything in Austin.. I was kind of kicking myself thinking 'I wish my meeting was at 4pm' as I walked down to The Four Seasons hotel to have my annual chin wag with fellow agent Val Denn. Little did I know that Tom Russell and his US publicist and Larry and Bruce from his label (HighTone Records) would also be there. This is Austin after all and Val provides a very informal and friendly environment to talk shop.
I decided against returning to the New West party or against all other options I had lined up for myself to take a trip to South Austin ('the other side') to see Tom Ovans playing at this funky new venue called Ruta Maya Headquarters - outside under the water tower. This was strictly a NotSXSW show! It had been a hot and sunny day and I had done a lot of walking so I was glad to sit back and drink some cold beers in the early evening sun and listen to Tom's mesmeric music. It was especially refreshing, though, when he started to play a series of cover songs: 'The Boxer', 'He Was A Friend of Mine'. There is so much good original live music performed at this festival. It's good to hear some old friends. Tom's own songs are some of them. Ross Fortune from Time Out was also there and we listened to the new Lucinda Williams' album 'World Without Tears' as he kindly drove me to my next port of call: Jesse Sykes & The Sweet Hereafter @ Mother Egans. On first listen I think I'm going to like this album a lot more than 'Essence' which is good news as I agree with a lot of people in thinking that she is America's best songwriter. 'Car Wheels On A Gravel Road' made my year in 1998. 'Essence' was such a disappointment.
Jesse Sykes was spectacular with her band The Sweet Hereafter and was well received by the modest audience. It must be painfully hard playing so early into an evening.
Next stop was Antone's to see the eagerly awaited Kathleen Edwards. She was certainly the buzz name this year and she delivered a blistering set with her band from Canada (including Colin Cripps and Joel Anderson). She can cut it and we'll touch more on her later.
My friend Florence suggested us catching the end of Buddy Miller's set at Stubb's BBQ and we got there literally during the last song. It did, however, mean that I could spend the rest of the night not far from my hotel seeing Lee Ann Womack who I'd never seen before. I don't know why. I regret it now if she ever has played live in the UK before. Whoah! She was gooood although it was more a free for all for whomever she knew to jump onstage to sing their own songs. This included Jim Lauderdale (everywhere as always), Ray Benson (from Asleep At The Wheel) and new Vanguard signing Mindy Smith. I look forward to hearing more from Mindy.

Friday 14th March 2003
Friday started late (after over sleeping) and slowly with a pleasant and small breakfast/lunch with mate Will McCarthy at Avenue Café. It is always good taking stock with him. I was trying very hard to not check my e-mails as they were work and I was on holiday. I did succumb and was depressed at how many e-mails were waiting for me to read. I decided that I'd wait until I got back to Suffolk to take any serious notice of them, as I was certainly not in the mood!
Friday afternoon is always party time and Yard Dog and The Continental Club are regular fixtures on my SXSW (or "South By" as I had rather begrudgingly learnt to abbreviate it to!) schedule. Bloodshot Records always know how to do things: a great choice of beer (Dogfish Head Craft Brewed Ales) and of course music. Bloodshot are one of my favourite American indie labels. I have supported them since I first was aware of them in early 1998 when they launched in the UK in a packed pub in Brixton. Rex Hobart and The Misery Boys provided some pretty damn fine Honky Tonk and The Legendary Shack Shakers.. Well! Quite a sight (!) and quite a noise. Positively the most surprising act so far and when the lead singer took his shirt off after the first song I knew it was going to get punkier. I predict good things of this reggae punk blues band in the UK.
I spent such a short period of time at the Bug Music party this year; but I did meet Laura Veirs and her band The Troubled Souls, with whom I am going to doing some booking for.
I really do want us at Mean Country to be here next year. I felt I was very much the sole UK DJ here this year. I know Nick Stewart (AKA Captain America) was here but I didn't bump into him at all. I know that Radio 2 were due to be here but decided it might not be such a good idea with a war with Iraq looming. Next year Mean Country will be here. I'm pretty sure of that. To that end I looked at a studio a good taxi ride away that we could do something in. Watch this spot.
My good friends Joe and Terry tipped me off about a band called Patty Hurst Shifter. Like James Windsor, I trust these guys' judgement so was prompt to get to The Ginger Man pub (an official SXSW venue last year but not this year: how does that work?). I got there early and catch a really refreshing world music groovy band called Casamar. This is what I love about SXSW. Stumbling across music you wouldn't normally think to see. With 1,000 official bands playing 50 venues over 5 days and with endless unofficial bands (mainly Austin bands because they can't even get into their own festival: what's all that about?) playing these unofficial (NotSXSW) venues, the chance to see something you don't know about is pretty damn high! The Pear Cider was really nice and the Turkey Burger with apple and cranberry chutney sauce was rather fruity but PHS didn't do it for me. A little MOR for me. 'Sounds like Neil Young' was the common comment. I wouldn't be so generous. In fact throughout this whole trip I was quite sparing with my superlatives. You'll see my top gigs at the end of the report. Everyone has different opinions on what they think is good and what isn't (thank God). PHS was not my bag.
Laura Veirs and her band Tucker, Karl and Steve (AKA The Troubled Souls) entertained me at Bella Union's night at Friends on the famous Sixth Street (every door opened into a live music venue this week). She did, however, experience some problems with the sound in this room, which was unfortunate. She did play again the following day inside the Conference Centre but because I only had a wristband, I couldn't see it. I understand she was stunning there. She'll be over in the UK in the next two weeks or so to promote her fabulous new album 'Troubled By The Fire'. So cool to see it live here first, as with a lot of gigs during SXSW week.
It was quite literally a hop skip and jump to get to see Tom Russell up at the University. I've been to some decent gigs up in this theatre in the past - most noticeably Gillian Welch and Dave Rawlings, Kelly Willis and Bruce Robison - that I knew I was up for a relaxing time in the big comfortable theatre seats. Tom's new album 'Modern Art' is just so great but he didn't play too many songs from it and chose to play some of his better known songs 'Angel of Lyon' and 'Out In California' (written by Dave Alvin). He was joined onstage by his long term guitarist Andrew Harding who is just superb. There are no other real ways of describing it really! He was joined onstage for one song by Eliza Gilkyson and for a couple by Elana from The Hot Club of Cow Town on fiddle.
The Broken Spoke is always so far out that it is not always easy to include it in an evening but I know that whenever I get there it's worth it. Oh yes! Bruce and Larry from HighTone plus Will McCarthy, Hakan from Playground Music (Sweden) and Traci Thomas (Tom Russell's US publicist) all squeezed into a car to check out Ben Atkins and the very very good Thad Cockrell. Thanks to Joe Woolley (AKA 'Mad Country Joe') I got introduced to the owner of the venue James White - who promptly gave me a tour of his country music museum: photos of him with Bob Wills, Ernest Tubb, Willie Nelson and George Jones! This guy is the real deal.
Thad Cockrell attracted some good folks and before I knew it I was slamming tequilas with Chip Taylor and John Platania who were also there. It started to get messy and I called it a day at 3 o'clock in the morning. This was my best night by far. After a quick dance with Michel from Fargo Records I got a lift home - which is just as well - 'cos it would've been a helluva walk!

Saturday 15th March 2003
I felt surprisingly good the next day and after walking for what felt like 10 miles, Farmer and I eventually decided to go to the Austin Motel for breakfast. A decision popular by fellow Brits: Cooking Vinyl's Martin and Ron and Simon from Bella Union.
Chip, Carrie and John charmed us all at an outside stage around midday at the back of Threadgill's World HQ as part of 3rd Coast Music's NotSXSW party. Chip and Carrie were quite literally everywhere this year. You saw their faces on almost every street and they played everywhere too. I heard that someone had seen them live as they cleared through customs at Austin Airport! Threadgill's provided shade and a well-needed hair of the dog.
Kathleen Edwards was at Waterloo Records at 3 o'clock and I was not going to miss it - especially after seeing her on Thursday night at Antone's. Norah Jones had a similar buzz last year and I seem to recall a similar length queue to get into the record shop (!!!) to see her last year as there was so see Kathleen this year. Whether or not Kathleen is going to go on and sell millions of records and win 5 Grammies in just one year is yet to be seen. The record shop were selling Kathleen's record at a similar price of $8.99 - so who knows? They were almost giving 'Failer' away! This performance as Waterloo Records was the performance of the week. She looked so confident, comfortable and relaxed on stage. Happy with her band and so so happy to be there. She was joking away - taking the piss out of her manager quite blatantly. How many artists can do that and get away with it? It was just so brilliant to be there. I was joined by Farmer as well as Mike and Pearse from Buckingham who kindly drove me back to Yard Dog where I roasted myself in the hot Austin sun drinking more free beer (Shiner this time) listening to some of Yep Roc's turns at their annual party. Big Sandy and Wayne Hancock were the stand out acts.
Free beer, free BBQ, free music. It must be SXSW!
Sarah Wells announced her engagement to Rob Challice a month or two ago and also invited her British friends to join her for Cocktails at The Driskill to help celebrate her birthday. Of course! If ever I had my birthday in a place like Austin and fell on a festival like SXSW I'd take time out from the mayhem to be with friends. The party moved over to a very posh restaurant on Sixth Street (the name of which eludes me). It was there that I ate my favourite meal of the week. Sea Bass in a thai cocunut sauce with garlic vegetables. I felt sorry for anyone that I was going to be standing close to later this evening. I did relax here and put live music on the back burner as I enjoyed the food, the wine and the company.
A quick stop to catch a little of Dan Bern and his band at Aussies followed by a brief trip back to La Zona Rosa with 'Cooking Vinyl' to see Clem Snide took most of the next hour up.
I really did need to end this trip on a high note. I needed some musical stimulation and to be in one place for more than 1 hour.
SXSW makes venues from the most unlikely spaces and venues. Cedar Street Courtyard is probably a very nice shady place to read the paper during a hot sunny day and a nice place to dine with your partner during an evening. During this SXSW a stage was put up at the back and the area was turned into an outside gig. This was the New West showcase evening. I wanted to get there early as I knew with only my wristband to get into places it would be hard to get in. I therefore had to watch the Drive By Truckers from the street and I doubted if I was ever going to make it in. I would've been well annoyed but I finally got the nod to walk down the stairs into the courtyard.
The best of us were there - heh - to see Slobberbone. The best way to finish SXSW with Joe, Terry, James as well as with Bas Flesseman and Robbie Klanderman from Holland. Slobberbone were brilliant and I was losing my voice. I was truly satisfied and at 2am the next venue was the Marriott Hotel.

Sunday 16th March
This year I decided to fly back on the Sunday so that I could have good nights' sleep before my radio show at Mean Country on Tuesday night.
I did manage to squeeze in a last minute breakfast with SXSW 2001 and SXSW 2002 cohort Alex de Cartier and Farmer before flying back to the UK.
At Austin Airport I bumped into Richard Wootton. It's funny how you can spend a whole week in a place like Austin and not see people you expect to see quite frequently. I would like to add Lee Conlon, Sara Qazi, Bonnie Spanogle, Scott Schaefer, Richard Whymark, Brandon Kessler, Yvonne Matsell, Shilah Morrow, Mike Gormley and of course Beatle Bob to this comment. Then - as you leave - you bump into Mr Wootton, who very quickly whisked us off to the Debenture Lounge at the airport for a few beers and a chance to reflect on the weeks' events. Through the glass dividers we could see Tony Blair making a speech at the Azores Conference and we knew that war with Iraq was imminent. I wanted to be back home and after flying back via Dallas before I knew it I was at Gatwick Airport.
I couldn't believe how many British folk were there at SXSW this year. It was great to spend time with Harry (thank you for letting me share your room), Will, Rob and Sarah, Barry, Joe and Terry, Nick, Ross, Paddy, Graham, Martin and Rob, Simon and Vicki and Peter, James and the Nottingham gang, Mike and Pearse, Keith and Mickey, Karen and David, Dave 'Lakenheath!' and Mr Whittle. I'm sorry if I have left any names out. There was also a nice little French contingency with Florence, Michel, Clement and Patricia. Even a Dutch contingency with Bas and Robbie and the guys from Blue Highways and Louis from Music In My Head festival. Big thanks to the American contingency Tom and Lou Ann (of course), Tom, Val, Larry and Bruce, Traci, Jesse and Phil and their band, Laura and her band, Chip and John, the Florida girls, Glenn from Yep Roc, Randy from Harp Magazine, Nan and Scott from Bloodshot. Thanks to Mimi for some dodgy Frozen margaritas. My friend Richard Buckner now lives in Austin. He was on tour in Australia this week and he strongly recommended I try out Avocado Maragitas. I never did but I think I'd like to give Mimi a second chance at Polvos!!!
Musically the highlights were Kathleen Edwards (the best), Jesse Sykes and The Sweet Hereafter, The Legendary Shack Shakers, Slobberbone, Tom Russell and Thad Cockrell.
I missed the chance to see Sonny Landreth, John Hiatt & The Goners (doh!), Supergrass, Anne McCue, Calexico, Stars, The Hot Club of Cow Town, Sarah Lee Guthrie, John Doe, Asylum Street Spankers and Toni Price. There is just too much going on. At any one moment in time there might be about 5 bands I'd want to see live. If any of them are any good - they'll make it over to the UK and instead of seeing just 45 minutes of their music - I'd be able to see a whole two hours.
Photos will follow. Unlike almost everyone else there I still carried a good old-fashioned camera and my rolls of film are at Jessops awaiting developing.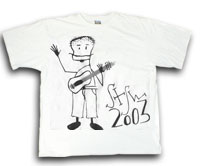 Roll on SXSW 2004.Bob Paterson
DJ on Mean Country and SpydaRadio, Booking agent with East Central One.
Bob Paterson
---
Bob Paterson's SXSW 2002
I love Austin - the music capital of the world.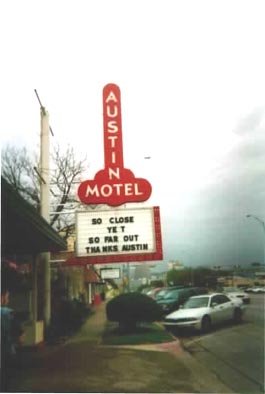 I was particularly looking forward to this SXSW as I had no idea who was playing and I knew that a pile of really good people from Britain were going to be with me whilst carving a trail of destruction wherever the gravy train took us.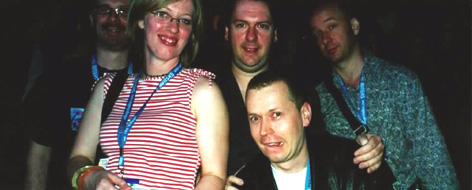 Some 'usual suspects' - from left to right: Rob Challice, Tamsin Austin, Dave McGeachan, Bob & Bryn Ormand

TUESDAY

It was very hot as we landed and not one cloud in the sky. This is what I had hoped after two relatively bad years.

Unfortunately the queue outside The Continental Club was too long and my customary first glass of Shiner Bock took place with my travel companion Harry Farmer at the well known Guera's just up the road on South Congress. Soon we were joined by my travel companion of SXSW 2000 Mike Chapman, and the hellraisers that are Mad Country Joe, Terry 'Rock'n'Roll Barber', Dave, Rich, Mike and Bucketfull of Brains' Nick West. When my good Austin friends Tom Ovans and Lou Ann Bardash arrived it all made perfect sense and we soon moved onto the margaritas at the fabulously priced Polvos. A must for any Austin visitor.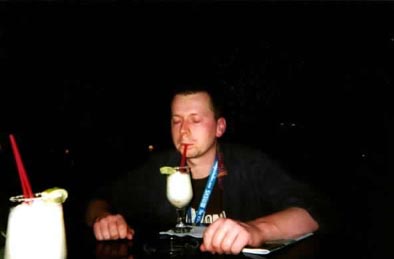 It being Tuesday night the only live music that was being advertised was at the Hole in the Wall. I chose to spend an evening catching up with Tom and Lou Ann. We hope that Tom will return to the UK by the end of the year. I've been a fan of his music since the early 90's and Lou Ann's oil paintings of women on well grained wood has now developed to dressing screens www.DressingScreens.com True art. I am glad I know them and have them firmly in my life.
WEDNESDAY
Harry was a SXSW Virgin - so I made it my business to show him some of my favourite places. With the help of Audience Magazine - in return for us scattering around copies of their international live music magazine - we both got laminates. Two years ago I would've been shocked at this, but last year I recognised the benefit of having laminates - so there! There seemed to be less people at the convention centre this year and there seemed to be less people in general in Austin this year. I later learnt that this was because they moved the college holiday a week, so all the college kids were anywhere but Austin.
Opal Divine's Freehouse had to be revisited and I wanted to prove to myself that I could once remember leaving it sober! Mission was accomplished whilst seeing my first bit of live music - that of Beaver Nelson. He is very cool - very vocally reminiscent of Richard Butler of Psychedelic Furs/Love Spit Love. Other people have likened him to Tom Petty. The thing about Beaver Nelson is that he looks like death warmed up whether it be 3pm or 10pm.
It was at Opal's that we met up with my travel companion last year Gerry Evans, and also Karen Miller, Trevor 'Whisperer', Malcolm Leeder and Arsenal Andy. All good people - fellow lovers of music. 40 minutes of Beaver was just right - and it was really beginning to heat up.
I finally met fellow agent Val Denn in the bar of The Four Seasons Hotel - and managed to catch up with Tom Russell and Fred Eaglesmith who I work with, as well as meet Jimmy LaFave again and to meet the extremely talented Eliza Gilkyson. All very name droppy - but a very rock'n'roll scenario to have Fred, Tom, Jimmy and Eliza round the same table. Only in Austin will this happen. Eliza's new album 'Lost and Found' is excellent.
My next adventure was hooking up with Alex de Cartier - my host at NXNE last year and manager of Oh Susanna, Jim Bryson and Richard Buckner. We stayed out of town last year but due to his new job at Peer Publishing I was able to blagg a hotel bed in his room. Farmer had the benefit of the floor. This time we were at the Omni - on 8th Street - posh gaff with a wonderful hot tub and swimming pool on the roof (something we made the most of to the amusement of fellow guests as we donned white robes in the lifts!). The Omni was just up the road from Stubb's Bar-B-Q and that's where Alex and I decided to finish the first evening - to see the amazing Junior Brown. This is real country and I was really excited to see Junior after all these years. Highlights for me were 'Cagey Bea' and a cover of 'Foxy Lady'. It was here I caught up with Bob Egan, fellow agent Chris Topping, Jennifer Whiteley and the gorgeous Amy.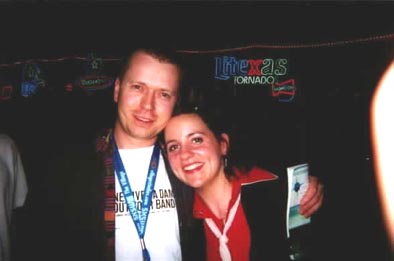 Nothing quite like standing outside in Stubb's in the warmth of an evening - listening to Junior's whacky peddle steel. It always makes me want to eat curry.
On Thursday we returned to the Magnolia Cafe for a sharp burst of salsa and refried beans in our breakfast tacos. Some things never go away - that sickly feeling of spicy mexican food in your gut so early on in the day. Hmmmmm. I never learn!
As with Val Denn, I finally met with Bloodshot owner Nan Warshaw and her husband Tex (a native German) and their 3 month old son Finn. Bloodshot to me are a very credible and cool label and last year they released Alejandro Escovedo's 'A Man Under The Influence' - so I had lots to be grateful for. This year so far they have released The Bottle Rockets covering Doug Sahm songs and The Yayhoos. I love these albums and it was good to finally pay my respects to Nan.
A return to Stubb's - this time for a chopped beef burger - en route to the annual New West Records (formerly known as Doolittle Records) party at Club De Ville. Every year they have bands playing - most if not all are signed to the label. Everyone and everyone was at the party including Time Out journalist and author Ross Fortune and the very lovely singer songwriter Eileen Rose (we flew over with Ross and Eileen), Dutch promo guy Robbie Klandermann and Borderline Barry Everitt.
Stephen Bruton delighted us all with songs from his new album 'Spirit World'. Vic Chesnutt is New West's newest signing and he amused us with a very short set. Chuck Prophet was the main act I wanted to see - and therefore was very happy to hear his truly cool grooves. Barry was too and appeared to be dancing like a crazed buzzard on hot coals - shaking his hips to the deeply cool grooves.
The beautiful Amy and Jennifer invited me to see them at the Broken Spoke tonight. Their allure was so great, how could I not oblige?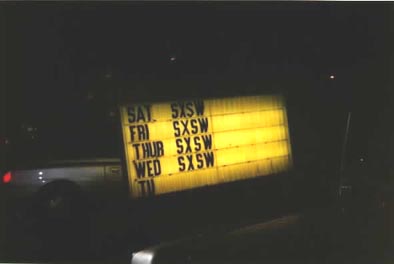 Besides, it was another opportunity to show the Farmer some of the best places in Austin. As always at there are just so many good musicians and bands playing at the same time and even if you tried your hardest, you wouldn't get to see everything. That would be impossible. Dave McGeachan from King Tut's in Glasgow, however, later boasted that during the course of this evening he had seen 30 bands. This night I was content with the two I saw as I hit my exhaustion wall.
Jennifer was really good. Good songs and a good country voice. She is from bluegrass stock - and you could tell this from her songs and her singing. Amy provided lovely BV's and Bob Egan stepped in on pedal steel. It wasn't until afterwards I learnt it was the first time they played together with drums and double bass. You couldn't tell as they were very confident and Jennifer is someone to certainly out for down the line. We met some geezer from No Depression who proceeded to buy us beers. Cheers Tom.
Richard Buckner was our next stop in the freemason owned Scottish Rite Temple up near the University. Richard was truly off the wall - playing electric guitar accompanied by his wife Penny on drums. The sound in the venue was awful and by all accounts (including Rick) this wasn't the best gig he had done. I am working with him in the UK - so my second Richard Buckner gig at The Borderline on the 17th April should make amends! I collapsed in a heap after the show.
FRIDAY
I was still feeling shaky and very tired in the morning. We did eat well on this trip - although Avenue Cafe on Congress is a mistake in the morning when it's so hot and when you're so tired and hungover. More salsa and refried beans! No thank you.
Today was party day - starting off with the British Contingent at the Conference Center (organised by AIM, BPI and Trade Partners UK). It was very good to hang out with the Brits. Ra Ra! It sometimes felt as if I did nothing else for the whole trip! Tom Bridgewater, Frank MacDonald, Colin Jennings, Alan McBlane, Rob Challice, Pete Jenner to name a few.
Then it was a hop, skip and jump back to my favourite part of Austin - South Congress - for the annual Bloodshot party at Yard Dog. There was no marquee out the back this year and because Nan had told me that they lost 3 feet in the back yard she felt as if it was going to be too much of a tight squeeze. She was right and it was unpleasantly full. They really should think about moving it to a bigger venue next year. I didn't stay for long. I missed The Yayhoos regrettably but did catch some of The Meat Purveyors before seeking refuge in what most people - including me - believe is the best venue in Austin. The Continental Club. Bug Music decided to throw a party there this year and it was like the New West party - well subscribed and attended by good people. Plenty of free Shiner was drunk and I met up with Chip Taylor, John Lomax III and his son John Lomax, Deanna Varagona, Tom and Lou Ann, and Sara Qazi - my mad friend from LA who I see about 10 minutes a year. It's worth coming to America purely to see Sara 'working the room' in her usual way. Apparently after I left they put some live music on and the place emptied! The Bug Music party was a good place to talk, drink free beer and get out of the sweltering sun filled back yard of Yard Dog. Thank you to Mark and Jonathon from Bug for inviting me.
We just narrowly missed seeing Patty Griffin at Jovita's. According to Dingwalls promoter Dave Messer, it was one of the best gigs he'd ever seen. I could well believe it after seeing her solo opening for Emmylou Harris in the UK back in 2000. Patty was with her band as well!. Ho hum. You can't do and see everything, but I did get to hang out with my English buddy - singer songwriter Amanda Thorpe - who now lives in New York. She has just completed her debut album which is mighty good. Come back to Blighty soon!
Cozillo's Pizza Restaurant on Congress proved to provide a welcome break from salsa and refried beans - and put us in good stead for this year's 'buzz band' Yeah Yeah Yeahs (New York band) who were playing in the large tin shed that is La Zona Rosa. Buzz being the operative word as I found myself surrounded by 5 UK booking agents. It was good - but not that good!
'Barbican' Bryn, 'Arches' Tamsin, Farmer, Dave Messer and I sat through a featureless Bare JR set before returning to The Continental Club to see the gorgeous Tift Merritt. Very country, very cute - like Kasey Chambers I guess, although I didn't think the songs were as strong as Kasey's. Thanks for the ever-dependable Richard Wootton for making it all possible. It was his first visit to Austin - a surprise when I heard that.
Next up was Dan Bern at Gingerman. Dan was class and the audience were truly taken away with him and his band. Dan is a supreme songwriter and a very unassuming singer. It was very late in the evening and I was seriously flagging, but he was very good. I look forward to his shows in Europe and working with him alongside Messenger Records' Brandon Kessler and Martin and Rob from Cooking Vinyl - all of whom were out in force tonight.
A mandatory game of pool at Buffalo Billiards followed with Cooking Vinyl Rob Collins, Matias from Spain, Farmer and 'Barbican' Bryn. A very civilised way to round off a long day of music, free beer and general hellraising.
SATURDAY
Saturday was far more laid back. Norah Jones was the other 'buzz' name this year and unlike Yeah Yeah Yeah's, you could see why. Very attractive 22 year old also from New York. Norah on keyboards with accompanying guitar and double bass. Exquisite stuff. Norah was the best thing I had seen to date on this trip and it wasn't surprising that Waterloo Records was rammed to the rafters with people. Word gets around quickly that she was playing here and that her CD 'Come Away With Me' was on sale for a mere $8.99. It put me in a very relaxed mood. It had been pretty chaotic up to now - what with the meetings, the missed meetings, the walking between the parties - I was totally overjoyed to be overwhelmed by the subtle charms and delights of Norah Jones. She is going to be huge. Think jazz and blues - with a generous helping of soul. More please.
Dave Messer's brother Alan was having an exhibition of his Rock'n'Roll photographs in Austin Modern Art Gallery not far from Waterloo Records. Mike Chapman (who has his own gallery not far from Waterloo Station, London), Dave and myself made the walk down. There on display - classic and rare photos of the likes of Keith Richards, John Lennon, Bob Marley, Marc Bolan and George Harrison (RIP). One of my favourites was of Lucinda Williams in a very sultry pose on her sofa with a buffalo skull hanging above her. The food at this event was the best food I ate all trip and was made by Austin dweller Shelley.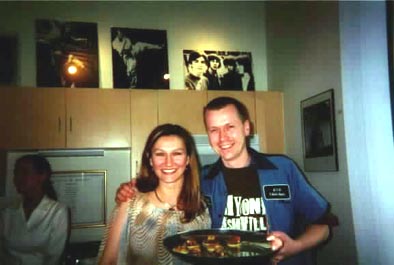 I'd happily hire her to do all my catering in the UK for anything I needed catering for. Beef in a mango sauce, and then bean cake, and then scrumptious chocolate nibbles with chocolate cream and fresh strawberries. Oh yes. This was the best. I was the most chilled out I have been in ages. I wish I could bottle this moment and this sensation. At least I have the photos.
What followed got better - a hot tub visit overlooking Austin below. Hmmm!
Chuck Prophet delivered another blistering set of live music with his band upstairs at Mercury Entertainment @ Jazz. Barry Everitt was seen dancing like a crazed man on hot coals. We all look forward to his May tour in support of his rather incredible new album 'No Other Love'. He plays The Borderline on the 20th May and I will be able to see the Everittmeister dance once again.
A true slice of punk rock followed up the road on 6th Street at BD Riley's. The Constantines. We had trouble getting in because it was oversubscribed - surprising considering I was with the act's booking agent! We did get in eventually. The stage was too small for these punks - so they decided to turn round and play through the open window bordering the street to the long queue of hungry fans waiting to come in. It was great fun to watch and as much fun to hear - but not as much fun as The Yayhoos down at Mother Egan's.
Whilst Norah Jones was the most chilled out show, The Yayhoos were the best rock show as far as I was concerned. Dan Bairn (Georgia Satellites) and Eric Ambel and others make up The Yayhoos. These guys rocked (a word I rarely use) and I danced like a crazed person (almost to Everittine amplitudes). Anyone who covers The O'Jay's ('Love Train), ABBA ('Dancing Queen') or The B-52's ('Roam') in their set so convincingly - gets my vote! Their own songs were bloody good too 'Monkey With A Gun', 'What Are We Waiting For', plus a version of 'Battleship Chains', Yes. I love The Yayhoos. Thanks to Chris Topping for being a good sharing mate. It was all too much for me and I collapsed in a heap ready for St Patrick's Day.
SUNDAY
A Veggie Burger at Waterloo Ice (next door to Waterloo Records) cured all our pains and soon we were spending more money on CDs. This time at Cheapo Discs on Lamarr. My first time here. I ended up buying a second hand Bangles album that did nothing but jump in my CD player on my way back to England. I should've known better!
Two pints of Guinness at Mother Egan's to celebrate Paddy's Day was enough for me. The Irish music they had put on wasn't particularly good and there was nowhere to sit. There was always the hot tub back at The Omni and that's where we returned - plotting our last evening in Austin.
It was loose - but started with dinner at Stubb's with 'Fargo' Michel, Alex, Farmer and the stunning Patricia. Richard and Penny Buckner eventually met up with us for a few beers at Buffalo Billiards (no pool this time unfortunately).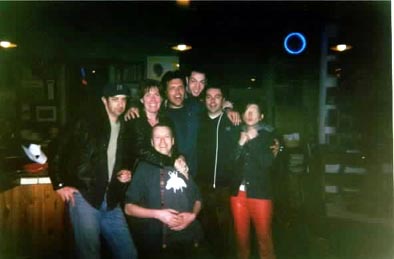 I had to see Tom Ovans and Lou Ann Bardash again to say fond goodbyes to them. We ended up at Guera's and drank too much. Now there's a surprise.
Was this a good trip? Yes - always good seeing old friends like Austin dwellers Tom, Lou Ann, Bonnie, Michael from New West and making new ones. It was fun hanging out with fellow Brits including the newly weds Lee and Alison Conlon -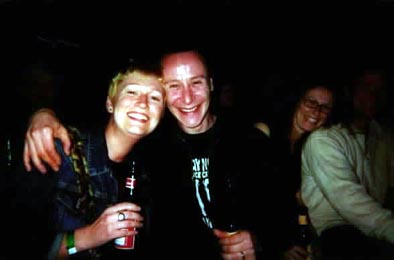 who chose Austin as their honeymoon location with friends from Newcastle after their wedding in Las Vegas. They know how to do it in style.
It was very odd to fly 5,000 miles to meet a Scottish promoter and to buy two old Kiki Dee albums.
The trip was rounded off at New West Records offices in South Austin. Jay Woods summed up SXSW for me as a great place to meet people and make friends - on which you can base firm professional (and personal) relationships. He said the funniest thing: that he had never seen so many people throw up in a venue before as with Slobberbone on Saturday night at 1am. Slobberbone was always dangerous to your health. I was glad to be well gone in bed by 1am on Saturday.
Next year - I hope to hang out with Gus Dudgeon. We never seem to get it together! It's an annual pilgrimage we are both addicted to and Austin is a place where I re-charge my musical batteries. I was glad to be Harry Farmer's chaperone. I hope that this will be his first of many visits to the Live Music Capitol of the World.
Best music seen: The Yayhoos, Norah Jones, Chuck Prophet, Dan Bern, Junior Brown and Jennifer Whiteley
Best moments: in the hot tub
Best food: Shelley's food at Alan Messer's exhibition
Best drink: Frozen margarita's at Polvos
Thank you to Austin, Alex for the hotel room, Harry for the company and to everyone else mentioned in this report.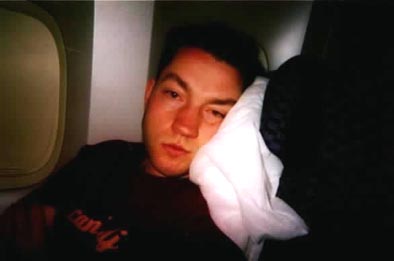 ---
SXSW 2001: A retrospective by Bob Paterson.
It was great to return for the second time to Austin year.
The first time you break your teeth in, learn the ropes. You work out the city layout; you find the good bars and live music venues. Then - after a little research - you find out where the good afternoon parties are. The free beer, food and music. It then all rolls into one and before you know it - you've seen live music solidly for about 12 hours at a time. Your feet are tired from all the walking from venue to venue (because the taxis never show up when you want them to). It sounds fun - and it is. Problem is you wear yourself out after about 3 days.
This year was different. I wasn't there to hold a video camera for Virtue Broadcasting. I was there completely as a free individual: do what I choose to do and in my own time. I was determined to have a great time and that's precisely what I did. The urgency to see 20 bands in one night was much less this year. I was more up for the special occasions - seeing friends I met last year and meeting new people who will become friends and SXSW Partners in Crime in years to come. The reality is that if you miss a band one night, chances are that you'd see them again at some stage in the next 4 days (or if you're lucky - back home in London; but even then it never feels the same as it does seeing them in Texas).
I started the trip as I started last year; a few Shiner Boks at the Continental Club the moment I arrived in Austin. I have arrived! My partners in crime this year were Alex de Cartier (AKA Jose), Gerry Evans (AKA Swifty), Karen Miller (AKA Scottish Karen - who happens to be the World Number 1 Blue Rodeo fan) and Mike Chapman (AKA MC). We chose The Saxon Pub on South Lamar on the Wednesday night to kick SXSW off. Tom Ovans was opening for Ian McLagan, with Larry Chaney on guitars and Lou Ann Bardash on BVs on a couple of tunes. Tom has a great new album out now called "Still in This World" and Lou Ann has her paintings hung up in the Magnolia Café. They are wonderful people and great guides to Austin. They introduced me to the funkier side of Austin last year. By this stage we had hooked up with Chas Hay (host of Canada's "Roots'n'Roll" TV program). He somehow had heard that Billy Joe Shaver was doing an unannounced show at The Carousel Lounge out of town. This was to be his first gig following the premature death of his son Eddy. No one really knew where the venue was or whether the gig was a hoax. We thought - "What the Hell" and decided to go on a journey. Once there we were greeted by a stage dressed with a pink elephant! Billy Joe's long time guitarist was seen in the meagre audience - so we guessed that this was definitely going to happen. It was quite a scoop. I later learnt that Billy Joe's record company didn't even know anything about it. Billy Joe entered the venue and then sang his way through 60 minutes of brand new songs with his new band and at one point the guitar solo put me in a serious Pink Floyd state of mind. It was surreal and quite a treat, and quite undoubtedly one of my many highlights of the trip. Chas, Alex, myself and Bucketful of Brains' Nick West then returned to The Saxon to see the now Austin-based Ian McLagan. The rest of the night is a bit of a blur. At least I was happy and extremely elated to be back in Austin, Texas - The Live Music Capital of the World.
Austin has really changed as a city in the 12 months since the last SXSW. It is obvious when you look at Congress from standing outside The Continental Club that the skyline is beginning to look overcrowded with more tower blocks. The computer firms are buying large plots in the centre and building huge offices. The price of real estate has risen; rents have risen - slowly forcing the boutique industries, funky cafes and wine bars, and funky musicians and artists out to the suburbs.
The moment I had been looking forward to most since buying my air ticket was the Miles Of Music/Catamount BBQ at Juan In A Million out in East Austin. It was there that most of the British contingent seemed to convene - joined now by Ruth Morris, Tom Bridgewater and James Windsor. Free beer served by a Woody Allen soundalike - a third of Woody's age and three times as hyperactive. The only saving grace was that he was serving free beer constantly for 3 hours. Nice guy! The quality live music was in abundance; from Toronto's Oh Susanna (who was to feature quite heavily today), Gingersol, Jim Roll, Tim Carroll and one of my favourite finds of the week The Imperial Golden Crown Harmonizers. Time stood still as their bluesy, funky, almost P-Funk-esque melodies soaked with Shaun Murphy (Little Feat)- esque vocals filled the front yard of this wonderful joint. They are an Austin "supergroup" made up of session musicians - including the ubiquitous Gurf Morlix. It was sunny and everybody was truly happy.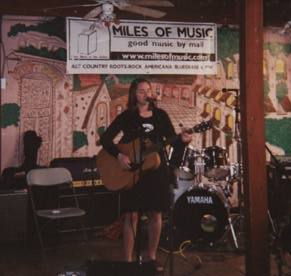 Oh Susanna
Before I knew it - it was time to return to what last year was the Doolittle party at Club de Ville. Doolittle ceased trading last summer and effectively became New West Records. The party was in the same place and Slobberbone were to take the stage by force. Normally I would've stayed - but an event was going to take place in Maggie Mae's that I knew I could not miss. A new band from the Appalachian Mountains of Tennessee comprised of brothers. They are a bluegrass combo that play solely ACDC covers. Their name: Hayseed Dixie. It was hilarious. To see the smile on The Borderline's Barry Everitt as Hayseed Dixie broke into the opening bars of "Highway to Hell".... it made the trip so worthwhile. It was all getting far too much as the band rolled through renditions of "Back In Black", "Guns For Hire"...... Sorry Slobberbone but Hayseed Dixie excelled tonight.
Saengerrunde (pronounced Sang-ga-run-de) Hall, however, was our chosen destination for the evening to see a full set of Oh Susanna. The thing I love about Austin is how frequently you bump into people you know. Who do we bump into on the way to see Oh Susanna? My old mate Neal Casal and from the Virtue Broadcasting team last year Richard Whymark. It was a wonderful moment that set me up for the rest of the evening. Suzie Ungerleider (Oh Susanna) sang blissfully through a 45 minute set in an ornate German styled theatre. Only in Austin! The only sad thing was the bleeding of heavy rock from the beer garden next door. Fortunately the effect Suzie's singing and music has on me made me forget about most things. It made me forget Hayseed Dixie, the Woody Allen soundalike and the loud "backing tape" (as she referred the noise next door as). It was after her set that I met the Australian band The Waifs - and from here we found ourselves seeing a band called Elbow (not the British version unfortunately) in a bar called Empanada Parlour. They weren't very good and before too long I returned to La Zona Rosa to finally see a band that I have missed on several occasions in London; The North Mississippi Allstars. It was all getting too much for me and I called it quits at 2.
Friday was warm. It was sunny too. The weather last year was foul. This year - so far so good! Austin is full of SXSW laminates (conference delegates) and I thought I'd spend a little time smoozing them. A beer with Charlie Hunter at the Ironworks at midday was certainly a cool idea. Getting to hang out with one of my favourite Scottish bands The Cosmic Rough Riders was also a very cool idea. They seemed to be everywhere this year; something I was very glad to see. Sue and Mike Donahoe left Austin Texas after SXSW last year to relocate their Texas-only music shop (Local Flavor) out a family home in Corpus Christi. This year they returned with new CDs to their old shop. They haven't changed in the slightest. They are wonderful people and real die-hard supporters of Texas music - whether it is Country, Rock, Punk, and Blues.... It was the allure of Local Flavor and the prospect of having a cold beer with Austin-Londoner Richard Whymark that finally tore me away from the laminates.
Next stop: Opal Divine's Freehouse via Waterloo Records. Laura Cantrell and her New York band played live in the record shop as I wandered around rather prudently buying only 8 CDs. Laura is a fine and unique singer and always a delight seeing her live. The backdrop of that Waterloo sign (modelled on the London Underground tube station sign) and the blue skies of Austin made it so much more special. Opal Divine's Freehouse had only just opened up the day before SXSW last year and I was glad to see that it stayed open and the skies didn't open like they did last year. I finally got to see Austin resident Beaver Nelson play live and to meet up with the beautiful Miss Bonnie Spanogle once again. So much has happened since last year - but it's always re-assuring to know that people you met last year are still doing what they love doing best. Going out to see live music and enjoying themselves. I stayed in Opal Divine's Freehouse as long as I could - but the day was taking it's toll on my feet and I decided to see - again finally - Ron Sexsmith. He's an odd looking guy, but his voice and songs are stunning. The place was rammed and you can only take so much of this standing up before you want to shake your booties elsewhere. The only place that did it for me was back to Opal Divine's Freehouse and it was there that I saw another one of my favourite bands from SXSW this year - Blue Mountain. They simply rocked. A three-piece with everything you could ask for. They were a true hard act to follow - I can tell you. Under normal circumstances the singer I saw next would do it nicely - but on this occasion I found her rather flat. Lucinda Williams chose The Austin Music Hall to preview about 7 or 8 tracks from her forthcoming album "Essence". It was great fun seeing Neal Casal in her band (one of 4 rhythm guitarists…). With the exception of maybe two or three songs - I found this rather disappointing. The beauty of Lucinda's music though is that it grows on you. I think these songs will grow on me and we get to see her in the UK next, the songs she performed tonight would be classics in my ears. The songs "Essence", "Blue" and "Out of Time" are ones worth checking out. The Gravy Train of SXSW Cohorts rounded the evening at Lucy's on 6th Street (THE street) where we couldn't actually get in to see Podunk. We did, however, get a chance to enjoy the late night atmosphere of 6th Street. A first for me.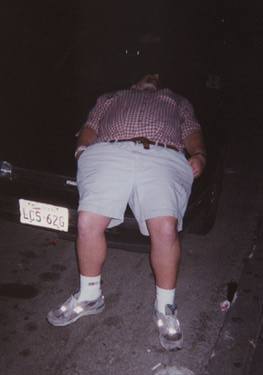 Saturday was St Patricks' Day. A pint of Guinness in The Continental with Jumpin' Hot Club (Newcastle) promoter Graham Anderson was called for.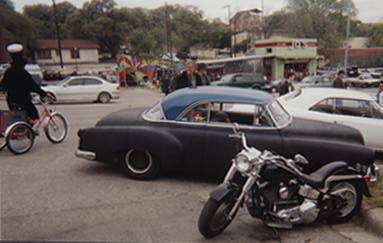 Bike, Car and Guinness man on the run!
As with the madness of seeing Hayseed Dixie on Thursday night, I couldn't miss out on the opportunity of seeing the Luther Wrights and Wrongs: A Canadian bluegrass band who only plays tracks off Pink Floyd's "The Wall". This left me cold - as Pink Floyd are by far my all time favourite band; I couldn't see the point of this - whereas I could with Hayseed Dixie masquerading as an ACDC covers band. I got another chance to see the wonderful Blue Mountain before shaking the dust off my cowboy boots and making the lengthy trip of 200 yards to The Yard Dog. The Yard Dog seems to be a magnet for British people - and it was there I finally bumped into Mad Country Joe, The Rock'n'Roll Barber Tel, Mike, Dave and Rick once again.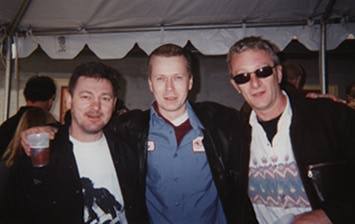 With Mad Country Joe and Rock'n'Roll Barber Tel
Laura Cantrell (as with Cosmic Rough Riders, Bob Schneider, Jimmy LaFave and Gurf Morlix) seemed to be everywhere this year.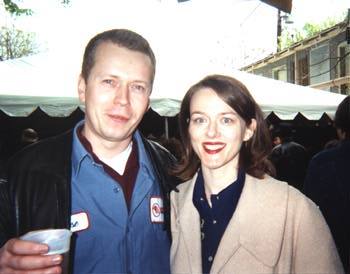 With Laura Cantrell
Laura ambled through and early afternoon set before Australian Kasey Chambers took to the stage and blew everyone away. Lucinda Williams is quoted as saying, "Kasey Chambers Is My Favourite New Artist". You can see why. She is short and it was hard to see her in the crammed back yard marquee area. This time though was good time spent hanging out with music mogul and Kasey's manager John Lomax III, Miss Bonnie, Mary Lee Kortes (from Mary Lee's Corvette), Laura Cantrell and Jeremy Tepper and my mad SXSW cohorts.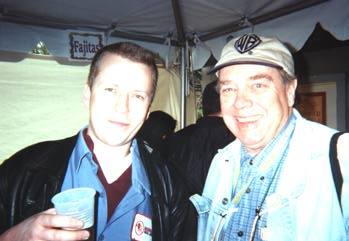 With John Lomax 111
In the haze of the past few days - Mike Chapman (MC) and myself had been invited to KUT (a radio station based in the University of Texas) to appear on the Larry Monroe Show. Tom Ovans and Lou Ann Bardash introduced me to this legendary DJ last year and I was very honoured to be invited back. The only problem was this we were due there at 2AM and by the time we left Yard Dog - it was close on 6pm. A brief visit to the Broken Spoke was in order. I could've stayed there all night as Sonny Landreth and Rodney Crowell were on the bill, but I could never forgive myself for not turning up to KUT on time; which is why I decided to base my evening musical activities up near the University. Again - a first. Chuck Prophet was in fantastic form with a new bass player and drummer, playing in a quaint room called The Cactus Café. This is where Townes Van Zandt chose to play - and you can understand why. Totally intimate - yet a fabulous live rocky sound. Lucky for me in the space of three hours I had seen some of the best live music I have seen in any one night for a very long time. From Chuck Prophet to Radney Foster, from Bruce Robison and Kelly Willis (not Bruce Willis.....) to the highlight of the night (and quite possibly the whole week) Gillian Welch and David Rawlings.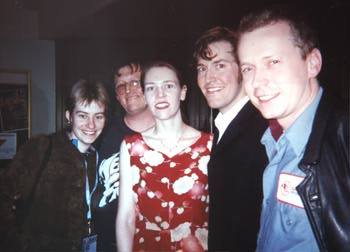 With "Scottish Karen", "Swifty" with Gillian Welch and David Rawlings.
They were wonderful live. I do prefer to see them in cosy intimate seated theatres. They set up me up really good for a late night on KUT with Larry Monroe. He - quite frankly - is the most laid back DJ I have ever met and heard on air. What a delight (and a complete surprise) to meet up with Chip Taylor and John Platania - who were the guests on immediately before us. MC and I promoted SpydaRadio. It was a wonderful chance to take stock of what we had seen so far, talk about our love for music and our love for Austin as well as see a complete master at work. You rock Larry. Thank you for allowing us to take over your radio show for 2 hours! We'll do it again next year!
With Larry Monroe.
This was the prelude to my best day on the trip - and the wettest. On Sunday it did nothing but rain all day. I didn't care in the slightest. This day is one to remember for the rest of my life. Not yet tired of live music, Alex (Jose), Mike and myself decided to see Imperial Golden Crown Harmonisers once again - but this time at their Sunday lunchtime residency at Empanada Parlour, It was here the Gravy Train of destruction started. Jumping on board this joyous journey: "Swifty", "Scottish Karen", "Party Girl" Carolyn Mark, Chas Hay, Oh Susanna's US and Canadian agent Chris Topping, "Borderline" Barry, "Bucketful" Nick West and no doubt several others that escape my memory!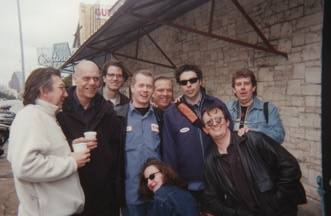 A trip to Austin without seeing Rosie Flores isn't a trip to Austin in my book - and it was taking refuge from the rain that we saw Rosie play in impromptu set with her band in the clothes shop Under The Sun. You rock Rosie. It was there that I met Donald Lindley's widow Kathy and son Jesse. A total delight. It was still raining and Querro's bar just up the road seemed the next refuge for the party train. Several margaritas later - we returned to The Saxon Pub for the prestigious South Austin Music awards - hosted by the incredible Resentments (Jon Dee Graham and Stephen Bruton amongst others) to the finale of the evening at The Hole in The Wall. Not one to name drop - but getting served next to actor Dennis Quaid was pretty funny. Seeing Eldorado (remember that?) actor Jessie Birdsall in town today was also pretty weird..... "The Tribute To The Last Waltz" marked the end of an incredible day of live music - laughter and fun. Twelve hours later - we were all still all together although not fully intact. Chas jumped off the train at this stage! Hasta lluego.
Was it work? Hell no. It was a massive party from the moment I landed in Austin on Tuesday afternoon, until 3 Am on Monday morning where I shared a car journey with "Swifty", "Scottish Karen", "Jose", "Party Girl" Carolyn, and "MC" Mike.
Overall highlights for me this year was the company and camaraderie. Alex "Jose" and Gerry "Swifty" were great hotel roommates. Many thanks for driving us around Gerry. Thank you Tom and Lou Ann for sharing your new home of Austin with us again. I love Austin. My heart lives in Austin and I can't wait to return next year.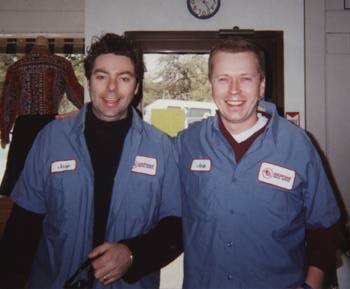 With "Jose"
Musically The Imperial Golden Crown Harmonisers, Oh Susanna, Blue Mountain, Hayseed Dixie, Billy Joe Shaver, Chuck Prophet, Gillian Welch and Dave Rawlings and The Resentments were the overall musical highlights to me.
There were things we missed, but there's always next year….
As time rolls on the memories of Austin get better. At the time you are running ragged around town trying to cram as much in as possible. As often is the case it's the things you take for granted such as the street life, classy cars and the wonderfully friendly native Americans that truly stand out.
When describing what Austin is like - and more specifically what SXSW is like - I simply say "It's like seeing your record and CD collection coming alive to play live infront of your. It's like all your musical highlights of one year being crammed into one week".
XXX
Bob runs eastcentralone booking agency in London - booking UK tours for people like Dr Robert, Bap Kennedy, Oh Susanna, Blue Rodeo, Kate Jacobs (amongst others). He has a radio show on SpydaRadio (http://www.spydaradio.co.uk)
---
Austin Texas for the first time through Windmill Bob's eyes
Tom Ovans and Lou Ann Bardash were my Austin hosts and they were the perfect induction to a city that boasts itself as the live music capital of the world.
Everybody told me that I would love Austin - either from their own experiences or from appreciation of where I was coming from and what I was going to. My priority was to get there and it had taken me 3 unsuccessful attempts to get to the roots music Mecca.
Within 60 minutes of arrival I found myself enjoying a beer with colleague Mike Chapman in the famous Continental Club. I had a tip off that a must-see gig was Roger Wallace on a Monday night. Once we'd landed my main concern was to taste live music in Austin regardless of who was playing. This desire lasted with me throughout my stay. This was pre-SXSW and the music business in their masses were plotting their meetings miles away. I had my first real taste of Austin - a club that exists purely on its name and its reputation and by 11 o'clock the club was full of people to see a real country act (file beside Dale Watson and Wayne "The Train" Hancock). This is Monday night. London would be dead.
What followed was a series of events that will remain indelible on my mind for the rest of my life.
SXSW (South By South West) as a musical festival is relatively new in the wider scheme of things. Word has it that it was created to plug an economical hole around the time that all the college students scarper off to Florida on their spring vacation. This is something I can believe - as live music and the quality of artists that travel through and live in Austin goes on 365 days a year. The same day we arrived Richard Thompson was playing at La Zona Rosa and not long after SXSW Matthew Sweet was due to play there.
Over 40 clubs register as official SXSW venues and they consequently cram in a mini festival in their own right for the duration of the SXSW. It is immense. Over 1050 artists and bands paid to play. Over 7000 people registered as delegates (those wearing those fancy breast level laminates) and I don't know many people bought those orange wristbands - but I was one of them.
By Wednesday (the first official day of SXSW) the vibe was picking up. 6th Street by 11pm on Tuesday was filling up with people and pre-SXSW shows were packed. The show I missed (well - I missed many!) was Hole in the Wall: The Fifth Annual Swollen Circus with Gurf Morlix, Jim Roll, Hazeldine, The Silos, Ryan Adams, Jon Dee Graham and Beaver Nelson. Two stages and a list of artists I would love to see in the UK.
Austin people are extremely warm and hospitable. I met many of them and to name but a few would be an injustice to many I have yet to meet.
Sue and Mike Donahue run a funky record shop on 5th Street called Local Flavor. The shop stocks CDs by artists only from Texas. Nearly 1000 artists are represented in here - and you are greeted by a warm "Howdy Folks - let me show you round my shop." Very hard to get away (!!) but unfortunately the shop will relocate on the web based out of their new house in nearby Corpus Christi. I am reassured they'll keep the Austin flame alive.
Doolittle Records are one of my favourite record companies in the world releasing albums by Trish Murphy, Slobberbone, Todd Thibaud, Mount Pilot and The Bottlerockets. It was a delight to finally meet Michael Herst and the beautiful Miss Bonnie Spanogle. They threw a party on the Thursday afternoon and caught the excellent Mount Pilot play live. They are writing songs for their third record at the moment.
Larry Monroe is a legendary DJ. He's spinning his own selection of tunes on KUT for 19 years now. He's been a jock for near 30 and is the Austin equivalent of Bob Harris. For example his Saturday night to Sunday morning overnight show is called "Segue City" - I guess that says it all. Tom Ovans and Lou Ann Bardash have been trying to link us up for well over 2 years now so that we could talk DJ talk and trade CDs. This never happened but after a few margaritas we thought we'd pass by. He is everything and more than I would expect. His knowledge and love of Americana music is immense. "I can do any styles of music you like", he later added. He doesn't really plan his shows in as much detail as Bob or myself and decides to cart 40 boxes of CDs from his red sports car every time he does a show. He turned the mic on me to find out the state of British radio and to give SpydaRadio a massive plug. A truly nice guy. He loves his music.
Antones are another groovy label based out of Austin - and I was invited to spend a day with them on the edge of Lake Travis. Big respect to Hangin' Eddie Stout, Alison, Julian and Brad for throwing my first Texas Bar-B-Q. The Chillis were hot, as was the weather. Something I had to make the most of as at all other times during my stay it remained overcast and cold.
Live music! Oh yeah - I kind of forgot that was the reason I was there. Everybody has asked me who was good. Did I see The Jayhawks and Steve Earle...? The answer was no - I would love to have though - but the taxi system in Austin is not quite as effective as it is in London and because I ligged air tickets from Virtue TV - I found myself behind the webcast cameras when all these big bands were playing. There is always next year...
Which moves me quickly onto the shows we recorded for Virtue TV. The Wednesday night we camped out at La Zona Rosa to record Eliza Gilkyson, Trish Murphy and Ian Moore. What a night! Eliza Gilkyson has been doing her own music for a long time and really reminded me in so many ways of Lucinda Williams. She's been doing it for longer and I guess when Lucinda was an Austinite they must've been friends. Her songs are strong. Her live show with her band was tight which lead me to buy a selection of her CDs from the infamous Waterloo Records.
Next up was Trish Murphy. Only this day had she won 3 awards at The Austin Music Awards: Song of the Year and Single of the Year with "Outsider" and Pop Artist of the year. "Rubies On The Lawn" was my album of last year and Trish is such a warm and beautiful person. Husband and manager Charlie Neath is a gem too and it brings me great pleasure to announce that this live show will come to the UK late in May.
Ian Moore is a seasoned musician. An Austin lad who in recent years has relocated to Colorado. His previous form would indicate a bluesy rootsy artist but he showcased his new record at Waterloo Records on the Tuesday and turned up the amps tonight. He rocked. A change in direction some may say - but what a welcome to one who enjoys volume.
Thursday brought rain and regrettably the evening at Opal Divine at the outside stage was too dangerous to have all our kit in action. The musical mix was as diverse and spectacular as at La Zona Rosa. Jennyandkind opened with their quirky roots rock; Hazeldine (one of my favourite bands in the world) performed their first live show in 9 months showcasing only new material and Dolly Varden - one of the bands hotly tipped for 2000 boasting songs from their new record "The Dumbest Magnets". I felt sorry for all these acts, as the driving rain and cold must've been a deterrent even with the die-hards.
Friday night saw us in The Caucus Club and it was through talking to the manager Daniel that I realised how fluid the venues operate in Central Austin to cater changing needs of the college kids. Traditionally a swing venue - it now is a techno club 5 days a week - concentrating the reduced swing content to the remaining two. Not a big fan of swing myself I did find myself very pleasantly surprised to witness The Red Elvises. Rock'n'roll from Siberia! Highly entertaining and funny live show from this wacky band - the trademark of which is dyed red hair and a humungus red triangular bass.
These performances were all exceptional and to witness them in a place like Austin added to the magic.
I do have to say though that I found the fringe events, or the spontaneous gigs the most enjoyable as far as vibe and atmosphere were concerned. The evening at La Zona Rosa was excellent but the atmosphere was dampened by the ever-changing population of punters between each set. There was no continuity.
However - at Broken Spoke, Taco Express, Gino's Italian Grill, Under The Sun and LeAnn Atherton's Barn Dance - there seemed to be something else a bit more real going on.
Bloodshot threw their annual party at Yard Dog (accessible through a boutique shop). Free beer and music was on offer and the people there - including UK based Alt-Country promoters Tom Bridgewater, Graham Anderson, Tom Hamilton, Mick Spencer, James Windsor and Bryn Slack. They all seemed content to spend the rest of their lives there! I only managed to catch the haunting tunes of Calexico. Not a virginal experience - but an always-pleasurable one nonetheless. It was a hot skip and jump through another boutique shop to catch The Ex-Husbands - a rough cowpunks outfit from God knows where! A short set from Austin hard-working blues rocker George DeVore at the Waterloo Brewing Company rounded off a great day's worth of unpublicised shows.
It was in South Austin that I enjoyed myself the most. Whether it be an airstream chilli at Shady Grove: frozen margaritas at Polvo's; Slobberbone at the structurally derelict (from the inside only) venue Broken Spoke; Tom Ovans supporting South Austin tequila-slamming country rocker Billy Eli or a cappuccino in the funky 503 Coffee Bar.
Alejandro Escovedo's party in the back of Taco Express stole the show for the whole week. It coincided with another rare glimpse of sun. Who wasn't there at some stage of the day?! Shawn and Tonya from Hazeldine, Ian Moore, Trish Murphy, Waco Brothers, Chris Mills, Rico Bell, Sally Timms. I'm sure there were more but to see and hear a continuous makeshift band on stage fronted by the man with the biggest set of teeth in Austin... The beers were flowing freely as was the rendition of original and cover songs. We all sang along to All The Young Dudes and Rolling Stones' Wild Horses.
Not everybody in Austin is in favour of SXSW. In fact there is a strong anti-SXSW element - South By So What. Tom Ovans is very much of this way of thinking and there were many things I sympathised with him about. How the musicians have to pay their own way to play at this venues; how much money it costs to register; and from a selfish point of view - having to pay for a wristband in order to webcast several events. The SXSW police were aggressive and would rather return to Austin when SXSW is not going on. It's too much of a circus for my liking and as a European - would prefer to be in the minority.
There were many things I wanted to do and many I didn't. I got the chance to sample a lot of the food - most of, which was very much Mexican-influenced. The margaritas were delicious and the Shiner Bok's got better in time. They tended to get in the way of the food.
I didn't really feel the need to see British acts in Austin when I could see them at any time in London. It was great fun constantly bumping into fellow CAMC promoters - exchanging rounds and notes! I would've liked to have seen Neko Case, The Bottlerockets, Continental Drifters, Jon Dee Graham, Sonny Landreth. But I guess I will have to wait until next time. I'd like to have seen Joe Ely - but saw him with his skinny legs wearing red shorts buying multi-vitamins in a supermarket in South Austin - so a bit of an exclusive there.
Big thanks to Virtue TV and Online Travel Company, but big respect and thanks to Tom Ovans and Lou Ann Bardash, Gillis and Stash for putting me up. Two extremely talented people. Tom is a singer songwriter from Boston who's settled in Austin with his wife Lou Ann - a singer herself, but also a unique artist painting women on wood.
I can't wait to return to meet some more Austin people and to hang out and chill out in the clubs and to spend a relaxed time with some of the record company people I met. It'd be great to sort out the taxi system and bring back the frozen Margarita recipe.
---
NXNE 2001 - Toronto, Ontario, Canada 5-12 June 2001 - By Bob Paterson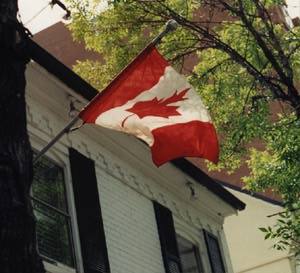 It's almost 3 weeks now since I returned from my first trip to Canada. It coincided neatly with North By North East (NXNE) - the little sister to SXSW. Many people have asked me how Toronto compares to the States, including my mother, who happens to be half American. It is all very different: NXNE, the people and I am more of the opinion that the music is very different too. It has it's own identity.
The population of Canada is 31 million. It is the second largest country in the world (after Russia). Toronto is the largest city in Canada (population 4 million) and this is where I spent my first ever week in Canada.
I had no expectations other than that I knew the people I would meet would be laid back and that I would have a good time.
I stayed at Alex and Susan de Cartier's house off Queen Street East. Alex manages, amongst others, Oh Susanna and Susan manages Blue Rodeo. Having booked and successfully completed their retrospective debut UK and Irish tours it was good timing to be there. They have just had their first child 5 months ago - Jack. He's going to be a Rock'n'Roll star. I can't wait until he can sing!
Within hours of arriving I found myself in The Legendary Horseshoe Tavern to see another of my turns Blue Mountain. I saw them twice in Austin this year and I was so blown away by their live set I had to work with them. The Horseshoe Tavern is like a King Tuts of Toronto. Very cool and credible and a great venue to see a rock band. Blue Mountain were supporting huge Canadian rock band Big Wreck (I'd never heard of them before now). I don't really think the Mountains knew how rocky Big Wreck were otherwise I am sure we would've seen a meatier set. That was to come later in the week.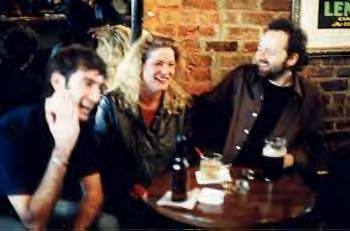 http://www.bluemountainmusic.com.
The plan was to stay awake as long as possible and by doing so got very friendly with Slemans beer and Blue Mountain. The trip got off to a grand start. I couldn't have been in a better place with better people.
It all caught up with me over the next 36 hours and my next excitement was seeing for the first time the Oh Susanna band. Leading up to this though I sampled the wonderful hospitality of the Canadians. A full barbecue, a party thrown by EMI Publishing and gallons of charm from everyone I met.
Oh Susanna solo is incredible. Oh Susanna band is just as incredible but for different reasons. I like both just as much as each other and having toured the UK and Ireland with her solo, I was glad to finally get the opportunity to see her with her band: Joel Anderson on drums, Bob Packwood on keyboards and Blue Rodeo's Bazil Donovan on bass. To top it all off, they played in a seated club in this place an hours' drive west of Toronto called Guelph. It was almost dark driving there - so couldn't make much of the area, but the gig was packed and Suzie rocked. You will have the pleasure of witnessing this night when she returns with her band in the UK in September.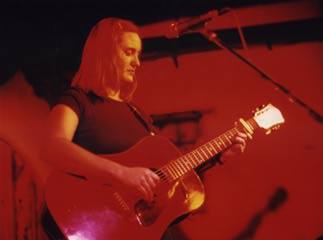 http://www.ohsusannamusic.com.
The drive back was spectacular - with Alejandro Escovedo's new CD "A Man Under The Influence" in the car with Alex and his lovely assistant Jane. Things couldn't get much better. In fact Escovedo's album was the soundtrack to the trip and when people say they immediately go back to a place when they hear music they heard in that place…. The opening bars to "Rhapsody" will take me back to that drive back from Guelph.
http://www.alejandroescovedo.com.
The Manitoba Barbecue was an invite only party in a yard between two buildings. It was kind of packed and I bumped into a whole bunch of people I had met at the EMI bash yesterday. Music managers everywhere! Considering both my hosts are music managers I'd guess they would've been a bit of competition at these music business bashes, but I was pleasantly surprised at how much mutual respect, friendship and general camaraderie there seemed to be between them all. A Canadianism I guess. I was very chuffed to meet Oh Susanna's father - Charles Ungerleider - who immediately invited me to Vancouver. I might have to take him up on the offer.
Friday was the night the whole trip fell into place.
The Minneapolis band that I heard various friends raving about for ages - Bellwether - were on at the same time as Blue Mountain. This kind of thing is very common place in Austin (SXSW), where at any one stage there are 6 bands you want to see live at 6 different venues scattered across Austin City. Tonight in Toronto these two venues were in the same building; so I was able to witness for the fourth time the southern Country-tinged Blues-Rock phenomena that are Blue Mountain at Barcode and above it to hear a modern-day Jayhawks at Ted's Wrecking Yard. Bellwether are tight and they truly rock. They are fronted by Eric Luoma whose good looks should make this band very desirable with cross over audiences, and you'd expect a more female audience to appreciate the live show than normal…. If you catch my drift.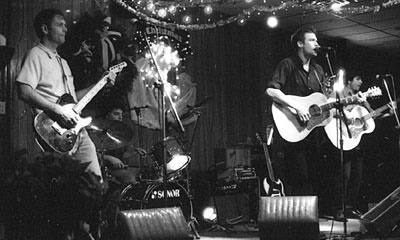 http://www.bellwethertheband.com.
I had heard so much about Ted's from Oh Susanna, it was good to see it in the flesh. A good-sized room with a bar at the back. A bit similar to Upstairs at The Garage, but the sound was better. It was good to meet the lass that books it, a refugee from South Wales - Yvonne Matsell. A true lover of music like most people I met on this trip. I hope to exchange tips with her via e-mail in months to come.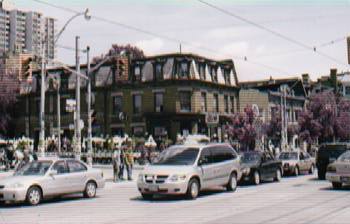 Jane then dragged me off to Black Bull where a band from Calgary, National Dust, were playing. Fronted by a guy who reminds me of a cross between Ben from Big Sur/High Class Family Butchers and Tris from The Spitz - the national health glasses hid a songwriting genius in Lorrie Matheson. A band who played music like The Byrds with a tinge of Britain that you hear these days in bands like Teenage Fanclub, Grand Drive and Cosmic Rough Riders. Short snappy songs with buckets of hook choruses. A band truly worth checking out.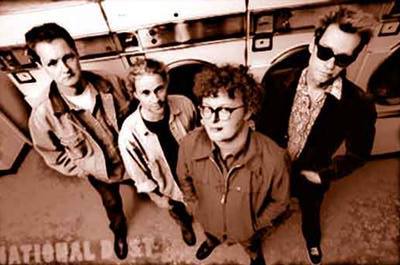 It was only 5 days ago I saw the next and live, thousands of miles away in a pub behind Kings Cross Station in London. Tandy followed National Dust. They crop up everywhere and it was great to see them round off a fabulous evening with their unique style of hypnotic folk-rock with infectious melodies. I was amazed to last it this long and the band was amazed to see me there!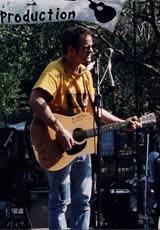 By Saturday it was time to buy CDs, write postcards and discover Toronto in the daytime. CDs are extremely cheap here. "Sandinista!" by The Clash in any UK shops (if available) would cost in excess of £20. Here the double CD cost $Cdn 21.99. With an exchange rate $Cdn2.2:£UK1 it became very clear that CDs were exactly half the price here. "Ouch!" said my credit card.
Toronto has many qualities of many wonderful cities around the world. The street cars very reminiscent of Amsterdam and San Francisco; architecturally like Boston; very bohemian parts - such as Queen Street W - that reminded me of being back in Portobello, or the further west you went - Camden Town. The road layout was very American - grid like. Once you knew where certain key places were - Holiday Inn, Ted's, Horseshoe Tavern, the beautiful Old City Hall, and Queen Street in its entirety - it became very easy to find your own way around without a map.
It was certainly warmer than it was in the UK before I left and because less people drive here, the air was a lot cleaner. Life here is good. Live music good, CDs half the price, women beautiful, people generally more friendly than anywhere else I had been in the world, climate good. The beer was fine. I quickly developed a penchant for Slemans. The food was pretty diverse too. A bit like England really in that you be assured of getting any type of food you like. I was glad not to repeat endless salsa dishes breakfast lunch and supper as at SXSW. My stomach was pleased.
Saturday night was a wild night. Having partially recovered from the Friday night, Alex and I went to this funky downstairs wine bar called C'est What. It's quite far from anywhere else (Teds or Horsehoe) but once there I saw a toned-down Lambchop-type Radiogram and then Australian Folk-Pop sensation The Waifs. They are the biggest selling independent Australian band - reminiscent of vocal-harmonising Indigo Girls. Here we have two sassy sisters full of Australianisms and laughter. They are a wild bunch.
One thing I was particularly glad of this trip was how few English people I bumped into. I could count them on one hand. I flew on the same plane as music manager Pete Jenner. City Slang's Wyndham Wallace was also in town. Singer-songwriter - originally from Hastings, East Sussex but now (quite literally just now) in New York - John Wesley "Wes" Harding was in town and we enjoyed seeing The Waifs over a pint of bitter. Just like being at home heh Wes!
A quick reprise at Ted's to see Jim Bryson resulted in me meeting Tracy Rowan (AKA The Whirling Dervish). She knows every music businessperson in Toronto and through her work at an airline - she gets to see most live bands (mainly after show or backstage) all around the world and her web of contacts extend further out of Canada. Bellwether were still kicking around and she managed to blagg a posse of 7 of us into The Matador Ballroom; a 1950s style dancehall with no liquor license. Tracy, The Waif sisters, Bellwether, Alex and myself proceeded to drink Vodka (bought surreptitiously at the rear of the venue) and dance to this covers band that played classic American Rock songs by Lynyrd Skynyrd, The Doors, The Eagles, Tom Petty, John Mellencamp…. It was endless and it was a riot. It was like a scene out of "Back To The Future" and for a while there - time did stand still. An experience to remember and maybe one day repeat....
The rest of my time in Toronto was hanging out and chilling out with my hosts and on Sunday myself, Alex, Sue, Jack and Jack's surrogate Uncle Neville went to The Beaches. There is only freshwater in Ontario so it was bizarre to go to a beach on a side of a lake - not just any lake - but Lake Ontario. On a sunny Sunday afternoon this place is as popular as Brighton. The water was freezing (I could guess purely because only dogs dared venture into it).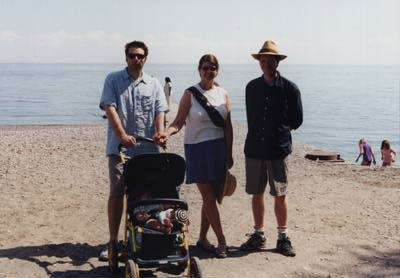 My last two nights in Toronto saw my third attendance of a Blue Mountain show in a week at Barcode and on the Monday night an album release party of "Open" the new album from Cowboy Junkies. I had never seen them before and was very pleased to see them play live in a relatively small venue for them (Horseshoe) in their home town. I had got very tired from endless partying by this stage and I probably would've appreciated the full impact of this experience earlier on in the week. It was mellow, but so was the whole trip.
Big hugs and thanks to my new Canadian family; Alex, Sue and Jack de Cartier, their cats Isabelle, Lucy and Chester and to Jane for being a great person to hang out with, go to gigs, go shopping and eating with. And - in no particular order: Chris and Julien (fellow agents who work for Paquin Entertainment); Neville (Canada's answer to Fraser Crane); Tracy Bolan (for the freebies into Matador Ballroom and Cowboy Junkies); Blue Mountain (Cary, Laurie, Ted and Justin) for being great people and musicians; Venue bookers and promoters: Yvonne (Ted's), JC (Horseshoe) and Lil (Guelph); The Horseshoe Tavern, Ted's Wrecking Yard/Bar Code and where ever else I went; Jim, Bazil, James and Bob from Blue Rodeo; Lloyd and Peter from Outside; Yvette for your smile; Brits Wes and PJ; Vikki and Donna from The Waifs; Bob Egan; Dwayne and Pat from Fusion III; John Tayman for introducing me to a men's drinking club in Toronto that devised Mother's Day!; Music managers Steve Garvan (Bellwether), Bernie Breen (Big Wreck), Chris Moon, Paul Dickman (Alejandro Escovedo), Melissa Greiner (By Divine Right), Shauna de Cartier (Luke Doucet); Oh Susanna, Blue Mountain (again), Bellwether, The Waifs, National Dust, Luke Doucet and Tandy for playing great music; EMI Publishing and Manitoba Barbecue for the parties; Tania and finally Alejandro Escovedo for providing the soundtrack to the whole trip.
A Postscript from Oh Susanna:
Bob,
What a lovely description of our town. It actually made me a bit misty. The only tip I would add is that Lake Ontario does not contain any bathers because it is too polluted - not because it is cold (which it probably was too). Also it is ironic that you say the air is cleaner because we have had smog warnings of late which warn the elderly and the young to stay indoors because of risk of death from the dirty air!
Suzie
---
---