Articles
---
Rainer Ptácèk - 1951-1997 - Haunting Blues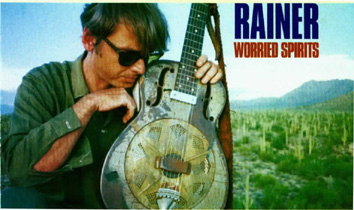 It is with gratitude to Glitterhouse, who reissued his back catalogue and three previously unreleased albums, that I write this for those who will learn of his music for the first time. He has long been a secret, but mention the name 'Rainer' to an obsessive lover of original contemporary blues or National Steel guitars and there will be an awed silence.
Rainer was loved and revered. Rainer died aged 46 of an inoperable brain tumour on November 12, 1997 in Tucson, Arizona. He released four albums during his lifetime: Barefoot Rock (first released by Making Waves), Worried Spirits, Texas Tapes (originally available on Demon) and Nocturnes (Glitterhouse). His musician friends, including Howe Gelb, Robert Plant, Jimmy Page, Emmylou Harris and Jonathan Richman, released a benefit album of his songs, The Inner Flame (Atlantic), recorded whilst his illness was in remission and he was able to participate. As an all-star testament to their friend it is exceptional and as a tribute to his songwriting it is unique. All are treasures in my collection. The wonderful news is that three previously unreleased albums of Rainer's work will be available in 2000, the first of which, Alpaca Lips, is out now.
Rainer was influential in that way that quiet, special people with music in their bones so often are. His blues are as raw and intense as you can hack it. Listening to his repertoire is as personal an experience as you can have with another's music without living it. With no pretensions, he sculpts his songs with steel as keen as a new blade. It's so hauntingly distinctive that vibrations linger on in a nerve-tingling after-shock. That National Steel guitar soars up as hot, dry desert rockers, then plunges into the dark, screaming places of the soul. Scary. It's blues beyond 'colour' and Rainer's voice, weary with a certain mumbled hesitancy, is idiosyncratic and perfect for his songs.
Searching for information about Rainer's life was not easy. Of Czech origin, Rainer was born in Berlin, brought up in Chicago, moved to Tucson, Arizona where he lived modestly, working in a store repairing guitars. He was happily married to his wife Patti and had three children. One can't talk of Rainer without mention of his good friend Howe Gelb who first met him in the '70s. The Giant Sandworms were formed in Tucson, Arizona in 1980 by Gelb, with Rainer, Billy Sed on drums and Dave Seger on bass, but moved to New York, where Gelb later disbanded the project in 1984. Returning to Arizona, he formed the Band of Blacky Ranchette and eventually Giant Sand. Rainer collaborated with him on many occasions up until his death. Gelb assembled the benefit album The Inner Flame, which was co-produced by Robert Plant who had noticed him playing years earlier in a London pub and invited him to record on Fate Of Nations and later write with him.
Of Rainer's own recordings, the earliest are on Barefoot Rock, Rainer And Das Combo; Rainer is accompanied by Nick Augustine on bass and Ralph Gilmore on drums on tracks 1-3, recorded in 1992. Tracks 4-14 were recorded in 1985 with Augustine on bass, Will Clipman on drums and produced by Howe Gelb. This is rough-rocking band blues with tracks as diverse as the opening Mellow Down Easy (Willie Dixon), Around and Around (J.B. Lenoir), The Last Fair Deal (Robert Johnson). Rainer's funky blues groove on his The Unseen Enemy previews what was to come in his later work. It's moodily unsettling and sparse. In Around and Around and That's How Things Get Done, his National Steel guitar is at its most vibrant; meanwhile all through the album the chugging rhythm section punches it forward.
Worried Spirits was produced in 1992. Rainer, eyes down and alone on the album cover, with National Steel guitar and wide blue-sky desert backdrop, are all the sleeve notes needed. As a primer of delta blues, original and old, this album has it all. Just one man and his guitar and songs of lean beauty, "... Spare, sad and at the end of his tether, this album showcases someone who has really got under the skin of the blues." (Matt Snow, Q)
The Texas Tapes, Rainer And Das Combo, was recorded prior to Worried Spirits and features a certain two-thirds-bearded boogie combo from the Lone Star State. It was released in 1993. The opening "Oh Yeah!" and mighty-force slide work, with that unmistakable ZZ vibe, take you through nine tracks, followed by three solo pared-down, deep-delta blues numbers, including Big Joe Williams' Another Man.
Nocturnes, 1995, was recorded without overdubs with a portable DAT-machine during seven days in 1994 in the abandoned Sonoran Desert's San Pedro Chapel (fittingly also the place for his memorial service). Rainer recorded alone with just his battered 1933 National Steel guitar, Dobro and tape loops. Thirty hours of material was edited down to six instrumental tracks of ambient and haunting purity. Ode To N2O, is given a 12-minute trance/dance remix by The Grid!
Alpaca Lips: Rainer was working on this material before his first seizure in early '96. Musicians John Convertino and Joey Burns (both of Calexico) join him on a cover of Stevie Wonder's Pastime Paradise, but the rest of the album is just Rainer and his Dobro. Included are his own rendering of songs which appear on The Inner Flame. Unseen Enemy, previously included on Barefoot with Das Combo, is also given the solo treatment. The final track, ll Done In, tears you apart. "His skillful playing and intimate singing make for a set of evocative, emotional desert-baked blues."
The other posthumous releases are Live At The Performance Center. "An intense live concert. Just a battered, battle-scarred National Steel metal-bodied six string guitar, a tin of stones, and his haunted, intense vocals. That's all you need." And finally, The Farm, "the very last recordings done days before his death. There is something in there that allows us all a glimpse of the brink. And with no better guide than Rainer the pathfinder. Chilling and sweet". (His friend Howe Gelb of Giant Sand.)
As Rainer's albums are re-released and reviewers discover his work or look at it with the perspective of time, maybe much more will be written. As one who was captured by his music without having met him, it is with no apologies I look to Howe Gelb for a last word, "Him being gone is not good." That's how it is.
www.myspace.com/rainerptacek
www.glitterhouse.com
Sue Cavendish - 1999
---
ERIC ROCHE RIP - 4th December 1967 - Tuesday 6th September 2005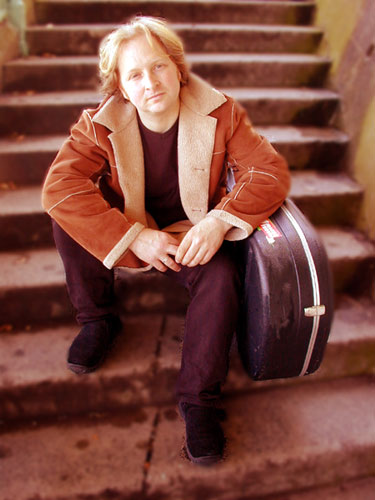 It's with great sadness that we report that Eric Roche, one of the finest acoustic guitar specialists in the world, performer, recording artist and teacher, has died from the cancer which first attacked him over a year ago.

This is the worst possible news. We'd all hoped that surgery and treatment for cancer of the salivary gland last year would be successful. Eric had been playing and touring again when the cancer returned. Eric leaves his wife Candy and children - three-year old Stefan and Francesca, who was one year old in July.

If you are able, go to the benefit gigs being held for his family. There are two main events which are currently being organised:

Wednesday 19th October @ Emmanuel United Reformed Church, Cambridge. Headlined by Martin Taylor
Thursday 20th October @ Sleaford Playhouse. Headlined by Gordon Giltrap.

Other benefit gigs are being planned around the country - please keep checking his website

And - of course - buy his albums & new DVD

FOR ERIC - a new compilation CD

The CD contains 20 tracks from different artists, including music from Gordon Giltrap, Martin Taylor, Jamie Humphries, Stuart Ryan, Adrain Legg, Tristan Seume, Shaun Baxter, Dave Kilminster, Lee Hodgson, Pete Callard, Andy Jones, David Mead, Neville Marten, Guthrie Govan, Jason Sidwell, & Clive Carroll. Eric himself appears on 2 tracks "Deep Deep Down" - from his last album & also on a classical guitar duet of a JS Bach Invention - along with Phil Hilborne. All proceeds will be going to his family. Order the CD via Eric's site now - see the merchandise section for further details.

See Eric's albums reviewed on NetRhythms.com

The thread may be broken but we'll always remember you, Eric. Your friend Sue Cavendish

(picture above of Eric in 2004)

Funeral arrangements - Tuesday 20th September 2005
At The Old Independent Church, Hamlet Road, Haverhill, Suffolk, CB9 - 2pm
www.ericroche.com

www.streetmap.co.uk
www.theaa.com
The above websites are good for directions

There is parking outside the church (on the road) Black tie is not essential!

For drinks etc afterwards: Please meet for drinks etc at The Woodlands Hotel, Sturmer Road, Haverhill. Close family will go to a small service after the church & meet the other well wishers at the hotel shortly afterwards.

Donations & Flowers: Flowers are to be sent by family only. To make a donation (not compulsory!) please make cheques payable to either one of the four charities below: St Nicholas Hospice; Cross Roads; Marie Curie Cancer & Nursing Fund; McMillan Cancer Research Fund - & send them to:
H. J. Paintin, Funeral Directors, 60 Withersfield Road, Haverhill, Suffolk, CB9 6HS
---
DORRIS HENDERSON - Obituary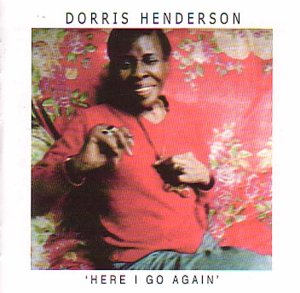 US-born singer/songwriter Dorris Henderson has died in her adopted home of London, England. Peter Muir looks back on her life and career.

Over the years there have been many female singers, but few really distinctive ones. The voices that are immediately recognisable have a style and intonation totally unique to themselves and nobody else. Billie Holiday, Nina Simone, Randy Crawford, Odetta, Aretha Franklin, Miriam Makeba and Mahalia Jackson spring to mind.

Dorris Henderson - who died March 3rd 2005 in London, England - had this same distinctive voice quality. Whether singing a traditional folk song, a blues, or a self-penned composition, it was definitely Dorris; there was no mistaking that unique vocal sound.

She was born in Lakeland, Florida, USA. Her paternal grandmother was pure Blackfoot Indian and her father, a Reverend, who established three churches when the family moved across country to Los Angeles.

On leaving school, Dorris joined the civil service. One evening, she went to The Ashgrove to hear Odetta sing - a single event that was to change her career and the direction of her life.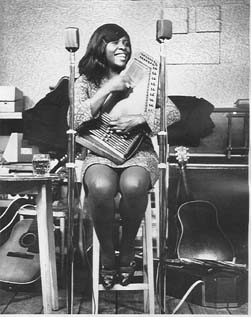 Dorris bought an autoharp and set about teaching herself numerous songs from what she calls her bible - Alan Lomax's "The Folk Songs of North America". Whilst still holding down the civil service job, she started to visit the many jazz clubs that lit up Sunset Boulevard and to sing some jazz standards on the open nights. It was at this time, she heard such jazz greats as Oscar Peterson, Gerry Mulligan, Nat King Cole, Carmen McCray, and many others.
With some experience on the autoharp, Dorris turned her attentions towards the folk music scene; she started performing at The Ashgrove, The Troubadour and San Francisco's "The Hungry i". She started to meet and make friends with such established artists as Sonny Terry and Brownie McGhee, Wee Willie Dixon and Memphis Slim.
It was at The Ashgrove that Dorris met Bob and Zoe DeWhitt a couple who ran a restaurant and music venue in Topanga Canyon, some describe it as more a 'health food cafe.' It was a well-known hangout for the alternative musicians, painters, poet's, potters and eccentrics. Not surprisingly, this was one of Lord Buckley's favourite spots for holding court.
Buckley quickly recognised Dorris's talents and asked her to join him in a three-day concert at the Los Angeles Ivar Theatre. The place was packed out and one of the live performances was recorded for posterity by World Pacific Records. It was during this recording that Lord Buckley dubbed her "The Lady Dorris".
At this time, Los Angeles ran a city wide music contest for civil servants. Dorris entered singing "Five Hundred Miles From My Home" accompanying herself on autoharp and won. Winning this helped Dorris to make up her mind as to what direction she should take in life and she quit the civil service, walking away from her newly promoted senior position and into a full time into a musical career .
Things changed rapidly. One of her girlfriends had just been presented with a brand new MG sports car as a birthday present. The pair of them decided to drive across the country to visit friends and relatives in New York. At the end of the three day journey, they arrived in Greenwich Village and Dorris embarked on a six week round of visiting and performing in every folk club she could find. Settled in this environment Dorris soon made friends with Bob Dylan (cameo appearance in Bob Dylan's "Don't Look Back" movie"), Fred Neil, Mark Spoelstra, Dave Van Ronk, Paul Simon (released single of Paul Simon's "Leaves That Are Green") and virtually everyone on the scene at that time.
On her return to L.A. Dorris got talking with one of her brothers who had been stationed in England when he was with the U.S.A.F. He'd enjoyed his stay and Dorris decided to save up her money and seek her fortune in England. She sailed from New York and arrived in Southampton without knowing a soul. Fortunately she met a fellow passenger on the boat who invited her to stay with her in Tottenham, London whilst finding a place of her own.
This was 1965 and in those days 'Blacks, Irish, dogs and children' were not welcome in the capital's boarding houses. So much for 'swinging' London. After nearly a week of refusals, Dorris finally found a student's hostel in Belsize Park and met a fellow American over breakfast. In conversation, Dorris remarked that she was a folksinger and he in turn produced a copy of the Melody Maker, the major music paper of the day, with interviews, the charts and details of all of the London pop, jazz and folk venues. Dorris found her way to "The Troubadour" in Earls Court, which was presided over by Redd Sullivan and Martin Winsor; the good lady did a guest spot with her faithful autoharp and went down a storm.
At that time, folk music was very much divided into the traditional British camp and people who had been listening to black American blues records and then trying to imitate them or put their own interpretations on what they had witnessed. In the middle of all this was a young, black, American lady called Dorris Henderson singing Appalachian ballads to her own accompaniment live in the clubs of London.
Redd and Martin introduced Dorris to Curly Goss, who was running his own clubs, The Student Prince, The Roundhouse on the corner of Wardour Street and Brewer St and Les Cousins at 49 Greek St. London's Soho was the main centre of jazz, skiffle and folk music. Dorris did a spot at The Student Prince, Curly had invited down a BBC2 Television producer, who was in charge of a new music show "Gadzooks, It's All Happening".
The producer was highly impressed. Dorris did the first show and was asked if she would like to be the resident artiste. She signed a six month contract, performing her own choice of material and free range of the wardrobe department. The weekly guests were among the top pop stars of the day. Tom Jones, Lulu, Sandie Shaw, Georgie Fame and The Everly Brothers.
This period of reasonable financial security enabled Dorris to fly back to California every so often, to keep in contact with her family. On one occasion, still dressed in cut down jeans and red top, straight out of a taxi from London Airport, she arrived at rehearsals to be told by the producer - "Don't change a thing! Keep that outfit on!" They built a haystack on set and Dorris sat on top of it singing "Wake Up Darling Corrie" surrounded by the resident dancers doing a hoe-down. In between the Gadzooks appearances, Dorris was still doing the London folk scene. It was at The Roundhouse in Wardour Street that Dorris met John Renbourn and they began to work together, producing one of the most distinctive and accomplished sounds yet heard. Dorris invited John Renbourn onto the TV show and they also cut their first album, There You Go for EMI.
Also at The Roundhouse, Dorris met Cobi Schreijer, pioneer Dutch folk singer (later awarded Queen Juliana's medal for cultural services to the Netherlands); Cobi invited Dorris to perform in Harlem. Dorris was an immediate success and Tom Tolen, a film producer, asked her if she would write and perform the title song from his documentary film on the rebuilding of Rotterdam. Rotterdam Blues was on jukeboxes throughout Holland.
It was at Cobi's club that she also met Peter and Vicky Blanker. He was a well-known Dutch folk artist and she was a photographer. Peter had arranged a tour of thirteen countries, sponsored by Daf Cars and Dorris joined the band of minstrels to Turkey, Germany, Belgium, Czechoslovakia, Yugoslavia and Greece. It was in Athens that Dorris received a telegram asking her to return immediately to Holland. The film had won the Golden Bear Award and Dorris had a special thank you present.
Back in England, Dorris continued to tour the country with John Renbourn and they cut their second album - "Watch The Stars" for Fontana along with Danny Thompson on Bass. Dorris appeared at a couple of the early Cambridge folk festivals and then was approached by Trevor Lucas of the group Eclection. Their vocalist, Kerry Lee, had decided to return to Australia, Trevor asked Dorris join the band and replace Kerry as Lead Vocalist?
In spite of Eclection and Dorris doing numerous gigs at Universities, Colleges, venues up and down the country, a tour with The Beach Boys and the Isle of Wight festival, not much appeared on the recording front. So Dorris signed up with Warner Brothers and Eclection split. Strangely, Warner's never released any of the singles Dorris recorded for them, including Ralph McTell`s "Streets Of London" - before Ralph recorded it for himself and had his massive hit. Dorris started to work with Eric Johns on guitar; Renbourn had joined Pentangle and was no longer available for gigs, so Dorris and Eric went out on the road, including a couple of trips to Holland.
Having enjoyed the flexibility and potential of working with a band, Dorris accepted the opportunity take over from Kerrilee Male as vocalist for Trevor Lucas's band Eclection (later Eclection 2), with Eric on guitar, Dave Liddle on bass, Mick Smiles on drums and Vispi Mistri on congas. Later, Tim Penn joined on keyboards and at various times Ollie Blanchflower and Tony Cousins took over the bass role. The band continued to play the University, College and club venues. Some of the guys were based in Hounslow and they introduced Dorris to a Sunday lunchtime venue where Mac McGann and John Joyce, two ex-members of Beverly Martyn's group "The Levee Breakers" ran a session. Dorris and Mac got on well and he managed to get Dorris some TV advertising jingle work in between the band gigs.
  Eclection 2 finally broke up. Eric went on to join the highly successful band "Heatwave" of "Boogie Nights" fame, Tim joined Kevin Coyne and Dave Liddle became Paul Weller`s guitar technician. There now began a period where Dorris got back to jazz, first with Bob Kerr`s Jazz Friends and later with John Rodgers` House Band. They were all good readers and arrangers as well as improvisers.
  As disco and karaoke had replaced live music in many British venues, the bands worked mainly in Germany and Switzerland. Dorris was vocalist with an all star band at the Duke Ellington Memorial Concert at the Queen Elizabeth Hall and at one point, at short notice, took over leading Johnny Mars` Sunflower Boogie Band on a German tour when Johnny was taken ill.
Dorris joined her old friend Memphis Slim for a few numbers at the Half Moon in Putney, London at this time and brought the house down. This was to be one of Memphis Slim's last public appearances before he died.
With the 1999 re-issue of "There You Go" on Ace, a whole new audience got to hear Dorris again. When Market Square Records released "Here I Go Again" in 2003, fans were amazed at the vitality and virtuosity of the voice.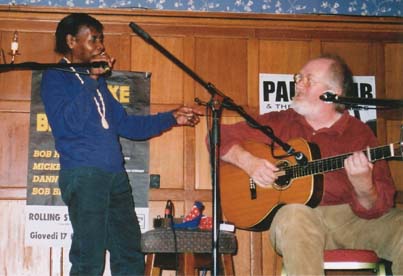 The new release saw Dorris back together with Eric, Mick and Tim from Eclection; Mick`s daughter Sophie Smiles on Electric Bass; Mike Peters from her jazz days on trumpet, ex- Marvelette Audrienne on backing vocals; husband Mac McGann on guitar and harmonica and of course John Renbourn who joined Dorris on a couple of tracks.
Dorris cited the new album as a musical autobiography. It is a charming album of traditional folk, blues, poetry, and self-penned numbers, performed and delivered by a unique voice, sadly now stilled.
---
NETRHYTHMS MOURNS THE PASSING OF JOHN PEEL 1939-2004

From 1967, from the pirate radio ship Radio London with his The Perfumed Garden early am programme, through Radio 1 and the essential Top Gear and beyond, John Peel challenged the listener, championed new music, musicians and influenced generations of music lovers around the world, all of whom are shocked and stunned. To leave us at sixty-five is far too soon. We won't forget him. Sue Cavendish
A tribute from Rob Ellen of Medicine Music
John Peel died yesterday of a heart attack on holiday in Peru. I feel that I need to reflect the feeling of a nation today before I start work with a heavy heart. It's with just testament to the man and to his broadcasting legend that, I observe, it is a whole nation that is grieving and not just the musicians and music fans of this nation who to a man and woman he had a uniquely personal effect on. Politicians and public figures and proletariat are lining up with the music fraternity to pay tribute and show their collective love and respect. Every radio show on every radio station today, is marking his loss before they can continue broadcasting, and many are playing his favourite records as the back bone of an otherwise deflated output. Their is a general feeling the world will be a little less interesting place for his loss.
John Peel joined the BBC when the pirate stations won the broadcasting battle of the airwaves and the BBC were forced to assimilate the new music (Rock and Roll) into their broadcasting thinking. Radio 1 was formed around him and some other key figures, to broadcast to, in Pete Townsend's words, "My G G Generation" and he died as the only founding member still broadcasting on the network - and to his eternal credit, subsequent young generations took him to their hearts too as their very own, how cool is that? He was at the cutting edge then and more impressively remained there all his life. He was still at his death at 65 the most radical and free thinking broadcaster at the BBC and probably in the world. He started there by championing Prog Rock, in the 70's, bringing through the likes of Floyd, Zeppelin, The Faces, T Rex. He heralded Punk Rock, even back then, by playing the likes of Dr Feelgood and Eddie and The Hot Rods and the pub rockers of the time that no one else would give time or credence to. He championed the new kids all the time and seemingly single-handedly brought punk and new wave into the mainstream, breaking the Clash, The Undertones, Elvis Costello, The Sex Pistols. He augured the dance age then, by playing the like of Kreftwerk and Talking Heads then, when the new generation inspired by those John Peel radiotones sent Peely their cassettes, he picked them up and played them too. The whole Independent scene found confidence, found their audience and flourished around the planet from his original patronage. He introduce Hip Hop here, he introduced Reggae, he introduced World Music and he would do sessions with African Jamaican and even Appallachian musicians as easily as he would for the band he saw at his local or whose demo he couldn't stop playing. All the time he continued to highlight the roots of the music, he would play The Smiths and then he would play The Copper Family of Rotterdean, saying it was all folk music, he played Hank then Henry Rollins, He played Patsy then Pulp, and all the time he kept his audience amused by his simple humanity, humility and not so simple Liverpudlian humour. His programme was never less than a challenge to listen to, but every programme left its audience a little richer for the experience. I believe he is irreplaceable.
John Peel was also a Liverpool Football Club Fan and shared a near equal passion for them as he did for music. Outside the main entrance of his beloved Anfield is a statue of Bill Shankly, the old war horse manager, who brought in the glory days. John Peel is part of every one who ever listened to new and old music and in that respect will never die, a light that should never go out. I hope the BBC erect a statue to him at the front door of broadcasting house like Bill Shankly at Anfield, so everyone who enters those doors which open directly on to the peoples hearts can remember the value of a freedom of spirit and genuine enthusiasm.
Thanks for reading this and giving me the opportunity to express my loss.
Rob Ellen - 28th October 2004
www.www.medicinemusic.co.uk
---
Robert Quine RIP - 1942 - 2004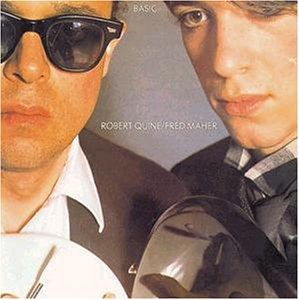 Some musicians build a career on their ability to bend with the wind, to wear what's in fashion and play what's in the charts. Others just look and sound like themselves. Robert Quine, who has died at the age of 61, was one of the latter. As a bald, thirtysomething lawyer turned guitarist, he cut an unlikely figure in the New York punk scene of the late Seventies. Yet when Richard Hell left the Heartbreakers to form his own band, Quine was the first name on his list; and it was he who did the most to shape the Voidoids' sound. He fashioned a biting, trebly guitar sound that recalled Dave Davies in a particularly bad mood, yet his playing owed more to free jazz than anything else.
Quine's brutal, clanging chords and queasy string-bends were both viscerally exciting -- as rock & roll should be -- and uniquely expressive. For sheer impact, his bone-crunching solo on the Voidoids' 'Blank Generation' has few rivals, and it's his playing above all that elevates their debut album to the status of a timeless classic.
When the Voidoids split for the second time after 1982's under-rated Destiny Street album, Quine was recruited by Lou Reed. The two had known each other since Velvet Underground days, when Quine had followed the band and recorded their shows, and Quine appeared on two of Reed's studio albums. The Blue Mask contained some of Quine's finest performances, most notably on the terrifying 'Waves Of Fear', but relations soured after Reed buried Quine's guitars in the mix on the follow-up, Legendary Hearts. This was a problem that would plague Quine throughout his subsequent career as a session player; he never moderated his love of dissonance and edginess, and all too often, producers would take fright when they heard his contributions.
Following bad experiences touring with Reed and the Voidoids, Quine deliberately priced himself out of the market as a live performer, but found a steady stream of studio work. No matter what track he was playing on, a Robert Quine solo was always instantly recognisable. He formed longstanding relationships with Lloyd Cole, John Zorn and Matthew Sweet, and proved that he could marry his jarring, avant-garde style with mainstream pop-rock to their mutual benefit. In a long career as a sideman, Quine made only one album where his playing was the main attraction. A collaboration with Reed's drummer Fred Maher, 1984's Basic contained probably the most uncompromising, obtuse music Quine would ever make.
In recent years, Quine had begun to work once again with Richard Hell, and oversaw the release of a three-CD set of highlights from his Velvet Underground live tapes. However, he was thrown into depression by the unexpected death of his wife Alice, and Quine's own heroin overdose last week is thought to have been deliberate. Those who know his work will mourn the loss of a truly unique musician. Those who don't, should!
Sam Inglis
Robert Quine born Dec 30, 1942 in Akron, OH, died May 31, 2004 in New York City
---
Gus Dudgeon 1942-2002 - RIP by Sue Cavendish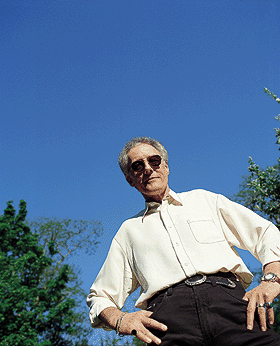 It's tragic news that Gus Dudgeon and Sheila ("my old lady") were both killed instantly when Gus' Jaguar veered off the M4 and crashed in the early hours of Sunday 21st July 2002. Gus was best known for his collaborations with Elton John, David Bowie and many more and was one of the most successful British record producers ever.

During the past year he'd been filmed for the 'Classic Albums' TV Show, showing the making of the 'Yellow Brick Road' album, he'd produced the album of the Bacharach & David concert at The Albert Hall, featuring Elvis Costello, Dionne Warwick, Sacha Distel, Petula Clark, Paul Carrack, Bob Geldof and Lynden David Hall, and Burt himself, amongst others, and now available on DVD - and he'd been involved with the Bob The Builder Album, remixing Elton John's Crocodile Rock!

Gus was always busy - if not with music projects then tending to his Surrey garden. When going out and about Gus was immaculately dressed - the ultimate 'spiffy dresser' - country-style, embroidered or floral shirts, elegant jackets, braces, levis or shorts - and dark glasses, jewellery and a stud earing. He said he would have been a rich man if he hadn't spent so much money on clothes! But rich man he was - in many ways. He never lost his enthusiasm for new bands, old friends or ceased to be a passionate advocate for the music he personally loved and the things he believed in.

He would be found buying tickets for gigs when he could easily have asked for his name to be 'put on the door' ("I can afford it", his response) and lately he'd become a regular visitor to the Borderline, Soho, his favourite London venue. His guitar heroes were the American bluesmen, particularly Sonny Landreth ("Best guitarist in the world"), Little Feat and the late Lowell George. His visits to South by South West in Austin, Texas, were a pilgrimage he vowed he'd continue until he died.

Although our paths had first crossed when I was a teenager and Gus was a young engineer at Decca, it was only when he started being involved with artists' management with new band, Slinki Malinki, that we became firm friends - he may have been a sound 'guru' but he was a 'young' manager, sharing some of the same problems as any other starting out in the business.

Gus was a great teller of stories and a wonderful companion. We shared music, internet jokes, news and cigarettes. He was one of a kind!

There's an excellent article about Gus Dudgeon on magazine Sound On Sound website from where the above picture of Gus, was taken. (c) photographer Richard Ecclestone. It is used with his permission. Richard can be contacted c/o Sam Inglis of SoS.

www.sospubs.co.uk/sos/jul01/articles/gusdudgeon.asp
---
In Memoriam: Dave Carter Aug 13th 1952 to July 19th 2002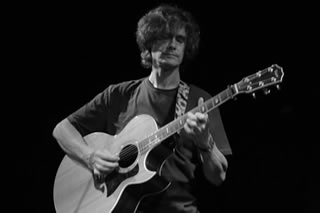 We are sad to report the death on July 19th of singer-songwriter Dave Carter, aged 49. His duo partner, Tracy Grammer, was with him when he died of a heart attack in Massachusetts. Carter and Grammer seemed on the verge of a major breakthrough following the success last year of their acclaimed third album Drum Hat Buddha and two successful US tours supporting Joan Baez. They were in New England fulfilling a few local dates prior to a planned mainstage appearance at the Falcon Ridge Folk Festival the following weekend.
Carter was born on August 13th 1952, son of a mathematician father and an evangelist mother and was raised in Oklahomah and Texas. He was classically trained on the piano and for many years earned his living playing standards as a cocktail pianist while pursuing his academic studies, eventually gaining degrees in mathematics, music and psychology. After many years working as a computer programmer he finally returned to music in the mid 90's and began to seriously pursue his songwriting. He met Grammer in 1996 at a songwriter's evening in Portland, Oregon and soon invited her to join his band. It quickly became clear that the songs he was writing worked better arranged in the context of an acoustic duo and this was how they came to record their first album When I Go in 1998, primitively put together in Grammer's kitchen. Her expressive violin and rich voice were the perfect foil to Carter's banjo and guitar accompaniment on his own lyrically dense and deceptively complex songs. Two more albums followed, Tanglewood Tree in 2000 and Drum Hat Buddha in 2001 both building up a catalogue of songs to rival anyone working on the American folk circuit in the last five years. They toured extensively in the States, playing all the major festivals and developing a firm and loyal following. Joan Baez was a big fan of Carter's songwriting and even before his death predicted a rush of interpretations from other artists "It's a kind of genius you know, and (Bob) Dylan has the biggest case of it...but I hear it in Dave's songs too. There's a very sophisticated feel to the songs. Dave is masterful with words and there's a real spiritual connection in there, nothing direct, it's in the imagery, that really rings bells with me."
Carter was very prolific so there are still a wealth of songs that haven't yet been recorded. Grammer is naturally devastated with the loss of her musical and life partner and will now be taking a lengthy break to re-assess. She is herself a writer and had begun plans for a solo album. But for now her primary ambition is clear. In a heartbreaking open letter to their fans she states " We need to keep this music alive, it was always my mission that the world hear and know the poetry and vision and wonderful mystical magic of David Carter. This path is broad and long; I hope you will stay the course with me". Carter was loved by everyone he met and always had the time to meet fans while on tour. Everyone commented on his is gentleness, warmth and humility but it is the legacy of songs he leaves behind for which he will be most remembered. Folk Roots magazine said his songs were ''destined to become the stuff of legend.''
"and should you glimpse my wandering form out on the borderline between death and resurrection and the council of the pines do not worry for my comfort, do not sorrow for me so all your diamond tears will rise up and adorn the sky beside me when i go"
When I Go: Dave Carter 1998
Geraint Evans
---
Tim Rose 1940 - 2002 - Miranda Ward remembers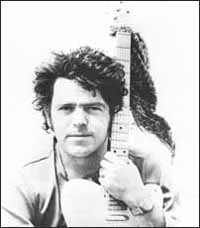 Words haven't failed as I am writing this. There are many people I have met over my rock 'n roll years that I cannot pin down when we actually ever met for the first time. Sand (Sandy Denny) was one of those and it is only since seeing Martin Carthy in 2000 that I have managed to work that one out.

Tim Rose was not of that crowd. Our first meeting sticks out a mile; it was back-stage at the Saville in '67. I recorded an interview for Scene & Heard and then, automatically checked that it was A1OK. It was a 1st 'cos not a word had been taped... Tim volunteered to 'repeat the interview' for me (something many artists would not have done). I asked him, gently, not knowing him, to hold back a bit on the anger of Hendrix having a big hit with his arrangement of Hey Joe. And no mistake, let me be really clear here, it was Tim's arrangement that Chas (Chandler) recorded Jimi doing. We started the tape from the top again and, yes, Tim was even more vehement. Needless to say that is the bit that the show ran with. Jimi was fine about it (he was a fan of Tim's) as was Tim himself.

As I got to know Tim better I realised that grace and charm were never going to work. One had to be rock solid firm with him. And, boy, did he respect his friends for it. I am just so pleased that Tim is one of those I managed to catch up with after all those years in my self-imposed wilderness after Sand died. Tim was there for me then.

I caught up with him at The Mill a while back. With extreme arrogance/confidence I went up to the sound guy - Andy Guttridge - and gave him a blank tape to put into the board to record the gig for me. He refused to with out checking it with Tim. He was mortified, for me, at Tim's aggressive and surly response. Then Tim went into Come away Melinda for the sound check...stopped dead...then said, with that wickedly deep chuckle of his, that of course a tape from the board could be made for me. I have it still.

I have always been surprised that he has never played at Cropredy. Ever. Plant respected him and surely could have swayed Peggy if anyone could? It is now too late. Tim died today. Tim refused adamantly to be categorised - either as a folkie, blues guy or good old R 'n Roller. He was none of these - they broke the mold after he was born 62 years ago yesterday.

I have only just heard and am writing this for him now. Someone else, also on the Active list, is bound to have done an R.I.P. for Tim to this list. This is also going to the Sandy list. He loved Sand. I have also had to break the news to Jon Cole (of The Movies). His band backed Tim way back. Jon was gutted and all he could say is that 'God I loved that guy'. Something all of us who knew him well enough, to blast our way through the hard 'tough guy' exterior to find the big old softie inside, would echo.

If any one thinks I am being self-indulgent here, then fine, that is their problem - not mine. I am just trying, in a small way, to get my feelings down, mourn his passing, and share with some of you his relish of life. I guess it goes right back to the shock of (Mamma) Cass' death which made Sand and I have a mutual pact to protect our friends from hearing of our deaths through the media. Whilst hearing from Sue Cavendish of netrhythms is, in a sense, 'media' in this day and age, it still feels like a community. Much better than TV or Radio News. Thank you for your indulgence - if you got this far.

Tim's site is www.timrose.net

© Miranda Ward 2002
---
JOHN B SPENCER 1944 - 2002 RIP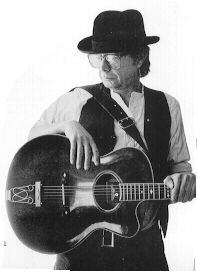 John B Spencer, singersongwriter, guitarist, bandleader, author. Spencer's songs were described by one critic as written while God was looking the other way. Acerbic lyrics delivered effortlessly in a voice of coarse gravel and silk. Although influenced by American folk blues (Woody Guthrie, John Lee Hooker, Leadbelly) he injected his music with his own unique and very british style, combining equal measures of dark cynicism and warm cutting witticisms within his work.
Enjoying a successful career both with his band The Louts and as a solo artist. He also was a popular and vibrant touring artist, sadly ill health meant that his last performance was at Glastonbury Festival in 1997.
He leaves behind his wife Lou and three sons Tom, William and Sydney.
For a biography and information about his CDs go to the Round Tower label
---
CHET ATKINS RIP
"There may come a day when I can't play anymore," Chet Atkins said, "but otherwise I'll be playing as long as I live. I could never put the guitar down," he concluded, laughing. "It might forget who I was."
Chet Atkins has finally put that guitar down. We've just heard on the news that he died last night in Nashville aged 77.
Facts from his website: over 35 million albums to date, 14 Grammy Awards, played on such legendary country and rock songs as "Your Cheatin' Heart" (Hank Williams Sr.), "Bye Bye Love", "Wake Up Little Susie" "All I Have To Do Is Dream" (Everly Brothers) and "Heartbreak Hotel" (Elvis Presley) and, of course, a line of Gibson Guitars named after him. Find out more from
http://www.sonymusic.com/labels/nashville/ChetAtkins/index2.html.
---
John Lee Hooker RIP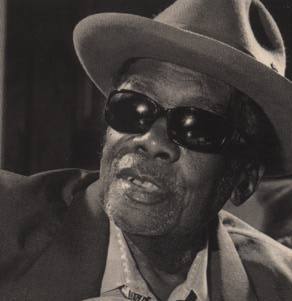 One of the last great living links to the pre-war tradition, John Lee Hooker, has just died in California (21st June 2001). He was born on 17th August 1920 in Clarksdale, Mississippi, and in a career which lasted over fifty years, he endeared himself to blues lovers all over the world. He lived long enough to enjoy financial success, something so many of his peers weren't able to. He enjoyed women, baseball, a multitude of friends and he was performing the blues right up until days before he died! What could be better?
I'll remember him for his big hands and long flexible fingers, with that deep gravelly voice which brought us masterful, raw and lazy free-form 12-bar blues (which could stretch or contract when he was telling stories). He's left us a wealth of wonderful recordings. For me the spine-tinglers were those from the early 1960s when he was in truly his prime. His powerful live recordings, particularly the unaccompanied Tupelo from John Lee Hooker on Campus, Shake It Baby and The Right Time (with T-Bone Walker on piano and Willie Dixon on Bass) from American Folk Blues Festival, demonstrated the blues at it's simplest yet most creative.
More recently he'll be remembered for the excellent Grammy-winning album, The Healer, in 1989. In later life, working with slide guitarist/producer Roy Rogers and Bonnie Raitt in particular, and others including Van Morrison, Carlos Santana, Ry Cooder and Robert Cray, he achieved world-wide recognition and a new generation of fans. But check out his earlier work. The Ultimate Collection (Rhino) 1991, a double disc, is a good place to start. Rest in peace John Lee!
---
George Harrison: A personal reflection.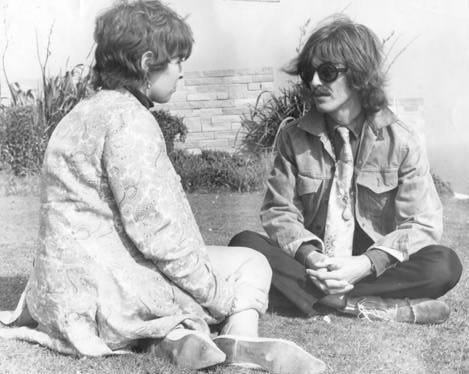 Miranda with George taken at the Atlantic Hotel, Newquay, Cornwall on Wednesday 13th September 1967 Photo: Chris Walter
In the swinging sixties former BBC radio reporter Miranda Ward met and became friends with many celebrities. Here Miranda recalls how George Harrison gave her her biggest break which changed the course of her life.
"I first met the band on Saturday April 13th in 1963 at the recording of a BBV TV programme called The 625 Show, compered by Jimmy Young, which gave national exposure for new artists. I was at the show with another friend giving her moral support. I owe my two major career breaks to the boys. The second of these was very specifically a result of George's amazing generosity of spirit.
In the summer of '67 I went through a series of interviews at the BBC for a minor and occasional role on a weekly Magazine programme slotted for the birth of Radio One. I had a slim chance of doing the odd interview for 'Scene & Heard' - hosted by Johnny Moran. I had to pull out of the last meeting as I was covering The Magical Mystery Tour for both my UK and US columns for pop magazines.
With a combination of naivety and arrogance I told the Beeb that I would interview the Beatles. I didn't let on that I didn't have a clue how to operate a reel to reel! The tour was a gas - led by the actual coach, followed by a limo then me in my mini-van and then an ever increasing convoy of press cars and fans (until we managed to shed most of the press after Plymouth.) By the time we got to Newquay I was effectively part of the official convoy.
The boys were booked into the Annex - a separate ground floor unit opposite the main entrance! One evening, playing the game honourably, whilst in the lift, I asked the boys' Press officer for an interview slot for the Beeb. 'Yes,' he said, 'But not until next Easter as they are blocked tight until then and I have promised not to add any more.' A bummer!
Later George asked me if he could use my room to call his wife Patti rather than running the gauntlet across to the annexe. I gave him my room key but he insisted that I go up with him. We both talked to Patti. As we were coming back down for dinner he asked me about the radio interview. I explained. It turned out that Mal Evans (the band's roadie and close friend) had been in the lift when I had asked for a slot and he had filled George in. We got down to the dining room to find everyone was at the long row of tables jammed up together as usual on a first come first served/seated basis - except for the boys on this particular evening, who were at a table alone for a discussion of the next phase of filming. George found another chair and said 'Come on over with me Mandy' and I joined them. My contribution in the brainstorming session was rewarded by John deciding to include me in a planned swimming pool sequence. I had to borrow the money to go and buy a bathing dress, the last in the shop, as it was the end of the season. It was garish - I still have it. However, as George was not involved in that scene he suggested we do the interview then.
We went to his room and sat cross legged on the bed. After a couple of false starts George took over the tape machine, set the levels and held the microphone. I kept fluffing my questions. He, with great patience kept re-winding to record over all the fluffs thus giving me the best chance of getting a good interview for broadcast. He even eventually resorted to feeding me the questions that all the other journalists were asking at the time. I still cringe (though) at the memory of asking him how he felt being a Beatle - a question he loathed but felt I should ask! Had we just left the tape rolling that afternoon the interview would be worth a fortune now at auction. George was determined, however, that I make it as professional as possible. He also spoke over my voice at times and used my name directly. He then explained, very firmly, that it was my copyright outright and that it was important to make that clear. He also warned me of the hazard of the interview being broadcast with my voice cut out and some other DJ 'dropping' my (or George's) questions in to make it sound as if they had done the interview.
They then went out and sat on the lawn with tea for a photo call to accompany the interview. George and I were sitting on the grass in the grounds of our hotel over cups of tea. The only place where I get good tea is at home!" he commented as he poured. A few fans who had been standing at a respectful distance slightly over-awed at the sight of a Beatle sitting on the grass enjoying the sun were asked, by George, to join us...
"It's sad really because some of our staunchest fans are the ones who never get to know us, just because of the way they act. We are obviously not going to hang around when they are screaming, shouting and trying to pull our clothes off! It's the quiet and shy ones who we get a chance to chat to" he explained as he signed autographs and ordered and poured yet more cups of tea. This act of kindness trying to make the fans feel comfortable was typical of George and the others.
Back in London in the editing suite I watched a full copy being cut down to two segments of about 10 minutes each. I still have the full tape in secure storage. As a result of George's involvement, Miranda got a position on the radio show and went on to be the regular contributor on the only weekly magazine programme on Radio One. She also had a slot named 'Miranda's Meander' where snippets were used. "Without George's offer, help, contribution and advice, that quantum leap would never have happened," Miranda said.
She has been irritated by some of the press coverage which she has seen since George's death. "Yes, he was, on occasions, frustrated and showed the odd moment of bitterness - who wouldn't be as part of a unit as strong as the Beatles, whilst being cast as part of 'the B-team' creatively in the shadows of the talents of Lennon & McCartney?" she said. But she remembers George fondly as a quiet, and creative man. "He was unpretentious." she said and reflected on the occasion when she drove to Esher to see him and Patti with a selection of LP's. "It was the evening before the launch party for the Apple Boutique in the basement of the offices of Apple on Baker Street. George was making a tape as background music for the whole evening. We began to get hungry and Patti went off to the kitchen to fix a meal - declining my offer of help. She re-appeared with baked beans on toast with a banana for pudding and with cold milk to drink. A pair of siamese cats hovered. Hardly the domestic scene that one would imagine of a Beatle! The beans were delicious - Patti had lightly fried a finely chopped onion with some pepper thrown in and then the beans added. I still do baked beans on toast that way to this day", she added.
Last Friday, after a succession of calls from caring friends she went down to her local pub The Prince Albert where a picture of her and George hangs on the wall. Beatles music was playing all evening and she took solace with other locals who were Beatles fans."It was a celebration of his life. He would have approved - well, maybe not of the scotch and coke though" she laughed. And she added: "I owe George such a lot. It can never be repaid and it can certainly never be forgotten. It is ironic that the expected death of 'the quiet Beatle' should garner so much media attention. The coverage of John's murder/assassination was understandable. But then again, George was a very strong person spiritually as well as having a marvellous sense of humour and a high level of compassion. His spirit will endure, for family, friends and fans."
Miranda Ward December 2001
Copyright: Miranda Ward. 2001
---
With sadness Adastra announces the death of Cajun accordion player Eddie LeJeune. Eddie passed away on Tuesday 9th January, suffering a heart attack.
Eddie has been the king of Cajun music from the swamps of Louisiana, tickling vigorous melodies from his accordion and delivering his plaintive irresistible vocals. He was the music's most consistent ambassador to Britain, undertaking a couple of lengthy tours each year. He has toured as a trio with Jock Tyldsley and Vera Van Heeringen and also toured with the Morse Playboys.
Born in Louisiana in 1951, the son of blind accordionist Iry LeJeune and leading player of his generation, Eddie absorbed all the lessons he learned from his father and grandmother, adding his own flavours and personality. Eddie adhered to the old musical ways stating, 'My music has not changed since day one'. Driven by the irresistibly rhythmical thwack, scrape and swell of guitar and fiddle, his was a raw, hungry and hot music with an energy that would defy listeners to sit still. Time Out noted him as 'the finest Cajun accordionist alive'.
Eddie LeJeune's albums, released by Rounder Records, include It's in the Blood (1991) with Lionel Leleux on fiiddle, Hubert Maitre on guitar, and Eddie LeJeune Jr. on triangle, Le Trio Cadien (1992) and Cajun Soul (1988), both with Ken Smith on fiddle and D.L. Menard on guitar, and Cajun Spirit (1998) with Terry Huval on fiddle and Hubert Maitre on guitar.
This indeed is a big loss to the music community and audiences on both sides of the Atlantic. He will be greatly missed.
Adastra

---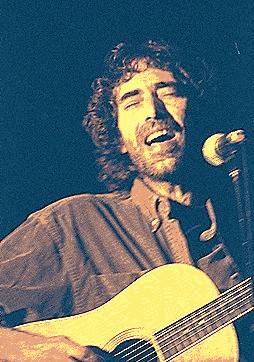 [Taken at The Half Moon in 1995 by a photographer who goes under the name of "Inspired Times". It's a typical pose]
It is desperately sad to hear of the death of Isaac Guillory. Despite first news of his illness last year it is still a terrible shock.
As Phil Beer says, he was known to many as one of the greatest guitarists of our era. Certainly that is no exaggeration. A musician's musician too. He knew it and we knew it. He was the best I've seen.
Those who saw Isaac perform will understand when I say that it wasn't just the fact that he played like the patron saint of acoustic guitar (plectrum between forefinger and thumb, finger-picking with the other digits), it was the man himself. Blessed with the swarthy latin look of his mother, the assertive G.I. spirit of his father, Isaac turned heads before he played a note. He commanded attention by his presence. Then he blew people away.
In his mid-twenties, after a chart hit with Chicago band, the "Crying Shames", he became the only acoustic act on the Atlantic label, more noted for the likes of Aretha Franklin. And then he came over to England in the early seventies, the guest of Al Stewart. Here he was an acoustic guitarist and singer. But unlike some of us acoustic players he knew what he was doing (he majored at Chicago in acoustics). He was a musician of the highest calibre. He enjoyed a successful period in London as a session player with his Fender to the fore (its registered number only stretches to three figures). He was also a part of illustrious jazz-rock fusionists, Pacific Eardrum and continued playing electric as musical director for Barbara Dixon, amongst others. But he was always his own man, Isaac. He played like no-one else.
He also designed the interior of his transit van, a very commodious retreat to the invited. On stage he was the glamorous, dark curly locked American, moving from the unbelievable Cuban-rooted "La Bamba" (sung in Spanish) to the evocative instrumental "Dixie" segued into Dylan's "With God On Our Side" or Paul Simon's "Late In The Evening". It was every note and every beat of the original but it was just acoustic guitar. He was a technician motivated by the soul.
But then, as he hit the dark street outside the club, the donning of his army issue bobble hat signalled the moment he metamorphised into a marine. The PA was packed beneath the Transit bunk with precision. Everything he did, he did it well.
I saw him play in many venues; joined him onstage at the Cambridge Festival where he was a hero. He enthralled here in Maldon in the mid eighties and I saw him stun an audience into a standing ovation at the Edinburgh Festival. But there were two gigs I missed which I would love to have seen that he was particularly proud of. One was in the Grand Place in Brussels one summer. He followed a huge name band who had just taken the place apart. With the cheers still ringing round that magical Flemish town square he walked on stage and performed "A Whiter Shade Of Pale" on solo guitar. Only Isaac could do that. Do it right.
The other gig I missed, of which I think he was proud, was in a British women's prison. "There was no faking that", he said. He never faked a thing in his all too brief life. He was for real. One of those shooting stars who, no doubt, will be famous now he's dead.
This year begins one short. A man very badly missed. Isaac Guillory was the best.
David Hughes
---
---
---